A rare barn-find Harley-Davidson racing outfit that was literally locked away in dry storage for the past 50 years has set an Australian auction record of $600,000.
But the best news for enthusiasts is that the Internationally sought-after circa-1927 FHA 8-Valve V-Twin racer with its scramble-type sidecar – one of fewer than 50 built – will remain in Australia.
The bike sold at the Shannons Melbourne Spring Auction on Monday night (September 21, 2015) after strong pre-auction interest from enthusiasts in Australia, the United States and Europe.
The previous highest Australian price they are aware of was also for a factory-built Harley-Davidson racer – a 1923 two-cam Board Track Racer (pic below) that sold for $118,000 at Shannons Sydney Winter Auction last year.
Just goes to show how Harleys keep their value!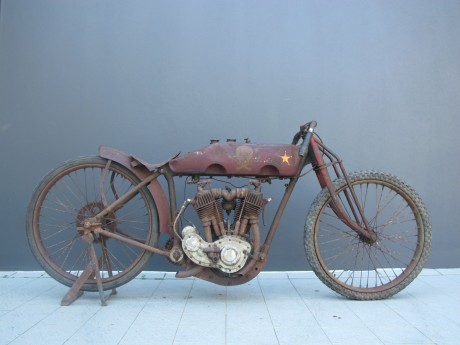 Bidding for the 'no reserve' 1927 Harley opened strongly at $100,000 and rose rapidly in $20,000 lots until $470,000. From there a US phone and a local room bidder traded blows in first $10,000, then $5,000 punches before the room fell silent at $600,000.
When asked by Shannons national Auction Manager Christophe Boribon whether the Harley would remain in Australia, the winning bidder told the room 'yes'.
Boribon said the sale was "very important" for the future of collectible and important motorcycles in Australia.
Motorcycles of this calibre have been under-valued on the world market for some years," he said. "This is truly a watershed moment."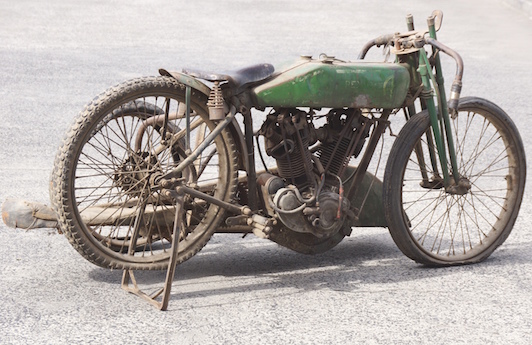 The rare 1927 Harley-Davidson 8-Valve Racer with sidecar was reportedly delivered new through Milledge Brothers of Melbourne and was sold by the late owner's family after being locked away in dry storage for 50 years.
The 8-Valve Racer is one of the rarest and most collectible models in international Harley circles.
These powerful bikes were only offered to up-and-coming racers of the times and were not available to the general public.