The sixth annual "Living in the '70s" classic motorcycle show for Japanese bikes is being staged by the Honda SOHC 750/4 Owners club of Queensland.
The motorcycle show will be held at TeamMoto Honda, 68 Moss St, Springwood, on September 12 from 8.30am.
The show usually attracts about 30 entrants over all classes, says club spokesman Eric Leah.
"Not only do we see the normal grouping of Honda 4s and Kwaka 9s, and other big-bore Japanese icons from the '70s and '80s, but also the smaller bore commuter and the rarer Japanese bikes that have all but disappeared from our roads and trails. All Japanese bikes up to 1985 are welcome.
Entries are accepted on the morning and the show winds up around midday with presentation of trophies.
Eric says the Honda 750/4 SOHC club was set up in the early 2000s for the preservation of the original Japanese superbike. It has about 50 members statewide. Meetings are held at the Belmont Hotel on the first Sunday of the month at 10am.
Eric and wife Merilyne may have their Honda Bol d'Or bikes on display. They ride their showpiece bikes almost every day.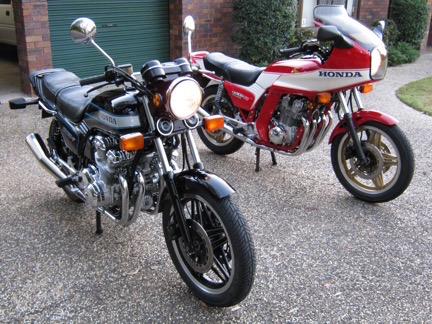 The club's website is incorporated in Shannons Motor Enthusiasts club listings.