The motorcycle life, we all know, is not what one would call a cheap pursuit. Gear, insurance, gas, yearly maintenance, biweekly maintenance, mods, and the like add up very quickly. However, one thing that remains steady about the lifestyle is that a new bike, no matter how "cheap," is still an expensive thing to buy.
However, there are some bikes that break beyond what many would term as "reasonable" in terms of price. They could be from a limited production run, they could have the latest and greatest in technology and are priced higher to compensate for R&D, or they could just be a little unrealistic in pricing due to supply and demand. Whatever the reason, there are lots of not-so-expensive bikes and a few really expensive ones.
To make this list, we first defined a distinct ruleset for any bike to qualify. The first rule is that it must be a production motorcycle, not a one-off, a custom build, or an extremely limited run. Secondly, it has to be either a new bike for 2021, or a continuation of a model for 2021, for example a Kawasaki Z-H2 being a 2020 model that is continued into 2021. The third rule is that limited editions do count, as long as they will have over 100 units. Finally, the fourth rule is to limit this list from 30 or 40 bikes, the base price of the motorcycle needs to start at $50,000 US dollars.
With those rules in mind, here are the most expensive brand-new stock motorcycles for 2021!
2021 MV Agusta Rush 1000
Base Price: $50,000 USD (estimated)
The latest bike coming from MV Agusta, the 2021 Rush 1000 is the most expensive motorcycle the Italian manufacturer has so far offered this year. The pricing is estimated because they are currently taking reservations for the limited edition motorcycle, of which only 300 will be made.
The motorcycle, which is classified as both a streetfighter and a hypernaked, uses the same 998cc inline-four that the 2021 Brutale 1000 RR, except it's had the normal connecting rods replaced with titanium ones, has radial intake valves, and has two distinct engine modes the rider can control. The first, which gives it the same 208 HP as the Brutale 1000 RR, is Street mode.
The second, which is the party piece of this bike, is Track mode, which claims to give it 212 HP, but you need to remember, these are Italians we're talking about. It will more than likely be closer to 220 HP, especially as that engine mode also optimizes backpressure in the exhaust. While not the most expensive bike by far on our list, it is still a massively powerful, mean-looking limited edition ready to tear up both street and track.
2021 Harley-Davidson CVO Limited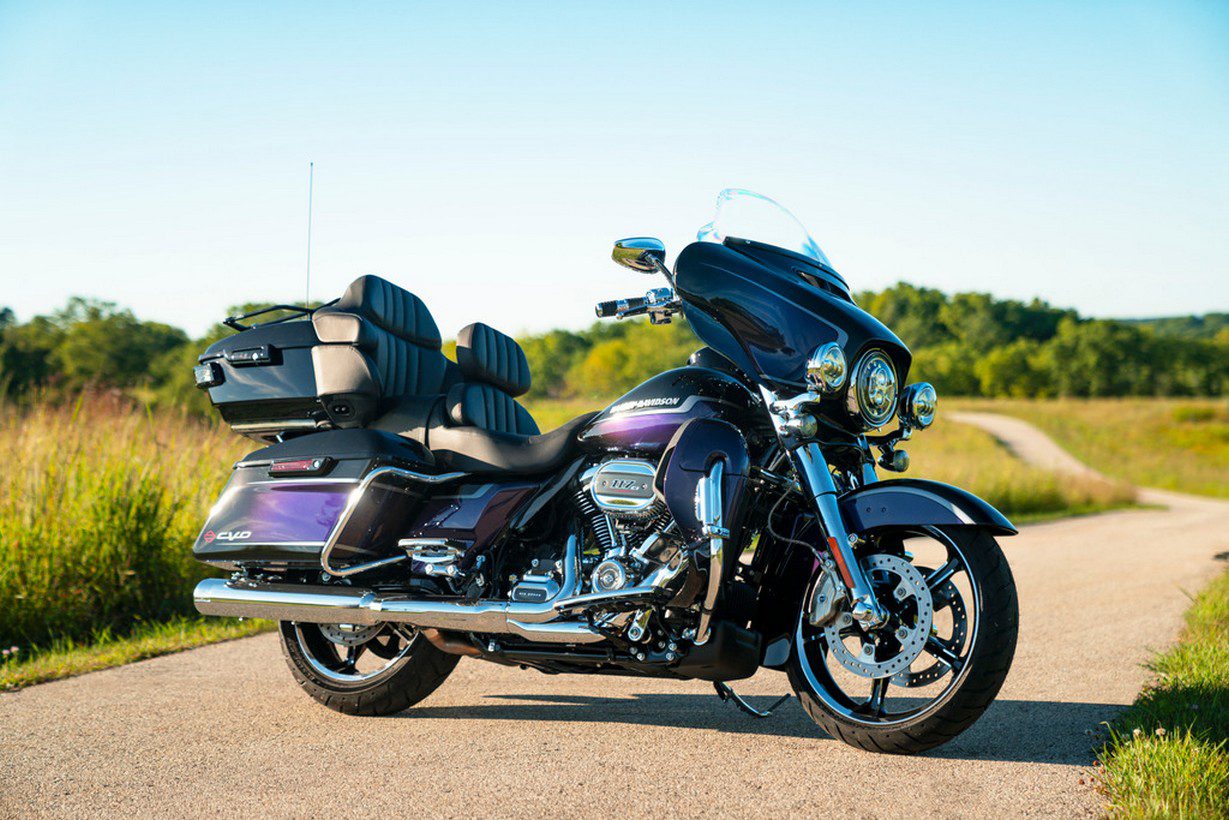 Base Price: $54,245
In possibly one of the most confusing naming schemes to date, the 2021 H-D CVO Limited is, in fact, not a limited edition. What it is, however, is the top-of-the-line continental cruiser that Harley-Davidson makes, and comes with items that are exclusive to this model. These include custom seat stitching, Daymaker LED lamps with lean angle sensors to keep them always pointing ahead, Tomahawk-styled front and rear wheels, and a whole list of others.
It is also highly customizable for each owner, with items such as an optional rider backrest, your choice of floorboard styles, and more. What is standard between all CVO Limited models, however, is the range-topping Milwaukee-Eight 117 V-twin that only CVO models get. This engine puts out 125 lb-ft of torque, which gets the 944 lb long-distance cruiser moving with ease, and keeps it moving without much stress.
It is most certainly a pricey motorcycle, especially for a continental cruiser, but buyers and owners of the CVO Limited are looking to use the bike for tens, if not hundreds, of thousands of miles per year. In that respect, the price can be compared to a luxury family sedan, and in all honesty, the Harley gets far better gas mileage.
2021 Horex VR6 Cafe Racer Heritage Line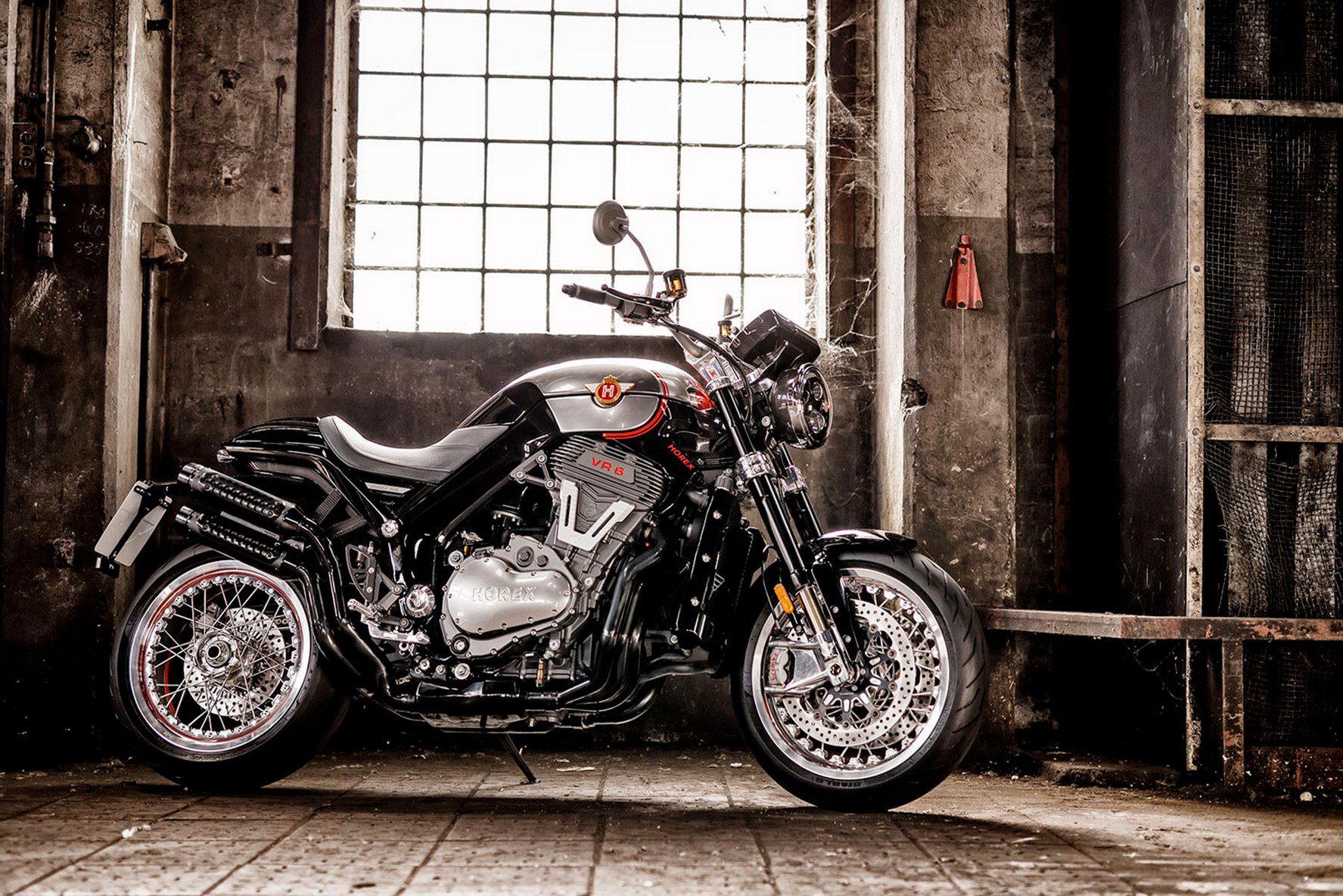 Base Price: Approx $55,000 (Converted from €46,500)
Horex is probably a brand name you haven't heard of before, but they are a specialist handbuilt production motorcycle company based out of Germany and Austria. What makes them particularly special is their in-house developed engine, which is technically a V6, but is only just under half a meter wide at the top of the cylinders. It also boasts three camshafts for two piston banks, and the engine, with a displacement of a little over 1,218cc, chucks out a big 163 HP.
What drives the price of the 2021 Horex VR6 Cafe Racer HL up are the materials that it is made of, plus the labor it takes to handcraft everything. Almost all of the frame is lightweight aerospace aluminum, and the tree links and steering head are all made of carbon fiber. The fairings are made from vacuum-formed, resin-impregnated motorsports grade carbon fiber from parent company 3C Carbon Group AG, and each bike is built by a small, elite team of techs.
The result is a V6 powered bike, with 163 HP, weighing in at just under 486 lbs. Ohlins suspension, Brembo brakes, a carbon fiber rear subframe, Bosch dual-zone multi-axis ABS and traction control, Pirelli Diablo tires… all are standard equipment. It qualifies for the list as it is, in all manners, a production motorcycle, just built by hand with a volume of maybe 10 a month, if that. You can order one to be brought over to the US, but import fees and taxes will hit you pretty hard.
2021 Brough Superior Lawrence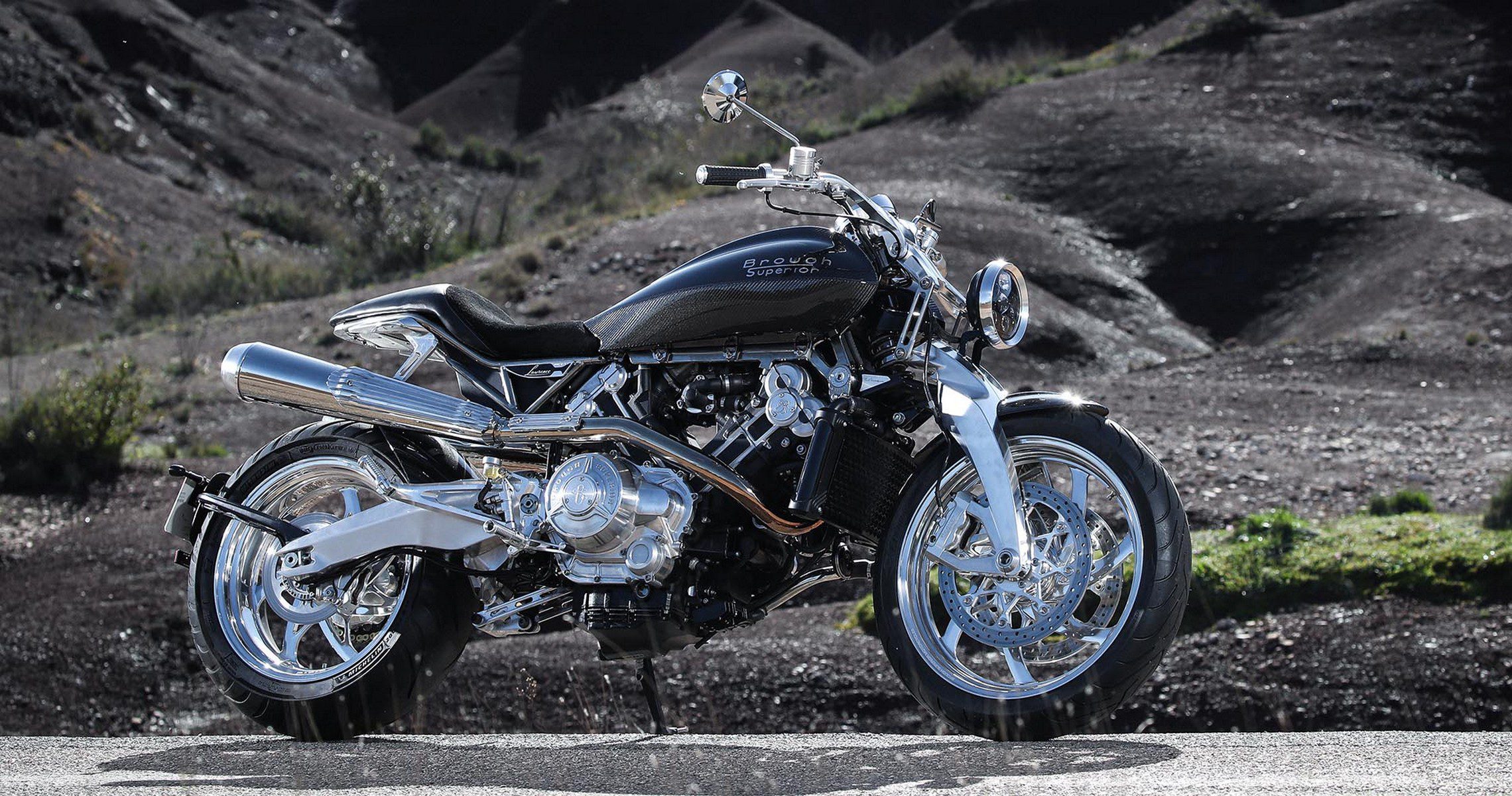 Base Price: Approx. $78,000 (converted from €66,000)
The legendary Brough Superior name is back, with a new investment group behind it including billionaire Lawrence Stroll, CEO of Aston Martin and Team Principal of the Aston Martin Formula 1 team. While there are more expensive models coming, the Brough Superior Lawrence is the only model that fits the criteria of needing to be over 100 units, with 188 being made, to qualify. We would have put the Anniversary or the AMB001 bike here, but both are limited to 100 and 21, respectively.
This isn't to say that it's a bad bike at all, however. Named after the British WWI hero Colonel Thomas Lawrence, the bike is both a classic Brough Superior long, low shape, as well as being built to be a scrambler. The scrambler part makes sense because Colonel T.E. Lawrence is much more well known as Lawrence of Arabia. It is powered by an 88 degree, liquid-and-air cooled 997cc v-twin that produces 102 HP and 65 lb-ft of torque.
Being a limited edition, it is also made out of exotic materials, with a full carbon fiber fuel tank, and a frame machined out of the same type of titanium they use for the SpaceX rockets and capsules. The rear swingarm is CNC machined from one solid block of aerospace-grade aluminum, and the wheels are also made the same way, from single, solid, molecule-aligned blocks of aluminum. With a tip of the hat to the Aston Martin F1 team partnership, the brakes are Beringer Aerotec stainless steel discs with high-performance calipers, the same manufacturer that makes the carbon-ceramic discs and calipers for the AMR21 F1 car.
2021 ARCH KRGT-1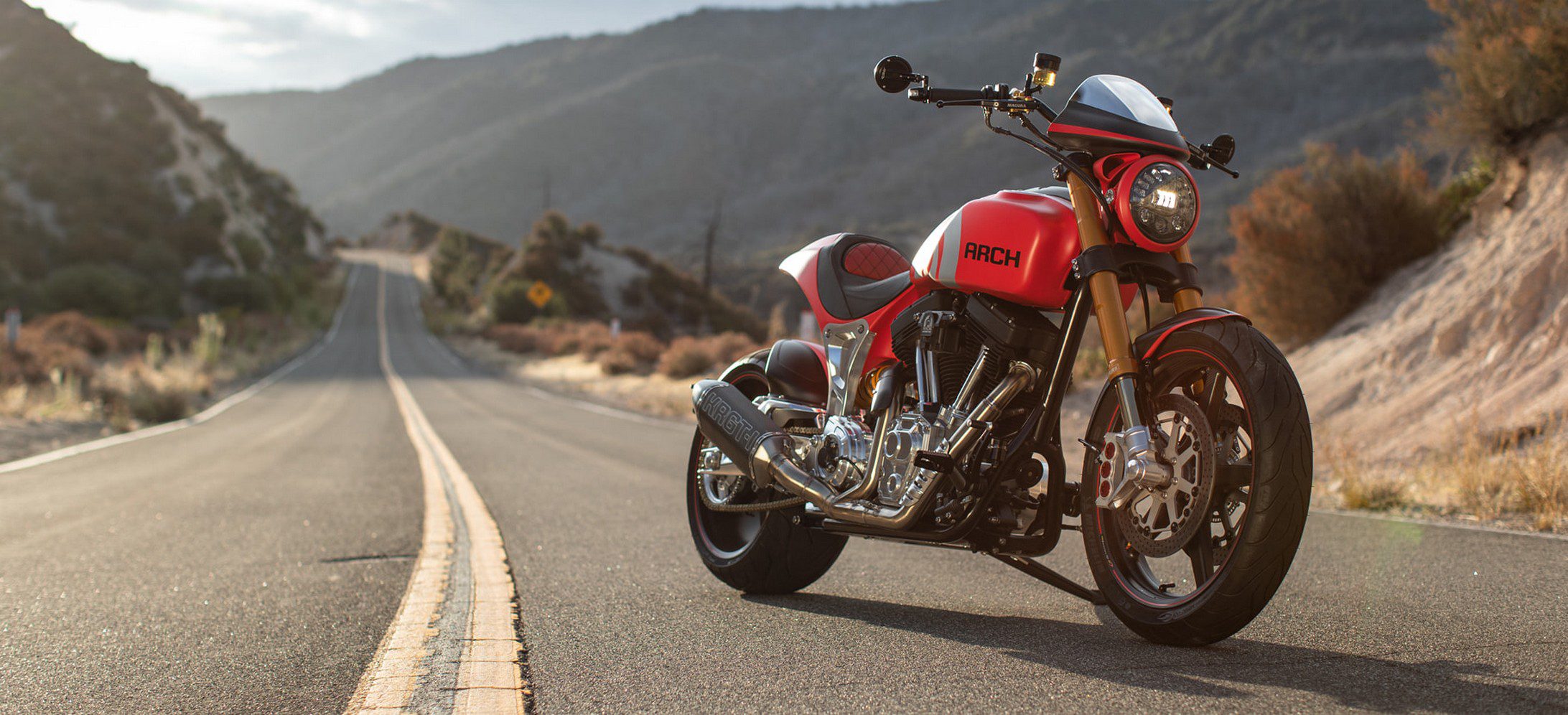 Base Price: $90,000 USD (Average completed price is more often than not over $110,000)
The 2021 Arch KRGT-1 barely, and we mean by the narrowest margin, qualifies for this list. It is a production motorcycle, it isn't a limited edition or limited run, and it does use about 95% of the same parts on each bike. However, at $90,000, you are expecting to have a bike that is tailored specifically for you, and that's where the other 5% of the bike comes in.
ARCH was, as we all know, started by certified badass Keanu Reeves and his friend Gard Hollinger, and the KRGT-1 was the result of multiple years of refinement and development and has been in continuous production since 2014. The other two models produced by ARCH, namely the 1-S and the Method 143, are not continuous production motorcycles and are often highly customized by each rider.
The KRGT-1, therefore, is the only true production motorcycle that ARCH makes. The reason for its extreme cost is that it is made of fully machined billet aluminum, with carbon fiber, magnesium, and carbon composites making appearances where needed. It is also a bespoke motorcycle, with one engine, transmission, and the only customization being in ergonomics, paint, and other minor final touches.
2021 Ducati Panigale V4 Superleggera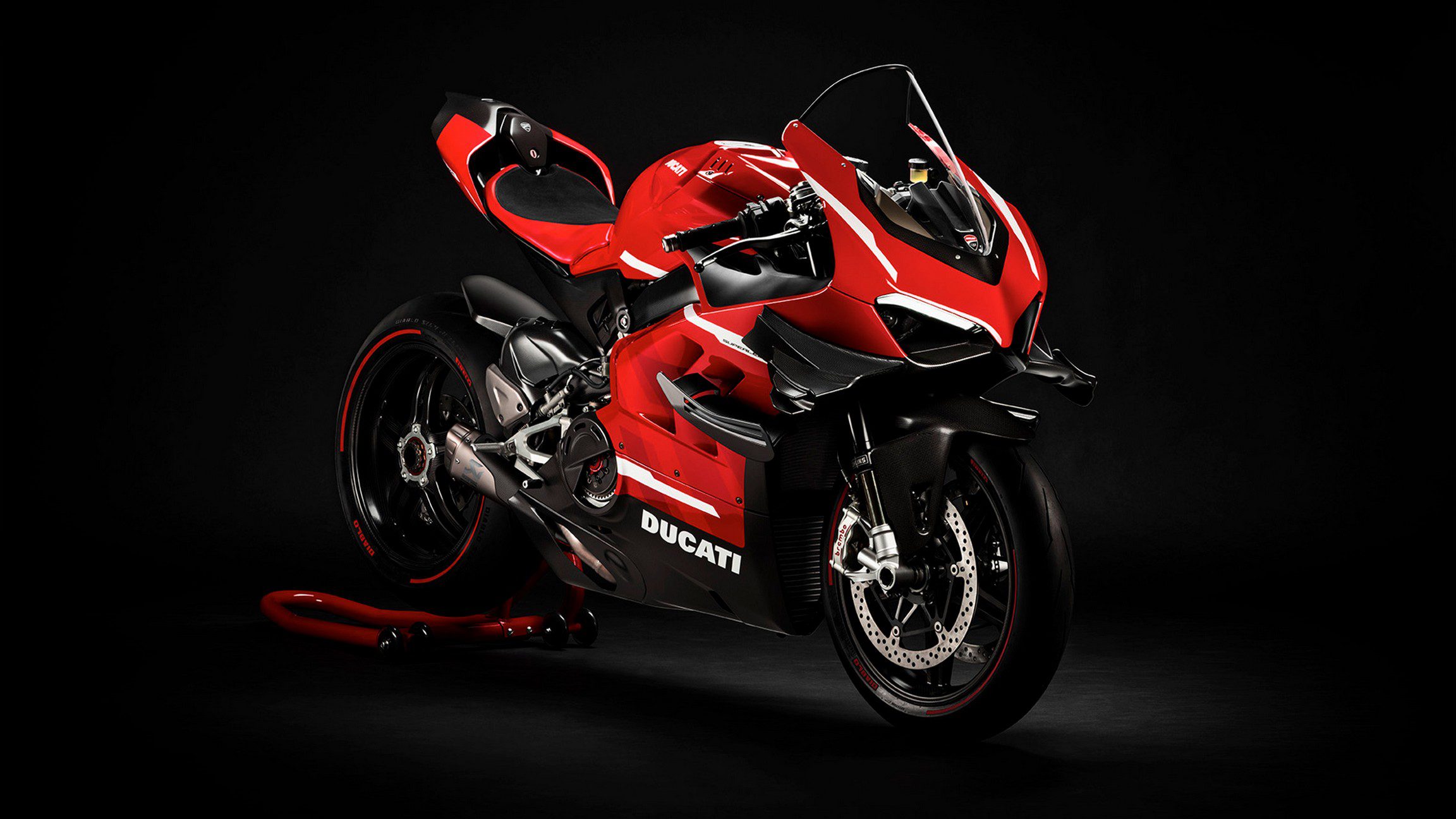 Base Price: $100,000 USD
The 2021 Ducati Panigale V4 Superleggera is one of the most insane models that the famed Italian company has released in almost a decade. There have been MotoGP-based specials before, but they were usually limited runs of only 50, 60, or maybe 100 bikes. The 2021 Superleggera qualifies for our list by having a numbered production run of 500. And they're all sold out already.
What the 2021 Panigale V4 Superleggera brings to the table is all of the technology, research, development, and design of the past three years of Ducati Corse, compressed into a road-legal rocket. It is made almost entirely of a carbon composite frame and swingarm, over which beautiful carbon fiber fairings are draped. It is powered by a special version of the 998cc Desmosedici V4 known as the "Desmo V4 Stradale," which produces 224 HP and 85.5 lb-ft of torque in street-legal trim.
Adding on the optional Akrapovic bespoke racing exhaust, however, bumps that to a monstrous 234 HP and 87.7 lb-ft of torque. By comparison, the Desmosedici GP, the MotoGP bike, makes a little over 260 HP. The bike is meant to be the closest thing a Ducati client can buy to an actual MotoGP bike that they can still ride on the street. And a carbon composite frame draped in race-grade carbon fiber is not cheap at all to make, justifying the huge cost.