Review Summary
The IASUS REKON Helmet Co-Pilot System with Bluetooth 5.0 isn't your usual BT-based helmet system but rather a focused personal helmet communication interface that when used with an audio output product like the superb IASUS XSound 3 speakers provides an excellent option for users who want to exploit the multi-media capabilities provided with a paired smart device. A stylish and very functional exterior control piece sits on the outside with the base module on the inside and with helmet-mounted speakers or in-ear pieces the user has a very low- profile system. With the smart device paired the user has access to the comms (phone or PTT), navigation and other app-based audio available on the paired device. IASUS products are not always seen as mainstream but as we evolve and refine our communication requirements and means, especially in these turbulent times the features, and capabilities of the REKON are, very much mainstream.
Pros
Sophisticated design with stylish low-profile look
Lightweight custom components
Individual systems reveal outstanding build quality
Distinctive LED back-lite control face is highly visible
Simple tactile-friendly controls work, even with heavy gloves
Controls support custom functions like PoC (PTT) control
BT 5.0 with BLE for functional efficiencies including long battery life
Outstanding audio support with A2DP and aptX HD profiles
Superb helmet audio when XSound 3 speakers used
3.5mm audio output for helmet-mounted speakers, earbuds, or other audio solutions
Quick action magnetic mount charging port & cable
Arguably the best personal helmet system available
Cons
3.5mm audio connector is on a short lead and can be awkward to tuck out of the way
XSound 3 harness is also a bit short – extender needed (and was provided)
A bit expensive in feature to feature comparison with BT/Mesh communication systems
iASUS REKON with XSound 3 Headset Image Gallery
In the early days, communicating vocally in real-time required a face to face encounter, and while this tried and true means of communicating has been very much impacted by our COVID-19 environment, it has not (yet) totally disappeared…but we also now have (many) other options.
Real-time communication is more important than ever and thankfully for the most part user requirements are addressed through evolutionary and revolutionary technology-based solutions providing the ability to communicate in real-time, at any time, with someone in virtually any part of the world.
Technologies and products utilized for communications and connectivity requirements that can be used without compromising personal safety protocols and the integrity of infrastructure systems are in high demand these days to support first responders, medical professionals, and enforcement entities, to list only three communities of many.
In addition to the ongoing and (escalating) demand for communications and connectivity solutions among the communities identified above, there is an ever-growing continuum among all of us as consumers for products to provide, support and enhance personal communication and connectivity devices used for work and play.
With much of our world now covered for some form of mobile data and personal communications and the proliferation of personal communication-based devices there is (also) a true plethora of software-based solutions for one on one or one with many communication purposes – some identified and discussed in this review.
Real World, Real Time Communications
As motorcyclists and road users we need to constantly communicate – sending and receiving; whether passively through observing or listening or actively as when braking, signaling, using the horn or auxiliary lights, or changing lane/road positioning. Communication in all forms is key in building and maintaining situational awareness.
Whether one rides together or rides apart (something we are doing a lot of these days although together in spirit) technology-based solutions provide the means for us to stay connected – to varying degrees, but connected we are, thanks (I think) to the 'real-time communications' aspects of our lives.
Real time communication includes wired telephone; mobile and cellular phone; two-way or multi-way amateur, FRS, Bluetooth and Mesh intercom; or, Internet-based mediums such as instant messaging (IM); voice over IP (VoIP); Internet Relay Chat (IRC) in multiple guises; live video/teleconferencing; and, the rapidly evolving robotic telepresence.
Our ability to communicate in real time by one or multiple means is or can be key, whether engaged in professional or personal activities. And from a motorcycling perspective, real-time communications are a positive and important component regarding situational awareness and riding safety – whether riding together or riding apart.
Smart helmet platforms with integrated sensors, cameras, and comms (short-range BT or Mesh and/or mobile/cellular-based push-to-talk or PTT connectivity) add breadth and depth to our situational awareness environment and are, finally becoming a reality.
And as our connected world continues to evolve, enhanced real-time or near real-time connectivity from a variety of rider or onboard based sensors, proximity-based sensors and sources such as other vehicles, along with local or distanced infrastructure or personal sources will provide far better situational awareness, with resultant safety benefits.
Broadband Push-to-Talk (PTT) Connectivity
For many motorcyclists, wireless onboard or helmet-based communication systems have replaced wired options. This wireless – often Bluetooth or Mesh-based connectivity provides real-time two-way connectivity for shorter range communications between rider and passenger or rider to rider be it in small or large groups.
There are other options of course and as our world keeps changing, including how we communicate, a new variation on an older capability is upon us – Push-to-Talk-over-Cellular or PoC. Push-to-Talk (PTT) or switched connectivity is a 'traditional' service that has been around for some time in various guises
PoC solutions for one-to-one or one to many communications have proliferated rapidly, with many original enterprise-level PTT-based solutions remaining in use around the world for business, industry, and in the public domain for emergency dispatch services across a broad spectrum of resources.
But like many other technologies and capabilities today, evolution and adoption have brought about both convergence and migration, and it is seldom that something 'good' regarding real time data service or communications is ignored or left unexploited for long…
As such, we have the ability, to communicate in real-time almost anywhere with almost anyone, with reliability, redundancy and if desired or needed, the ability to record & reprise (replay); the digital domain is a great enabler.
There is no shortage of platforms, enablers, or smart device apps that support or exist solely to provide real-time or messaging services to address audio communication requirements for government, industry, business, or personal activities.
Relatedly, a growing number of cellular and mobile radio devices have PoC capabilities built-in along with the ability to assign specific device controls or functions as the PTT control. There is also a burgeoning market offering ruggedized weatherproof products that make great solutions for government, industry, and business applications and personal use.
One such smart device is the Samsung XCover Pro (IP68 and MIL-STD 810G1). In addition to its ruggedization and weatherproofing, its dedicated customizable PTT capability and 'glove mode features are highly touted. And with an XCover Pro acquired, all of its features have been well validated; it is a great personal smart device for motorcycling and communicating.
PoC Real-Time VS Messaging
Most mainstream PoC services utilize two approaches: real-time (live) audio or voice messaging. Apps with voice messaging use recorded audio where a message is recorded, sent, and delivered or received over time.
On the other hand, real-time is just that – live voice audio from one party to another or with multiple users, all with minimal delay or lag that is somewhat dependent on connectivity of course. Good real-time services or apps also provide messaging, among other features, as well.
With a long-term involvement in all forms of communications, two key requirements (my perspective) refined through years of defining, testing, using, and ultimately disposing of many systems and devices are compatibility and interoperability.
And while not a dedicated participant in much of the social media aspect of our connected world there are some features or services that stand out, particularly for personal communication purposes. And one of the best services that address the two key requirements is Zello.
Zello
This app-based capability provides real-time (live) PoC communications, simulating two-way radio or walkie-talkie-based communication along with other services like history, replay last message, notifications, live location tracking, and very importantly, Bluetooth device support.
Working across multiple smart devices, Zello uses internet (WiFI) or cellular data connectivity (at least 2G) and the App is available for Android, iOS, Blackberry, Windows Phone, and Windows PC platforms.
A feature-rich multi-platform offering, Zello is the highest rated Internet-based push-to-talk service available for live streaming audio, connecting over 150M users globally, including frontline workers, response teams, professional communities, and of course, individuals.
Between the free Personal version and the Zello Work edition (free for 30 days) users have access to the features listed above and in addition, to online management console, unlimited range, unlimited channels, smart device compatibility, and the ability to send text and pictures – a feature I use frequently for real time illustrative and collaboration purposes.
In testing personal-based communication products like the IASUS REKON and Stealth products that leverage the power of smart cellular-based or mobile devices, Zello is my solution of choice for real-time services and has become a valued communication option for day to day use and longer-term travel.
Zello also has a First Responders Program, a 100% free service for eligible emergency dispatch and first responder organizations offered on a global basis. It provides free access to Zello Work, dedicated customer support, and all premium features, with unlimited users and/or LMR (land mobile radio) gateways (via gateway vendors) to fit any size organization.
ESChat
Another popular and trusted provider or service of note is ESChat (Enterprise Secure Chat) that I've had some exposure to. This capability is focused on providing a variety of services to commercial and (US) government entities.
ESChat services include encrypted PTT, messaging, location, and mapping, LMR interoperability options, integration options, cloud infrastructure and, client services with contact & group management from mobile devices.
As with the Zello First Responders Program, ESChat is a Certified FirstNet provider. FirstNet's mission is to deploy, operate, maintain, and improve the (first) high-speed, nationwide (US) wireless broadband network dedicated to public safety…
And with all this having been said, it's time to introduce IASUS Concepts, the company that provided the IASUS Bluetooth v5.0 REKON with XSound 3 speakers to wBW for this review.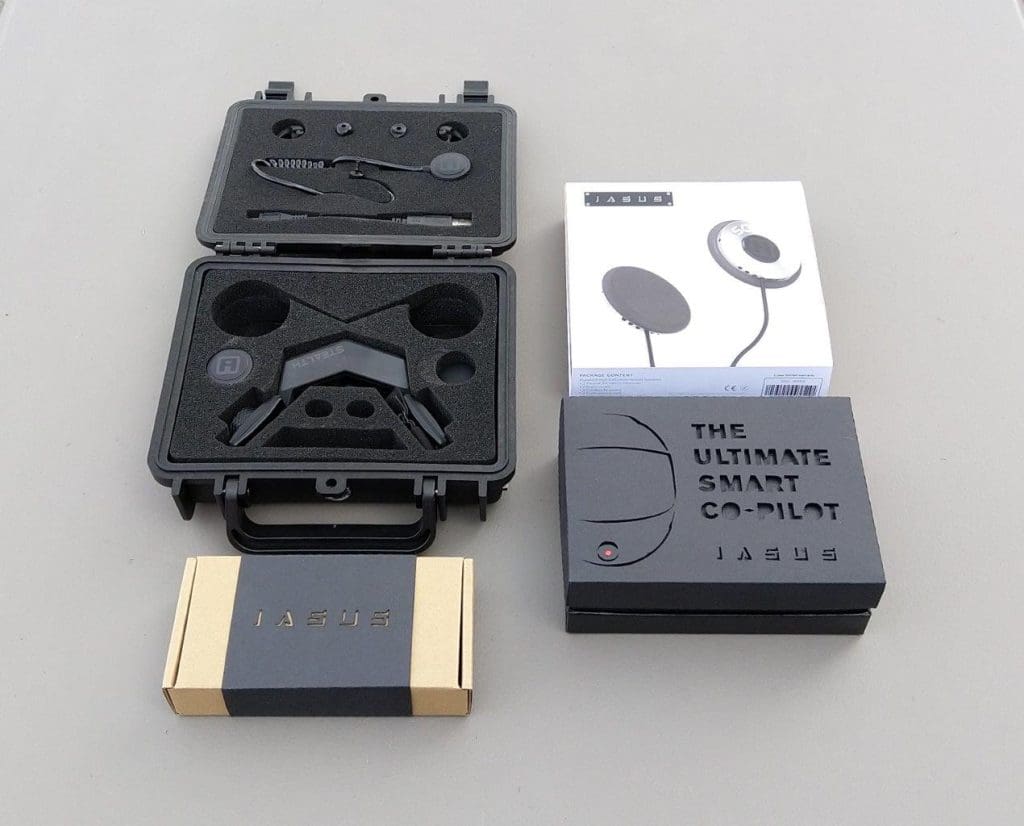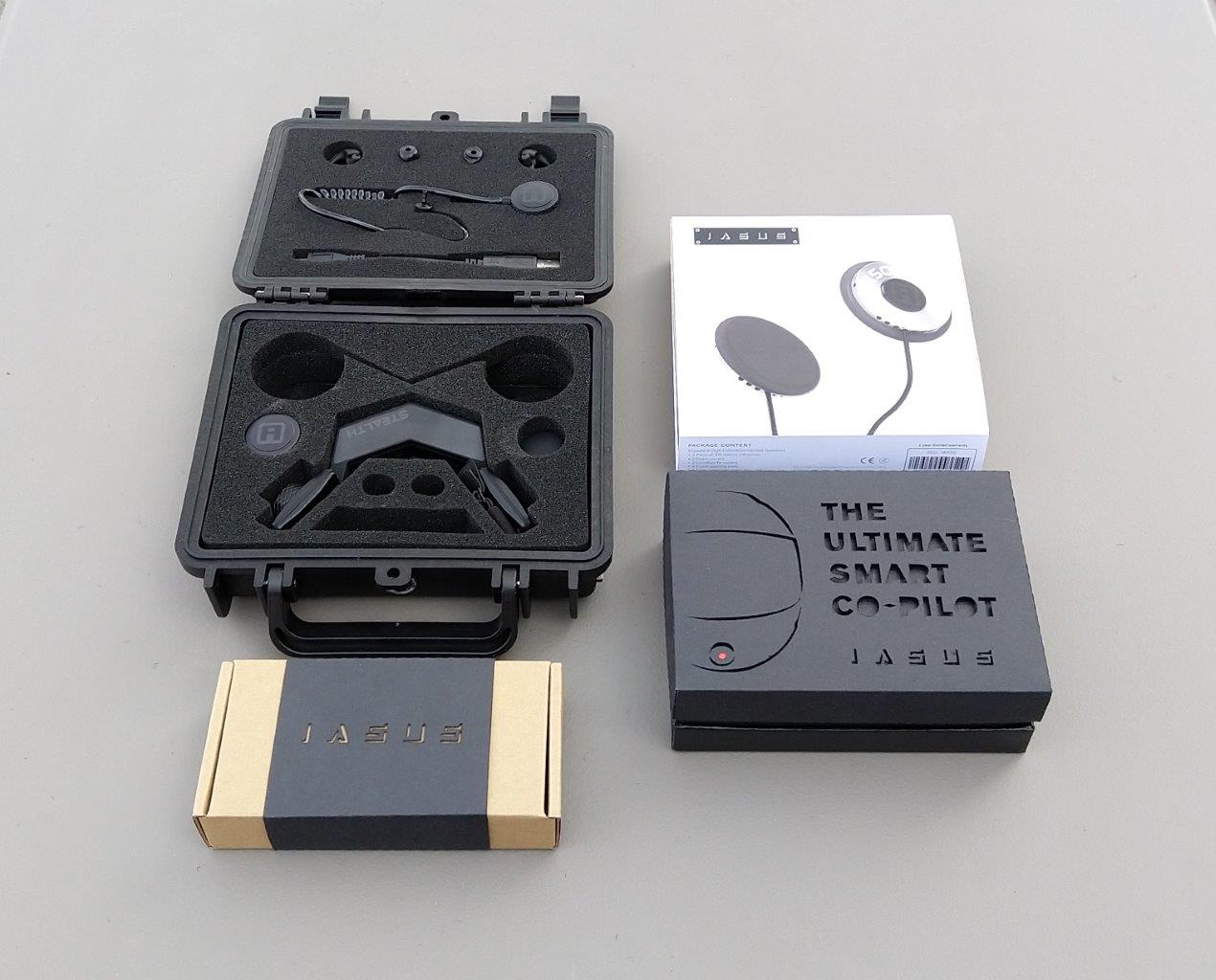 IASUS-Concepts
IASUS was founded in 2001 as an audio design and development company, with IASUS Concepts providing custom services for a wide range of clients seeking innovative, design-driven audio products. Since then, IASUS has extended beyond the scope of audio, developing unique approaches (and products) to showcase their expert solutions.
Over the years wBW has followed with interest the audio offerings from IASUS, like the IASUS Diablo Mobile Amp, the IASUS EAR3 Amplifier, or the original and superb IASUS XSound 2 and 3 Speakers, along with other products adaptable to motorcycle use, like the IASUS Throat Microphone products used extensively over many years for work and personal activities.
An excerpt from the IASUS product ethos is very apt regarding their objectives, "to develop innovative, purposeful products without constraints…". IASUS continues to seek new ways to improve with new generations to keep up with today's new technologies."
IASUS is well-positioned to meet both these objectives and the communication requirements identified in the previous sections with products like the IASUS Bluetooth 5.0 REKON Helmet Communication and Stealth Throat Microphone Headset systems.
And IASUS is partnered with leading POC (push-to-talk-over-cellular) providers so that users have virtually unlimited communication services through any smartphone or compatible device platform. And the REKON is optimized for use with both the Zello and ESChat platforms.
These new products are representative of the technology-based solutions available for professional and personal real-time communication use in demanding environments where build, durability, and functional performance are essential.
This first IASUS product submission for wBW covers the IASUS REKON Personal Communication Helmet System with XSound3 Headset. The REKON is designed for both professional and personal communication requirements where a PPE oriented helmet-based system works best, especially in high noise and busy environments, including motorcycling
A second submission, also now completed, focuses on the IASUS Stealth Throat Microphone Headset, now endowed with wireless BT 5.0 connectivity and multiple user-configurable options.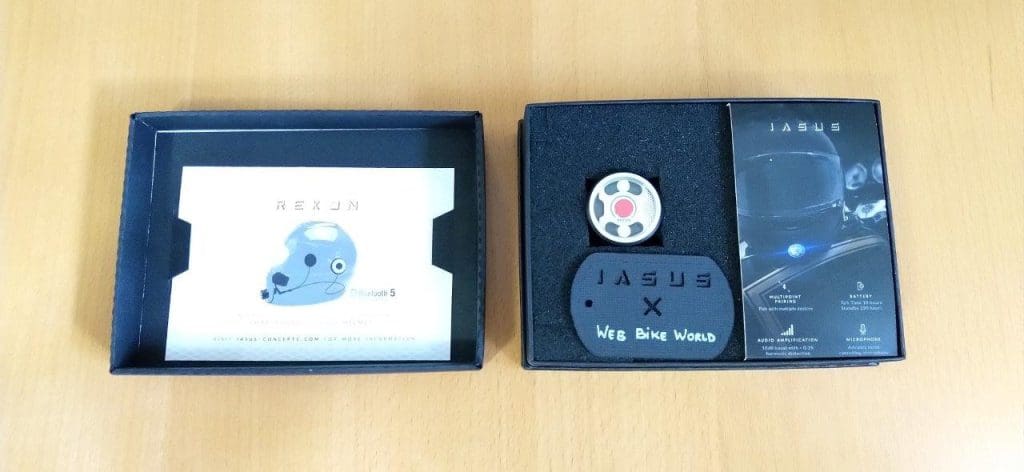 The IASUS REKON Overview
The IASUS REKON system is a personal helmet-based communication system designed to provide a wireless interface between the user and compatible paired smart devices that provide a host of communication and audio capabilities. And, when paired with a helmet audio headset, like the IASUS XSound 3, the user gets superb helmet audio to boot.
Designed to provide (and satisfy) both form and function, the IASUS REKON components are small and precisely designed with bespoke aluminum components and a tempered glass face with backlighting. Everything is assembled and functions like a fine watch or precision instrument while also designed for long life and robust duty under difficult conditions.
The installation layout of the pieces has the small round rotating bezel control piece secured onto an adhesive round base on the outer front centre of the helmet shell, with the larger but flatter base unit mounted on the opposite (inside) location.
This positioning is the preferred 'ideal' although there is some flexibility in positioning of the two components, especially where helmet design and real estate issues are present (see Installation Section below) and in considering the best microphone input by the user.
A short flex-coil harness joins the round control and shaped base module. As its name implies, the base module also hosts the short 3.5mm audio connection lead and a flush-mount magnetic power connector. The direct input microphone input sits centred on the rider-side of the module.
The control module has one primary control, with a central red push button and two secondary controls activated when the outer bezel is rotated left or right; a simple precision engineered solution that works.
REKON Features
Compilation Listing
Personal 'smart co-pilot' helmet system based on Bluetooth 5.0 Low Energy (BLE)
BT profiles: AVRCP (v1.6); A2DP (v1.3.1); HFP (v1.7); HSP (v1.2); and SPP (v1.2)
Smartphone/smart-device exploitation for communication and App-based services
Unlimited communication services using phone or two-way push to talk (PTT) services available using mobile or cellular-based or WiFi sources
Works with leading communication Apps like Zello, ESChat, Skype, Wechat, Zoom, MS Teams Walkie Talkie, etc.
Input of navigation audio from launched navigation Apps and/or other app audio
Wireless BT stereo music streaming with A2DP and AVRCP support
High Audio Definition, A2DP, and aptX HD audio profiles
10dB boost with <0.3% harmonic distortion
Advanced noise-cancelling microphone (mounted in base module)
3.5mm audio output for use of helmet speakers like the IASUS XSound3 kit or Noise Isolation Earphone (inserts) or third-party components
Multipoint BT pairing
Battery: 1500mAh, charging at 5V, charge time 90m, 10hr talk time, 10hrs call-time, and 250hr stand by time
Small size: 25mm (1in) round interface control module and 69mm x 32mm (2.7 x 1.25in) main (base) module
Premium custom bespoke polished aluminum parts
Tempered glass face on interface module with background LEDs
Ergonomic functions – primary input centre button and secondary rotating left/right dial (bezel) controls
Quick release of the control module
IP66 rated for ingress against dust and water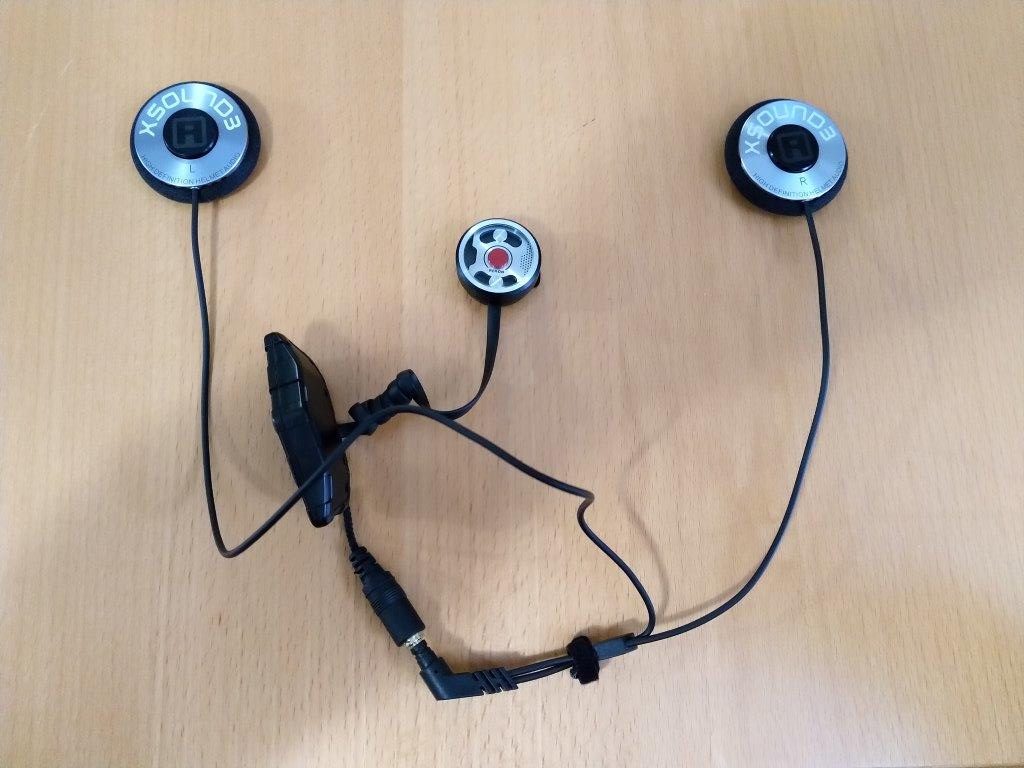 REKON Installation
An aging but treasured collectible Arai Corsair Limited Edition Isle of Man helmet (thanks Rick) is an outstanding helmet providing a great initial installation and test environment for the IASUS components, although other full-face helmets, including the NEXX X.WED2 X-Patrol has now hosted the REKON and XSound 3 pieces.
The Arai Corsair is indeed well suited to having the small round REKON control or interface piece to fit on to the outer side just below the front intake with the larger REKON base module fitted to the inside just below the intake vent.
REKON Kit Contents
Everything needed, along with additional mounting pieces is included. The main REKON Base module is tethered by a flex cord to the small round REKON Interface (control) module.
Two round plastic mounts and two round 3M adhesive mounts, two 3M Velcro (hook and loop sectioned) adhesive pads for base module mounting, a small adhesive-backed Contour Piece and, a USB-A to magnetic connector coaxial charging cable round out the presentation-boxed pieces.
If needed, the 3M VHB adhesive and hook-n-loop pieces are easily replicated from readily available consumer products (all kept on hand), with two extra sets already made using the peel-off backings for template purposes.
REKON Control Unit
First up is the interface or control component. This small round piece has a coiled flat harness integrated into the bottom or base of the piece. A 'background' LED lighting layer along with the centre button and outer 31mm diameter rotating dial or bezel rounds out the layout of this component.
With positioning determined and the mounting surfaces prepared with cleaning wipes or an equivalent safe agent and allowed to dry, one of the 3M VHB adhesive rounds is adhered to the flat back of the clear round plastic mount.
The plastic mount fits directly to the front of the helmet and after overnight adhesive curing time, slip the control module into place on the mount by aligning the metal tang of the quick release clip on the module with the horizontal pass-through on the mount and push the module in from the right (in use orientation) – a slight click may be heard as the tang seats; push the tang towards the helmet to release.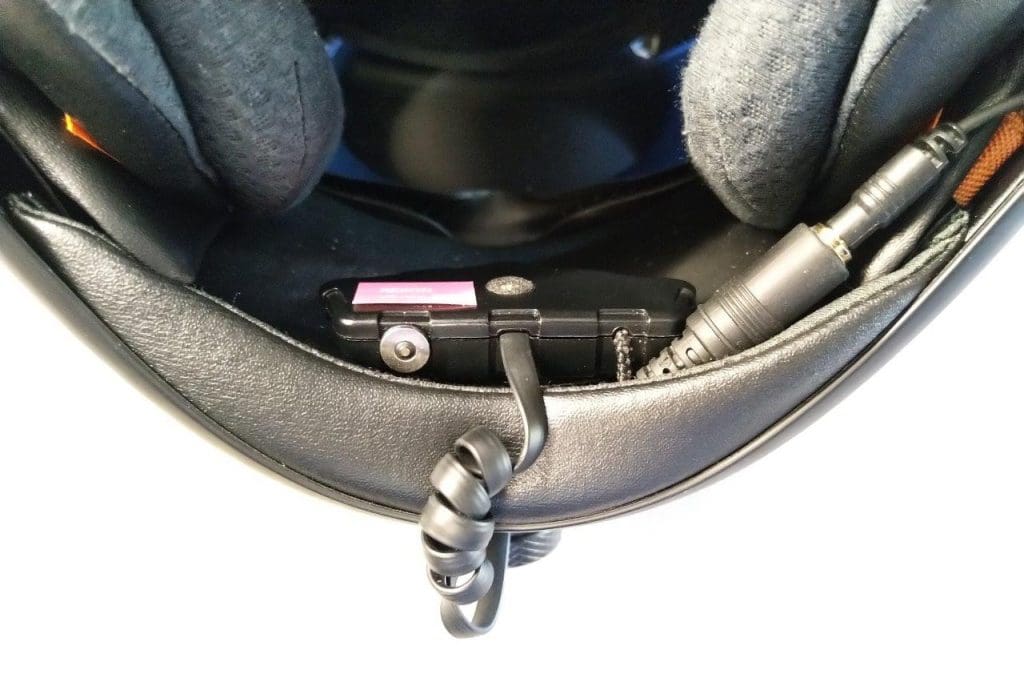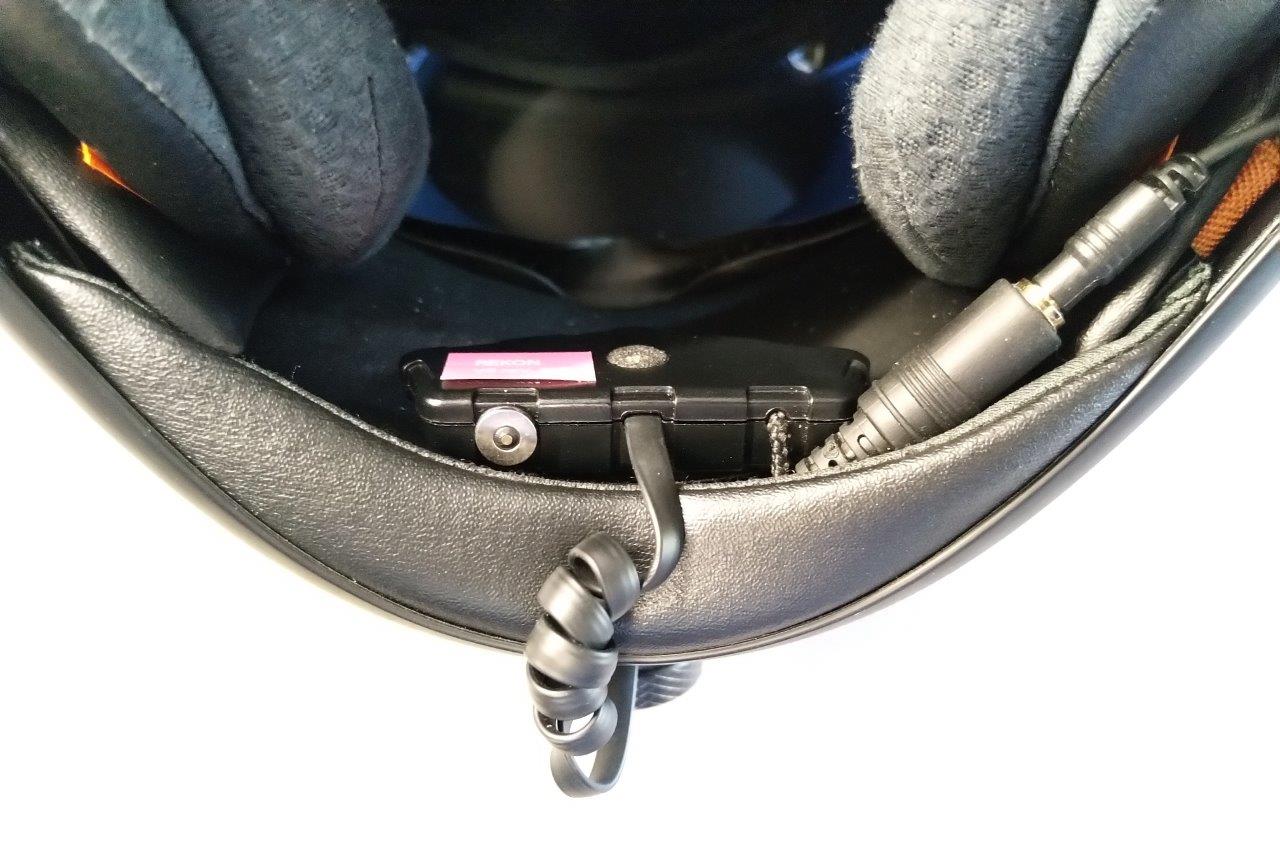 REKON Base Unit
Depending on the desired orientation or available real estate the base unit is mountable either vertically or horizontally. With the Arai Corsair, horizontal placement just below the lower edge of the front intake is a good starting point as this puts the microphone directly in front of the user's mouth.
Mounting the base unit vertically, typically closer to the left or right inner side of the chin guard works better for helmets that have less available surface typically due to intake vent or interior layout shaping; just keep in mind the effectiveness of the integrated microphone on the unit.
While not essential for use with the Arai Corsair chin-guard given its wide and gently curved shaping, the small black plastic Contour Piece from the kit is used for this initial installation, more as way of illustration than need.
The helmet side of the Contour Piece has a slightly curved surface providing a better surface to surface fit between the base unit and the helmet; the piece is a thoughtful and useful inclusion.
Before actually mounting the base module, a test fit with the hook-n-loop pad and/or the base unit is done so that reference points – small dots made with a fine-tip marker or small pieces of tape work to get correct positioning from the get-go and minimizing damage to the chin guard lining if multiple repositioning efforts are needed.
Some helmets use a brushed lining material that acts as the soft 'loop' surface allowing the base unit to be mounted using only the 'hook' half of the shaped mounting pad.
Make sure that both the hook and loop sections are pressed fully into place and let the adhesive cure and before use, check that the mounted pieces are indeed secure.
REKON Controls & Functions
The small round REKON interface control unit is distinctive and deceiving in its appearance while allowing all needed user interaction for the management of the personal Bluetooth headset system.
The singular control surface is easily accessed and works smoothly – a trait of all IASUS systems. The Red button residing behind the clear tempered glass is positive in its action as is the response when the outer tactile friendly bezel is rotated left or right (range is about 45 degrees). The piece exudes class, attention to detail, and simple reliable functionality.
Note – all references made regarding control use are based on the helmet being worn and, all functional inputs are audibly identified by beep tones.
Centre Button Functions
Power ON (press for 2s), a rising tone sequence is heard while the background LED output shows Blue, followed by the (standard) Blue standby flashing sequence
Device pairing mode (press/hold for at least 3s), Red/Blue flashing sequence
Music Mode – Play/Pause (press once) and Voice Command (press/hold for 2s)
Phone Mode – Answer/End Call (press once) and Redial (double tap)
Dial/Bezel Right Functions
Volume Up (rotate bezel once and release)
Next Track (rotate bezel right twice and release)
Dial/Bezel Left Functions
Power OFF (rotate bezel left and hold until an audible step-down tone sequence is heard (the background LED stops flashing Blue and goes Red before the system shuts down)
Volume Down (rotate bezel left once and release)
Previous Track (rotate bezel left twice and release)
REKON Device Pairing
Press and hold the centre button for three to five seconds until the background LED flashes Red/Blue. On the device, select 'REKON' from the Bluetooth device menu – a single beep from the headset confirms pairing/connectivity. A list of services (Phone calls, Media audio and Contact Sharing) should be identified under the connection profile.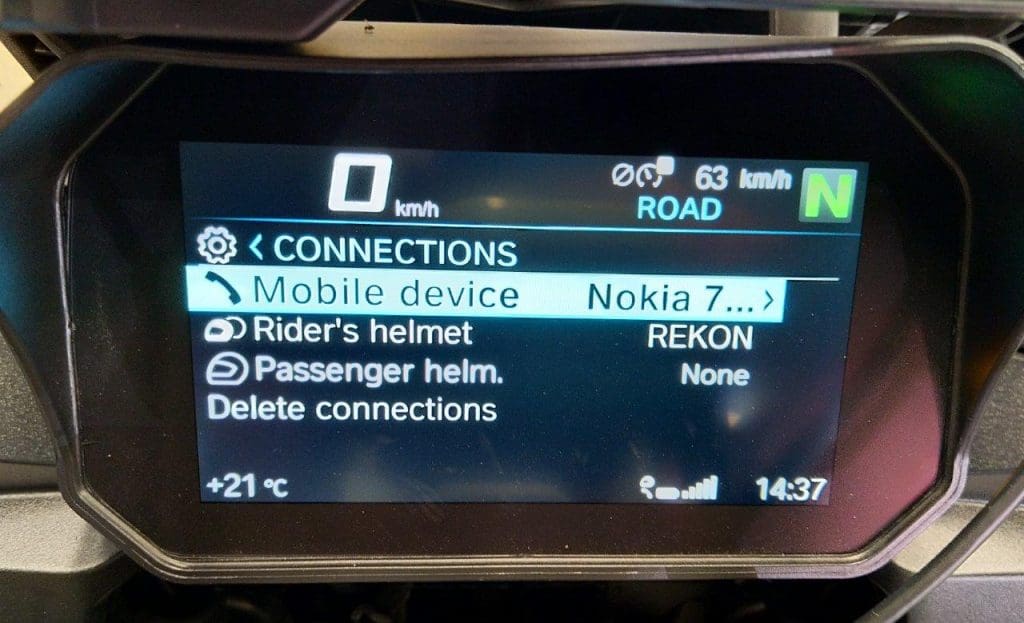 Awesome Audio – the IASUS XSound3 Helmet Speakers
The IASUS REKON does require an audio output component to function as a complete system and face it, if you want the best audio output, get the best; and we did, with the latest iteration of the XSound 3 helmet speakers provided.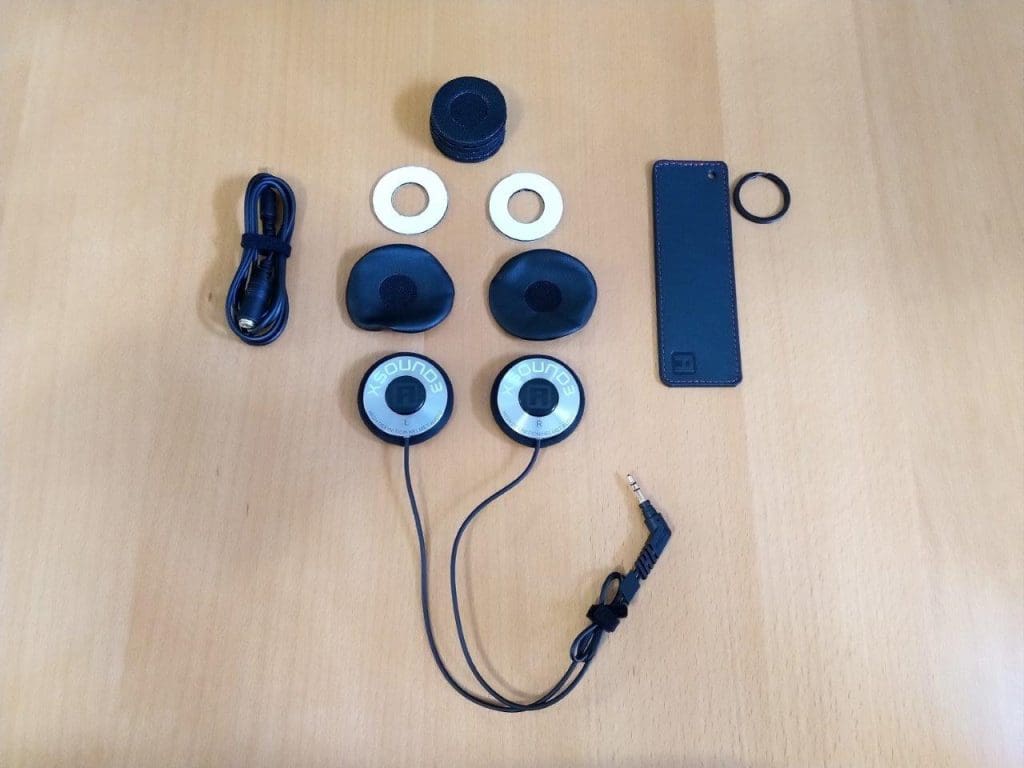 IASUS first marketed high fidelity audio drivers specific for helmet acoustic applications over 15 years ago and wBW last reviewed them at the end of 2014. They were a stellar offering then and six years later the latest XSound 3 high definition speakers are even better – they still reign.
And for those who follow my wBW ramblings about helmet audio and helmet speaker comparisons, you might be wondering if the IASUS XSound 3 helmet speakers shuffle the standings; read on…
XSound 3 Speaker Features
If the XSound 3 speakers were the first IASUS product ever seen, they would make an outstanding first impression – CNC all-aluminum chassis, quality slip-on foam covers, heavy duty Kevlar reinforced wiring, and a robust angled 3.5mm gold-plated jack connector.
Compilation Listing
25mW power, 125dB Sensitivity, 60 Ohm impedance
Frequency range of 20Hz to 22Khz
Ultra-slim 9.9mm (0.39in) CNC aluminum chassis
Lightweight 34g (1.2oz) for set
Kevlar reinforced heavy duty cables, 40cm left lead & 20cm right lead (15.7in & 7.9in)
High quality, high end robust materials
Easy to install using included Velcro hook-n-loop cut-out rounds
Customized distance spacing pads included
The individual speakers are very lightweight particularly in comparison to other larger HD rated pieces, but the headset sure packs a powerful hi-def punch thanks to their superb frequency response and overall performance.
And with the 3.5mm interface, the XSound 3 headset can be installed in virtually any helmet with a BT helmet system equipped with an auxiliary audio input interface – a feature that many manufacturers now provide as an integrated interface or separate extension.
Audio output testing is more subjective, at least without a small suite of test equipment and a sound-lab environment, but the IASUS XSound 3 speakers based on overall frequency response and personal listening environment continue to outperform (by small margins) the most recent Cardo Sound by JBL kits and Sena's new HD speakers.
But they have competition in the form of the UClear Digital Pulse Pro 2.0 speaker system used on the UClear Motion Series products, so a tie exists between the IASUS and UClear speakers regarding my subjective 'best' helmet audio choice…
XSound 3 Headset Installation
Kit Components: Left and Right speakers on a 2 into 1 harness terminating in a heavy duty 3.5mm jack, a 1m (39.3in) heavy duty extension cables, mounting rounds, foam speaker spacing pads, foam covers (installed), polyurethane covers and, a special IASUS custom flat piece (outer ear pusher) for resolving those tight fits…
With the main unit mounted horizontally just below the intake vent on the Arai Corsair, the short 3.5mm audio connection lead is positioned on the right side. In some helmets, including the Corsair, the XSound 3 headset harness is a bit short in its reach to the base module audio connection, especially is trying to keep the 'L' and 'R' marked speakers on their respective sides; although depending on the main module layout, the L and R speakers sometimes switch sides…
For the initial installation, I added a 20cm or 8in 3.5mm M/F extension to better bridge the headset to module audio connection that can be a bit tight, although the excess needed to be tucked away between the outer shell and liner section.
After passing the harness length observation to the IASUS team, a short M/F flex-coil extension was provided; easy to connect, and easier to tuck away between shell and liner; all good. Unless another 3 or 4cm (1.1 to 1.5in) is added to the headset lead the extension should be an addition to the retail kit.
An important point to remember is that the speaker or speakers of a helmet headset need to be precisely aligned with the ear/ears and as close as possible. IASUS recommends that the speakers be fitted so they touch the ear, although for comfort, airflow, and listening enjoyment, I keep a slight separation between the speakers and the ears.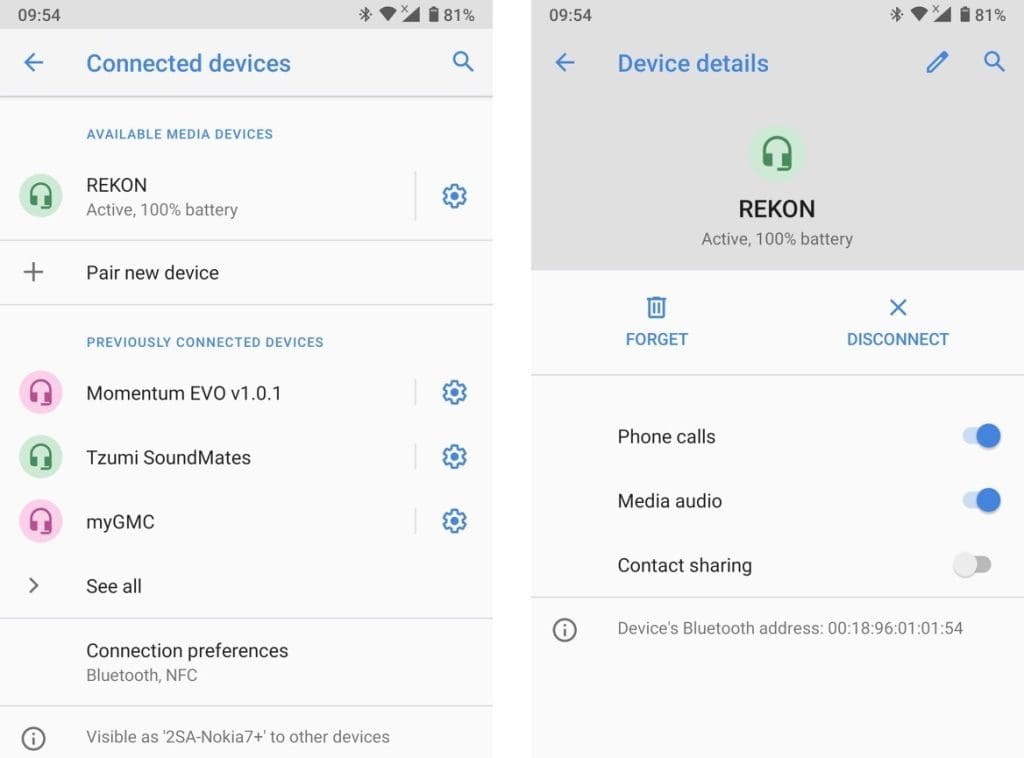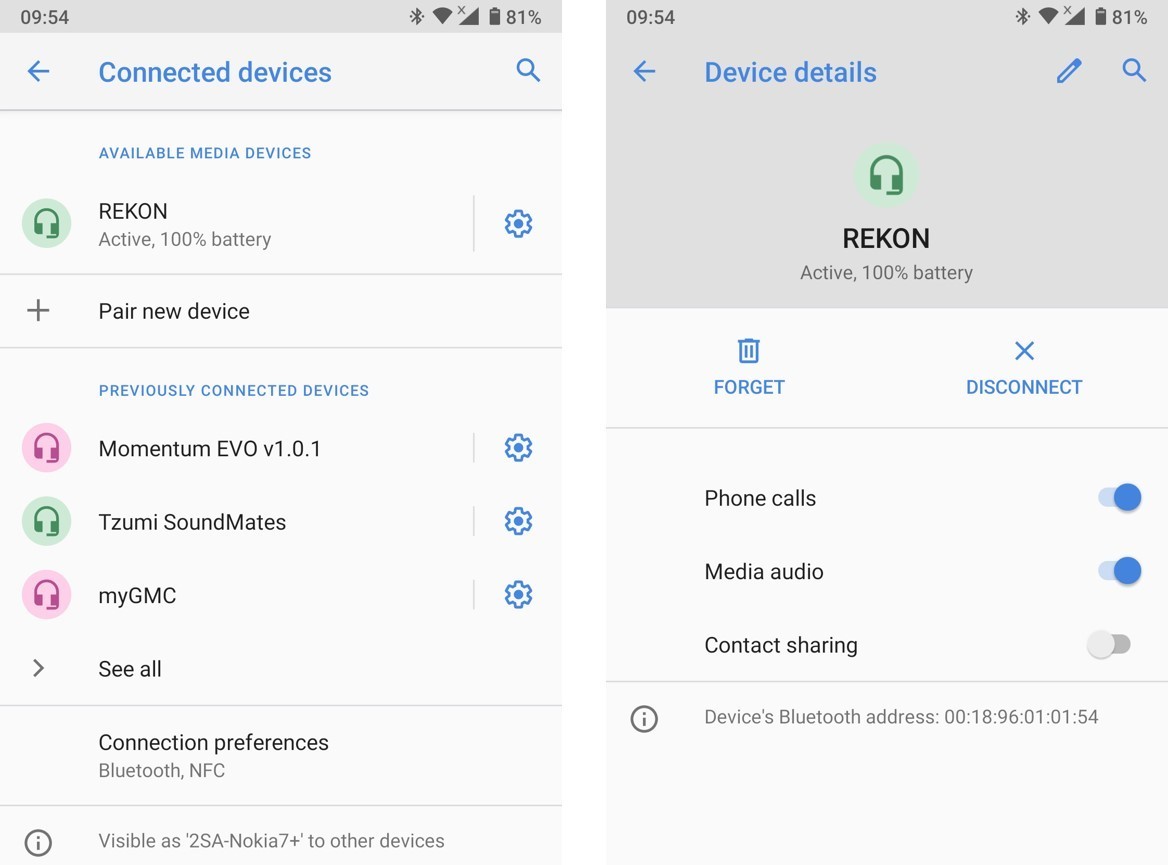 REKON Use – Functional Performance & Observations
A simple two second push of the centre Red button boots up the REKON, audibly announced by the rising tone sequence and to observers the very cool LED background lighting from the top, right and bottom segments of the control piece.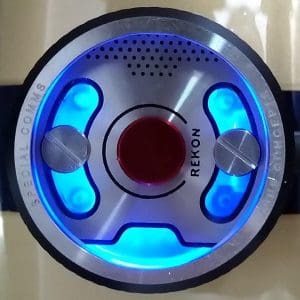 See and be seen – in use and as viewed from the front, particularly by oncoming traffic, the REKON's LED backlighting pattern presents a distinctive visual beacon; one fellow rider says it is my Buck Rogers look…biddi-biddi-biddi.
This frontal and internal placement provides some benefit vis-à-vis a side-mounted BT system as there is no side profile hung out in the air stream; not that most BT helmet systems are bad in this regard…
From a user perspective, there is some reduced effort overall between using the front-mounted REKON and a side-mounted helmet system, mainly as the arm/hand isn't moved fully out into the main air stream (depending on motorcycle/cockpit environments of course).
Less the physical movement required, interaction with the REKON is almost effortless – input is direct and positive and function switching is fast.
Top-tier BT Helmet Communication Systems have multiple Bluetooth processing capabilities that can provide multi-channel (concurrent) audio, allowing an intercom session to continue uninterrupted even with other audio sources active (foreground/background overlay).
But by design and objective, the IASUS REKON is focused on providing a 'personal' headset experience with a tailorable audio output option providing the means to connect to and exploit all the potential of a paired/connected smart device.
A typical configuration when using the REKON (or the Stealth system) is with the Samsung XCover Pro and/or Nokia 7+ smartphones paired for phone, audio from apps and music streaming, PoC communication and the Navigator VI for navigation audio as desired.
Alternatively, connecting the IASUS systems to the BMW Connectivity feature on the motorcycles allows that hub to manage pairings, connections and distribution of audio using the Jog Wheel for menu and option selections, including AVRCP and volume control, etc.
Other ongoing test mixes include the use of two phones along with a Navi or the WunderLINQ, so that audio services and switching between phone, navigation App audio, music streaming and PoC services can be further evaluated; now including two BT BLE Zello-compatible PTT pieces (see below).
Audio input – effectiveness of the integrated microphone is indeed best with the main unit mounted horizontally and centred in front of the user, although in trying various placements on three helmets, when the module is vertically mounted and the microphone sits slightly to one side and further away from the rider, audio pick-up is still very good.
But after years of using communication systems for work and play I still prefer a microphone with some positioning flexibility; this type of flexibility would be good to see as an engineered option for the REKON.
Audio output – the XSound 3 speakers are neck and neck with the UClear Pulse Pro 2.0 speakers as the absolute best for (my) use – providing outstanding audio environment in virtually any helmet they are installed in and at lower speeds and/or in a quiet cockpit the full audio spectrum is to be enjoyed – music, navigation audio or communications.
But, like virtually every other helmet speaker headset on the market, the XSound 3 speakers do have their limit, although at speeds well beyond highway or interstate norms and admittedly in mid to loud cockpit environments.
Helmet design, features and fitment are key in minimizing surrounding, cockpit and helmet noise; and using the XSound 3 headset in the Arai Corsair and the Schuberth C3 Pro helmets reveals that on a fully or partially faired motorcycle much of the tonal range is maintained even at high(way) speeds and communication remains viable in even noisier conditions.
Another feature-rich and very quiet helmet, the HJC RPHA 11 Pro Carbon, is going to receive the IASUS REKON and XSound 3 components shortly to assess this combination; I suspect it will be a good very-good one; and, it is.
Communications, simplified – outside of phone calls and acknowledging that there are lots of real time and messaging interfaces and services via apps and subscriptions, some used during this review, but Zello ends up being the go-to for personal communications as the most excellent way to validate function and performance of the REKON and Stealth systems.
However, using the main screen PTT button or another assigned button on the phone gets old in a hurry, even when mounted in its cradle on the left side of the handlebar; a wired or wireless PTT remote of some sort would be good.
For PoC communication however, both Android and iOS versions of the Zello App provide the ability to add, configure and remove PTT button controls on compatible hardware devices and a Zello link identifies some compatible mobile radio and cellular-based devices along with simple PTT products.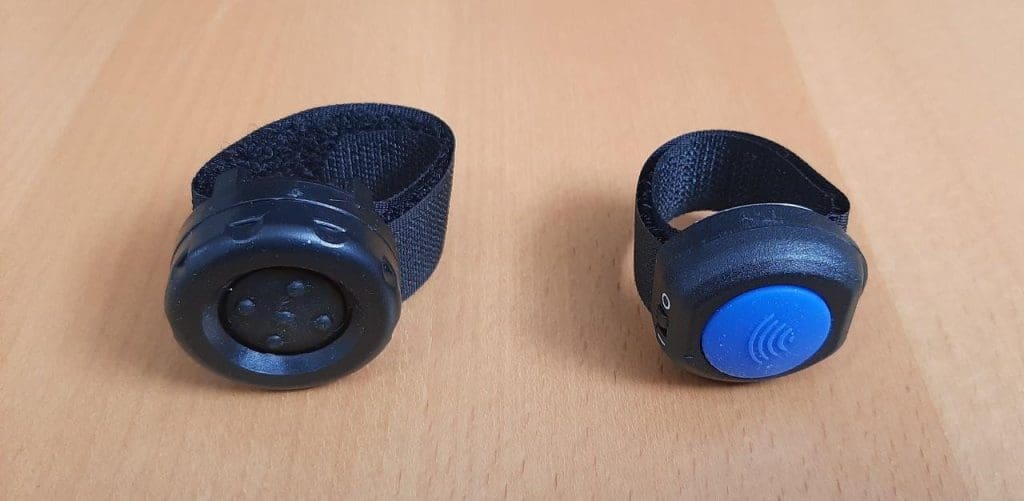 Remote wireless BT BLE PTT – I know that IASUS has plans for a small mountable or finger-tip-based PTT, but while waiting on this, two other small consumer-oriented Bluetooth Low Energy or BLE devices were sourced for compatibility testing with the smart devices and the IASUS REKON and Stealth systems.
Both these BLE devices work well for Zello App interface purposes and they have, with limited testing, proven compatible when using the IASUS systems as there is a provision in the firmware for this type of device, although access to more mobile radio-based systems is needed to continue validating overall functionality of these PTT/PoC pieces.
Of note is the fact that the Android smart devices and respective Zello App versioning have generic support for these devices, whereas the iOS Zello App has specific pairing routines for both these devices with the BLE buttons specifically identified and linked for use – a level of sophistication (and ability) not yet apparent in the Zello Android version.
Conclusion
The IASUS REKON BT System, with whatever preferred audio listening solution is chosen, is truly the sum of its parts; superbly made and functionally simple with excellent microphone input and superb audio output, especially with the XSound 3 speakers used.
Microphone input on the IASUS systems is also excellent whether optimally positioned or not and for the most part no matter how noisy the ambient and cockpit environments are. As way of an accolade…it is close to the UClear standard.
Our original wBW review of the IASUS XSound 3 Speakers identified "phenomenal sound quality" and "the XSound 3 speakers can take higher volumes with less distortion than most standard speakers…the bass response is also outstanding; you can actually "feel" the bass as you listen…the quality of the sound seems much "wider", with both mid-range and bass "opening up" compared to standard speakers."
There has been a lot of audio development work since the above words were written but they are as true now as they were then and in some ways, even more so, and until the latest iteration of UClear Speakers, the Pulse Pro 2.0 were tested, the XSound 3 speakers remained my overall standard; now we have a tie.
In lacking an integrated BT or Mesh-based intercom capability among other usual features found on most helmet communication systems, one might think the IASUS REKON (and Stealth) are at a real disadvantage; but for what they are designed to do and do, they aren't.
The Bottom Line – I admit some bias regarding IASUS products as a long time user in previous professional lifetimes and for motorcycling when on the road alone when near term connectivity from short-range BT and Mesh systems isn't needed nor all their features. Moving from IASUS wired systems to the wireless BT 5.0 architecture has served to strengthen my assessment that the IASUS REKON remains the best personal communication system available against which all others will be compared. It isn't 'cheap', but ownership provides exclusivity along with seamless functionality and superb audio with the XSound 3 speakers. If in the market, the IASUS REKON is worth a close look; highly recommended to fill defined requirements for professional or personal applications. 
Pros
Sophisticated design with stylish low-profile look
Lightweight custom components
Individual systems reveal outstanding build quality
Distinctive LED back-lite control face is highly visible
Simple tactile-friendly controls work, even with heavy gloves
Controls support custom functions like PoC (PTT) control
BT 5.0 with BLE for functional efficiencies including long battery life
Outstanding audio support with A2DP and aptX HD profiles
Superb helmet audio when XSound 3 speakers used
3.5mm audio output for helmet-mounted speakers, earbuds, or other audio solutions
Quick action magnetic mount charging port & cable
Arguably the best personal helmet system available
Cons
3.5mm audio connector is on a short lead and can be awkward to tuck out of the way
XSound 3 harness is also a bit short – extender needed (and was provided)
A bit expensive in feature to feature comparison with BT/Mesh communication systems
wBW Specs:
Manufacturer: IASUS
Pricing: REKON $349.00 USD or REKON with XSound3 Helmet Speakers $449.00 USD, XSound 3 Speakers $119.00 USD, IA Waterproof Earphones (Short) $39.00 USD, availability may be limited
Made In: (China)
Colour: Black with brushed aluminum housings (and Blue LED output)
Warranty: One-year Limited Warranty
Review Period/Date: May to September 2020
Submission Date: 27 October 2020