Iasus Diablo Mobile Amp Review Summary
Iasus Diablo Mobile Amp Image Gallery
The Iasus "Diablo" Mobile Amp increases the volume available from an electronic device such as an MP3 player or radio.
It can pump up the volume by 50% with a 15 dB boost, so be careful — you can damage your hearing and ruin your earbuds at the same time!
Tiny MP3 players, mobile radios and the like sound fine when you're sitting in the dorm room, but get out on the road wearing a noisy motorcycle helmet and it's a different story.
Even the background noise in an airplane can overwhelm most music players, although the answer may not always be higher volume.
High-quality, tight-fitting earphones or earbuds can affect the clarity and volume of the music or podcast…and that goes double if you're listening to a speech or someone reading a book.
Then with volume comes the problem of distortion.
For example, the tiny Sansa Clip+, a handy device in need of a better equalizer, starts to break up as the volume reaches max.
Even the excellent MEE M6 earbuds (review) are affected by the Clip's meager sound quality. But sometimes, louder is better. So how do you get more sound out if a tiny MP3 player when riding a motorcycle?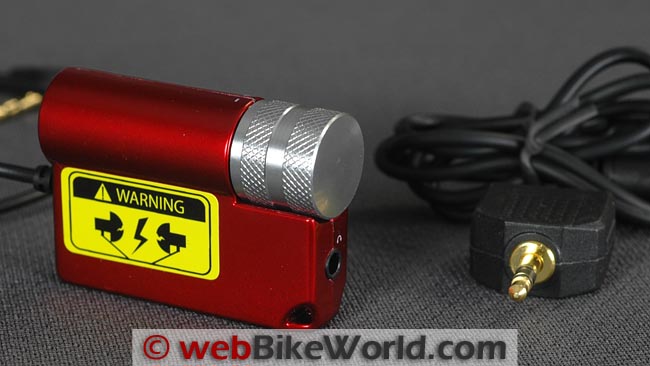 Motorcycle Intercom Noise Notes
Before we start, note that it is crucial to have your motorcycle intercom speakers located as close to your ears as possible for best results. There's probably some geometric reduction in dB for every millimeter of distance that the speaker is moved away from your ears.
Use the foam padding that comes with your intercom kit or make some foam circles to use as backing for the speakers to bring the speakers as close as possible to your ears.
Also, don't forget that helmet noise is significant, so a tight-fitting helmet with adequate neck roll padding helps. External noise from your motorcycle and/or windscreen will also reduce overall sound volumes. All of that figures dramatically in the sound quality of speakers or earbuds.
The Iasus Diablo Mobile Amplifier
Iasus is the innovative company that makes the Iasus Throat Mic (review) we reviewed not long ago.
The Iasus Diablo is simple and easy to connect; it goes in between your MP3 player and your earbuds.
Connect the earbuds from your MP3 player or radio or other device into one end of the Diablo, then connect the built-in cord from the Diablo into the output jack of the MP3 player, turn on the Diablo and you're ready to go.
The aluminum CNC-machined dial on the end of the Diablo can be cranked up to max, but be careful — really careful — because 1. It will blow out your eardrums and 2. It will (probably) destroy your earbuds.
I was trying to figure out how we could measure the difference in output with and without the Diablo — it sounded like it added about a 50% increase in volume — when I discovered that Iasus indeed claims a 50% increase.
That sounds (pun) about right. They say it's a 15 dB increase with no more than 0.3% harmonic distortion; quite a bit actually for a matchbox-sized amplifier.
I also can't quantify the sound quality improvement, but it sure seems to me like the Diablo amp pumps out a lot more sound at higher volumes before it gets muddy.
Of course, this will vary, depending on the quality of your earbuds.
Note that Iasus strongly encourages motorcycle riders to use helmet speakers with the Diablo Amp instead of earbuds, not only because of the potential damage to the earbuds but also because it is illegal to ride with earbuds in many localities in many countries around the world.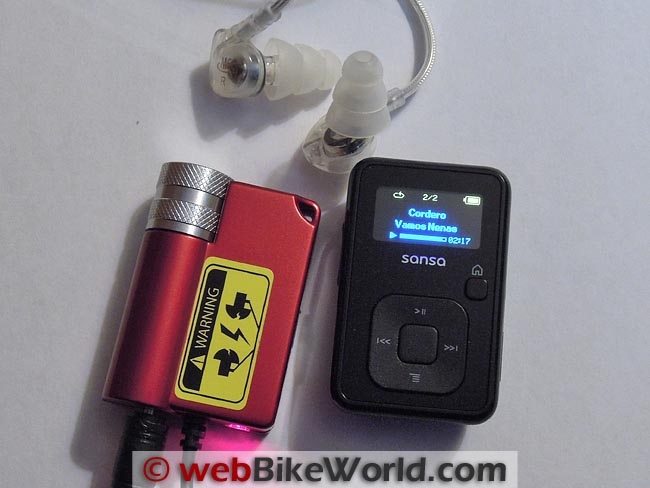 Charging
The Diablo has an internal rechargeable lithium battery. It recharges with a provided USB cable; it's a special cable with a 3.5 mm jack on one end and a standard USB tip on the other. So don't lose it…
A red light glows as it's charging and Iasus says the fully tanked-up battery should last about 20 hours. I charged mine once and it's been working ever since.
It only took about 20 minutes for the initial charge, but I don't know how depleted the battery was when the Diablo arrived; there's no way to tell when it's running low.
Iasus warns against leaving the Diablo on the charger after the light goes out, so you'll have to keep an eye on it and not leave it sit overnight. They also say that it takes 2-3 full charges and discharges for the battery to reach its maximum potential.
Iasus also says that the battery life of the MP3 player can be extended by up to 50% when using the Diablo. Apparently this works by keeping the volume on the MP3 player lower and using the Diablo to increase the volume.
But you still have two batteries to charge then (the MP3 player and the Diablo) don't forget.
The Diablo also has an on/off switch along the bottom. The red-colored body is made from plastic and the red coating is a bit thin, as mine already showed some wear when it was fresh out of the box.
The split lines in the red plastic molding also seem a bit wide to me (as you can see in the photo below); it would have been nicer if the body was made from aluminum also, especially at the price they're getting for it.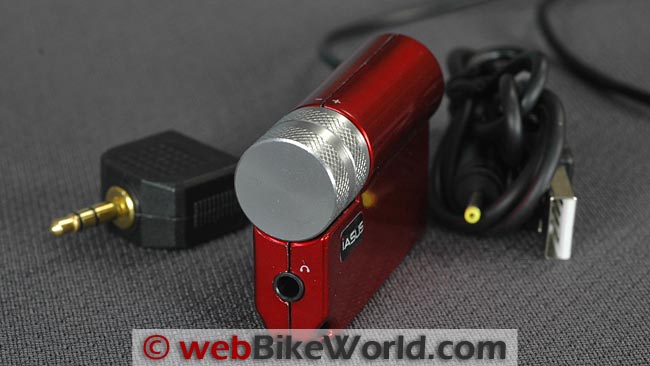 Using the Iasus Diablo
The Diablo also comes with a dual headphone jack splitter, so I guess you and your passenger can listen to the same music. I tried it once, it works. But I'm not sure how often someone in close proximity to me will want to hear the same music at the same volume.
The volume control on the Diablo will go from all the way off (no matter how loud your MP3 player is set) to max volume.
It has a nice feel but no clicks, and I found that I had to hold the exposed wheel when I was placing the Diablo in my pocket, to make sure the volume wheel didn't change by moving against the insides of my pocket.
Some firm clicks or maybe a volume lockout button would be appreciated.
The dial is big enough to find when wearing gloves, although there is no clip on the Diablo, so you have to either store it in a pocket or let it hang around your neck, using the built-in cutout at one corner of the device where you can loop a string.
The built-in wire from the back of the Diablo to the output jack that plugs into your MP3 player is about 55 cm (22″) long.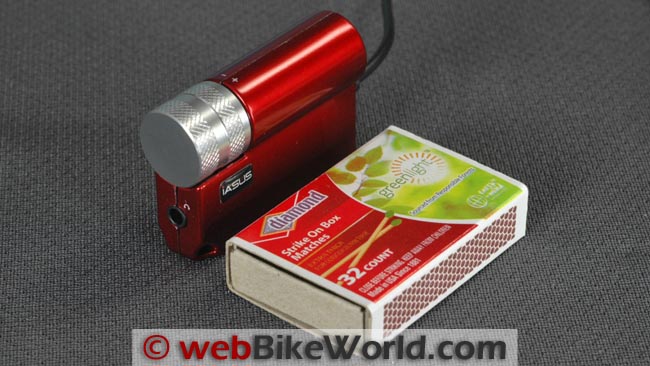 Iasus Diablo and Helmet Speakers
It would theoretically be possible to plumb the Diablo into a set of helmet speakers that come with a motorcycle intercom to raise the volume.
I guess you'd have to solder a 3.5 mm female jack on to the wires coming out of the intercom, then solder a male jack on to the speaker wires and connect the Diablo in between.
I did not do this, as I don't have an intercom set with removable plug-in speakers, nor do I have an intercom set that I'm willing to experiment on. Perhaps one of our webBikeWorld readers who owns a Diablo will take the chance and let us know how it works.
The Interphone F4 intercom (review) has an output jack for the right side speaker, but it uses a 2.5 mm jack rather than the 3.5 mm found on the Diablo, so we couldn't try it there.
Of course, cutting the wires would also void the warranty on the intercom system.
Wearing earbuds while riding is usually illegal in many states and other countries, and I'm not really fond of doing this myself, so I can't recommend it.
I find the volume of the modern intercom systems, like the Interphone F4 (review), the Sena SMH10 (review) or the Cardo Scala Rider G4 (review) to be perfectly adequate, even when wearing ear plugs.
Some riders have complained that they can't get the volume loud enough at high speeds.
While this may be true, there may also be other factors, like wind noise from a fairing or the usual loud sounds of a motorcycle at 100+ Km/H that are going to overwhelm just about any system. I'm not sure adding more noise at those speeds is a good idea anyway…
Iasus Diablo Mobile Amp Specifications
Dimensions: 50 mm x 35 mm x 15 mm (2" x 1.4" x 0.6")
Weight: 33 grams.
Color: "Detonator Red" with machined aluminum volume dial.
Output Power: Up to 45 mW.
Max Noise Output: Less than 0.5 mV.
S/N Ratio: 80 dB.
Frequency Response: 20 Hz to 30,000 Khz +0/-6 dB
Impedance: Input : 2.2 k Ohm. Output : 16-32 Ohm.
Conclusion
The Iasus Diablo Mobile Amp does what they say and the warning sign on the side is no joke. You want more volume? You got it.
But it's not without cost — literally and figuratively. The list price is $99.00, which seems to me like a very expensive price to pay for up to 50% more volume at the upper limits. And, it's one more device to have to carry and connect.
The question about whether or not it would work with a set of motorcycle Bluetooth intercom speakers is also unanswered.
I'm not sure you'd need more volume using earbuds (which are mostly illegal to use when riding), but almost every set of helmet speakers can use more volume.
Although another unanswered question is how much volume those typically thin helmet speakers could take without distortion.
But, it's good to know that the Iasus Diablo Mobile Amp is there if you need it. An amplifier the size of a matchbox; pretty cool actually!
See Also:
▪ iASUS XSound 3 HD Speaker Review
▪ iASUS Diablo Mobile Amp Review
▪ Tork XPro X2 Speakers Review
▪ iASUS Throat Mic Review
▪ iASUS EAR3 Amplifier and XSound 2.1 Speaker Review
w

BW

 Review: Iasus Diablo Mobile Amplifier
Manufacturer: Iasus Concepts
List Price: $99.00 USD
Color: Red.
Made In: Unknown
Review Date: December 2011
Note: Item provided by a retailer, distributor or manufacturer with these Terms and Conditions.
Note:
 For informational use only. All material and photographs are Copyright © webWorld International, LLC since 2000. All rights reserved. See the webBikeWorld® 
Site Info page
. Product specifications, features and details may change or differ from our descriptions. Always check before purchasing. Read the
Terms and Conditions
!
Owner Comments and Feedback
---
From "J.L." (January 2012):  "Just a side comment on the Diablo, I was all set to order the "Winter Special" a Diablo Amp, Helmet Speakers, and Volume Control, for $145.00 and got to the shipping charges..$25.50 for shipping listed USPS Priority.
I know for a fact I can ship that small of a package in marked USPS Packaging (free from the post office) for $7.50 or less from Coast to Coast.
It has always rubbed me the wrong way when a manufacturer attempts to make more margin off the shipping of an item than the product itself.
I look at this as unethical and underhanded. It also took any faith in the quality of the product I may have had and covered it with cheese.
The unrealistic shipping charges make the whole process look like a scam and I just won't play that game. I will look elsewhere for a similar product."
Editor's Reply: Just to note, it's expensive to pay the credit card or PayPal transaction fees, buy boxes, packing, do the printing of labels and receipts and have an employee pack the product.
I'm not saying their shipping charges are justified, but no business can ship at cost, there is a significant amount involved. I know this because it costs us a small fortune just to ship a 1 oz. package of Posi-Locks and I have to add the cost of the envelopes, shipping tape, labels, printing of receipts and Post Office schlepping…
---
From "Y.L." (December 2011):  "This caught my interest as there are home-made amps and multiple tutorials on executing the build. For example, there is the CMoy Pocket Amplifier that can be built for as little as $20 and is approximately the same size as the Iasus.
The XIN super mini amp is another tutorial that also mentions it can last up to 75 hours. Apparently they can be bought … from members in the Headwize or Head-Fi marketplace forums.
DIY amps are very popular and the price varies with how good of an amp the user desires as well as the modifications they want, such the the large volume control you like, multiple types of power sources, enclosures, functions, etc."
Editor's Reply: After reading the instructions for building these things, paying $99.00 for the Iasus seems like a great deal!
---
From "M.E." (December 2011):  "Hi, you might want to test one of these (the AmpliRider) some time, Its hand built to HiFi standards and not as expensive as that sounds. Just a tip-off, I'm not involved in any way…"
Other WebBikeWorld Accessory Posts