iASUS EAR3 Amplifier Review Summary
iASUS EAR3 Amplifier Image Gallery
The brand-new iASUS EAR3 amplifier is the latest generation of iASUS amps.
We reviewed the original iASUS Diablo mobile amp back in 2011 and the EAR3 is an update to that device.
The EAR3 uses the same "mini" form factor as the Diablo and it includes a new trick or two.
iASUS claims a 10dB boost at less than 0.03% distortion and our ears tell us that sounds (pun?) about right.
Slip an EAR3 between a set of upgraded speakers, like the iASUS XSound 2.1 or the Cardo 40 mm optional speakers or even stock speakers and crank up the volume.
Don't crank too high though, because stock speakers probably can't take it — and neither can your ears.
The EAR3 amp will boost volume to a point where if you need it any louder, you need to go to one of these.
For sure, the quality of your cheesy .mp3 tunes and crummy smartphone music app will absolutely be the limiting factor here.
And be careful — you'll want to hear at least some ambient sound when you're riding a motorcycle.
That's where the EAR3's featured feature comes in: it has a built-in mic that can be switched on so you can hear what's going on around you.
The EAR3 was/is available through an Indiegogo campaign. As a rule, we do not promote crowdfunded products even though we get dozens of offers each week. The Editor just isn't a fan of crowdfunding.
But at this point, that's the only way to snag an EAR3, so there you have it.
We get a lot of emails from motorcyclists wanting more, more, more volume and there are a few tricks that can help, some of which we've outlined below.
But if those don't work, get yourself an EAR3 and a set of upgraded speakers and that should do it for you.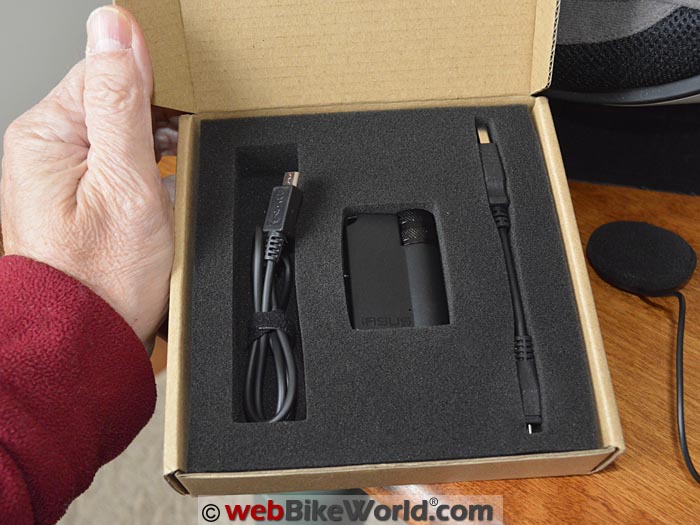 Improving Motorcycle Intercom Sound
Once more, before we start, here are a couple of tips for getting the optimal sound from your motorcycle intercom system.
First thing, be sure to mount the intercom speakers as close to your ears as possible inside the helmet for best results. There's probably some order-of-magnitude reduction in dB for every millimeter of distance that the speaker is moved away from your ears.
Most intercom kits come with some foam padding or you can easily make some foam spacers to use as backing for the speakers to bring the speakers as close as possible to your ears when the helmet is on.
That's the most important thing you can do to improve both sound quality and volume for a helmet intercom system.
Also, don't forget that road and wind noise when riding a motorcycle is significant, so a tight-fitting helmet with adequate neck roll padding helps.
Note that we always wear high-quality, correctly-fitted ear plugs when riding a motorcycle, even when evaluating intercom systems. And note also that it can be dangerous to have the volume level cranked up so loud that you don't hear what's going on around you.
Hearing is one of the senses you use to keep alert and out of trouble when riding a motorcycle and you certainly don't want to give up one of your senses.
Also, wearing in-ear speakers (i.e., earbuds) when piloting a vehicle is prohibited by law in most areas, so we advise against doing that.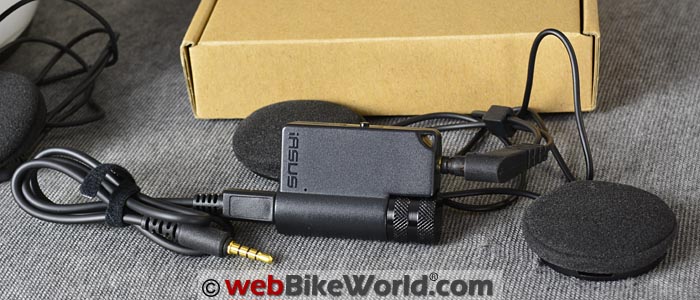 The iASUS EAR3 Amplifier
iASUS claims to have produced "the world's first micro amp for portable devices" about 10 years ago. We reviewed the original iASUS Diablo mobile amp in 2011, along with the iASUS XSound 3 HD Speakers (review) in 2014.
And while you're at it, there's our interesting iASUS Throat Mic review in case you're interested in something unusual.
So the EAR3 amp is just one in a long line of high-quality iASUS motorcycle intercom accessories.
Other than the black color, the EAR3 looks identical to the iASUS Diablo amp, which was red. It weighs a miniscule 30 grams and measures 51 mm by 36 mm wide by 16 mm thick at the round volume control dial.
That volume control turns about 340 degrees — nearly one complete revolution — and it has a slight click for the off position. It isn't what I'd call well-damped, but it does offer some resistance (quite a bit actually) to help prevent unwanted settings.
On the volume dial end is a standard 3.5 mm jack port and the opposite end has a micro-USB connector, the standard type used in most/all smartphone chargers today.
The battery is an undefined type and rating, but iASUS claims it will last up to 20 hours per charge. Other than a red LED that glows when it's charging, there's no apparent indicator of battery life.
Our EAR3 worked right out of the box and took about a 1/2 hour charge for the LED to turn off, which indicates a full charge.
Specifications include:
Boost of 10dB with less than 0.03% distortion.
Output of 130mW per channel at 32 Ohms.
Signal-to-Noise ratio of 100dB at 32 Ohms, 20mW.
Impedance: Input 1k Ohm, Output 16-32 Ohm.
Not being an audiohead, I not only have no idea what all that means but I also don't know if it's good or bad.
All I do know is what I hear and that's impossible to convey in writing, in an audio file or a video, so you'll have to take my word for it.
Sound Volume and Quality
When you plumb the EAR3 inline between your helmet speakers and audio source (e.g., smartphone, music player, etc.) and crank up the volume, it's loud. Really loud.
The music also sounds more clear, more precise, with better bass and overall better quality. Again though, the better your speakers, the more you'll notice the difference.
The EAR3 can easily out-max the basic (but actually pretty good) speakers that come with the Cardo Q3 or Sena SMH5, for example.
So unless you have a high-end motorcycle intercom system and/or better speakers than you get on a low-end intercom system, you'll get more volume but the music sound quality improvement won't be as noticeable.
You may also run the risk of blowing the stock speakers if you max the EAR3's volume if you're using cheap speakers.
Bottom line: the stock speakers that come with the Sena and Cardo lower-end intercoms we have on hand don't have comparable sound quality compared to an accessory speaker kit like the iASUS XSound 2.1 speakers shown here (also new from iASUS, list price $60.00) or the excellent Cardo 40 mm accessory speakers, a bargain at $32.95.
You may even want to upgrade your speakers anyway, even on the higher-end intercom systems, because the XSound 2.1 and Cardo 40 mm speakers may be just a touch better and more amenable to the sound volume and quality improvement you might get from the EAR3 amp.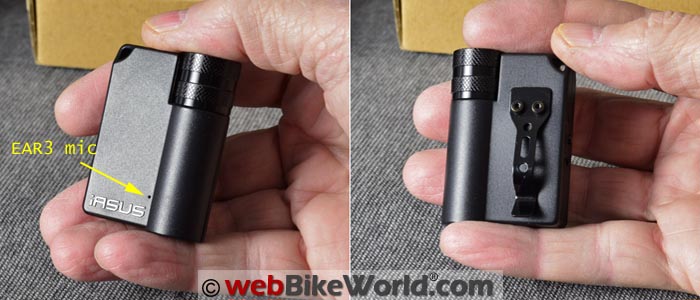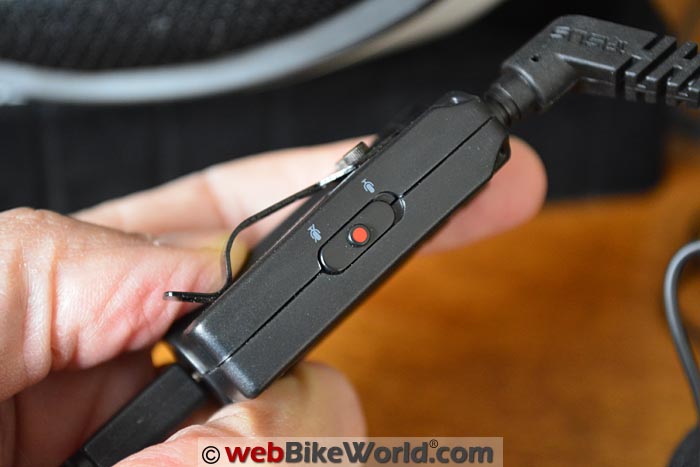 Other Features
One of the updates to the EAR3 is the built-in mic (tiny hole near the iASUS logo on the EAR3, see photo) that allows ambient sound to be heard. You have to adjust the output sound on your music source or smartphone or device, then adjust the EAR3 volume dial to get the optimal mix.
It's a bit crude, especially when riding a motorcycle. You'll probably have the EAR3 clipped to the collar and inside your jacket once you set the volume, so the mic won't do much anyway.
If the EAR3 is outside the jacket, the mic can pick up wind noise, and nobody wants that as background to your tunes.
In all fairness, the EAR3 wasn't really designed with motorcycling in mind. It was designed for all sports, so the mic with ambient sound feature is more useful if you're using the EAR3 with a music player as you're walking, bicycling, working out in the gym, etc.
There's a switch that turns the mic on or off, so you can turn it off and don't worry about it. (Here's a .pdf copy of the EAR3 instruction manual).
iASUS EAR3 Summary
That's about all I can say about it; the EAR3 is a simple device, simply connect it inline to your helmet speakers and crank up the volume.
You'll have to decide for yourself the correct mix of smartphone/device volume and EAR3 volume; we found that maxing out the Bluetooth volume on a smartphone and then tempering it with the EAR3 works pretty nicely.
We strongly suggest a set of good accessory speakers though to get the most out of the EAR3.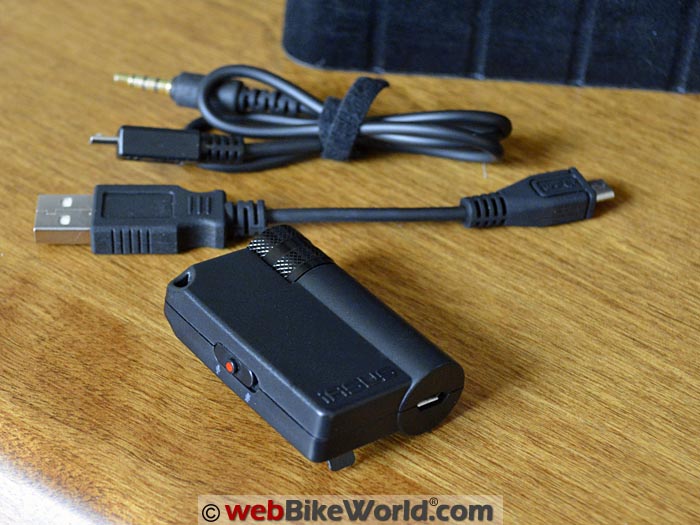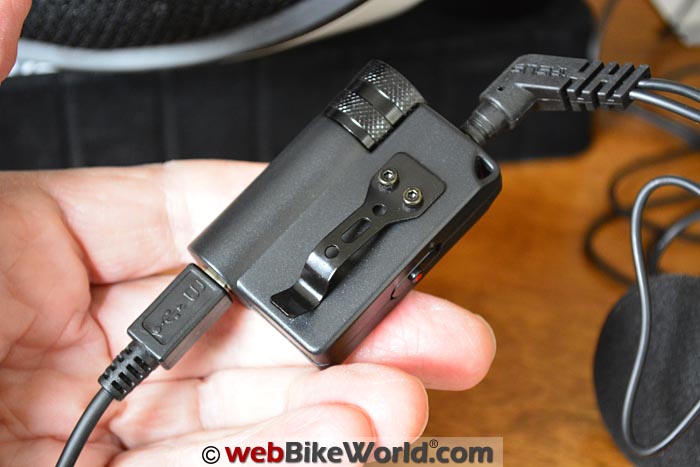 Speaking of Speakers…
iASUS also recently introduced their XSound 2.1 speakers. This is a less expensive alternative to the iASUS XSound 3 HD speakers we reviewed in 2014 with a list price of $99.00.
The XSound 2.1 speakers have a list price of $39.00 direct from iASUS (shipped from California in the U.S.A.) and iASUS currently has them listed at $49.00 on Amazon.com.
There are other optional speaker choices, including the new Cardo 40 mm speakers, with a list price of $32.95. They're just starting to enter the retail chain as this is being written.
Both the Cardo 40 mm speakers and the XSound 2.1 speakers are noticeably better than the stockCardo scala rider Q3 intercom (review) speakers.
We have been using the Q3 in a Bell Qualifier DLX helmet and also with the Bell MAG-9, both of which are in the webBikeWorld review process and both of which have a built-in recess to fit the Cardo Q3 or Sena SMH10 intercoms.
Just as an aside and not to steal any thunder from the upcoming reviews, but the Qualifier DLX has to be one of the best helmet bargains currently going.
It's loaded with features and adding the Cardo Q3 to the sleek built-in system, then adding a set of the XSound 2.1 or Cardo 40 mm speakers and the iASUS EAR3 amplifier makes for one fantastic helmet concert hall system.
The Cardo 40 mm speakers are noticeably better than the stock Q3 speakers.
But it's hard to tell the difference between the 40 mm speakers and the speakers that come with the higher-end Cardo intercoms, like the new Cardo Packtalk (review), our webBikeWorld 2015 Motorcycle Intercom of the Year award-winner.
The Cardo 40 mm speakers sound really good with the EAR3 amp but I'd have to say that the iASUS XSound 2.1 speakers have a "wider" sound than the Cardo 40 mm speakers.
I'm not an audiofreak, but I do notice more of the instruments playing, they sound better or crisper, with more separation, if that's what you call it. There seems to be slightly less of the typical .mp3/smartphone music player sound muddling.
Bass is good in both the Cardo 40 mm speakers and the XSound 2.1.
Note that you can combine amps and speakers on a motorcycle intercom until the cows come home and you're not going to have the quality of a decent set of over-the-ear headphones. And .mp3 files are awful for replicating music quality.
But you'll never notice the difference when riding a motorcycle anyway. Volume reigns supreme under those conditions and you'll get lots of it using the EAR3 and either speaker set, based on my experience over the last couple of weeks, riding before the snow hit.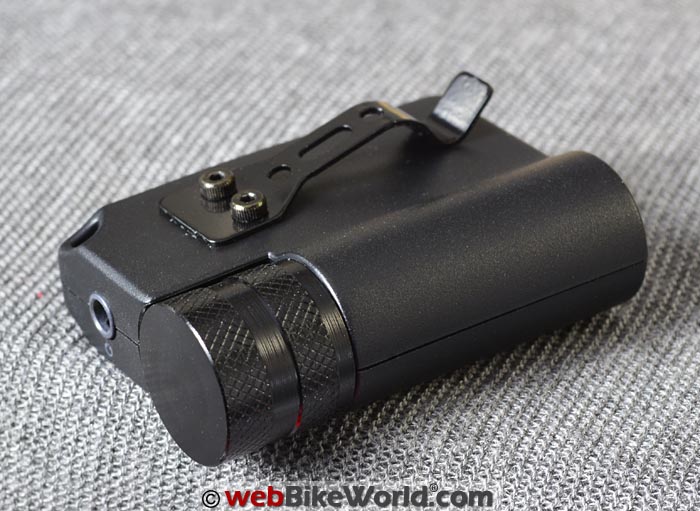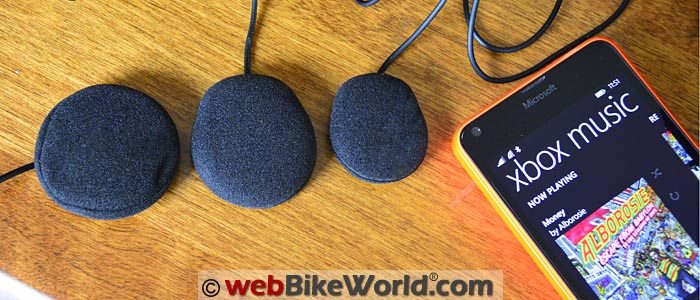 One More Thing…
There is one other feature with the EAR3 amp that iASUS told us about. If there is an unexpected loud audio input, the EAR3 will automatically suppress  the sound.
That's because the EAR3 is also intended to be used with noise reduction earbuds shooting sports so you can hear range instructions with suppressed gunfire sounds.
Conclusion
The iASUS EAR3 amplifier is for anyone who wants more volume from their motorcycle intercom system (that has a 3.5 mm speaker port).
Some caution is warranted, for what the EAR3 can do to your ears and your speakers. And it can be a little clumsy to connect and carry, depending on your intercom system.
We're kind of in-between EAR3 availability as this is being written. You may still be able to grab one in their Indiegogo campaign for $59.00 but apparently the list price after that will be a kind-of-high $99.00.
A hundred bucks seems like a lot to pay for a device that give you some increased volume. If you added $100.00 to the price of a basic intercom system, you may be able to jump to the next level and get increased volume, larger/better speakers and sound quality anyway.
But, for those who can never have enough volume, the EAR3 is a solution. If you need more justification, don't forget that you can always use it with your music player off the bike.
See Also:
▪ iASUS XSound 3 HD Speaker Review
▪ iASUS Diablo Mobile Amp Review
▪ Tork XPro X2 Speakers Review
▪ iASUS Throat Mic Review
▪ iASUS EAR3 Amplifier and XSound 2.1 Speaker Review
w

BW

 Review: iASUS EAR3 Amplifier and XSound 2.1 Speakers
Manufacturer: Iasus Concepts
List Price: $100.00
Color: Black
Made In: Hong Kong
Review Date: January 2016
Note: Item provided by a retailer, distributor or manufacturer with these Terms and Conditions.
Note:
 For informational use only. All material and photographs are Copyright © webWorld International, LLC since 2000. All rights reserved. See the webBikeWorld® 
Site Info page
. Product specifications, features and details may change or differ from our descriptions. Always check before purchasing. Read the
Terms and Conditions
!
Owner Comments and Feedback
---
From "D.C." (January 2016): "Now that you've had a chance to test both of these headsets, would you say the XSound 3 is worth the added cost?
Obviously, the XSound 3 purports to produce a higher quality sound, but is this easily noticeable when comparing the two? Comparing them while "still" is fine, as I would assume wind noise would ruin the "hi-fi" sound of the XS3. Would love to hear your thoughts. Thanks!"
Rick's Reply: We no longer have the XSound 3 speakers here, so it's not possible to do a comparison. But I'd guess there's an incremental difference only, just as there's an incremental difference between the Cardo 40 mm speakers and the XSound 2.1.
The Cardo 40 mm speakers probably offer the best bang for the buck. But there are some limiting factors on all of these, once you increase the volume using the EAR3 amp, you sort of get to the limits of what the .mp3 file and music player can ouput in terms of quality.
Also, once you get on the bike, it's nearly impossible to notice any difference and volume is key.
Bottom line? Under controlled conditions, there is a slight noticeable difference every time you move up but those differences become less noticeable on the bike.
Other WebBikeWorld Speaker Posts