Iasus XSound 3 Speakers Review Summary
Iasus XSound 3 Speakers Image Gallery
The Iasus XSound 3 speakers have an aluminum machined chassis, Kevlar reinforced speaker wires and phenomenal sound quality.
The XSound 3 speakers can take higher volumes with less distortion than most standard intercom speakers.
The bass response is also outstanding; you can actually "feel" the bass as you listen.
The quality of the sound seems much "wider", with both mid-range and bass "opening up" compared to standard intercom speakers.
In fact, I wish Iasus made a clip-on headband for the XSound 3 speakers, because I could easily see wearing these as a high-quality headset for off-the-bike listening.
The name Iasus should be familiar to webBikeWorld readers and the company makes a variety of interesting electronic products we have reviewed in the past, such as the Iasus throat mic reviewand the Iasus Diablo mobile amplifier review.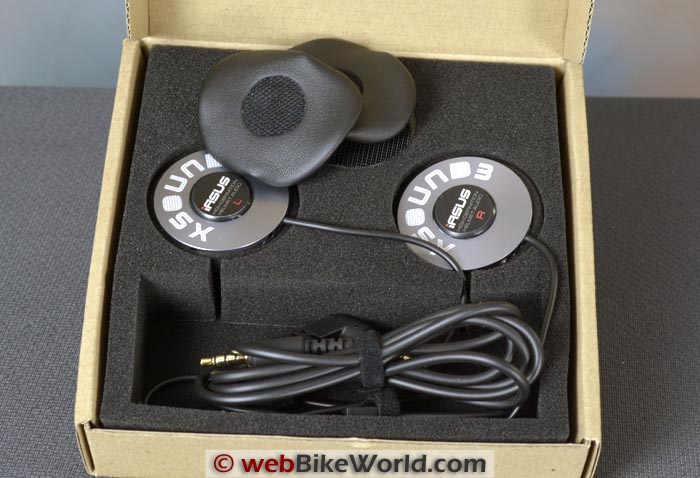 Introduction
We in a golden age of motorcycle communications systems. Smartphones, Bluetooth 4.x, the pending arrival of mesh networks along with voice control, "boomless" microphones, built-in FM radio and multiple rider connectivity is the stuff we couldn't even imagine just a few years ago.
webBikeWorld was there when the first Bluetooth intercoms hit the market (Cardo Systems was first) and over the past 15 years we've followed the evolution of this technology every step of the way.
But webBikeWorld readers are the most discriminating moto tech users in the world and if there has been one consistent ask, it's been for better speakers.
To a certain extent, that request has been answered with the latest crop of intercoms — pardon, I mean "motorcycle communication systems" — like the Interphone F5MC (review), the Cardo Scala Rider Q1/Q3 (review), the Sena 20S (review) and the UClear HBC200 (review).
The competition is white hot and that has resulted in much improved sound quality compared to the old days of scratchy mono speakers that sounded like the proverbial tin cans on the end of a string.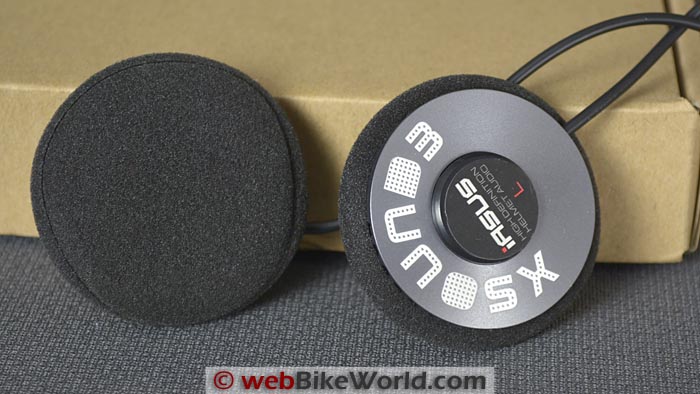 Accessory HiPo Speakers
It wasn't until fairly recently when the intercom manufacturers finally relented and allowed third-party accessory speakers to connect to their systems. That brought us high-fidelity, high-performance (HiPo in '50's gearhead slang) speaker systems like the Tork XPro X2 Speakers (review), the Interphone Pro Sound speakers (review) and various earbuds (not really recommended for motorcycle riding).
I'm not a sound engineer…but I am an audiophile, which is defined as a "hi-fi enthusiast". Anyone looking for better intercom speakers can probably say the same.
So other than published specs for the XSound 3 speakers, I can only relate to you my subjective and personal impressions.
Specs
The body of an Iasus XSound 3 speaker is CNC-machined from aluminum. Each speaker measures 10 mm thick by 45 mm across and weighs about 11 grams. The speakers look different from normal intercom speakers; they have a (relatively) large coil in back and cone in front, surrounded by metal.
Iasus lists the maximum power rating as 500 mW; the frequency range as the typical 20kHz to 22kHz; the impedance at 60 Ohm and a sensitivity of 125dB, but those basic specs don't really tell you much about the sound quality the speakers put out, which is, as always, subjective.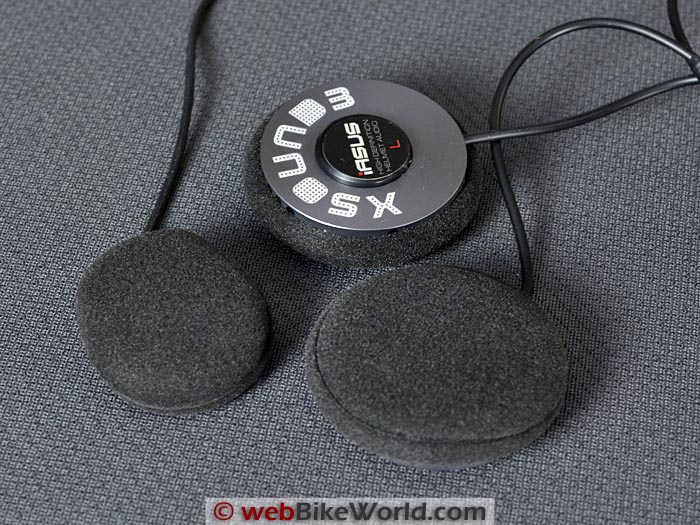 Mounting and Balancing
Obviously, the XSound 3 speakers may not fit in every helmet, but with some fettling you can usually get 'em squeezed in the ear pocket of just about any helmet that has them.
Note also that as with any intercom speaker, the closer you can get it to your ear, the better. Moving the speakers even 5 mm away from your ear will dramatically decrease both the volume and the apparent sound quality.
Thus, Iasus throws in a handful of spacers you can use to move the speakers out towards your head when mounted in the ear pocket of a helmet. Also included are a pair of foam "socks" that act as speaker covers and another pair of vinyl/foam covers that give a slightly more slippery surface.
Iasus says that the speaker cord is reinforced with Kevlar for strength and it can withstand a 4.5 kg (10 lb.) pull. The input jack is gold-plated although it's bigger, longer and L-shaped, which can affect the input on some motorcycle intercoms.

On the Road With the Iasus XSound 3 Speakers
I've been using the speakers with the new Cardo Scala Rider Qz "Personal Communications System" (review coming next) when riding.
The Cardo Qz is not an intercom; in fact, it does not have intercom capabilities. It is designed solely to connect to a Bluetooth or hard-wired music player, GPS and to talk on the phone. It's very easy to use, relatively inexpensive and it has excellent sound quality.
I use an HTC One (Google Edition) smartphone for streaming music and (hopefully not) taking calls. Here's a tip: I also have the Poweramp app installed on the phone, something I can enthusiastically recommend, especially if you own a Bluetooth shelf speaker system.
I have the full paid version of Poweramp ($3.99 in Google Play) and it's worth every penny. It not only has an excellent music cataloging system, it includes a customizable equalizer that let's you squeeze every last drop of goodness left in a poor .mp3 file after it's been pummeled to dust after going through the various compression algorithms.
The Poweramp equalizer works so well, I actually have to be careful because I can easily overwhelm Bluetooth-connected external speakers, especially if I set the bass levels too high.
There are two things I've noticed when using the XSound 3 speakers. First, if I dare, I can max out the volume on the smartphone and using the Poweramp equalizer and the XSound 3 speakers can take it. Actually, I only did this for evaluation purposes, because the sound can become too loud — something you can't often say about stock intercom speakers. And if you do this, make sure you reset the Poweramp app back to normal or you'll risk blowing out your phone's cheeseball speakers.
Second, the sound quality is "wider", "deeper" and more "open" with the Iasus XSound 3 speakers. That is, the XSound 3 speakers sound more like real high-performance stereo headset speakers, not the cheap biscuits they give you with an intercom system.
In fact, I'd bet Iasus could sell an accessory headband and ear cups where you could plop in the XSound 3 speakers and you'd have one heckuva stereo headset speaker system.
The bass response is probably the first thing you'll notice (especially if you kick it up in the Poweramp equalizer); in fact, it may very well be the first time you actually realize there's a bass line in your favorite tune. I can actually "feel" the bass, especially once the XSound 3 speakers are encased in a helmet. I'd say the bass is better even than the Interphone Pro Sound speakers (review), with the highs and mids running about equal between the two brands.
All I can say is that using the XSound 3 speakers I can hear stuff in the music that I didn't know or didn't remember was there, even when listening through earbuds off-the-bike.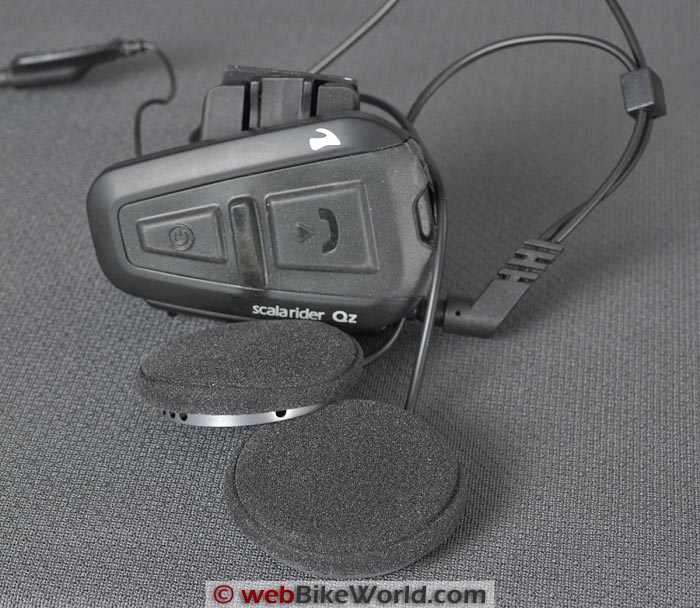 Cost
OK, you knew there was a catch, right? The XSound 3 speakers list for $99.00 for the kit, which in addition to the speaker pair and the helmet speaker stickies, includes an extension cable. 99 bucks is pretty steep, considering the Cardo Qz lists for $129.95 and can be found for around $124.00.
But, the Iasus XSound 3 speakers are very well made and they just may be the last set of intercom speakers you'll need for quite some time. And don't forget, you can swap 'em between intercoms also.
Conclusion
Many webBikeWorld readers have been asking about replacing their stock intercom speakers with something better. The Iasus XSound 3 is the answer. Remember to keep 'em as close as possible to your ears and you'll be rewarded with deep, rich sound.
You'll have to pay for the privilege, but these things are built to last and they should keep you happy for a long time. And who knows — maybe Iasus will come out with a modular headset where you can plug in your XSound 3 speakers to make them even more useful.
See Also:
▪ iASUS XSound 3 HD Speaker Review
▪ iASUS Diablo Mobile Amp Review
▪ Tork XPro X2 Speakers Review
▪ iASUS Throat Mic Review
▪ iASUS EAR3 Amplifier and XSound 2.1 Speaker Review
w

BW

 Review: Cardo Scala Rider Qz
List Price (2014): $99.00 USD
Review Date: December 2014
Note:
 For informational use only. All material and photographs are Copyright © webWorld International, LLC since 2000. All rights reserved. See the webBikeWorld® 
Site Info page
. Product specifications, features and details may change or differ from our descriptions. Always check before purchasing. Read the
Terms and Conditions
!
Owner Comments and Feedback
---
From "H.S." (February 2015): "I agree completely with (the comment from S.C. below 'I could not notice a definite increase in volume over the stock speakers that came with my Sena SMH10 unit.'), as applied to the Iasus instead of the Tork speakers.
I have a Sena SMH5, so when the replacement speakers cost as much as the whole stock unit, I was very disappointed to have wasted the money on a useless 'upgrade'."
Rick's Reply: It's possible that the SMH5 doesn't have enough power to drive the speakers, I don't know, we didn't try them with the SMH5. So it may depend on the output of the intercom and also probably on the device you're using for streaming the music. It's possible also that your sound player/phone is maxed out in volume and you won't get any more volume with the Iasus or other speakers.
All I know is when I use the Iasus speakers with my HTC One M7, there is a noticeable difference in the amount of volume I can get. Modern intercom speakers are much better than they were in the past, so the differences with some combinations of intercom systems and audio players may/will vary.
---
From "S.C." (December 2014): "I previously purchased a pair of Tork XPro X2 Speakers (review)based on your review and although I thought they were fine speakers audio quality-wise, I could not notice a definite increase in volume over the stock speakers that came with my Sena SMH10 unit.
What I did notice is that my Sena started only lasting about 4 hours or less on a charge compared to the usual 7-8 hours listening time. I went back to the stock Sena speakers needless to say.
Which brings me to my question about your review of the Iasus XSound 3 Speakers. Have you noticed a decrease in battery life of the intercom systems you have tested them with?"
Rick's Reply: Some of the OE speakers are pretty good recently compared to a few years ago. Interesting point about the battery life vs. speakers, I haven't noticed anything but didn't even think that this might be an issue so I haven't tried anything to determine if battery life changes with the speakers.
Not sure if it would be the speakers per se or maybe a good set tends to have the owner pump up the volume more than usual? There would have to be some type of controlled test at set volume levels I guess to check.
Perhaps one of our readers can comment on this?
---
From "B.N." (December 2014): "Thank you for another extremely informative product review. Your review couldn't have come more timely. I was just looking to replace the Tork XPro X2 speakers (review) I've been using, and then I saw your article. I went out and bought a pair of the Iasus XSound 3 speakers right after reading your article.
I just finished installing them in my Shoei RF-1100 helmet (review) tonight. These speakers are in deed as good as you say they are! They are way better than the XPro X2 they just replaced. I always trust your reviews, and your unbiased opinions is one of my main sources for product information."
---
From "B.S." (December 2014): "As always, a very informative review. For the first time I'm thinking of trying helmet speakers.  I've been riding with Etymotic in-ear monitors for many years.
I know you're a big proponent of ear plugs. My question is, did you wear ear plugs while testing these and if so what kind did you use that allowed music  to be heard properly while blocking out wind noise, etc.? I ride with a SCHUBERTH C3 Pro (review) purchased in large part because of your review."
Rick's Reply: A couple of us rode with the speakers, I wore ear plugs, I usually wear either the Moldex Pura-Fit 6800 or the discontinued EARsoft Grippers (I bought a couple of boxes before they discontinued the individual paired version; see Six Disposable Ear Plugs Reviewed).
Of course, the volume is lower when wearing ear plugs but it's all relative, since we always use ear plugs when evaluating the intercom systems. So louder is mostly better to get through the ear plugs.
Also, as always, there's always background noise from the bike, wind, etc. even when wearing ear plugs, so the results are nothing like listening to the speakers in the house, off the bike. Again, it's all relative!
Other WebBikeWorld Accessories Posts