Iasus Throat Mic Part 2 Review Summary
Iasus Throat Mic Part 2 Image Gallery
Iasus GP3X2 Throat Mic System Review – Part 2
This section will describe
iPhone and Blackberry Adapter
For those of us with an iPod, iPhone (Gen 1 thru 4) or one of the RIM Blackberry models, the Iasus adapter kit with the 93 cm (36.6 in) long cable is the simplest way to get up and running in a hurry.
The adapter allows the use of the Iasus throat mic and speakers with these devices.
A 3.5 mm plug provides the necessary input and output connection with the peripheral device while the omnipresent mini-DIN provides the connection to the headset system via the throat microphone interface.
An inline module houses a small answer/terminate button (or "mute" for iPod users) and a short 2.5 mm jack socket lead for adding one of the accessory PTT components described in Part 1.
But having to physically move a hand to use the in-line switch on this cable is not the best solution.
Thankfully this issue has been addressed by Iasus; there is a newer version of the cable, appropriately named the "Finger PTT Adapter for iPhone".
This product (which we unfortunately did not have for evaluation) incorporates a finger PTT as previously described. Calls can now be answered or terminated without having to take a hand off the bar.
It isn't a hands-free solution, but in having used the basic finger PTT component I find it is a simple and safe option.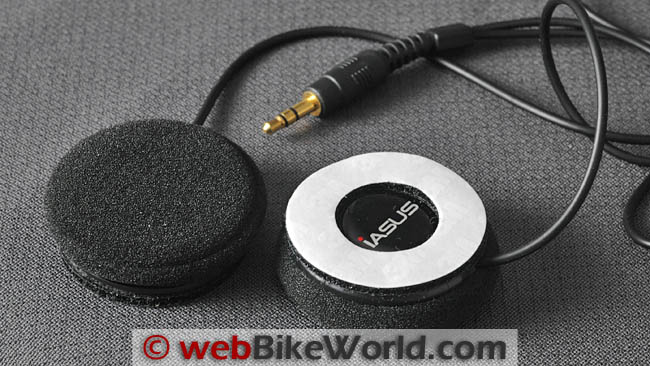 Mobile Phone Adapter
The smallest and simplest component I used, this 87 cm (34.25 in) long universal 2.5 mm three-element plug connects many different types of mobile phones and other peripherals to the helmet system via its mini-DIN connector.
For two of my phones, the 2.5 mm jack plugged directly into the socket on the phone.
But for my HTC Touch and a newer work phone, USB-mini and USB-micro adapters (respectively) were needed; many newer phones have one multi-function I/O port (input/output) that is typically USB-based.
For many users who only want or need a basic headset system, this configuration is pretty much the answer.
While wearing the Iasus throat mic and using the helmet with the speaker system, I can monitor the phone for incoming calls and listen to music from the player in the phone.
The phone can be carried in a convenient pocket with only a single thin lead in sight.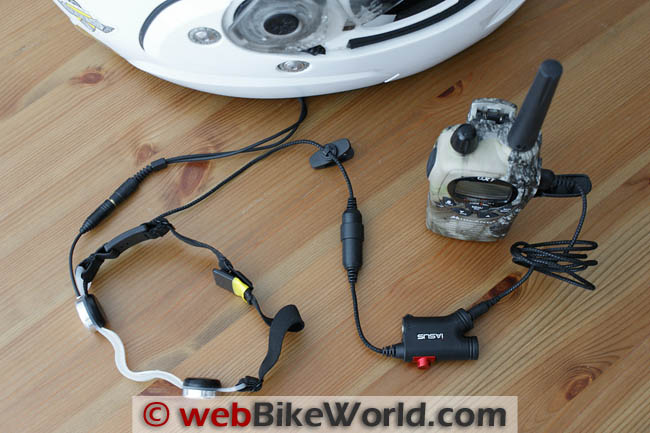 Waterproof Audio Cable
For those (many) rainy days, this heavy duty and heavy weight cable measuring 73 cm (28.7 in) long has a reinforced 3.5 mm jack socket on one end and a similarly robust 3.5 mm plug on the other.
A large in-line metal rotary volume control is located close to the socket end.
Made for the Iasus "XSound" helmet speakers, this upgraded component provides a waterproof direct connection between a peripheral device like a portable media player or mobile phone to the input jack of the helmet speakers.
The large knurled metal rotary is easily manipulated when wearing virtually any type of motorcycle glove.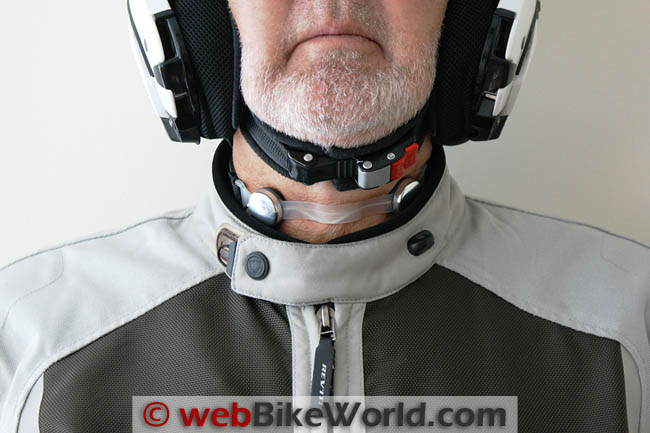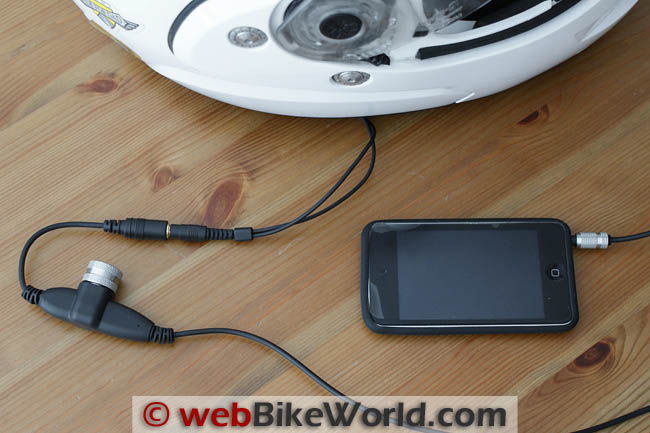 Conclusion
As a purist in many ways, there are times and situations when I only need a simple helmet headset capability and basic connectivity. In this sense, the Iasus GP3X2 system and its accessories are just the answer.
Everything about and for the GP3X2 system fits and works as claimed.
Build quality is excellent; ditto for ease of use and functionality. As with the UClear HBC100 (review) Bluetooth intercom system, the absence of a thin-wire or boom microphone in the helmet is appreciated.
Outside of what I see as an overly strong magnetic fastener with a weak strap connection molding on the same magnetic fastener, and overly-short throat strap leads, there isn't much to critique in the Iasus GP3X2 system.
And something I thought was missing was actually there all along — a small hanger hole molded into the bottom of the adapter to let these small and very lightweight devices get clipped or hung on something.
Unfortunately nothing is provided in the kits for facilitate this, unlike other suppliers (like Contour) that includes useful quick-release safety leads.
In reality however, it would or could be a relatively simple undertaking for Iasus to build and offer up another adapter or interface harness to provide an interface with some of the more common and popular wired systems.
The requirement for a wireless adapter (or hub) is, at least to me, a given.
In the meantime, I am enjoying the comfort, versatility and effectiveness of the Iasus GP3X2 headset system.
I plan on adapting the throat microphone and headset for use with a StarCom1 Digital wired systems and possibly a Bluetooth communications system. Once any of this is done, I'll provide some update information.
► Part 1: Iasus GP3X2 Throat Mic Introduction and Details
See Also:
▪ iASUS XSound 3 HD Speaker Review
▪ iASUS EAR3 Amplifier and XSound 2.1 Speaker Review
w

BW

 Review: Iasus GP3X2 Throat Mic System
List Price (2015): Basic kit, $119.00
Note:
 For informational use only. All material and photographs are Copyright © webWorld International, LLC since 2000. All rights reserved. See the webBikeWorld® 
Site Info page
. Product specifications, features and details may change or differ from our descriptions. Always check before purchasing. Read the
Terms and Conditions
!
Owner Comments and Feedback
---
From "J" (April 2012):  "I read and loved your review of the GP3 – but I have one question: Can I plug in earbud earphones instead of using the speakers that come with the product?"
HBC's Reply: Yes. As long as your earbud connector is a 3.5 mm stereo plug, or 2.5 mm with an adapter, it plugs directly into the short 3.5 mm socket lead on the throat microphone component.
Given possible minor (electrical) differences, overall audio may or may not be as good as the Iasus speakers, which are outstanding.
This is actually the configuration I use when the Iasus is drawn into service – with the throat microphone component installed and a set of earbuds in place and connected, it doesn't interfere with any other (Bluetooth) headset that might be installed – so optimum flexibility.
---
From "K.F." (February 2012):  "I received a GP3X2 throat mic and helmet speaker setup for Christmas 2011. I have found the helmet speakers are better than anything else I have used, as described in the webBikeWorld review.
Unfortunately, (unlike the review) the throat microphone has proven useless to me – the audio is so badly garbled that a normal conversation is not possible. I have tried shifting the positioning of the throat mic without any improved results.
(My application is with a Samsung Galaxy S Captivate).
My two attempts to obtain support from the vendor remain unanswered after several weeks. I've sent a third request out by email today."
---
From "I.B." (December 2011): "So after reading up on this system and I purchased one of theses to go with my iPhone. It finally came and I was excited. But it seems that its very muffled no one can understand me at all, its not clear.
I have tried to contact Iasus but nothing so far (its only been a day though) so now I'm wondering if your having the same issue or not? Are your transmissions from phone muffled?
I even have called my house phone using my iPhone with the Iasus throat mic and it sounds horrible, I can't even understand what I said myself."
HBC's Reply: I originally found that the audio could be muffled, partly due to the timbre of my voice and partly due to where I had the throat microphone assembly positioned.
By moving it up or down slightly and rotating it side to side, the throat vibration vis-à-vis pick-up parameters change and in generally better audio resulted.
In other words, as their FAQ site states, "finding the sweet spot". This is something that I can state, from long experience, is needed when using this type of audio pick-up.
A couple of good tidbits of information are contained in the various FAQ questions, http://www.iasus-concepts.com/nt/faq.htm
Another factor is also the force exerted when speaking; try varying the amount of "energy" put into speaking, and different volumes. Another possible factor could be the sensitivity of the connected device; i.e., phone or two-way radio.
This isn't a deflection of the issue, but it may have an impact when considering everything. And of course one shouldn't rule out that something might be wrong with the system itself.
iASUS is always improving their product and its possible that the issue you have could be addressed by altering the pick-up characteristics/output parameters of the throat microphone.
In other words a more custom-based solution or an option, even though this type of audio pick-up typically overcomes so many of the issues encountered when using a microphone, but its not perfect and its not for everyone.
So, it is well worth continuing the efforts to get in touch with them. I will do the same and see if any feedback is provided. Let us know how you make out."
Follow-up from "I.B." (December 2011): "Thanks for the info, I also did some testing and found if I place the mic or the disc that is closest to the wires right in the middle of my throat it works great.
I had a impromptu test I was wearing the mic in that position and had a call.
During the call the person had no clue that I had started my bike, put on my helmet, rode about 1/2 mile in the streets, then 3 miles on the highway hitting about 60 mph maybe more.
And they had no idea until I got to my destination and told them. They heard me fine and didn't hear traffic or wind or the bike's engine at all.
I'd say that is a real world treat and that it works, just have to find that 'sweet spot'."
---
From "T.G." (August 2011):  "I really enjoyed the article, I have never considered one of the throat mic setups. I will need to look more closely at them the next time I look to upgrade equipment.
One of the things that all motorcycle audio setups miss is having two or more audio sources at once. I love that this does FRS and the iPhone, but it needs to be able to do both of them at once, even if one source is listen only.
I love to listen to music when I ride and will only have FRS on for group chatter near tricky interchanges or someone asks we stop for fuel or food.
The closest I have came is the horribly expensive Bluetooth FRS Chatterbox top of the line product , but then that puts a 2 story building on the side of your helmet that looks ugly and causes a ton of drag only on one side of the helmet that becomes tiresome after 100+ miles at highway speeds.
I would love to see one of these companies actually go the distance and produce a complete solution for the motorcyclist. Wired or blue-tooth with multiple inputs, and yes even a radar detector input for us scofflaws."
Other WebBikeWorld Intercom Posts