Review Summary
The NEXX X.WED2 X-Patrol Helmet (also known as the X-Wild) is finally here, now broken in, worn and put to the test and its everything expected, and more. It has an intermediate oval shape (bias towards round) with excellent detailing and build finish. While not the quietest it's still great noise-wise. Location for sun visor control not optimal but it works cleanly. It's easily configured thanks to included accessories, some of which need to be stronger.
Pros
Lightweight
Excellent detailing & finish
Well-formed comfortable liners & pads
Class leading eye-port for superb field of view
Distortion free visor
Sun visor well placed with smooth operation
All-day comfort
Design & accessories provide lots of options
Cons
Overly high placement of sun visor slide control
Main visor cover pieces do not align properly depending on angle of peak
Shaping & strength of some accessory pieces off
Introduction
I have always wanted to get or try a NEXX helmet, especially something in the 'Adventure' line – so in being provided with a NEXX X.WED2 X-Patrol Helmet (also known as the X-Wild) for this review, one more 'helmet-related' item is now crossed off the proverbial bucket list… as informal as it is.
NEXX Helmets have gained and continue to build a great outstanding reputation on lots of fronts for their continually evolving helmet line; that is still, according to their website, produced 100% in Portugal.
Everything is done in-house, an approach that (can) provide focus, and a concentration of resources on top of unparalleled insight, knowledge, and ability to support their product. Their goals are excellence and protection, so their motto, 'Helmets For Life' seems appropriate.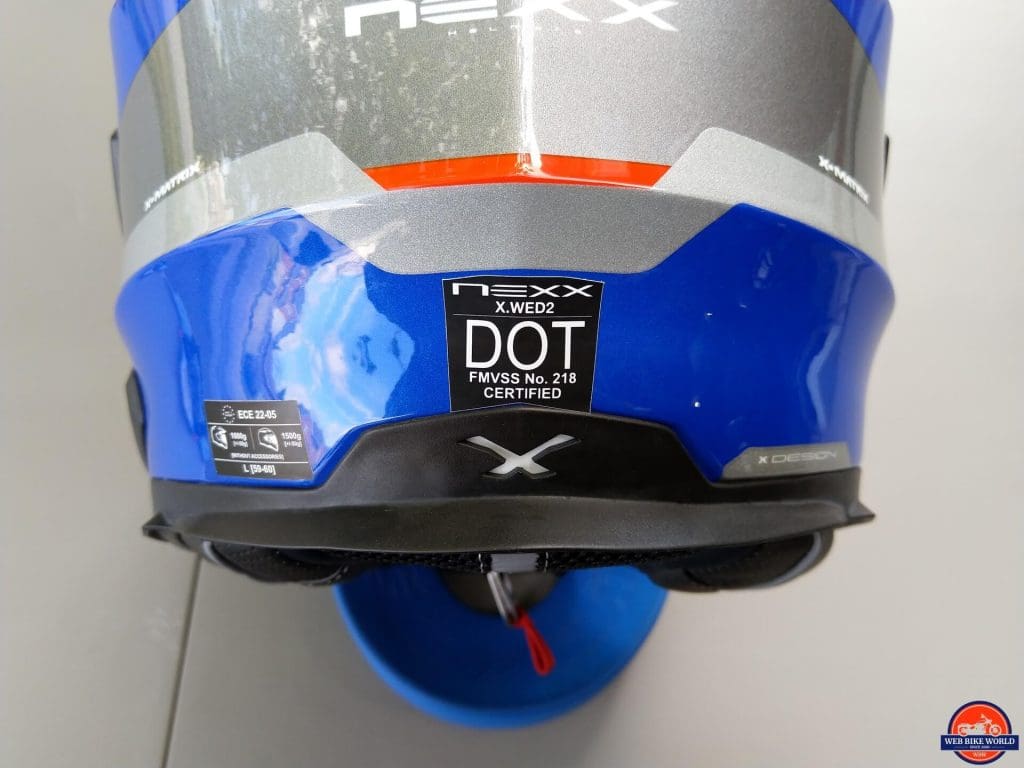 (Note: REV'IT! provided the NEXX X.WED2 X-Patrol for the purposes of this review)
Features
From NEXX:
X-MATRIX Shell (multiaxial fiberglass, 3D organic fibers, special aramid fibers, and carbon reinforcement)
DOT FMVSS 218
Weight: 1400gr (49.38oz/3.09lbs) Street Version and 1500gr (52.9oz/3.30lbs) Dual Version
Pinlock ready
X.MART DRY fabrics
Emergency Strap V2
Double D-Ring buckle
Panoramic Eye Port
3D Lining and Cheek pads
Prepared for X-COM – NEXX Intercom system
80% Tint Inner Sun visor
PC Lexan Shield Clear with Anti-Fog position and Super Lock
X-Block Quick Release System
Visor with recessed cavity for Pinlock
Chin Wind stopper
Night vision – reflectors
Chin Ventilation
Air Dynamic System – 3 inlets and 4 outlets, air vents
Aerodynamic Shell & Rim
Ergo Padding System
Peak Extensor
Action Camera Support top and sides
Prepared for Quick Strap
Special Chin Shape to reduce breast/(breastplate) injury risk from frontal impacts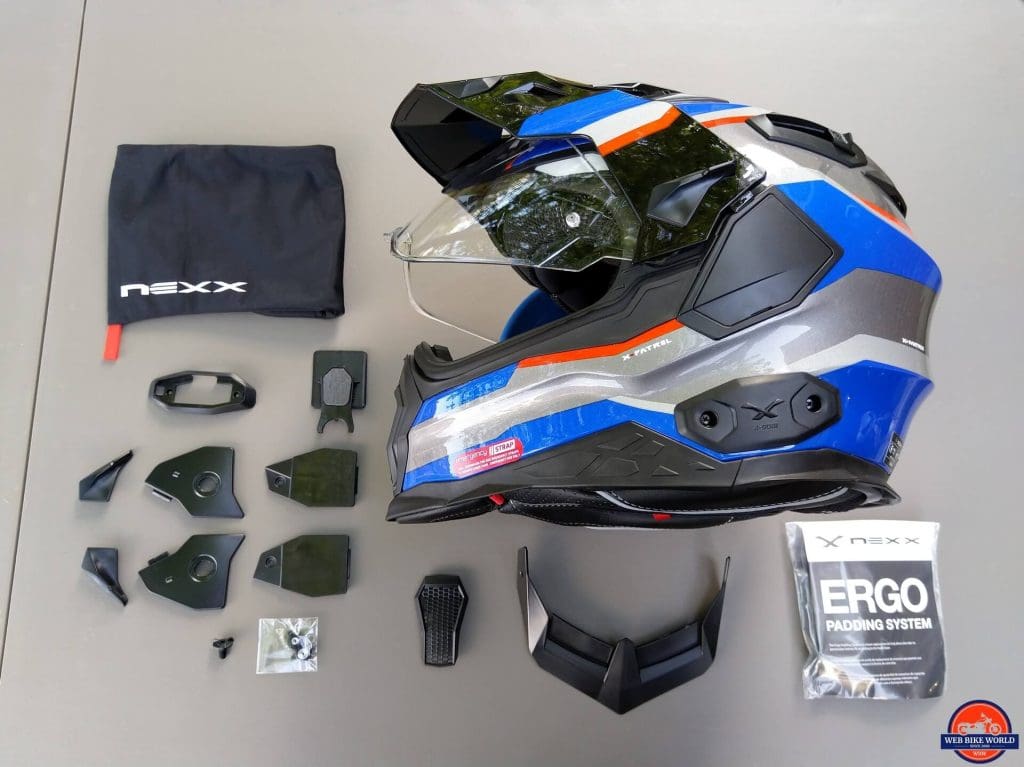 The Exterior
"What a good-looking helmet" is the oft-repeated first words from most riders (and nonriders) who view the X-Patrol in its Titanium Blue/Red exterior.
And you won't get any dissenting words about the shape, color scheme, component design, and finish from me. The helmet is not (totally) up to Arai finish standards, but it's close, very close.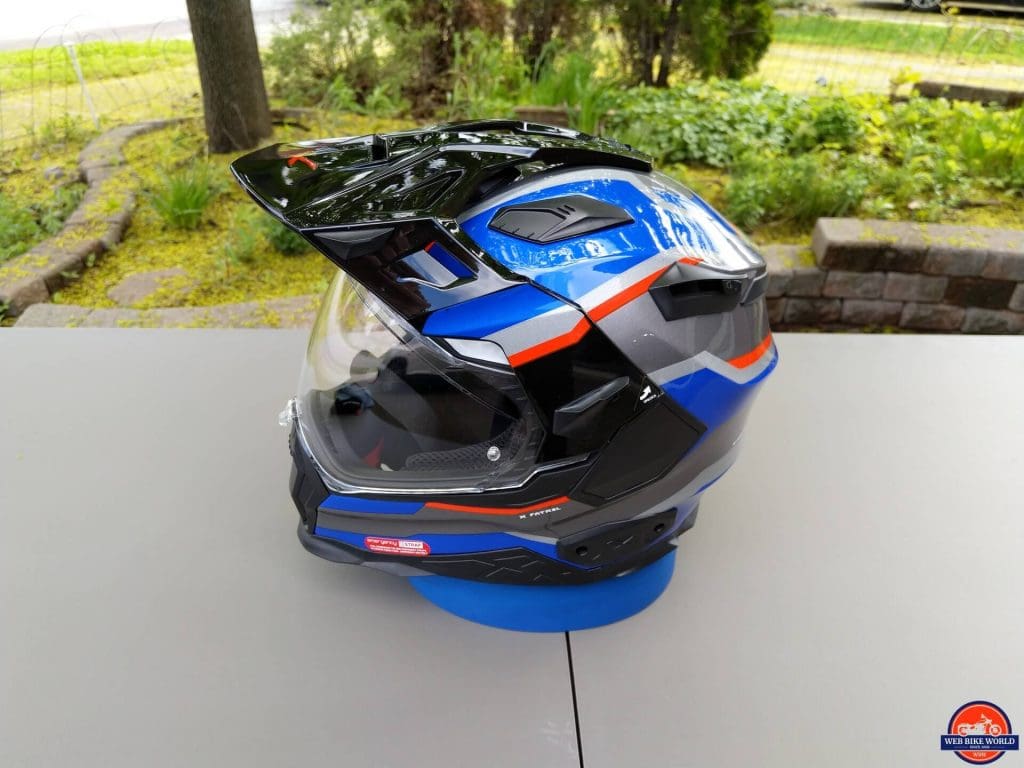 The first thing that catches the eye (well both actually) are the aerodynamics, a design feature firmly validated during extended use for this review. The second thing the Mark 1 eyeballs pivot to is the uber-wide 'panoramic' eye-port.
My peripheral vision remains (very) good so the wide view I get inside the X-Patrol is smile-inducing; this feature has safety and comfort written all over it.
There are three shell sizes covering XS/S, M/L, and XL – XXXL sizing. The shape is an intermediate oval that provides me with a well-fitting comfortable enclosure.
The NEXX X-Patrol by design flows a lot of air when the need arises – particularly into and over the brow, and top of the head, and directly to the chin/lower face.
A large open/closed intake is positioned on the forward sloping top of the shell, with two smaller dual-stage intakes positioned slightly behind on each side.
A large intake is built into the front of the chin section and two options are available for use. One is a closed solid piece (cap) for cooler weather and (greatly) reduced lower front air intake or an open plastic mesh insert that really lets the air in.
Venting is provided by two upper rear direct ports with two related exhaust points through the lower back mesh inserts that fit in with the bottom liner.
One of the most appreciated features of the NEXX X-Patrol is it's hard to miss panoramic eye-port and accompanying PC Lexan visor, with recess for a Pinlock (not included, however).
A peak of some sort on an adventure helmet is de-rigeur it seems and for good reason, as it provides sloped frontal protection from stuff thrown up or slung in your direction. More importantly, it provides some shade and/or minimizes the impact of direct sunlight.
The redesigned peak found on the X-Patrol does both, all while facilitating direct air intake and reducing buffeting.
Paint & Colourways
Colour & Pattern Options: Sand/Grey, Black/Titanium/Neon/Yellow, Black/Silver/Red, Black/Dark Grey, and Titanium Blue (with Red).
All the color schemes look good (my perspective), but given the coloration of the 2019 F850GSA Rallye, it seemed only natural to go for the Titanium Blue (with Red) scheme.
Doing a search for small inconsistencies didn't go well… I only found one at an overlay finishing point and it's very hard to see. The colors look deep and rich with the gloss finish providing very good protection; a couple of (accidental) bumps didn't even put a mark on things…a good sign for longer term use.
The Interior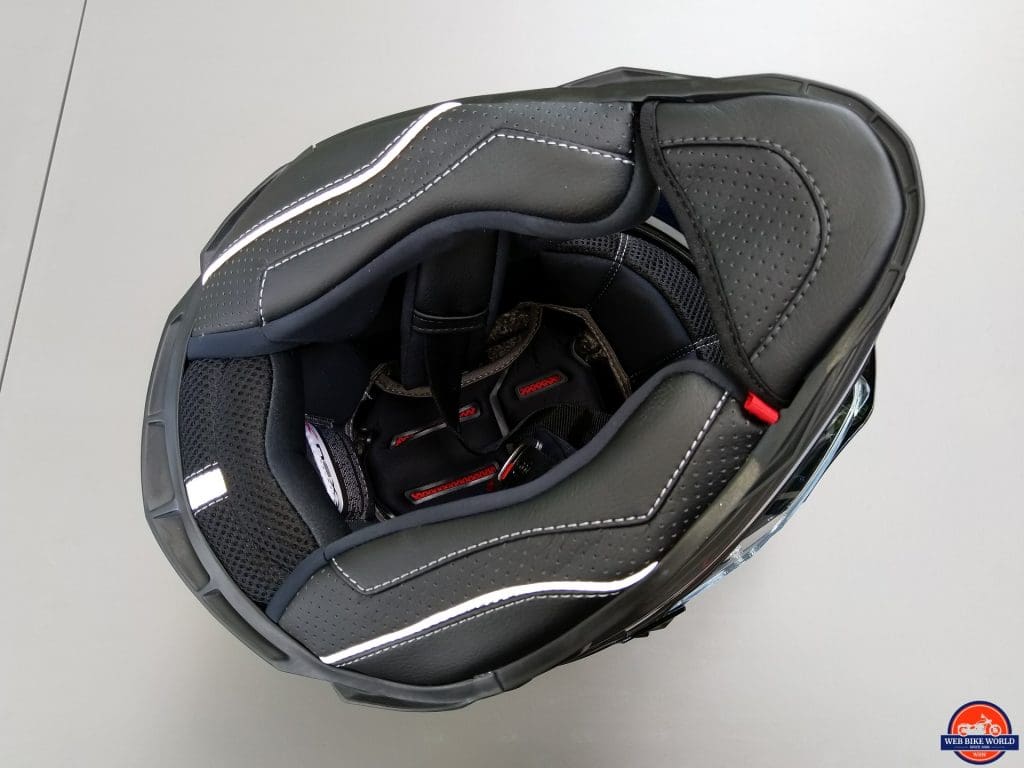 Interior liners and sections are secured via shaped inserts along their edges for a tight precise pressure fit between the shell/inner liner edges. Other removable pads are secured with both the pressure fit insert edges and flex snaps.
It all comes together nicely – shaping, cut, finish, and fit are all very good along with an enhanced look with contrasting stitching and reflective points. The only concern regards the longevity of the insert edges and flex snaps – time will tell. Replacement pieces are available, but hopefully not needed for a long while.
Everything removable is washable or cleanable and of course replaceable. Helmet TLC is an important ownership requirement – keep it in good shape and it will keep you in good shape.
Emergency Strap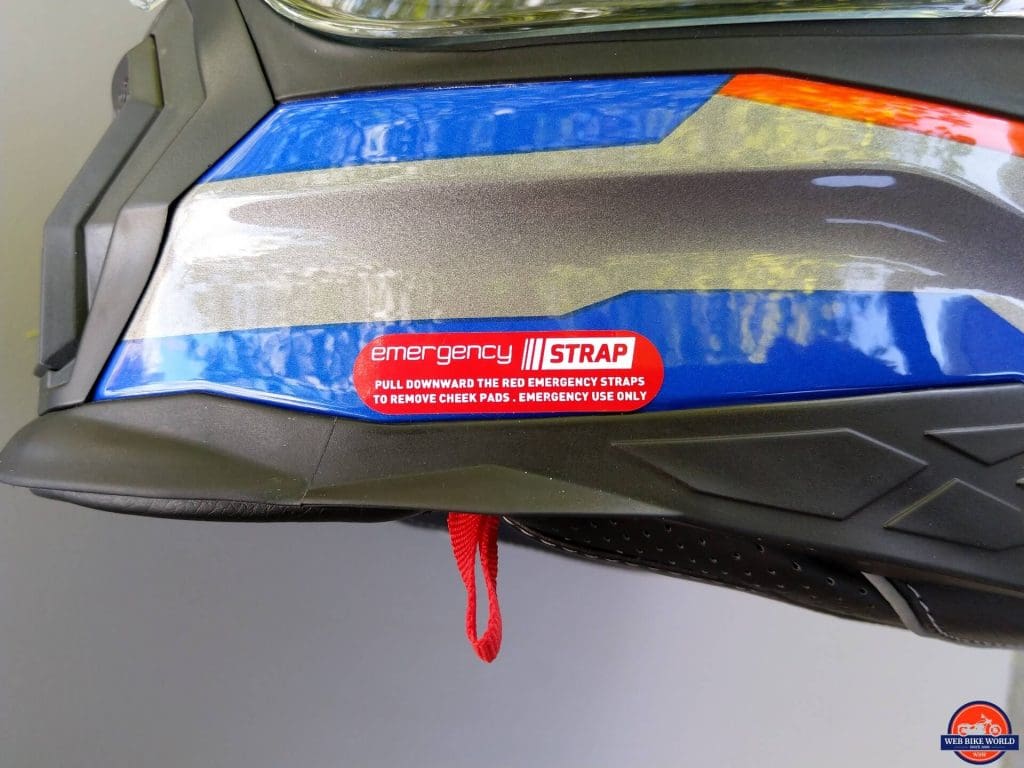 In the event of an accident, the Emergency Strap V2 is identified as a 're-thinking' to provide easier and gentler access to an injured rider's head by first responders/medical personnel. The RED loops in front of the lower side pieces activate the system.
Handling the Interior
Working on the inside, such as when adding a Bluetooth helmet system, is pretty easy – pulling the wall flex snaps free allows the main cheek pads to be pulled away from the walls revealing the speaker recesses and foam cover pieces.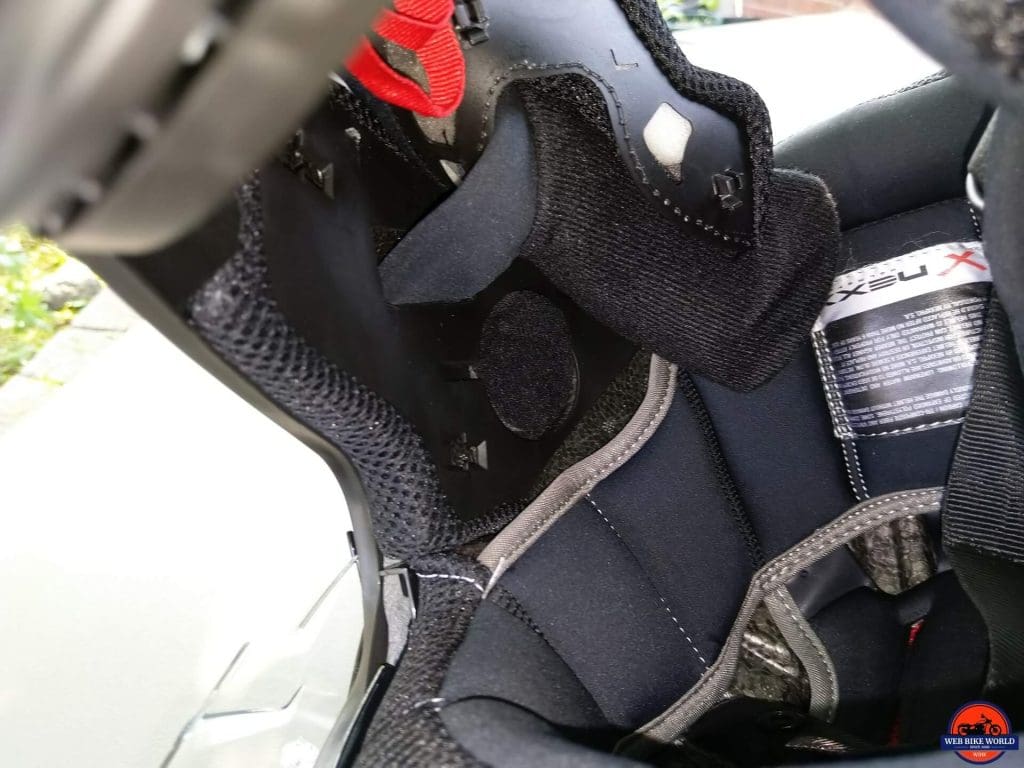 There should be no real need to remove any of the surrounding sections except for cleaning and replacement. Just make sure you remember exactly how pieces are removed… parts remaining is not an option…
Overall Build Quality
NEXX helmets in general always reflect quality and the X-Patrol is very representative of that single positive trait, amongst others. The helmet shell, exterior fixtures, interior layout, and pieces are all first-rate.
Everything on and in the helmet fits perfectly, with detailed stitching and some strategic retro-reflective points and piping. First impressions are very good – these impressions don't diminish very much over time.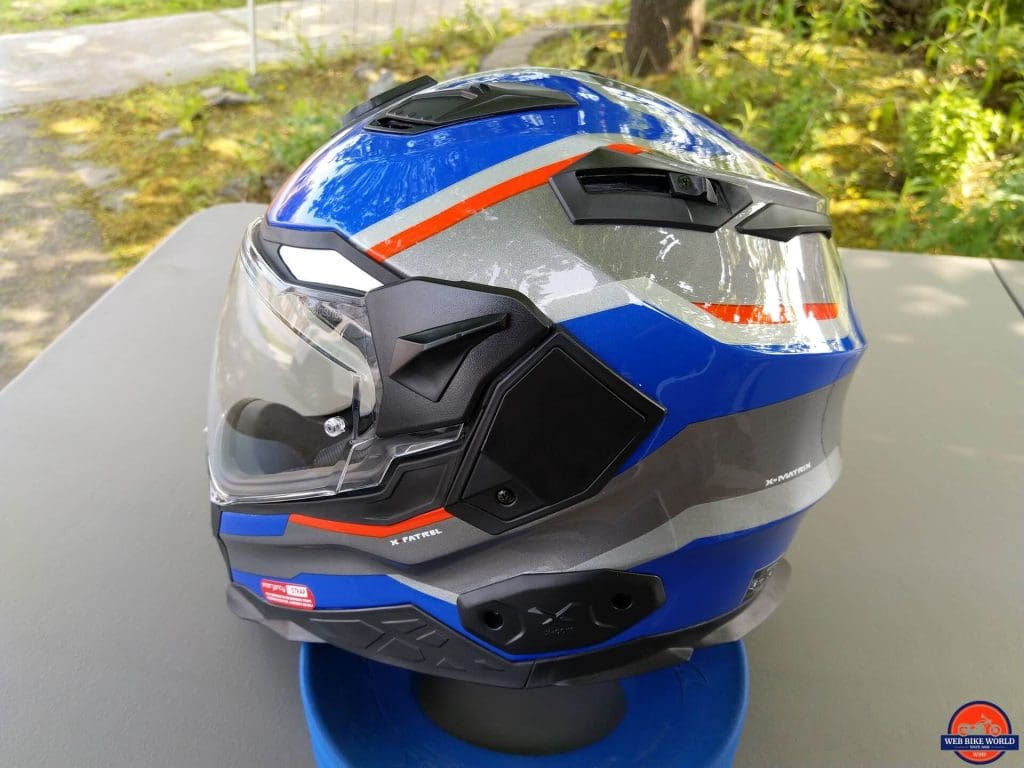 There is a sense of consistency and quality control seen in all the components that aren't always seen in a helmet, no matter the price range or reputation – kudos to NEXX for keeping it all together for a total quality sum of the parts.
What does detract, although not tied to the core components, is a weakness seen in some of the provided accessory parts that enable users to create a functional look or to add something like a PoV camera.
These are appreciated 'extras' that really do, or should, enhance the owner's experience. Accordingly, they need to reflect the same consistency seen in the core components.
Comfort
With the medium and large sized NEXX X-Patrol product sharing the same mid-sized (of 3) shell size, the large NEXX X-Patrol is virtually identical in shape and overall size to the Arai XD4 but slightly smaller than a recently disposed of AGV AX-8 Dual Evo.
It is not a bulky helmet and is easy to carry and put on and take off, and although a snug fit going on, the head sits comfortably positioned. After the first couple days of use, minor pressure points disappeared – this is a day-in, day-out comfortable helmet.
Despite being approximately 100gr (3.5oz) heavier than the standard piece that comes in around 1400gr, the Enduro X-Patrol variant at 1500gr or 3.30lbs is not a burden to wear, thanks in large part to its middle of the road shell size and aerodynamics, even with the peak breaking the air flow up top.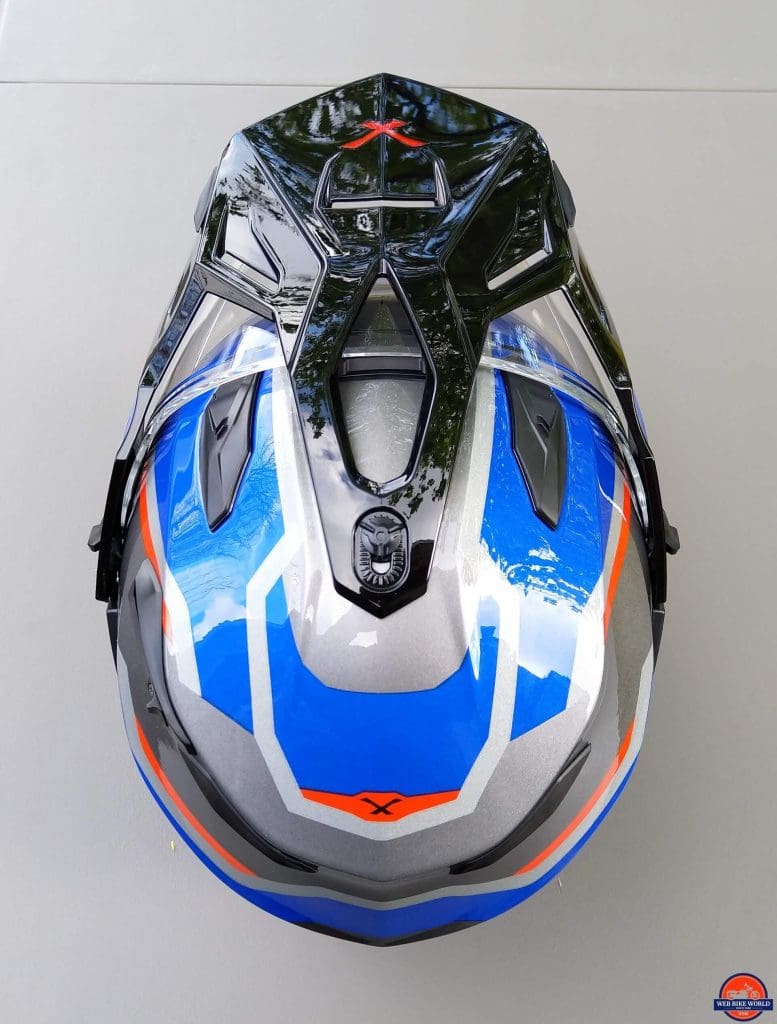 Its intermediate oval shaping is what I am most comfortable with and the supportive removable head-liner section is always cushioning and totally unobtrusive.
As is the non-compromising liner and removable inserts with anti-allergy and anti-sweat characteristics. Everything removable is washable and replaceable – the key to maintaining a safe comfortable interior over time.
Included in the X-Patrol's bag of goodies is an Ergo Padding Kit – shaped foam pads that when strategically placed to the interior can provide a very customized fit and feel – again, comfort and safety.
A big comfort factor for me is that panoramic eye port. It provides enhanced vertical and horizontal (peripheral) vision over any other helmet worn and results in more physical comfort to boot – less constrictive material.
Bottom line here… between shell size, shape, liners, pads, and that 'window on the world' eye-port… the NEXX Patrol-X is one comfortable (physically and mentally), protective, safe, and visually appealing helmet.
Air Management
The X-Patrol, as hoped for in an adventure helmet, flows air like crazy (insert subjective descriptor here) thanks to its Air Dynamic System or ADS.
With three intakes located on the sloping front of the helmet, there is or can be plenty of air movement into and through the helmet area. The large flat center vent is an on or off a piece – opening it is very noticeable though, especially on a cool day.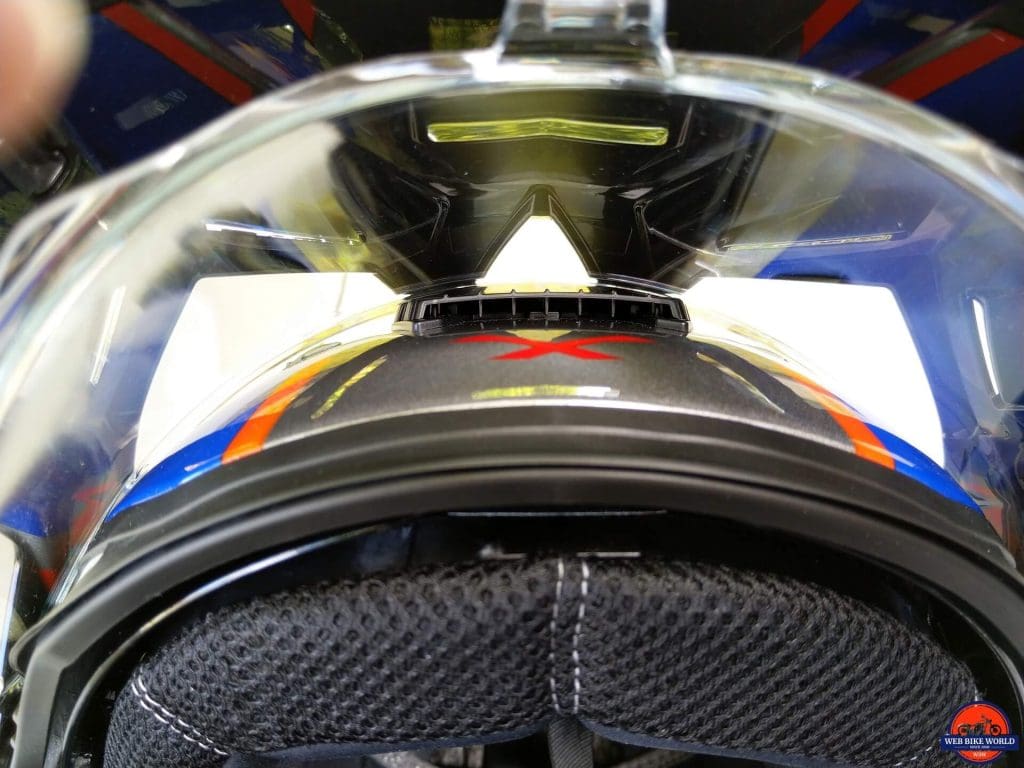 Top vent
Two smaller side intakes are three-staged (closed, halfway, or fully open) and while their direct intake (seems) less than the larger center intake, adjusting them from closed, to mid, to fully open is felt within the confine of the helmet.
Extra channels in the EPS liner allows more air to pass through the helmet (over the head) and out. With the intakes open it all works without becoming uncomfortable in any way.
Four vents – two hard inserts at the top rear and two soft inserts (mesh) along the lower rim or base material provide a very good discharge of pass-through and/or heated air from the cranium.
Temperature Handling
Hotter: While not (yet) having put the X-Patrol through a really hot day of riding, our infrequent forays into the mid 20s C (68 to 78F) were easily handled by opening the top vents and swapping the front chin vent cap that can be set for some air flow, for the fully vented plastic mesh insert… it flows air.
Cooler: And on the opposite end of the temperature scale, closing the intakes and using the solid chin vent cap keeps everything comfortable inside, especially with the front chin curtain in place. It's great for keeping chilling air out and great for maintaining a quieter helmet environment.
Between the objective measurements, vis-à-vis other helmets used for the same cockpit environment and my subjective assessment, the NEXX X-Patrol's air management capabilities have been, are, and should be just fine over the long haul.
Eye-Port & Visors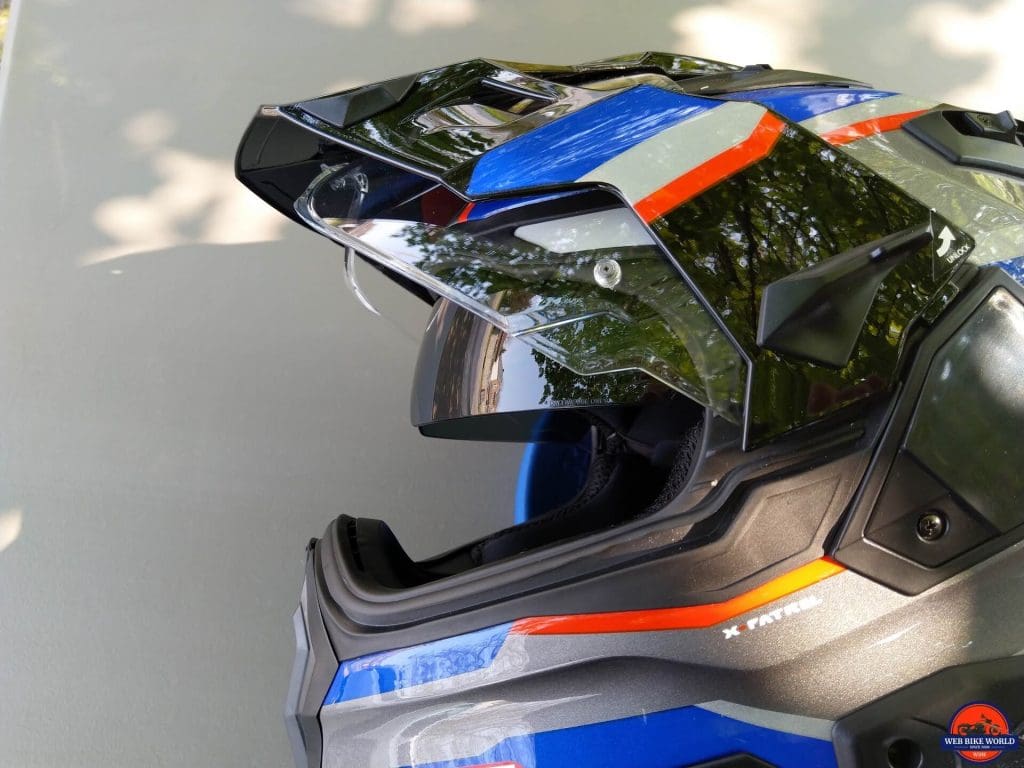 I've already drooled (figuratively) over the panoramic eye port, but it's very much worth a few more words. NEXX Helmets provide the widest peripheral vision in the business, an important feature no matter where the wheels are turning.
Using the NEXX XR1-R product as an example, the vertical view increases from 52 to 72 degrees and with the horizontal view, from 210 to 225 degrees, significant differences.
If the user has good peripheral vision, the wider eye port can minimize risks associated with a reduced vision, including the periphery. And while one should never stop doing head/shoulder checks, the enhanced view can minimize the overall effort needed.
And going back to my 'comfort' comments made earlier, the helmet is indeed an enclosed environment, but the large wider peripheral eye port opens things up. For many users, this is or can be an important comfort-zone factor. Again, no discerning words from me on this feature.
Covering this panoramic eye port is an equally well appreciated large-shaped, distortion-free PC Lexan clear visor or shield, with an Anti-Fog position and Super Lock so the piece can be locked in place as needed.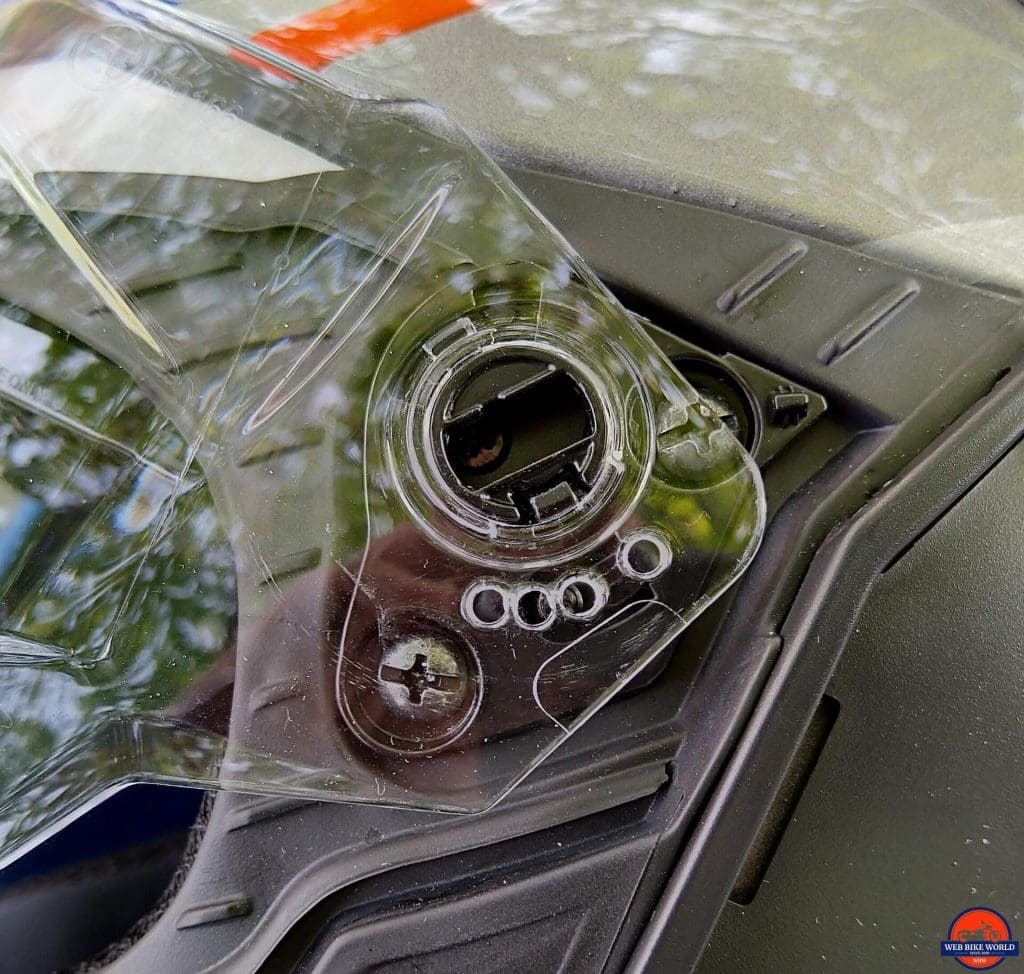 The visor is indeed large, making a resounding clunk when it closes and its size and (weight) is also the single reason – or just a contributing factor to the fact that – it doesn't quite sit in any of its détente positions well.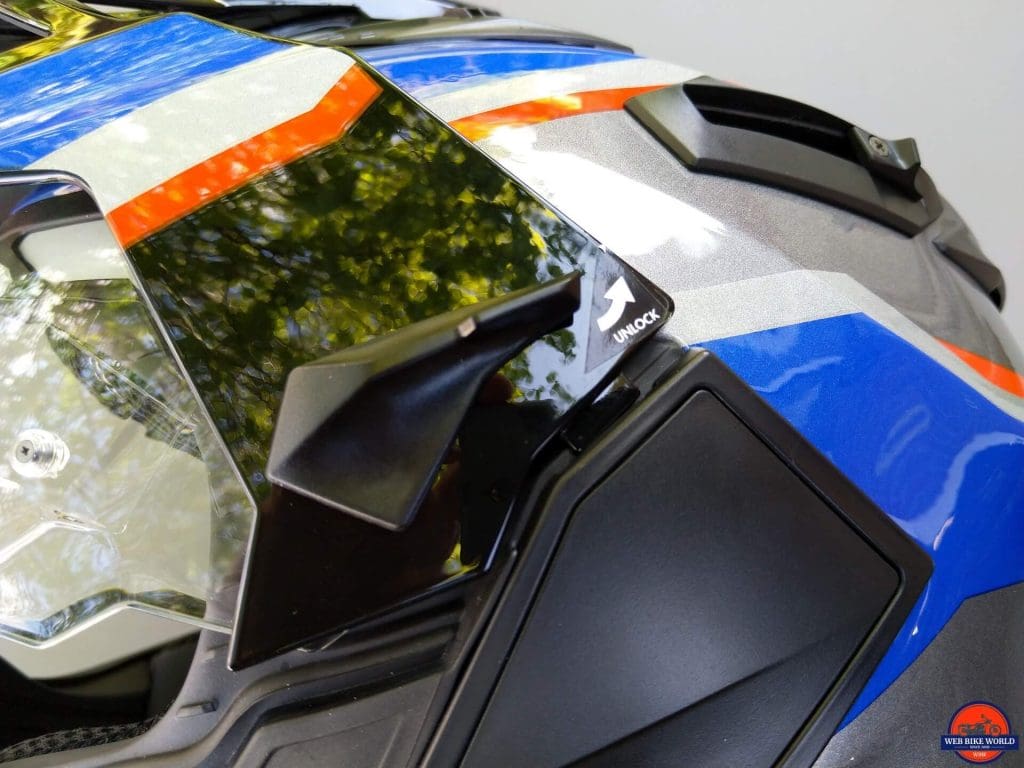 But on the other hand, the large center tang with its upward curl to keep the visor from touching the peak and getting marked up is easy to access and the visor can be opened and closed with minimal effort (see my comment above).
Personally, a little more positive detent in the adjustments and/or a little more pressure required to operate wouldn't be a bad thing and it would not compromise use or safety.
On the street and highways, with or without the peak attached, the visor will move between positions the odd time. Whereas on the rougher terrain, sitting or standing, the visor frequently 'self-adjusts' – not always a good thing. Removing the visor and using goggles is smarter – enough said.
In having seen a lot of negative comments about the sun visor on the NEXX helmets, including the Enduro models, my experience remains positive – it is nicely sized for the helmet and eye port as it's easily adjustable, sits where put, the 80% tint is good, and it doesn't hit my nose even when adjusting the helmet vertically.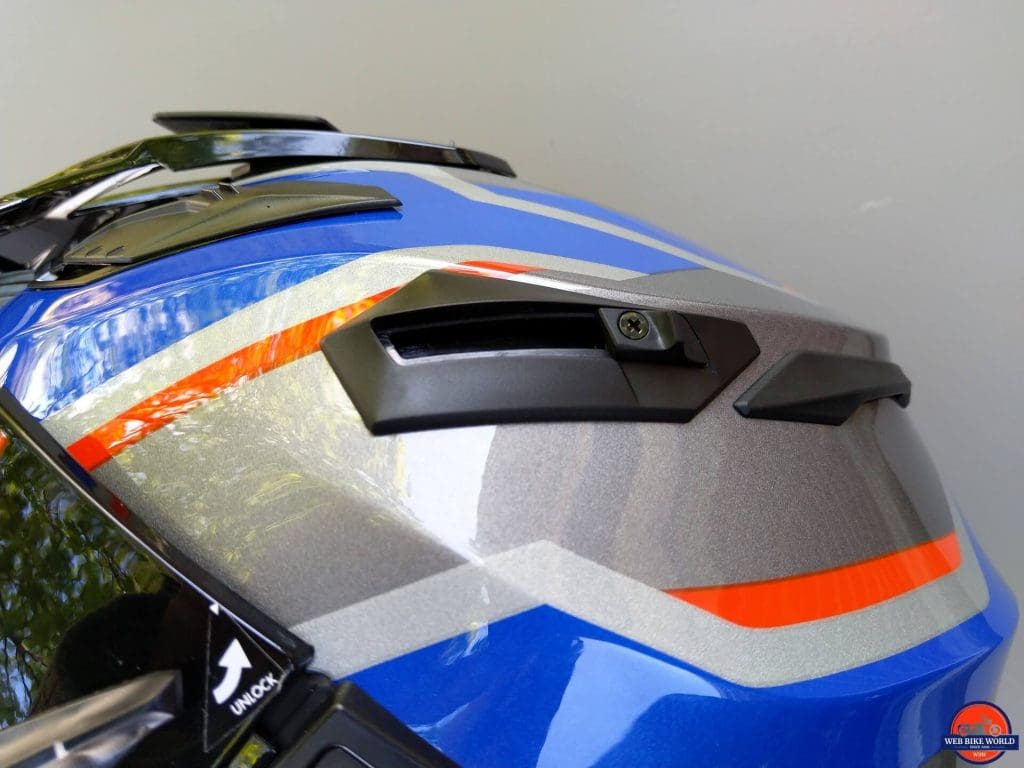 Visor slider adjuster
The only real nit regards the location of the slider adjuster located on the upper left curve of the outer shell. The slider itself is very smooth, but it's not as easily accessed as other sun shields/visor adjusters on other helmets, including ones with similar features to the X-Patrol.
And, one must appreciate design and function constraints especially given the built-in housing for the (optional) X-COM and the harder but aerodynamic lower helmet rim (spoiler).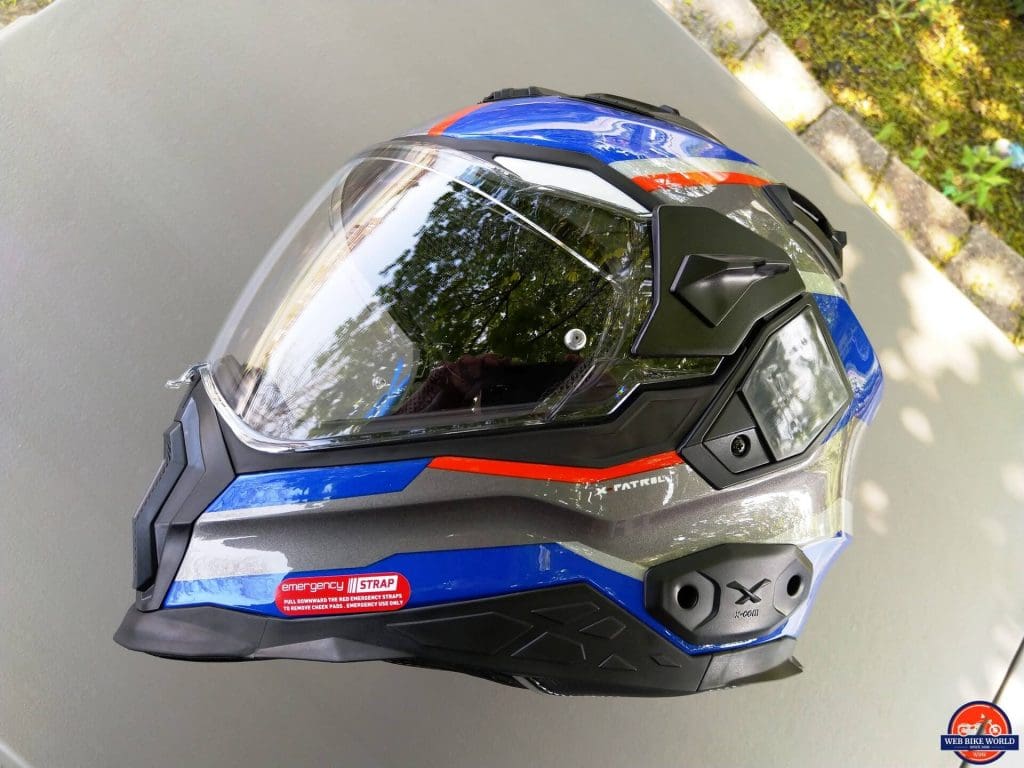 Helmet Configurations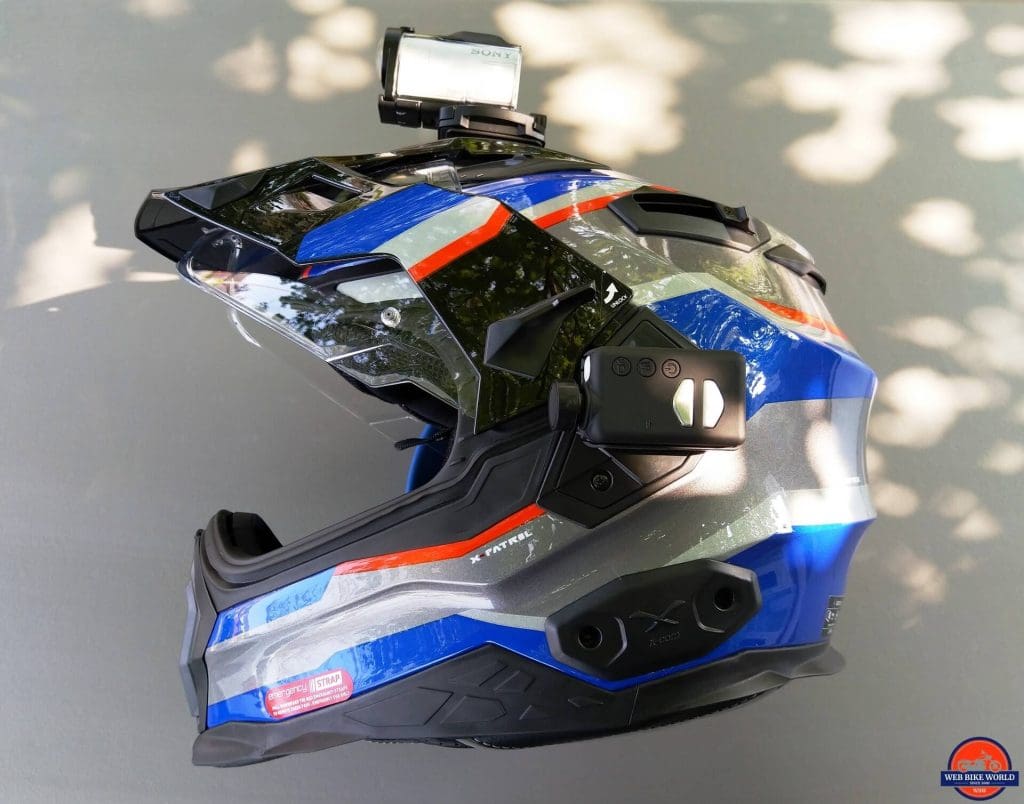 The NEXX X-WED2 X-Patrol is one versatile helmet, not just because of its helmet specific features, but also largely in part due to the 'extras' that come with the helmet allowing users to adapt the helmet for endure, off-road, or street specific functionality in seconds or perhaps a minute or so.
Peak Options
Peak options include leaving it in place (with or without an 'extensor' piece), removal for total streamlining, or mounting it along with the included accessory camera plate.
Camera Mounting
Further to the top camera mount option, two flat-surface side support pieces are included to facilitate mounting of a small POV device.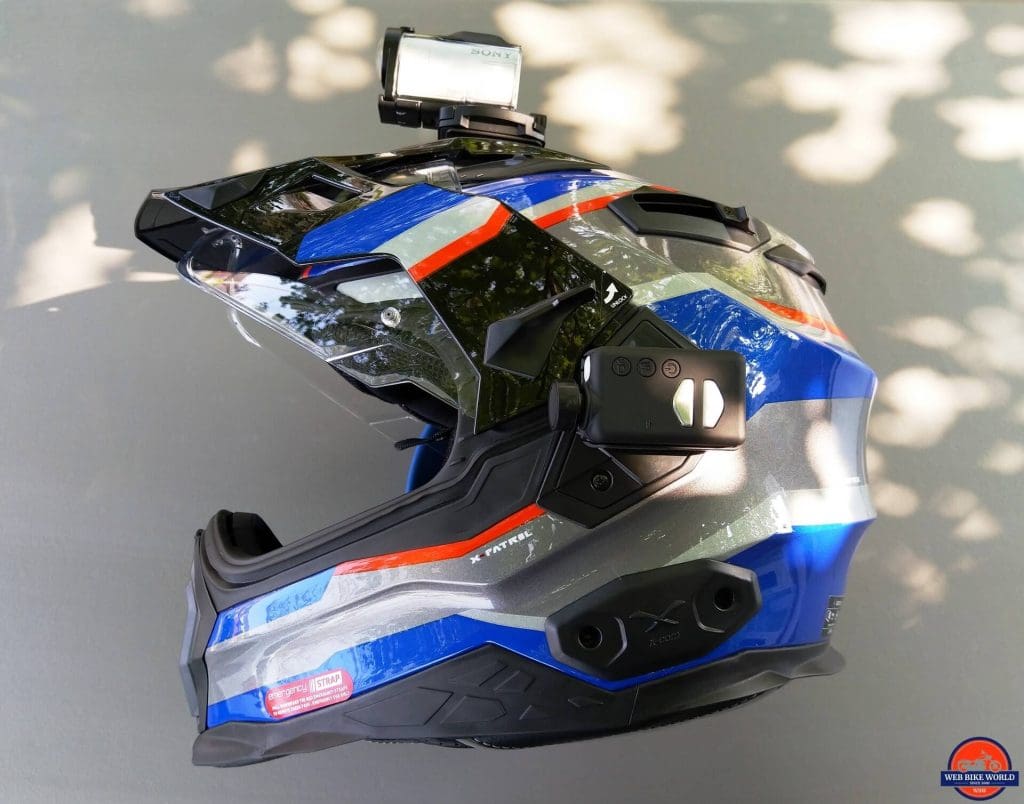 Other Plate Options
The Quick-Strap (goggles) option is supported with the side plate or camera plates removed, but the pieces are not provided in the parts kit.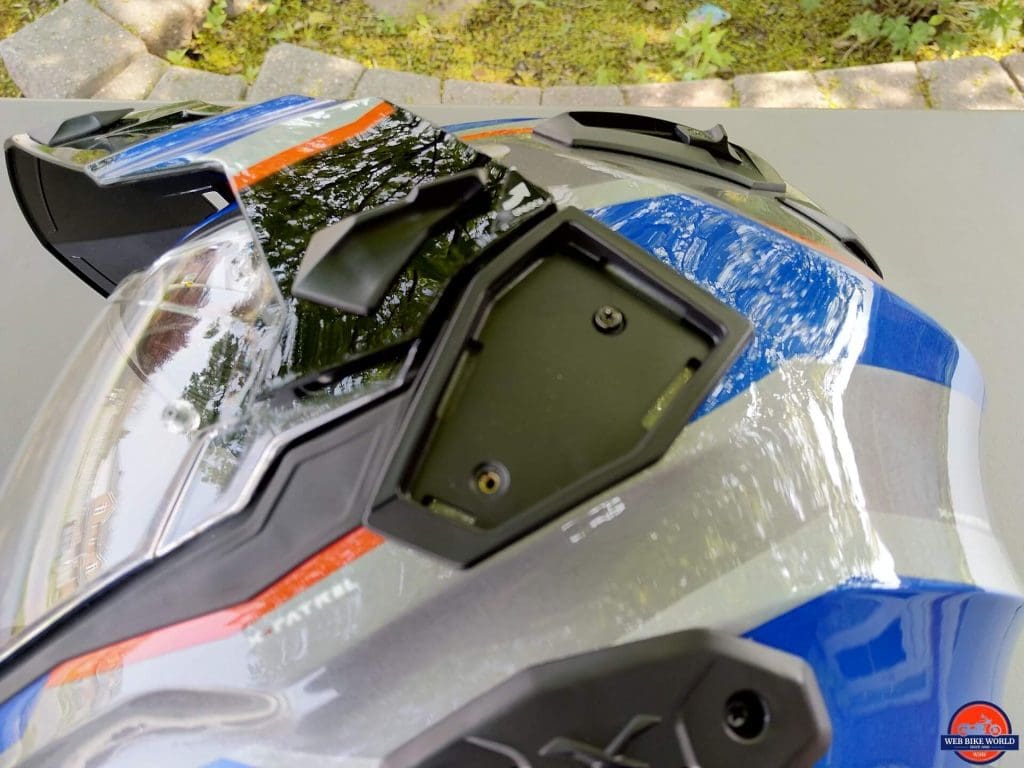 Exposed side plate receiver awaiting an accessory plate
Chin Intake
The large front chin intake is configurable as well. A solid vent or cap snaps into place and when pushed from the bottom, the top opens a bit to allow some air flow into the helmet. Alternatively, the open plastic grill 'Off Road' vent really flows the air.
There is a bit of filter material behind the helmet chin wall that could be of some use in filtering air, but a better solution, perhaps a NEXX addition, would be a small washable filter that fits between the chin wall and the insert piece.
This insert is going to be produced locally for use and kept clean as we head into the heat, humidity, dust, and bugs of this riding season.
X-COM Compatible
As with virtually all NEXX helmets, preparation for the X-COM (NEXX Intercom System) is provided, with the left-side mounting point covered with a raised plastic plate. It serves a purpose but reduces installation options for third-party Bluetooth systems.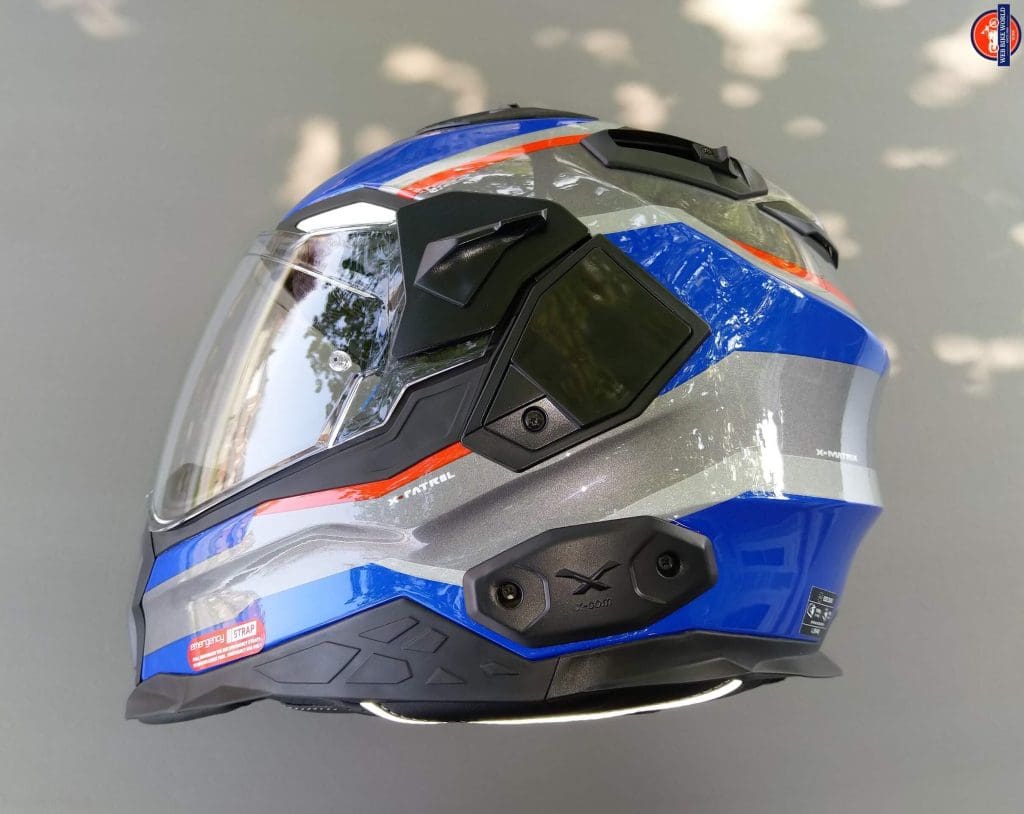 The need for a covering plate of some sort is acknowledged, but as a flush mounted secured piece it wouldn't (totally) stop users from mounting their preferred helmet system… just saying.
Finally, for information and illustrative purposes, a series of short but very useful videos are available here from NEXX. They cover most of the configuration options available to users.
Noise Assessment & Management
A Word About Noise Assessment
Without specific training and subsequent qualification/certification and the right test equipment, of course, assessing the individual noise levels of a specific helmet is (very) subjective, although perhaps somewhat less so in a known cockpit environment used for many other helmet assessments, etc.
Some manufacturers, along with independent entities, do undertake to assess or test noise levels, but most don't openly publish their data and results. They instead choose to extrapolate it all into some well-crafted words (and claims) that may, or may not prove valid in any given situation. Thus, we come back to the subjectivity of it all.
In considering the subjective nature of it all, there is relevancy in documenting the experience when using a helmet, in this case, the NEXX X-Patrol on the (average) adventure/adventure-touring oriented motorcycle.
The Results
Fortunately, the overall exercise is easily summed up in one word – quiet. The contributing factors here are shell sizing, outer aerodynamic shaping, well designed and controlled flow intakes, chin skirt, and an interior optimized to address comfort and reduced noise levels.
The NEXX X-Patrol is much quieter than my (aging) Arai XD4 (admittedly a noisy helmet) and if memory serves me correctly… it's quieter than the previously mentioned AGV AX-8 Dual Evo (that seemed pretty quiet at the time) when used in a similar cockpit environment.
While the X-Patrol lags the Schuberth C3 Pro, it's closer than I figured it would be, and it really lags behind the Arai Corsair. However, both these (other) helmets are of different style so that must be acknowledged.
The large solid LEXAN visor/shield and positive tight visor to helmet seal is another contributing component – it does a great job of sealing everything out be it wind, moisture or noise.
Frontal flow is very good, even with the peak on. Angling the peak down to its maximum or just angling the head down a half inch or so serves to virtually eliminates drag or buffeting due to the peak and helmet noise levels drop another considerable notch as well… testing continues of course.
The usual ear protection helps, as it should, but on average, I can ride without them for a couple of hours without experiencing any noise related issues.
Bottom line regarding noise management over four different cockpit environments – how about 4.5 of 5.0.
Conclusion
If you already have the impression that evaluating the NEXX X-Patrol is a positive (ongoing) experience, give yourself full marks.
And in conducting the quickie eyeglass test (one of those tests that are skipped by many including individuals who wear glasses) the NEXX X-Patrol passed with flying colors. Slip the glasses off, slip the helmet on, slip the glasses in, and over the ears – done, no muss, no fuss.
The NEXX X.WED2 X-Patrol comes off quite well when pitted against my other favorite helmets. When it comes to versatility and functionality it leads the pack – a testament to its design, aerodynamics, build, efficient peak, and overall fitment of everything. Well, almost everything…
Nits – The matter of the main visor pieces slipping out of the slide cover engagement panels is only noticeable when the peak is pulled forward into a lower position. Accessory pieces also feel flimsy and some seem poorly formed or finished.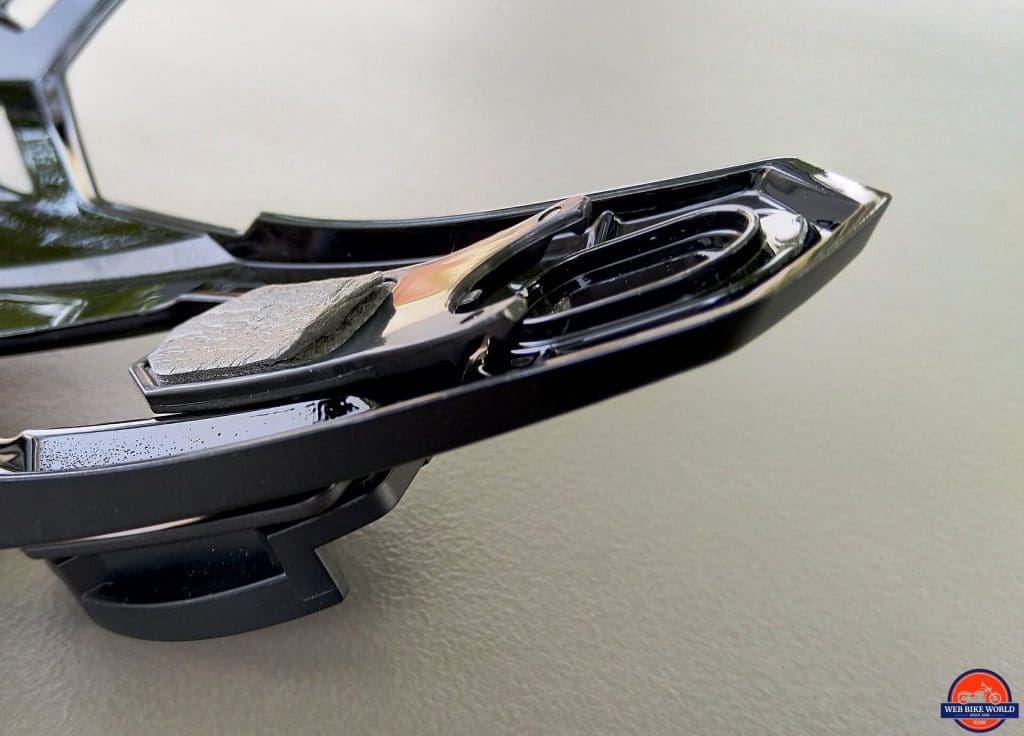 Top camera plate mold shaping
To wit, the top camera plate that does not fit as intended due to overly tight design and/or poor production shaping. Unfortunate when a top POV camera configuration was (high) on the list.
To repeat – I like this helmet, a lot. In a short period of time, it has become one of two 'go-to' helmets – the other being a Schuberth C3 Pro currently being replaced for… you guessed it, another C3 Pro. But the NEXX X-Patrol is here and it is getting lots of use.
Pros
Lightweight
Excellent detailing and finish
Well-formed comfortable liners and pads
Class-leading eye port for superb field of view
Distortion free visors
Sun visor well placed with smooth operation
All-day comfort
Helmet design and accessories provide lots of options
Cons
Overly high placement of sun visor slide control
Main visor pieces don't align/fit properly depending on peak angulation
Shaping and strength of some accessory pieces off
Specs
Manufacturer: NEXX
Price (When Tested): $529.95 USD or $699.95 CAD
Made In: Portugal
Colors: Black/Titanium/Neon/Yellow; Black/Silver/Red; Black/Dark Grey; Sand/Grey, and Titanium Blue (with Red)
Sizes: 3 Shell Sizes: XS/S, M/L, and XL – XXXL
Review Period: April to June 2019