How many touchscreens actually work with motorcycle gloves? I've had GPS units that are supposed to be glove friendly, but they still don't respond as well as your naked finger.
And then there is the problem of touchscreens that aren't glove-sensitive, such as mobile phones. It's such a nuisance when you have to take your gloves off to operate them.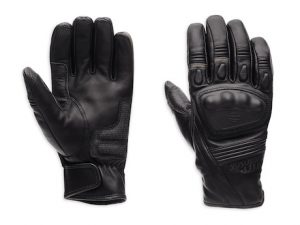 Now Harley-Davidson has released the Resilient motorcycle gloves with Touchscreen Technology that allows you to access any touchscreen, including the new touch screens on their Rushmore Project Touring bikes.
The index finger and thumb of each glove seems to have small stitching and somehow that acts like a naked finger. Don't know how it works, but it does.
The gloves are made of a very soft cowhide leather with a polyester lining and what they call an "ergonomic thumb" and pre-curved fingers which makes them extremely comfortable when you have your hands around the bars. I have worn them on long days in the saddle and they never get uncomfortable or bunch in the palms like some motorcycle gloves.
For further comfort they have gel-padded palms to decrease the "jackhammer" effect of vibrating bars and to avoid slip.
For protection there are hard polycarbonate reinforced knuckles and the palms are lined in Kevlar, plus there is 3M Scotchlite reflective material on the sides and backs of the fingers.
Like all Harley products, these motorcycle gloves are well made and look like they will last a long time. I have also worn them in the rain and the dye didn't run and they didn't go stiff or out of shape when they dried.
Harley-Davidson Resilient motorcycle gloves
Price: $98.35

Sizes: S-3XL (unisex)