Always get the best weather gear you can and the best I've ever used is the Harley-Davidson men's Roadway rainsuit.
I first tested it at the Harley Street 500 launch in the pouring rain in Sydney, then again on several occasions in New Zealand and also in torrential Queensland summer storms.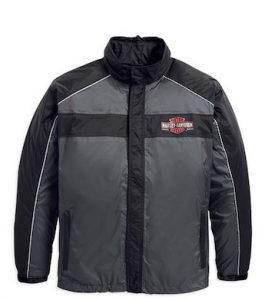 At $229.49 it's not cheap, but it works brilliantly and if it keeps you dry and comfortable, it's worth every cent.
The main problems I have had with cheaper brands of wet gear over the years has been that they are not fully waterproof, they are difficult to get on and off, the zips jam, you usually have to take your boots off to get them on, they rip easily and they don't compress easily for storage.
All of the reverse is true with the Harley suit.
How many times have you been caught by a sudden downpour because you didn't pack your bulky wet gear? If the gear is as compact as the Harley suit which folds away into a purse-sized zipped container, you are more likely to bring it with you every time.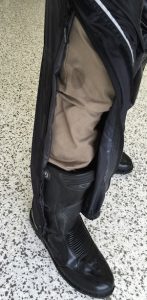 The Harley suit features pants and jacket with 3M reflective piping for added safety and a fold-away hoodie.
Now, why would you want hoodie? Well, if you've ever needed to stop on the side of the road in the rain for any length of time, you'll know it's a nuisance to leave your helmet on to keep your head dry. The hoodie takes care of that. It's also very easy to roll away and clip down behind the collar.
The suit is also lined entirely with a polyester mesh that makes it easy to slip on and off, even if you are already a little damp because you didn't pull over soon enough when the rain started to pour. The mesh liner also wicks away sweat in summer storms.
The jacket is made of waterproof nylon twill and has two exterior hand warmer pockets with waterproof zips and a storm flap, and an interior pocket for your wallet, so you and your valuables stay dry.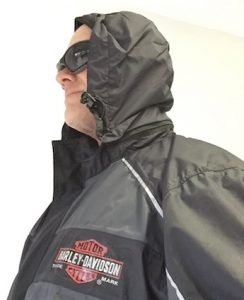 Water will always find a way to seep into that one little gap – usually in the sleeve or the bottom of the jacket. However, this jacket has adjustable velcro cuffs to stop the rain going up your sleeve and toggles on the bottom of the jacket to cinch it in so water doesn't go up our back.
The pants feature elasticised stirrups that go under your boots to keep the pants from riding up over your boots ad letting the rain in and adjustable suspenders to keep them from sliding down and leaving a gap to your jacket. If you don't like the suspenders, they are removable.
They also have a heat-resistant material on the inside of the legs to stop it melting on hot exhaust pipes and engine parts.
Best of all, the leg zips go all the way up to mid thigh so you don't have to take your boots off to get them on. The zips are also easy to use, never jam and there are storm flaps for extra weather protection that stay in place with velcro.
The gear is also very comfortable with a soft collar and generous dimensions so it doesn't restrict your movement at all, even over bulky boots and riding gear.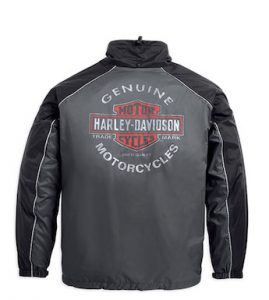 Looks good, too, with contrasting panels on the front, sleeves, and back, plus 3M Scotchlite reflective piping and graphics on the chest and back.
Harley-Davidson men's Roadway rainsuit sizes and prices*:
S – $229.49

M – $229.49

L – $229.49

XL – $229.49

2XL – $249.16

3XL – $249.16

4XL – $249.16

5XL – $249.16
(*Inclues GST)