Updated February, 2018
For decades, the strongest and most durable material available to make safety gear was leather. But technology has made some huge strides in the textile products which are now available. One of the most well known of these products is Kevlar. The product's claim to fame is predominantly from its application in body armor, but the body armor used to stop projectiles. However, it also has a great application in protective gear for riders as well.
The reason that Kevlar is favored for protection is its structure. When it is spun the resulting fiber has a tensile strength of 3,602 MPa and a relative density of 1.44. In plain English what this means is that Kevlar has an amazingly high tensile strength to weight ratio and is 5 times stronger than steel. The result is a textile material that is both lightweight and strong/durable making it a perfect material for riding gear.
In addition to Kevlar other similar materials have been created which offer many of the same properties such as extreme durability, flexibility, and breathability. Products such as Cordura, which is a brand of ballistic nylon, and Lycra offer several benefits which were simply not available when leather was the only available material.
Today's technology has made it possible for these materials to be combined to offer comparable protection to full leather but without the weight or density which many riders dislike. Many riders also find that the textile fabric offers greater comfort, flexibility and range of motion than leather.
Be sure to check back regularly with us here at wBW to read about our latest hands-on reviews of textile pants and other great products for riders.
Recommendations
Our Top Picks
Best Overall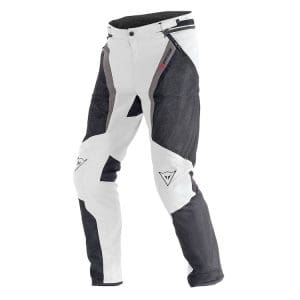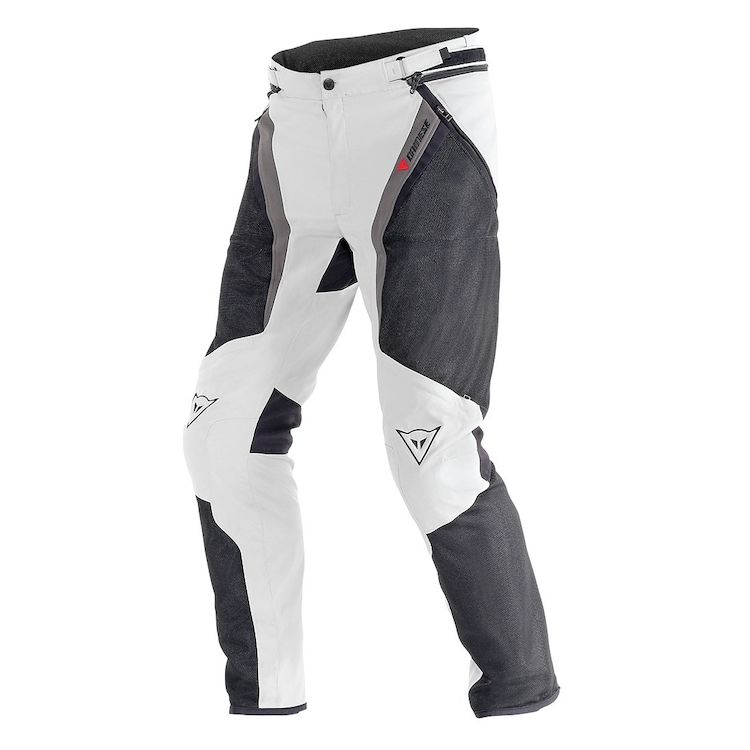 Best Value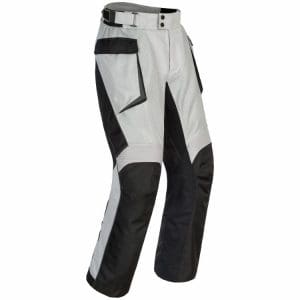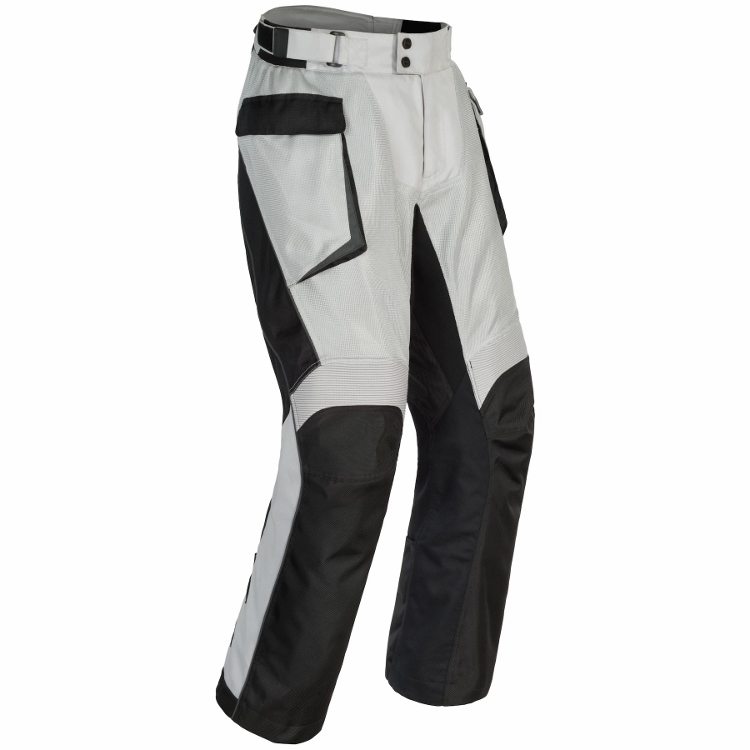 Fully Loaded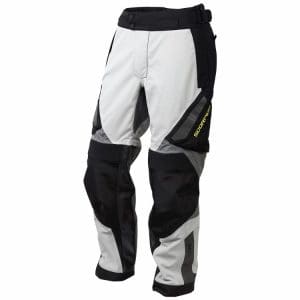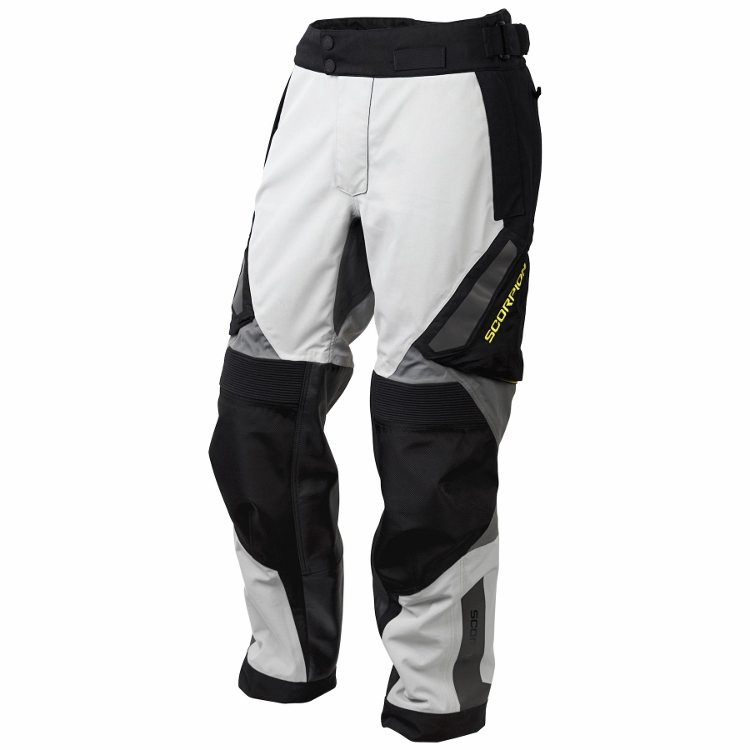 Other great options: Joe Rocket Atomic, Alpinestars Ramjet Air, Dainese Ridder D1
Textile Pants Buyers Guide
Selecting a cut and style of pants is a very personal choice. Fortunately, gear manufacturers understand that fact and offer textile riding pants in a huge variety of cuts and styles. For these reviews, our goal is to inform riders of the quality of the products, their durability and the protective features that they offer. Riders can use our information along with their personal choice of style and comfort to select the best textile riding pants for their taste and needs.
The Winners
In Detail
Best Overall


Dainese Drake Super Air Tex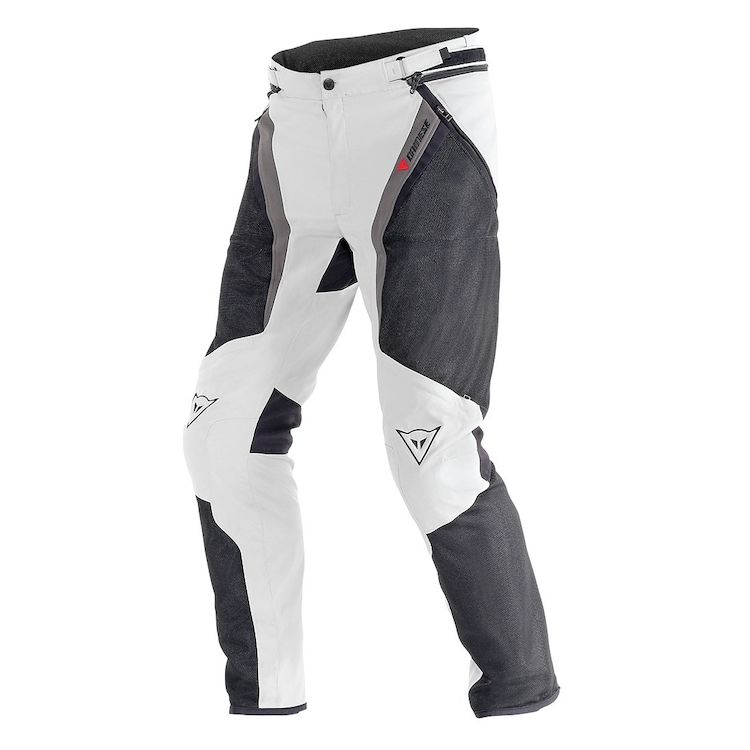 The Dainese Drake Super Air Tex pants are the perfect combination of protection and ventilation that riders want and need in hot climates.
These durable pants have large mesh panels on the thighs, shins, and calves to promote great air-flow and comfort. The combination of the Quickdry fabric and Boomerang net fabric eliminate moisture build up on your lower body and promote your body's natural cooling ability. The composite CE certified knee armor provides great impact protection while still being lightweight and comfortable.
Even with the armor in place, these pants run very true to size and this entire pair of pants and armor weighs just 3 pounds 1 ounce, which is a full 25% less than a similar leather pair of pants.
Added rider comfort comes from the fully adjustable waist and the zippers running the entire length of the back of the calf.
The sanitized lining also helps to wick moisture away from the rider's skin.
These pants can be paired with any of the Dainese mesh hot weather jackets via the full waist zipper trouser to jacket fastening system for complete protection and comfort. For less than $250, the Drake Super Air Tex pants from Dainese offer riders great comfort and protection without a huge price tag. And that makes them our choice for Best Overall Textile Pants.
Buy Dainese Drake Super Air Tex
---
Best Value


Cortech Sequoia XC Air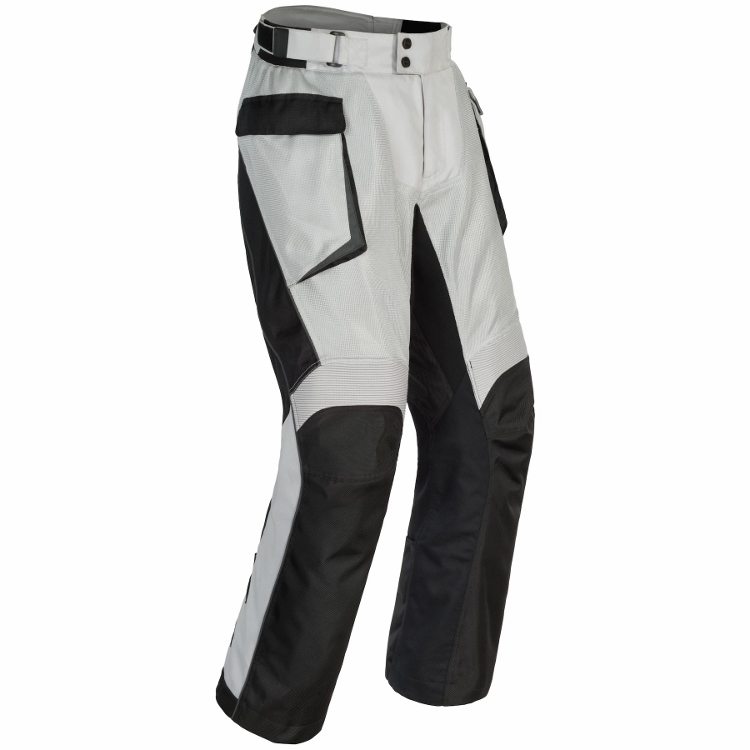 The Cortech Sequoia XC Air pants are primarily constructed from a combination of Armor-Link 3 mesh, abrasion resistant 600D ripstop Carbolex, and 1680D ballistic poly.
Inserts of 500D breathable stretch material are placed in the lower back, at the inseam, and behind the knees for added airflow, mobility and comfort. If the weather changes quickly, riders can slip into the waterproof Rainguard liner to stay dry for the remainder of the ride. These pants include removable CE approved knee armor which can be inserted in three different positions for a customized fit.
In addition, there are foam hip pads included which riders can upgrade if they so desire. These pants are a slightly more relaxed cut and offer generous space in the legs to accommodate additional personal armor as well as the included CE armor.
The waist is adjustable using the TPR pulls and the cuffs can be adjusted using the hook and loop closure system.
The 8" zipper allows attachment to a jacket to create a full riding suit.
Riders also appreciate the heat-resistant material placed on the inner legs.
Priced at less than $150, the Sequoia XC Air offers riders a lot of comfort and safety features for their money. Many pants costing twice as much do not provide this level of ventilation or include any impact protection. All of these features and the very reasonable price make the Cortech Sequoia our selection for the Best Value Textile Pants.
Buy Cortech Sequoia XC Air
---
Fully Loaded


Scorpion Yukon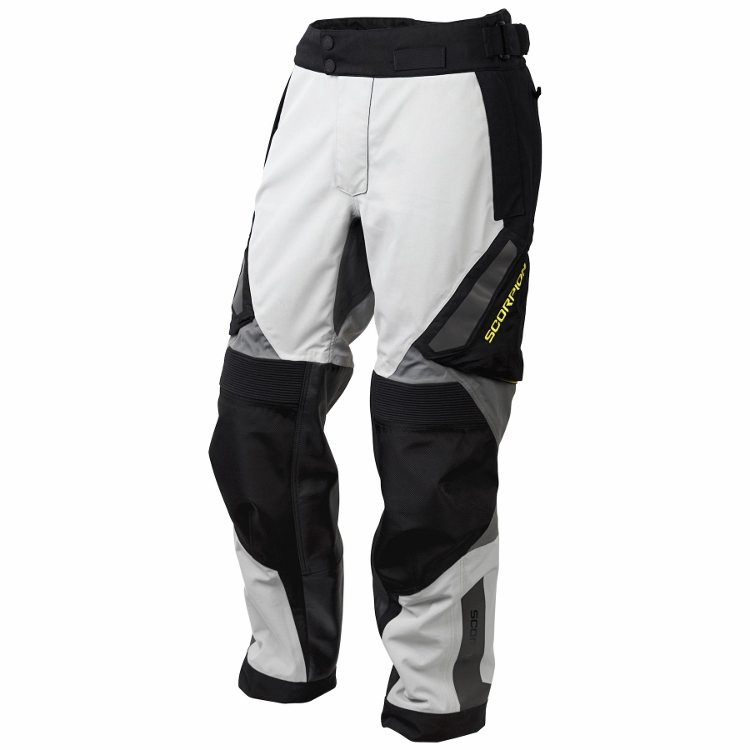 The Scorpion Yukon textile pants are for any rider who is in search of all weather, do anything, go anywhere textile pants. These are an adventure/touring cut and style so the fit is very relaxed and can accommodate a lot or a little clothing underneath and still remain comfortable.
These pants are made of 100% Polyamide woven fabric of roughly 500 deniers. The abrasion areas of the knees and seat are reinforced with 1680D. There are also large leather reinforcements on the inside of each leg from the knee to the ankle to aid in gripping the fuel tank, to protect against sharp parts of the pegs and to add protection from a hot exhaust.
These pants offer 2 front pockets, 2 large cargo pockets and 1 hidden money pocket in the waistband.
All pockets offer zipper closures for security.
The waistband has 2 Velcro closures and elastic in the back of the waistband for a custom waist fit.
Stretch accordion gussets at the waistband and knees provide added comfort and mobility.
Finally, the pants are lined with polyester mesh and taffeta for comfort and to aid in wicking moisture away from the skin.
Above and beyond the abrasion protection offered by the fabric, the Yukon provides Sas-Tec CE armor in both the knees and the hips.
The knee armor pockets offer several different adjustments to customize the location and fit for a more comfortable ride and added safety.
The breathable and waterproof fabric used to make these pants allows riders good ventilation, plenty of comfort and superior safety features in a single pair of pants that can be worn year round.
Even with the somewhat higher price point, the Scorpion Yukon is our selection for the Best Fully Loaded Textile Pants.
Buy Scorpion Yukon
---
Other Great Textile Pants
In Detail
Joe Rocket Atomic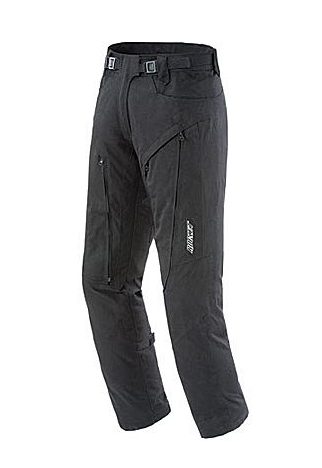 The Joe Rocket Atomic pants are constructed of heavy-duty 500D Hitena Nylon for durability and abrasion protection but also offer great ventilation via the FreshAir mesh panels at the thighs.
Additional safety features include the height adjustable CE rated knee protection, removable high-density hip padding, and the removable tail padding.
The Atomic textile pants provide a Sure Fit adjustable waistband and leg adjustments. These are very helpful in customizing the fit to whatever style of pants you are wearing under the Atomics. As an "overpant" style, these pants are cut large enough to cover a dress pant or tighter jeans style pants.
For the very reasonable cost, the Joe Rocket Atomic is a good selection for cost-effective abrasion and impact protection which also offers great ventilation for a warmer climate.
Buy Joe Rocket Atomic
---
Alpinestars Ramjet Air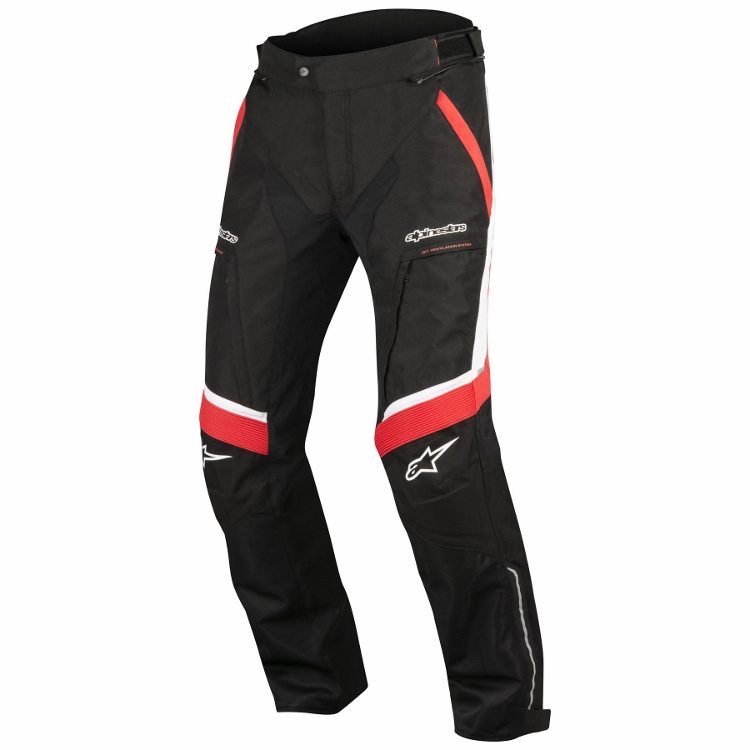 The Alpinestars Ramjet textile pants are designed with a combination of protection and comfort in mind.
Constructed of 450/600 denier panels and integrated abrasion resistant Air Flow mesh, these pants offer the best of both worlds for riders in warm climates. Additional impact protection is provided by the removable CE knee pads, shin pads, and the hip foam protectors.
Comfort is also an important focus in the design of these textile pants.
Accordion textile stretch inserts located at the pre-curved knees and back allow for more flexibility and range of motion.
Zippered and Velcro fasteners are provided on the lower hem to allow riders to create a custom fit and complete comfort.
D-ring adjustable waist straps also provide flexibility in adjustment for a more secure fit and comfort.
And the full 3D mesh lining ensures breathability for rider comfort.
Riders also like the external zipper pockets on the thighs for storage and accessibility.
Finally, these pants are designed to attach easily to most Alpinestars leather or textile jackets to provide even more comfort and safety for riders.
The Ramjet Air from Alpinestars is a great choice for riders who are looking for solid abrasion and impact protection while still having the option for good ventilation during hot rides.
Buy Alpinestars Ramjet Air
---
Dainese Ridder D1 Gore Tex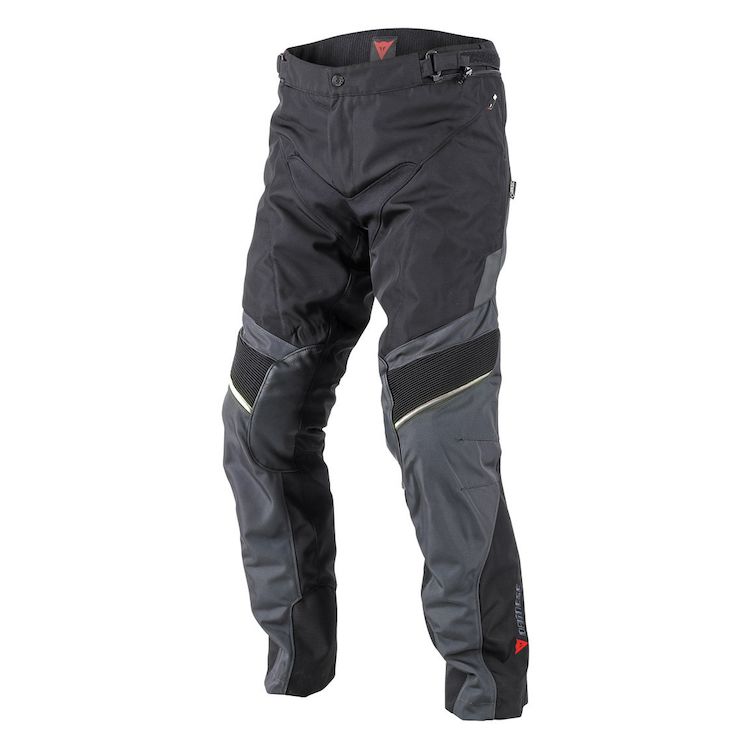 For riders looking to invest in a single pair of textile pants which will meet all of their needs for year-round riding, the Ridder D1 Gore Tex is a perfect choice.
The price tag is the only discomfort that riders will ever associate with these pants. And that will disappear quickly after riders experience the comfort and versatility of the pants. A single pair of the Ridder D1's can easily replace 2 or 3 other types of pants.
The shell is made of Gore Tex which provides great breathability but is also waterproof. In addition, there are cowhide leather inserts and D-Stone fabric inserts for added protection. Composite and Pro-Shape armor at the knees and hips offer superior impact protection which is certified to EN 1621.1 standards.
Comfort features in the Ridder D1 include a removable thermal liner which makes these a great textile choice for cold weather rides, elasticated inserts at the knees for reduced fatigue, easy waist adjustment and zippers at the calves.
These pants are also compatible with most Dainese jackets to create a full riding suit for added protection and comfort.
The Quick Shift Ventilation in the thighs makes it easy to adjust airflow even on long rides.
For riders who want to buy once and cry once, the Dainese Ridder D1 Gore Tex is a great option for 4 season function and great safety features. This versatility and the ability to pair with most riding jackets allows each rider to create a custom suit if desired or simply enjoy the Ridder D1 textile pants independently.
Buy Dainese Ridder D1 Gore Tex
---