Updated January, 2018
Most experienced riders agree that gloves are must even in the hot summer months. There is really no excuse to risk your hands when there are a number of really great short glove options on the market. From the "dry heat" of Arizona at 113 degrees to the humid 90 degree plus days of south Florida, there is a short glove that can meet all of your needs for safety, comfort and durability.
Be sure to check back regularly with us here at wBW to read about our latest hands-on reviews of short gloves, cooling vests, and other great products for riders.
Glove Guide: Some riders will only wear short gloves in the summer in an effort to stay cool and reduce sweating, switching back to gauntlets in the cooler weather, whereas others ride with short gloves year round. Neither method is wrong, it's just a matter of deciding what works the best for you. The only wrong answer is not wearing gloves and putting your hands at risk.
Recommendations
Our Top Picks
Best Overall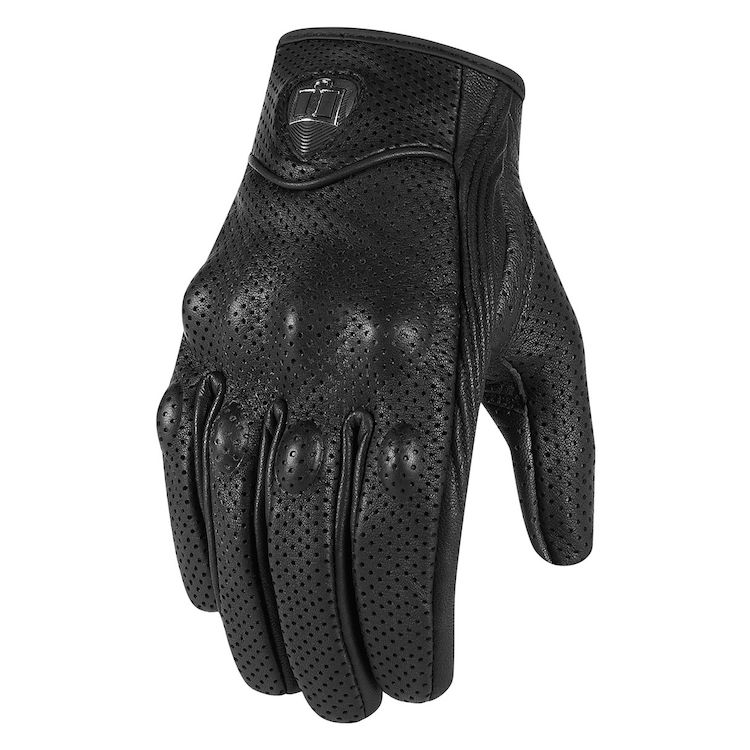 Best Value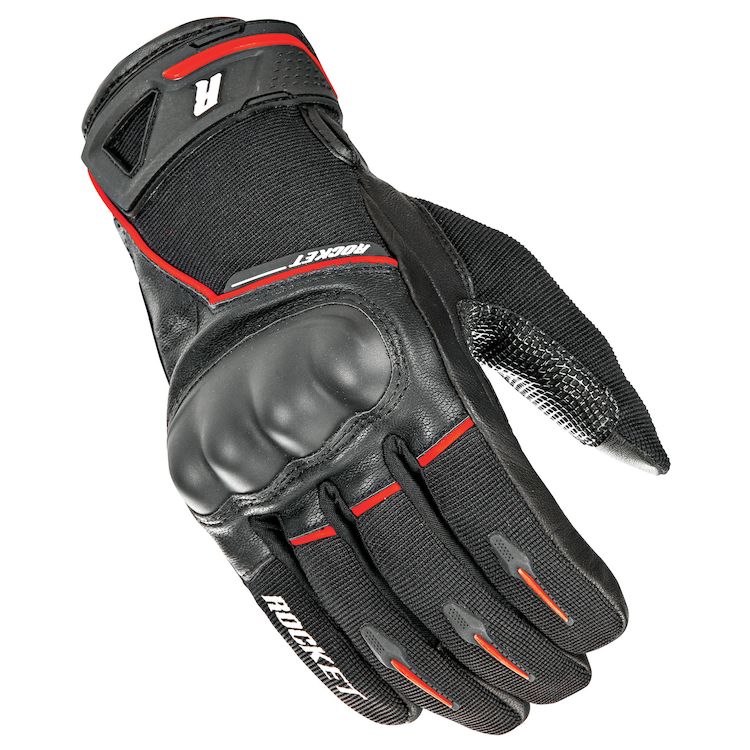 Fully Loaded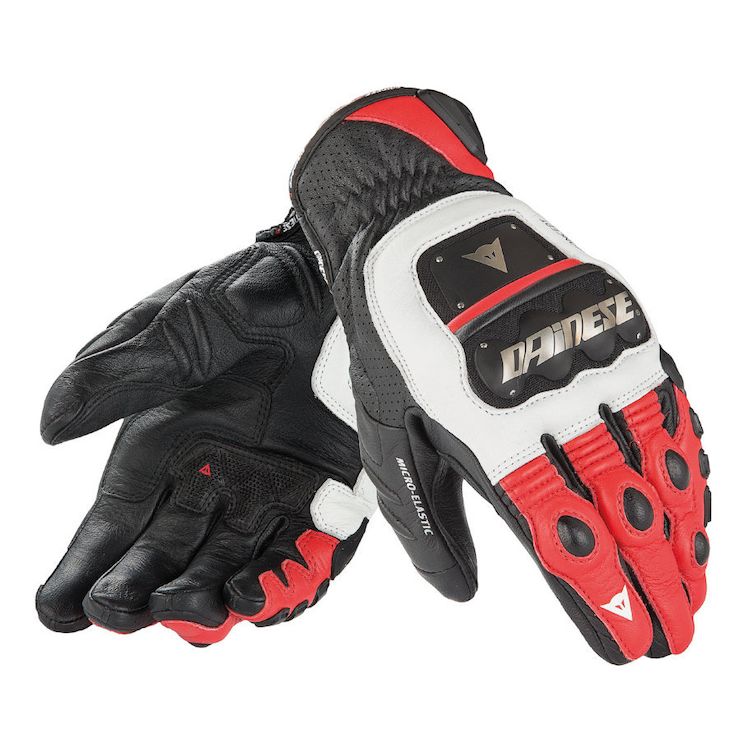 Dainese 4 Stroke EVO
Other great options: Alpinestars SMX 2 Air Carbon, Alpinestars SPX Air Carbon, Alpinestars Celer
The Winners
In Detail
Best Overall


Icon Pursuit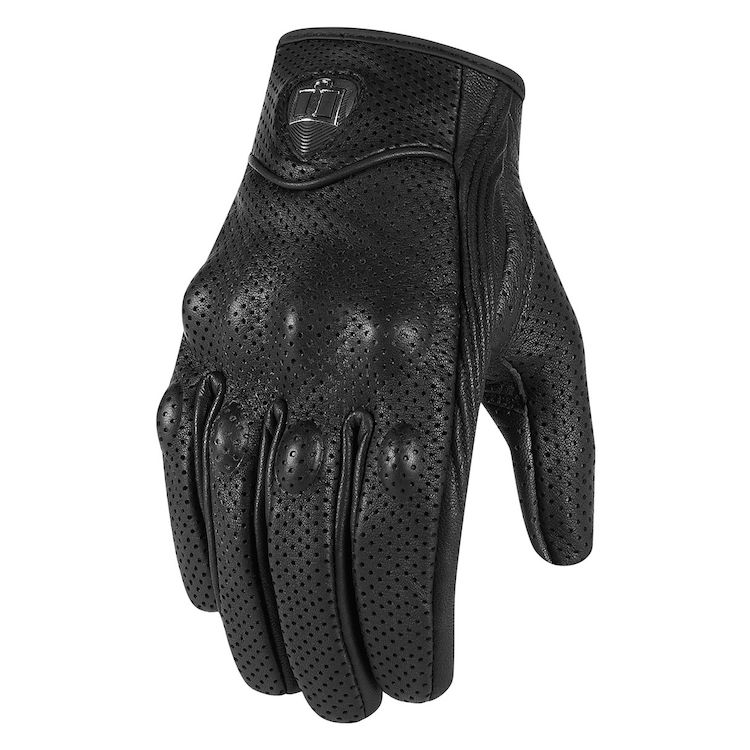 The Icon Pursuit glove stands out from the crowd for its ability to be 100% comfortable from day one but still offer great protection. In addition, this great design is offered in two styles, both perforated and non-perforated giving riders even more reasons to buy this great short glove which sells for less than $100.
This glove is a 100% Pittards sheepskin leather construction with goatskin overlays in critical areas to provide more durability and protection. The integrated knuckle armor provides protection on impact and also serves as a strong sliding surface to help eliminate abrasion when you go down.
The hook and loop wrist strap ensures that this glove will stay in place throughout your ride and be easy to take off even when you are hot and tired.
The expansion gussets add to the comfort and custom feel of these gloves each time they are worn. And you will never need to worry about losing one glove again, as each glove has a snap to keep them together during storage.
The final feature is the riders ability to choose between the perforated and non-perforated version of the Icon Pursuit. The perforated model will certainly provide better airflow but will be just a touch less durable than the non-perf version. This feature along with the combination of quality and comfort offered by these gloves make them our best overall choice when looking at short gloves.
Buy Icon Pursuit Gloves
---
Best Value/Glove to Buy


Joe Rocket Super Moto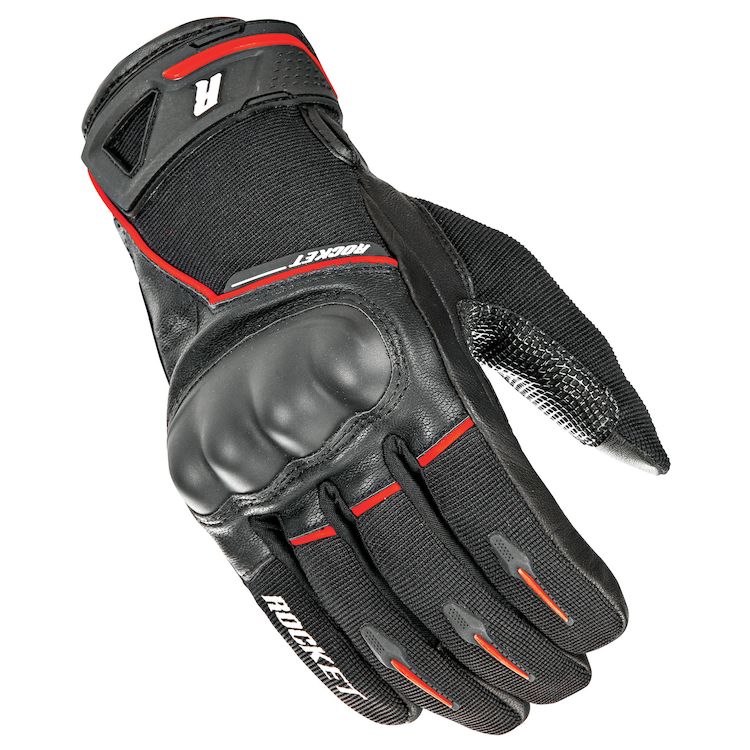 At less than $50.00 the Joe Rocket Super Moto glove is a great choice and a great bargain for a name brand short glove. This lightweight glove is constructed of goatskin leather and stretch Span/Poly to provide a great fit and all of the safety that you expect from a Joe Rocket product.
In addition to the drum dried goatskin leather palm, this glove is reinforced with a synthetic leather overlay on the palm to add to its durability. A great grip is provided even through these multiple layers because of the silicone printed texturizing on the palm.
The hard PVC knuckle protector provides protection on impact and also helps to reduce potential abrasion in a slide. The neoprene wrist cuff with hook and loop closure keep this glove firmly in place all the time.
Riders will also appreciate that the glove is pre-curved to help reduce hand and finger fatigue, and improve the fit to avoid blisters and other abrasions. The thumb and index fingertip are constructed using a conductive material so you will be able to quickly access information on any touch screen device without removing the Super Moto gloves.
For a name brand short glove that is priced below $50.00, the Joe Rocket Super Moto offers many great features. Riders can feel protected and comfortable even in the heat of summer.
Buy Joe Rocket Super Moto Gloves
---
Fully Loaded

Dainese 4 Stroke EVO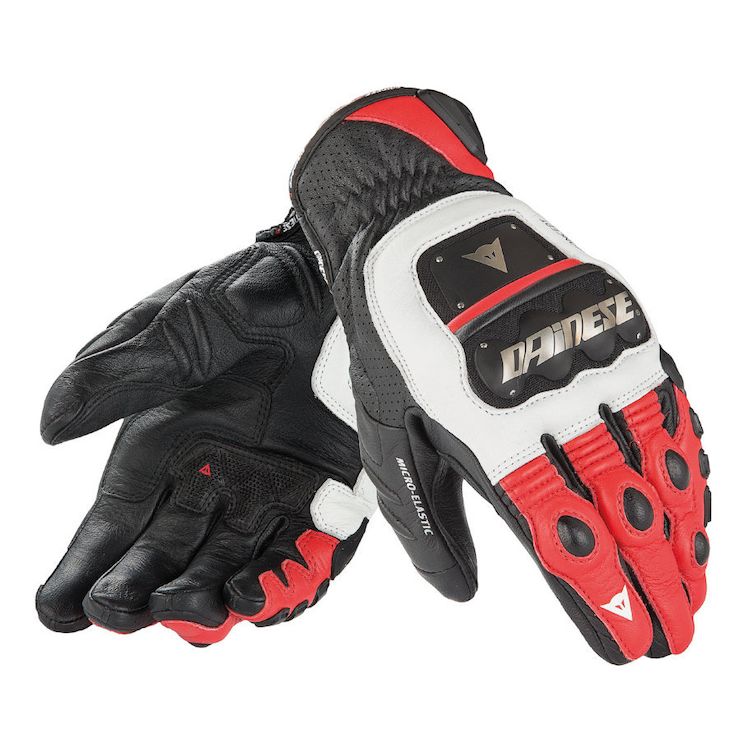 The Dainese 4 Stroke EVO glove is certainly a cut above most other short gloves. But that exceptional quality does come at a rather steep price which is why this is the best rated fully loaded short glove in this evaluation. This glove provides certified levels of safety and comfort features which are far superior to most gloves available.
Safety is definitely the priority for the 4 Stroke. It is certified to CE – Cat.II – Pr-EN 13594/2010 Standard Level 1. The back of the hand and knuckles are protected by composite inserts made of preformed stainless steel and thermoplastic resin. Thermoplastic resin is also used to protect all of the finger joints and the outside of the little finger.
In addition, a special polyurethane insert is placed over the side of the hand and knuckle of the little finger for enhanced support and to reduce the risk of twisting in the event of a fall. Additional inserts are located on the palm of the hand and in the cuff area.
Dainese did not overlook comfort and ergonomic features in this glove either.
The glove is constructed of cowhide leather for its durability but the palm is made from a softer reinforced goatskin to provide maximum comfort and flexibility.
The fingers are pre-curved to help reduce fatigue and there are perforations on the inner side of each finger.
All of the inserts are micro-elasticated to remain firmly in place.
Clearly, Dainese did not overlook anything when it came to constructing an extremely protective glove which also offers extreme comfort. What can be painful for some riders is paying over $200, but that is the cost of a great fully loaded short glove.
Buy Dainese 4 Stroke EVO Gloves
---
Other Great Half Helmets
In Detail
Alpinestars Celer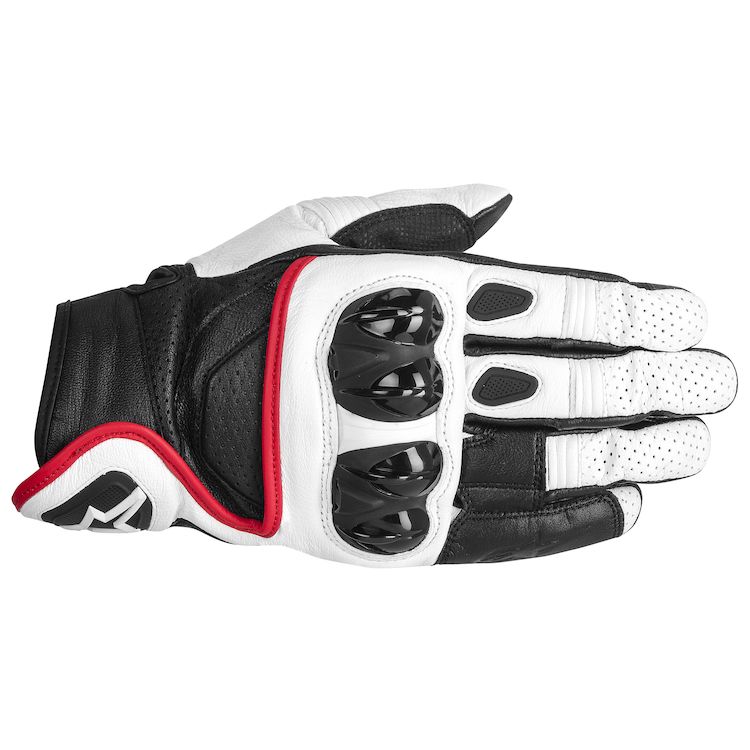 The Alpinestars Celer is a great blend of protection and functionality for a fairly reasonable cost. The full goat leather construction is reinforced in the palm but still offers flexibility and a grip that remains comfortable for a full day of riding.
In addition to the leather body the palm includes EVA foam reinforcements on the landing zone as well as synthetic leather and synthetic suede reinforcements. The synthetic materials are also added to the thumb and side of the hand for added protection.
The exterior armor on this glove includes the PU knuckle protection system which provides a polymer flex insert to optimize fit for various hand sizes and TPR sliders on the first two fingers.
For maximum comfort, the Celer offers perforations on the finger surfaces, finger sidewalls, and the top of the hand for complete airflow. Each finger is also pre-curved to reduce fatigue and improve grip. Accordion leather flex panels on the fingers and thumb provide complete range of motion.
The wrist cuff with the Velcro closure ensure a secure fit and also provide additional support and protection in the form of EVA padding. The Celer offers good protection and mobility for a fairly good price which makes it a solid choice for a short glove.
Buy Alpinestars Celer
---
Alpinestars SPX Air Carbon
The Alpinestars SPX Air Carbon gloves are a design derived from the race glove, and offers many of the same safety and performance features. The combination of full grain leather and 3D mesh make this glove the perfect choice for summer use in even the hottest regions.
The leather/mesh shell offers superior protection and ventilation capability.
The carbon compound and injected TPR knuckle protectors offer great impact protection as well as slide capabilities for the back of the hand.
The palm is protected by EVA foam and TPR sliders. Finger protection includes EVA foam and 3rd and 4th finger bridges to prevent rolling in the event of a slide. Additional comfort in the SPX Air is provided by the ergonomic pre-curved fingers to reduce fatigue and improve grip on long rides, stretch accordion leather inserts on the fingers, and Lycra inserts for maximum flexibility. An added bonus feature is the index finger compatibility for touch screen devices.
At just about $100 the SPX Air Carbon is a good selection for a mid range priced short glove that provides both safety and comfort in warm conditions.
Buy Alpinestars SPX Air Carbon
---
Alpinestars SMX 2 Air Carbon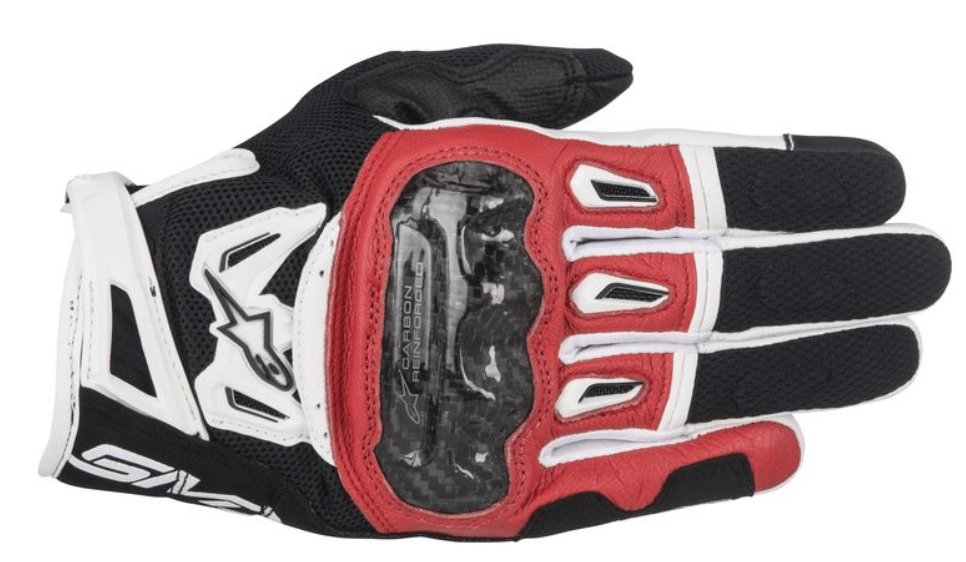 The Alpinestars SMX 2 Air Carbon is a refined model which offers riders a short glove selection made from a combination of full grain leather, suede and 3D mesh. This glove offers safety, comfort and a price around $20 below the full leather Alpinestar models.
The body of the SMX 2 is a combo of full grain leather and 3D mesh to provide both protection and comfort when riding in hot weather. The streamline carbon knuckle guard is reinforced with thick EVA foam for added impact protection.
Additional TPR inserts protect the rest of the back of the hand and fingers. Premium quality suede is used to reinforce the palm of the hand and provide landing shock absorption. The pre-curved construction helps to reduce finger fatigue and also improves grip capability on long rides.
Stretch fabric is added to the sidewalls of the fingers for added mobility and comfort. The neoprene wrist strap keeps the glove secured with a Velcro closure. Riders will also like the touch screen compatible index finger and thumb.
At $79.95 the SMX 2 Air Carbon is a very reasonably priced short glove for summer wear. It offers riders exceptional comfort while still providing the safety features that are needed even for summer riding.
Buy Alpinestars SMX 2 Air Carbons
---