Updated January, 2018
Adventure/touring gloves need to provide riders with protection and comfort in a variety of different conditions and environments. The greatest challenge facing riders is achieving this balance in a durable glove.
The most common choice for adventure/touring gloves is the short cuff as most riders consider this feature to offer more comfort and range of motion, but there are longer cuff styles available. Determining the correct size gloves to purchase is critical to their comfort and effectiveness, so refer to a sizing chart to be certain you make the right selection.
Be sure to check back regularly with us here at wBW to read about our latest hands-on reviews of adventure/touring gloves and other great products for riders.
Glove Guide: Whenever you are out for a ride, the gear you are wearing can have a huge impact on the enjoyment that you experience. Nothing is worse than setting out on a ride only to experience a gear failure or disappointment in gear functionality. Not only can it suck the fun out of the experience but it can also place you at unnecessary risk. Make sure that your needs are being met by getting the best adventure/touring gloves as well as other gear by reading hands on reviews and product recommendations from the wBW team.
Recommendations
Our Top Picks
Best Overall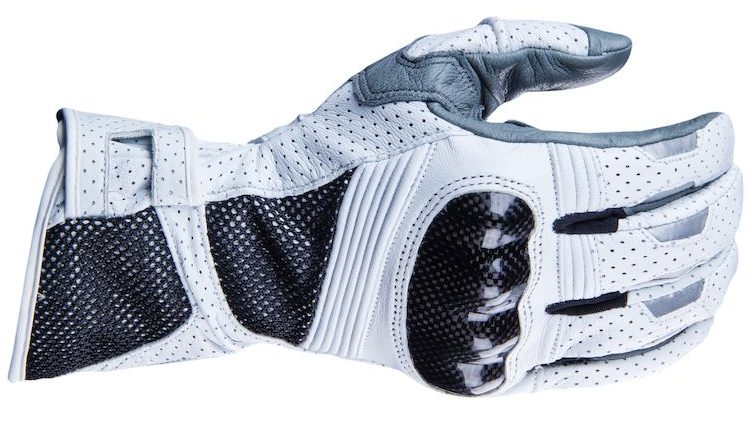 Best Value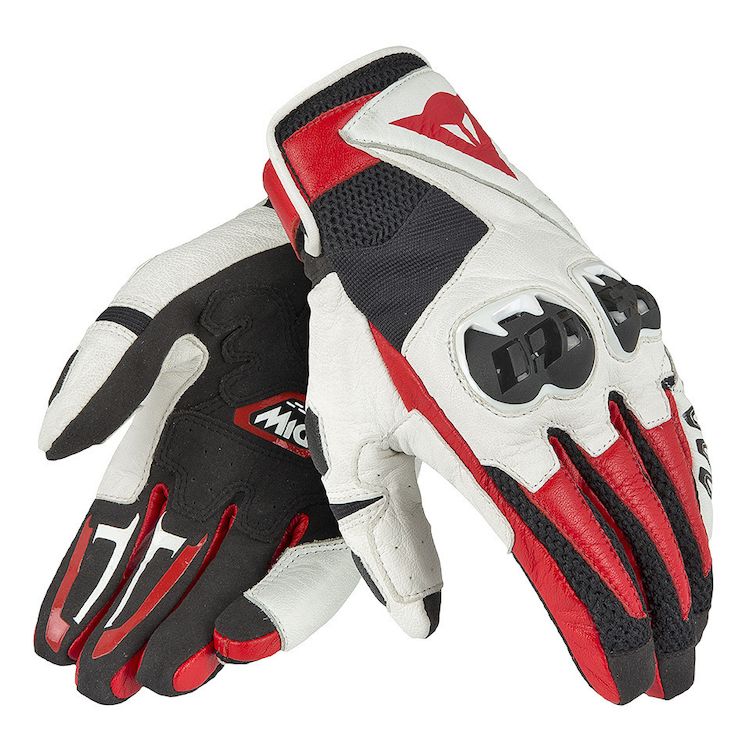 Fully Loaded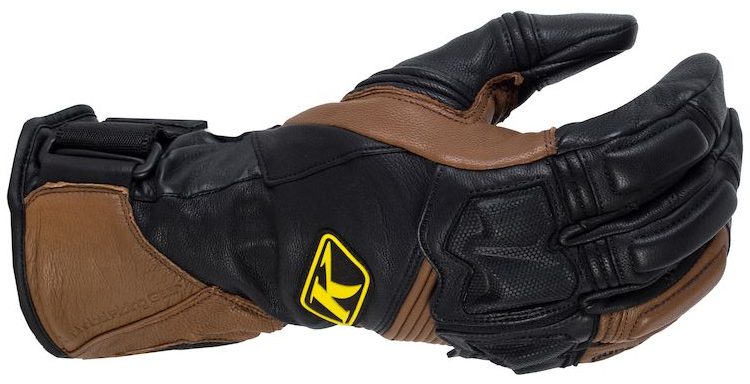 Other great options: Klim Induction Short, Alpinestars Corozal Drystar, Alpinestars Highlands
---
The Winners
In Detail
Best Overall


Klim Induction Long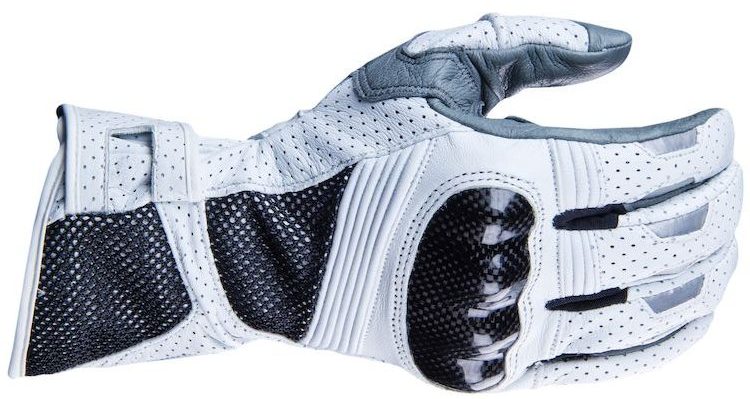 The Klim Induction Long glove is the epitome of comfort. These gloves have been designed to reduce fatigue by keeping a riders hands cool and relaxed during a long ride. Even in the longer gauntlet style length, these gloves provide great ventilation to help prevent loss of grip from sweat and blisters.
Constructed with premium grade perforated leather and 1000 Denier Mil-Spec mesh, the gloves provide great air flow and wicking capability thanks to the Quick-Dry liner.  Even with all of these comfort features, Klim has included all of the safety features riders expect from a premier glove.
The Pittards Armortan ceramic reinforced leather palm is far more durable than plain leather and provides exceptional protection for the palm while still providing good grip capability.
The carbon fiber knuckle impact plate and integrated Poron XDR extreme impact protection foam insure that the back of the hand is equally well protected.
The dual closure consisting of a wrist cinch strap and the oversized gauntlet closure keep these gloves firmly in place for safety and to reduce rubbing and blistering.
Added features include a fine micro mesh between fingers for additional air flow and comfort and gussets at each finger. And a very unique feature, which will be great for long rides, is the shield/goggle squeegee that is built into the palm of each glove.
The Klim Induction Long glove not only meets and exceeds all rider needs for comfort and protection but also provides innovations not found in any similar glove which makes them our best overall choice when looking at adventure/touring gloves.
Buy Klim Induction Long
---
Best Value Glove


Dainese MIG C2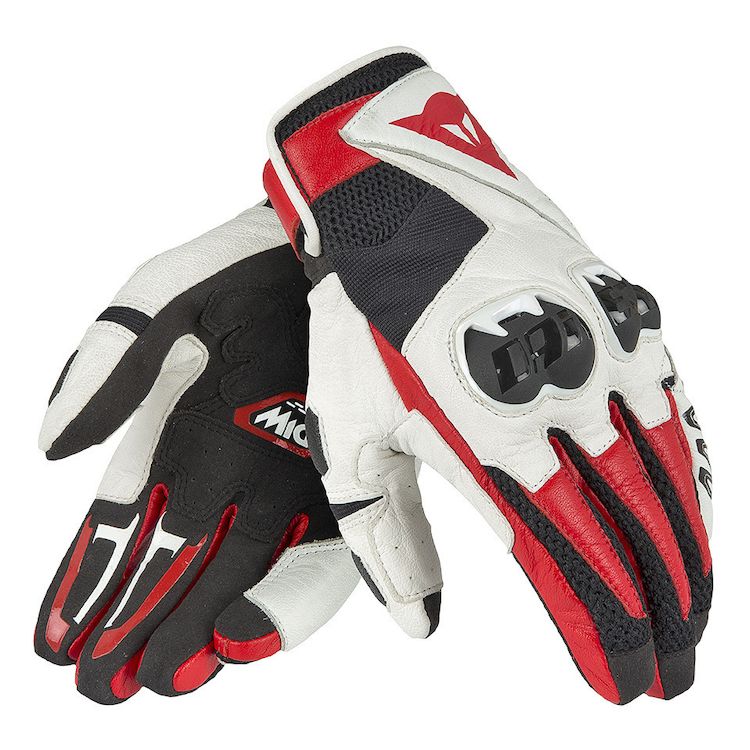 The MIG C2 is a racing inspired glove but with the added protection needed for adventure/touring riders. Dainese made sure that the number one feature of these gloves is safety, but comfort is a very close second.
Certified to CE – Cat.II – Pr-EN 13594/2010 level 1. These gloves are made of durable cowhide and the palms are reinforced with synthetic suede for added protection. The knuckles are covered by polyurethane inserts. Soft inserts were also added to the thumb and little finger for added protection without loss of dexterity and comfort.
The riders comfort level is guaranteed by the attention to detail in the material selections and the glove design.
Mesh fabric inserts allow for great air circulation.
The adjustable strap provides the security of a custom fit for every rider and a glove that stays in place even on long rides.
And those long rides will be more enjoyable in the MIG C2 because of the ergonomic pre-curved fingers which provide a more natural grip and reduce fatigue for fingers and hands.
For an adventure/touring glove that offers all of these features and comes in at less than $100, this is definitely the best value over all for adventure/touring gloves.
Buy Dainese MIG C2
---
Fully Loaded


Klim Adventure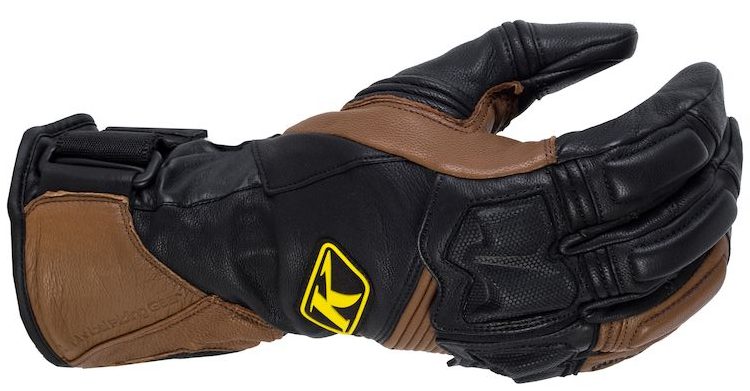 Not all rides will occur during perfect conditions or with perfect weather. But dedicated riders know that the right gear makes any ride a good ride. The Klim Adventure Long glove is made to handle even the worst weather and ensure that you have a great ride experience.
This glove is perfect for cold wet weather thanks to the Gore-Tex waterproof and breathable technology. And you won't be sacrificing grip because they also include the Gore-Grip feature for a secure grip in any climate.
This glove is an all leather construction, gauntlet style glove that is guaranteed to keep you dry.
Other safety features include ceramic print knuckles and palm pad panels, 3D silicone knuckle pads and Poron XDR protective foam on the side of the palm and around the fingers.
Klim addressed riders further comfort needs by inserting an accordion stretch panel on the back of the hand, a moisture wicking liner and a Velcro wrist band closure featuring an entry assist loop.
If you are looking for that one glove to handle anything you encounter when adventure/tour riding then the Klim Adventure long is made for you. At over $225 this glove is in the higher price range but the features make this glove worth the added cost.
And if you are not a fan of the gauntlet style, Kilm also makes an Adventure Short model which includes all of the same great features but with a short cuff. This option will also save you a few bucks as it sells for around $180. Hands down, the Klim Adventure glove is the best fully loaded option for an adventure/touring glove.
Buy Klim Adventure
---
Other Great Touring Gloves
In Detail
Klim Induction Short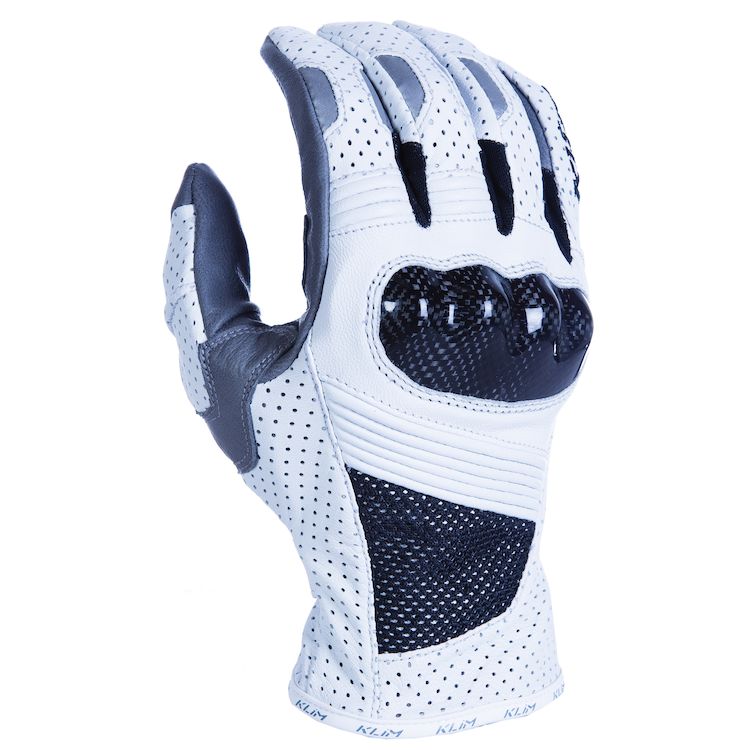 Comfort and durability are the signature features of the Klim Induction short adventure/touring glove.
Heat can be your greatest enemy on a long ride. Not only does it cause discomfort and excessive hand and finger fatigue but it also impairs your ability for a good grip. Sweat and wet gloves are not a good combination when your life depends on your ability to grip and maneuver with your hands.
The Induction glove is engineered to provide maximum airflow to eliminate any issues related to excessive heat buildup.
The main body of the glove is constructed of premium grade perforated leather with micro-fine mesh between each finger. In addition, there is a panel of 1000 Denier Mil-Spec mesh on the back of the wrist. This literally allows the air to enter the glove from all sides of the hand and fingers. Not only does the air keep you comfortable but it also assists with the wicking process provided by the Quick-Drying liner.
With all of these air flow features it might be hard to believe that the Induction also offers superior protection, but it does.
The Pittards Armortan ceramic reinforced leather palm, carbon fiber knuckle protection plate and Poron XDR extreme impact protection foam padding keep hands and fingers safe from impact and abrasion in the event of a slide.
Added XDR padding at the wrist also provides added support and impact protection.
The Klim Induction Short adventure/touring glove is a little bit more pricey than some models but for great airflow and protection this is a solid selection.
Buy Klim Induction Short
---
Alpinestars Corozal Drystar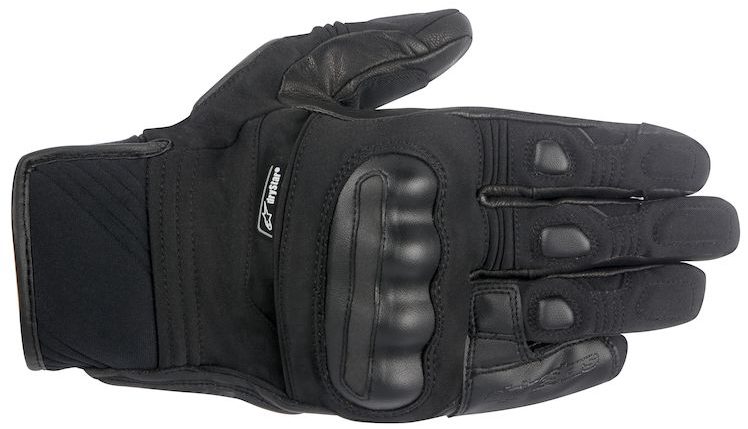 Alpinestars Corozal Drystar
If you are looking for a glove to handle wet conditions, the Alpinestars Corozal Drystar is the perfect selection. This short cuff style adventure/touring glove provides comfort and protection as well as great waterproofing.
The goatskin leather palm provides superb protection as well as grip and the stretch polyamide fabric upper means that it is a custom feel each time you put on the gloves.
Reinforced foam padding on the palm and outer hand prevent any issues from abrasion in the event of a slide and provide added impact protection.
The patented 3rd and 4th finger bridge also ensures that riders will not incur additional finger injuries due to finger roll when sliding.
The synthetic leather molded hard knuckle panel provides impact and abrasion protection to the top of the hand as well.
Added comfort features include the pre-curved finger construction to reduce hand and finger fatigue and the neoprene cuff with a Velcro closure. Riders will also like the convenience features including the visor wiper on the thumb and the touch screen capable fingertip on the index finger.
For a waterproof option in adventure/touring gloves that offers a short cuff for enhanced range of motion and excellent safety features, the Corozal Drystar is a great choice.
Buy Alpinestars Corozal Drystar
---
Alpinestars Highlands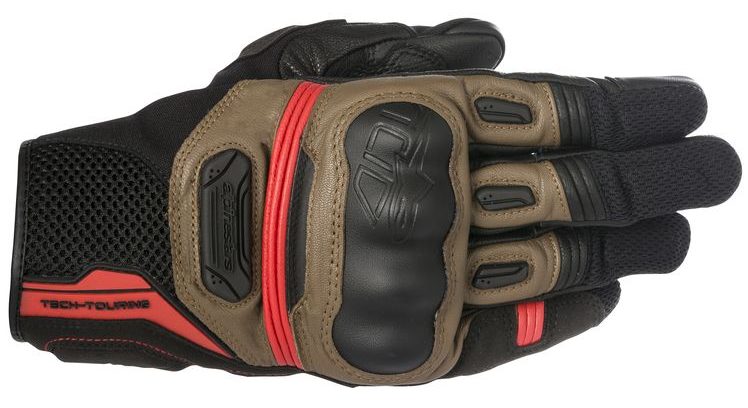 The Alpinestars Highlands gloves offer adventure/touring riders a durable and safe glove design with added features which are not normally found in a glove under $100. They will certainly meet the needs of an adventurous rider who is also looking for comfort and function.
Safety is a concern for any ride and in any conditions.
The Highlands glove is constructed of durable goat leather and 3D mesh for great protection.
The Arshield reinforcements provide great abrasion protection while the molded polymer knuckle panel provides impact protection.
TPR sliders are located on the back of the hand and on the fingers to reduce potential damage for the gloves gripping the asphalt in a slide and creating a twisting motion which can cause catastrophic hand and finger injuries.
Additional foam padding at the thumb, fingers and knuckles also helps to reduce the damage caused by high impact.
Comfort is also a key feature for the Highlands.
Innovative microfiber and a PU grip insert help to consistently position the palm and thumb correctly in the glove.
The pre-curved fingers provide added comfort and reduce finger fatigue.
The Velcro fastener on the cuff provides a secure fit throughout each ride.
The Highlands also goes one step further for riders by providing touch screen compatibility in both the index fingertip and the thumb.
At under $100 the Alpinestars Highlands adventure/touring gloves offer riders a lot features and comfort for the money.
Buy Alpinestars Highlands
---