Forcefield AR Knee Protectors Review Summary
Review Summary
The AR Knee Protectors from Forcefield offers an alternative to integrated knee protectors in motorcycle riding pants. Fitting snugly against the knee (under or over riding pants) they will stay in place better in the event of a crash than armor installed in most protective riding pants. Unlike many standalone knee protectors, these can be used for street riding as well as off-road.
BUILD MATERIALS & QUALITY
Pros
Impact & abrasion resistance
Easy to put on & take off
Replaceable inserts
One size fits all
Cons
Price is a bit high compared to alternatives
May not fit under tighter fitting pants
One size fits all
3.6
Average, With Drawbacks
Forcefield AR Knee Protectors Image Gallery
Introduction
For many years now I have employed "ATGATT" when I ride. In my case, especially when commuting, this means I am wearing over-pants or other riding pants that will fit over work clothes. Being roomy enough to handle this situation means that the armor in these pants might not be held securely enough to remain in place in the event of a crash.
To mitigate this situation, for the past several years I have been removing the installed armor in my riding pants and have instead used MX style knee protectors in their stead. I've had protectors from Alpinestars, Thor, and Shift Racing* over the years and they've served me well.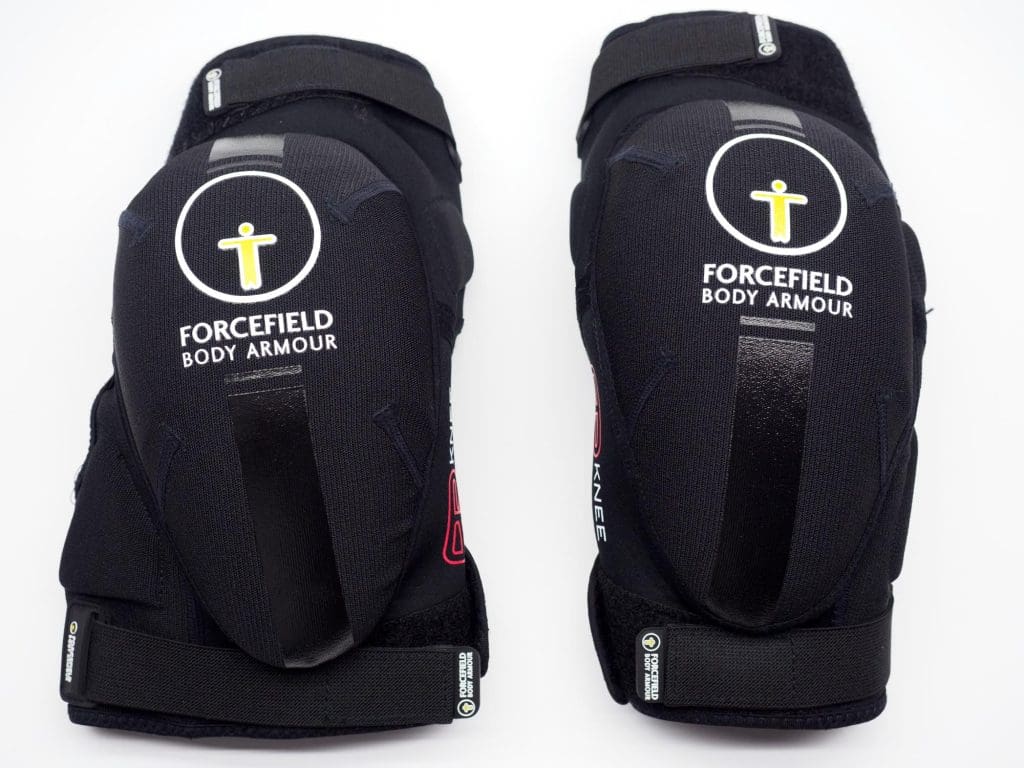 The problem with the aforementioned protectors is that they are not designed for street riding. I have used them with the idea I would rather have protectors I know will stay in place offering some protection, rather than the risk of suitable protectors not remaining in place when I need them.
So is there a better way?
WebBikeWorld was recently offered a chance to review the AR Knee Protectors from Forcefield and I jumped at the chance to try out some armor that might be the best of both worlds.
*I want to point out that I have, and still use, those same Shift Racing knee protectors from 2011 and they have held up very well.
The AR Knee Protectors
These knee protectors are definitely a different style and design from the off-road items I've been using in the past. To start with, there is no hard plastic covering with these protectors. Instead, there is an outer layer of tough, breathable material that offers abrasion resistance and which covers the impact armor.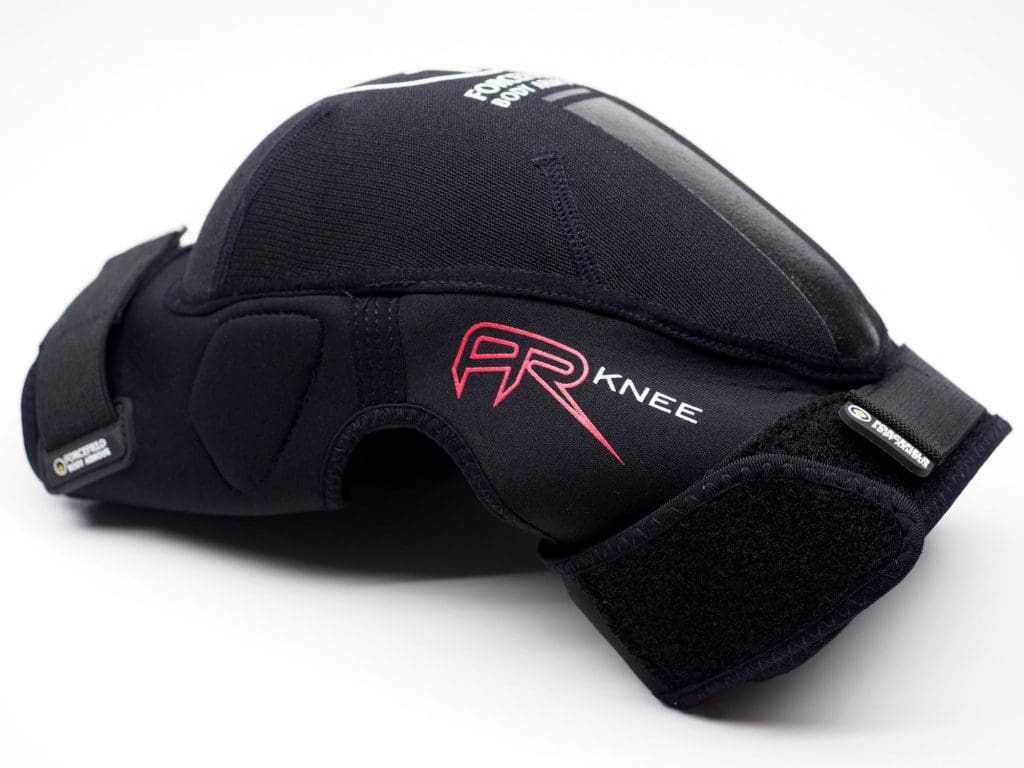 On the front is the circular Forcefield logo and graphic with "AR Knee" screened in red and white on the side. Smaller Forcefield Body Armor is also present on the strap pull tabs and grommets. Black is the only color available and considering these will often be placed under clothes this suits me just fine.
One thing I didn't find was an indication of which piece was left or right. The asymmetrical design led me to believe that these are designed for a specific side. Reading through the description guided me to determine that the side with the extra lateral protector should be facing "out".
Two adjustable fastening straps are present for fitting. One wraps above and the other below the knees. Each wraps around from the opposite side of the other This layout can make it a little wonky to strap them on quickly. After getting used to the idea it doesn't present much of an issue.
Construction
The AR Knee Protectors use multiple materials in their construction. The main shell is constructed of a combination of polyester and neoprene which provides abrasion resistance and stretch.
The material that fits over the impact armor feels durable and is woven in a way to let it breathe very well. Holding the material up to the light shows that light passes through pretty well indicating a good opportunity for airflow.
Interior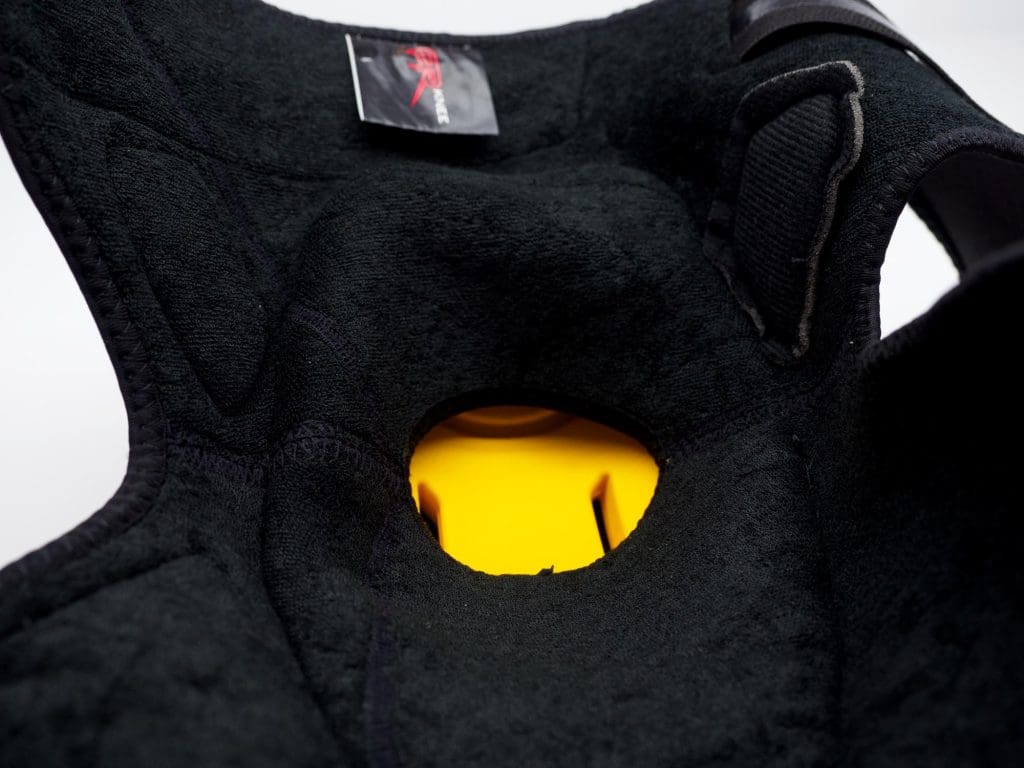 The interior is lined with a soft fabric that I believe is where the majority of the neoprene lives. It has a great feel to it with an almost tufted appearance and stretches well. In the center of the interior, over the knee cap, is a two-inch (50mm) opening for installing and removing the included Isolator impact armor.
Stitching
Construction appears robust and has nice, even stitching with much of it of the "double" variety. However, after around fifteen or so rides, I discovered that the stitching had popped at the joining of the top cover of the armor insert and the main body of the protector.
This is disappointing to see for a product that is otherwise well constructed and frankly, not an inexpensive item in this class of armor.
*Note on pending update: As of the time of publication I still have not heard back from Forcefield as to how they intend to address this issue. We will update this space when/if they get back to us.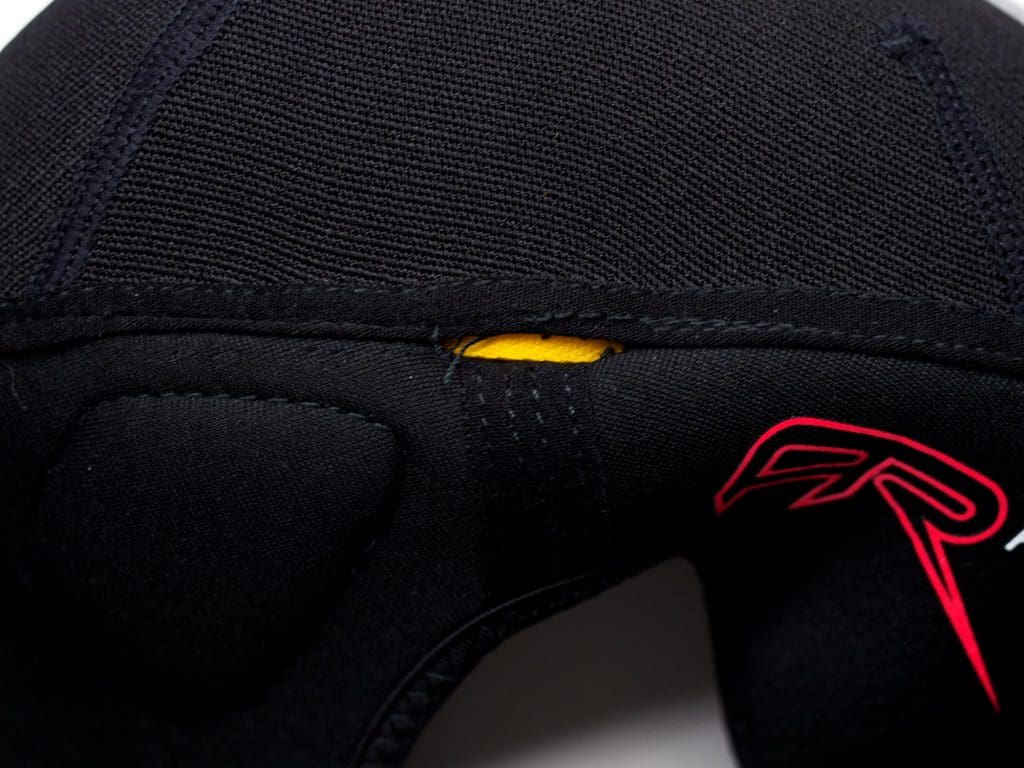 Straps
The fastening straps are largely composed of a thin material that, like the front space, breathes well and light can easily be seen through the fabric. Some of that breathability will be blocked by the adjustment straps that run under the main strap.
These adjustment straps also have a rubberized strip design to provide grip and hold the protectors in position on the leg. All of the straps are fastened using large areas of hook and loop fasteners that provide a secure closure.
Care Instructions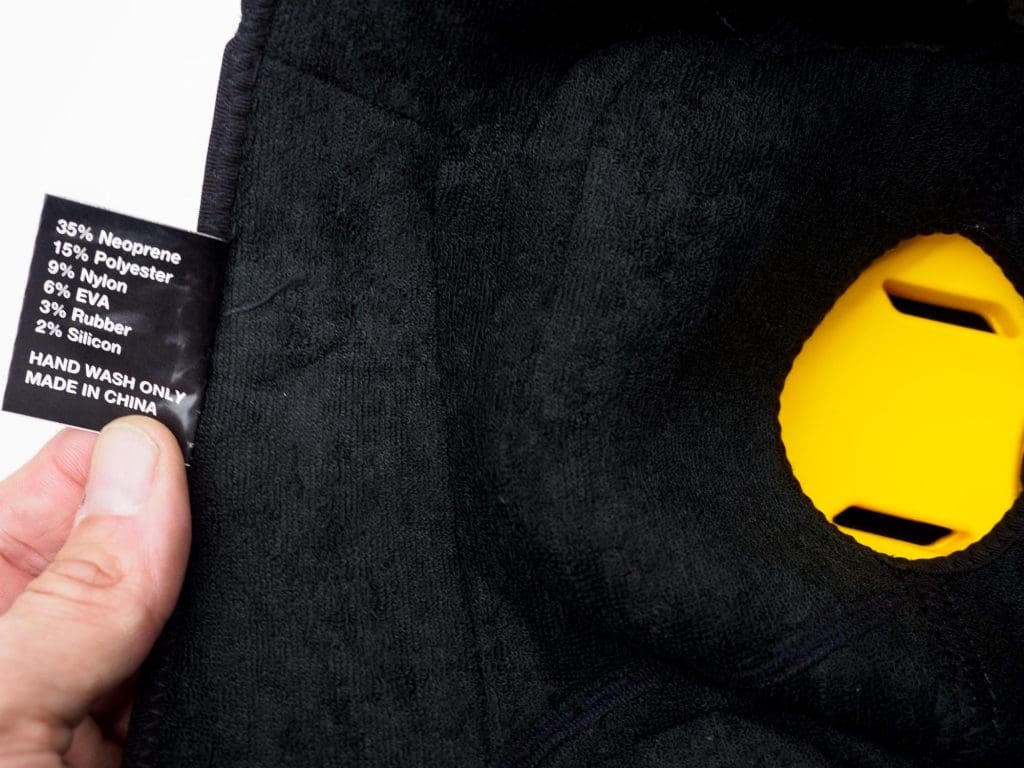 The protectors can be washed but the tag indicates this should be done by hand only so I wouldn't just throw these in the washing machine, much less the dryer.
Protective Features
The AR Knee Protectors are available with CE level 2 Isolator impact armor as well as without armor. Forcefield also states on their site that they can be purchased with CE level 1 armor but I haven't seen this option available here in the USA.
For my purposes, I would have chosen the level 2 anyway despite the additional bulk. The CE level 1 armor does offer a slimmer profile at only 8mm thick (if that is one's speed) but the extra 6mm (I measured 14mm on them) seems a small price to pay for the additional protection.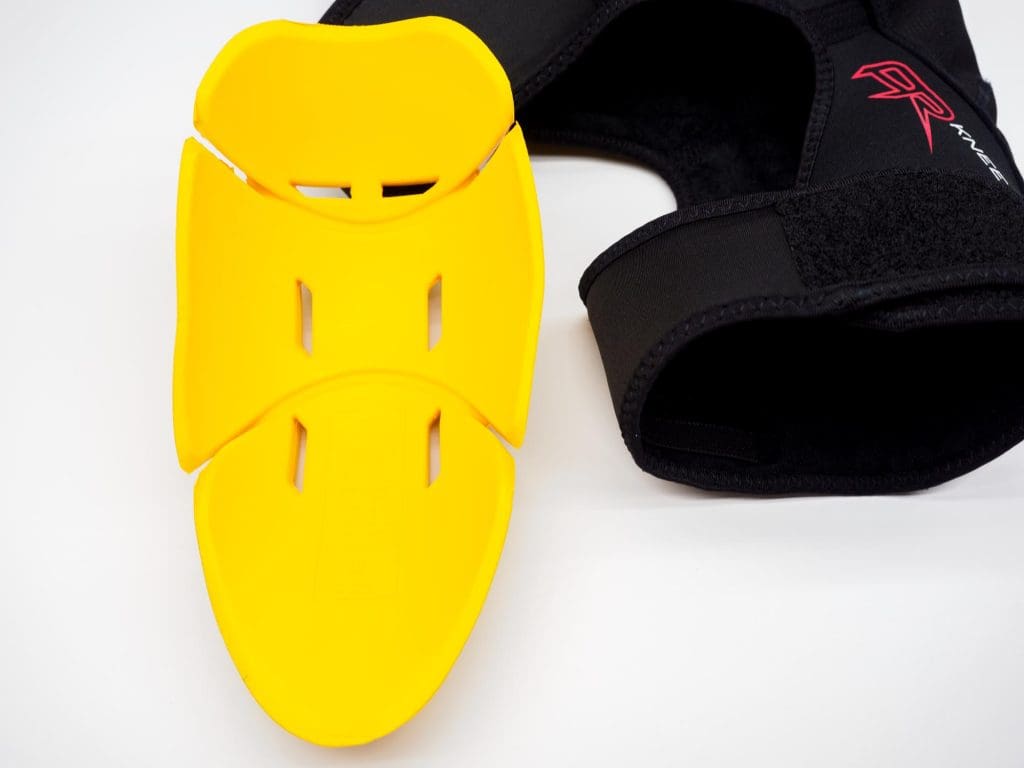 Forcefield claims the material over the armor is abrasion resistant and the material does feel pretty tough. However, no specific measurement or rating is provided.
At the same time, my own usage is under riding pants that do provide abrasion resistance already so I'm not too concerned. Even in the case where they are used externally, I believe it would take quite a long slide to wear through the durable Isolator armor inside.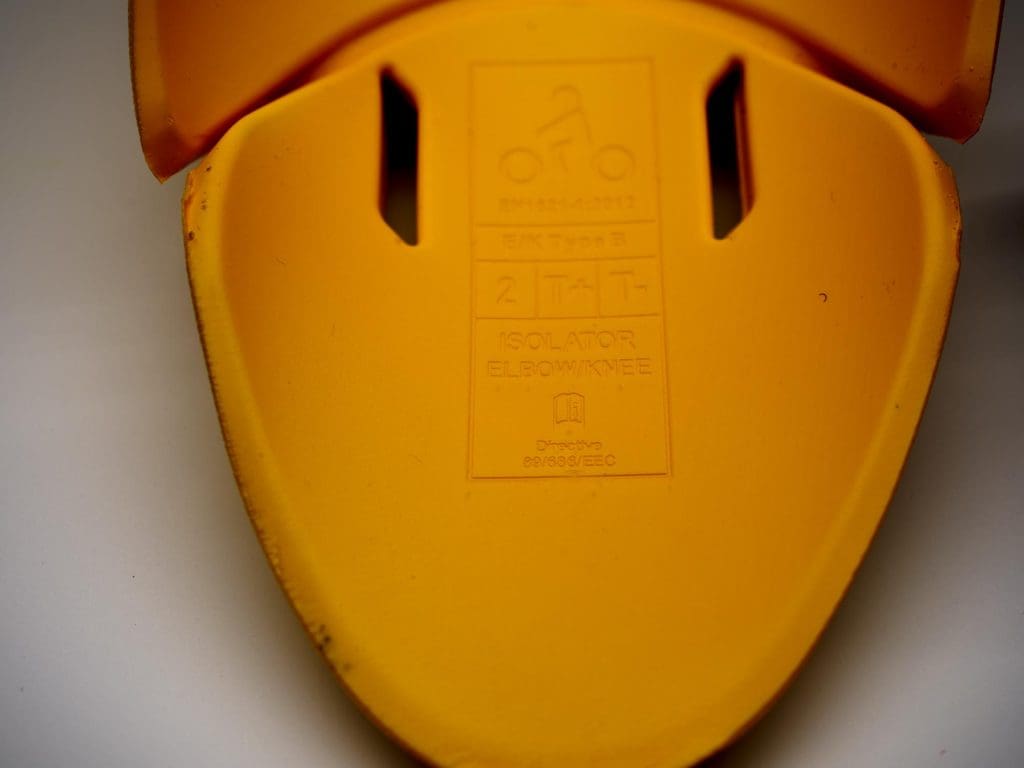 In addition to the Isolator armor in the main pocket, there are two additional one half-inch thick foam pads that sit laterally to the protector and one on the inside facing side to add additional protection.
Fit & Comfort
The AR Knee Protectors are a "one size fits all" affair and this seems to work OK, at least for me. If you have large calves these might not be for you.
The upper strap fits around the space above my knee comfortably with room to spare at about sixteen inches around this area. The lower strap seems closer to the end of its travel when wrapped below my knee where it measures about fourteen and a half inches.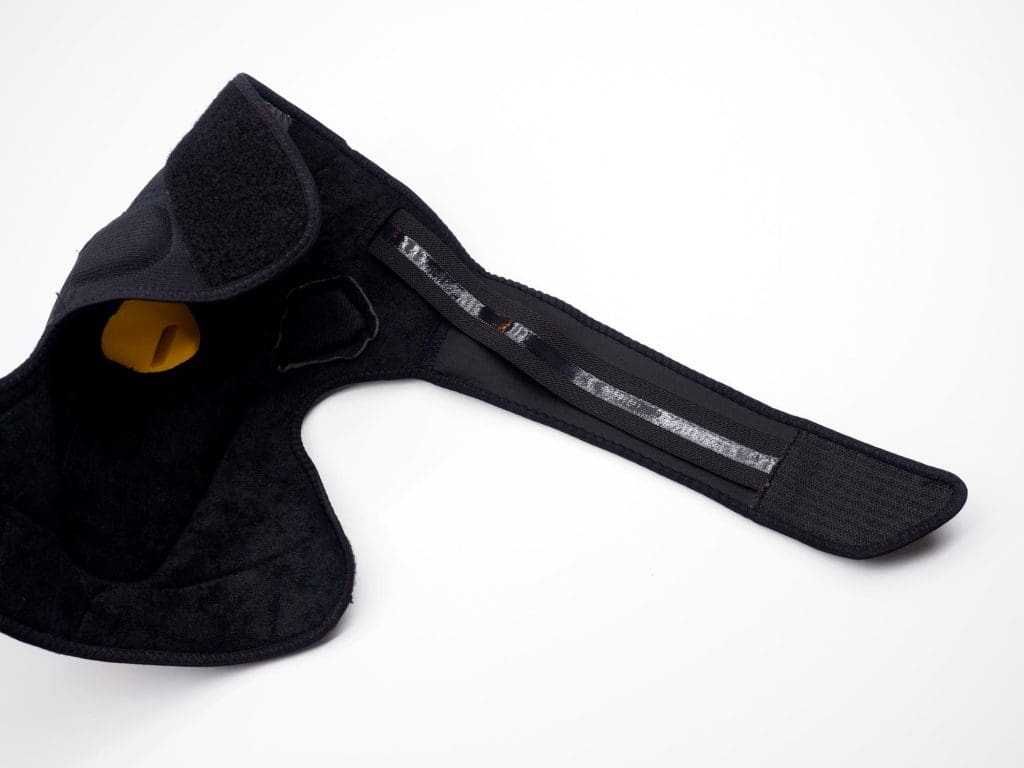 Both straps can easily be adjusted tighter using the adjustment straps that slide underneath the main fastening straps. Once adjusted properly there shouldn't be a need to reset their position but I have found myself on more than one occasion undoing the adjustment straps instead of the main closure. It can be a little frustrating but eventually, this happens less as one gets used to them.
Comfort while wearing them is very good. Despite the apparent bulk one sees when wearing them, they don't inhibit movement and the stretch of the material keeps them from feeling too tight on longer rides. The breathability is certainly good and they don't seem to build up heat like some of my previous protectors with a hard plastic shell.
Convenience
Along with comfort, the convenience factor shouldn't be left out. The most protective armor is useless if it is difficult to deal with and one decides to leave it at home. This is why I like this particular style that uses straps instead of other types of protectors that simply are slid on like a sock.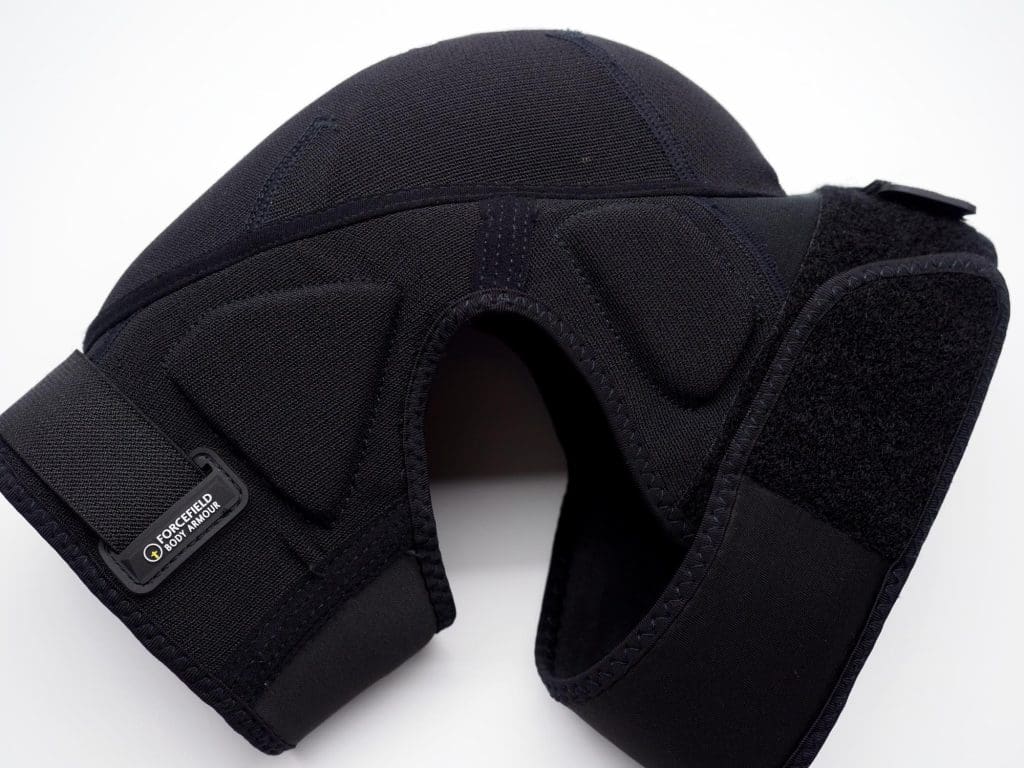 Using straps allows them to be installed or removed without having to remove footwear which is perfect for those using these to commute and can't easily take off their boots at their destination. The straps on these protectors make them easy to put in place and remove in seconds when using them for my commute to work and back.
Conclusion
The price of $129.00 with the CE level 2 Isolator armor included is a bit higher compared to other standalone knee protectors but they do have a set of features hard to find in competing solutions. My only concern is that issue with the broken stitching I discovered when wrapping up this review.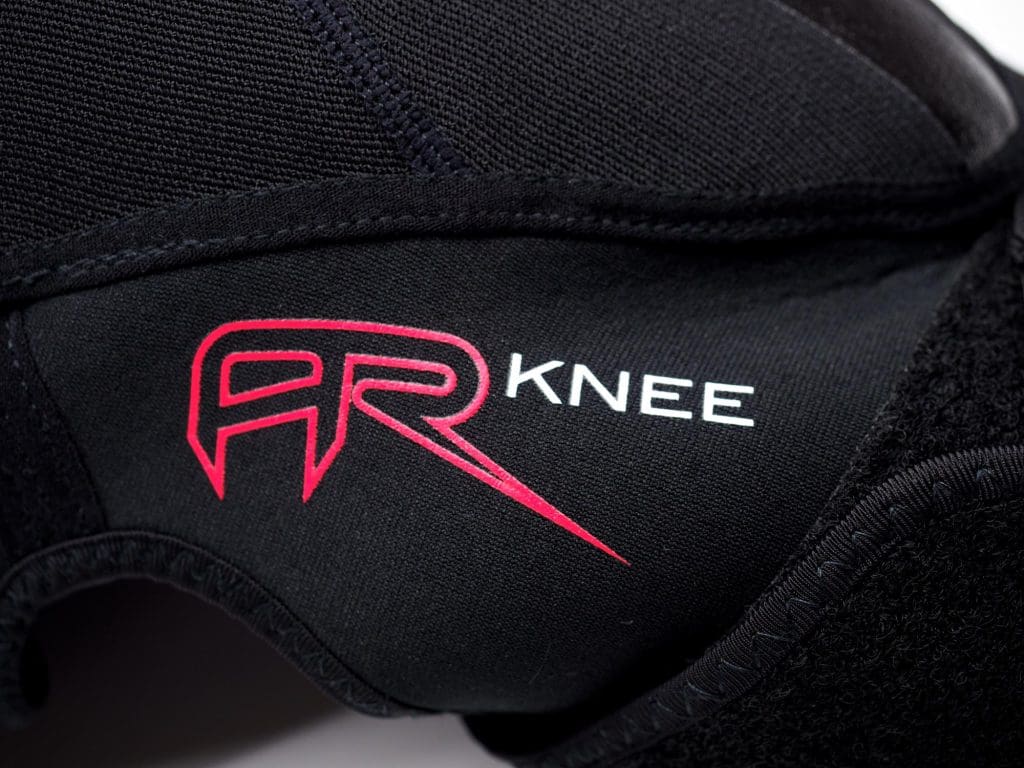 Overall the AR Knee protectors do exactly what I expected. They offer versatile protection that replaces integrated armor bits in my textile riding pants. The strap design makes them convenient for use on every ride whether they are in place over or under riding pants.
They certainly seem like they should provide plenty of knee protection and it will likely stay in place. They work well with my tall riding boots but I would like to see a version of these protectors that offer more protection of the shin for use with shorter boots.
Agree? Disagree? Have a question? Hit us up in the comments below!
Pros
Impact & abrasion resistance
Easy to put on & take off
Replaceable inserts
One size fits all
Cons
Price is a bit high compared to alternatives
May not fit under tighter fitting pants
One size fits all
Specs
Manufacturer: Forcefield
Price (When Tested): $129.00 (USD)
Made in: China
Color: Black
Sizes: One size fits all
Review Date: November 2019