Shift Enforcer Knee Guards Image Gallery
An inexpensive set of knee guards that offer excellent value to the street rider who wears jeans and wants better protection.
The Shift Enforcer Knee Guards may also serve as an improvement on the armor included in textile or leather motorcycle pants.
Last year I reviewed two different types of off-road knee and shin guards that I was using for street riding.
The idea of wearing these types of protectors came from a couple of different needs.
The first was that I had been reviewing "jean-like" pants from brands such as the Carhartt double front jeans and Duluth Trading Logger jeans (review)
These pants, though offering an extra layer of tough material on the knees, offered no impact protection and low abrasion resistance.
This style of dungarees offers a generous amount of room in the legs however, so the MX-style guards fit nicely under and offer excellent protection.
Also, I found that the knee guards offered more comprehensive protection than some of the knee protection in my dedicated motorcycle pants.
Mesh pants in particular, while having CE armor in the knees, tend to fit loosely to the point where the knee protectors can easily twist around the leg and be out of position in a crash.
But these dedicated knee guards have better staying power, so I ended up removing the armor from my mesh pants to use the knee guards instead.
So why was I looking for a new pair of knee guards? You may have noticed that I found some small issues with loose or pulled threads in my Alpinestars Reflex knee guards review.
A few months after my Thor Quadrant knee guards review, I started having similar issues with the threads coming loose as well, so I began looking at other brands of knee guards that would fit the criteria I had developed for street use, including size, fit, comfort and low cost.
A search sorted by price brought me to the Shift Racing Enforcer knee/shin guards, the subject of this review.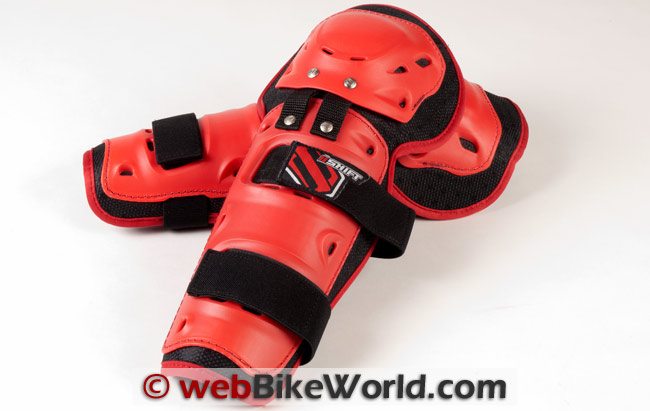 Shift Enforcer Knee Guards – Construction
There is precious little information about the construction of the Enforcer knee/shin guards on the Shift website that goes beyond what is plainly visible when handling them.
These knee guards follow the standard of knee/shin guard design with two tough plastic "shells" sewn onto a piece of perforated foam. Two straps wrap around the leg and fasten using hook and loop material to hold them in place.
One thing I would like to point out is the placement of the "hook" versus the "loop" ends of the straps.
I feel Shift has done this properly in that the hooks section is on the plastic "base" of the guard while the end of the strap that wraps around the leg has the loop section.
This may sound minor but it makes better sense than if the material had been applied in reverse. If the hooks were on the end of the strap, it is possible (and likely) that it will catch on other clothing, the sock on the leg you're strapping it onto, etc.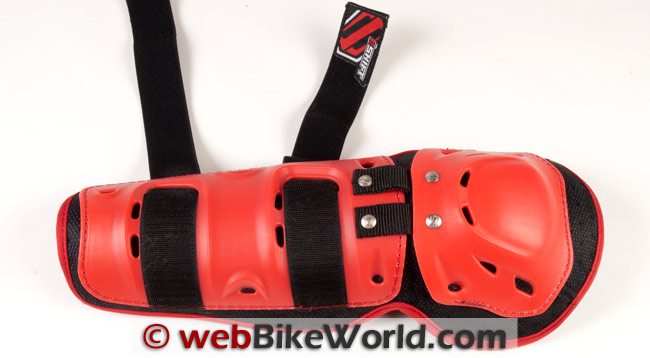 Details
The two plastic parts are also connected to each other using a double layer of nylon webbing straps that are riveted to the knee and shin sections.
This allows the upper portion of the guard to flex while still being strong enough to hold up in a crash.
This connection point was a weak spot on the previously mentioned Alpinestars guards as the threads used to hold a strap between the two sections were noted as having pulled after a short time.
The perforated foam "base" on which the plastics are sewn appears to be covered in a thin sheath of black nylon mesh. This provides a more comfortable feel against the skin and I would venture to say also helps maintain the integrity of the foam itself.
Around the outer edge of the foam there is a smooth nylon trim which protects the edge and provides a comfortable barrier between the skin and the foam edge.
Overall, the construction didn't strike me as any more robust than the other two pairs of pads I reviewed.
Both of the previous reviews had been written after a few weeks of testing. This review, however, comes after having worn the Enforcer knee/shin guards regularly the past 10 months. This translates to about seven to eight thousand miles of use under jeans, dungarees, and mesh pants.
After all of this usage, the Shift Enforcer knee/shin guards have maintained their integrity. No pulled threads or any other signs of wear damage.
In fact, if not for the lint that has collected in the vent holes and some spots that need cleaning, they look about as fresh they did when I first purchased them.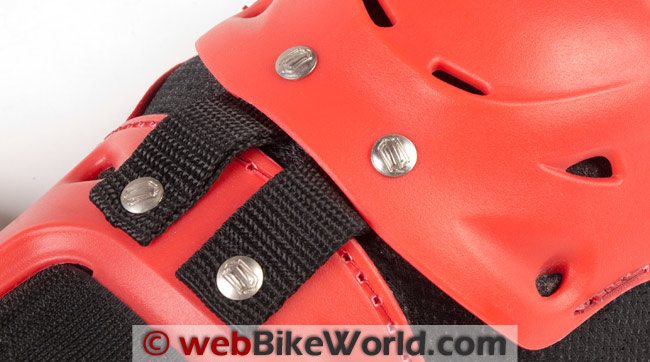 Fit and Comfort
As I mentioned above, I have been wearing the Enforcer guards regularly for several months. This fact alone demonstrates in a significant way how comfortable they are.
They combine the more simple design of the Alpinestars Reflex knee guards (review) with the more moderate sizing and thickness of the Thor Quadrant knee guards (review).
The Enforcer knee/shin guards also fit well under Carhartt double front jeans and Duluth Trading Logger jeans (review). They work equally well under my Fieldsheer mesh and textile pants.
I've tried them on with various pairs of jeans and they will fit under most types, however, the leg openings on most jeans means that you will need to put on the guards first and then put the jeans on over them.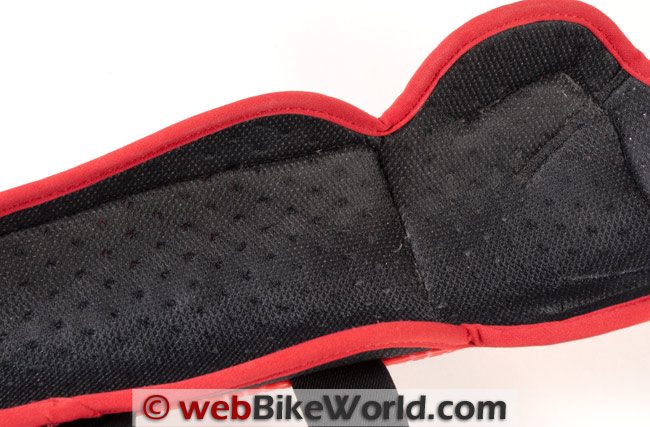 Straps and Connections
The straps on the Enforcer knee guards are made from an elastic material that is relatively coarse but thankfully not scratchy-feeling.
The straps also offer a good balance between stretch and strength allowing them to fit most small to all but the largest calves comfortably without being too tight.
If you have very large and/or tall calves, then you might want to look at the previously mentioned Alpinestars Reflex guards. I'm 5'11″ tall and have a 30″ inseam and when I strap on the Enforcer knee guards, the bottom of the guard sits about 4 inches above my ankle.
This provides plenty of room to wear with most sport or sport touring style boots.
As far as air flow is concerned they are adequate. I never really feel air flowing through them and perhaps airflow is the wrong thing to be looking for.
Better to say that they must breathe pretty well as I wore them through last summer here in the Southern U.S. without complaint. They did get a bit warm when sitting in traffic but I don't recall a time where they were noticeably hot.
A lot of factors will affect this though such as the style and material of the pants being worn over them and the wind protection of your bike.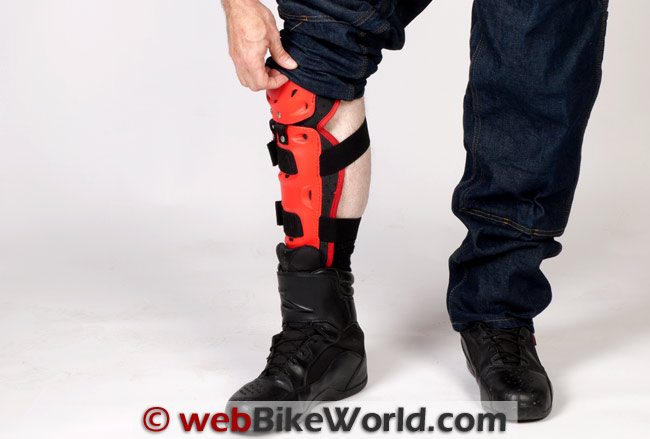 Conclusion
I am pretty fickle about the gear I buy and I'm often acquiring gear that I like for a few months only to sell it later to try something new and improved.
The Shift Enforcer Knee/Shin guards will be something I'll be keeping around for a while and will likely replace with the same version once these wear out.
These knee/shin guards are simple, durable, and very inexpensive ($12.95), and that's what I call a winning combination.
w

BW

 Review: Shift Enforcer Knee/Shin Guards
Manufacturer: Shift Racing
Suggested Retail Price: $12.95
Colors: Red or Black
Made In: China
Sizes: Adult and youth sizes available.
Review Date: May 2011
Note:
 For informational use only. All material and photographs are Copyright © webWorld International, LLC since 2000. All rights reserved. See the webBikeWorld® 
Site Info page
. Product specifications, features and details may change or differ from our descriptions. Always check before purchasing. Read the
Terms and Conditions
!
Owner Comments and Feedback
---
From "T.H." (September 2011):  "Thanks to this review I just received a pair of these knee guards … to wear under my Diamond Gusset Jeans. Excellent combination, and it's worth mentioning that I didn't even notice them during my initial test ride today.
As Mr. Jackson suggests, I can foresee pulling the knee guards out of my (too warm for summer) riding pants and using these in their place, in part because with them I can expect the protection to be where it's actually needed."
---
From "J.B." (05/11):  "I have an older version of these knee pads. After reading the review and looking the pictures, the new version seems to be improved in a couple of ways.
First, holes have been added to the plastic armor, which should improve ventilation.
Second, the way the straps attach to the armor has been changed. The older design did not have the slot that the straps thread through and the hook/loop placement was reversed.
As the review correctly anticipates, this does lead to the hook section catching on socks etc.
My complaints about the pads are minor. First, they are a bit bulky and do get warm. Hopefully the improved ventilation will mitigate this.
Second, I have worn mine for ~5 years and the elastic on the straps is pretty much shot. I think 5 years of use is pretty good at this price point.
I agree with the reviewer that the use of armor under riding jeans is a good alternative.
I went down wearing my Shift knee pads and a pair of Moose Racing padded shorts under a pair of Joe Rocket Steel Jeans and came away relatively unscathed.
The Shift kneepad took a direct hit from a guard rail. The impact marred the plastic and my knee was a bit bruised and tender, but I shudder to think of what my kneecap would have looked like without the armor in place."