Thor Motocross Quadrant Knee Guards Image Gallery
Inexpensive knee protection for off-road use, but the design also lends itself very well to street riding.
I reviewed the Alpinestars Reflex off-road style knee guards recently on webBikeWorld to see how they would fare in street riding conditions.
The reasoning was that a pair of knee guards can offer significant protection when wearing riding pants with less than optimal protection, such as jeans.
Value was also a consideration, as street-specific knee guards can cost a more than some types of knee guards designed solely for off-road use.
Another factor is that there are not many choices at this time for street-oriented knee guards.
The Icon Field Armor (review) and the Fieldsheer Armadillo knee guards are the only two that come to mind.
I will be making some references to the Alpinestars Reflex knee guards in my previous review.
So you may want to read that article also if you haven't already.
I found the Alpinestars Reflex knee guards to offer excellent protection, but they had some drawbacks, including sizing and some stitching issues.
But something else that wasn't discussed was the large size of the knee cup used on the Alpinestars product.
The knee cup bulk wasn't mentioned in the Reflex review because those knee pads follow a fairly well-established design for off road knee protection.
However, the design does make for a tight fit under certain styles of pants and this becomes quite evident once you are in a seated position.
One really can't consider this a design fault because the Reflex knee pads were not really made for street use.
After my review of the Reflex knee guards, I started looking for another pair of the off-road type for comparison. I was searching for a pair that would be a little smaller and that would also fall in the same price range.
What I ended up finding turned out to be a bit better than I had hoped.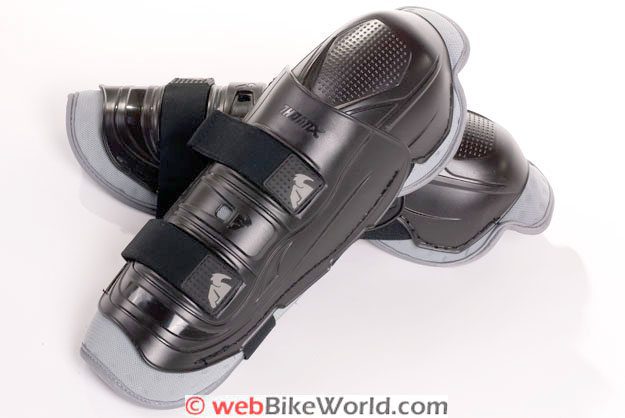 Thor Motocross Motocross "Quadrant" Knee Guards
I discovered the Thor Motocross knee guards during my search. They were the right price and similar in their basic design to most knee guards, but what caught my attention was the knee cup.
It appeared to be a bit narrower than the typical off-road knee guards, so I felt I had to check them out.
Thor Motocross was founded by four-time World 250cc Motocross Champion Torsten Hallman, originally from Sweden. Hallman started Thor back in 1968 as what is claimed to be the first motocross apparel company in the U.S.A.
I'm not (yet) and off-road rider, so I wasn't familiar with the Thor Motocross brand until now.
The company currently offers four different types of knee guards as part of their extensive lineup of motocross gear and I chose the "Quadrant" version for this review.
Construction
The Thor Quadrant knee guards are made using two pieces of molded plastic sewn onto a single piece of perforated foam, with one portion covering the knee and the rest covering the shin.
Unlike the Alpinestars knee guards, the shin portion overlaps the knee protection.
Two elastic straps are used to wrap around the calf and attach to the front with hook and loop fasteners.
Speaking of the straps, the design of the Quadrant knee guards addresses an issue I had with the Alpinestars Reflex guards.
The "hook" portion of the hook-and-loop fastener is attached to the plastic on the front of the protector and the "loop" portion is placed on the strap itself.
On the Reflex knee guard, the placement is done in reverse and I found the straps could easily catch on other materials (including themselves) and over time this proved to be a nuisance.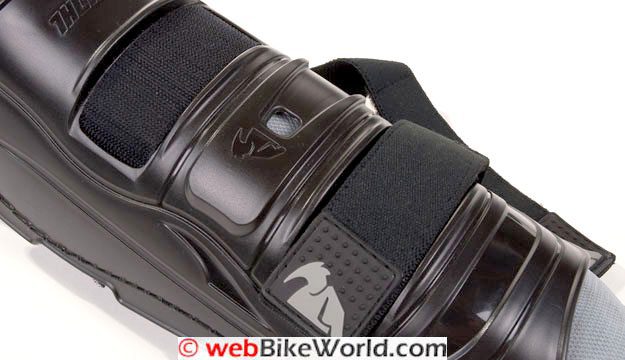 Straps and Details
Another plus is that the material used for the straps on the Thor knee guards does not lend itself to catching on the "hook" portion of the fasteners. It will stick slightly, but not enough to interfere while I'm putting them on.
Depending on the size of your leg, you may not use all or even much of the hook-and-loop to secure the knee guards.
This can leave a large area of the "hooks" exposed to the inside of your pants.
Fortunately the "hook" areas sit in a recessed channel which helps keep away from the pants, decreasing the possibility of abrading the material from the inside. Over the past few months I have not found any indication that the Thor knee guards are causing any abnormal wear to my riding apparel.
The entire protector is designed to flex between the two plastic pieces, allowing it bend around the knee. While the knee cup does not have its own strap to make it conform to a bent knee on its own, it will flex nicely under a pair of motorcycle riding jeans, Carhartt pants (review) or other pants.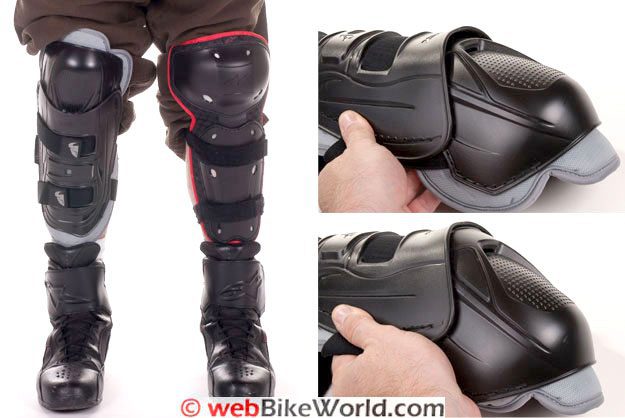 The knee cup design of the Thor Quadrant knee guards is what drew me to the product. As you can see in the photos, the knee cup is much narrower than other knee guard designs and in fact is no wider than the shin portion of the protector.
This narrow design makes it possible for most people to put on and remove the knee guards by simply rolling up the leg of the pants and then pulling it down over the knee guard.
Another interesting feature called a "patella donut" is found on the inside, or back of the knee protector. This is a donut-shaped piece of soft foam that has been sewn on to the main foam material. Its purpose is to "caress the knee", according to Thor. While it is indeed a nice touch and it is comfortable, "caress" may be a bit of an overstatement!
Also found on the knee cup are two elastic straps going from the outside left and right edges that connect about 3 inches below between the plastic and the foam. I'm not certain as to the purpose of these since they don't seem strong enough to prevent hyper-extension of the knee, but some extra strength on the armor certainly can't be bad.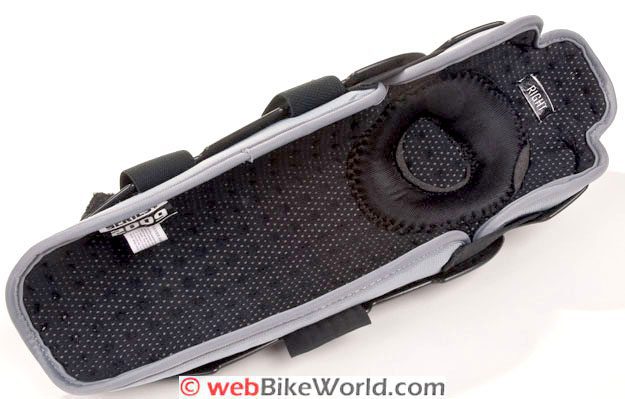 Fit and Comfort of the Thor Quadrant Knee Guards
The first thing that I noticed about the Quadrant knee guards is their size.
They are not only less bulky than the Reflex knee guards but they also seemed to fit my "average" build much better.
I have a 30 inch inseam and the Thor Quadrant knee guards fit my legs well, with the bottoms resting just above my favorite Alpinestars Recon boots (review).
The straps could be a bit longer for me, but they do attach securely. Only an inch or two of the hook-and-loop is sufficient to keep the knee guards in place and I typically use about half of the available hook area to fit properly.
My leg measures about 15 inches where the upper strap wraps around and about 12 inches at the lower strap.
Based on the amount hook- and-loop fastener left unused at those measurements, one should able to fit them to legs measuring 2 to 3 inches smaller and they should still be snug.
As far as comfort goes, the Quadrant knee guards don't really make their presence felt, even after wearing them for a while; I generally forget they are even there once I'm on the road.
Since the knee cup flexes to conform to the leg in the riding position, there isn't the usual "tightness' experienced when wearing other motocross-type knee protectors.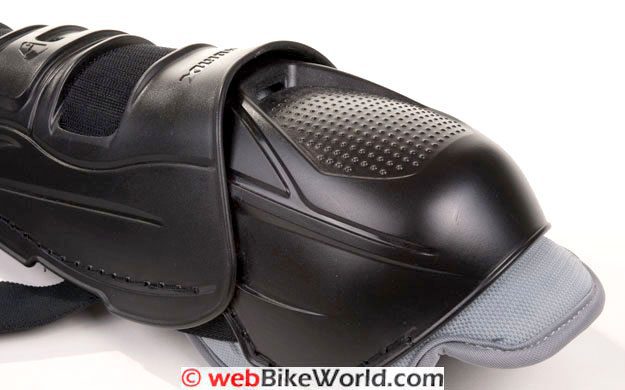 Comfort Factors
The foam interior is comfortable and the edges are bound to reduce chafing.
The only time I experienced any discomfort with them is when the edge of the foam got curled up under itself when I put them on in haste.
Also, the "patella donut" is quite effective and provides a nice cushion for your knee cap.
The Quadrant knee guards have two small vent openings, one in the knee and one in the shin protector to let some air through. They don't really provide much ventilation, but they do not seem to get too hot on warmer days when riding.
If I am walking around in them for a while they can get a little warm so I've found that it's best to remove them when I'm going to be off the bike for a while.
Conclusion
After wearing the Thor Quadrant knee guards now for several months, I never hesitate to put them on whenever I go riding, except of course when wearing a pair of dedicated motorcycle pants that have armor.
In fact, I'm considering removing the knee armor from some of my motorcycle pants and using these instead, since the armor in some of my pants isn't placed in an optimal position for knee protection.
The Thor knee guards appear to offer very good protection for the few extra seconds of time it takes to put them on and the initial cost is only $24.95.
Considering the potential to avoid or reduce injuries to the knee, the cost in money and time involved in using the Quadrant knee guards make them an excellent value.
w

BW

 Review: Thor Motocross Quadrant Knee Guards
Manufacturer: Thor MX
List Price: $24.95
Colors: Black
Made In: China
Sizes: Youth and Adult
Review Date: December 2009
Note:
 For informational use only. All material and photographs are Copyright © webWorld International, LLC since 2000. All rights reserved. See the webBikeWorld® 
Site Info page
. Product specifications, features and details may change or differ from our descriptions. Always check before purchasing. Read the
Terms and Conditions
!
Owner Comments and Feedback
---
From "A.V." (August 2011):  "Bought those about a year ago based on your review only for using under jeans. Didn't even try any other models since all I could find had knee cups too huge.
These fit ok under my Shift Torque jeans (that are otherwise a tad baggy for my somewhat skinny legs), but not under any of my regular jeans. Had to adjust the top straps a bit though since they were too long for me.
I ride to work daily and very often don't even take the guards off at work – so you can tell they're pretty comfortable.
However, a couple of days ago I accidentally put them on the wrong way – left one on the right leg and vice versa. Boy, what a difference that made.
The fit became much better now in every spot, the knee cups are protruding much less forward when I stand and to the sides when I sit on the bike.
I don't have to tighten the straps as much to stop them from moving around, and I can even put on my (reasonably) skinny regular jeans with the guards on if I want to!
Protection-wise, the new "wrong" way does not seem to be any worse, in fact, I think tighter fit should offer better protection since they're less likely to shift in case of an accident this way.
It may be that my legs are just odd (although they look pretty ordinary to me in the mirror), but I think any owner of Thor Quadrants might want to try them on the "wrong" way just for the heck of it."
---
From "R" (2/10):  "A most timely and useful review!  I have been looking out for something like this for some time because the CE rated knee armour in my Clover textile riding pants always rides up to my above my knee when I am astride my bike.
The Thor Quadrant by comparison is a great fit – it sits most comfortably in position (I am 5' 10", 155 lbs) and does not shift about.
Best thing is, as you say, the knee cup is not a huge off-road biased one. Would have been great if it incorporated CE rated armour though!"
---
From "S.G." (1/10):  "I am a jeans rider and have been looking for a while for knee/leg protection without having to shell out ~$300 for dedicated riding pants. I also wanted something easy to jump off the bike and into the office with.
After reading this review I surfed straight over and bought a set. For that price, how could I not?
I've been wearing them regularly for a few weeks now, and I'm very pleased.
They are comfortable and easily fit under jeans or khakis. When I get to work, I just slip them out and off, put them with my jacket and helmet, and I'm in office mode.
They're actually much easier to put on over top of your pants, but then you sort of look like you're from Gwar or something.
I only found a couple minor issues. First, when worn under pants, they like to bunch up your pant legs and show off your ankles. And also, I have larger calf muscles (from bicycling) which makes the straps sit funny. Still effective, but funny.
My leg measures 15 inches where the top strap sits, but 17 inches where the bottom strap sits. When adjusted, the top strap ends up all the way across the front of the guard, but the lower strap is just connected by an inch or two.
If I put the lower strap below my calf, the whole thing pulls itself down and nearly exposes my kneecap. I have to start with my knee in the "patella donut" and run the lower strap straight over the thickest part of my leg, then everything is secure and correct."
---
From "W.M." (12/09):  "I discovered the Thor Knee Guards at one of our local online stores. As I'm rather short I've always had problems with built-in guards as they tend to end up around my ankles.
This being the case I decided that for optimal protection I needed separate knee guards.
My order was processed very quickly – they arrived next day. First impression was that they are very well made and not too bulky to wear under my textile or leather pants.
Since then I've never ridden without them. In cold weather they shield my legs nicely from the wind blast. In hot weather, well, they are warm. Not to the point of being uncomfortable but you are aware that your legs are not getting much breeze.
On the whole – I'm very impressed with the build quality and practicality. They are comfortable and there is no reason not to wear them while riding."
---
From "K.M." (12/09):  "I just finished reading your review of Thor Knee Guards. Very good review!
I, too, was always on a constant search for proper fitting knee guards. I must have tried at least a dozen different kinds. As soon as I tried, Knox, however…my search was over. I use Knox Cross Knee guards.
I've been using them for a few years now and find them superior to any others I've tried or seen. Mine are the S version (knee only), but they also come in shin length also. They utilize 2 calf straps and 1 upper (above knee) strap.
The latter is extremely important as it keeps the guards from bunching up your pants when going into/out of a crouch position on sport bikes. They also curve around the knee well and fit a wide range of riders (I'm 5'10", 150 lbs. Skinny).
They are so low profile that I can even wear them under slightly snug jeans with no one the wiser. I've ditched all the knee armor in my pants (floppy and useless as it will not STAY put) in favor of wearing these. These stay put so well."
---
From "A.D." (12/09):  "I've been riding for almost 2 years now.
In our local bike forum, two of the riders got involved in a similar type of crash, where they were heading in tight traffic at a relatively low speed when a door was opened on them by a cage passenger.
One rider had only jeans, his knee cap was broken and he also had many stitches. The other one was wearing jeans plus knee protectors, and ended up breaking nothing else other than the door itself.
I have a cheap 10 $ pair which I always wear. In fact the only time I rode my bike without them was training in a parking lot where the front end folded on me at 3mph, sandwiching my knee with the ground.
I (luckily) broke nothing but the resulting pain was convincing enough. A very modest type of protection that so often gets overlooked by bikers."
---
From "H.S.W." (12/09): "Allow me to quote: "The reasoning was that a pair of knee guards can offer significant protection when wearing riding pants with less than optimal protection, such as jeans."
Jeans = "less than optimal protection"? I think not. Relatively speaking jeans offer no protection. The only things that offer protection are riding suits or pants designed for crashing.
Jeans may look great—depending who they're hanging off of—but protection while riding a motorcycle?
They only protect you if you don't crash, and even then I'd argue that there are things that can hit you which jeans won't protect a rider from.
If one wants protection, get garments designed to do that."
Editor's Reply: While we agree in general, there are some motorcycle jeans that at least have Kevlar or similar abrasion padding.
And there are some dedicated textile or even leather motorcycle pants that probably don't offer much more protection than a good pair of Kevlar lined jeans, so it's not really a black/white issue — there are shades of gray here.
The unfortunate fact is that many motorcyclists do wear jeans, so if they could at least wear some armored protection underneath, it would be better than nothing, thus the motivation for the knee guard reviews.