Alpinestars Reflex Knee Guards Image Gallery
Summary
An excellent companion for riding jeans and similar pants are let down by a few design and quality flaws.
Introduction
Let's face it, as much as we should wear all the gear all the time, motorcycle pants are often too hot during the summer or too "un-cool " for the workplace.
Mesh pants might work, but they are particularly un-cool for work and they're sometimes just plain uncomfortable off the bike.
I can't imagine sitting at my desk all day in textile or leather pants — nor would they go over well at meetings.
I suppose you could bring extra pants and change into them at work, but what if you're just going out for the evening? Mesh won't cut it here either.
The popular compromise has been to wear motorcycle-specific riding jeans that incorporate Kevlar and/or other tough materials for protection.
Many riders resort to work clothing, like dungarees such as the Carhartt jeans I reviewed recently or other types of "work pants" .
These types of pants may offer better abrasion resistance than regular jeans but they rarely include impact protection.
In the cases where impact protection is offered, it is typically let down by the loose cut of these types of pants, which can allow the armor to twist and move away from the very areas it is designed to protect.
Alpinestars to the Rescue?
Enter the Alpinestars Reflex Knee Guards. Unlike the Icon Field Armor Motorcycle Shin Guards (review), the Reflex Knee Guards are designed for off-road use.
Though they are referred to as "knee guards", it is quite obvious that these will protect the shins as well.
There are very few choices for this type of armor designed for specifically for street use, so it may be time to consider re-purposing some of that off-road bike protective gear that's available.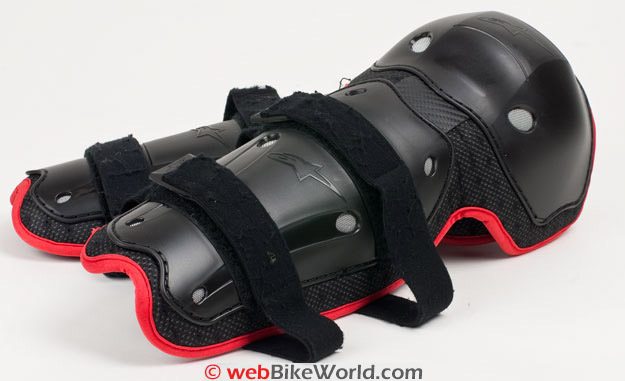 Alpinestars Reflex Knee Guards: Construction
Like many off-road knee guards, the Alpinestars Reflex Knee Guards have two distinct protective hard plastic shields backed by a larger layer of foam padding.
The two shields are separated by about an inch on the pad, allowing the knee cup to flex which is important for the intended use underneath pants.
There is also a strip of material (feels like vinyl) sewn between the two plastic bits for added strength. Unfortunately this has proven to be less than "tough", as we'll see in a bit.
The Reflex Knee Guards are made using a combination of polypropylene (for the hard areas) and a material Alpinestars refers to as "Biofoam" for the padding. Biofoam is a spongy material that has been perforated to allow air to flow through.
Vents have been provided through the plastic (including small screens) to allow airflow to the Biofoam underneath.
Two soft elastic straps secure the Reflex Knee Guards to the rider's legs and fasten with good sized swaths of hook-and-loop fastener material.
Once firmly pressed into the receiving material on the front of the knee guards, the loops appear to have significant grip and should do well holding the armor in place in the event of a crash.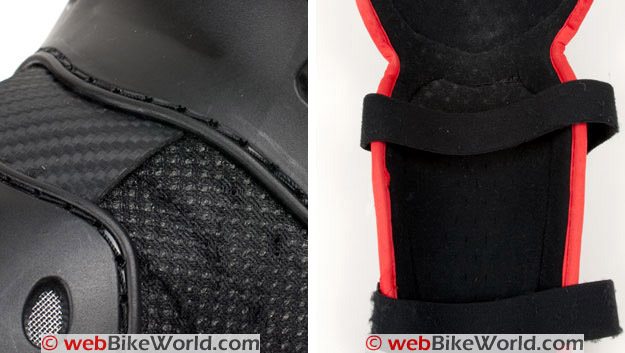 Fit and Comfort
The Alpinestars Reflex Knee Guards are available in two sizes, adult and youth.
The youth version looks quite small (as they should) and the adult size…well, the adult should be labeled "one size fits all, as long as you're not small".
OK — they're big. I'm not quite 5'11" with a 30″ inseam and they just fit on my leg while wearing my Alpinestars Recon boots (see the photos for what I mean).
The Recon's are not a very tall boot so keep these facts in mind if you're planning on purchasing these without being able to try them on.
Despite their bulk, once they are on, they are not uncomfortable. The Reflex Knee Guards are designated for left and right legs and are are shaped to fit appropriately.
The elastic straps are well-designed in their "stretchiness" (is that a word?) to hold the guards firmly on your leg without being so tight as to impede blood circulation. The softness of the straps does help make them comfortable but there is price to pay.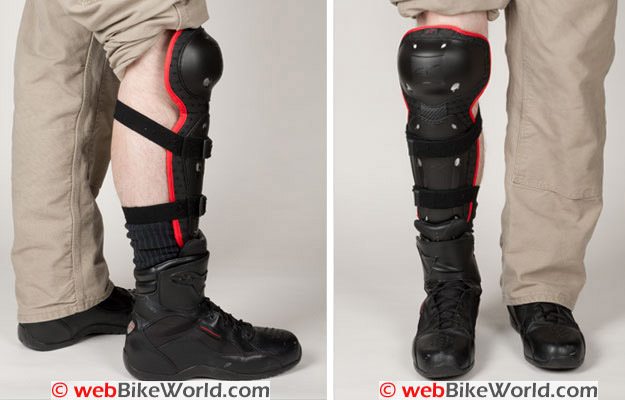 You can see in the pictures below how the straps have patches of tufts and pulled threads. These have occurred due to contact with the "hook" portion of the hook and loop patches on the end of the straps.
The strap ends indeed will hold firmly to the non-fastener portions of the strap and when you pull it apart, it results in the ragged elastic pictured.
Not only is it somewhat unsightly, but I worry over time it can go beyond simple cosmetic damage to a weakening of the straps.
Aware as I am that this can happen, the end of the straps still manage to find purchase on the elastic from time to time despite my best efforts.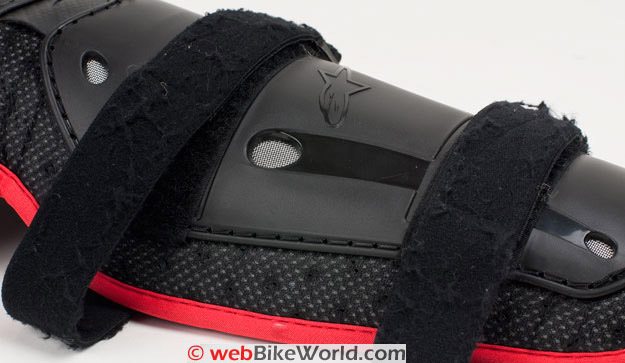 While on the subject of the straps, riders with smaller calves may find that the straps can not be tightened enought to hold the Knee Guards securely.
I run two or three times a week and I would say that my calf size is medium, if not a little larger (I really don't go around comparing!).
Riders with smaller diameter calves will find that they may have to run the straps past the patch of loop and the hooks will catch the elastic resulting in more harm to the straps.
Despite the strap issues, the knee guards do their job well. When worn under Carhartt pants or loose fitting jeans, they fit nicely and the vents and perforations do let them breathe. I can even walk around for a few minutes when wearing them with no problems.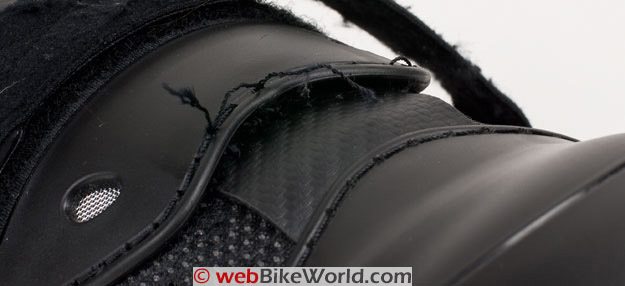 Conclusion
A knee/shin guard like the Alpinestars Reflex Knee Guards may add a level of protection that could be well worth the extra minute or two that it takes to put them on before a ride.
These may have some issues, but being careful with the straps can minimize some of the problems mentioned above.
The only other issue to note is that the stitching has come undone on the vinyl piece connecting the two plastic shields together (see photo above) on one of the guards.
The other is perfectly fine so hopefully this is not a typical issue, but since it has occurred after only using them for about three months it caught my attention.
For the $24.95 list price, you really cannot go wrong.
If you don't have a pair of dedicated riding pants that include armor, I strongly recommend adding this type of protection to your riding gear.
It's a small price to pay when you think about it, I mean really, how much are your knees worth to you?
w

BW

 Review: Alpinestars Reflex Knee Guards
Manufacturer: Alpinestars
List Price (2009): $25.00
Colors: Black
Made In: China
Review Date: August 2009
Sizes: Youth and Adult
Note:
 For informational use only. All material and photographs are Copyright © webWorld International, LLC since 2000. All rights reserved. See the webBikeWorld® 
Site Info page
. Product specifications, features and details may change or differ from our descriptions. Always check before purchasing. Read the
Terms and Conditions
!
Owner Comments and Feedback
---
From "D.L." (8/09): "I've had these for over a year now, and in my opinion, they're worth the price in that they're better than just wearing jeans alone.
I'm a skinny guy and the guards do fit well (measure about 16 and 13 inches around my calf where the straps go on). I haven't had them twist around or slide up/down when I walk, get on/off my bike, riding.
The only thing is, if your jeans/pants aren't loose enough, the guards can make them bunch up around the knees.
From an impact protection perspective, I prefer these over armor that is built into motorcycle pants as I'm more confident that these will not rotate or shift during a crash, much like what happened with "D.A." and the built in armor.
The straps on the guards still hold on well even though I have to attach using the non-fastener portions.
Though I have noticed that the fastener portions obviously hold better. Maybe the length of this can be increased. Thankfully I've never had to test them out, but what I question is how well they would stay on your leg and not slide in a crash.
For the price ($24.95 from NewEnough), they're a good investment for commuters who rather not have to deal with changing in and out of motorcycle pants.
I've worn these for a full 8 hour shift at work (constantly sitting and getting up and walking around) without a problem, but they're also easy to get on and off under your jeans.
Also, I agree with "W.G." and "B.Z." in that the pair reviewed might have a quality issue as mine are still in good condition.
PS: Always loved wBW's reviews. Keep up the great work on the site."
---
From "B.H." (8/09): "I've worn these for over three years. I wear them under my Draggin' Jeans (review) on my commute to work and back.
While there is some visible wear, I see nothing that makes me think that their integrity has been compromised in any way.
While I've never crashed in them, they have saved me from the occasional car/truck launched projectile.
The largest of which, was about the size of an orange and composed of hard, dry clay. I imagine it would have fractured my knee cap if I had only been wearing my jean.
I highly recommend them and purchase another pair when these have worn out. For a little less than $25, it's practically a no-brainer as some of the least expensive protection you can buy."
---
From "J.B." (8/09): "I have a pair of knee/shin guards from Shift Racing that look remarkably similar to the Alpinestars Reflex. Who knows, maybe they are made in the same factory in China.
I wear them under a pair of Joe Rocket Steel Jeans. That combination saved me during a bike totaling crash two years. My left knee guard took a direct hit from a guard rail. The knee was lightly bruised, but otherwise unscathed.
I shudder to think how badly I might have been hurt had my kneecap taken a direct, unprotected hit.
I strongly recommend knee/shin protection, preferably with some hard plastic. Most people fixate on abrasion protection. I argue that impact protection is at least as important. As always, keep up the great content."
---
From "T.R." (8/09): "I bought these and returned them shortly after for all the short-falls you mention in your review. If you're a skinny guy (like me), don't even bother with this product because you won't be able to tighten the straps as needed.
I've got other Alpinestars products that are well designed and of high quality. These knee/shin guards deviate from that trend in a serious way.
Also, the knee guard is ridiculously big. If you want knee/shin protectors that actually stay on your legs like they're supposed to, go with the ICONs.
You're lower leg will sweat more, but at least you'll have the function you paid for.
If you're less concerned with shin protection and just want knee protection, there are a number of MX knee protectors from SIXSIXONE that do the job well."
---
From "D.A." (8/09): "I've been wearing the Alpinestars Reflex Knee Guards on the street for 2-3 years now.
I previously had an accident where the stock knee protection in my textile pants rotated away from the impact zone, and my knee wound up looking like a basketball as a result.
I found these to be a bit bulky, so you have to be selective about which textile pants you are wearing them under.
Otherwise things will get tight and your knee movement will be restricted. I've had best luck with textile pants that have an expansion panel above the knee."
---
From "B.Z." (8/09): "I have these knee guards and have had them for almost 2 years now. I have used them many many times, though not under street type clothes or on the street. I have crashed in them in the dirt and they have performed flawlessly under their intended usage conditions and are still complete usable without issue or problem.
I have not the stitching separation issues that these have seemingly suffered, and that maybe be an anomaly, as Alpinestars seems to have a generally decent quality control, or so I have experienced with multiple different products I have owned from them.
I would suggest sending those pictures of the problems and an Email to them with explanation ( and maybe a pointed link to this review ) and see what, if anything, they would be willing to do for you.
As far as the issue that you state with the hook and loop stuff, that seems to happen somewhat with any hook and loop over time.
Some of that maybe due to other fabrics and stowing materials that your knee guards are encountering when they are in use or stowed, just as food for thought."
---
From "W.G." (8/09): "Thanks for the review. I think you had a quality problem with your specific pair.
I have been using these whenever I ride (except when I am wearing my winter overpants in Dec and Jan) for more than a year, and I have not seen the same issue with the one piece having its stitching come loose.
I do have the problem with the hook and loop creating an ugly set of straps, but that has not affected the overall performance. I'm very happy with these for the price, and they are a convenient and cost-effective way to improve protection."