"Buy a motorcycle for a happy married life," is the tip from Christine Macauley who has been named in the inaugural Australian Businesswomen's Network (ABN) 2014 Hall of Fame.
The director of Robbo's Motorcycles, Canberra, says female riders are the fastest growing section of their business. "The number one reason is women are earning more money now," she says. "They've now got a greater sense of achievement. Also, if their husbands are riding they will quite often prefer to ride than pillion. They want to share the sport with their husbands. So I say, buy a motorcycle for a happy married life." Despite that, Christine has always pillioned behind husband Colin with whom she runs the business. "I'm happy to be a pillion. My sister has always ridden. I say to Col you've married the wrong sister."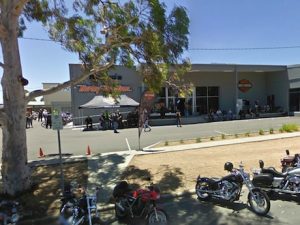 The ABN Hall of Fame officially launches tomorrow (Tuesday February 25) in the lead up to International Women's Day on March 8 to honour 17 Australian female business owners who have been exemplary in their industries. ABN CEO Suzi Dafnis says Christine has had a key role alongside her husband in establishing and growing Robbo's Motorcycles into a thriving business. "We wanted to raise awareness of the great things women are achieving in the motorcycle industry as well as providing other female entrepreneurs with great role models such as Christine," she says.
Robbo's Motorcycles began in the 1960s as a wreckers, was bought by the Mcauleys in 1977 and has expanded into a Harley-Davidson dealership selling 175 bikes a year.  Christine is president of the Motor Traders Association in ACT and has been active on several other boards and community committees. This year she received a Member of the Order of Australia for services to small business in the ACT.
"I was born in an era when women were not encouraged to stand up and speak. My mother's advice to me when I married my husband and business partner was to let him run the business and not take over any part of it. When asked how I gained Member of the Order of Australia I usually answer, 'by not listening to my mother'," she says.
Christine says the answer to getting more female riders is to create a safe and secure riding environment and to make women look good on a bike. "Safety and security is very important to women, so having safety courses is vital and  so is providing good functioning riding clubs for them to ride in a safe environment. Guys don't worry about safety so much.
"You also have to make women feel attractive on a bike. Fashion is huge with women. They like to look good. Fortunately, Harley-Davidson make such nice motorcycle clothes, with good fit. Women don't want to look more bulky than they need to."