Chinese brand CFMoto has reached a milestone by selling its 10,000 vehicle after only five years in Australia.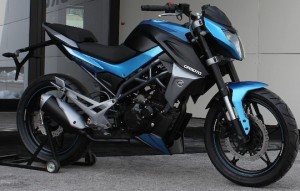 And the future is looking good with CFMoto adding three new ATV/UTV models, the very attractive 150NK entry level commuter bike designed by KTM's designers, Kiska, and the 650NK in new colours in the second half of this year. CFMoto will follow up in 2015 with the launch of the much-anticipated 650MT adventure bike and is expected to go racing at the Bonneville Speed Week with a 650NK. 
Plans to become the first Chinese motorcycle manufacturer to go 160km/h this year were put on hold at the last minute, but Michael Poynton from Australian importer Mojo Motorcycles, says they are hoping to go ahead next year. However, CFMoto did compete in this year's Isle of Mann TT as the first Chinese manufactured bike to finish the TT race and the first new manufacturer to enter the competition since 1957.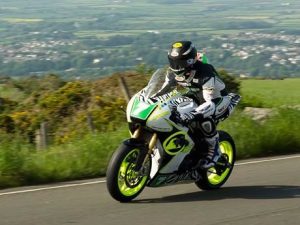 Meanwhile, CFMoto is the ninth biggest powersports company in Australia with 1065 vehicles sold in the first half, down 14.3% on the first half of 2013. Michael says ATV/UTV sales are "holding" with 784 sales, just 4 fewer than in 2013 first half. CFMoto motorcycles were down 35.4% from 401 to 259 while the market was slightly up 2.2%  and scooter sales were down 59.3% from 54 to 22 (market -15.4%). 
"We have dropped a little bit in this year, but we're holding our own in ATV against a lot of discounting," he says. " We have three new models coming through which will ramp that back up.
"Bike sales are down a bit because of the new LAMS models coming on the market and the high level of discounting. We've had nothing new for 12 months but we have some stuff in the pipeline and an aggressive promotion campaign coming."
He says the scooter market has dropped in recent years. "It's a difficult market," he says. "The commuter motorcycle market has been aggressively discounting, innovating and getting more competitive, so there is more perceived value in commuter motorcycles than in scooters."
He says the future for Mojo Motorcycles is positive and points to their investment in a new 5000sq metre distribution, training and showroom centre in Altona, Victoria. "That investment is mainly on the back of CFMoto and our belief in its growth ahead," he says.
Mojo Motorcycles also imports scooter brands TGB and Daelim, plus KTM bicycles and recently added Sherco off-road motorcycles.