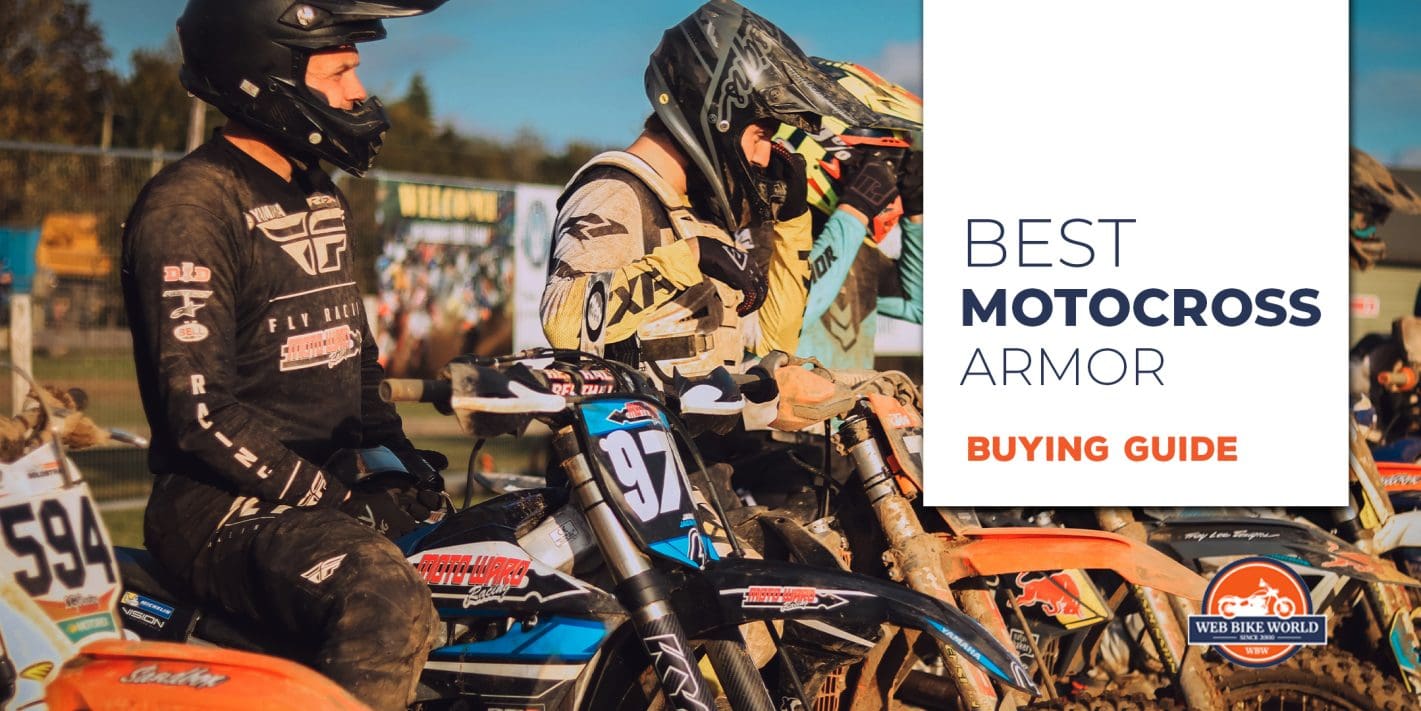 About Our Recommendations
Founded in 2000, our team at wBW has collectively tested more than 2,500 helmets, jackets, boots, gloves, accessories, and more. We do not fluff reviews. A riders safety is heavily dictated by how they ride and what they wear while doing so. Our goal is to help riders make informed decisions about the gear they invest in to protect themselves.
wBW is funded by our audience. Our recommendations and reviews may contain affiliate links that earn us a small comission if you make a purchase after clicking them. This is the primary way we fund our website and pay our review team (and comes at no additional cost to you). We disclose our relationship with brands or manufacturers for transparency. For more information about our extensive review process, see our review policies.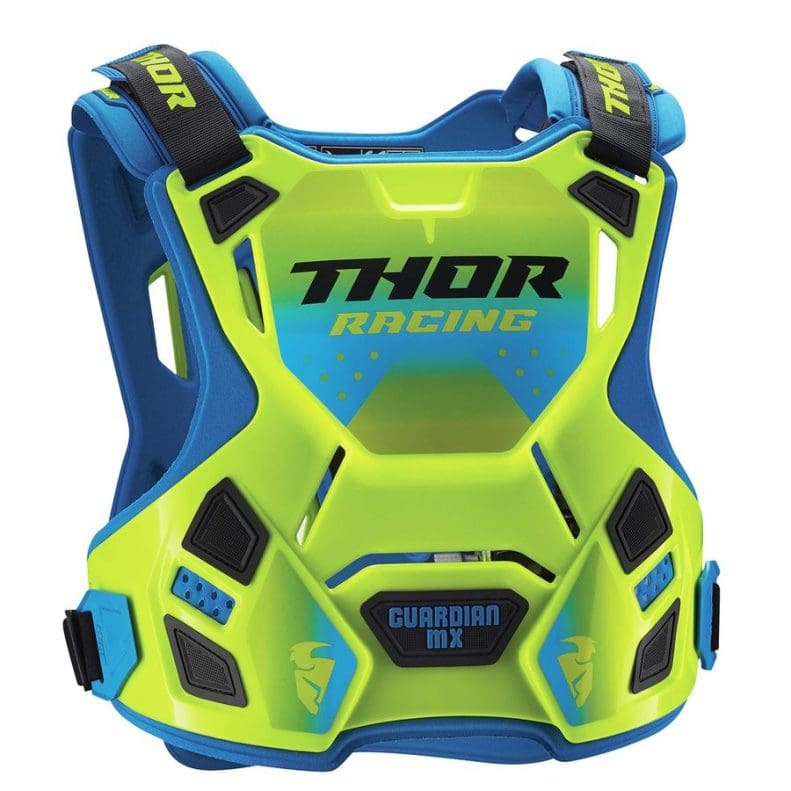 Thor Guardian MX Roost
Price: $84.95
Where to Buy: RevZilla
Why?
Thor's roost chest protector is a base staple for any new rider who wants to keep their torso safe for a reasonable price. It deflects and protects decently with beginning-level CE protection for your spine and chest. However, it is a bit on the thicker end with material that isn't prone to flexibility; nonetheless, we see it as size-adjustable, sturdy, and cost-efficient.
Key Specs
• Comfortable liner system in inner chassis support.
• Adjustable waist buckle.
• Ventilation parts for maximum cooling.
• Biofoam shoulder pads with adjustable straps.
Protection & Safety
• Level 1 CE back protector.
• Stone shield chest panel.
• Stone shield tested and certified according to European Standard EN 14021:2003.
• Tested and certified according to European Standard EN 1621-2:2014.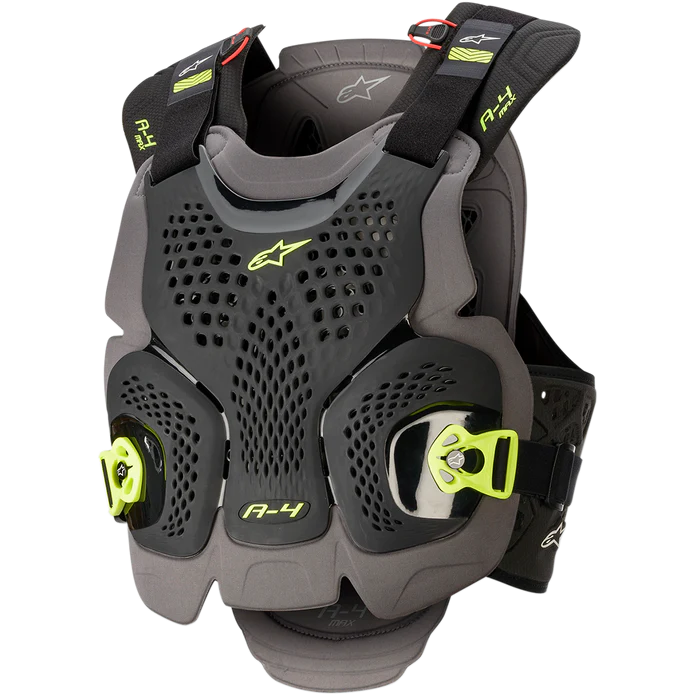 Alpinestars A-4 Max
Price: $174.95
Where to Buy: RevZilla
Why?
Alpinestars has a lot to offer for the jump in price. They specifically feature pro-level armor for performance, weight, and strength. It has a closer tapered fit, but just the same level of CE needed to feel protected. It also includes many attachment pieces specifically made to help layer on neck and body support.
Key Specs
• Perforated shells for cooling ventilation.
• Soft bio-foam padded chassis and close-to-the-body fit.
• Modular design means the A-4 is optimized for Alpinestars BNS neck braces.
• Removable upper back padded panel for BNS neck support compatibility.
• BNS puller for easy and safe engagement.
• Removable and adjustable shoulder pads for size regulation.
Protection & Safety
• Additional thermoformed EVA tale extension for extended coverage to the coccyx area
• Back Protector: EN 1621-2:2014 Level 1
• Chest Protector: EN 1621-3:2018 Level 1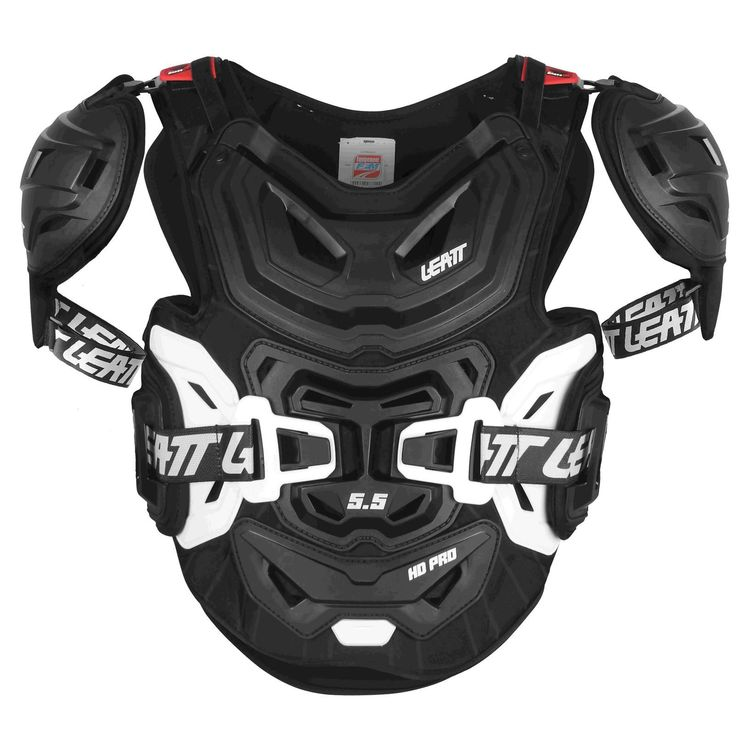 Leatt Pro 5.5 HD
Price: $269.99
Where to Buy: RevZilla
Why?
We usually see Leatt as a top contender in armor, and for a good reason. They're some of the best regarding their impact-proof High-Density Poly Ethylene shells. They meet the highest level of CE protection and give solid impact resistance and flexibility. And is just as durable inside as the outside. The 3DF foam is ventilated, comfortable, and safety tested. On impact, it will immediately change into an energy-absorbing substance taking the hits for you.
Key Specs
• Shoulder guards are impact tested, and CE certified to EN 1621-1.
• Removable, bio-foam upper arm roost guards.
• Fits over or under the jersey.
• Forty-one ventilation slots for maximum cooling.
• Perforated 3DF foam helps airflow.
• Hard shell outer shield made of High-Density Poly Ethylene (HDPE).
• Adjustable over-the-shoulder straps for size modification.
Protection & Safety
• Highest back impact CE approval, CE EN 1621-2, Level 2.
• Highest front impact CE approval, prEN 1621-3, Level 2.
• Shoulder guards are impact tested, and CE certified to EN 1621-1.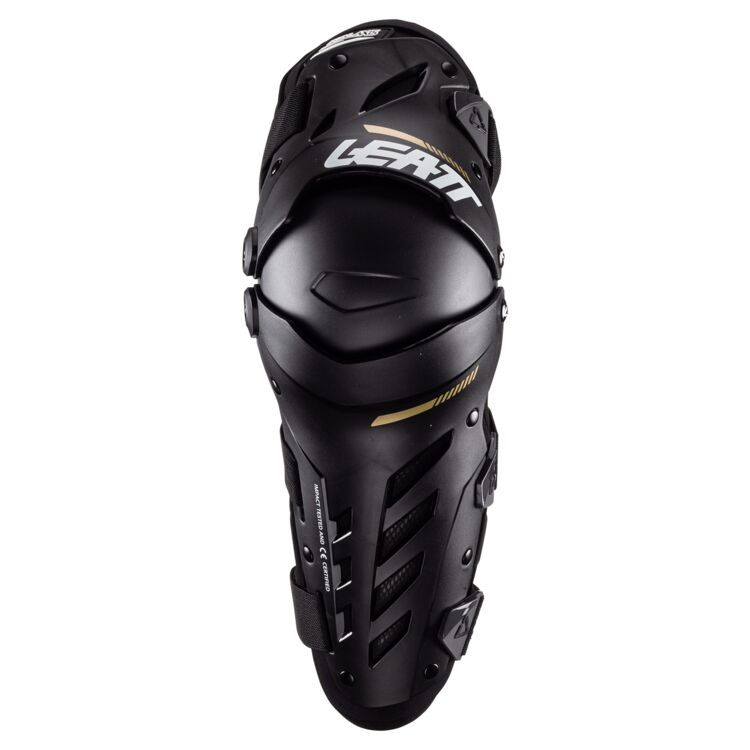 Leatt Dual Axis Knee/Shin Guards
Price: $99.99
Where to Buy: RevZilla
Why?
The Leatt Dual Axis guards offer great level 1 HDPE limb armor for blunt impact protection. Wide across and available in variable sizes, these guards are perfect for coverage while still breathable. The neoprene fabric is vented and aligned with velcro straps to secure it. These guards align with any rider's needs for movement and protection.
Key Specs
• 3D designed for optimal fit.
• Anatomically correct dual pivot points.
• Lightweight 1.9 pounds (850 grams) per pair.
• Slim design for use over or under riding pants, and fits with boots.
• Nine large vents help with ventilation.
• Strap system resists binding.
Protection & Safety
• CE certified to EN 1621-1, Level 1.
• Made from High-Density Poly Ethylene, HDPE, and washable Leatt foam.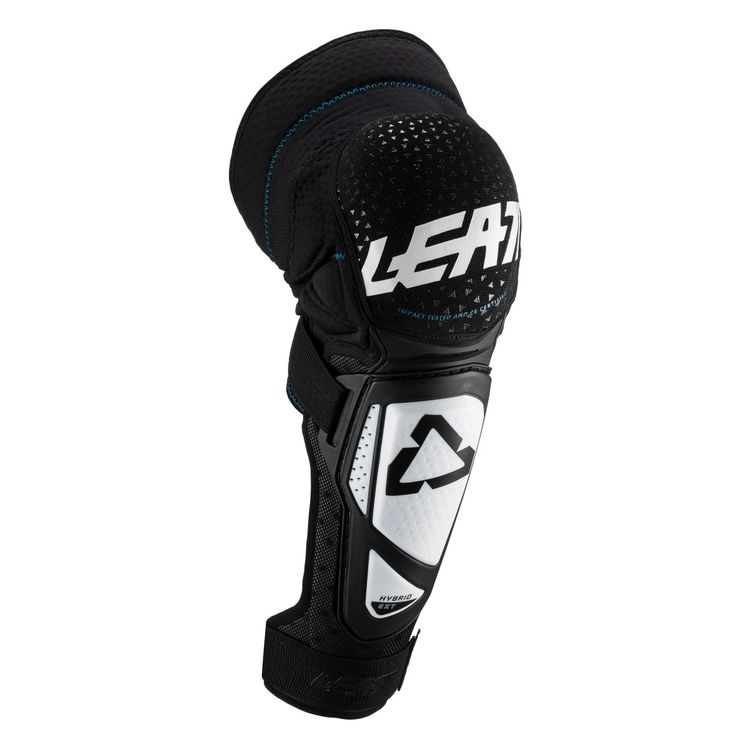 Leatt 3DF Hybrid EXT Knee/Shin Guards
Price: $139.95
Where to Buy: RevZilla
Why?
Leatt comes in again, but with much more for those who will pay the premium. These 3DF guards offer everything from their previous models but have a hybrid tenacity. They added a better 3D impact foam for the knee cup (3DF) that still feels thick enough to keep from caving. It has the same HDFE shell, but now it extends down to the shin and works with the ventilated neoprene sleeve. This sleeve also has a silicone-lined anti-slip calf to keep everything in place but allows you to slide it on and off easier.
Key Specs
• Hybrid comfortable 3DF foam.
• MoistureCool and AirMesh wicking fabrics
• Silicone lamination to keep the protector in place.
• Ventilated Neoprene sleeve
• Anti-slip calf band and silicone grip lining
• Three adjustable non-slip leg straps
Protection & Safety
• High-Density Poly Ethylene (HDPE) with shin extension
• Abrasion-resistant Aramid outer layer for durability
• CE certified for impact protection EN1621-1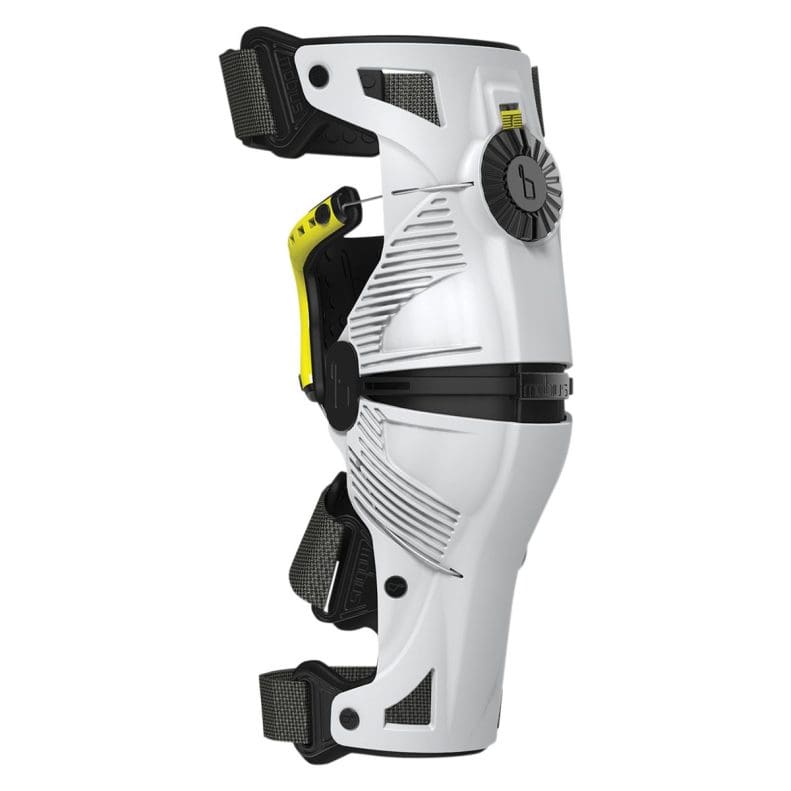 Mobius X8 Knee Brace
Price: $599.99
Where to Buy: RevZilla
Why?
When you've experienced a knee injury, or even if you are more inclined to avoid it does come with a price tag. Many of our selections of armor cover the most significant needs when it comes to protection. Unfortunately, most armor-only guards aren't able to account for ligament damage.
When it comes to overextension, we need to up our game into the world of braces, and no one does it better than Mobius. These braces can protect from long-term injury because they are made with a sturdy mix of nylon and aluminum in the shell but have a soft molded EVA interior foam. It works with their CCRS (Continuous Cable Routing System) that tightens like a dial to the perfect fit by spreading the pressure over a larger area.
A Polyethylene Fiber cable is attached to the back plate. It reinforces the main ligaments of the knee while also gripping the leg along with the Velcro straps, protecting the outer knee while stabilizing the inner ligaments.
Key Specs
• CCRS (Continuous Cable Routing System) is a single turn of the locking CNC forged 6061-T6 anodized aluminum dial for a precision fit.
• CNC forged 6061-T6 anodized aluminum hinge plates.
• Lightweight PIM glass-filled nylon shell conforms to your leg shape.
• VELCRO® brand closures straps with TPR pull tabs.
Protection & Safety
• Plush molded EVA foam and impact rubber internal padding
• Overlapping patella area with zero degrees CNC leaves no gap exposed when the knee is bent
• Figure-8 cable and behind-the-knee adjustment pad significantly strengthen the joint yet work as freely as your body's ligament system.
Best High-End Accessory Body Armor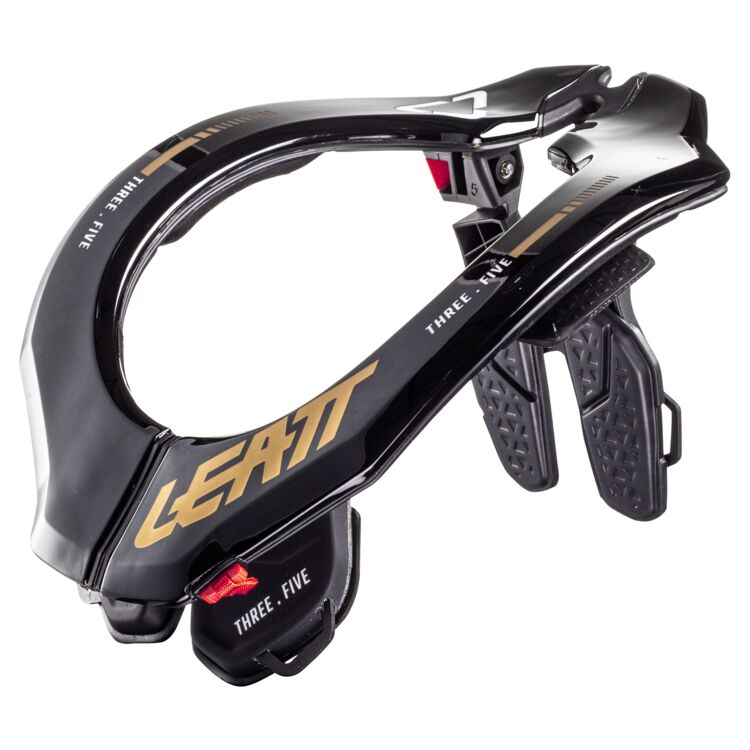 Leatt 3.5 Neck Brace
Price: $219.99
Where to Buy: RevZilla
Why?
Every rider's worst nightmare is not death but paralysis. Braces like this are designed to protect your spine and the fragile bones of the neck. Leatts 3.5 neck brace absorbs and reduces forces during impact through the brace and into your muscle instead. It's adjustable to size, durable polymer, CE-rated, and comfortably sculpted.
Key Specs
• Sculptured, split front for improved comfort and fit
• Air flow ribbed body padding for ventilation
• Lightweight: 497g (1.1 lbs)
Protection & Safety
• Engineered collarbone cut-out to keep your helmet rim away
• Polymer matrix platform to protect against neck forces
• Tested for critical injury reduction
• CoreFlex thoracic strut is designed to work with the body's natural movements
• CE tested and certified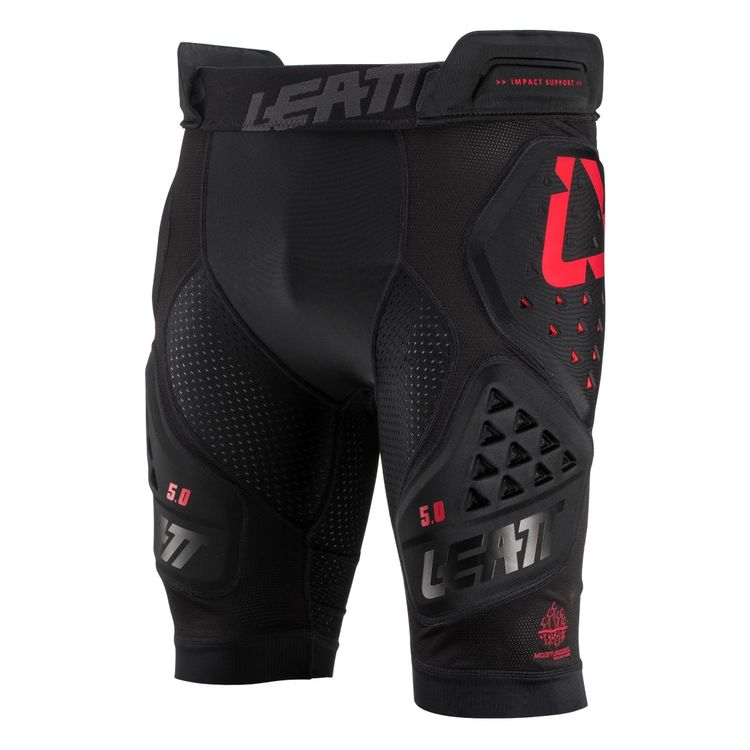 Leatt 3DF 5.0 Impact Shorts
Price: $119.99
Where to Buy: RevZilla
Why?
When we remember to dress for the slide, we do not forget that our hip bones aren't made of steel. Instead, we hope to have a pair of shorts like Leatt 3DF 5.0 Impact Shorts. They are made for common contact area support that's 3D with a tapered fit look and seamless under gear. Its anti-odor and moisture fabric also helps support ventilation and eliminate chafes. Their gippy silicone cuffs also make it so they hold their own in the air or on the ground providing you with your extra cushion.
Key Specs
• Extra wide with comfortable waist stretch
• Anti-odor MoistureCool and AirMesh wicking fabric
• Silicone printed elastic leg cuffs for grip
Protection & Safety
• 3DF formfitting hip impact protection
• Coccyx/tailbone padding (non-removable)
• CE tested and certified Level 1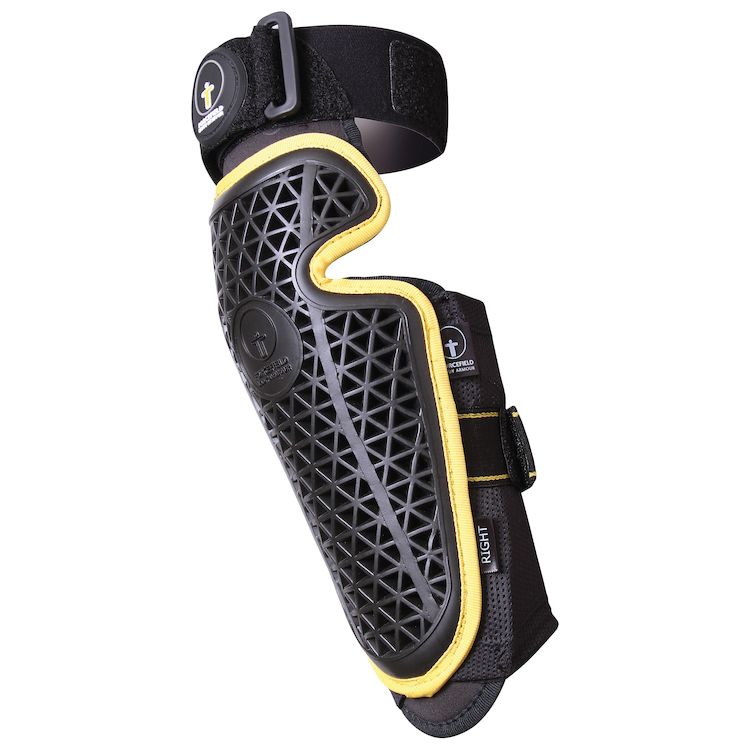 Forcefield EX-K Elbow Protectors
Price: $99.99
Where to Buy: RevZilla
Why?
Have you ever broken your elbow? Well, don't. One of the most challenging arrangments of bones to heal is the elbow. The best way to avoid becoming bionic is to have the right gear to keep them covered. Forcefield EX-K protectors are made for every bit of shredding that might come with having elbows up.
Its sleek but comfortable design stabilizes your joint but is made with Forcefields Dri-M material which is flexible and comfortable to wear. It offers RPT (Repeat Performance Technology) at a CE level 2 for continued and consistent protection even after multiple impacts.
Key Specs
• Ergonomic gives full nonrestrictive arm movement
• Can be used in conjunction with the Forcefield EX-K Harness Flite Protector and EX-K Shoulder Protectors (sold separately)
• Perforated and breathable
• Heat-activated body 3D molding
• Adjustable velcro retaining straps
• RPT (Repeat Performance Technology)
Protection & Safety
• Constructed from High Tech Nitrex Evo® armor
• CE approved EN1621-2 (Level 2)
What To Look For In Motocross Armor
When we think of "safety first," we typically think of helmets and crash-test dummies. However, when it comes to dirtbikes, the only dummy would be a rider that didn't invest in proper body armor. Life's all about taking the "send it" to the next level, but if you're not prepared for the send, it will be a long way down to pain town.
We've picked out a few catered selections of primary armor that any rider would benefit from.
Considerations When Buying Adventure & Touring Boots
While looking at the variety of motocross armor that's on the market, you will want to consider the following aspects such as their durability, shielding, comfort, shape, and budget.
Durability- Armor broke on the first go is not armor; it's clothing. We look for armor that lasts the ride and the crash and want it to be made from high-quality, long-lasting materials. Gear that won't fall apart can be used for all your adventures.

Shielding- Preferably a CE-rated shield that is made to cover high-impact and critically damaged regions of the body. Adequate length, thickness, and correct shell composite to keep projectiles out and impacts deflected.

Comfort- A good layer of internal cushioning to keep from chafing, overheating, and sliding off. We need armor that feels like part of the body and can move like it too. Shielding that is breathable under hot conditions and conforms properly.

Shape- It doesn't just need to move like your body but also look like it. Armor should conform and mimic the areas it covers but not stick out or weigh you down too much. It should add to your ride, not make it cumbersome.

Budget- There's a lot of gear out there, but sometimes not all right in our price. We can look for alternatives to help us at whatever level we're at, but we can also see that sometimes the gradual increase can help give us some more features to our armor.
Though not a complete atlas to the infinite world of body shielding. This guide covers details of armor that riders emphasized as the most useful and needed in any arsenal to rip.
At WBW, "Best" Actually Means Something
Remember when you could open up a review of something, and when the publication—magazine, car show, whatever—said "best" they stood behind it? Yea, we remember, and we're bringing it back.
Here's how we do things:
We disclose our affiliate relationships—We make money via advertising and affiliate relationships on our website. It's how we pay our team and invest in things like sending Jim to Italy. And Japan. And France… wait… why do we always send Jim places?

We obsessively hands-on test—We wear and ride with gear before reviewing it, and we update reviews down the line if our opinions change. We look at real-world situations because that's the world we live in.

We're objective—Good gear is good gear, regardless of who made it.

We're value-focused—Why pay $500 if something for $250 is just as good? Our review scores and recommendations reflect best value. Brand only goes so far—the gear has to stand on its own.