Akin Moto Wrench Motorcycle Pants Review Summary
Review Summary
It's time to ditch your old, uncomfortable, groin-pinching riding pants and swap them out for a fresh pair of Akin Moto's Wrench Motorcycle Pants. With a comfortable COOLMAX airflow liner and plenty of Kevlar reinforcing, these pants will keep your lower half protected while riding. The slim-straight fit allows for a wide range of mobility. The oversized length ensures that your lower leg and ankle stay covered and protected at all times.
Pros
High quality build with no signs of cut corners
Kevlar lining that covers more than the typical "high impact areas"
Adjustable height knee armor pockets
Comfortable lining with improved airflow and COOLMAX technology
Small brand that emphasizes on quality & customer service
Cons
Only available in black at the time of writing
Oversized leg length may be a deterrent for shorter riders
Armor is not included in your purchase
Akin Moto Wrench Motorcycle Pants Image Gallery
Review Summary
If you're looking for the main takeaways from this review, here is my summary on the Wrench Motorcycle Pants Review:
The Wrench Motorcycle Pants retail at $166.55 USD.
The pants fit slim around the thigh and straight from the knee down
The Wrench Pants are styled to look like regular workwear, which they do very well
An oversized length keeps your lower legs & ankles covered while riding
Sizing is limited and likely not suitable for shorter riders
Inside the Wrench Pants is a Kevlar fabric lining and armor compatible pockets
Interior lining is comfortable & doesn't run hot
Unexpectedly resistant to water
Features include a comfort-mesh COOLMAX lining, hidden key/fob pocket & premium YYK hardware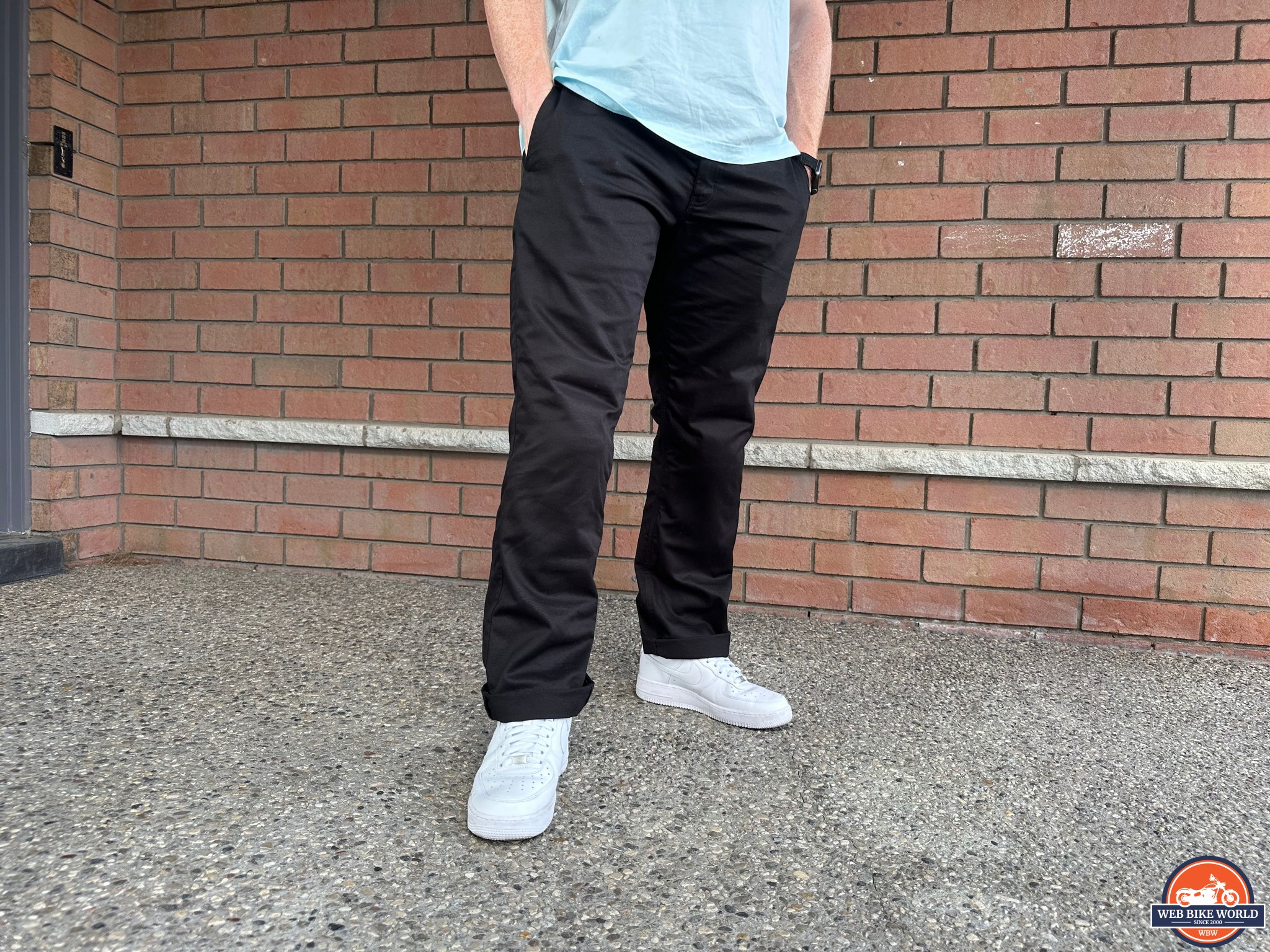 Wrench Motorcycle Pants – Motorcycle Pants That Feel Like Workwear
On my never-ending quest to find motorcycle gear that doesn't look like motorcycle gear, I stumbled across Akin Moto. At the time, I wasn't familiar with the company, but liked what I saw as I clicked through their site. From slim-fitting motorcycle jeans to pullover armored hoodies, it's needless to say that Akin Moto's offering caught my attention.
I quickly reached out via email and to my delight I was soon in contact with Max Duff, the founder & owner of Akin Moto. Max is an extremely pleasant guy to deal with who is much like you and I with a passion for everything to do with motorcycles.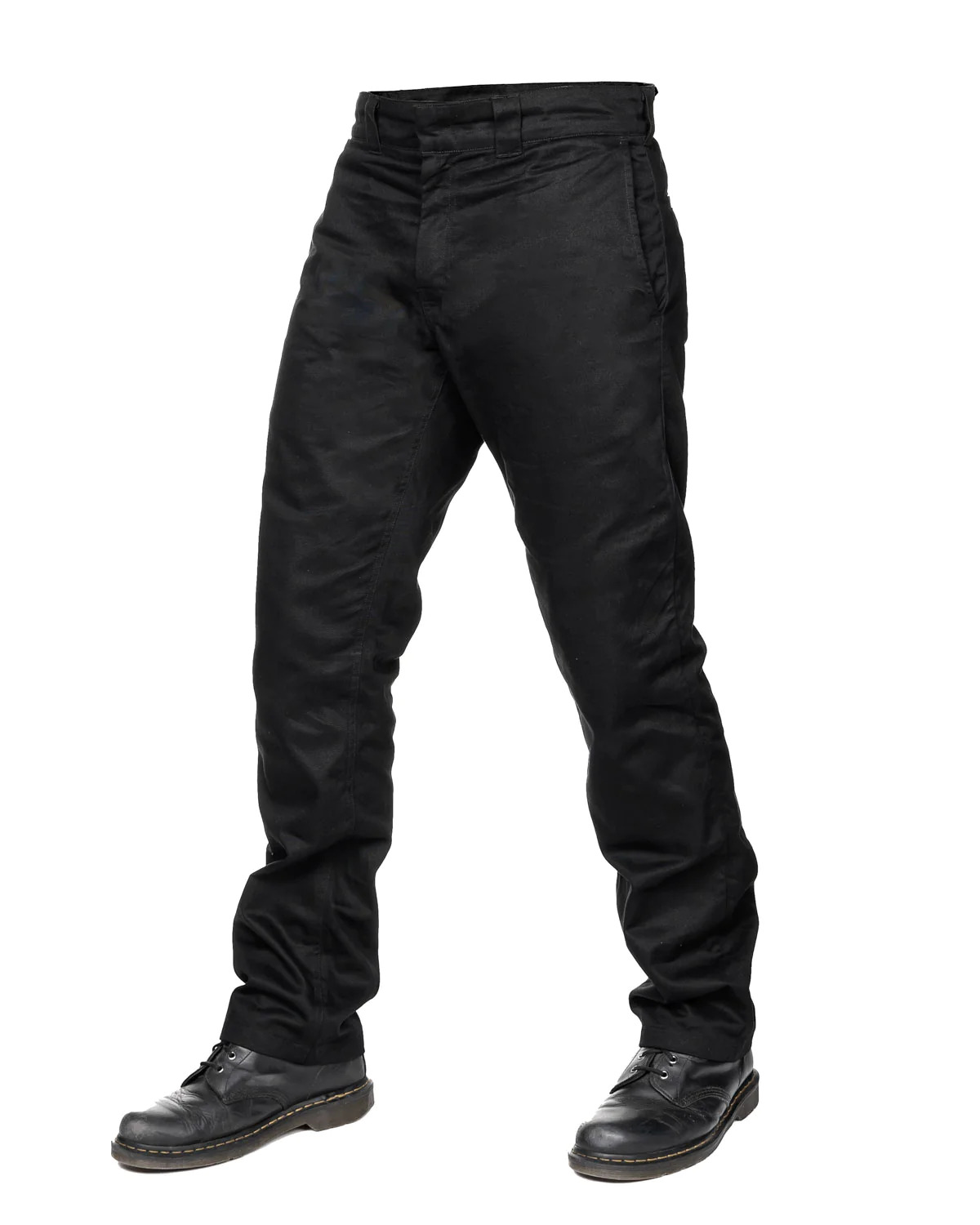 Earlier this year, Akin Moto dropped a new riding pant named the Wrench Motorcycle Pants. They were designed to match their popular Wrench Motorcycle Jacket, which also saw a revamp in 2023. The Wrench Motorcycle Pant was designed to look and feel like your everyday workwear chino, without sacrificing protection and performance.
As we do over here at webBikeWorld, I've been riding in the Wrench Pants over the last few months in order to give you an honest review. Read on below as I take you through the ins and outs of these pants – literally.
First Impressions
I like to include first impressions in all of my gear reviews. As the saying goes, first impressions are lasting impressions. That saying held true for my experience with the Wrench Pants as my first impressions lasted well beyond that moment.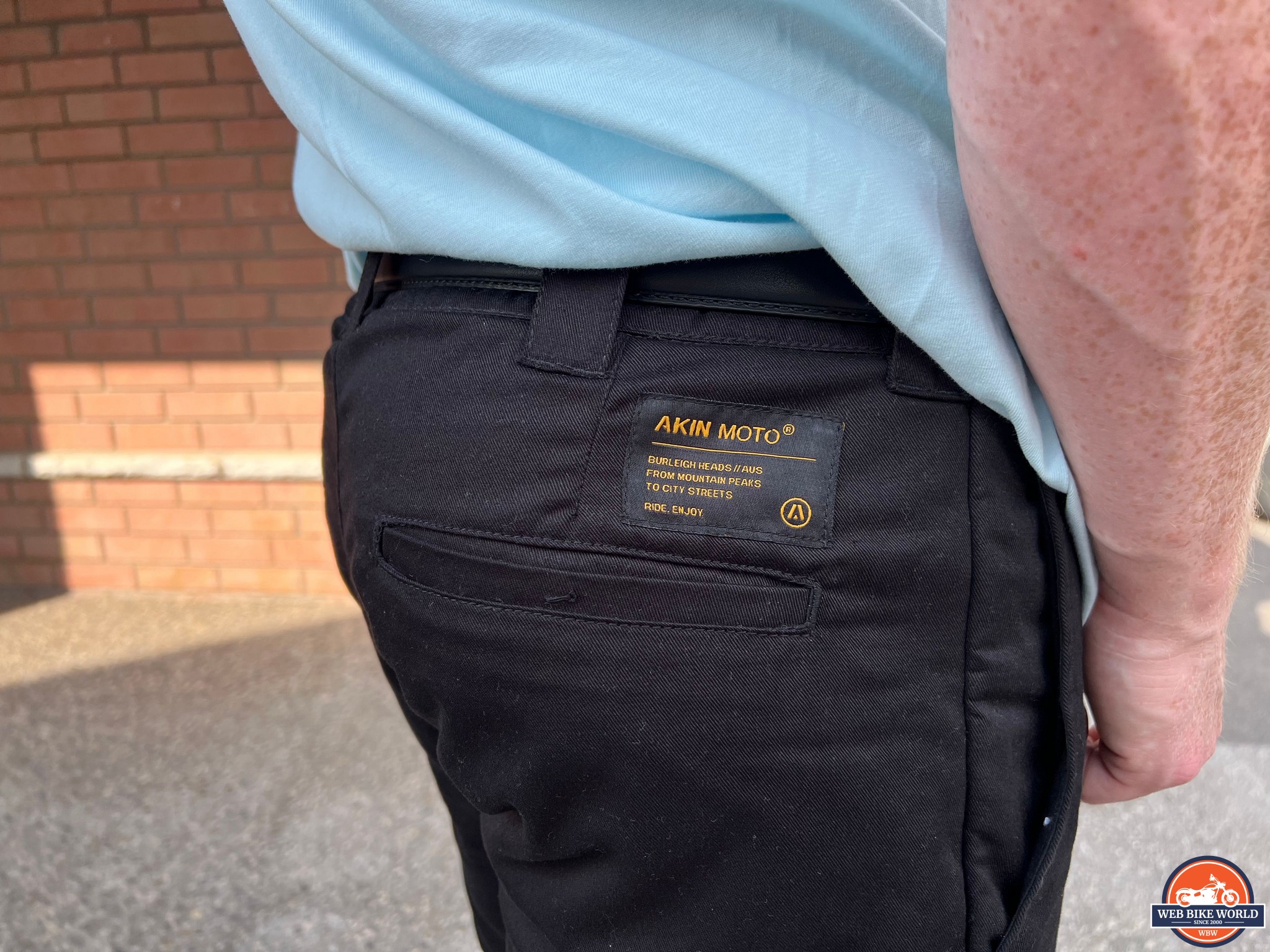 Out of the box, the Wrench Motorcycle Pants are almost indistinguishable from any other pair of pants you have in your closet that aren't jeans. They're fairly lightweight in your hands, yet the fabric feels durable. Up close and personal, the Wrench Pants are noticeably thicker than workwear chinos.
Branding was very subtle, and the fitment was baggier than I typically wear. All in all, the pants felt comfortable while riding and an oversized length kept my entire leg covered.
Akin Moto's Background
Before we go into more detail on the pants, I feel it's necessary to give you a bit of a background on Akin Moto. While our sister site, Return of the Cafe Racers, has reviewed some of their gear in the past, the Wrench Motorcycle Pants are Akin Moto's debut here at webBikeWorld.

Akin Moto is a small brand based out of Burleigh Heads, Queensland, Australia. It is a 2 man operation run by founder & owner Max Duff. Max is absolutely obsessed with everything motorcycles and has been since a young age. With a background in graphic design, he was able to put that passion to fruition. With Akin Moto, Max has designed and created riding gear as he's always envisioned it should look and function.
"Akin" means 'of similar character'. To Max, "Akin" symbolizes a belief that there is a special bond between all motorcyclists that can only be understood by those who ride. His goal isn't to be the biggest brand in the world, but to stand behind his customers 100% and offer them the best products and customer service experience he and his company can.
Akin Moto Wrench Pants Build & Design
Occasionally we see smaller companies make sacrifices in terms of quality to be able to maintain a competitive price point against the larger players in the game. After testing the Wrench Motorcycle Pants, it became apparent that this was not the case with Akin Moto.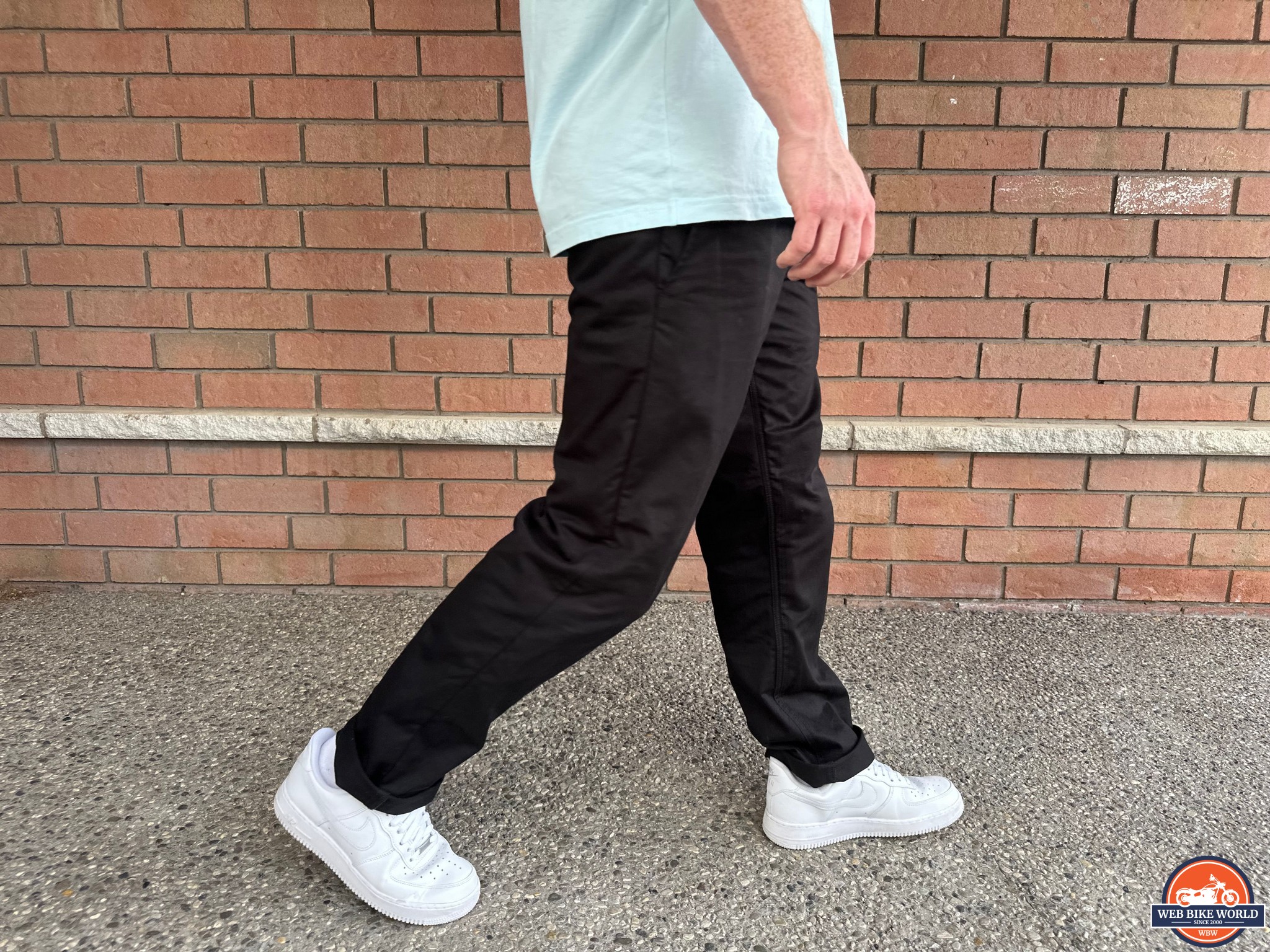 Build Quality
Sprinkled throughout the Wrench Pants are positive signs of solid construction. I've examined these pants up and down and aside from a few stray threads, I haven't found any signs of concern. The material feels very durable and doesn't show any signs of wear after my testing period.
Flip them inside out and we can see that the Wrench Pants have pockets for knee and hip armor. The entire front, side and back of these pants are lined with genuine DuPont Kevlar down to the knee with a durable stitch to keep everything in place in the event of a crash.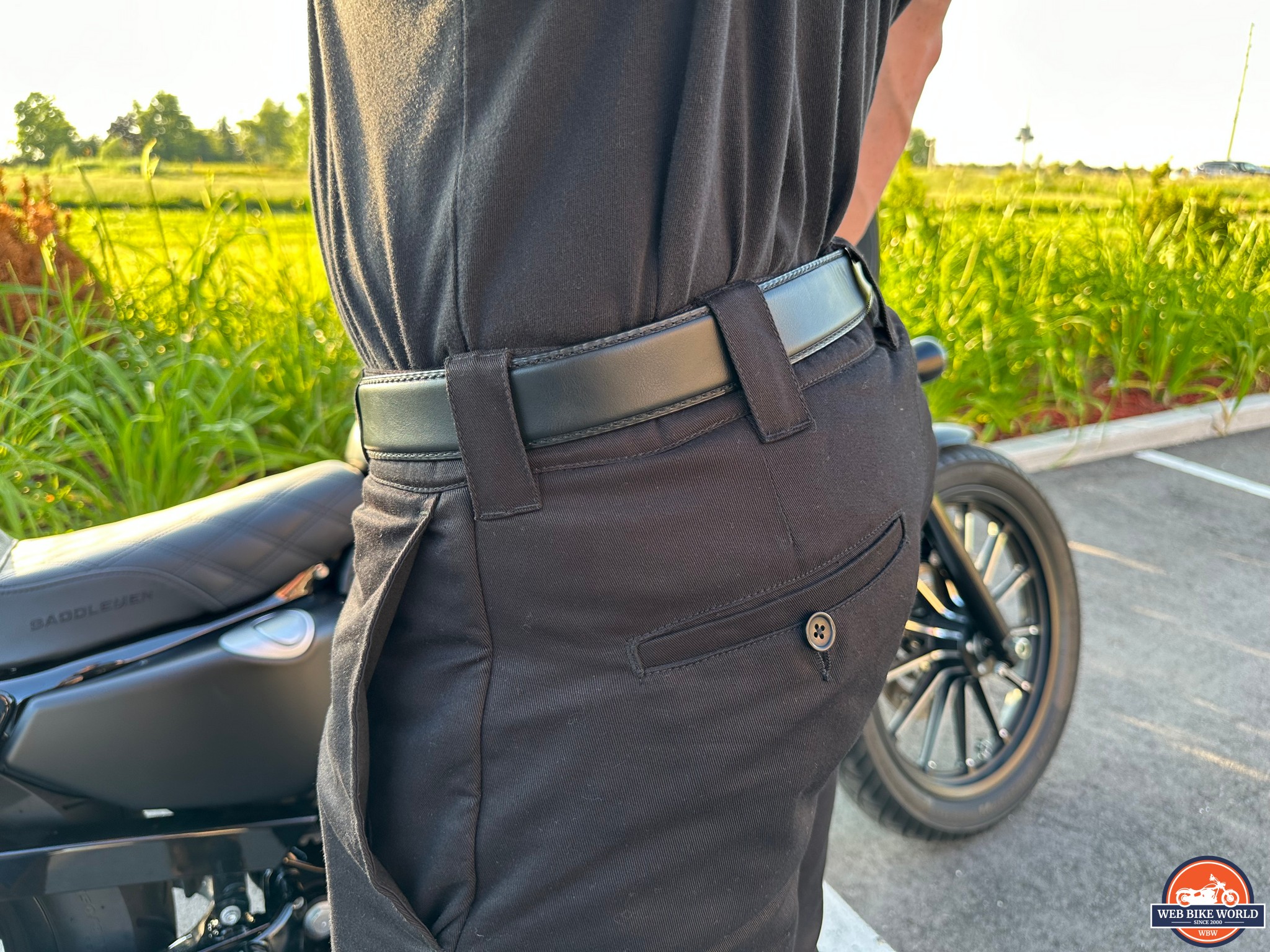 The Wrench Pants have 7 belt loops that'll help prevent the pants from coming off in a slide. What's more, Akin boasts that the Wrench Pants have been outfitted with YKK hardware, an industry leader in zip technology.
These small details may seem trivial to you, but I strongly believe that in the event of an accident it's the little things that'll make all the more difference.
Design
As I previously mentioned, the Akin Moto Wrench Motorcycle Pants are designed to look like regular workwear chinos. While slightly thicker, and for good reason, the Wrench Pants pull off that look almost flawlessly.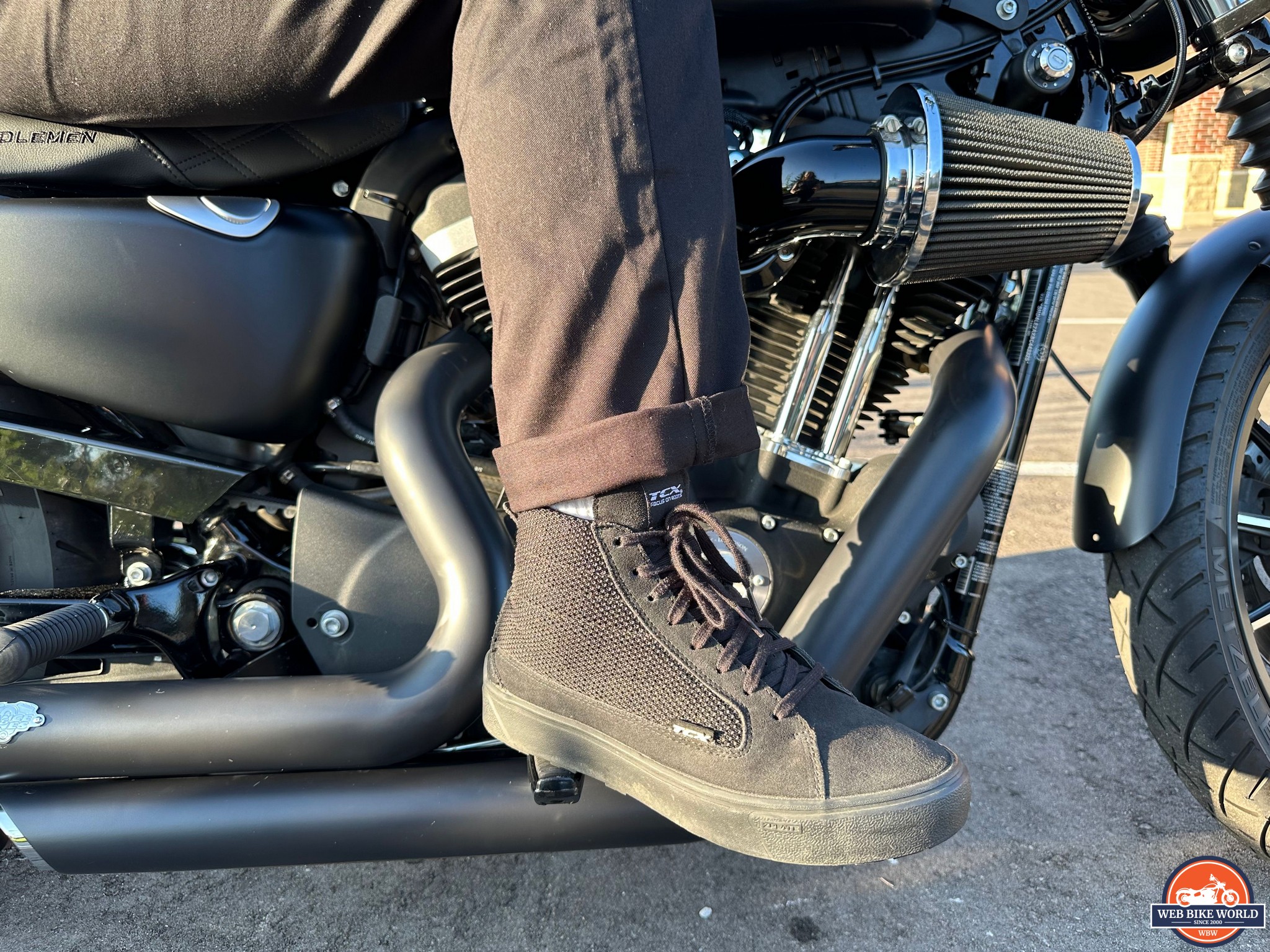 As shown in the pictures, cuffing the pants pairs well with streetwear-styled riding shoes for a more casual look. They subtly remind me of something a skateboarder would wear as the straight-fit taper does not restrict your movement in any way.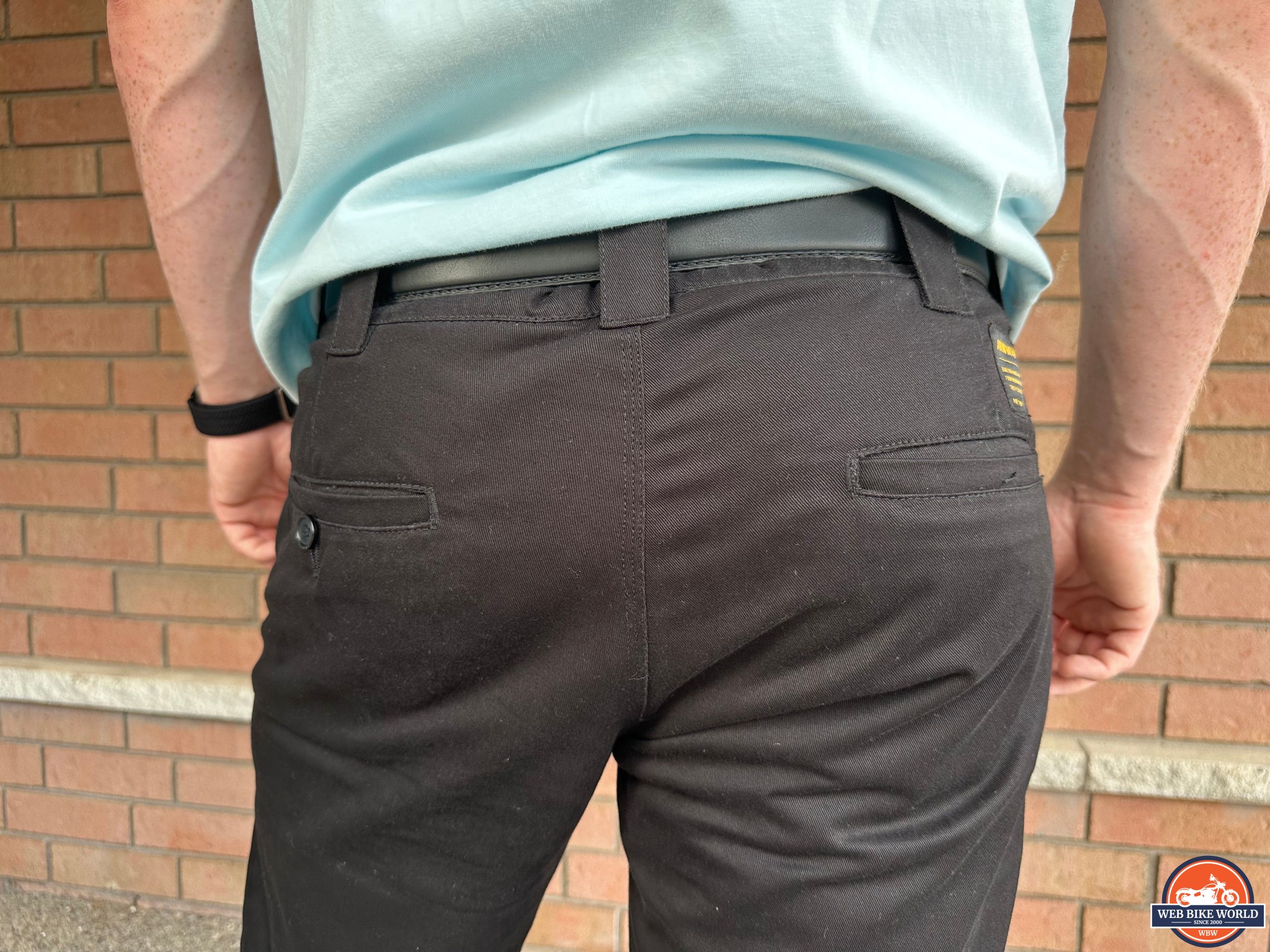 On the back of the pants, there is one buttoned pocket, and one not. The front of the pants has two pockets with openings to the side. The back pockets are just shy of 6" in depth, while the front are roughly 12" deep seam to seam.
Build Quality & Design Rating: 80%
When it comes to the build quality of the Wrench Motorcycle Pants, I don't see any indicators of a half-assed job. Seams & stitches are strong, the material feels durable and the Kevlar lining is plentiful. The armor pockets are secure and positioned exactly where they should be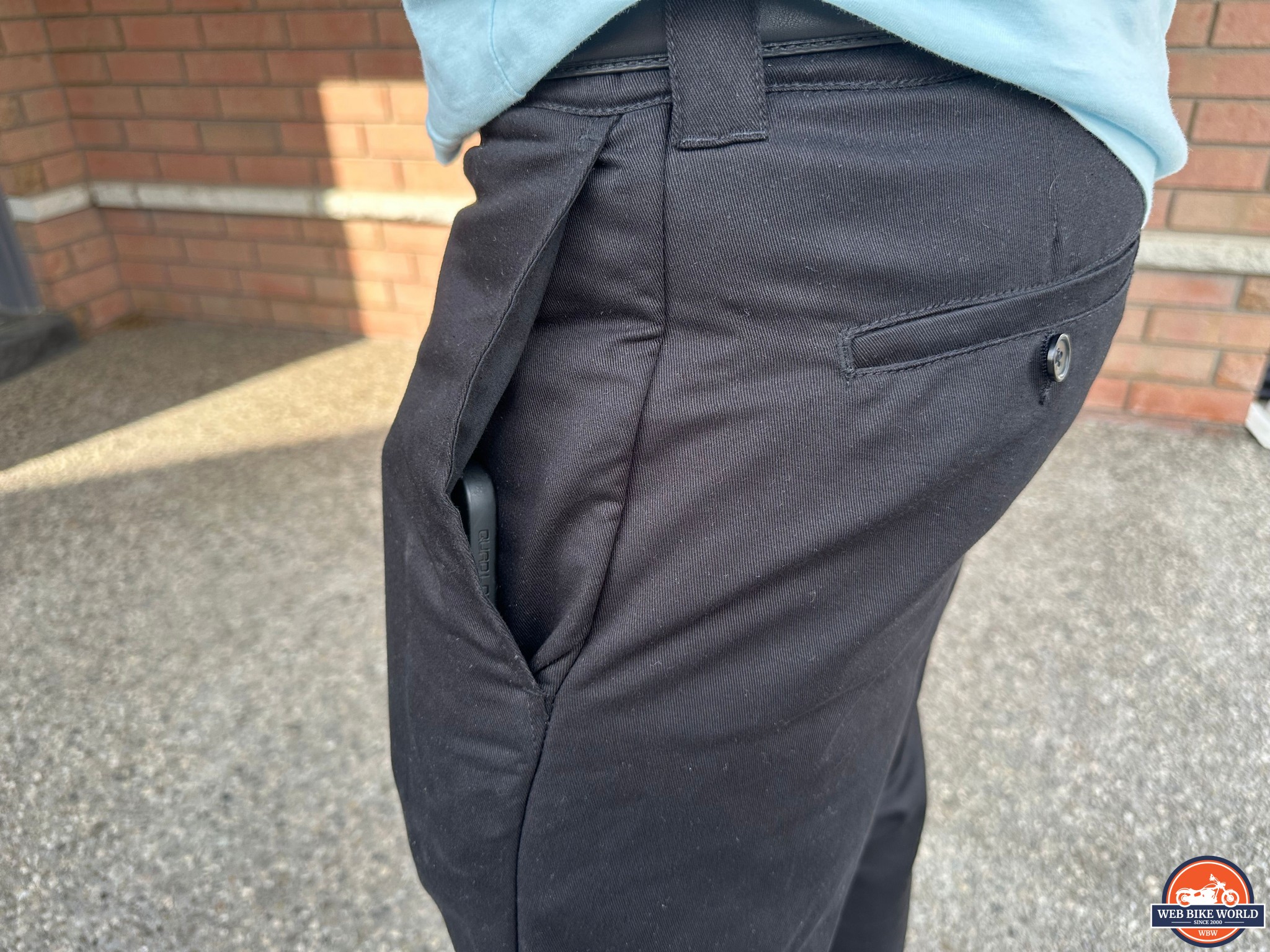 As for the design, I do have a small concern. I couldn't help but be hesitant to use the front pockets for valuables. The 7" wide opening along the side of the leg meant that the 12" of pocket depth was more than cut in half. As such, I had a constant fear of something falling out while riding. I would've preferred to see top-opening pockets on the front to eliminate that worry.
Features
As expected, a pair of riding pants will not have as many features as a helmet would. Nonetheless, the Wrench Motorcycle Pants come with a few key features that I feel are worth highlighting.
Comfort Mesh Lining for Airflow
Perhaps my favorite feature of these pants is the comfort mesh lining. This mesh is sewn in on top of the kevlar lining front to back and down to the knee. The lining is very soft and breathable, making the Wrench Pants a pleasure to ride in.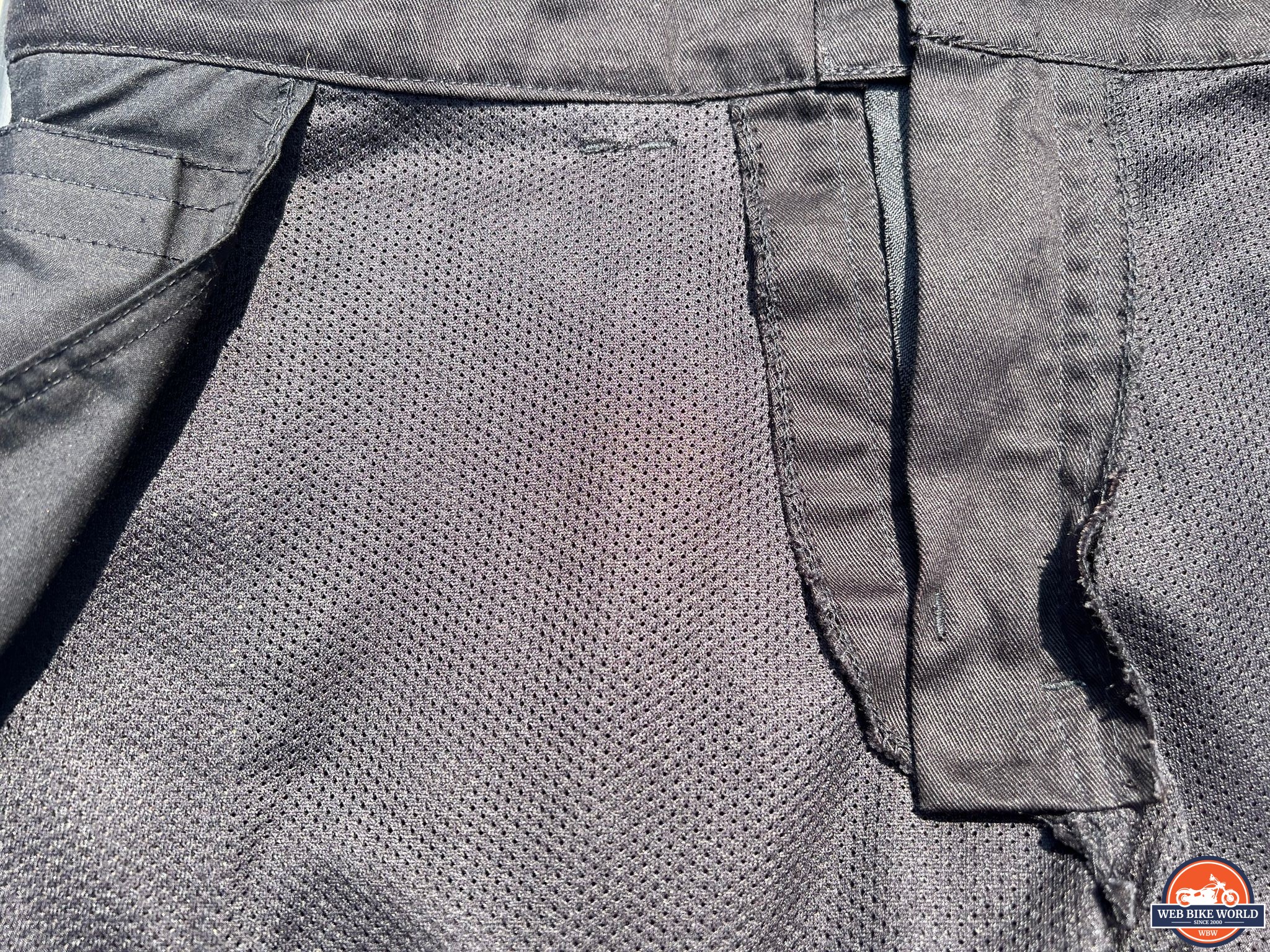 On hot days, I felt as though the COOLMAX technology within the lining was working hard as I didn't sweat nearly as much as I was anticipating. For pants without an opening for airflow, they breathed fairly well and moved hot air out in place for cool air.
Hidden Key/FOB Pocket
When Akin Moto says hidden, they mean it.
I didn't know this pocket existed until I read about it on Akin Moto's product page. Located on the right-hand side, a small pocket is present just below the belt line for small items such as keys, FOBs, or in my case, a portable garage door opener.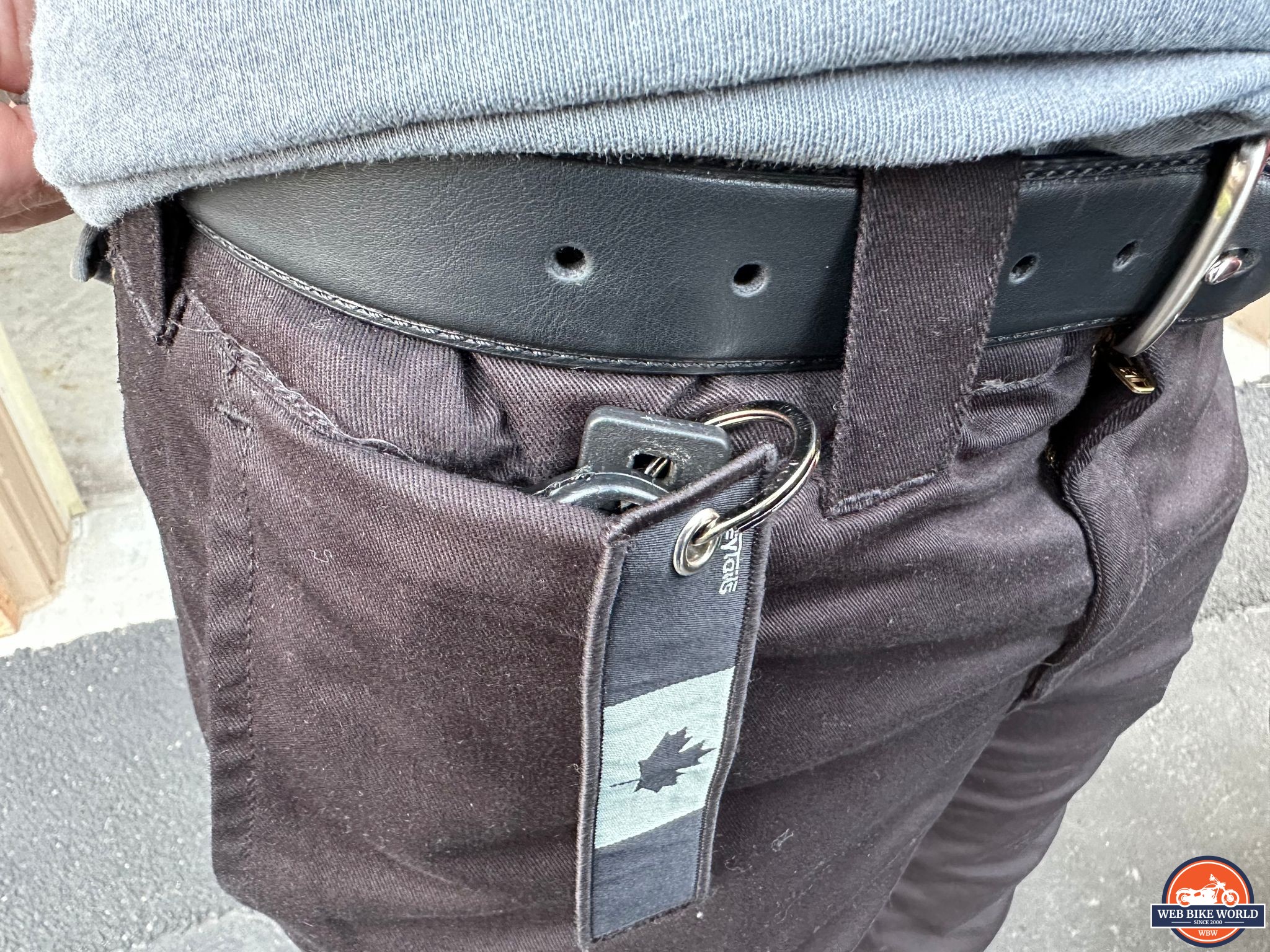 YYK Hardware
This might be one of those features you pay little to no attention to until you benefit from it as it's such a simple, yet thoughtful addition. A Premium YYK zipper and snap button closure are used to fasten these pants to your body.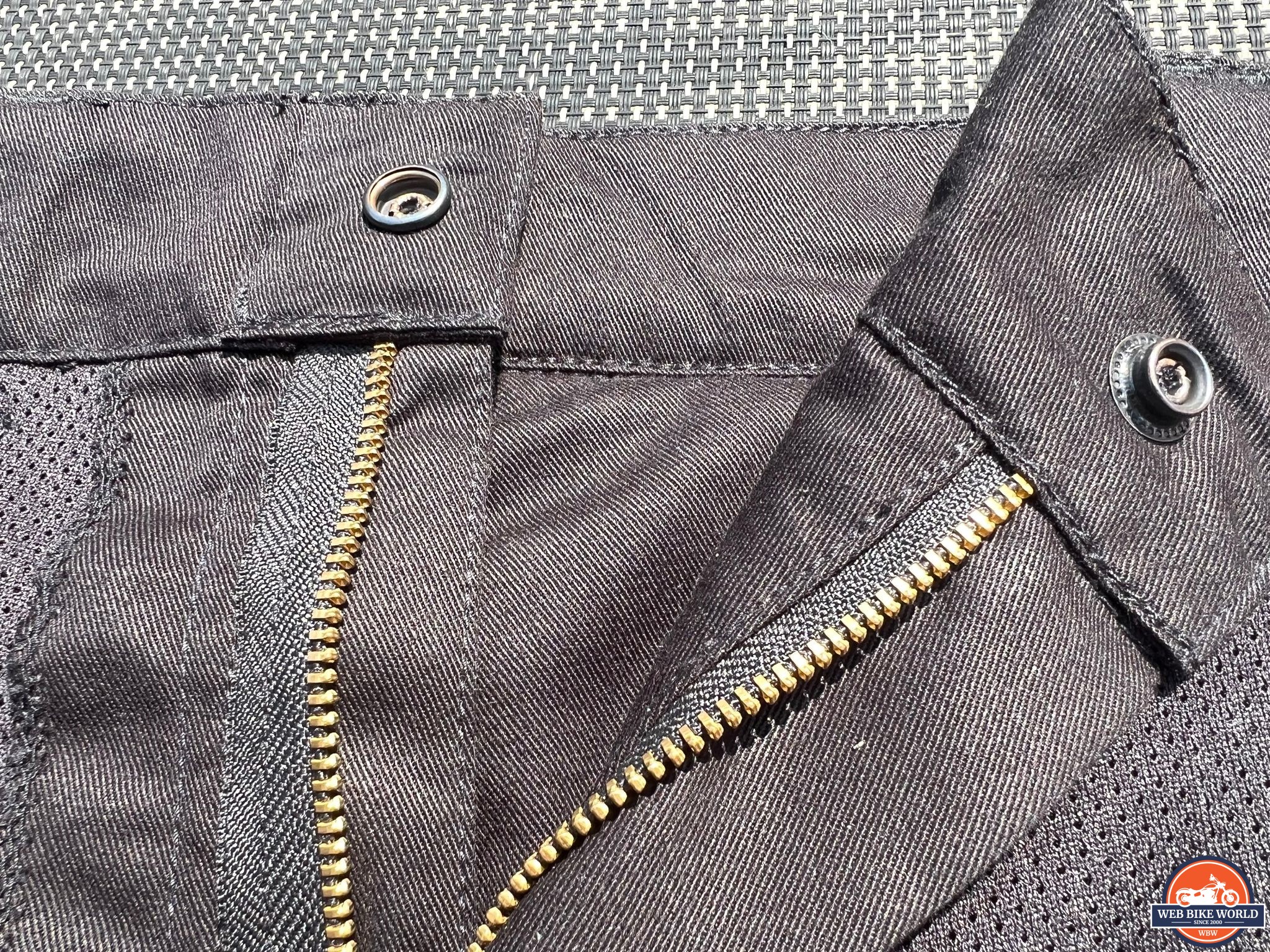 YYK is known as the industry leader when it comes to high quality and dependable zippers. YYK zippers seal up incredibly tight and are even capable of shedding water. This prevents any water from seeping into your groin.
Water-Resistant
Nowhere on Akin Moto's website do they claim that the Wrench Motorcycle Pants are waterproof or water-resistant, yet I still put them to the test. To my surprise, I found them to be somewhat water-resistant.
At first, water beaded off the surface and did not penetrate into the fabric. As I continued to run the hose over them, the water began to seep in but was absorbed into the interior lining. It was only after soaking them with the garden hose that I felt my leg begin to get wet.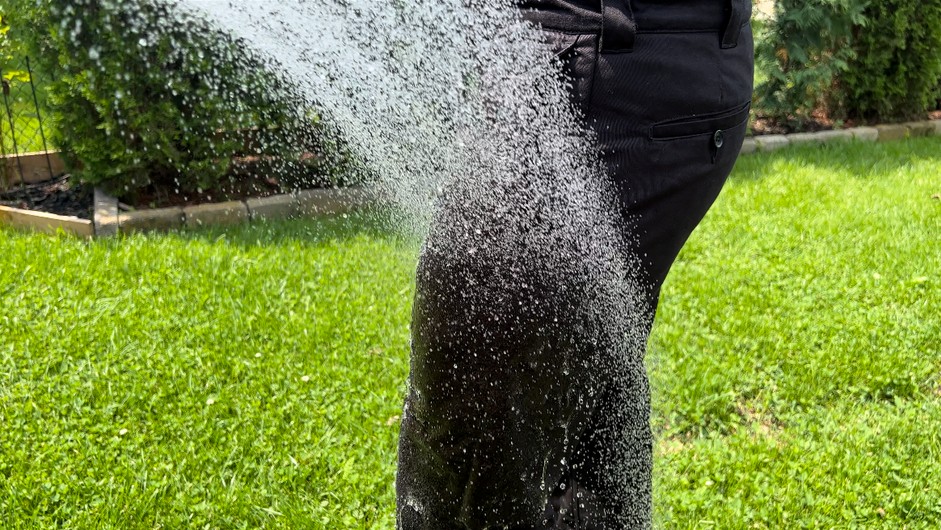 If you're like me, you don't plan on riding in the rain. While some people enjoy it, I certainly do not. With the Wrench Pants, however, I know that I'll be dry should I ride through some unexpected light rain that would otherwise drench a pair of riding jeans.
If 100% waterproof is what you're after, check out the Rich Brutus GTX Pants here.
Features Ratings – 85%
Let's be real, there's only so many features you can pack into a pair of riding pants. These pants are meant to be stylish and functional, and that they are. Convenient features such as the airflow lining and hidden pockets add convenience and comfort for the rider.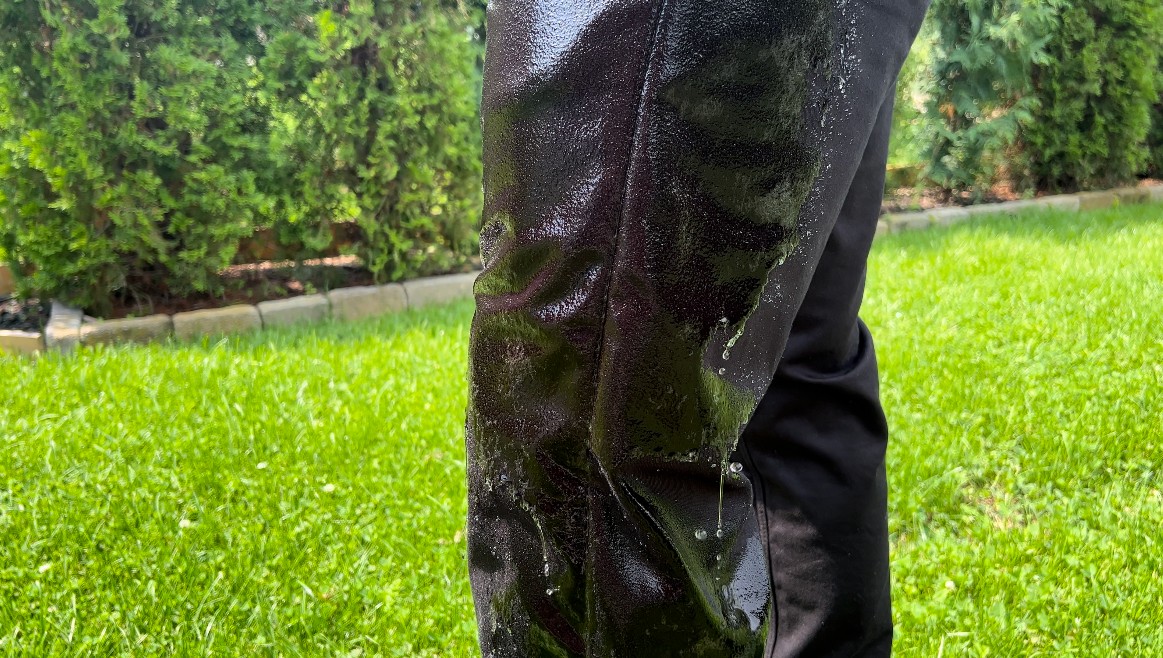 For me, bonus points were given when I discovered the unexpected water resistance. As I mentioned, these pants are not advertised to be able to stand up to water in any capacity. As such, this was a huge plus for me because as we all know weather is unpredictable and there's nothing worse than being caught out in the rain in gear that absorbs water like a sponge.
Sizing & Fit
Whether it be a motorcycle helmet, jacket, pants, gloves or boots; correct sizing & fit is crucial to ensuring the gear protects your body as intended. What's more, the Wrench Motorcycle Pants ship from Australia. So, unless you live there you're likely going to want to get the sizing right the first time!
Sizing
Akin's Wrench Motorcycle Pants are available in sizes XS-2XL. It is important to note that the fabric has zero stretch to it. A thorough size guide is available on the product page that will walk you through ordering the correct size.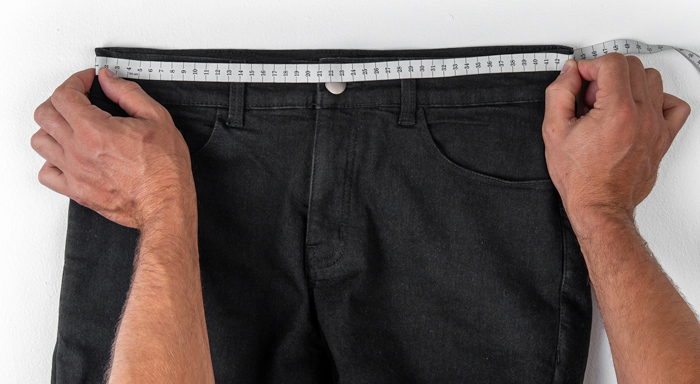 My waistband measurement came in at 42cm and 42.5cm on various pairs of pants. Akin's original recommendation was for a size small, however, I asked for a medium instead as I didn't want them to be tight. With the medium, the waist is a bit loose but isn't anything a strong leather belt cannot fix.
With that in mind, I would trust the recommendation of Akin Moto when it comes to sizing as they clearly know their product very well! For our readers who are unsure of your size, do not hesitate to reach out to Akin via their support email address.
Fit
What wasn't immediately apparent to me was how long the pants were. From XS-2XL the inner leg length varies from 82cm to 85cm. At 5'11", the pants fit long on me, which ended up being a good thing to my surprise.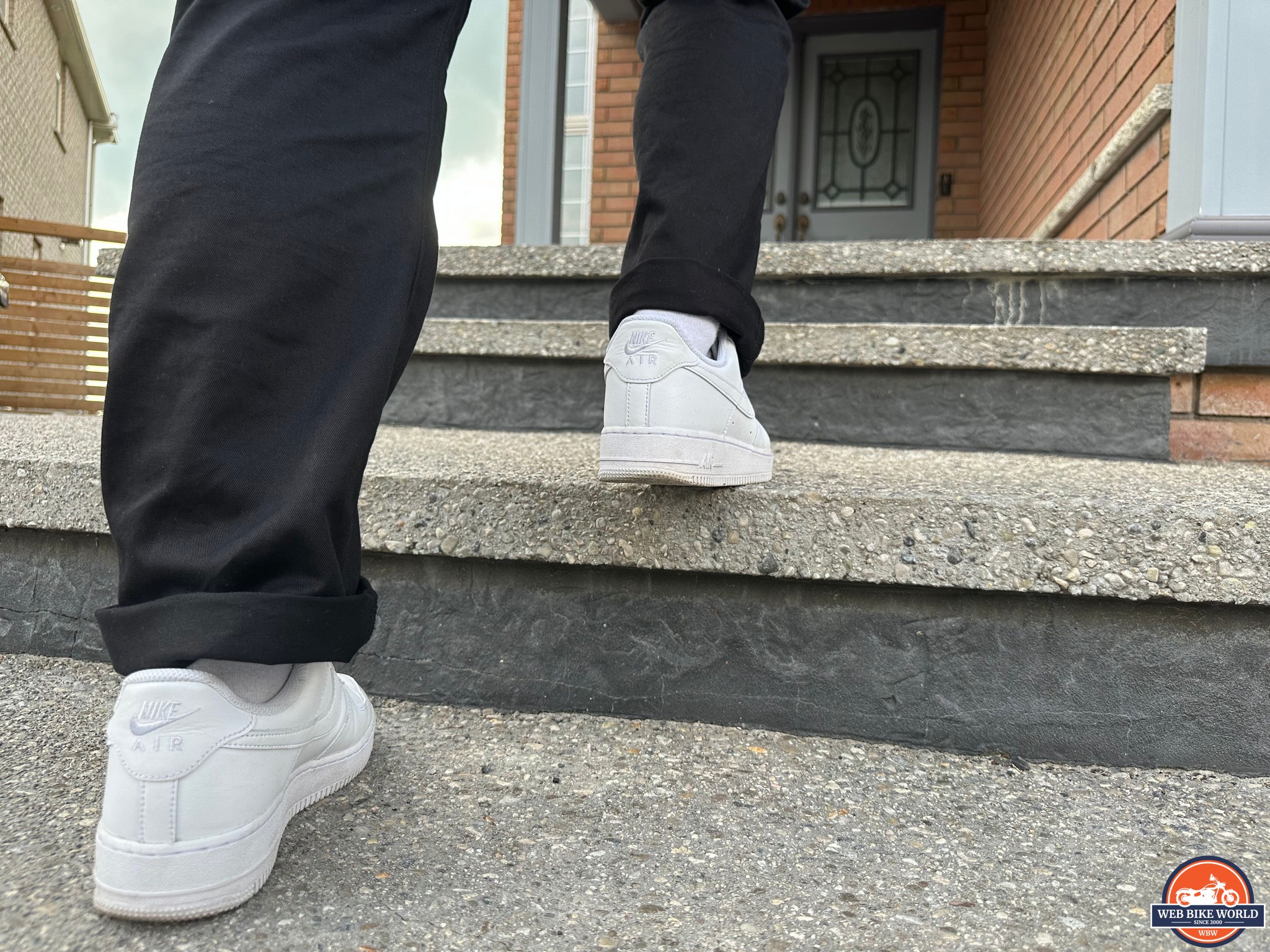 Standing straight, I had to cuff the pants to my preferred length to combat the excess material. However, once I got on my bike the additional pant length meant my entire leg & ankle remained covered. Anything shorter would've left parts of my leg exposed and unprotected. This was especially true when I inserted knee armor and got into riding position.
Sizing & Fitment Rating: 80%
I personally did not experience any issues in terms of sizing or fitment. With that being said, the Wrench is offered in a very limited amount of sizing that will likely not be suitable for some riders.
As previously stated, the inner leg length varies from 82cm to 85cm across 6 sizes. It is my belief that any rider shorter than me, say 5'9" and below, will find that the leg is too long to be practical. While you can certainly cuff it, it's likely that the knee armor pocket no longer sits where it should.
The same will hold true for riders that are extremely tall. In this situation, the leg will be too short without an option for longer legged pants.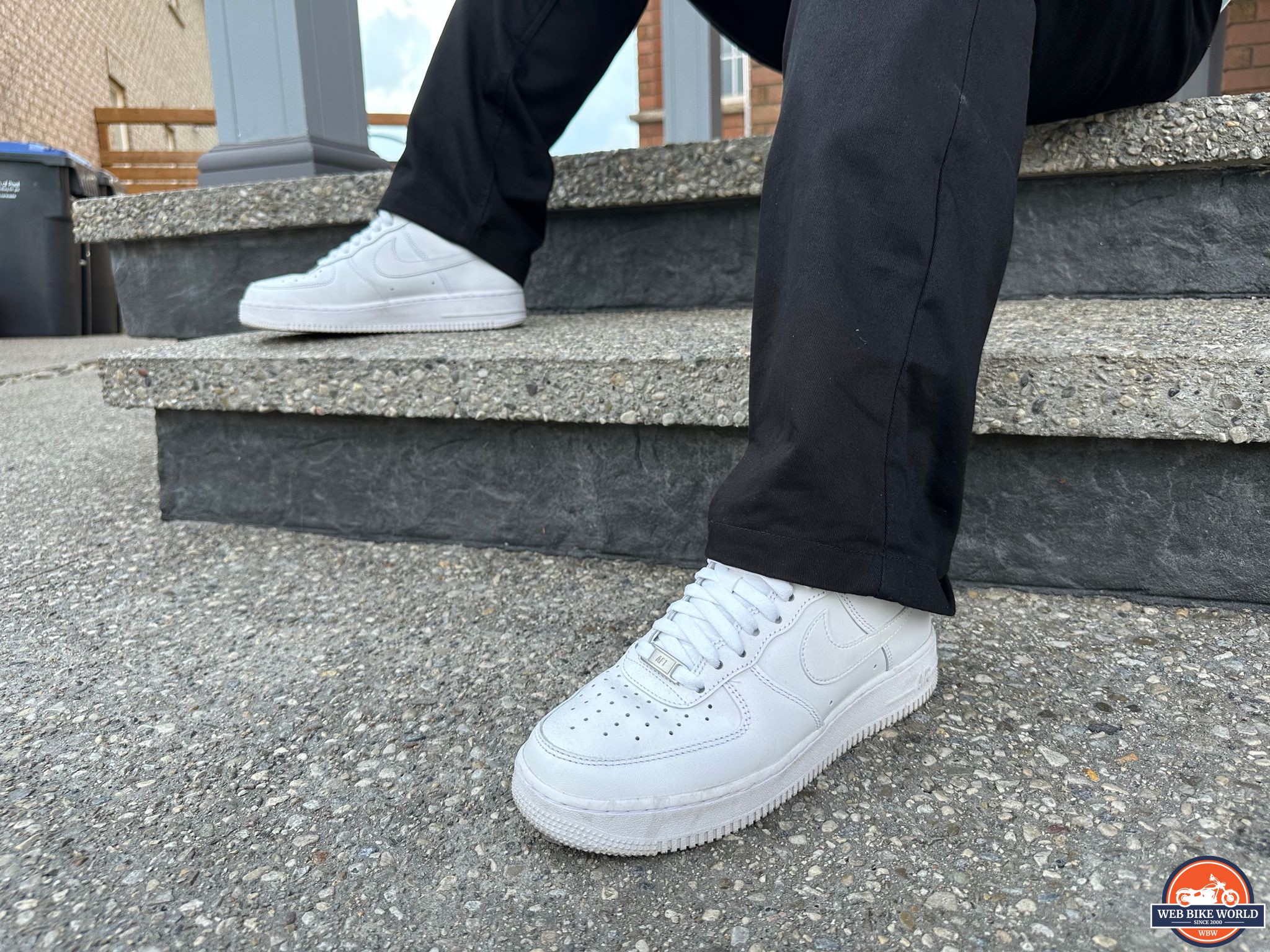 Let's keep in mind that the Wrench Motorcycle Pants are a new product drop by Akin Moto at the time of writing (July 2023). Hopefully in the future we will see further size variations, perhaps a regular & tall fit, that'll be more inclusive for shorter riders.
Comfort
I own many pairs of armored pants and I can promise you that the ones that aren't enjoyable to ride in are doing nothing but collecting dust. There's nothing worse than being itchy, hot and sweaty while riding because a piece of gear just isn't comfortable.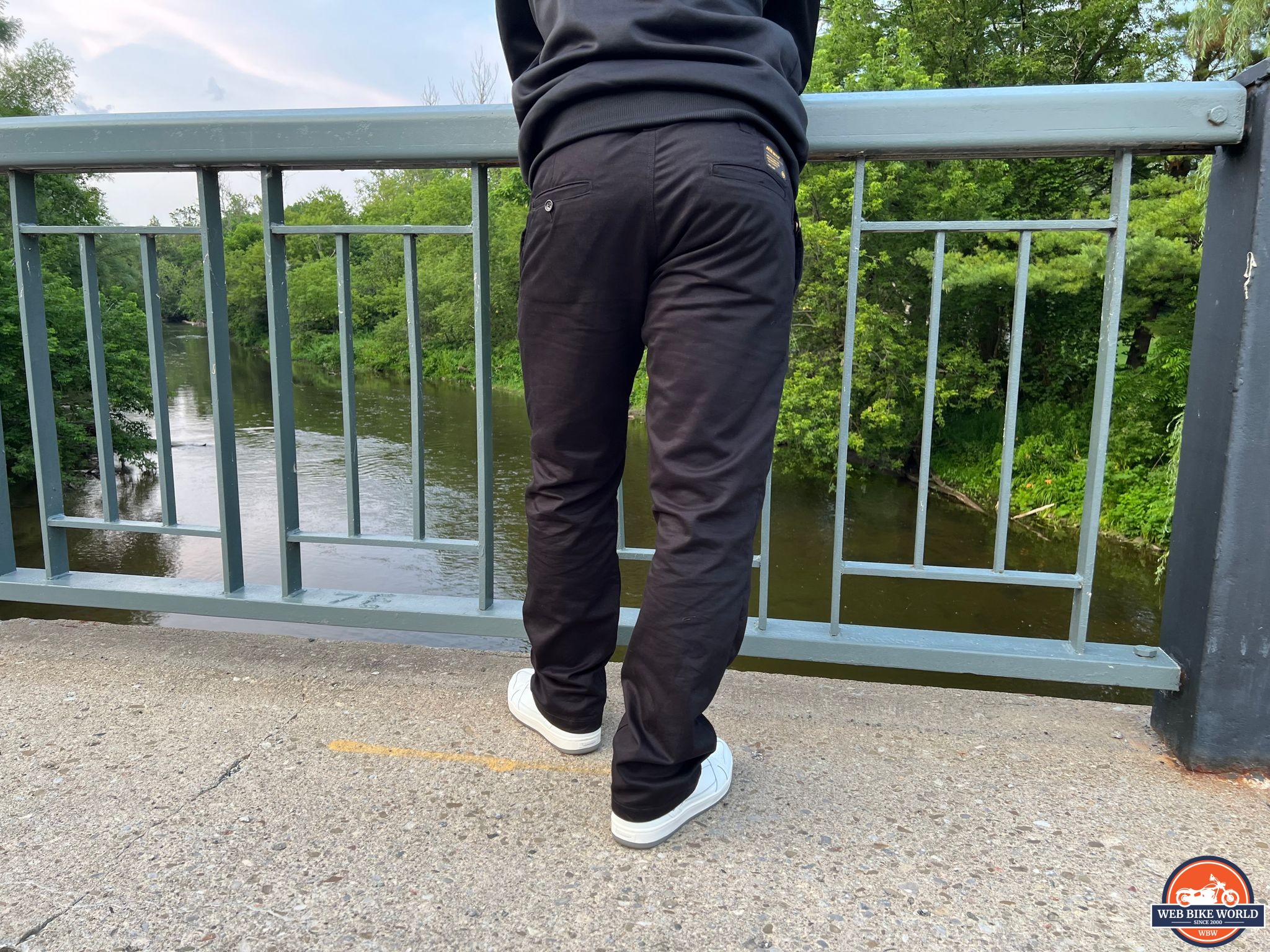 Comfortable & Cool
I'll be the first to admit – I didn't think I was going to like the Wrench Pants. As I mentioned before, the fitment is baggier than I typically wear and that threw me off. They're slim fitting around the thigh, and straight from the knee down.
As I continued to wear them, the baggy fit grew on me and I started to gain an appreciation for the lack of movement restriction. While some jeans can be tight in the groin, these pants were not. From the perspective of a cruiser rider, I didn't feel any discomfort while in a riding position.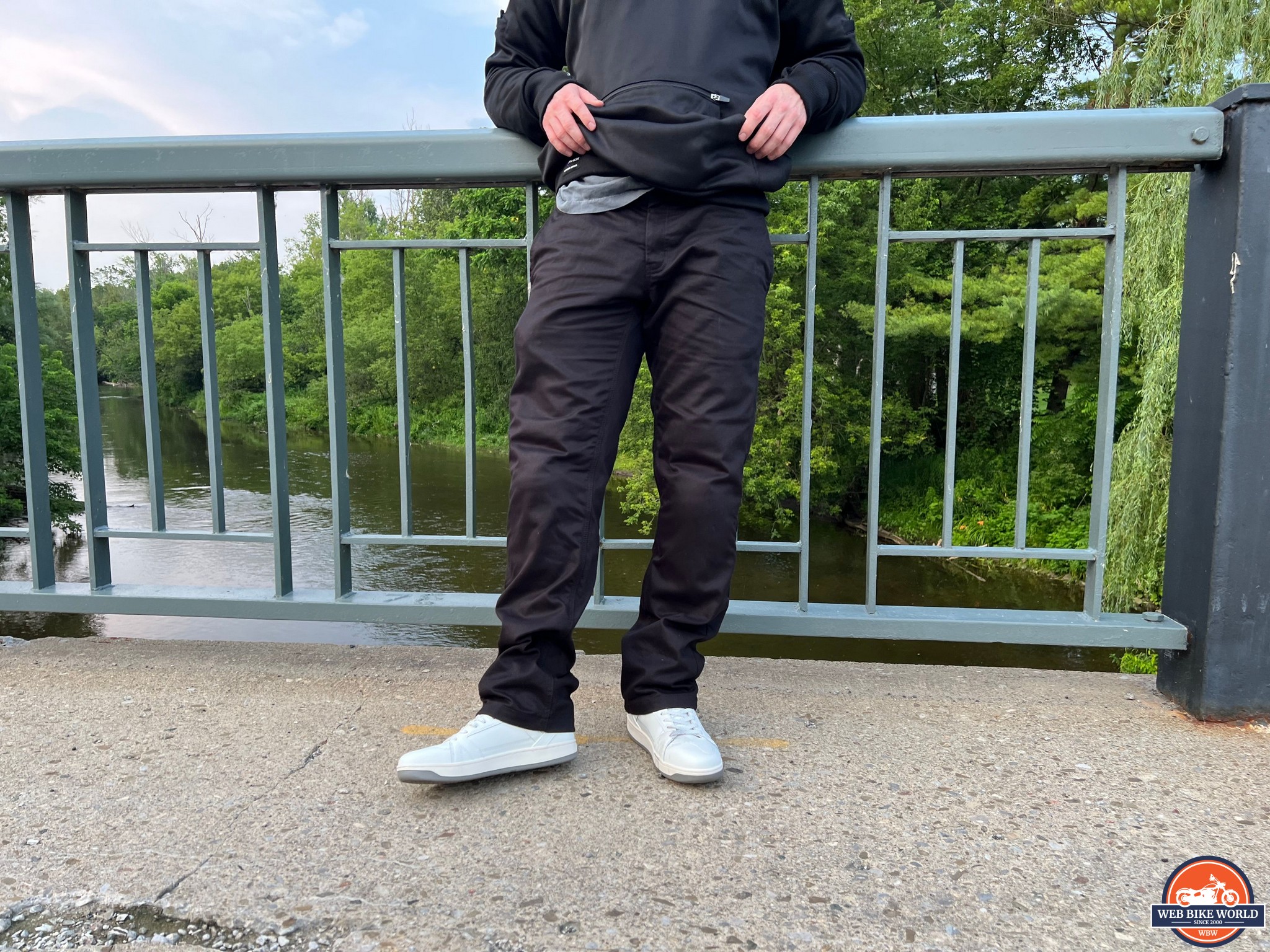 What's more? I've worn jeans that run hotter. I found these pants to be a good option for days that would typically leave me drenched in sweat. This came as a huge surprise to me as my initial thought was that black pants in the sun was going to be unbearable.
The Wrench Pants truly grew on me over the last few months. I went from wearing them for the review, to instinctively grabbing them each time I geared up to ride because I wanted to. They quickly became my go-to pair of riding pants.
Comfort Rating – 85%
I was pleasantly surprised by the Wrench Motorcycle Pants. They are comfortable to ride in and don't run hot. The baggy fit makes it easy to forget you've got armor in and allows for a wide range of mobility.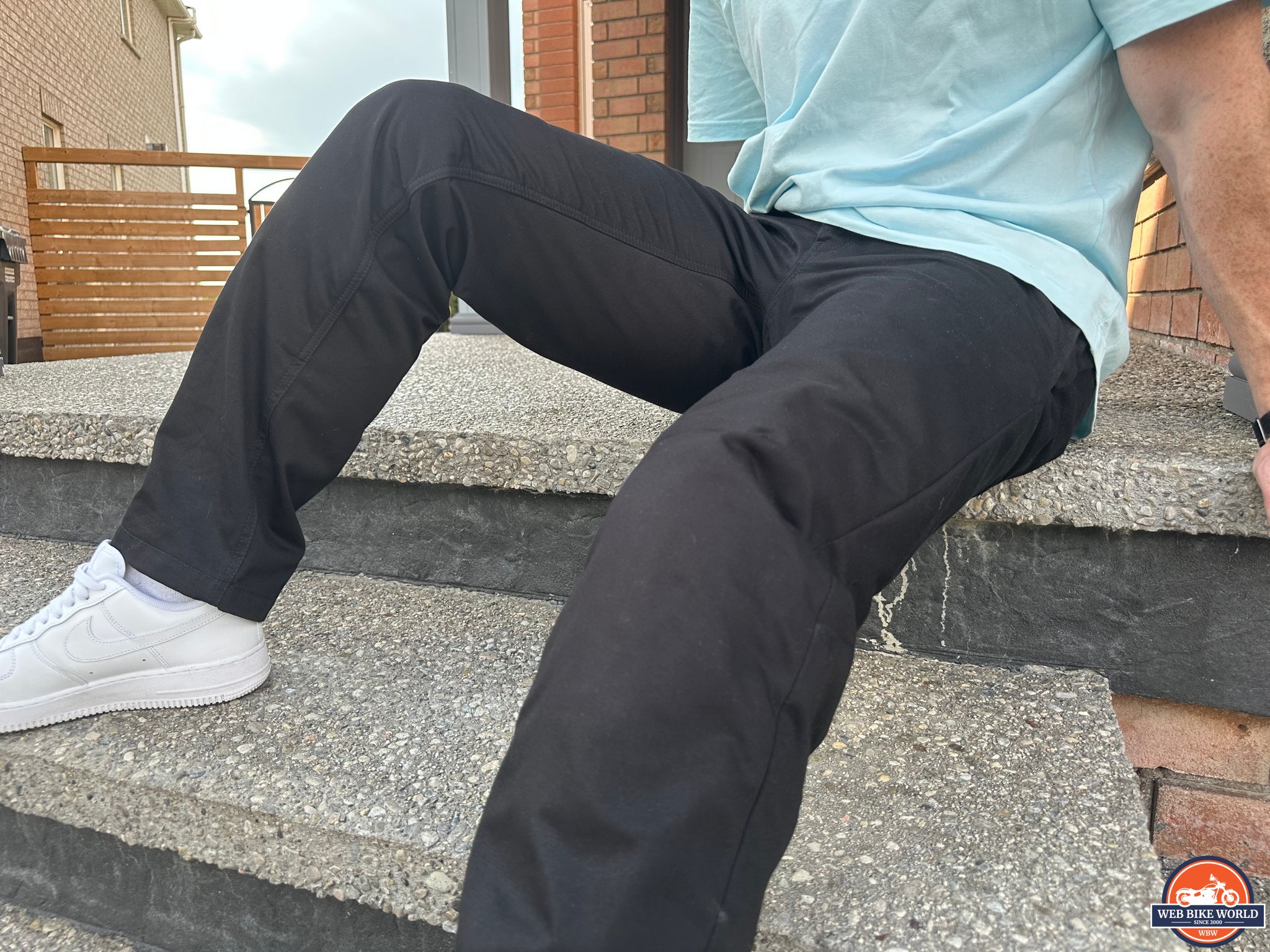 Unfortunately, shorter and taller riders may not have the same experience as I. Because of the oversized length, you'd likely need to be over 6'4" before having to worry about the pant length. At that height, I'd imagine you have difficulty finding clothes in general, let alone riding gear. For shorter riders, excess material will bunch up and cause discomfort when walking and/or riding.
Safety
Features and fit are fun to talk about but safety is what really matters. As riders, we aren't going to be willing to fork over hundreds of dollars for gear if it isn't going to protect us any better than a pair of old jeans. Luckily for you, the Wrench Motorcycle Pants were designed to keep you safe in terms of both impact protection and abrasion resistance.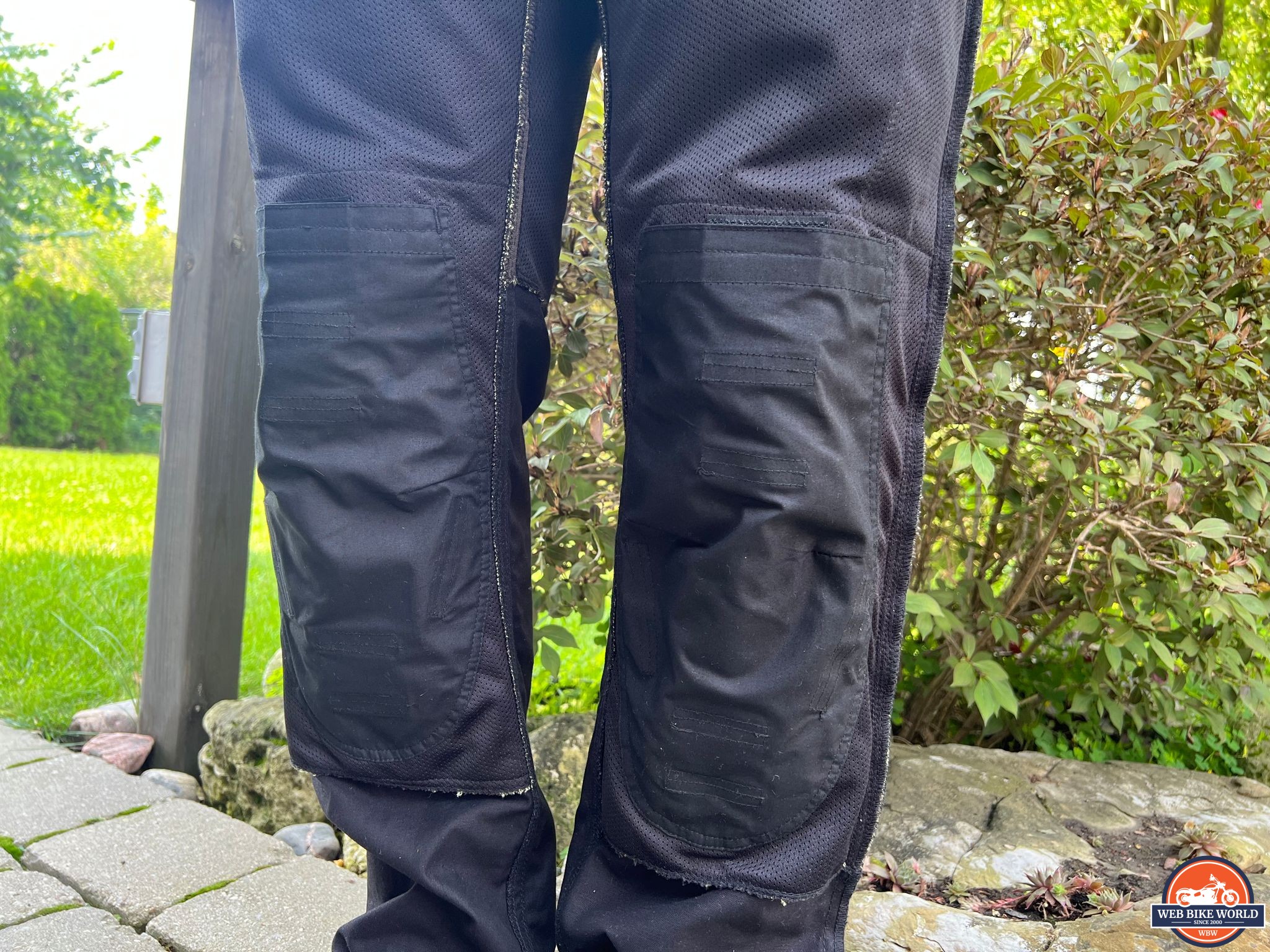 Impact Protection
Pockets are affixed in place by a double stitch on both the hips and knees for protective armor. While armor is not included in your purchase, the pockets were fairly universal as I didn't have any issues installing two different styled sets that I own.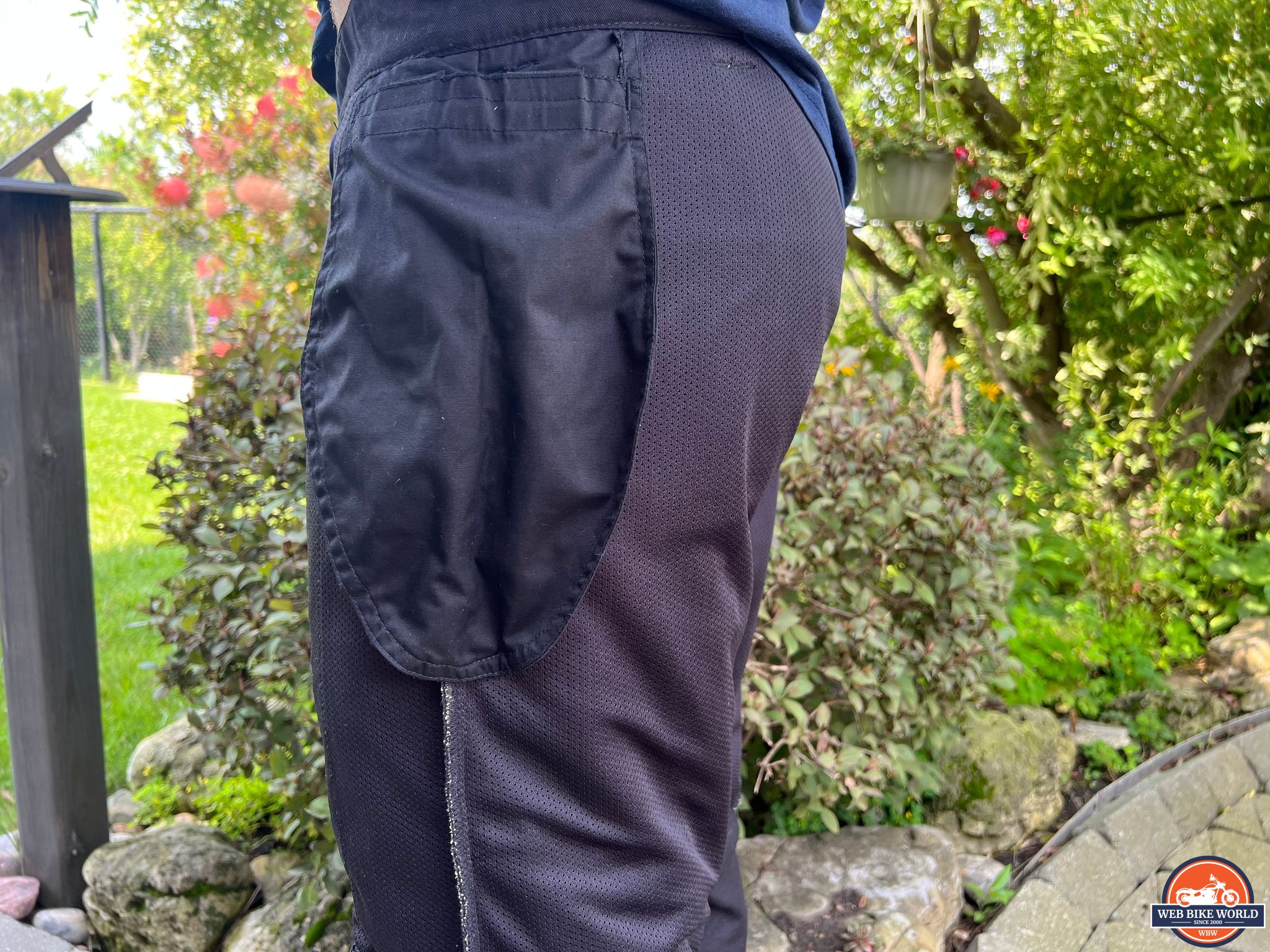 The knee pockets allow you to adjust the height of the armor through a series of velcro closures. I found the 3 closures on the top and 2 on the bottom tricky to work with, but once the armor was in place it felt secure and was exactly where I needed it. This was a huge plus for me.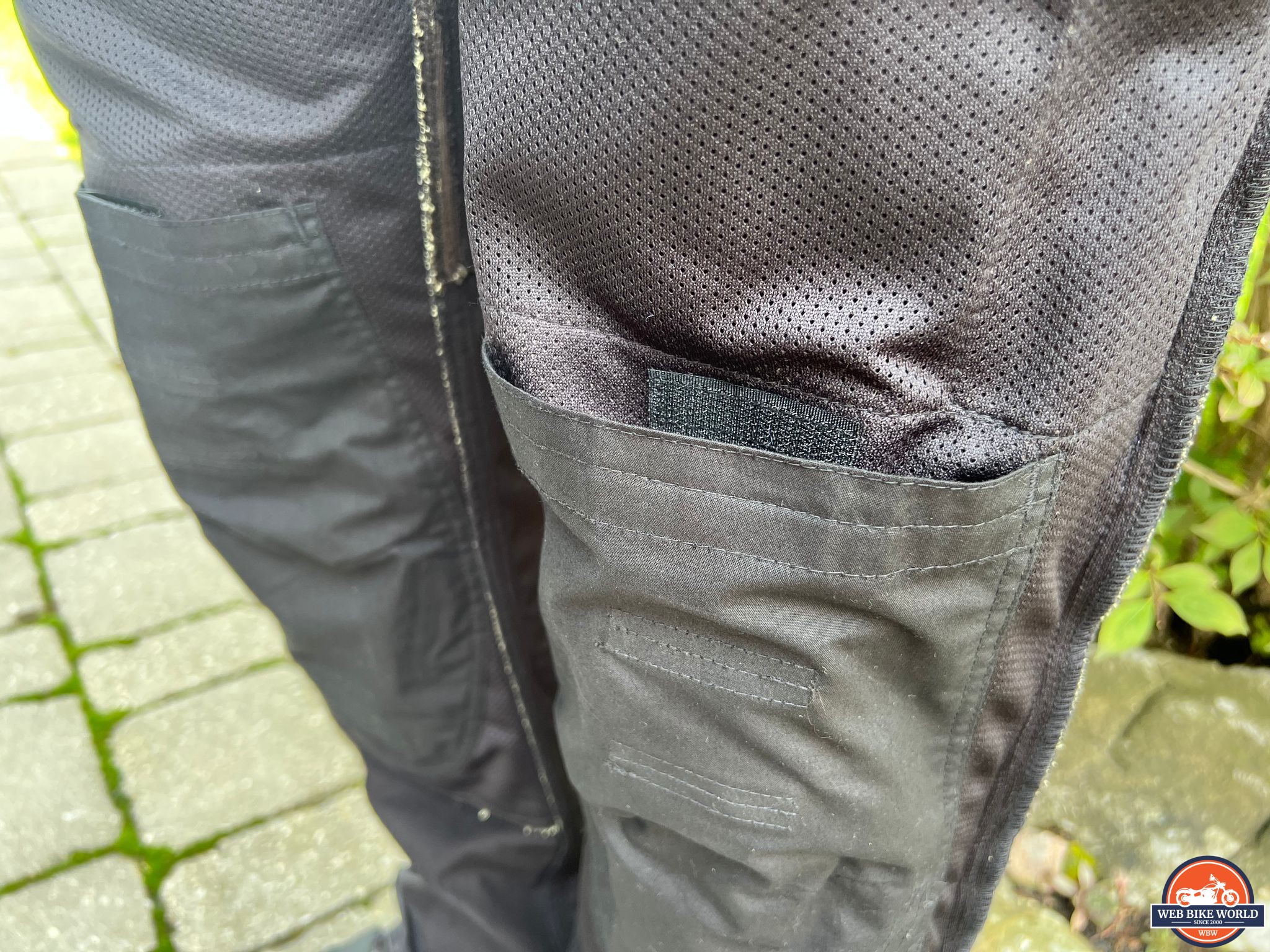 If you're in the market for armor, be sure to check out our latest reviews on Motorcycle Armor, Base Layers and Underwear.
Abrasion Resistance
As I briefly touched upon above, the Wrench Motorcycle Pants are lined with genuine DuPont Kevlar fabric complete with COOLMAX comfort technology. This technology supposedly allows the passage of heat in and out of the fabric, along with some key moisture wicking properties.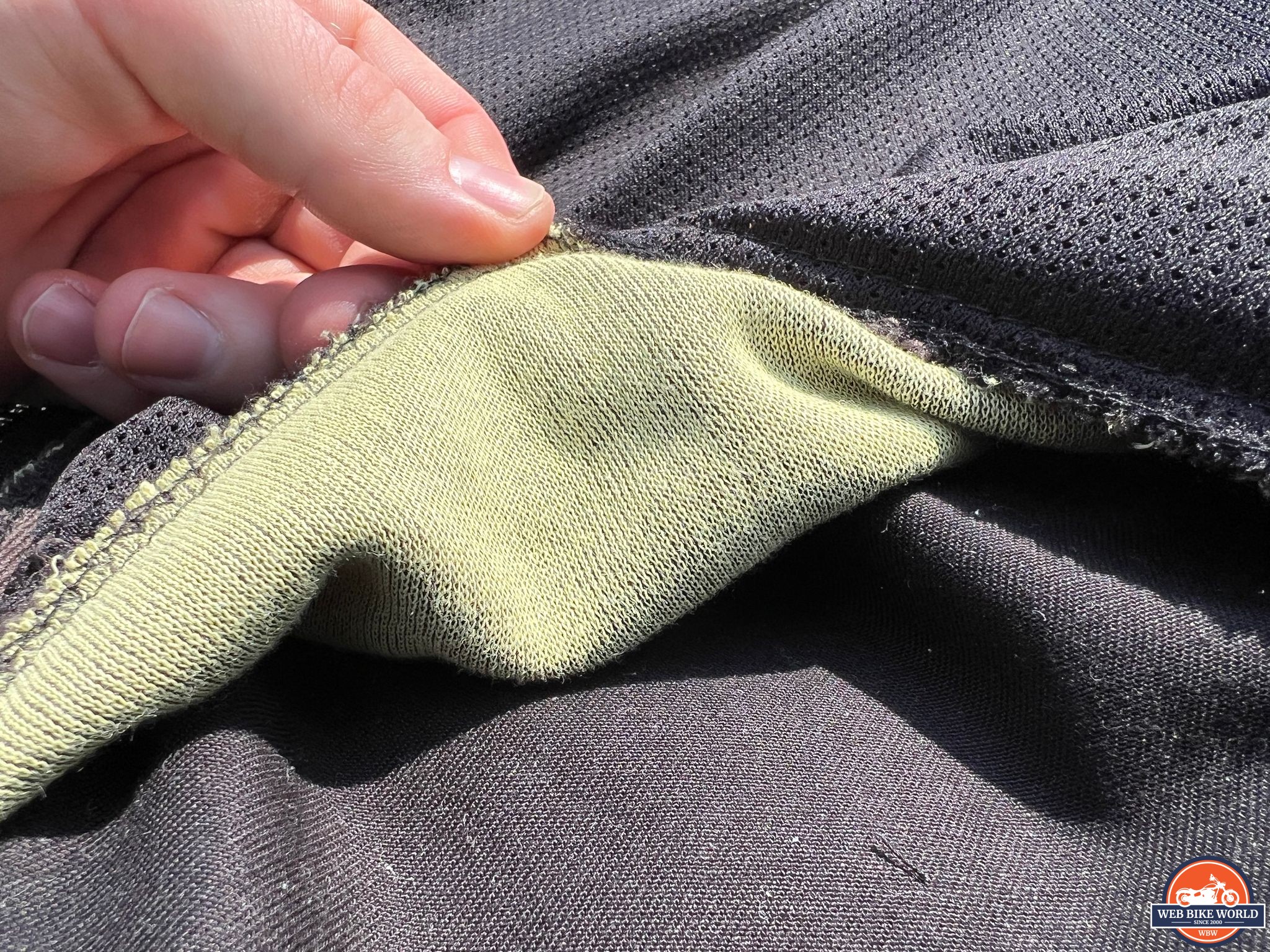 The Kevlar lining looks like a pair of shorts sewn into the pants as it entirely covers the front and back of the rider, down to about the knee or so. At the knee, the kevlar lining extends behind the knee armor pouch on the front side only. The backside of the pants does not have any further lining below the knee.
We often see DuPont Kevlar used as abrasion resistance when the gear is not made out of leather. The lining can be identified inside the pants by its distinctive yellow color. It can be seen all throughout the interior stitch on the inside of the Wrench Pants.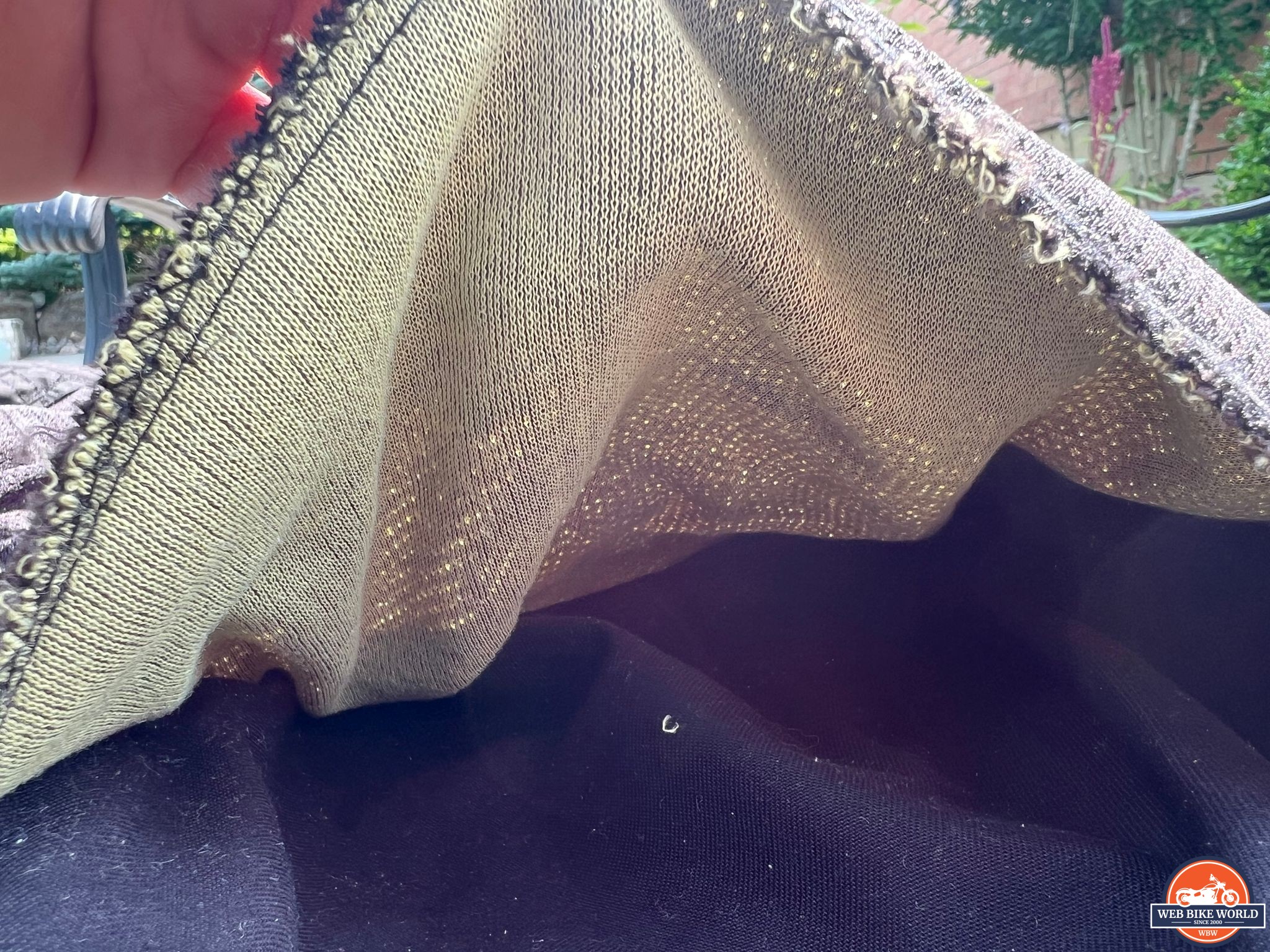 When it comes to abrasion resistance, leather gear is king. For those who are looking for complete abrasion resistance, we've compiled a list of the Best Leather Motorcycle Pants for 2023.
Safety Rating – 80%
I gave the Wrench Motorcycle Pants a higher safety score than I usually would for non-leather gear. We know that leather offers the best protection against abrasion, and as such textile gear simply cannot receive a perfect score.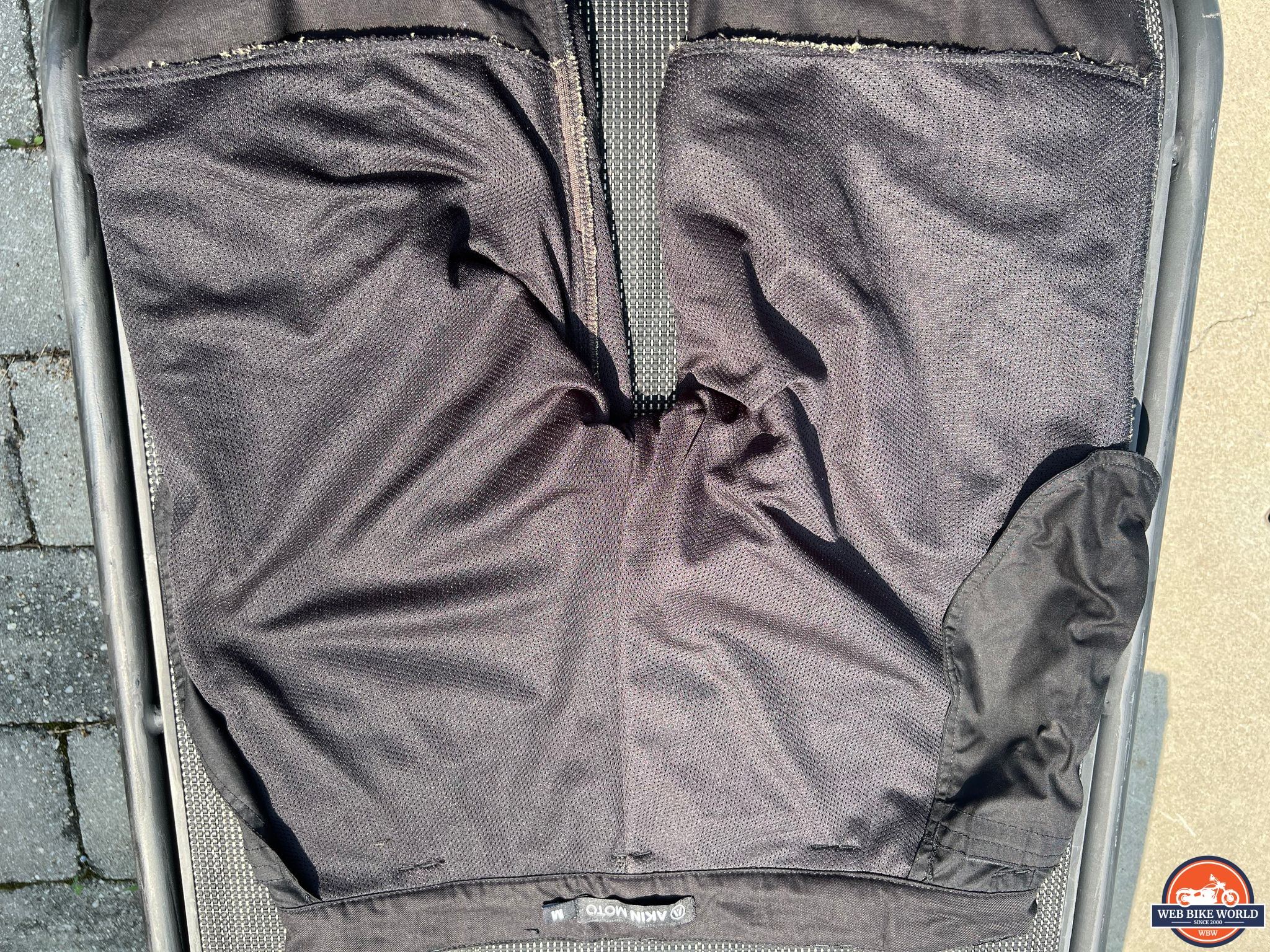 However, the Kevlar lining covered more than the typical high impact areas only. In the case of pants, those areas would be the butt, hips and knees. With the Wrench Pants, you're covered front to back all the way down to the knee, and beyond in the front.
The only downside to the Wrench Motorcycle Pants was that armor is not included in your purchase. This had a slight negative impact on the final safety rating. With that being said, Akin Moto clearly did not cut any corners in terms of safety, and the price point of the pants is more than fair to not include armor.
Final Verdict
I've said it before and I will say it again; these pants grew on me. I've enjoyed my time riding in the Wrench Motorcycle Pants and plan to continue doing so when possible.
The Wrench Pants are very well built and leave me with no concerns in terms of quality. The pants are almost indistinguishable from your everyday pair of work pants. Although the armor is not included, I was impressed with the extensive Kevlar lining.
In the future, I hope to see Akin Moto consider my feedback and revisit the design of the front pockets. A nice solution to keeping the same style while adding a sense of security would be zip-up pockets. I'd also love to see more options in terms of size for our shorter/taller riders.
All in all, I believe that Akin has developed a great pair of entry-level riding pants. If you're in the market for durable, good looking and comfortable textile pants, the Wrench Motorcycle Pants should be one of your top contenders.
Pros
High quality build with no signs of cut corners
Kevlar lining that covers more than the typical "high impact areas"
Adjustable height knee armor pockets
Comfortable lining with improved airflow and COOLMAX technology
Small brand that emphasizes on customer service
Cons
Only available in black at the time of writing (Aug. 2023)
Oversized leg length may be a deterrent for shorter riders
Armor is not included in your purchase
Specifications
Manufacturer: Akin Moto
Price: $166.55 USD
Colors: Black
Sizes Available: XS-2XL
Review Period: June – July 2023
Where to Buy