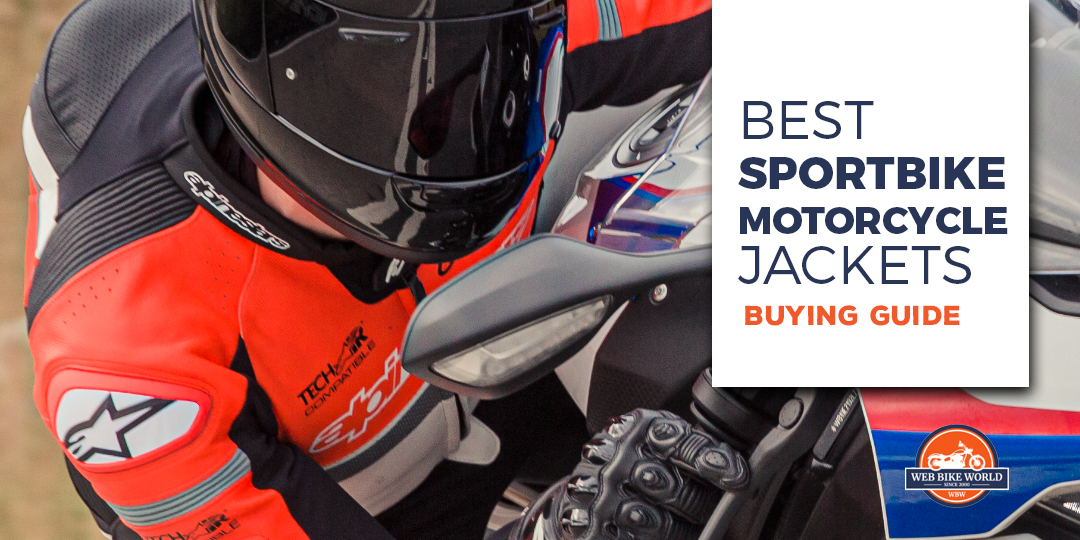 About Our Sportbike Jackets Recommendations
Founded in 2000, our team at wBW has collectively tested more than 2,500 helmets, jackets, boots, gloves, accessories, and more. We do not fluff reviews. A riders safety is heavily dictated by how they ride and what they wear while doing so. Our goal is to help riders make informed decisions about the gear they invest in to protect themselves.
wBW is funded by our audience. Our recommendations and reviews may contain affiliate links that earn us a small comission if you make a purchase after clicking them. This is the primary way we fund our website and pay our review team (and comes at no additional cost to you). We disclose our relationship with brands or manufacturers for transparency. For more information about our extensive review process, see our review policies.
Best Entry-Level Sportbike Motorcycle Jackets
Priced under $300.
Speed And Strength Moment Of Truth Jacket
Price: $200
Where to Buy: RevZilla | Amazon | J&P Cycles
Why?
In my best Jack Nicholson voice "You can't handle the Truth!" Wrap yourself in the Speed and Strength Moment of Truth Jacket and then I am sure you could.
The Moment of Truth jacket delivers great abrasion resistance from a mix of AR600 and AR400 fibers. The shoulders and elbows have CE level 2 protection and the back protector is a CE Level 1. Expect 3 season rideability with the Speed zip controlled ventilation and two zippered hand warming pockets that will keep your digits toasty.
All this for $200 is definitely a truth you can handle.
Key Specs
• Combined AR600 textile and AR400 super stretch-fit frame
• 2 zippered hand warmer pockets.
• Internal stash pocket
• Speed Zip controlled ventilation
• Lockdown waist adjusters
• Molded Strong Arm sleeve adjusters
• Belt loops for pant attachment
• YKK main zipper opening
• Microfiber-lined collar and cuffs
• Reflective trim
• Face shield pocket
Protection & Safety
• Removable Vault CE Level 2 approved shoulder and elbow protectors
• Removable Vault CE Level 1 approved back protector
REV'IT! Eclipse Jacket
Price: $179
Where to Buy: RevZilla | J&P Cycles
Why?
The name of the game with the REV'IT Eclipse is comfort and lightness. The Eclipse is a lightweight and stylish sports jacket with CE level 1 armor in the shoulders and elbows. You can add in a CE level 2 back protector (sold separately). This mesh jacket is ideal for hot summer riding, less so for early spring or late fall riding.
REV'IT avoids unnecessary complexity, focusing instead on strong fundamentals. The result is a basic, but not cheap, mesh riding jacket.
Key Specs
• Polyester 600D mesh outer shell
• Available in five colors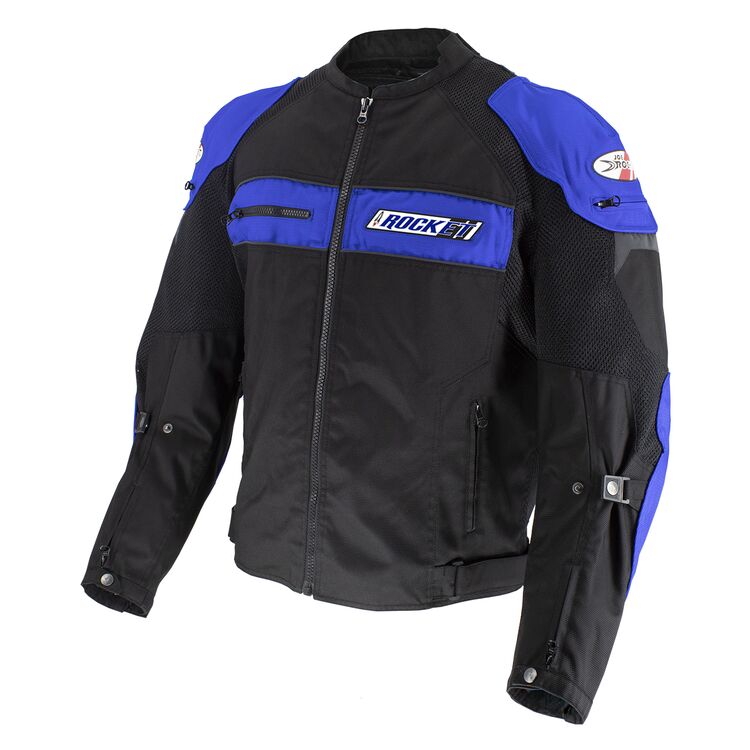 Joe Rocket Dayride Jacket
Price: $244.99
Where to Buy: RevZilla | Amazon
Why?
Simple and straightforward, the Dayride from Joe Rocket keeps you cool and safe. The hybrid outer shell is set up for maximum impact resistance and great airflow with a combination of Hitena, Rock Tex 600, and Free Air Mesh right where it should be.
Removable back armor and an 8" rear zipper for mating with riding pants allow you to fine-tune your kit based on the needs of your next ride.
Key Specs
• Combined Hitena, Rock Tex 600, and Free Air mesh hybrid outer shell
• Full Flex system
• YKK zippers throughout
• Sure Fit™ 6-point custom adjustment system
• Snap loops for attaching jacket to belt
• 8" rear zipper for pant attachment
• Removable insulated vest liner
• Reflective sleeve panels & back stripe
Protection & Safety
• Externally accessible CE approved armor in shoulders and elbows
• Removable spine armor
• Well placed reflective material make sure you are as visible as possible to the cagers on the road.
Best Mid-Range Sportbike Motorcycle Jackets
Priced $300 - $500.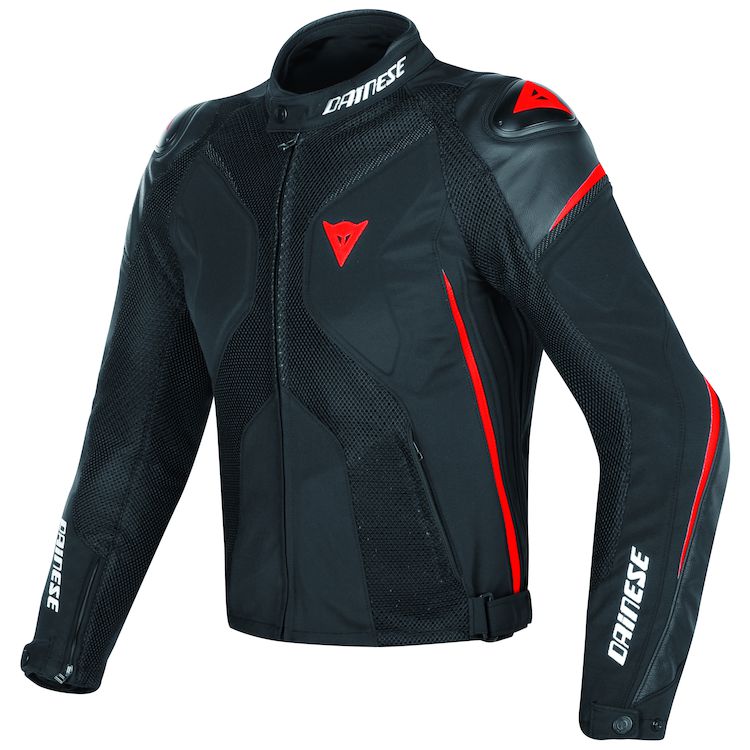 Dainese Super Rider D-Dry
Price: $499
Where to Buy: RevZilla | Amazon
Why?
Three-season rideability is a big deal for most riders. Unless you live along the equator, you're going to face temperatures that vary wildly. Your gear should keep you comfortable and safe. The Dainese Super Rider D-Dry jacket is a great three-season option, with a textile shell that features leather inserts. It's water-resistant and comes equipped with a removable thermal liner. And, of course, it looks badass too. What's not to love?
Key Specs
• Removable composite protectors certified to EN 1621.1 standard
• Aluminum inserts on the shoulders
• Removable light thermal liner with breathable waterproof D-Dry membrane
• Mugello fabric – think of it as space-age stretch material that is oil and water repellent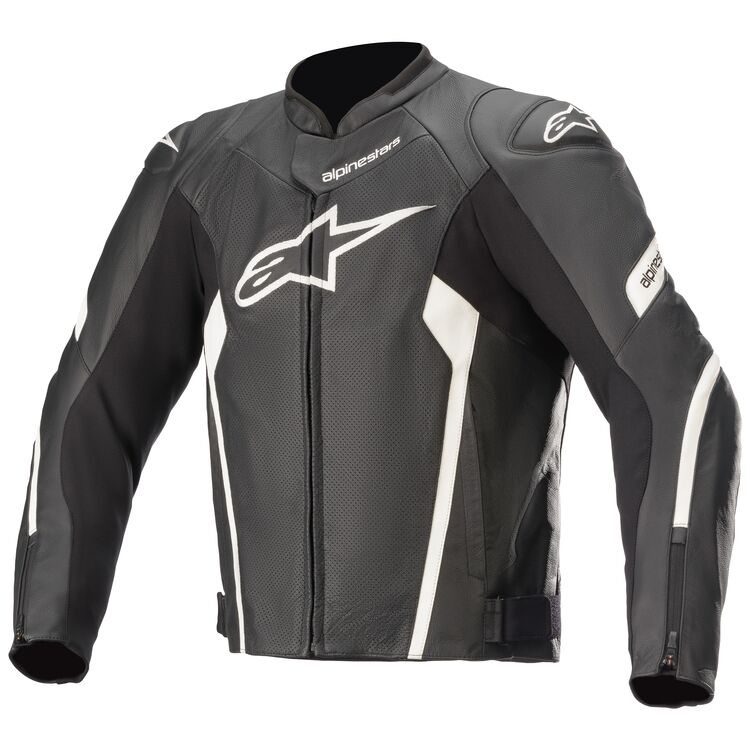 Alpinestars GP Plus R V3 Airflow
Price: $499
Where to Buy: RevZilla | Amazon | J&P Cycles
Why?
The GP Plus R v3 Airflow jacket is designed from the outset to be your preferred warm and hot weather sport jacket. Perforated 1.3mm cowhide allows for impressive ventilation, while stretch fabric and accordion zones allow for ultimate comfort while either upright or in a race tuck.
Nucleon Flex Plus (CE level I rated) armor is at the shoulders and elbows, and it's so light and flexible it doesn't feel like there's armor there at all. But rest assured, the armor is there and it's some of the best that Alpinestars has ever made.
Key Specs
• Premium 1.3mm bovine leather construction
• Localized perforations for improved ventilation
• High Resistant Stretch Fabric (HRSF) strategically positioned for comfort
• Included Nucleon Flex Plus CE Level 1 armor on shoulder and elbow
• Pockets for optional Nucleon KR-Ci chest and back protectors (sold separately)
• Accordion leather stretch panels on back and shoulder
• HRSF polyamide stretch material on sleeves for an optimized fit mobility
• Waist adjustment
• Low profile collar with soft edging and 3D mesh liner
• Two zippered hand pockets and two inner pockets
• Inner waterproof document pocket
• Zippered ventilation for improved airflow
• Reflective inserts
• Meets CE Category II PPE Regulation (EU) 2016/425 – AA class for protective riding garments
Protection & Safety
• CE Cat II PPE AA certification means that this jacket is only one step below international race-grade certification, and is track approved for North America
• Nucleon Flex Armor is super lightweight as well as able to take enormous impacts and distribute that force effectively
• Chest and back protector pockets allow for you to bring this jacket to full race spec with optional armor
• 1.3mm cowhide is highly abrasion resistant and can survive slides from high speeds.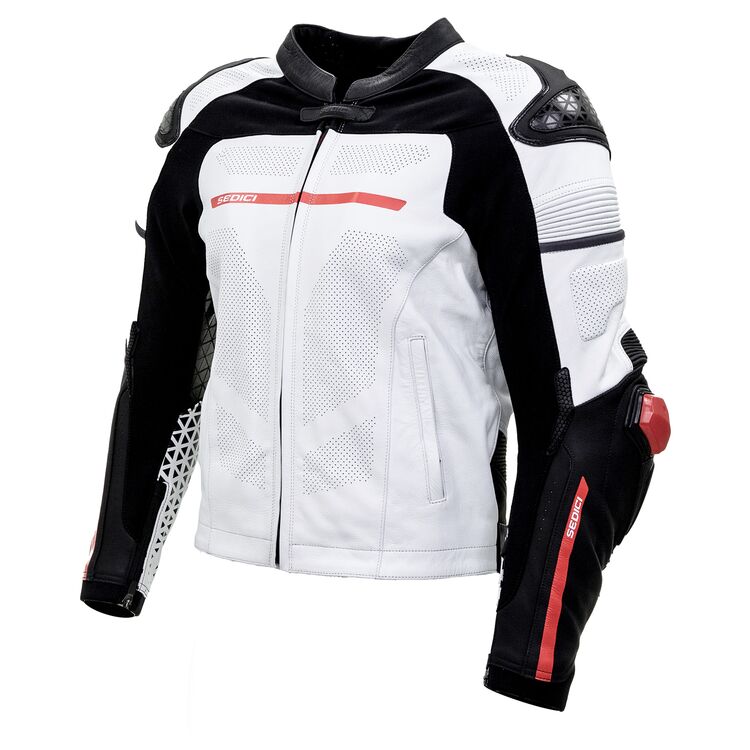 Sedici Corsa Perforated Leather Jacket
Price: $300
Where to Buy: RevZilla | J&P Cycles
Why?
The Corsa Perforated Leather jacket from Sedici brings the combination of street and race track closer together than ever before. On the street, you have 1.1 to 1.3 mm thick race-grade cowhide leather, perforated at high heat zones to allow airflow to keep you cool.
For the track, you have removable PU elbow sliders, aramid fiber reinforcement for the elbows and forearms, CE level II armor at the elbow and shoulders, and space for a back protector provided. For both, you have a moisture-wicking mesh liner, tapered wrists to fit inside gauntlet gloves, and all zippers are the highest quality YKK. For $300, you really can't do much better!
Key Specs
• 1.1mm-1.3mm race-grade cowhide construction
• Double and triple safety stitching with an aggressive sport fit
• Localized perforation at shoulders chest, torso, and back for maximum airflow
• Aramid reinforcement at forearms and elbows
• Neoprene and Amara suede inner collar for comfort
• Pro racing-derived printed logos and graphics keep weight to a minimum and keeps leather flexible
• CE level 2 certified armor at elbow and shoulders
• Pocket to add CE back protector (sold separately)
• Moisture-wicking anti-microbial mesh liner with 3D air mesh panels
• Vented ergonomic shoulder protector with leather insert
• Reinforced 4-way stretch inserts at arms and chest
• 2-piece ergonomic TPU elbow protector with replaceable low friction polyurethane slider
• Tapered neoprene wrist cuff with auto-locking YKK zipper
• Elasticated leather stretch panels at the shoulders, upper arms, and elbows to reduce fatigue
• Short and full connection zipper to attach to leather riding pant to form 2-piece suit
• Dual adjusters at hips
• Reflective details
• YKK zippers used throughout
Protection & Safety
• Race grade cowhide is designed to survive slides at speeds over 160 MPH
• Removable PU pucks on the elbows give you both track day slide protection, and everyday comfort when removed
• CE Level II armor for elbows and shoulders
• Aramid (Kevlar) reinforced lining for forearms and elbows, the most likely slide and tumble zones for the upper body on a track
Best High-End Sportbike Motorcycle Jackets
Priced over $500.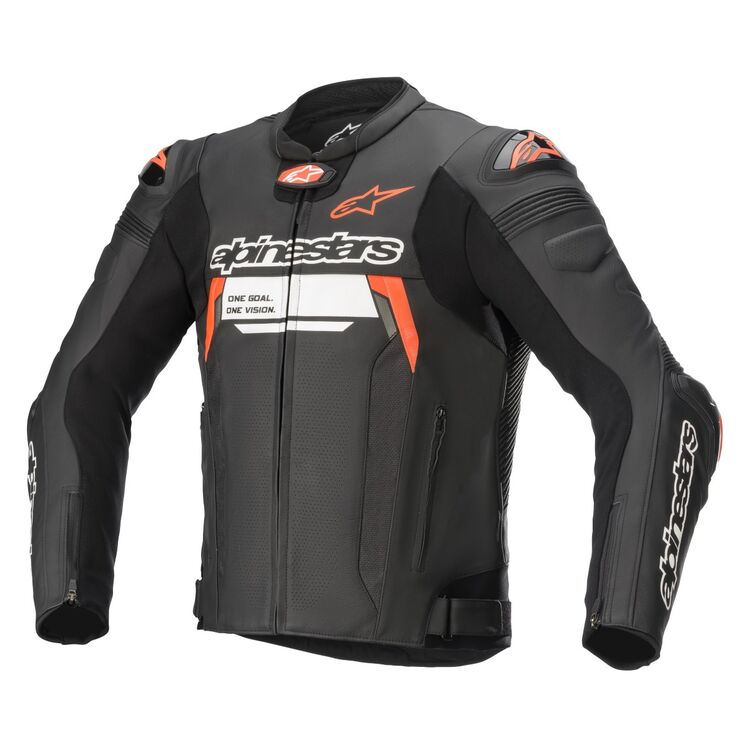 Alpinestars Missile V2 Ignition Leather Jacket
Price: $650
Where to Buy: RevZilla | Amazon | J&P Cycles
Why?
Packed full of the latest tech from Alpinestars, the Missle V2 features the newly developed level 2 Nucleon Flex Pro armor. This jacket fits like a second skin and moves beautifully with the rider and is Tech-Air® ready and can accommodate the new Tech-Air® 5 Airbag System.
Performance, protection, and style an excellent offering from Alpinestars.
Key Specs
• DFS armor delivers optimal resistance against impacts and abrasion, and offers exceptional friction control.
• HRSF stretch inserts for optimal abrasion resistance while ensuring enhanced freedom of movement.
• Dedicated 'Ignition' graphic for a striking racing-inspired aesthetic.
• Sport fit – highly pre-curved body and arms for enhanced performance.
• Premium bovine leather for superior abrasion resistance.
• Chest compartments can accommodate the Nucleon chest inserts (available as an accessory upgrade).
• Back compartment can accommodate the Nucleon back inserts (available as an accessory upgrade).
• Snap connection system allows integration of the CE-certified Nucleon Race Back protector.
Protection & Safety
• Protective and comfortable Nucleon Flex Pro armor is highly flexible and breathable and has a thin profile for optimum rider comfort.
• According to European statutory law, the CE mark is a conformity requirement for the marketing of this product.
• Fully CE-certified riding garment to CE – Category II prEN17092 standards – AAA class.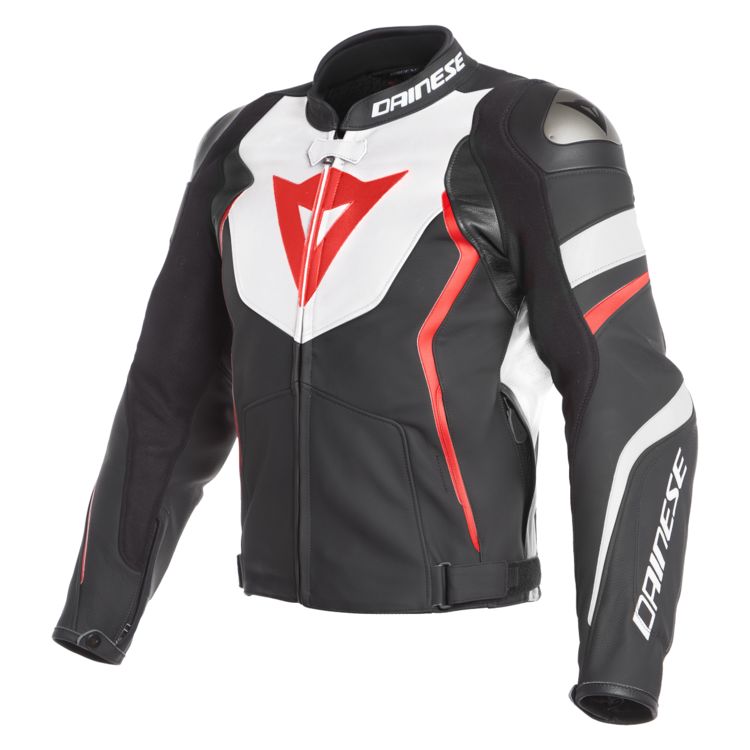 Dainese Avro 4
Price: $680
Where to Buy: RevZilla
Why?
Replacing the Avro D1, the Avro 4 is an aggressive race jacket. Removable aluminum composite shoulder armor, composite armor in the elbows, and premium Tutu cowhide leather.
The Avro 4 also has a removable thermal liner, making this race-centric jacket surprisingly functional in cooler riding. This is a serious leather sportbike jacket that offers top-end features and function to its wearer.
Key Specs
• Composite protectors certified to EN 1621.1 standard on elbows
• Pocket for optional G1 or G2 back protector (sold separately)
• Removable composite protectors certified to EN 1621.1 Standard on shoulders
• Thermoformed shoulders with interchangeable aluminum plates
• S1 bi-elastic fabric
• Tutu cowhide leather
• Removable thermal liner that can be used separately
• Reflective inserts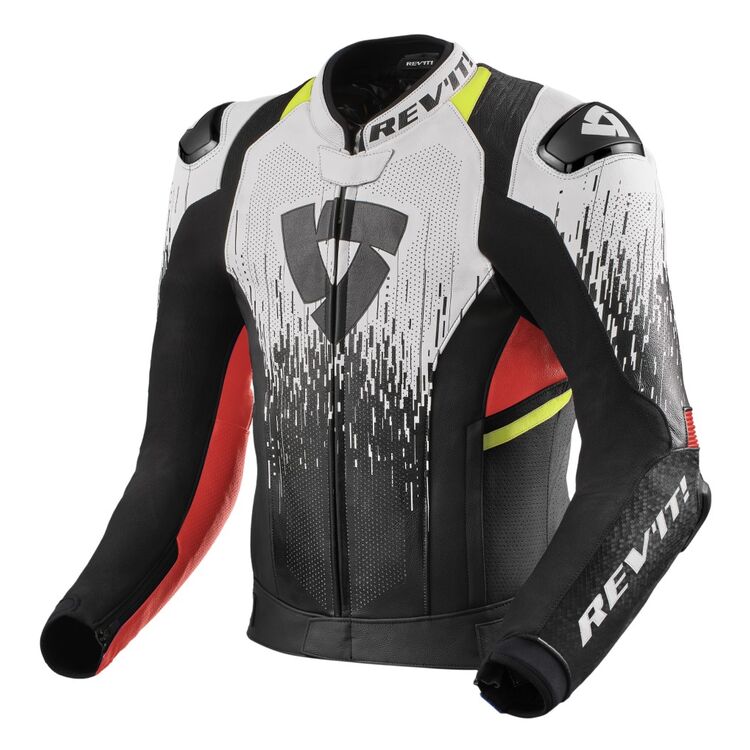 REV'IT! Quantum 2 Pro Air Jacket
Price: $749.99
Where to Buy: RevZilla | J&P Cycles
Why?
Loud, proud, and loaded with aggressive MotoGP energy, the Rev'it Quantum 2 Pro Air performs even better than it looks.
Behind the colorful graphics and aggressive design, one of the most striking features is the new PWR|Fuse air mesh technology. This fabric construction provides ample airflow and has been applied to the top panel of the speedhump, going all the way over the shoulder. It's like you're wrapped in a blanket of air.
SEEFLEX™ CE-level 2 elbow, shoulder and back protectors easily surpass the new norm without sacrificing wearer comfort.
Key Specs
• Fit: race fit | tight
• Adjustability: adjustment strap
• Ventilation: ventilation panels | partly perforated outer shell
• Features: comfort cuffs | jeans loop | short and long connection zipper | comfort collar | speed hump | stretch fabric | stretch lips
• Pockets: inner pockets | slit pocket
Protection & Safety
• SEEFLEX™ Level 2 CE protection
• Dual compound protective parts at shoulders
• Safety seams
• TPU protection at shoulder
• Prepared for Divided Chest Protector SEESOFT™ CE-level 1 (sold separately)
• Prepared for SEESOFT™ CE-level 2 back protector insert – Type RV (sold separately)
• Type RV / Size 03 fits 46-48
• Type RV / Size 04 fits 50-54
• Type RV / Size 05 fits 56-58
• Visibility: laminated reflection | laminated reflective logo
What To Look For In A Sportbike Jacket
Sportbike jackets are made for corner-carving, canyon-careening, fast turns, and aggressive riding. They are formed to a riding position that is ideal when leaning over the tank of your machine. They are going to be down on functionality – pockets/storage, etc. – but up on protection and style.
As With Any Jacket, Look For
Material – Cowhide. Buffalo. Goatskin. Mesh. Textile. There are a lot of types of leather, each with their own perks and quirks in terms of look and feel, and the same is true for textile fabrics. While leather is generally accepted to have the best abrasion resistance, textile jackets often have more utility and comfort options – pockets, vents, etc. – and cost less.

Use case – A jacket that you intend to wear in the spring or fall is going to need to be warm, while the inverse is true if you spent your seat time underneath the hot Arizona sun. If you are going to be hot when riding, make sure you have adequate venting. Consider when you'll be wearing it and make sure it's prepared to meet the need.

Protection – Most jackets come with elbow and shoulder armor, but not all do. Conversely, most jackets will come with a foam back pad but not proper back armor. Make sure the jacket you're considering packs enough armor to keep you safe.
At WBW, "Best" Actually Means Something
Remember when you could open up a review of something, and when the publication—magazine, car show, whatever—said "best" they stood behind it? Yea, we remember, and we're bringing it back.
Here's how we do things:
We disclose our affiliate relationships—We make money via advertising and affiliate relationships on our website. It's how we pay our team and invest in things like sending Jim to Italy. And Japan. And France… wait… why do we always send Jim places?

We obsessively hands-on test—We wear and ride with gear before reviewing it, and we update reviews down the line if our opinions change. We look at real-world situations because that's the world we live in.

We're objective—Good gear is good gear, regardless of who made it.

We're value-focused—Why pay $500 if something for $250 is just as good? Our review scores and recommendations reflect best value. Brand only goes so far—the gear has to stand on its own.