It's late fall, and the weather is still warm, though the mornings have that special brand of chill that reminds you that winter is coming.
But I don't really care about that right now. I'm saddle-side on a very cool vintage electric bike from Michael Blast: the Vacay Lo Mid-Drive. This is the step-thru version of the Vacay, which also comes in a high-step model and can be had with a rear-hub motor in both frames if the mid-drive doesn't suit you. But… trust me, the mid-drive suits you.
Combined with an enjoyable and comfortable riding position, the frame and motor gives the Vacay mid-drive a tremendous riding experience. It accelerates quickly, has plenty of top speed, and is very happy for you to throttle it around town if you want. It has sharp turn-in, aggressive braking, and an eye-catching aesthetic.
I love its handsome good-looks, and this Australian-designed ebike is full of smart design choices. The metal fenders, real leather battery bag, and swept-back handlebars all give the Vacay its vintage feel, but how it sounds when riding and how it gets up and goes, are what makes this a proper motorcycle-inspired ebike.
And let's not ignore the flamed-out tires – those definitely help.
Words & Photography: Cameron Martel
Michael Blast loaned us this ebike for a week for the purposes of this review. I'd like to thank Ebikes Calgary for facilitating the loan. webBikeWorld does not have a financial relationship with Michael Blast or Ebikes Calgary.
2023 Michael Blast Vacay Lo Mid-Drive Specifications
MSRP:

$2,999 USD / $3,999 CAD

Where to Buy: MichaelBlast.com /

CalgaryEBikes.ca

Warranty:

1-year

Top Speed:

22 mph / 35 kph (can be unlocked for no speed limiter)

Range:

Up to 110 km (68 miles) if you pedal, closer to 50 km (31 miles) if you heavily use the throttle

Bike Weight:

62 lbs (28 kg)

Weight capacity:

260 lbs (118 kg)

Motor:

Ananda 500-watt mid-drive w/ 95 nm of torque

PAS:

Torque sensor with 5 settings, thumb throttle

Brakes:

Tektro Auriga hydraulic brakes with 180 mm front/rear rotors

Gearing:

Shimano Acera 7-speed

Battery:

48V 14.5 Ah battery with Samsung cells

Wheels:

Innova 26" x 3" tires
Rev Up Your Vacay With a Potent Mid-Drive Motor
Mid-drive motors are an incredible thing. Of all the ebikes I've reviewed to date, only a handful have had a mid-drive motor, but they stand above their hub-driven counterparts in almost every respect.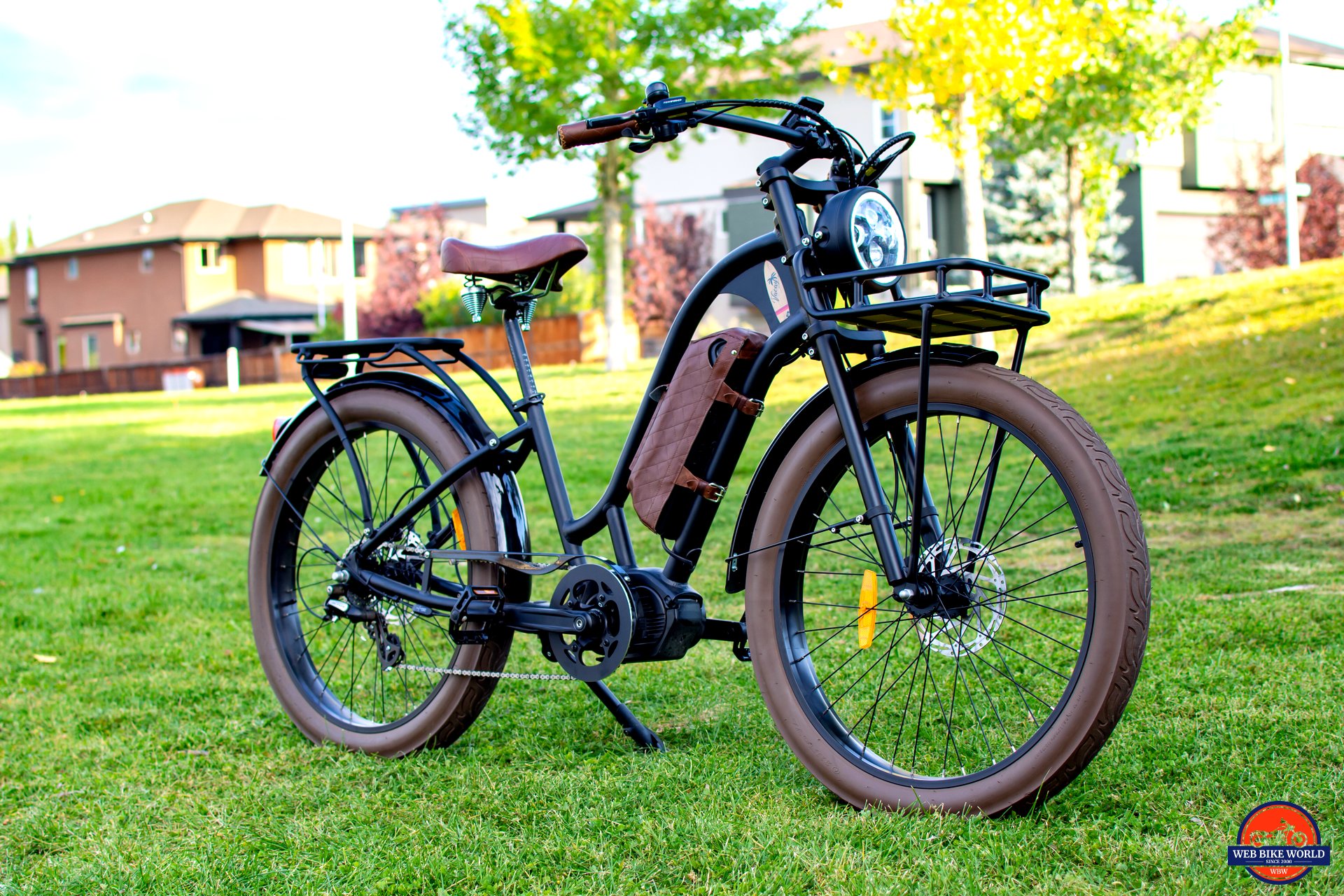 Paired with a thumb-throttle, the mid-drive motor transforms the Vacay Lo into a motorcycle-esque riding experience. Shifting gears is met with a changing engine whine, and the motor has no qualms about revving high and getting you moving – quickly.
Acceleration is brisk and smooth, and in the right gear on flat terrain, I could get the Vacay to easily accelerate on throttle alone to just under 45 kph (28 mph). The bike is deceptively quick; its classic design undersells how potent it is. 
In some ways, how I want to ride this bike is analogous to the motorcycle cafe racer subculture: racing from cafe to cafe, place to place, or event to event. In my case, touring some of the local craft breweries and fancy pizza spots around town. The first 35 km (22 mile) ride I took was straight to a local craft hotspot to sample their latest IPYay – just one – before enjoying the riverfront pathways that ultimately led me home.
And I loved every minute of it.
Aesthetics & Design
Michael Blast is known for their cafe racer ebikes (and their growing number of scrambler-inspired ebikes, too). I reviewed the scrambler-inspired Outsider 4.0 and Outsider 5.0 earlier this year, and the Michael Blast Soda – a petite scrambler ebike that I'm absolutely loving – is sitting in my garage right now.
The Michael Blast design team certainly has my number.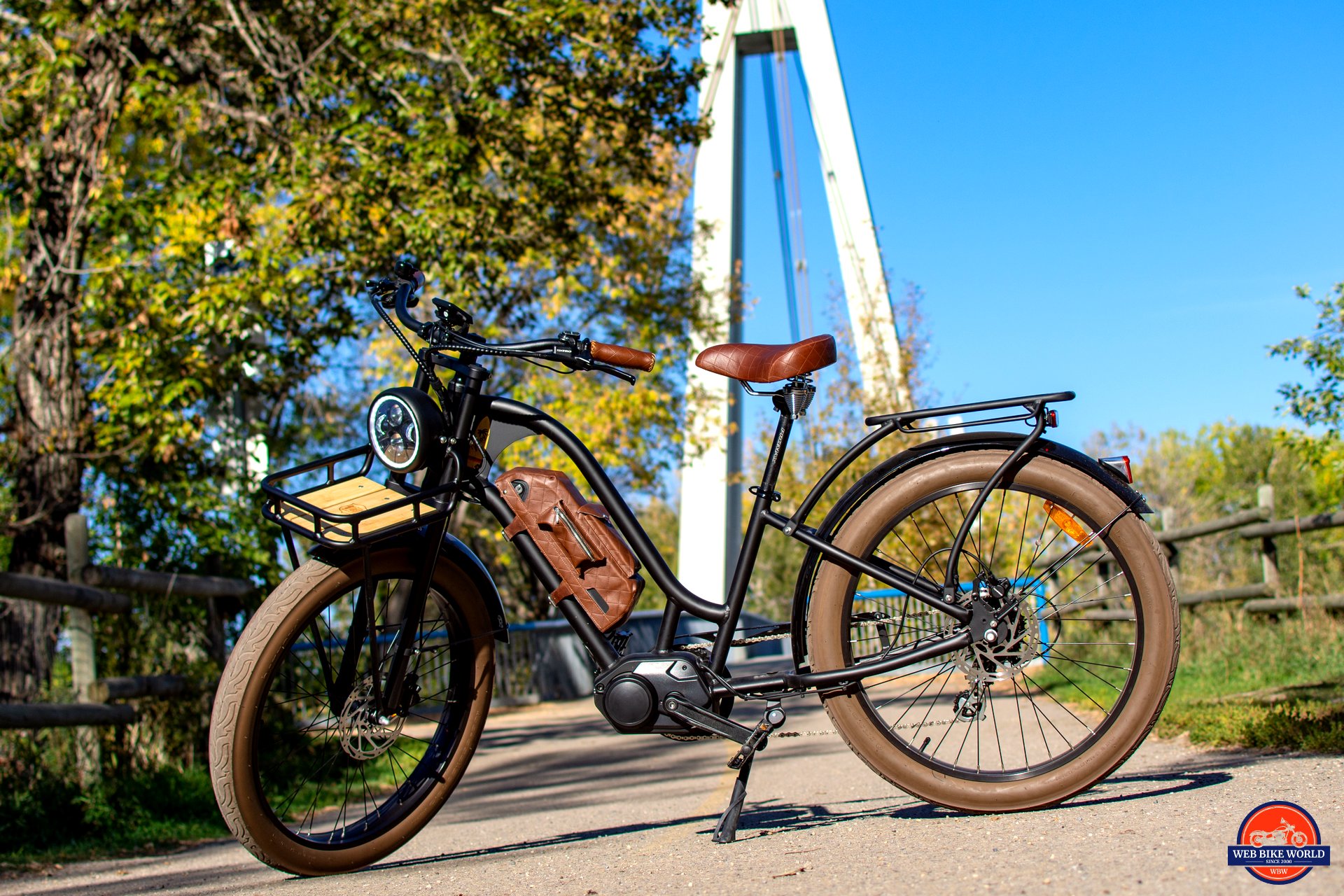 The black-on-brown aesthetic is very 70s, which is also the prime time for the cafe-racer motorcycle culture that inspired this bike's style. It's also damn good-looking, with color-matched metal fenders and beefy front and rear racks that help complete the package.
While taking the photo above, three people stopped and stood by as I photographed the bike, ready with questions about it once I was done. I've got nine ebikes in my garage and have had eight motorcycles over the past 15 years, and none of them have caught attention quite like this bike has.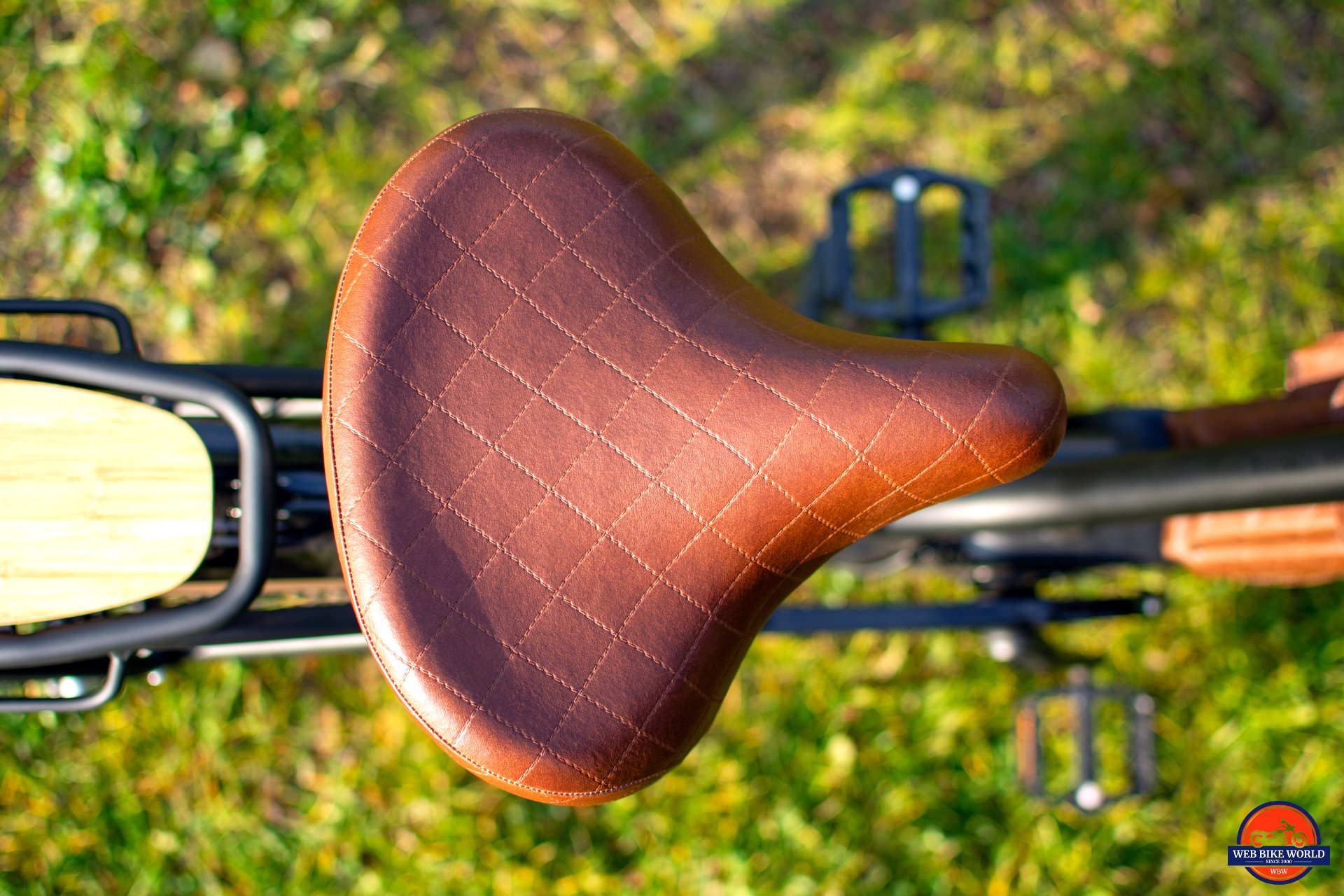 Both the brown leather saddle and battery "tank bag" are made from real leather and feel like high-quality items. I wouldn't want to get either wet, but fenders help with that (and I don't think you want to be riding this bike in the rain, anyway).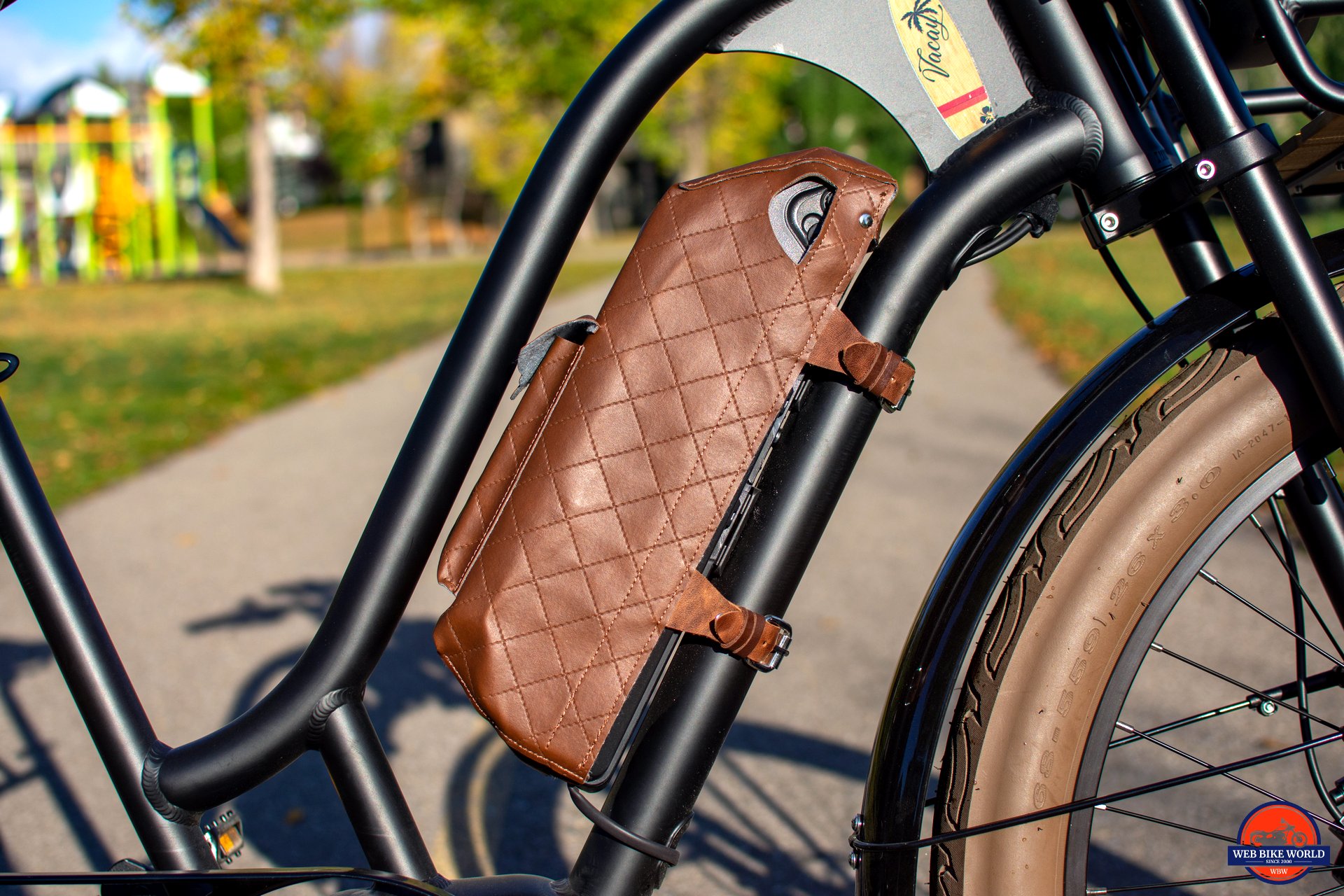 Wiring is neatly tucked away in the frame whenever possible, and due to how the step-thru design is fashioned, the battery pack feels neatly packaged. The leather cover does have a small pocket for storage for things like a multi-tool, but it's too small for your phone.
The brown leather grips mirror the stitching design, and the all-brown tires match the black and brown aesthetic. I'm a fan.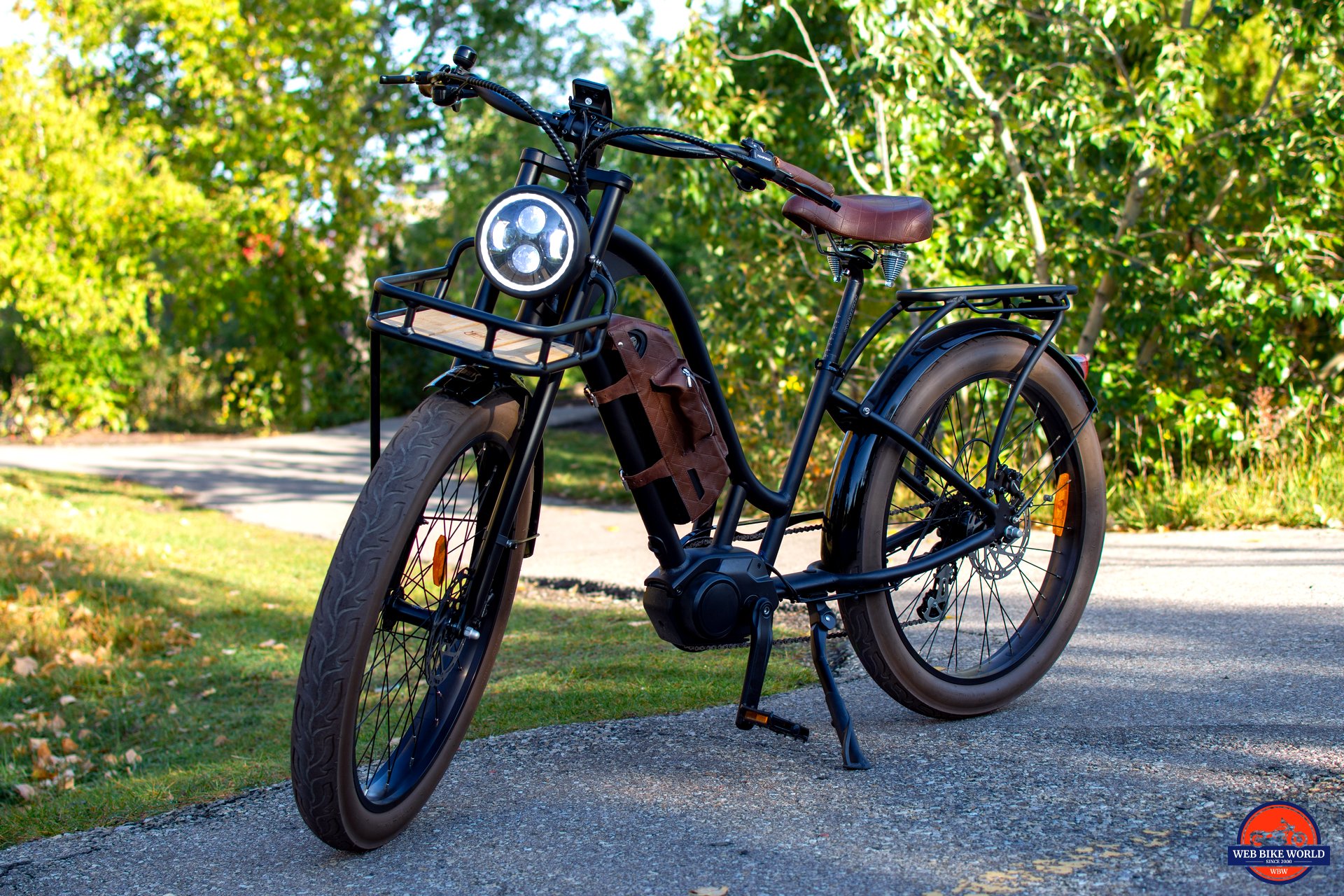 Finally, the big round LED headlight looks like it was plucked out of a cafe racer parts catalog. I've seen it on other bikes (the Outsider 5.0, namely), but it looks most at home on this one. It's big, bold, and bright: exactly what a headlight on this bike should be.
Torque-Sensing Powertrain
It's difficult to speak to the powertrain without the conversation devolving into a bit of hyperbole, as the powertrain itself is very capable, but how it sounds is something else. I've got three mid-drive ebikes in my stable, and none sound like this. It's not quite a high-pitched whine – it's a bit too throaty for that – and it's almost as good-sounding as my former Yamaha FZ6 was.
Oops, there's that hyperbole creeping in…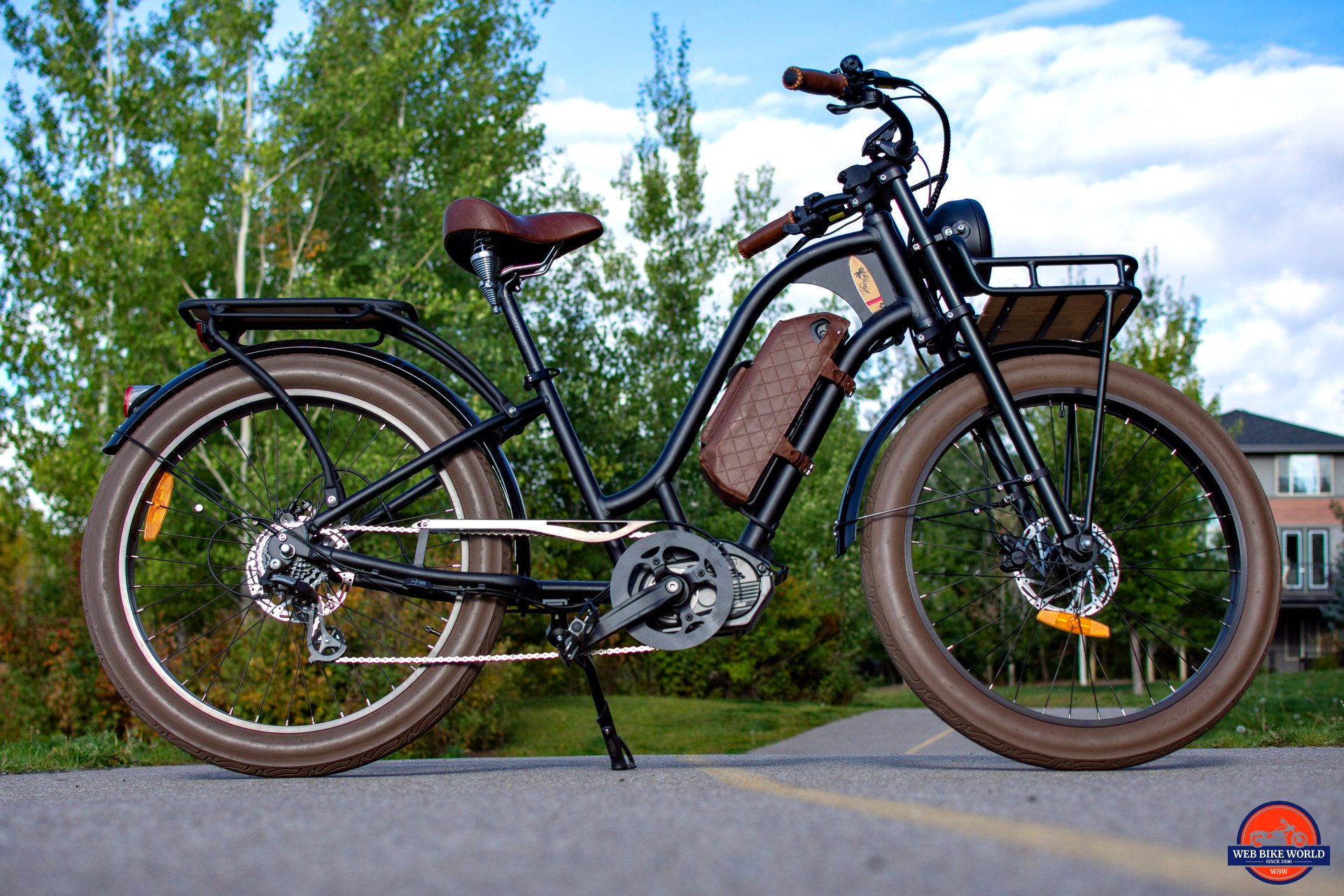 The torque-sensing mid-drive setup is ideal: Gentle power when you are pedaling softly and tons of power when you're riding like a bandit. It can climb most hills you'd see in a typical urban setting on throttle alone (assuming you're in the right gear), and it's an absolute hoot to shift while you've got the throttle mashed.
As the Vacay Lo is a mid-drive bike, you can shift the bike's gears while holding the throttle – pedaling along is not required.
The motor produces 95 Nm of torque, which is about 20 Nm more than the typical 500-watt hub motor ebike. As the motor can make full use of the bike's gearing, the Vacay can put a lot of torque down and is much more efficient (and capable) than a hub motor. So, where the Vacay can climb hills easily with 95 nm from its motor, a 120 nm hub motor would be unable to climb the same hill despite making more claimed torque.
If you want to climb hills in comfort and style, this is your bike.
Storage
With front and rear racks, the Vacay Lo has plenty of storage. I don't have any specific comments or complaints here, as both racks feel robust and are suitable for their job.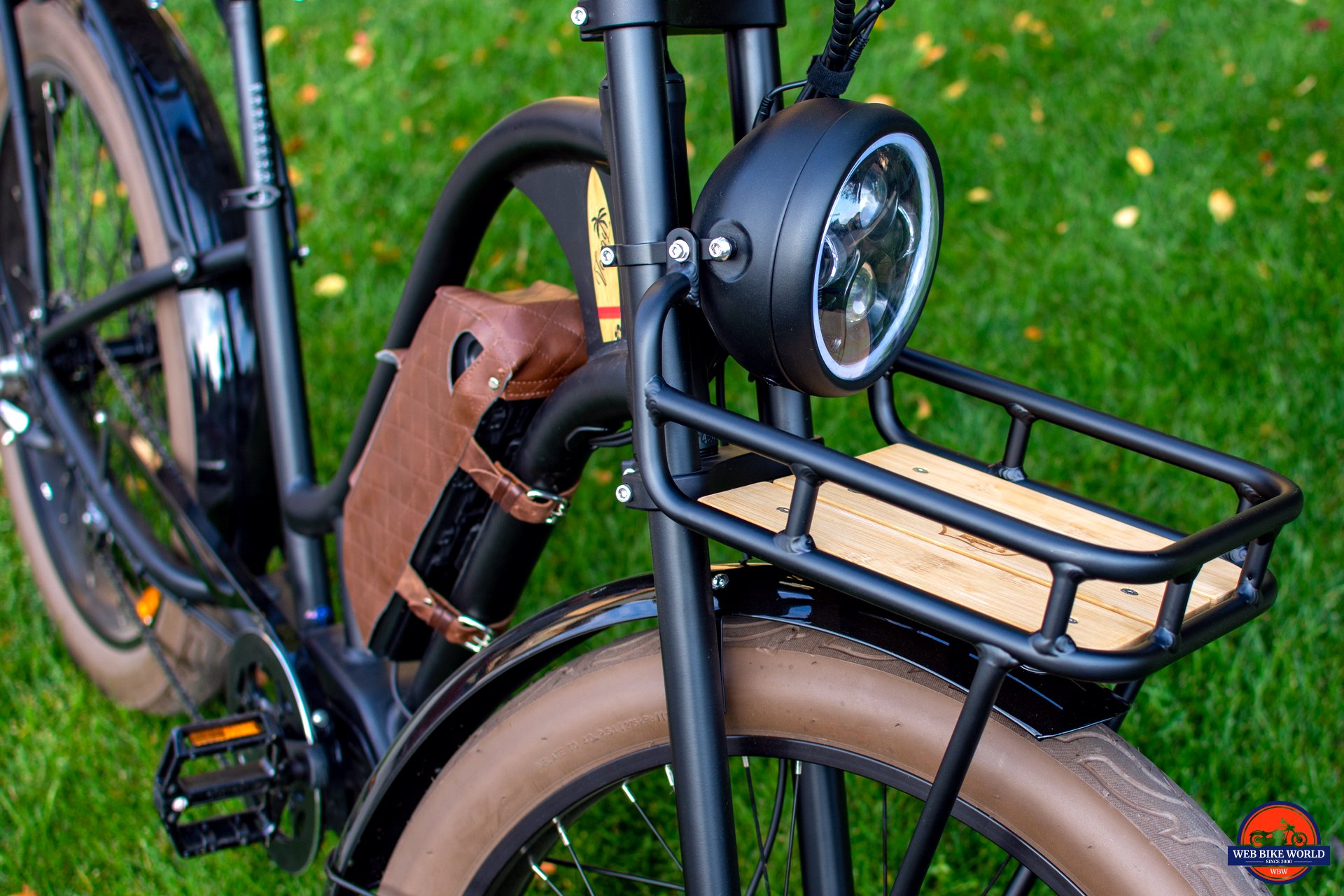 The front rack's sidewalls are high enough to secure a bag, tote, or small box easily. Welds are also clean, and the unit feels sturdy.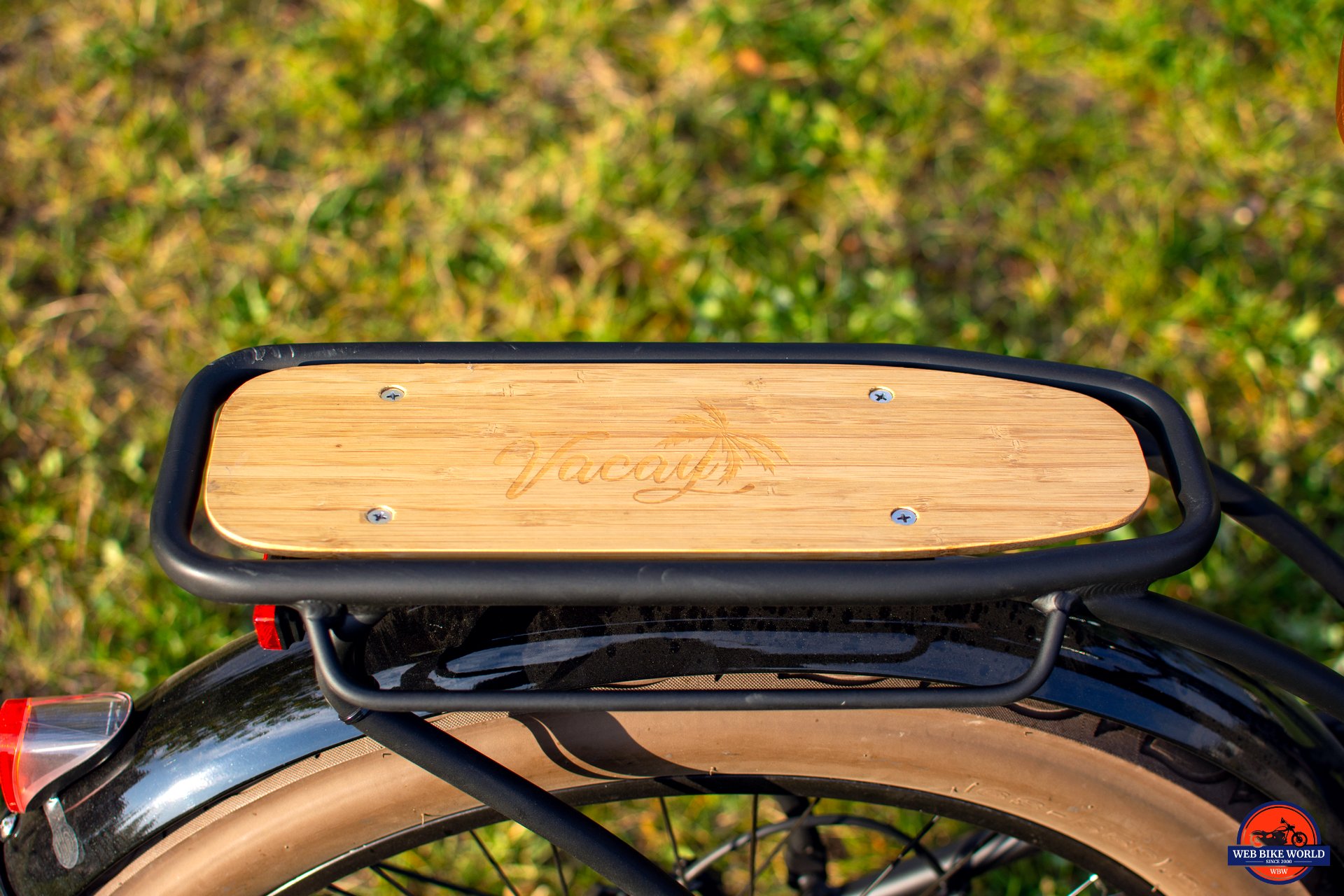 The rear rack is a pretty standard rack, with some stylized livery engraved into the wood. It kind of reminds me of a surfboard, which I think may have been the point considering the surfboard on the right side of the frame above the battery pack.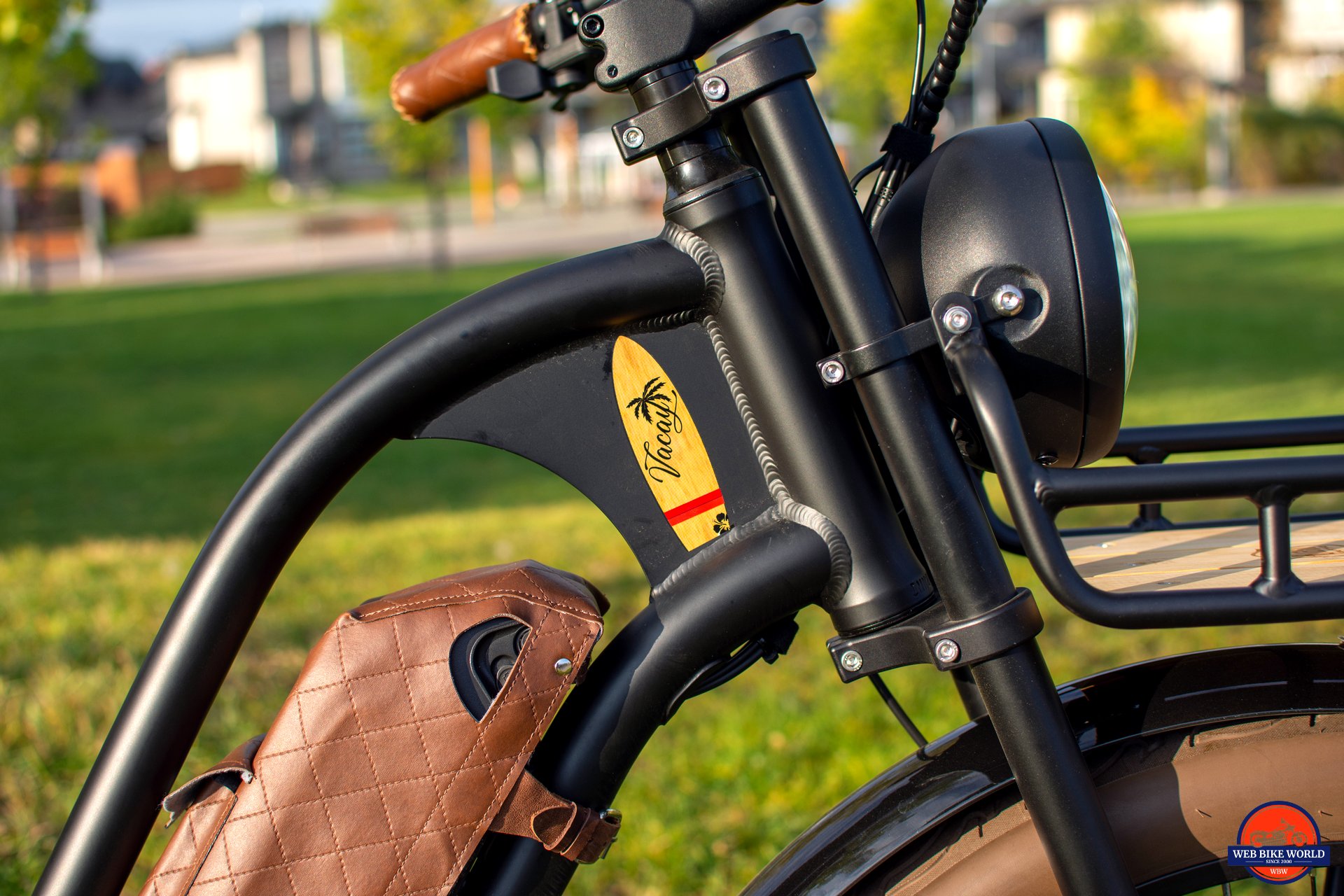 I like that the racks are included, as they give the Vacay some utility to go along with its attractive design and beefy powerplant.
The Corvid Connection
While snapping some detail shots I found myself entertaining a visitor!
This magpie plopped itself down just a few feet away from where I was lying to snap photos, and he seemed just as pleased with the bike as I was!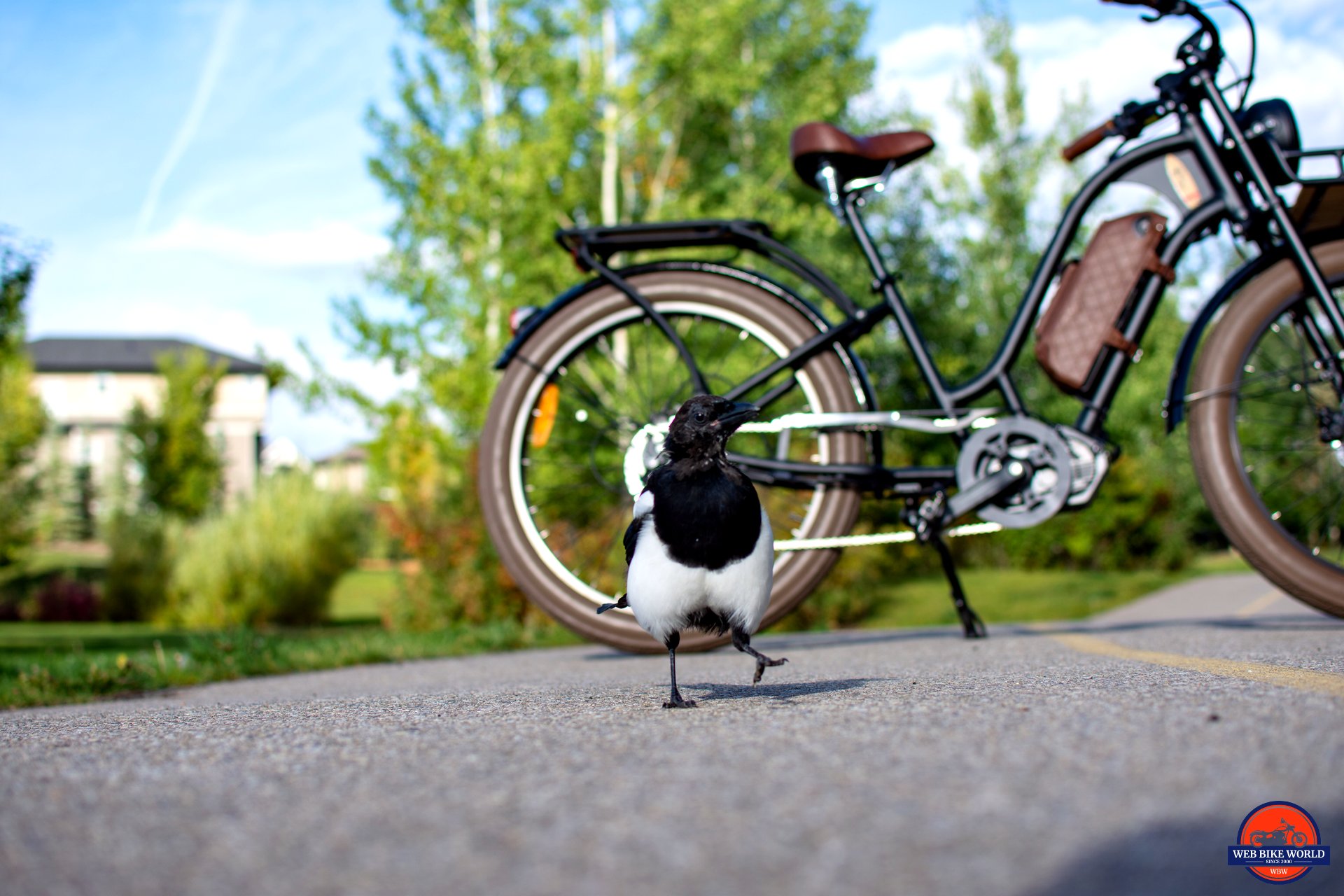 In fact, I think he mistook what I was doing as he began to parade around the bike, inspecting the rear tire, crank, and then the front tire.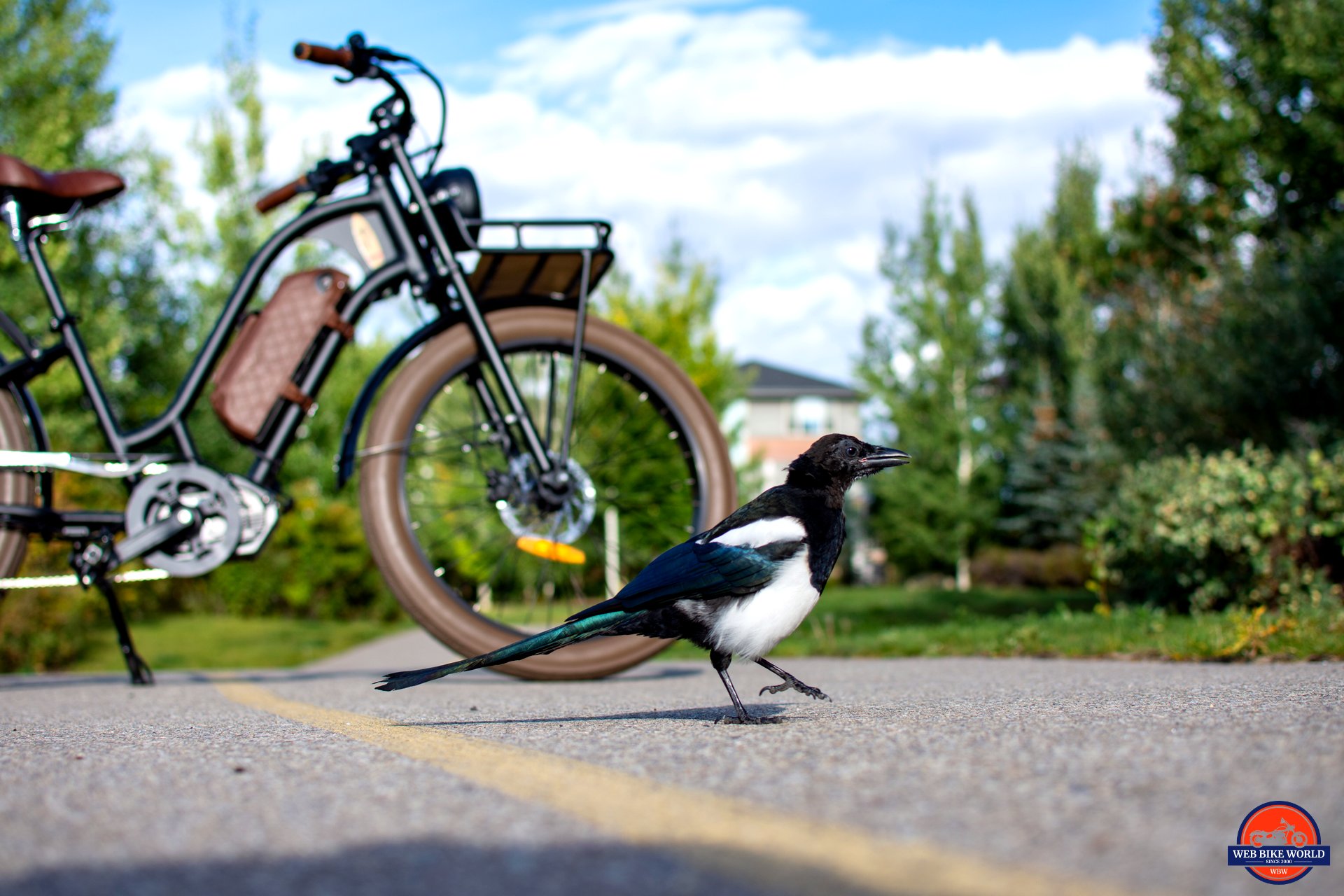 Of course, I've always wanted to get into nature photography, so perhaps my new angle will be 'Bikes and Birds". Who knows? Maybe there's a new site in the making!
Build Quality & Components
The Vacay is made from pretty standard stuff. Aside from the entry-level gearing, the components are price-appropriate and culminate in a very enjoyable riding experience.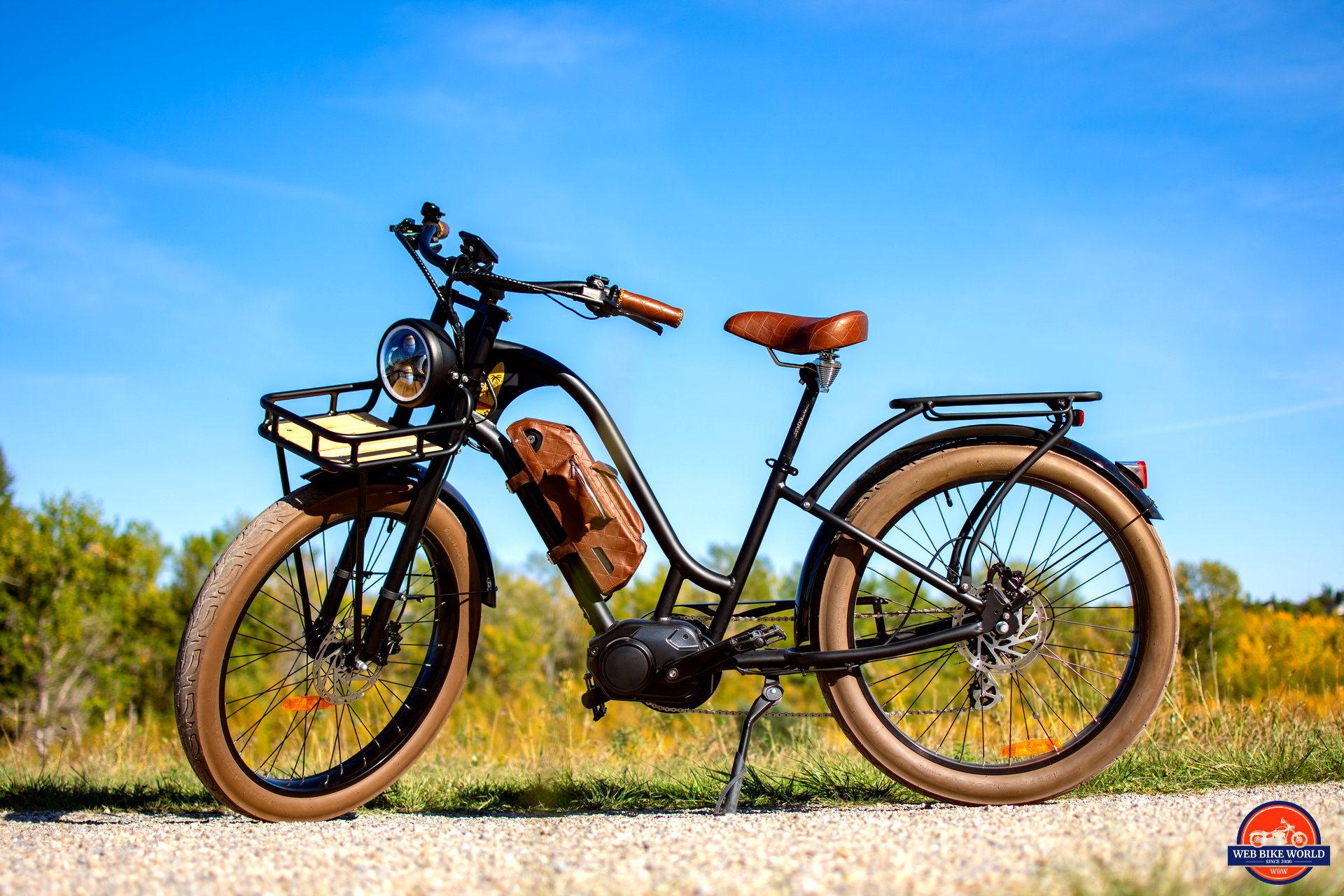 The entry-level gearing is less of an issue when considering the monster motor powering this thing – you don't need mountain bike gears to climb hills with this motor.
Forks & Frame
The Vacay Lo is rocking a swept-back step-thru design. It's not the lowest step-thru frame I've ridden (that would be the Pedego Boomerang, or Surface 604 V-Rook), but it's still very easy to mount.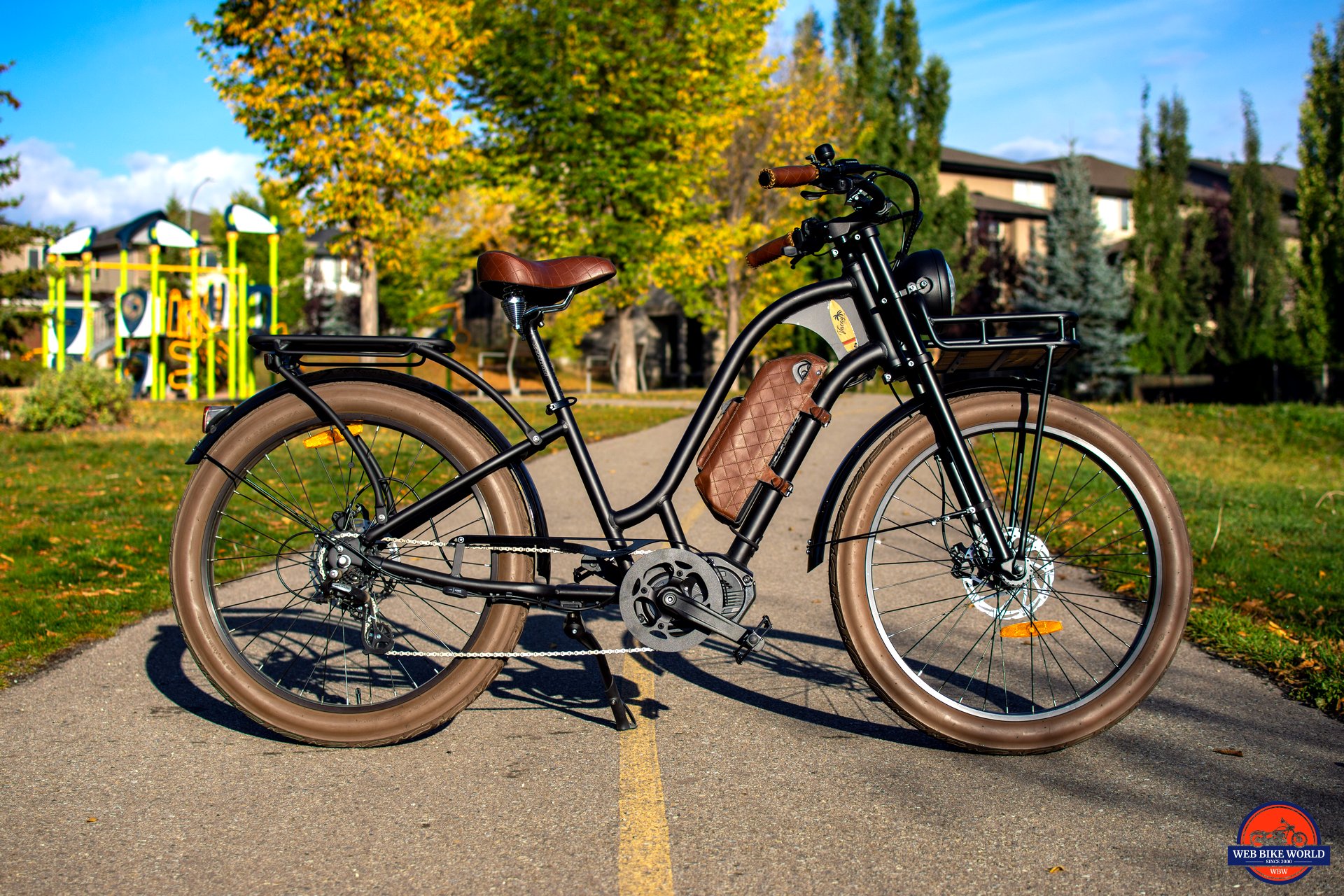 The forks are solid, and so the Vacay relies on the fattish tires to keep the ride comfortable. Bonus points go to the saddle, which has enough spring and surface area to be enjoyable to spend time in. My butt had no complaints after three straight hours of riding.
The step-thru frame has some flex when riding aggressively, but notably lesser than most step-thru's I've ridden. Flex on a bike while turning is fairly normal and more common on step-thru's; the Vacay has some flex, but not much, and I doubt you'll notice it unless you purposefully shake the bike to see it.
Wheels & Tires
The Innova 26" x 3" tires feature a flame tread pattern, which is both cheesy and kitschy-cool. I'm a sucker for small inclusions like that when they're tasteful.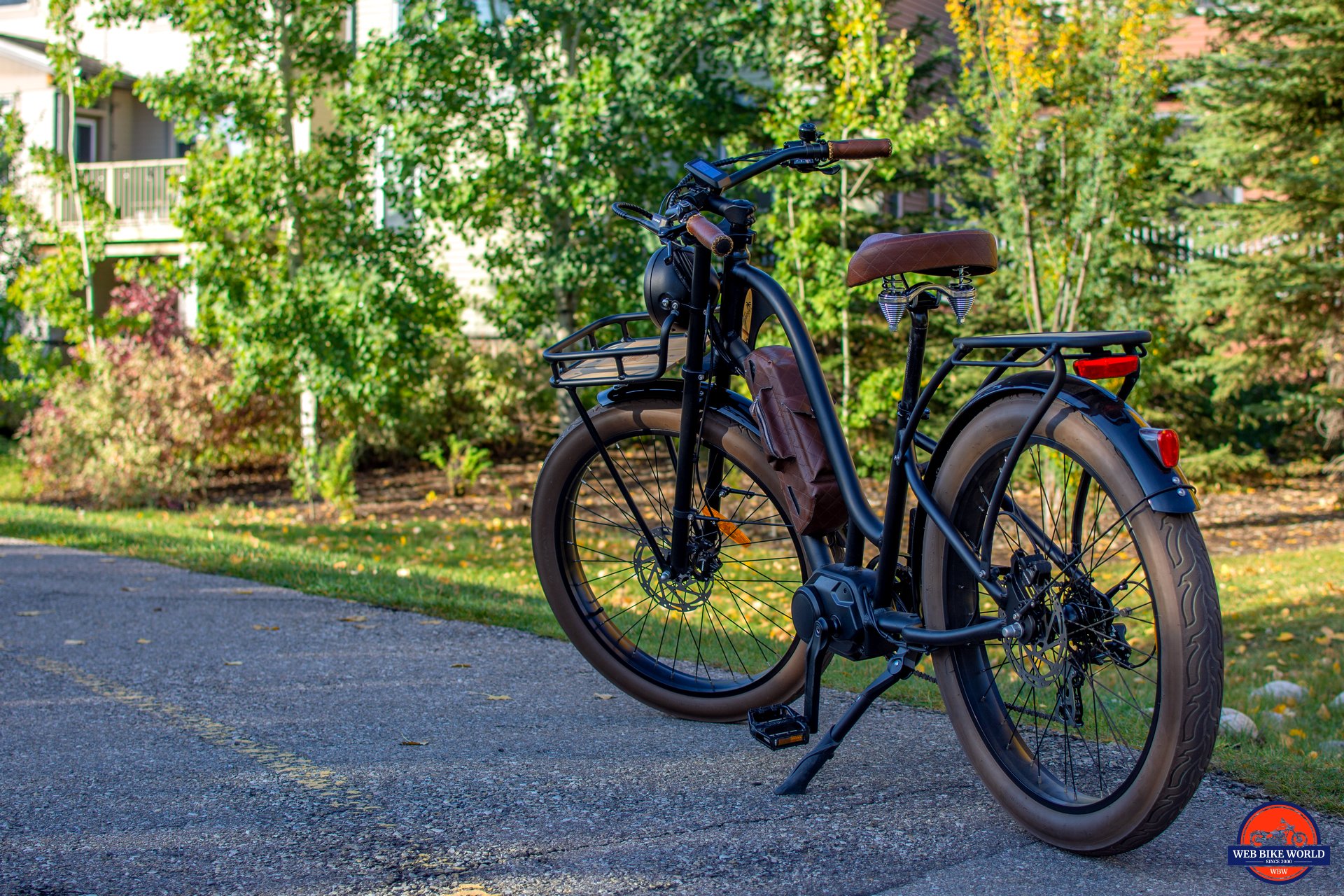 However, the tread pattern isn't going to do much in terms of whisking water (or, heaven forbid, snow/ice) away from the tire. I did not ride the Vacay in the rain, but I wouldn't be surprised if the tires were slick compared to more traditional tires.
As much as I like the novelty factor of the design, if I planned to ride the Vacay daily, I'd swap those tires out for a more traditional tire with a more suitable all-around tread pattern.
Handlebars, Display, & Shifting
This bike's a joy to ride and very comfortable to control. I'm 6'2" and am near the upper end of what would be considered comfortable. You could get a stem riser if you wanted an extra few inches of height for the bars.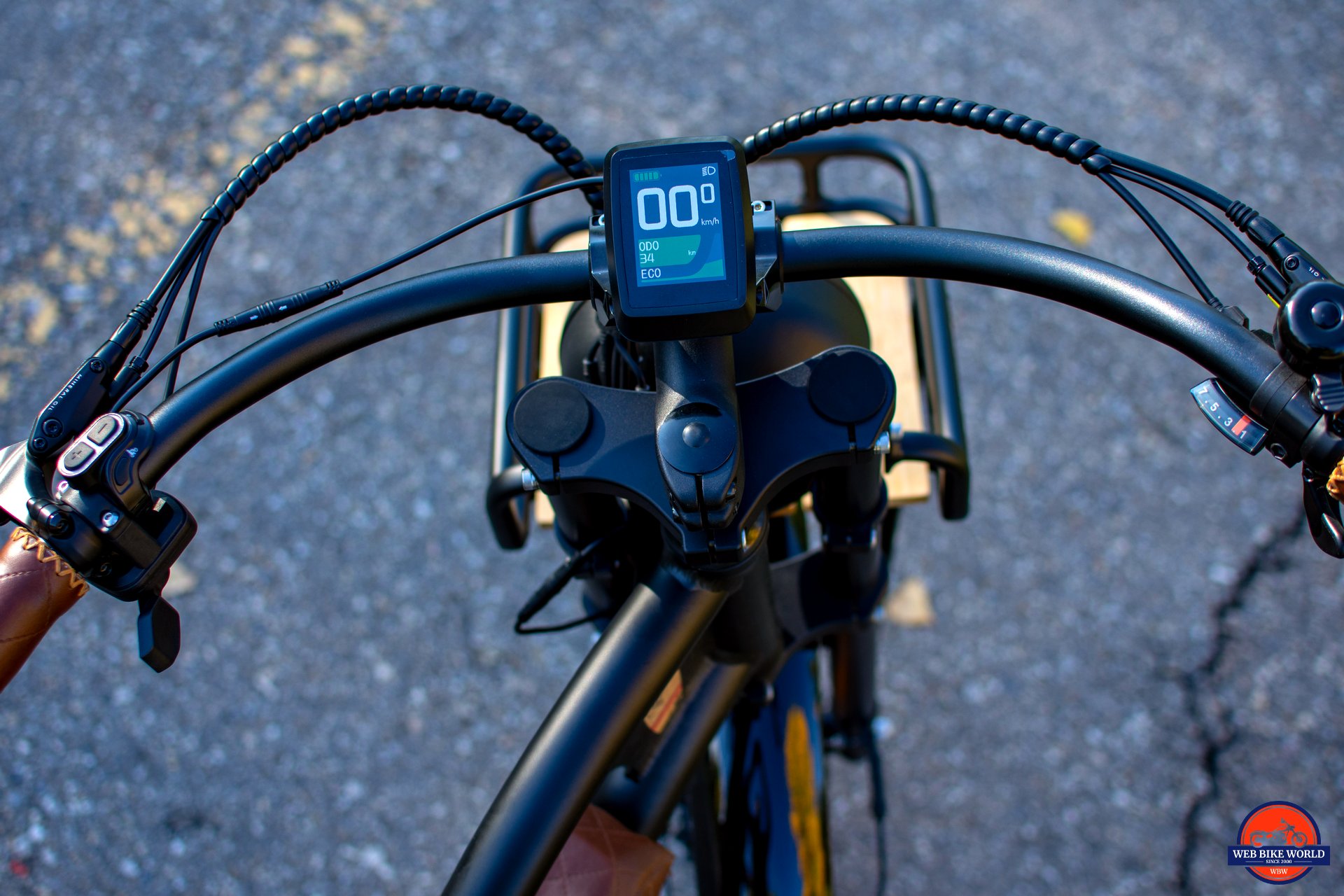 The swept-back bars look amazing, and they're also nice to grip and hold. The center display isn't anything special, but it is full-color and easy enough to read (even in bright light). It's miles above the display found on entry-level ebikes, but is smaller and less customizable than many ebikes I've recently reviewed (including all Surface 604's I'ver reviewed this year, and the Himiway Cobra Pro I reviewed in May).
But if you don't intend to tinker with the bike's settings, there's nothing to complain about the display. It's legible and easy to parse at a glance.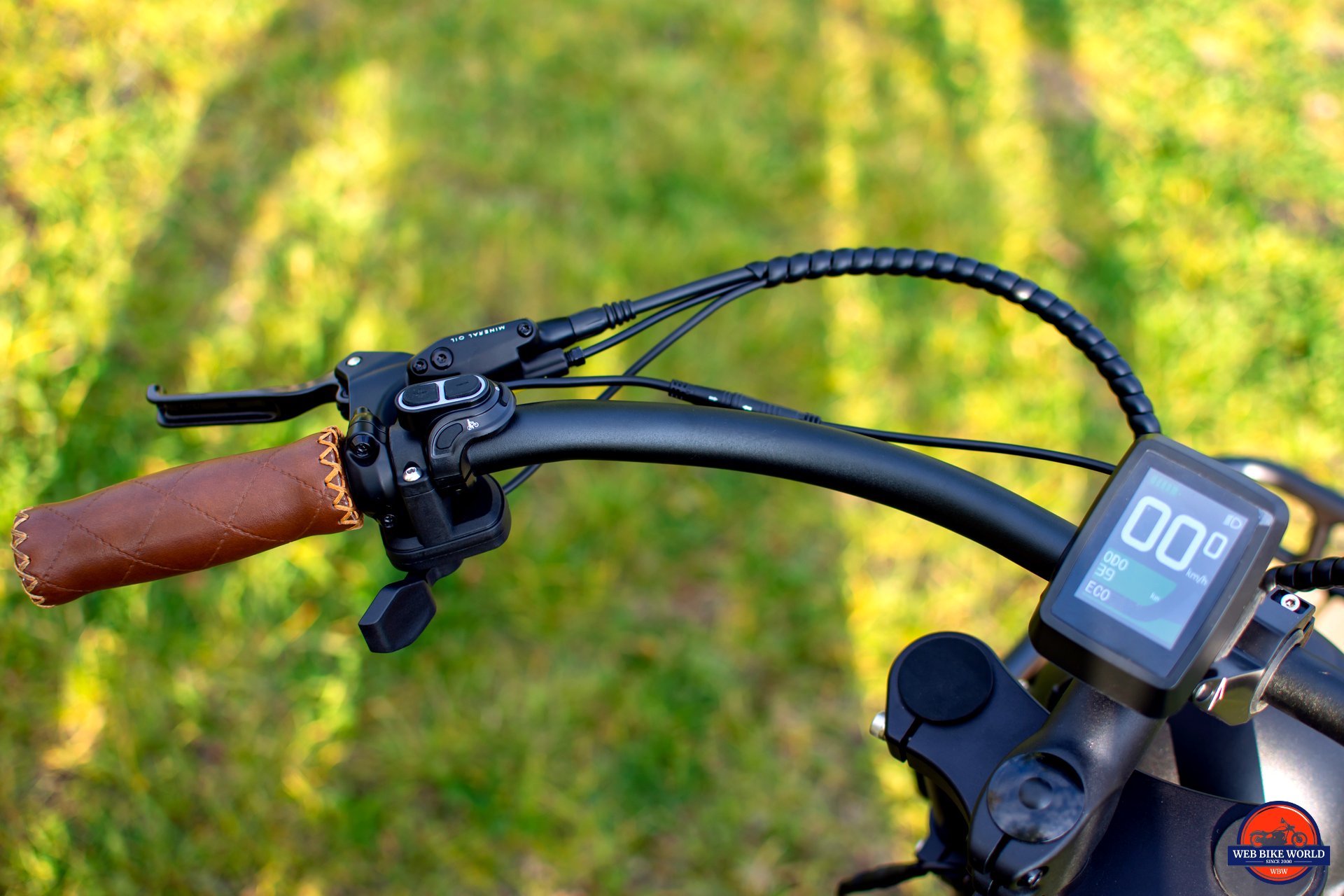 The left bars feature your front brake lever, display inputs/control pad, and thumb throttle. I like the positioning of the throttle, which does not require any awkward thumb extension action to use. It's placed perfectly and is within reach of just about everyone's thumb.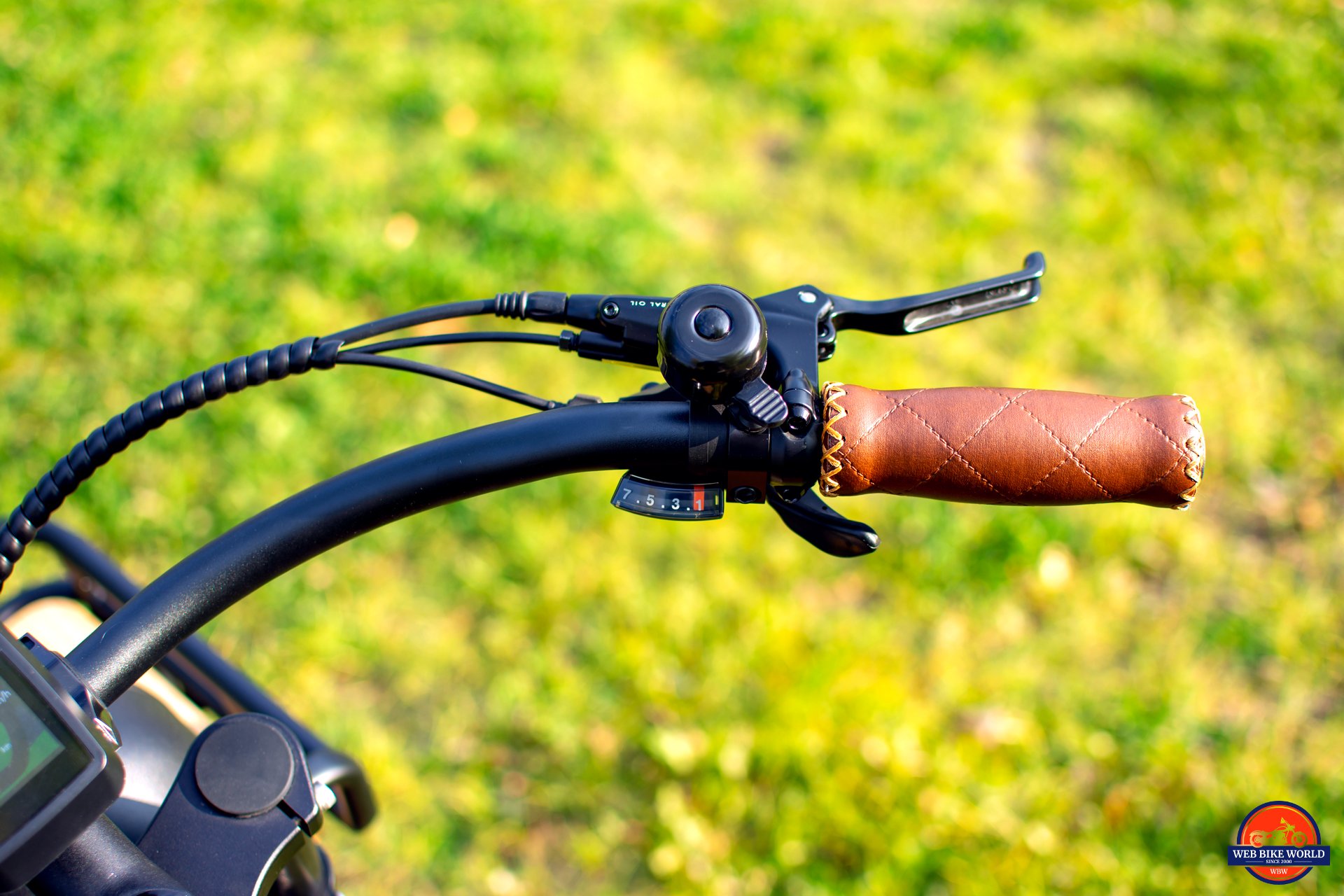 The right bars feature the rear brake lever, bell, and shifter. Despite the Shimano Acera's entry-levelness, I do like the gear display. I also like the bell positioning; the grips are plush and easy to grip.
Brakes
Fit with Tektro Auriga hydraulic brakes and 180 mm rotors, the Vacay Lo won't quite stop on a dime… but it's close.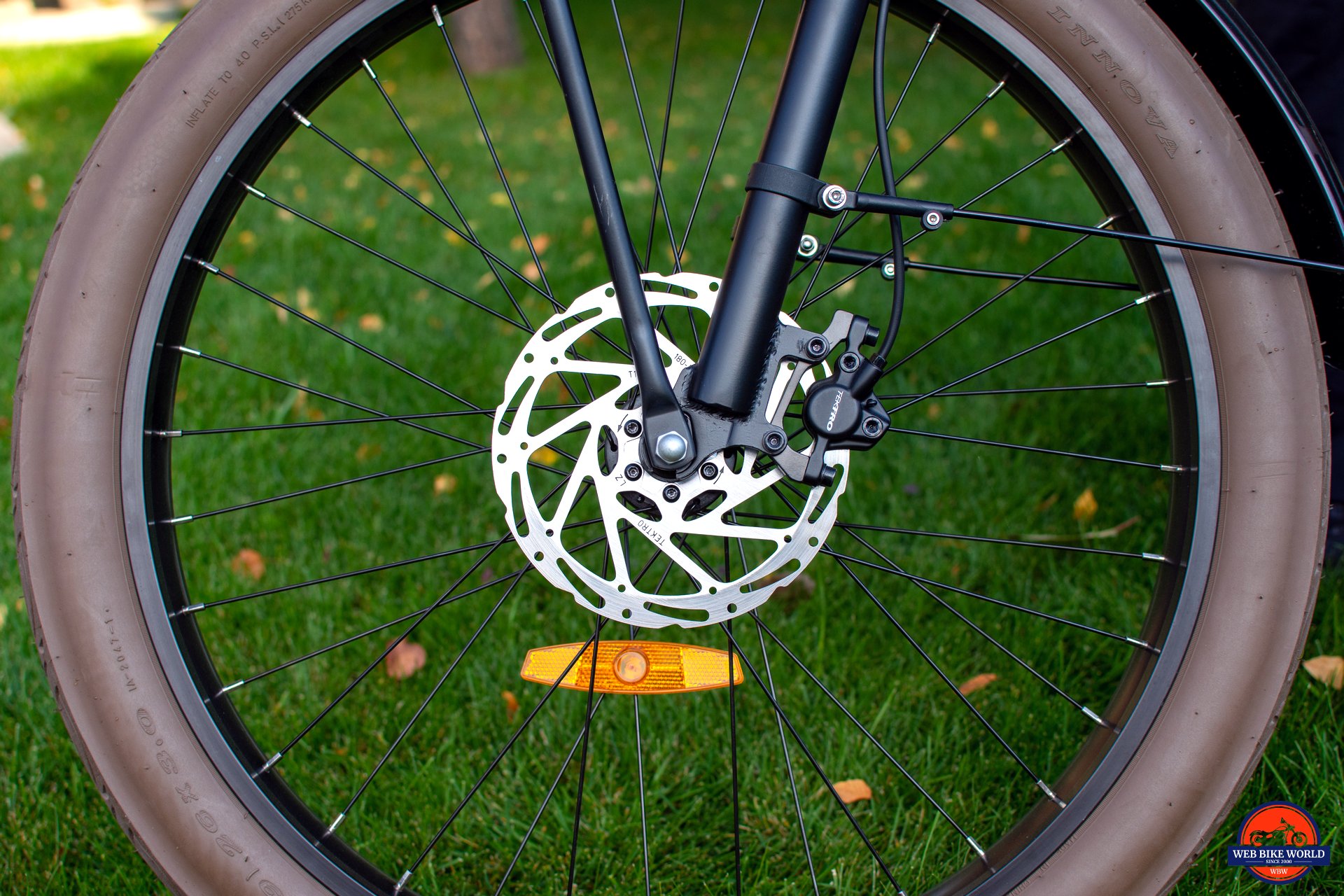 Many less expensive ebikes come with Chinese-manufactured clones of Tektro and Shimano brakes, and while they're generally "fine," they often come with compromises. For example, off-brand brake rotors are often slightly warped, causing them to make a faint rubbing noise while riding. This is not an experience I've had with any of my bikes rocking Tektro's, and I'm glad to see Tektro's on this bike.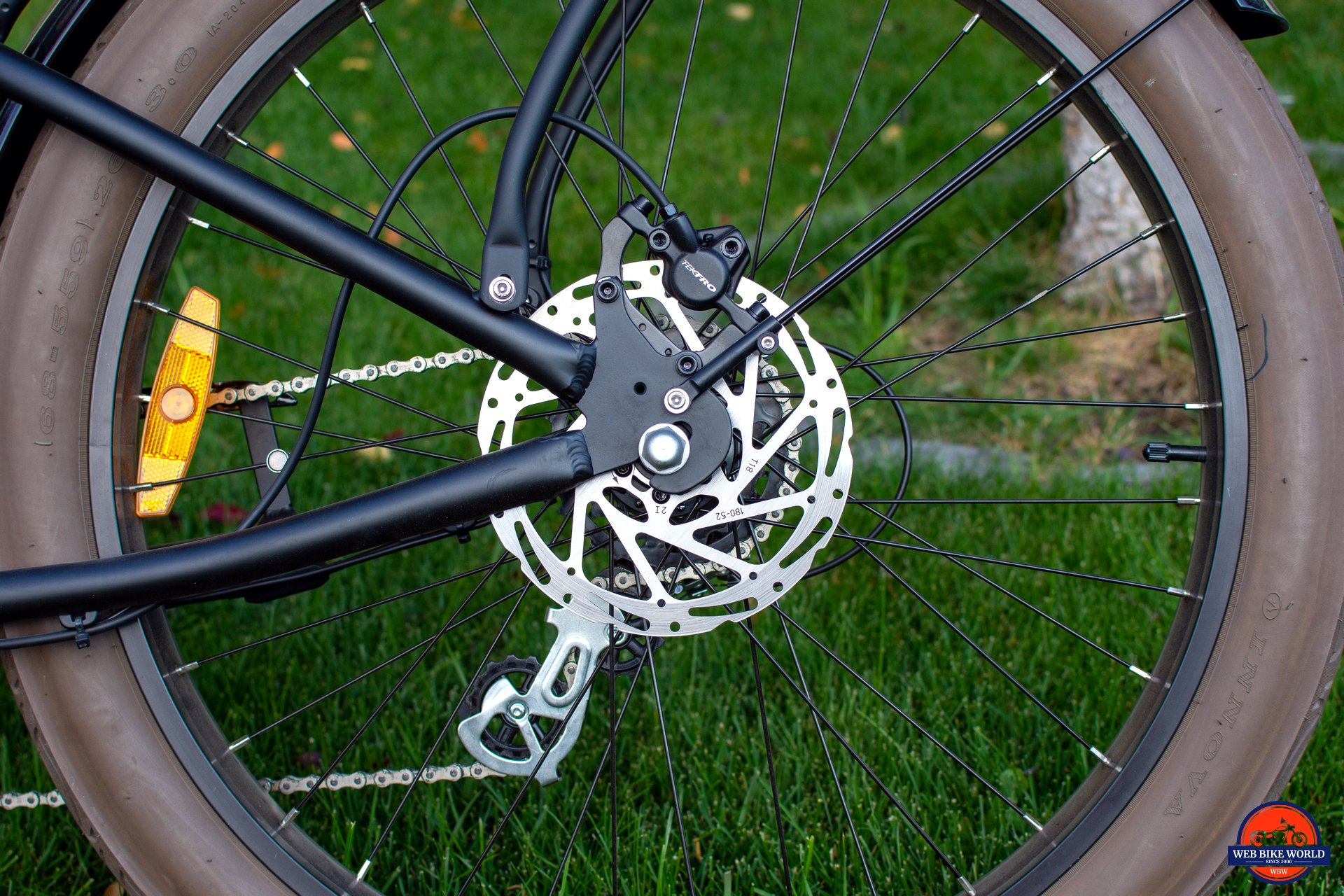 The two-piston calipers clamp down hard on the rotors. I've often commented that four-piston calipers are better choices for heavier ebikes, but the Vacay Lo does not need them. Don't get me wrong: more braking power is always good, but investing here would be very much an exercise in diminishing returns.
The brakes are powerful and consistent – a good choice for the Vacay.
Paint & Graphics
The flat-black paint job and minimal graphics really work for the Vacay. This isn't a bike that needs to catch your attention with paint or graphics: the frame, headlight, and wheels will do that job just fine.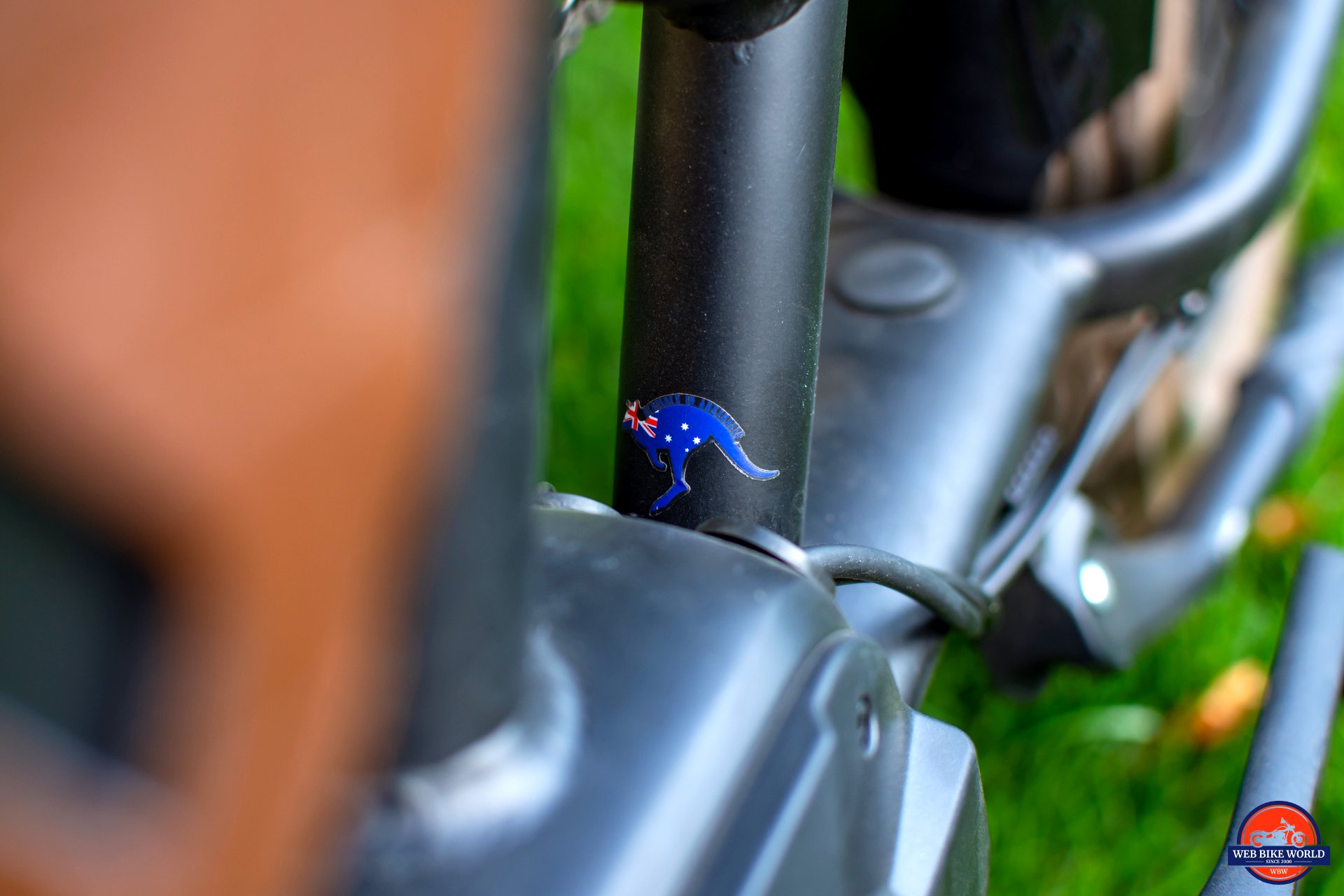 Aside from the livery on the step-thru frame brace at the top, and the branding on the front/rear racks, the Vacay lets its style and overall aesthetic do the talking. A small Aussie easter egg is on the seat tube – the only sign that this bike has down underpinnings.
The paint quality also seems okay, with the bike looking no worse for wear after several days of riding. I have no complaints here.
This Bike is as Close as eBikes Can Get to Offering That Vintage Indian or Harley Experience
While you won't find the Vacay Lo among the best Harley-Davidson motorcycles ever made, you can bet that people who enjoy vintage American-made motorcycles will appreciate this bike.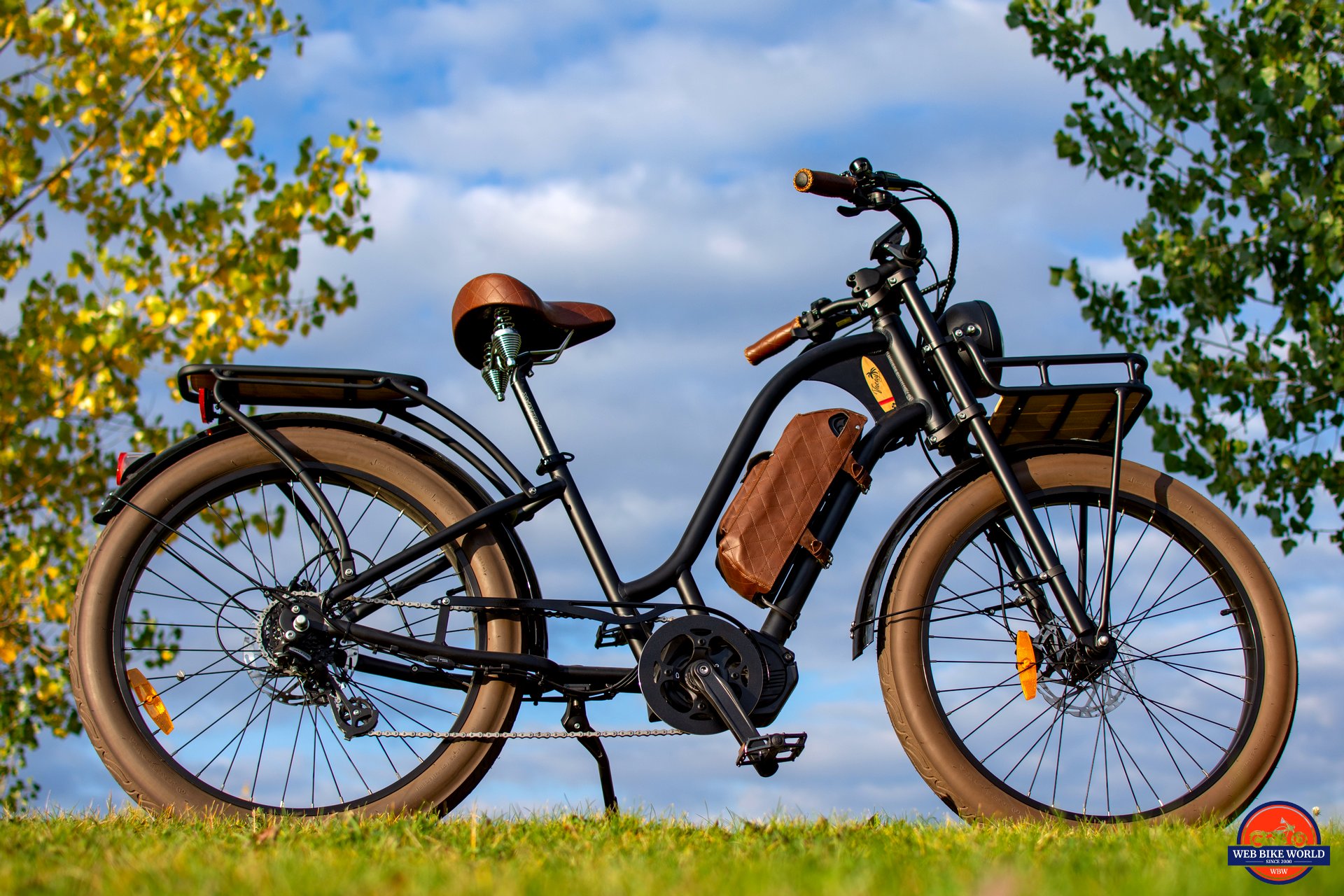 I love the Vacay's charm, personality, and get-up-and-go gumption. It's amazing to look at and feels great to ride. It has enough storage actually to be useable and enough range to take you out for several hours of continuous riding.
I'm less in love with the Vacay Lo's price, which hits at around $3,000 USD (around $4,000 CAD). That's a fair bit of money for a bike using an entry-level groupset. But this bike is as much about its style and personality as it is its components, and it opted to use good components throughout.
If I had $3,000 to spend and wanted a bike that matched my vibe, the Vacay Lo would be in my garage – price be damned.
2023 Michael Blast Vacay Lo Mid-Drive Review
Review Summary
The Vacay Lo is a surprising ebike, with vintage motorcycle style, a potent 500 watt mid-drive motor, hydraulic brakes, and a Shimano 7-speed groupset. It sounds like a small electric motorcycle when shifting gears, gets looks from just about everybody, and is very fun to ride. It handles well, looks great, and absolutely has the brawn to match its good looks. This is some of the most fun I've had on an ebike.
Pros
Gorgeous good looks
Powerful mid-drive motor
Front and rear racks
Bright LED headlight
Comfortable saddle and riding position
Cons
A bigger battery wouldn't hurt
Pricey