The 2023 Michael Blast Soda is an entry-level hub-drive ebike. Priced at just under $2,000 ($2,500 CAD), the Soda is at the upper end of the entry-level price bracket. It's a fun bike with a cool compact step-thru frame and 20" wheels, using the Shimano Altus X7 7-speed groupset. 
Michael Blast is known for their cafe racer and vintage ebike designs, and they've appeared a few times on webBikeWorld already this year. A week ago, I published the Michael Blast Vacay Lo Mid-Drive review, and earlier this year, I reviewed the Outsider 4.0 and Outsider 5.0 – Michael Blast's scrambler ebike. You could say that I've been having a Michael Blast this summer 😉
Aimed at people wanting an ebike that is more fun than practical, the Soda is affordable and good at its job without sacrificing too much practicality. It's smaller and lighter than many other ebikes, making it a great first ebike for someone, and with that rear rack attached, it becomes a functional and useful daily driver.
Words & Photography: Cameron Martel
Michael Blast loaned us this ebike for a week for the purposes of this review. I'd like to thank Ebikes Calgary for facilitating the loan. webBikeWorld does not have a financial relationship with Michael Blast or Ebikes Calgary.
2023 Michael Blast Soda Specifications
MSRP:

$1,999 USD / $2,499 CAD

Where to Buy: MichaelBlast.com / CalgaryEBikes.ca
Warranty:

1-year

Top Speed:

22 mph / 35 kph (can be unlocked for no speed limiter)

Range:  

60 – 80 km (37 – 50 miles)

Bike Weight:

28 kg (62 lbs)

Weight capacity:

118 kg / 260 lbs

Motor:

Bafang 500-watt hub motor

PAS:

Cadence sensor, 5 settings

Brakes:

Taiwan Star Union hydraulic brakes with 180 mm front/160mm rear rotors

Gearing:

Shimano Altus X7 7-speed

Battery:

48V 13 Ah battery with Samsung cells

Wheels:

Innova 20" x 4" tires
A Small Reminder That Sometimes Things Can Be Made Just to be Fun
With a bottle opener bolted to the front of the frame, the Soda only has one mission, and it's definitely not to take itself too seriously. From the paint job to the livery, stickers, and accents throughout the bike, the Soda looks like a lot of fun.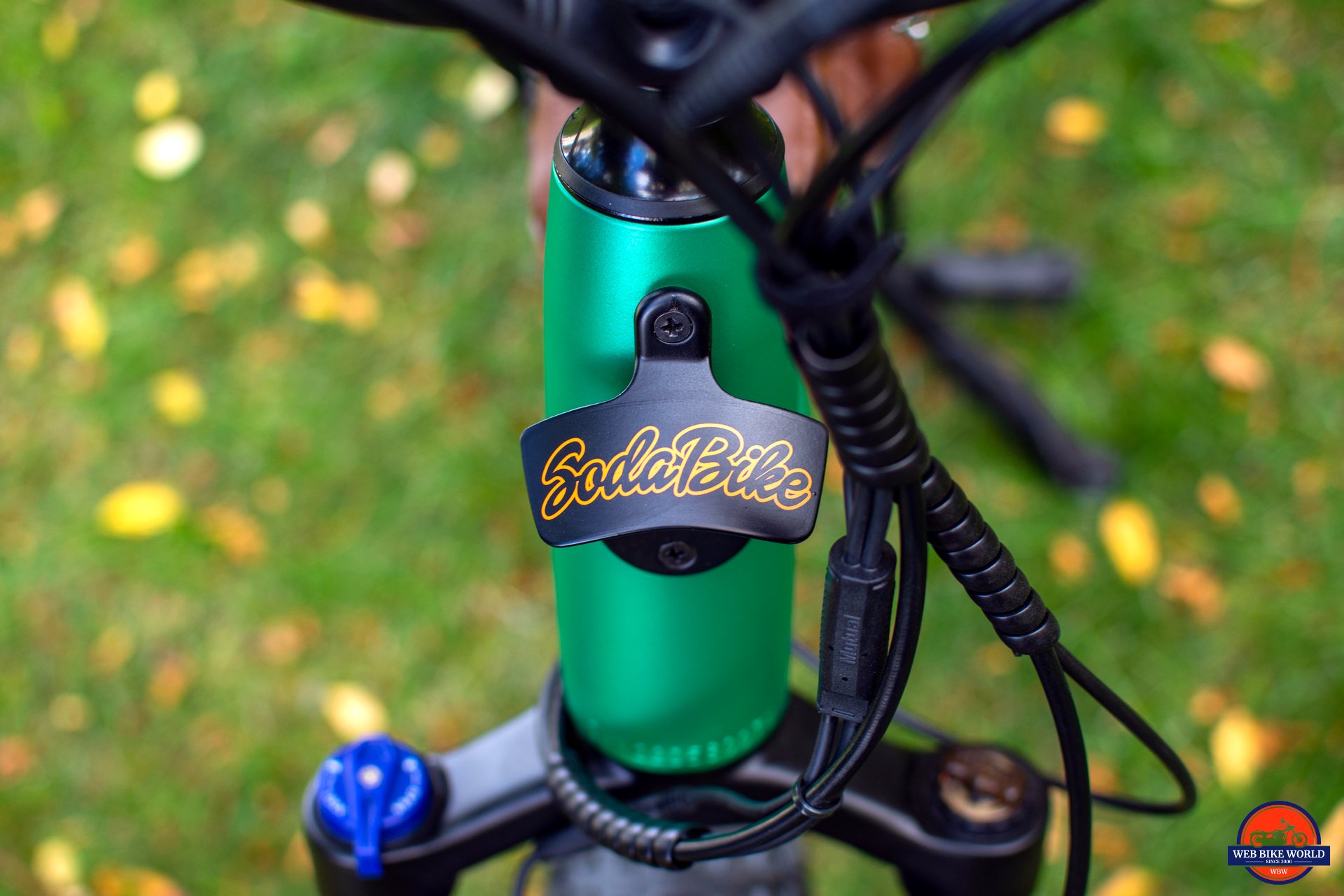 The smaller frame means that you can really tuck the Soda into tight places, and when fit with the generously sized rear rack, the Soda becomes an effective runabout. The rack has relatively high sidewalls and is genuinely useful, which makes the Soda a great grocery getter.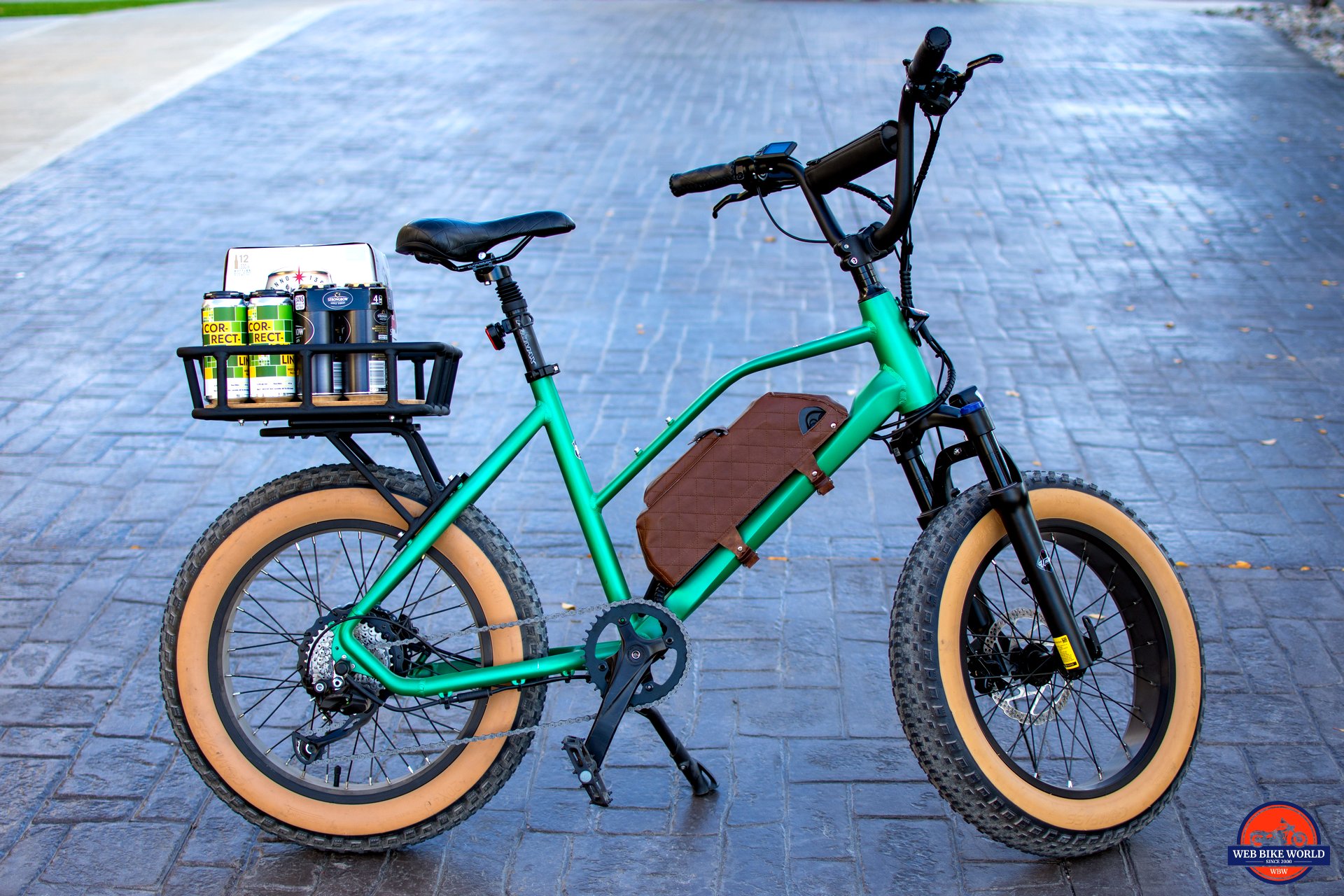 The form factor of the bike, along with your riding position, gives the Soda a rearward weight bias. I noticed a bit of tire lift while riding heavily, trying to pedal-power my way up some single-track hills. Considering how small the forks and wheels are, it's easier than you expect to pop a wheelie on this bike. 
Then again, it's almost as much a feature as it is a bug 😉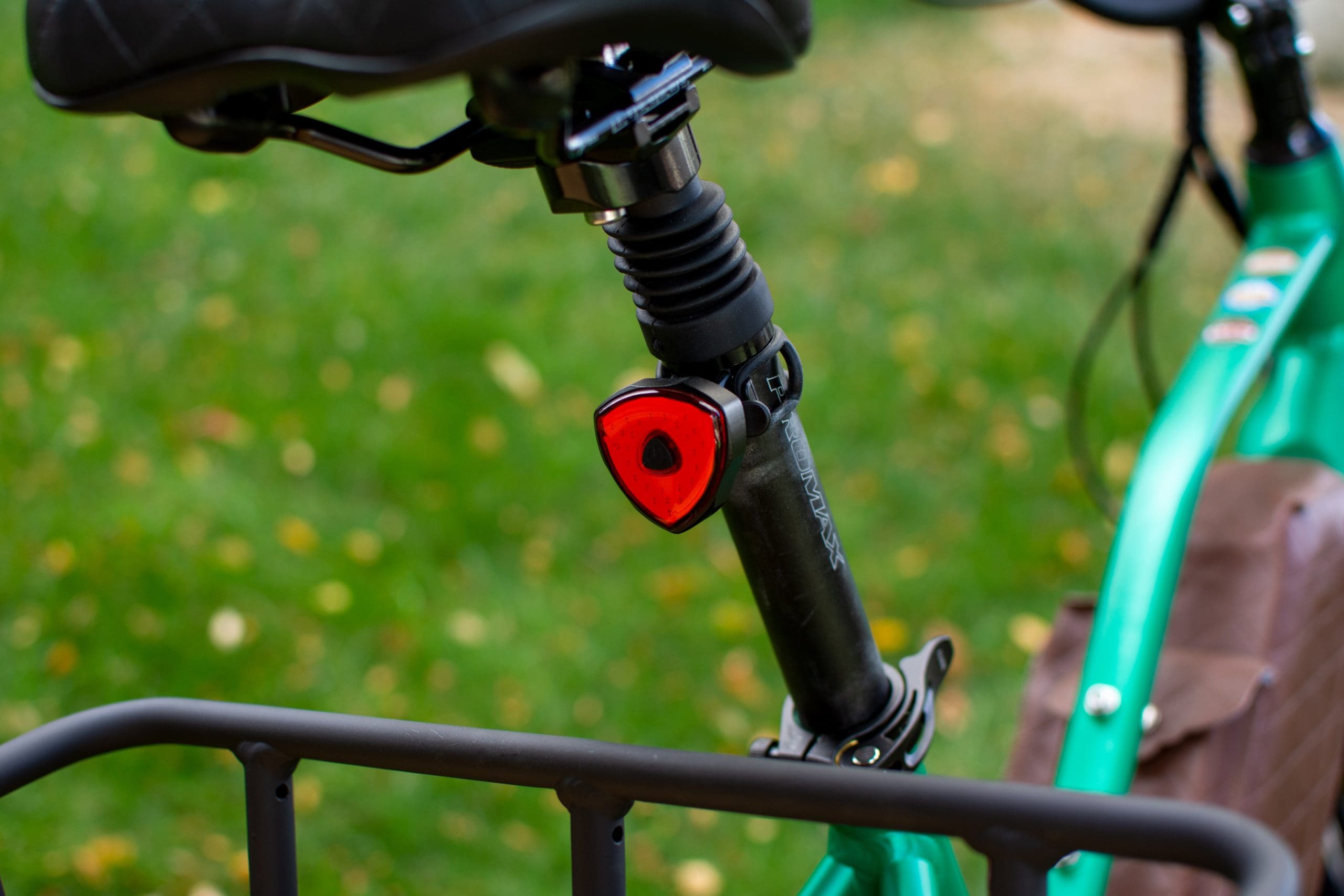 My lower back and neck were happy with me after two days of 30 km (18 mile) rides, which is a strong endorsement on my lower lumbar's part. The relaxed riding position, saddle seat, and plush leather grips helped, but I think much love also goes to the 4" Innova tires and front suspension fork.
The Soda's frame and geometry are fun, but the paint on this one is really special. The cool teal green contrasts nicely with the amber sidewall on the tires. The designer at Michael Blast took care to angle the down and top tubes, allowing the frame to really play with light.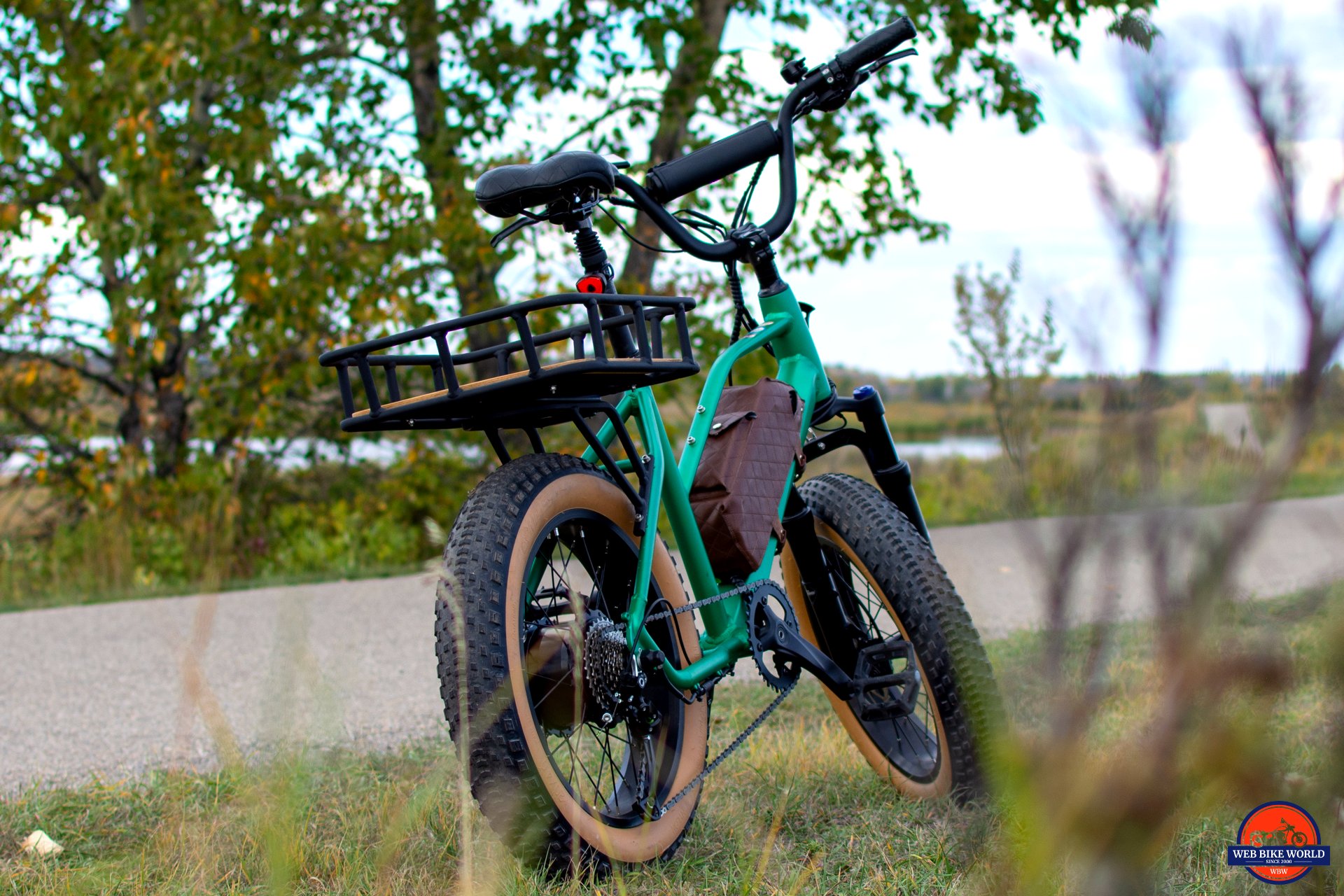 There is a spot to mount an accessory on the top tube, such as a water bottle holder, and let's not forget the leather battery cover – which is indeed real leather.
The cover is supposed to be color-matched to the seat, but for ease of shipping, I just kept the cover from the Vacay Lo I had just reviewed. If you picked up the Soda in this green colorway, you'd have a black battery cover on yours.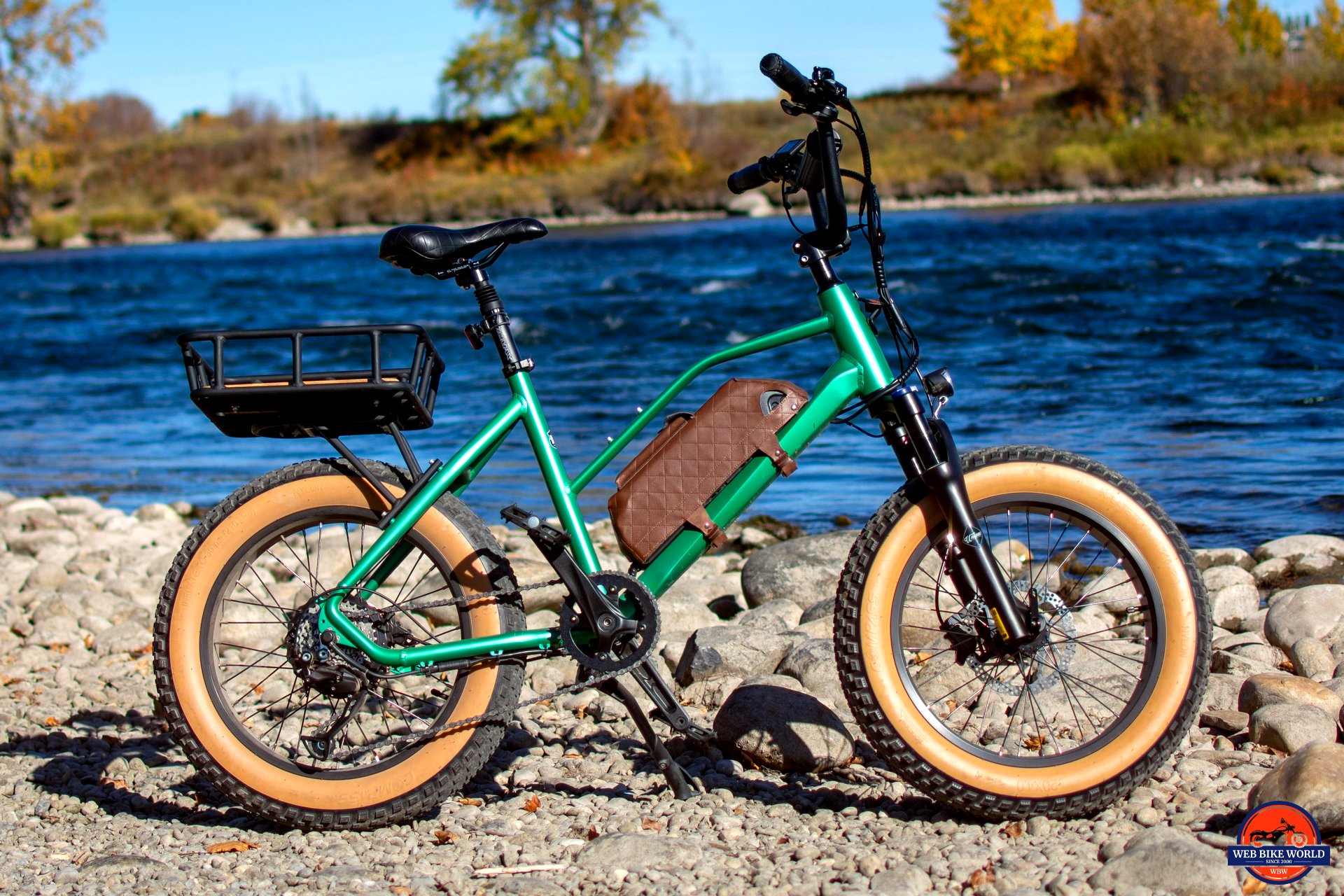 The Soda looks great from every angle, and like other Michael Blast eBikes I've reviewed, it's a definite head-turner. Okay, the beer on the rack might have helped turn a few heads, of course…
As Fun to Ride as it is to Photograph
If you want the Soda to be a tarmac-tearing terror, you need to realign your expectations. With a 500-watt rear hub motor that outputs 85 nm of torque, the Soda has plenty of pep in its step, but it's not meant to shred mountains.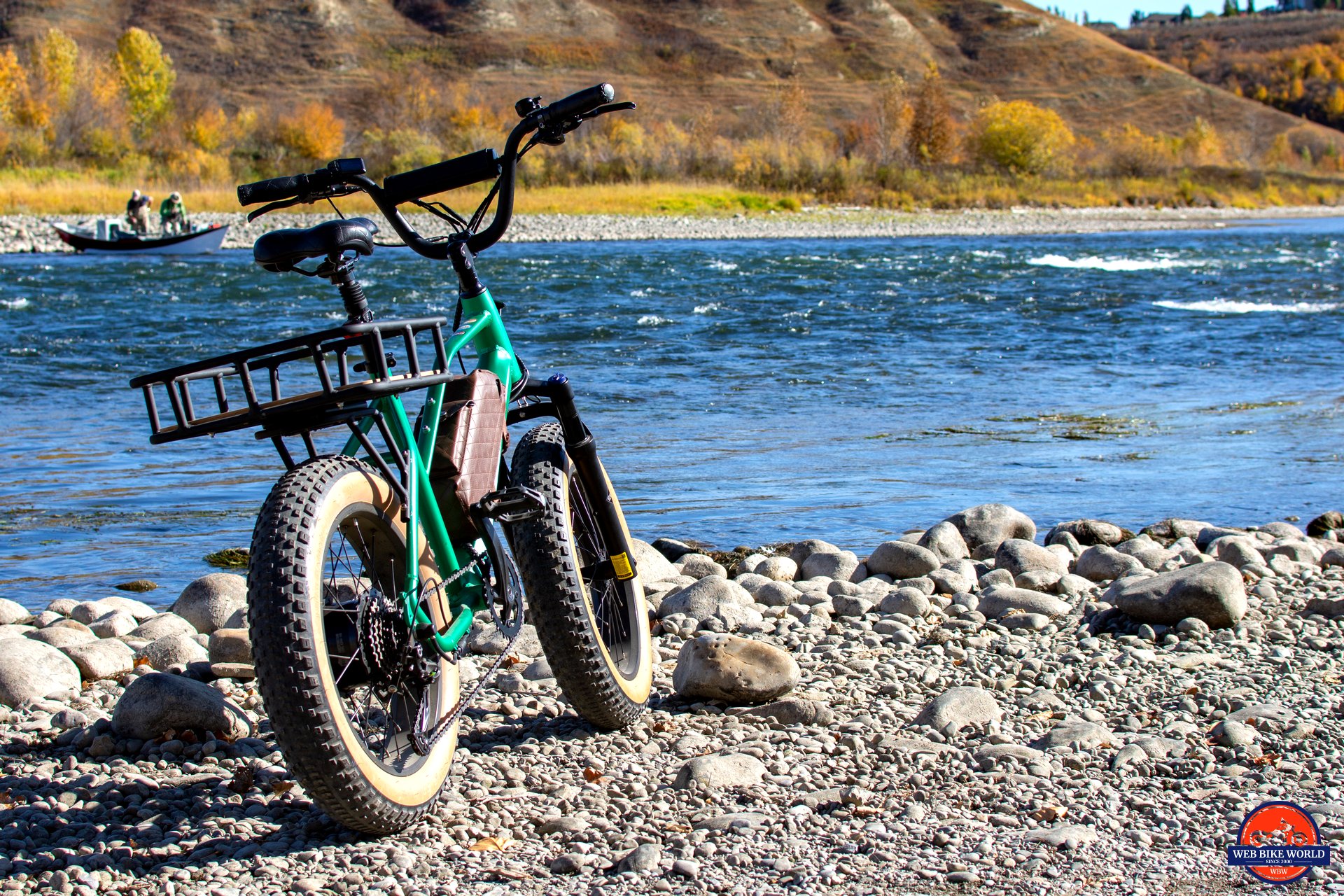 But, thanks to a smartly cadence-sensing pedal-assist system, the Soda will go to many fun places. And because its frame is smaller than most, it's got a tighter turning radius, too. Navigating in urban or riverside settings alike is enjoyable; you can squeeze the Soda almost anywhere.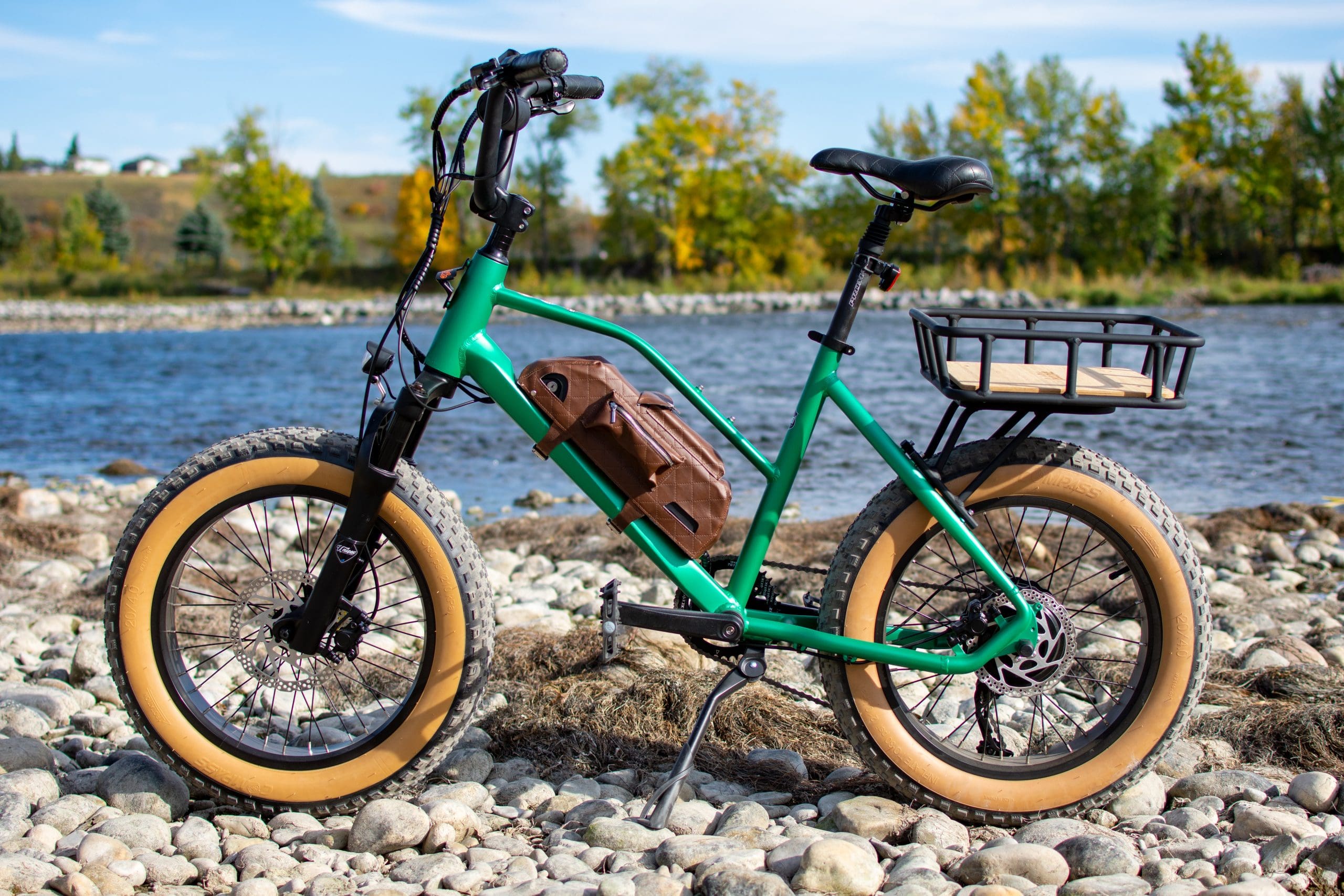 The photo above was taken about 300 meters (330 yards) along a riverbed, where I had to traverse over baseball-sized rocks for much of the way. The coil suspension is very compliant, and I softened it fully for this little stretch. I also ran the tires with lower pressure (around 16 psi for this photo), and had lots of grip as a result.
How the assist is calibrated is nice, as PAS 1 and 2 provide plenty of boost while still leaving room for you to push some pedal power if you want a workout. PAS 3 and 4 conquer urban pathways, and PAS 5 is effectively cruise control.
Michael Blast claims a range of up to 80 km (50 miles) on its battery; I noticed a 50% drain after about 35 km (22 miles) of riding. I'd feel very comfortable daily riding the Soda if I had a short 40ish km (25 mile) round-trip commute.
Build Quality & Components
The Soda uses a mix of brand-name and OEM-spec components. For example, Taiwan Star Union may not be a brand you've heard of, but Shimano and Bafang are. Build quality is good overall: wiring and electronics are tucked away inside the frame, the leather pouch covers the 13 Ah battery, and the frame is made well.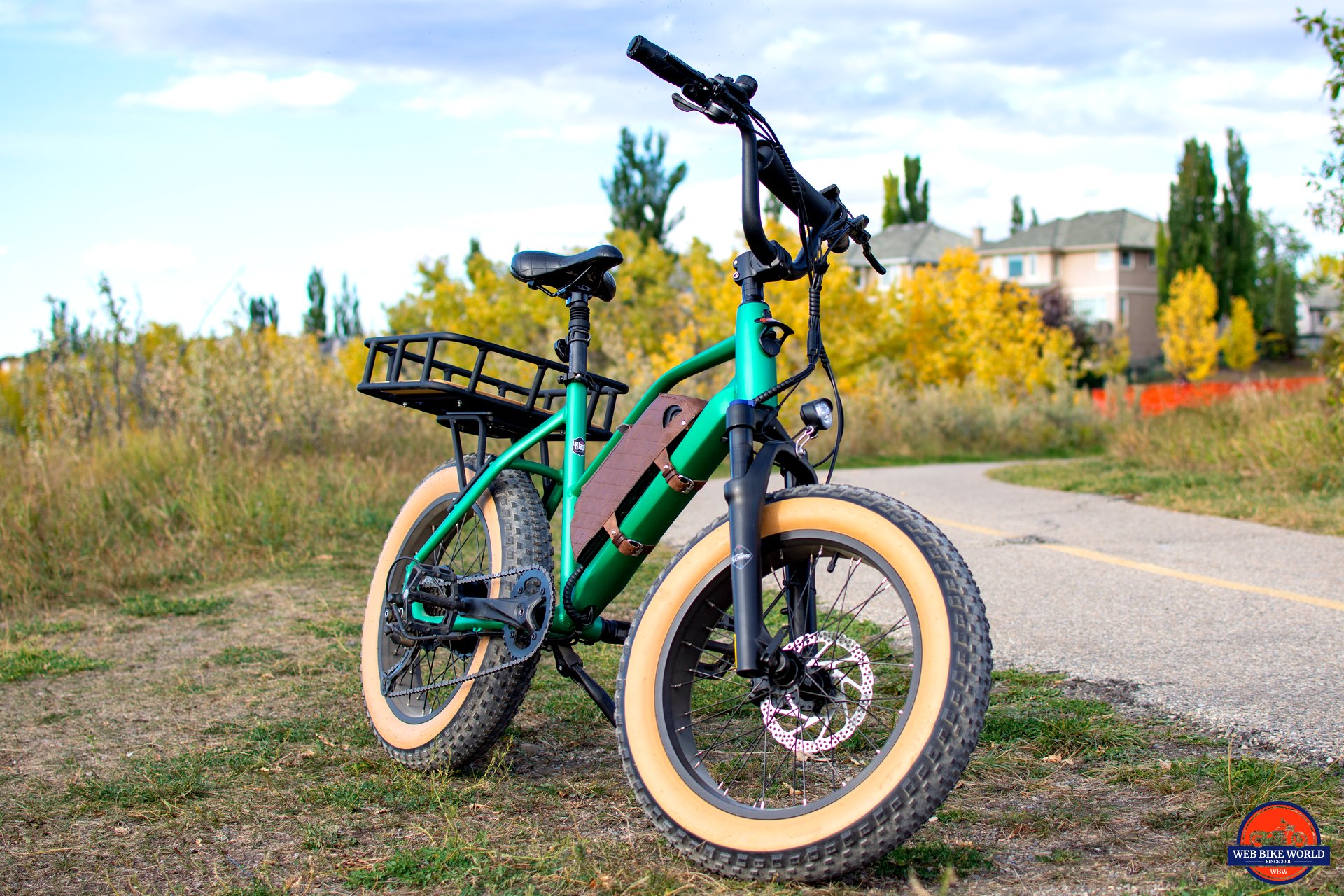 Forks & Frame
The coil suspension forks are standard fare as far as forks go and can be locked out or set to a reasonably soft level. They aren't too heavy and match the bike's look. The left fork has the preload adjustment, and the right has your lockout/comfort settings.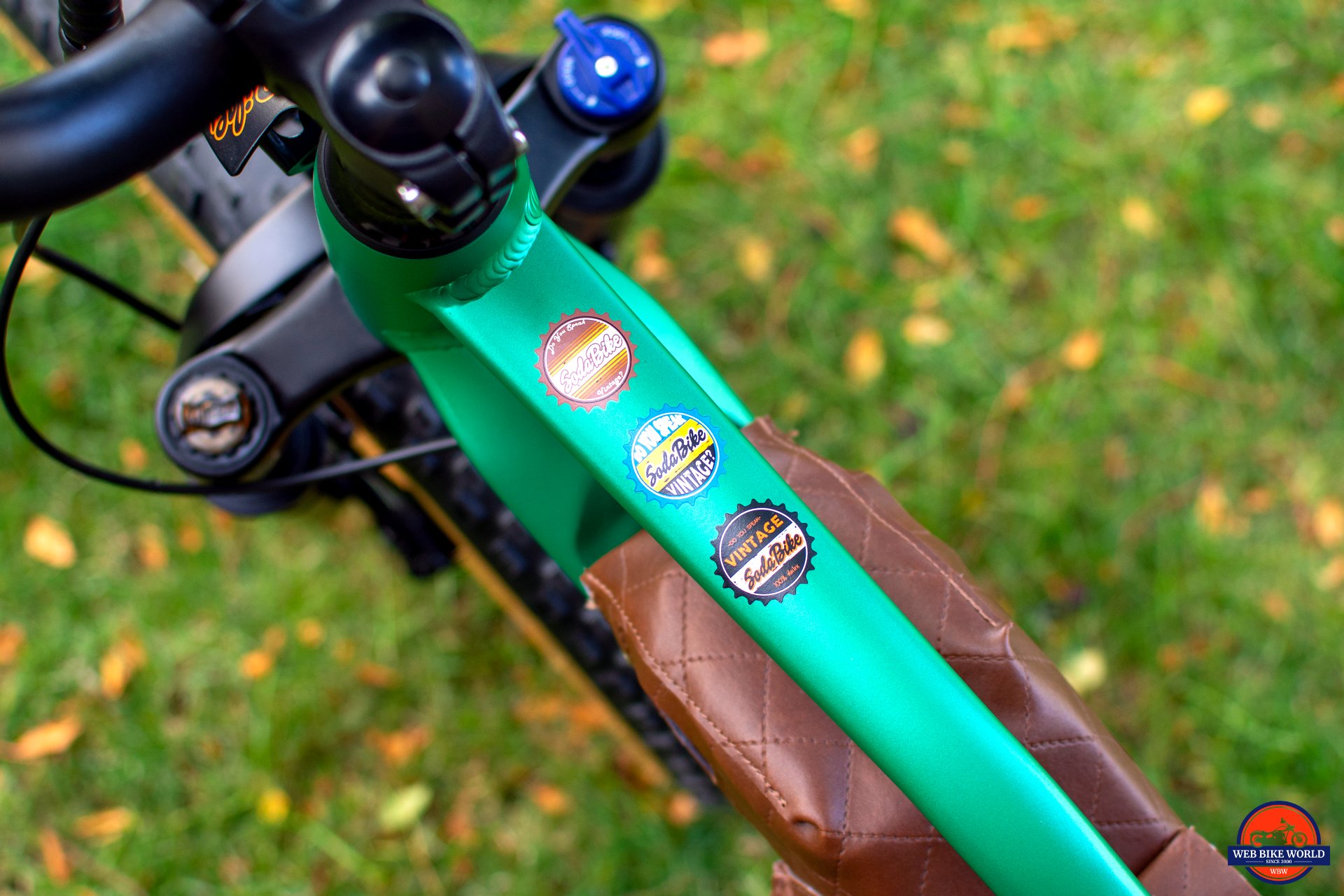 The frame is a nice step-thru shape, made of A6061 aluminum, and painted a teal green. Welds are clean and smooth, and there is nothing visual about the frame that seems out of place or manhandled.
You can also get the Soda in black, blue, orange, and pink, but I think green is the top colorway for this bike (though the pink frame with white sidewall tires looks pretty sick, not going to lie).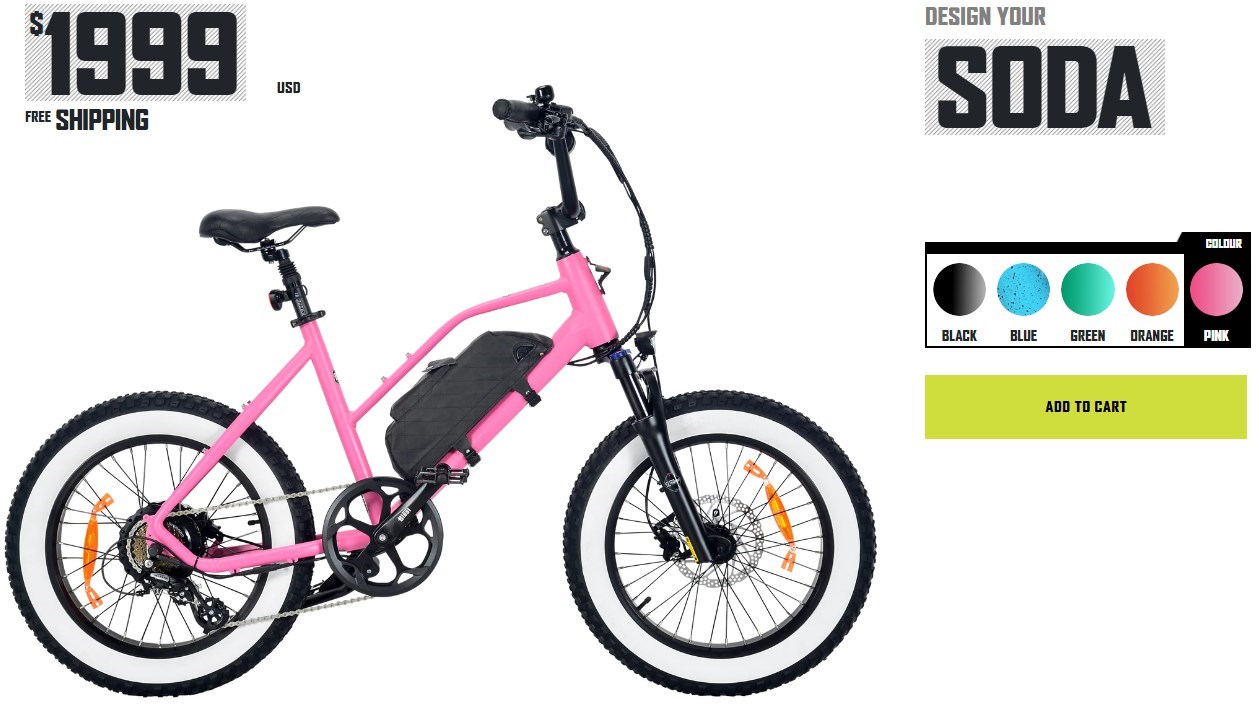 Wheels & Tires
The Innova 20" x 4" tires are knobby and suitable for all surfaces. I'd even wager that they'd do okay in light snow, though they certainly aren't snow tires.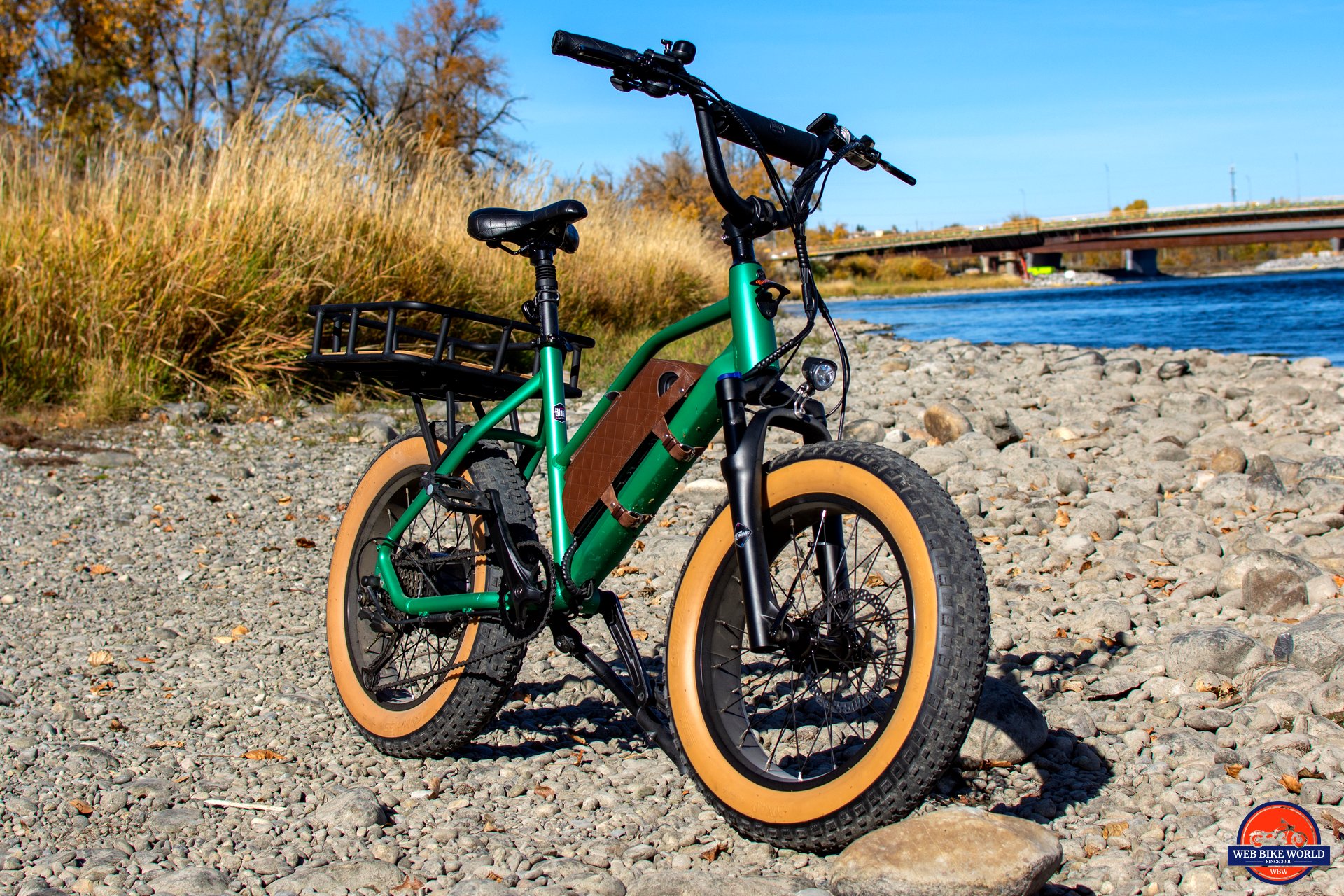 The spoked 20" wheels feel surprisingly light considering the 4" thick tires wrapped around them, but the wheels are 6" smaller in diameter than most bikes I've ridden, and the difference is significant. The Soda felt squirrely at first – it took me a couple of minutes to get used to the smaller diameter wheels.
Brakes
Michael Blast has fit the Soda with Taiwan Star Union hydraulic brakes, rocking 180 mm rotors in the front and 160 mm rotors in the rear.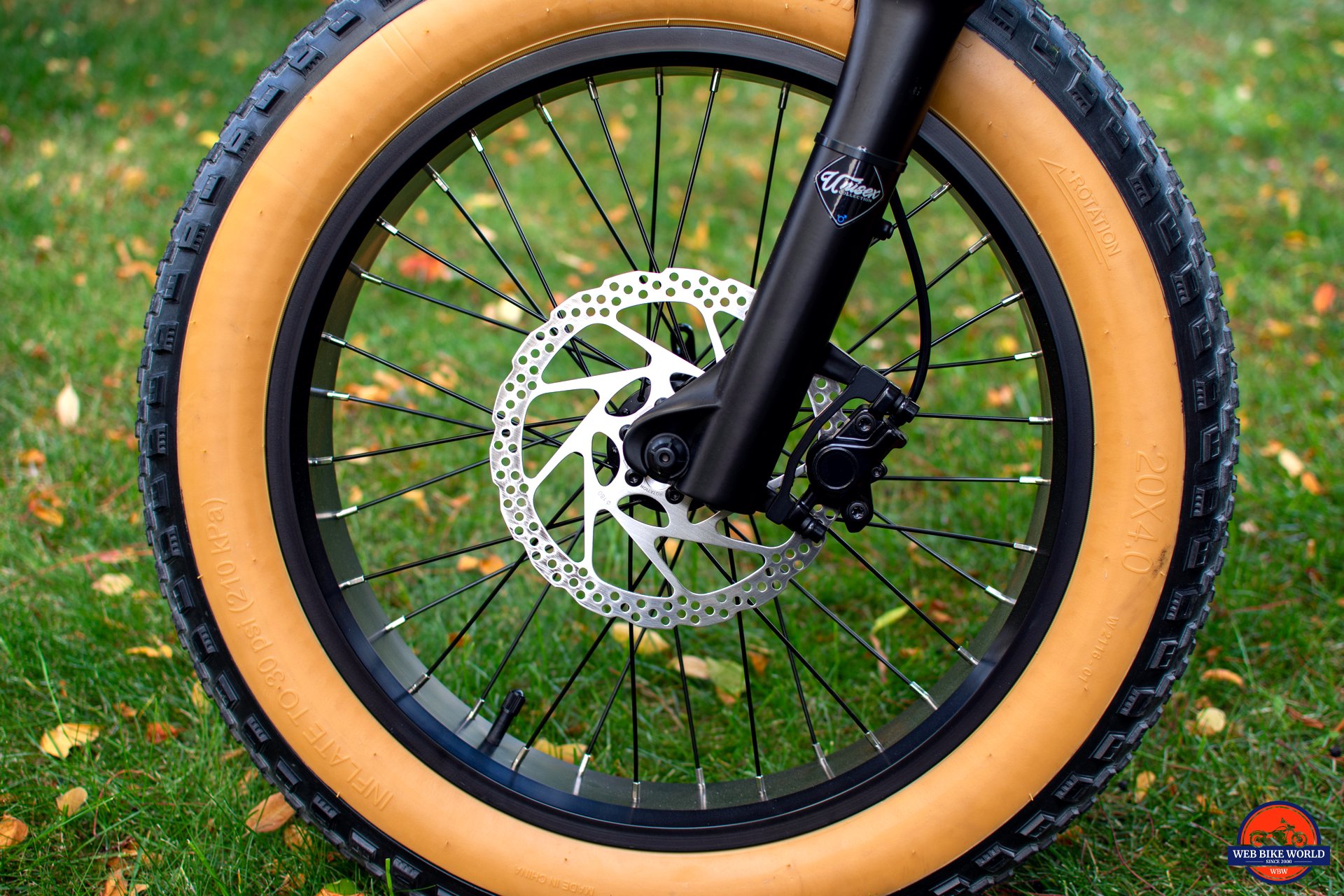 With a curb weight of 62 lbs, I'd have preferred to see 180 mm rotors in the rear as well. The two-piston calipers did a fine job stopping the bike in all situations I rode, but bigger brakes are usually better with bikes weighing 50+ lbs.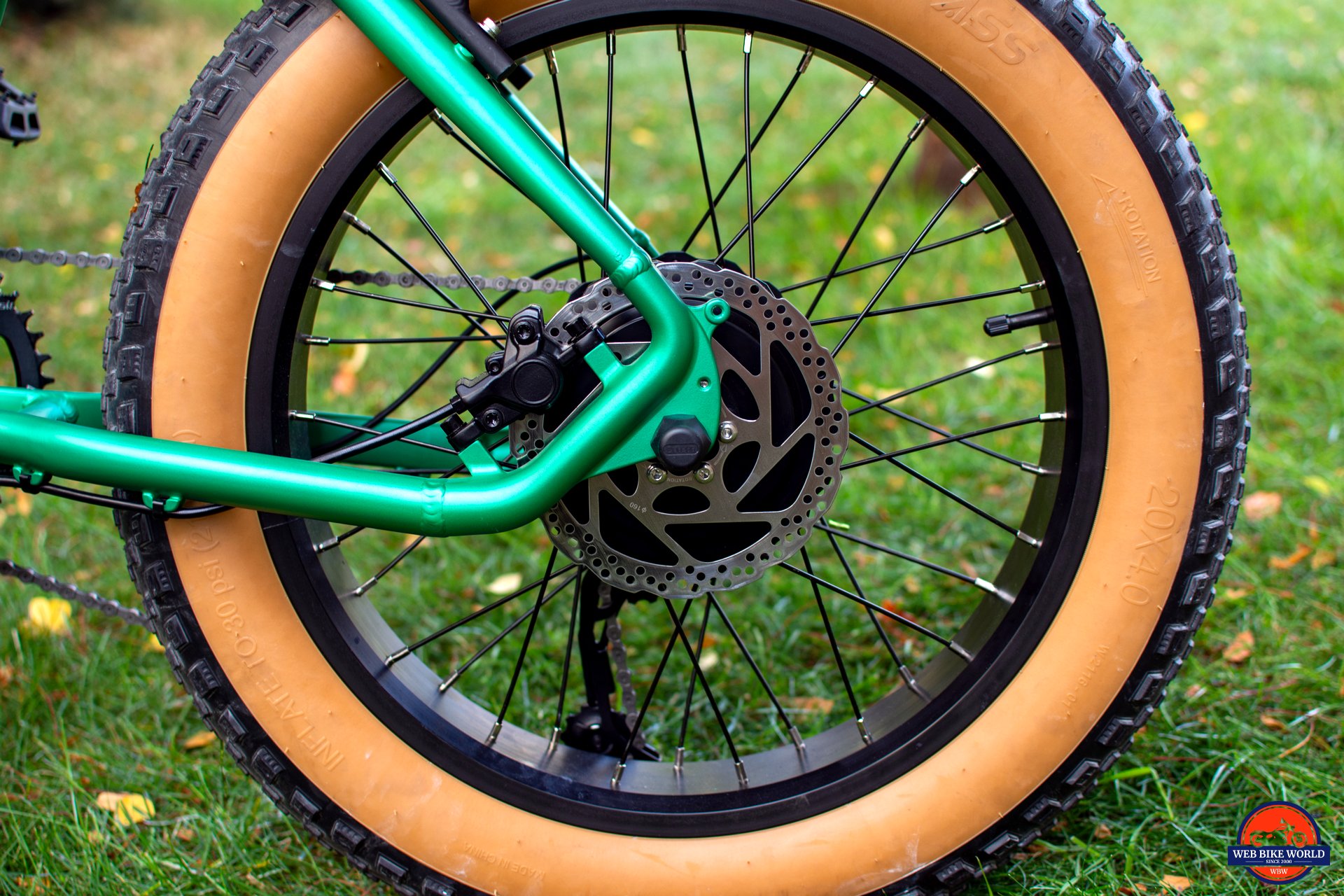 Still, both the front and rear brakes have plenty of bite, and I did not experience any issues in the ~90 km I put on the bike while I tested it.
Handlebars, Display, & Shifting
The cockpit is pretty straightforward, with upright bars in a classic BMX configuration.  The display pad is on the left bars, leaving the bike's center very open.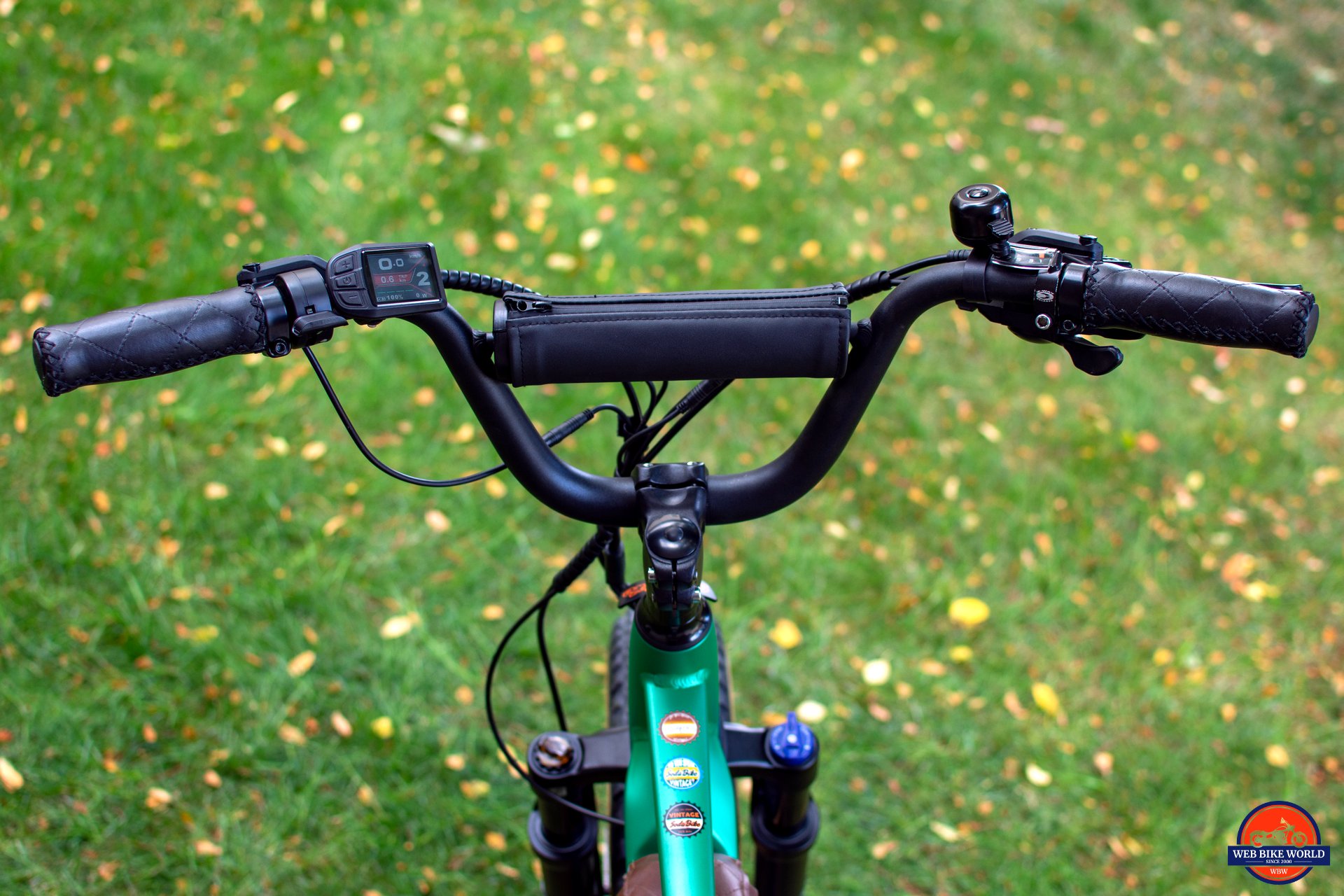 Unfortunately, I am not a fan of the display on this bike. I've seen this display on other bikes, but on the Soda, I found it to be unresponsive, often requiring multiple button presses to adjust the PAS settings. It's fine, considering how much you engage with it, but it's nowhere as good as the display on the Vacay Lo.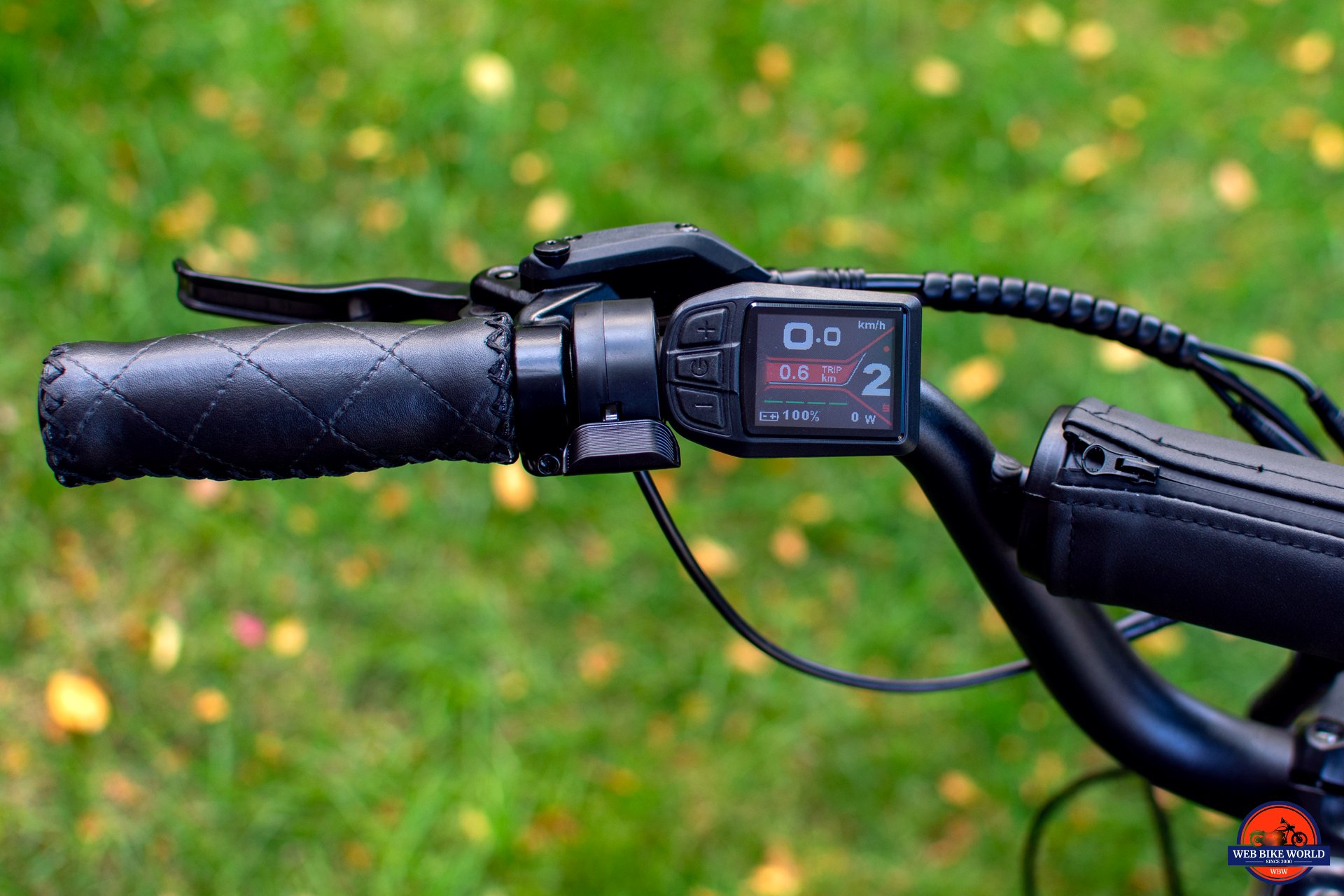 The left bars have the throttle mounted next to the grip, leaving it within easy thumb distance. This is a good spot for the throttle; thumb throttles are my preferred type.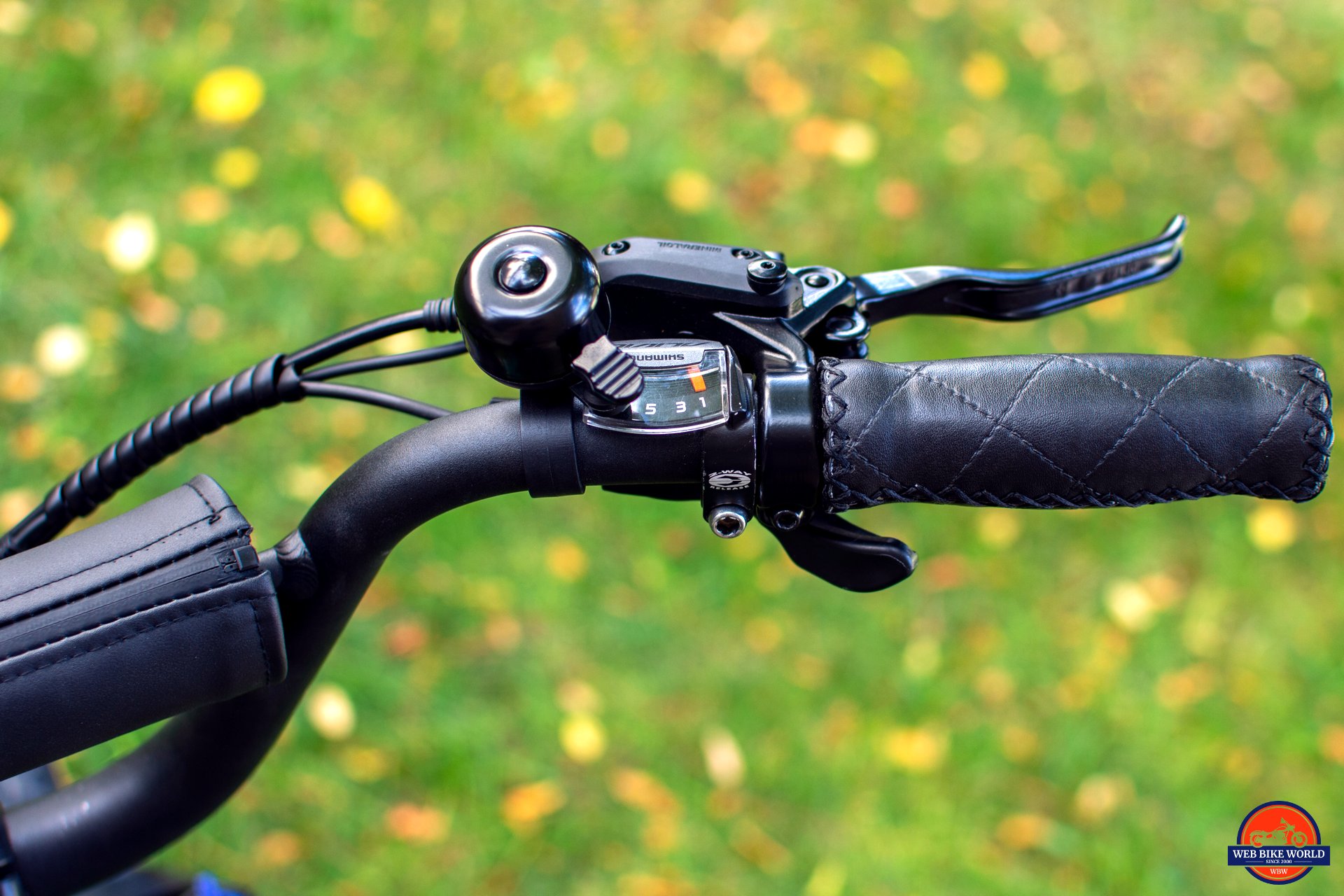 The right bars have your shifter and bell. I like the visual gear indicator and the orientation of the Shimano Altus shifter; many bikes at this price point use the Tourney, which has a less ergonomic shifter. 
The Rear Rack
With the rack mounted, the Soda's got a big caboose, making it perfect for being put to work. It took me to and from a nearby watering hole, and it was happy to play pack pule on the way back. Props for the high sidewalls are useful and serve a purpose other than being a mounting point for a bungee cable.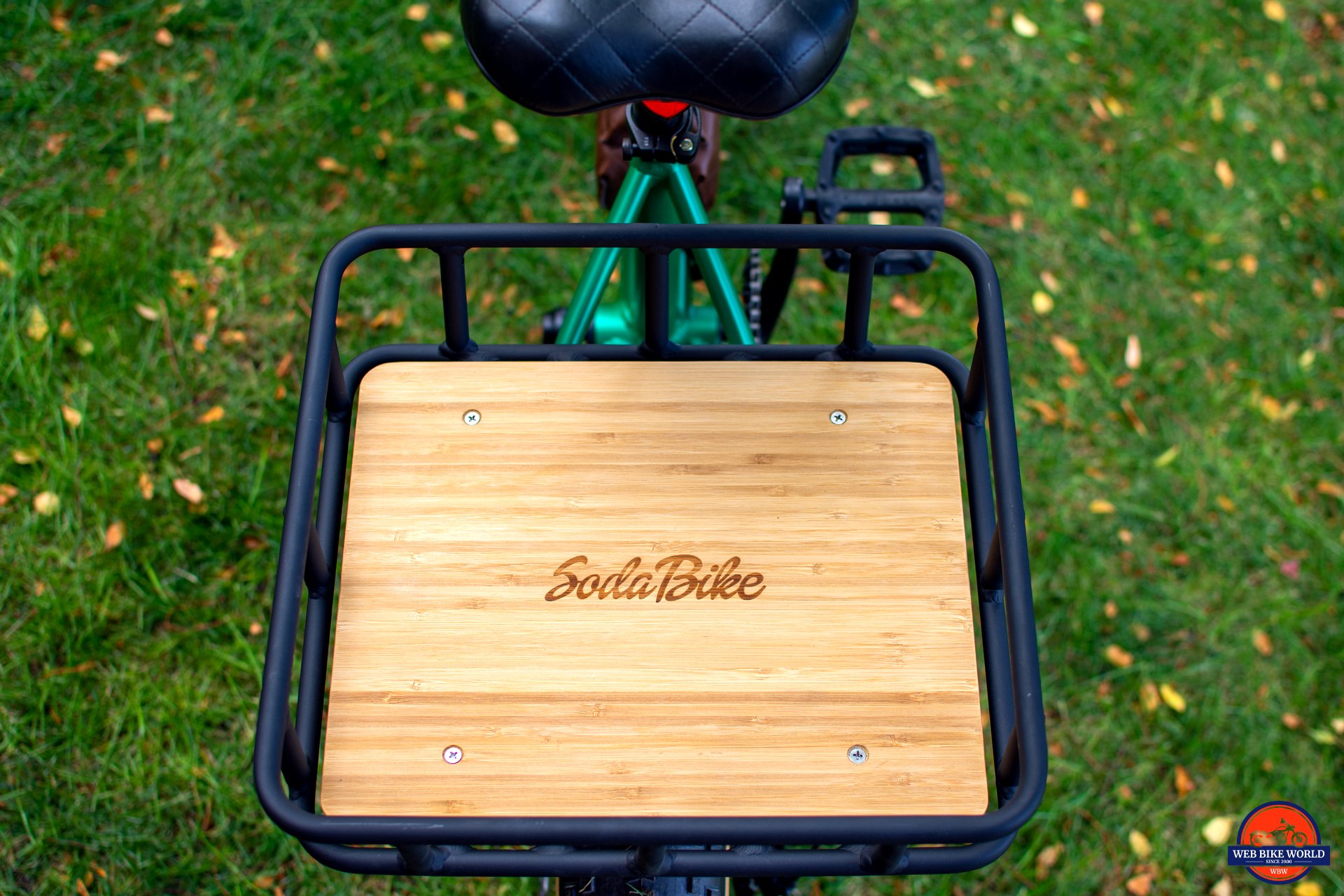 It's large enough for a couple of big grocery bags, cases of beer, or whatever else suits you. It feels robust and sturdy – I'd have no qualms loading this rack daily.
A Great All-Arounder for Wherever Your Rides Take You
Besides a slow display, there's little about the Soda to complain about. At just under two grand, it's affordable for most, and thanks to how it's put together, it would easily work as someone's only mode of transportation if your commute was under 35 miles.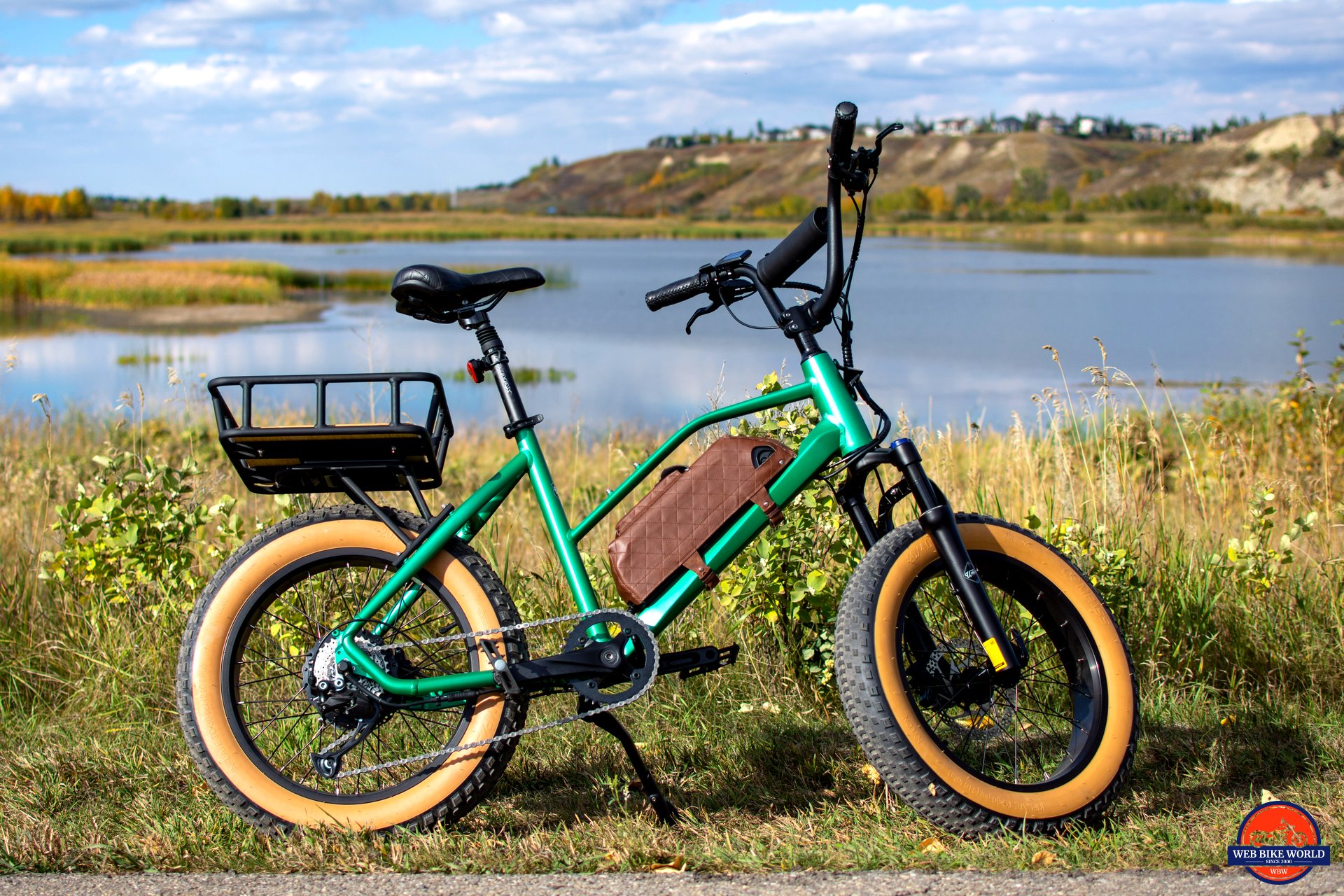 I think this a great choice for someone's first ebike, as it's approachable and powerful without being overwhelming. You're also unlikely to outgrow it, whereas people who opt for 250-watt or 350-watt first bikes tend to trade up pretty quickly.
The vintage aesthetic looks great, and the colorway pops off in almost every setting. I like how the frame is tapered at key parts to emphasize the paint, and I appreciate that Michael Blast has minimized visual noise by keeping cables organized, controllers hidden, and so on.
Its form factor and component choices make it capable of riding just about everywhere, but it's never a master anywhere. It'll handle a 35-mile commute, but it is not built with the same focus on efficiency or creature comforts as most commuter ebikes are; it's got suspension and fat tires for all-terrain-riding, but its 7-speed groupset keeps it from being a proper off-roader.
The compromises the Soda asks you to make are sensible, and each one means that you can ride the Soda more often and in more places. It's small, fun, and peppy – exactly what a good Soda should be.
2023 Michael Blast Soda Review
Review Summary
The Soda was that cool kid in high school that was friends with everyone and was hard to pin down. Its geometry isn't ideal for spirited trails, but its riding position is comfortable for all-day riding. It looks like a BMX but isn't one, and you'll enjoy surprising range out of its 13 Ah battery. It's got a lot of personality and enough oomph to be a great bike, whether it's your first or next one.
Pros
Excellent vintage-inspired design
Surprisingly comfortable ride
Maneuverable and fun to ride
Oversized rear rack
Cons
Rear weight-bias
Slow LCD display