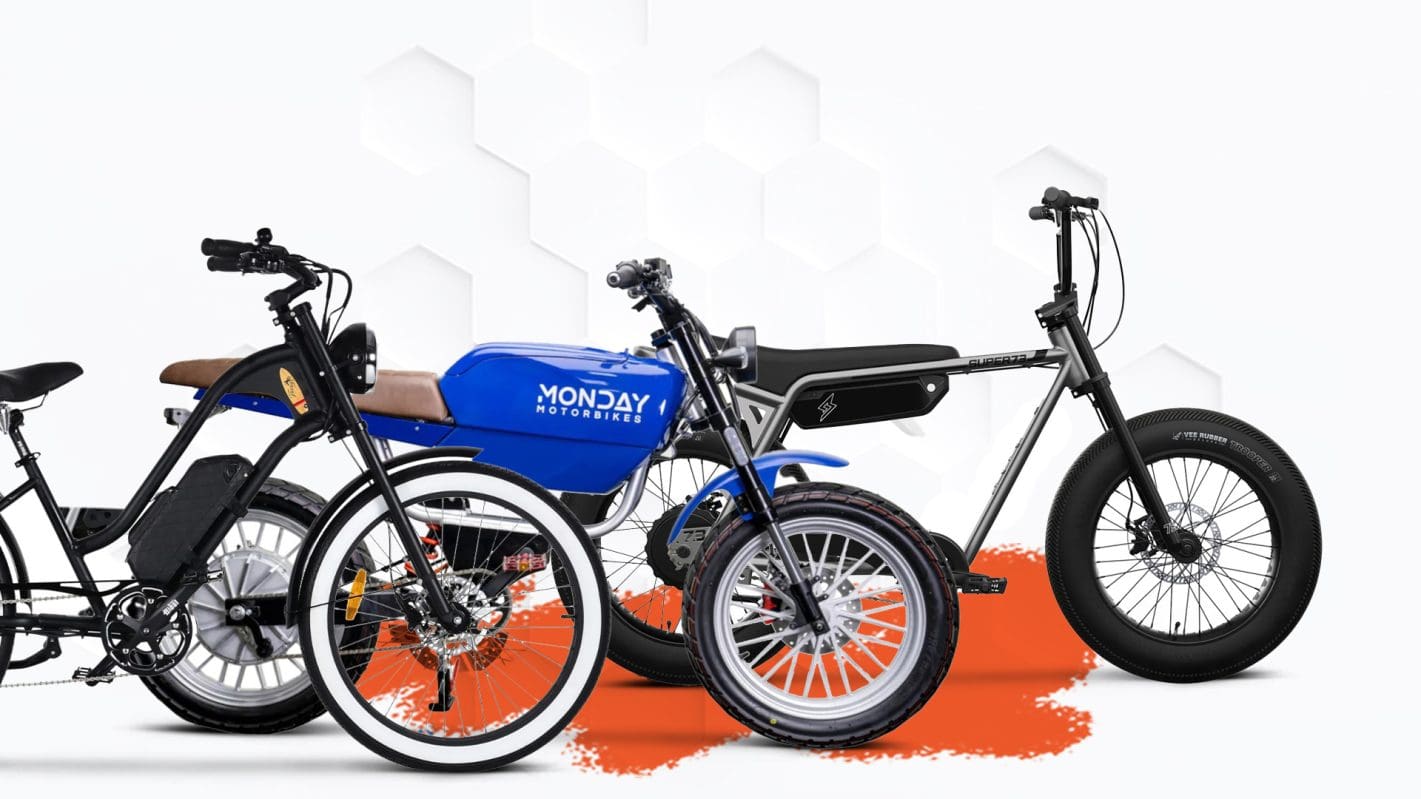 When You Want To Look Good & Pedal With Power
Article Quick Nav
These are the best eBikes that look like motorcycles for 2023:
While motorcycles are the primary focus here at webBikeWorld, we also realize that the electric vehicle revolution is upon us (in face, we have completed more than 20 ebike reviews). More and more companies are making eMotos, such as Zero and Harley-Davidson, while there has been a veritable explosion of eBikes in the past 5 years.
It is a bit ironic that eBikes are becoming so popular now, as back when motorcycles were first invented, electric motors were often used in place of combustion engines because it was simpler to have a small electric motor than it was to miniaturize an engine. However, the combustion engines proved to be more efficient, less expensive to make, and provide far more range, hence why there has been a century of internal combustion engines.
Nowadays, with modern battery technology and electric motors becoming ever smaller and more powerful, the electric bicycle has made a return in a big way. Because of that, and because our name does include "Bike" in the middle, here are our five best eBikes that resemble motorcycles for 2023
About Our Selections
The only criteria for our selections were that the eBike, regardless of brand, resembled an identifiable motorcycle shape. This could be a British motorway cruiser, a Honda miniMOTO, a cafe racer, and the like.
2023 Michael Blast Vacay 500W Lo-Step
An eBike that gets the job done while looking like a 1950's British motorway cruiser
Why We Picked It:
The Michael Blast Vacay 500W Lo-Step, apart from being a bit of a mouthful to say, is an eBike that has been designed with the urban commuter in mind. Unlike some other eBikes that are trying to be the longest range, the smallest foldable bike, or the most motorcycle-like, the Vacay is just average... in all the best ways!
It has a Bafang 500W brushless rear hub-drive motor, with a 7 speed Shimano derailleur handling gearing and ratios. It has the classic swept back handlebars of a mid-50's Triumph Bonneville with a saddle that wouldn't look out of place on the same Triumph. The 48V 14.5 Ah battery is slung low on its bottom spar, covered in a diamond stitched leather cover that gives it that little je-ne-sais-quois of flair.
As it is designed as a commuter, it has a decent 32 miles (50 KM) of range, and the battery is removable so you can charge it under your desk at work in 4 to 5 hours if you fully drain it. There is a half-twist throttle, a full LCD information display, and 5 levels of pedal assist. It will get you up to 20 MPH (32 KPH) as a Class 1 eBike, and will slow you down with full disc brakes.
It does feature a lower top bar to make mounting and dismounting a breeze, and has some decently fat tires to help absorb the words lumps and bumps in the bike lanes of the average American city. As we said, it's average, but in the best ways, and that includes its very affordable price for the tech and specs you get.
Specifications:
Price: $2,799

Engine: Bafang brushless rear hub-drive motor

Power: 500W




Torque: 80 Nm

Transmission: 7 Speed

Curb Weight: 62 lbs
Strengths:
An affordable cafe racer eBike that while having average specs, it's average in the right places such as having a Bafang motor, Shimano 7 speed derailleur, and hydraulically actuated disc brakes

An average of 32 miles of range is more than enough for most bicycle commutes.
Learn More:
2023 Monday Motorcycles Piezo
It looks so much like a motorcycle that the only thing giving it away as an eBike are the pedals
Why We Picked It:
Just look at that picture above, and tell us that doesn't look like a slightly compact cafe racer? It has been intentionally designed that way, and has some particularly ingenious bits about it.
The "tank" is instead a deep and long storage compartment that has been designed to hold a satchel or even a briefcase in a pinch. The electronics and battery are underslung down by the pedals, out of the way. What truly makes it look like a motorcycle is the headlight that looks like it was lifted off a Honda Rebel 300, the front forks, the rear monoshock on a full swingarm, and the fact that it has motorcycle grade, DOT approved disc brakes.
The Piezo has a 2.0 kW rear hub-drive motor, offering up a meaty 140 Nm of torque on pedal assist level 5. It has a maximum assist speed of 40 MPH (64 KPH), and has a 2.4 kWh battery good for approximately 70 miles (110 KM) on average
Specifications:
Price: $4,599

Engine: Hub-drive motor

Power: 2.0 kW peak




Torque: 140 Nm peak

Transmission: Single speed

Curb Weight: 150 lbs
Strengths:
Uses a lot of motorcycle grade parts, some of them even DOT approved

Has a hidden storage compartment where the "tank" is, and has a half-twist throttle for when you want to give your legs a break
Learn More:
2023 Revibikes Cheetah Cafe Racer
An eBike that is meant to look like the pre-War flat-track racing motorcycles
Why We Picked It:
The Revibikes Cheetah mimics the low, long, sleek look of the pre-War flat-track racing bikes that influenced the look of post-War cafe racers, but keeps all the functionality and comfort of a bicycle intact. It has swept back handlebars, a well sprung and comfortable, even plush, saddle, and comes equipped with a Bafang 750 W rear hub-drive motor that can burst out 1.2 kW when needed.
It can reach over 30 MPH (48 KPH) if you unlock its electronics, but ships as a Class 2 eBike, limited to 28 MPH (45 KPH) on its half-twist throttle or pedal assist. It does suffer some with a small 48V 13 Ah battery, giving it a range of roughly 25 miles (40 KM) on average, but you can buy an optional "Range Extender" battery that has 17.5 Ah, giving you about 40 miles (67 KM) on average.
It's not the longest range bike out there by any stretch, but for the urban commute and runabout duties it has been designed for, that's more than enough range to have a full day of riding.
Specifications:
Price: $2,599

Engine: Bafang hub-drive

Power: 750 W (1.2 kW peak)




Torque: Not provided by manufacturer

Transmission: 7 Speed

Curb Weight: 74 lbs
Strengths:
Stylish and looks fast sitting still, and if you unlock the electronics, it can be somewhat fast at 30+ MPH

Some front suspension, but most of the shock absorption is via the fat tires and saddle spring, much like with a hardtail bobber
Learn More:
A mini-eBike that is meant to be just some damned good fun
Why We Picked It:
When looking at eBikes that look like motorcycles, we couldn't help but see the similarities between the Super73 Miami and a Honda GROM. This is a scrambler eBike that has surprisingly good power and specs, much like the GROM, and is meant to be just as much a smile-per-mile machine as the little Honda.
The motor is a 500W rear hub-drive motor with a single speed sprocket, the battery is a 48V 12.8Ah 615 Wh unit slung under the bench seat, and the wheels are 20 inch with big fat 4 inch wide tires on them. It may not look like much on the surface of things, but this little romper can get up to 26 MPH (42 KPH) on pedal assist, and has a thumb throttle for if you want to ride it giving your legs a rest.
Range is around 40 miles (60 KM) on average, depending on pedal assist level and how much you use pure throttle. It can also carry a decent 325 lbs of payload including the rider, so you can definitely use it as a small runabout, urban explorer, or even a commuter if you want. Not bad for a little eBike that comes in less than $2,000!
Specifications:
Price: $1,995

Engine: Rear wheel hub-drive

Power: 500W nominal




Torque: 40 Nm

Transmission: Single Speed

Curb Weight: 60 lbs
Strengths:
A mini-eBike that is labelled as an "urban explorer," so it will do everything you need around town, including runabout errands and even commuting

Light at 60 lbs, but has a payload capacity of 325 lbs including the rider.
Learn More:
Blurs the line between an eBike & an eMoto
Why We Picked It:
The Stealth Electric B-52 that takes inspiration from both mountain bikes and dirt bikes alike, and brings them together to make one serious bit of kit.
Powered by a mid-mount direct drive motor that takes every pedal stroke and adds up to a monstrous 6.2 kW of assist, it can top out at 50 MPH. It also features a tire-shredding 140 Nm, or 103 lbs-ft, of torque, more than many motorcycles, and has a range on its 2.5 kWh battery of about 62 miles (100 KM) on average. It also features a half-twist throttle should you wish to ride with just electric power alone.
Featuring 3 selectable ride modes (Eco, Sport, Competition), a full dash like a motorcycle that gives you your range remaining, assist level, ride mode, and other information, and suspension that wouldn't be out of place on a Honda motocross bike, the B-52 is meant to be the king of the hill when it comes to mountain eBikes.
The only downside is that it is very expensive, hovering around $10,000
Specifications:
Price: $9,880 (as of September 2023)

Engine: Direct Drive BLDC Mid-Mount hub

Power: 6.2 kW peak




Torque: 140 Nm peak

Transmission: 6 Speed Sequential Semi-Automatic

Curb Weight: 141 lbs
Strengths:
Built to be the last word in mountain eBikes, with the most range, most power, and most torque

Built to be durable and take many a tumble without damage, as its motor, battery, and rear shifter are all sealed and behind protective framing or shields
Learn More: