Jim's Favorite New Things From AimExpo Las Vegas 2023!
Las Vegas, flashy new motorcycles, and thousands of untested, unseen, enticing motorcycle farkles showcased by industry experts, social media influencers, and Dakar Rally racers!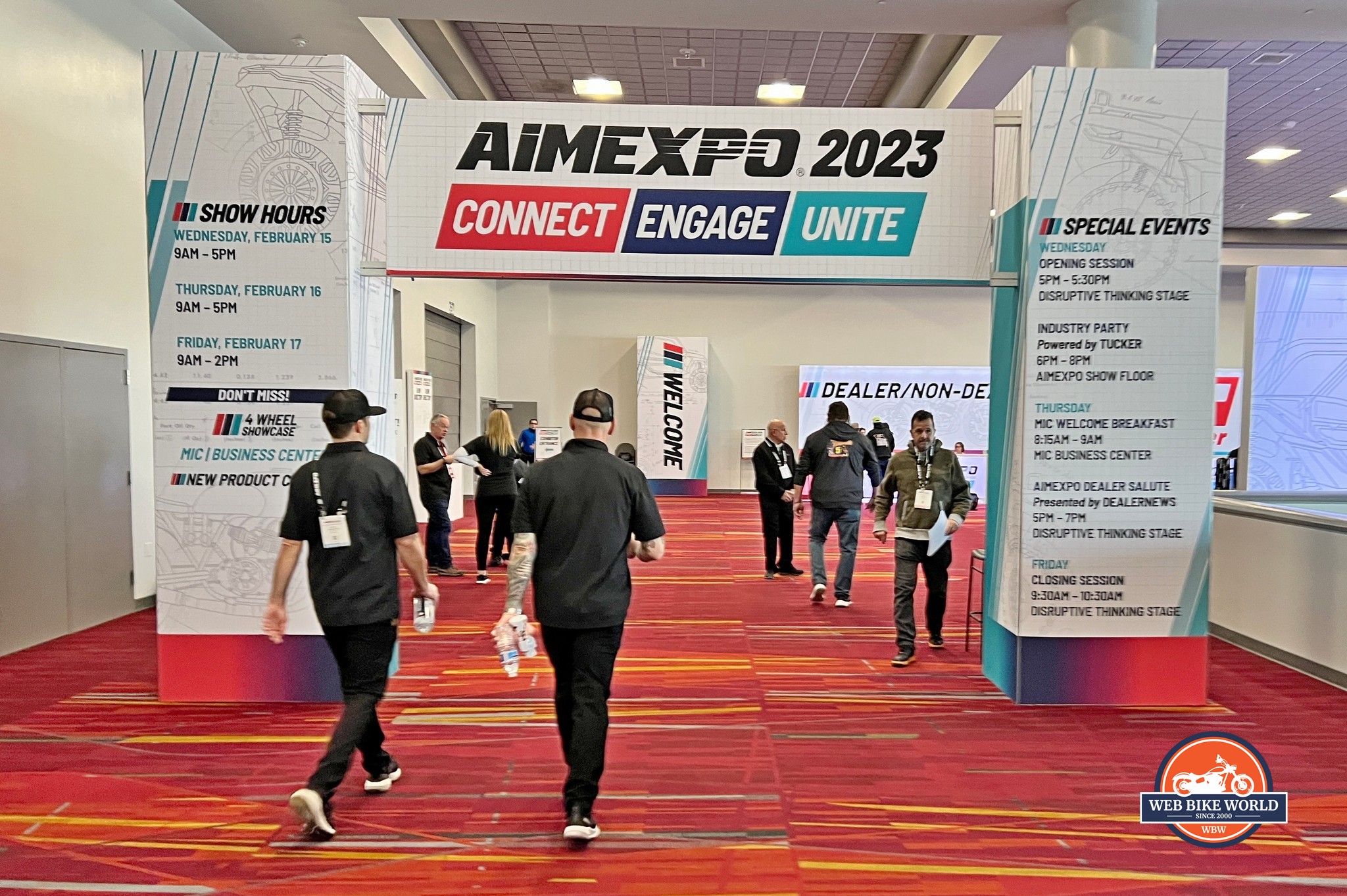 That describes what AimExpo 2023 was in a nutshell.  Put another way– it's paradise for a motorcycle fanboy and product reviewer like myself.
The Pierer Mobility Motorcycle Show?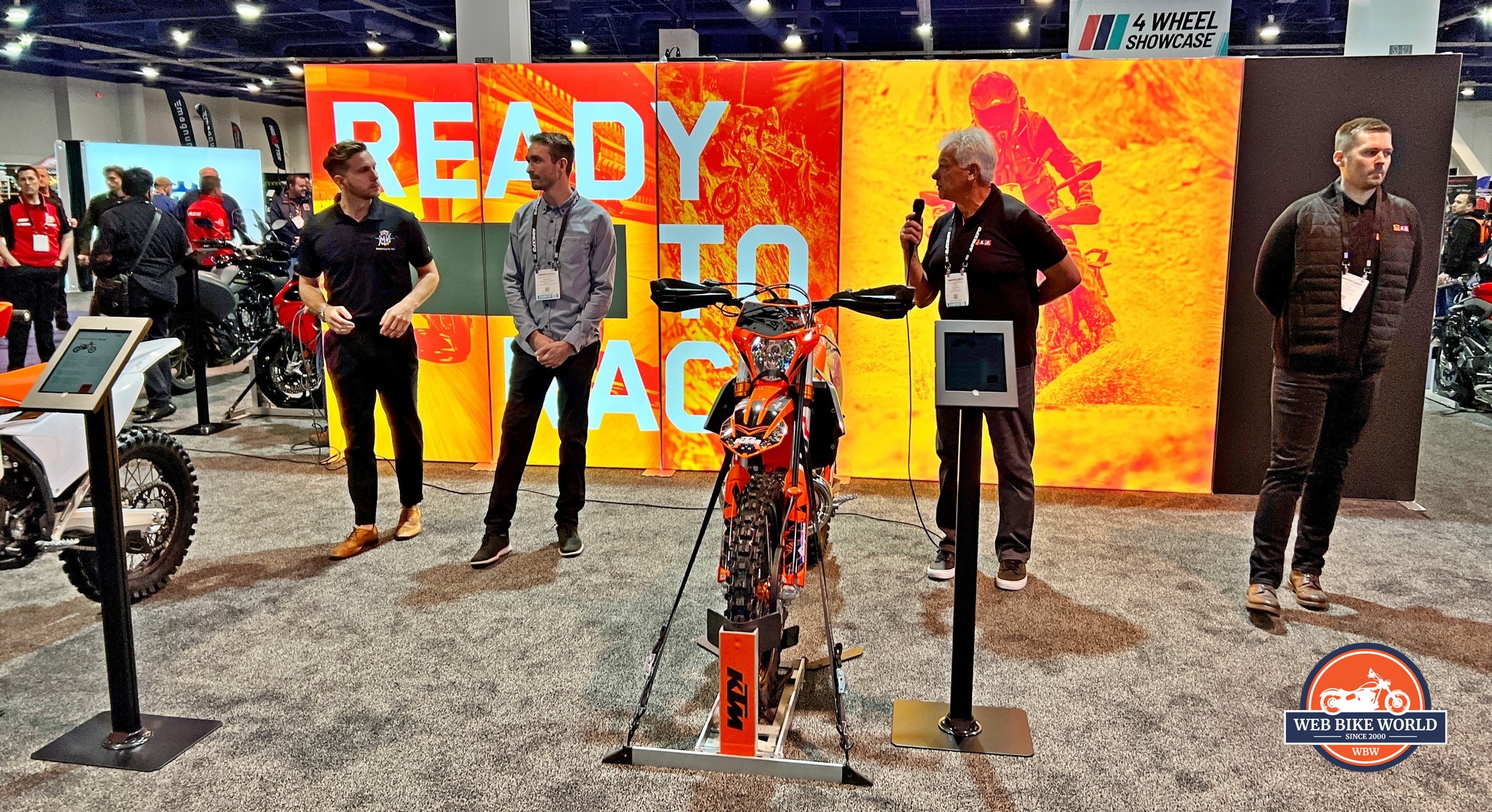 KTM, GasGas, Husqvarna, and MV Agusta had the spotlight nearly to themselves in the prime real estate middle-center booths since they're all united under the Pierer Mobility ownership banner.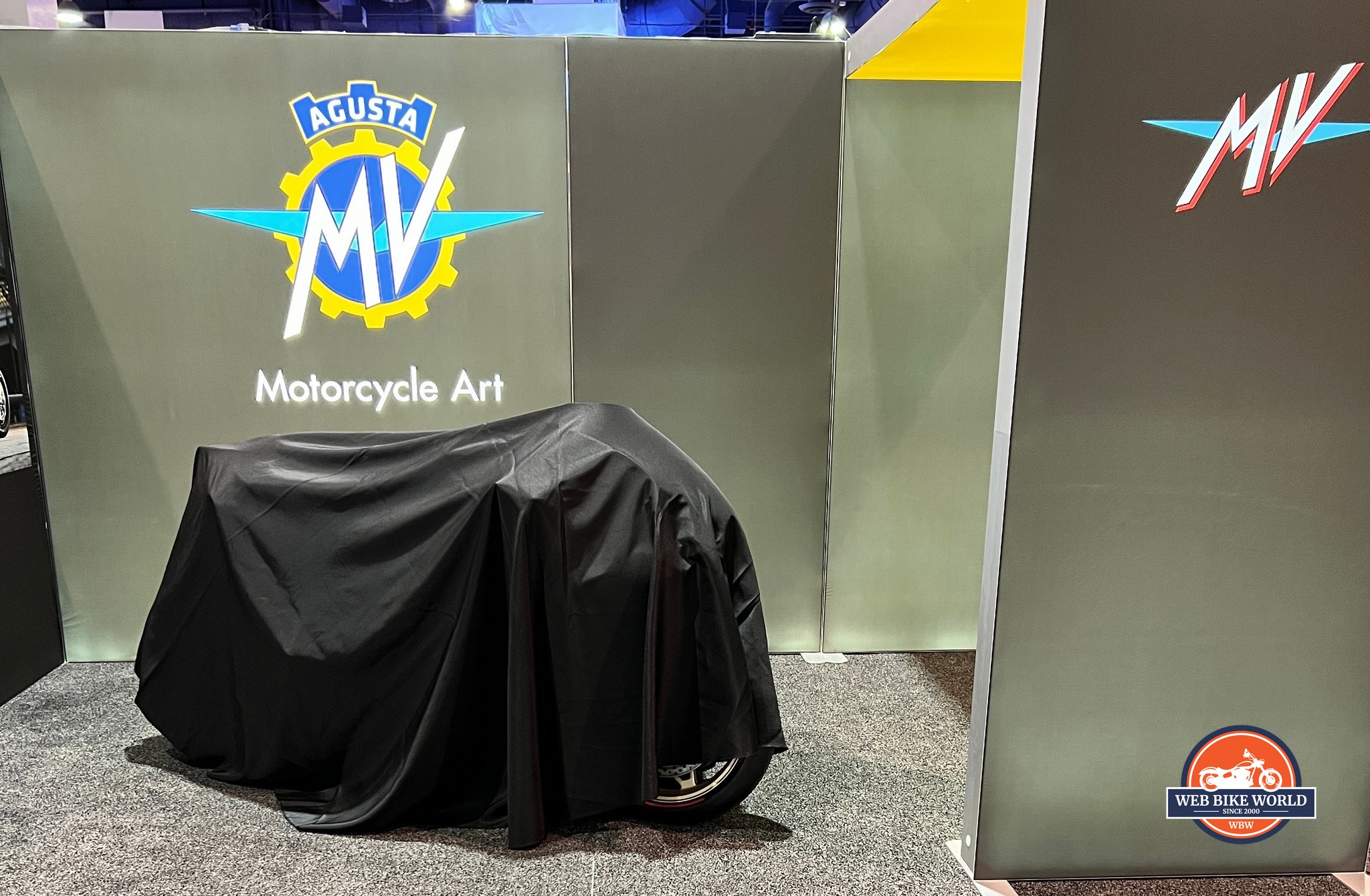 Team "Katoom" took the opportunity to unveil a beautiful limited production MV Agusta SV1000 Serie Oro on the first day.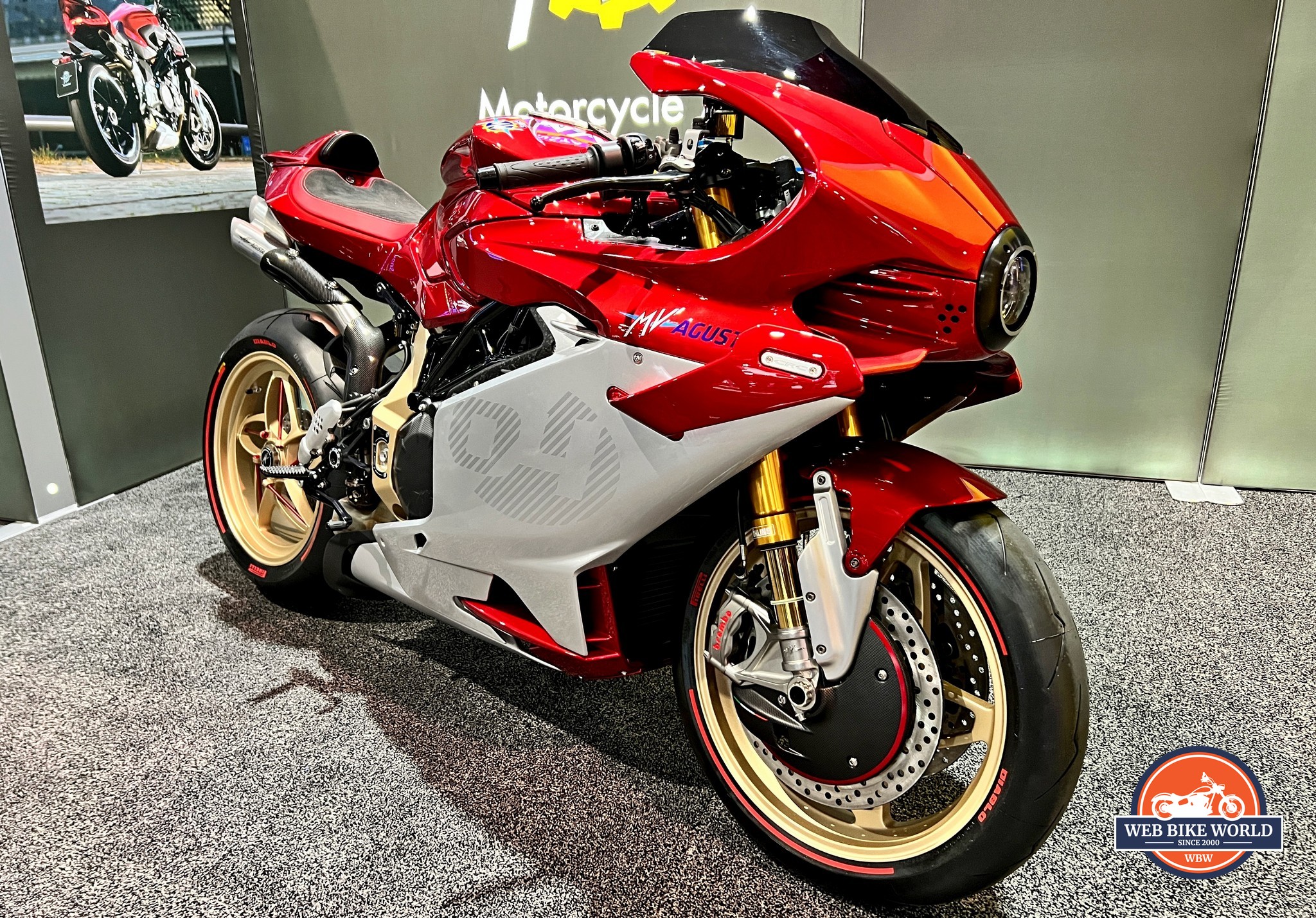 That 418lb/190kg bike has two different kinds of carbon fiber covering most of it, not to mention 212hp, full titanium exhaust, and a fancier rear rim than I've ever seen on a motorcycle.
But other than that lust-worthy machine the rest of their fleet was very familiar hardware.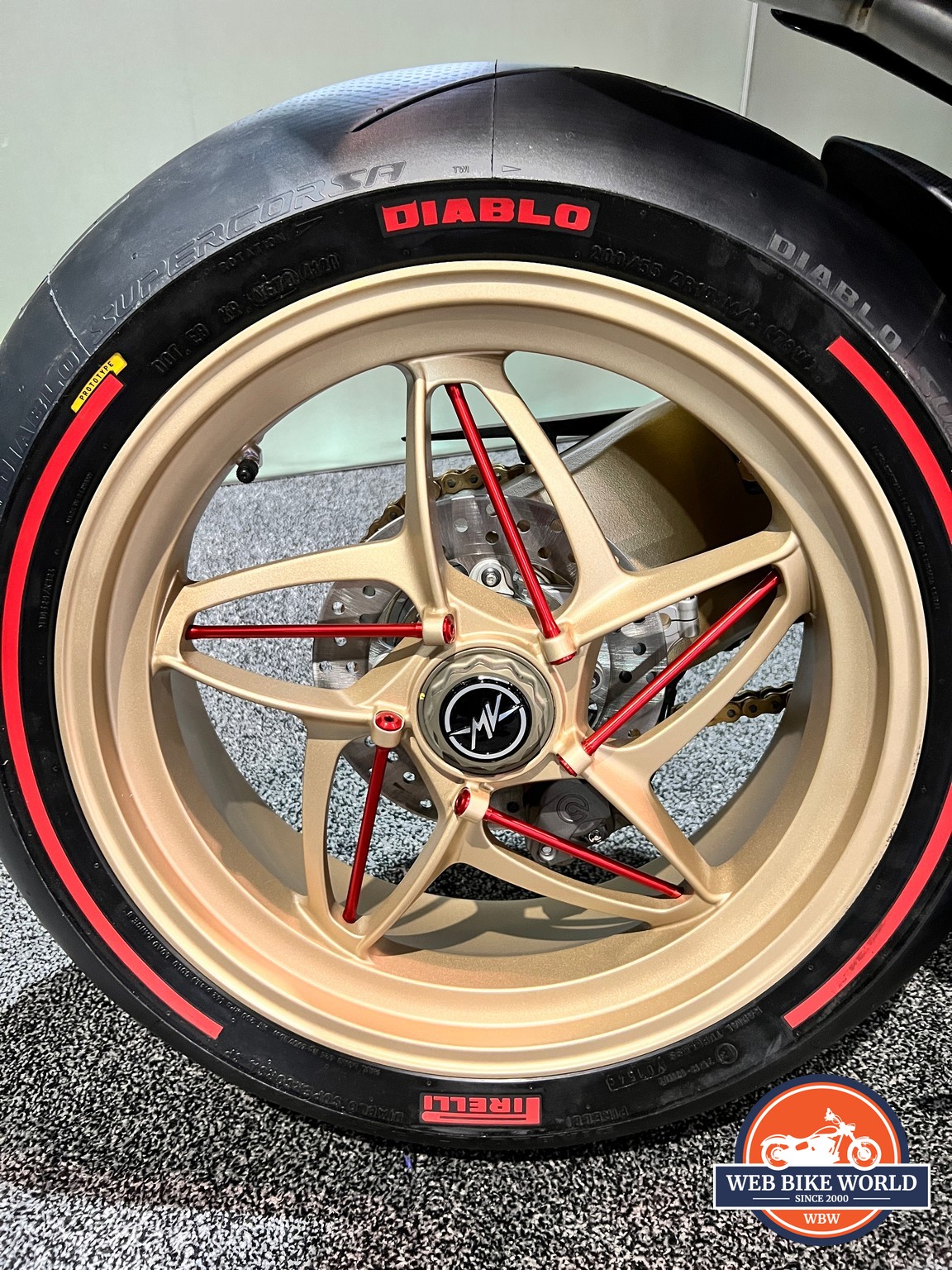 Where is Everyone?
Harley Davidson, Ducati, BMW, Honda, Royal Enfield, Indian, and even upstart companies like Damon and Buell chose to skip AimExpo 2023.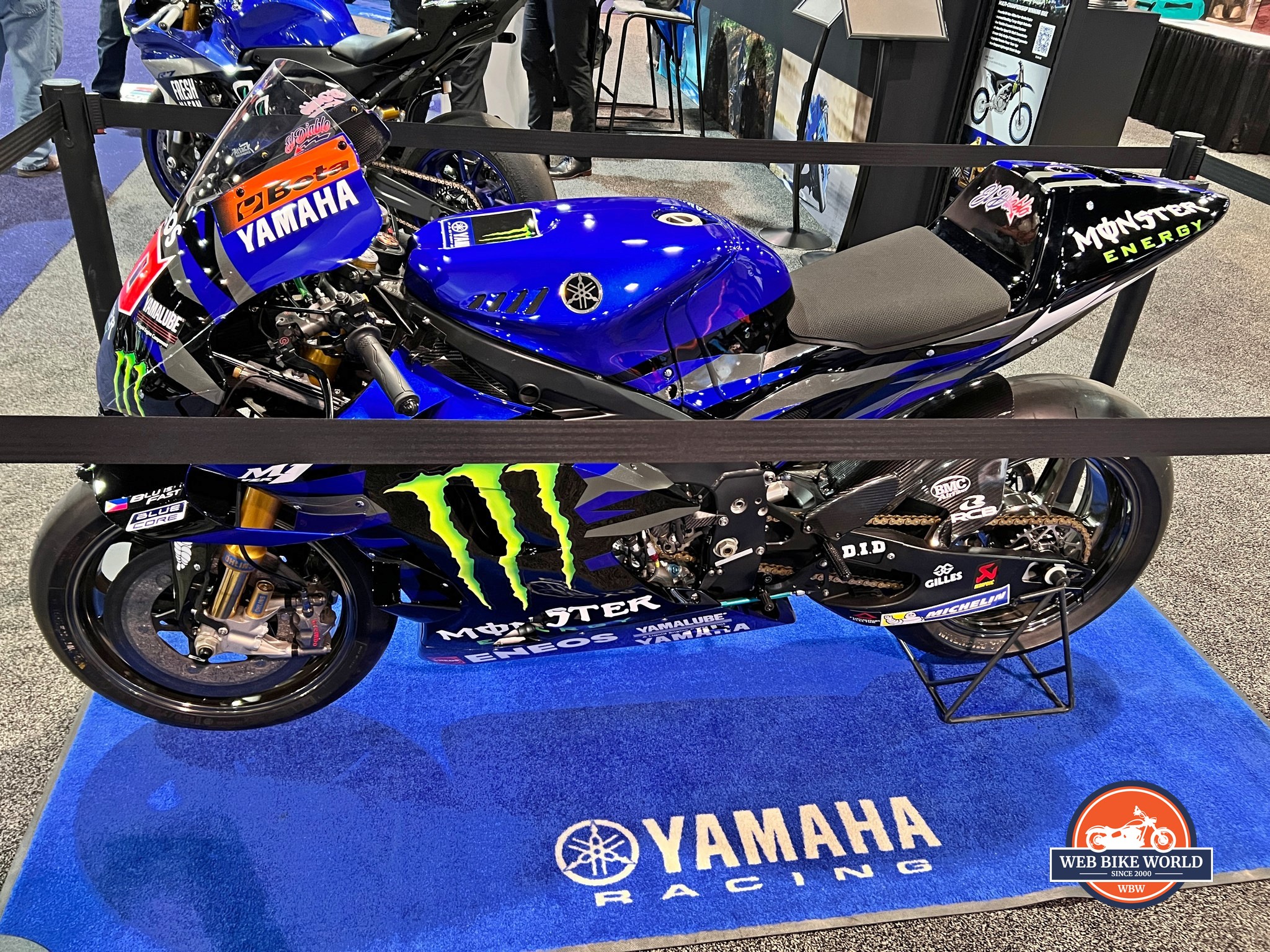 Suzuki, Kawasaki, and Yamaha were present but with very small numbers of bikes on the floor.
Happily, Suzuki trotted out their revamped V-Strom 800DE for everyone to drool over.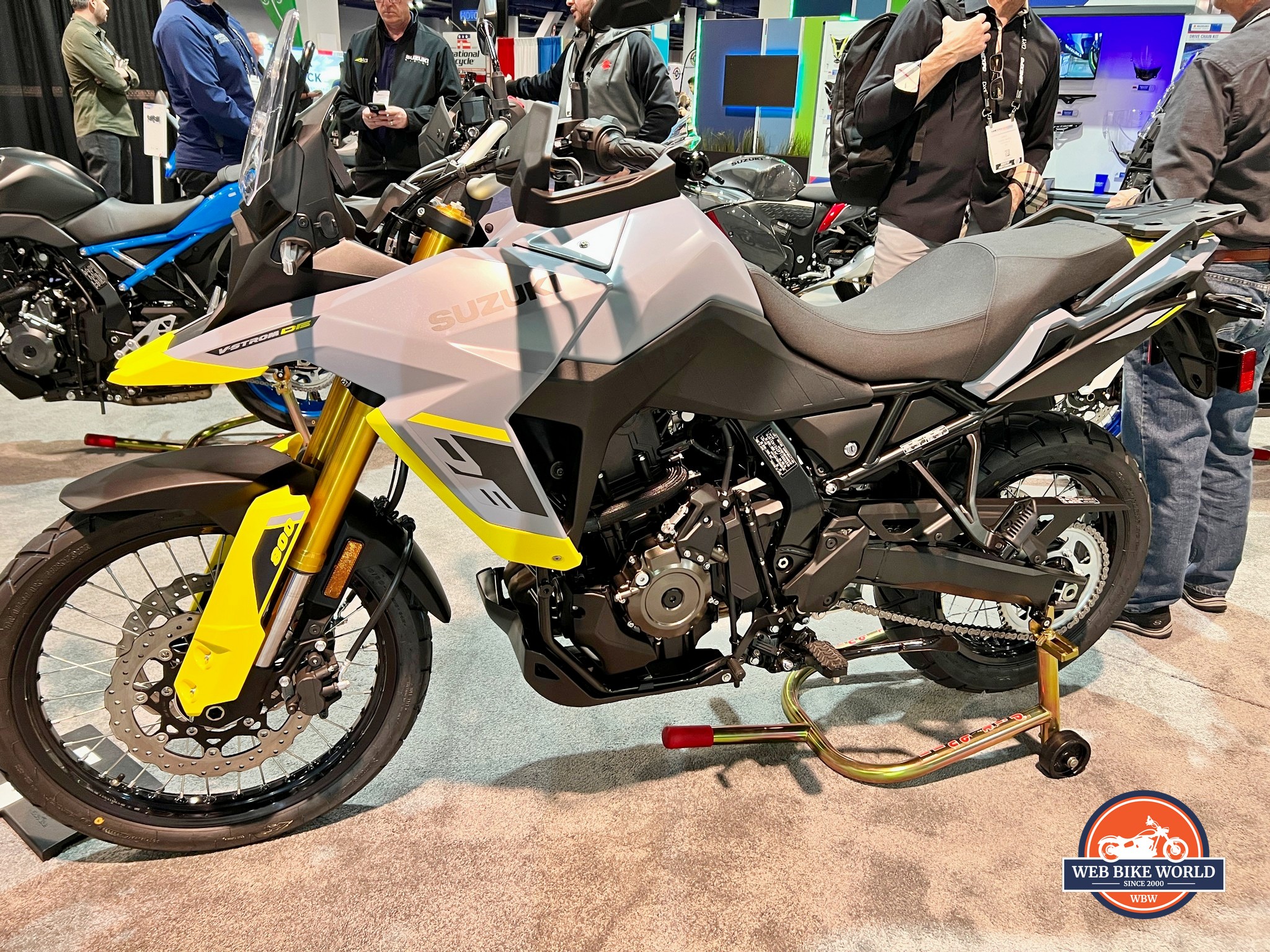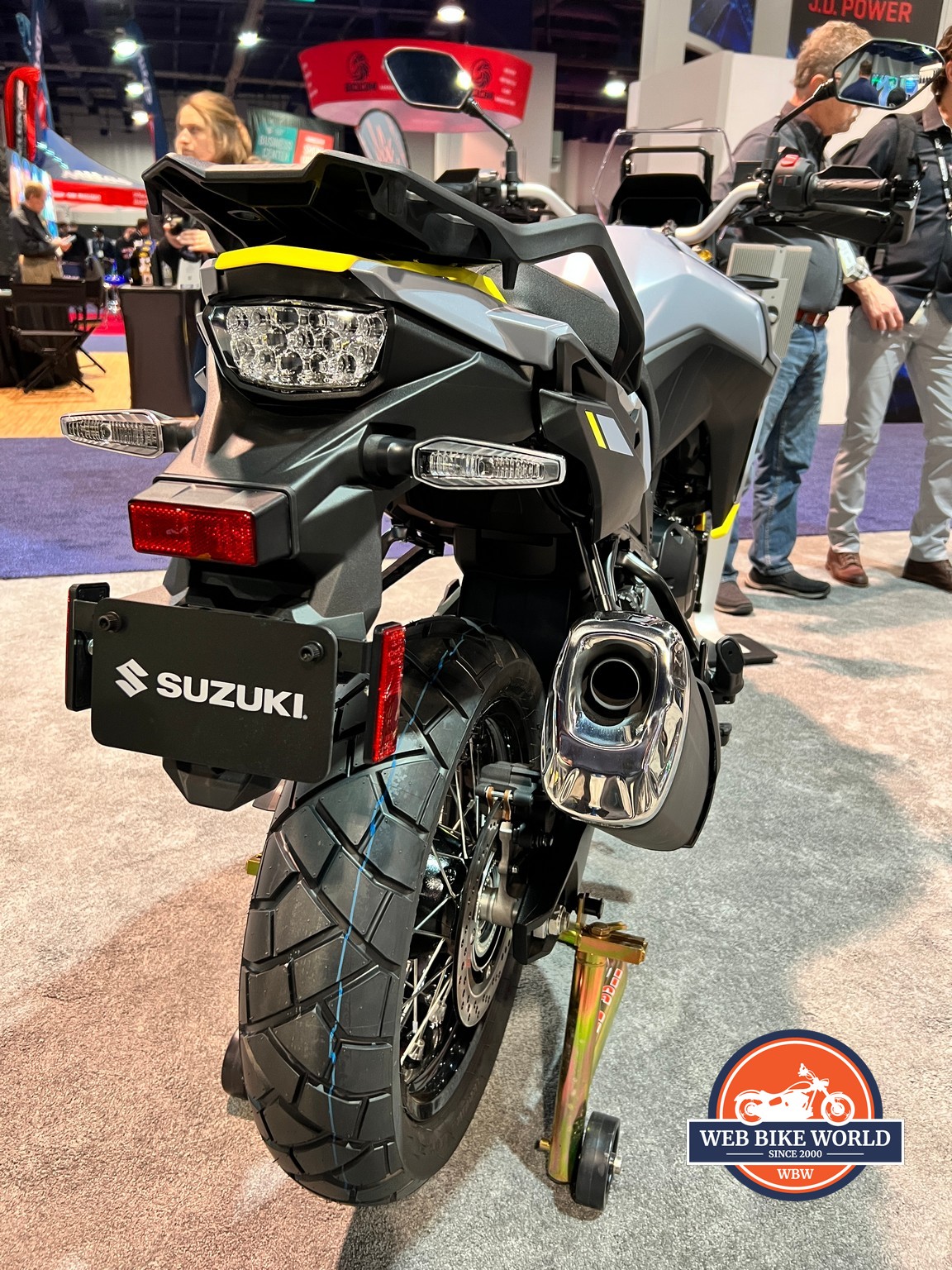 It got several smart upgrades from the beloved 650 platform Suzuki ran with for many years— including an all-new parallel twin engine.  This yet unknown 776cc engine housed in an all-new 507lb "P-Strom" body provides a significant jump in power: 83 hp at 8,500 rpm and 57.5 lb-ft of torque at 6,800 rpm.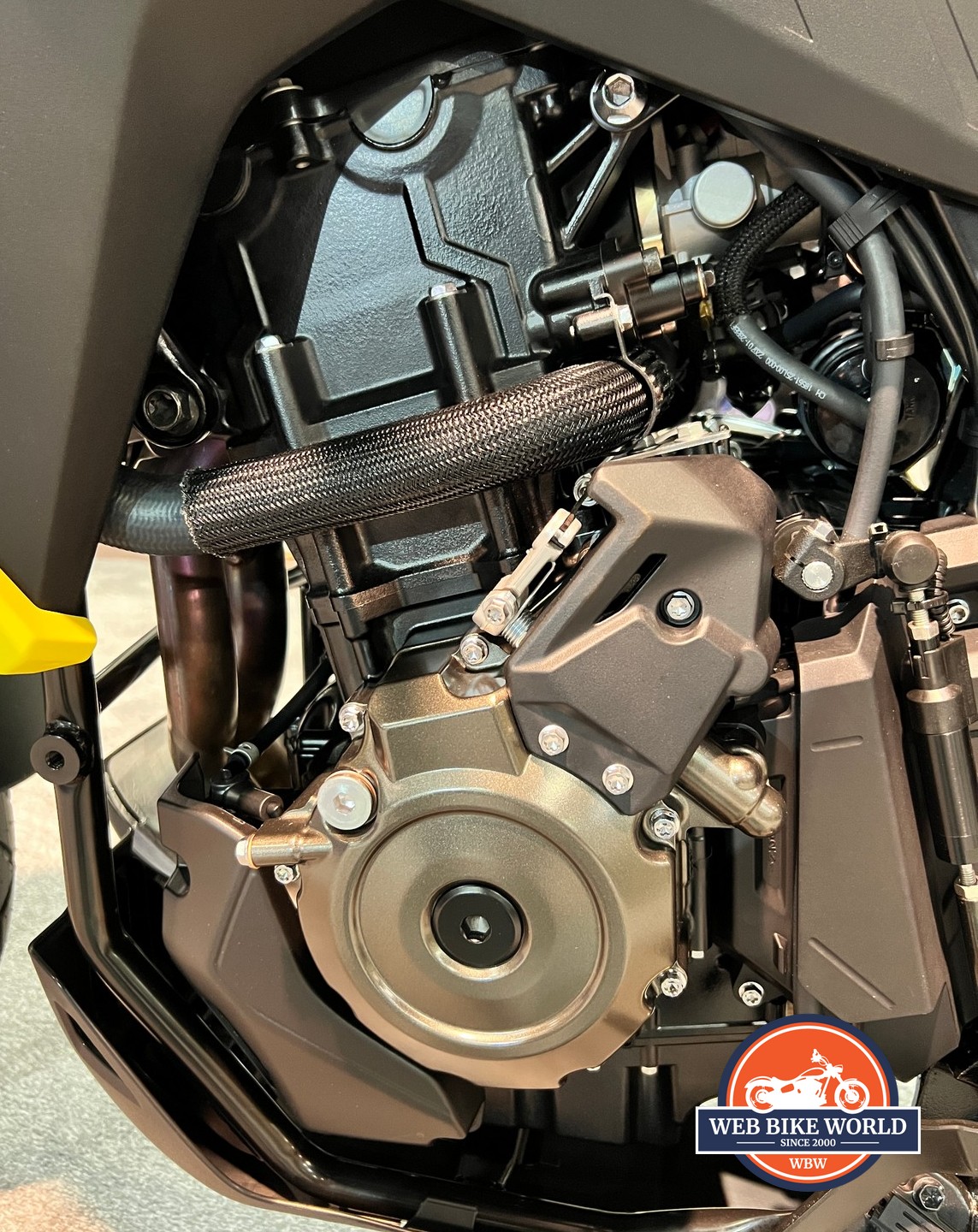 A nicely designed TFT display, 20L (5.3 gallon) fuel tank, adjustable suspension, multiple ride modes, quick shifter, and 21"/18" wheels will certainly make it competitive in the ultra-hot mid-sized adventure segment… but where's the cruise control, Suzuki?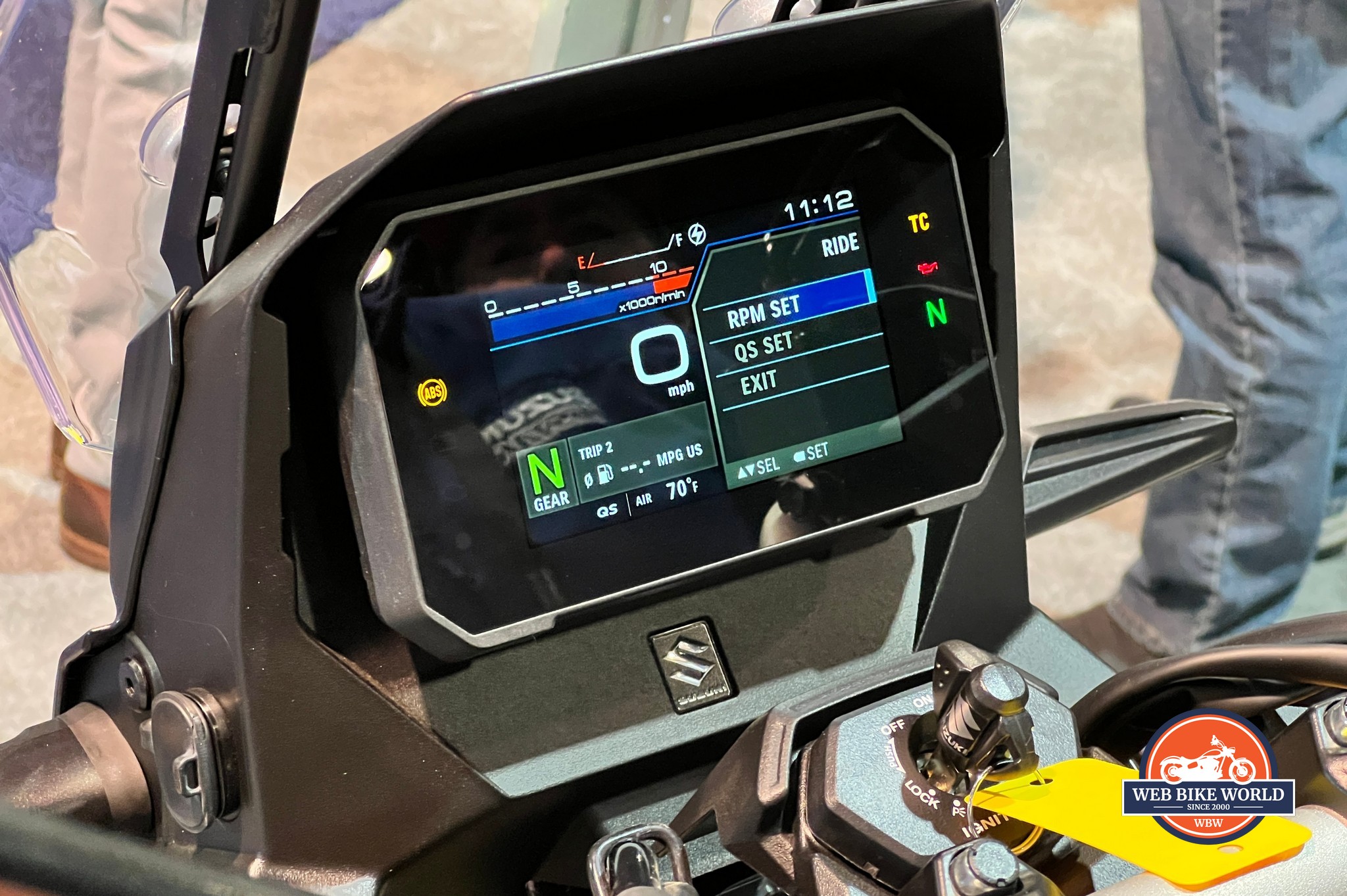 Opportunistic Chinese Brands
The gaps created by the absence of familiar big-name brands were filled by several Chinese ones I've never heard of along with a couple I have been keen to greet in person.
Kove Moto Enters the North American Market
You may be surprised to hear that a mostly unknown motorcycle from Kove Moto was the one I wanted to see/touch/smell the most at AimExpo… and I got my wish.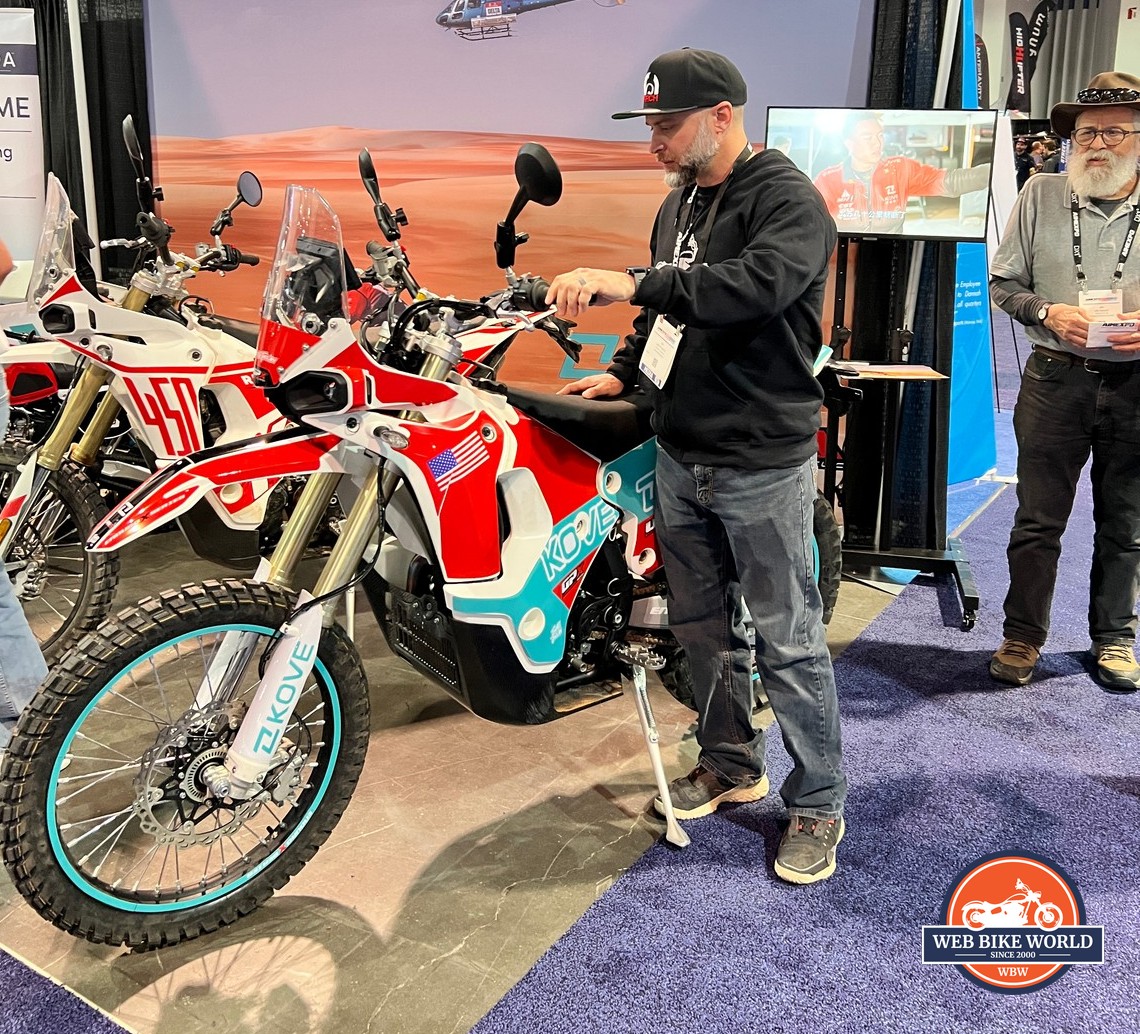 If you haven't heard of the Kove FSE450R Rally this is a Dakar Rally Race-tested motorcycle completely designed and built in China.  No intellectual property was stolen by Kove (pronounced CO-VAY) to produce it and three of their FSE450R Rally Pro models completed the 2023 edition of the Dakar Rally!  The three bikes piloted by unknown riders from China finished in 46th, 67th, and 77th positions in the company's first foray into Dakar racing.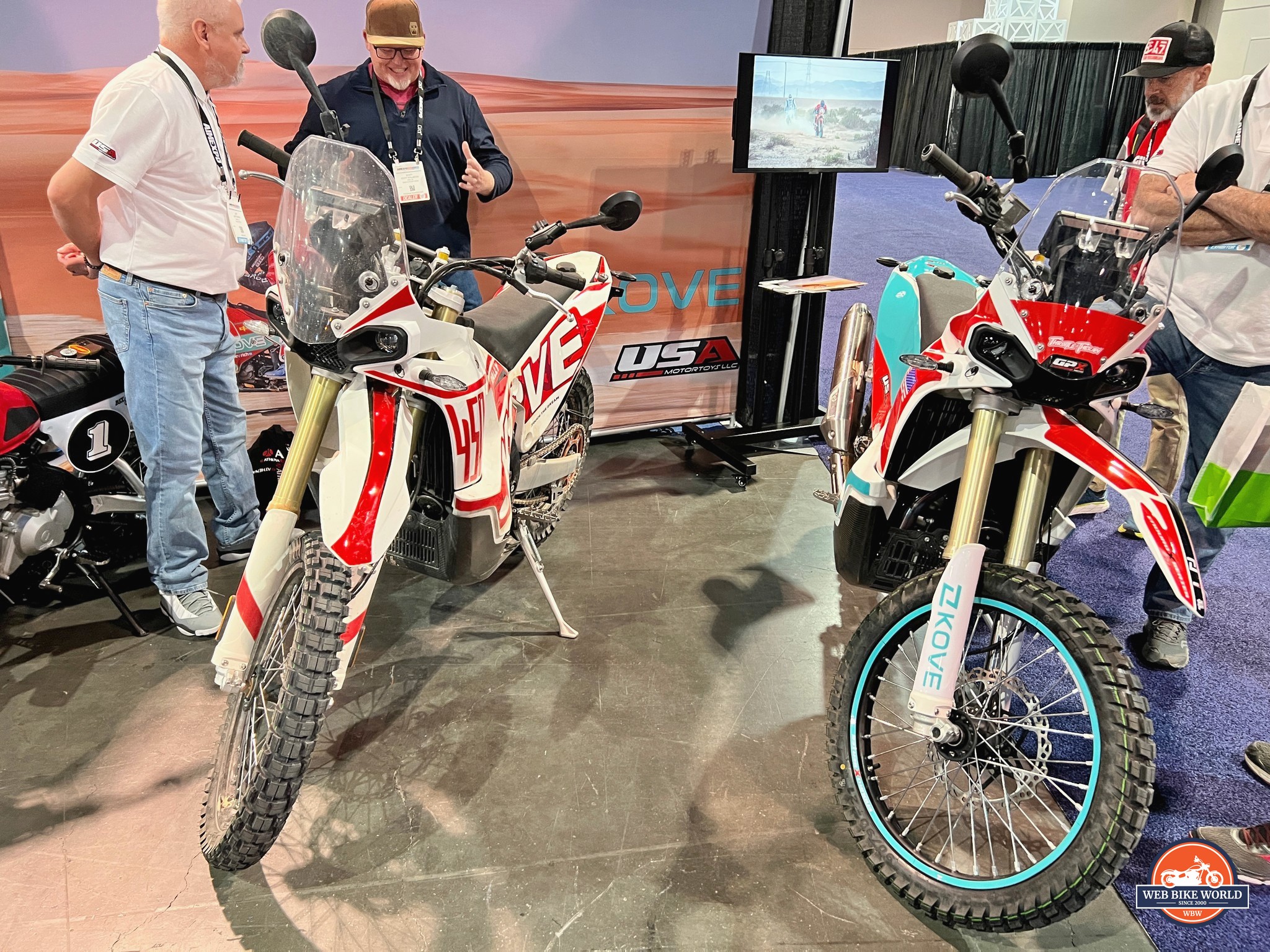 Three Models of Kove 450R Rally
There are three levels of trim available for the Kove 450 Rally.
Two Standard models: there's a low seat (36"), with 10.6" of suspension travel, while the high seat Standard sits at 38" high, with 12" of suspension travel.  All Kove 450 Rally bikes can carry 8 gallons of gas (30 liters) and weigh 319 lbs without fuel.
These Standard model bikes will list at $8999 US.
The Rally Pro model which competed in the 2023 Dakar is identical to the Standard 450R high seat model except it has a carbon fiber rally tower on it and the single-cylinder, 54 hp engine has 3 more horsepower than the Standard model's 51 ponies.
The Rally Pro model MSRP will be $14,000 US which is about a third of the dollars most other Rally-ready motorcycles will cost to buy.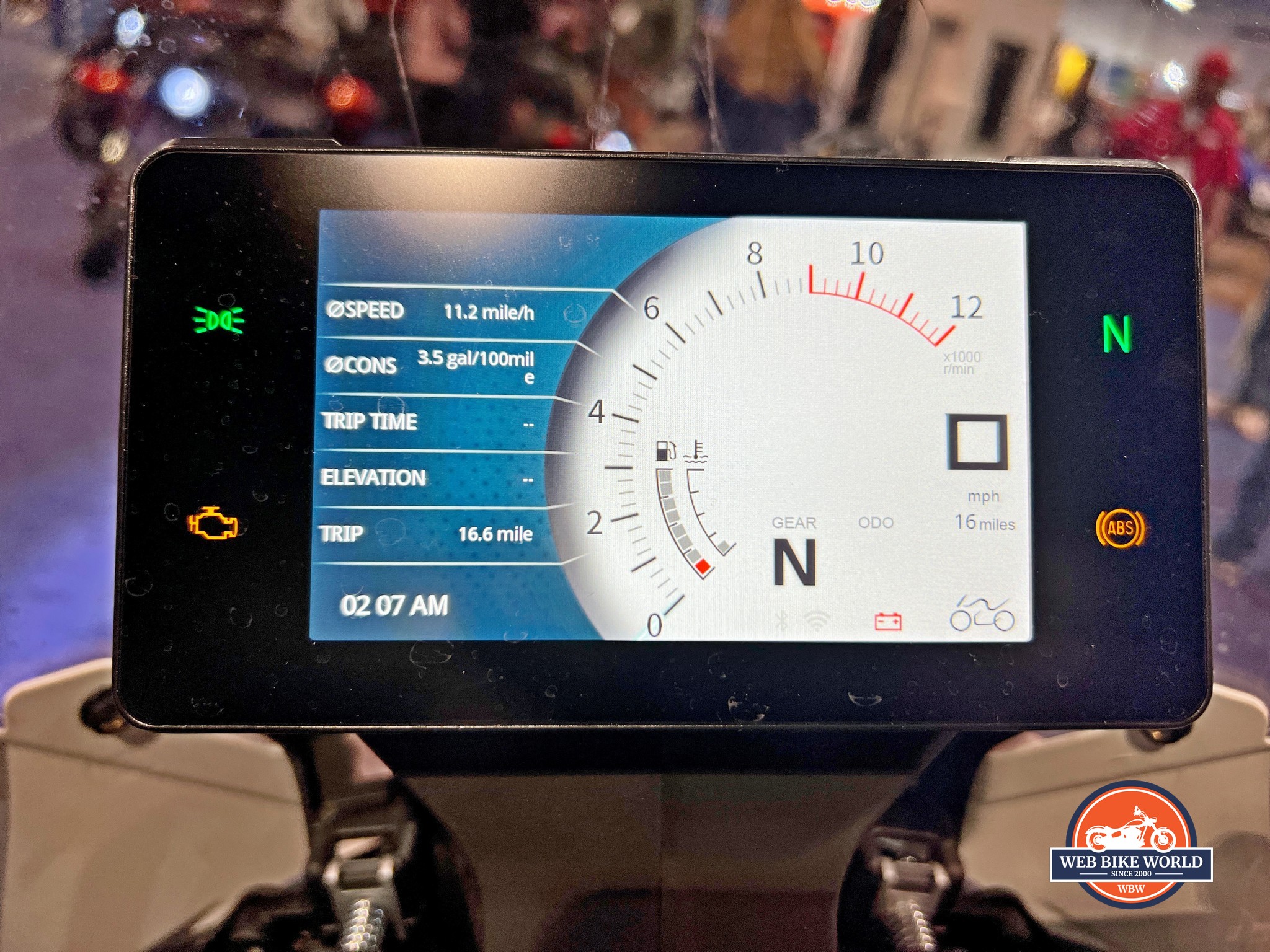 Gary Goodwin, owner of GPX Moto (the US distributor for Kove) had two, Standard (high seat) model Kove FSE450R Rally bikes on display and I had to see how my 28" inseam would stack up against the 38" seat height.  Let's just say it's all my short legs can handle and I think many people my size wouldn't attempt it… but I've always been stubborn and will make it work.
I think the standard models potentially will become very popular despite the rather tall seat height and the stigma some close-minded people might feel towards a Chinese product.  The only true downside I see is the first 70 Kove 450 bikes to reach North America won't be DOT certified, meaning they can only be used off-road.  That'll easily change by late 2023 when DOT certification will be obtained.
Gary is offering test rides to media writers like myself in the coming months and I plan on taking advantage of his offer to see what these bikes are like out in the wild.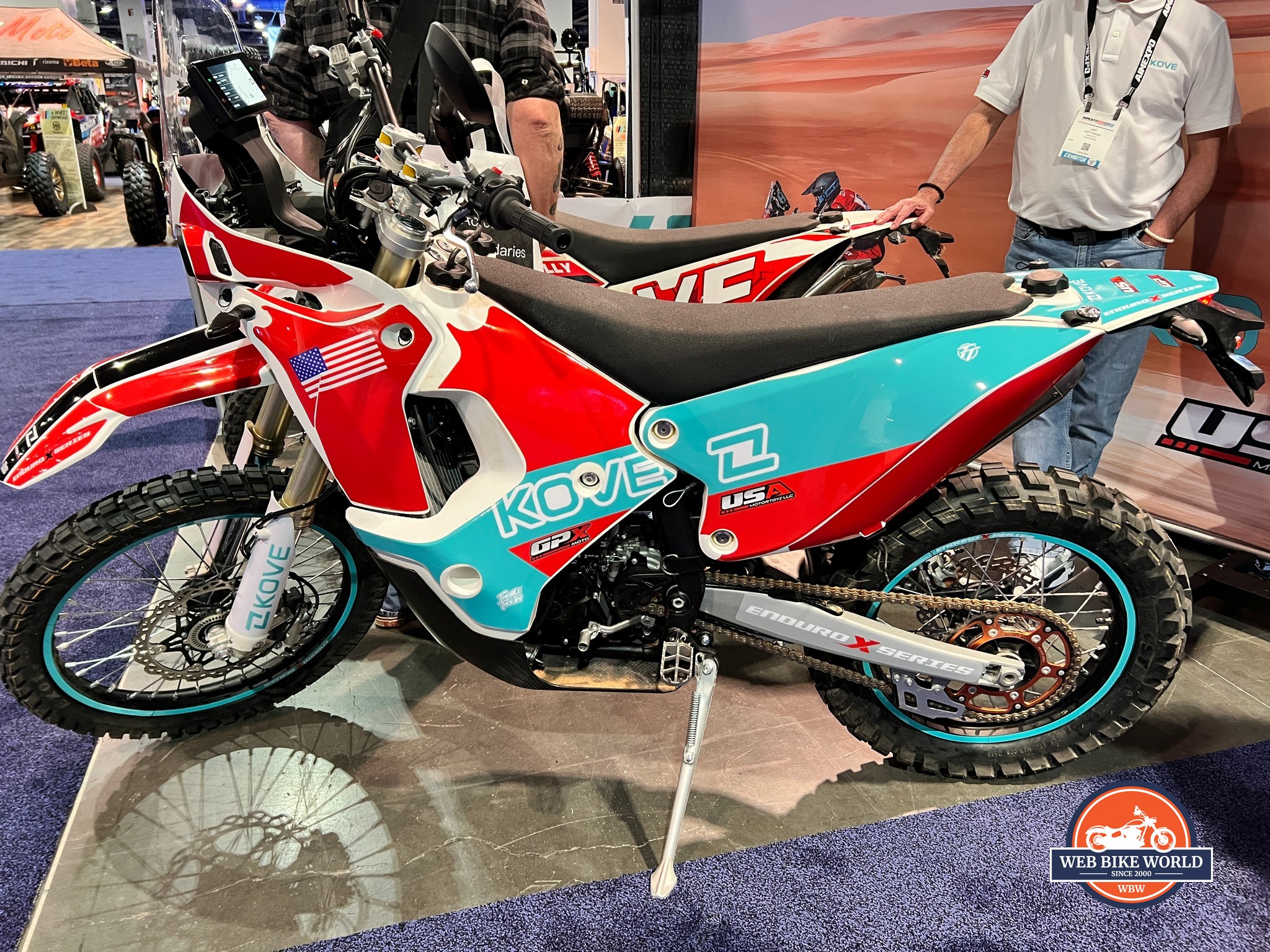 Assuming the bikes continue to prove their resilience in independent testing, and parts are readily available my bold prediction is that these Koves will overtake the legendary Kawasaki KLR650 as the people's choice for an affordable, reliable, and bare-bones adventure motorcycle.
Moto Morini Enters The North American Market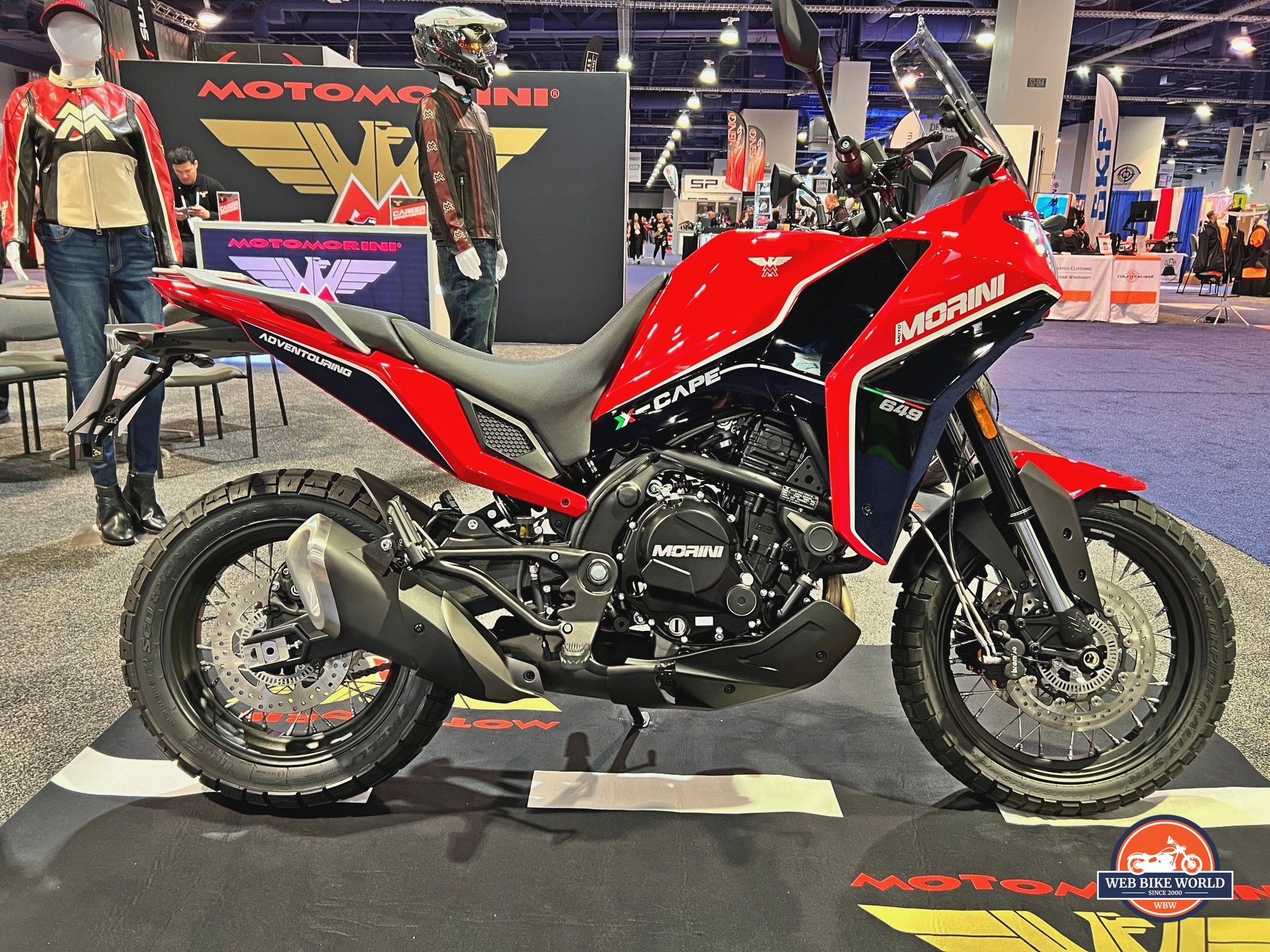 Is Moto Morini really a Chinese brand?  Only insomuch that the parent company Zhongneng Vehicle Group is Chinese.
Moto Morini is more precisely an established Italian brand dating back to 1937 and still builds its motorcycles in a factory just outside Milano.  After getting a close look at their X-Cape 649 I can confirm these bikes have similar swagger and style to the more expensive Italian brands like Ducati, Aprilia, and Vespa.  Not exactly the same, but close enough for the price.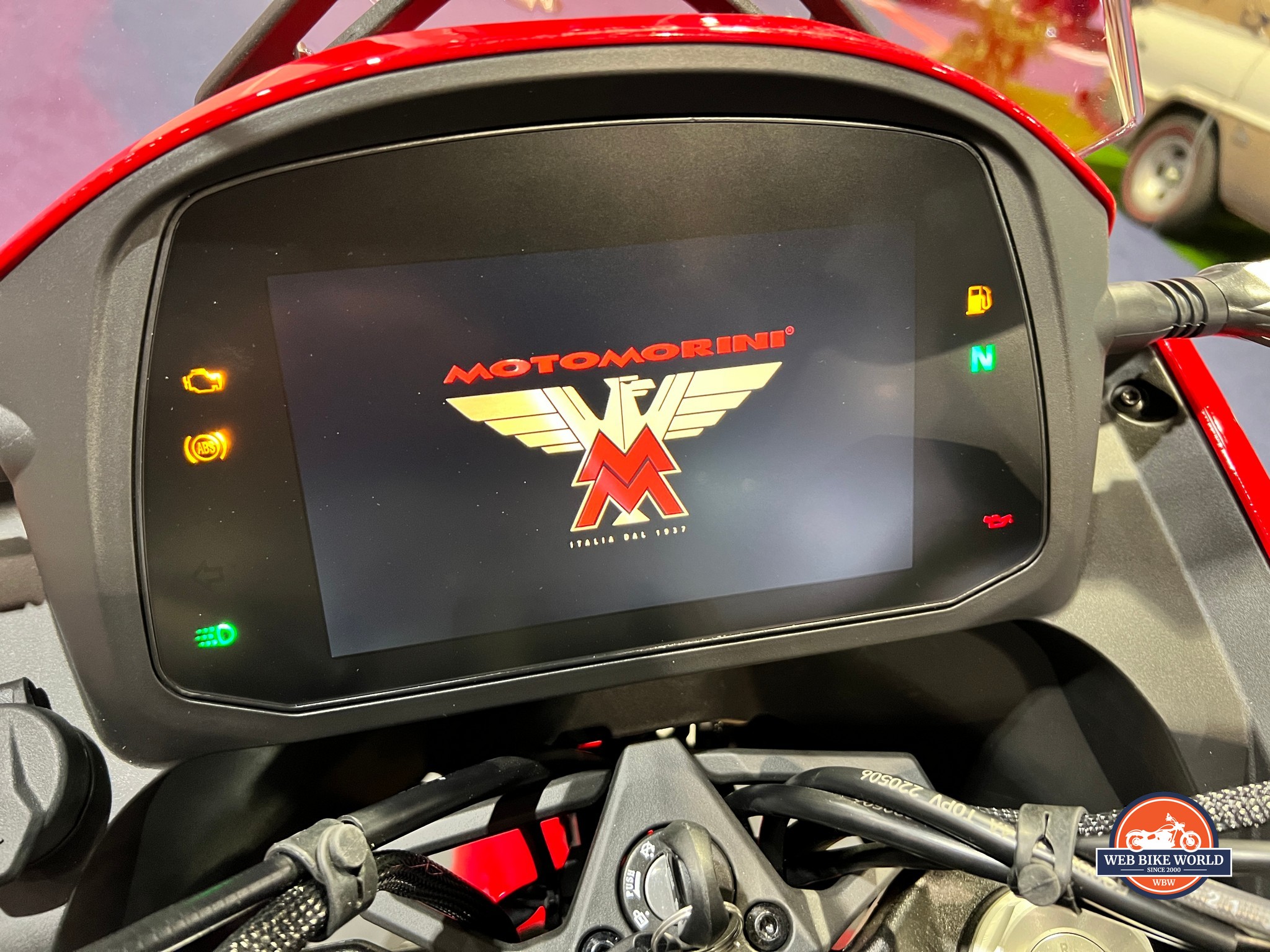 Regardless of the low price tag ($8600 US) on the 60hp, 482lb (219kg) X-Cape, the build quality and available accessories I found were on point, other than the missing cruise control.  Again, not on par with the usual suspects but pretty darn good.
It's The Small Things In Life and Motorcycles That Count
It's the small details on the X-Cape I appreciate most of all.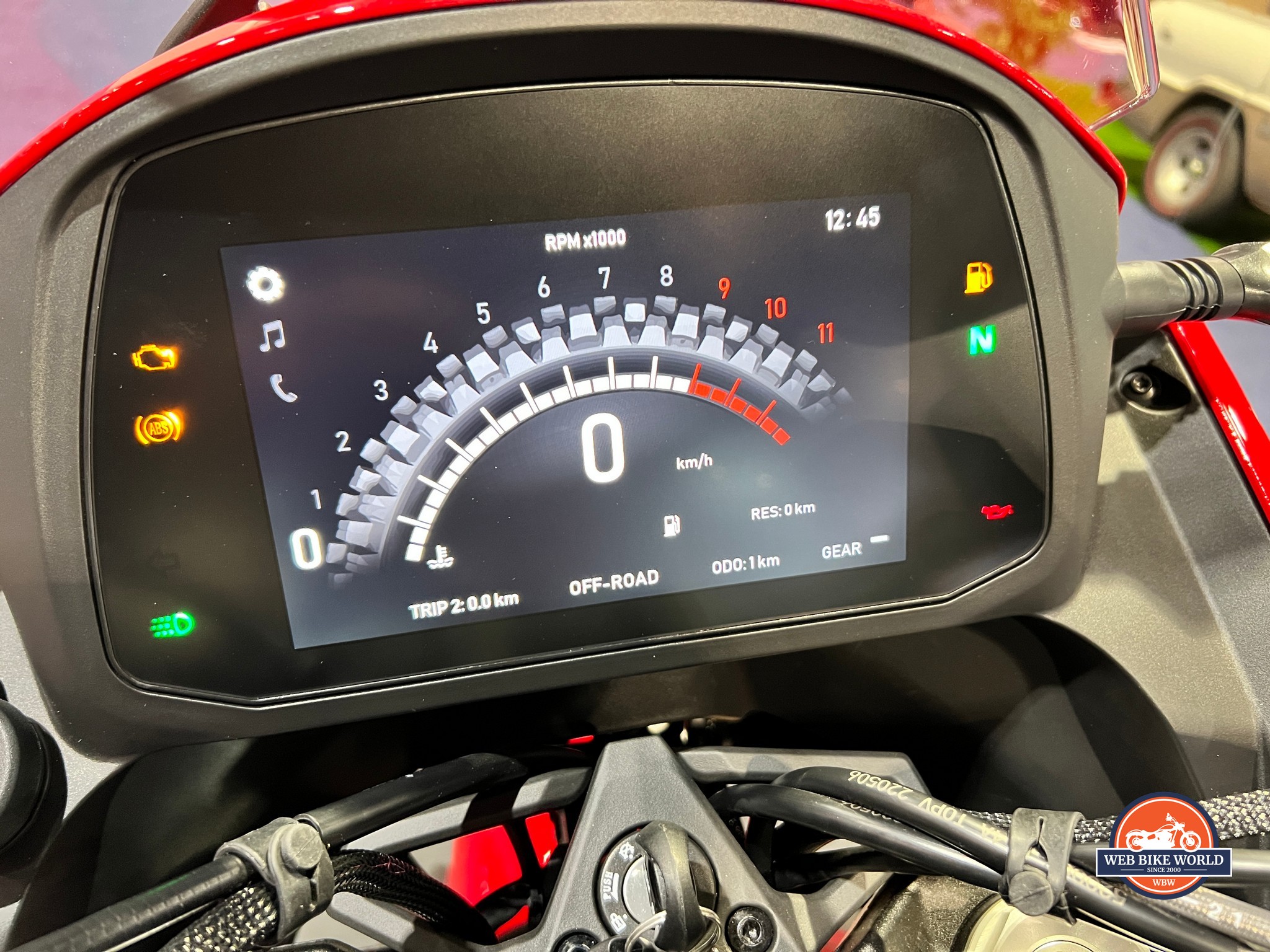 For instance, the knobby tire tachometer on the display screen when the bike is in off-road mode (above), backlit handlebar switches, and the bend-don't-break turn signals front and rear.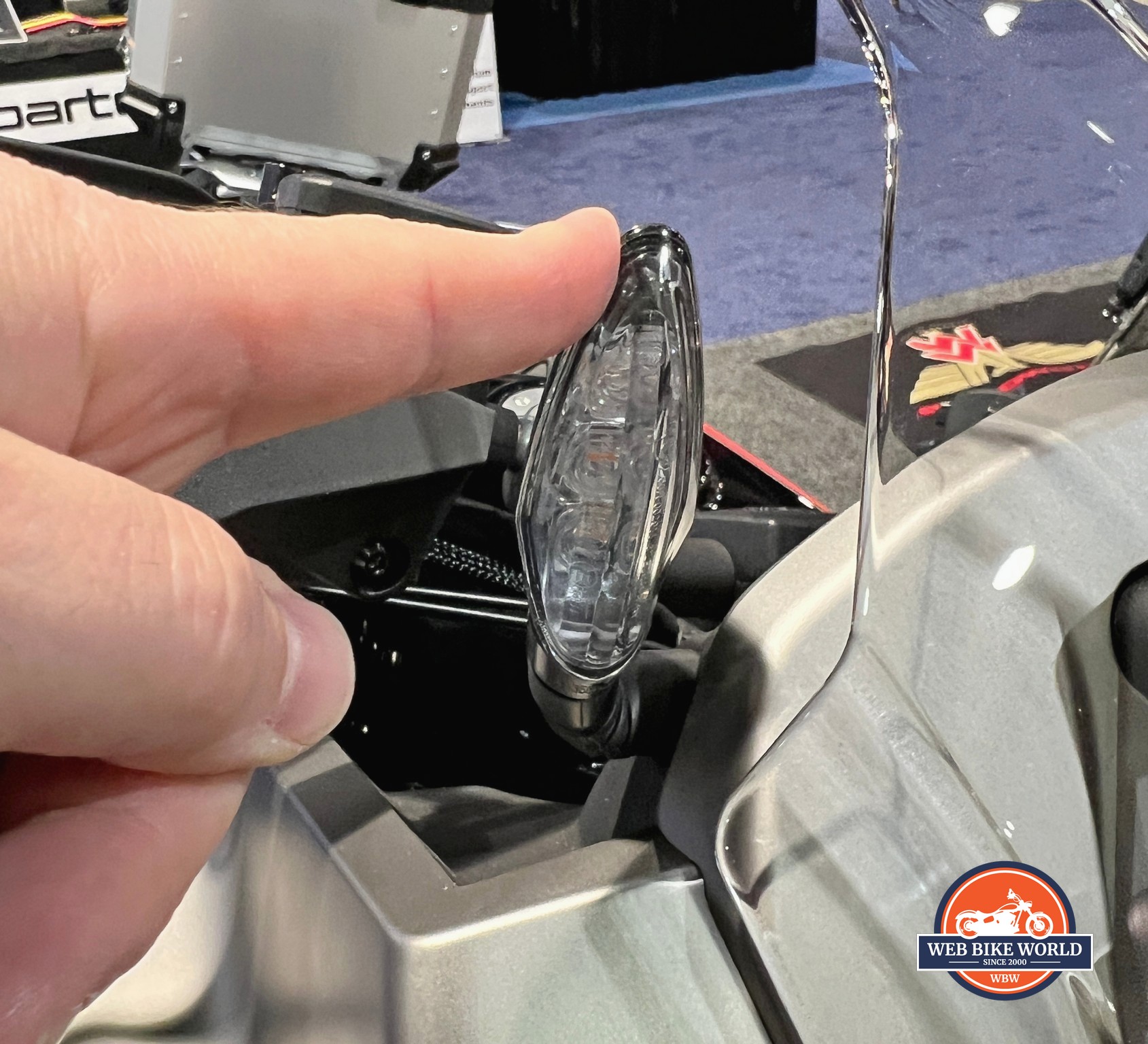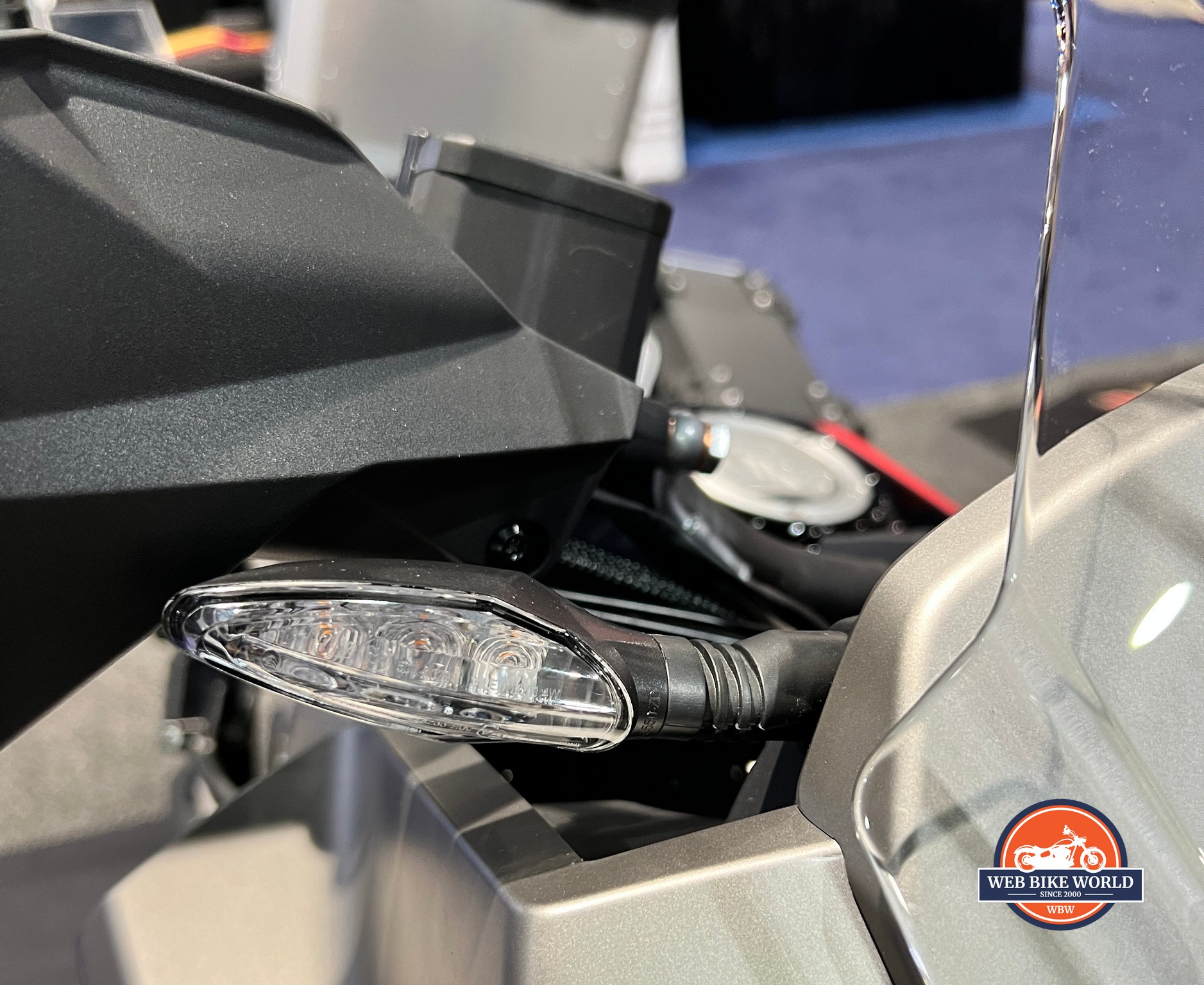 I like what I see and hope to get a chance to participate in some media demo events on North American soil now that MM has officially entered the US market.
Many people seem to be justifiably upset about the ever-increasing price of Japanese and European motorcycles, and to that, I say let me introduce you to Kove Moto, Moto Morini.  Benelli is also coming to America this year.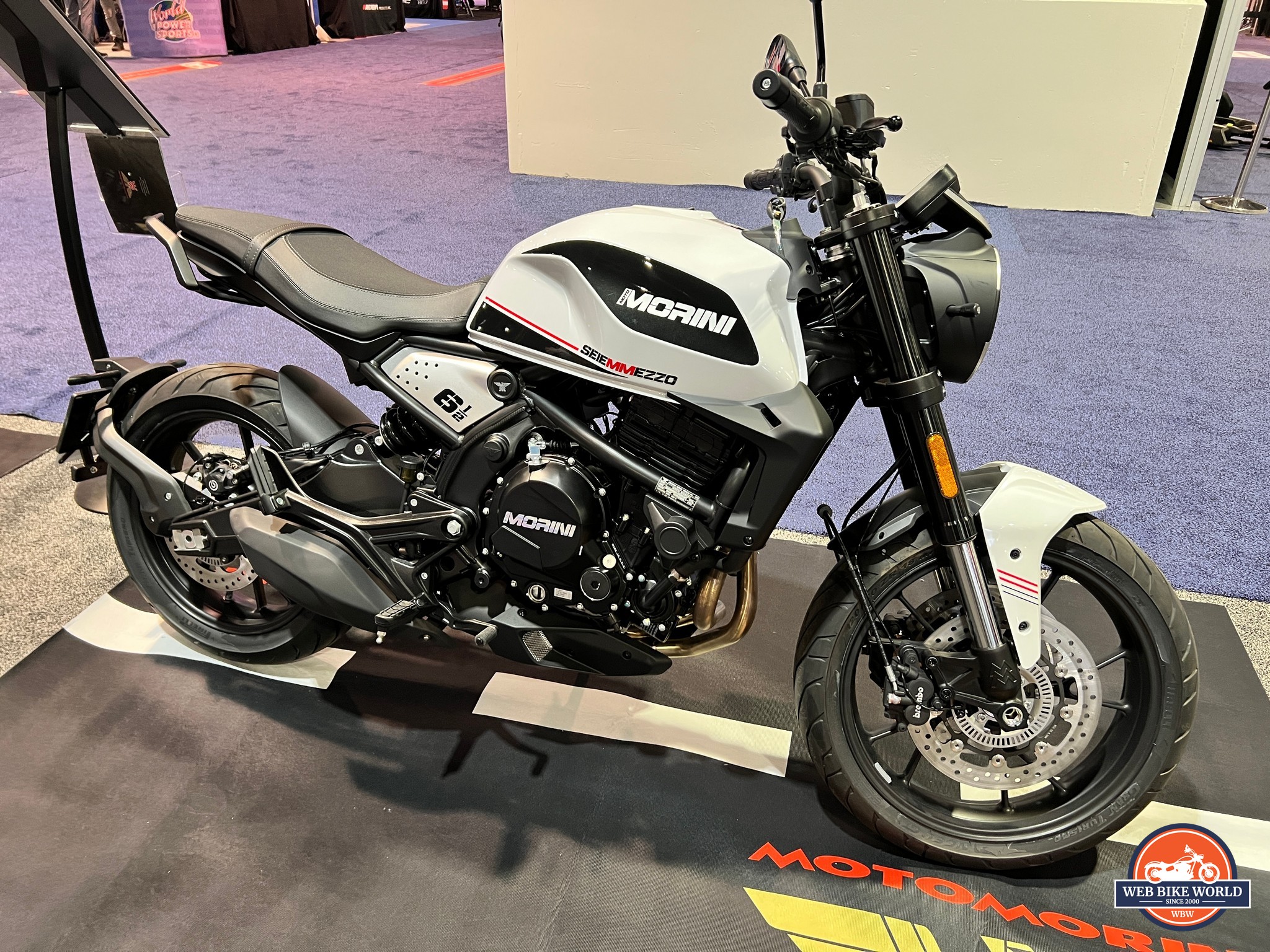 We Missed All of You at AimExpo
Besides the absence of several mainstream motorcycle brands, the other thing missing from AimExpo was the general public.  "Real people" weren't invited to enter the Southern Hall of the Las Vegas Convention Center for the big show, which is a bummer.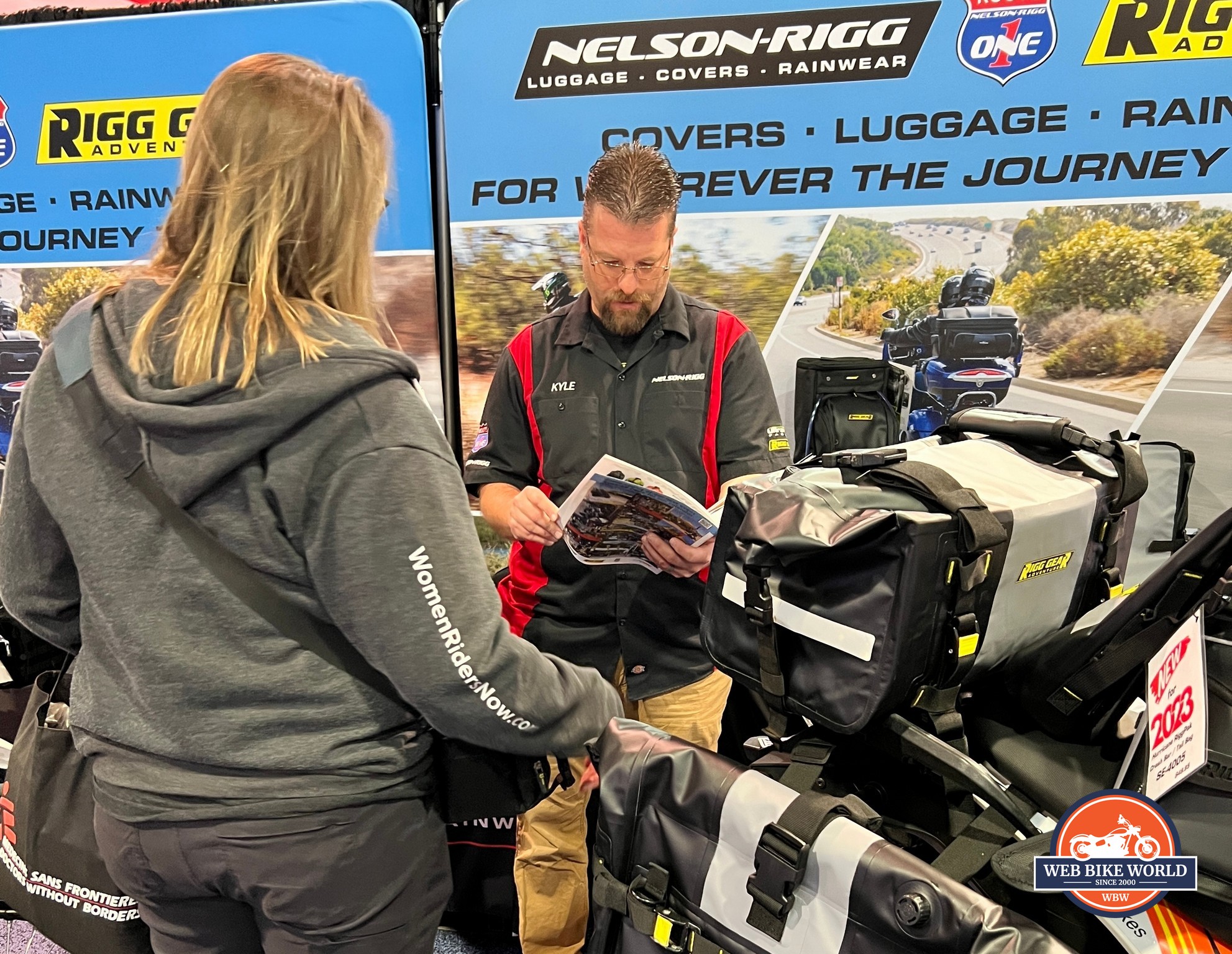 As a consolation, I'll do my best to highlight a few of the clever accessories I noticed while rubbing shoulders with the likes of Mike and Kim Botan (Adv Rider), Kyle Bradshaw (YouTube Tire Review Guru), Sammy Marques (IG Influencer), and a high-flying Dakar Rally racer named Mason Klein from the BAS KTM Race team to name only a few.
Forcite Helmets Enter the North American Market
At long last, the Australian inventors of the only functional motorcycle Smart Helmet in the world have brought their Forcite MK1S helmet to North America!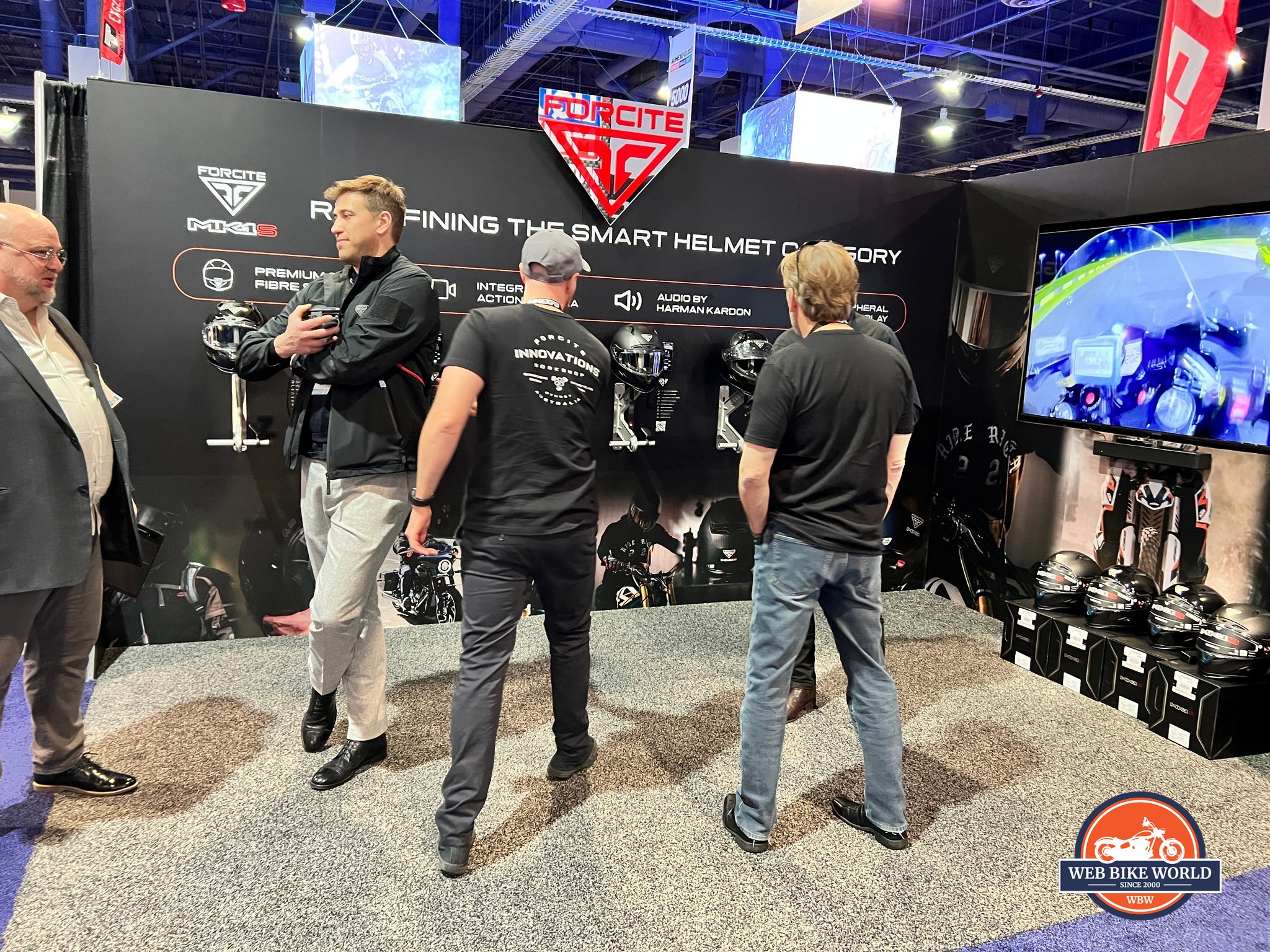 I first met these young entrepreneurs at EICMA 2018 where they introduced me to their already impressive first-generation MK1 helmet.  You can watch this video (below) I made at that time showcasing the MK1 helmet.  Skip ahead to the 2:12 mark to see the "smartness" of this helmet explained.
Over the last three years, I watched the company push through many obstacles to sell thousands of helmets in Australia on the way to producing an even better second-generation MK1S helmet.
What Makes It So Smart?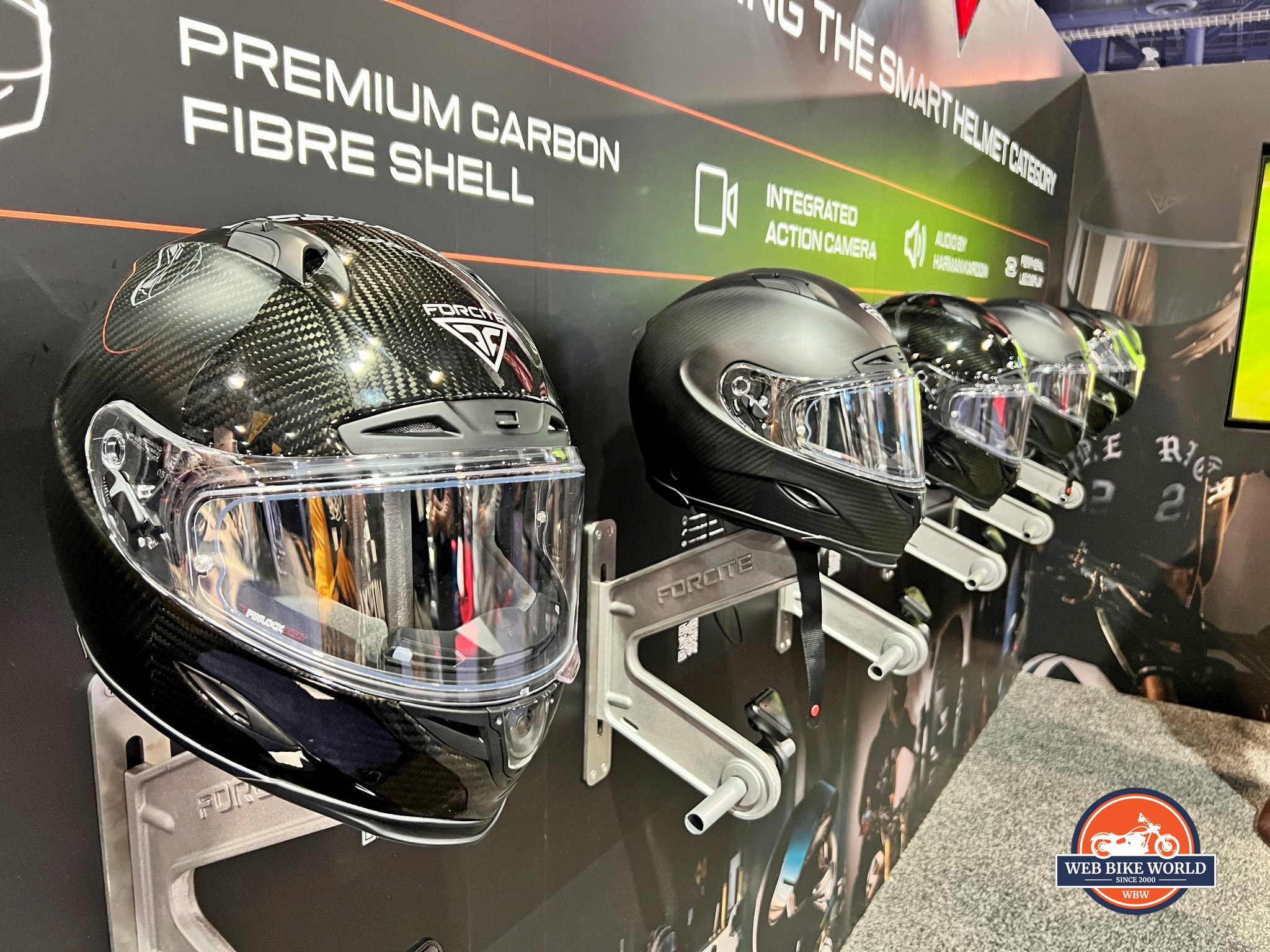 The MK1S features a 1080p/60fps video camera integrated into the outside of the chin bar along with a very clever LED heads-up display on the inside to give the wearer visual cues for navigation and hazard avoidance out on the road.  Not to mention the good quality, carbon fiber shell helmet wrapped around it that has already been used in superbike racing in Australia.
Audio inside the MK1S is provided by excellent Harman Kardon speakers. Not too shabby!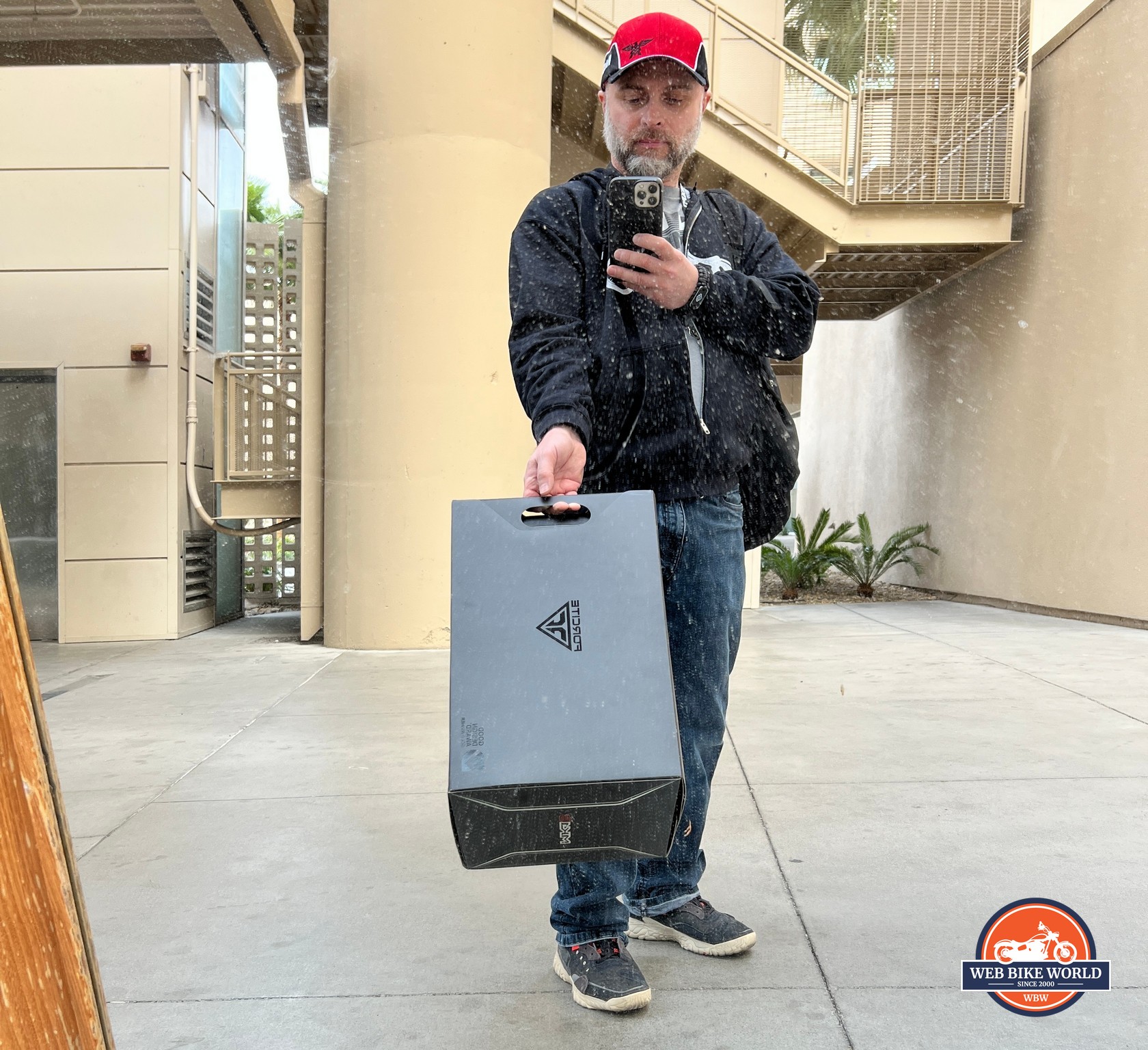 To my great delight, on the final day of AimExpo 2023, the Forcite team offered me a sample MK1S helmet to review on wBW.  The only problem is that particular sample helmet was only ECE 22-05 approved, so I couldn't legally wear it in Nevada to begin testing.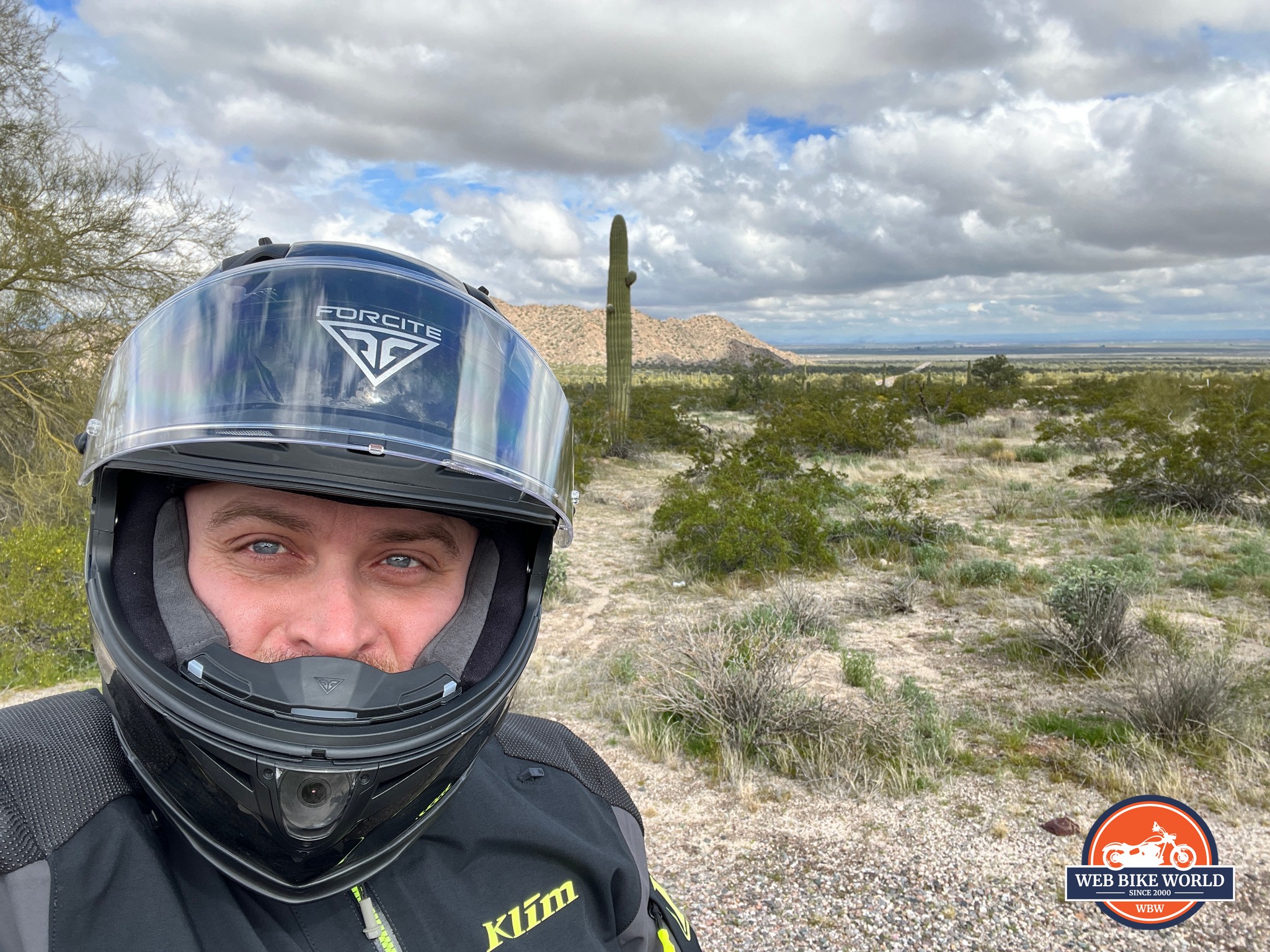 Fortunately, nearby Arizona has more flexible helmet laws and so off I charged to rent a motorcycle from Twisted Road and begin testing.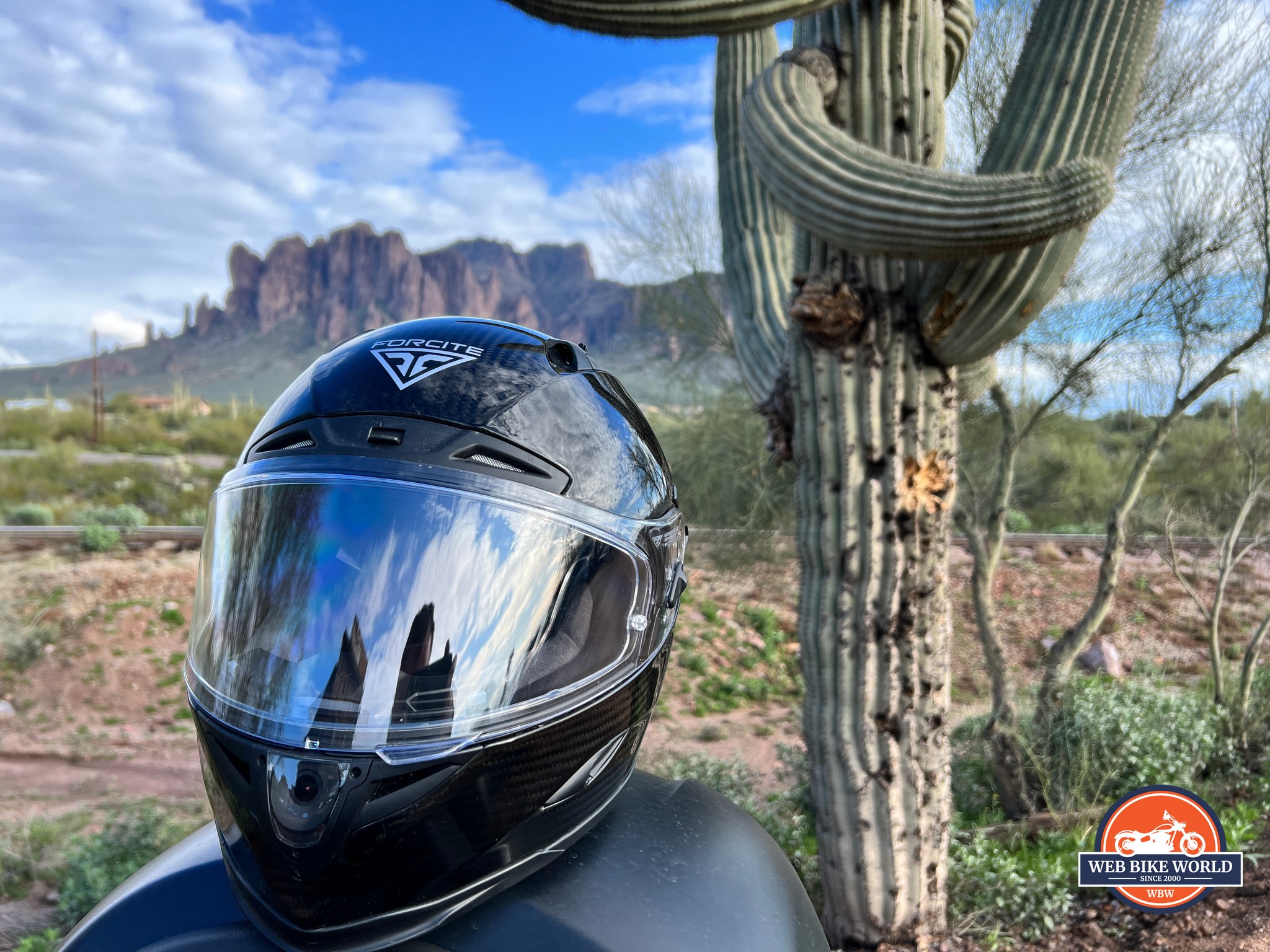 See the video below with my initial impressions after only 200 miles of riding with it.
Rabaconda Tire Machines
Almost two years ago I began testing the Dirt or off-road model of the Rabaconda tire machine. To this point, I've successfully changed 26 tires with it.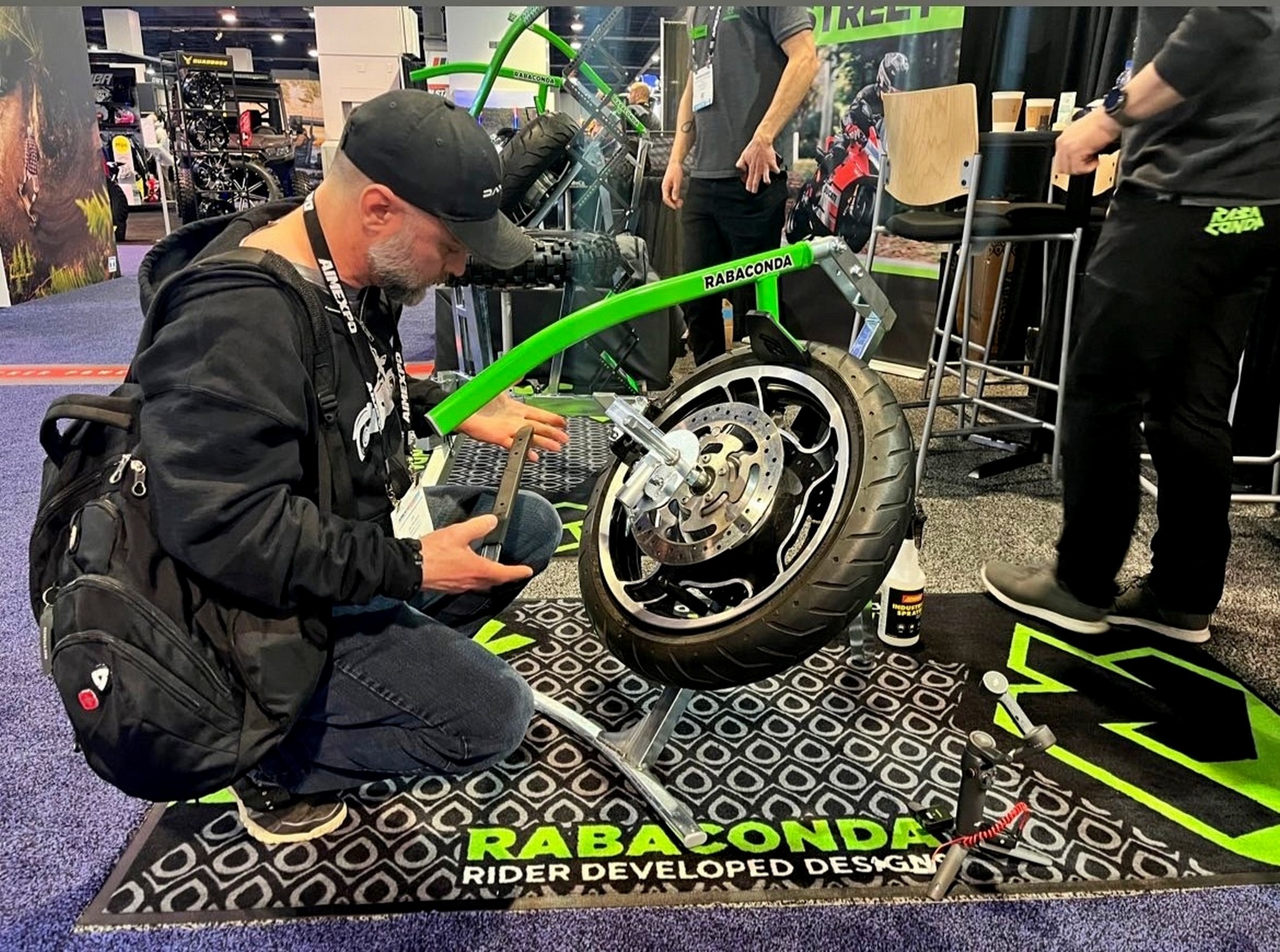 Only two tires have been a challenge for me during that time: the first one because I was out of practice and the last one which was a 1200GSA wheel with spokes that mount on the outer edge of the rims.
That steep angle on the spokes makes the wheel unstable when placed on the tire machine— which caught me off-guard. This wasn't unknown to the people at Rabaconda along with the fact their off-road machine will scratch mag-style rims used on most on-road motorcycles.
So they created this Street Rabaconda tire machine to take care of both those problems.
I was visiting with the Rabaconda team when Kyle Bradshaw showed up to satisfy his curiosity about the Street tire machine by shooting a video.  You'll get to see the "infamous webbikeworld Jim" in the preamble.
I enjoyed meeting Jakob Saks (Co-Founder of Rabaconda) and his growing team of staffers. Their tire machines are so effective and easy to use that sales are climbing dramatically, especially in North America which now accounts for 60% of the company's business and is rising steadily.
Peak Design Cell Phone Mounts
I've been crowing about how great the QuadLock Case 360 phone system has been for me during the last year because I genuinely believed it was the best system available.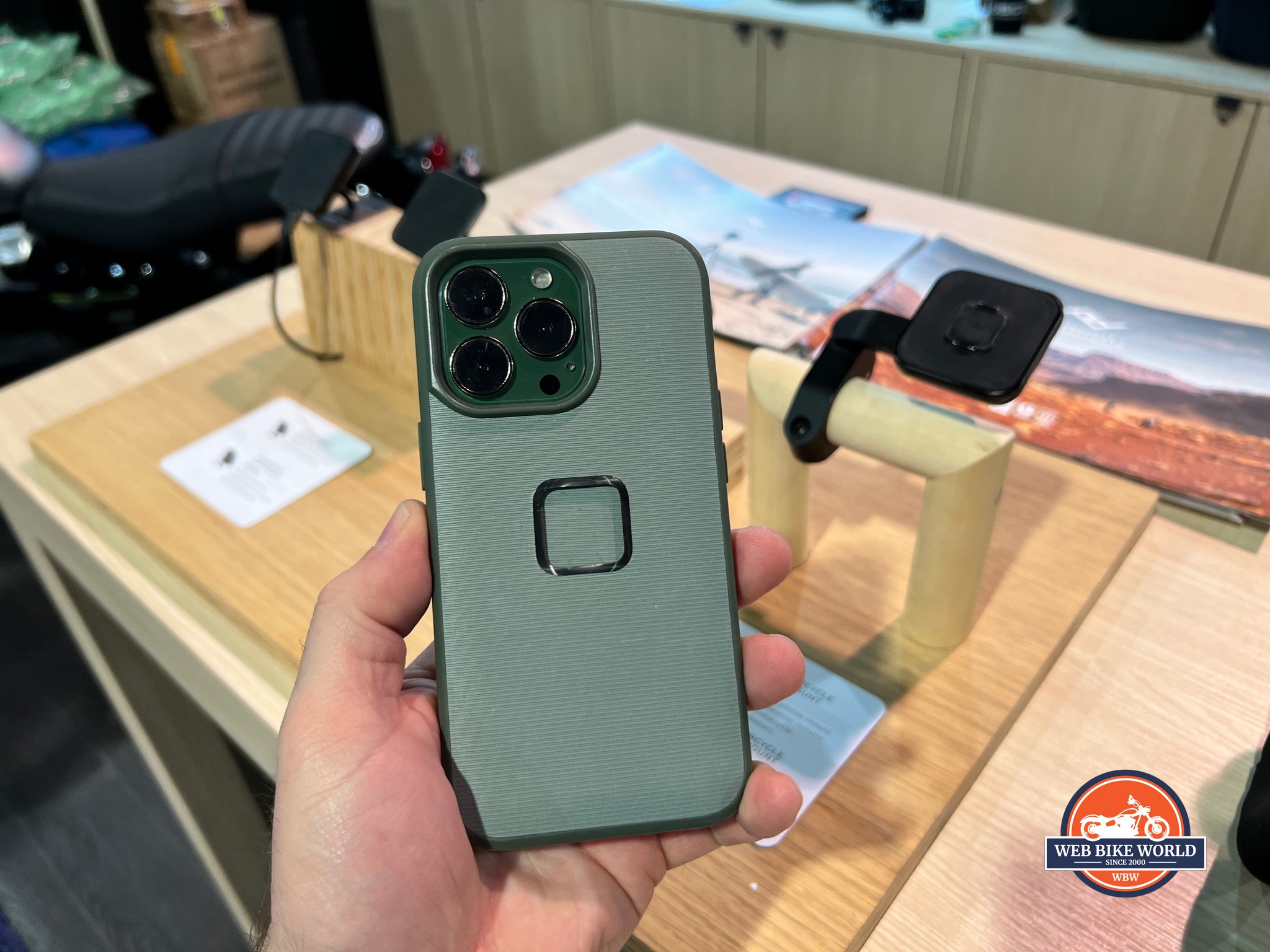 Bearing that in mind, how do I gracefully backtrack and admit this Peak Design phone mount for motorcycles appears to be better than the QuadLock?
There's also the fact that Peak Design is a carbon-neutral company that strives to help other companies work towards the same goal. They co-founded Climate Neutral, a nonprofit company that helps businesses measure, offset, and reduce their entire carbon footprint.
WBW will look to test this phone mount system asap and determine if my estimation of its dominance is true.
SMK Helmets Enter The North American Market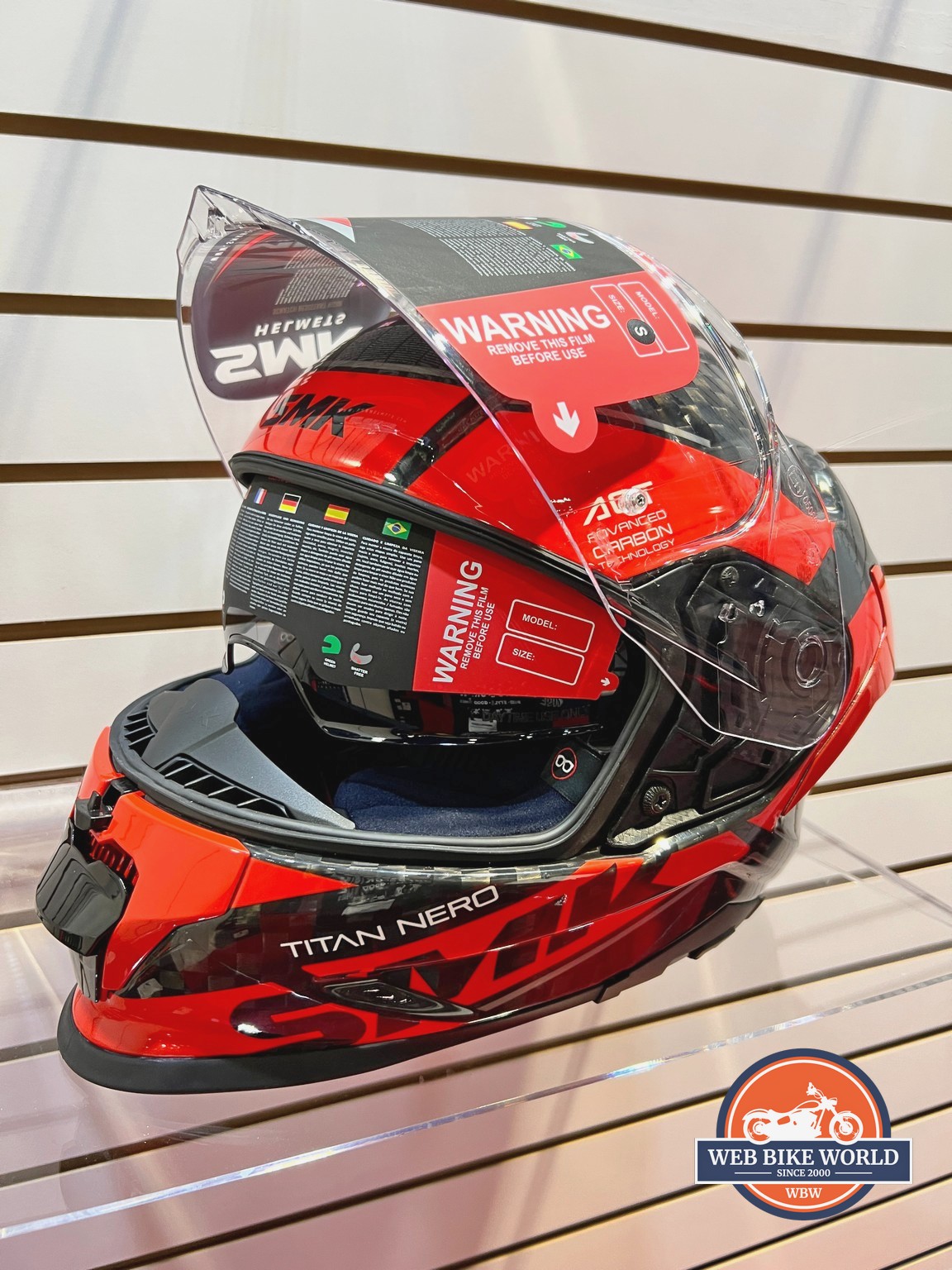 SMK Helmets has been building motorcycle helmets in India since 1972 but until now they've only sold their lids outside North America.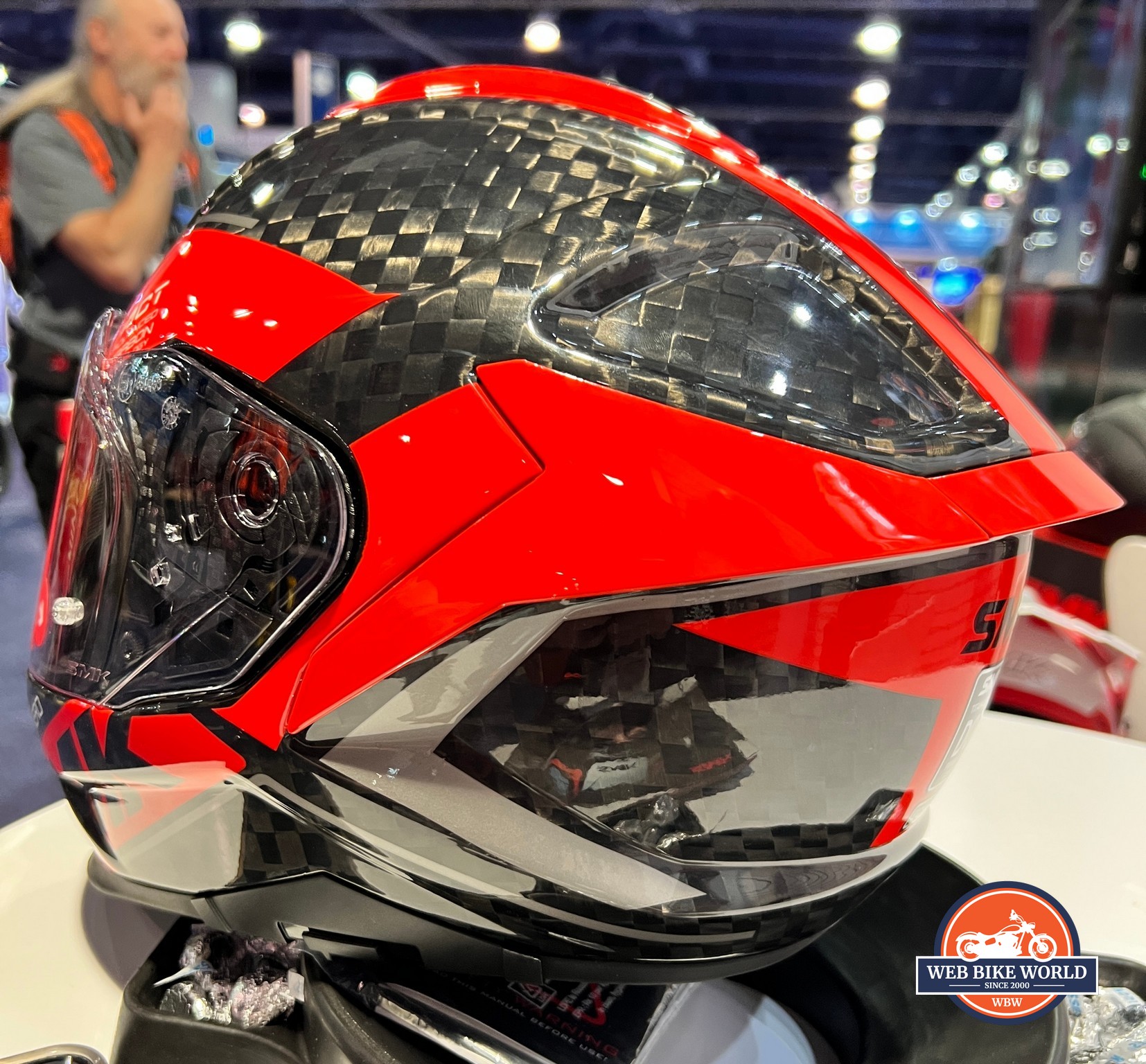 The Titan Carbon pictured above/below retails for $289 and includes an internal drop-down sun visor,  a Pinlock 70, and a micrometric chinstrap closure.  It is dual-certified DOT and ECE 22-05 with 22-06 approval coming imminently.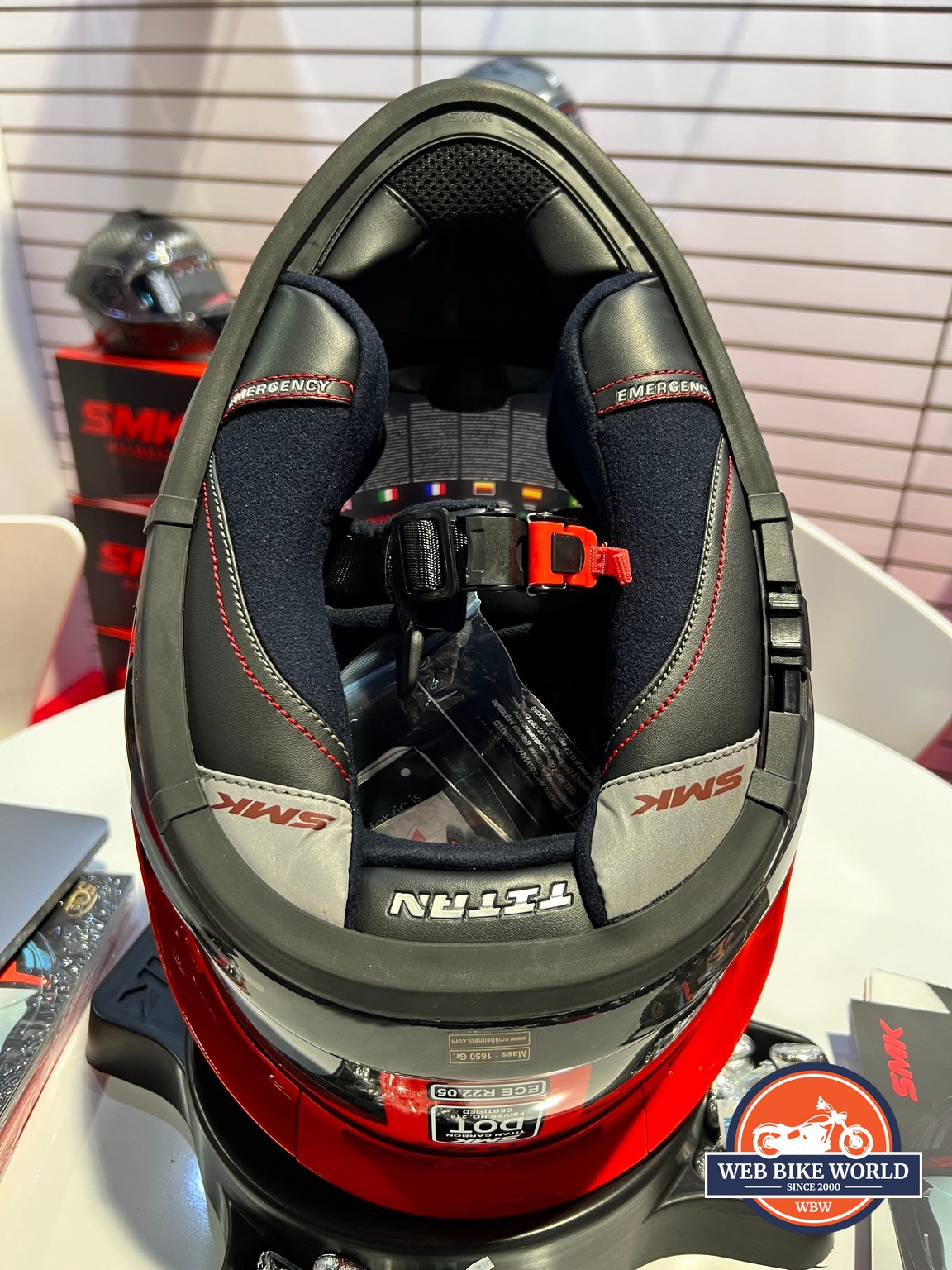 A carbon fiber helmet with a good quality build, attractive features, and a great price?  It appears SMK is looking to compete with Scorpion.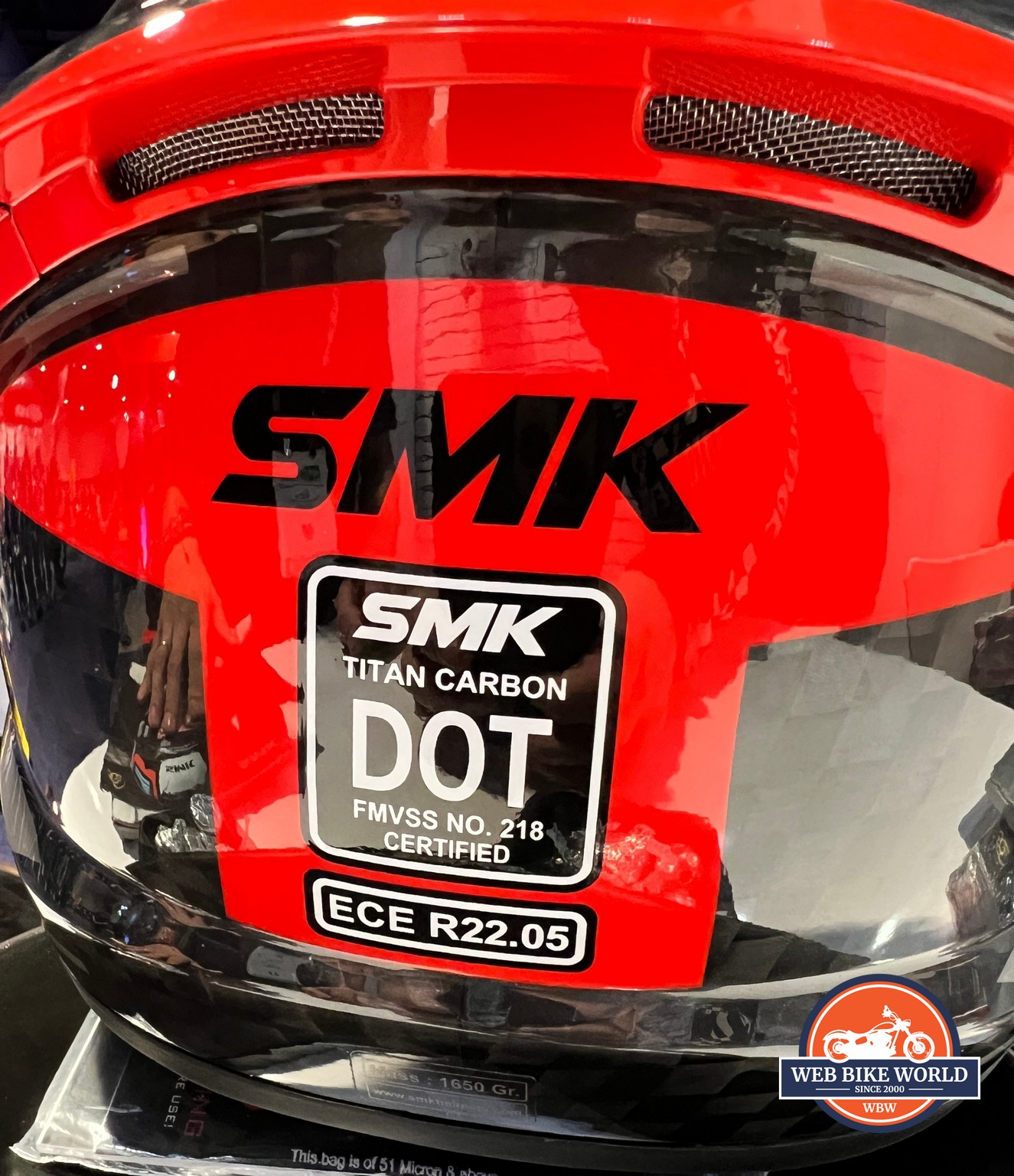 In speaking with Shilpa Arora the North American distributor (and daughter of SMK's founder), I learned that SMK has its own helmet testing lab at the factory in Delhi.  That got my attention right away as I've been looking for an ECE 22-06 expert to learn from.  It might be worth visiting and writing about the experience if the future helmet reviews by wBW testers go well.
The Final Word
The glory days of big motorcycle shows might be behind us judging by the absence of so many big bike brands at AimExpo 2023, but I might be wrong about that since AimExpo 2023 was 93% larger than 2022.  The entire 146,000 square feet of floor space did sell out and there were 4500 visitors from 39 countries all enjoying the vendors and their fascinating wares.
AimExpo 2024 is already booked for February 7-9 but no word on whether it'll be open to the public.
I hope I am mistaken because there's something special about the atmosphere of kinship that exists between motorcyclists who attend bike shows with the hopes of sitting on the moto of their dreams or perhaps finding the perfect rainbow wrap for their KTM dirtbike like the ones Taco Moto was showcasing in Vegas.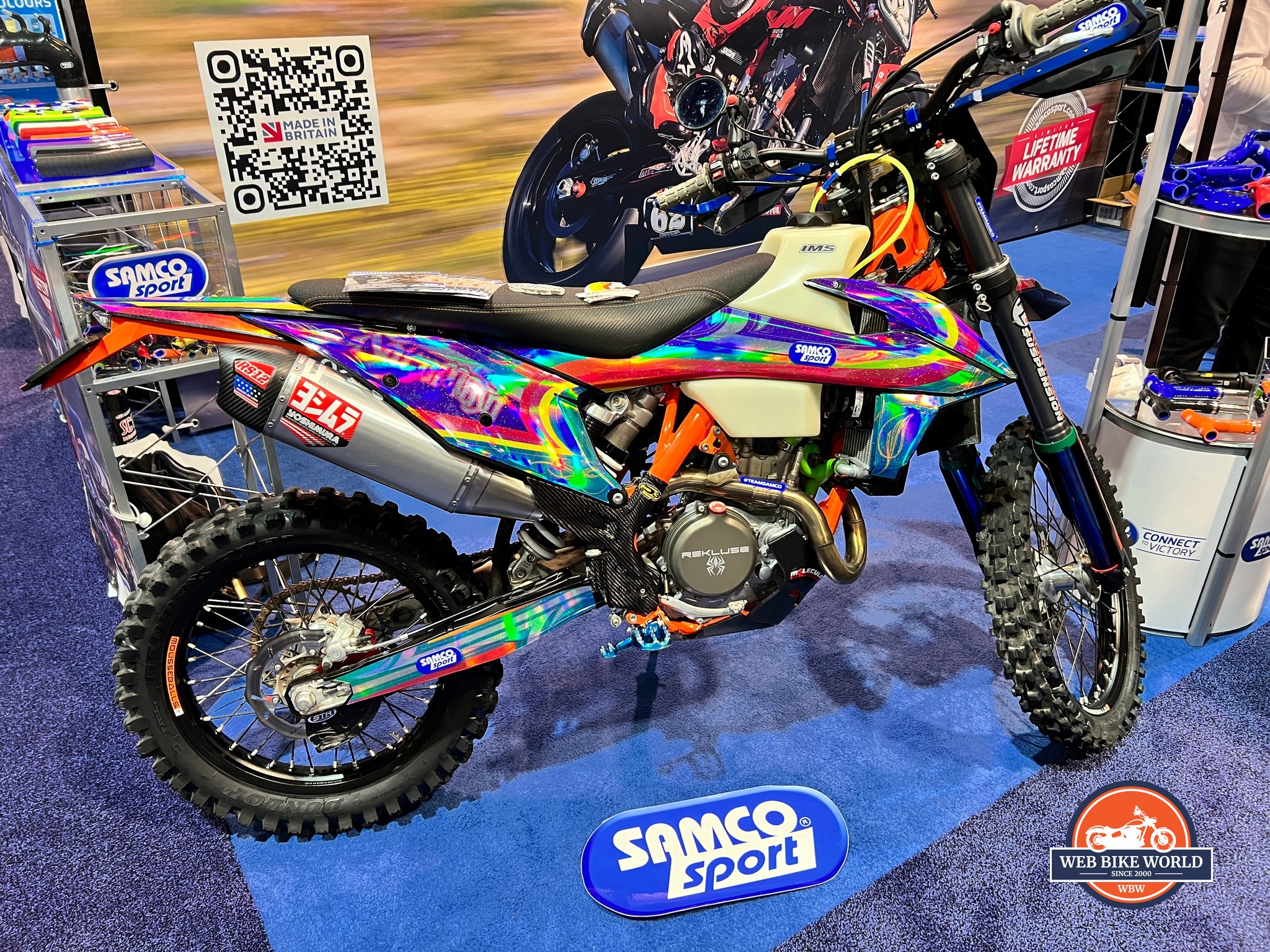 The Electric Circus
One growing presence at this year's show was the electric bicycle and motorcycle contingent.  It's beginning to take up 25% of the floor and might soon need its own building.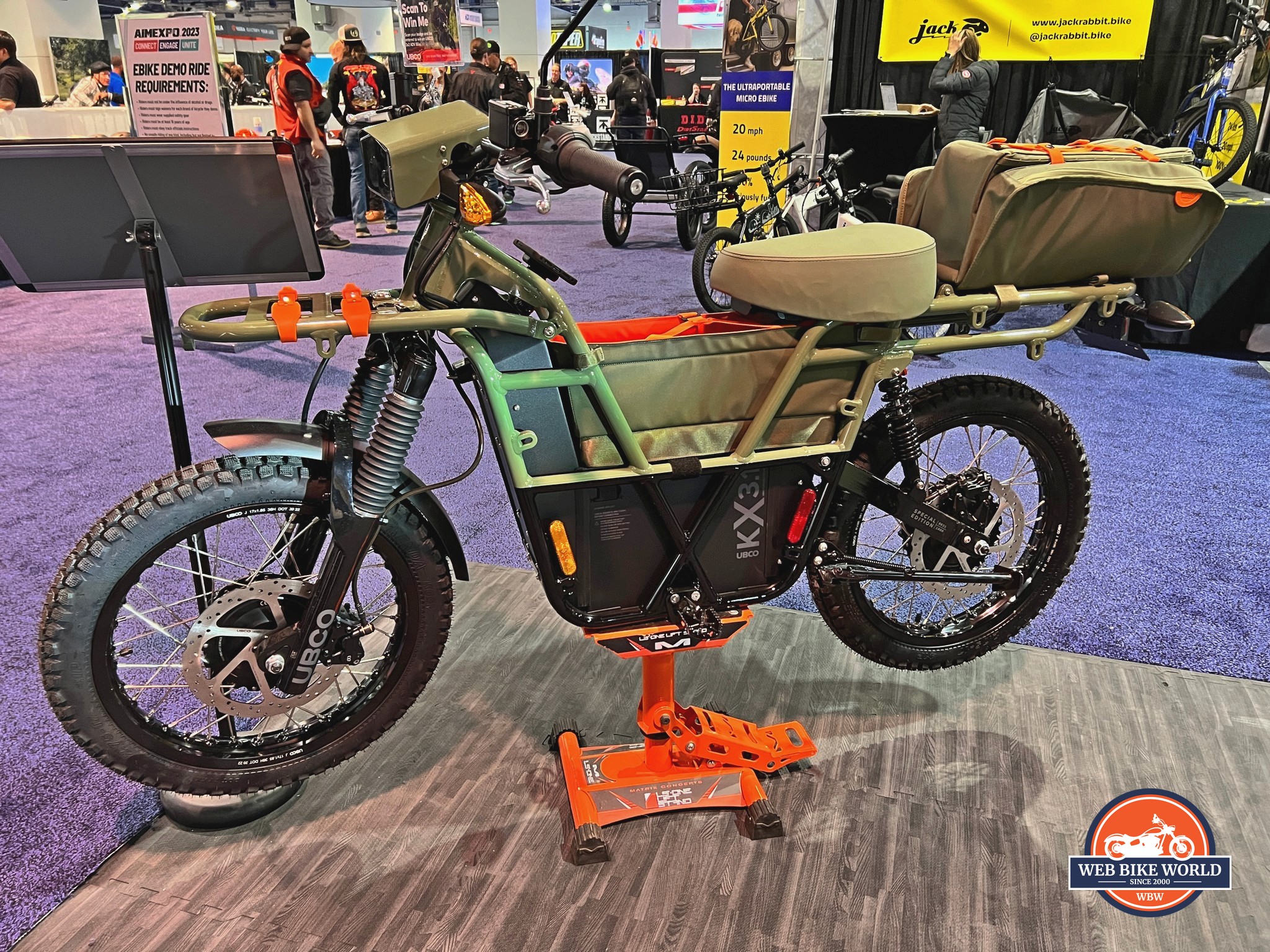 While they don't do a lot for me personally I admit there was one electric motorcycle made by UBCO that caught my eye mostly because it's All-wheel drive! Or is it Both Wheel Drive?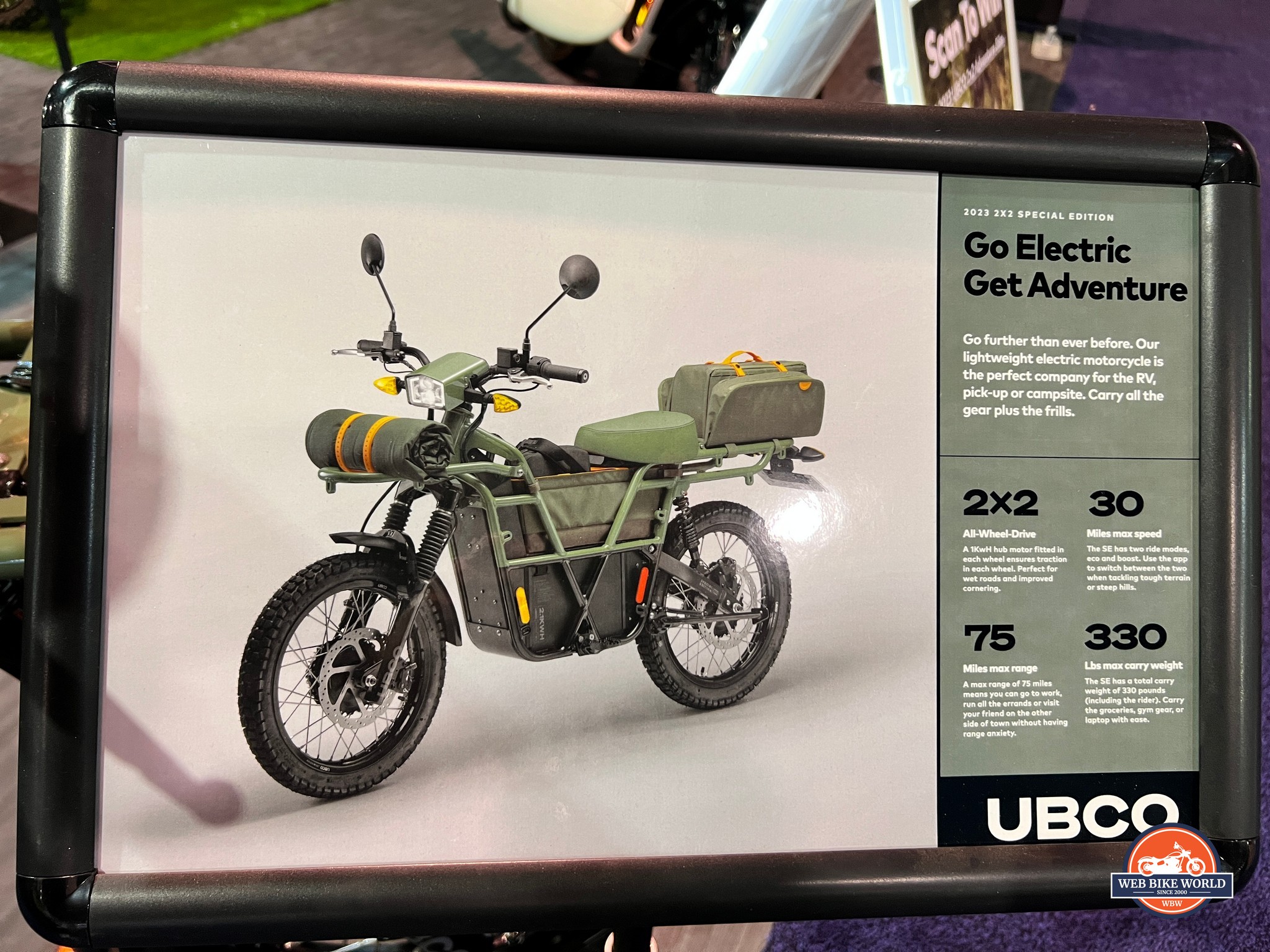 The recharge time is comparatively short at 6 hrs and it'll go 75 miles at 20mph before needing to refill.  The 30mph top speed won't scare anyone, but I can see the overall appeal of this scrappy little all roads traveler.
It's Not Just About AimExpo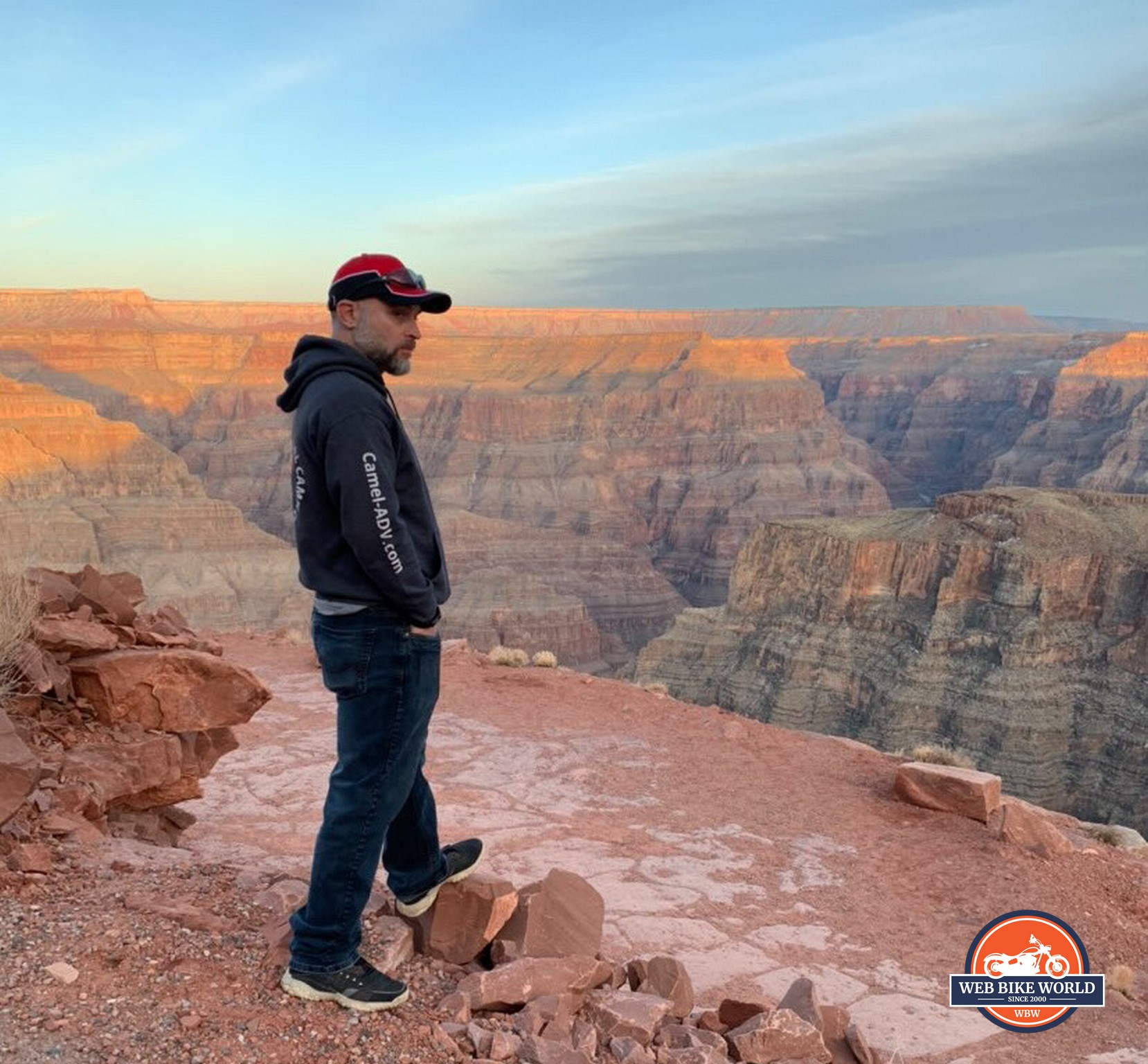 On a side note, hosting the show in Las Vegas provided me with a great opportunity to visit the West Rim of the Grand Canyon.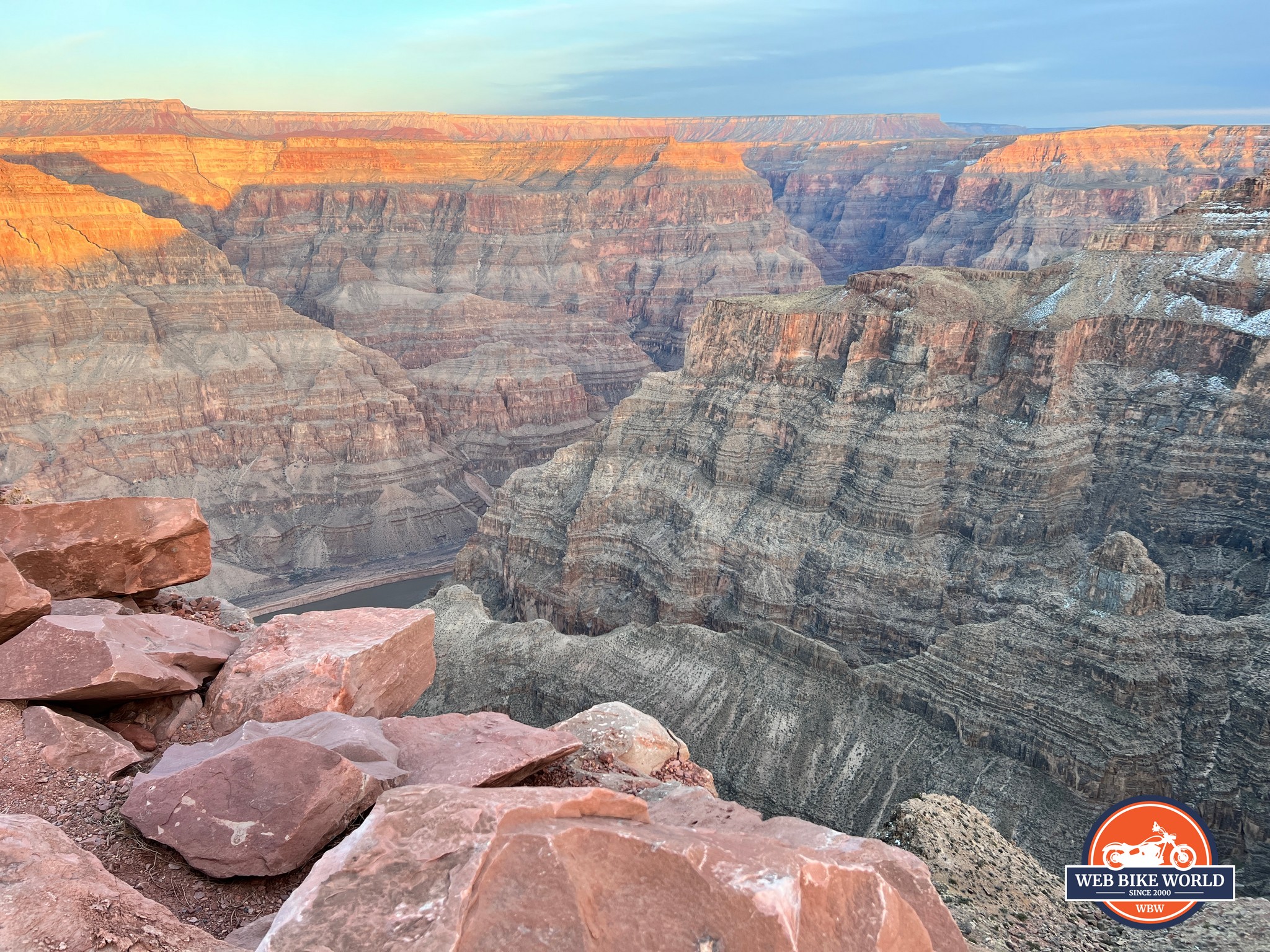 I highly recommend visiting Guano Point if you do decide to wander away from Sin City as I did after the dust of AimExpo settled.
AimExpo 2023 Photo Gallery