The 2021 CRF250RX: Honda's Premier Enduro Racing Machine
Contents
The 2021 CRF250RX is Honda Motorcycles' enduro racing machine. It's currently used in closed-course races with off-road as its only focus. The bike has been campaigned by Honda racers such as Tarah Gieger, Jonathan Johnson, and Tallon LaFountaine.
This Japanese motorcycle has been built with one thing in mind – winning. The CRF250RX maintains a performance-focused high-revving DOHC engine, tuned suspension, a larger fuel tank, and an 18-inch rear wheel. It has been developed with the latest off-road engine mapping while utilizing the high-performance 249cc liquid-cooled engine.
The 2021 Honda lineup is kept versatile with the addition of the 2021 CRF250RX and its enduro flair. If you're looking to on the podium, the CRF250RX is the bike to get you there no matter the terrain.
The 2021 Honda CRF250RX starts at $8,399 USD / $9,899 CAD.
On this page: we've curated specs, features, news, photos/videos, etc. so you can read up on the new 2021 Honda CRF250RX in one place.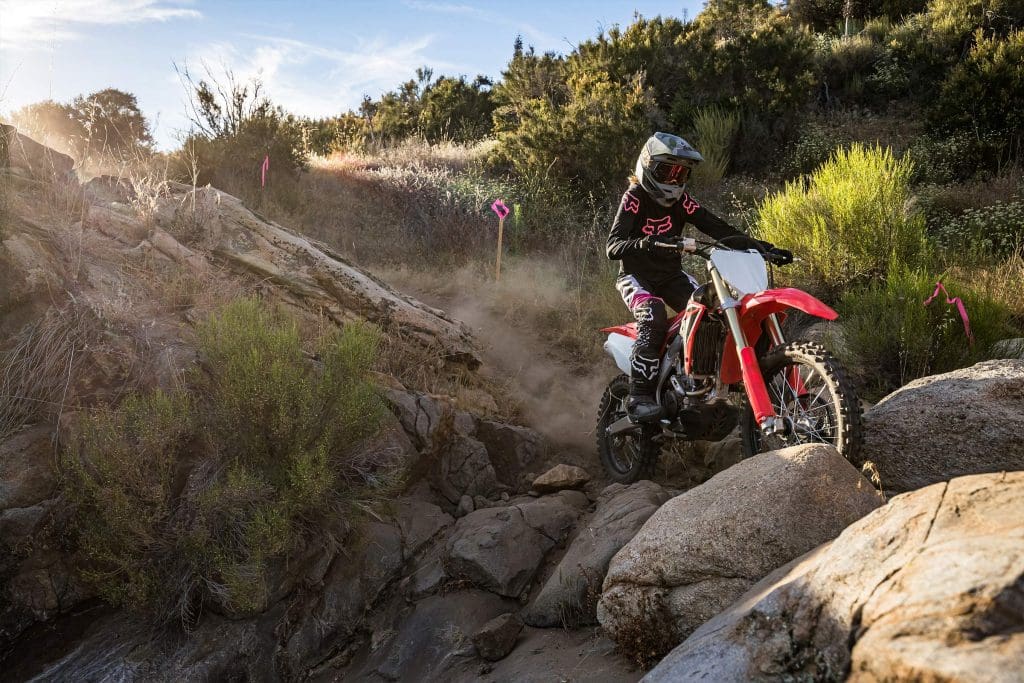 ---
Model Overview
General Info
Price: $8,399 USD / $9,899 CAD
Key Features:

Fuel Injection
Disc brakes front and rear
Electric starter
Inverted Forks
Main Specs
Engine: 249cc liquid-cooled, single-cylinder, four-stroke
Power: 39 horsepower
Wet Weight: 245 lbs (111 kg)
Seat Height: 961 mm (37.8 in.) at the lowest point
Competitors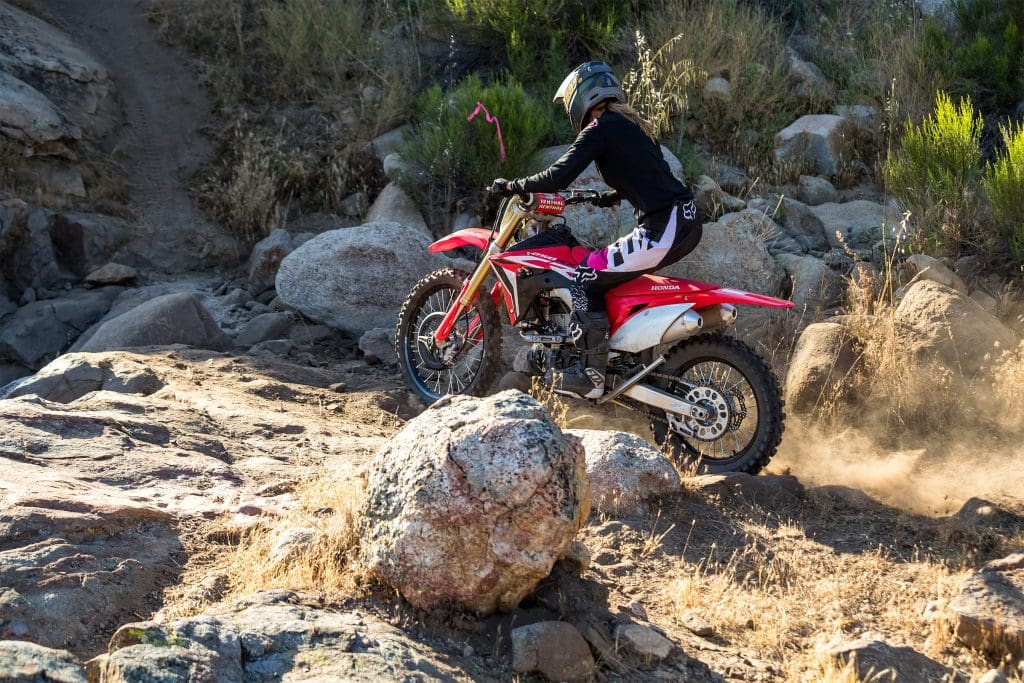 ---
2021 Honda CRF250RX Specifications
| | |
| --- | --- |
| ENGINE | |
| Engine | 249cc liquid-cooled single-cylinder four-stroke |
| Power | 39 horsepower |
| Bore x Stroke | 79.0mm x 50.9mm |
| Compression Ratio | 13.9:1 |
| Fuel System | Programmed Fuel-Injection system (PGM-FI); 44mm throttle bore |
| Starter | Electric with lithium-iron-phosphate battery |
| Valve Train | SOHC; four-valve; 33mm intake, titanium; 26mm exhaust, titanium |
| DRIVETRAIN | |
| Clutch | Multiplate (5 springs) |
| Transmission | Constant-mesh 5-speed return; manual |
| Final Drive | #520 Chain; 13T/48T |
| CHASSIS | |
| Suspension Front | 49mm fully adjustable leading-axle inverted telescopic Showa coil-spring fork |
| Suspension Rear | Pro-Link® system; fully adjustable Showa single shock |
| Brakes Front | Single 260mm hydraulic disc |
| Brakes Rear | Single 240mm hydraulic disc |
| Tires Front | Dunlop Geomax AT81 80/100-21 |
| Tires Rear | Dunlop Geomax AT81 110/100-18 |
| Fuel Tank Capacity | 2.25 gallons |
| Color | Red |
| ELECTRICAL | |
| Ignition | Full Transistorized |
| Spark Plugs | |
| Headlight | |
| Tail Light | |
| DIMENSIONS | |
| Overall Length | 86.0 inches |
| Overall Width | 32.6 inches |
| Height | 49.7 inches |
| Wheelbase | 58.5 inches |
| Ground Clearance | 12.9 inches |
| Seat Height | 37.8 inches |
| Curb Weight | 244 pounds (Includes all standard equipment, required fluids and a full tank of fuel–ready to ride) |
| WARRANTY | |
| Warranty | Unlimited-mileage, limited warranty |
| Extension | Extended coverage available with a HondaCare Protection Plan® |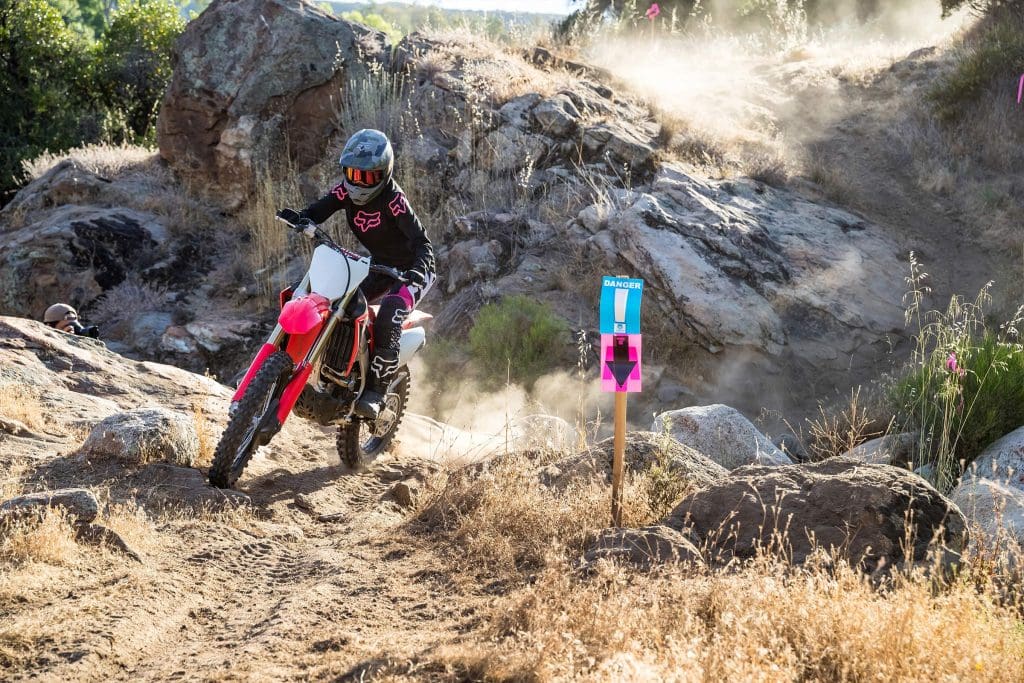 ---
2021 Honda CRF250RX Features
PERFORMANCE
HRC LAUNCH CONTROL
We're talking about a special ECU program here: push the button to select the mode, hold the throttle open, release the clutch, and the CRF250RX will do the rest, launching you into the first turn with a big advantage. It turns your bike into a holeshot-seeking machine!
HOLESHOT-WINNING POWER
Feel free to hold that throttle open and head for the first turn—the CRF250RX is designed to win that critical holeshot drag race. You'll also feel the increased low-end to mid-range torque.
BRIDGED-BOX PISTON
The CRF250RX's bridged-box piston is final piece to the CRF250RX's engine performance package. The design features a reinforcing structure between the skirts and the wrist-pin bosses that helps enable the CRF250RX's high redline.
HIGH REDLINE
With our better-breathing DOHC design and the big-bore/short-stroke engine, the CRF250RX's rev limit is way impressive. The same goes for peak power and peak torque.
HIGH-VOLUME AIR CLEANER
The 2021 CRF250RX features an air-cleaner element with plenty of surface area and volume. The result? More power!
LARGE-CAPACITY RADIATOR
A bigger radiator means better cooling, and better cooling means more power, from the start of your ride to the finish.
LARGE VALVE DIAMETERS
The CRF250RX's valves don't just have impressive lift, the valves themselves are large-diameter too—33mm intakes and 26mm exhausts. Combined with the high lift, the twin-cam CRF250RX flows a lot more, especially at high revs when you're wicking it up.
HIGH-PERFORMANCE CAM PROFILES
With input directly from our HRC factory team, we've given the CRF250RX cams that help the engine produce better bottom end torque and power, while still retaining the CRF250RX's screaming peak.
DOUBLE-SPRAY INJECTOR SETTINGS
The CRF250RX's fuel-injection system sprays twice per intake cycle. That helps increase fuel atomization without adding the weight or complexity of a second injector. The better fuel atomization means more power in the midrange and on overrev—you'll feel it the first time you ride.
THROTTLE BODY
With a 44mm venturi designed to speed up airflow, the CRF250RX's throttle body really reaps benefits at low engine operating speeds. You get power and snap, right now.

CONVENIENCE
ELECTRIC START
The CRF250RX is equipped with an effortless electric starter. Convenient and lightweight, it's a huge deal if you need to restart a stalled bike in the heat of battle.

ENGINEERING
DOHC ENGINE LAYOUT
The CRF250RX uses a double-overhead-cam (DOHC) engine layout with a unique finger-follower rocker design. Together with the rest of the engine's architecture (bore and stroke, intake tract, piston, and more), you get more power and a higher redline.
BIG BORE/SHORT STROKE
The CRF250RX's 79mm bore and short 50.9mm stroke let our engineers create a high-revving engine with plenty of room for large valves. The engine breaths and revs—the two keys to making power in the enduro world.
CLUTCH DESIGN AND MATERIALS
The CRF250RX's clutch uses two different types of friction material. Why? The clutch can handle the increased power of the engine without being any larger. The lighter rotating weight is directly related to how fast the engine revs.
DOWNDRAFT INTAKE AND EXHAUST LAYOUT
The DOHC cylinder-head design let our engineers straighten out the CRF250RX's intake and exhaust tracts. The intake is shorter and just about arrow straight, and the exhaust flows more efficiently too. No athlete's going to win a sprint if he tries to run while holding his breath, and it's no different with your bike's engine. You'll experience both more power and better throttle response.
ENGINE MODE SELECT BUTTON
This simple handlebar-mounted button lets you dial in engine power delivery character with a push of your thumb. Choose between Standard, Smooth and Aggressive, depending on course conditions.
ENGINE OIL SCAVENGE PUMP
Deep in the engine, there's a special oil scavenge pump. While you may never see it, it helps keep the CRF250RX's overall design compact.
GEAR-POSITION ENGINE MAPPING
Talk about smart: The CRF250RX features an ECU with special engine mapping for each gear. You can't give an inch in this class, so having your engine deliver optimal power for each gear choice is one of the features that separates CRF250RX riders from the rest.
GRADUAL PIPE-BEND RADIUS
Notice how the CRF250RX's dual exhaust pipes make gradual, large-radius bends out of the head, then flow straight back to the mufflers with no abrupt angle changes. Getting the exhaust out of the engine—while still maintaining a tuned exhaust length, is the key to power, while the pipes' low mass and twin-silencer design optimize the CRF250RX's center of mass for superior handling.
"H" SECTION CRANK
Look closely at the CRF250RX's crankshaft profile and you'll see its "H" cross-section design. What's up with that? Just like a structural "I" beam in an aircraft wing or a skyscraper, it boosts strength and cuts weight over a conventional crank's shape—a big deal when you consider this part spins at over 14,000 rpm!
HIGH CAPACITY RESIN FUEL TANK
For longer enduro loops, the CRF250RX features a bigger fuel tank that holds a full 2.25 gallons.
LITHIUM-ION BATTERY
Like the rest of the CRF250RX, the bike's Lithium-Ion battery is both super light and high performing. In fact, it weighs less than half the weight of a conventional lead-acid battery.
REFINED DUAL-EXHAUST SYSTEM
The CRF250RX's dual-exhaust system is light, compact, and positioned close and low in the frame to take weight off the rear end and bring more mass to the bike's center for improved handling. It also allows for more airflow, and that equals added horsepower.
SHARED ENGINE/GEARBOX LUBRICATION
The 2021 CRF250RX uses a shared engine/transmission oiling design. Why? Combining the two systems shaves weight and helps make the engine more compact, especially when it comes to placing the right-side cam drive and the clutch so close together.
TITANIUM INTAKE AND EXHAUST VALVES
Light is right when it comes to a high-revving engine's reciprocating masses. That's why the CRF250RX uses titanium intake and exhaust valves. Plus, the valve angle is a super-narrow 20.5 degrees (included). Ovalized valve springs and long-wearing Diamond-Like Carbon (DLC) treated finger rockers complete the package.
TOTAL AIR MANAGEMENT
Total air management means complete attention to how efficiently air gets through the intake, through the head, and out the exhaust. Eliminate losses here, and you make more power everywhere. And the best part? It's free horsepower—you just need a bike with smart design.

HANDLING
DUNLOP GEOMAX TIRES
The CRF250RX's Dunlop Geomax tires are specially designed for enduro use. The AT81 tires are spec'd at 80/100-21 for the front and 110/100-18 for the rear. You read that right: the CRF250RX rolls on an 18-inch rear wheel.
260mm FRONT BRAKE
The CRF250RX's large front-brake disc measures a whopping 260mm. You get great brake feel and a pattern that cuts down on weight. Front and rear brake-disc guards are part of the package too.
LOW BATTERY MOUNTING
Locating the battery low in the chassis helps to lower the CRF250RX's center of gravity—and that always helps overall handling.
LOW REAR SHOCK MOUNT
With its low rear shock mount on the frame, the CRF250RX benefits from both a lower center of gravity (cg) as well as chassis stability.
SHORT SWINGARM
The CRF250RX's short swingarm helps make it light, and also helps give the bike better rear-wheel traction, and reduces unsprung mass, important considering how much power you have on tap.
SHOWA® SPRING FORK
The 49mm Showa® fork features a conventional spring design that helps increase the CRF250RX's front-suspension precision, handling and feel. The 39mm piston diameter and 25mm rod diameter guarantee a plush feel and supple action.
TWIN SPAR ALUMINUM FRAME
The CRF250RX's latest twin-spar aluminum frame is identical to the CRF450R motocrosser's except for the lower engine cradle where the engine mounts. It's the foundation for the 250's superb handling.

COMFORT
BLACK RIMS
They may not help you go faster, but the sweet black DID rims sure look good.
FLAT SEAT/TANK JUNCTION
The CRF250RX features a flat seat/tank junction, including a titanium fuel tank. The superior ergonomics make it easier to move forward and back on the bike, increasing your control.
"IN MOLD" GRAPHICS
With the all the time you'll be spending in victory circle, you need to look your best. The CRF250RX has you covered. Our "in mold" graphics look great, and stay looking good longer.
REAR SUBFRAME
The CRF250RX's subframe uses extruded rear members that produce a 20-percent reduction in weight versus the previous generation CRF250R. Since that weight comes off the top of the bike, it also contributes to the CRF250RX's low center of gravity.
SIDESTAND
Real enduro bikes need a sidestand, and we've given the CRF250RX a great one. Tucked up high and out of the way, this forged alloy piece is just another example of how the CRF250RX gets it right.
SMOOTH STYLING
Blending the CRF250RX's body panels does more than just make the bike look smooth, fast, and stylish. It also helps you move around on the bike while riding. Nothing wrong with smooth, fast, and stylish, though.

---
2021 Honda CRF250RX Photos
---
2021 Honda CRF250RX Videos
---
Links
Honda Websites
Other Links