Table of Contents
Introduction
In 2018, I did a long-term review of the exciting and class-defining Kawasaki Ninja H2SX SE. It was an in-depth look at that superb motorcycle over 10,000 hard miles (16,000 km). I still think it's an underrated motorcycle despite having recently sold it to a new owner after chalking up a final tally of over 25,000 equally trouble-free kms.
What's Next?
What new motorcycle did I choose to tackle next? It didn't take me long to settle on KTM's 2019 KTM 790 Adventure and Adventure R. That link goes to my preview article about the 790R model which fully captivated me and thousands of other adventure riders back in 2018.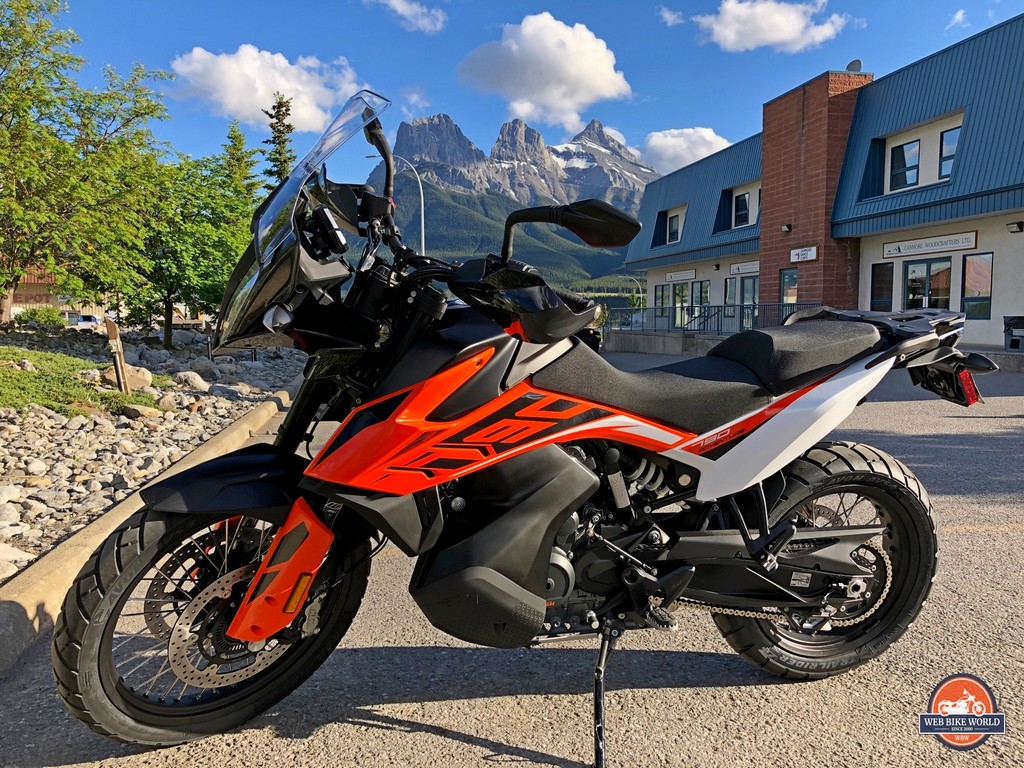 The Ninja still rules the streets in my mind, but I had a hunch this KTM could be the best of the adventure bike class off asphalt if it lived up to the hype and anticipation KTM generated.
The Alluring Spec Sheet of the 790 Adventure Standard
799cc Inline Twin LC8c DOHC engine
claimed 95 horsepower (70 kW )@ 8250 rpm and 68 ft-lbs torque (88 Nm) @ 6500 rpm
6-speed transmission
32" seat height (adjusted to low, 33" on high setting)
416 lbs dry/450 curb weight
Front non-adjustable 43mm conventional open-cartridge WP Apex fork 8.7" travel
Rear WP Apex PDS preload only adjustment shock 8.7" travel
9.2" of ground clearance
5.4 gallon (20 Litre) gas tank yielding approximately 280 miles (450 km) range
21" front wheel 18" rear with Avon Trailrider tires
These are the numbers for the standard 790 Adventure (aka the "S" model) instead of the R model. The two are very similar with the only significant differences (from factory) being suspension, Rally mode, and ground clearance. They also have different windshields, mirrors, and seats but it's possible to swap parts between the two bikes easily to create an "SR" or "RS" if you like.
This review will be about the Standard bike because that's the one I ended up with. Here's how and why it went that way instead of the R…
I Put My Money Down
The 790 Adventure Standard and R first appeared in Europe during early 2019 while all of us here in North America waited impatiently to get the ride reports from testers over there.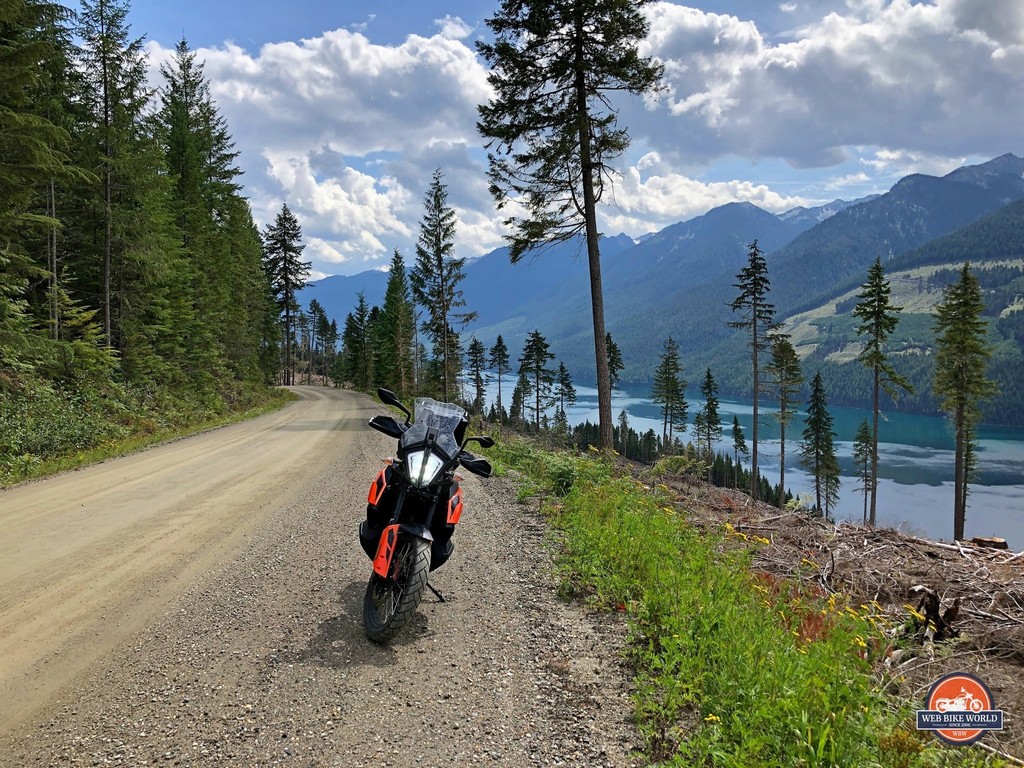 KTM put on a press launch in Morocco and we were treated to video and photos of journalists roaring around the desert dunes on these mid-sized dynamos of on and off-road mastery. All of the testers gushed about the performance, the suspension, the power, and the tech package.  It had it all!! It seemed to be the one adventure bike to rule them all based on early reports!
http://KTM 790 Adventure Press Launch Video in Morocco
That was more than enough for me! I raced to put my deposit down on an R model in April 2019 and hoped KTM would send enough of them over here to western Canada to meet the demand. I was number 6 on the waiting list at my local dealership but it didn't look promising as pre-orders reached fanatical levels. From what I heard every dealership around had at least double the deposits in hand than the bikes KTM was able to deliver. Wow!
Sure enough, I got the bad news in late April that only 4 of the R models would be coming to Calgary's Blackfoot Motosports and that the other dealerships within striking distance had all their R models spoken for as well.
How About The S Model Instead?
Right from the beginning, I was acutely aware the R model seat height of 34.6 inches was going to be borderline too tall for my 28-inch inseam (I'm only 5'8″ tall) and I'd have to adjust the seat or my riding ability to handle it comfortably. The photo below shows how I wouldn't be able to touch at all while sitting flat on the R model seat.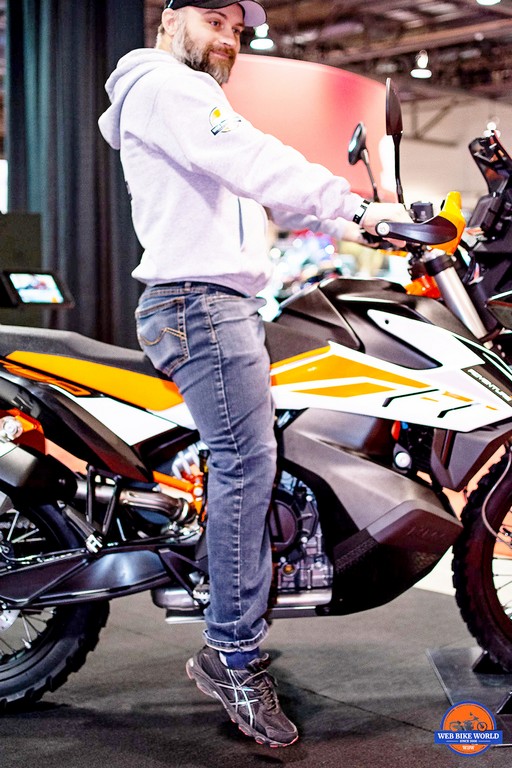 My toes are about 1" off the ground on either side. Short guy problems.
The news that I wouldn't be getting an R model made obvious the choice to opt for the Standard model instead.
That's exactly what I decided to do, and looking back now after more than 18,000kms (12,000 miles) ridden, I realize it's much more fun to "farkle" the S model into the SR of my dreams, even if it ends up costing more money than buying the R model. More on that later.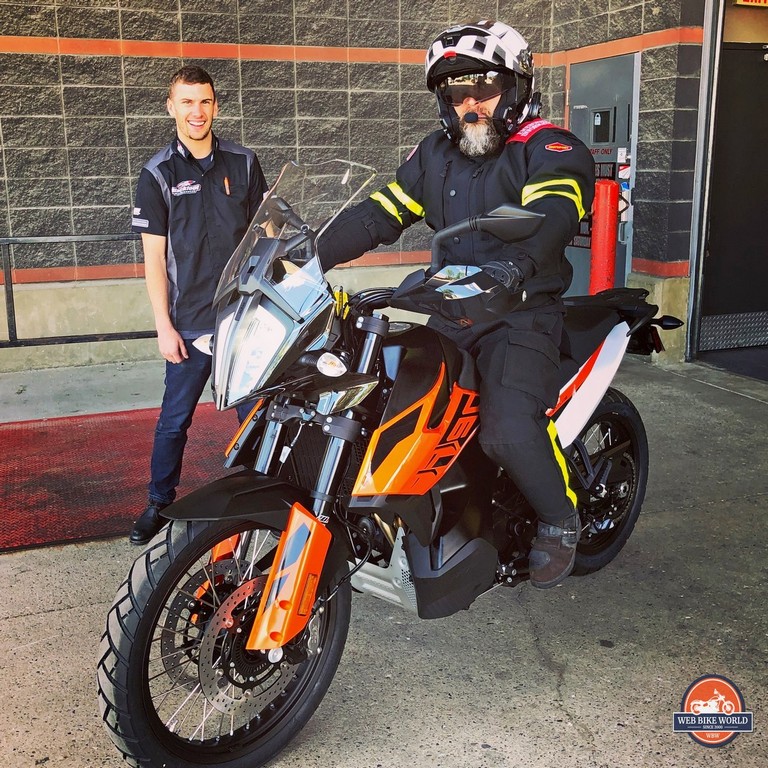 I took ownership of the bike on June 28, 2019, without even hearing one running in person, let alone a test ride. I was hoping it would be the bike of my dreams even if there were some small surprises along the way.
That's why they offer an extended warranty, right?  Yes, I got the extended warranty.
Let's Make This S Into An R… Sort Of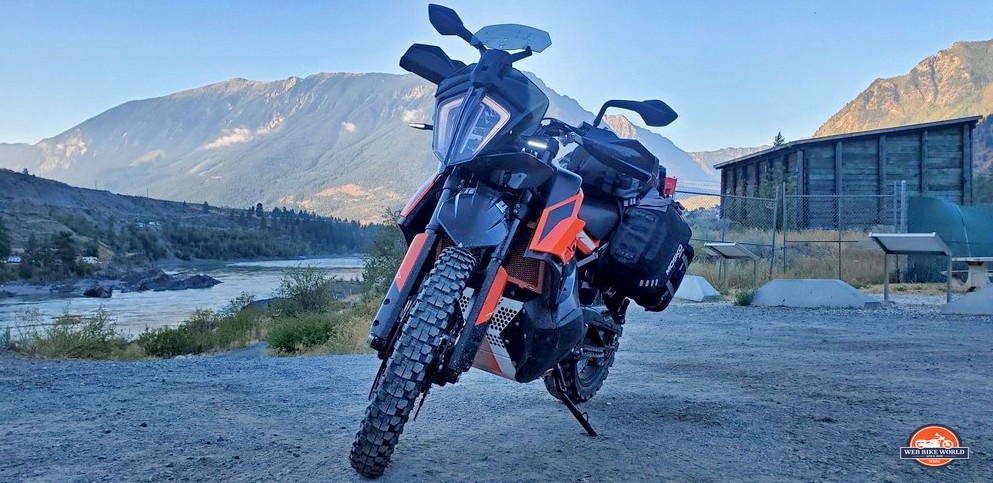 I decided that if I couldn't have the fancier R model bike that I would ensure my Standard 790 wouldn't be basic or average when it came to factory add-on features. I went all out;
Quick Shift+ Allows clutchless shifting both up and down
Cruise Control
Rally Mode It comes standard on the R model and allows the rider to access neck-snapping throttle response, manipulate ABS settings, and adjust traction control settings on the fly using the up/down arrows on the left bar
Heated Grips I live in Canada… Enough said
Extended warranty to 5 years was a must with a brand new engine and bike from KTM
I added a quick release tour pack and aluminum pannier from SW Motech into the purchase price bringing the final tally up to nearly $19,000 Canadian loonies or just over $13,000 US.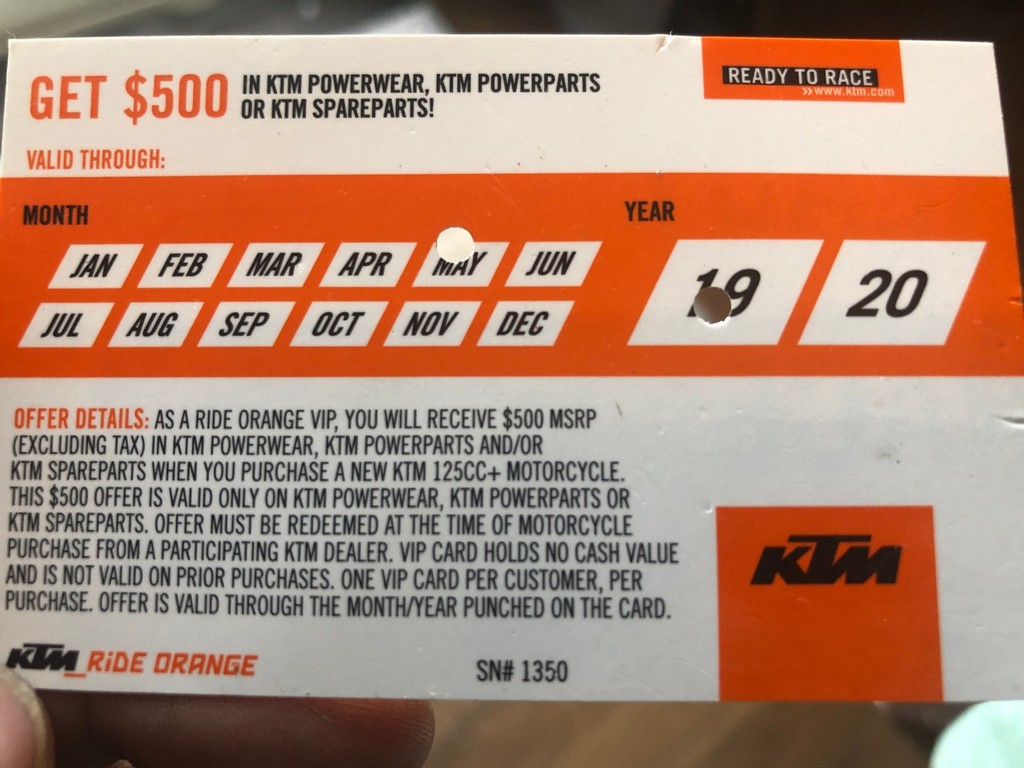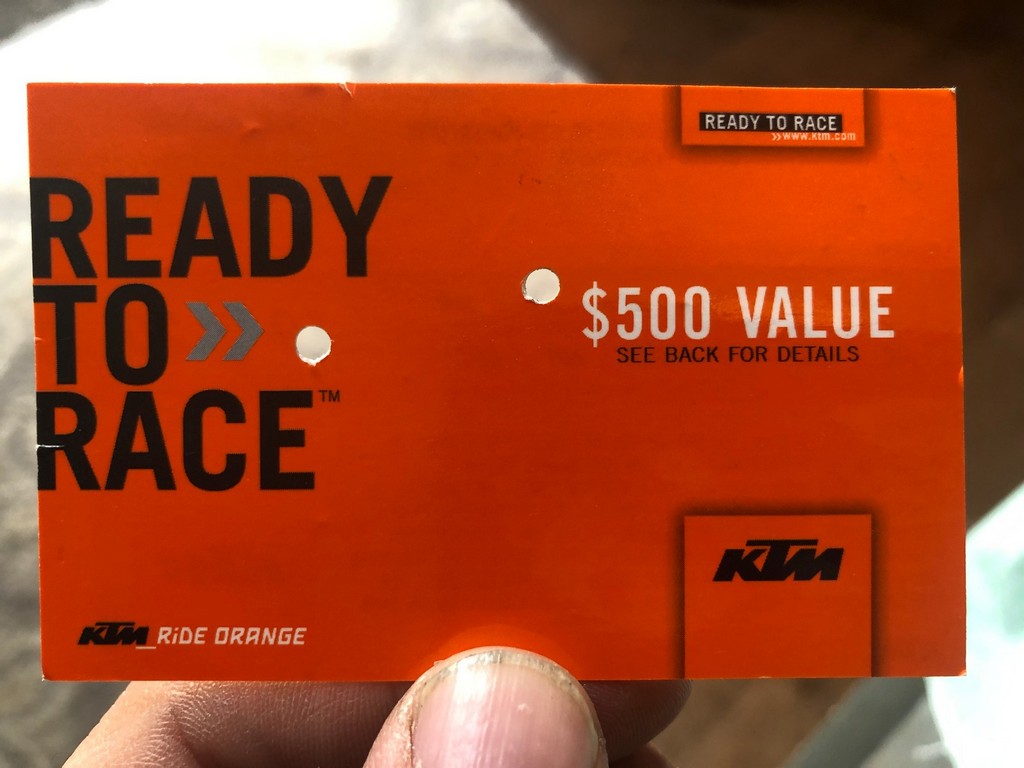 I did get to redeem a $500 gift card I received from KTM when I did a demo a month before on a 790 Duke. Meaning that I got the heated grips for free!
About Those Heated Grips…
I'll mention right away that the OEM heated grips aren't nearly competitive enough to challenge any aftermarket products available when it comes to keeping your digits warm. The factory ones get warm enough for cool weather but not cold weather.
The activation button KTM mounts on the left bar is rather ugly as well, but I admit it has stood up to everything I've thrown at it and keeps on keeping my hands warm… ish.
I'd recommend skipping these and going with Oxford or another reputable brand instead.
Even More Add-Ons
I didn't like the look of the low front fender on the S model 790 Adventure, so I shelled out the money for the high mount fender from the R model. It's much more pleasing to my eye since going on.
The handguards or "bark busters" that come standard on the S model are in a word– flimsy, although many owners say they hold up even after multiple drops. My take on it: the only things that all-plastic construction will protect your hands from are insects and wind. For this reason, I ordered and immediately installed the KTM Power Parts guards. These have an aluminum bar running behind the plastic pieces which actually will save your levers in a spill or deflect incoming branches and stones you come in contact with.
Break-In Period
For the first 1000kms or 600 miles, I wasn't able to rev the engine past 6500rpm without the tachometer flashing an angry red color in disgust at my irresponsible behavior. This wasn't a problem to my relief because I found even at 6000rpm I was doing significantly more than the legal speed limit in 6th gear on the highway.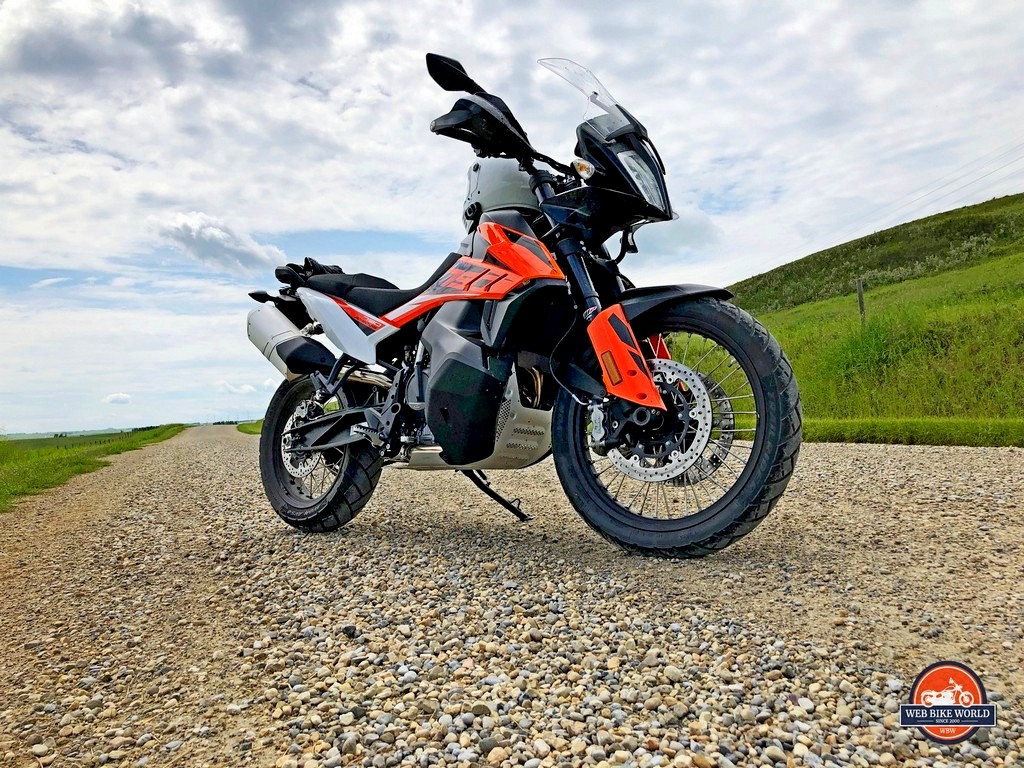 Contrast that to the torturous break-in of my Ninja H2SX SE where the fastest I could go while keeping the revs under the required 4000rpm was 99 kph or 58 mph! It was incredibly painful to ride that 200 hp beast so slowly that Corollas were leaving me in their dust.
Out On The Road
Once break-in was completed along with the first service, I put the 790 through its paces on and off the asphalt in a responsible way. First I placed my emphasis on asphalt for about 2000 miles or 3200 kms using the stock Avon Trailrider tires only.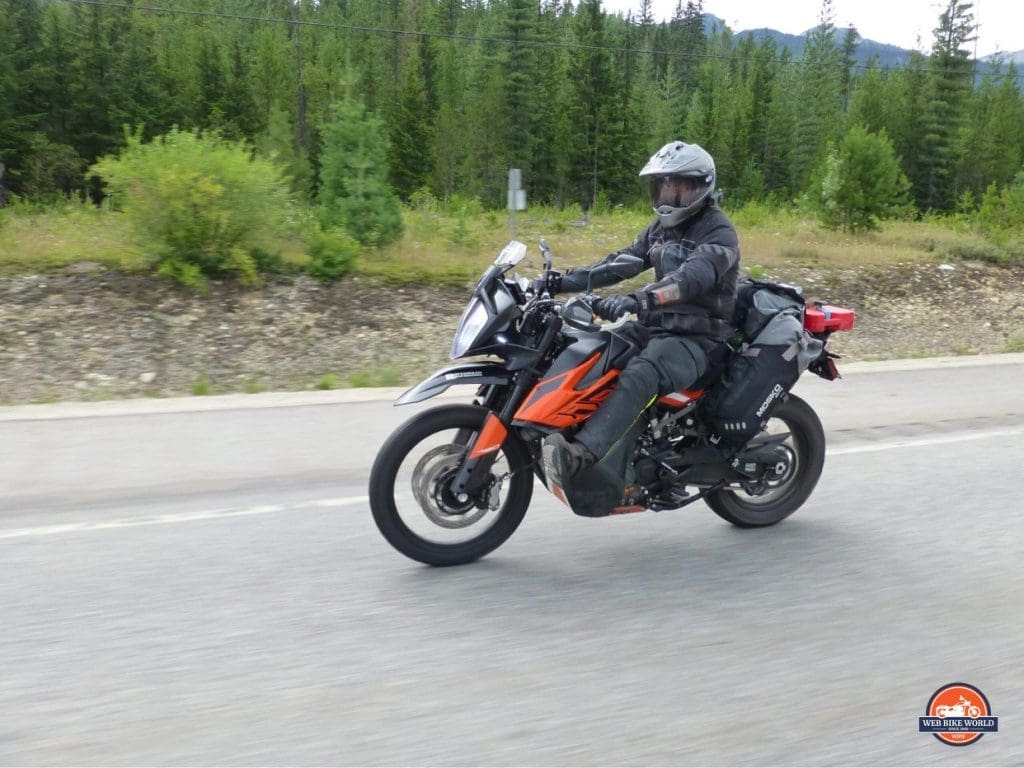 Power And Acceleration
At first, in the STREET MODE fuel map setting, I felt the 790 lacked the level of punchiness I was looking for. This may have had a lot to do with the fact I had come from logging over 10,000 miles on my Ninja H2SX SE the year before. A hard act for almost any motorcycle to follow.
Despite now having gotten used to this drop in power I still feel like the bike doesn't have enough torque off the line in STREET MODE. I believe that's part of the reason many owners go down a tooth on the front sprocket to 15. The 790 Adventure is geared just a tad too high for slower, technical riding or holeshots but the smaller front gear fixes this nicely. Despite that, the stock 790 will run the ¼ mile in about 11.5 seconds with a competent pilot at the helm.
Quick Shifter
Once you get rolling the bike accelerates nicely and hits eyebrow-raising velocity quickly when asked to! I haven't ridden a slow KTM yet and the 790 adv is no exception with a claimed top speed of 218 kph or ~140mph. The biggest contributor to the satisfying amount of get up and go is the optional Quick Shifter.
It's not just about the luxury of being able to bang through the gears without needing a tug on the clutch lever. This is the nicest quick shifter I've used to date because you not only can shift up or down through the gears, but you don't have to adjust the throttle while doing it! This makes it so nice when I'm off-road and the revs drop a bit too low when I encounter a hill or deep mud. I don't even move my right hand, I just nudge the shifter downwards until the engine sings the right tone of exhaust note for the torque and hp I'm looking for.
The shifter travels what I consider a desirable distance before initiating the transfer of mechanical energy through the gearbox.  An "auto-blip" follows on downshifts, and a noticeable "click" sensation is felt in the foot to confirm it happened. I find QS+ works best when accelerating aggressively on upshifts and braking appropriately on downshifts. I admit to having missed a few quick shifts from 1st to 2nd because I've been too lazy with my toe movement or gentle with the throttle. The 790 likes to be ridden enthusiastically.
Owners who didn't order the QS+ option claim to be able to clutchless shift up gears but not down from what I've heard, but I can't confirm since I got it right from the start of my life with this motorcycle.
790 Power Versus The 1290 Super Adventure
Have a look at this video showing some drag races between the 790 adv and 1290 adv to put this all in perspective. I owned an 1290 before and can tell you that it's a sportbike when it comes to power and speed.
Drag Race between 1290 and 790
The 790 beats the 1290 consistently off the line due to the difference in weight between the two, but can't match the big brute when it comes to top-end acceleration and speed. That's certainly no surprise. There is no replacement for displacement.
Rally Mode
As mentioned I splurged and had RALLY MODE enabled on my 790S to give me something more interesting than the factory presets (STREET, OFF-ROAD, and RAIN) that come standard with the 790S. I'm glad I did and highly recommend it. I keep my bike in this ride mode all the time mainly because it allows me to adjust the Traction Control slip setting on the fly using the up and down buttons on the left handlebar.
Some riders may never feel the need to tinker and have this level of flexibility in the 790S but I love it.  More than once while riding up a steep hill or deep mud I've rapid-fire toggled the arrow keys to get more or less slip instantly depending on what's underneath the tires. It's easier to do than I would have thought before trying it.
Typically I ride with my TC set at about 5 or 6 and turn it up to 7 or 8 if I get in some slippery conditions to crawl out easily.
Neil McConnell's explanation of the 790's Traction Control in the FaceBook post below sums things up nicely.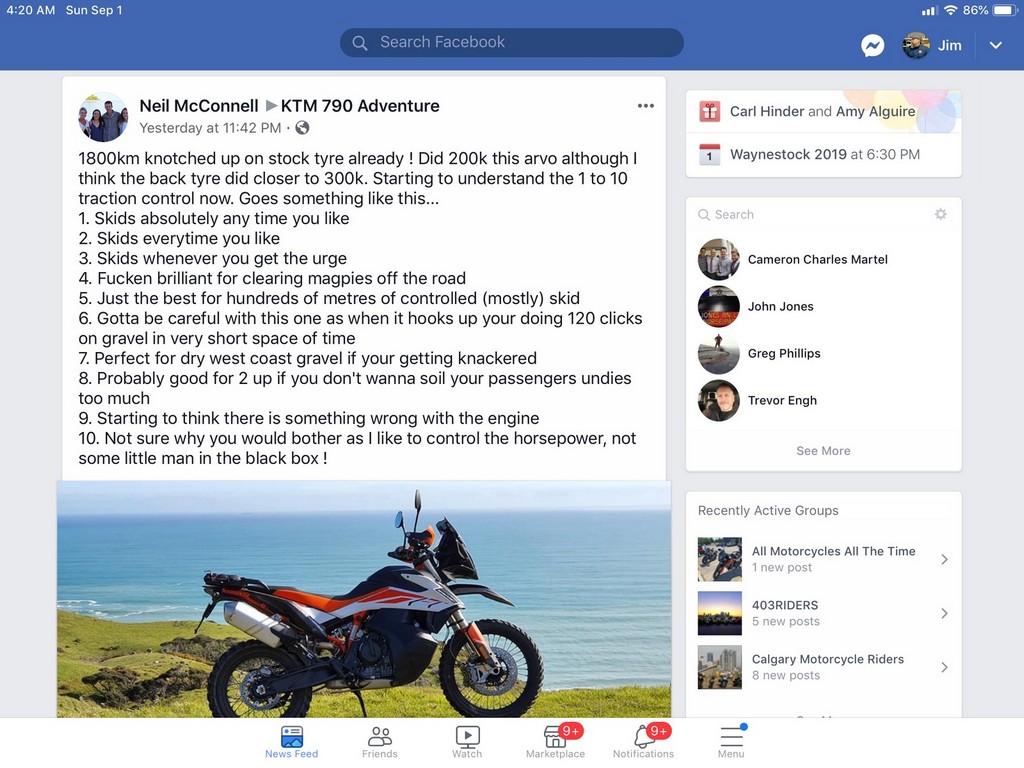 Use The Magic Buttons
I got stuck crossing a creek once that was lined with rocks about 6" in diameter thanks to some lazy riding technique combined with a steep bank on the far side. My instinct to "power out" by slipping the clutch after turning the TC down to setting 1 (nearly off) proved futile as the 95hp and 68lbs of torque dug down and spun instead of grabbing traction. At TC setting 9 the bike walked out of that nasty hole as if it was nothing!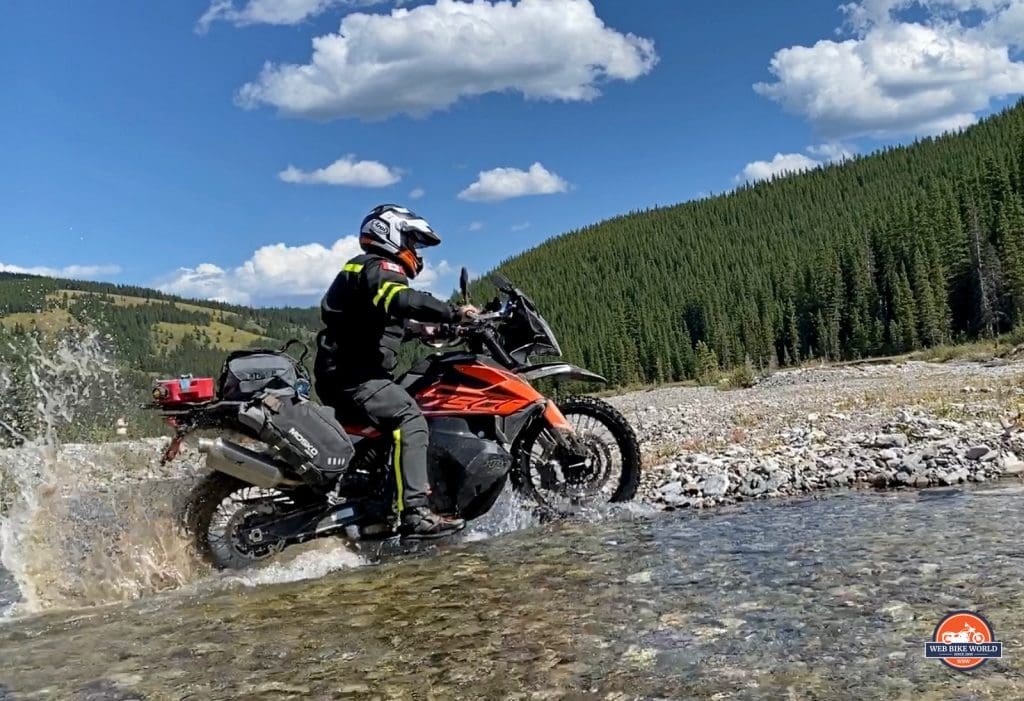 When given the chance a 790 will quickly teach willing students/owners to trust the technology on it as opposed to fighting against it. This can be difficult for some long-time riders to accept, but the truth is KTM knew what they were doing when they designed the electronics on this motorcycle. It'll thrill you if you let it but also punish you if you stubbornly fight it. More on that later.
Throttle Response
RALLY MODE also allows riders to choose their desired level of throttle sensitivity electronically in STREET, OFF-ROAD, or RALLY. Throttle response shouldn't be confused with the actual riding modes where everything is chosen for you automatically.
The RALLY throttle response is terrific when I'm "Braaaaping" through the loose dirt and sandy terrain off-road to launch roost at my friends. It serves up "dank wheelies" (as the kids say) while on grippy asphalt, and can rip up tires in short order if you cater to your inner hooligan.
For my part, I run with the STREET throttle setting instead of the RALLY one because I'm not a showman and prefer my front wheel on the ground. This works for me even though the Wheelie Control feature is turned off in RALLY MODE. I find OFF-ROAD mode too tame for my riding style on a bike this heavy. I want it to respond sharply to my inputs as opposed to a gradual or blunted approach.
RAIN mode or throttle response is irritating and doesn't mesh well with the way I like to ride. I tried it once in the rain and quickly went back to RALLY. I suppose if you're nervous and want to get used to the power gradually RAIN might be useful, to begin with before you move on.
The electronics on the 790 Adventure provide a ridiculous number of settings to play with for my needs. I've tried about half a dozen combinations but keep coming back to the settings mentioned above. It's fun to experiment with.
There's a terrific website chock full of great information all about the 790/890 that has been put together by owners and enthusiasts I highly recommend. Link to 790 Riding Modes Information.
Fuel Economy?
The 790's range has consistently been over 250 miles (400 kms) from day 1. The first tank of gas I burned in my 790 netted 402 kms on 16.5L of gasoline. That means I still had 3.5L in the tank to burn which theoretically means I could have continued almost another 60 miles or 100kms before running out.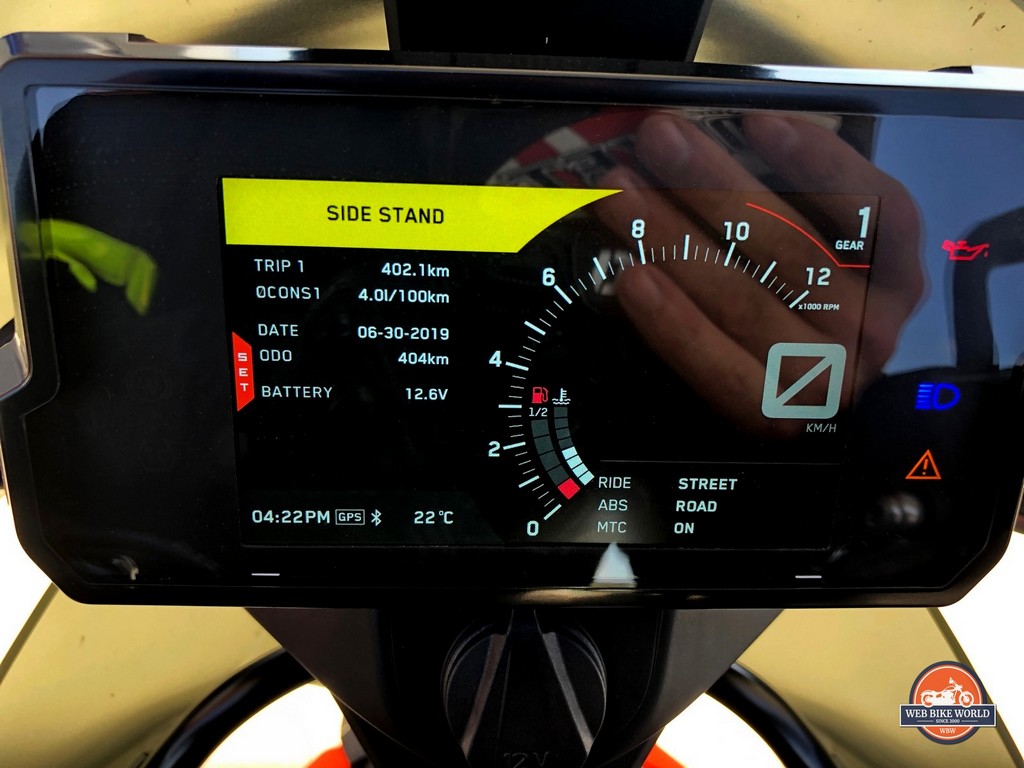 I still average between 3.7L/100 and 4.1L/100kms (57 to 58mpg) depending on how aggressively I'm riding. This is according to what the dash computer readout says and I've never managed to run out of gas before finding somewhere to fill up thanks to the efficiency and huge gas tank.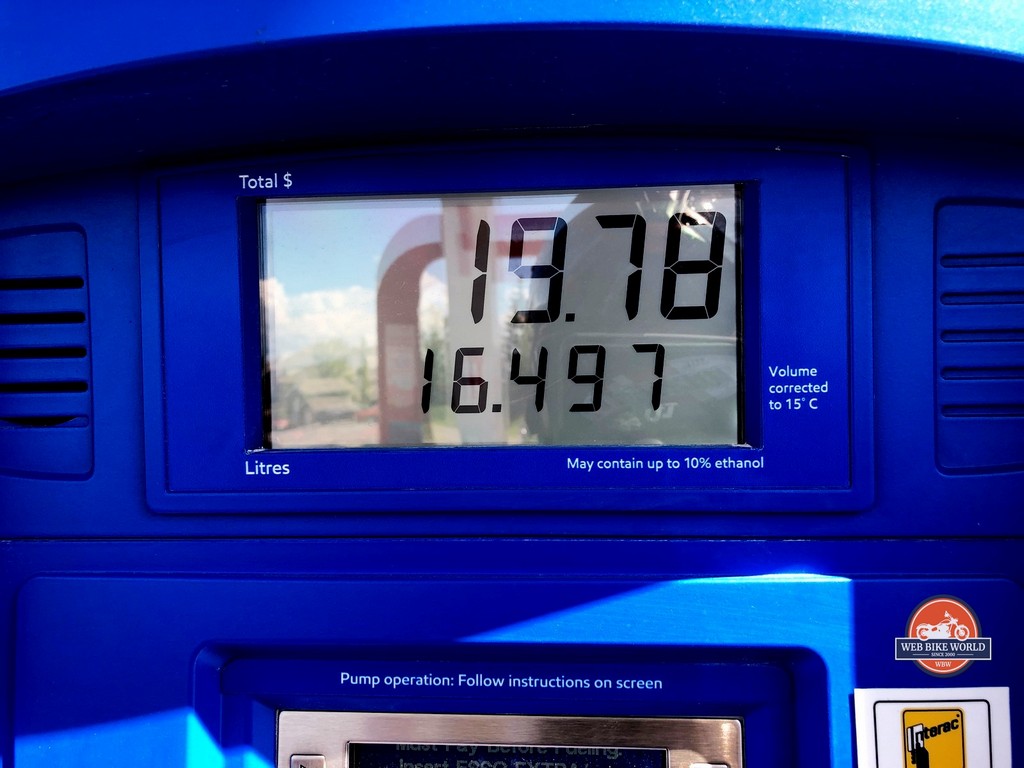 It's irritating to need high octane gasoline for the 790 when riding in remote areas, but several owners are blowing off KTM's instructions to run Premium gas in favor of Regular octane from what I see on FaceBook groups. They claim it hasn't hurt anything because the engine has a knock sensor, but I haven't followed their lead.
Cornering and Braking
The 790 handling is precise and nimble in any corner I've taken it through despite the low center of gravity. The low-slung gas tank design works brilliantly off-road as expected but on-road a higher center of gravity would make for sportier cornering. Despite that reality of physics, I haven't found the 790 wanting. It's always been confidence-inspiring regardless of what I've asked of it.
The KTM branded brakes have been spot on for me without any issues. When the ABS is disabled on the rear it's easy to lock up the wheel and do power slides, even on asphalt.
I would prefer having the degree of braking finesse granted by the Brembos found on the 890R Duke included on this adventure bike, but I have no complaints to this point.
Brake Issues?
Some other owners have had the front and rear discs warp (even some catastrophic failures) on their 790 and 890 bikes. KTM offers some people replacement on warranty while others have had to eat the cost themselves.
Bret Tkacs in particular had horrible brake issues (among other things) with his 790R. He documented it in this video. Skip to the 2:15 mark to see the complete failure of his motorcycle's rear caliper.
Recalls
I had a recall for the rear brake line performed on my motorcycle at the beginning of the 2020 riding season, but I don't notice any difference after completion. My riding style tends to use only the front brakes unless I'm on a hill or making an emergency maneuver. If you have a 2020 model 790 adventure this recall applies to your bike as well.
The WP Apex Suspension
The suspension on the 790R is noticeably more refined and what I'll call progressive in travel action compared to the stiffer, more basic springs on the 790S model. The R model shocks are adjustable via clickers on the front and more easily adjusted on the rear using an allen key.
Comparatively the S model front isn't adjustable at all and only the preload can be changed using a spanner wrench on the rear.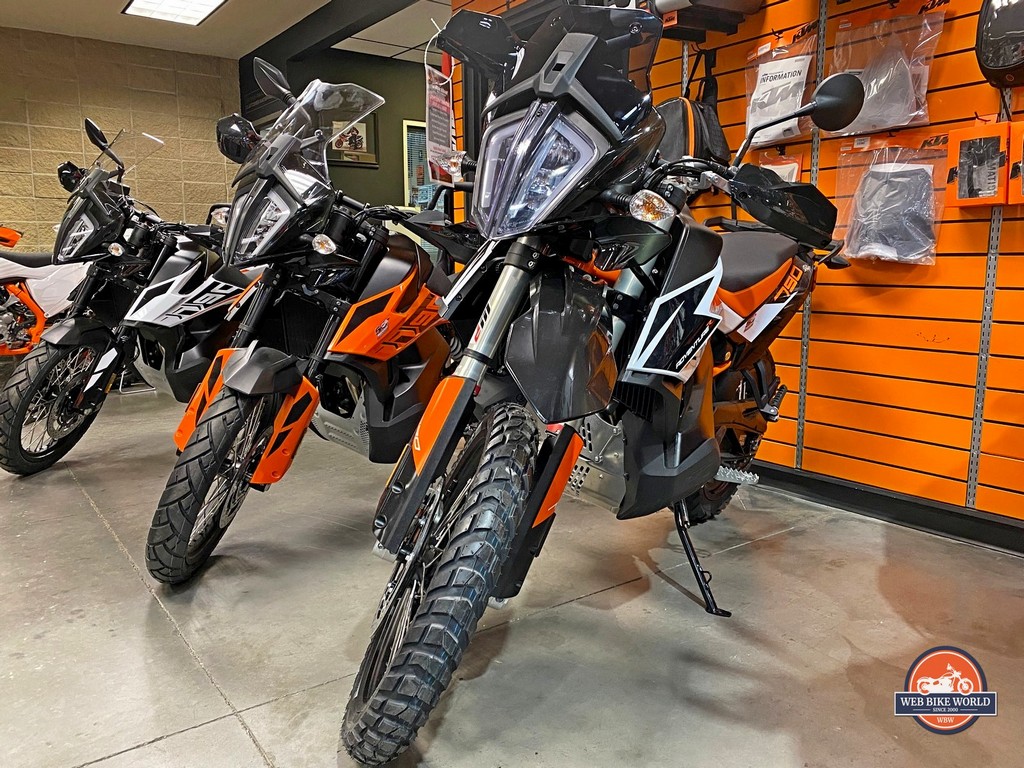 Having said that, I don't feel held back at all by the S model basic shocks. I can go everywhere R model riders go, I just have to go slower and accept a slightly harsher ride over the same terrain. I've only managed to bottom out the front once while I was riding too fast over very rough ground with 60lbs of gear in my luggage.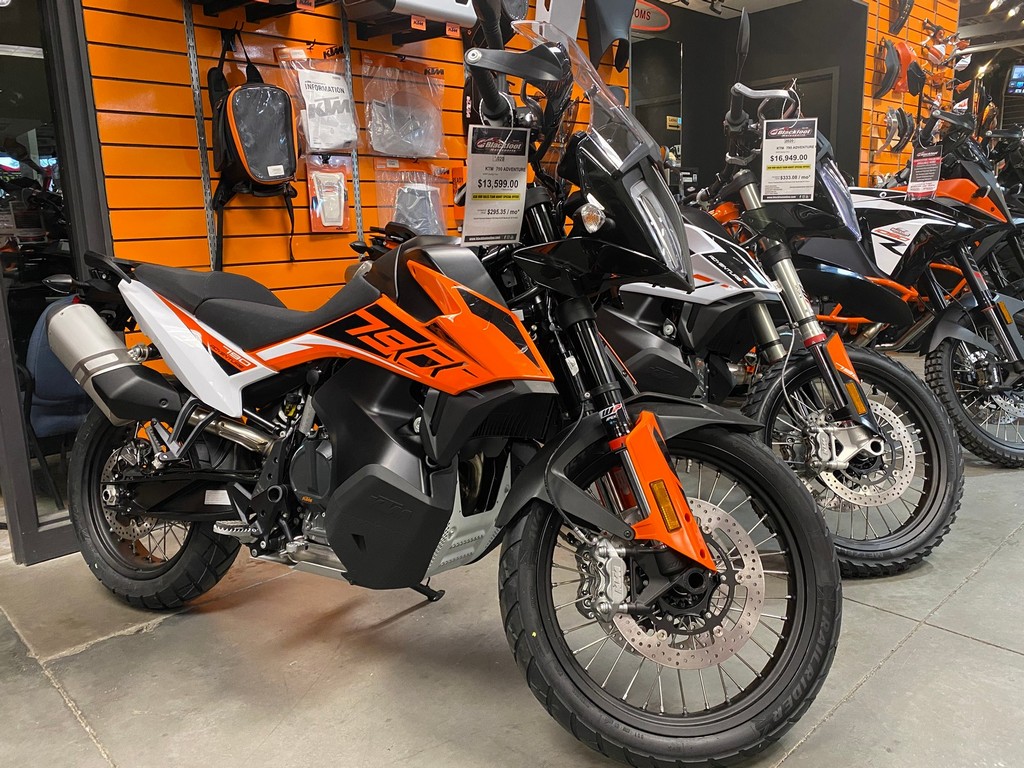 I confidently ride off of 12" high curbs or ledges while loaded down with luggage and soak up the majority of obstacles encountered on the two-track jeep trails and logging roads I typically challenge with the 790S.  I weigh 175lbs which makes nearly any stock suspension my best friend because manufacturers and dealers tend to set up new motorcycles for someone of my mass.
It's worth pointing out that I find the slightly stiffer S model suspension more to my liking on asphalt than the wiggly-feeling R model springs and higher center of gravity due to it being about 1 inch taller.
In short, if you plan to race across bumpy desert trails at breakneck speeds the R suspension is better, but everywhere else the S model holds its own. The suspension on the Yamaha Tenere 700 is no better than the S model 790 and you don't see anyone holding back riding it through the woods… to a point.
It's Not A Dirt Bike
As much as the 790 adventure flirts with the idea it can be ridden anywhere actual dirt bikes can be, a rider should wisely accept the fact that's not the case. Even riding the softer sprung R model through gnarly single track trails will shorten the lifespan of the components significantly and cost you a lot of money in repairs.
Adventure bikes are way too heavy to treat like dirt bikes. It's no wonder that KTM only offers a 1-year warranty on the R model versus a 2-year warranty on the S model.  Hmmm…
Cornering ABS
The 790 is equipped with IMU-controlled cornering ABS which if I've ever triggered it in a corner I don't know because I keep the bike in RALLY mode (IMU sensor disabled).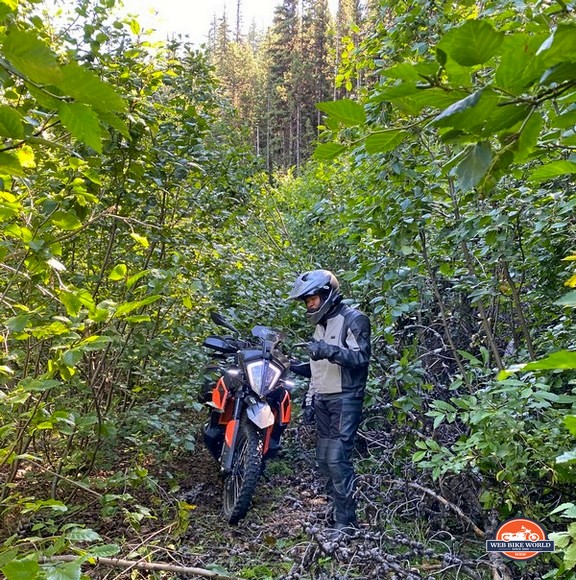 I've only noticed the front ABS working against me once when I left the settings in STREET while riding on slippery dirt in the Klim Cow Tagz XL Rally back in 2019. I nearly rolled into my friend who stopped without warning on the trail in front of me.
Stock Avon AV53/AV54 Trailrider Tires
The tires that come with the 790 S surprised me with how sticky they've been on the wet and dry blacktop.
They're excellent on the road as expected but just ok in the dirt and gravel. They are unquestionably road-biased tires that filled me with confidence when riding aggressively through tight corners at high speed. The 790 feels a lot like a sportbike on the road while equipped with these tires.
Here's a great review of them from Kyle Bradshaw that sums up my view of them perfectly:
The wear on these Avons wasn't significant considering how soft the rubber is on them. After 3200 kms traveled I would rate them slightly above average when it comes to grip and wear, but there are better choices available for the 790 S, in my humble opinion.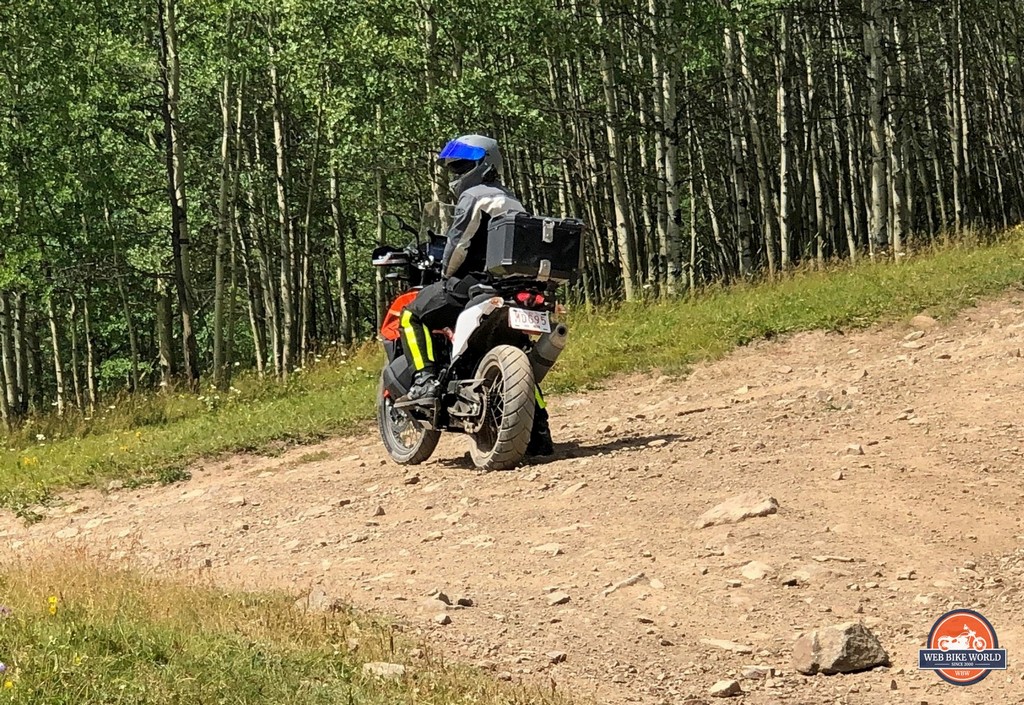 I think a 50/50 tire like the Dunlop Trailmax Mission would be perfect for the vast majority of people who buy the S model because you'd get just as good on-road performance and wear with improved off-road traction. Having said that if you tend to ride 90% on-road the Avon Trail Riders should suit you just fine.
Enter the Motoz Tractionator Adventure Tires
I switched to these awesome Motoz sneakers pretty early on in my testing of the 790 and they haven't disappointed me.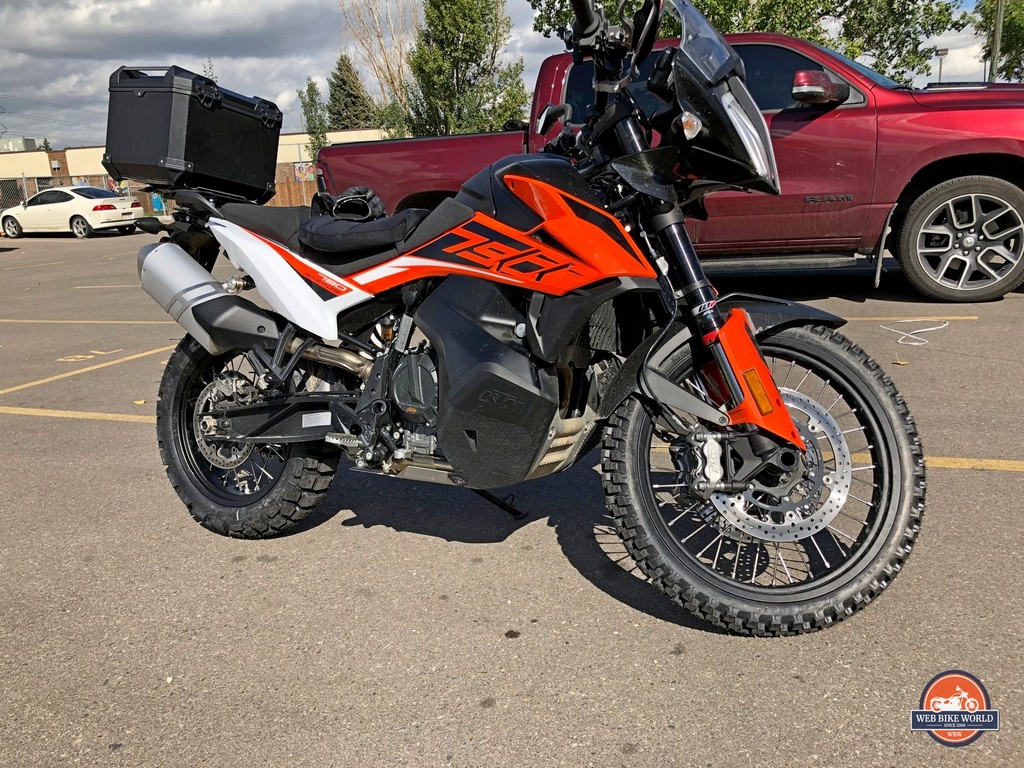 My review of these tires hasn't been updated to include data gathered at the 14,000kms (8700 miles) I have on them now. I'm about 1 mm away from the wear bars and still, these tires bite and grip satisfyingly on or off-road. I think I might be able to reach the 16,000 km (10,000 miles) mark I predicted if I take it easy from here. I'd probably run the Tractionator Adventure on the rear again but switch to a Tractionator Rallz for the front because I found when it was new the Adventure front steered noticeably heavy due to the massively tall lugs on it.
I've encountered some riders that despise the front Tractionator Adventure tire, even calling it snakey, dangerous, and fast-wearing. That wasn't my experience at all.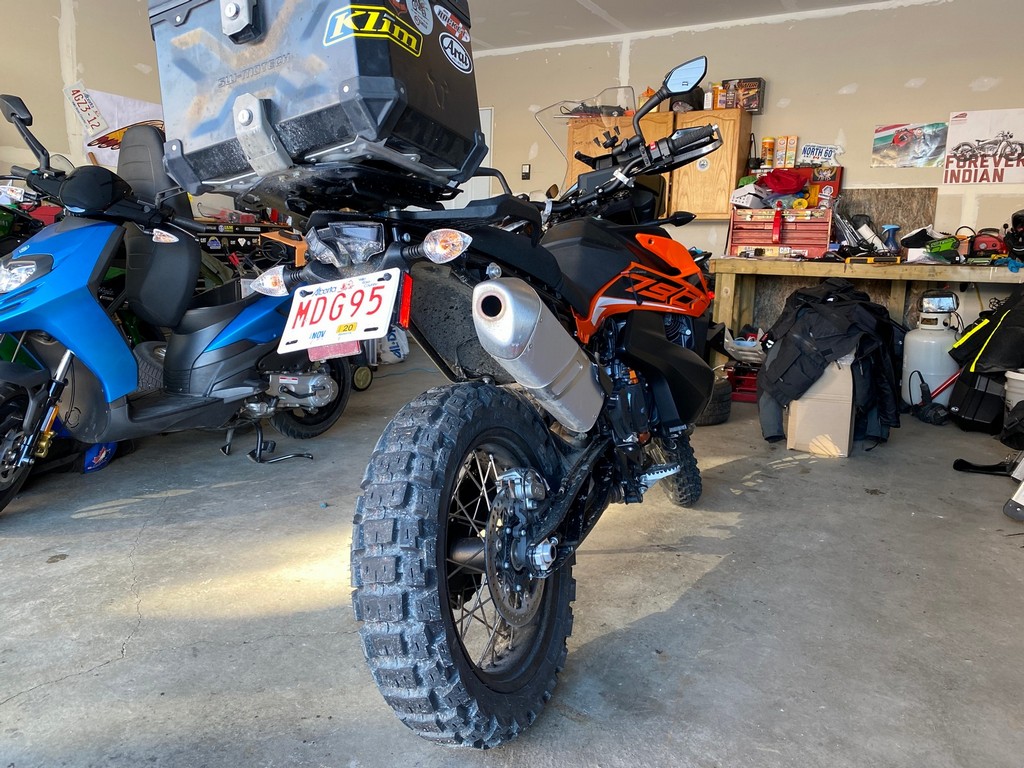 The Windshield Questions
Most every 790/890 R or S owner inevitably discovers the irritating degree of buffeting, wind noise, and turbulence created by both the short or tall OEM windshields. Neither windshield works well as it turns out and is an oversight by KTM with this motorcycle, in my opinion.
See the photo below of the range of options tried by one owner from one of the FaceBook groups I belong to.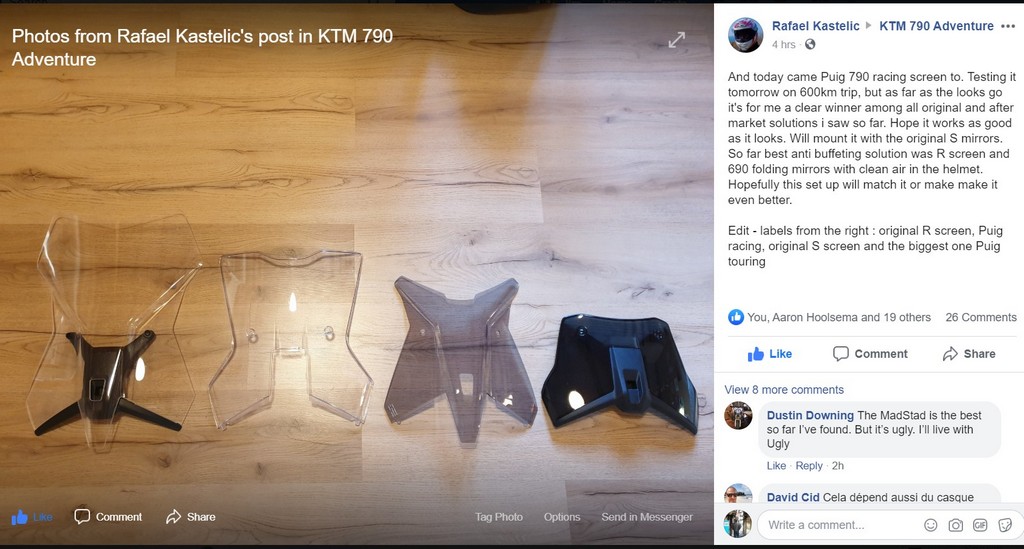 My advice is to first remove the lower winglets from each side of the front fairings and see if that fixes your problem with turbulence. It often has done the trick for some people.
I decided to remove the tall windshield completely on my 790S and found that it quieted things down for me, but I still wanted a bit more wind protection. I ended up buying a windshield off eBay intended for use on a Buell XB9R and modified it to fit on the factory mounting bracket for the bike. This has been just the right amount of protection and quietness for my taste.
Recently I've seen other owners 3D printing brackets used to tip the angle of the windshield further forward. They seem to be claiming victory over the annoying wind flap with this modification but I haven't personally tried it yet.
The Seat
KTM seats are terrible… there I said it.
The 790R or S seats are both poor companions on long rides, but admittedly more comfortable than the one that was on my 2014 1190 Adventure. I can ride about an hour before numbness starts setting in. That's easily twice as long as I could bear on my 1190 seat.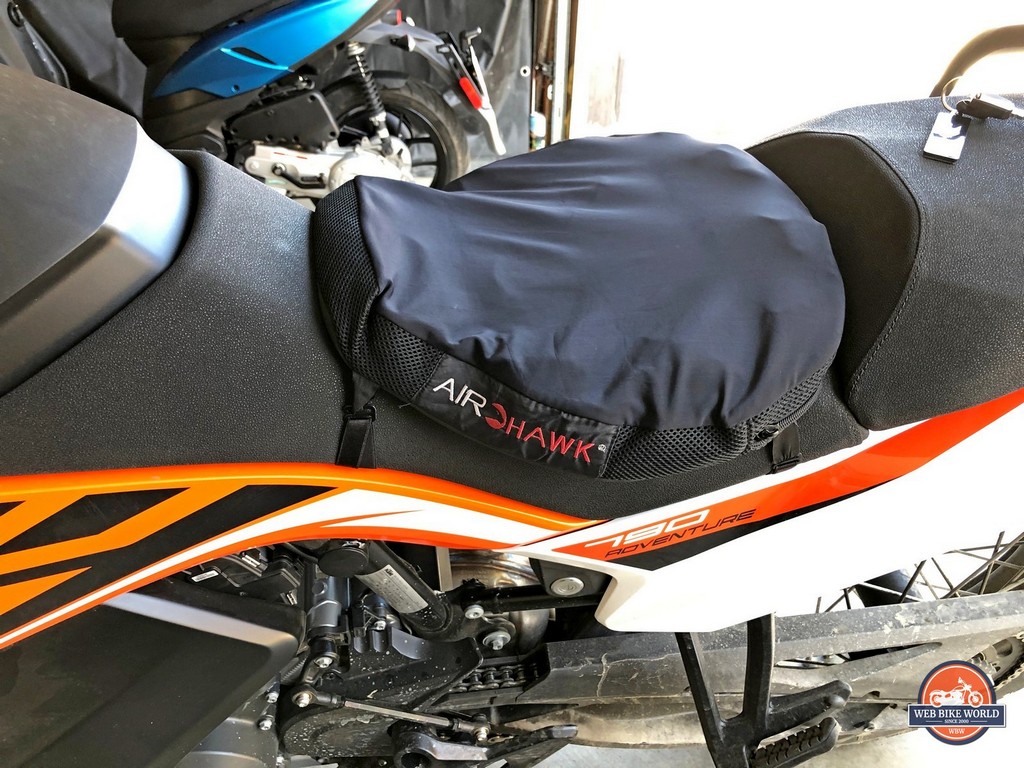 I ran with an Airhawk inflatable cushion on mine for a time before deciding to just live with the discomfort.
KTM seems to have a philosophy in place to punish any adventure rider who doesn't stand on their pegs often enough.
There is an "ERGO" (comfort) seat option available from KTM Twins and others like Seat Concepts for example. If you'd like the seat lower or higher this is perhaps the best option to kill two birds with one stone because the Ergo seat is available in three thicknesses.
Sargent just announced a stock seat reconditioning service that looks promising as well.
The Tool Kit
I've seen some PATHETIC tool kits included with brand new motorcycles that deserve better, but the 790 is nicely equipped in that regard.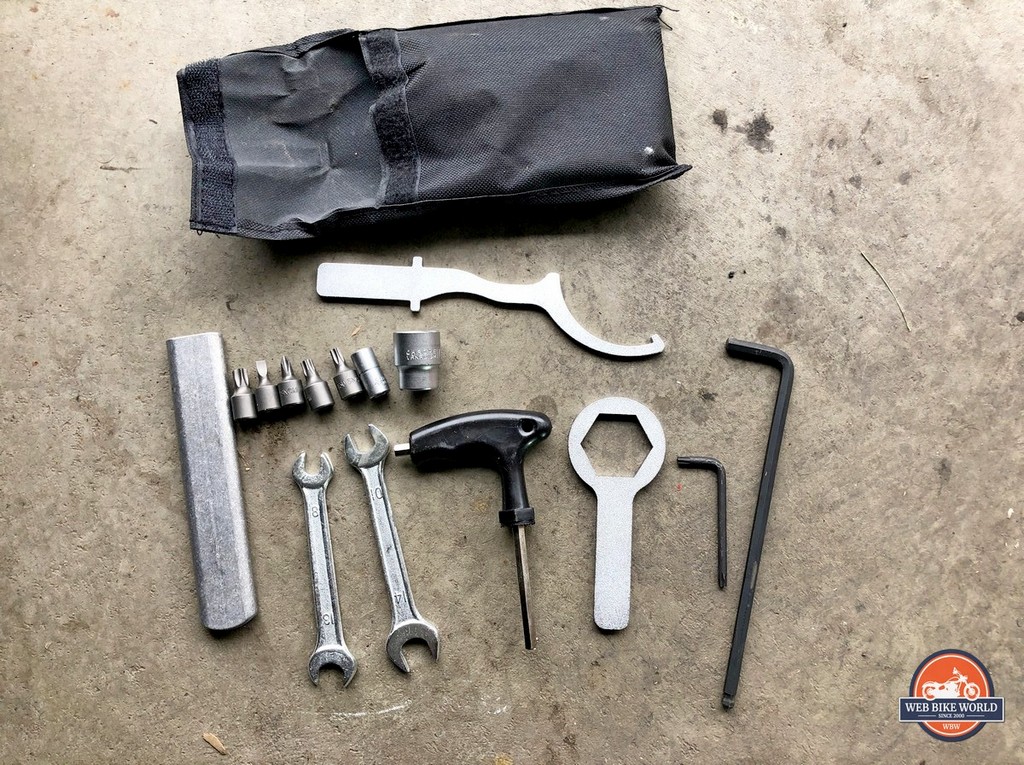 I often use the included toolkit to do many of the maintenance jobs on it because it's so convenient. Granted the axle nut wrench isn't the long-handled ratchet I wish it was, but in a pinch, it could get the job done. The spanner wrench works very well for adjusting the preload on the rear shock when out and about.
The whole kit fits nicely under the seat or in the side fairings too.
The 790 Feels Small
Most everyone who has reviewed this motorcycle says the same thing about it when it comes to how it handles on and off-road. It feels smaller than it is. I concur.
In some ways, my 790 reminds me of the bigger dirt bikes I used to ride 20 years ago. I find myself riding it like those old favorites when I'm off-road. The Honda XR400 or 650 would be a close comparison but with twice the power and a lower center of gravity!
The riding position and sensation while on this bike feels more like an overweight Honda CRF450L in some ways thanks to how nimble and powerful it is. I realize the 450lb (curb weight) 790 is a far cry from a 250lb dual-sport, and in reality, it's more about the level of confidence it inspires that puts me in mind of the smaller bikes than anything else while I rip down dirt and gravel trails or climb hills.
The only time this changes is when I'm riding down steep hills or stuck in the mud. That's when I'm pointedly reminded this is a big motorcycle pretending to be small! Luckily, I haven't gotten in too much trouble overriding the 790… yet. I've been close a few times.
The Fuel Tank
The secret behind this see-the-weight-but-don't-feel-it illusion is the odd-shaped fuel tank pictured below. Keeping the lion's share of the gas right at the rider's foot level mimics what BMW did with their opposed-twin boxer engines in the big GS motorcycles.
This is a brilliant design from a performance standpoint, but also means the fuel gauge only monitors from ½ of a tank and down. That takes some getting used to, but isn't a big problem.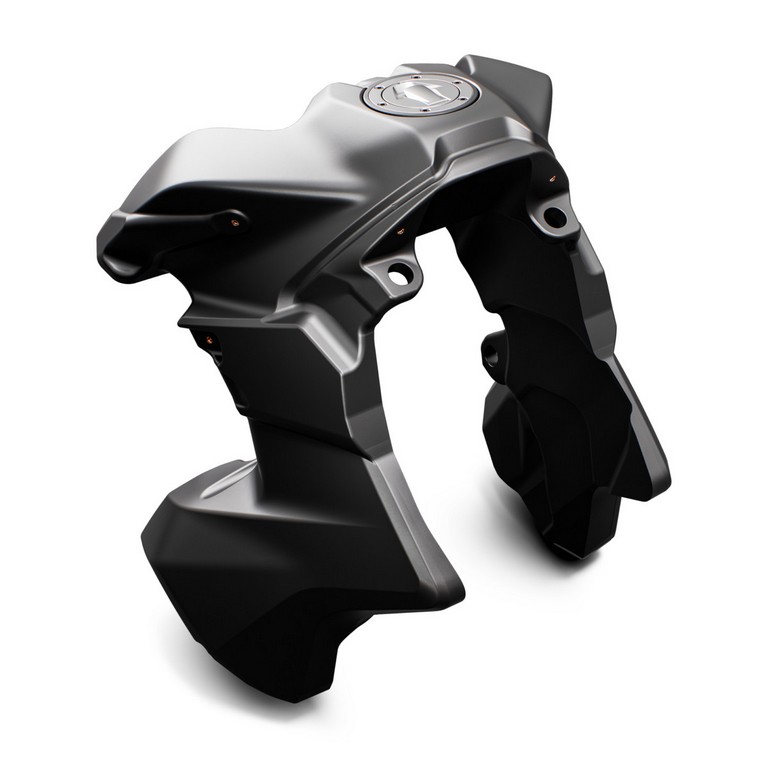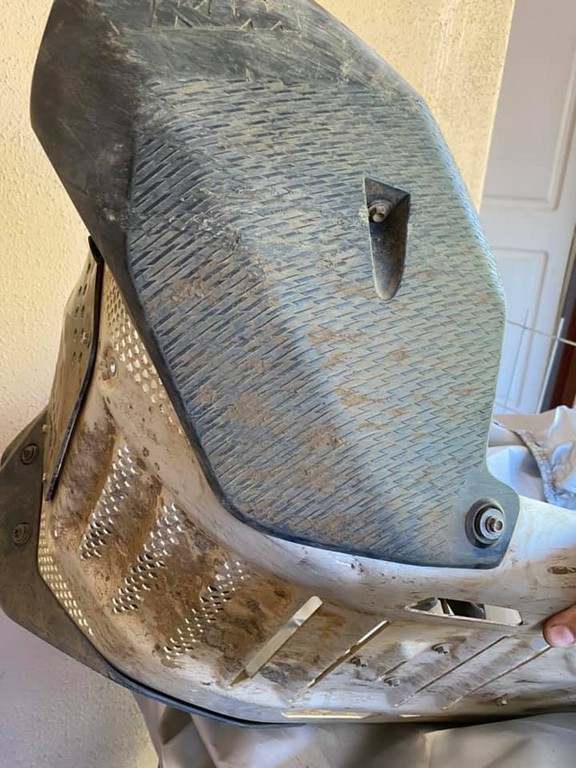 The lower portion of the gas tank is guarded by tough, plastic panels on either side to protect the fuel pump that's located on the left side and the crossover tube shut-off valve fitting on the right.
You can see the pump and elbow fitting circled in the photo below.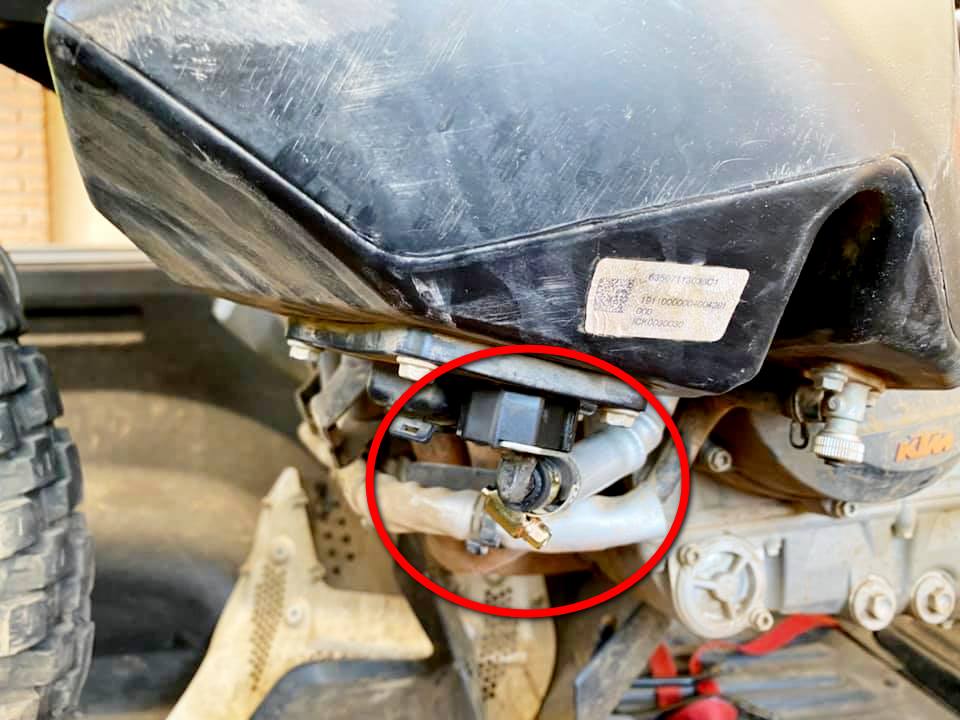 The shut-off tap on the right side sometimes comes from the factory in the closed or fuel shut-off position and your dealer might not notice on the PDI. This causes some new owners to only get half the range the 790 or 890 should, so if you aren't getting over 200 miles per tank pull the right side guard off for a peek.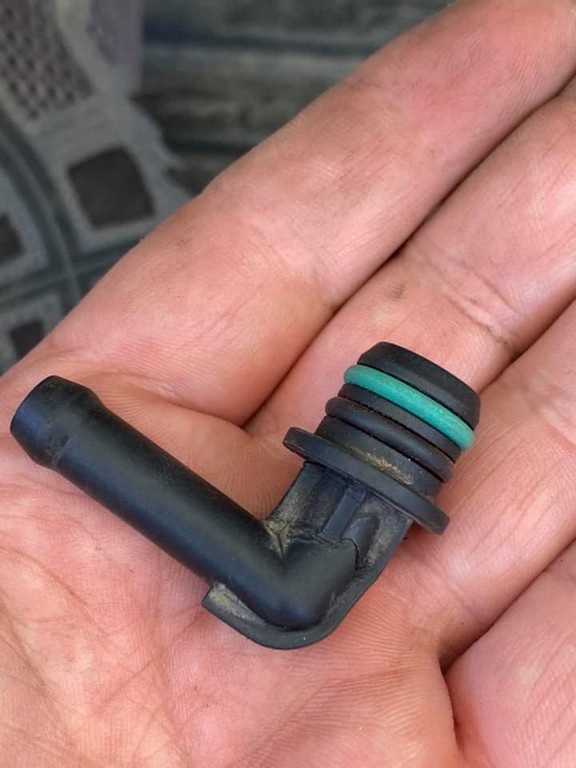 The photo above shows a cracked elbow fitting from the bottom of the tank. I haven't managed to break one yet, but a few riders have hit objects so hard in crashes that the plastic guard pushes inwards enough to contact the elbow and break off. Rottweiler Performance sells a billet version of this elbow and another guard to go over the top of it which should be much stronger. It's not a bad idea to upgrade this I suppose, but I won't be bothering doing it for now.
You can also buy carbon fiber guards from KTM for a small fortune, but I think it's unnecessary for 99% of riders.
It Ain't Heavy… It's My 790
I can't name another motorcycle that I've enjoyed riding more. The combination of low seat height, power to weight ratio, and awesome technology on the 790 is so deliciously user-friendly for a rider in the 5'8" to 6'2" size range!
Having said that, unlike with my Ninja H2SX SE, the last 18,700 kms or 12,000 miles haven't been pure bliss. There have been some small problems encountered from the factory and while out having adventures, but all have been easily solved or have disappeared up to now.
Incorrect Windshield Fastener
My windshield seemed loosely mounted right out of the gate. It was as though the bolt used to hold it there was too long and had bottomed out early.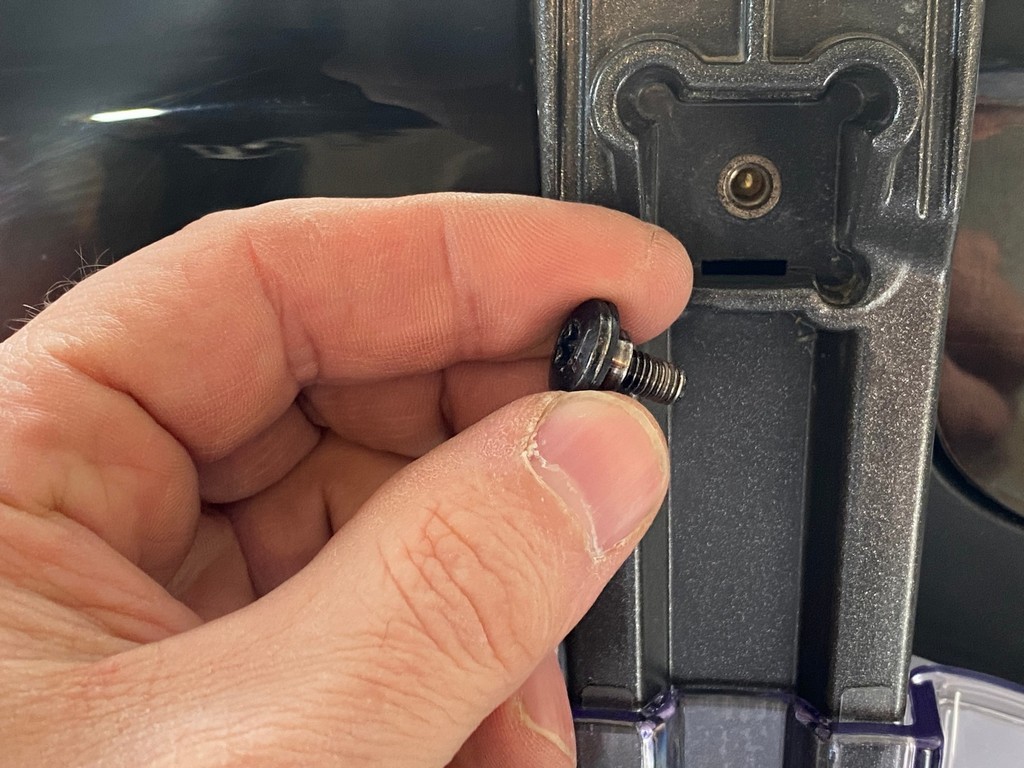 This is the correct fastener for the windshield.
I asked my dealer why I could wiggle the windshield which seemed mounted too loosely. At first, they said it was normal, but then changed their mind and installed a different bolt which snugged things up perfectly.
Auxiliary Power Port
This was the first problem I noticed from new. The 12V auxiliary power plug wasn't connected to anything behind the headlight masking. My dealer hooked it up for me at no charge when I brought it in for the first service.
Front Wheel Hop
This more concerning problem showed up right away as well, but I didn't determine it was an issue until the motorcycle started going into small wobbles/head shake whenever I would hit a series of bumps such as washboard sections on gravel roads.
My dealer took a look at this and determined my front rim was 0.025" out of round due to incorrectly tensioned wheel spokes. They were able to successfully correct it using a jig at no charge to me and I haven't had a moment of trouble since.
Condensation In The Dash Display
This is perhaps the most common problem found with the 790 and now 890 Adventure motorcycles. It appeared in the corner of my dash within the first two weeks of ownership. I snapped a quick photo of it and my dealer replaced the dash at no charge.
While some owners have reported the mist reappearing inside their replacement displays mine has been clear ever since. I think this moisture has contributed to the blank display problem some other owners have found too.
Protect Your New Screen
Getting a second dash display on warranty allowed me an opportunity to protect the new one from getting scratched. I had put quite a few ugly marks on the first one just from wiping dust off the TFT display with my gloved hand in the first 1000 miles and it was irritating, to say the least.
I installed a two-pack of these Nano Glass dash guards that I purchased off eBay and highly recommend them. The first one lasted about 1.5 years on the bike before peeling off and I expect the second one to match that at least.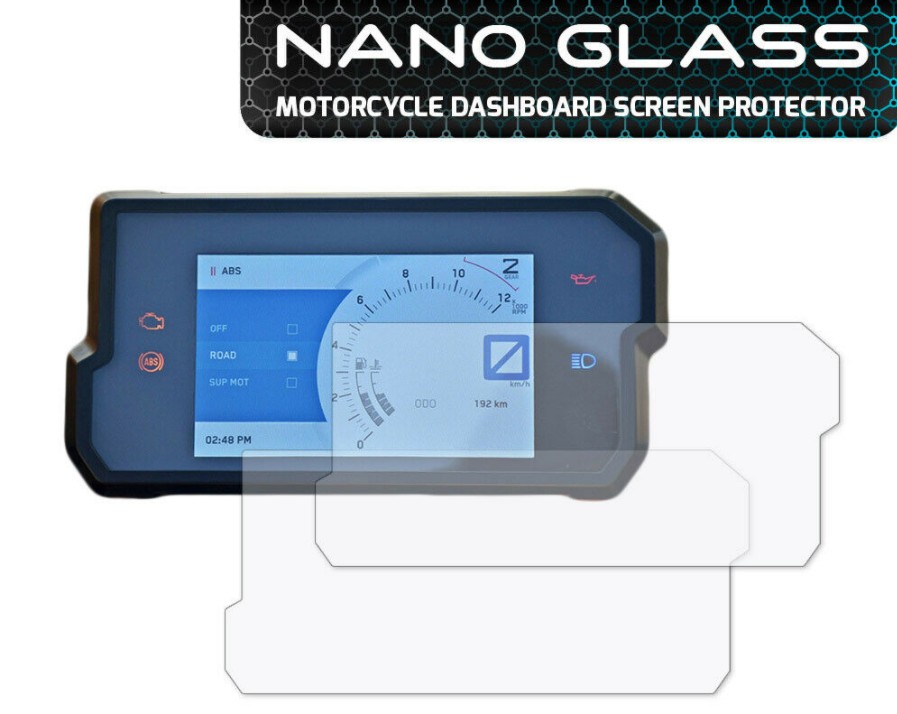 When you install it on the display don't just try sticking it on straight right away. Try spraying a light coating of Windex on the display first and then set the clear plastic guard on top of that.
The layer of Windex acts as a temporary barrier between the sticky glue and the dash window to allow you to reposition the guard perfectly. Once you have it just where you want it, hold it with your off-hand and use a small squeegee or credit card to remove the layer of Windex by pushing it from the center out to the edges. This technique works well for installing decals on surfaces without leaving any air bubbles behind too.
Coolant Leakage
When this leak began, I smelled burning coolant from the front of the bike and even saw steam rising from it after shutting off the engine when warm. I also noticed small puddles under the engine area the morning after parking it.
My dealer found a loose hose clamp on the upper rad hose and tightened it. I hadn't had any leakage until 2 years later at the start of this spring season of 2021. I've noticed the smell of coolant again when I start the bike and think that the same hose clamp may be to blame.  I'm going to bring it to my dealer for a closer inspection soon. The last time they talked about replacing the hose altogether since they've found some of the original hoses faulty.
Key Failure Warning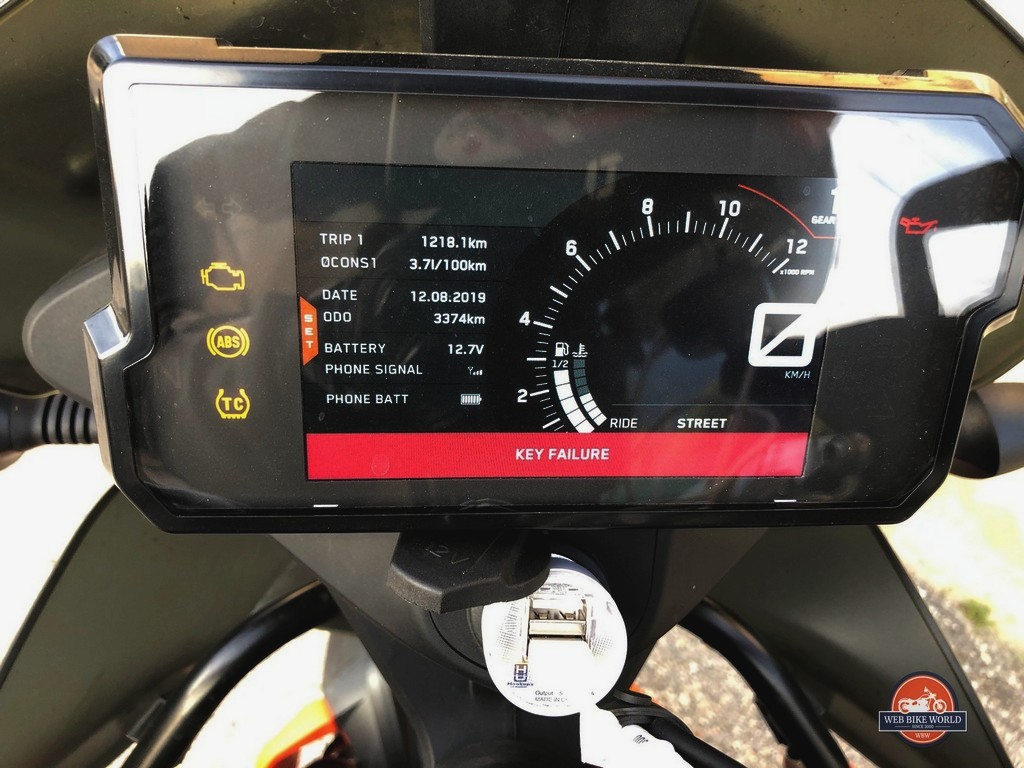 This one put a scare in me more than any of the other problems I've encountered.
I took a trip with the 790 out into the remote hills of British Columbia when it was still very new.  Three times during the trip when I turned the key switch to the ON position the engine wouldn't crank over because of this error code appearing on the dash.
Luckily, cycling the ignition two or three times when it happened seemed to reset something and the motorcycle would start and run like normal. I only had this happen during that trip and I believe it was caused somehow by the USB adapter I had plugged into the 12V auxiliary power port below the dash. I stopped using that particular adapter and haven't seen this code ever since.
The tumbler itself sticks sometimes in the off position on my ignition and I have to turn the bars fully to the left or sometimes turn the key into the locked position and back before it'll click into the run position. I had my dealer look at this once and they couldn't replicate the issue. It hasn't been a game-changer for me even now when it sometimes still occurs.
Leaking Front Brake Master Cylinder
This is another common warrantable issue with the 790 and easily fixed by the dealer or owner. All you have to do is lower the brake fluid level a bit or in some cases, a new master cylinder is needed. Mine hasn't leaked since I drained off a bit of the fluid.
Maintenance and Proper Usage
Some other owners have had much more serious problems than I have with their 790/890 motorcycles. I'm sure you've heard stories about horrific clutch failures on forums and FaceBook groups.
Much of the time I suspect those riders weren't paying close enough attention to the freeplay on their cable clutch lever. The spec is 4mm in the book, but many –myself included– have found it's better to err on the side of caution and leave 6mm or more because when the clutch and engine heat up the freeplay tends to disappear. That can result in heat damage and the clutch wearing out prematurely.
Don't Slip The Clutch
I already mentioned some advice about letting the traction control handle rear-wheel slip when going through slippery mud and climbing hills as opposed to slipping the clutch. The OEM friction discs in this motorcycle seem weak for the amount of power the LC8C engine provides. Continued heating of the clutch appears to burn the friction fibers and engine oil used to lubricate the assembly. My belief/unproven theory is that this burnt material flakes off and contaminates the oil which isn't such a big deal in most motorcycles… other than this one.
The Clutch Lubrication Nozzle
There's an oil injection nozzle in the center of the clutch assembly to send lubricating oil through an orifice 0.03mm in diameter. Part of the scheduled maintenance is to remove the nozzle for inspection to verify it's unobstructed. I've never done this, nor has my dealer to my knowledge, and yet I've had no issues with the clutch.
Here's a YouTube video from MoXoM Creative Adventures to show the clutch assembly with the nozzle installed.
If this small orifice clogs up with debris (say from a burnt clutch) then no lubrication can enter the clutch assembly to cool off the discs and plates which could cause it to fail catastrophically.
Some owners have drilled the orifice out to 0.05mm diameter as a preventative measure, and one even claims to have removed the nozzle completely with no ill effects. For my part I haven't done anything with the clutch other than avoiding slipping the clutch, ensuring the freeplay is always in spec before I ride, and changing my engine oil and filter when scheduled or when I notice the oil darkening noticeably.
KTM Improved The 890 Clutch
It's no surprise to find out the friction surfaces of the clutch discs in the new 890 bikes look different than in the 790 (photo below).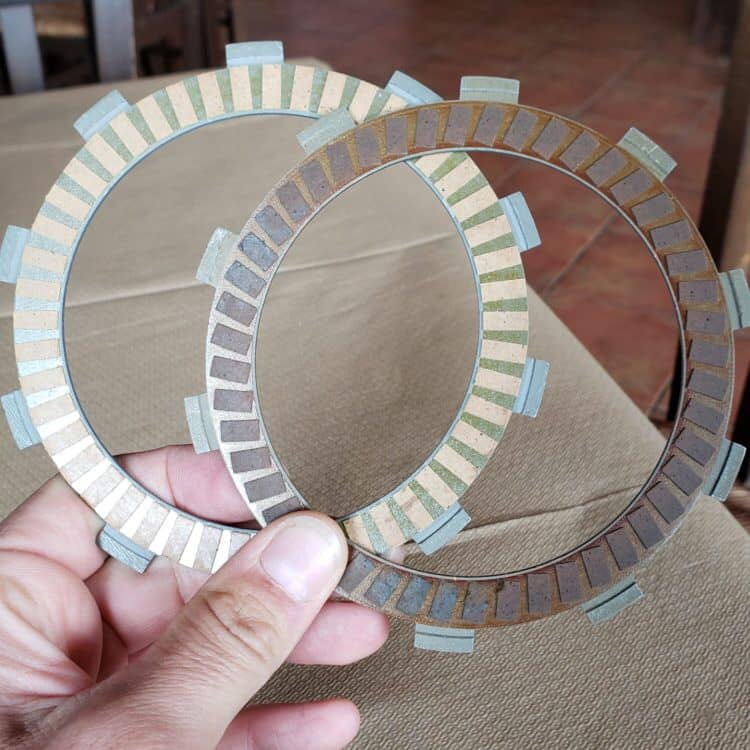 I don't know whose photo this is, but if you know tell me and I'll give credit here.
Happily, these improved guts from the 890 clutch fit into the 790's basket. That seems to be a smart modification to do either before or after you find signs of excessive heat on yours.
Another more expensive but even stronger option is to install the Rekluse Torq Drive Clutch Kit and set your mind at ease. It has extra discs in it and can improve clutch performance and feel.
Other people have swapped in Barnett Clutch Springs as well to beef things up on the 790.
Modifications
I've thoroughly enjoyed installing aftermarket parts on the 790 and noted the improvements in performance, comfort, and maintenance. The modifications I've made to the 790 have panned out even better than I expected and I wholeheartedly recommend them.
I created several installation videos outlining most of the add-ons listed below;
Camel Adventure Parts
Without question, my favorite modification thus far has been installing the Camel ADV 1 Finger Clutch Kit.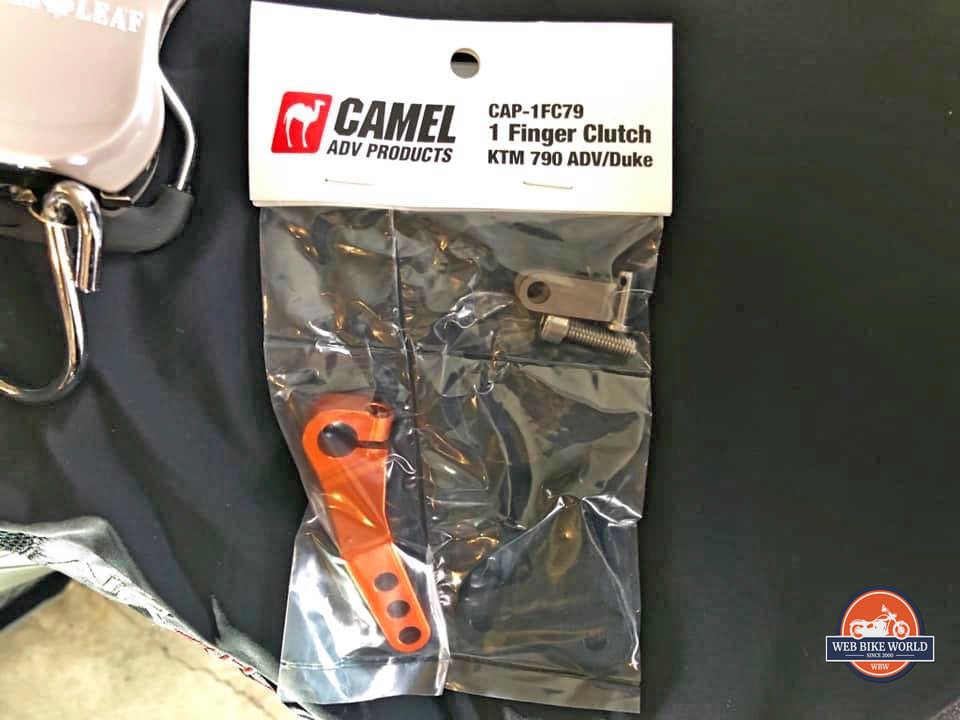 I already mentioned how the bike is a bit too easy to stall during low-speed maneuvering unless you install a 15 tooth front sprocket. I haven't personally bothered to do that mod yet and feel no need to thanks to this Camel clutch actuator arm kit. The longer actuator arm creates more leverage on the fulcrum point that is the clutch release mechanism rod.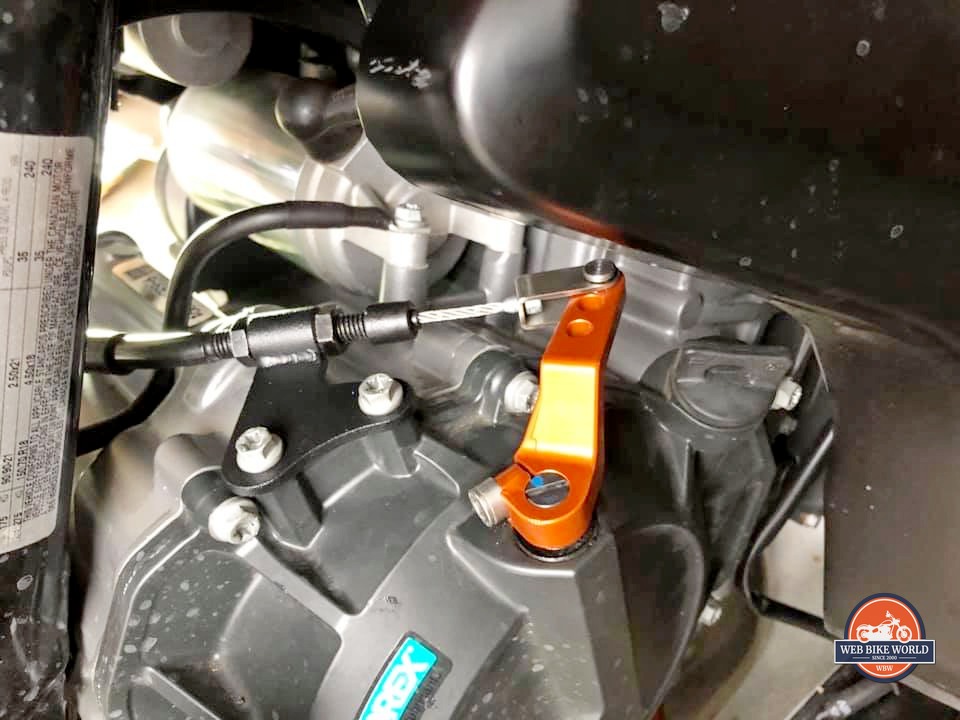 It also seems to have doubled the friction area of the clutch lever travel, making it easier to feather the clutch on starts and stops.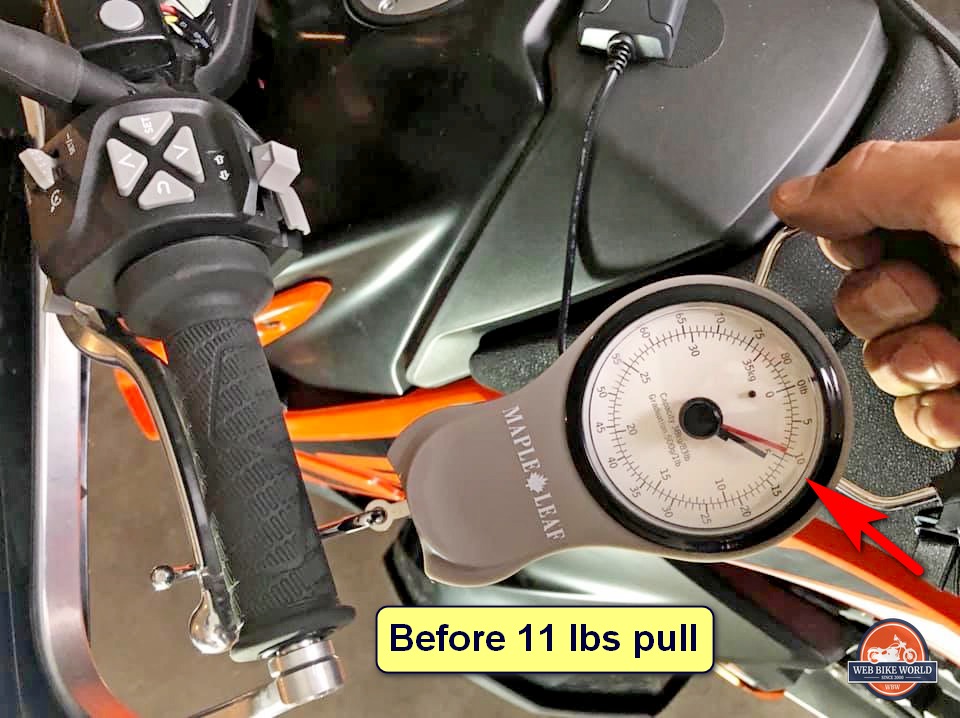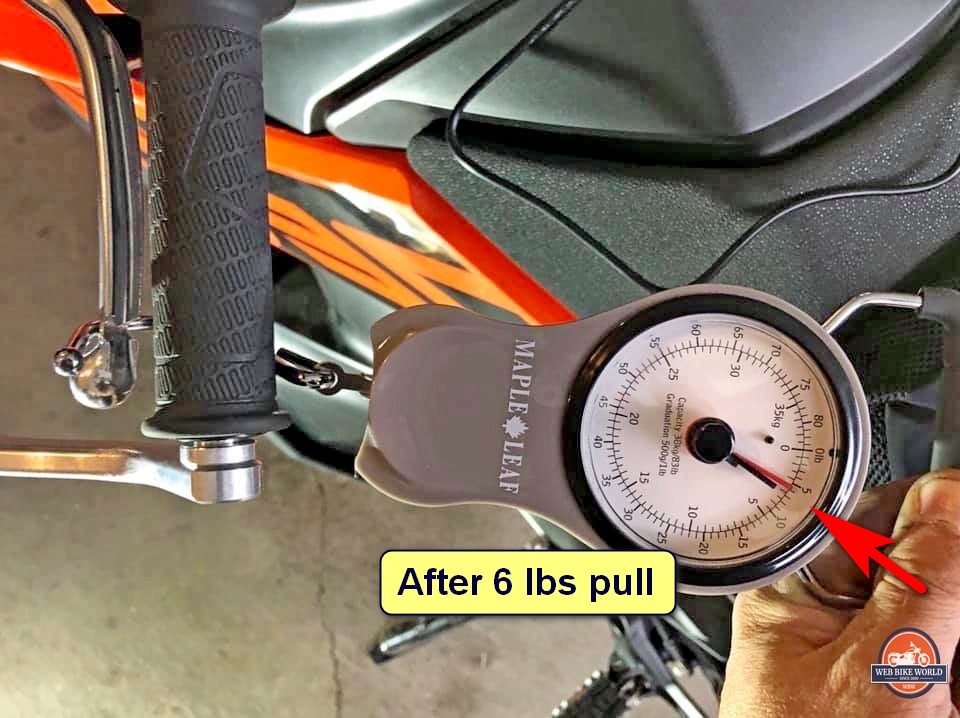 I can't properly express how desirable this difference is on the 790/890. Words fail me beyond saying, I LOVE IT! These photos help illustrate how the weight needed to pull the clutch lever in went from a measured 11 lbs to 6 lbs on my 790.  WOW!
The Camel ADV Neck Brace
Peace of mind is priceless and this Neck Brace Kit also from Camel ADV has kept the headlight tower on my 790 from cracking and breaking despite me riding it over plenty of bumpy terrain for thousands of miles.
KTM didn't build the all-plastic headlight housing with adequate mounting supports from the factory and more than a few owners have reported cracking and/or breaking these expensive to replace assemblies after dropping their bike off-road. It has also failed over time from the vibration of riding over washboard gravel roads for extended periods.
Other similar products from Rottweiler Performance and Triple Clamp Moto can prevent this failure, based on owner reports.
Rottweiler Power Plate Pre-Filter
Speaking of Rottweiler Performance, I installed their Power Plate prefilter and think it's the cat's meow.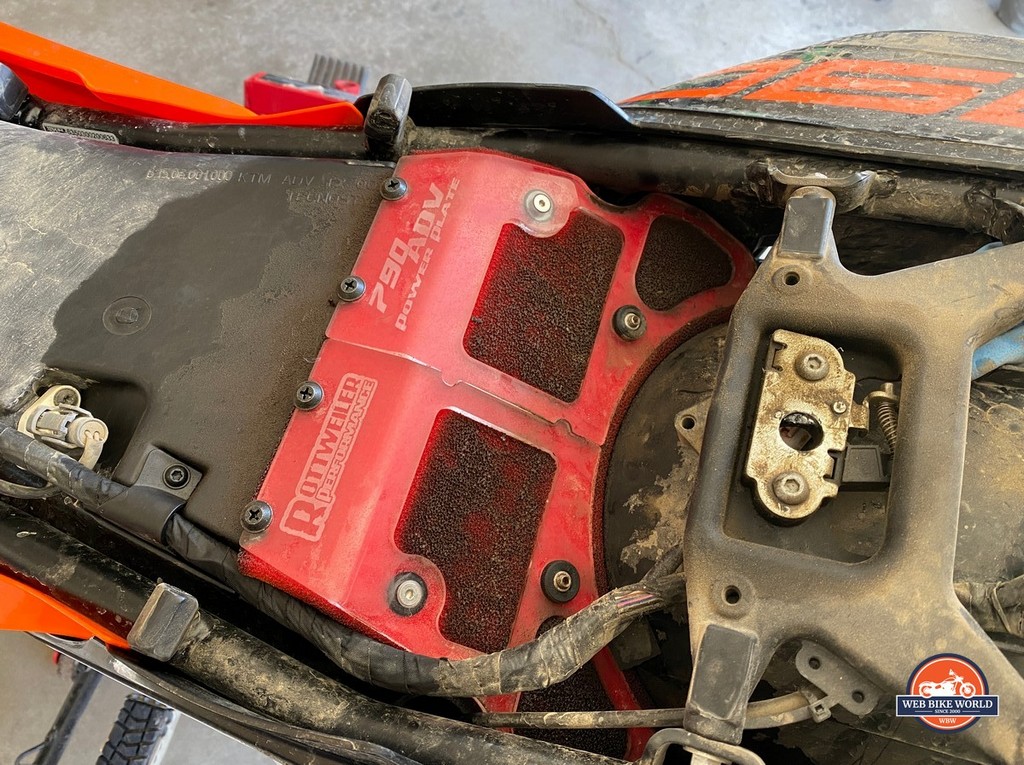 I was beyond thrilled to discover the engine air filter on the 790/890 is wonderfully easy to replace because it's under the seat instead of under the gas tank. That's the good news.
The bad news is that they're expensive! I didn't want to switch to a high-flow element and risk dust intrusion but I was getting tired of spending $36 on new filters after only a few off-road rides. The Rottweiler Power Plate costs about the same as 2.5 OEM air filters but is washable and you can even tune the degree of pre-filtering you want depending on the kind of environment you're riding in. It comes with three different foam layers to choose from, each with varying degrees of filtration characteristics.
The Power Plate has paid for itself in no time based on OEM engine filter replacement costs and I highly recommend it to 790/890 owners.
Go One Better
Having said that, the best solution is to go all out and buy Rottweiler's complete airbox assembly instead. If you can afford it ($350 US) you get a washable pre-filter and air filter built into one very slick design.
It also nets you 9 extra horsepower at the rear wheel according to Rottweiler!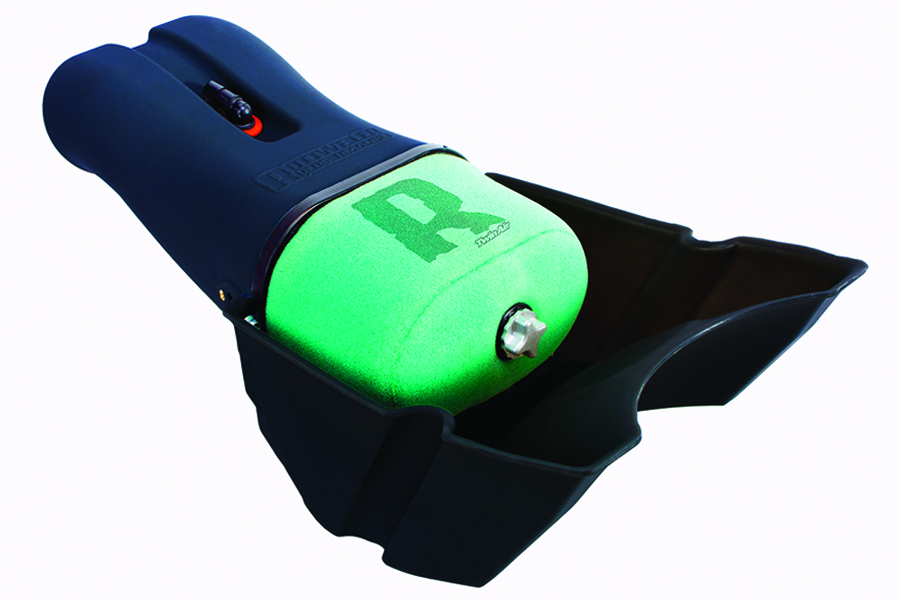 Photos above and below from Rottweiler Performance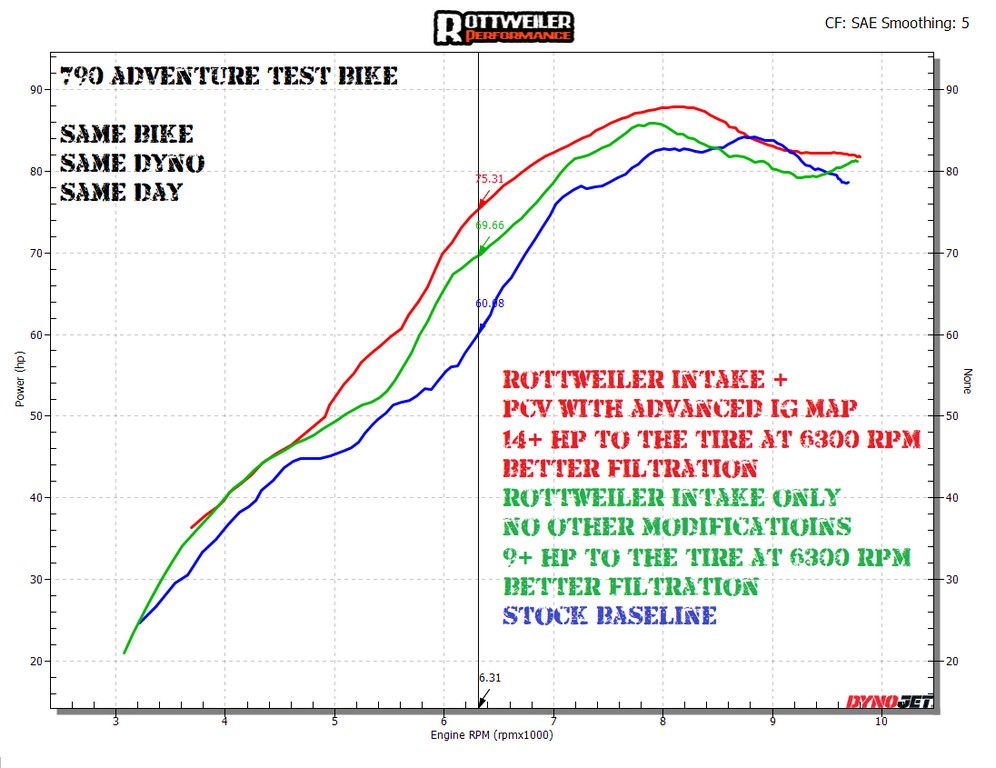 Those Notorious KTM Adventure Motorcycle Airboxes
There's a historical reason to buy a Rottweiler Performance air box for your KTM adventure motorcycle. Theirs don't leak in addition to giving your motorcycle a boost in power via less turbulence and more direct airflow into the engine. It's the equivalent of the old "port and polish" technique used to net more power in muscle cars.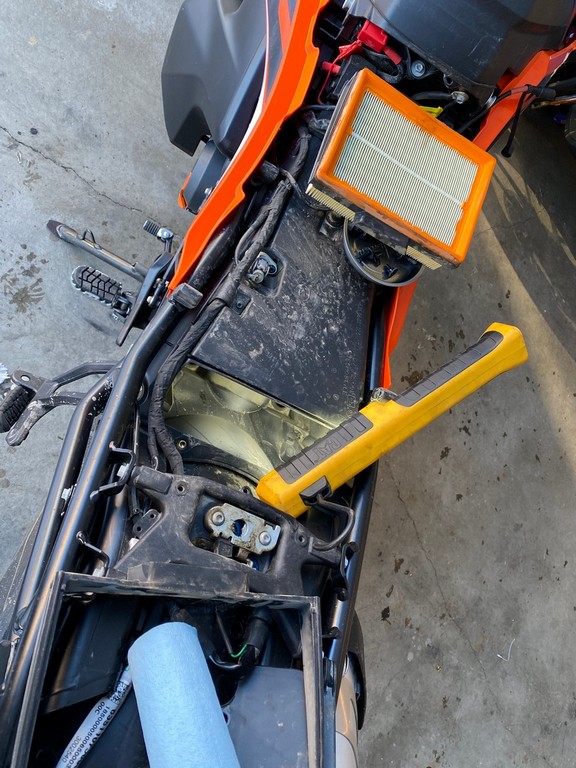 KTM has a lousy reputation haunting them after building leaky airboxes on the previous 1190 and 1290 adventure bikes. My old 1190 adventure was a victim of this and had to have the engine rebuilt on warranty as a result of dust ingestion.
I monitored the OEM airbox very carefully on this completely different 790 design to gauge whether KTM had done things right this time. It turns out, they have if my motorcycle is any indication. I haven't heard of any 790/890 motorcycles with dust-sucking airboxes on them to date.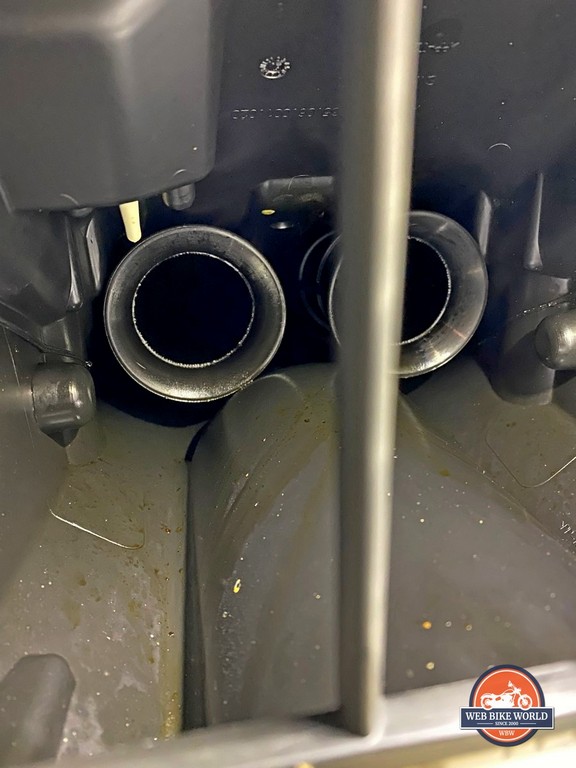 This is a completely normal condition to find inside the 790 airboxes. Small traces of oil residue doesn't hurt anything or indicate a problem.
Black Dog Cycle Works Ultimate Skidplate
Kurt and Martha Forgét are and have been the faces behind BDCW for several years based out of Sandpoint, Idaho.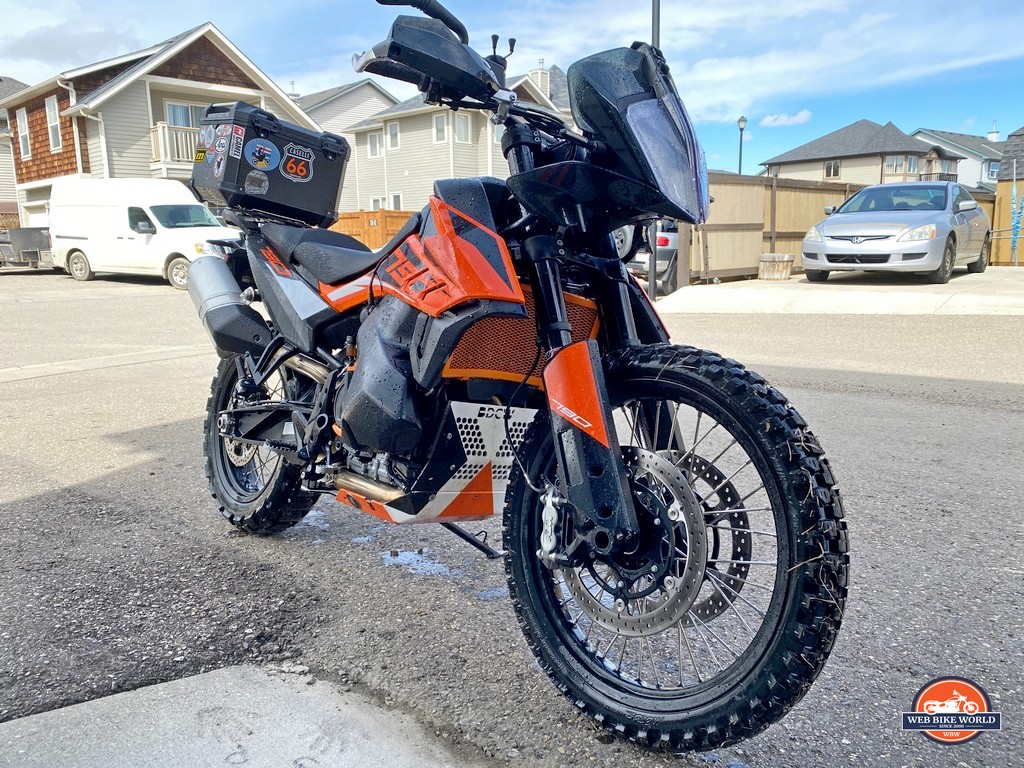 This small business consistently produces terrific protection for motorcycles that venture into the rough stuff. I've been testing their Ultimate Skidplate for the 790/890 adventure for over a year now trying to find something… ANYTHING to dislike about it.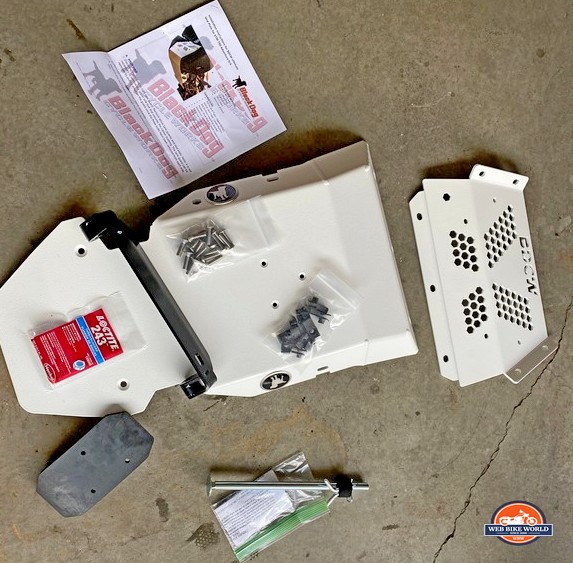 That's turned out to be mission impossible. It's answered every question I had about strength and ability to protect my exhaust and engine. The plate goes on easy and the bottom half comes off quickly to do engine oil changes. The fasteners and build quality are top shelf along with the powder coating.
I'm not sure whether Kurt and Martha cared for my custom orange/black/white paint job, but I'm fond of it.
The Trailstand Option
That small silver rod in the photo below is the BDCW trail stand that comes in handy out on the trail to clean a chain or fix a flat on the front or rear tire. It doesn't work on concrete or asphalt very well because it won't bite into the hard, smooth surfaces.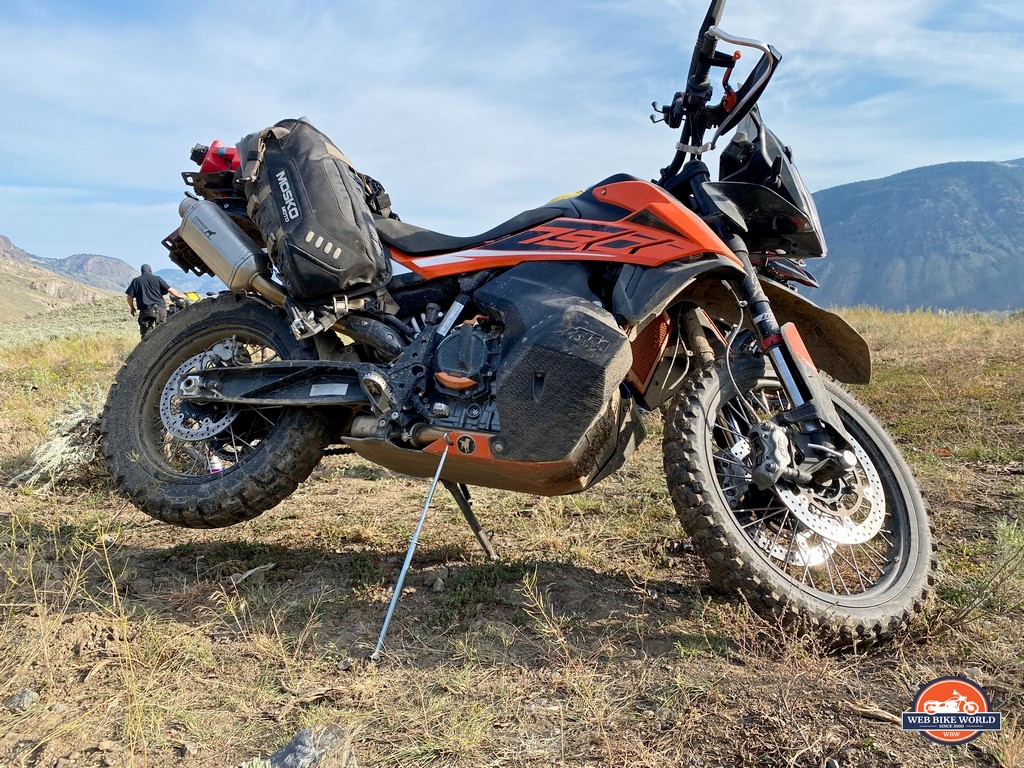 The BDCW skid plate is heavier by a large margin than the OEM skid plate, but it makes sense because it's twice as thick after all. The extra bulk doesn't seem to affect the bike's performance at all.
If you only ride on gravel roads and never go where there are big rocks or logs to ride over the OEM skid plate is adequate protection…. BUT! Peace of mind is priceless. Have a look at the crushed exhaust from another rider's 790 in the photos below who didn't install a thick plate like this on his 790 before tackling unforgiving terrain.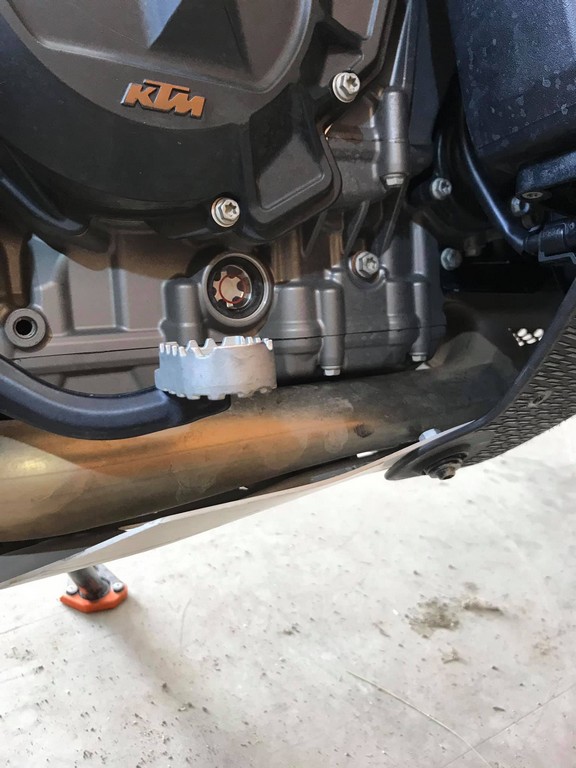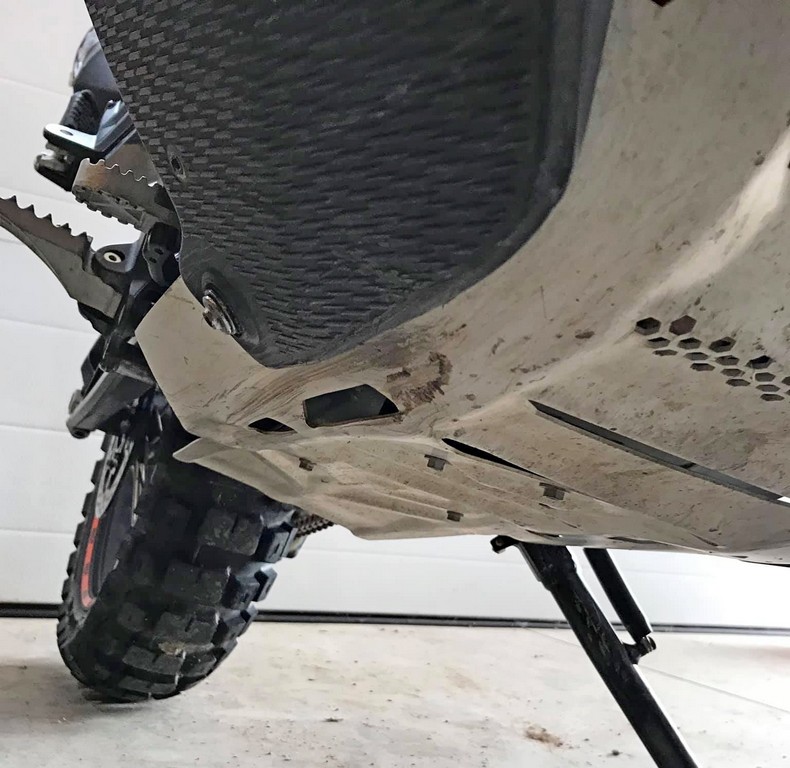 It could start destroying the engine block if left unaddressed on subsequent rock hits.
Rad Guard Australia
I installed this handsome radiator guard on the bike early on as well. It's much better looking than the ugly plastic OEM one and seems to be doing a decent job protecting the coils of the rad core from rocks and bugs. It's more of an aesthetic improvement than anything practical.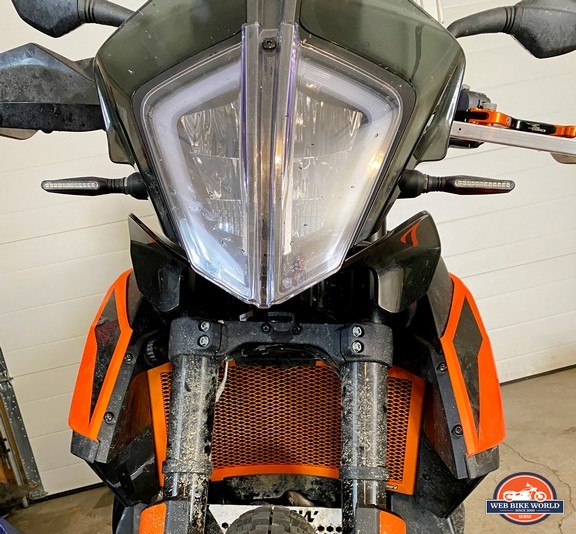 The lower mounting bolts gave me some trouble while getting them lined up, but all in all, I'm happy with it.
Cheap eBay Clutch and Brake Levers
While installing these adjustable levers on my 790 I re-learned an important lesson about mechanical work: don't force things.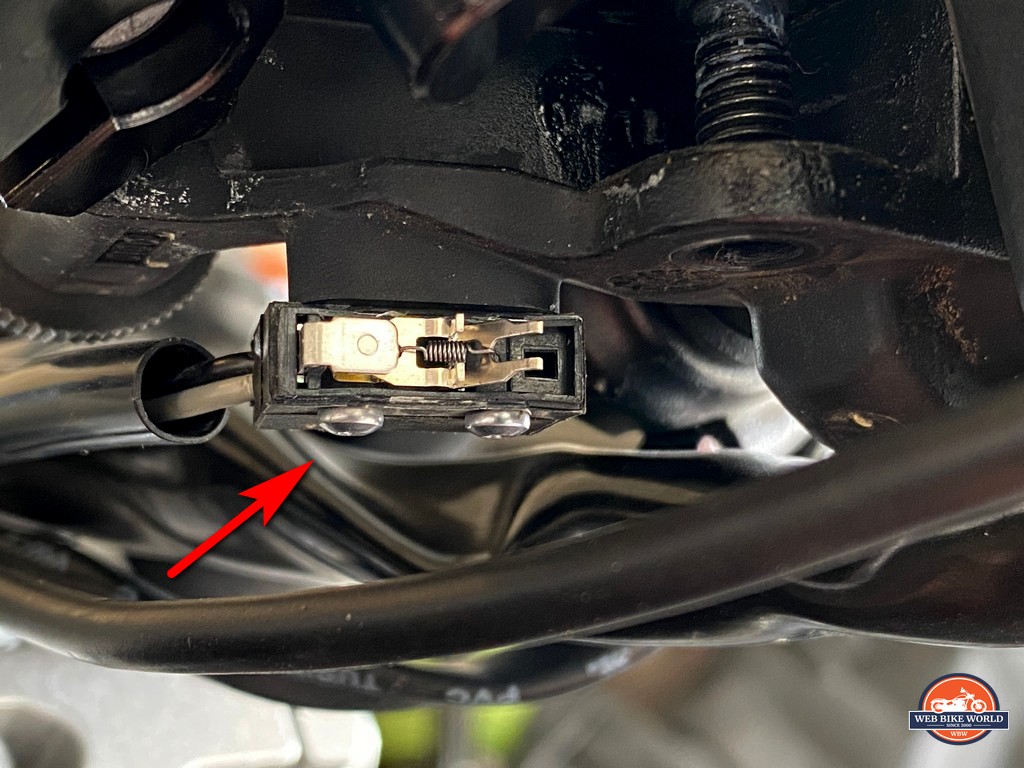 I got a little too ham-fisted while installing the new clutch lever and managed to break off the clutch position microswitch located on the left bar.
The cost of replacement was about $50 for the new part. I supplied the labor and found out it was possible to avoid having to open up the headlight housing where the end connector for the clutch switch goes to the main electrical harness. Instead, I cut the wires leading to the broken switch and spliced them into the same wires leading to the replacement one. Thus saving myself a couple of hours.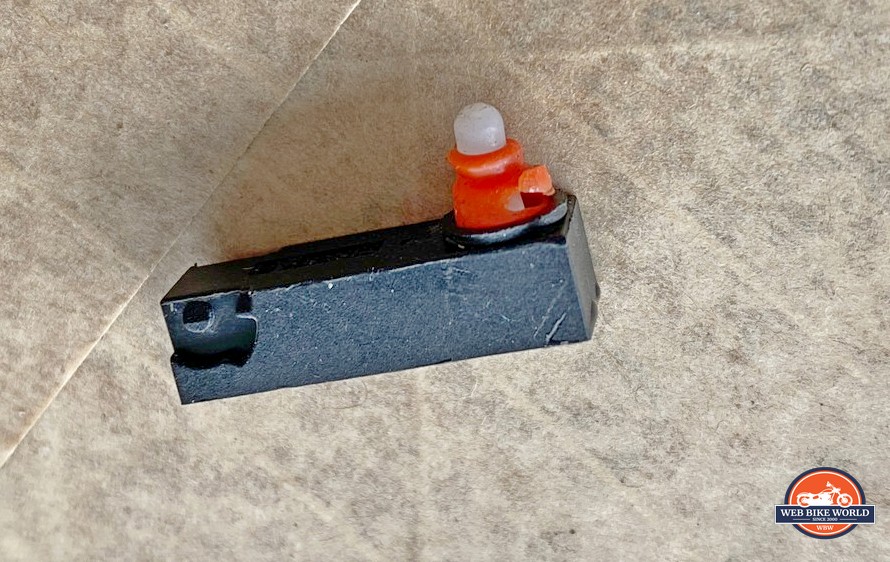 I didn't notice the switch was broken until I got out on the road and found my beloved cruise control no longer was working and I couldn't start the engine with the transmission in gear when the clutch lever was pulled in anymore.
Pouring Gas On The Fire
To make matters worse, while I was troubleshooting this clutch switch problem I managed to have the 790 fall over in the garage and land on top of one of the luggage cases for my Kawasaki Ninja H2SX SE. I don't have it within me to explain how exactly this came to pass, neither can I come close to describing how painful it is to admit it happened.
That landing put a 6" long crack in the Kawasaki luggage and hit it in just the perfect way to break an inner plastic body panel on the 790 in one incredible display of Murphy's Law.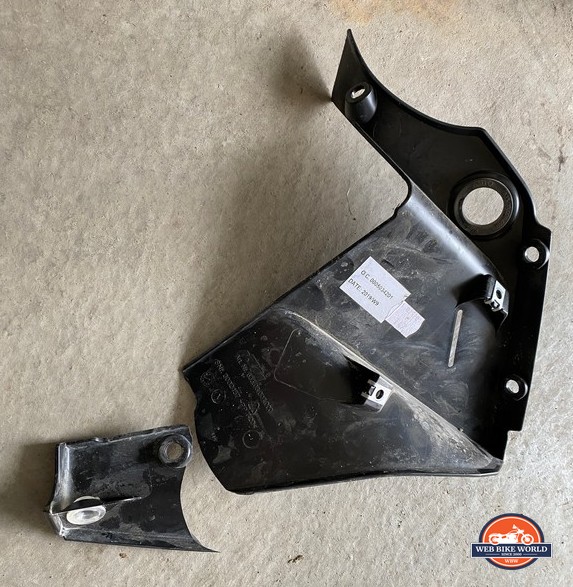 I'd previously dropped my 790 at least 10 times out on rocky trails and never broken anything before that day. Happily, the busted body panel only cost $16 to buy new from my KTM dealer and was pretty easy to replace.
The Grab Handles
Speaking of breaking things off the 790, the back grab handles are excellent for moving the bike around and picking it up when it decides to take a nap.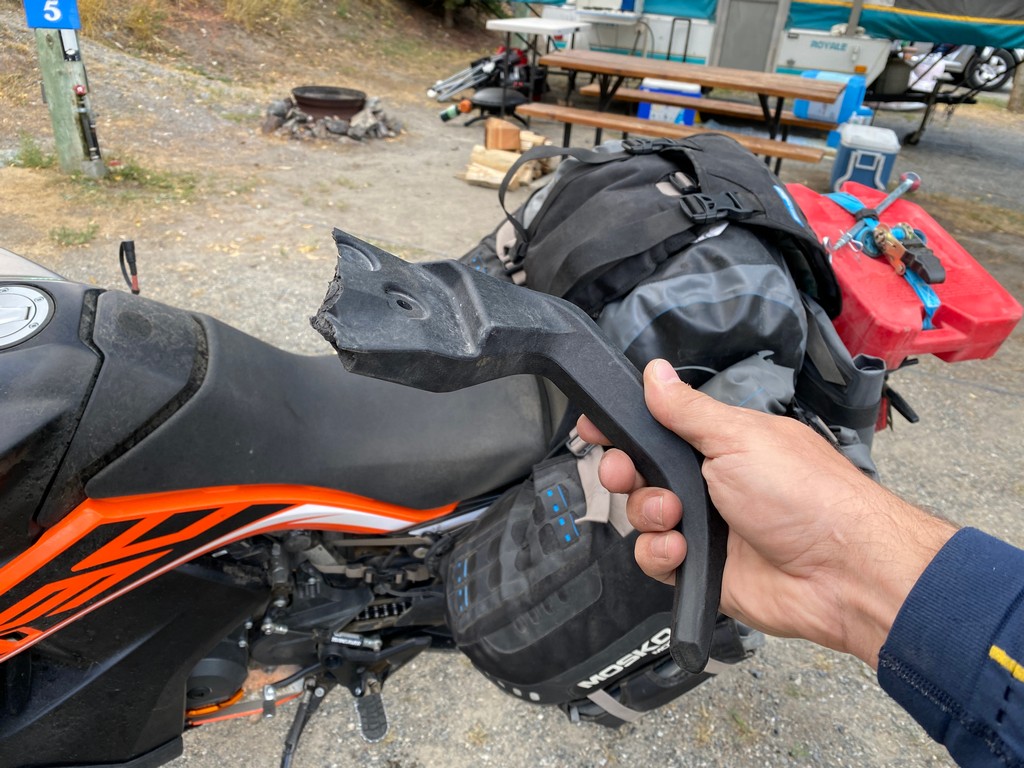 Some people remove them before breaking them, but not me. After almost a year of ownership, the right side handle came off in my hands while I was using it to pick up my fallen steed while out on an adventure.
Luckily the SW Motech cargo rack mounting bolts that run through the grab handle base didn't come loose and fall off. The handle broke cleanly off in the most perfect way to avoid that outcome.
The replacement cost was $60. I still haven't installed the new handle yet and I'm considering swapping the handles to the opposite sides to keep the pointy end of the handle going away from me instead of towards me. I saw one other rider report getting injured by the "horn-spears" handles on the back of this motorcycle in a crash.
The KTM My Ride App
KTM has an app specifically made to interact with the dash on the 790 adventure and others. It's called My Ride and quite frankly it's a dumpster fire of an app if I ever saw one.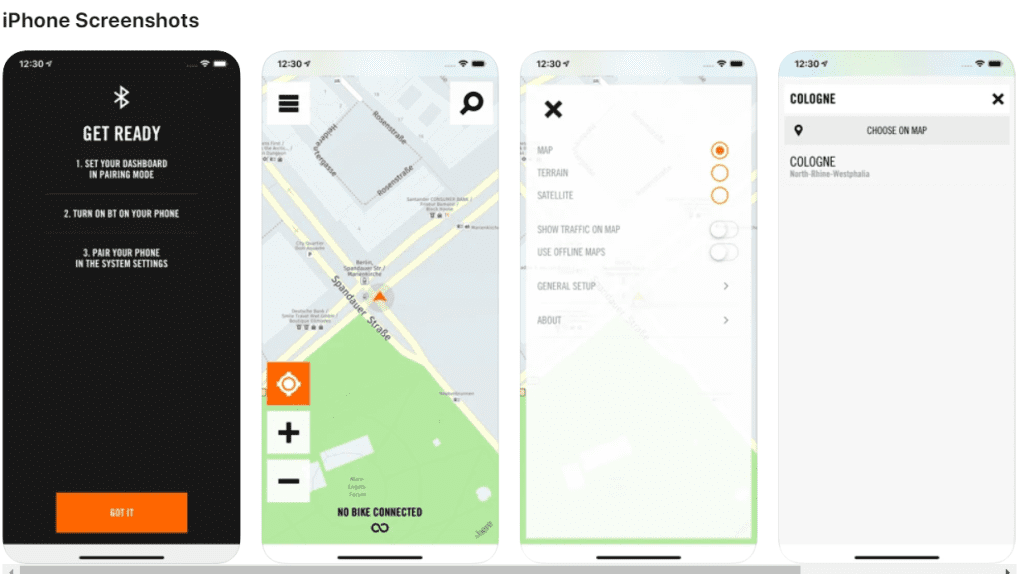 It sounds terrific as a concept. You get Navigation, music, and phone call controls right on your dash for the low price of $12 Canadian or $8 US.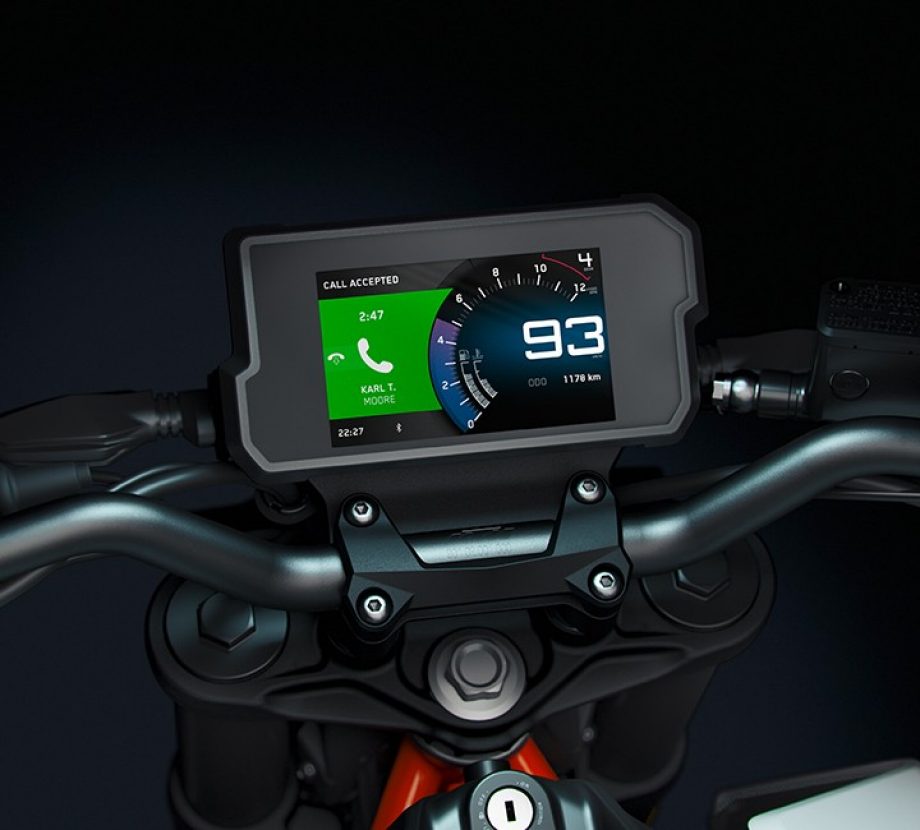 I jumped at the opportunity (before I knew any better) to get it and try it out. I find the music and phone call parts work decently, but the navigation is always outdated, displays the wrong street or highway names at times, and takes forever to update. It also has a weird habit of selecting the longest way to get anywhere. I would recommend sticking with Google Maps or a separate GPS unit instead.
However, I still use the app for music and phone calls with a reasonable degree of satisfaction, but a Sena/Cardo headset is needed to work in conjunction with it, and that's where things go sideways again.
Audio Output Frustrations From KTM Sportmotorcycle
The only way to get the headset and your phone working nicely together with the 790/890 dash display is to connect via Bluetooth to it. But, specifically, your phone and headset must NOT be connected to each other. Connect both of them to the display only. The dash works as a central station for distributing information… like a server on a network. If you try connecting everything to everything then nothing works properly, especially the audio.
All you get is silence in the headset speakers instead of your favorite song from Hank WIlliams Jr. or The Backstreet Boys.
Too often I find it necessary to fiddle with the audio output selection from my iPhone 11 Pro Max from the 790's dash to the Sena headset I'm wearing to hear music or phone calls. It can be frustrating and I know many other people are having this same problem.
The Dash Could Be Improved
The dash in general could be improved significantly if KTM chose to emulate what BMW has done with the F750GS/F850GS dash (pictured below).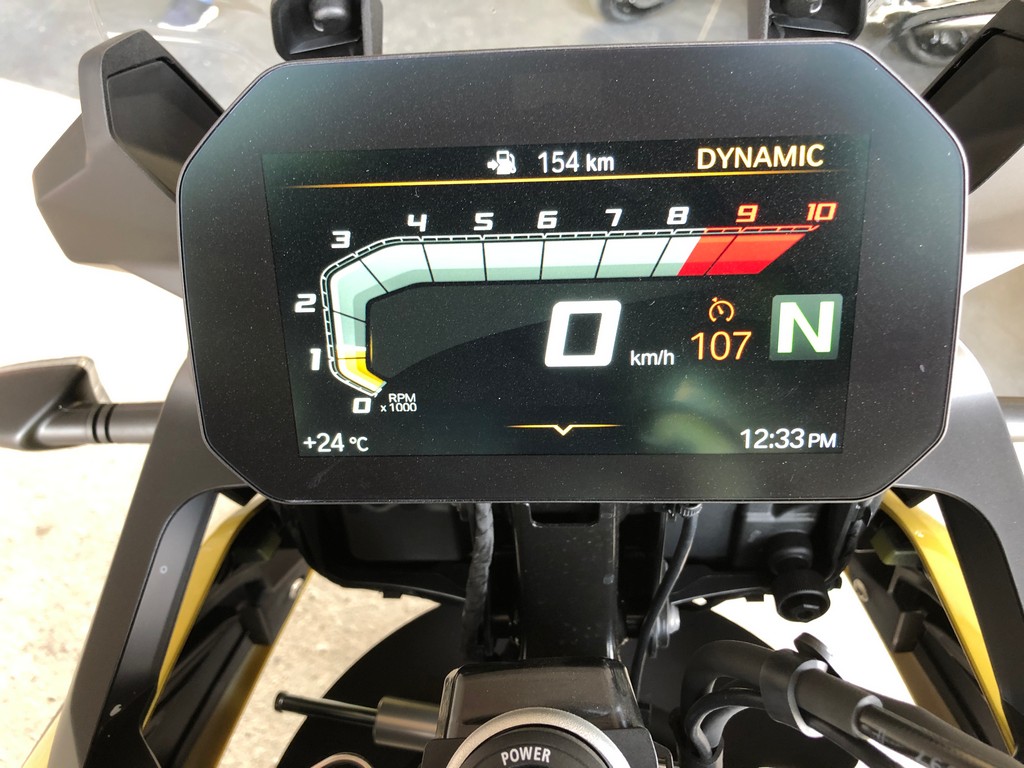 The BMW screen is a high-quality, TFT display that can be read in any kind of bright sunlight with just a glance. The fonts are sized perfectly and the spacing between information is bang on. The BMW Wonder Wheel makes all the difference in easing navigation through the data contained within as well.
The 790 on the other hand has crowded letters that are sized too small for easy reading in comparison. I also don't care for the turn signal indicator light that doesn't tell you whether it's the left or right side flashing. I admit this is a small irritant, but the vast majority of motorcycle displays show two separate arrows instead of just one.
Moving around through the menus is fairly quick to do, but I find the BMW superior in every way. You can do better with this KTM.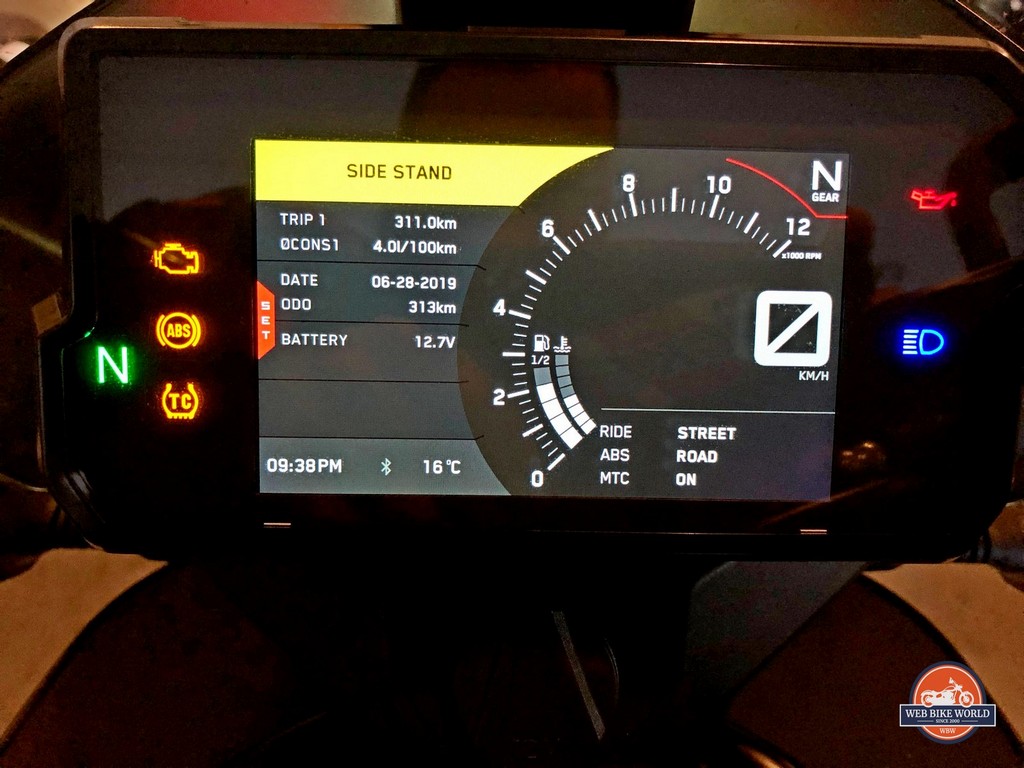 My Final Thoughts
If you've read other motorcycle reviews I've written you'll notice I've compared them to alluring women, but that's not the way I feel about the 790 adventure. I admit this one's not beautiful, in fact, it's rather alien-looking and a little too space-age in general. But it's not important for adventure motorcycles to be attractive, they're tools made for a specific job and looks are incidental. For what it's worth, I've always been a "go before the show" kind of guy anyway which makes me appreciate this 790 despite the weirdo look it has.
The KTM 790 adventure isn't a perfect motorcycle, but it still thrills me every time I take it out for a ride. It awes me with its versatility, subtle yet efficient technology, and surprising power. As already mentioned it's my favorite motorcycle up to now.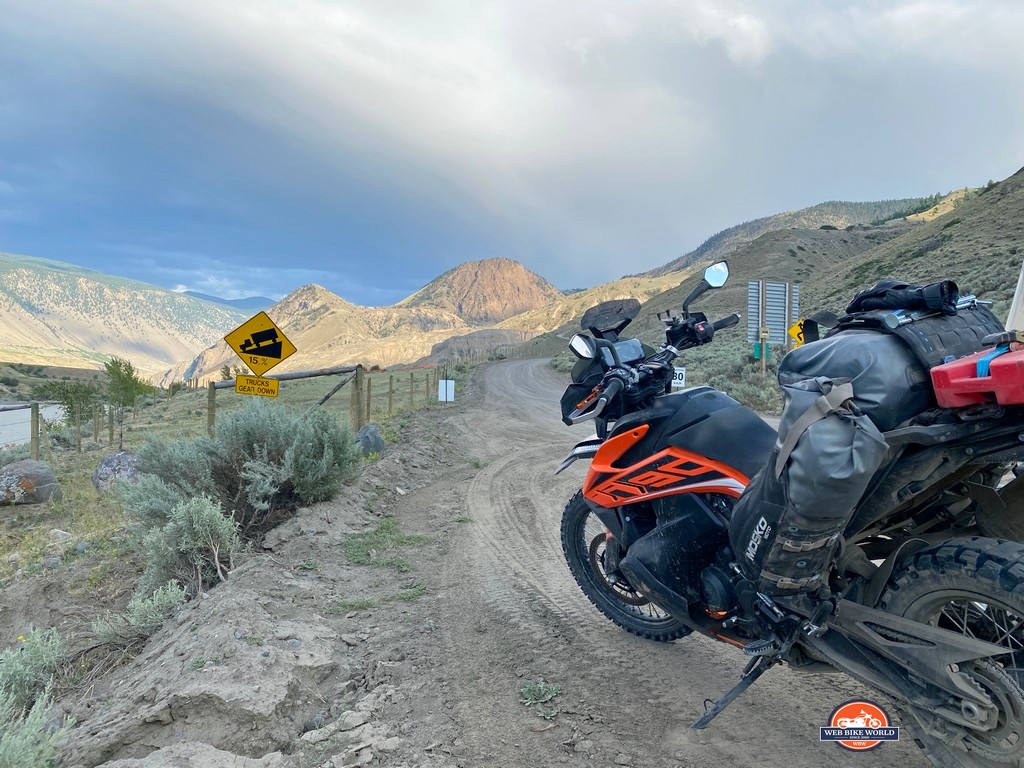 That might surprise you to read considering the amount of criticism I've mentioned about it before now. Let me clarify that I'm the kind of person who is extremely critical of anything I like a lot… because I care! That sounds strange but it's true. If I don't have much to say about someone or something that's likely because I've written it (or them) off already as a lost cause.
The 790 adventure has already evolved into the 890 adventure which has a better clutch, heavier flywheel, and a few other small changes to tweak instead of overhaul what was and still is a phenomenal adventure motorcycle in the 790.
Don't Hesitate
If you're considering buying one of these machines don't worry about the fearmongering and naysayers out there bashing it as unreliable and expensive. The majority of 790/890 owners are too busy enjoying their wonderful rides to spend any time complaining about them on forums and social media.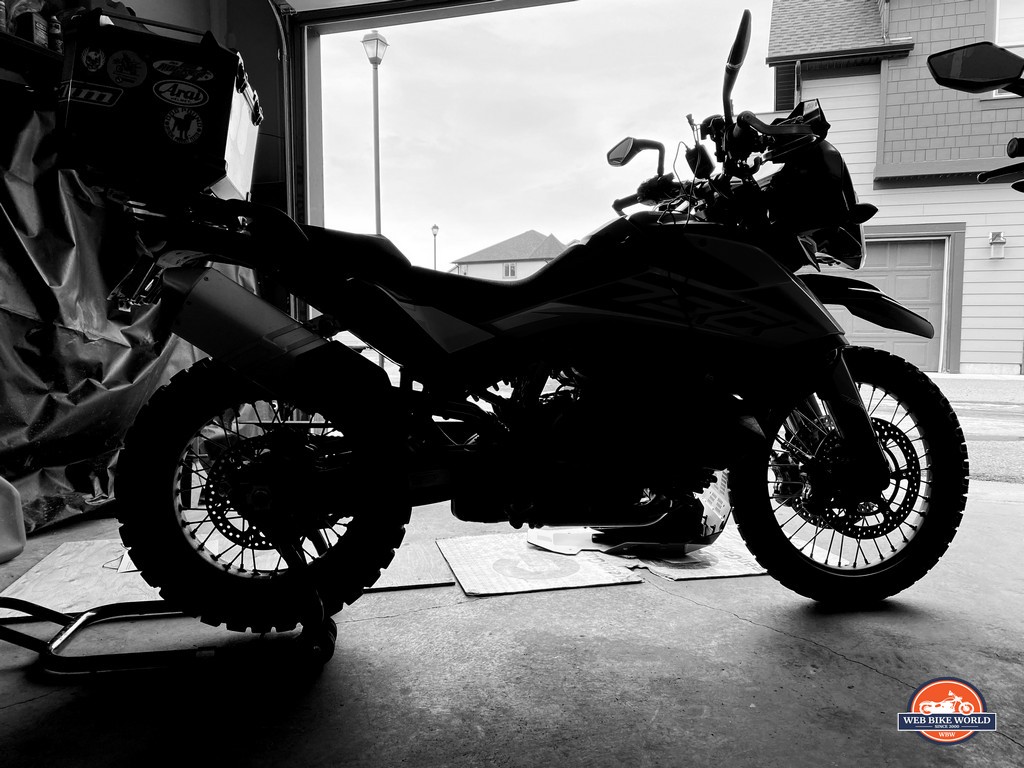 If you do your maintenance and make sure your dealership corrects any small issues that arise under warranty I doubt you'll be disappointed with the latest and greatest KTM adventure motorcycle.
To answer the original question at the beginning of this review: The KTM 790 adventure is wonderfully wonderful to me.