The 2018 Motorcycle of The Year
This review made possible through the help of Blackfoot Motosports in Calgary, Alberta and Kawasaki Canada.
After 7500 miles of asphalt with some gravel and dirt thrown in how did the new for 2018 Kawasaki H2SX SE Sport Tourer perform?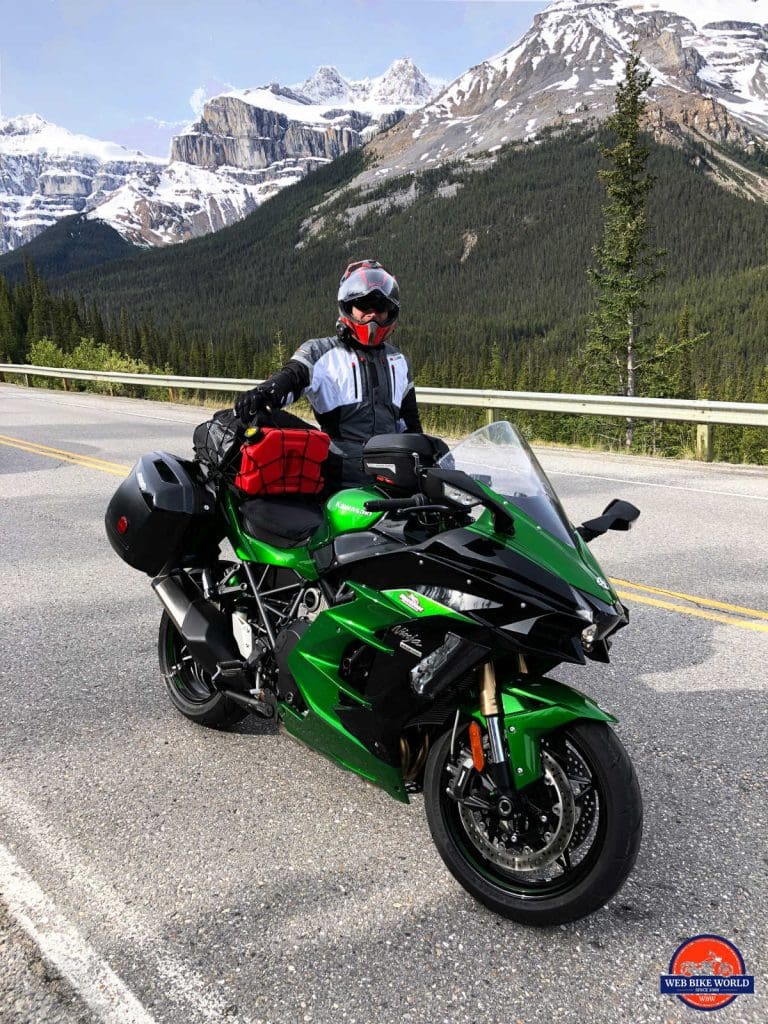 In a word, flawlessly. No, that's insufficient praise for it. Perfectly awesome despite some very rough treatment from yours truly.!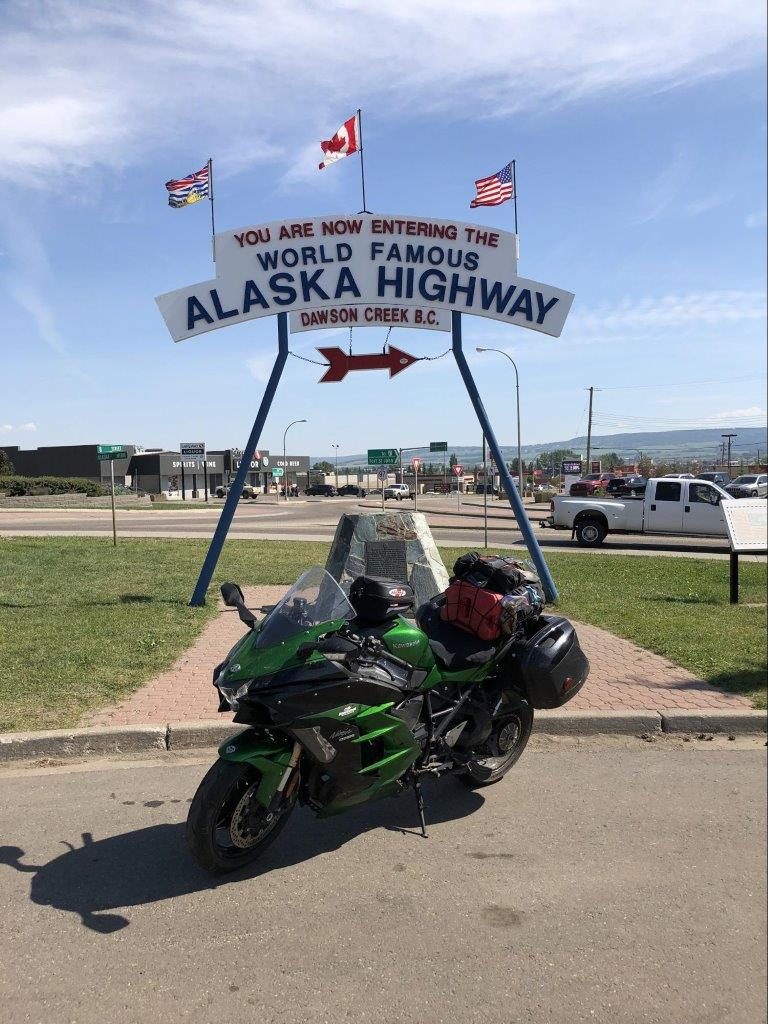 I rode this motorcycle 5600 miles from my home in Alberta, Canada to Dawson City, Yukon, and back. It mastered the Cassiar and Alaska highways beautifully along with many sections of nasty road construction and a TON of rain along the way.
At the time of this writing, I'm approaching 6000 miles in just two months of ownership so I've definitely "put the boots" to this bike looking to find a weakness in it.
The only thing I really haven't done is take it racing on a track which I'm confident it would handle very well, but it's unnecessary for this review given that this is a sport touring bike.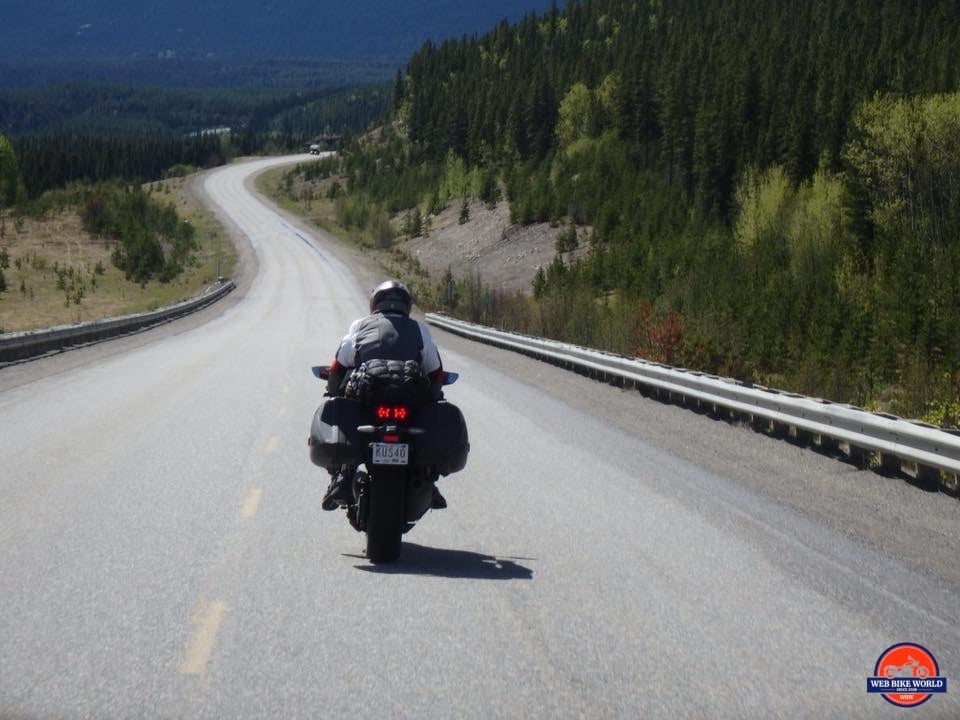 For a full ride report and some unbelievable photos taken along the way see my other article Ride To Tuktoyaktuk: Part One.
Here's a short intro video to the bike of the day we picked it up from Blackfoot Motosports. I apologize for the wind noise at the beginning. We're still perfecting audio capture.
Before I get into the intimate details of my long-term review let me present some important numbers and specs of this praiseworthy motorcycle.
Vital Statistics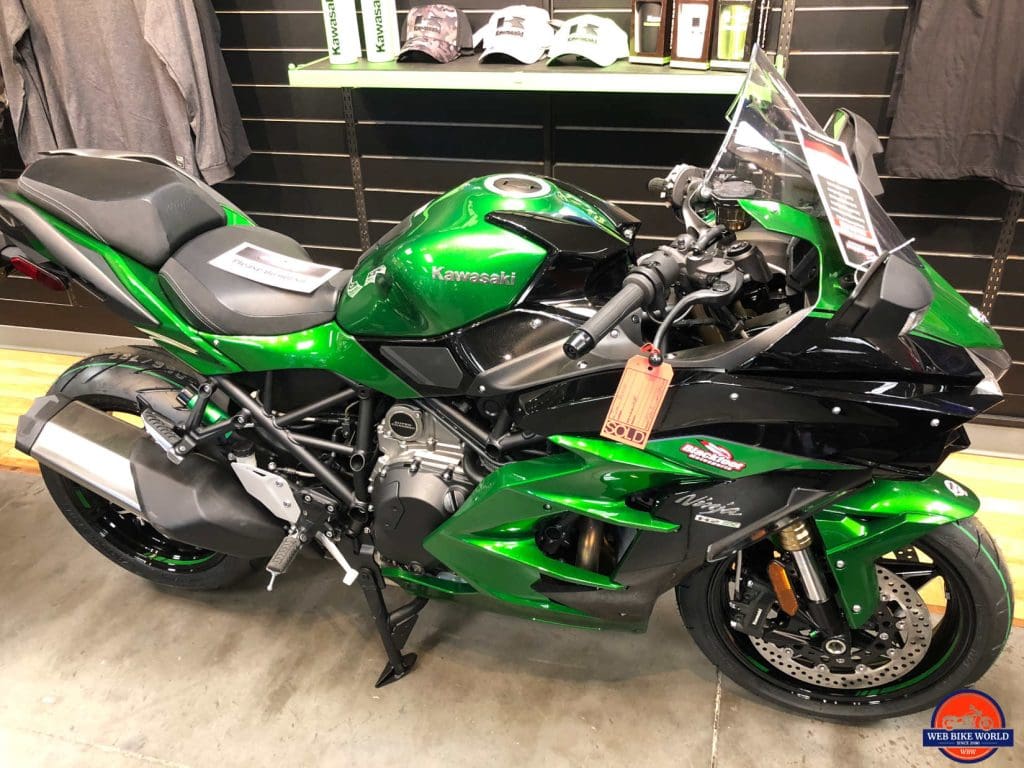 Engine 998 cc, 4-cylinder, DOHC, 4-valve, liquid-cooled, supercharged

200 horsepower at 11,000 rpm, and 101 ft/lbs of torque @ 9500 rpm
Bore x Stroke 76.0 x 55.0mm
Compression Ratio 11.2:1
Fuel System DFI® with 40mm throttle bodies (4) with dual injection
Transmission 6-speed, return, dog-ring
Final Drive Sealed chain
MSRP $22,000
The Beast Within
Do you remember the movie Kill Bill and the character played by Lucy Liu named O-Ren Ishii?
It's hard to forget her in one scene from the movie and how expertly she disposes of one of her underlings for objecting to her mixed ethnicity and heritage.
In my mind, the Ninja H2SX is somewhat personified in that movie character O-Ren Ishii. It's gorgeous, refined and classy in appearance by any standard. It's lovely to take in visually with its metal-flecked, emerald green paint and starkly contrasting black panels. The bike is beautifully poised and built with attention to detail.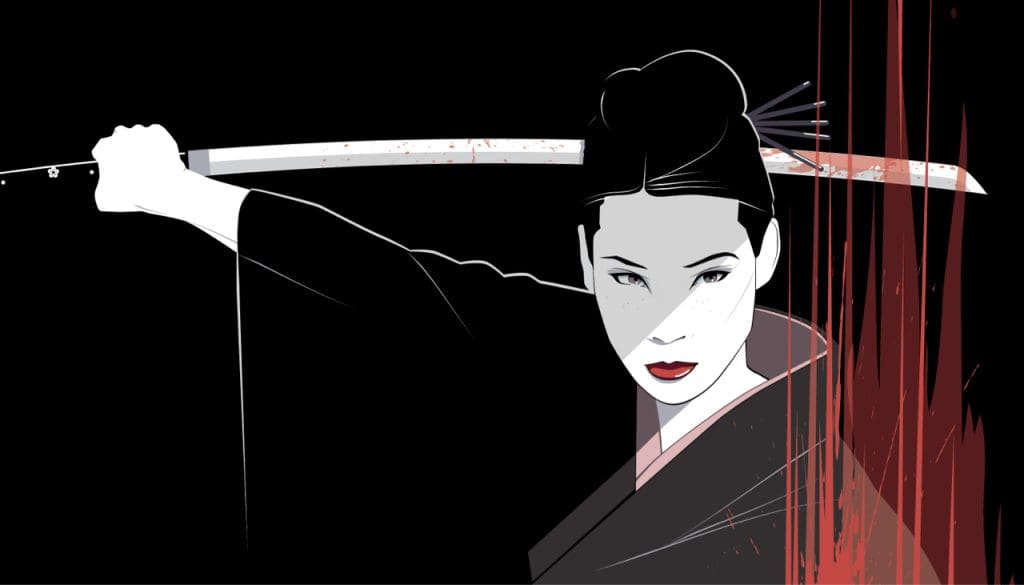 Photo Craig Drake Art
The green stripes on the rims along with the chrome accents on the rear wheel are especially eye-catching.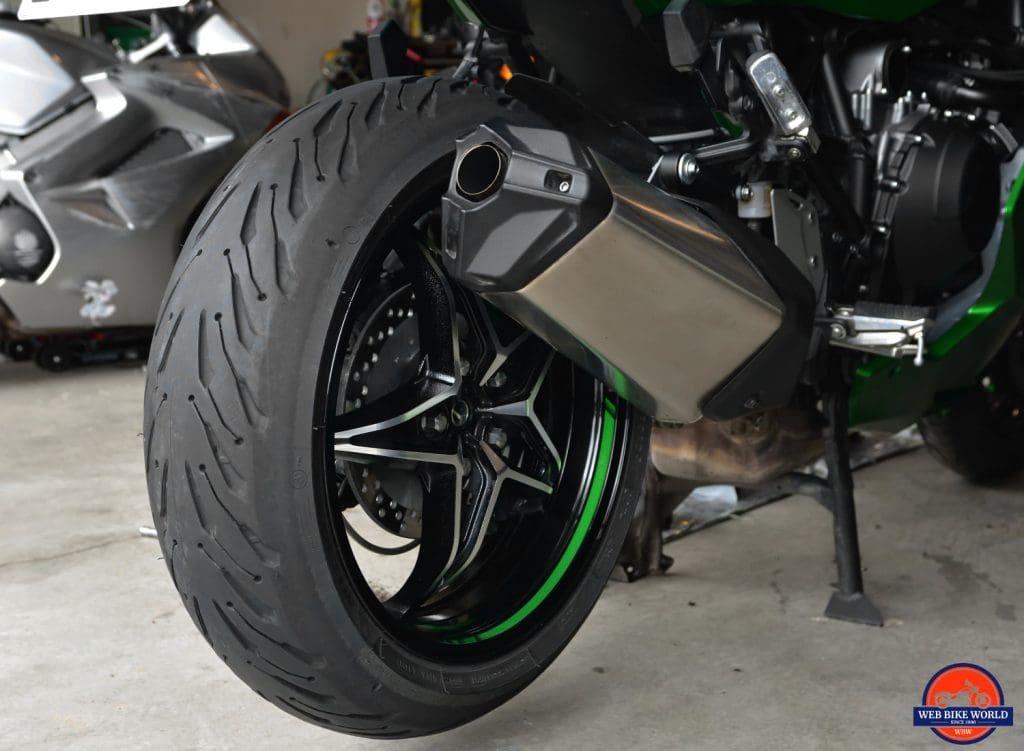 I like the special H2 family crest on the front fairing and the "Ninja" ones on each side.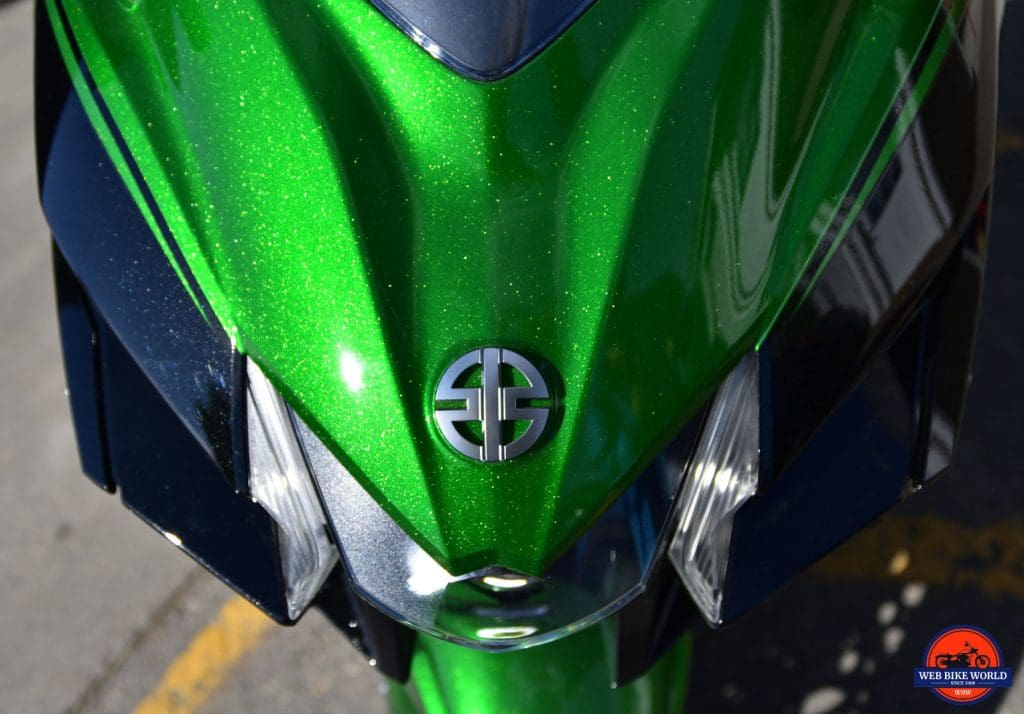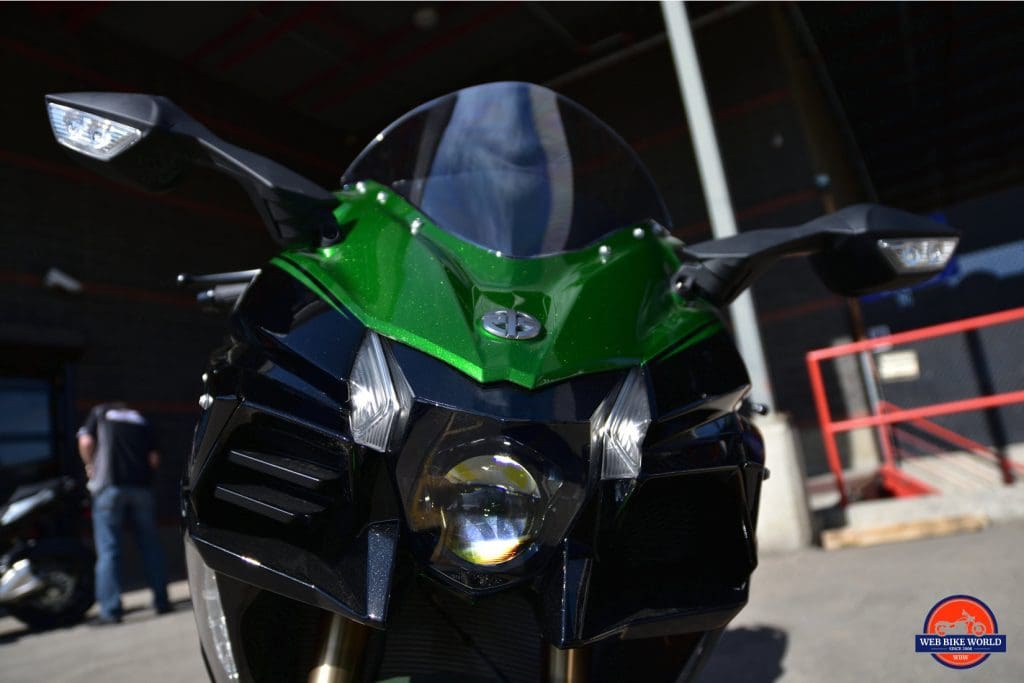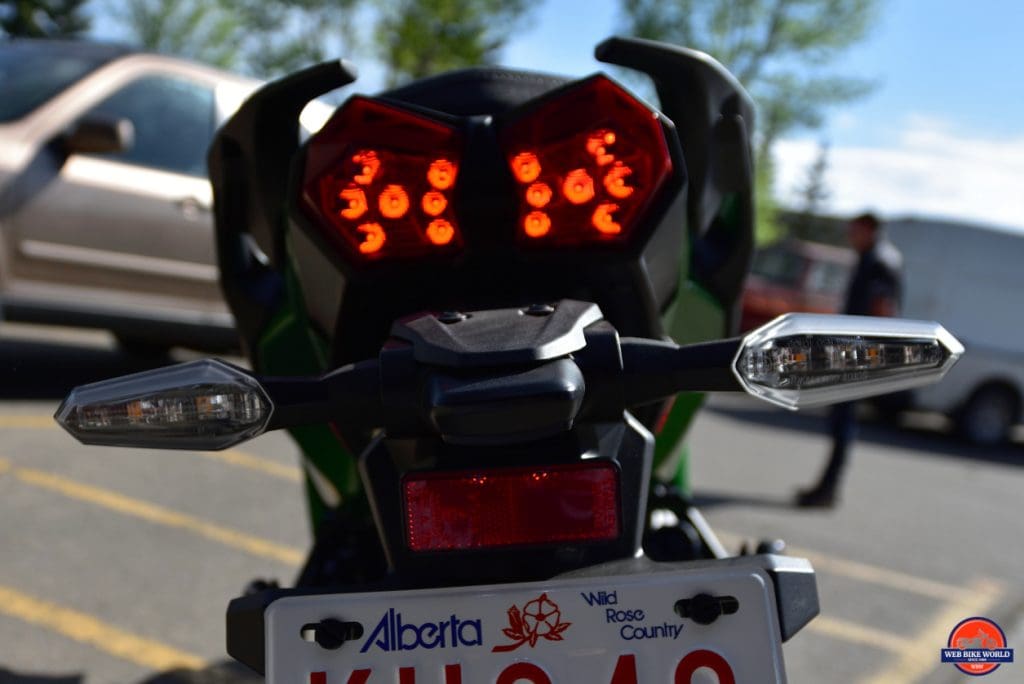 The front fairing has jagged points reaching forward around the sides of its distinct headlight all adding up to a unique appearance that won't be duplicated.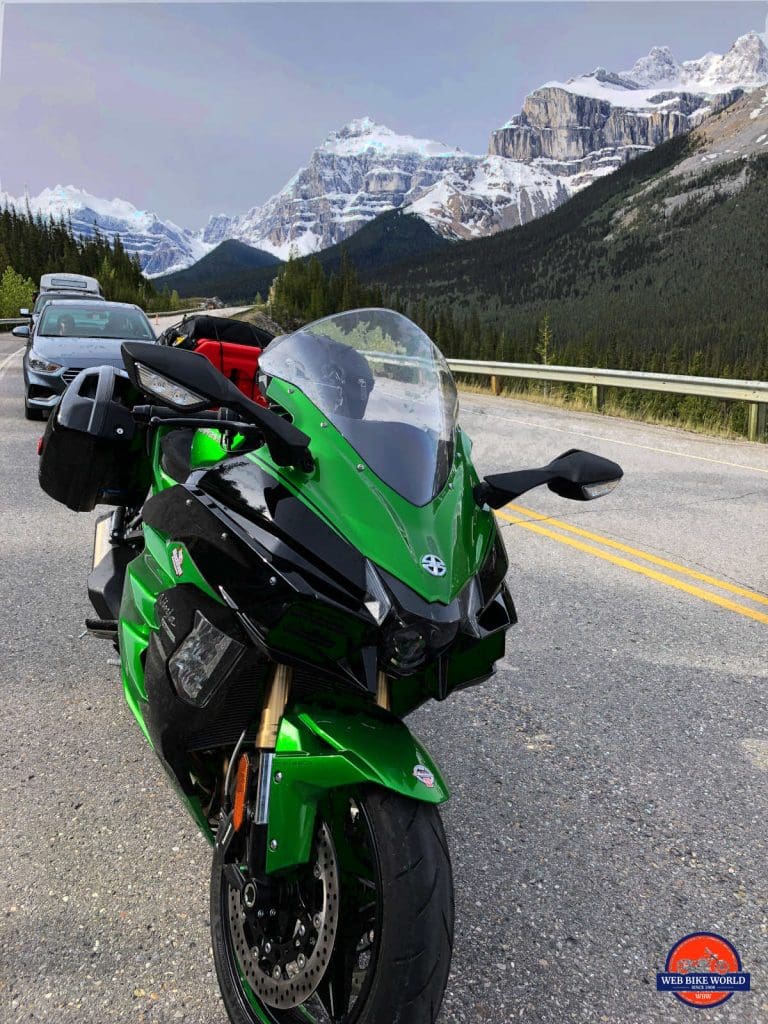 Its "voice" is soft-spoken with a quiet exhaust note, smooth and calm while casually running down the road. It's the epitome of civilized when asked to be… until you provoke it with your right hand.
Enter the Dragon
Twist the throttle in any gear, at any speed and just like O-Ren Ishii an inner fury like that of an angry dragon roars to life in the H2R derived powerplant launching this Ninja H2SX SE ahead with nearly unbridled rage when engaged in full power mode. The first time I let it loose I felt the bars trying to pull out of my grip!
I've ridden a 2016 ZX-14 and I can say without hesitation this 1000cc H2SX feels like it pulls just as hard as that big 1400cc bike does.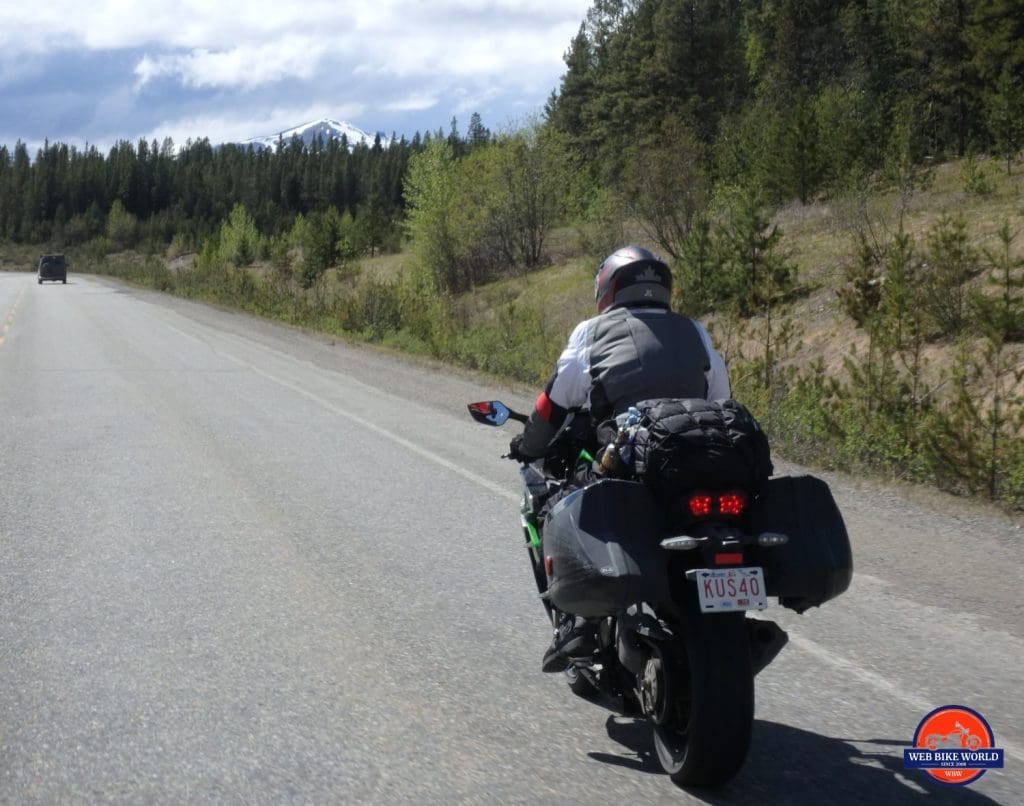 Man is this bike fast! Not just fast, but SNEAKY fast because of how vibration-free and silky smooth it executes your every command.
That's what I would name this bike. The Silk Ninja or perhaps the H2SeXy.
Torque and Horsepower
Why would anyone want a 200 horsepower touring bike?
Let's get this straight now, it's not a Sport Tourer it's something more. I classify this machine as a "Super Tourer" because it's a cut above the FJRs, Concours, Hayabusa and even the mighty ZX-14.
Not because it's necessarily faster than the Hayabusa and ZX-14 or more comfortable than the FJR or ZZR Concours, but because it's the perfect mixture of those bikes when it comes to comfort, power, technology, styling and touring accessories without compromising on handling.
It would be just as happy on the track as it is in the city or on the highway.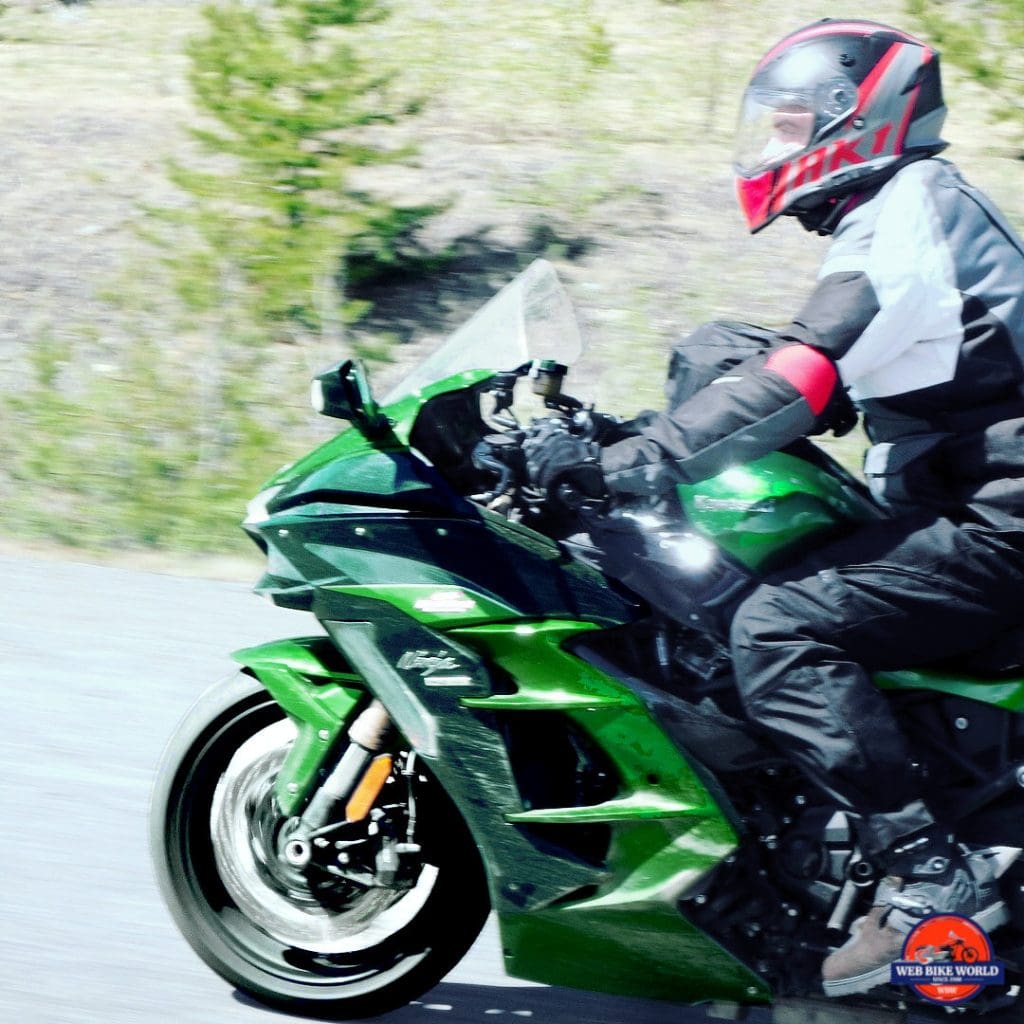 I never felt overwhelmed by all the ponies available to me, I thoroughly enjoyed them. All that jam provides instant passing power on the highway and even when I had the bike loaded down with all my traveling gear it was virtually unaffected by that burden.
I don't feel the need to downshift to pass vehicles while at highway speed. I just roll on the throttle in 6th gear and even going uphill the bike pulls like a full team of Clydesdales much to my delight.
100 foot-pounds of torque is exactly the amount I enjoy in any bike, let alone this Ninja. While riding with my friend on his V-Max I compared the two and the Ninja was right there with the muscle bike then gone ahead of it the next. Especially once we came to a corner.
More Power?
What if 200 horsepower isn't enough for you? What's the potential of this Ninja?
According to some tuners on the H2SX Facebook page, they're gaining close to 40 more horses with only a remapping of the control module (voids warranty). Imagine what you could do with intake, full exhaust and changing out heavier parts for lighter ones?
Rumor has it that some people are getting 255 hp after all that. Insane.
Supercharged Chirping and Whining
The powertrain on the Ninja is the best thing about it and the main reason I wanted to long-term test this bike.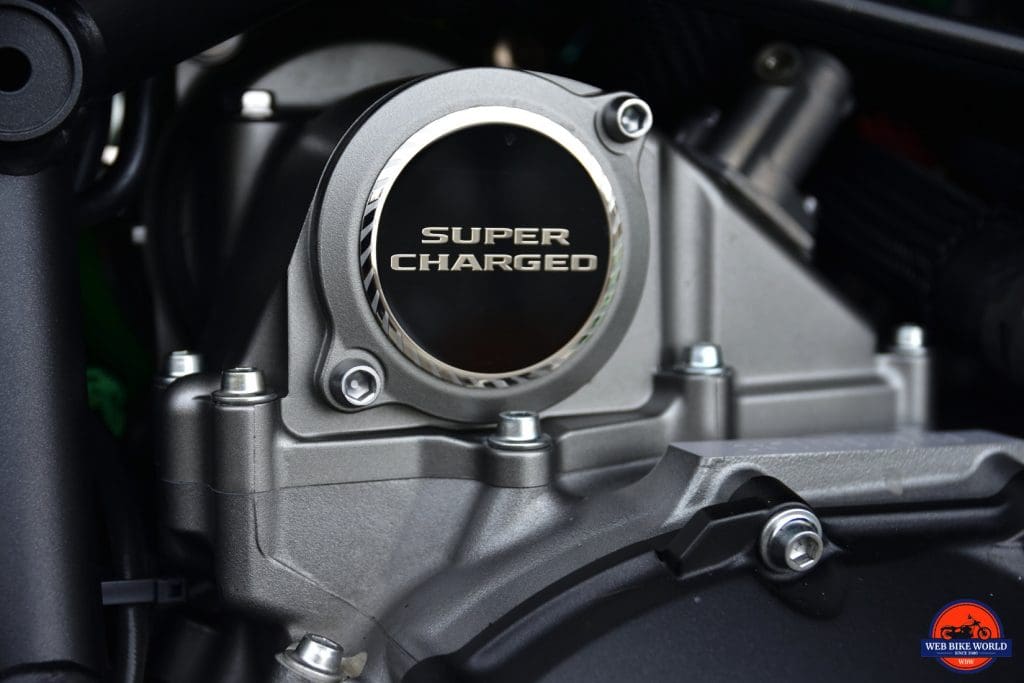 The H2SX supercharger is different than the one on the H2. It was re-designed specifically for the H2SX to work with different fuel mapping to produce mid-range punching power instead of high-end insanity like on the H2. The pitch and shape of the fins have been altered and the combustion chamber compression ratio increased all to come together in a beautiful SX package.
This is a balanced supercharger meaning the intake fins can be modulated to vary the amount of air going into the inner fins that compress the air going into the combustion chambers. Check out Kawasaki's video showing this concept.
Look No Intercooler!
Kawasaki did something special and designed the supercharger in-house in a way that no intercooler is necessary!
The bike does have an external oil cooler mounted on the front of the engine that works well in keeping the engine temp steady and stable.
I kept a close eye on the engine temp while testing it and even in the hottest weather it stayed within reason and didn't roast me either.
RPMs For Days
Anything above 3500 rpm and the bike comes to life beautifully all the way up to the 12,000 redline. It never lacks for power and the supercharger whine is distinct along with the "chirping" produced when you roll on the throttle hard for a moment under load and then chop it back to nothing.
The sounds of unneeded boost bleeding off combined with the supercharger blades breaking the sound barrier are delicious to any gearhead like me.
Reliability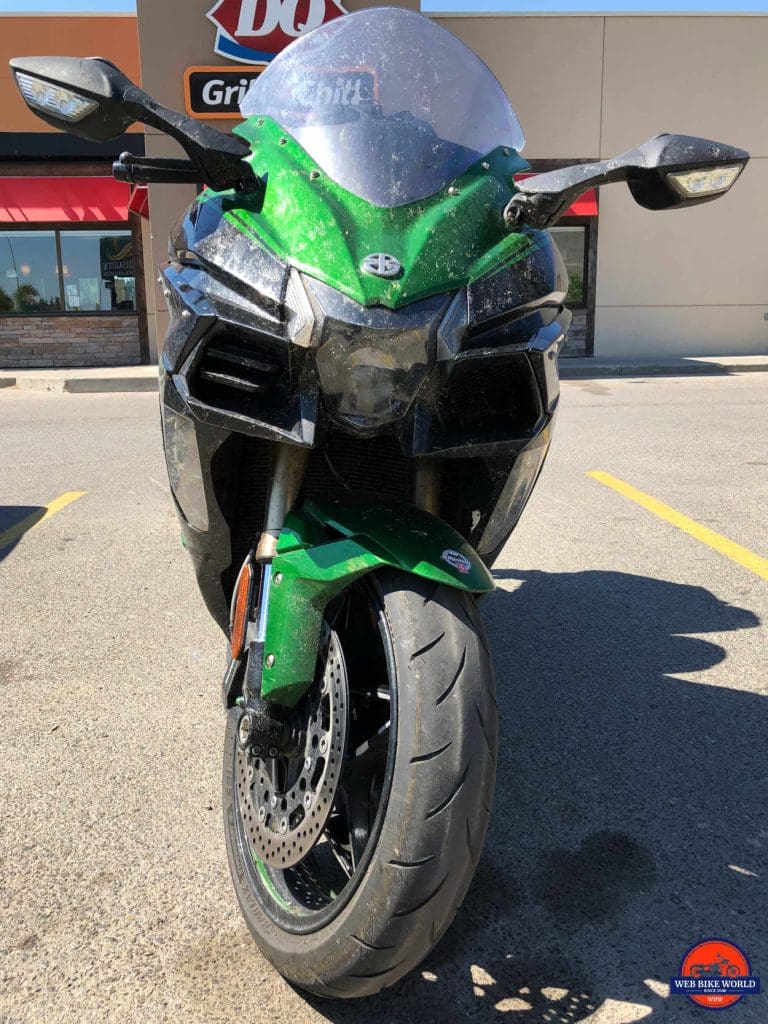 I should have known even over so many miles traveled on rough roads spanning temperatures ranging from below freezing to blazing hot days above 90 the bike wouldn't give me any trouble.
Cost of parts and labor due to repairs over 7500 miles? $0.00.
Breakdowns? 0
Warranty issues? 0
No starts? 0.
You get the idea.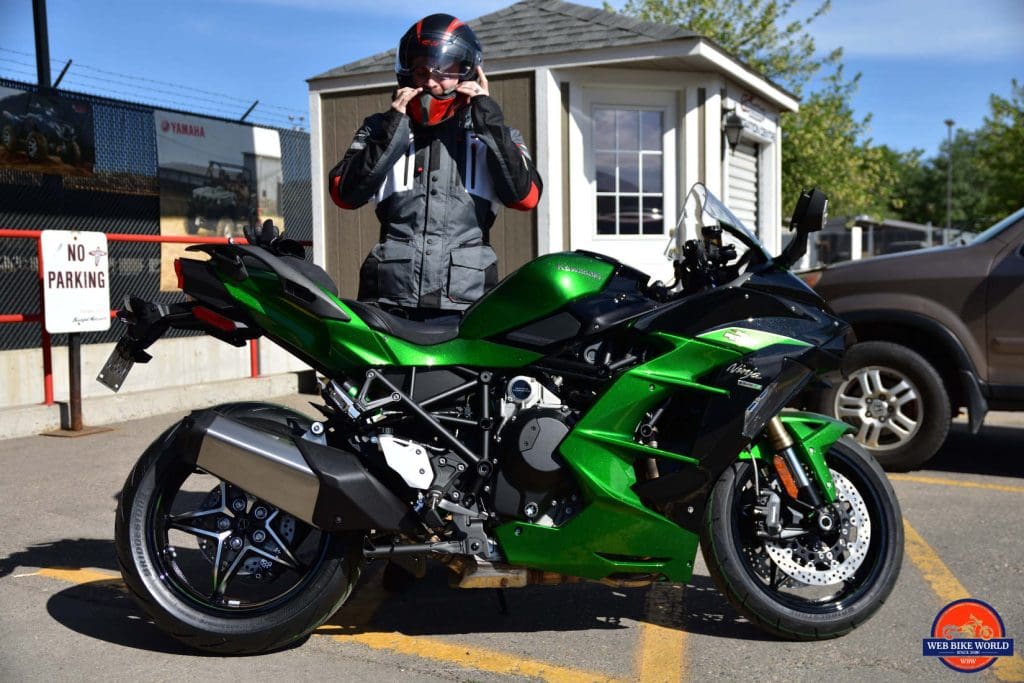 Maintenance
The first scheduled maintenance at 600 miles wasn't cheap costing just under $230 US. All they did was change the engine oil, filter, lube and inspect the bike. It was necessary to have the dealer perform it in order to maintain warranty from what they told me.
The good news is the next oil change isn't due until 7600 miles and I can (and will) do it myself.
The first valve set check isn't until 15,200 miles. That's a major service at the dealership and will cost about $1000 for parts and labor. In looking at how tough it'll be to access the top of the engine I can believe half that cost will be labor. Still, I've heard the ZX14 is no picnic to check valves on either and I was surprised how easily I removed the left side fairing when I checked my air filter.
Air Filter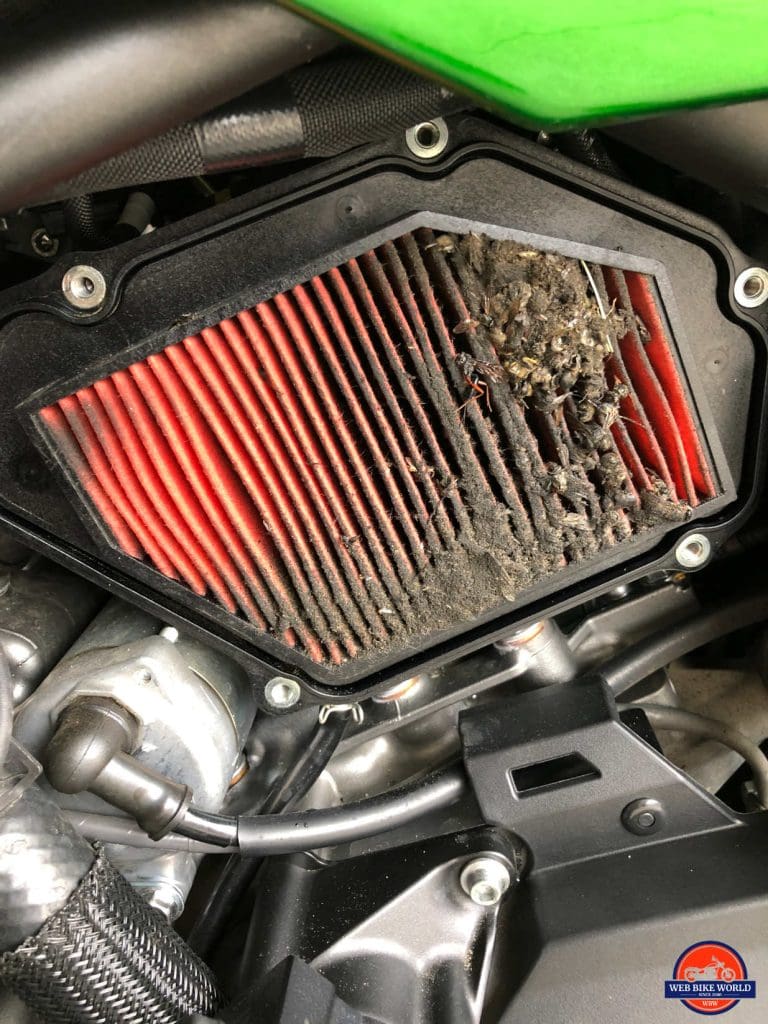 I forgot to check my air filter after I returned from the ride to Tuktoyaktuk. In fact, I went on another 1500 mile ride with a riding club I belong to with a filter about 50% plugged with bug guts! Still, the bike was averaging about 50 mpg if you can believe it.
I decided to remove the whole left side fairing and intake tube to clean things up and get a better look underneath. It wasn't hard to do because someone had given me a heads up on the H2SX Facebook group that there were 3 or 4 hard-to-find, small clips hiding here and there on the fairing as I point out in the video above. I had everything off in about an hour while taking my time and photos.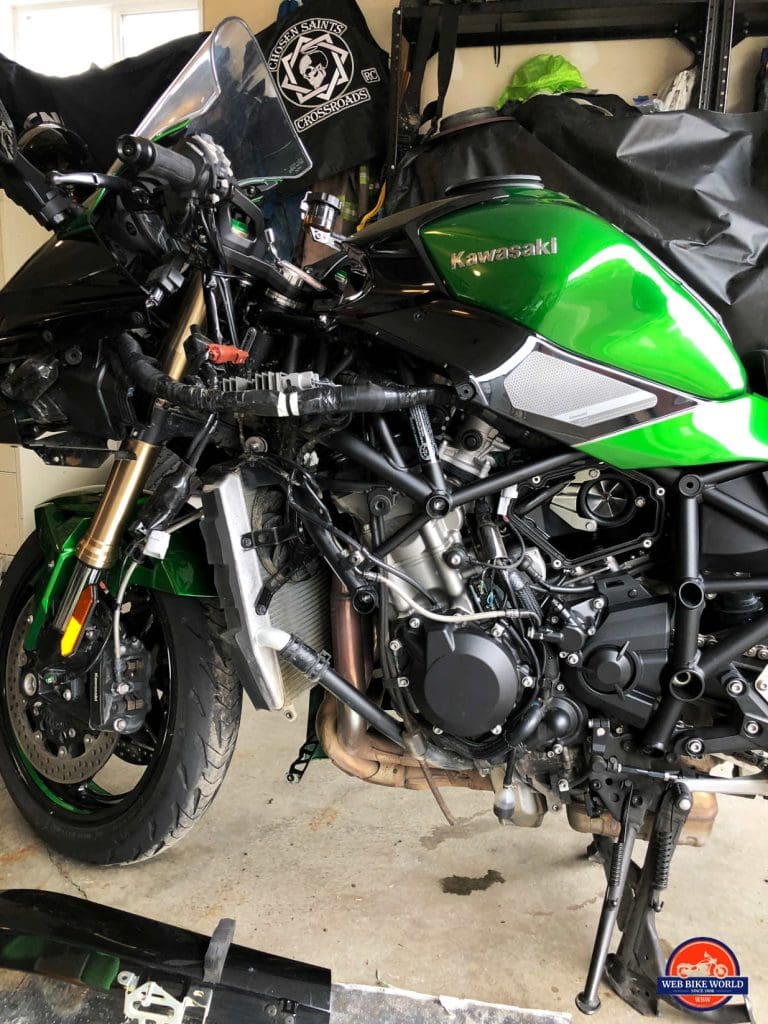 I called both Kawasaki dealerships in my area and was told a new filter was a week away!
This is disappointing product support, to say the least on a regular maintenance part. I carefully tapped out the filter, then used compressed air (carefully) to blow out the rest of the dirt. I don't recommend doing this as it's easy to blow a hole in the paper element, but it was so plugged I had no choice.
A new Kawasaki air filter costs $27. There are some excellent reusable aftermarket ones made by Sprint out there that don't even need oiling as a K&N one does, but they aren't cheap at $239 USD.
The Supercharger Inlet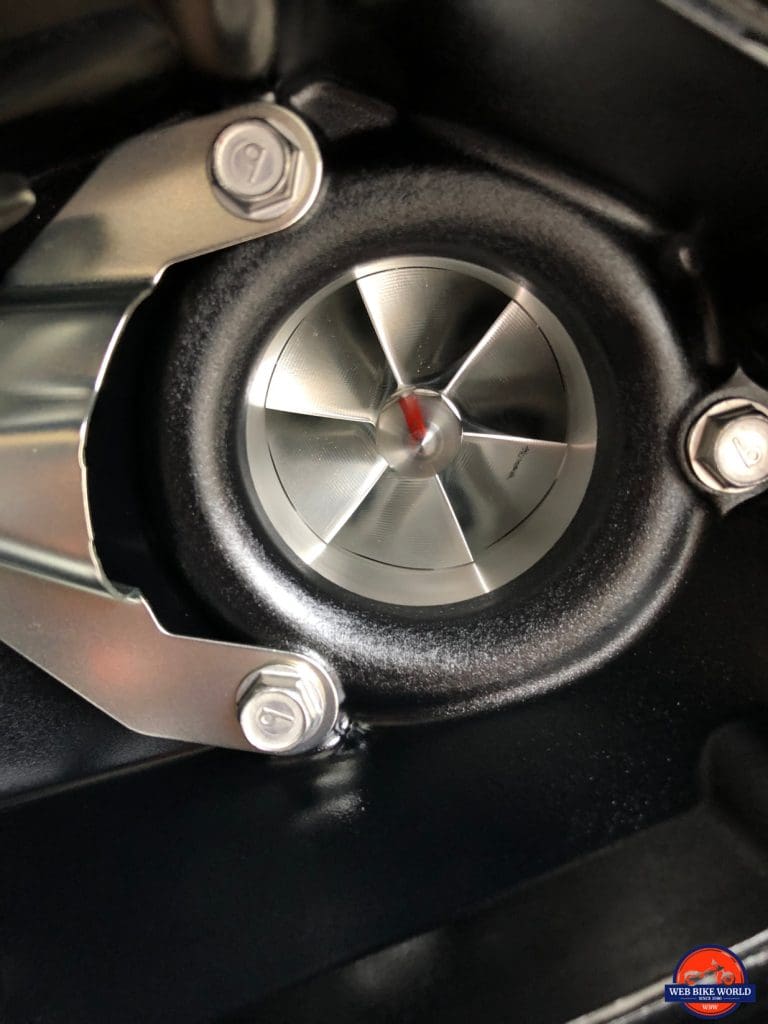 I checked my supercharger endplay and axial play by hand without a dial indicator and noticed no movement whatsoever. That probably means it does have some, but I didn't have the proper tool handy to check it.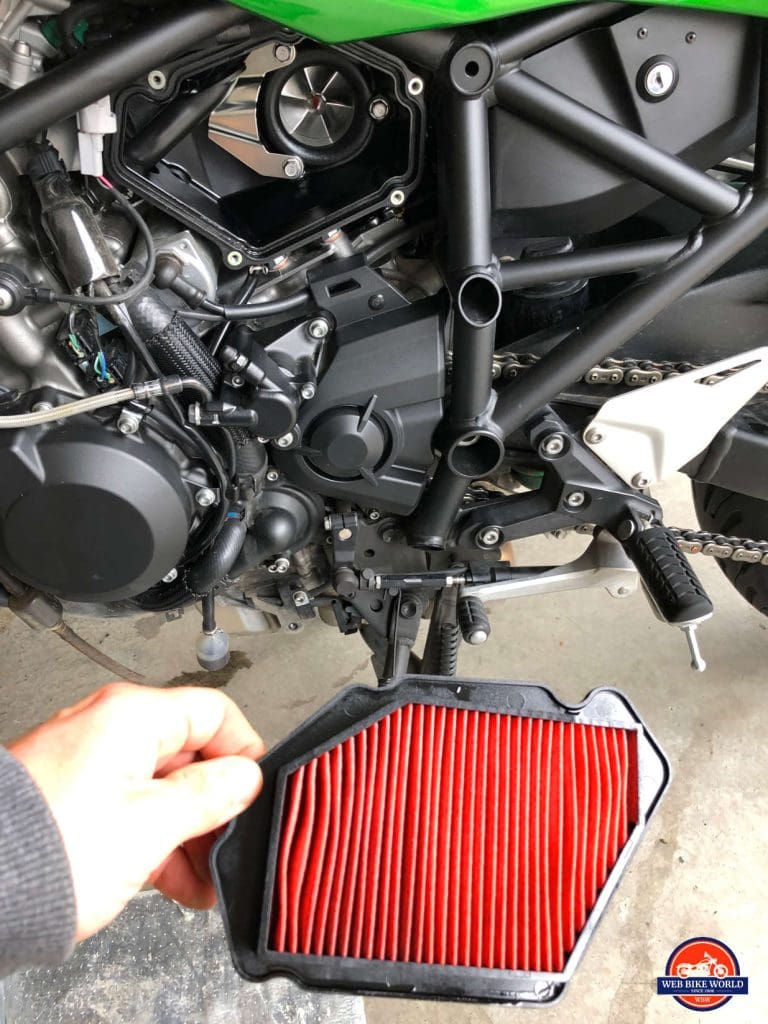 No dirt had bypassed the filter but the small bag or trap for dirt was packed full on the dirty side of the filter housing.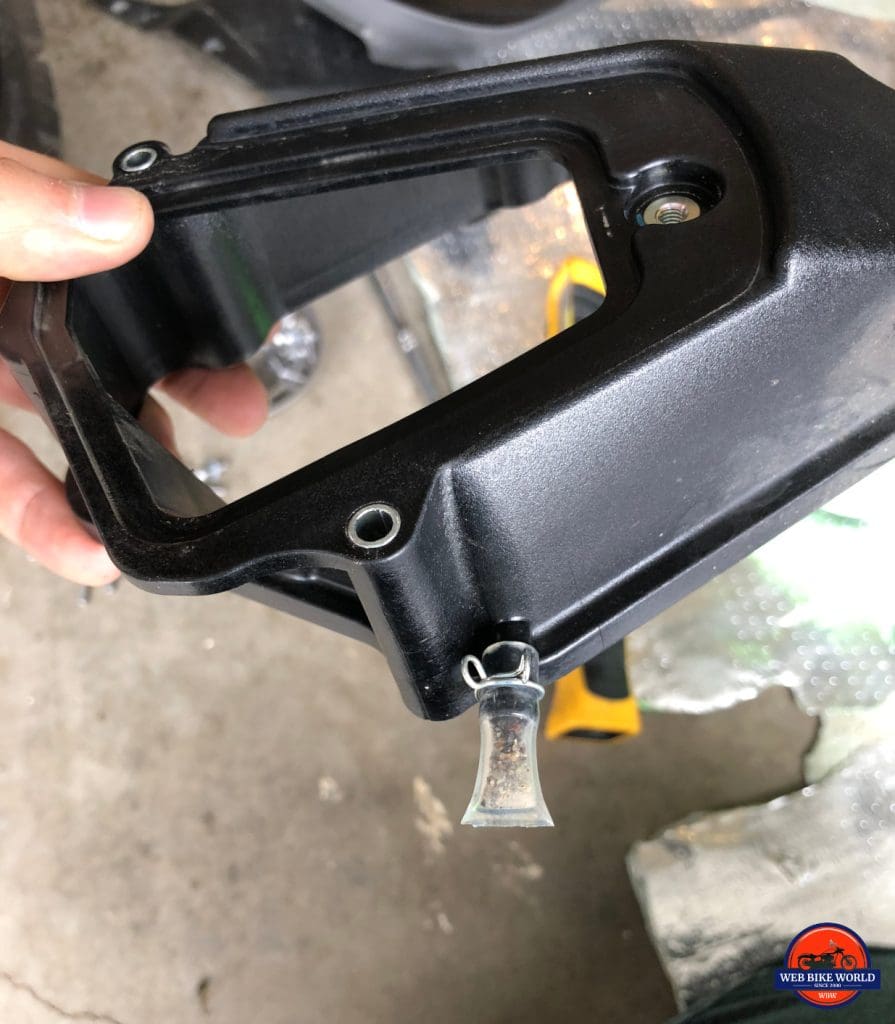 I emptied that and the oil collector which holds any oil that happens to make its way to the clean side of the supercharger inlet. After 7300 miles the bottle was only about ⅓ full of oil and was easy to pull off and empty out. It's accessible without removing the fairing.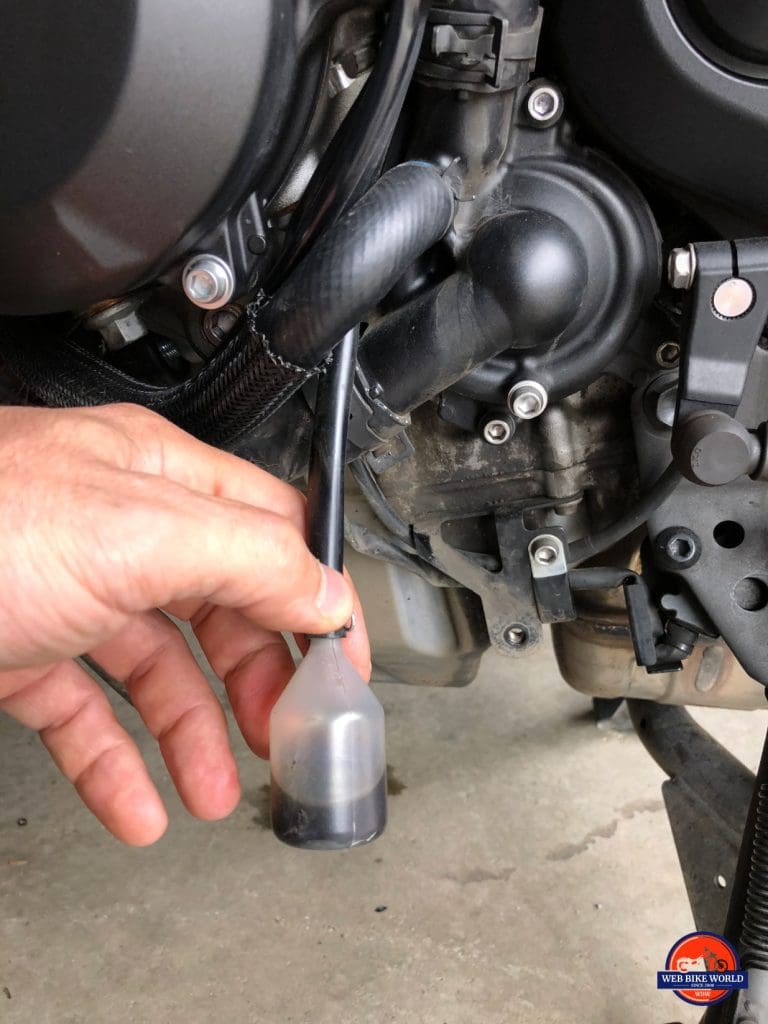 Fluids
Despite the small amount of oil in the collector bottle the bike overall didn't leak or consume any fluids other than gasoline. I religiously check fluids before each ride, but after thousands of miles without change, I cut back to only checking every few days.
There's still been no change in the coolant or engine oil level. For someone as OCD as me to pull back on my insatiable need to check and double check my ride it's really saying something about this motorcycle.
Clutch Fluid Reservoir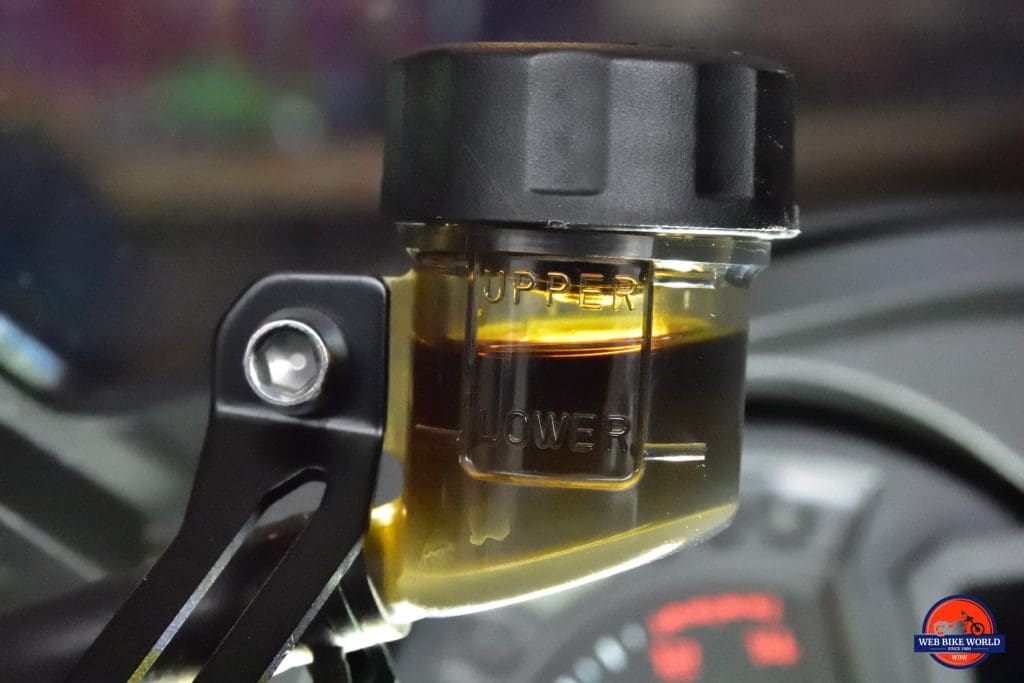 I did notice the clutch fluid darkening in the reservoir over time. Other owners on the H2SX Facebook forum did too and some went to the dealer to ask about it. It's not harmful and doesn't require changing until scheduled down the road according to Kawasaki. I've had no clutch issues of any kind.
Cold and Wet Riding
I rode it through torrential rain storms and even small hail for a week straight without any complaint.
The chain never needed adjustment through the first set of tires I wore off the bike in 5600 miles. I lubricated it often due to the amount of rain I rode through, but only cleaned it twice without consequence.
Two Up Riding
I hate to admit it, but I haven't had a passenger on the H2SX yet.
The bike has really well thought out passenger handles and even the rear seat seems decent, but without a passenger backrest, I wasn't comfortable having someone back there taking into account the wicked acceleration this bike has. I have full confidence a passenger would be fine on the bike and only mention this failure on my part in the interest of transparency.
Sorry, everyone.
Bridgestone Battlax Tires
The factory-equipped tires performed well in all conditions on the bike. They gripped the road as expected, but wore very weirdly as you can see in the photos.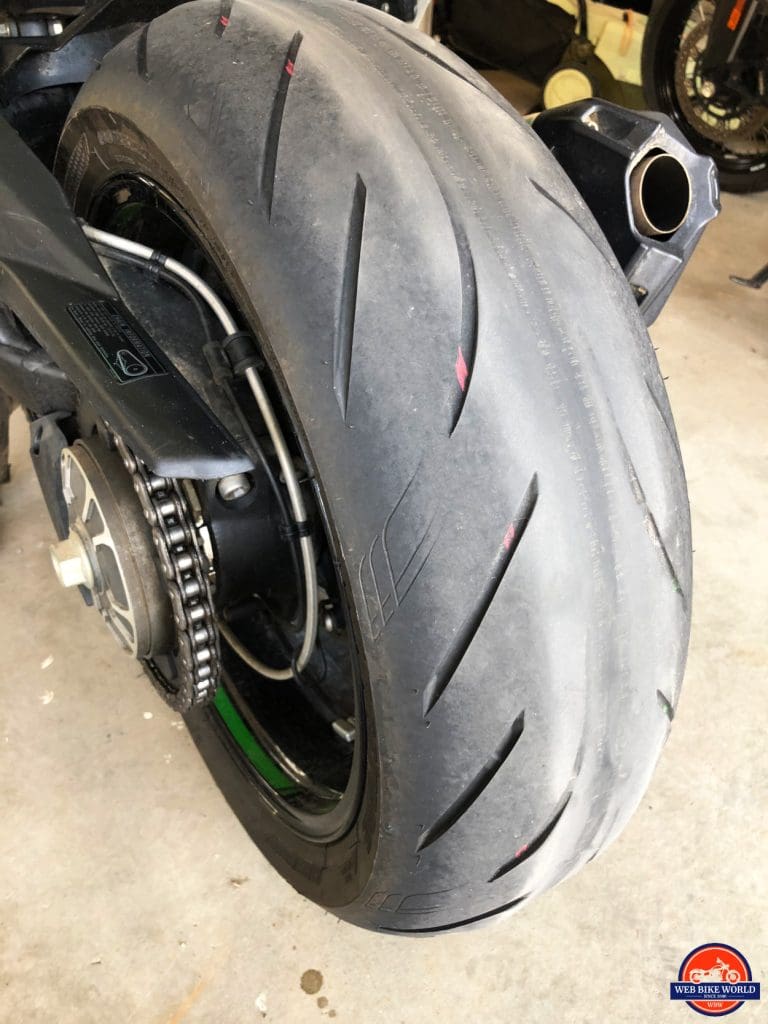 The center patch on the rear was noticeably flattening even after just the 600-mile break-in. I was concerned they wouldn't last through my trip to Dawson City and back so I left the bike in Medium power mode the whole time.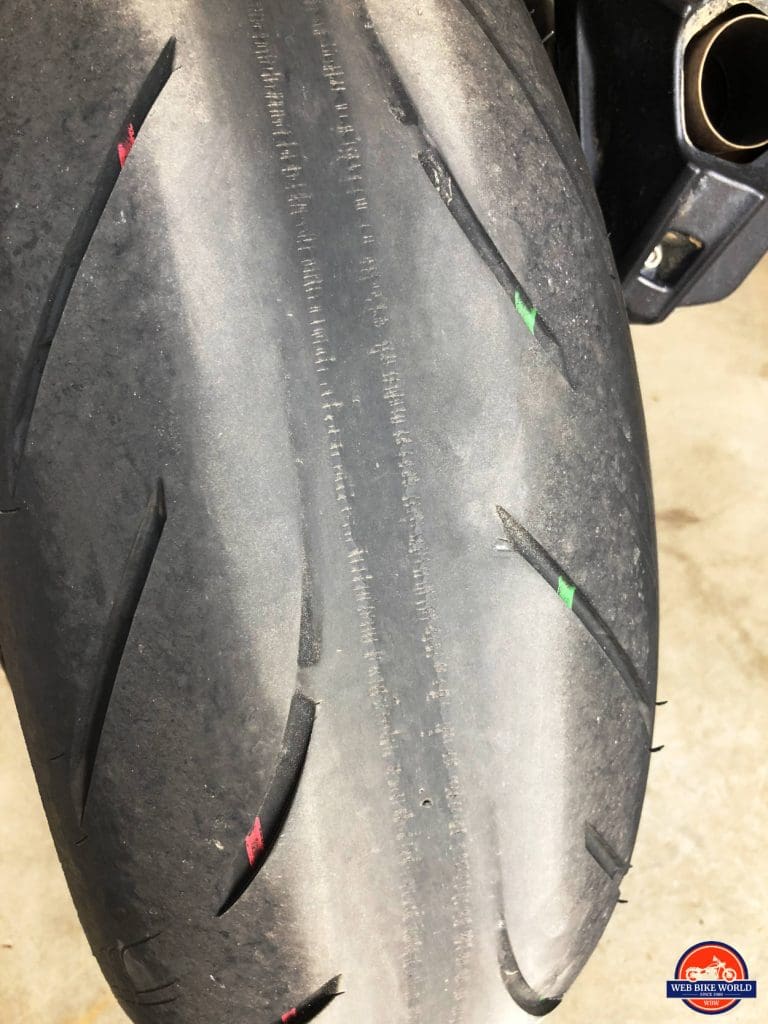 This was a good move since other owners were reporting wearing out rear tires in only 2500 miles and I had double that to cover on the trip. It lasted until I got home safely, but barely!
The front tire wore right down to the wear bars in 5600 miles on only the sides!
The center portion still had life left on it and I was irritated it didn't wear uniformly. This is the complete opposite of the rear which wore out in the center. Strange raised bands showed up in both tires along the left and right side of center at about the 2000 mile point and got more pronounced up until I replaced them with Michelin Road 5 tires.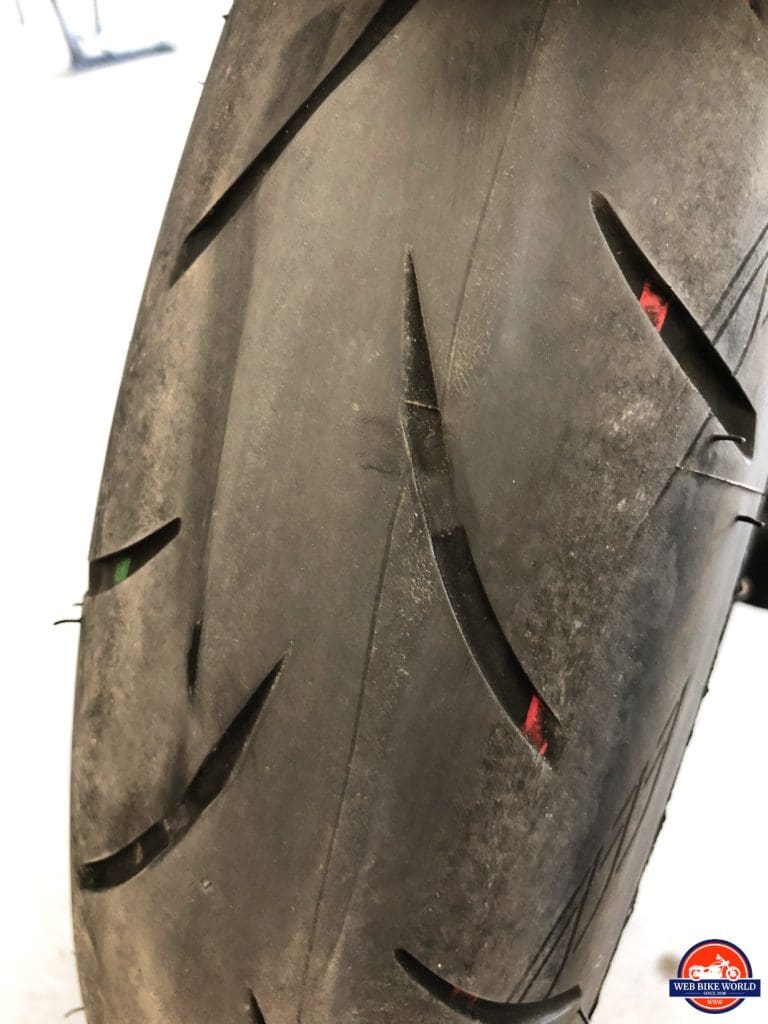 Compared to the Michelins, the Battlax tires were quite hard and transmitted a lot of vibration and shock from the road to my hands. I only realized this after switching to a much better tire in the Michelins.
Stay tuned for my separate review on those beauties.
Electronic Rider Aids
Kawasaki Corner Management Function (KCMF)
Kawasaki Traction Control (KTRC)
Kawasaki Launch Control Mode (KLCM)
Kawasaki Intelligent anti-lock Brake System (KIBS)
Kawasaki Engine Brake Control
Kawasaki Quick Shifter (KQS) (upshift & downshift)
Cruise Control
LED Cornering Lights
3 Power settings
Power Settings
Low, medium and full power settings can be selected with the push of a button on the H2SX handlebars.
Low is 50% of full, with the medium being 75%. Let me just say the difference that last 25% power makes between medium and full is astonishing.
This bike could conceivably be ridden by a confident new rider in low power mode and then grow with them over time to suit their evolving skillset as a rider.
Cornering LED Lights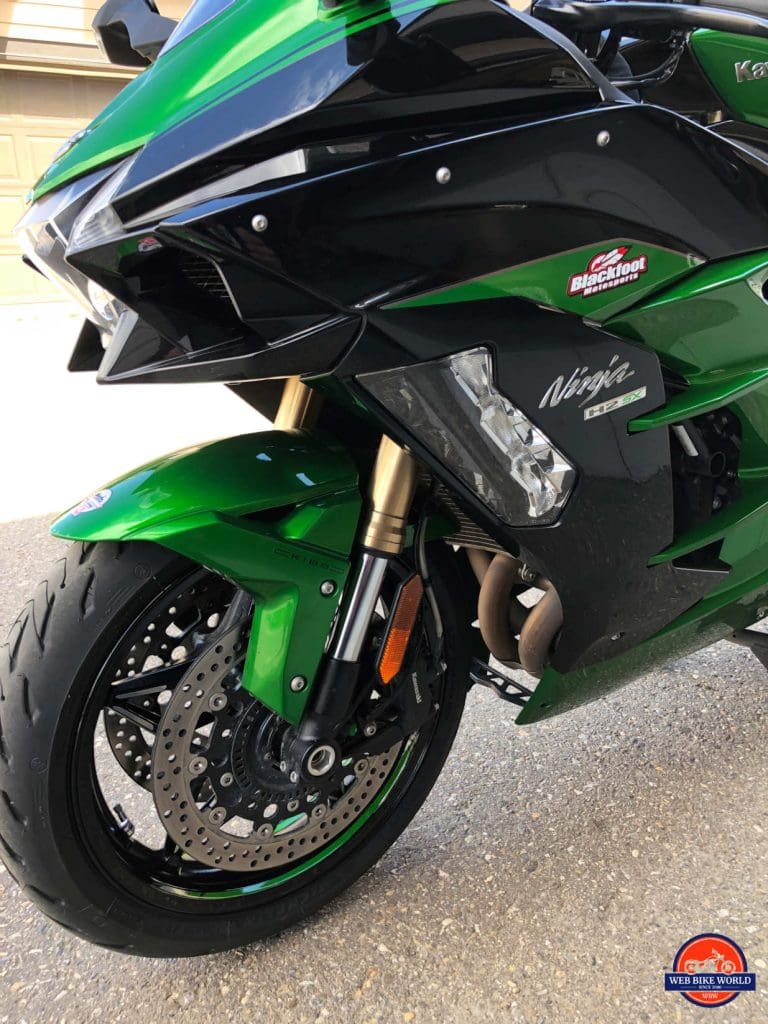 Three LED lights on each side come on as the bike is leaned over in a turn to help illuminate the road. It also impresses your friends riding in front of you on those rare occasions anyone will be in front of this low flying rocket ship of a motorcycle.
LED lighting all around on this bike is excellent. No visibility issues or burnt out bulbs to worry about.
Launch Control
The KLCM feature is for track use only according to the owner's manual and shouldn't be activated using the handlebar switches while out cruising the streets. *wink, wink, nudge*
Once activated you hold the throttle wide open and the bike will limit the revs until you let out the clutch for liftoff. The bike will maintain maximum traction and forward thrust achievable without raising the front wheel very much or spinning the rear tire.
Need I say more about this other than, it works and hold on reeeeeeally tight, because it's a wild ride?
Space Age Tech
Angle Sensors and Other Gizmos
The electronics package on this Ninja is one of the things setting it apart from its peers that are just as sporty and/or powerful.
The bike has inclinometers on it to track yaw, pitch and lean angles on six axes. It can show you these angles on the TFT display, but it's difficult to watch as you scrape your knee on the road through corners.
It keeps track of the maximum lean angle achieved like the high scores on an arcade game so you can brag about it to your friends. It uses this information to manage wheelie control (KEBC and KTRC working together), cornering braking ABS modulation (KIBS) and to trigger the cornering lights.
Engine Braking KEBC
Engine braking can be dialed back electronically along with the ABS and traction control if you don't care for such a safety net on the Ninja. The electronic wizardry is dazzling on the H2SX.
All this tech definitely made me a more confident and capable rider in the twisties and I managed a 38 degree lean as my highest measurement turning left according to the bike's display. You don't even realize all these safety features are working, you just feel that the bike can be pushed harder on roads which used to be challenging to ride on.
Braver riders have told me that the pegs start scraping dangerously around the 48-degree mark and the front wheel will start sliding out a bit.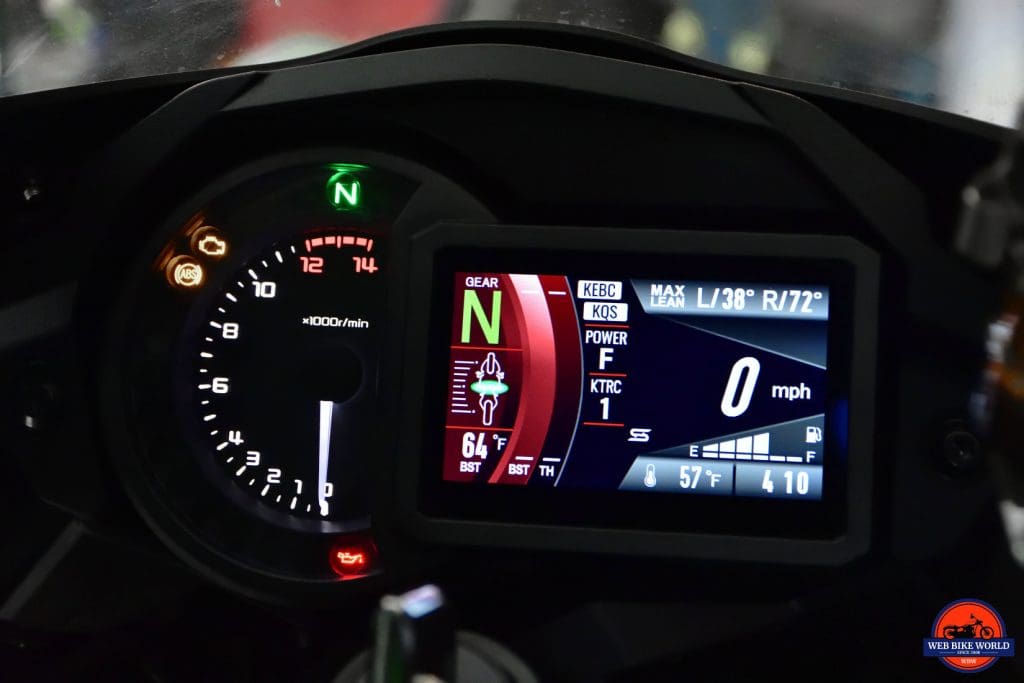 Good luck beating my high score of a 72-degree right side "lean".
It was accomplished when I had to lay my bike on the ground while fueling it at a remote gas station on the Cassiar highway. It was a rainy day and my grip wasn't good enough to get it back on the kickstand after the weight shifted on the uneven ground by the pumps. I had no choice at the time but to lean it all the way over away from me on the right side to the ground.
It was the gentlest of landings ever seen and nothing broke or even cracked, but the broken up asphalt corners put very ugly scratches on the fairing as you can see in the photo below. I've never been more upset than when I picked up that beautiful bike and spotted the results. Replacement ones aren't cheap either as you would expect totaling about $500 because of a careless moment on the uneven ground by a gas pump. It was just cosmetic trauma to the bike, but the mental toll on me was the real lasting pain.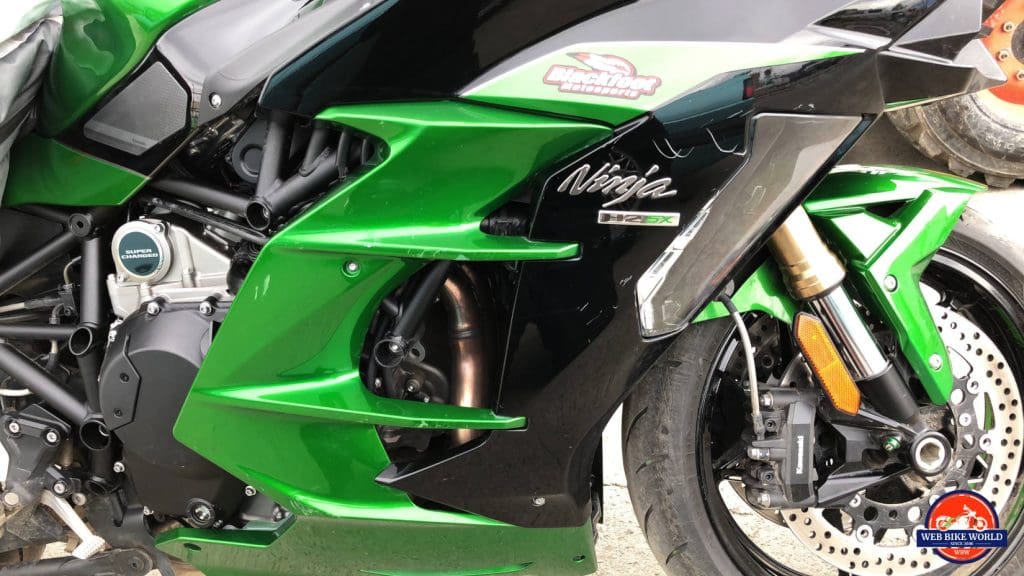 A photo taken of the damage found after I had to lay my Ninja on the ground
My Favorite Parts
Cruise Control
The cruise control on this bike is such a necessity when it comes to long-range riding.
I'm so glad Kawasaki had the wisdom to include it. I used the hell out of it gratefully which increased my riding time substantially. I easily can ride 700 miles per day thanks to it and my top day was close to 900 miles.
One complaint is that it did seem to forget what I set the cruise to when I cancel it by using the brake. I hit RESUME and nothing happens. I have to hit SET again for some reason I haven't quite sorted out.
Quick Shifter
The quick shifter (KQS) is my absolute favorite feature.
KQS combined with the awesome horsepower and torque enable this bike to accelerate like few others can. I don't care how quick you think you are at shifting manually, nobody is faster than the KQS clutchless system.
At first, I kept trying to help the computer by rolling off the throttle when upshifting, but that stops it from working. Once I realized holding the throttle wide open and just banging the shifter with my foot upwards was the way to go I was FLYING!
The power doesn't drop off at all between gears doing this and the bike doesn't lurch either. It's the closest thing to a DCT or fully automatic bike around. KQS doesn't function below 2500 rpm.
Downshifting
Downshifting without the clutch is a little different and took a while to get just right. You can downshift any time using KQS but the bike will be unhappy if the revs are too high and lurch roughly in the lower gears. The bike will tell you when you're doing it right by shifting down just as smoothly as up if you let the revs come down before trying.
Transmission
The transmission is very smooth other than when it's shifted into first gear from neutral for some reason. It bangs loudly and the bike jumps, quite a bit like most Harley Davidson bikes do.
The rest of the shifts come as smoothly as any bike I've ridden.
Heated Grips
Unlike the factory heated grips on my KTM 1190 Adventure the factory heated grips on the H2SX really get hot. There are three different settings to suit the desired level of warmth.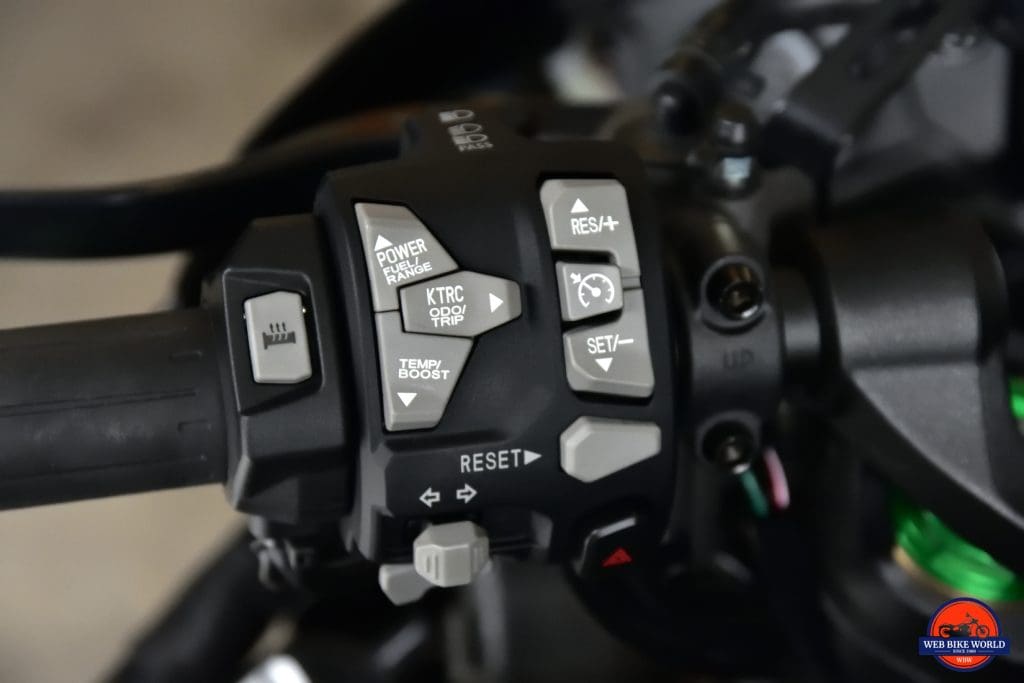 I used them a lot on my ride to Dawson City and this feature more than any other made the trip enjoyable despite the heavy rain and temperatures around freezing.
Display Unit
The gauges on the H2SX SE are clear, easy to read and navigate using the switches on the handlebars.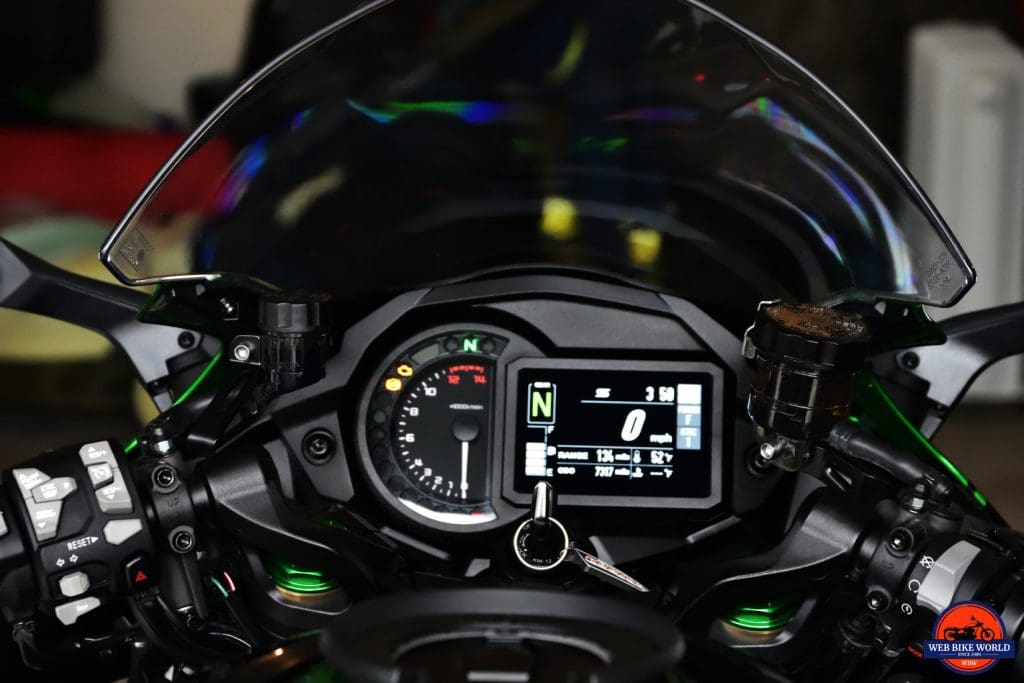 I especially enjoy how when you turn the key on the H2 symbol appears briefly as if to say, you're a member of this exclusive society. When you shut the key off the screen flashes "Kawasaki" and then wipes it off the screen before powering down.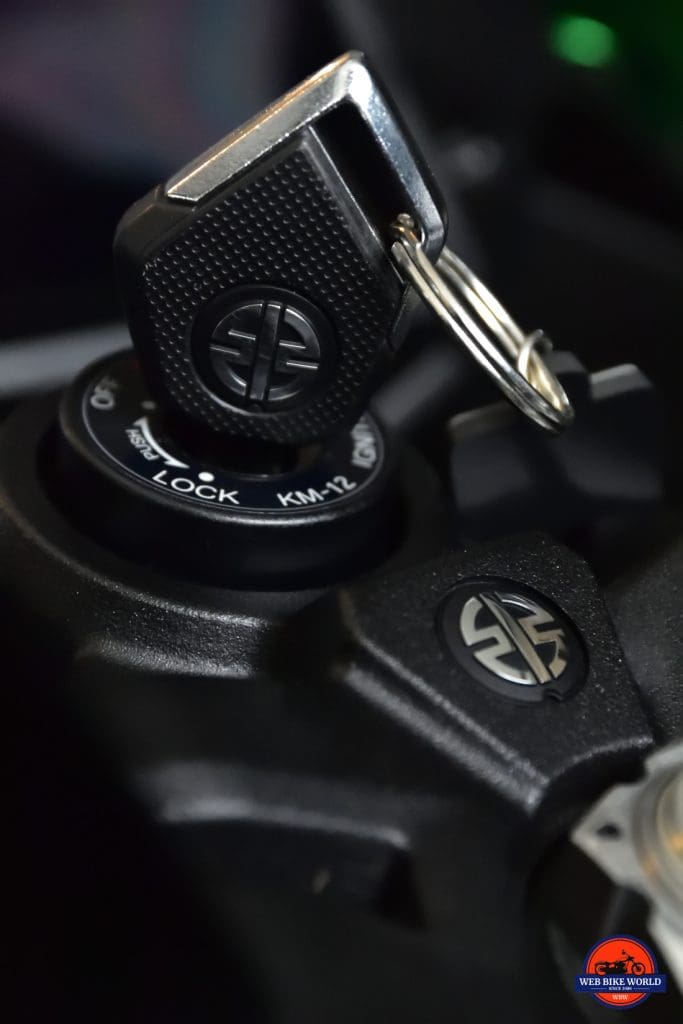 The Tach and TFT
The tachometer is a standard analog needle that lights up clearly in the dark with warning lights surrounding it on the left side of the dash. It is rimmed by indicator lights for cruise control, high beam etc.
The bright TFT display on the right is big enough to read at any speed and available in four different incarnations including reversing the black background with white numbers to a white background/black numbers set up as is seen below.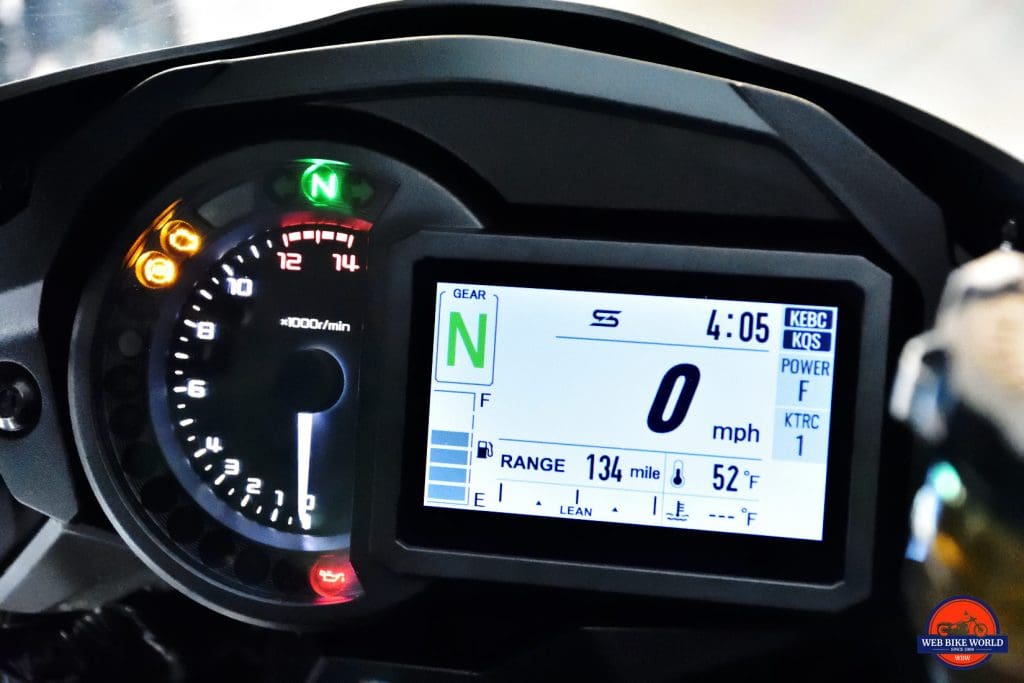 Display Modes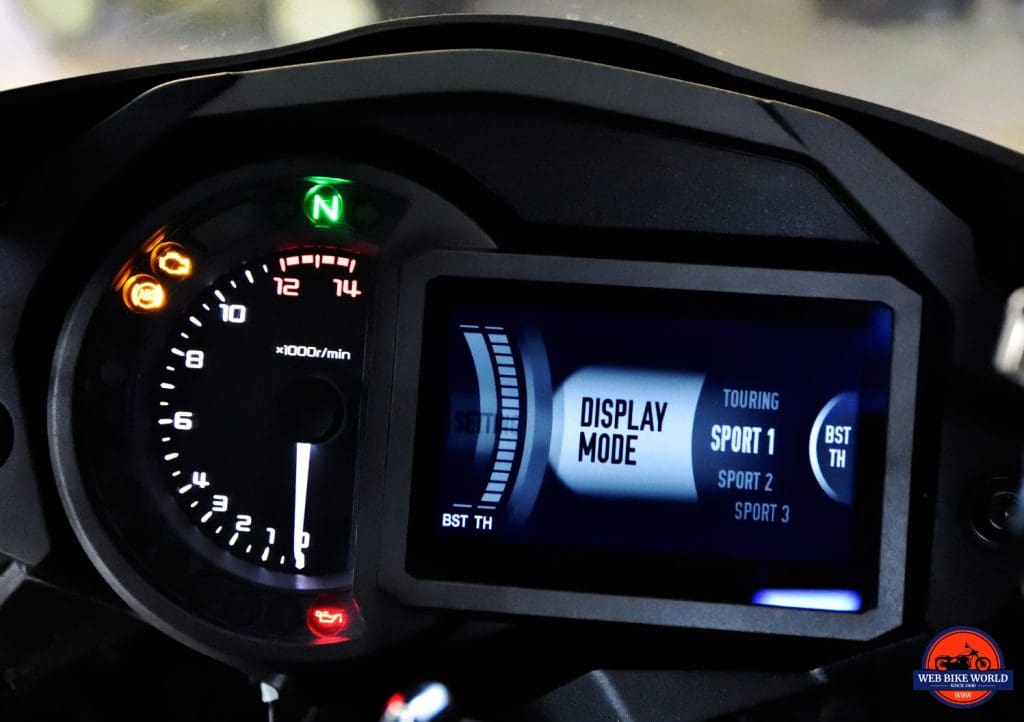 Touring and three-sport display settings give you a myriad of different information you would want and many you wouldn't expect. I tend to use the touring one the most because I like to see the range left on the bike the most and it isn't available in any of the sport modes, unfortunately.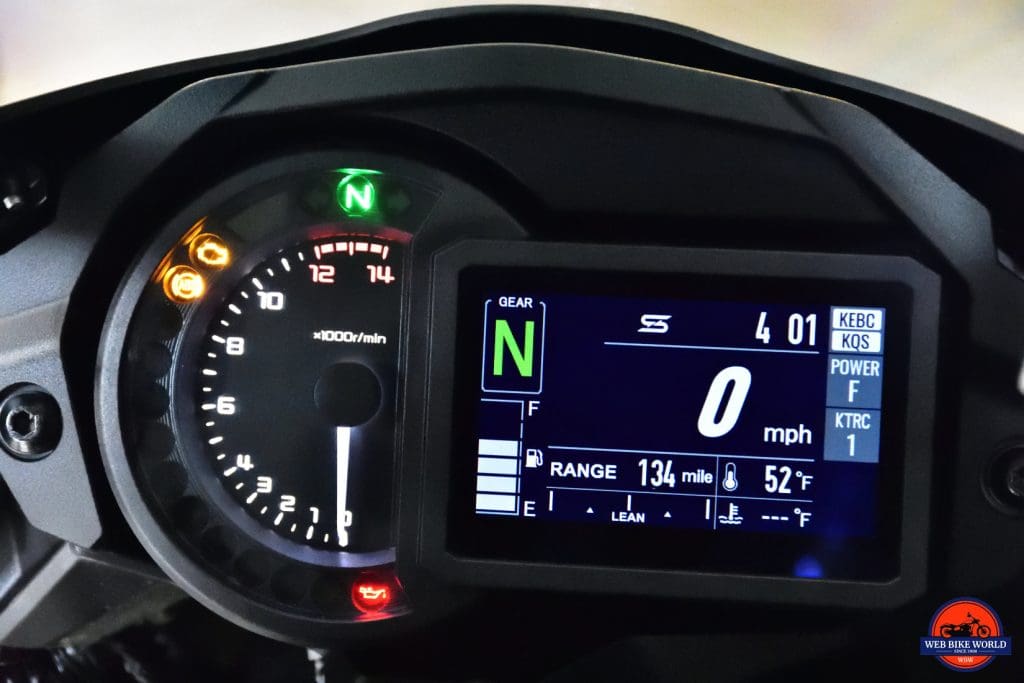 Touring Display Mode
I like to keep the lean angle indicator open just for fun even though I can't see it while cornering hard.
The sport modes show the front to back or "yaw" of the bike which is interesting but useless to me, however I do enjoy seeing the boost bar spike when accelerating hard. It also can show you the amount of throttle or braking force being requested by your right hand on a graph next to the boost one. I can't say I've ever heard of that being shown on a monitor before.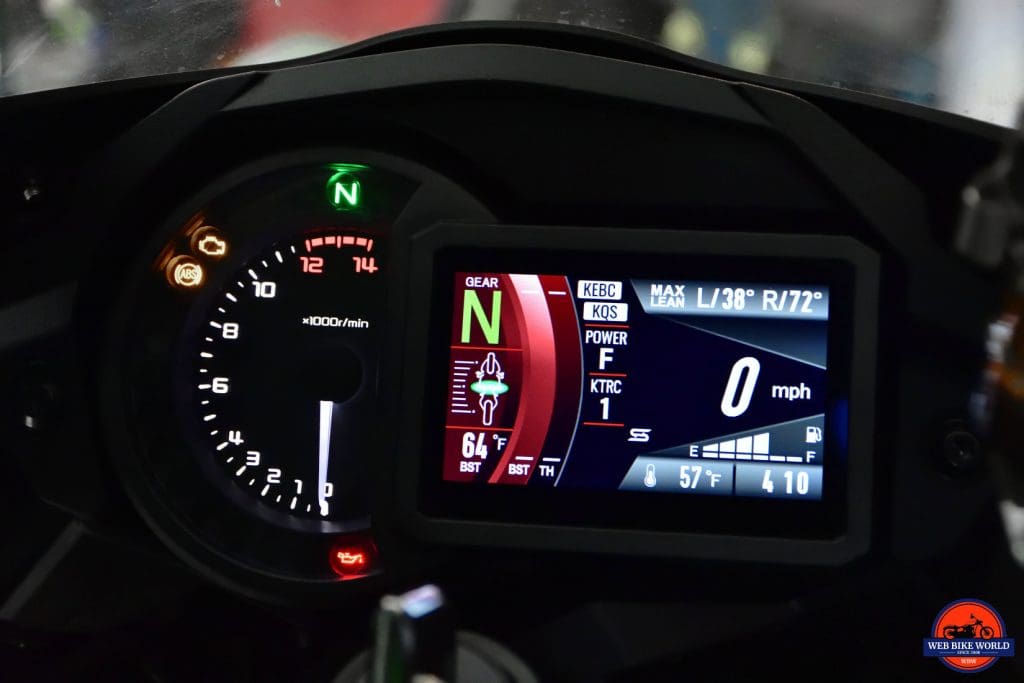 Sport 1 Mode Display
Center Stand
The SE model comes standard with a center stand. It adds weight to the bike, but on the other hand, makes cleaning and lubing the chain, storing or working on the bike so much better.
It has never dragged while cornering thankfully and has been trouble free as with everything else on the Ninja.
Tank Protector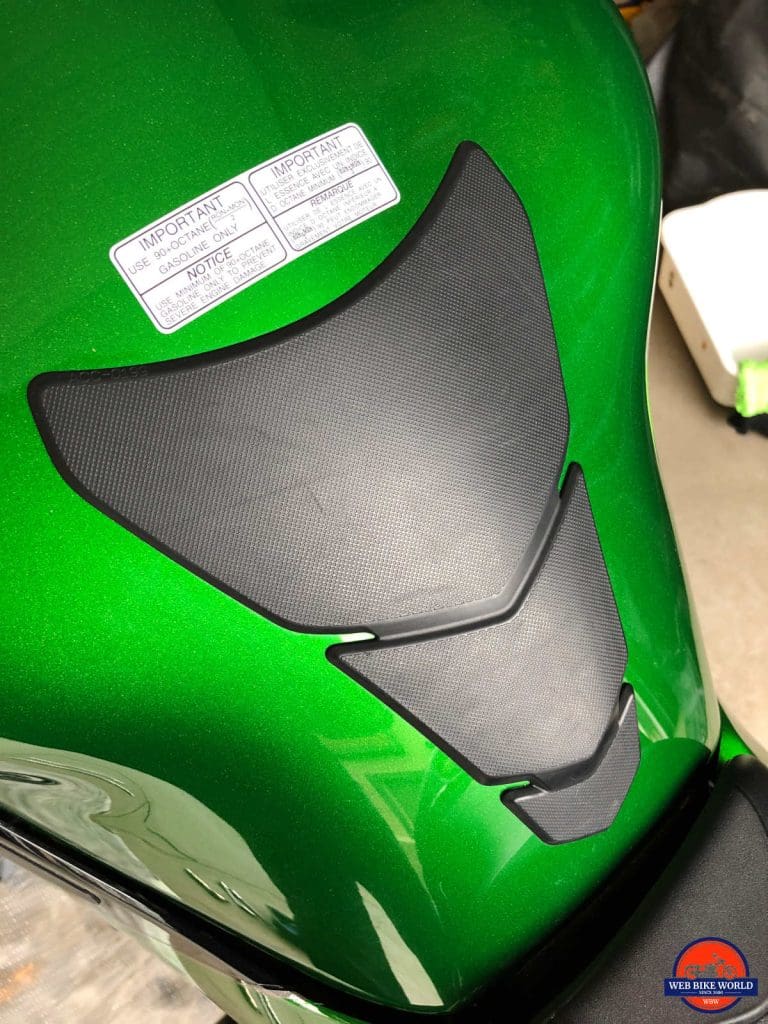 The plastic on the gas tank isn't the most beautiful paint protector I've ever come across, but I can tell you it sure works. There isn't one scratch on the gas tank paint, but there are on the plastic protector where I obviously leaned up against it a lot.
Comfort and Ergonomics
Seating Position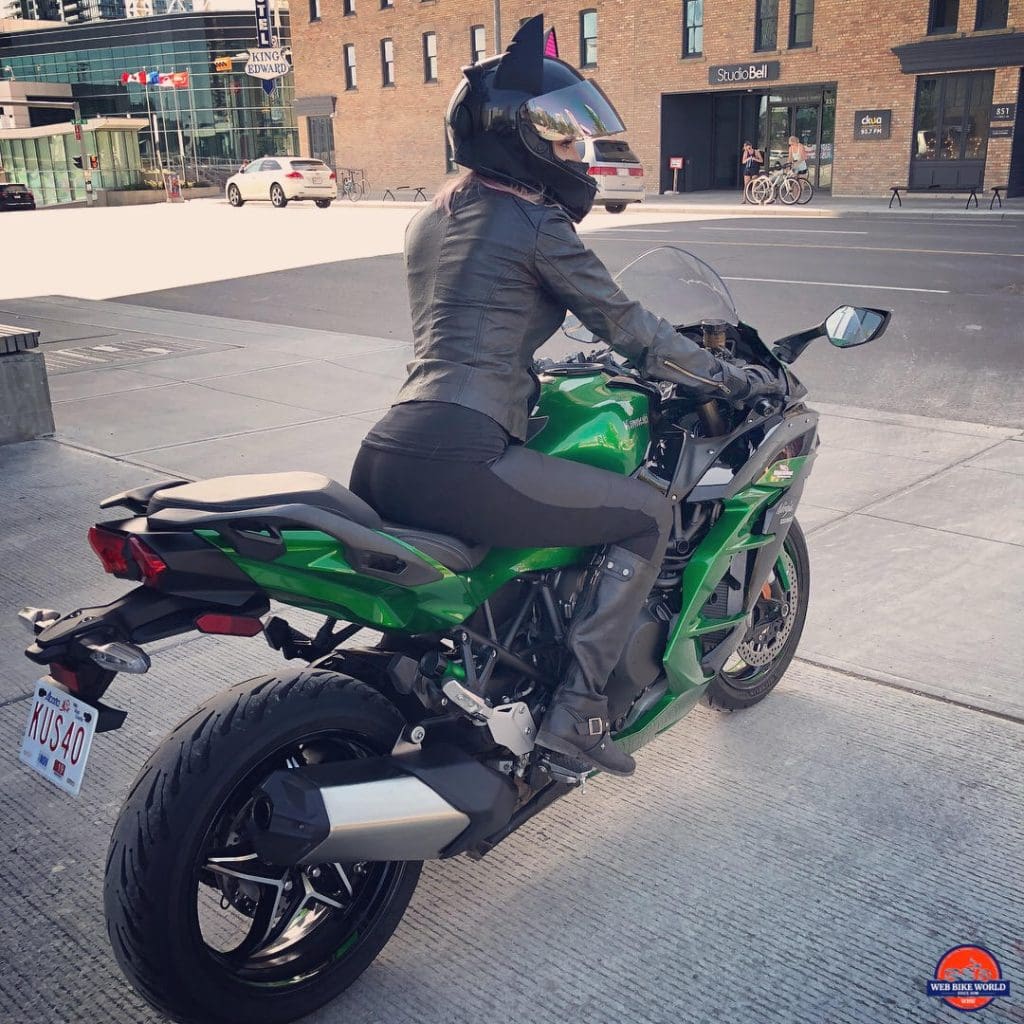 The riding position on this bike isn't what might be expected. I was quite surprised to find the seat is firm enough to ride the bike aggressively while also being plush enough to last 700 miles in a day without being unable to walk the next morning.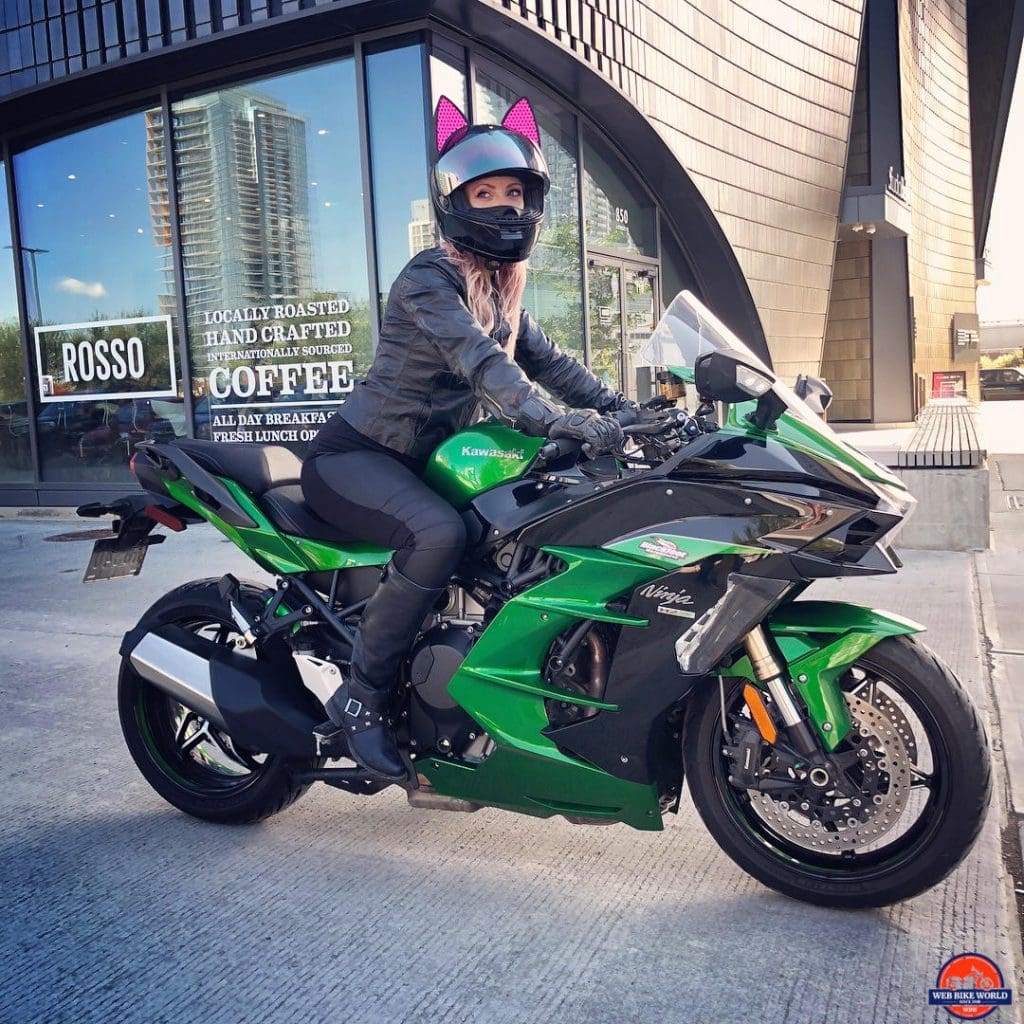 If you slide forward in the seat up to the fuel tank you'll be sitting nearly straight up, but the option is there to slide all the way back in the saddle and have a good lean too.
The Seat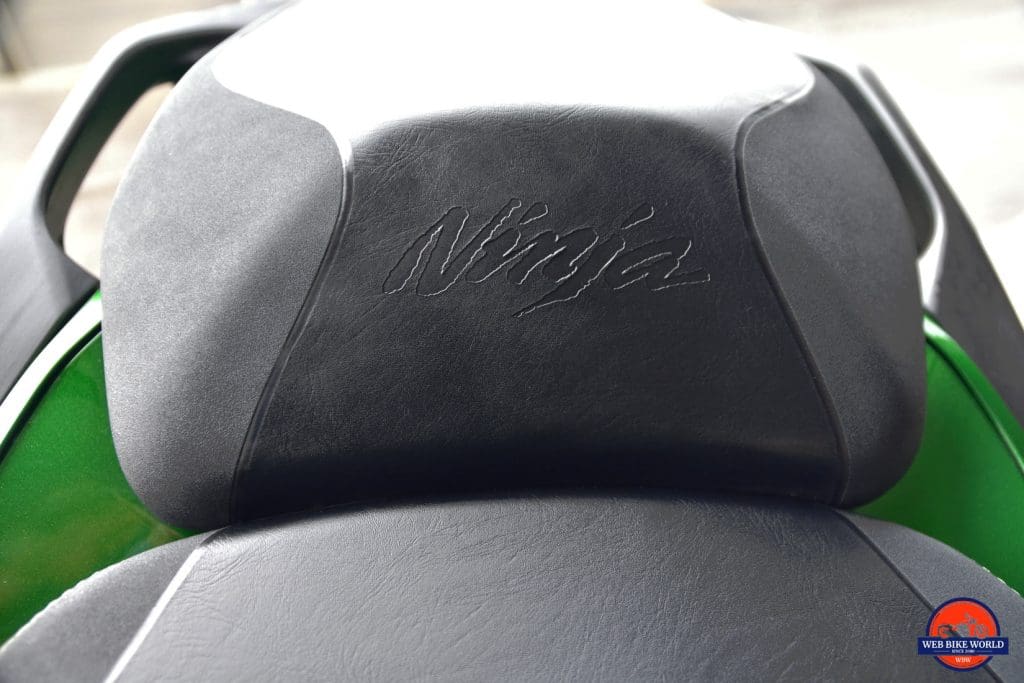 The seat on this bike is certainly not a Corbin, but it's fairly plush compared to any sport bike seat and many adventure touring seats. It falls short when compared to bona fide touring bikes like the big BMW Ks and Goldwings.
I wouldn't feel honest to bestow upon it the word comfortable.
Bearable is the word I want to use.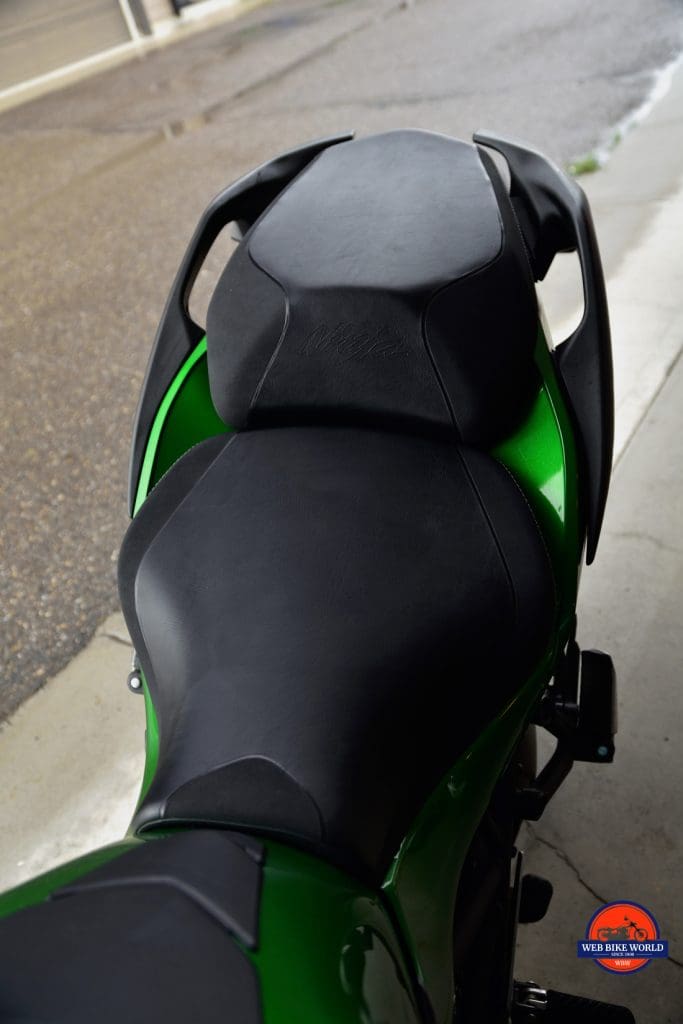 I installed a medium cruiser Airhawk seat cover for my long trip up north and was grateful for it.
It wasn't totally necessary though, because I just did a 4 day trip without the Airhawk with no ill effects. It definitely could benefit from a gel insert or flattening out a bit more on the rear section, but it's not hard to live with right from the factory on long rides.
Wind Protection
The front fairing and windshield cut a swath through the wind in such a brilliant way I find the majority of the wind misses my body, including my legs.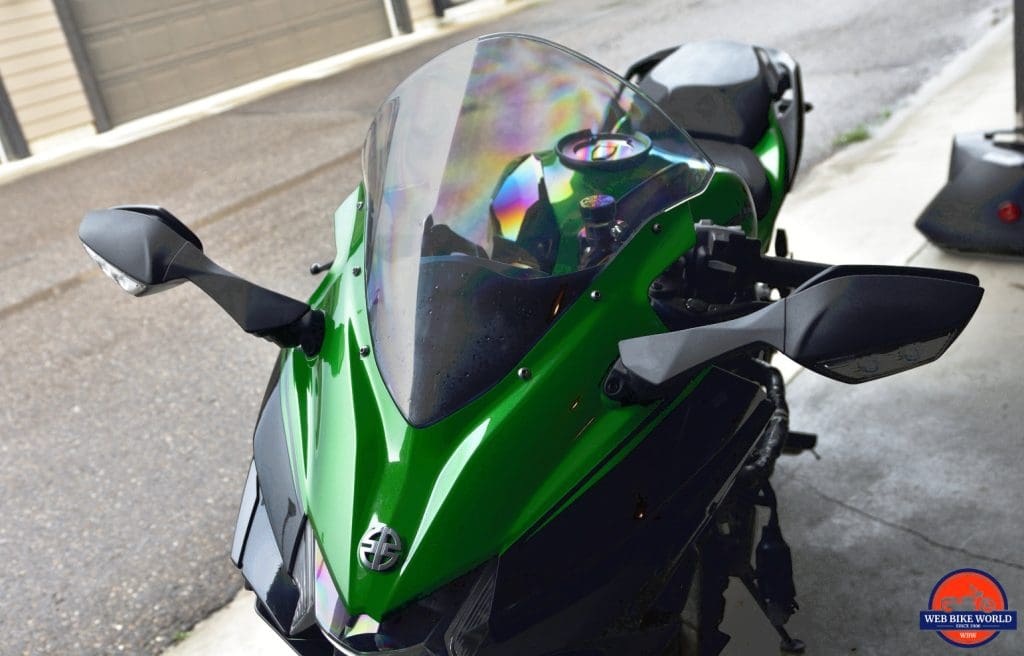 The pattern of insect bodies on my riding gear after the long ride home from the north indicated the wind hitting just the outside edge of my shoulders, my helmet, and my feet. There really is plenty of protection afforded the rider, again showing how suitable this bike is for long distance touring.
Mirrors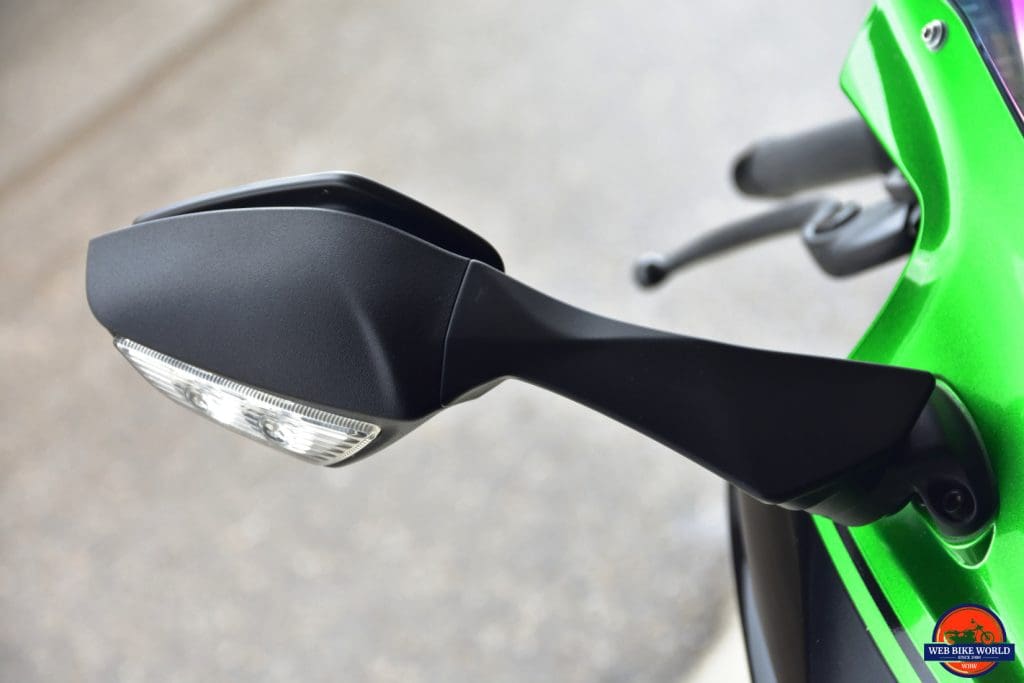 I appreciate how good the mirrors are when it comes to vibration at any speed. Never did they distort the view behind me due to vibration. I love the integrated turn signals and the fact they fold in tight to the fairing if need be.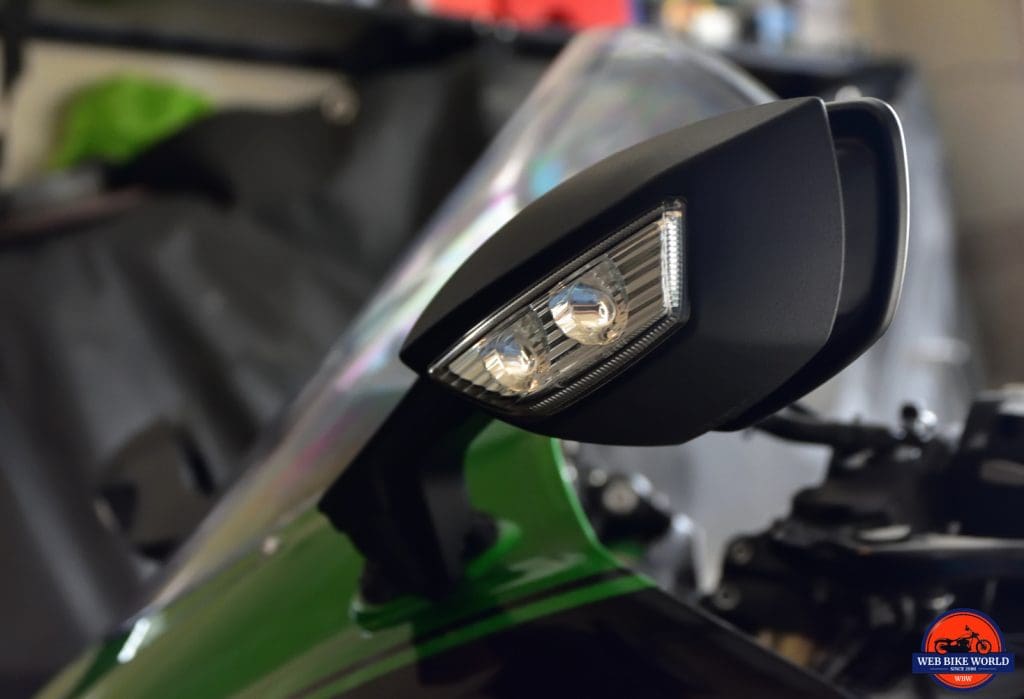 When compared to other excellent sport touring bikes (like the Ducati SuperSport for example) where the mirrors are completely unusable at highway speed due to vibration, this Ninja is so much better. It's the little things like this that reflect the care and attention built into the H2 line of motorcycles.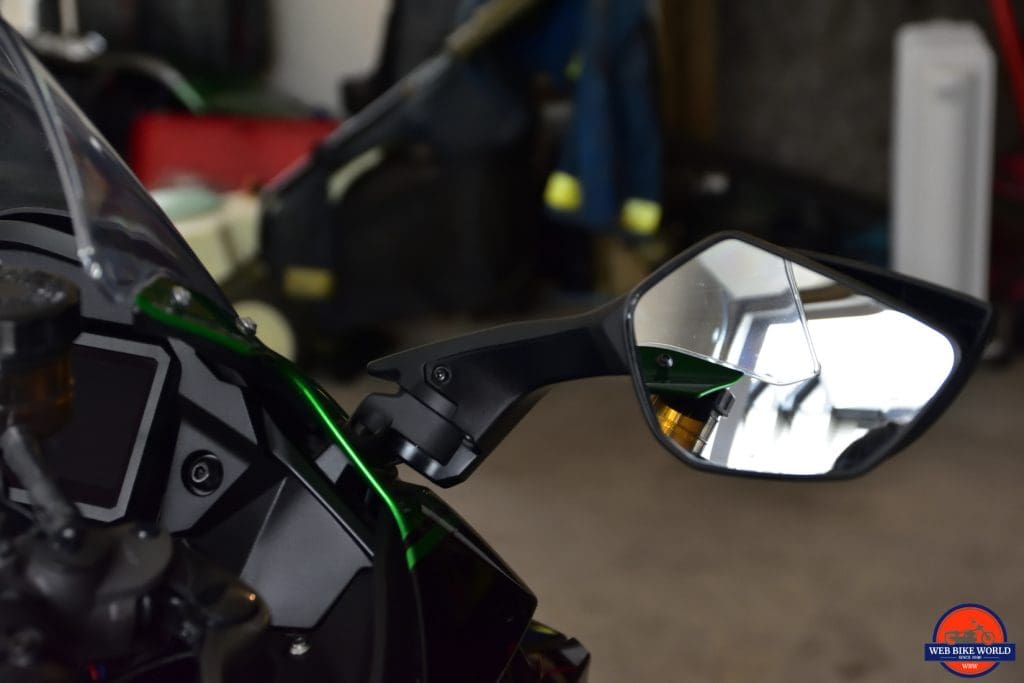 Handling And Performance
Front Suspension / Wheel Travel
With 43mm inverted forks equipped with rebound and compression damping, spring preload adjustability and top-out springs yielding 4.7 inches of travel I never bottomed out the front end even going through some deep holes in construction zones. I never bothered trying to adjust it for that reason. My 180 lb carcass must be what it was set up for.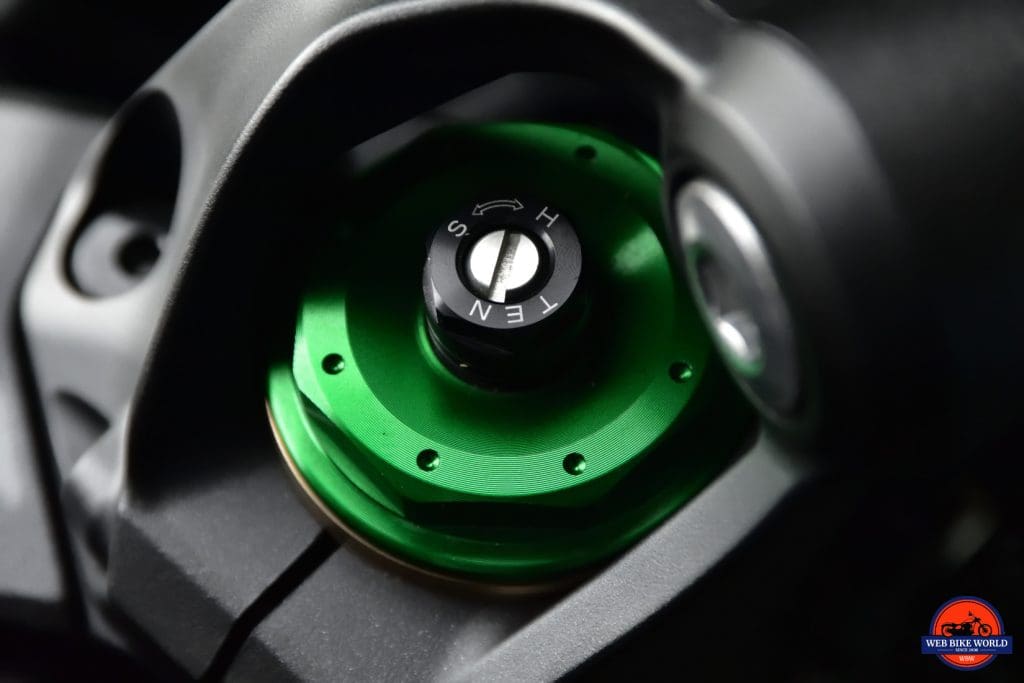 Rear Suspension / Wheel Travel
A new Uni-Trak®, gas-charged shock with piggyback reservoir, compression, rebound damping, spring preload adjustability and top-out spring yield 5.5 inches of travel in the rear.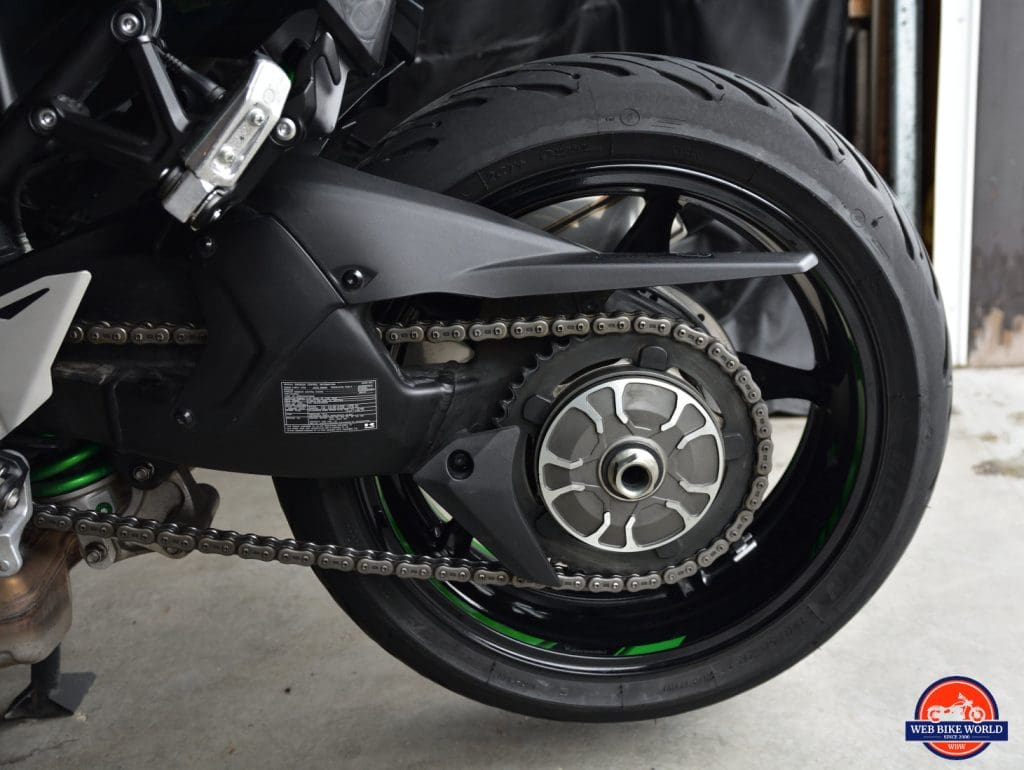 I did monkey around with the manual preload adjuster with my luggage on the bike for my ride north with satisfactory results. I softened it up for regular riding. I find it to be unnoticeable when I ride which in my books means it's right where it should be.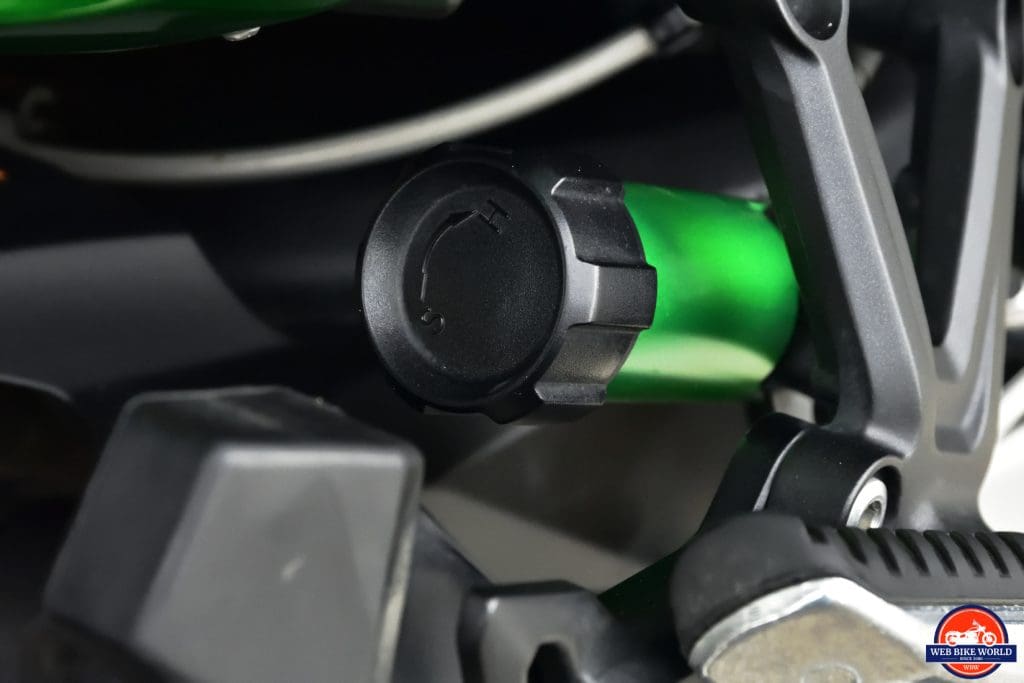 Brakes
Radial mounted, 4-piston monobloc calipers and dual semi-floating 320mm discs are the front brakes with opposed 2-piston calipers and a single 250mm disc in back.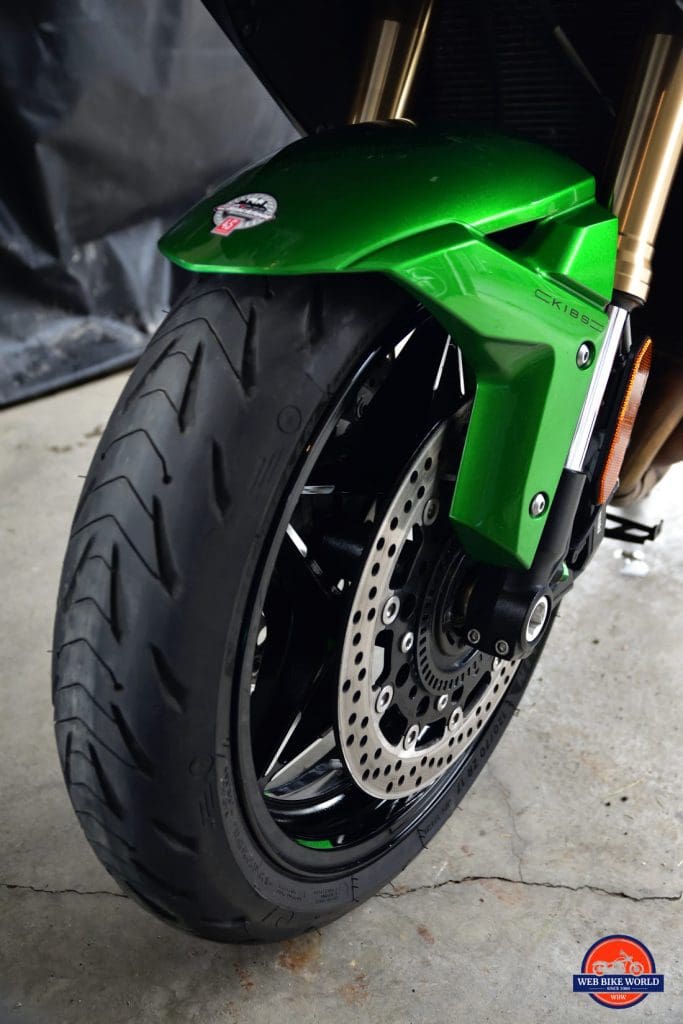 Once they seated I liked the brakes a lot. My only complaint is that some fine gravel got into the front brakes while I rode through so many construction zones up north and now I have a slight squeak happening when I roll up to a stop light and apply the brakes lightly.
The brakes worked well while attempting trail braking in corners, but admit I'm not a professional racer who has mastered the technique, just an average guy on an above average motorcycle.
I performed only one emergency stop over the nearly 8000 miles logged on it now, and haven't noticed the ABS kick in even once yet. It stops on a dime.
Trellis Frame
Made out of high-tensile steel with a very sexy single-sided rear swingarm the bike feels stiff and strong while out on the road at any speed.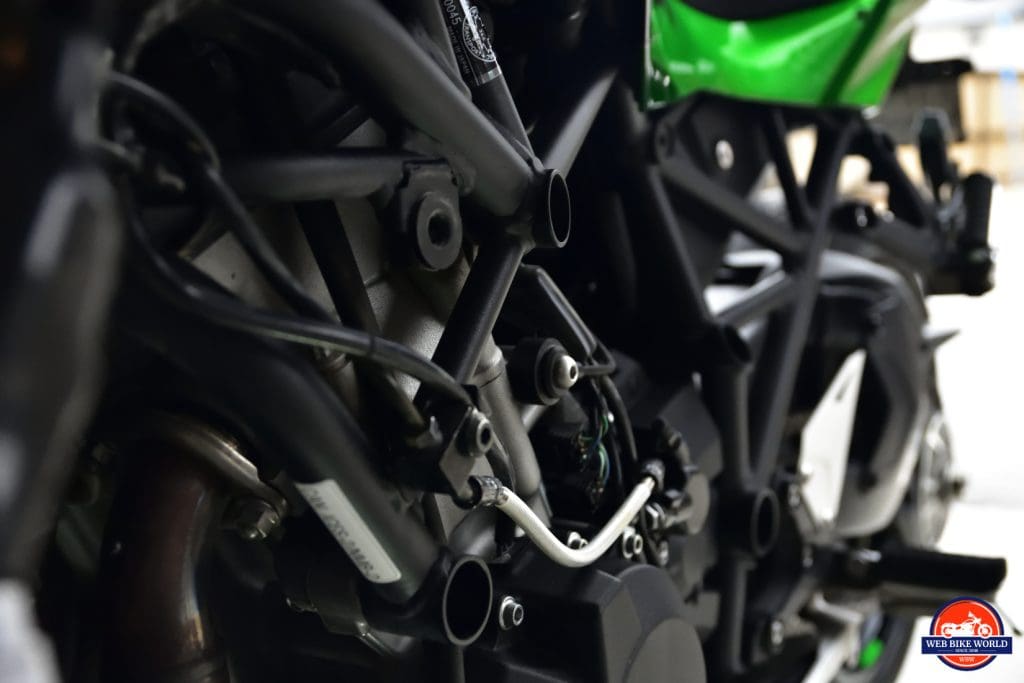 The hollow frame saves some weight which is good since the Ninja is hefty at 573 lbs wet. It's heavy but not too heavy to throw around. Overall I feel like it handles as a much smaller bike would with big bike power and acceleration.
The frame on the H2SX is thicker and stronger than the one on the H2 to handle luggage and a passenger.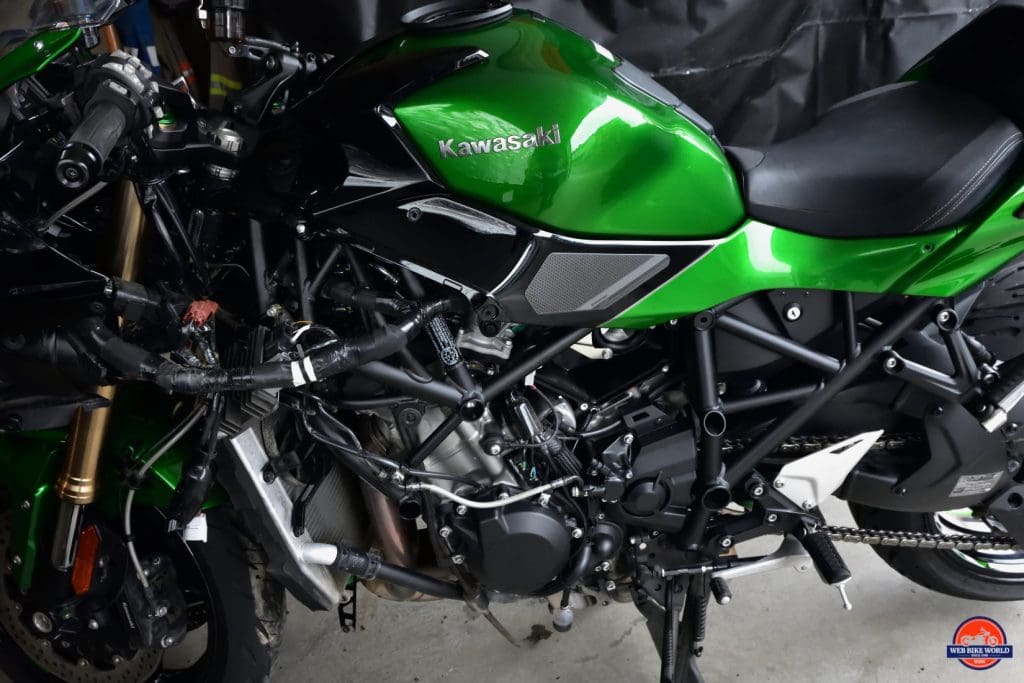 Seat Height
The seat is quite high by sport touring bike standards at 32.9 inches and a couple of times I've found it trying to tip over on me when I've been careless with my foot placement at red lights or maneuvering in a parking lot.
For someone taller than my 5'7" frame it would be a walk in the park, but us dwarves with 27-inch inseams will always labor harder with any bike higher than 31 inches.
Fuel Capacity and Economy
The tank holds a paltry 5.0 gallons which may seem to be a problem when it comes to touring demands for extended range before refueling.
It's not at all thanks to the supercharged engine!
It's sounds made up but it's the truth. Making your bike faster by boosting the intake air also makes it more fuel efficient. Feel free to use that argument on your spouse to justify turning your car or bike into a hot rod if you like. You're welcome!
On my big ride to Dawson City I was traveling up with a 2016 Triumph Tiger 800 most of the way and I never ran out of gas before it did once. Typically when it ran out I still had 30 miles left or more from what the display read. Very impressive I think!
Even driving like the maniac I am at times on this thoroughbred, my lifetime fuel efficiency on the bike sits close to 50 mpg! This makes me wonder why more bikes aren't supercharged seeing how I can get 250 miles out of it if I drive like a rational human being.
The answer has to do with dollars and cents. A replacement supercharger for the H2SX comes in at roughly $2800.
Touring Luggage Complications
Kawasaki Canada was good enough to supply me with a set of factory hard bags for my testing along with the One Key System kit for them.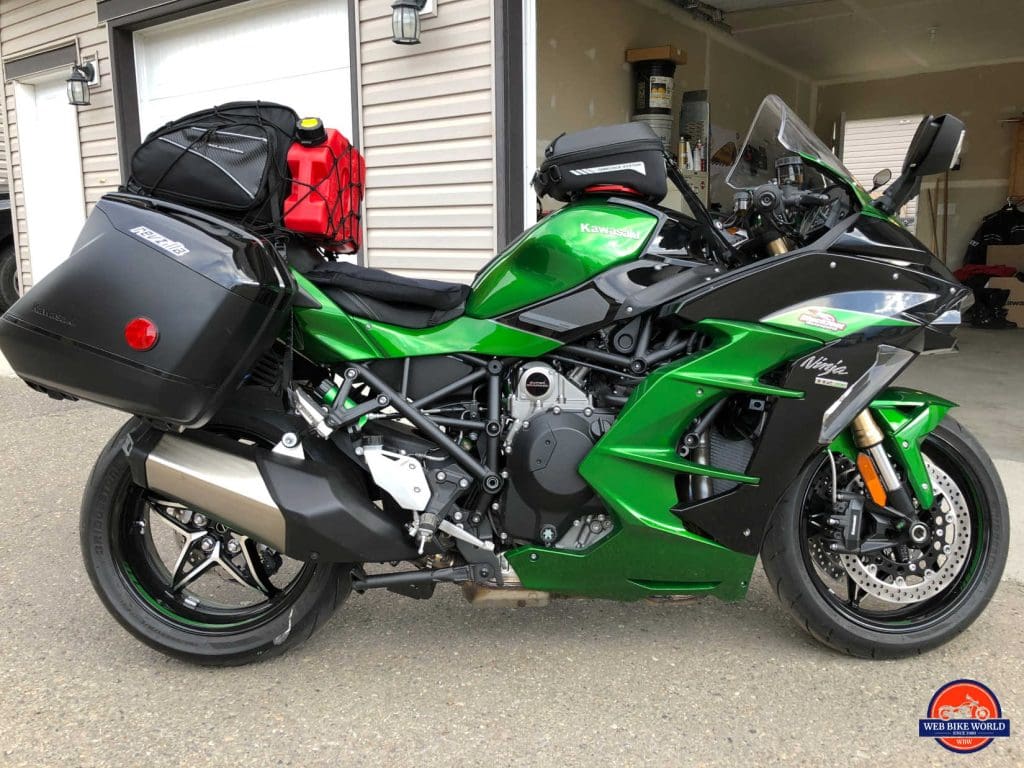 Kawasaki One Key System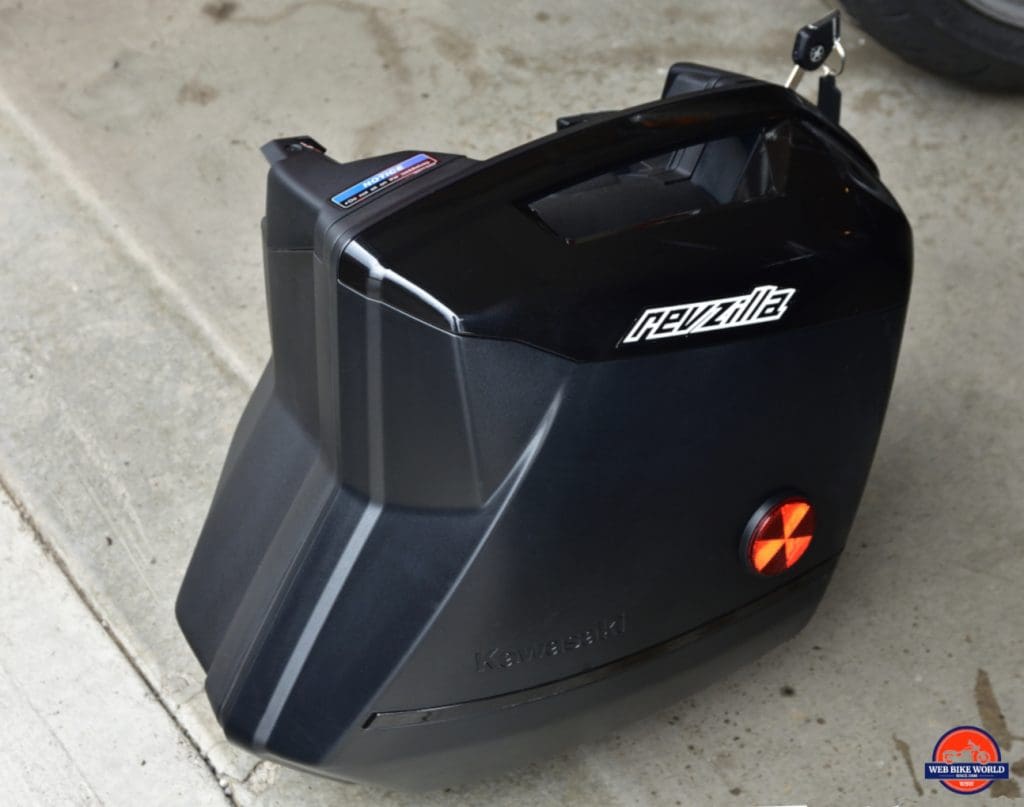 The Kawasaki One Key System costs $54.95 and is well worth it to program the locks on the luggage to work with the ignition key. It wasn't difficult to install or program using small metal gates that insert into the lock's tumbler. All told it took me about an hour and a half to install the mounts for the luggage on the bike and program the One Key System.
Kawasaki QR Luggage Set
The Kawasaki KQR hard bags (Kawasaki Quick Release) for this bike are the same ones used on the Versys 1000, so they're proven and reliable, but how will they fare on this lightning bolt of a bike you may ask?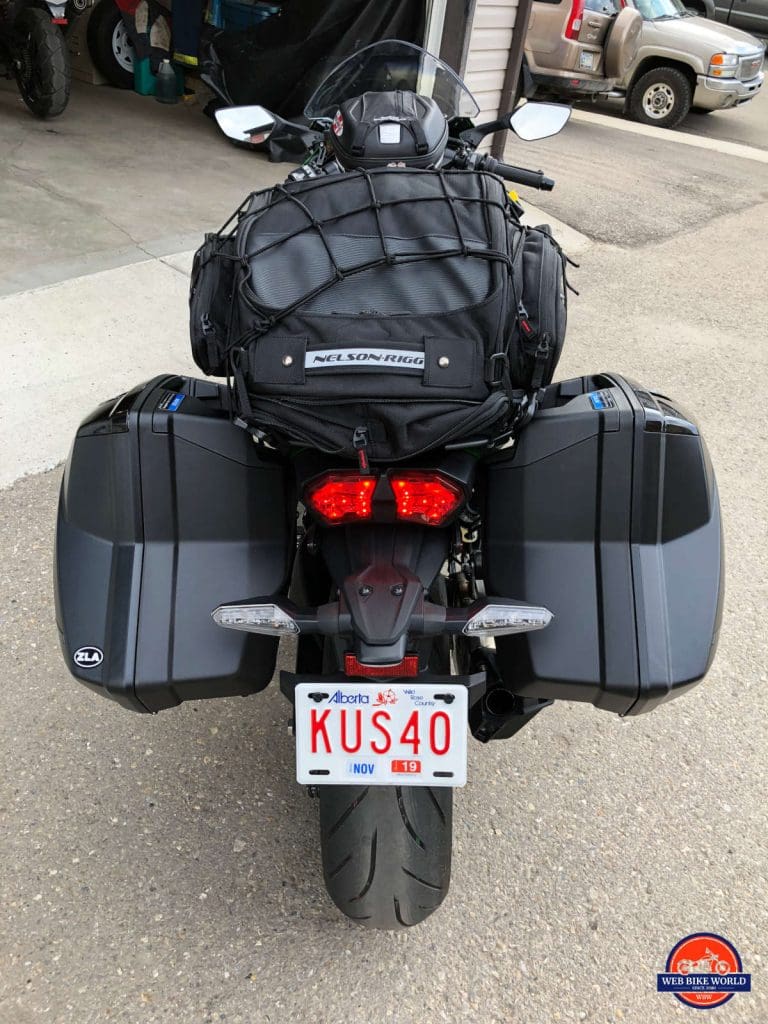 These bags are a joy to use because they come off or go on the bike in seconds. They mount to the existing passenger grab handles and an easily installed lower bracket that comes in the kit.
While all my friends were still fiddling with their bike luggage I was waiting patiently to leave every time. When checking in or out of a hotel I just treated the bags like suitcases… covered in bug guts suitcases that is.
No Leaks
I rode through torrential rain several times for days and every temperature imaginable with nothing ever getting through the seal on the bags. Not even dust.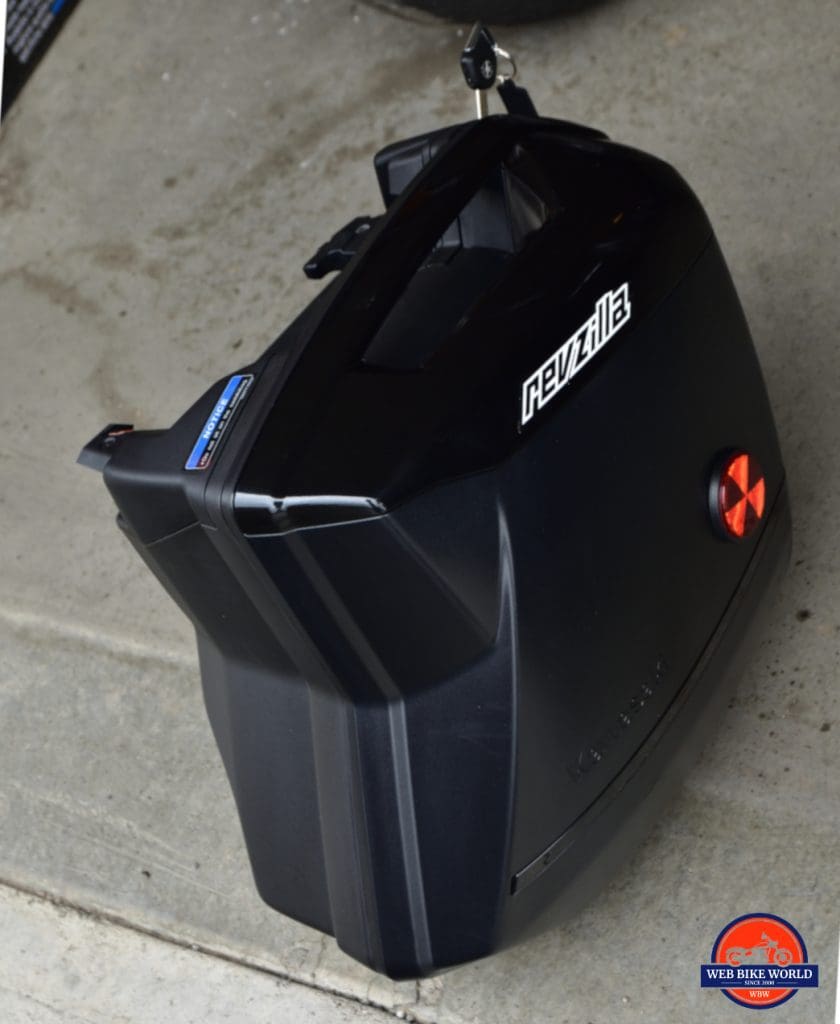 They hold 28L of whatever you like and have an elastic inside to separate it into two compartments. An optional inner bag is available if you want to further separate things, but I think this is unnecessary.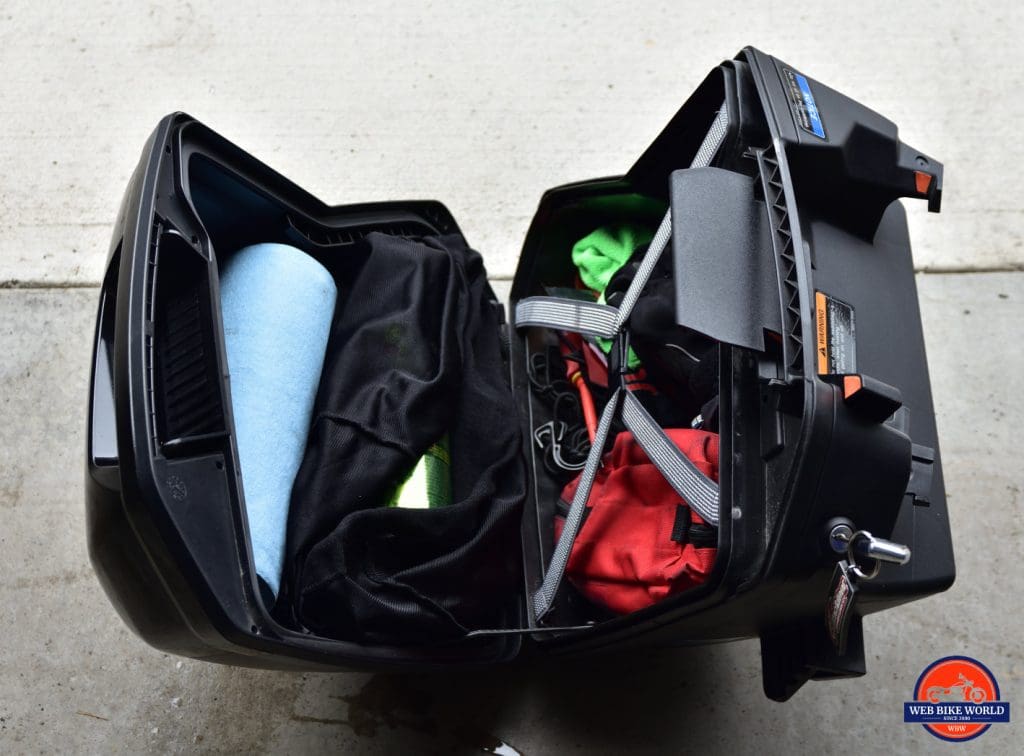 I managed to carry all my compact camping gear in the right side bag for my trip north. A tent, hatchet, jetboil stove with fuel, mini air compressor, first aid kit, a pair of running shoes, lighter, Thermarest bedroll and I may have been able to get my sleeping bag in there if I had omitted the shoes and used a compression sack.
Do Not Exceed Warnings
Warning stickers on the luggage advised not to put more than 12 lbs of gear in each side or exceed 80 mph. I grossly exceeded both those limits without repercussions… on many occasions.
Tough Luggage
I already mentioned that my Ninja tipped over on its side at a gas station thanks to extremely uneven asphalt and mud 2 inches deep. The right side luggage took the brunt of the impact and was thoroughly scratched up as a result, but that was the extent of the damage to it. It protected all the contents, stayed attached to the bike solidly and didn't leak.
This is really great stuff if not a little pricey. Including all the mounting hardware and One Key System, you'll need $1000, but it's worth it. The covers on top of the luggage can be color matched green or black. I ended up with black caps because no green ones were available before I left on my trip.
I actually now prefer the black over the green.
Luggage Shortcomings
It's disappointing there's no tank bag or top box/tour pack to fit this bike from Kawasaki available. What a huge oversight on what is most definitely the best high speed touring bike available!
Furthermore, why isn't at least the available luggage included with the bike as with the Versys 1000? The price tag on the H2SX SE is high enough already without taking on another $1000 for only side bags.
GIVI and the Internet to the Rescue
The parts people at my dealership were no help in sourcing either of these necessary items. Out of necessity, I did the only thing I could and turned to the wisdom of the world wide web.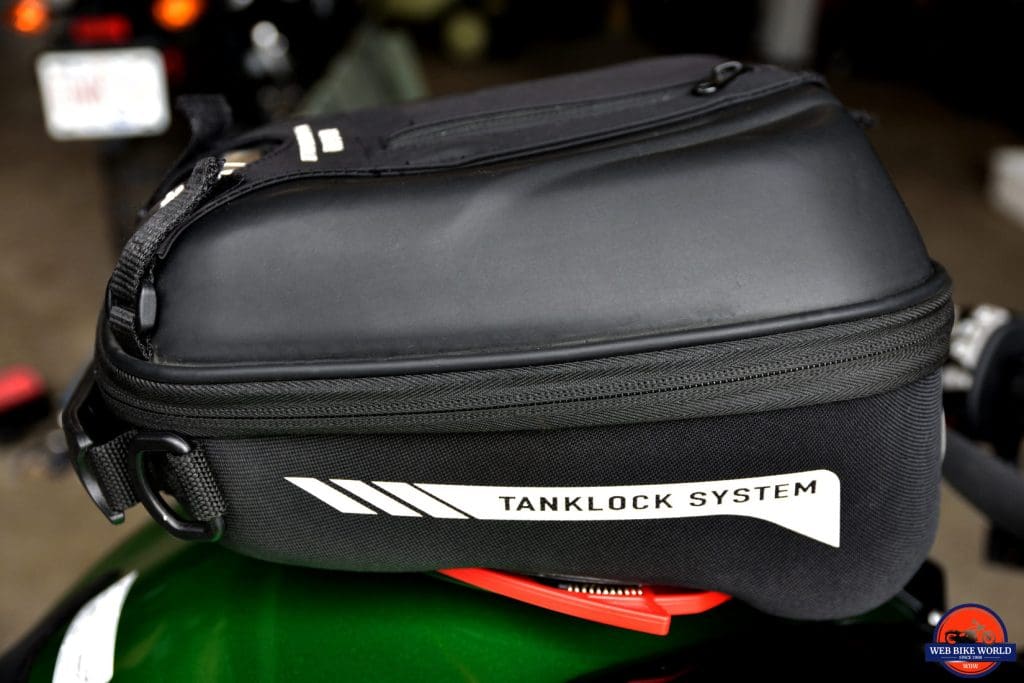 Members of the Facebook H2SX group had the tank bag answer and told me about the Givi ST602 bag and BF04 flange. They worked perfectly together and I'm so happy I had the tank bag on my trip to hold all the valuable items I wanted to keep close at hand.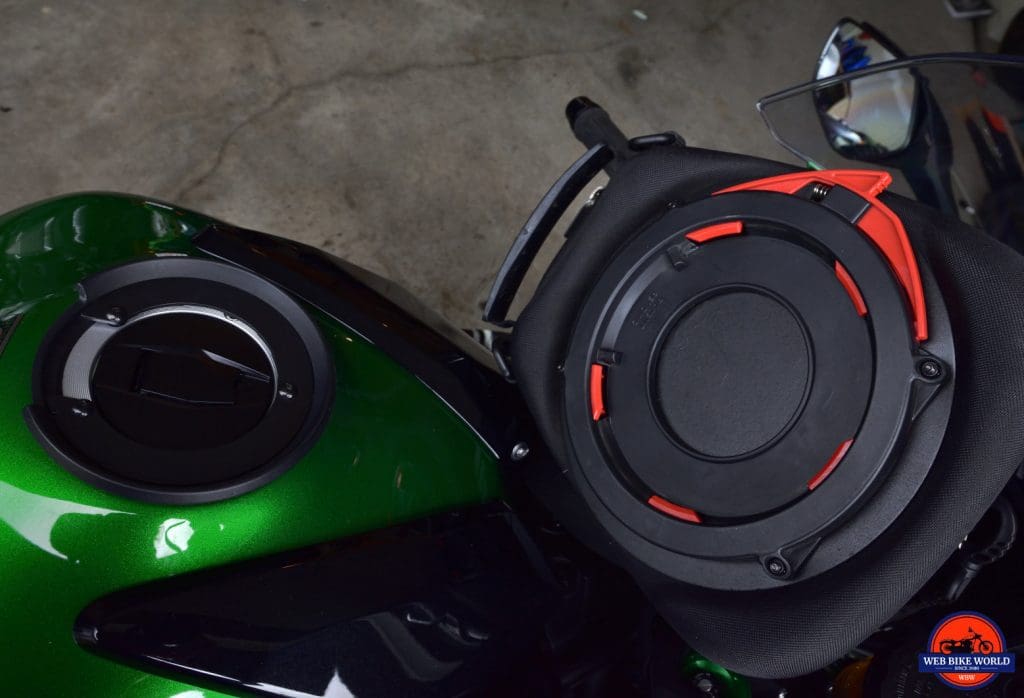 For the top bag, I simply improvised mounting a Nelson Riggs bag strapped down on the passenger seat using a spider web style elastic net and some Rok Straps. It did the trick, but I understand now there's a couple of different options available from GIVI to mount a proper hard case on the bike.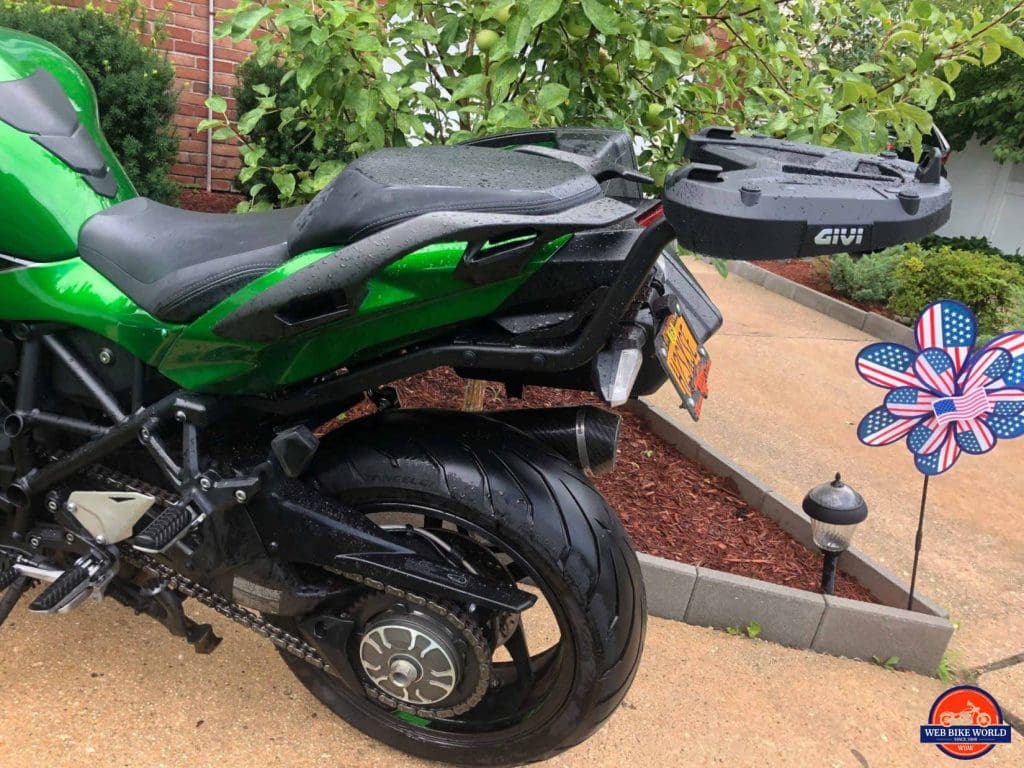 Photo Kevin Remsen
A Few Other Small Gripes
I don't have much to groan about, but there are a few things I'll mention other than the lack of a complete luggage set and squeaky front brakes at red lights.
Tool Compartment
Under the passenger seat is a storage area big enough to house the unimpressive toolkit that comes with the Ninja and the owner's manual.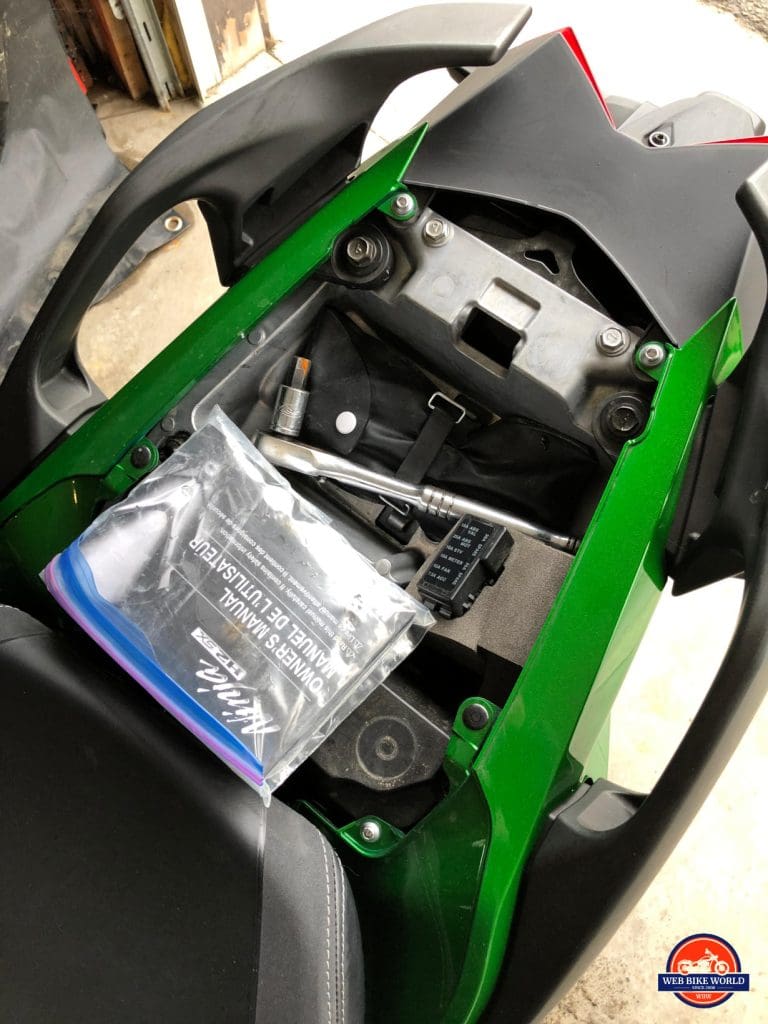 The tools included are few and aren't up to the task of removing the rear wheel or even adjusting chain tension. I put in a ratchet and enough other tools to be able to remove the rear wheel and adjust chain tension myself.
The worst part is the fact the spanner wrench needed to adjust the chain isn't included in the kit and costs a whopping $100 from the dealer.
Luckily I discovered the spanner wrench from my friend's VFR800 worked, so I had a copy of it made out of a flat bar by a welder friend of mine. I haven't needed to use any of these tools yet, but I like the peace of mind knowing I have them on board.
Trapped Moisture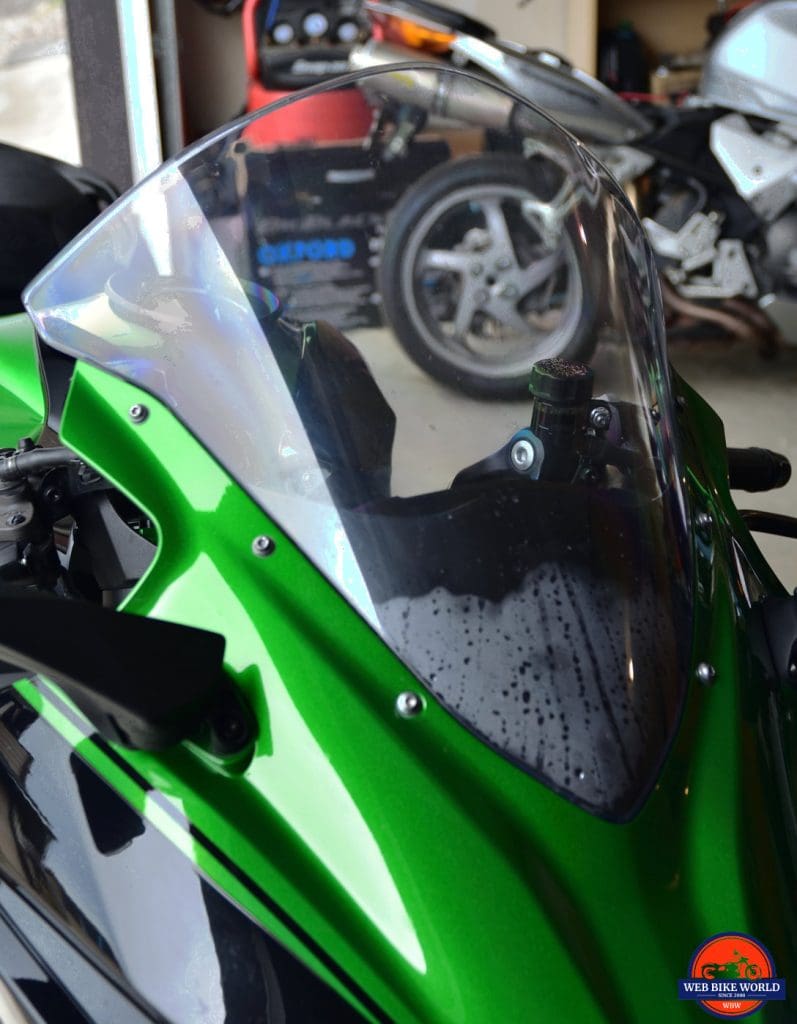 Whenever I wash the bike water and moisture gets trapped in behind the lower part of the windshield and sits there until the sun boils it out. I'm not eager enough to get rid of it by undoing all the mounting screws, but it bugs me to have it hang around so long afterward.
No BlueTooth Connectivity
For all the technology found on the Ninja, it lacks the ability to link your phone to the TFT display. This would be very handy for displaying GPS data and directions as you can on some other touring bikes.
Scratches
The clear windshield and lens on the tachometer sustained scratches more easily than I would have liked. It happened pretty early on when I got the bike extremely dirty from riding in dust and rain then wiped it off with my fingers. If I had rinsed it with water perhaps it wouldn't have happened.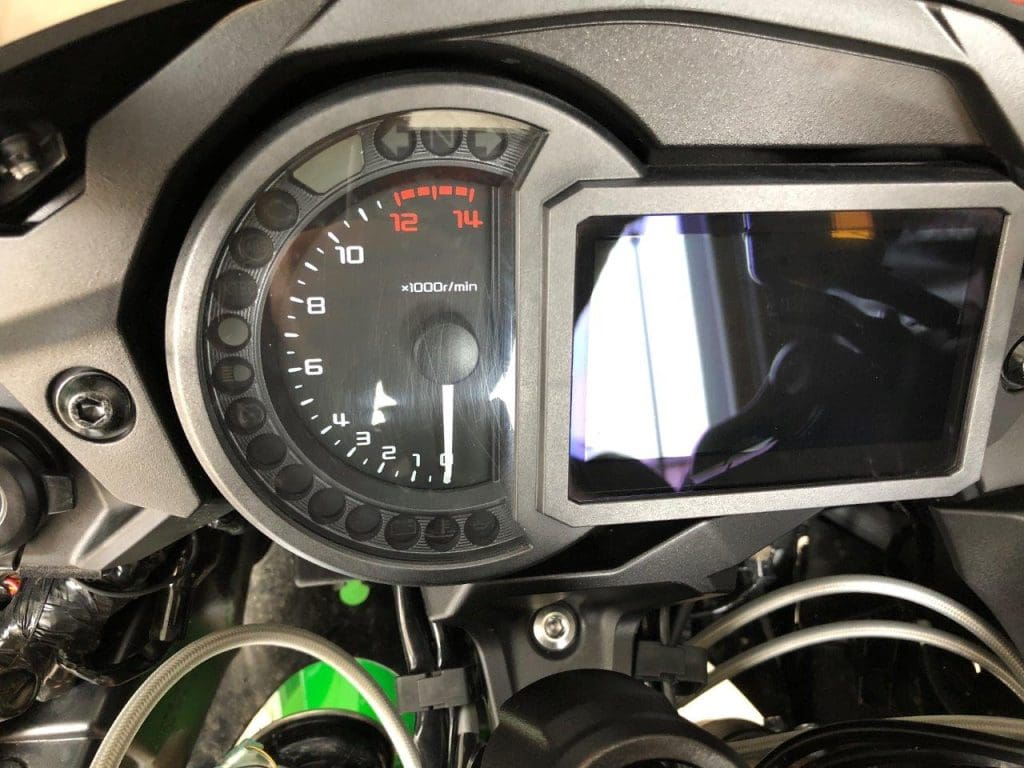 Happily, the TFT lens is still scratch free even now despite enduring the same treatment.
Strange Noise Under Load
There's a weird flapping/ticking sound that shows up at about 4000 rpm while under load I can't pin down. It sounds a bit like a piece of plastic is being stuck in a spinning fan. It comes and goes and I think it's just vibration going through the fairing somewhere.
I'm still working on hunting this one down.
Update: it was loose fairing screws on the left side. I'm thinking I should put a small dab of blue Loctite on each screw the next time I take it off to change the air filter.
Scratches On The Muffler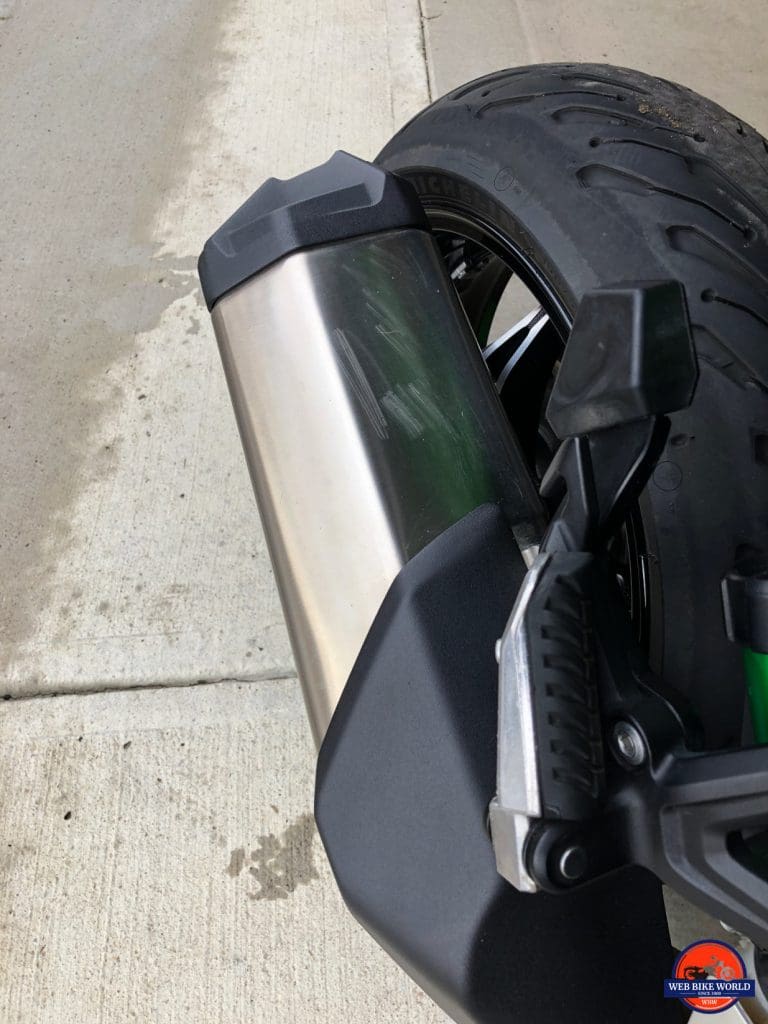 I got a lot of road tar on the brushed aluminum muffler that was difficult to remove. I finally got it off after washing the hell out of it, but this resulted in some ugly buff marks on the metal. I only used microfibre cloth on it and my fingers, but still managed to leave marks.
Loose Fairing Fasteners
All the screws holding the fairings on were very loose after 5000 miles. Very nearly sitting finger tight when I finally checked them and snugged them up. I'm quite surprised I didn't lose any before I got around to checking them.
Final Verdict?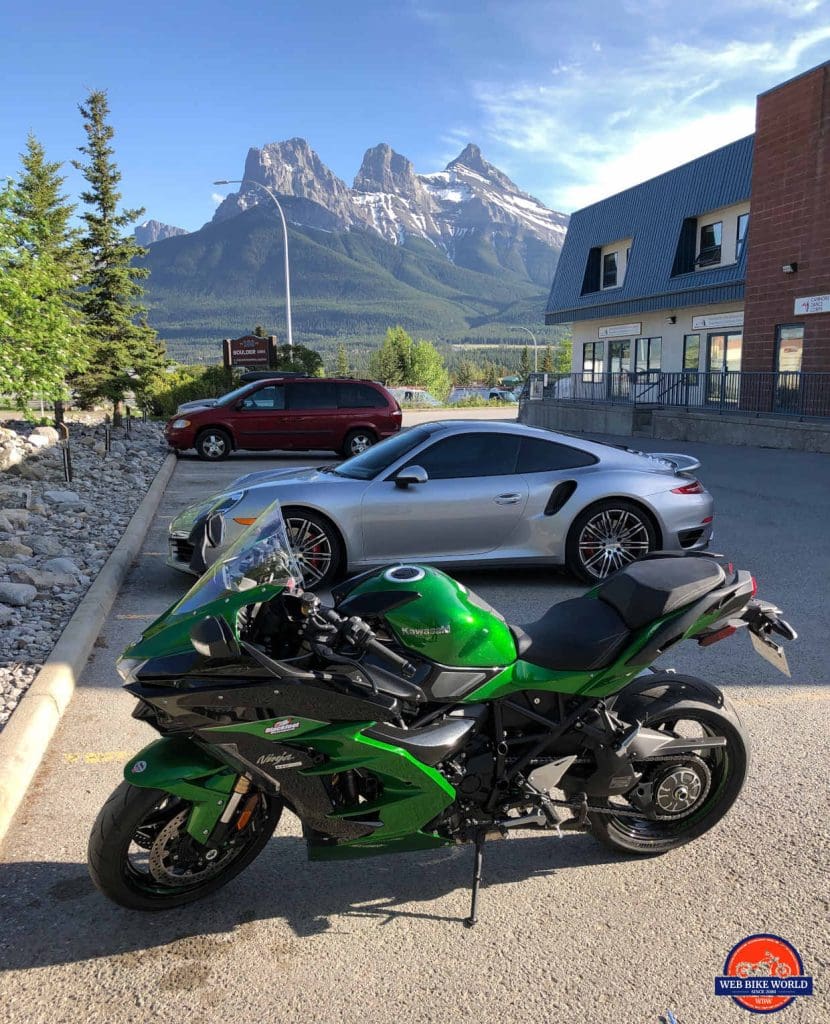 If you haven't figured out by now that I'm completely enamored with this Ninja, you're not the sharpest tool in the shed. There's little to dislike and plenty to love.
It's proven itself to me over many miles traveled as the ultimate sport touring bike loaded with awesome technology that enhances any rider's skills and the experience in general.
Most Important: The Fun Factor
Everything else aside it's really fun to ride! I'll never tire of launching this bike down a long highway at warp speed and entering a corner leaned over while punching the throttle. It lives up to the hype in every way.
It's an eye-catching bike in general.
Few people know what it really is, and write it off as just another "crotch rocket with a fancy paint scheme". However, more than once I've met someone who does know and their eyes light up upon recognizing the significance of the H2 heritage.
Those people always come over for a chat and a chance to fawn over the friendliest member of the insane asphalt punishing H2 clan.
SE vs Base Model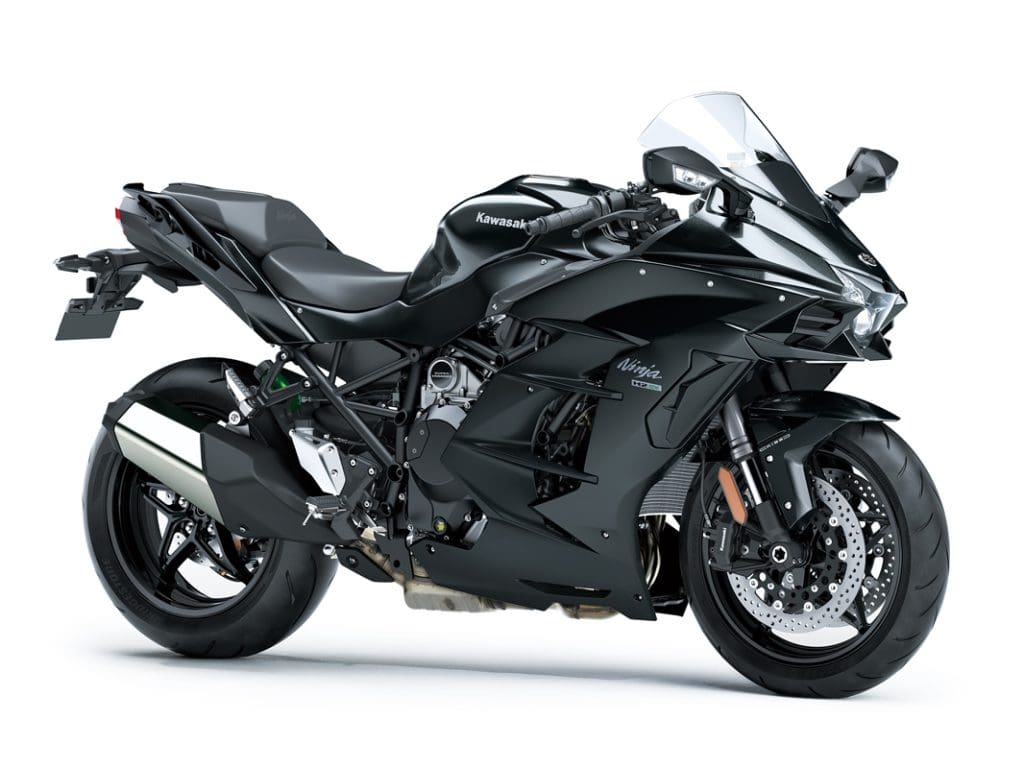 Photo from Kawasaki.com
At $22,000 the H2SX SE isn't cheap to buy, so Kawasaki has offered a non-SE or base model of the bike available for $19,000.
I think for $3000 more the SE is the easy choice because it has tons more features and options on it that make the bike just that much better. If you really can't come up with the extra cheddar, but still must have this bike I suppose at least the all-black paint scheme is something you could perhaps like better than the green?
You'll still get Kawasaki Corner Management Function (KCMF), Kawasaki Traction Control (KTRC), Kawasaki Intelligent anti-lock Brake System (KIBS), Kawasaki Engine Brake Control and cruise control but no quick shifting, TFT display, heated grips, cornering lights, center stand, touring quality seat, premium emerald green paint or the higher end two-tone rims.  Some of the missing SE options can be added to the base model though, but for me it's still worth getting the SE instead. 
I don't see the point in buying the base model if you have the extra cash. This isn't light enough to be a really good track bike, it's for touring and is built that way. I suppose it would be a decent platform to build a drag bike with? Maybe?
The Competition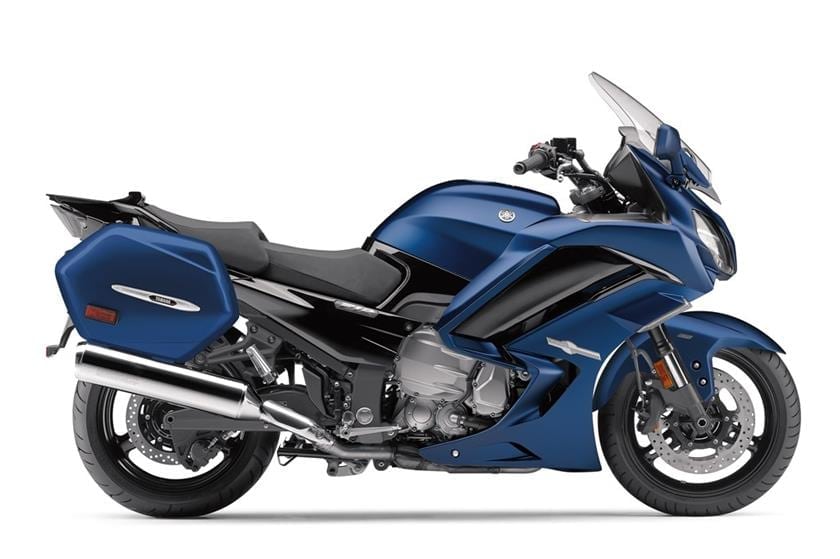 Photo from Yamahamotorsports.com
The base model H2SX lacks most of the goodies that make the SE bike stand out. I think it's harder not to look at other bikes like the Yamaha FJR or Ducati SuperSport S as an option if you choose the base H2SX instead of the Special Edition H2SX. The FJR starts at $17,999 base and includes cruise control, center stand, cornering lights, electronic suspension, adjustable windshield, integrated luggage and heated grips.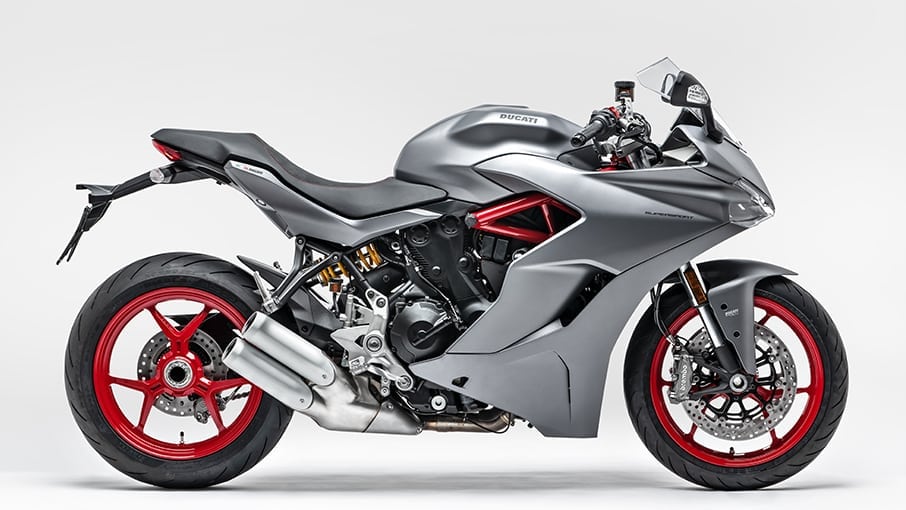 Photo https://www.ducati.com/be/nl/bikes/supersport/supersport
The Ducati SuperSport S comes in under $15,000 but just can't match up really. It's a beautiful bike equipped with some good technology too, but only 113 hp and not nearly as touring friendly as the Ninja.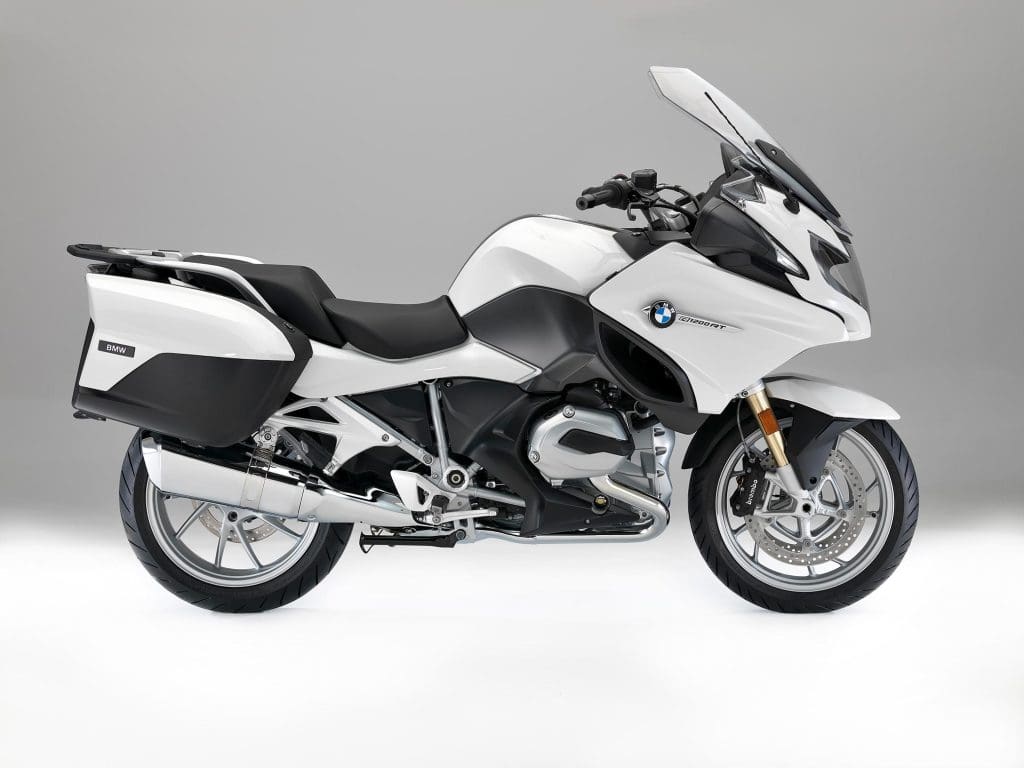 The BMW R1200RT is a beauty of a bike too that starts at just under $19,000. It's heavier at 609 lbs, only 125 hp but definitely is more refined and comfortable. Good as it is, I find it comparatively ugly with that giant fairing in front. Of course, some people probably don't appreciate the H2SX looks either so you can take that with a grain of salt.
It's not totally fair to compare the FJR, Ducati or the BMW with the Ninja as they just can't keep pace with the Kawasaki from a power perspective. Nothing really does offer the same combination of performance and comfort.
That's what makes the H2SX SE so special and praiseworthy. It's the unicorn of performance-touring motorcycles.
The H2SX vs the H2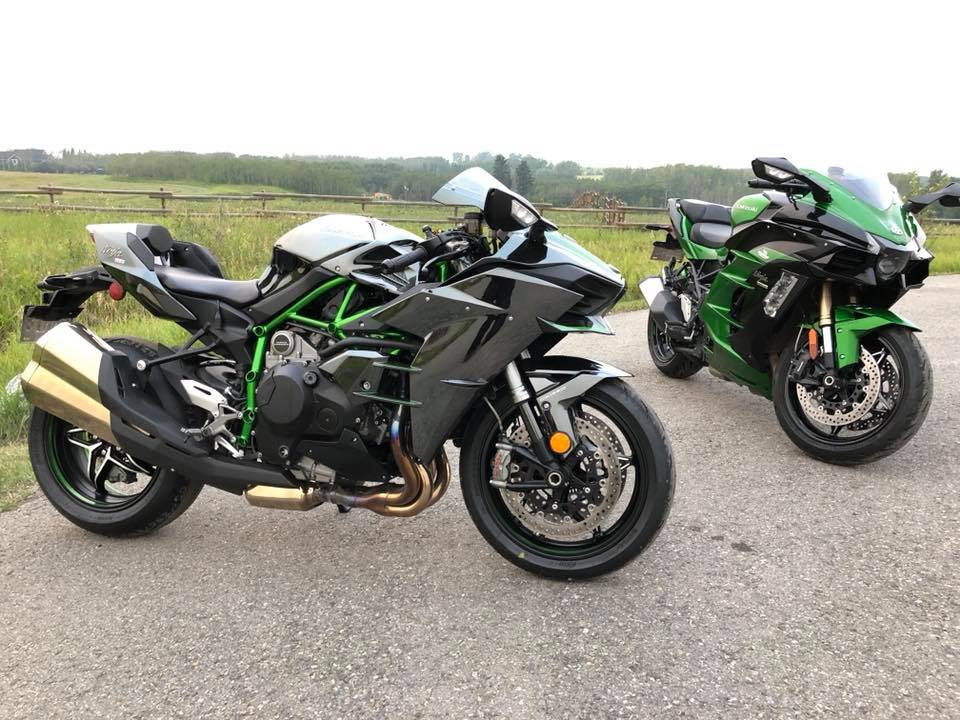 I had a great opportunity to test ride my friend's 2015 Kawasaki H2 recently while he took my SX for a whirl. I loved seeing these two relatives parked beside each other and couldn't resist the photo op.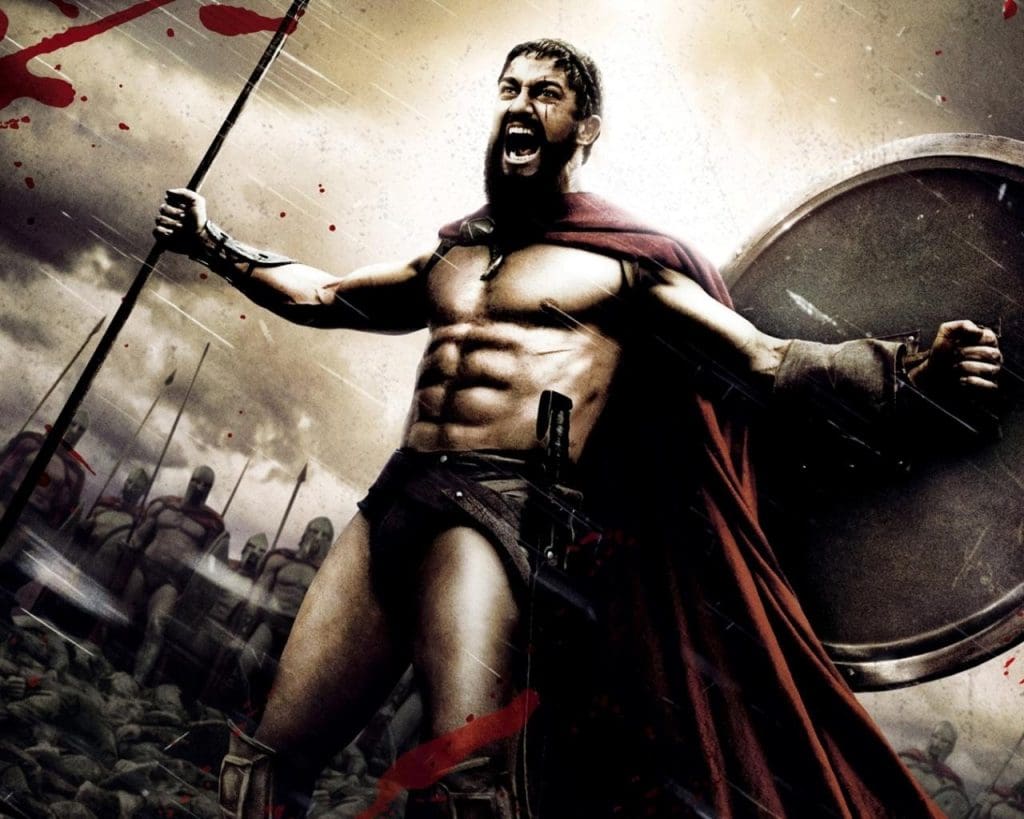 If the H2SX is personified by O-Ren Ishii, then the H2 with it's lower and slightly irregular idle, twitchy, race-bred throttle response and almost frantic need to go faster, Faster, FASTER can only be Gerard Butler's portrayal of King Leonidas from the movie 300 about the Spartans vs the Persian Army at the Hot Gates.
Spartan is a great word to use in describing the creature comforts of the H2 compared to the cushy H2SX. There are no comforts to be had because the H2 doesn't pretend to be anything other than a hypersport bike.
Even the dash is very industrial on it and the control switches for signals, horn or anything else is small and seemingly only there in the most basic sense of the word. Update: Kawasaki just announced the 2019 H2 will have a TFT display.
The H2 feels much smaller than the H2SX, looks as perfectly sculpted as the uber-muscular King of the Spartans and twice as focused, dangerous and downright cool. It pulls no punches, gives no quarter and does not compromise.
I'm pretty sure I heard it shout "This is SPAARRRTAAAA!" as I left the parking lot and again when I pinned the throttle in second gear and the front wheel lifted off the ground at 75 mph. Hehehe… there's no wheelie control on this one.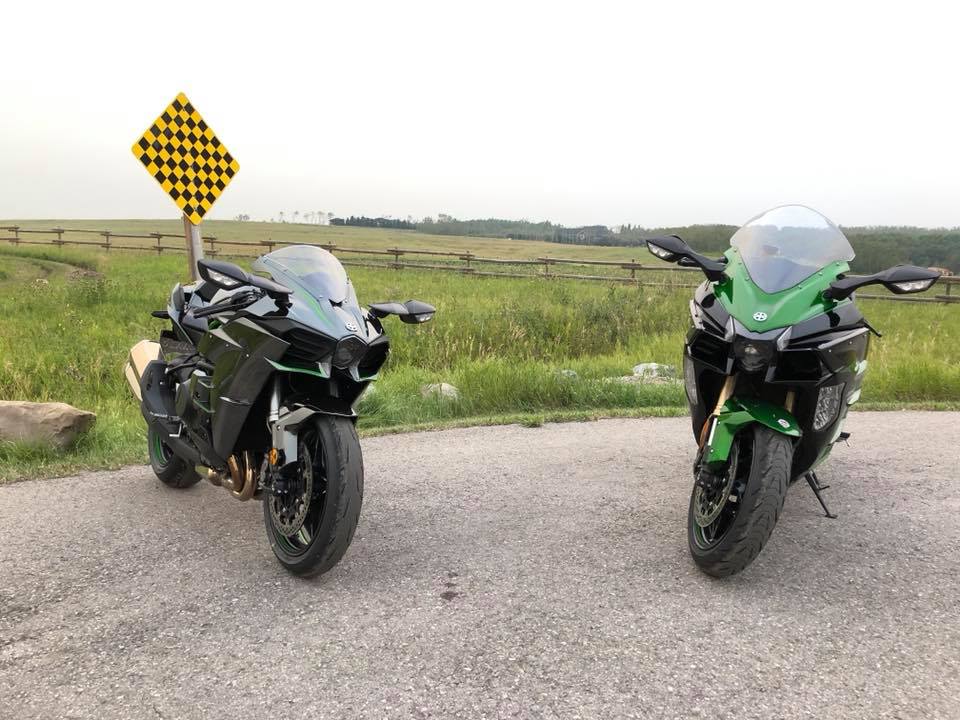 You won't be comfortable very long in the racing tuck position hunched over the gas tank behind a very small fairing. You WILL feel lots of wind, go fast, and look awesome slaying Persians… err I mean asphalt and your rear tire in no time while riding the H2. There's no passenger seat on the H2. No one would be crazy enough to ride on it with you.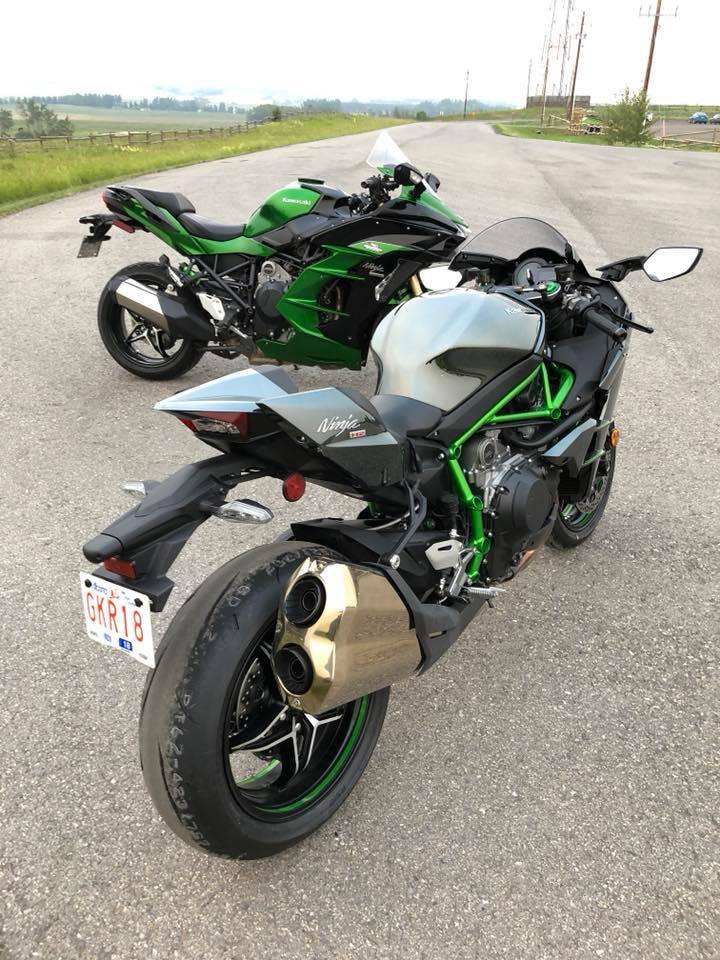 The black-chrome paint on the H2 is to die for, even compared to the sexy SX. Everywhere it goes the H2 draws a crowd of admirers and in stark contrast to the SX, everyone knows exactly what the H2 is who lays eyes on it.
It was awesome to be around and I enjoyed the ride very much. When Greg and I took back our rides after the trade, he remarked how surprised he was at the difference in power delivery.
"That thing is a freight train! I bet I could turn faster laps on the track with the SX than I could on the H2!" he exclaimed speaking of the mid-range gusto of the H2SX SE.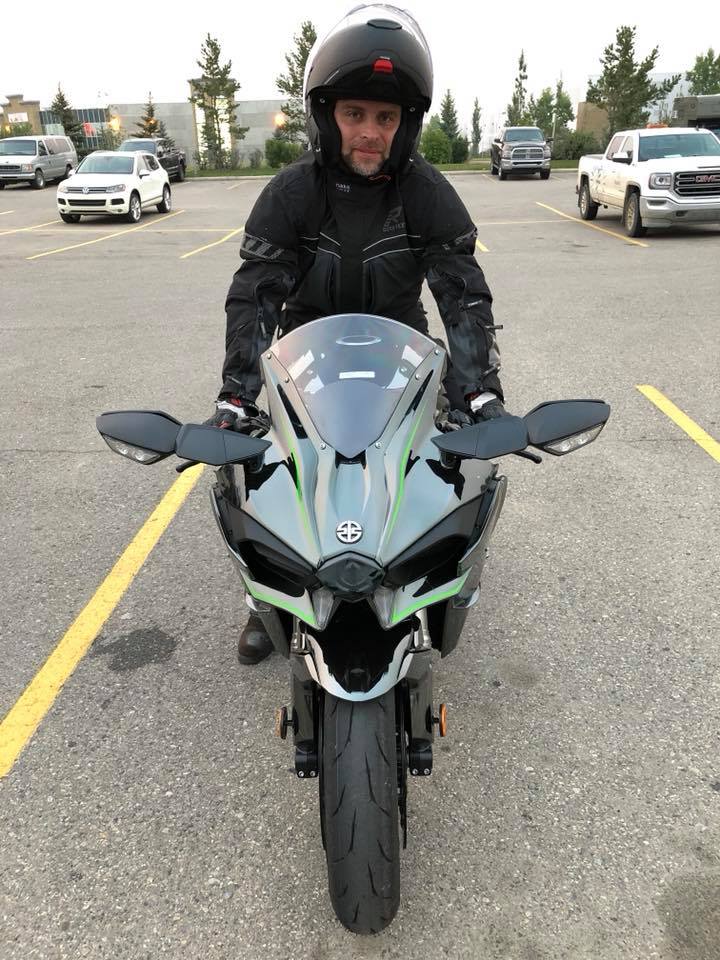 He's right. The low-end power of the SX is much more user-friendly and confidence building whereas the H2 seems more interested in scaring the bejeezus out of its pilot than anything else.
Alright, that's enough about the H2, back to the SX.
Insurance Costs
Here's a really fun fact for you: the H2SX SE is cheaper to insure than my KTM 1190 Adventure was due to the smaller engine size.
The 1000cc level of engine size is a cutoff with many insurance companies and so telling them (truthfully!) this H2SX is a sport touring bike with only 998cc is important. Just maybe don't mention the 200 hp part.
Overshadowed?
I realize this year's crop of impressive adventure bikes and the new Honda Gold Wing are stealing the spotlight along with the attention of buyers and media members. I totally understand all the reasons for their popularity and agree those are excellent motorcycles too.
On the other hand, I think anyone who spends some quality time as I have with the Kawasaki H2SX SE will agree it needs serious consideration as the Motorcycle Of the Year for 2018. It definitely gets my vote.
If only we could throw on some Continental TKC 80 tires and ride it off road, then would it get more attention it so rightfully deserves from the media and riders?
There's One BIG Problem for Me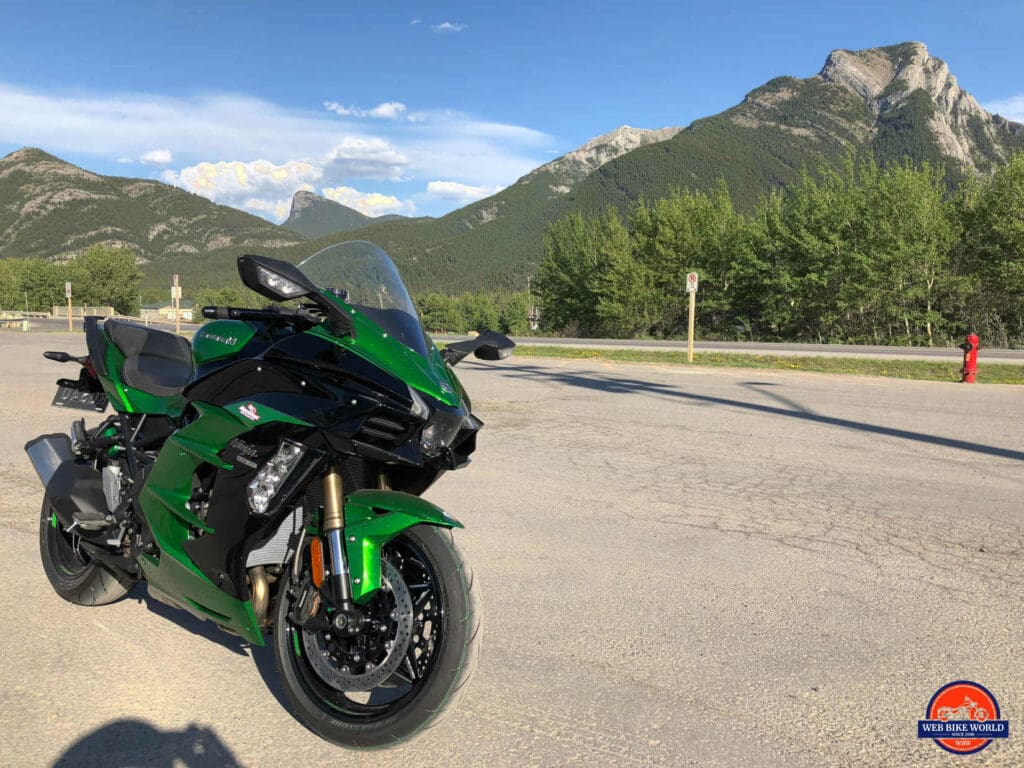 Sigh… I love this motorcycle and want to keep it, but I'm more interested in adventure riding at this point to be completely honest. Many times on the way to Dawson City I saw gravel roads and dirt trails I wanted to explore and the Ninja held me back. I had to switch to an Africa Twin to continue the ride from Dawson City to Tuktoyaktuk for obvious reasons too.
How do I part with this nearly perfect touring motorcycle though??? I'm keen to get my hands on the upcoming KTM 790R and Harley Davidson Pan America, so I will have to let it go VERY reluctantly eventually. Luckily both the Harley and KTM are at least 15 months away from what I'm told, but the new BMW 850GS is also calling out to me and is available in the spring of 2019. Maybe even the new Triumph 1200 Scrambler in October this year?
I'm so torn, and I don't think I can justify owning this Ninja and a new adventure bike. Perhaps that's the reason this bike won't be proclaimed Homecoming Queen of Prom 2018. We are all more smitten with dual sport versatility than we are with the ultimate touring performance on asphalt.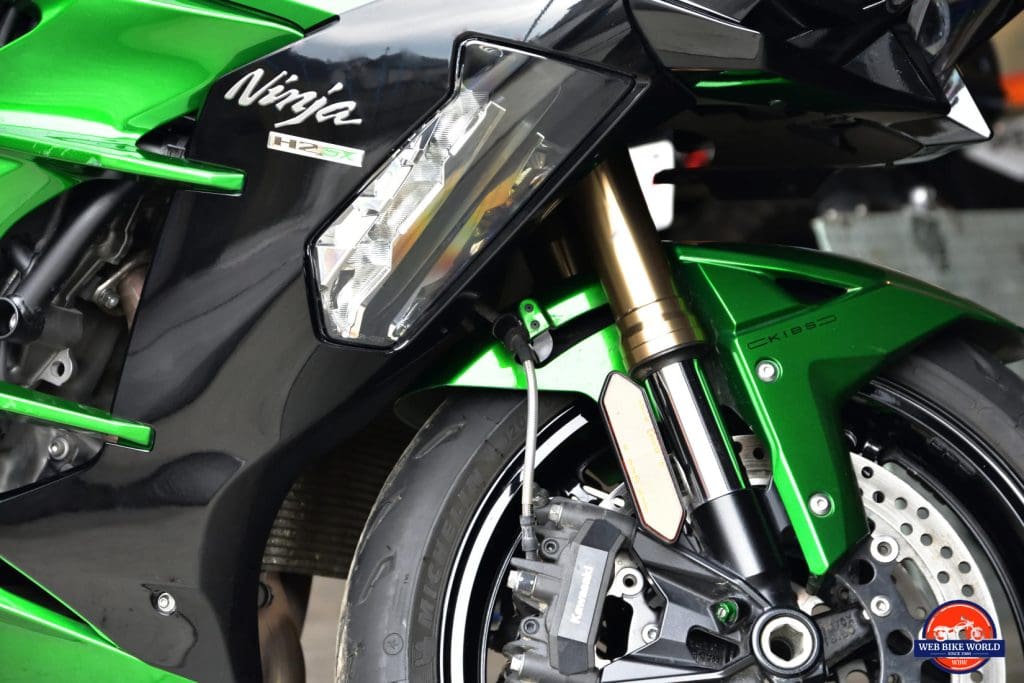 Pros
Unmatched combination of sport performance and touring comfort
Unique
Awesome looks and technology package
Seemingly reliable and trouble free
Excellent fuel economy
Easy to ride considering how much power is available
Super stable at any speed
Cons
Limited supply of aftermarket luggage and accessories
Questions remain about really long-term supercharger reliability and a high cost of replacement
Eats tires quickly in full power mode
Some areas scratch very easily and windshield fogs in one area irritatingly
Specs
Manufacturer: Kawasaki
Price (When Tested): $22,000
Made In: Japan
Alternative models & colors: H2SX in black
Size: 998cc supercharged engine
Review Date: August 7, 2018