Review Summary
The Sport Glide is two cruisers in one thanks to the quick-detach mini batwing fairing and lockable, hard saddlebags. It can cruise the open highway for a long time, or boulevards in town for a good time. Sporty it is not unless we compare it to the original 1985 FXRT Sport Glide. It definitely can glide thanks to Harley's new generation Softail frame and 107 cubic inch Milwaukee 8 engine.
Pros
Cruise control
Quick detach windshield and locking hard bags
Great torque from the M8 107 engine
Bright, LED headlight
Cons
Uncomfortable seat easily dents
Unstable at high speed (got sport?)
Fairing isn't large enough to protect the rider from the wind
2018 Harley Davidson Sport Glide Image Gallery
The Not So Sport Glide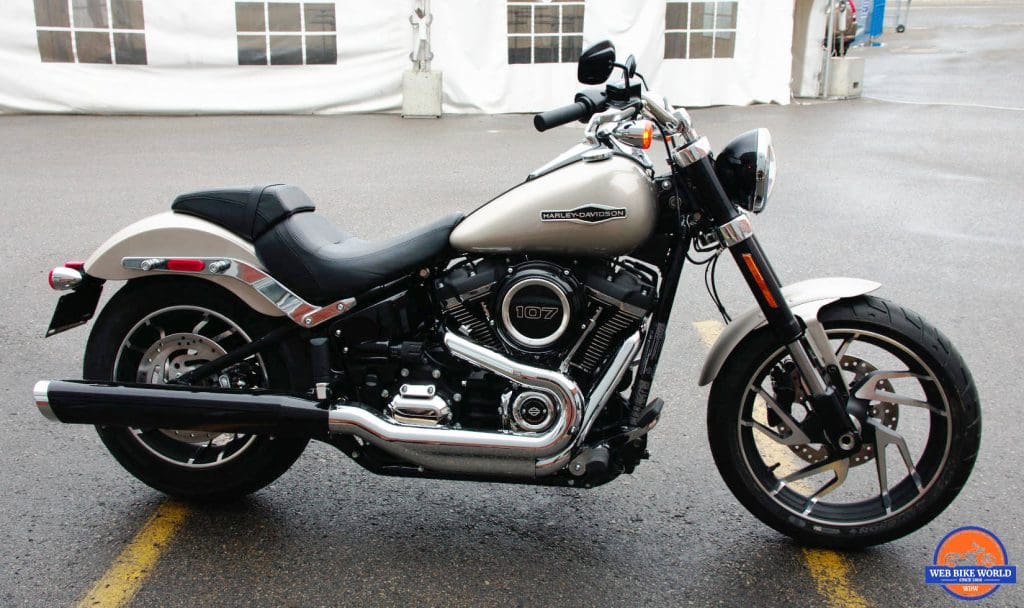 Have you ever really wanted to like a motorcycle and had it disappoint you? That's what happened to me with Harley's new Sport Glide. It's not awful or anything like that, but it's not what it could have been with some better execution on the part of Harley's designers.
With a Sport label and featuring cruise control along with detachable hard bags and fairing, I thought this would be a sporty cruiser equally capable of mastering long rides and sharp corners.
As it turns out, it can do those things, just not as well as I hoped. It's not a sport tourer, or even worthy of the sport cruiser label.
Numbers and Noteworthy Features
107 cubic inch (1746 cc) engine with 78 hp and 105.5 pound-feet of torque at 2750 rpm
Standard ABS and cruise control
Inverted front forks with adjustable preload on the rear suspension
30 degrees of rake
698 lbs wet
26.5-inch seat height
47 mpg
First Impressions
I like the simple look of this bike, especially with the front fairing detached. It presents as a clean and classy Harley Davidson motorcycle in that form.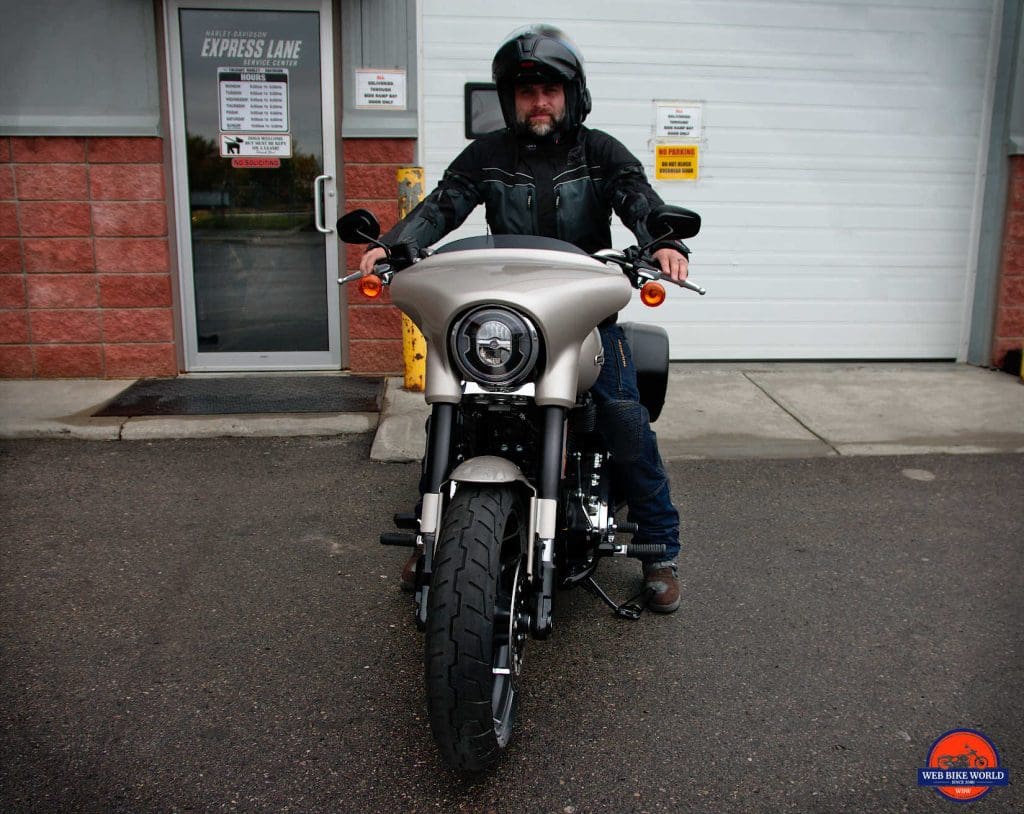 The fairing intrigues me. I love the potential of it providing some good wind protection, but I have serious doubts it will be effective at all. It looks too short and small to be anything more than cosmetic. I'm eager to find out just what this bike is about.
The Ride
The Engine and Transmission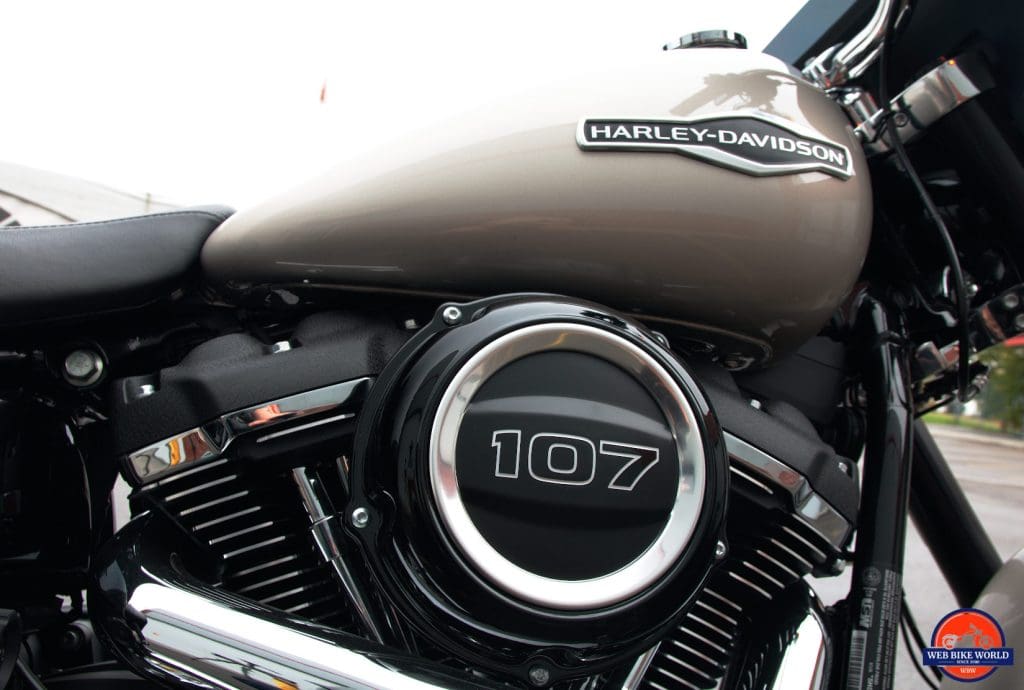 The torque is excellent from the Milwaukee 107 cubic inch engine. The Sport Glide flexes that rear wheel muscle to pull powerfully away from stop signs and many other vehicles on the road. It's terrific to have full torque almost from idle at the rider's disposal. Full credit to Harley for building this updated engine in comparison to the old twin cam one. It may be all new, but it still has that lovely Harley exhaust note people like me adore.
That torque combined with a six-speed transmission mesh very well and I experienced no missed shifts or desire to change anything about it. In true Harley form, the bike clunks loudly when you drop it into first gear, but other shifts happen smooth and solid.
The Lack of Sport Performance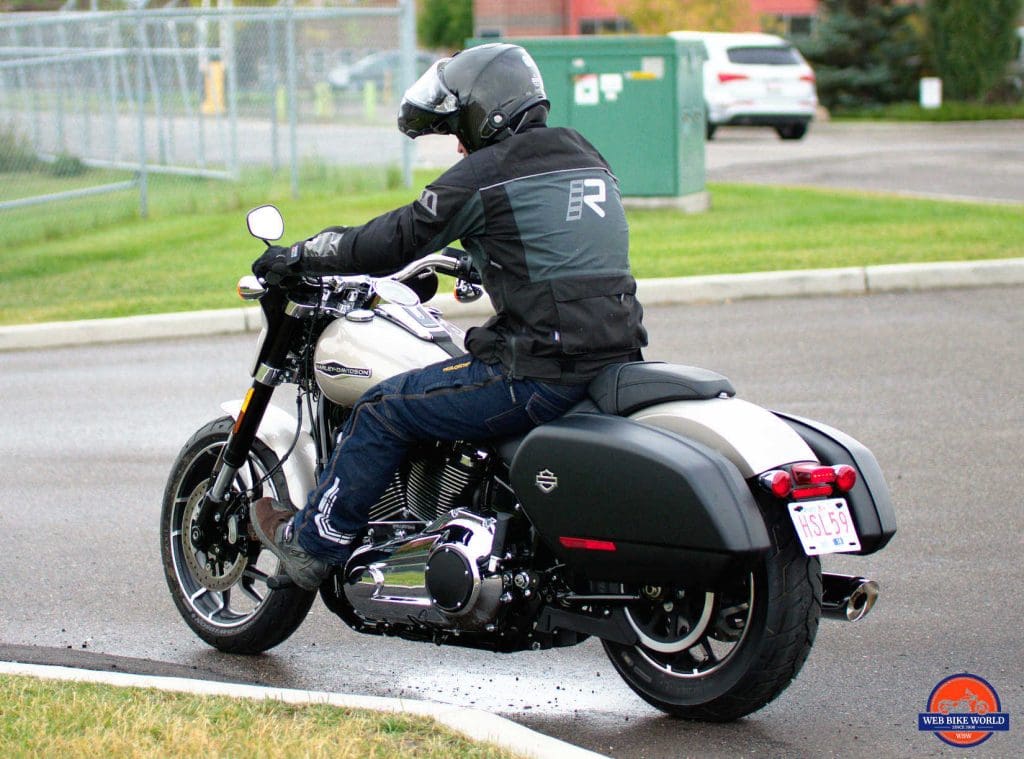 Around town and on back roads at regular speeds the Sport Glide moves around well overall when we speak of its powertrain. I had no complaints until I decided to find out whether it would live up to the Sport side of its name by accelerating past 100 mph. Any legit sport touring bike should be smooth at that speed, but the SG was just plain scary.
Right around the 100mph mark, it started shuddering strongly and making me very uncomfortable. I'm not sure whether it could be blamed on the Michelin Scorcher tires and 30 degrees of rake not meshing well with the cold asphalt that day (it was only 54 degrees), but this bike had no interest in going fast.
Comparatively, my experience test riding the new Fat Bob last fall was just the opposite. That bike was noticeably more powerful with its 114 cubic inch engine, lighter weight and very smooth ride even above 100mph. That bike wants to go fast and handles it well.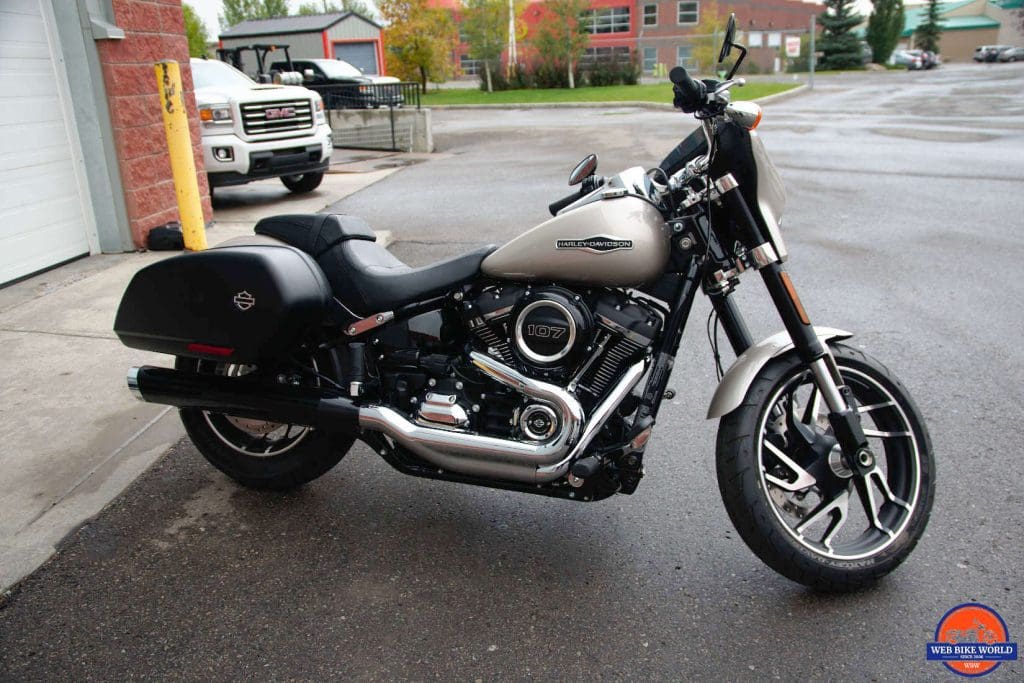 Too Harsh?
Am I perhaps being unreasonably critical? Yeah, maybe.
It's true there isn't a single road (other than racetracks) in North America that I can legally ride this bike over 90 mph and it performs just fine in that normal range of speeds. Still, I was hoping for more, whether that's reasonable or not.
Cornering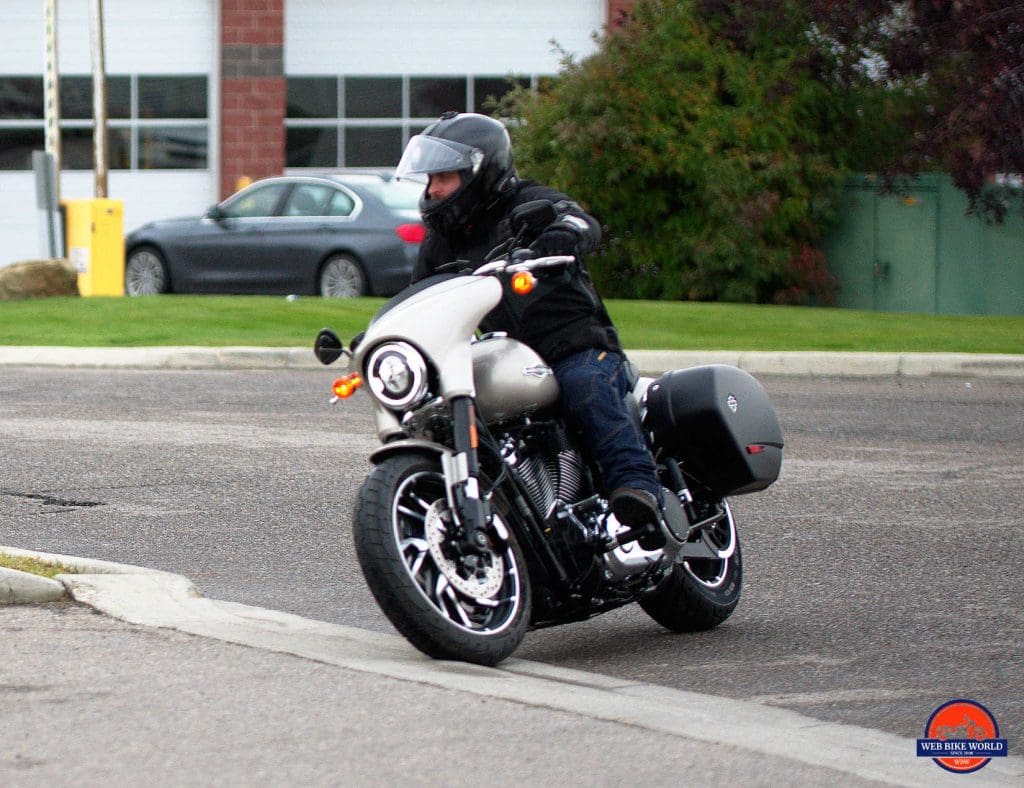 The Sport Glide is one of the new generations of Softails which is supposed to handle better than ever before thanks to a completely redesigned frame. That's definitely the case for this Sport Glide compared to previous Harleys, but again the Fat Bob is noticeably better in the corners.
What A Drag
When I took some tight turns I found my heel dragging almost right away on the road because of the angle and height of the footpegs.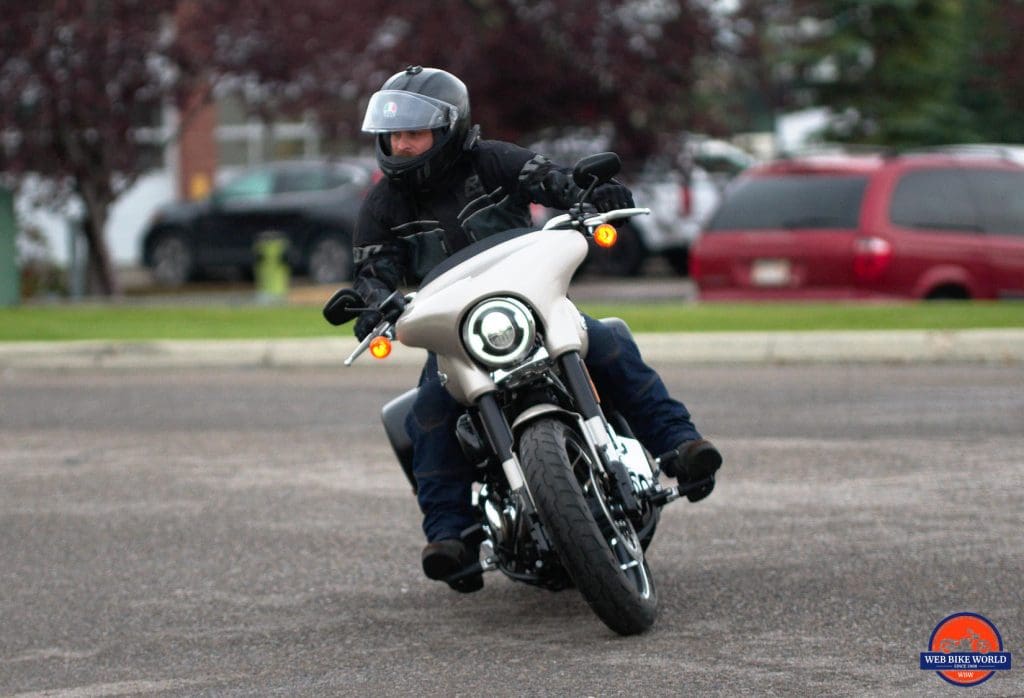 I'm not tall at 5'7, nor do I have skis for feet by any reckoning so that shouldn't have been happening. If I lifted my foot up and rested my heel on top of the pegs I could corner nearly as sharply as on the Fat Bob, but that's not a reasonable thing to expect to do with a bike named Sport Glide.
Suspension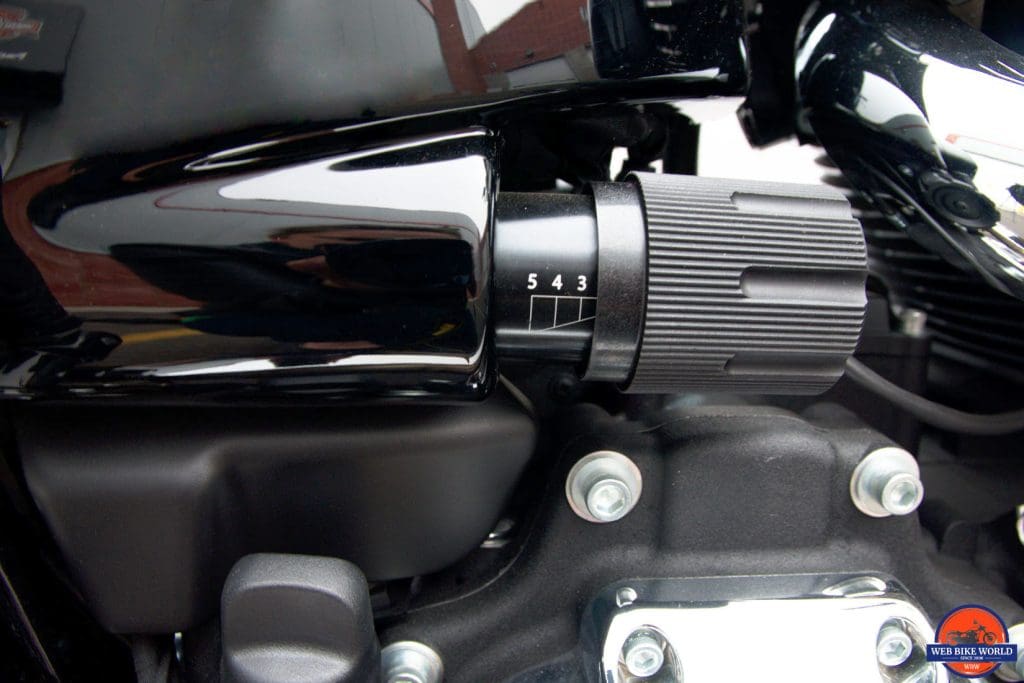 The suspension is decent in the front and rear. I like that the rear is easily adjusted now with a manual dial behind the driver's right leg.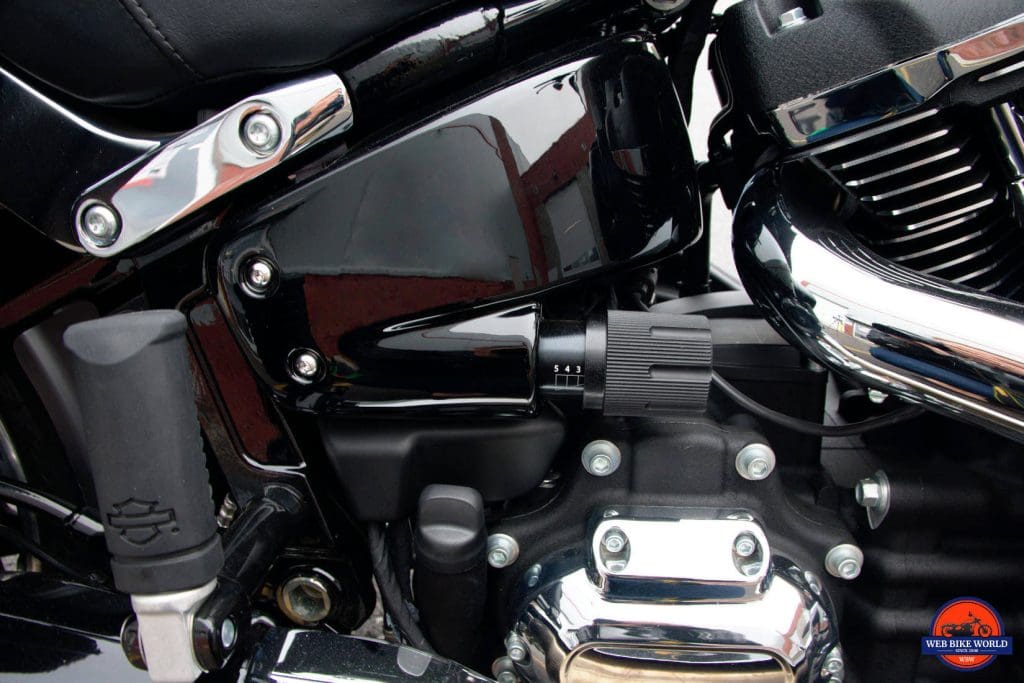 I didn't find the forks dove exceedingly under hard braking. Generally, I can say Harley did good with it.
The Seat
The seat is one I just can't figure out.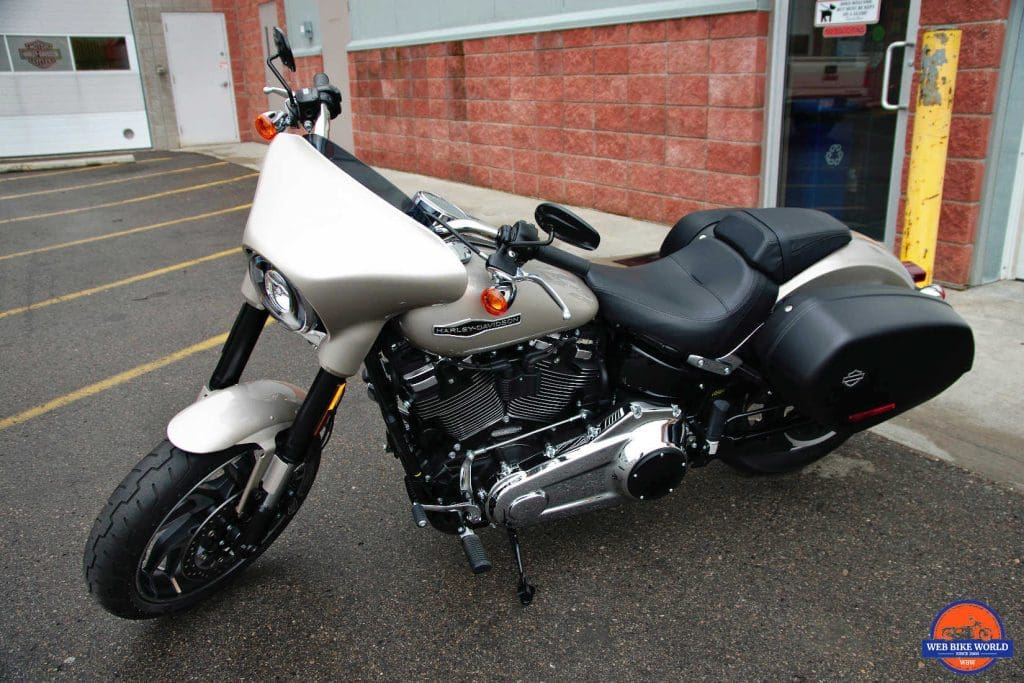 The one on the Fat Bob is the most comfortable stock Harley seat I've sat on. That sounds really weird, but is definitely the case even compared to stock seats on the big baggers for my backside. I really wish they had gone with it on the Sport Glide instead of the one they did.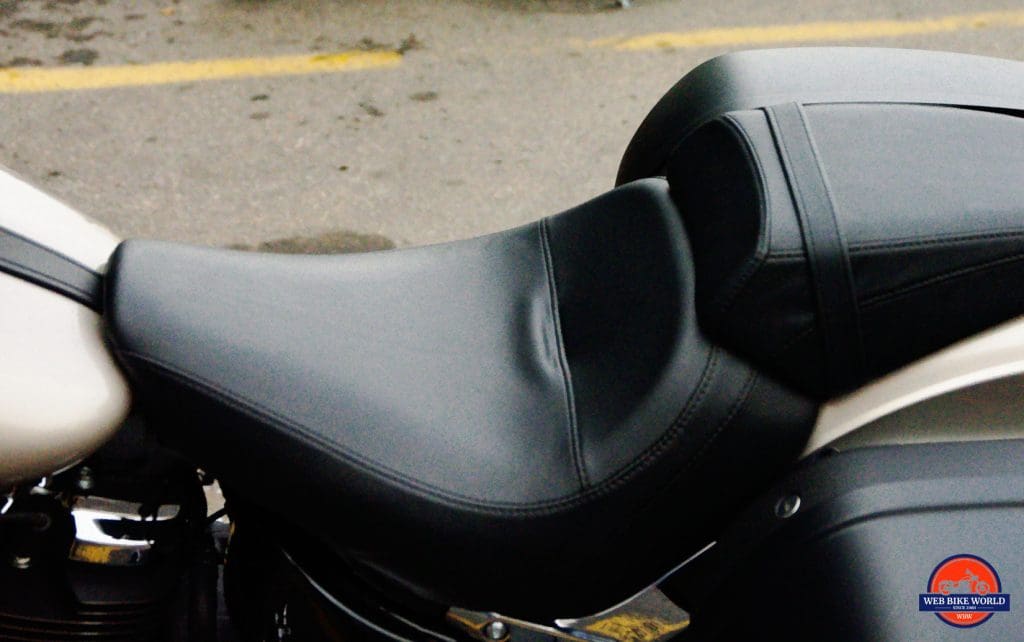 My main complaint with the Sport Glide seat is that after riding for an hour it produced a dent right where my tailbone rests on it. There was a noticeable pucker in the leather when I got off it and I think over time this would only get worse to the point of failure.
It's also wickedly uncomfortable to have your tailbone dig into the foam progressively deeper while out riding.
No Passengers
The rear seat isn't something any passenger would want to use long. They may as well have just left it a solo seat.
The Convertible Aspect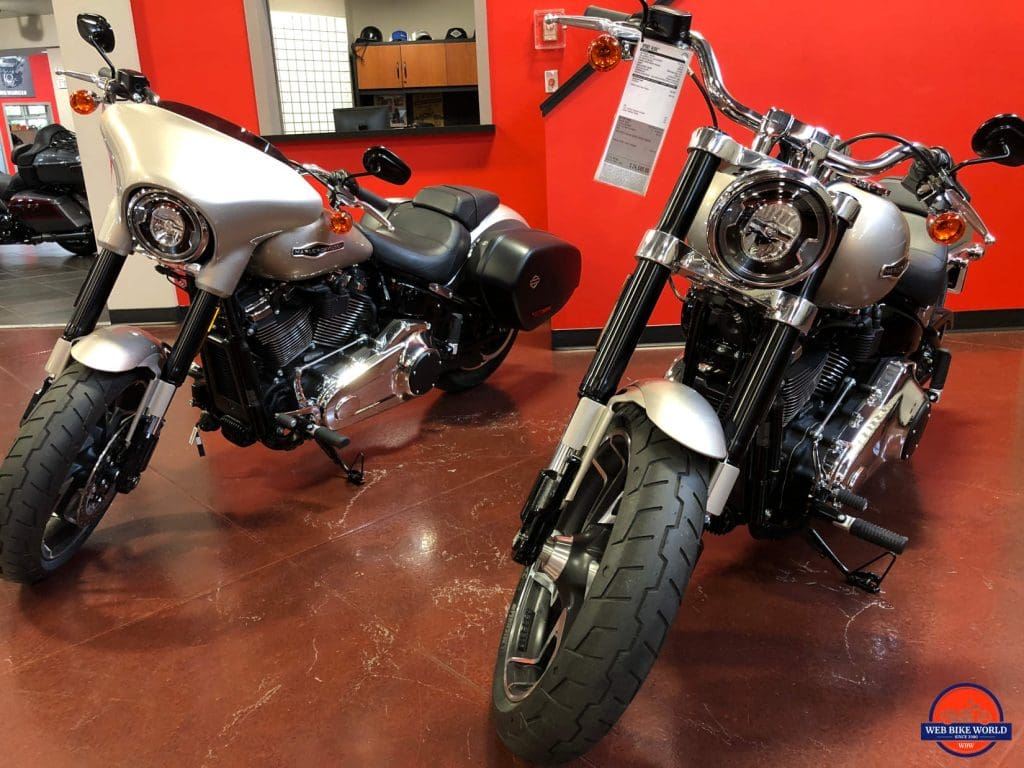 The fairing and saddlebags come off quickly and easily thanks to latches inside the bags and ones on the inside of the fork tubes near the triple tree up front.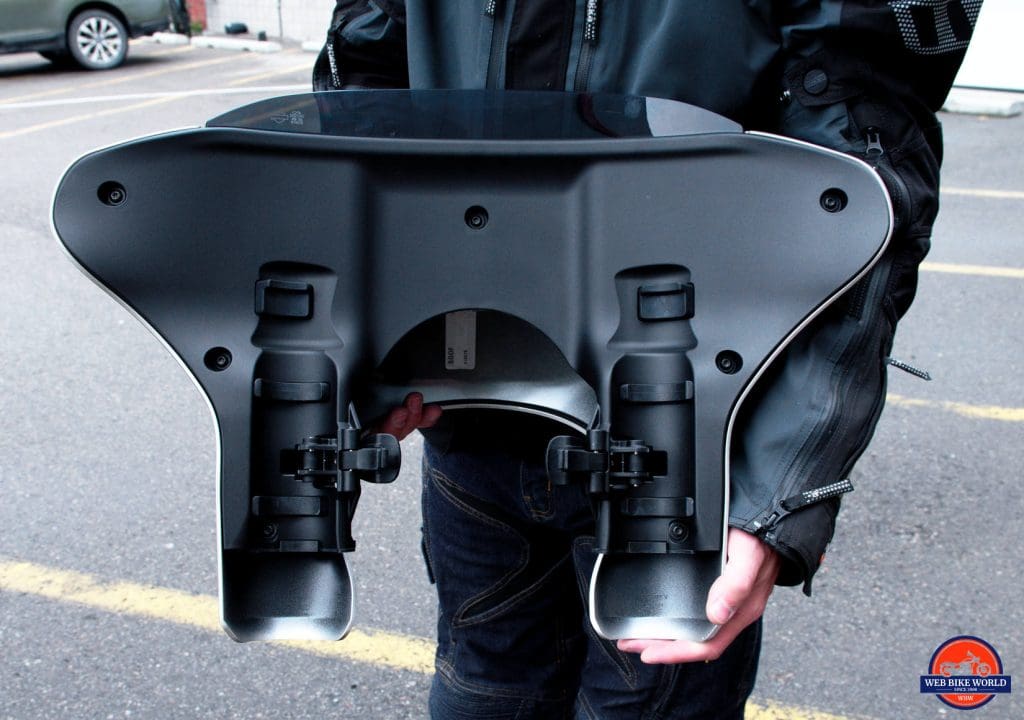 This design is efficient and seems bulletproof. The fairing can't be easily stolen off the bike when it's parked unattended because when the steering lock is engaged you can't get fingers in far enough to unlatch the release on one side.
The bags are hard and leather covered with nice logos on each side. I had no trouble removing and reinstalling them afterward with only one or two attempts at learning how it all works.
Full marks to Harley on doing these things right.
The Instrument Panel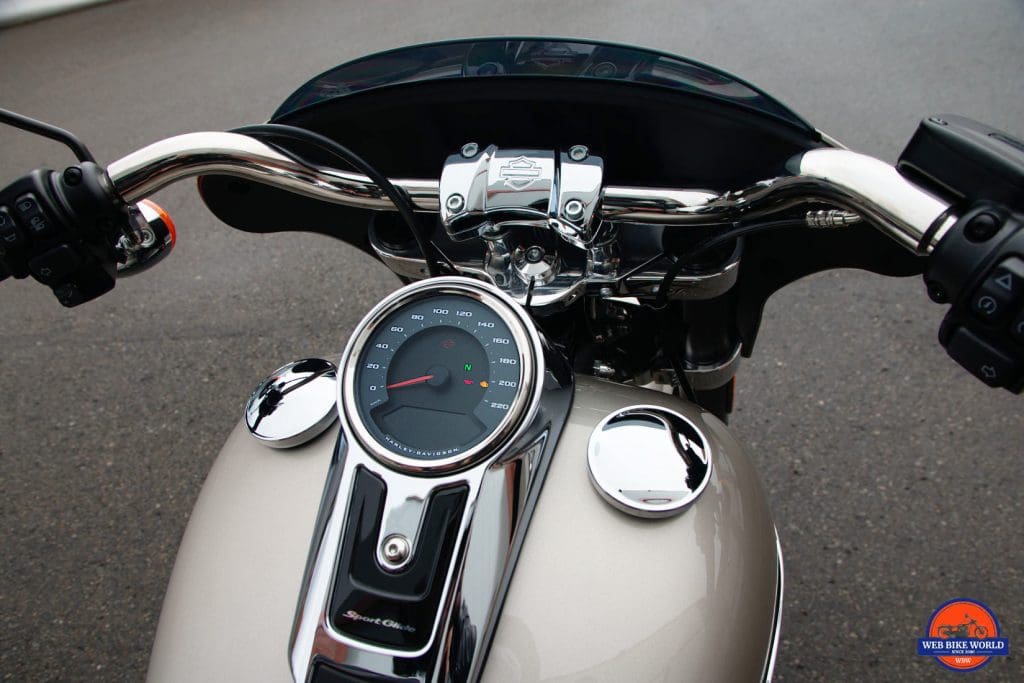 The dash is a 5-inch diameter speedometer with an LCD display below it mounted on the gas tank. It's not too hard to see how fast you're going, nor are the warning light for ABS, neutral, low fuel, oil pressure, high beam or indicators for turn signals.
The only problem is you have to look down to access the information. It's par for the course with many Harley Softails and helps keep the style of the bike sharp. From a practical standpoint, I'm really not a big fan though.
The fuel gauge is a good feature along with the distance to empty, digital tech and trip meters. It's actually a very good setup, just not located well.
The Style
I think a better name for this bike would be Style Glide.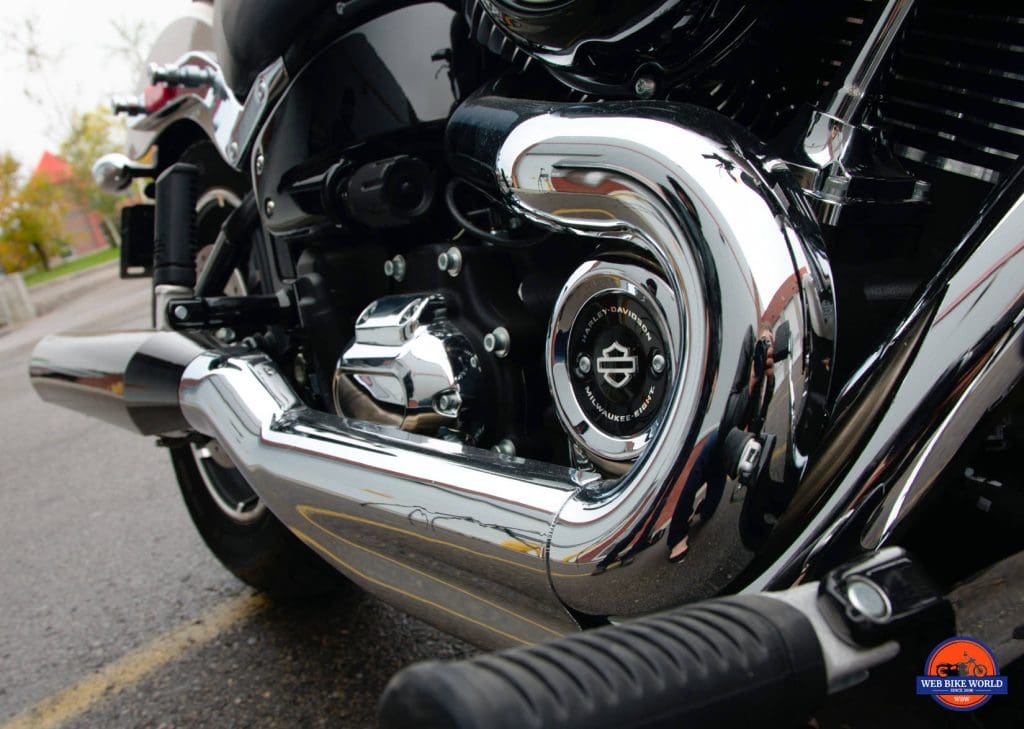 The rims are unique with their bending, polished aluminum spokes front and rear that somewhat resemble shuriken (ninja stars!).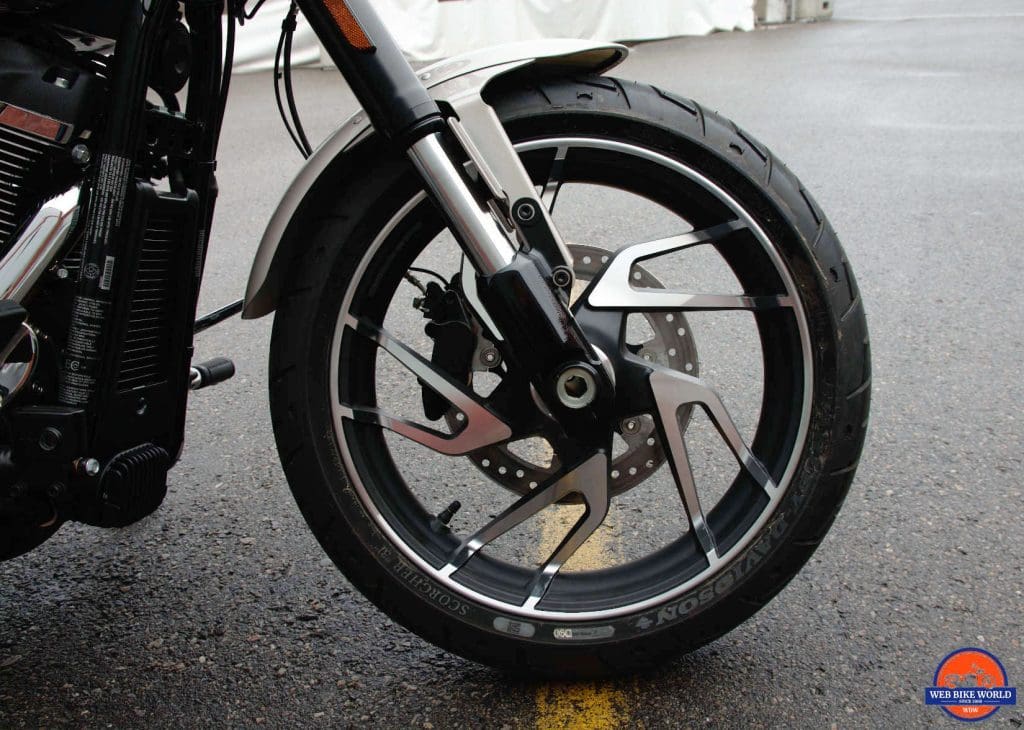 No other builder mixes a distinct package of physical features so well of chrome highlights and blacked out contrasting areas than the Bar and Shield in my opinion. Often imitated, but never duplicated this bike is a looker without question.
The Little Things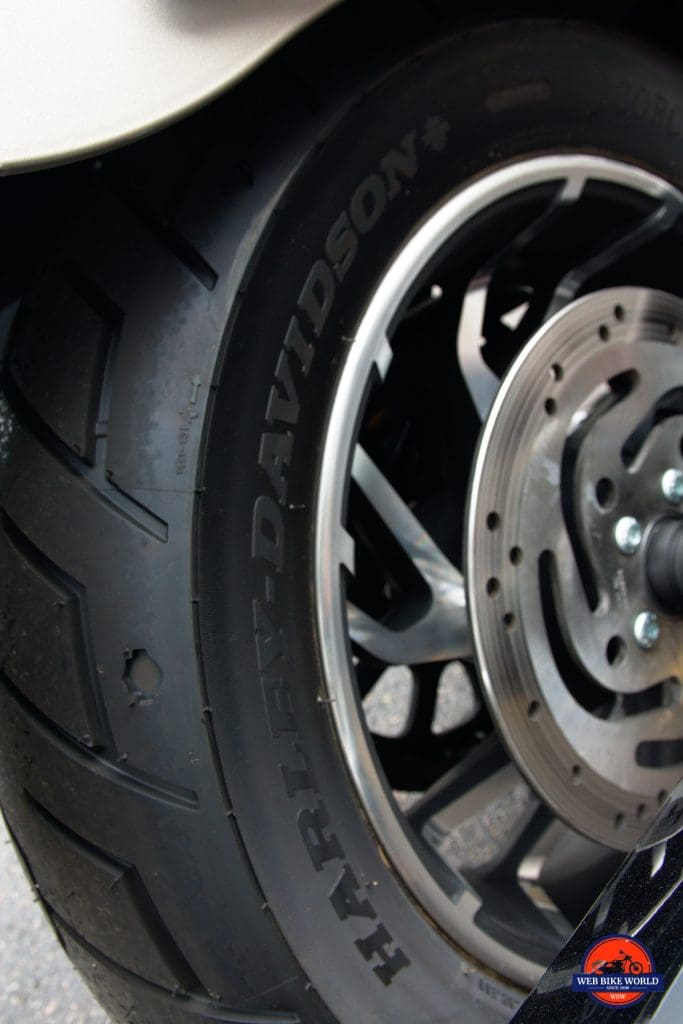 The Michelin Scorcher tires even have small depressions around the edges of the rubber that are shaped like the Harley logo. Small badging and tasteful, low key branding on the side of the gas tank among other locations on the engine and saddlebags is all done just right.
In short, I give it two thumbs up in the looks department.
Who Is It For?
Who should buy this Harley? Who is Harley trying to target with this Sport Glide? I really can't make up my mind about the answer to that question.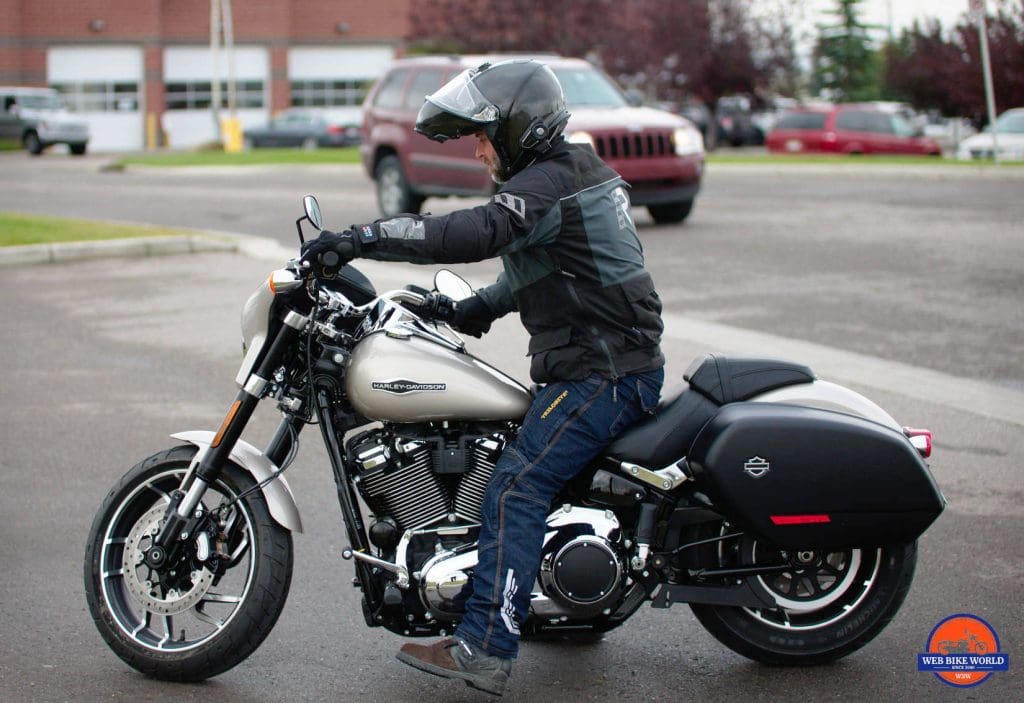 At first, I thought it would be an excellent option for riders that can't physically handle the big touring bikes and their 900+ lb weight, but who still want to go on long rides.
The fairing on the Sport Glide just isn't big enough to make really long rides in wind comfortable, so I'm going to stop looking at this machine as a legitimate touring bike alternative now.
I think this is one for people who want a bike they can quickly, easily and noticeably change the look of. That's really it because the truth is this is just a Heritage Classic with modern styling and a less useful quick detach windshield when you drill down to the core.
I thought I understood what Harley was going for with this bike, but it turns out either I was right, but they missed the mark or I'm wrong and have no idea what the Sport Glide is for.
So Much Potential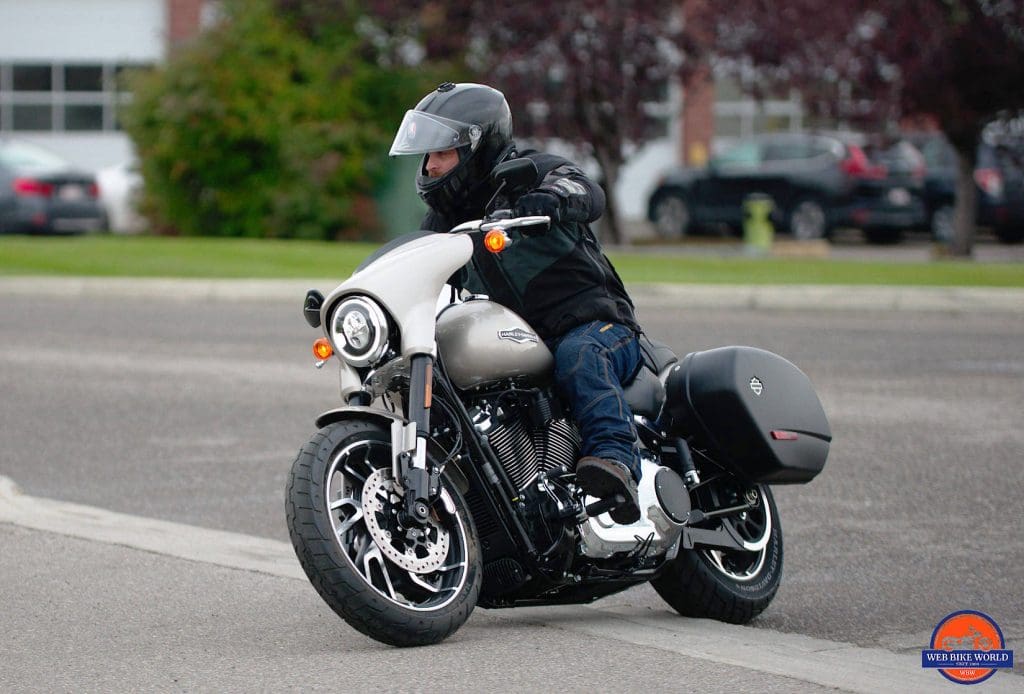 This bike could have been much more if they had built it more like the Fat Bob, but put in some touring features.
It should have had the 114 engine in it, not the 107.
The footpegs should have been raised to allow sharper cornering.
The windshield should be at least 8" taller.
Change the rake to 28 degrees and raise the exhaust slightly to allow for sport cruiser cornering.
Fix the seat.
The sad truth is that I really wanted to like the Sport Glide, but I don't. I can't see it selling well or staying in the Harley lineup long either unless they really tweak it, but I could be totally wrong.
What's New for the 2019 Sport Glide?
The 2019 Sport Glide is virtually identical to the 2018 other than the shape of the primary drive case. The photo below shows the new, narrower primary case with the smaller diameter derby cover on it.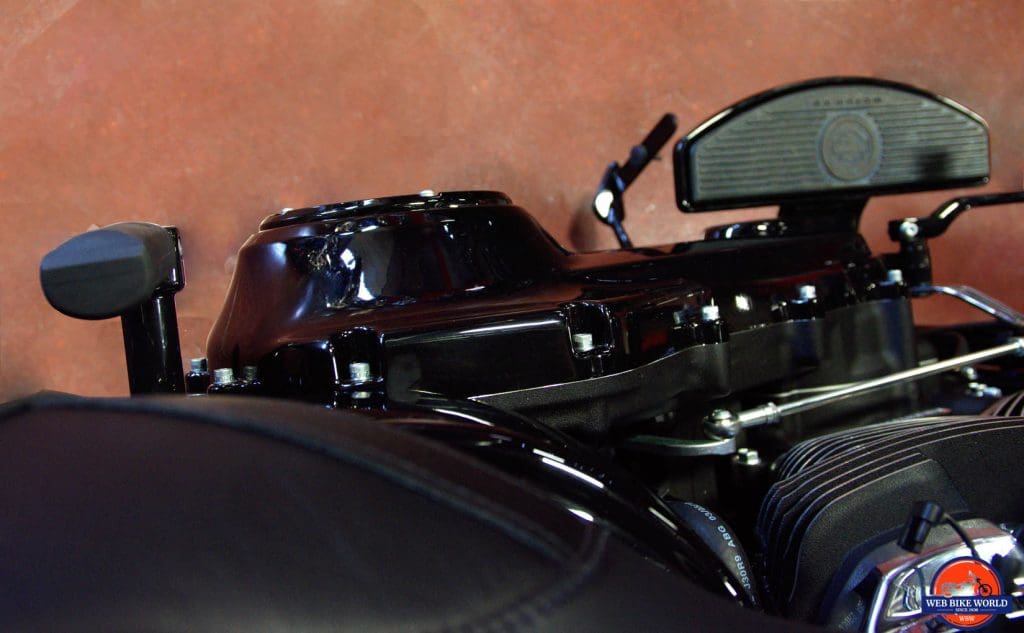 There is a better cooling effect on the oil and primary drive gears gained due to the shape change according to the sales staff at Calgary Harley Davidson who I'd like to thank for offering up this bike for a test drive and review.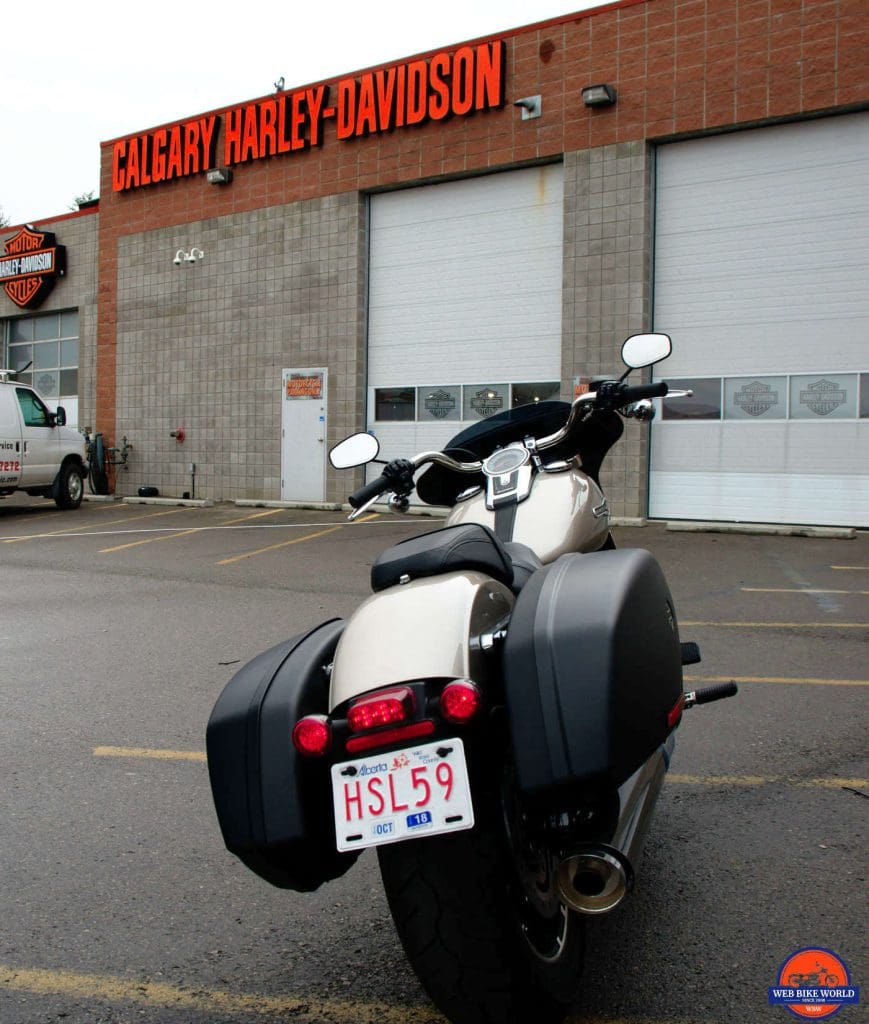 Final Shots
I haven't enjoyed writing this downer of a review. I like Harleys and all motorcycles, but this one just does very little for me, sadly. It's pretty ordinary overall and I prefer to review bikes I feel make a statement or fit a rider's needs better than on average.
It would have been more worthwhile for Harley to have built a touring friendly version of the Fat Bob instead of the Sport Glide, because the Fat Bob IS the Softail with sport handling.
That's about to change though with the new 2019 FXDR 114 from what I hear, but that's a whole different review than this one.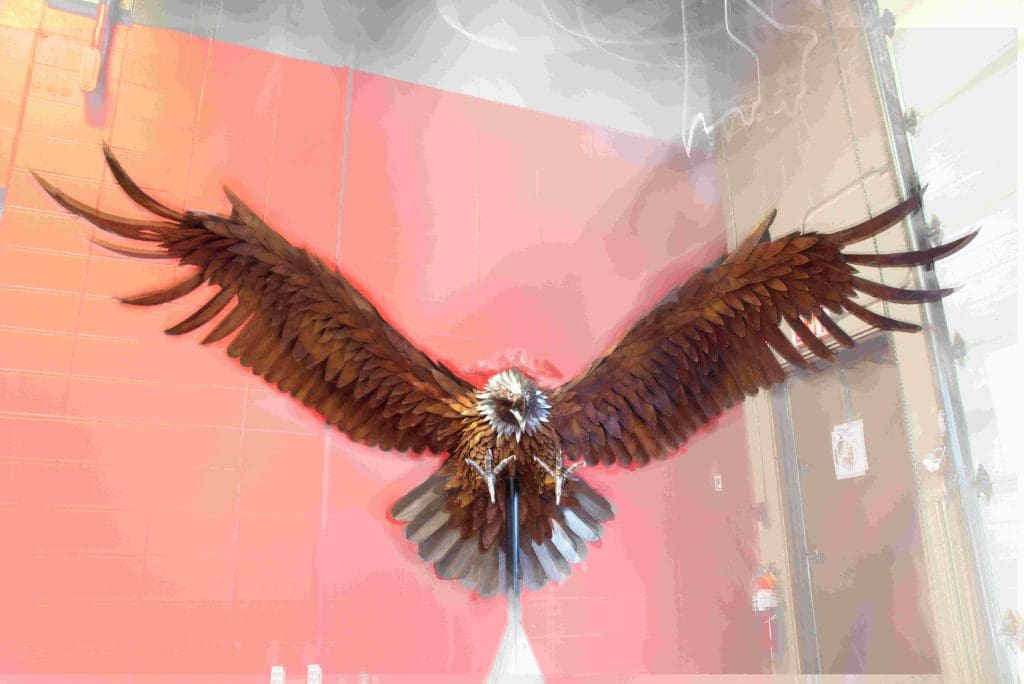 Pros
Cruise control
Quick detach windshield and locking hard bags
Great torque from the M8 107 engine
Bright, LED headlight
Cons
Uncomfortable seat easily dents
Unstable at high speed (got sport?)
Fairing isn't large enough to protect the rider from the wind
Specs
Manufacturer: Harley Davidson
Price (When Tested): $22,399 and up
Made In: USA
Alternative models & colors: 6 different paint choices
Sizes: 107 engine only
Review Date: September 26, 2108