2018 Harley Davidson Softail Fat Bob 114 Review
It's a very brisk 35 degree Fahrenheit September morning here in Calgary, Alberta but I'm on my way to meet a very hot date. Ripping down the highway on my ZX-6 Kawasaki Ninja all I can think about is the even hotter little rocket waiting for me down the road at Calgary Harley Davidson. This Review Made Possible by Calgary Harley Davidson
We'd like to thank Todd and Tom at Calgary Harley Davidson for providing us with seat time on a brand new 2018 Fat Bob. If you're in the Calgary area, we recommend you check out Calgary Harley Davidson!
Love at First Sight?
Upon my arrival I instantly spot her from across the parking lot playing it cool and aloof off in a shady corner. She's a beautiful black model, hailing from Milwaukee, with a strong build and eye-catching curves everywhere I want them. I instantly sense just what a wild ride I'm in for.
Her reputation I'd already heard through the grapevine as being too sporty (for some), rebellious, unconventional, and rambunctious to the core… yet surprisingly, courteous enough to meet and charm whenever asked to do so.
But that wasn't that kind of charming I'd come looking for.
Near as I can tell, her Daddy was a Yamaha V-max and her Mom a Fat Boy. "Otosan" left when she was too young to remember because the relationship brought his family dishonor, so she grew up on the wild side fathered by her favourite Uncle, Road King, instead.
I imagine she lived the Harley party life for a while but longed for something more. As soon as she could, she ran away from the circus to attend a well respected college and earn a degree in mechanical engineering. Always dressed to kill in black leather and designer jeans, this cheeky vixen wowed her school mates by belting out Pantera songs every Wednesday eve at Campus Karaoke nights. She is half Japanese, after all.
With an intro like that you may expect to hear numbers like 36/24/36 next, but those numbers don't give context to the backstory such a machine deserves. How about these numbers – 114 cubic inches, 118 foot lbs of torque @ 3500 rpm and 676 lbs wet – do they grab your attention?
There's really no connection to the V-Max… or is there? That name is all wrong, though. Fat Bob? More like P.H.A.T Babe!
2018 Fat Bob Specifications
28 inch seat height
Adjustable spring and preload suspension
Showa Mono shock rear suspension
Available with the Milwaukee Eight 107 or 114 engine
6 speed transmission
ABS
Inverted front forks
28 degree head steering angle (rake)
4.7 inches of ground clearance
Dual disc 4 piston caliper front brakes, single 2 piston caliper rear disc
92 inch total length
47 mpg fuel efficiency from a 3.6 gallon fuel tank
$16,999 to $19,099 USD depending on engine choice and paint scheme
Full specs and pricing available here.
On the Road the Softail Fat Bob 114 is a Gem
Seeing as this is rumoured to be the best handling Harley to date, I purposely rode my Ninja to the test ride as a point of reference to compare against the Fat Bob. I figured it would stack up pretty well against the little 600cc screamer I enjoy throwing around through the twisties in the nearby Rocky Mountains.
The Bob certainly lived up to its rep.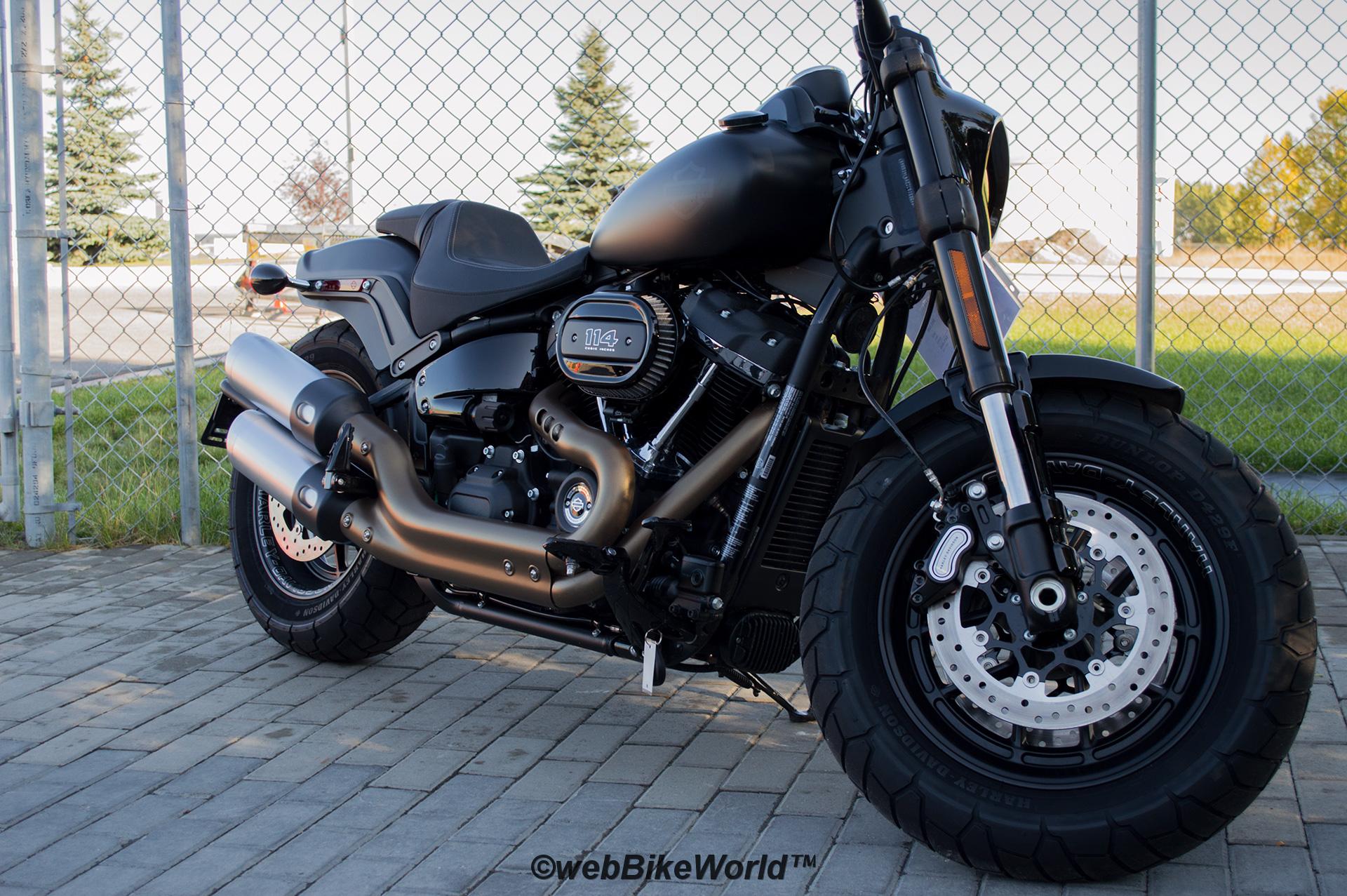 TORQUE!
I mean positively gobs of it. 118 foot pounds of asphalt punishing, grin-inducing, neck snapping, tire twisting power!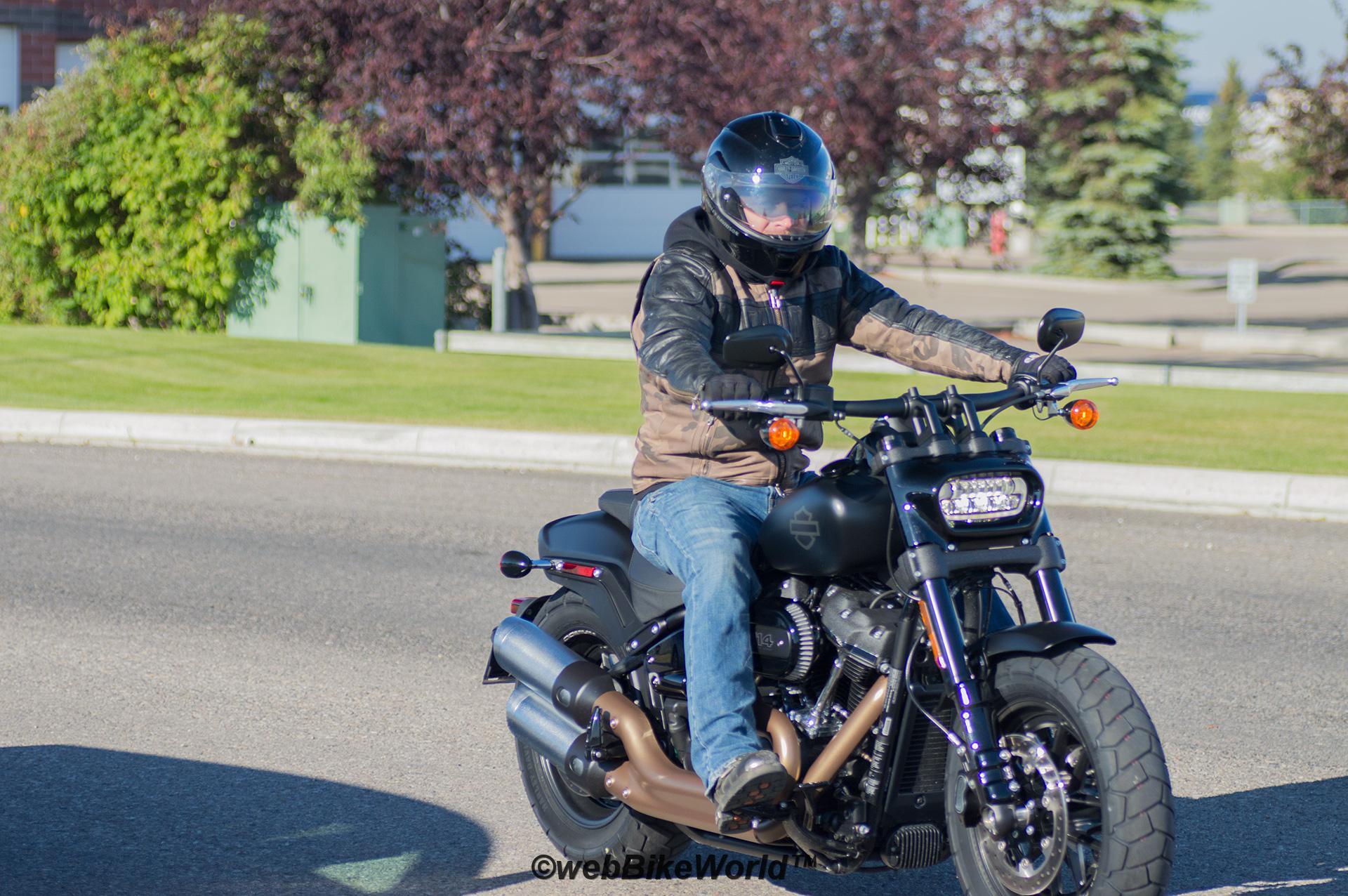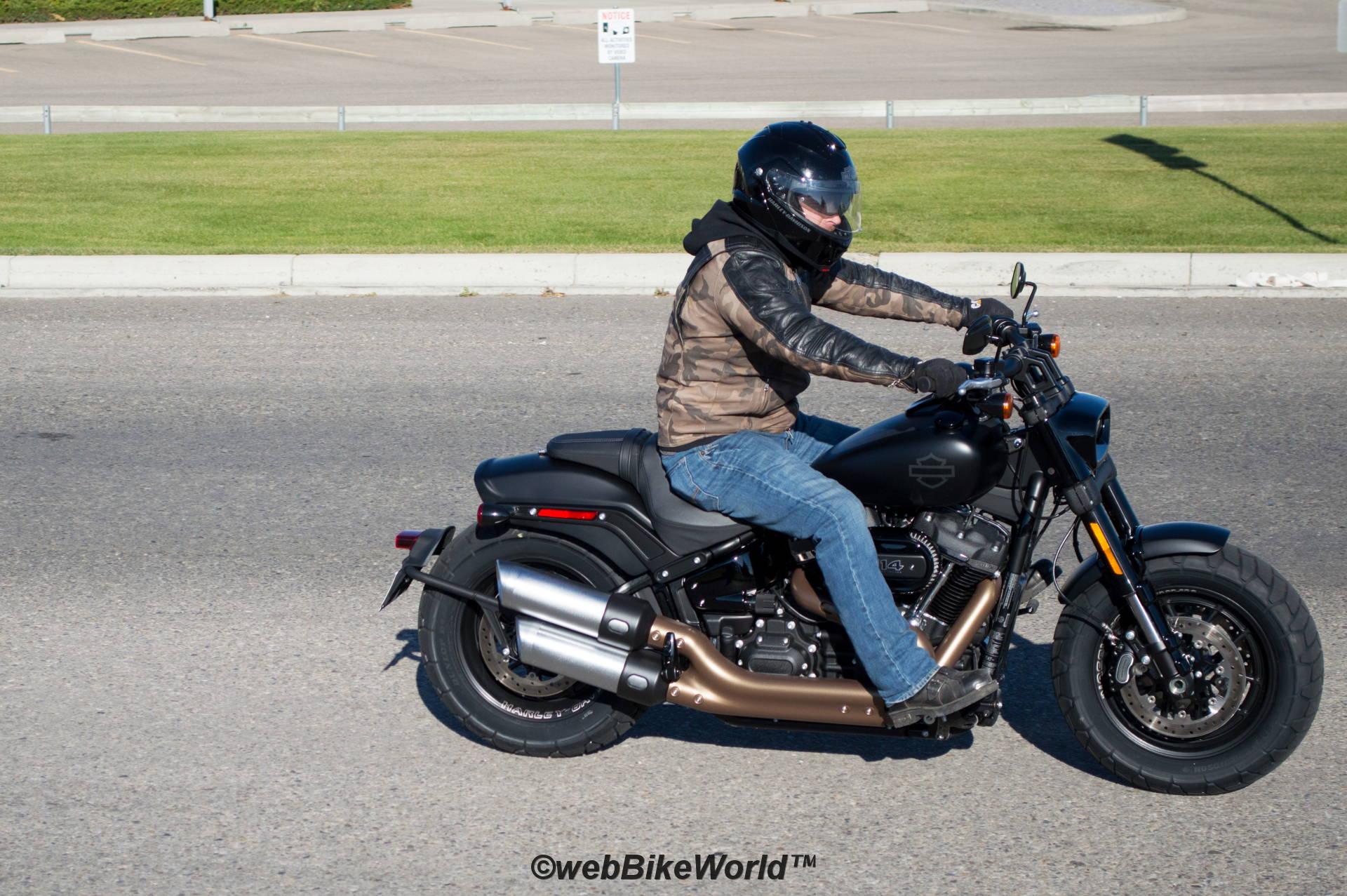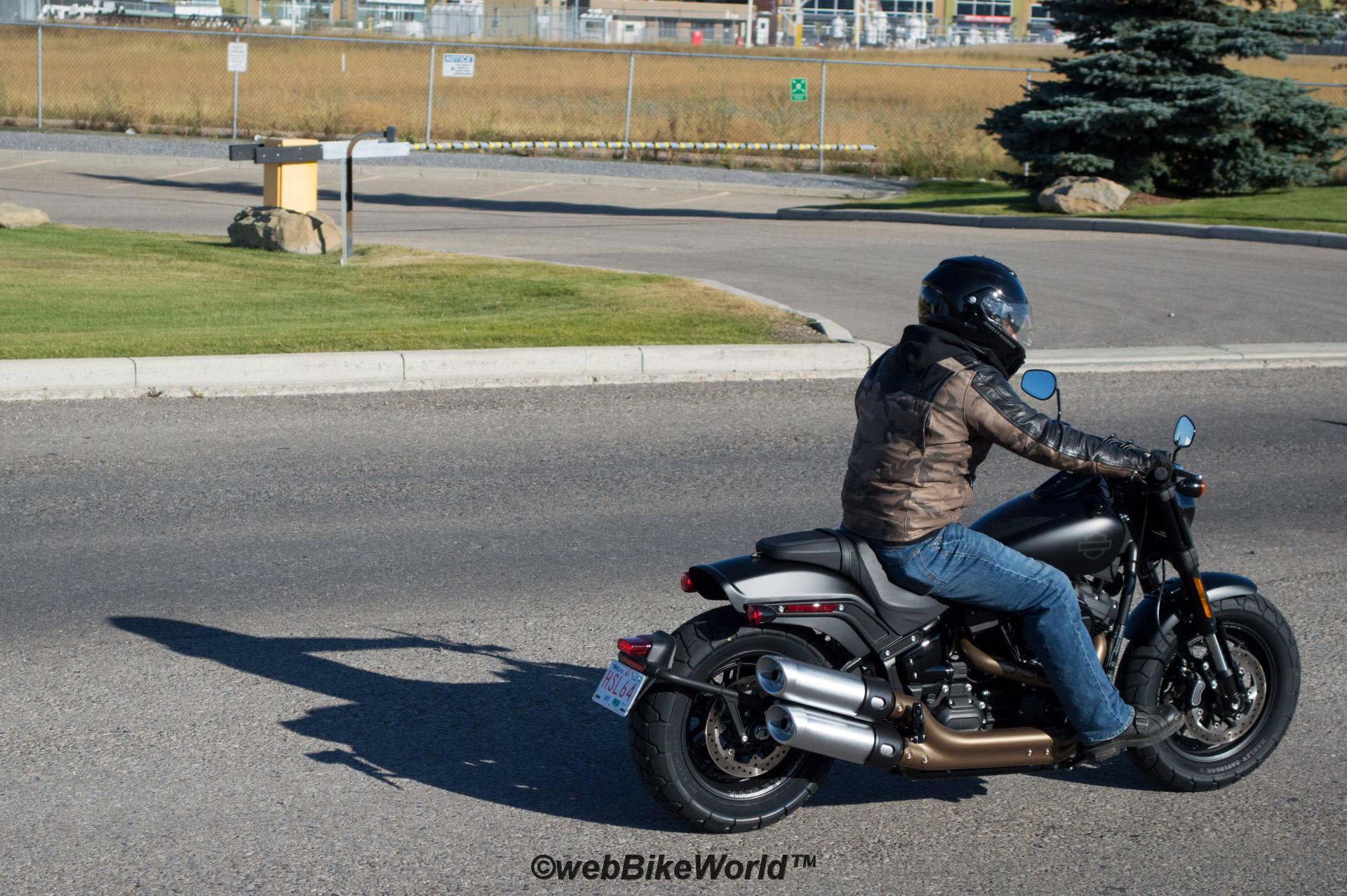 The 114 engine in this bike isn't exactly the same as the one in the big touring models in Harley's lineup because it's not liquid cooled as they are. It does come with a small cooler core for engine oil to pump through and is also cooled by airflow (which should help a lot when this beast is running in 100 degree weather).
At the first red light I encountered I requested a launch with authority, and did Bob ever meet that request. This bike can be a real tire burner if you want it to be. At the same time, if you keep the throttle in check, it's very polite at low speeds and nicely balanced on its chubby tires.
Later, when I merged onto the highway, I muscled my way into the inside lane with ease and then over into the passing lane. I was feeling very pleased with the low amount of vibration I was experiencing compared to other twin cam equipped Harleys I have ridden. It was then I looked down at the tank gauge to see what speed I was at and noticed I was only in 4th gear! I was humming along nicely at a little above the speed limit and I still had two gears to work with.
In 6th gear the roll on torque is still outstanding and the Bob sails along at high speeds with barely any vibration or exhaust noise. It loves to just sit at that 3200 rpm level, right in the heart of the torque curve. Sweet!
The Milwaukee Eight 114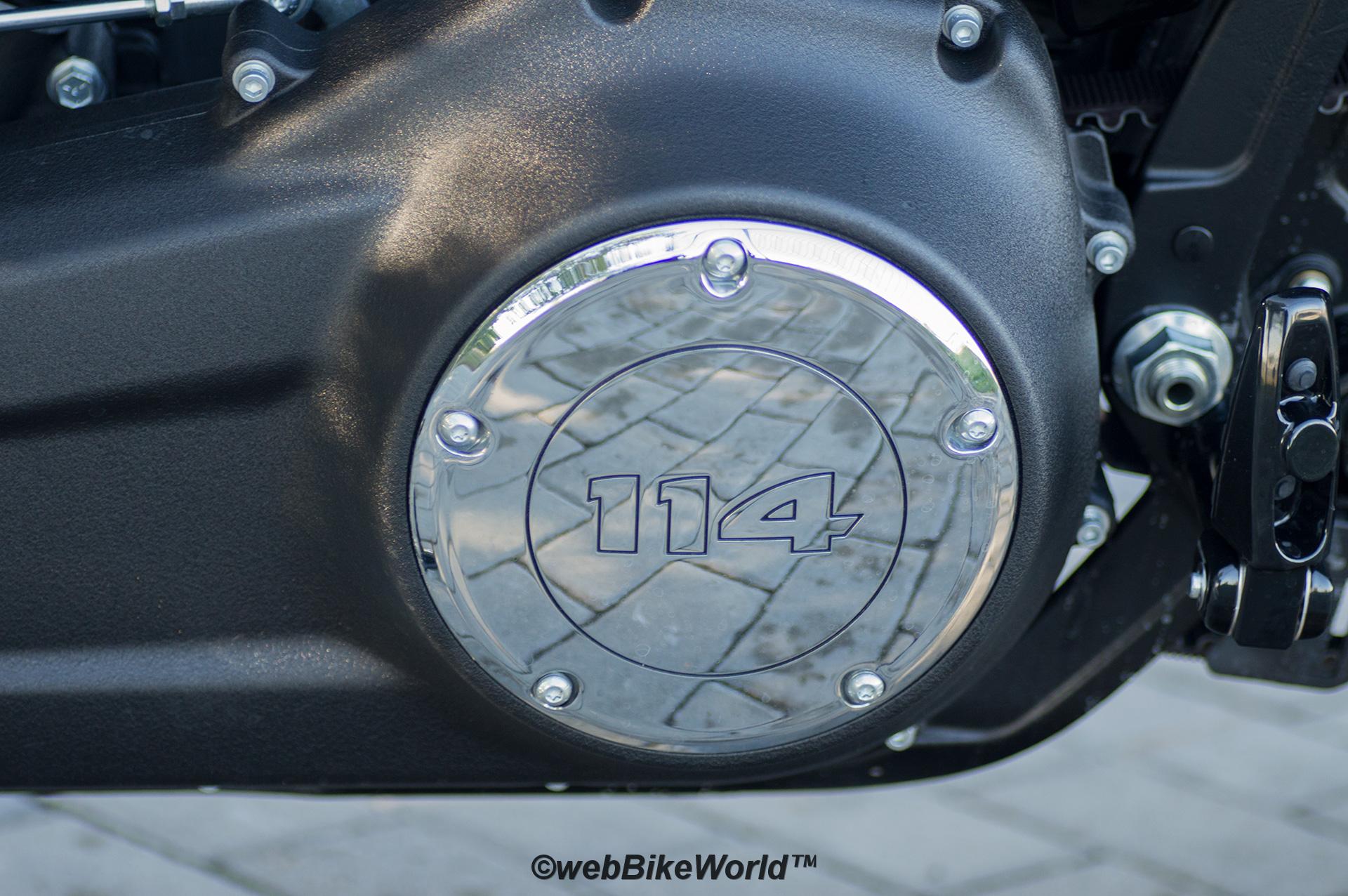 These new Milwaukee engines are so, so, SO smooth compared to the old twin cam engines. This smoothness is enjoyed thanks to counterbalancers, double the valves and double the spark plugs in the heads (compared to the prior engines). This civilized composure is more akin to Japanese and European cruisers (much to the disappointment of many of the Harley Faithful).
At low idle the engine has a completely different sound from its twin cam predecessor. Mainly what you'll hear is a pleasant little "wao—wa-wa—-wa-waao" kind of top end sing-song that somehow Harley has managed to make slightly irregular instead of sewing machine steady as you would hear from a Japanese or European cruiser.
This is a nice touch and perhaps an acknowledgement to the traditional sound of the old school Evolution engine's "potato—–potato—po…… TAto——po-tato" cadence Harley fanatics hold so near and dear to their hearts.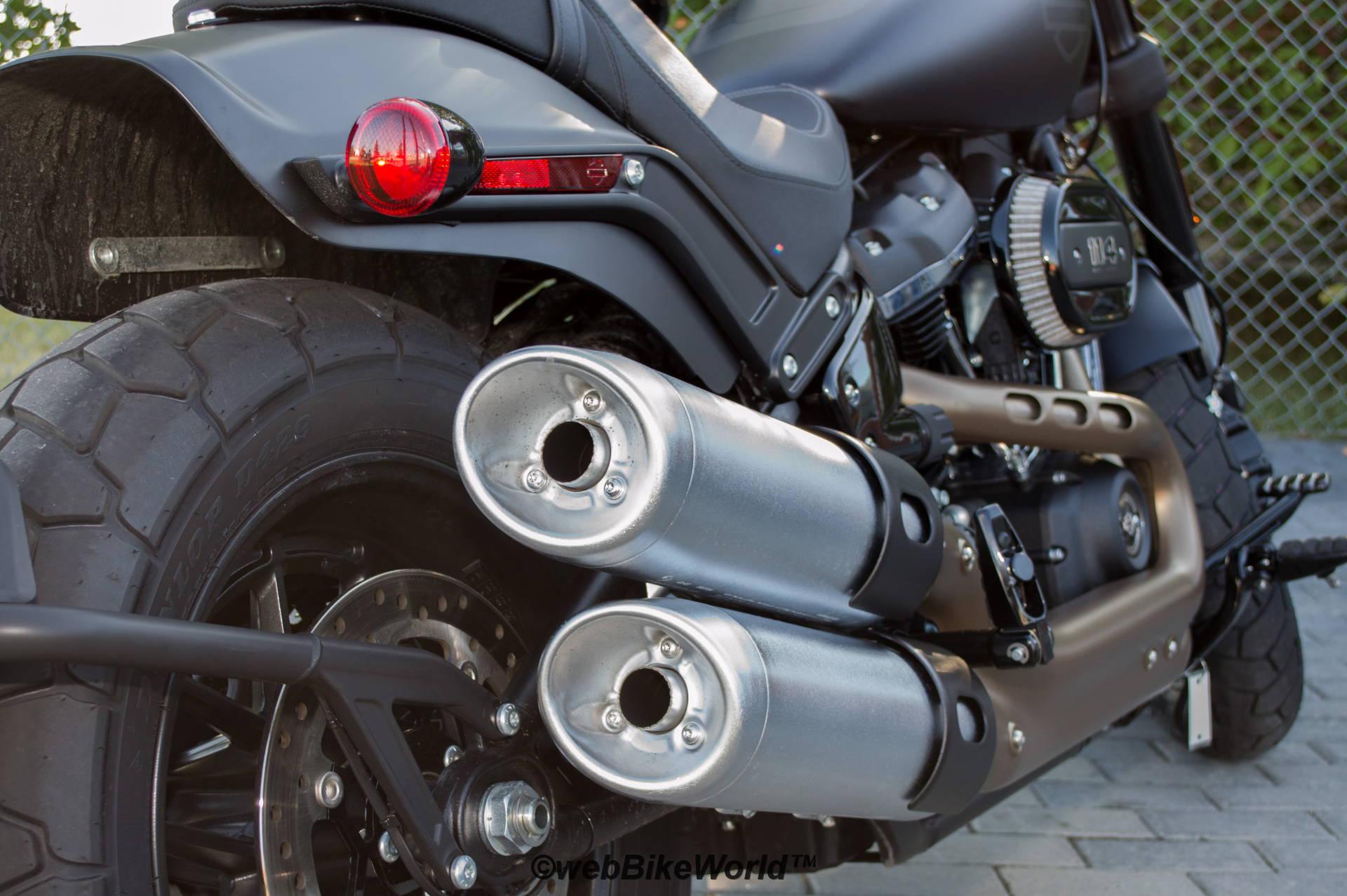 Crack the throttle open on the 114 and you'll be rewarded with a pleasant and HOG-worthy "snort-crack-growl", announcing to anyone nearby the Milwaukee Eight is definitely a HD 45 degree descendant. I can't wait to hear a 114 with a set of Vance and Hines pipes on it.
Loud pipes can save lives, but mostly they're just music to my ears.
Incidentally if you really feel 114 cubic inches aren't enough displacement, there is a 117 kit optional from factory.
Handling
When the V-Rod and its variants came out I thought they were going to be the Harley "sport bike", and no disrespect meant, but they just didn't live up to that. It was cool looking, fun to ride, and powerful, but I always found it too long and raked out for my 5'8" reach to ride it aggressively.
Not the Fat Bob. It's maybe not at the sport bike level of handling either, but it's getting there thanks to the amount of ground clearance, 28 degrees of rake, and more upright riding position. The pegs are more middle mounted, too, so I felt very comfortable throwing it into tight turns and launching out the other side with great gusto.
Everything comes together so nicely as a package that the Bob just begs the rider to flog it. It's a fun loving adrenaline junkie dressed in some badass blacked out aluminum and sweet flat black paint.
The footpegs are mounted high enough that, as much as I wanted to scrape them, I never found a corner that would let me do it. I've scrubbed my fair share of boards and pegs on plenty of other Harleys, but this one just didn't need to be leaned over far enough for me or anyone else who rode it after to touch ground.
The overall length of the bike feels quite compact, inspiring lots of confidence and making it pleasant to ride anywhere- be it highway, twisties, or in the city.
This bike likes to lie about its weight to the rider. It doesn't feel much heavier than a 500 lb machine to me. The weight is set down low in the chassis perfectly- a common trait with most Harley cruisers.
The suspension felt stiff and tight, but still with enough cushioning to absorb the bumps. If you want more or less, just reach down and twist the adjuster knob behind your right leg.
The all new monoshock in the rear is noticeably firmer and better than the old softail dual shocks, and much easier on the eyes than the Dyna twin spring design.
The dual disc front brakes are excellent (as you would expect even on a 670 lb bike). I think I may have had the ABS activate once on a sudden stop for a red light I almost blew through… very useful indeed on what I'm considering classing a "hooligan" bike. The Fat Bob makes you ride it like a bat out of hell, full-on Meatloaf style.
Rider Comfort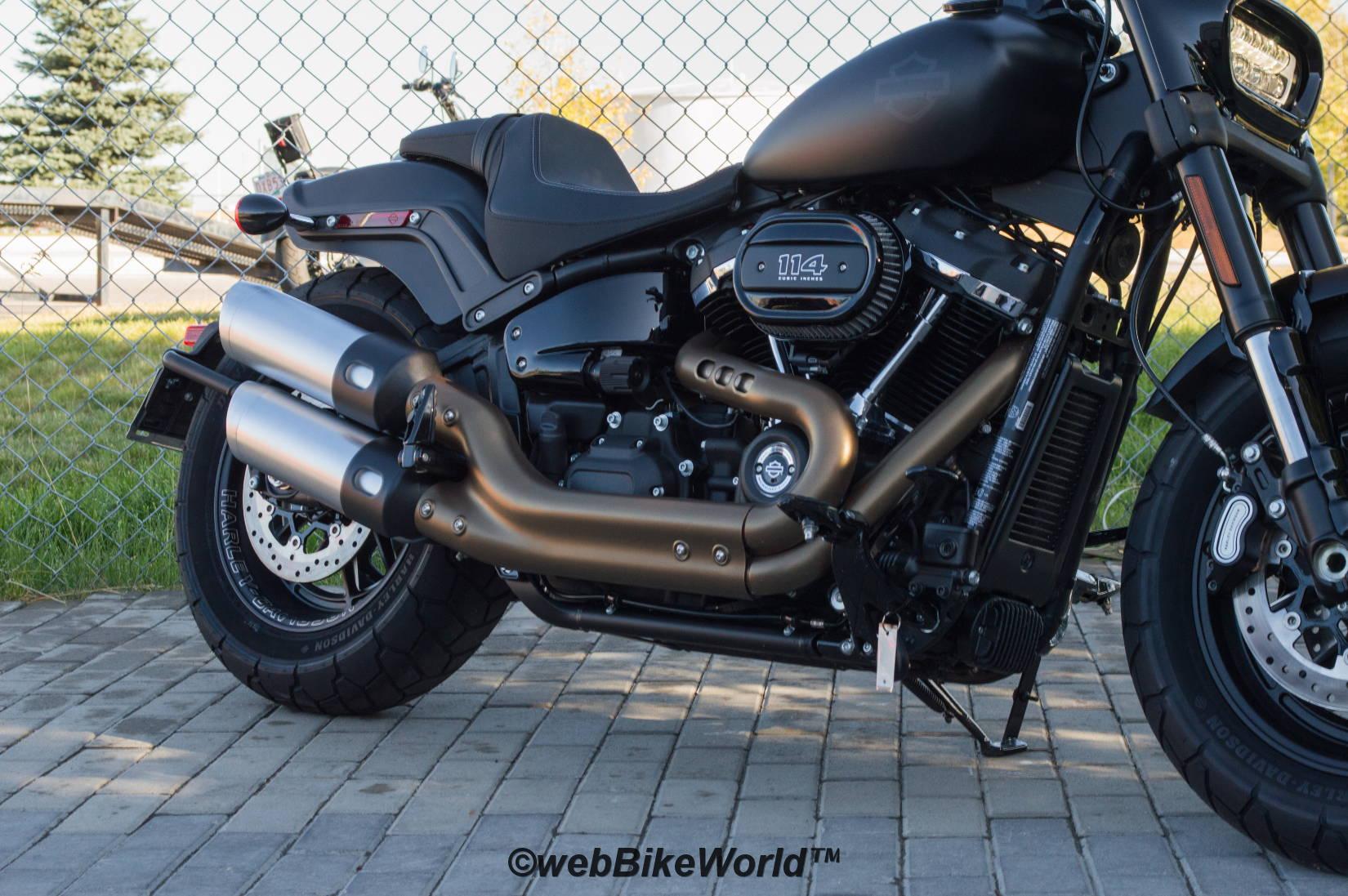 The seat is fantastic. It doesn't look like much but it really worked for me.
I rode the bike for about an hour and never experienced the slightest amount of discomfort, pinching, or "hot spots".
It also performs well as a rider retention device for the unexpected break-neck levels of acceleration encountered when the throttle is whacked open in first or second gear.
More than once I thought the bike was about to shoot out from under me like a wet grape until my backside rammed into the raised rear portion of the seat.
The Bob's drag bars meant I was leaned slightly forward. It was just enough to feel like I wasn't about to blow off at high speeds like I sometimes do on other models where the riding position is laid back or straight up. I noticed indicator markings on the bars right where they are bolted into the riser mounts, so they could easily be referenced to tip the bars forward or backward depending on what a rider wants or needs based on their height and reach. Another nice touch.
With a quick detach windscreen I know I could easily ride this bike all day in comfort.
FYI: I had my 6'6" friend Wade take the Bob for a rip to see how he fit on it. His knees were still about 10 inches under his arms surprisingly even with mid mount foot pegs. He claimed that he felt comfortable, not cramped as I would have thought. I think some higher risers would be good for him all the same. No big deal.
Styling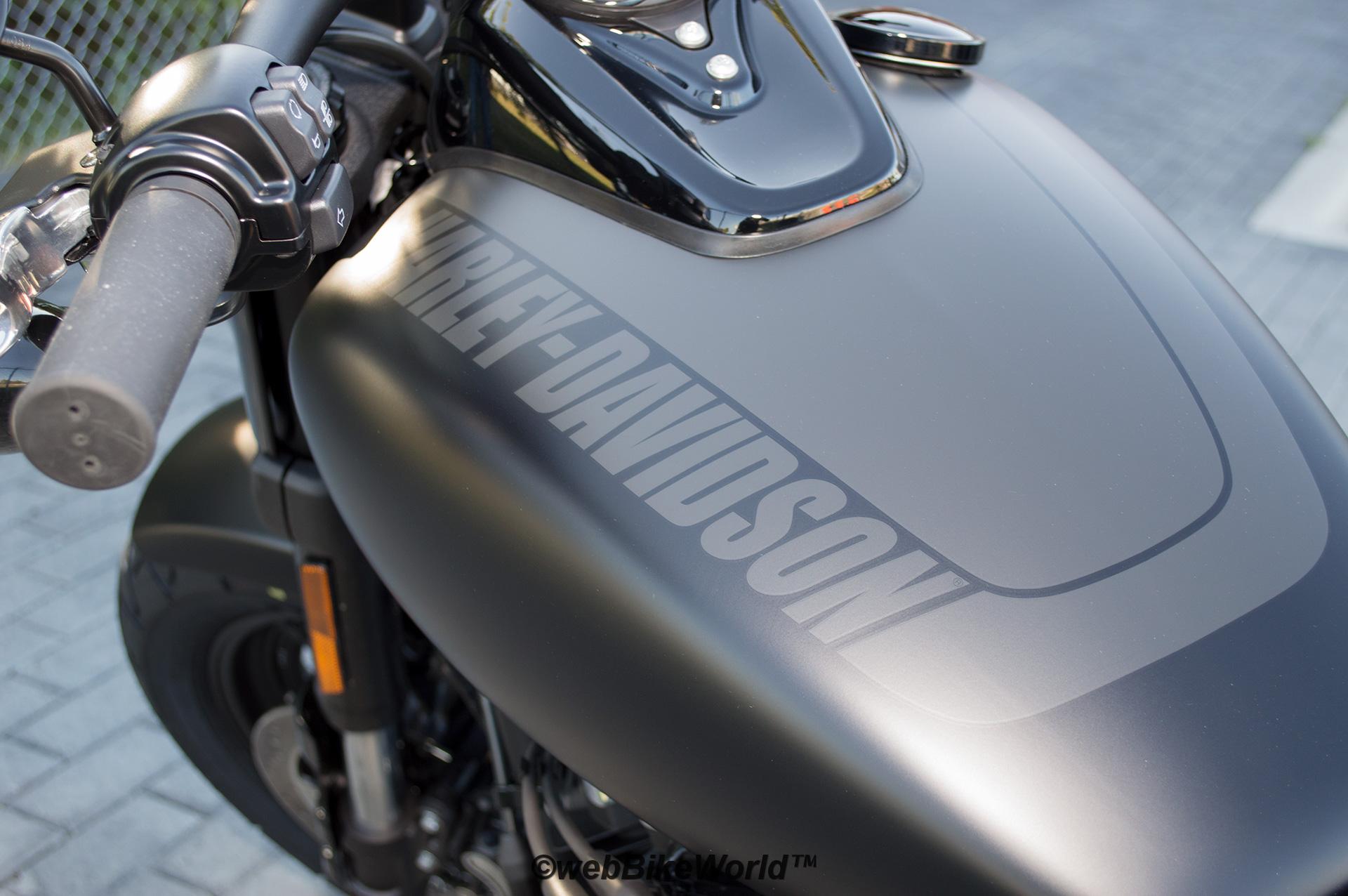 The badging and branding on the Fat Bob is bang on as always is the case with a Harley bruiser (err, I mean cruiser). I think when it comes to style, HD leads and everyone else follows as to what a big cruiser is supposed to look like.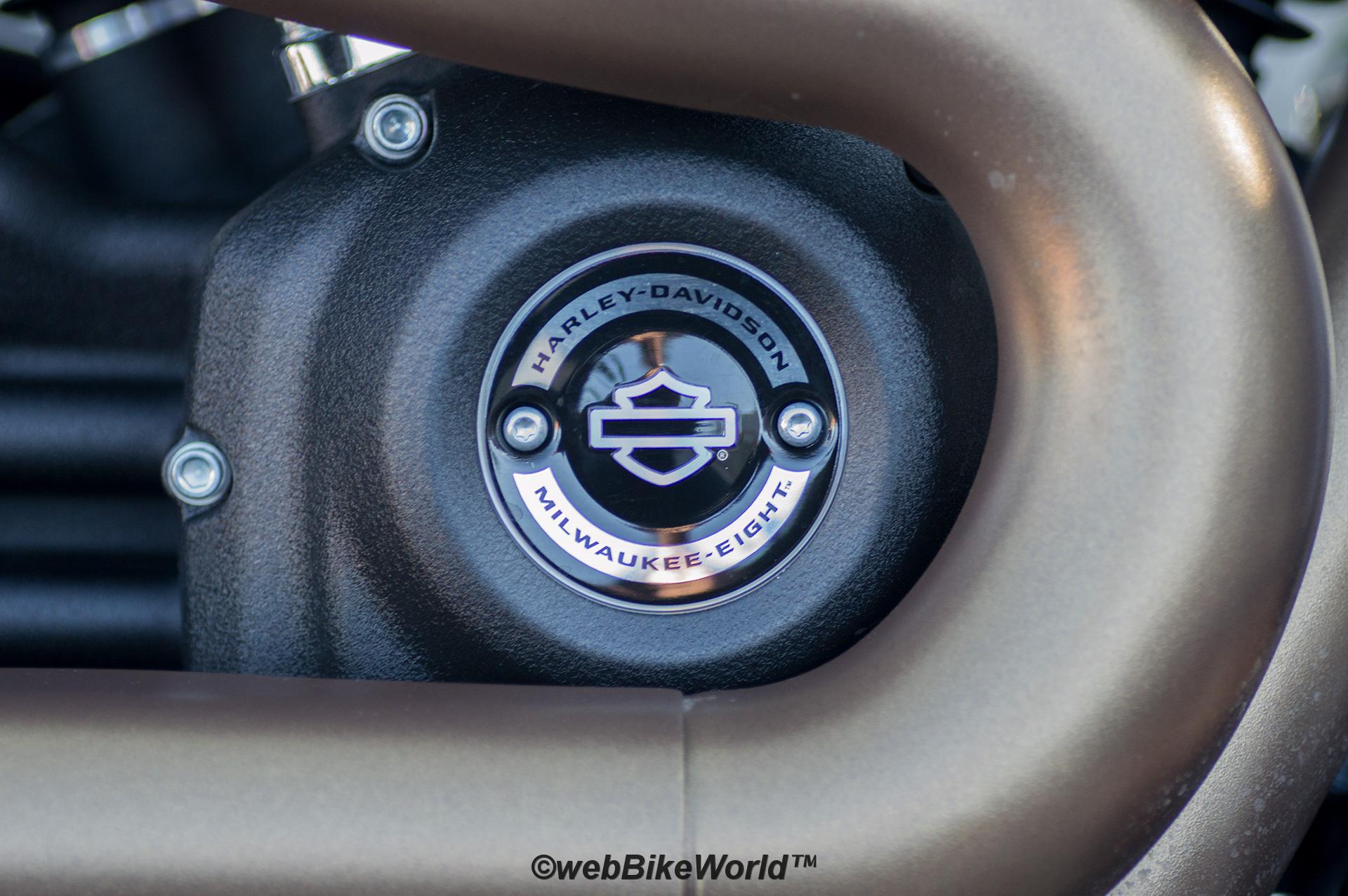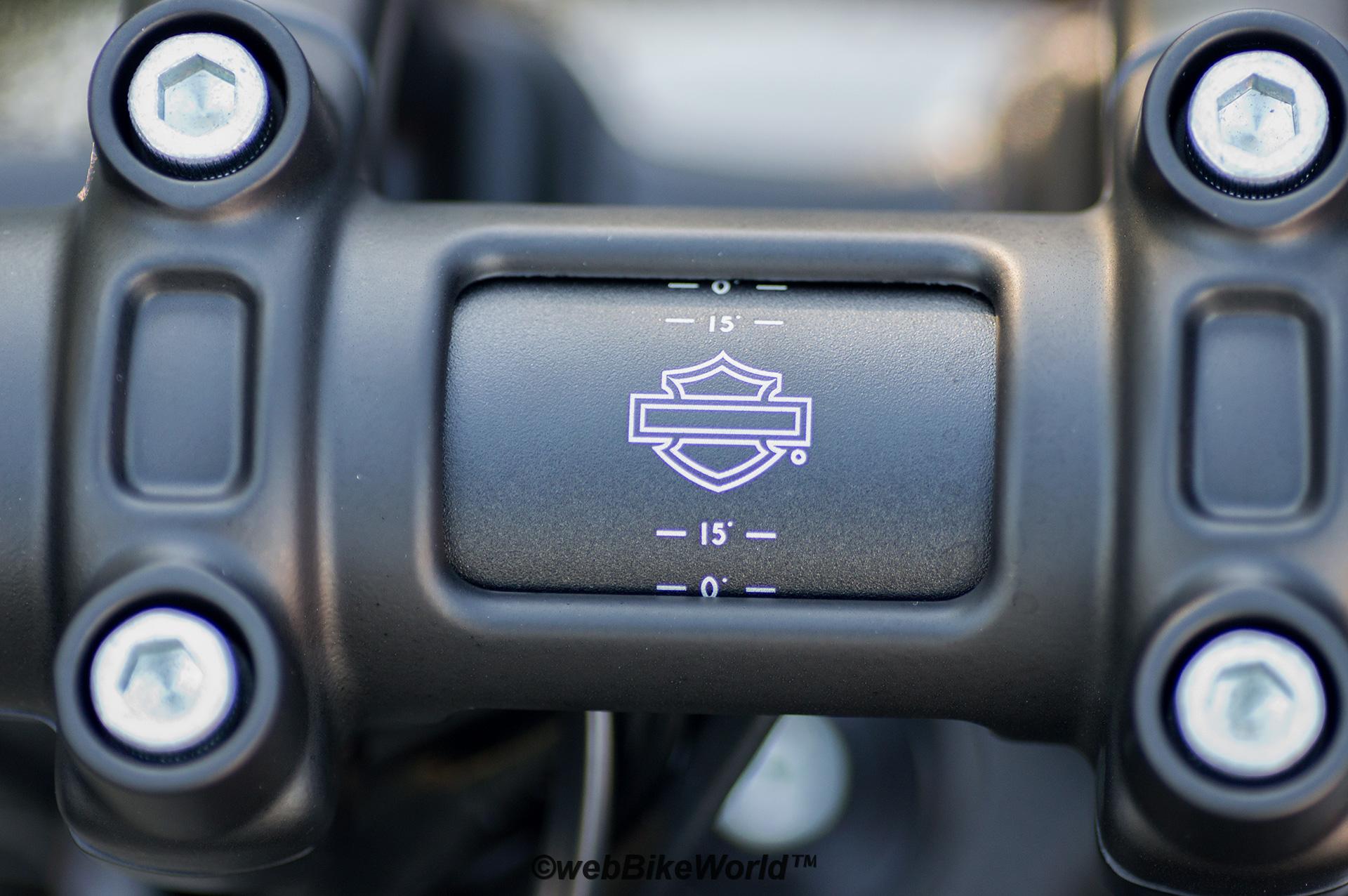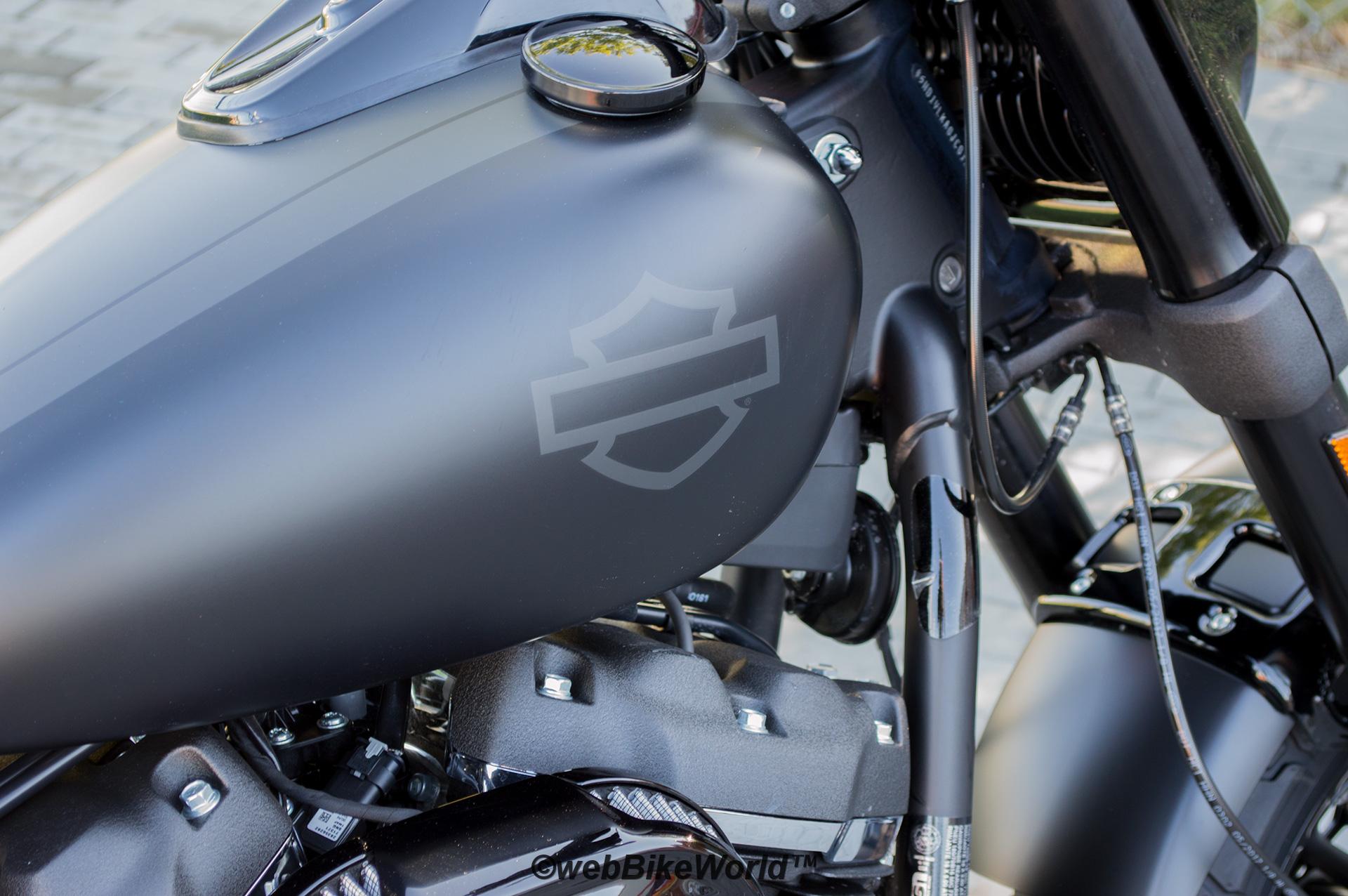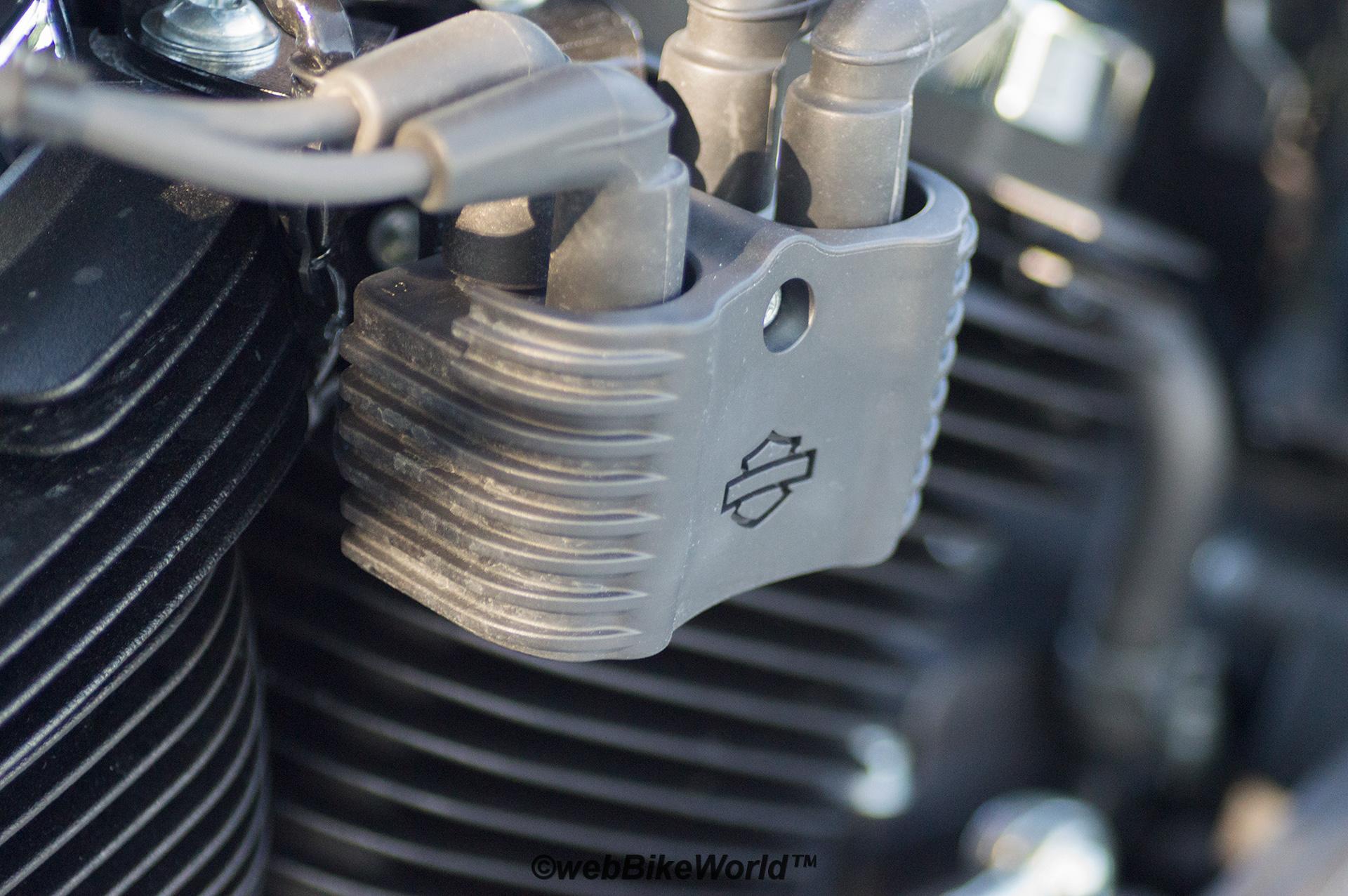 I especially like the blacked out aluminum primary cover combined with the polished chrome derby cover boasting the 114 digits, the Harley Davidson name laser etched on both 16" rims and the upswept twin cannon exhaust system that goes from 2 into 1 back into 2.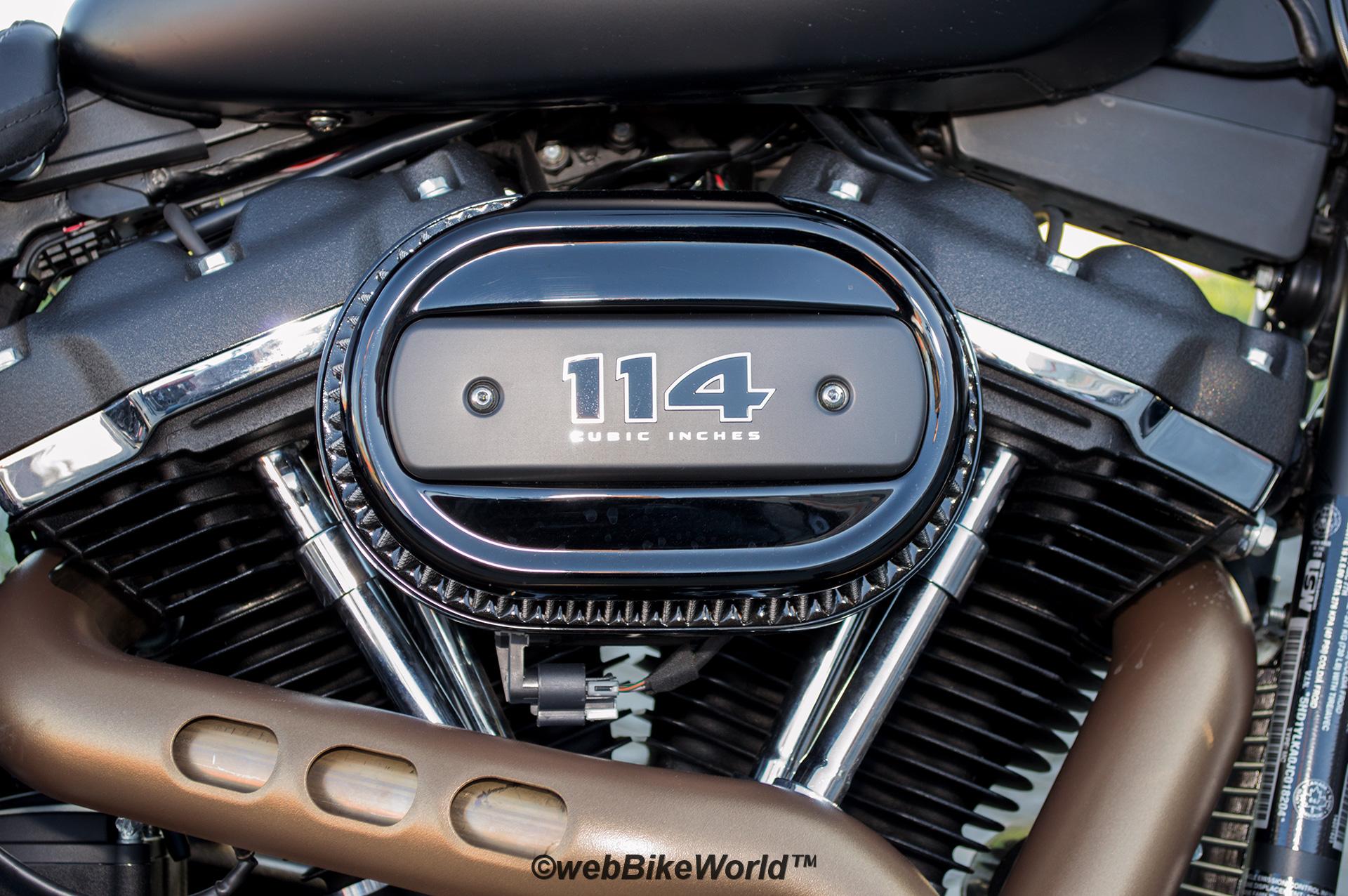 The Headlight
The headlight is so unusual for Harley that it stands out remarkably. People are in one of two camps on it: they either love it or hate it. There doesn't seem to be any middle ground.
That headlight is a laser beam! When you pull up behind a car in the passing lane and give them a little "blip" to let them know you mean business out there, it can't be ignored.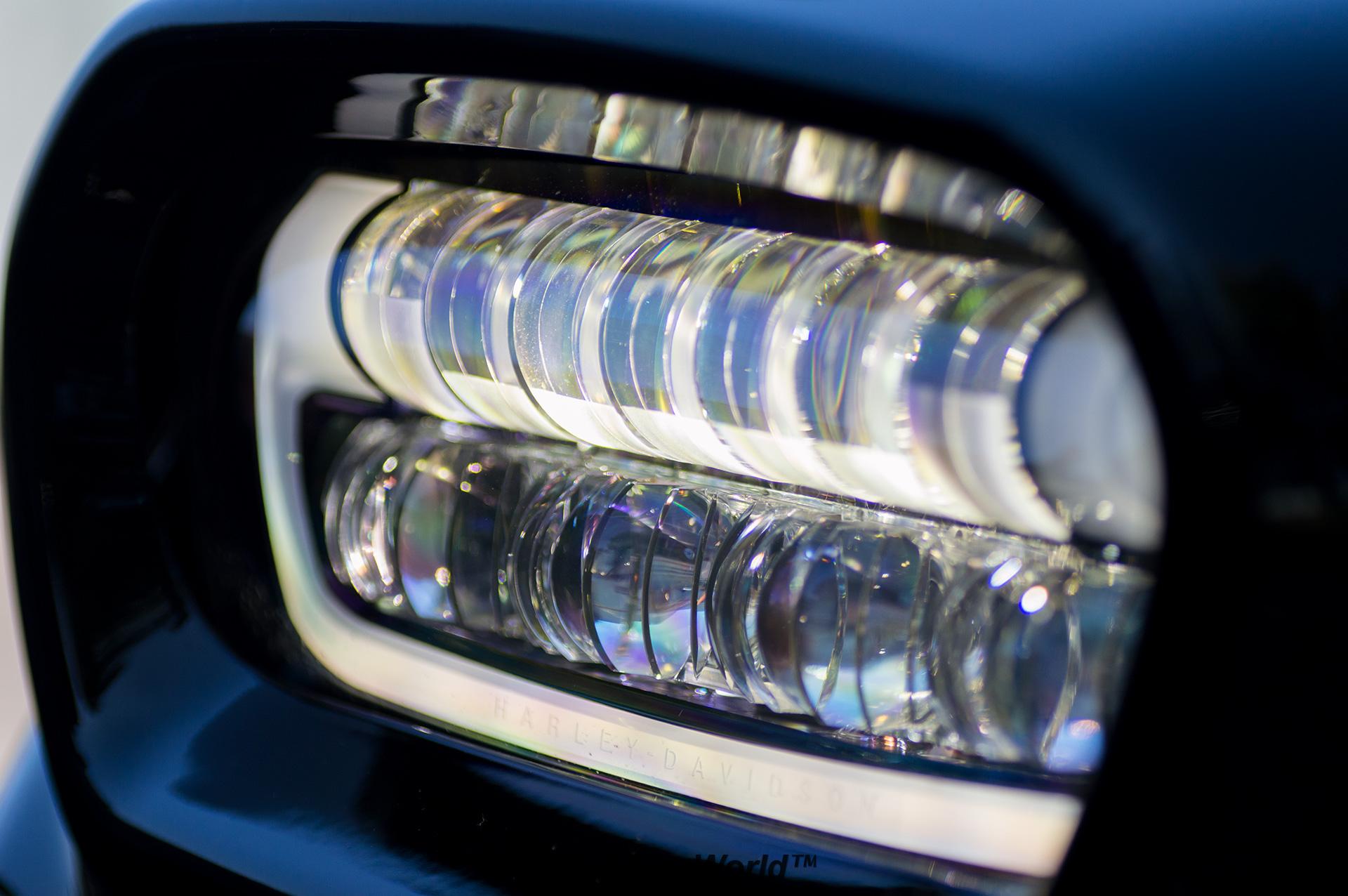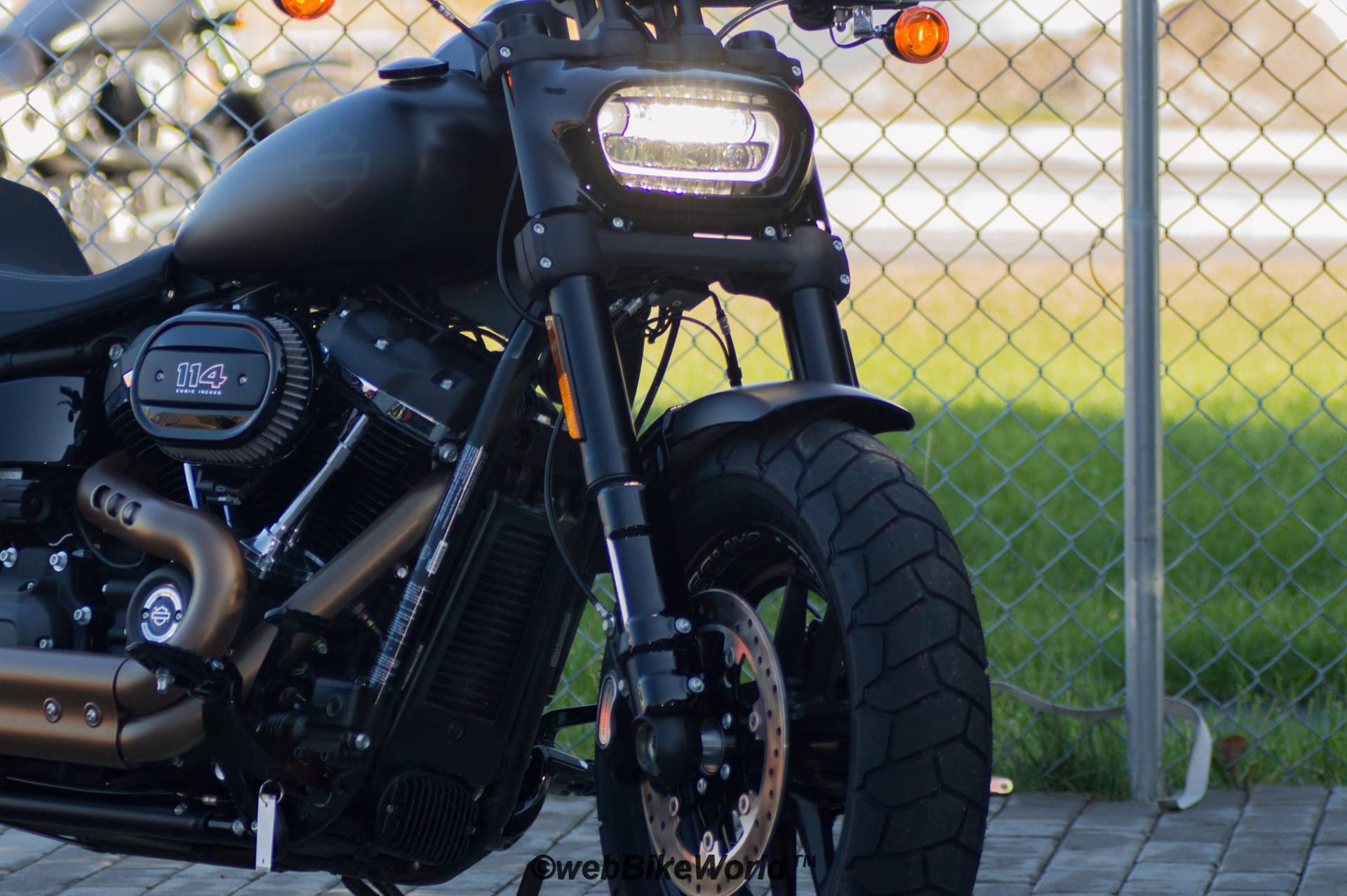 I successfully performed 6 laser eye surgeries with it while out on my test drive. You're welcome, from your friendly neighbourhood "Phat Bob".
Tires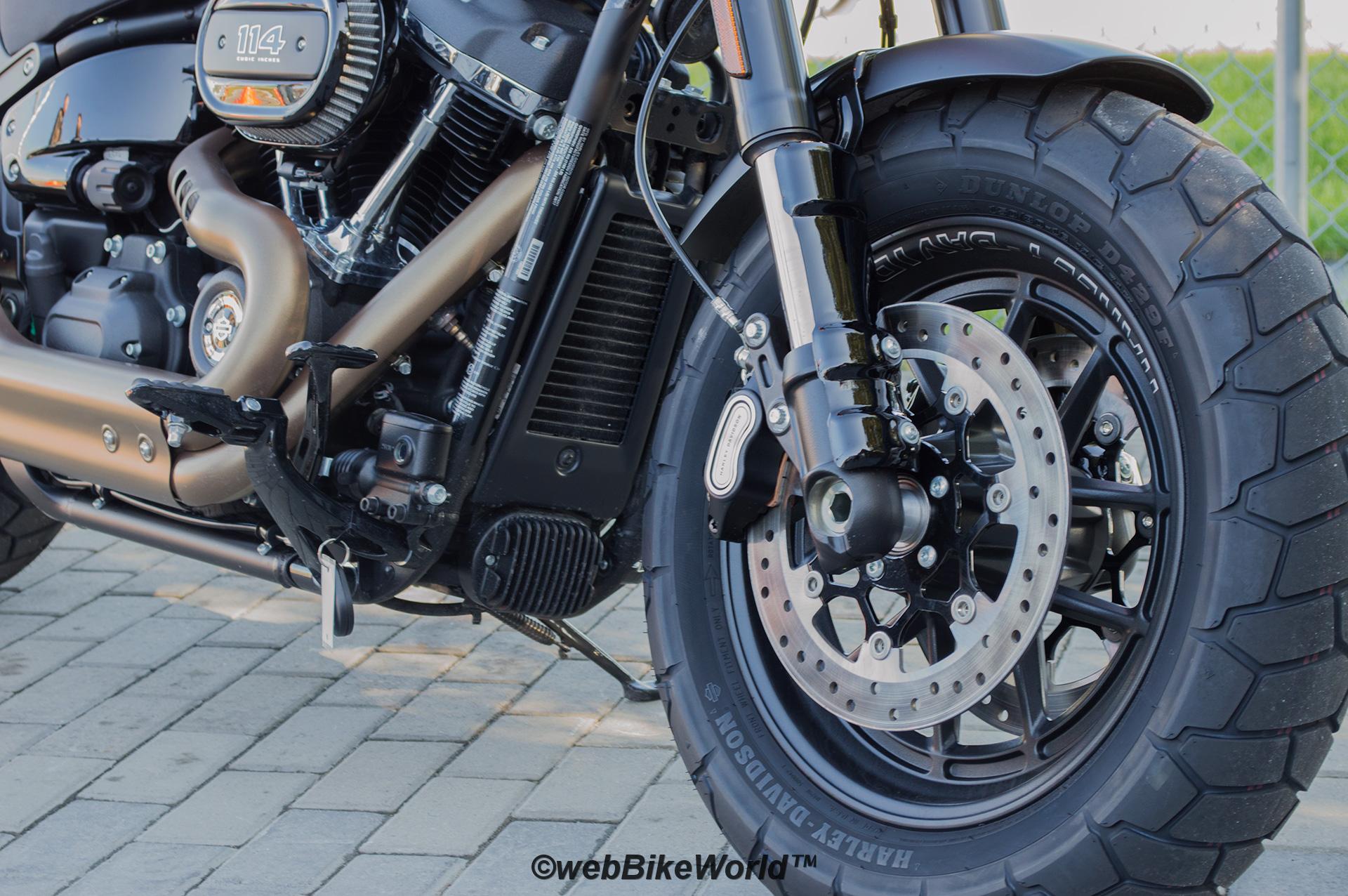 What is going on with the overly-aggressive looking tread pattern? They stuck well to the cold asphalt road while I rode the bike, and they certainly performed well in all respects, but man those have some deep grooves!
I asked several people at the dealership and their response was a shrug of the shoulders and "it's always been that way for the Fat Bob bikes." Don't get me wrong I think they look nice and fierce on the bike, which fits the overall image, but I just gotta know why???
According to Dunlop, the 16 inch D429 tires designed specifically for the Bob on the front and back have a computer optimized design of tread which promotes even wear. My response to that would be: What?? Aren't most tires designed with that in mind?
When I see deep treads like that on a bike it makes me think of taking it off road scrambling, but I resisted that urge during my test ride… this time.
The Downside?
Really there are just a few things I would change on the Fat Bob.
Tank Mounted Speedometer and Gauges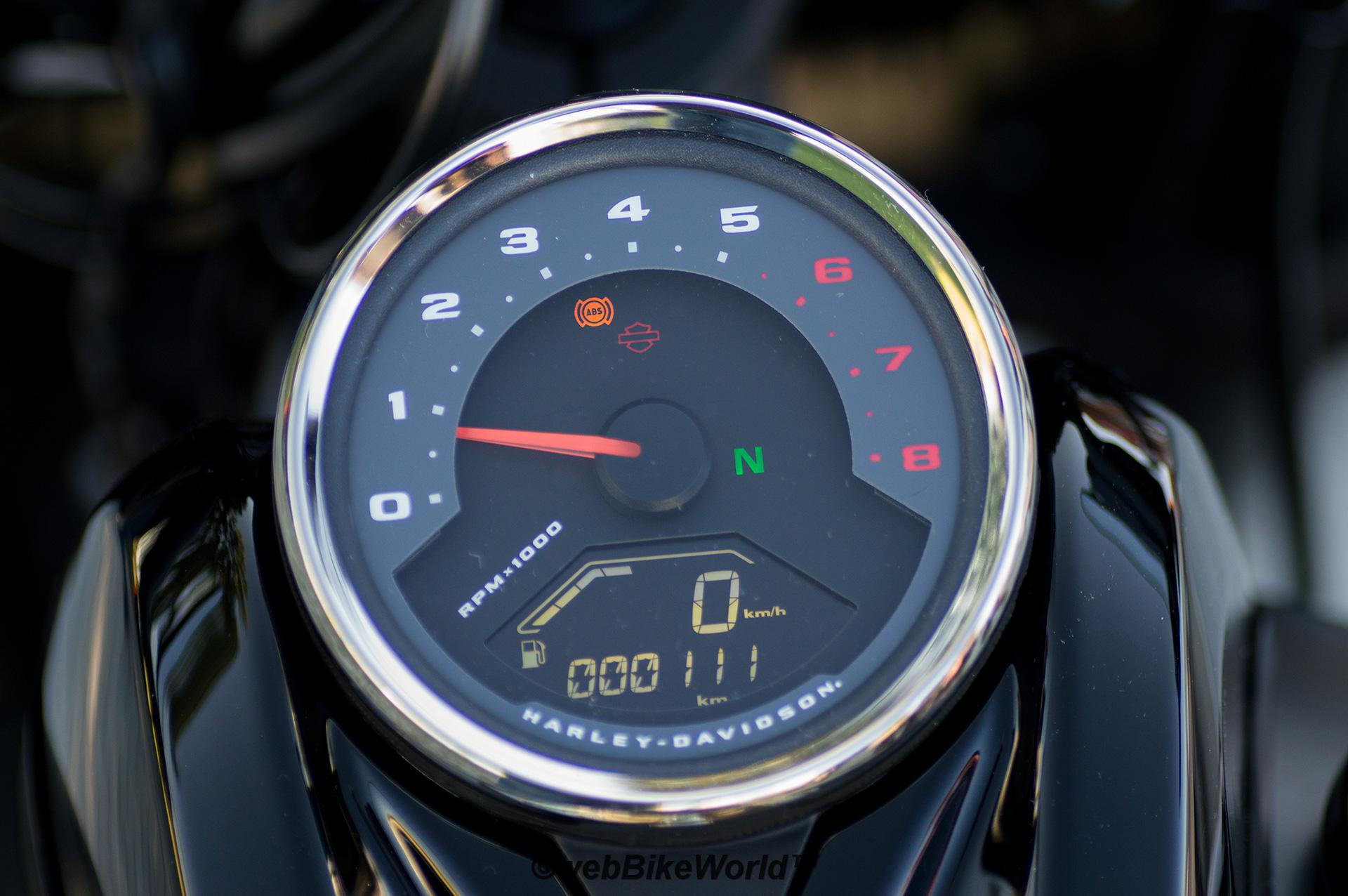 I realize that often Harley is about form over function. I'm not a fan of having to consciously look down at the tank to see what speed I'm doing, gear I'm in, RPM, distance to an empty fuel tank, or mileage on the tripmeter/odometer. All that information is available on the Bob's cluster and it's easy to read when you take the time to look away from the road ahead to check.
Still, I would rather have it up on the middle of the bars like it is on the Breakout.
Where's The Cruise Control?
The Fat Bob is pretty much devoid of luxury options other than that beauty of a seat on it. It's good and bad in its simplicity that way.
Lack of Heated Grips
Call me spoiled, but having little niceties on a bike like heated grips and cruise control would really be appreciated on longer rides and chilly late summer mornings- like the kind we get here in Canada.
Turn Signals and Plate Holder
So you've got the wickedly updated headlight on the front, but turn signals and tail lights with bulbs in them? Why not use LEDs all around? Not that the ones on it aren't highly visible or anything like that, but this is the modern Harley Davidson. Let's go whole hog on the update.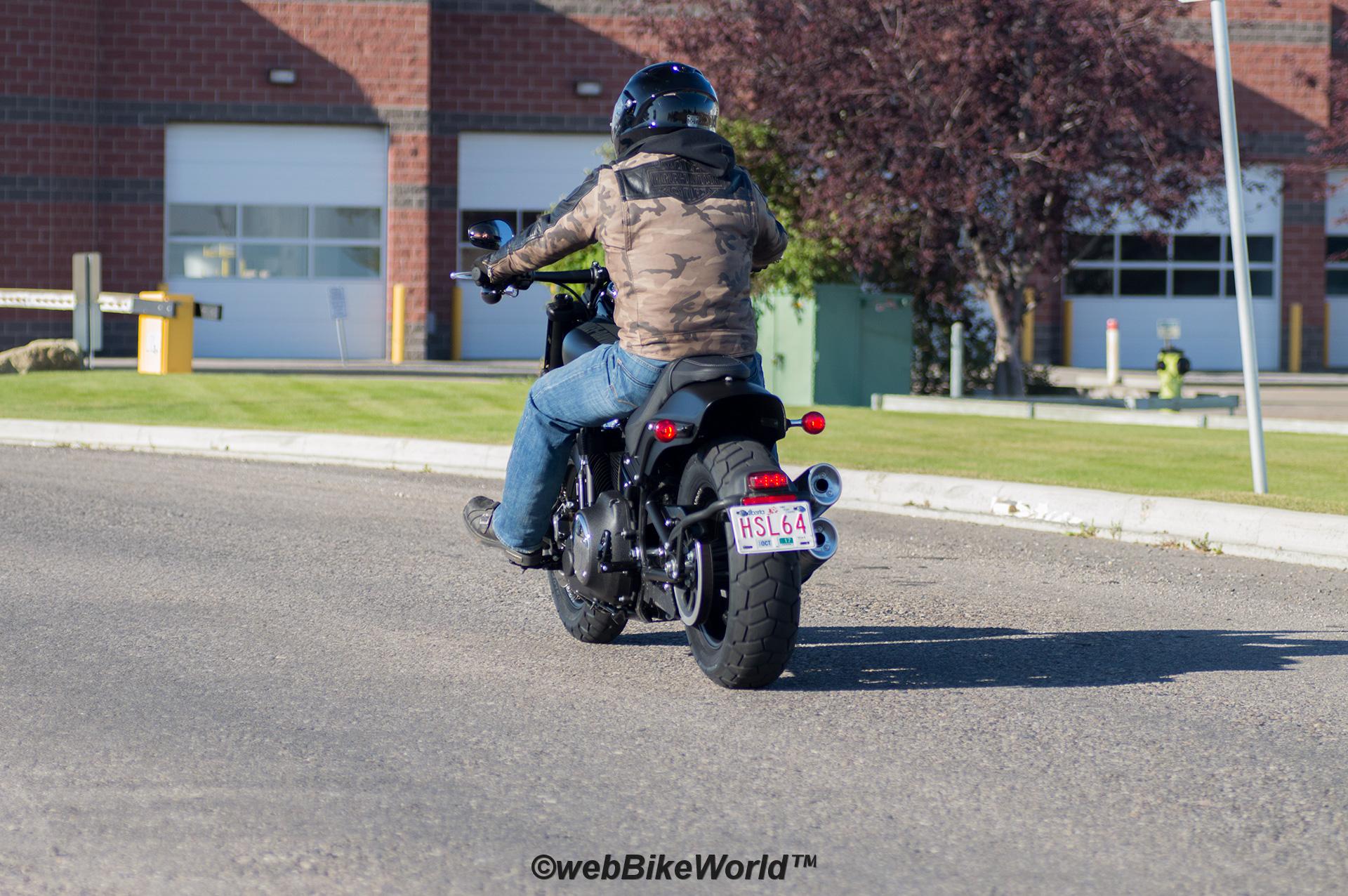 The license plate holder in Canada is one that looks like it was stolen off a BMW R1200GS in that it's floating over the middle of the rear tire and made of grey plastic. I'm told that it's because, in Canada, plates must be mounted directly in the centre of the back of the bike. In the US market it will have a different side mount instead and look a lot cleaner.
Price Factor
Even though for a Harley the Fat Bob is priced very competitively, it's still expensive compared to pretty much everything else out there competing with it. Unfortunately that may affect its popularity with people who don't have it in their budget range. I think those people should save up a little longer and go for it. The best things in life are often the ones worth waiting for.
Another Reviewer's Opinion
Youtube's Blockhead does a great review of the bike's features, performance and appearance in this video. I agree with him completely on his assessment overall and I found myself laughing while riding it just like him due to the abundance of torque.
**Of note, you can see the different side mounted license plate in the video**
https://www.youtube.com/watch?v=9r6sGwPcWS4
Some Competition for the Fat Bob
2017 Yamaha Raider XV1900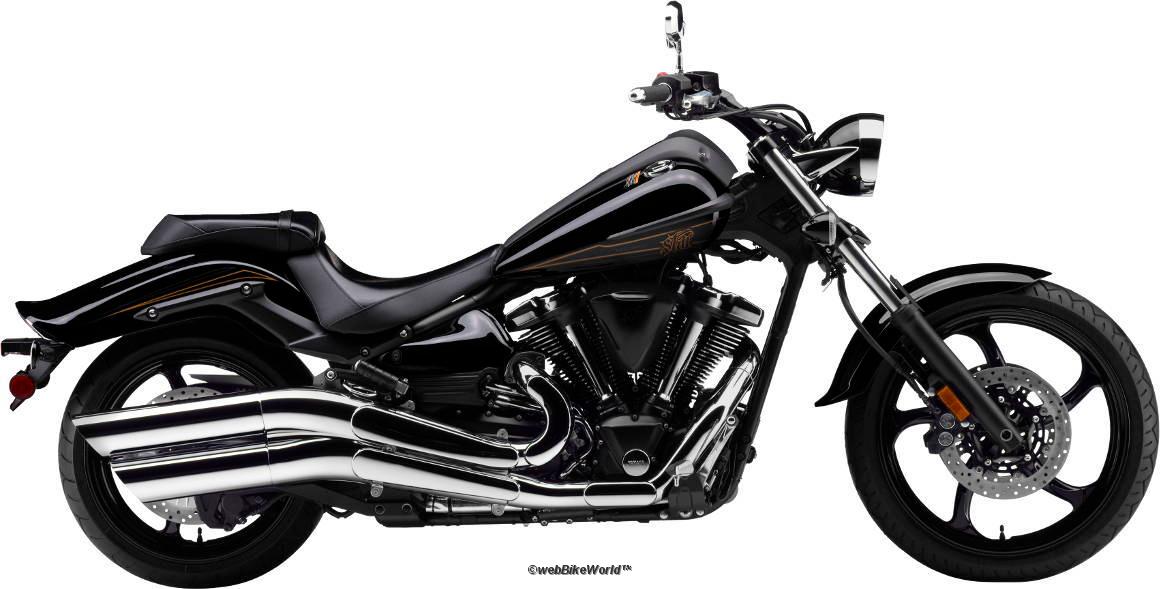 Here's a real strong competitor for the Fat Bob coming in at a noticeably lower price of $15,199.
Its air cooled, 113 cubic inch V twin engine produces 123 ft lbs of torque @ 2500 RPM and gets 50 mpg. That's more torque at a lower rpm than the Bob.
The Raider comes equipped with a 5 speed transmission compared to the Bob's 6 speed.
The styling is quite different being more prototypical cruiser than the Fat Bob's is.
A longer and more raked out front end combined with a 21 inch front wheel would negatively affect steering compared to the compact Fat Bob, but the Raider is equipped with twin front disc brakes, a monoshock rear suspension, and belt drive just like the Fat Bob is.
The front suspension on the Raider is telescopic as opposed to inverted on the Bob and the Raider is a fair bit heavier at 730 lbs too. Very similar in a lot of ways, but different.
Yamaha is known as one of the most reliable builders and I'm sure the Raider would definitely be worth a look. Interestingly, the Raider is quite often mistaken for a Harley. Maybe the charming playboy V-Max also had a fling with a Harley Wide Glide at some point to produce the Raider?
2017 Suzuki M109R BOSS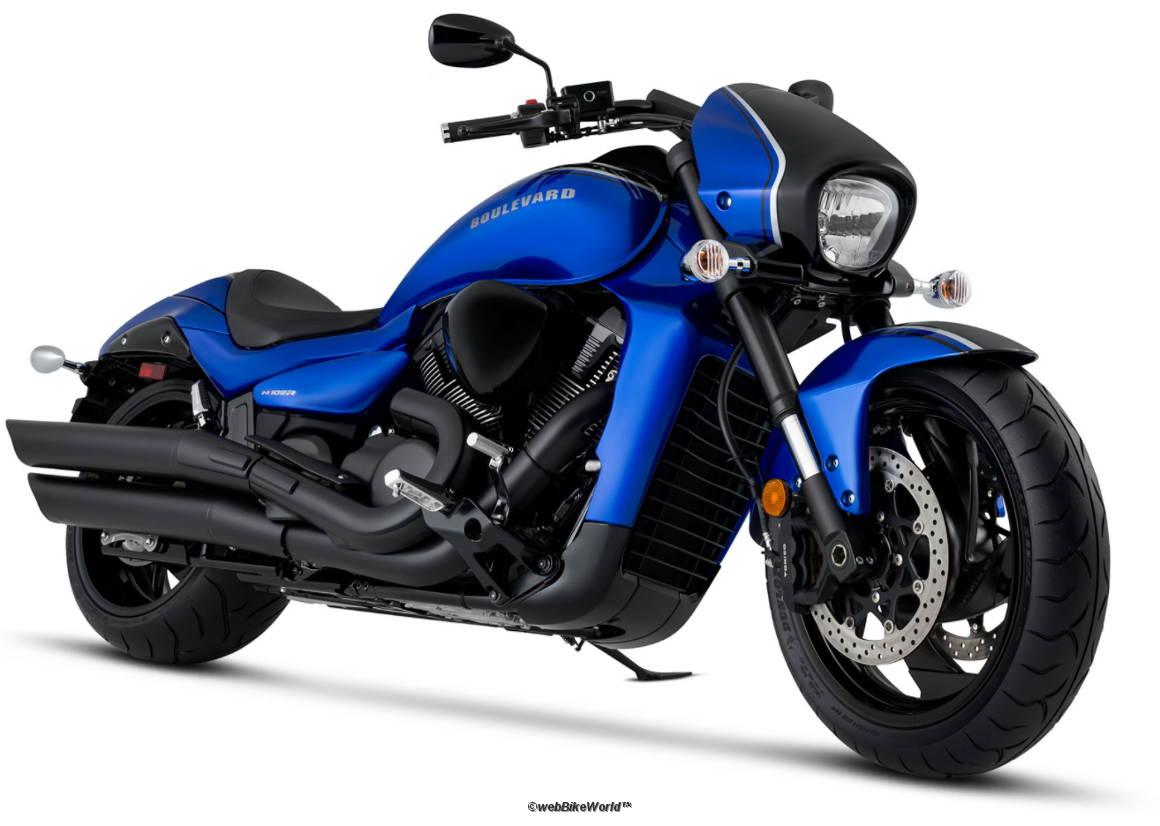 This is a really performance driven machine from Suzuki featuring a 109 cubic inch, liquid cooled 54 degree V Twin engine and a price tag of just $14,999.
The power numbers are impressively similar to the Bob: 108 horsepower and 118 ft lbs of torque @ 3200 rpm. It definitely belongs in any serious discussion about acceleration and speed among big cruisers.
Inverted forks, blacked out engine, a really fat rear tire and plenty of attitude are also included on the BOSS. I would say this is Suzuki's undisputed muscle bike and it demands respect.
It has single shock rear suspension and dual front disc brakes to slow it down similar to the Fat Bob.
Some differences would be the 5 speed transmission, shaft final drive and beefy wet weight of 764 lbs to tame this raging bull. Really if any bike is going to be called fat I think it's this one. Rebrand as the Fat Boss maybe?
Performance wise this bike stacks up well against the Fat Bob, but from a styling perspective I don't think it can hold a candle to the Harley, unfortunately. The body work is boring and too vanilla bland for my taste while the Bob is truly Pretty Hot And Tempting to behold. If you're going to build a muscle bike then you need to dress it up too.
Suzuki seems to have embraced a "Go before Show" strategy on this one, succeeding the same places Harley has but failing elsewhere.
On the other hand, TMW's Michael Le Pard would disagree with me on the Fat Boss looks judging from this review where he calls the styling "gorgeous". Beauty is in the eye of the beholder.
Who is the Fat Bob Built For?
Here's the million dollar question about this new bike: Who will buy it?
In the '80s, Harley Davidson rose when faced with poor sales and popularity and surely could do so again. While they aren't anywhere near that place currently, there are rumours and perhaps some data to show they aren't a popular choice with the up and coming generation compared to Japanese and European hardware.
So what do you do to ensure your brand stays among the most popular? You innovate and take some risks. You build something different, flashy and try to keep the price down to draw in a new crop of Harley owners.
The Harley Faithful
Harley has been carefully walking a tenuous line for a long time by building bikes for "the Harley Faithful." They are the people in their 40s to 60s that have been buying lots of product and prefer only subtle changes. The "Faithful" are important to HD and need to be served, so I think the new Fat Bob is a cautious baby step forward which isn't playing so well within that group.
I spoke to a couple of them at the demo ride about the Bob, and while they understand and accept the inevitable change in Harley bikes, they don't really dig it.
One 51 year old fiercely-loyal Harley owner I spoke to said he rode the Bob only a few blocks before returning it as it was just "too sporty" feeling for his taste. His wife echoed that sentiment and wouldn't even swing a leg over the new bike. They both roared off on their heavily customized Dynas defiant to the end. They are convinced Harley will bring back their beloved Dyna lineup in a few years. They might be right, I'm not sure.
Another 40 year old current Softail owner RAVED about how powerful the Bob felt and fun to ride it was, but didn't like the drag bars or where the footpegs were mounted on it. Other than that he really liked it, so I would say that's the target Harley has hit with the new Fat Bob.
Will the Risk Pay Off?
Unfortunately I don't think that's who HD was after with this bike. A few non-Harley people I spoke to about it seemed to have too many reasons not to buy the Bob and stick with what they know already. It's really hard to draw in a new crop of buyers even for as savvy a builder as Harley Davidson is.
Harley would love for the 20 and 30 year olds to rush out and buy the Fat Bob, but I don't think it will do it for them. Harley might be able to sway some Japanese bike owners with it and have those riders buy the Bob instead of Vulcans and Boulevards; the prices are within striking distance of each other and the Bob will outperform them from what I can tell.
It's not a slam dunk though and those potential buyers may not even give it a well-deserved chance for the same reasons some of the Faithful don't. It's just not what they're familiar with. I hope they do swing a leg over one and see just what a sweet machine it is.
The Future is More Fat Bob
I'm 42 and a recovering Harley owner of 8 years. I just sold my 1999 Ultra Classic and bought a KTM Adventure bike because I want V twin sound and torque, but also to go exploring gravel and dirt roads across the country. If Harley built an adventure bike I would be ALL over it like white on rice… but they don't… so I chose to move on. I miss it sometimes, especially when I get to test drive and write about a fun little number like the Fat Bob.
I'm convinced even more radical change is what's coming down the pipe, so the Faithful need to steady themselves for a new kind of evolution. The new Fat Bob appears to me to be just a stepping stone on the road to taking aim at the real target: the millennial generation.
Based on media announcements and consumer feedback surrounding the Harley Livewire tourfrom years ago we know for sure an all-electric Harley is right around the corner. I can't wait to see what that looks like- Harley is going to do it with the best style guaranteed.
I also think there's a small chance of an adventure bike model down the road. Harley shouldn't choose to ignore the wave of popularity surrounding that class. They could probably build something good if they decided to move outside their comfort zone a little more.
Wrapping it Up: My Concluding Thoughts on the Softail Fat Bob
The Fat Bob is fantastic in my eyes and I would definitely own one (but as a second bike if I bought one today). It lacks the required off-road flexibility and a few options for the riding I'm currently doing, but it's on my mental list of bikes to own if the opportunity arises in the future
When I'm done with the adventure touring I'll look at putting a tasteful quick detach windshield, some heated grips, and some saddle bags on the Bob and fly around on it with a grin ear to ear.
If you currently enjoy roaring around the paved countryside or in the city whilst hanging out with a sexy young bike, then this Fat Bob is for you. It's something special and different while feeling familiar because of its iconic Harley Davidson heritage.
It also is an awesome platform to turbo charge and make stupid fast by loading up with aftermarket performance parts. With Harley the sky's the limit when it comes to customization and squeezing out more performance from huge V twin engines.
The best part is that this bike will allow you to use all that power in sharp twisting turns without making you feel like you're on the edge of control. I think it's a winner and a bold move by Harley. Bravo!