Electric vehicles have been around for over a century, although it has only been in the past two or so decades that the technology has matured enough to be both cost effective and resilient enough to travel the same kind of distances as petrol powered vehicles can. Add in the unofficial "Green Promise" between automotive manufacturers to have most, if not all, of their models electric by 2035, and the motorcycle industry is starting to follow along.
It may interest many to know that the biggest proponent (and seller by volume) of electric vehicles, Tesla, and the biggest proponent of electric motorcycles, Zero Motorcycles, were startups within three years of each other, in 2003 and 2006 respectively. Both broke new ground in their respective industries, becoming the first "real world" companies that offered exclusively EVs.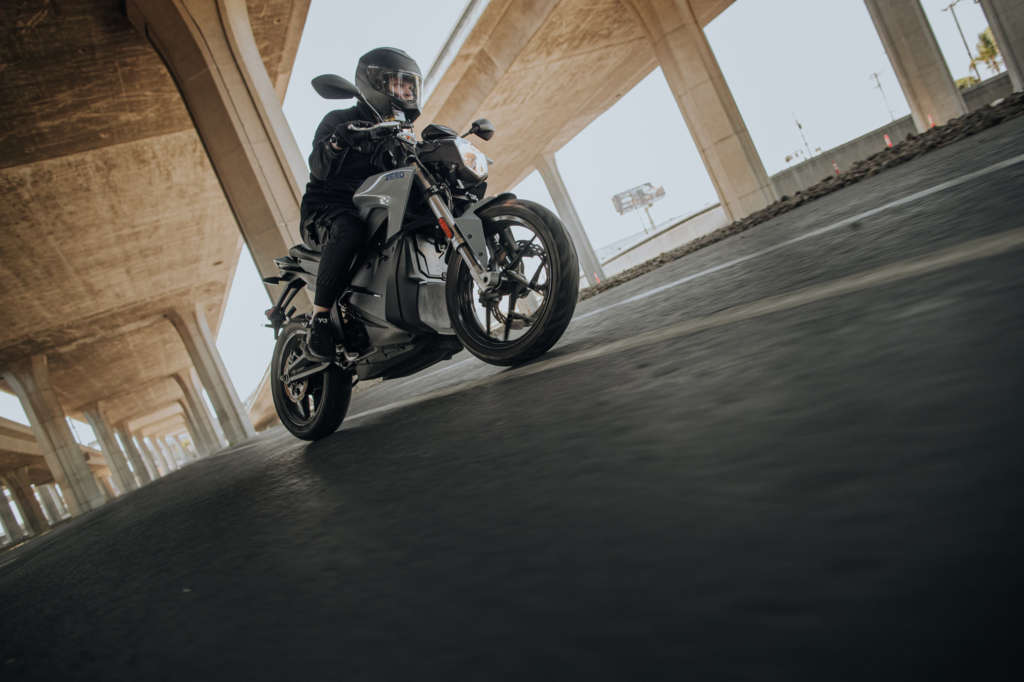 The biggest difference between the two is that far more people drive cars than ride motorcycles. The interest throughout the late 2000s and the 2010s was almost entirely on four wheeled vehicles. Because of this, and the widespread adoption of new EVs, there are now massive charging networks across North America, Europe, Oceania, and quite a few nations in Asia. 
In truth, ever since I started riding motorcycles, the fact that there are electric ones has always intrigued me. Since Zero has been around nearly as long as Tesla, what better time than to see how far electric motorcycles have matured?
Words: Simon Bertram // Photography: Cameron Martel, Simon Bertram
Calgary Cycle City graciously provided us with a demonstrator 2023 Zero SR/F over the Canada Day long weekend. For full transparency, we were offered the chance to review any Zero they had in stock, from a FX to a DSR/X. We selected the SR or SR/F, as sportbikes are one of the two biggest motorcycle markets at the moment. webBikeWorld does not have a financial relationship with Zero Motorcycles or Calgary City Cycle.
2023 Zero SR/F (Standard)
MSRP:

$23,795 USD / $30,695 CAD

Where to Buy:

Any authorized Zero Motorcycles dealership

Battery:

Zero Z-Force Lithium-Ion 17.3 kWh (15.2 kWh nominal power available)

Charging Connector Type:

J1772 Level 2

Motor:

Zero Z-Force 75-10 permanent magnet AC motor

Power:

110 HP

Torque:

140 lbs-ft / 190 Nm

Gearing:

Direct drive single speed via 90T / 20T Poly Chain HTD Carbon belt

Top Speed:

124 MPH / 200 KPH

Range (Claimed):

City: 190 miles / 300 KM | Highway (at 70 MPH / 113 KPH): 93 miles / 150 KM

Suspension:

Front:

Showa 43mm Big Piston Separate Forks

Rear:

Showa 40mm Piggy-Back Reservoir Monoshock

Brakes:

Bosch Advanced MSC ABS

Front:

2x 320mm ventilated discs with 4 piston calipers

Rear:

240mm ventilated disc rear with 1 piston caliper

Wheels & Tires: 

Front:

3.5×17 rim with Pirelli Diablo Rosso III 120/70-17 tire

Rear:

5.5×17 rim with Pirelli Diablo Rosso III 180/55-17 tire

Curb Weight:

500 lbs / 227 kg

Weight capacity:

500 lbs / 227 kg

Warranty:

2 years motorcycle, 5 years battery
Initial Impressions: Looks Can Be Deceiving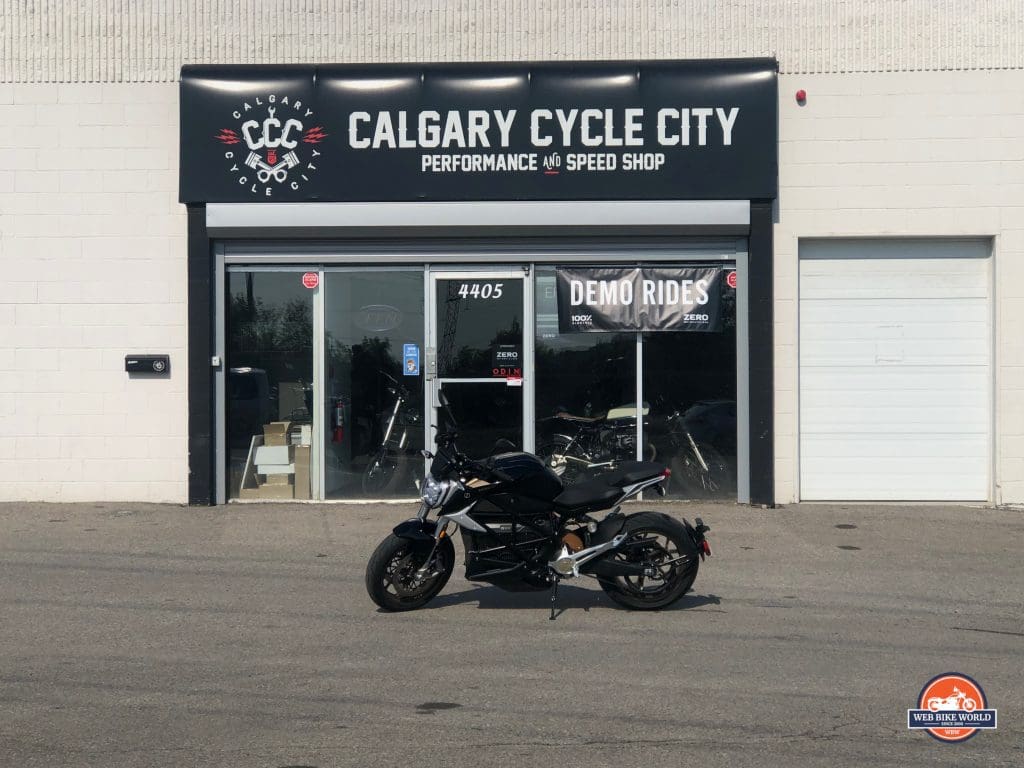 The first thing that struck me about the 2023 Zero SR/F is that it is a deceptively large motorcycle. It looks small when not next to any other bikes, but up close its size does stand out. I was surprised to learn that the SR/F has the same seat height as my 2012 Kawasaki Ninja 650 at 31 inches (790 mm), and had a longer wheelbase than my bike, at 57.1 in (1,450 mm) versus 55.5 inches (1,410 mm).
In my view, that's partly down to the wheels being 17 inches, but also partly to the "tank" being much flatter than on most petrol-powered motorcycles. While being a sport naked, it carries a definite streetfighter vibe about it. Looking at something like a Yamaha MT-07 or MT-09, its dimensions start to make more sense while also looking as aggressive as both of those bikes. In particular, the headlight arrangement is just angry, with the top LED being the main light, and two daytime running lights looking like fangs down either side.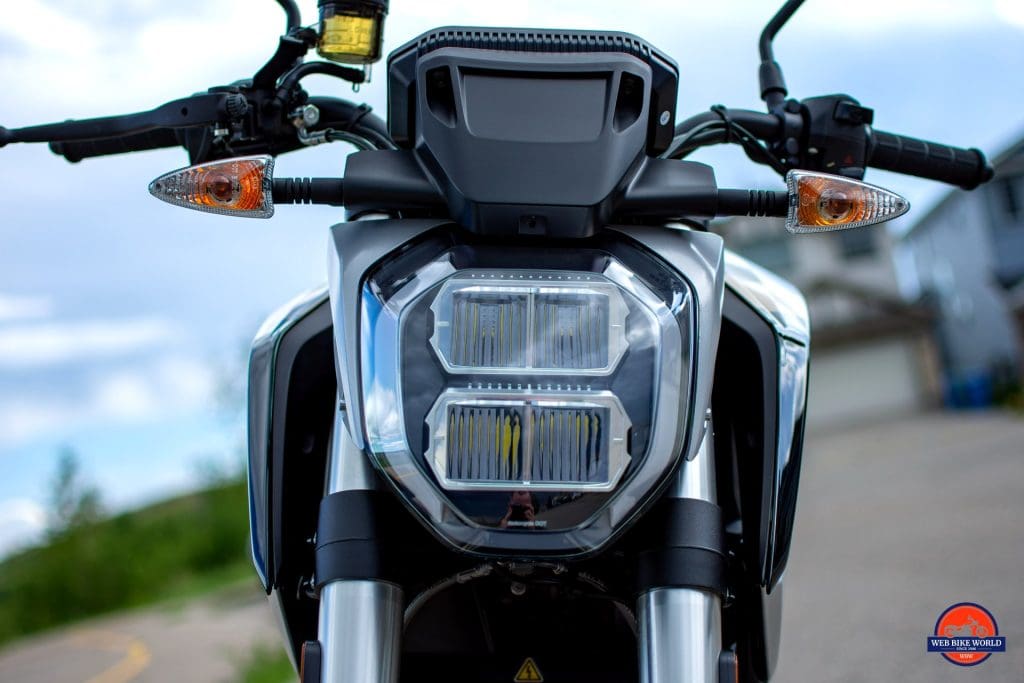 I do prefer a more upright, standard style of riding, with the handlebars up and back towards the rider, so there was some adjustment to lean forward into a semi-sport position to comfortably reach the grips. If you are coming from a cruiser or an adventure tourer/ADV, be prepared to do some toe touches and back arches to limber up to ride the SR/F.
Startup Procedure
All Zero eMotos have coded keys, which uses the dual security of the physical key pattern itself alongside an encrypted code on a small non-volatile chip in the key. When inserted and turned to ignition, the bike does take a few seconds to check the chip in the key, and if it has the correct code, and starts the bike's computer and dash. The bike is on at that time, but it is not fully on.
This is because the SR/F has a dual lockout system in place. It has your standard kill switch in the normal location, but even with the switch set to on, if the kickstand is down, the bike is going nowhere. Conversely, if the kickstand is up and the kill switch is on, the bike is live. So if you need to hop off of it for any reason, or pull over and wait under a bridge for some rain to pass, have at least one of the lockouts activated so you don't accidentally lurch the bike.
City Riding
Riding Modes
Before I set off after picking up the Zero SR/F, I familiarized myself with the 5 available riding modes. These are:
Eco

, which decreases throttle response and power, and dials up regenerative braking to maximum

Standard

, which gives you full power, decent regenerative braking, and normal throttle response

Sport

, which sets the traction control to sport mode, dials up the throttle response to maximum, and reduces regenerative braking to the point it's almost not there

Canyon

, which gives you shaper throttle response than Standard with the regenerative braking from Eco mode

Rain

, which puts both ABS and TC into rain mode for slippery surfaces, and dulls the throttle response significantly to prevent spinning up the rear tire
Throttle & Dynamics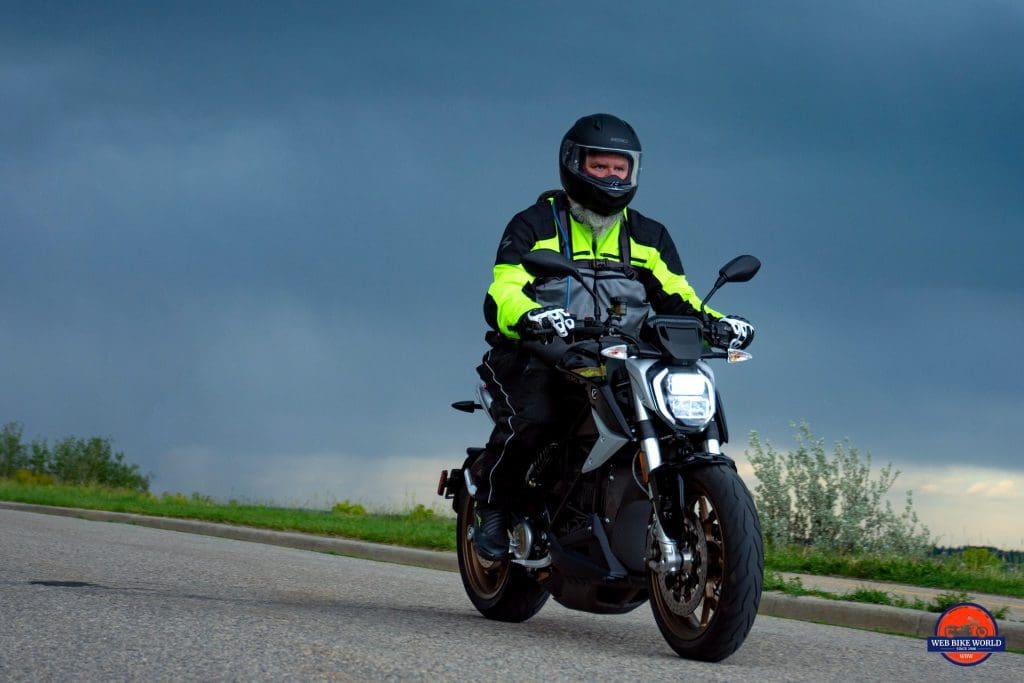 As with every new bike I ride, I started out very tentative on the throttle. There is a noticeable deadzone ofabout 3 mm, so that you don't accidentally put power down to the road if you sneeze while stopped. Once past the dead zone, the throttle is extremely linear. Since it is basically a potentiometer, the more you open it, the more electricity goes to the motor.
I was quite surprised at how easy the SR/F was to ride. While a middleweight at 500 lbs, it absolutely does not feel like it. The bike feels planted but light under you, responding to your inputs and body lean in a way that I can only label as "eager." I put this down to the majority of the weight of the bike being below the midline, as well as the steel trellis frame that is very rigid.
Road feel is excellent in the way that the SR/F tells you exactly what both wheels are doing at any time without you even needing to think about it. Because there is no engine with reciprocating cylinders in the way, you could run over a coin and be able to tell what denomination it is, it is that communicative.
When it is shown a corner, as it absolutely loves to get its lean on. After about 5 minutes of riding, I honestly forgot I was on an electric motorcycle, which is probably the biggest compliment I can give the SR/F. It doesn't dart into corners, instead it carves through to where you point it. It is a precise laser scalpel of a bike that does what you tell it to do, and the rear tire felt like an extension of my spinal cord. 
It was, in two words, confidence inspiring. 
On-The-Fly Mode Selection & Sport Mode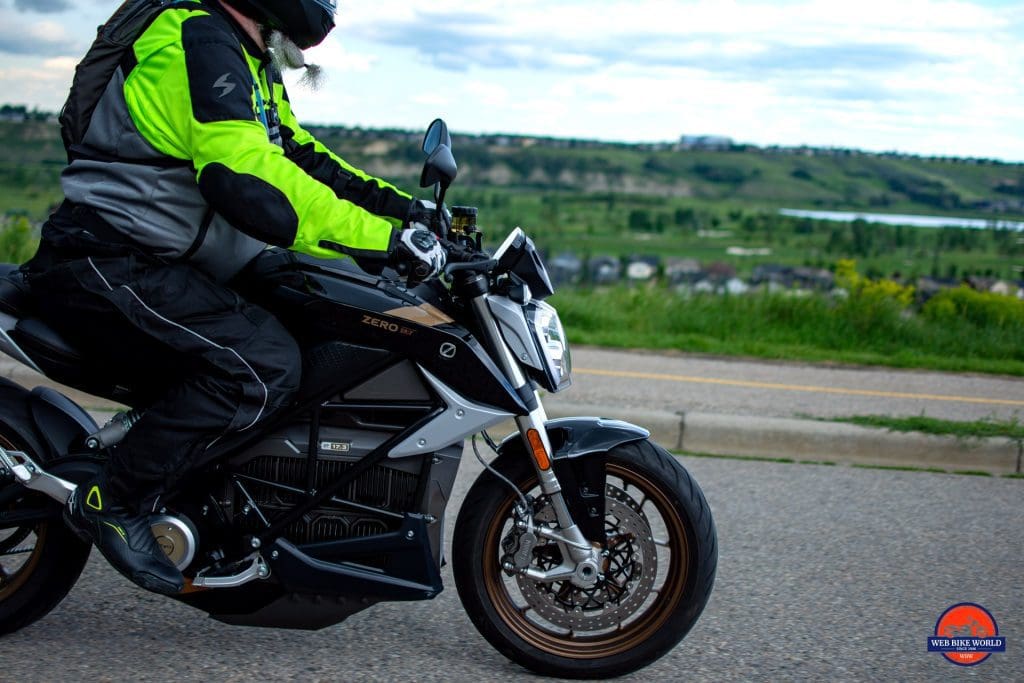 Mode selection is accessed through a push and side to side toggle above the indicator switch on the left button box. A short press will make the current mode blink on the dash, then you select the new mode with the toggle, and then press the toggle in again. This instantly changes modes if you're at a stop with the rear brake on.
It is also possible to do it on the fly, with the only difference being that you need to momentarily close the throttle. Depending on what mode you're coming from, this might make the bike brake because of kinetic energy capture, so be aware to keep a decent space behind you.
As I had spent enough time on the SR/F to familiarize myself with it, I decided it was time to see what Sport mode was all about. I also luckily had come to a red light just before an on-ramp to a higher speed road in Calgary so I could change modes at a standstill. 
When that light went green… You could use any adjective here: Launched, catapulted, fired out of a cannon, slingshot into orbit, they're all applicable. 
Every single one of those 140 lbs-ft surge through the rear wheel on throttle application in Sport. I have never launched off the line that hard in my entire riding career to date. Not even a quarter of the way down the on-ramp, I had to roll off because I was already at 20 KPH (~12.5 MPH) over the limit of 80 KPH (~50 MPH). My 0 to 100 KPH (0 to 62 MPH) time must have been in the low 2 seconds range.
Comfort & Rideability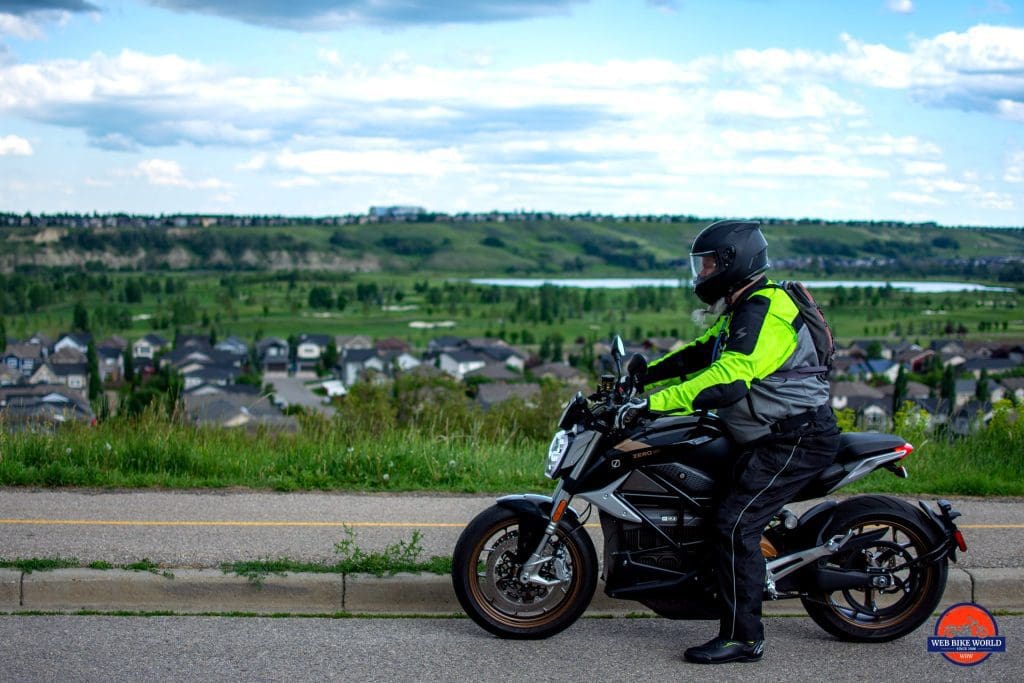 The Zero is very well mannered at speed in almost any mode, although it seems to be the best behaved in Standard. It stays where you want it to in the lane, but with enough crosswind, it will lazily start to drift. It also gives you tons of information and time to lean your body a touch into the wind, and then it's straight and narrow again.
The seat is also quite comfortable. I was expecting to have a riding experience akin to KTM's of the past decade. Instead, the cushion has enough support that there is no perineal pressure, and the seat in general is narrow enough that my knees naturally came to meet the sides of the "tank." 
My only bit of discomfort, and this is from riding a sport tourer as my main bike, is that the semi-sport forward lean does put pressure on the lower back. However, after a couple of days I had adjusted to it and only really noticed it after I got off the bike after riding.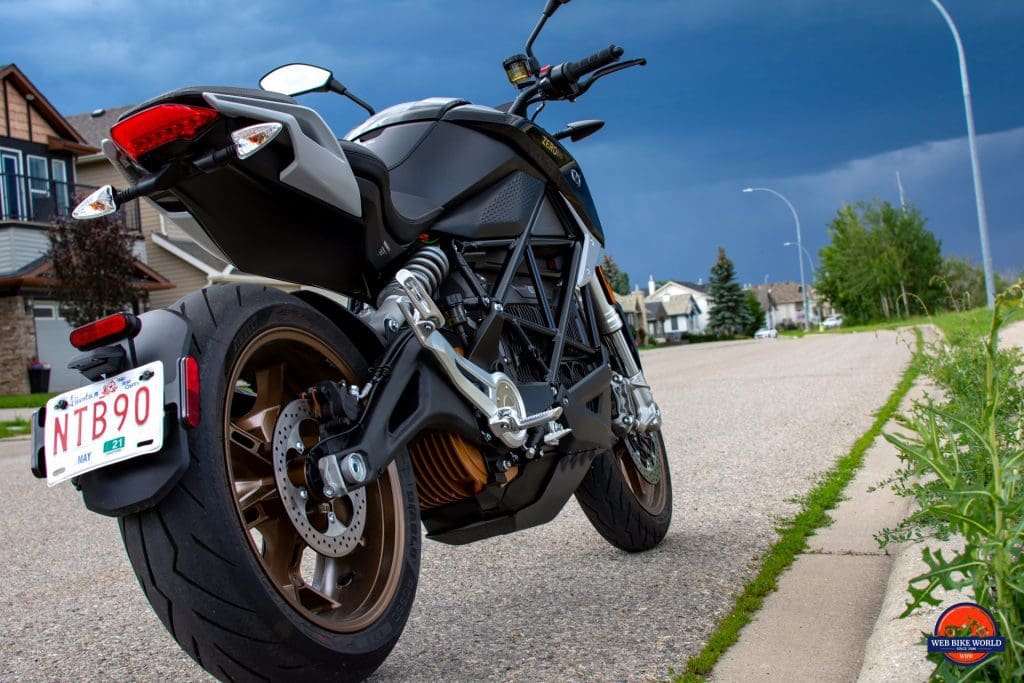 However, there is one massive sticking point about the SR/F that seriously affects its comfort: The suspension is damned stiff. 
Both front and rear suspension components are fully adjustable for preload, compression, and rebound. In a surprising turn for an all electric motorcycle, they have to be manually set up, no electronically controlled suspension here. 
The front forks do an appreciable job with absorbing bumps and such, but if you hit a big enough dip or a pothole, you'll feel it in your wrists. However, if you hit a bump that compresses that rear monoshock, your tailbone will file a complaint.
I can understand both the argument for, and the argument against, having stiff shocks. The SR/F is quite literally a streetfighter sport naked. It's designed to go fast, corner hard, and be extremely agile. To make it so, Zero had to lean more on the dynamic side of the equation instead of the comfort side, and it's a tradeoff owners will unfortunately have to live with.
Rain Mode & The SR/F In Adverse Weather
During my first day riding the SR/F, the skies above Calgary went from clear and sunny to dark and stormy in a matter of minutes. I decided that it would probably be wise to put the Zero into Rain mode, which turned out to be prophetic.
The wind picked up massively, and the rain started to fall. Within minutes, it was coming down so hard that I couldn't see the lane markings. Through it all, the SR/F stayed planted, confident, and because the traction control and ABS had both switched to rain mode, there was absolutely no tire spin up allowed.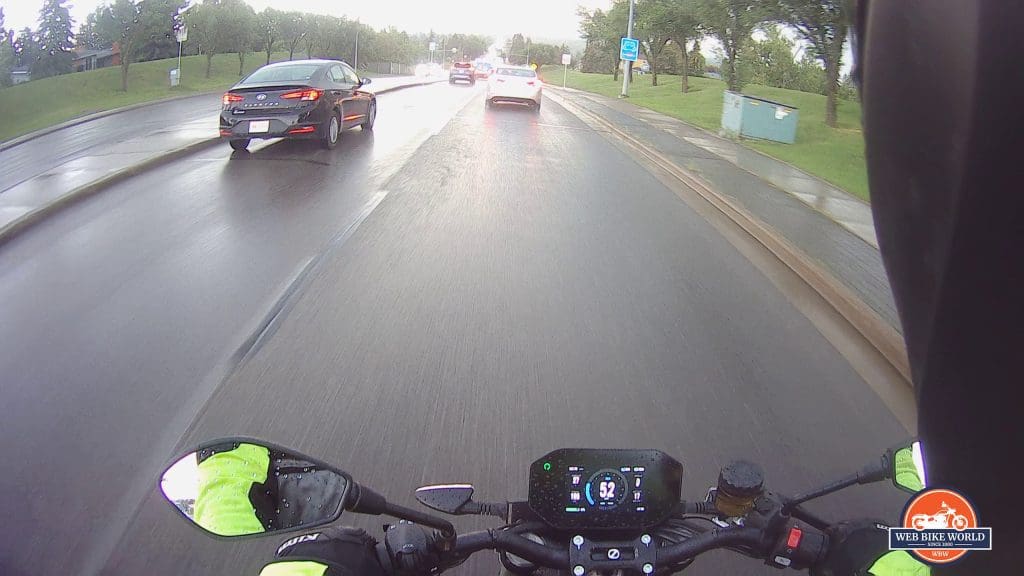 It also took gusting crosswinds like a champion. As mentioned above it will lazily start to move, but that gives you more than enough time to correct it with your body or a tiny bit of handlebar input. Even when the gusts were getting to the point of me considering pulling over under a bridge to wait it out, it barely moved from the straight line I had it planted on.
Note: The thunderstorm turned out to be a full storm cell, and formed an EF4 tornado about 100 KM (62 miles) North of the city. There was some property damage in a small town near where the tornado touched down, but no loss of life or serious injuries were reported.
Highway Riding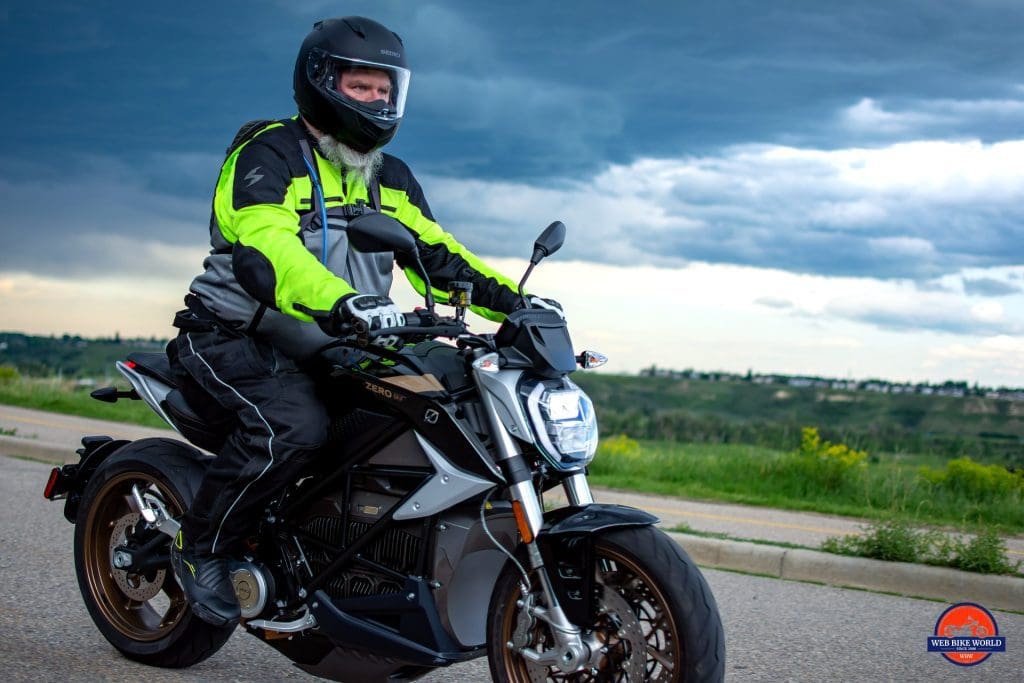 Determined to give the SR/F a proper test, on the third day I set my sights on the back roads to the South of Calgary. It is one of the few areas around the city that has several little twisting and gnarly sections, in a province where most of the roads are dead-arrow straight.
Eco Mode
I decided to try out Eco mode on the way out there, to test how effective it was. The very first thing you notice in Eco mode is that the throttle is numbed down a lot. A quarter turn in Eco mode takes a significantly longer period of time to ramp up the power than in Standard. I won't say it's lethargic, but it does curtail the power delivery significantly. This makes sense when you're trying to extend range as much as possible. 
I honestly think it curtails it too much, though. I found myself rolling on more throttle, thus using more power, to get up to speed on most roads. This is especially concerning when you're riding on a 80 or 100 KPH (50 to ~60 MPH) road, as I also had to twist on more throttle to maintain my cruising speed.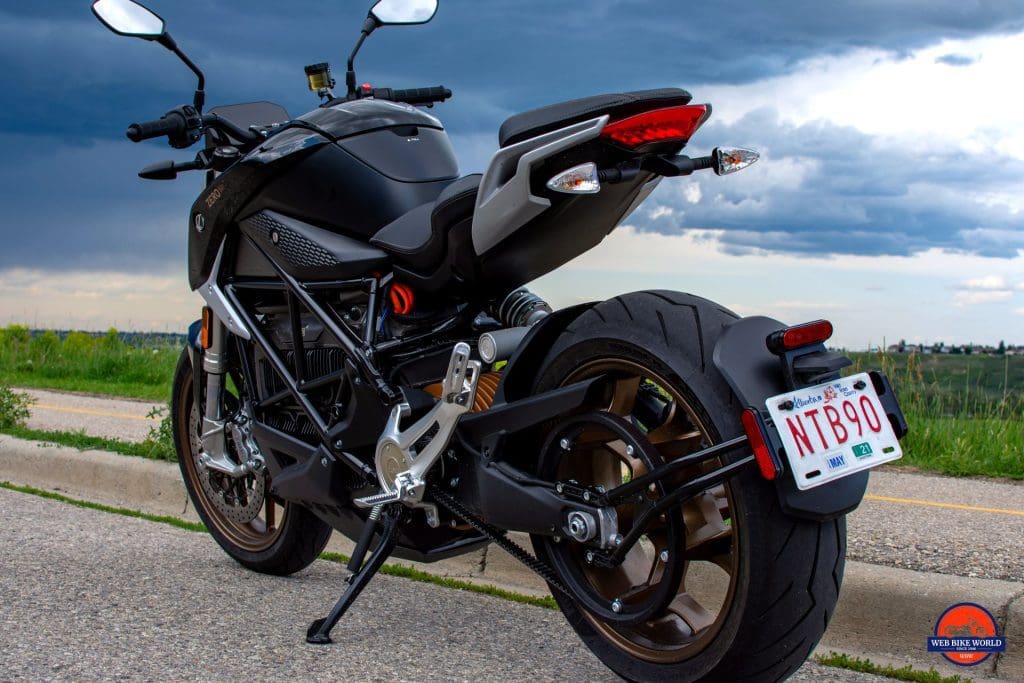 Where Eco mode flexes its muscles is in regeneration, however. Close the throttle at any speed, and it feels like you've downshifted two gears accidentally on a petrol-powered bike.  It gives significant engine braking that tosses you forward slightly in the saddle, yet it works like a charm at recharging the battery.
During a particularly steep and long hill, I had the throttle completely closed, letting the Eco mode regeneration take care of my speed. From the top to the bottom, my estimated range jumped 7 KM, and the battery bar increased by a full percent. 
Canyon Mode
Canyon mode is just plain fun. You can dance with the throttle as you lean in, backing off if you need to slightly to emulate engine braking or rolling on with a tiny bit of countersteering to carve the perfect line. You can power out of a corner, stand the bike up and quickly lean it over the other way, and it trail brakes beautifully into the next corner.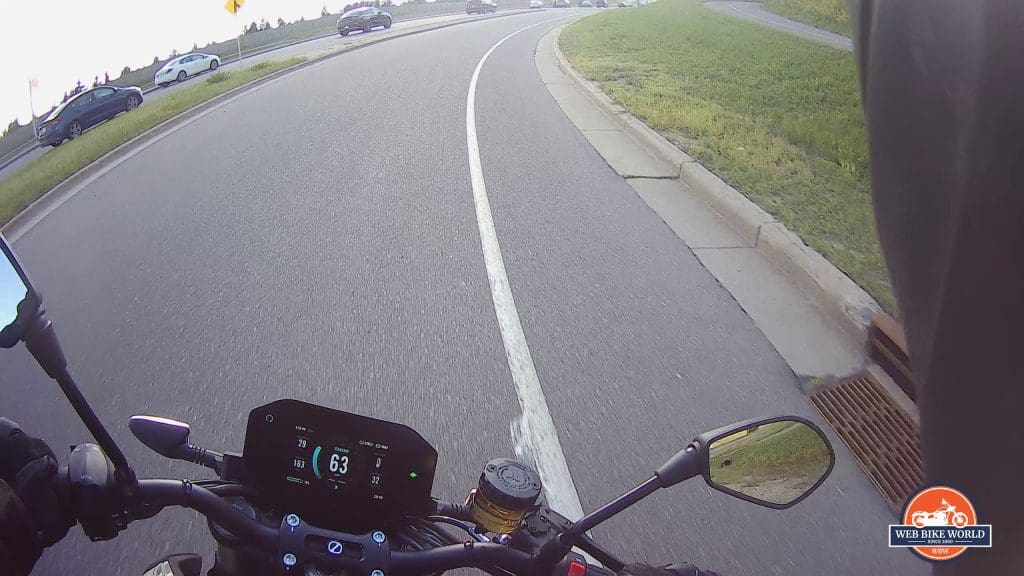 The Zero SR/F absolutely loves to play. It is one of the most agile bikes I've been on in my entire riding career, very tossable and eager. It isn't on the razor's edge as much as a supersport, and that's a good thing to me. It allows me to get the grin tearing my face apart under the helmet without needing to worry that I'm headed for snap oversteer and a highside. 
Basically, It draws a line through physics when you push it hard, somehow keeping adhesion as you duck your head down and inside the corner. Simply one of the best handling bikes I've ever experienced, full stop.
The Brakes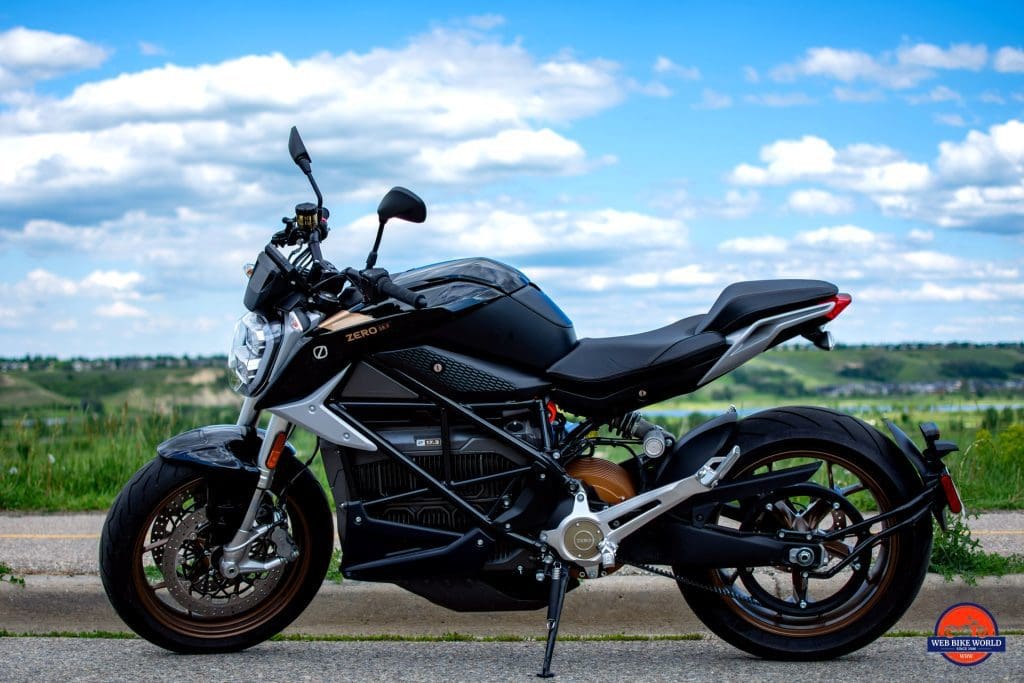 In a word, the front brakes are sublime. The lever feel is telepathic, with no sudden bites as you increase pressure. The rear brake is a touch numb through the pedal, but I found I was only flexing my foot just enough to have them touch the disc without needing to push much harder. 
This was especially apparent during both city and highway riding in that I didn't even need to touch the rear brakes until the last few seconds before coming to a stop. The front brakes and the regenerative braking effect through the motor did 99% of the work slowing the bike down, and the rear brake was there just to hold the bike until the light went green.
Charging & Range
The Zero SR/F uses a J1772 type connector, and is capable of level 2 charging, which I believe is called Mode 3 in the EU. On Zero's website, they quote it on a Level 2 charger as being able to go from 10% to 90% in about an hour. 
I have never used an EV before, and as such I am not signed up to any of the hundreds of charging networks needed to access a Level 2 charger here in Calgary. That left me with the only choice of using a free Level 1 charge station.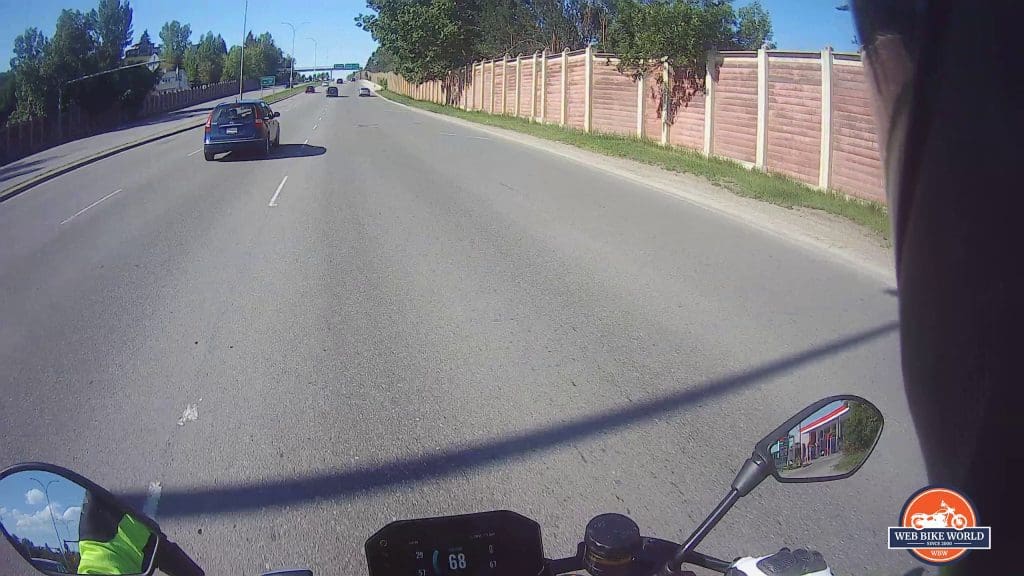 Level 1 Charging
When you connect a charge cable to the Zero SR/F, it will give a quiet little click from the battery, which will then start to hum gently. The dash then lights up with the charge percent in the middle, estimated time remaining, estimated range, and both the wattage draw and amperage from the charger all listed. 
Without boring you with the details, I was able to charge from 20% to 80%, at around 4.5 kW and between 40 to 44 Amps, in about 55 minutes. Halfway through, a BMW X5 PHEV pulled into use the other charge station, but I didn't notice any significant drop in kW, just that the amperage dropped to, and stayed at, 42A.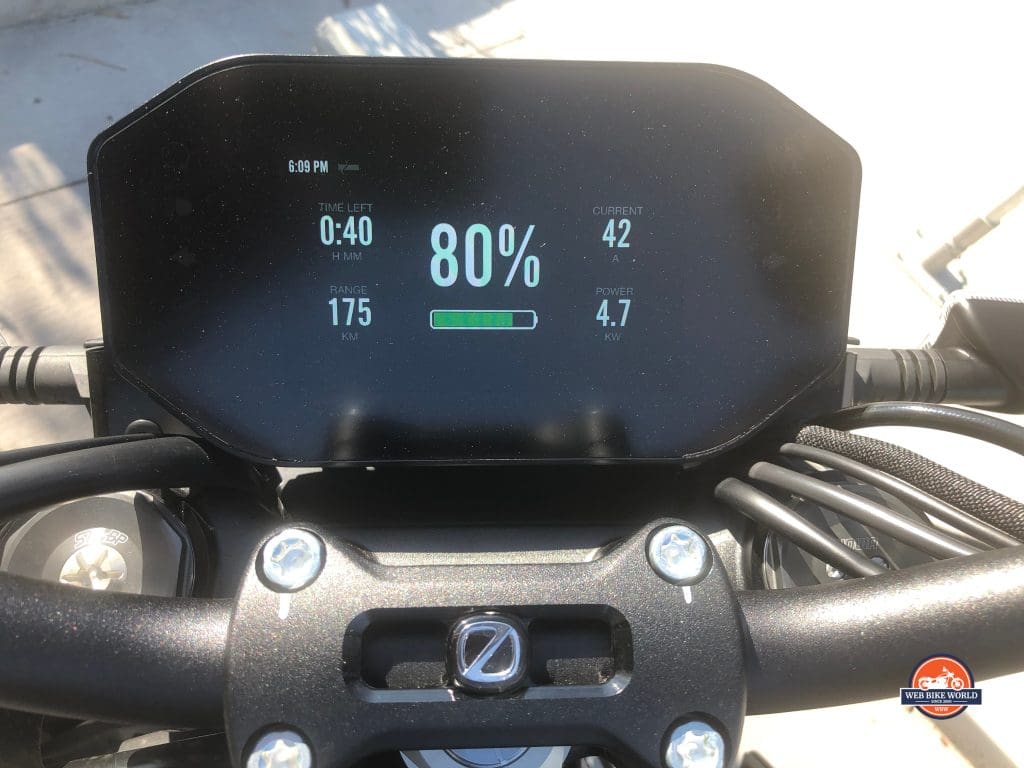 In Standard mode, getting to 80% charge gave me an estimated 175 KM (~109 miles), rising to almost 200 KM (124 miles) when I toggled Eco mode on. As 60% of charge had taken less than an hour at a standard Level 1 charger, I would estimate a full 10% to 100% charge at a Level 2 would be about the same time, 45 to 55 minutes, if my maths are correct.
At Home Charging
I only have 120V outlets in my garage, so I stretched out the quick charge cable that Calgary Cycle City had provided me with and connected it to the SR/F.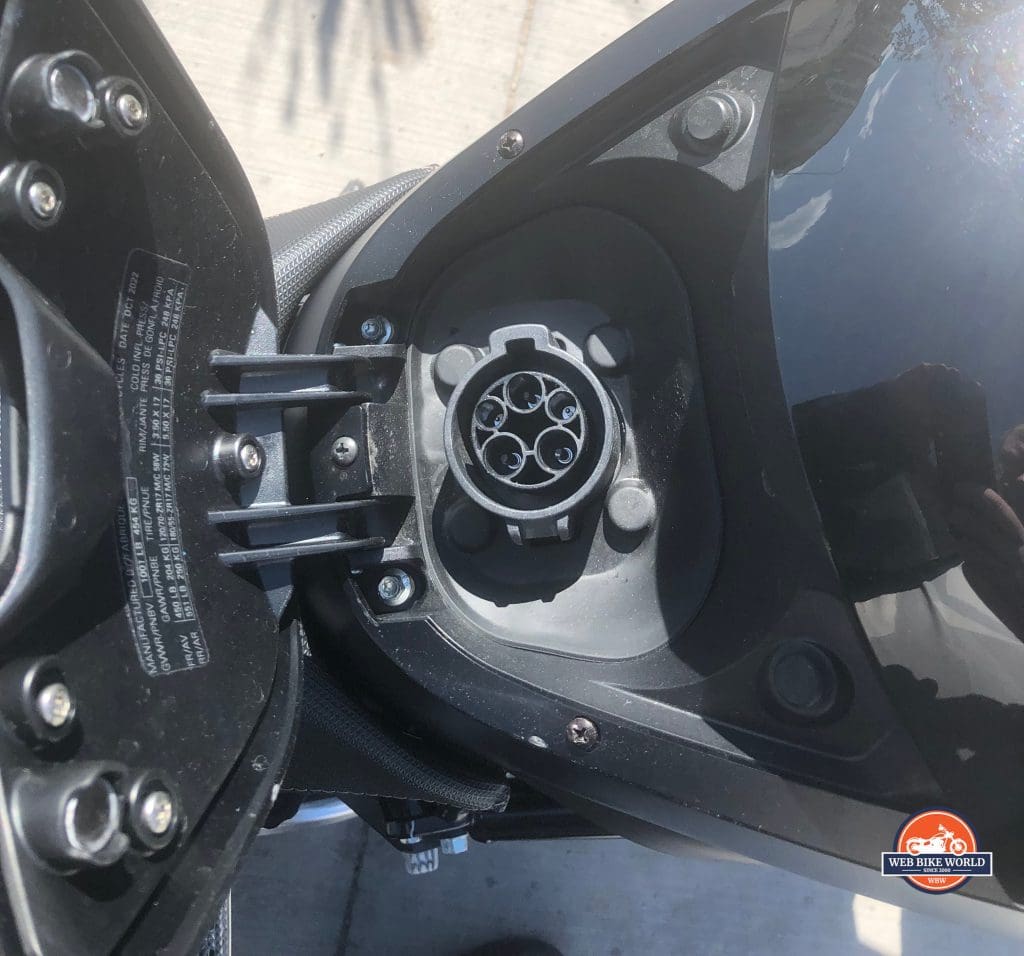 The same process as what happened at the Level 1 charger pops up, with a big percentage display, estimated time to charge, estimated range, and wattage and amperage readouts. It also took a lot longer for the battery to give its quiet click and start humming, but once it started to charge, I was met with the news that a full charge would take 8.5 hours at 1.3 kW and 11 A. 
I slept through the alarm I had set to go and check on the bike 8.5 hours after putting it on charge, but thankfully Zero had foreseen this happening. The SR/F automatically shut down after charging to full, something that both early EVs and eMotos had not done, so it's nice to see that safety system working despite not meaning to test it.
Riding Mode Affects Range Significantly
It should come as no surprise that the more aggressive a mode you choose, the more power you draw and the less overall range you have.
For example, let's say in Standard mode you have 150 KM (93 miles) of range. Select Sport mode, and after a couple of minutes it drops to 100 KM (62 miles) of range. Canyon mode, thanks to the regenerative braking, would drop that only to about 135 KM (84 miles).
Conversely, riding it in Rain or Eco modes significantly increases your range. That same 150 KM in Standard would jump at least 30 KM (~19 miles) if not more in Eco, and would give you probably 20 KM (12.4 miles) more range in Rain.
I found that the best riding mode for throttle, range, and overall power usage is Standard mode. It allows you to vary your throttle as needed, without needing to crank on a ton of wrist to get up to speed in a hurry. It also cruises the most comfortably, with the least amount of throttle turn needed.
Build Quality & Features
Frame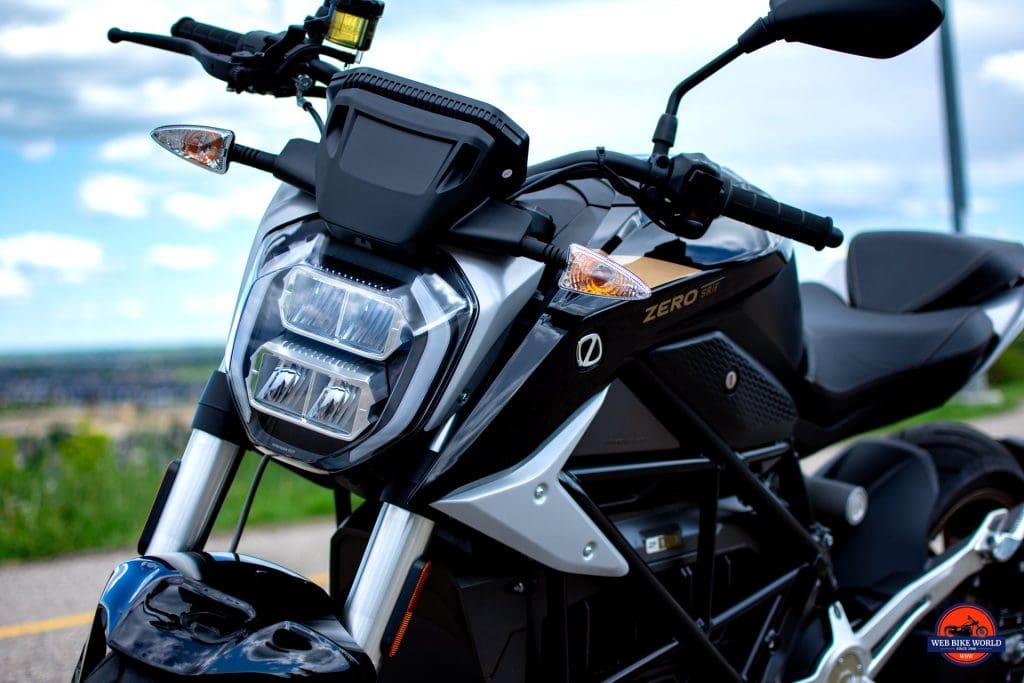 The exposed steel trellis frame is very well built, with quality welds visible and a good, thick layer of extra-hard protective paint. There were no squeaks or rattles at all over the four days, even with getting caught out in the rain twice over the four days, and the temperature dropping significantly during those events. 
Body & Seat
Much like the frame, there were no rattles, squeaks, or vibrations from any part of the bike while riding. As the top of the "tank" is in fact a lid over a decent storage area, there is definitely a chance there for bad build quality to show through, but it was rock solid the whole time. 
The seat is firm but supportive, and it doesn't squish around under you as you move your pelvis to enter into a lean. There is a key area to pop the rear pillion seat off, which gives you access to a small storage cubby and a helmet hook if you need to tie one down to on your way to pick up a passenger, but even that was as solid as if it was granite during testing
Handlebars
The bars are right in between sport touring bars and clip-ons. They are low and quite forward, but again, the quality of the welds and the protective coating was superb. The grips come easily to hand, with the throttle having a decent amount of recoil to it without feeling too heavy. It is noticeably throttle-by-wire, but it has just enough resistance to feel somewhat like a cable throttle.
The button boxes are also well laid out, with the mode select toggle, indicators switch, horn facing your thumb, and the headlight flash trigger in front having the ability to be pushed outwards to keep the highbeams on. The right button box has the kill switch easily reachable, and also has a cruise control button underneath, although I didn't use it.
Display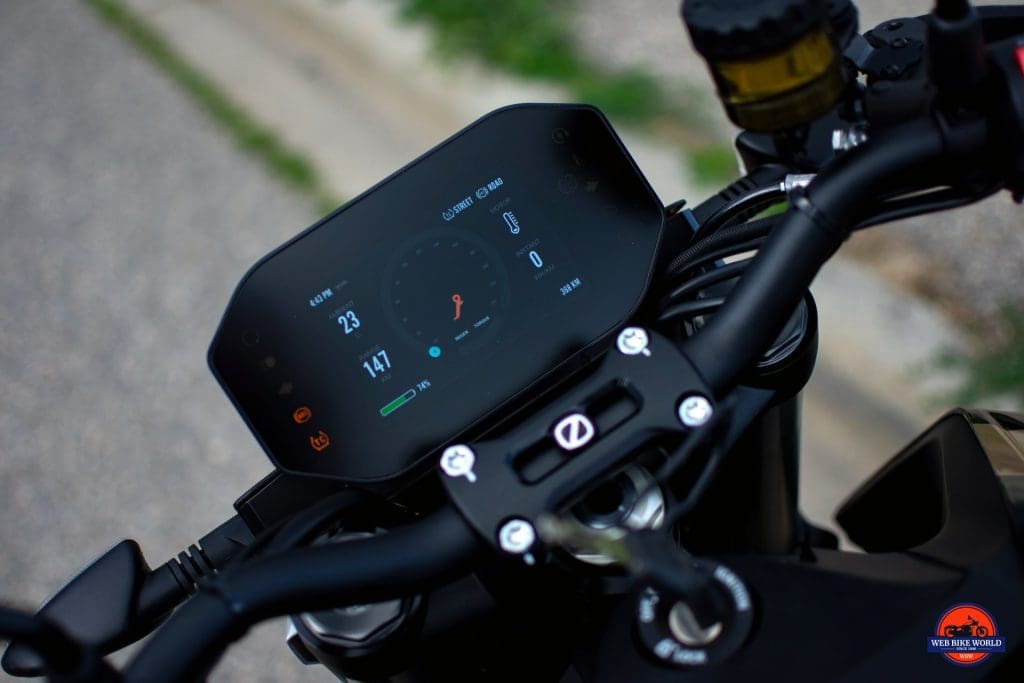 The dash is a TFT unit that is about the same size as a phablet like a Samsung Galaxy S23 or iPhone 14 Pro Max. It is bright and readable in all daytime conditions, and will subtly dim itself automatically during night time riding. 
You can also select what you want the dash to display, as well as a few different graphics to personalize the bike to your liking. This is done mostly through the Zero Motorcycles app, but can be done using the menu system accessible when the kill switch and kickstand lockouts are both engaged via the Mode toggle.
Connectivity & App
The Zero SR/F has had the newest connectivity system, Cypher III+, since 2022. It connects via Bluetooth, and allows you to unlock extra features on the motorcycle for individual fees. Some of these can be very expensive, others relatively affordable.
I did run into significant issues with actually getting the bike and my phone, an iPhone 8 Plus at the time of the review, to talk to each other. It took 8 tries to get the initial connection, and then halfway through scrolling menus and looking at options, it would simply drop the connection. To regain it, the SR/F had to be power cycled, and once, I had to even forget and re-pair the bike with my phone.
Verdict: An Electric Blast In The City
On the positive side, the SR/F is a very capable city bike, with excellent road manners and a quiet, if not entirely comfortable, ride. If your workplace has a charge station section in its parkade, I would even go as far to say that the Zero is a capable commuter. It accelerates like it's been shot, and draws a line directly through physics when you show it a corner in anger, and also flicks side to side extraordinarily fast for a 500 lbs sport naked, since the only real weight above the midline is you, the rider. 
On the negative side, my tailbone took a full 48 hours to stop aching after I returned the bike to the dealership. The rear suspension on the SR/F is brutally stiff, end of story. If I had not known it was a monoshock, I would have sworn that it was a hardtail. The front suspension is stiff but much better set up for rebound and damping, and only on really nasty bumps did it even make my wrists feel anything. The mirrors are, as with most sportbikes, almost entirely useless for those with broad shoulders.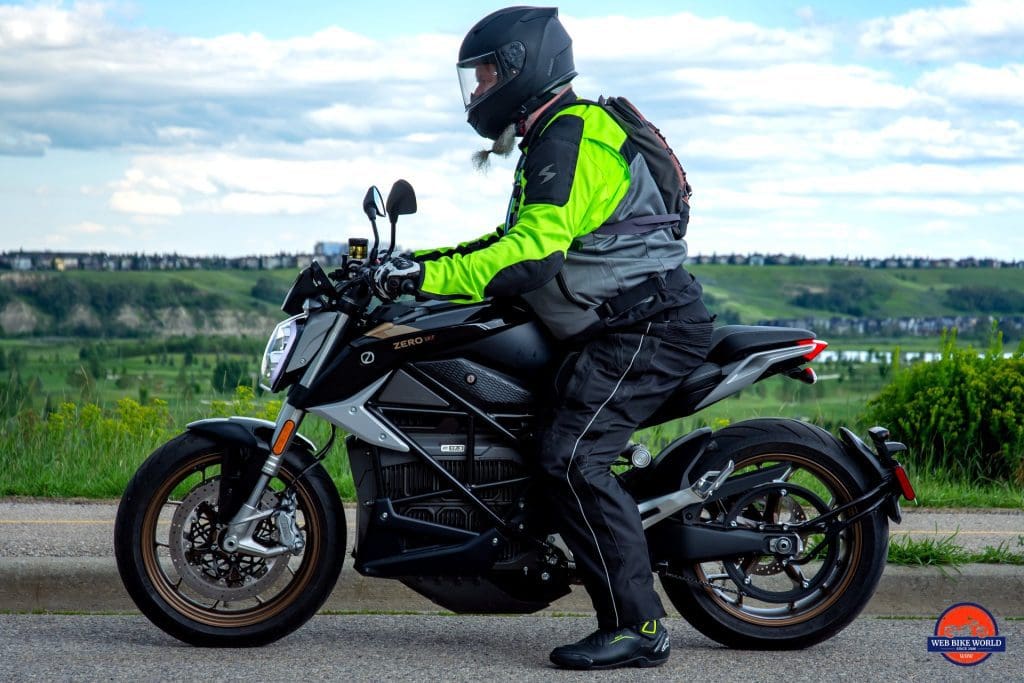 I have, until now, avoided any discussion about price, because this is where things get ugly. The 2023 Zero SR/F is a ridiculously expensive bit of kit, at $23,795 USD ($30,695 CAD). 
Add on top of that the sometimes ludicrous things locked away behind a paywall (heated grips for $300?!) through the Cypher III+ system, which as mentioned is spotty at best in connectivity! Sometimes it becomes downright insulting, such as needing to shell out over $2,000 just to access another 15% of battery range.
My final verdict is this:
If you simply must have an eMoto that will thrill you every single time you ride it, that is as precise as a neurosurgeon and flickable as a flea, then I have yet to encounter a bike, petrol or electric, that has all of that bundled into one as well as the SR/F does.
However, if you don't absolutely have to have an eMoto, there are sport naked and streetfighter motorcycles for half the price that have 95% of the feel and enjoyment that the Zero SR/F gives, with no features locked behind a paywall. 
Note: Government incentive rebates can take a significant percentage off of the price, such as the offer in place during June/July 2023 that gives up to $6,000 off an EV or eMoto in the US, depending on the model. To be as objective as possible, I did not consider rebates into my commentary about the price of the SR/F.
2023 ZERO SR/F (STANDARD) REVIEW SCORE
Review Summary
While it's not perfect, there are aspects of the Zero SR/F, such as handling, agility, and its standard road manners, that are top class. It is excellent in terms of in-city riding and can be safely called a commuter with the range it has in Standard and Eco modes. It is let down with extremely stiff rear suspension and severely curtailed range in Sport mode, which it seems to have been designed to run in, as well as being downright overpriced for what it is
Pros
Nothing short of a race bike will accelerate as fast
5 ride modes to suit your riding conditions
As flickable and nimble as any bike I've ever ridden
Carves a line through physics when you show it a corner in anger
Superb road manners at all speeds
Cons
Extremely stiff rear suspension
Running in Sport mode significantly affects battery draw
Mirrors are mostly useless, but this is more of a common thing in sport bikes in general
Cypher III+ connectivity was spotty at best, and downright frustrating at worst
Very expensive for what it offers