2010 Triumph Bonneville
2010 TRIUMPH BONNEVILLE BACKGROUND
Of course, the original Triumph Bonneville was introduced to the world in 1959, and had a good run until the old Triumph company went belly-up in 1983. The name was revived by British billionaire-developer John Bloor, who reintroduced a new line of thoroughly modern Triumphs starting in 1990. It took until 2000 for them to take a swing at the grand daddy of all sport bikes and ressurrect the Bonneville name. Thankfully, they did it right, pegging the retro styling cues of the original bike. (Not so for the modern-day Thunderbird, Trophy, Trident, Tiger, etc.). By 2009, they'd reengineered the entire bike, bumping displacement from an 800 to a 900 (865cc actually) along the way. Pictured here is a T100, but not a 50th-Anniversary Edition. Triumph built 4 models of the Bonneville in 2010: the base model (simply called "Bonneville"), the SE (Special Edition), the T100 (pictured here), and the T100 50th Anniversary.
2010 Triumph T100 Bonneville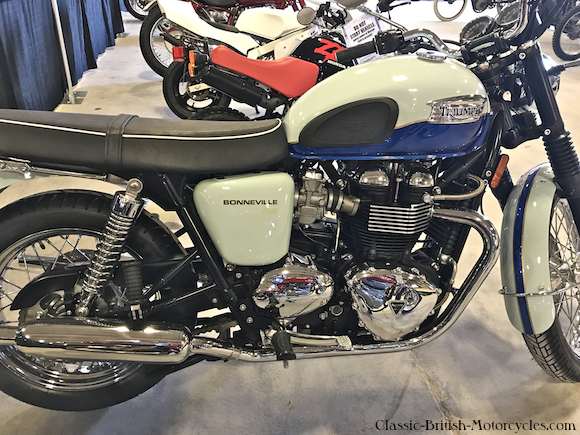 2010 TRIUMPH BONNEVILLE CELEBRATES 50 YEARS SINCE…1960
Interesting, the 50th Birthday of the Bonneville was in 2009, not 2010. And they did a 50th Anniversary Edition in 2009, it was painted in the same color scheme as the original first-year 1959 Bonnie, orange-and-creme. For 2010, they came out with another 50th Anniversary Edition bike, but this one is painted in the color scheme of the 1960 Bonneville, which was blue-and-creme. So in fact, the 2010 Triumph Bonneville 50th Anniversary Edition actually celebrates 50 years since the second-year Bonneville.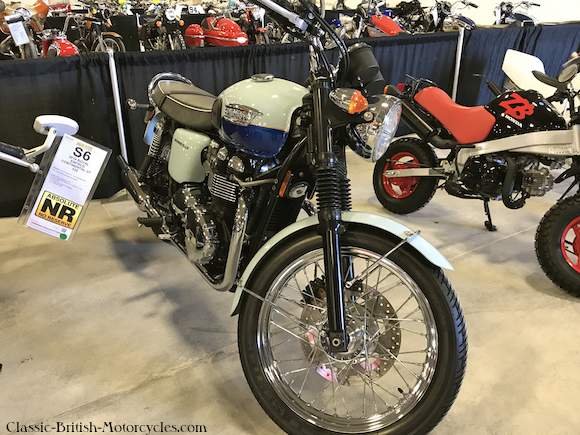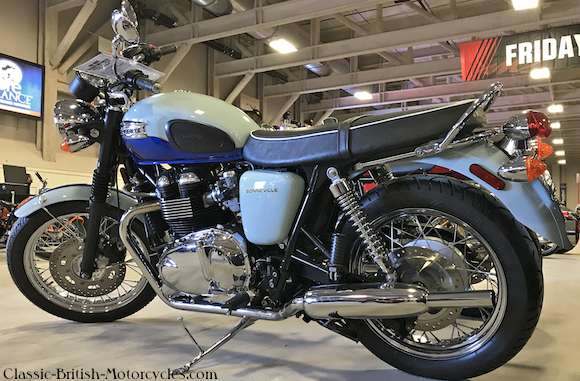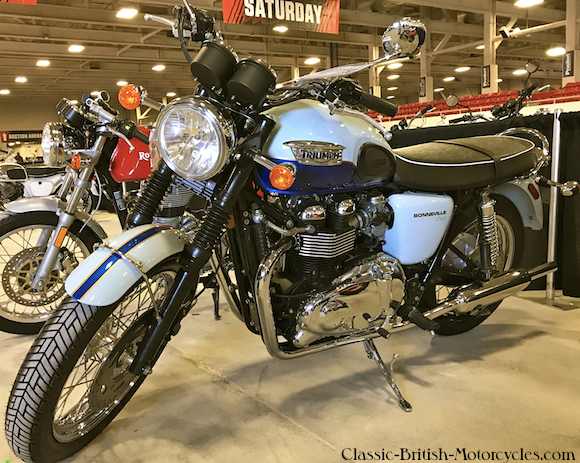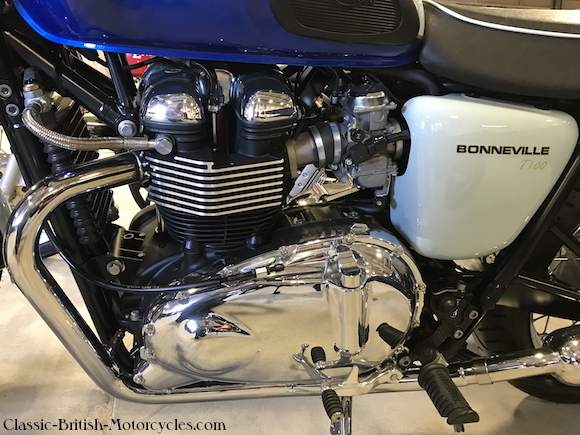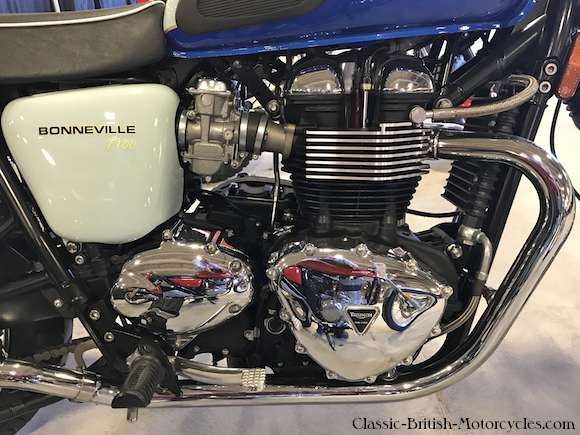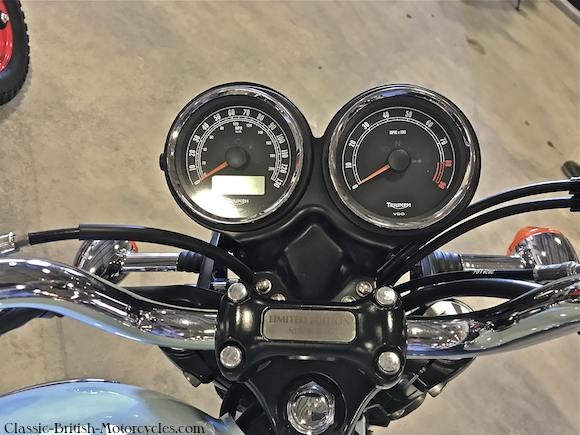 ---
2010 Triumph Bonneville SPECIFICATIONS
Model designation

Price when new

Engine type

Displacement

Bore & Stroke

Fuel system

Ignition system

Power output

Torque output

Primary drive

Clutch

Gearbox

Final drive

Frame type

Suspension, front

Suspension, rear

Steering head rake

Steering trail

Brake, front

Brake, rear

Tire, front

Tire, rear

Wheelbase

Length, overall

Width

Seat height

Fuel capacity

Weight, dry

Weight, curb

Top speed

2010 Triumph T100 Bonneville

$7,699 USD

Air-cooled DOHC parallel twin

865cc / 52.78ci

90mm X 68mm / 3.5″ X 2.7″

Mult-port sequential EFI

Electronic

67 bhp @ 7500 rpm

50.9 lb-ft @ 5800 rpm

Gear

Multi-plate, wet

5-speed constant-mesh, left-foot shift

Chain

Welded steel tube, full cradle

Kayaba 41mm forks, 120mm travel

Swing arm w/2 Kayaba shocks

27 degrees

106mm / 4.2″

1- 310mm / 12.1″ disc

1- 255mm / 10.0″ disc

100/70-R17

1300/80-R17

1490mm / 58.7″

2115mm / 83.3″

790mm / 31.1″

740mm / 29.1″

4.23 US gal / 16.0L

203.0 kg / 447.5 lbs

225.0 kg / 496.0 lbs

177 kmh / 110 mph