I had the opportunity a few back to ride the previous generation Street Triple 765 so was keen to get my hands on the latest RS to see if it still lived up to my expectations.
Review Summary
At just 188 kg I found this a light bike to both ride and move about.
At $13,962 USD / $19,161 CAD / £11,495, you are getting an awful lot of bike for your money from a long established manufacturer.
Five customizable riding modes – sport; road; rain; track and rider with cornering abs and traction control which are easy to adjust on the 5" TFT screen.
OEM Tires are the Pirelli Diablo™ Supercorsa SP which I am personally not a fan of – they are a track/road tire which are okay in hot conditions but not so good in the cold, damp conditions
Quickshifter comes as standard
Self-canceling indicators although you can turn this function off – although why you would want to, I am not sure!
There is a USB socket under the seat and the TFT screen is multimedia ready, you can connect the screen to your phone
Specifications At A Glance
Weight: 188 kg
765 cc liquid cooled, inline 3 cylinder engine
130 bhp
6 speed
Five customisable riding modes: Sport, Road; Rain; Track; Rider
Three color options: carnival red, silver ice, cosmic yellow
5' TFT display
Ohlins suspension front and back
Brembo brakes front and back
Showa upside down forks
Quick Shifter
Self canceling indicators
836 mm seat height
Price: $13,962 USD / $19,161 CAD / £11,495
Also available in the Street Triple range are the:
765 R:
Weight :189 kg
120 bhp
826 mm seat height
Quickshifter
Four customisable riding modes: Sport, Road; Rain; Rider
Two color options: crystal white, silver ice
$11,655 USD; $15,997 CAD; £9,595
765 Moto2 Edition:
Weight: 188 kg
130 bhp
839 mm seat height
Quickshifter
Five customisable riding modes: Sport, Road; Rain; Track; Rider
Two color options: Triumph racing yellow, crystal white
$16,760 USD; $23,000 CAD; £13,795
See here for the Triumph Street Triple 765 RS Specs
For the 765 R, check out Triumph Street Triple 765 R Specs
And for the 765 Moto2 Edition, check out Triumph Street Triple 765 Moto2
First Impressions
What a great looking sportbike the 765 RS is. The model I had on loan was the carnival red and it looks stunning in that color, I think it really suits the bike.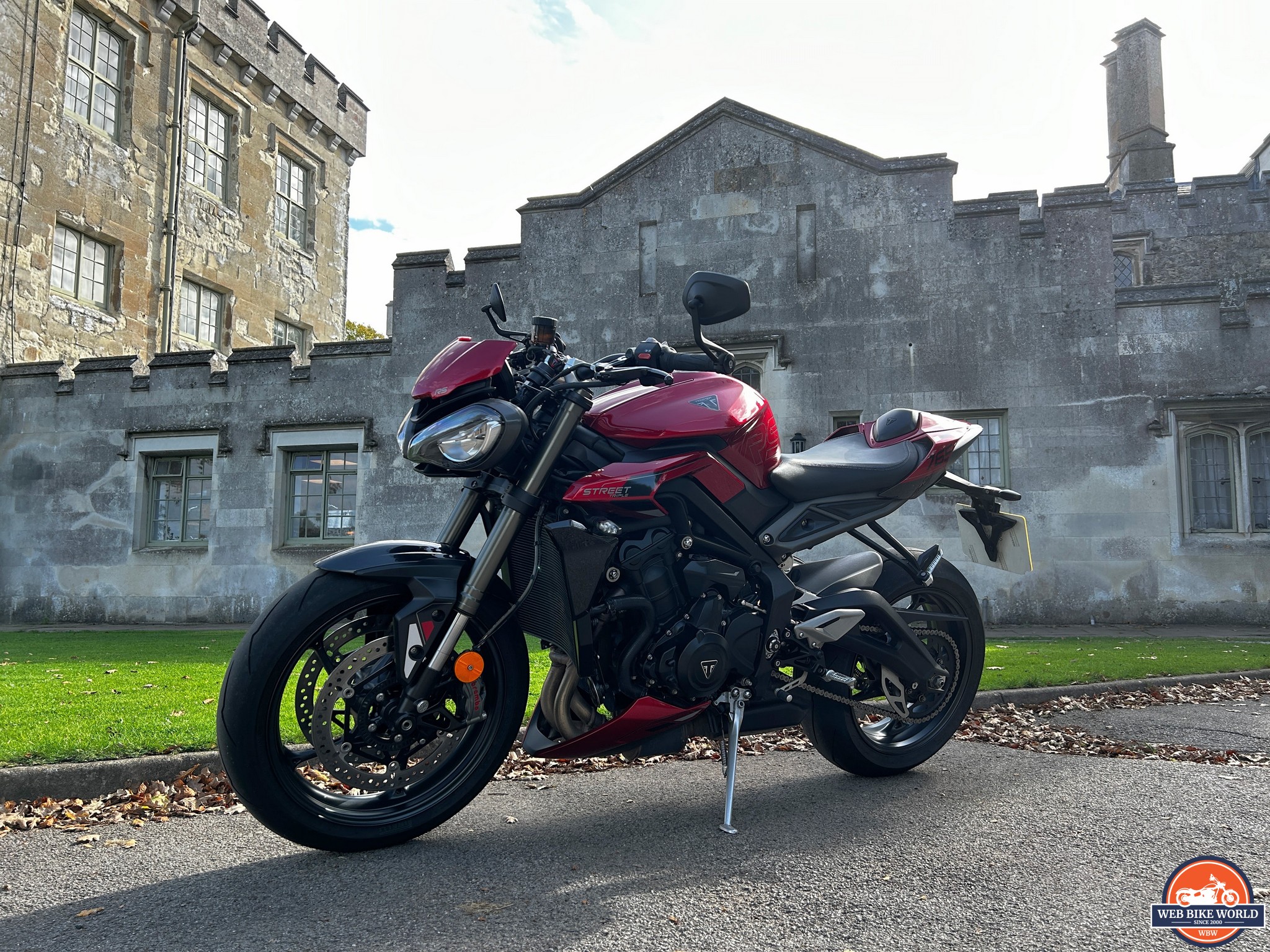 When I first sat on the bike, I could feel that it was quite a tall bike at 836 mm, but at 188 kg I found moving it out of the garage fairly easy.
I went for my first ride on the bike with the intention of just going for a short ride to see what the bike was like but a couple of hours later I got back grinning from ear to ear. I knew I was going to enjoy my time with the 765 RS.
I can see why the seat height is what it is as you are sitting on the bike rather than in the bike with your bottom higher in the air. The clocks seem lower down too so it feels like a sporty riding position but in fact is actually very comfortable.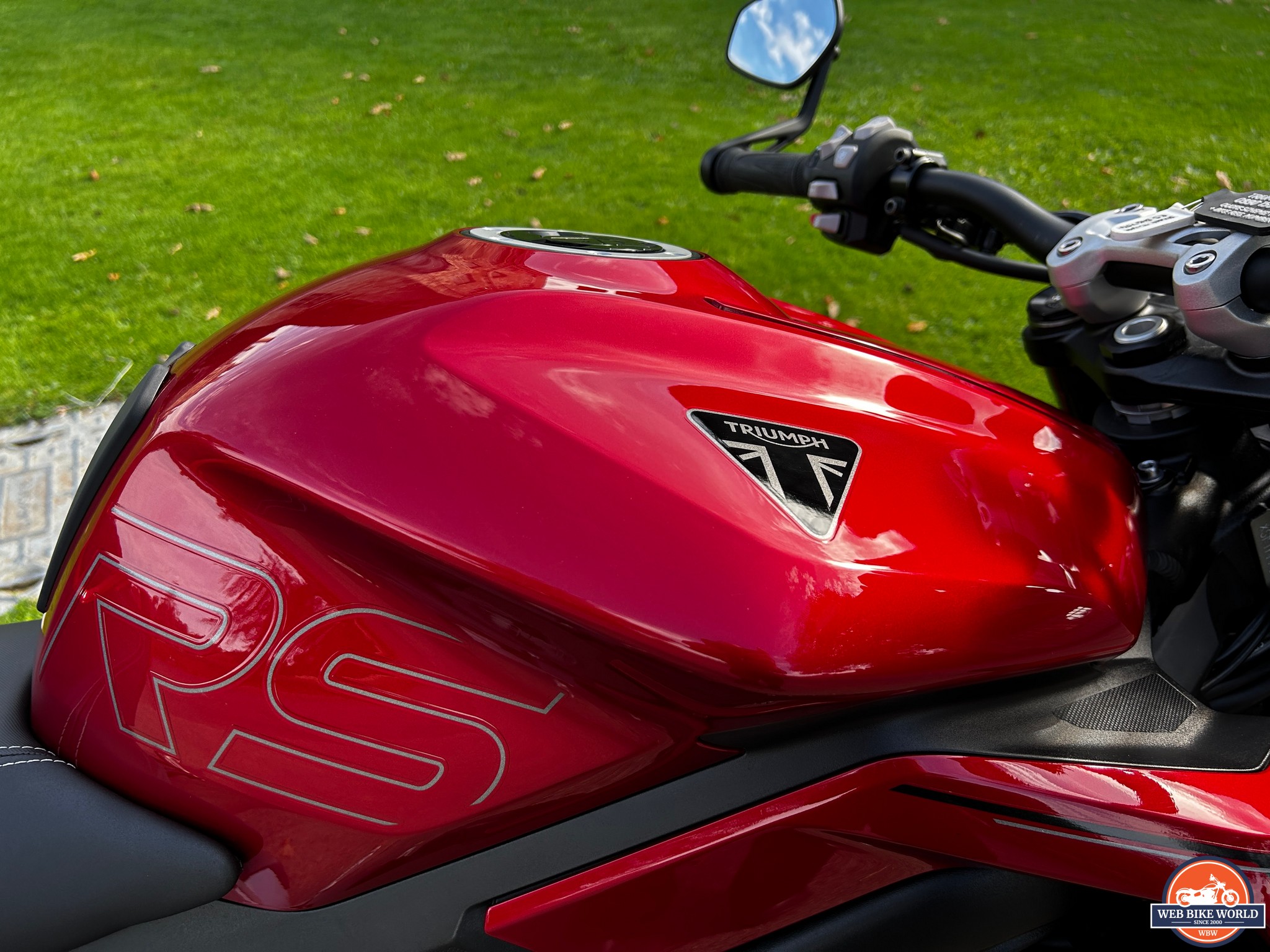 I like the size of the screen, at 5" it is easy and clear to read and navigating your way around the screen is relatively easy and can be done using the buttons on the left bar.
I love the sound of the triple engine, they definitely have a distinctive sound about them. This could be enhanced more by changing the end can of the exhaust to a louder one, the standard one is simply too quiet.
Taking the 765 RS to a couple of bike nights, the topic of its headlights came up several times. There are some that really are not a fan of them and are quite vocal about it but I think they've been a feature of the Street Triples for a while now so I've just got used to them.
Engine
The engine in the 765 RS is a Liquid-cooled, 12 valve, DOHC, inline 3-cylinder 765 cc giving you 130 PS / 128.2 bhp (95.6 kW) @ 12,000 rpm and a maximum of 59 lbs-ft @ 9500 RPM.
All that translates to a feisty engine providing huge amounts of grin factor as the bike itself is light so the power to weight ratio is brilliant.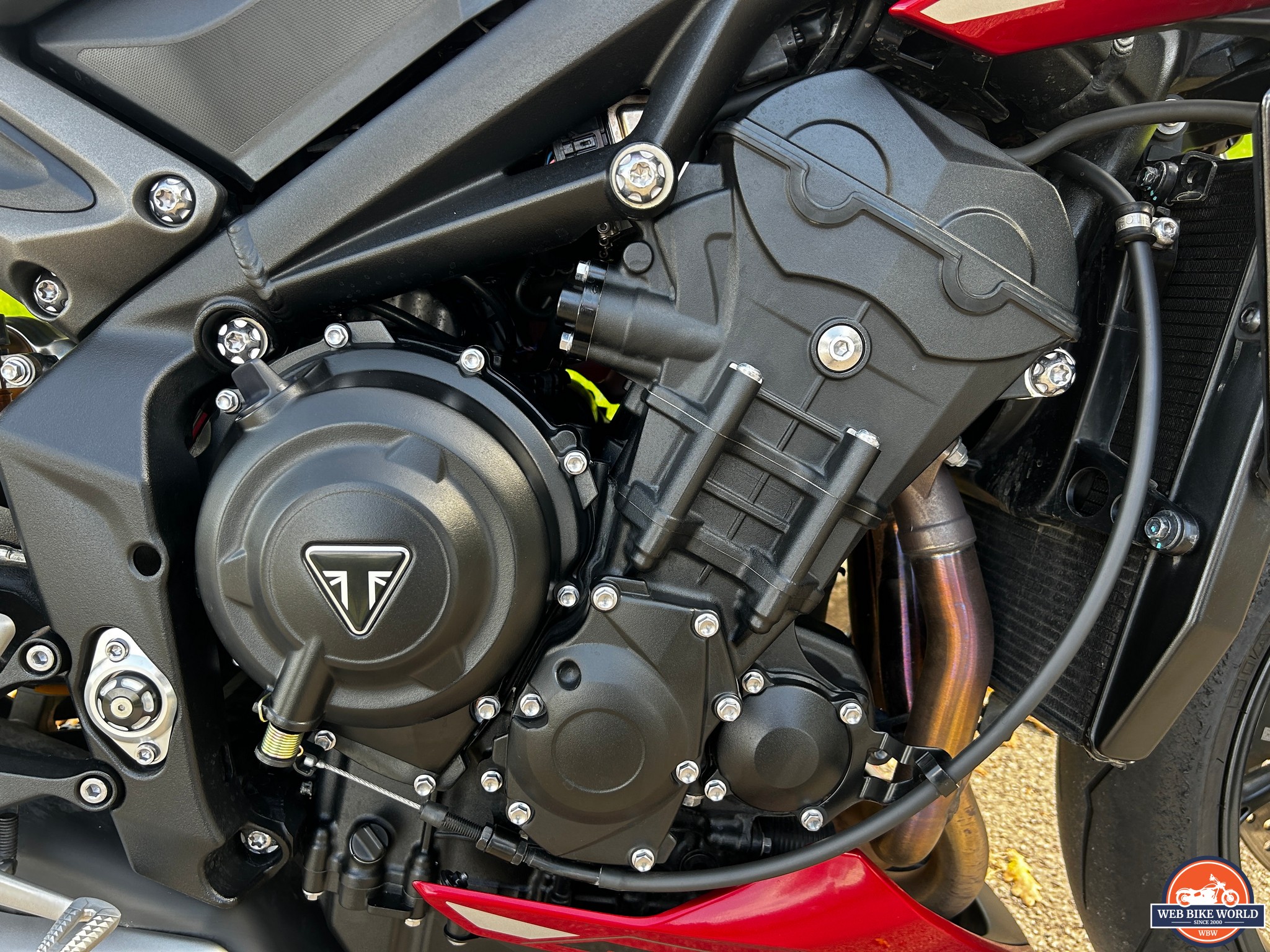 The bike loves it when you kick it down a gear and open it up, it comes alive and is huge fun to ride.
Having said that, the 765 RS is happy slow riding around town, it is quite a torquey bike and so is quite happy in a low gear garnering attention from passers-by with its distinctive triple engine.
I was really struck by just how comfortable this bike is to ride, how it makes you feel and the way it handles the twisties, the 765 RS has a nice feel to it.
Chassis
The frame is an aluminum beam twin spar frame with a two piece high pressure die cast rear subframe with the swingarm being twin-sided, cast aluminum alloy.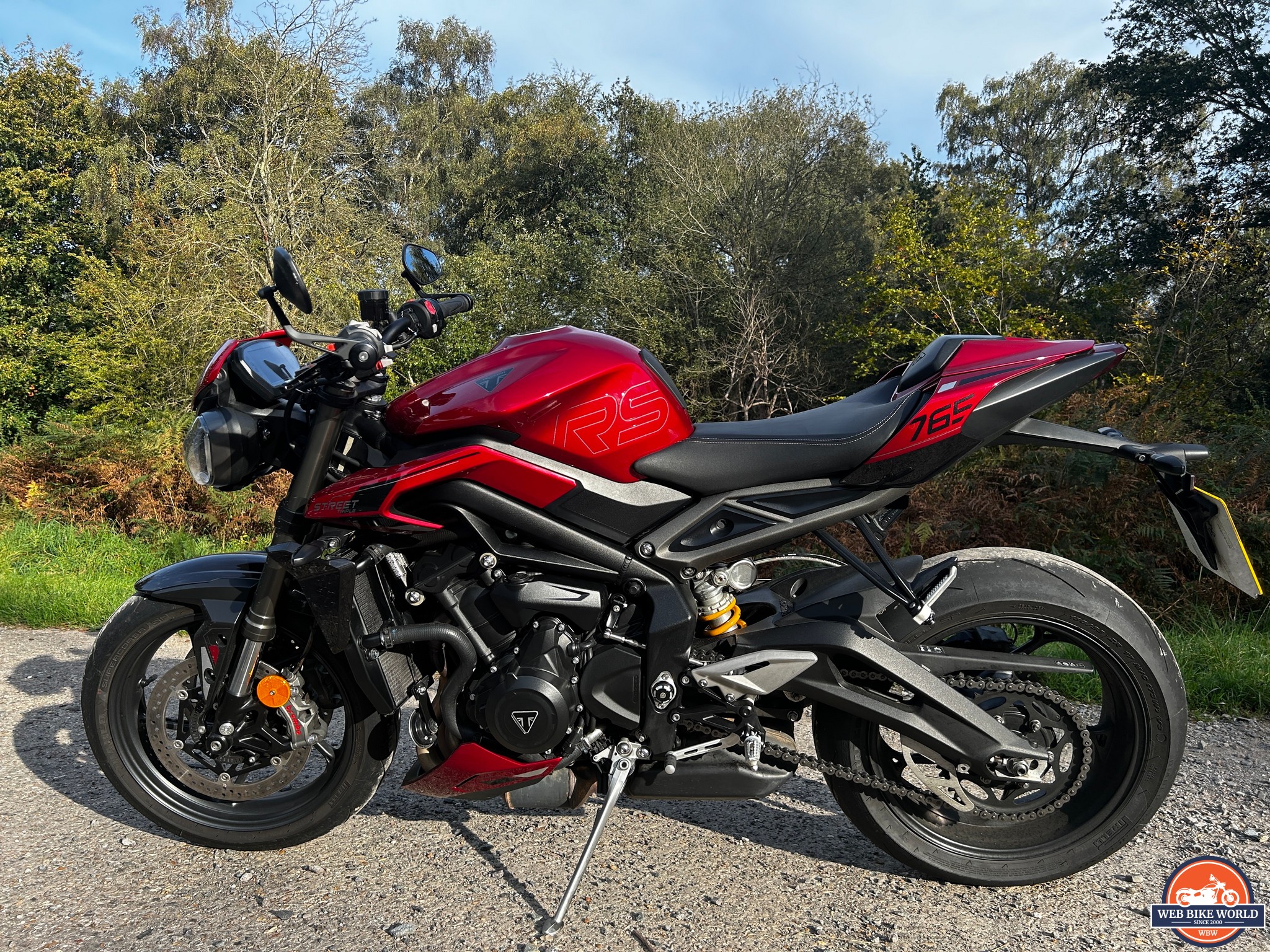 Weighing just 188 kg, I found this to be a light bike both moving it around and whilst riding, it feels light, the weight feels lower down to me.
With a seat height of 836 mm, you do feel as though you are sitting on the bike rather than in it, but with the wide bars and pegs as they are, I found the riding position very comfortable, it feels more like a sports bike riding position but with the comfort of being in a more upright riding position.
The front suspension has Showa 41 mm upside down Big Piston Forks (BPF) which are adjustable for compression and rebound damping and preload adjustment with 115 mm of wheel travel.
The rear suspension sports Ohlins STX40 piggyback reservoir monoshocks which are adjustable for compression and rebound damping and preload adjustment with 131.2 mm of wheel travel.
The suspension felt good to me, the lumps and bumps were soaked up nicely and it made for a very comfortable ride indeed. Obviously depending on your weight and height, you may need to adjust this to suit you.
The front brakes are twin 310 mm floating discs with Brembo Stylema 4-piston radial monobloc calipers, OC-ABS and a Brembo MCS radial master cylinder.
On the rear is a Single 220 mm disc, Brembo single piston caliper, OC-ABS.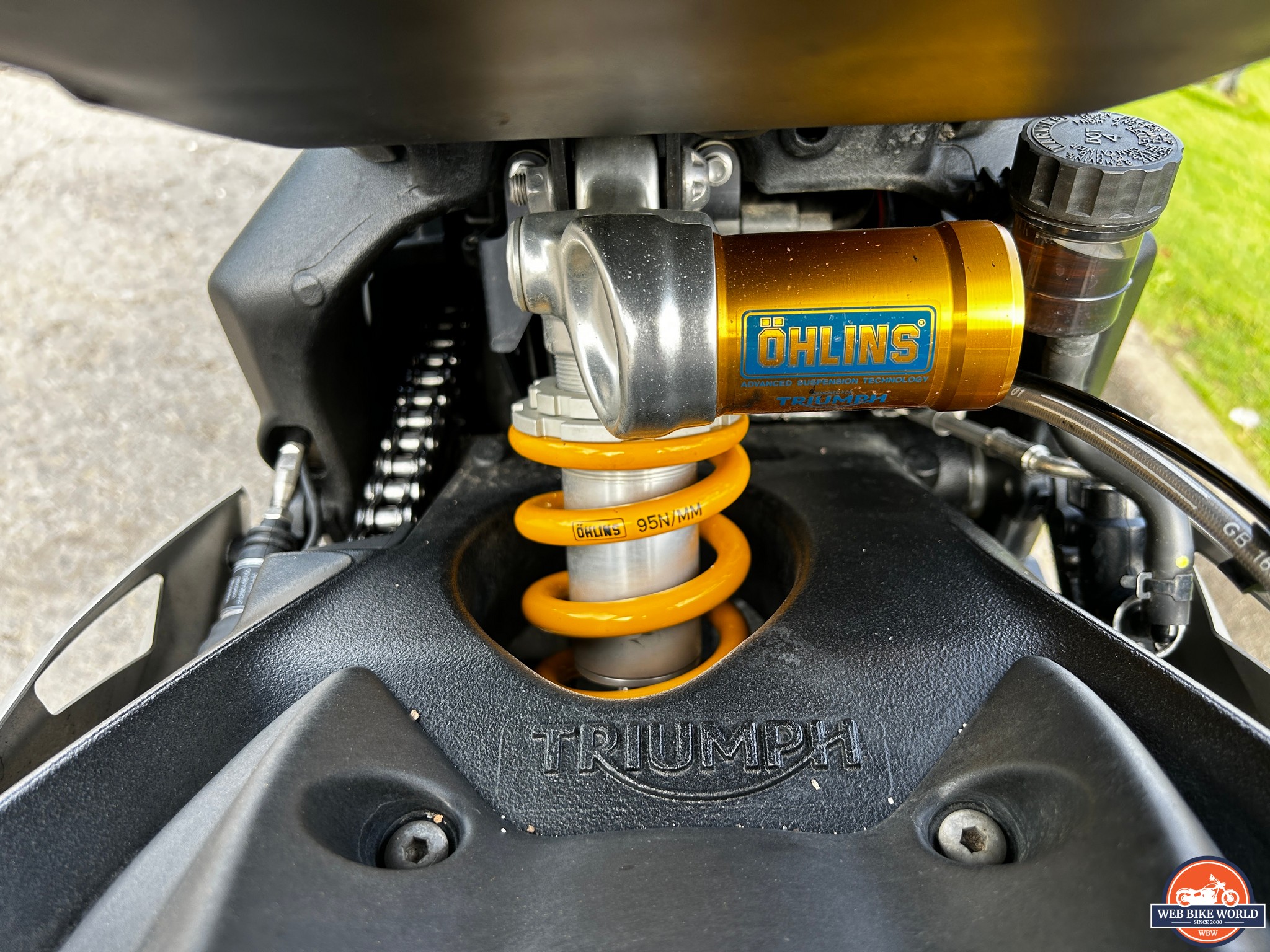 I thought there was a fair amount of engine braking just by coming off the throttle and found the brakes to be very responsive, you do not need to pull the brake lever hard at all for the brakes to start taking effect.
TFT Display
The 5″ TFT color display is clear and easy to read especially when glancing down when riding and although I didn't necessarily experience glare from the sun on the screen, I do think a screen would finish the front end off nicely.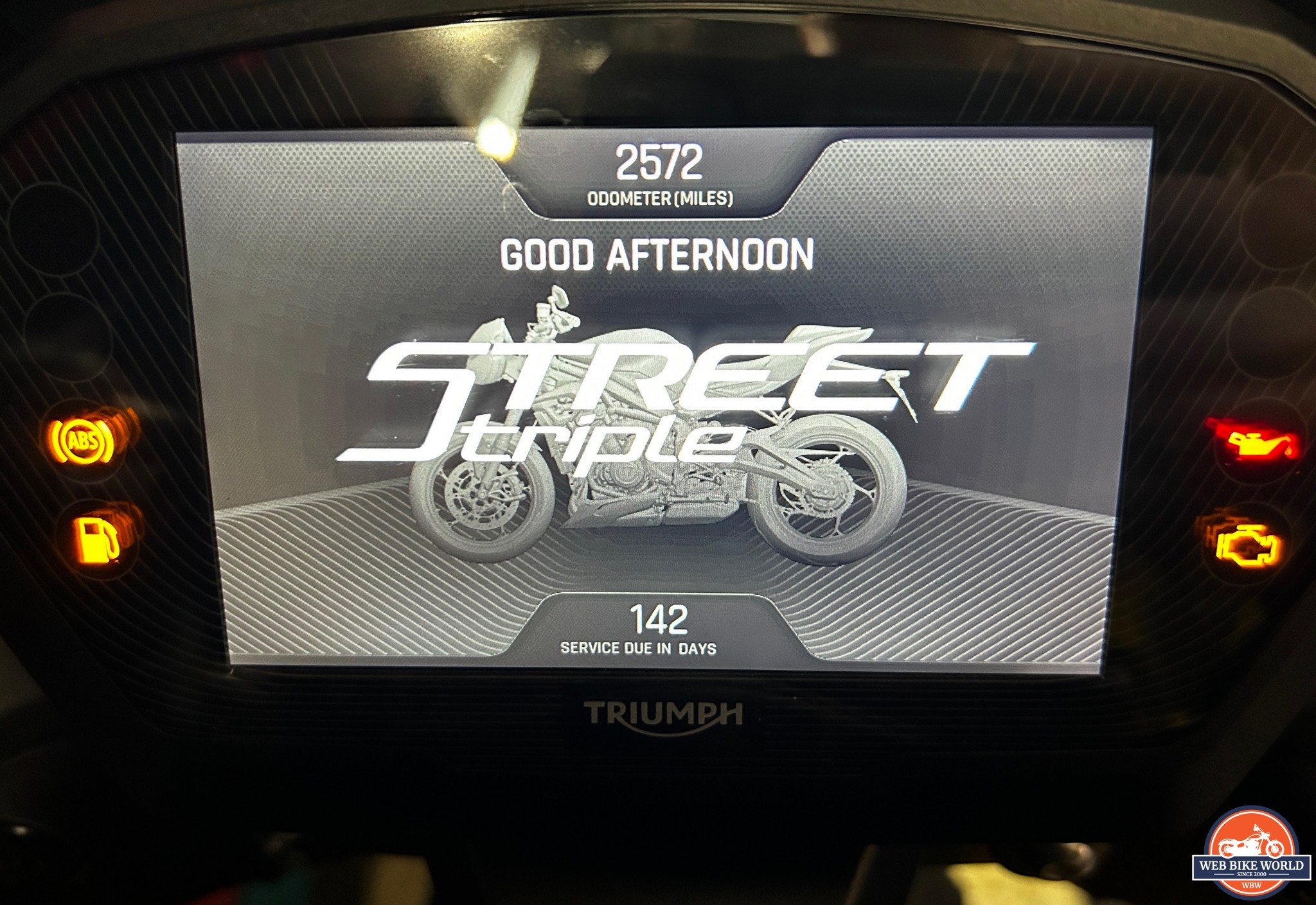 Easily visible are all the important things you need to know when riding in a glance – speed, gear you are in and fuel gauge.
The time is also visible on the screen but this is way too small for my older eyes to see in a glance, it needs to be a little bigger!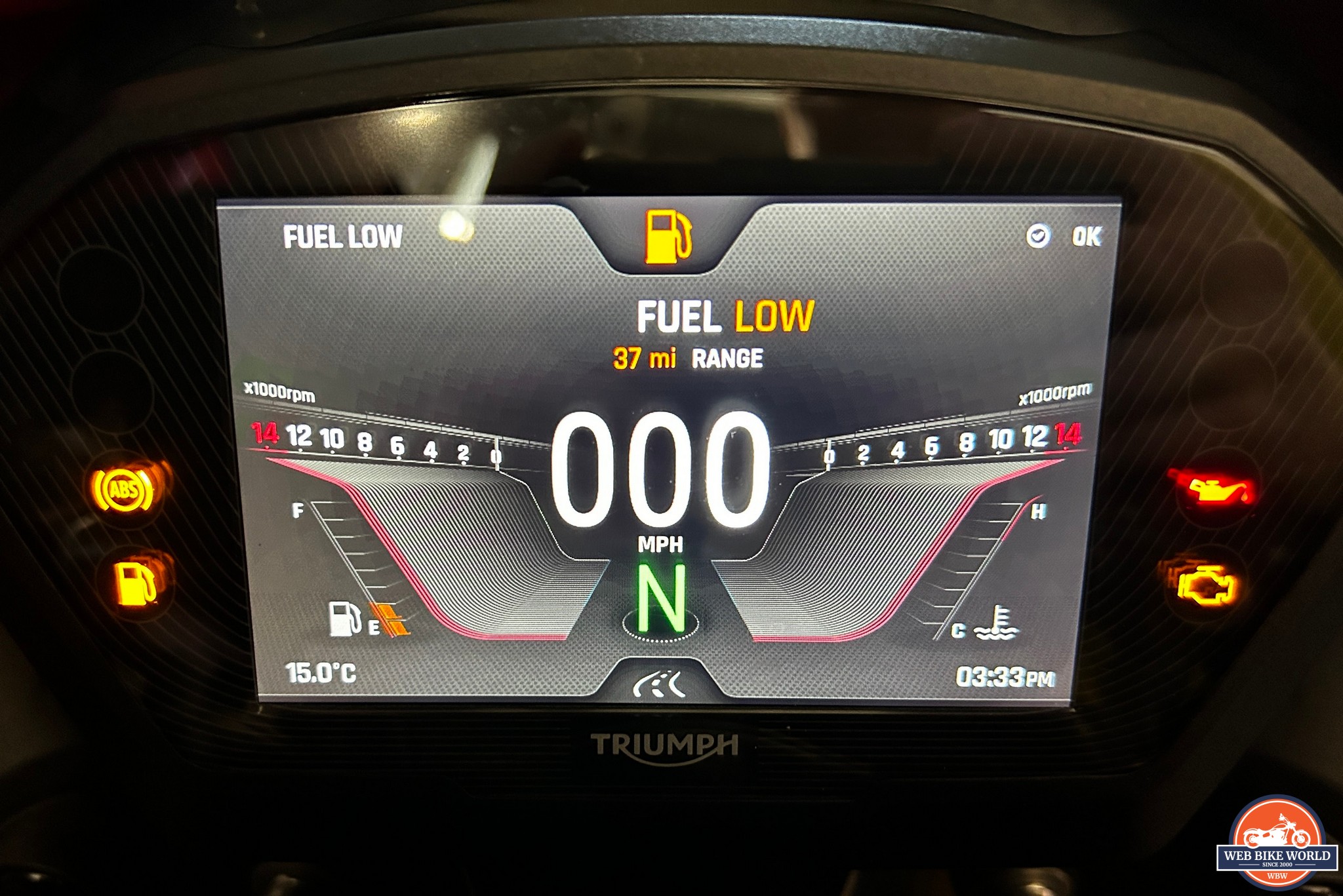 Using the screen and working your way around it is relatively easy. Press the mode button on the left bar and then begin navigating your way round using the toggle. It really is simple and easy to use, just perfect for me.
As standard equipment is the My Triumph Connectivity System which you can connect your smartphone to for Google turn-by-turn navigation, GoPro control, music, phone and messages.
Riding Modes
There are five riding modes: rain, road, sport, track, and rider on the 765 RS of which are customisable to adjust how the bike behaves depending on how you like the bike set up to suit your riding style.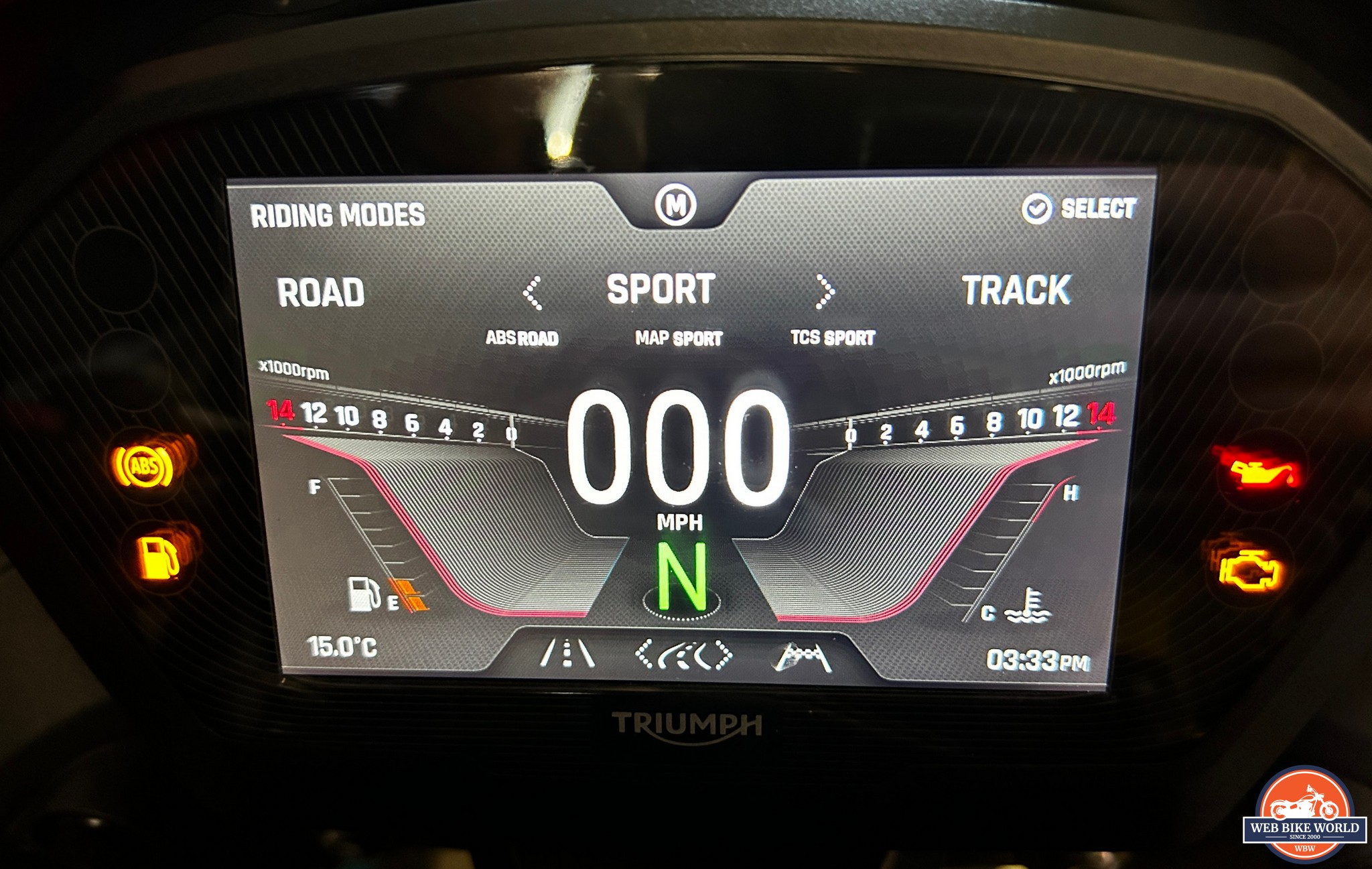 According to the riding mode selected, traction control, ABS setting and throttle response are adjusted accordingly.
When in track mode, a lap timer is available through the screen settings.
All the modes are accessible via the mode button on the left bar and can be navigated using the toggle at the bottom.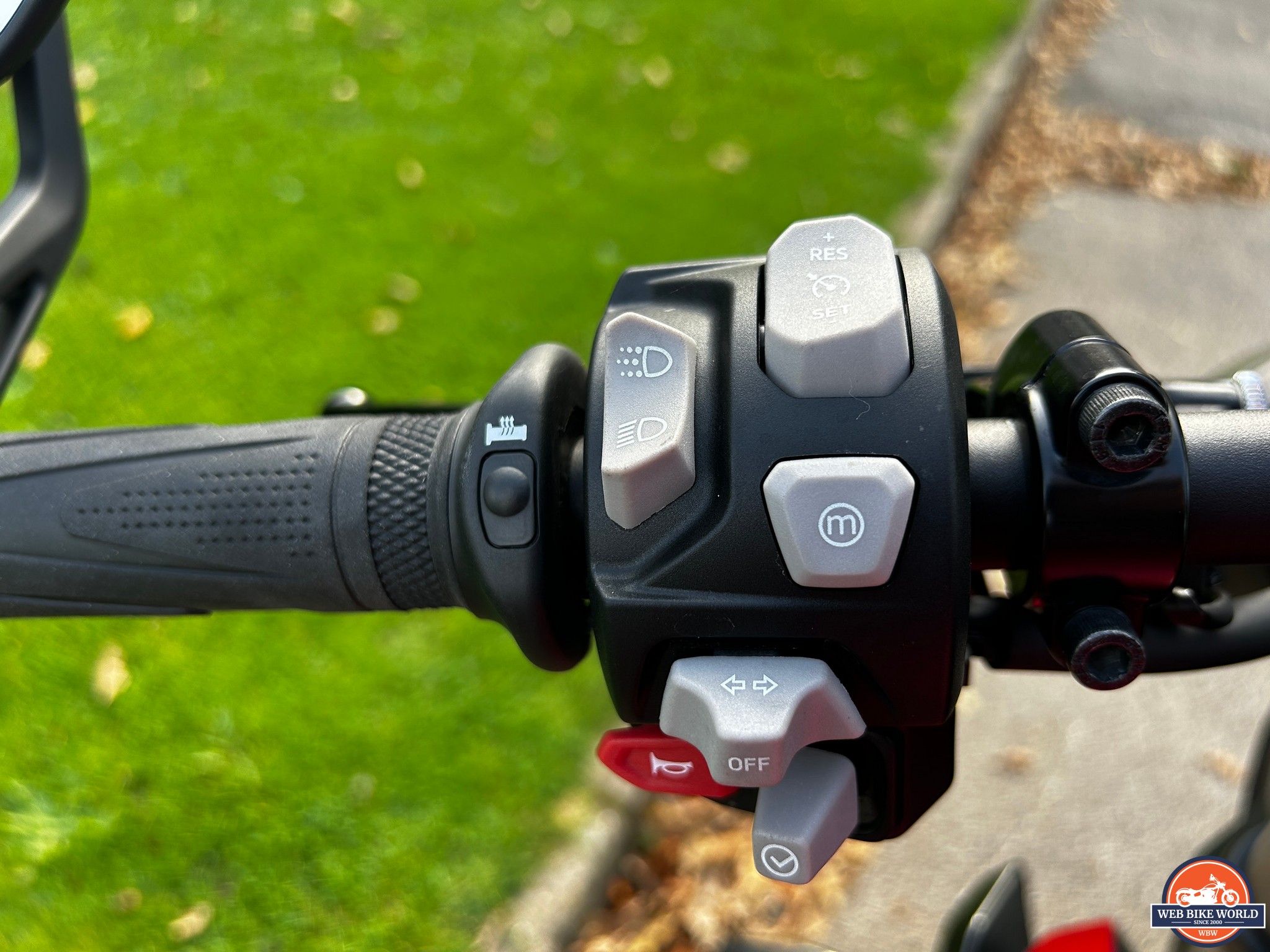 As someone who is technologically challenged, this is an easy screen to navigate your way around.
Cruise control comes as standard on the 765 RS and can be easily accessed using the button on the left bar.
Optimized Cornering ABS
The 765 RS has Optimised Cornering ABS and switchable Optimised Cornering Traction Control (with IMU) and this can be adjusted according to how you would like the bike set up. The roll, pitch and yaw acceleration rates are continuously monitored to calculate the lean angle to ensure the optimum brake force for any situation.
This can be adjusted through the screen by using the 'M' button and toggle on the left bar. There are two selectable levels of intervention – road and track.
Enhanced Front Wheel Lift Control
The enhanced front wheel lift control is so that you can choose how much/little to enhance your control of the bike according to your riding style and how you like to ride and are linked to and optimized for each traction control mode.
The algorithms monitor the signals from the IMU to ensure smoother control and faster progress of the bike.
I like this mode as I am not a fan of wheelies but of course this is personal preference. You really can set the 765 RS up to suit you and your riding style.
Triumph Shift Assist
A quickshifter, or Triumph Shift Assist as it is known as, comes as standard on the 765 RS which is both up and down.
I like this quickshifter, it feels smooth going both up and down the gears and there is no 'clunkiness' to it.
Out of habit when using a quickshifter, I tend to use the clutch lever going into first or out of first, into second. I am not sure if this is strictly a necessary thing to do but I feel that it gives the gearbox an easier time.
Tires
The tires on the 765 RS are Pirelli Diablo™ Supercorsa SP which are race track/road tires. I really hoped when the bike first arrived that I would not get too many cold, damp days while I had the bike.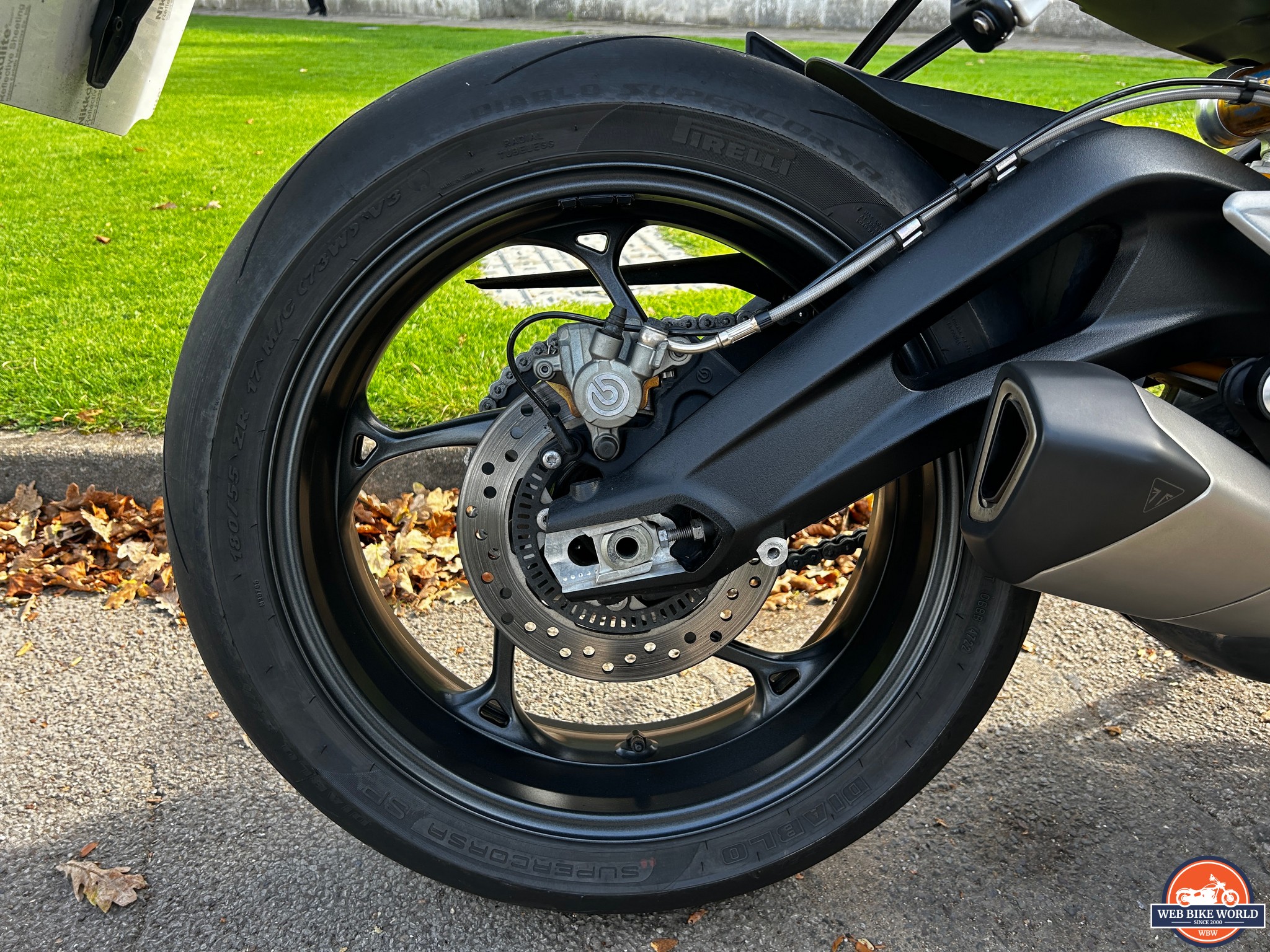 Pirelli describes these tires as: 'The ultimate racing replica generation. The Pirelli treaded racing tyre in (W) speed index to exploit the best performance of your motorcycle on both Race-track and road.'
Racetrack performance also for road use, delivered with a street legal tyre:
Racetrack performance delivered via a fully street legal tyre
New tread design geometry to better respond to the lateral forces and improve wear regularity
New racing compound on shoulder, developed in the FIM World Superbike Championship
New profiles to reach a new level of response, handling and grip both on racetrack and road
Bi-Compound rear to combine grip, stability and mileage
You've probably guessed by now that I am not a fan of these tires. If I lived in a hot climate with very little rain then I would most definitely be a fan of these tires, but I do not.
When the conditions for the tires are warm and dry, they are brilliant. The bike handles really nicely and they give me the confidence I crave from a tire.
When the conditions for the tires are cold and damp, they are not so good. The bike handles differently and you can feel the back end twitching and sometimes stepping out on you. I don't like the feel of the bike or the tires in these conditions.
As I ride all year round, my tire of choice is the Michelin Road 6's which I find to be a good tire for all year round riding which offer good grip in the wet.
LED Lights
LED lights feature all round on the 765 RS and the front headlights have a distinctive daytime running light, which you have to admit, does look rather cool.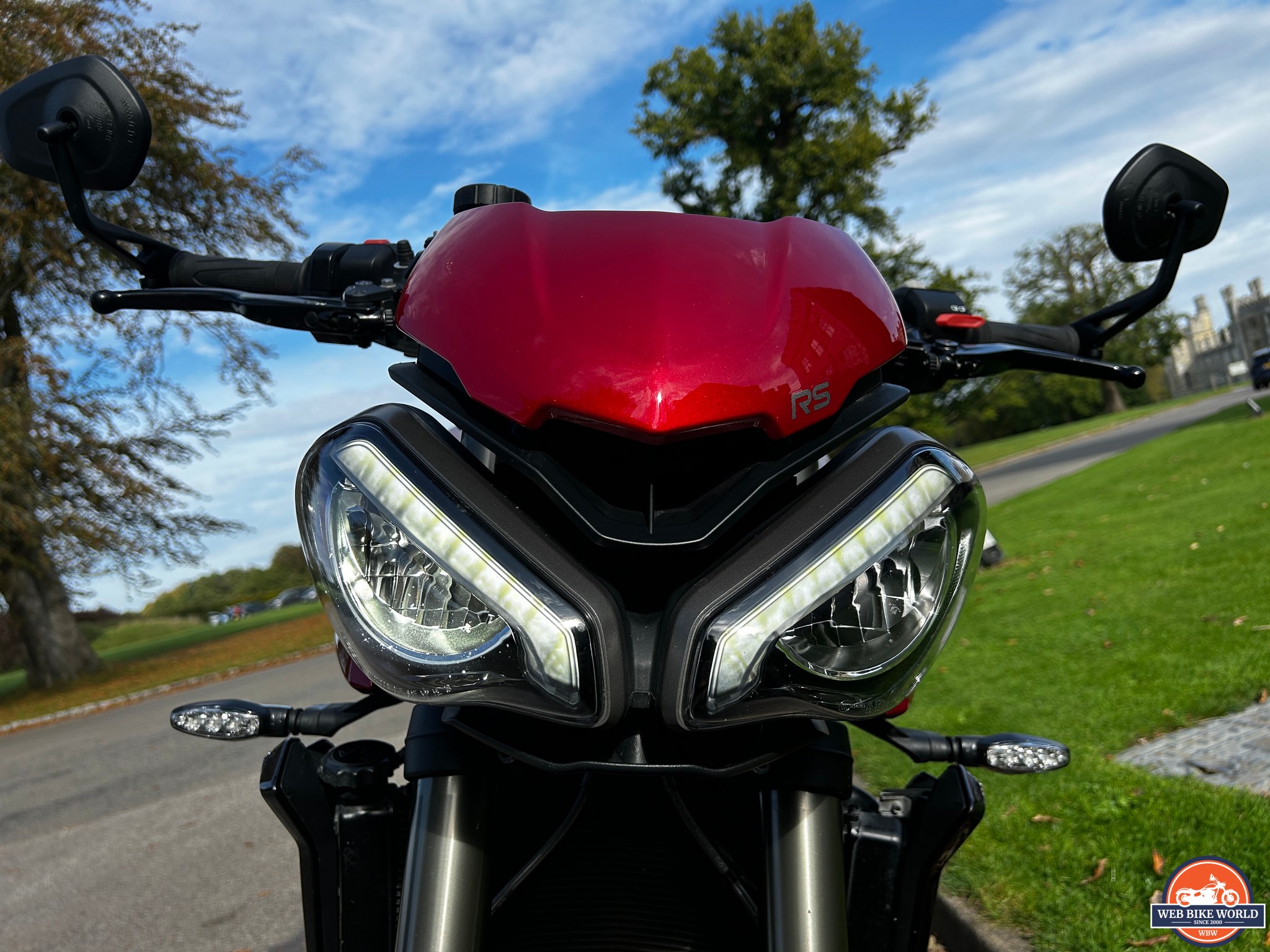 The styling of the front headlights came up several times in conversation when I was parked up at bike nights or events, they really are a hot topic of conversation. Personally, I don't mind them and I think adding a screen to the front would soften the front end nicely.
The LEDs offer good light at night and the main beam offers great visibility offering a wide ray of light.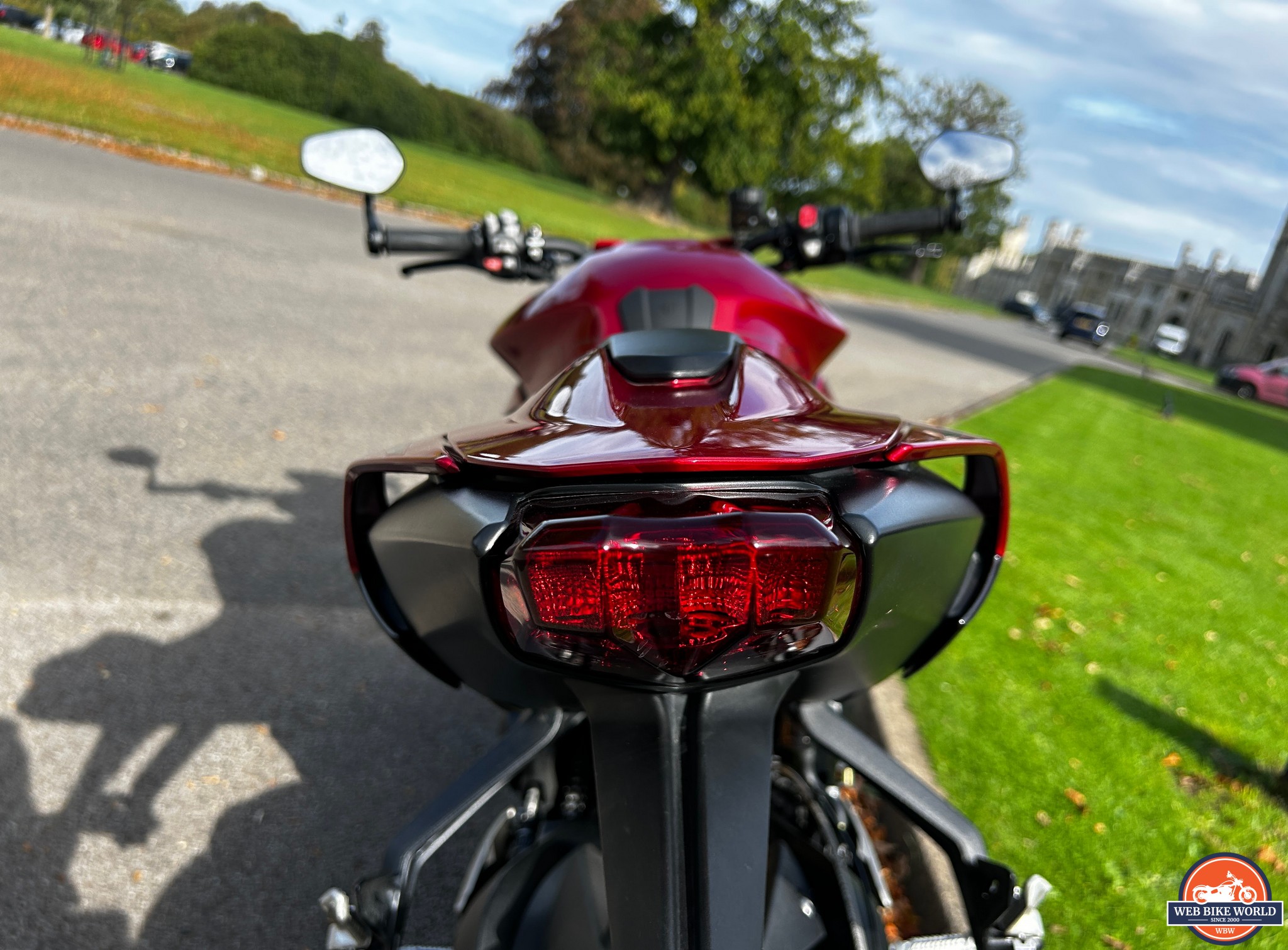 The rear light has not been forgotten in the design process, this sits very neatly under the rear seat and really adds to the styling of the rear end.
So, What is the Triumph Speed Triple 1200 RS like to Ride?
The 765 RS is a cracking bike to ride. It offers a comfortable riding position, stunning good looks and goes well.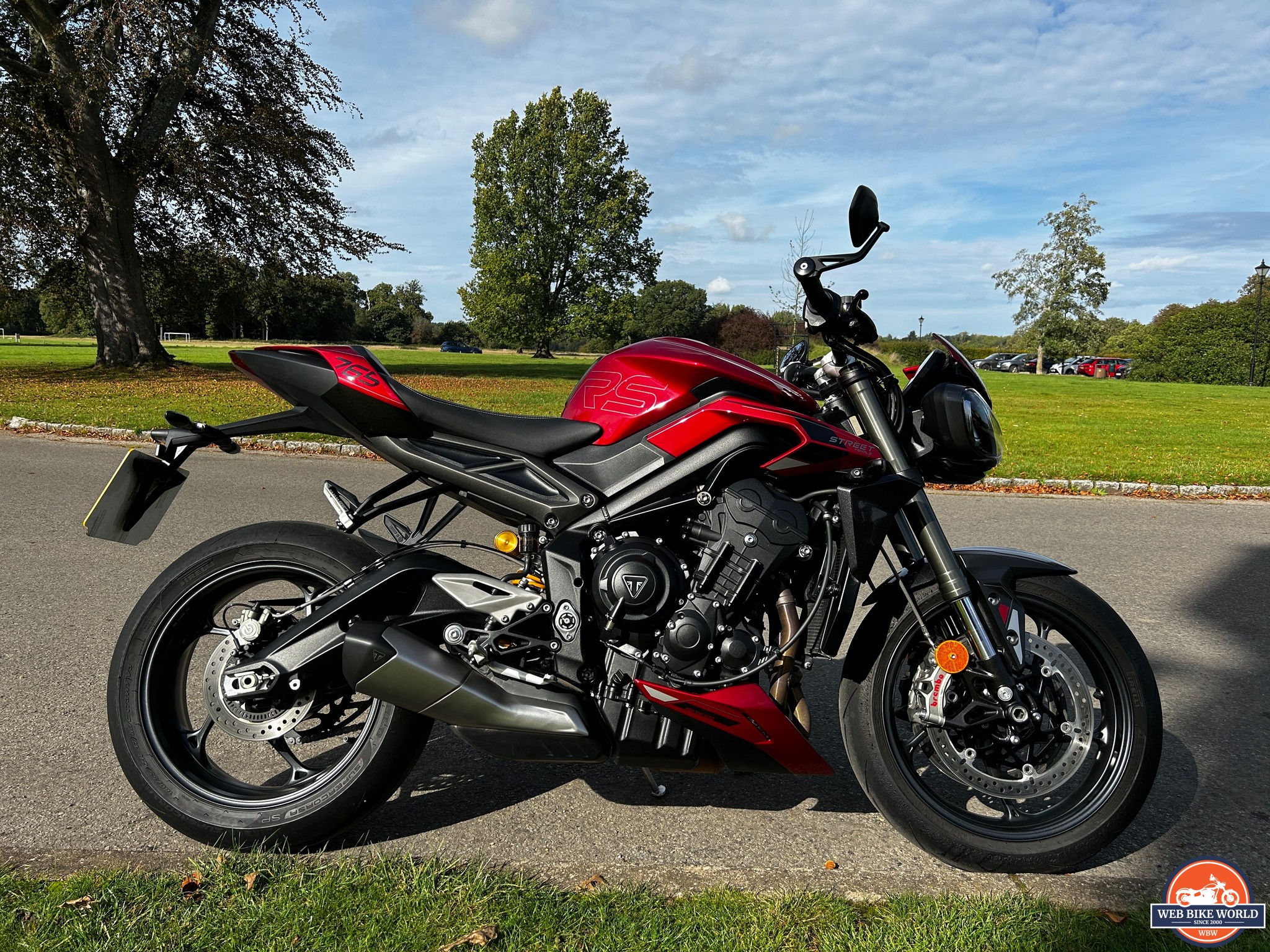 There seems to be a following for the Street Triple both old and new models and these bikes endear themselves to their owners past and present and I can see why.
Being a Triumph, you know that you are getting a quality bike from a company that is steeped in history. Nothing feels cheap on the 765 RS and time has gone into the R&D of this bike.
At 5'6", I did find the seat height of 836 mm a little on the taller side which was noticeable when stopping at junctions etc and having to put a foot down, but as the bike weighs just 188 kg, I found moving the bike about easy.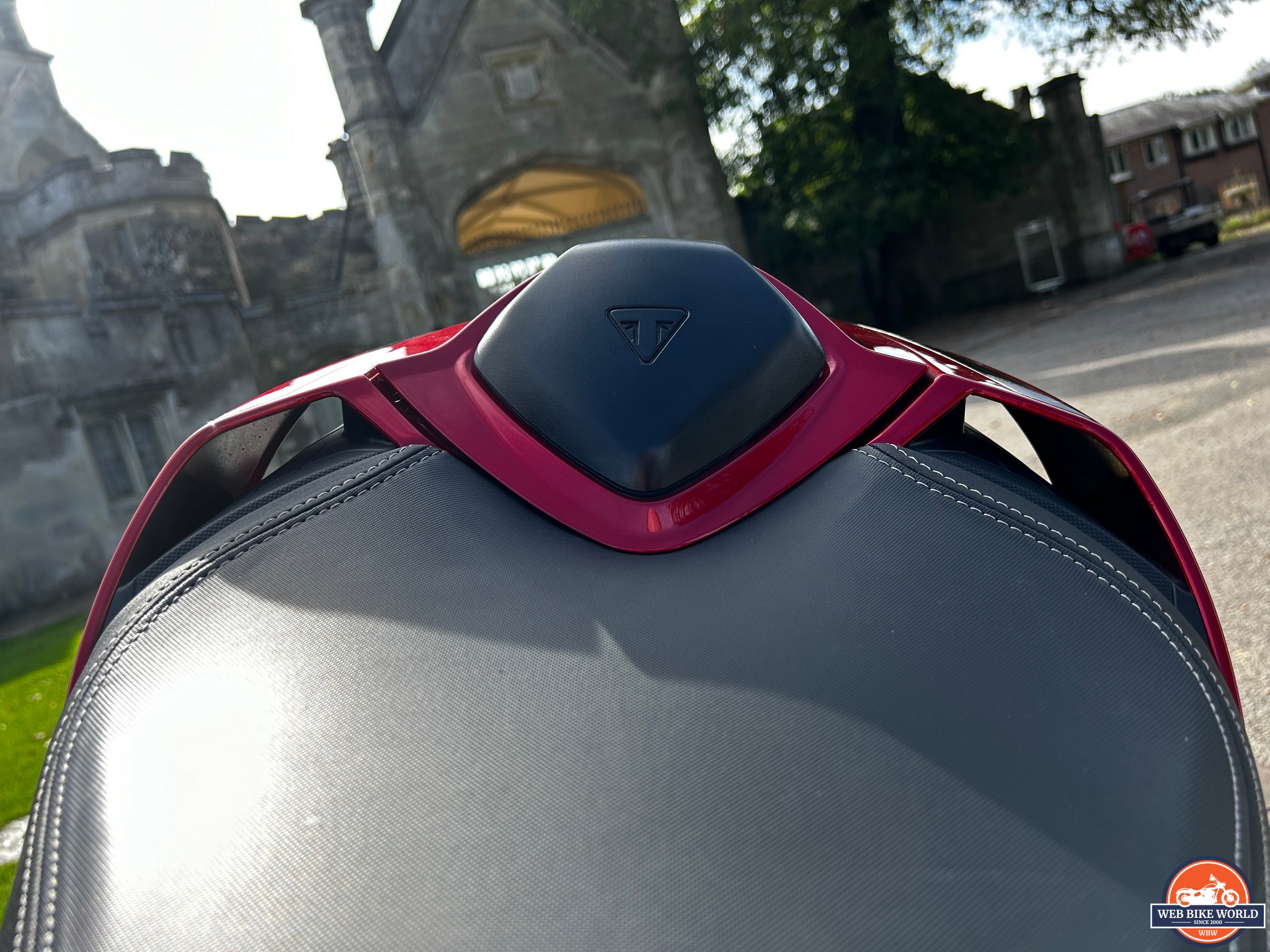 With the seating position, you feel as though you are sitting 'on' the bike rather than 'in it' and the clocks seem to be lower but it actually makes for a really comfortable riding position, my legs did not feel cramped.
The Triumph Shift Assist or quickshifter, is very smooth, I did not experience any 'clunkiness' and goes up and down the gears nicely. I tend to go into and out of first gear using the clutch lever but otherwise I use the quickshifter.
When pressing on especially on twisty roads, the quickshifter is so nice to use and effortless, you simply go up and down the gears with a flick of your left foot and, I feel, makes for a more consistent smoother ride.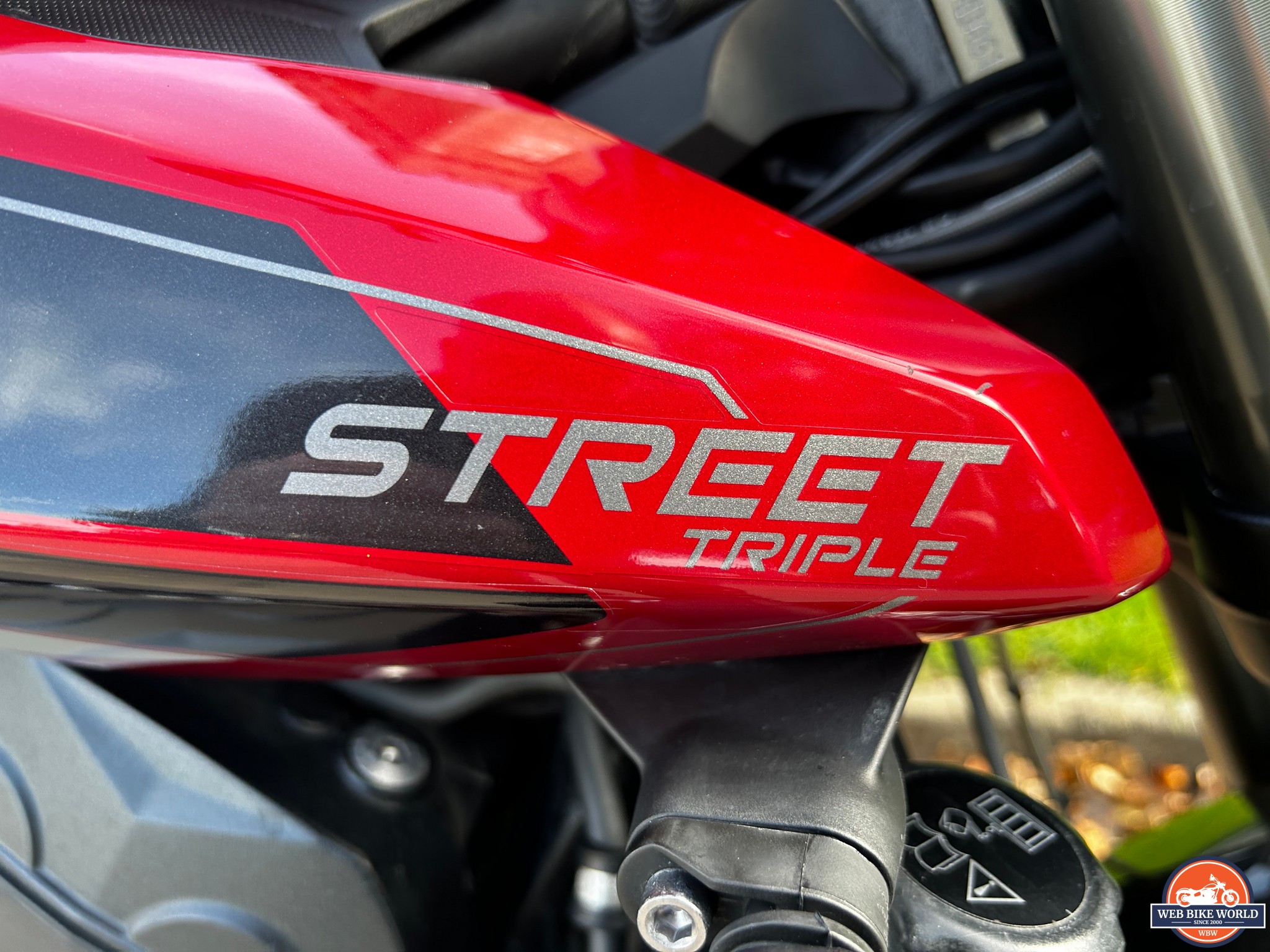 With 130 bhp, you have plenty of power when accelerating and on an overtake, just flick the bike down a gear and you can feel the power coming in, it really is quite addictive and makes for a huge grin factor.
I like the way the 765 RS feels when riding it, how nicely it takes the corners, it feels solid and stable. I would find myself going somewhere for a ride and then having the need to go back an even longer way just so I could ride the bike that little bit more.
Different tires would be my first change to the 765 RS, a couple of times on cold, damp roads I felt the back end twitching which is not good for any riding let alone all year riding.
I have felt a lot of wind blast on the bike especially on a dual carriageway so a screen would be a must for me. I think this would also finish off the front end nicely.
A tail tidy would be high up on the list of changes to the bike, the back end really is crying out for one. I know the number plate has to be the rear most part of the bike hence why it is like this, but it just seems such a waste to me – you buy a bike and one of the first things you do is take the number plate holder off.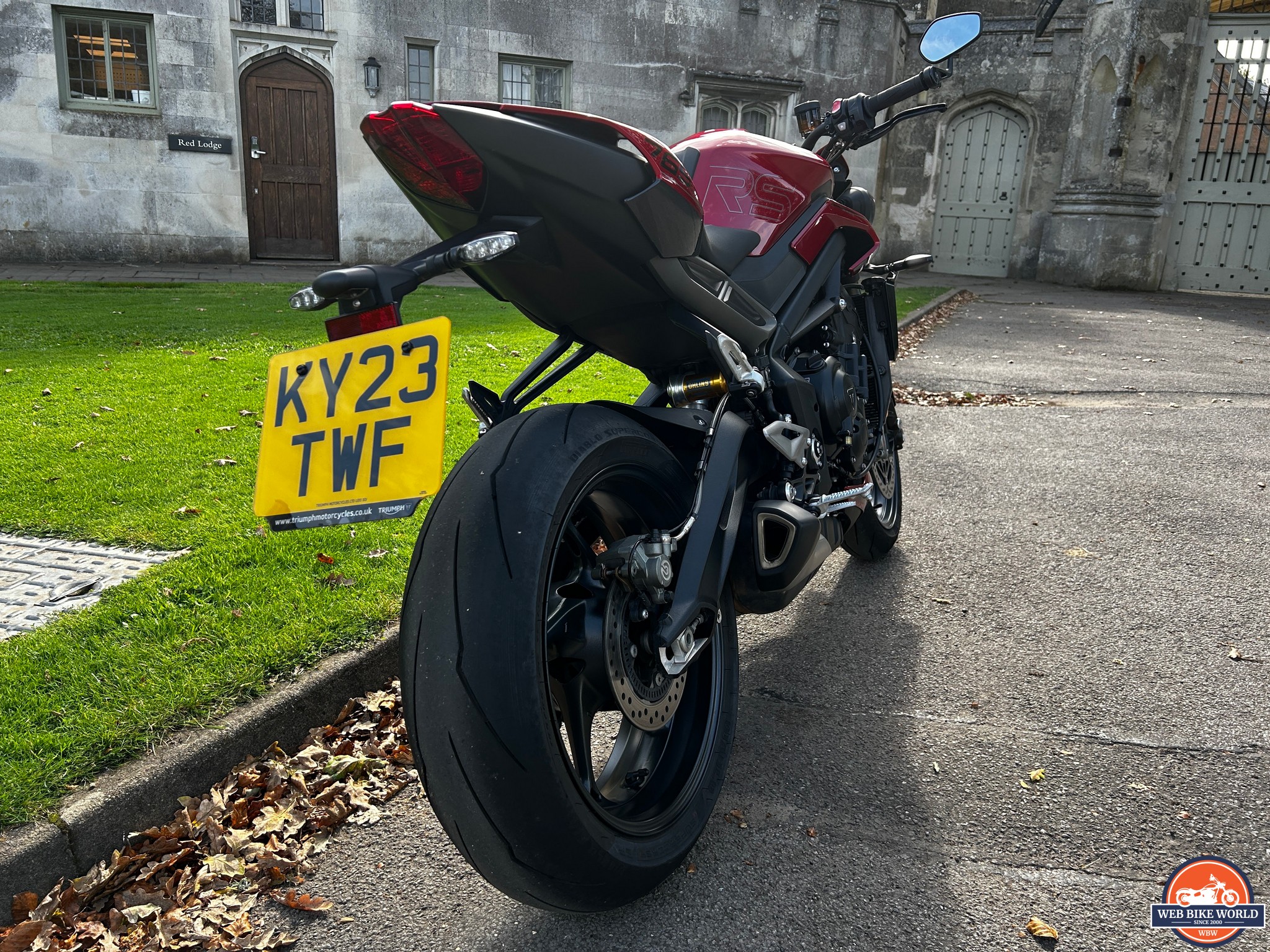 I would also take off the rear foot pegs as I do not take pillion but that's it, you could really then just leave everything else as it is and just ride the bike.
If you wanted to go one step further, changing the end can would enhance the looks of the bike and also, if I am being honest, make the exhaust louder as it is way too quiet as standard but obviously that is purely personal preference.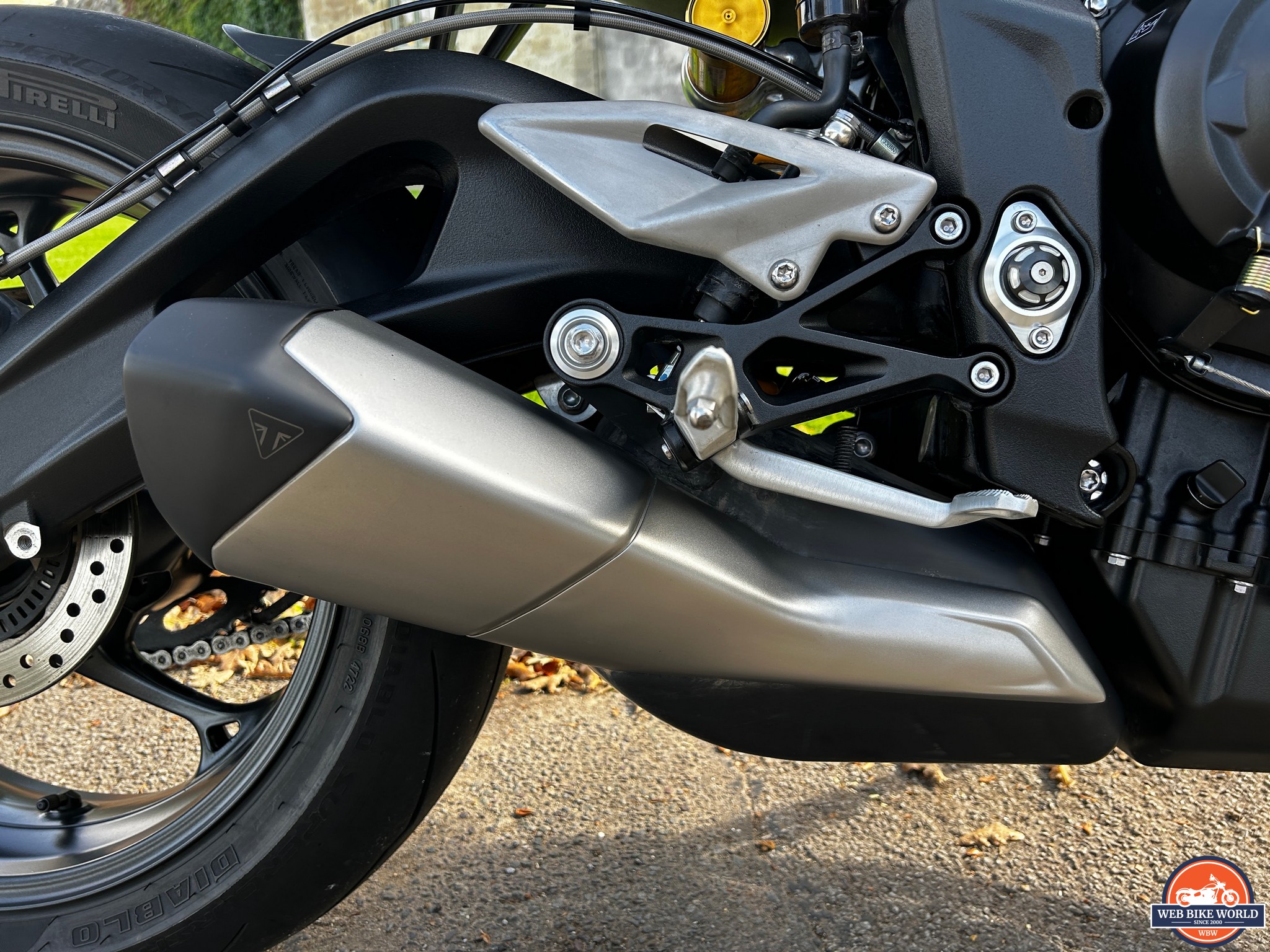 I like the 765 RS, I can see why they have a following and how they endear themselves to people, it really is a nice bike to both ride and look at.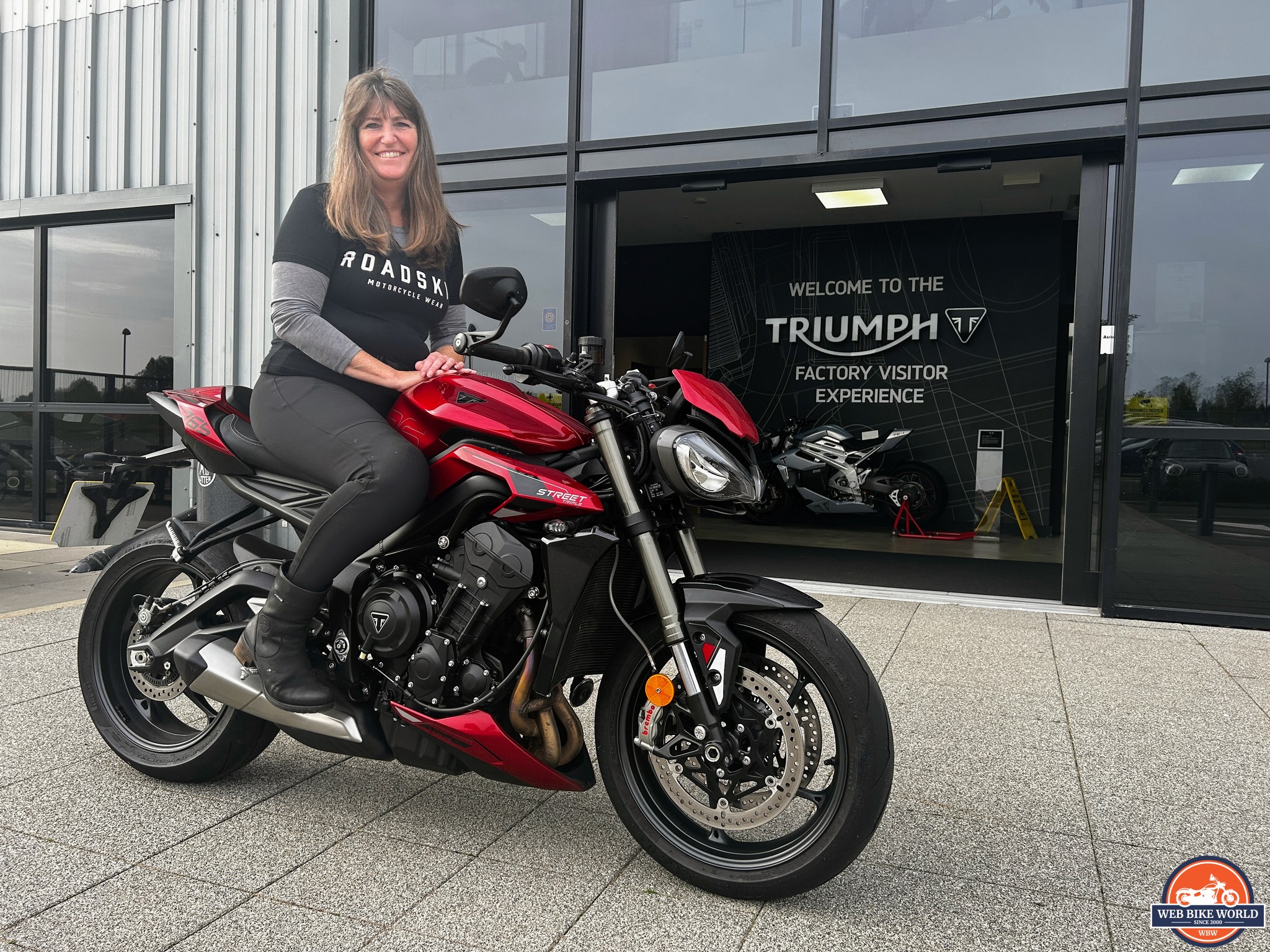 Thank you Triumph UK for the loan of the Street Triple 765 RS.
2023 Triumph Street Triple 765 RS Video Review
Pros
130 bhp 😎and weighing 188 kg, the RS is a light bike to both ride and move about
Seat height of 836 mm which is on the tall side for those of us of a shorter disposition to move about as I found I couldn't get my feet firmly planted on the ground to gain traction
Quickshifter as standard which is nice and smooth
Five riding modes which you can customize to suit your riding style and how you want the bike to perform for you
Self-canceling indicators which are a great accessory to have on a bike, I would prefer if they came as standard on all bikes
The 5" tft color screen is clear to read and easy to navigate, you can connect this to your phone via an app too for navigation
The RS comes in a great choice of colors – red, silver and yellow
Cons
A front screen would be good to cut down on the wind buffeting and I also think it would finish off the front end nicely
The standard exhaust is way too quiet, definitely needs a louder pipe to enhance the lovely sound of the triple engine
Definitely needs a tail tidy!!!
2023 Triumph Street Triple 765 RS Image Gallery