NEW MODEL DESIGNATIONS
Starting with the 1961 Triumph Bonneville, the T120 model designation was followed by either an "R" for Road models with low pipes, or a "C" for the Street Scrambler with high pipes. Changes in the new bike were minimal, yet the steady process of development and improvement never abated. Of course, again as always the T120 and the Triumph TR6 were styled alike, apart from the Triumph 6T Thunderbird with its more conservative looks.
ENGINE
Starting with Engine #D7727, the 1961 Triumph Bonneville got a new cylinder head casting with vertical pillars between the outer cooling fins, designed to stop high frequency ringing (the unsupported fins vibrated like tuning forks at high RPM). There were improvements made to the transmission (gearbox) including the replacement of plain bushing with needle-roller bearings on the layshaft. The gearbox itself was also anchored more securely in its mounts. The engine sprocket was reduced in size again from 22 teeth to 21 teeth and the gear ratios were juggled to lower the gearing even more, for better acceleration.
DUPLEX PROBLEMS
Problems with the duplex frame continued until all were either built with, or retrofitted with a second frame tube running under the main backbone, to brace the steering head, and the steering head angle (rake) was brought to 65-degrees. Most of the running gear was carried over from 1960. However, the rear tire-and-wheel size was increased. The Dunlop Universal was now a 4.00 X 18″ and the rim a WM3-18.
SISTER BIKES
As would be standard practice for Triumph motorcycles from now on, the 1961 Triumph Bonneville was mostly the same as its sister-bike, the 1961 Triumph TR6, except with twin carbs.
BODY & PAINT
The fuel tank,oil tank and tool box were rubber-mounted to combat vibration. This year's new color was Sky Blue on top and Silver Sheen on the bottom separated by a gold pinstripe.
ELECTRICS
A lower-output alternator was introduced because bulbs had been blowing out at high RPMs. A new brake light switch (Type 22B) was fitted also. Otherwise, the 1961 Triumph Bonneville was pretty much a carry-over from 1960.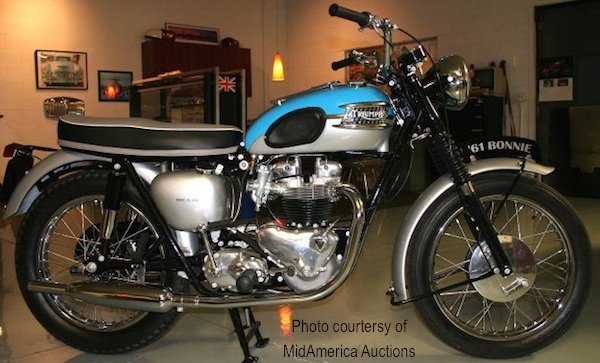 ABOVE: 1961 Triumph T120R Bonneville Roadster w/down pipes.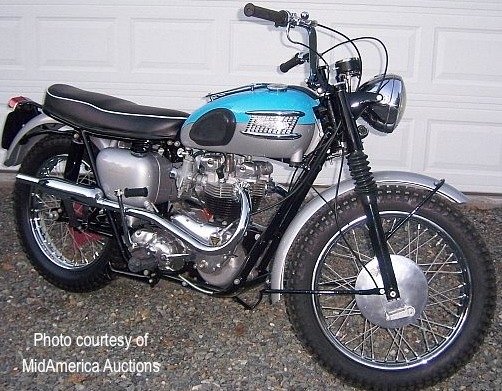 ABOVE: 1961 Triumph Bonneville T120C scrambler with high pipes and enduro tires.
BELOW: This lovely 1961 Triumph T120R Bonneville 650 sold at the Mecum auction in Las Vegas in January 2017 for $13,000.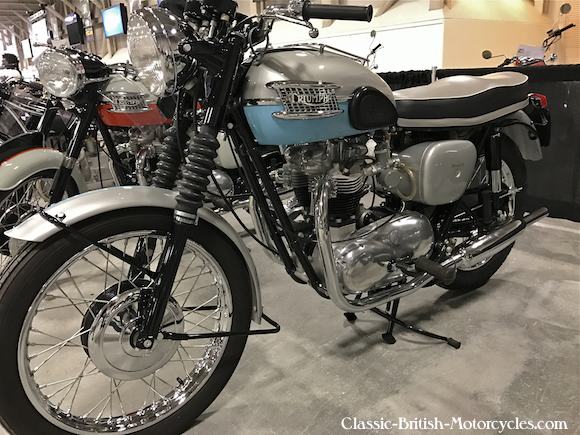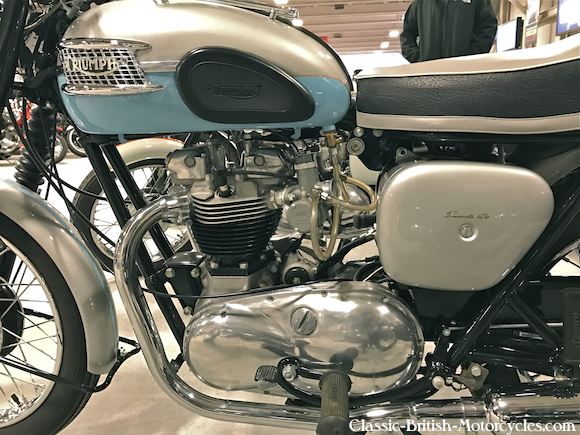 ABOVE: 1961 Triumph Bonneville T120C. Note twin downtubes. This was an inherently weak frame, soon to be replaced with the advent of unit-construction in 1963.
BELOW: The non-unit '61 Bonneville had no air filters, just these polished alloy bellmouths.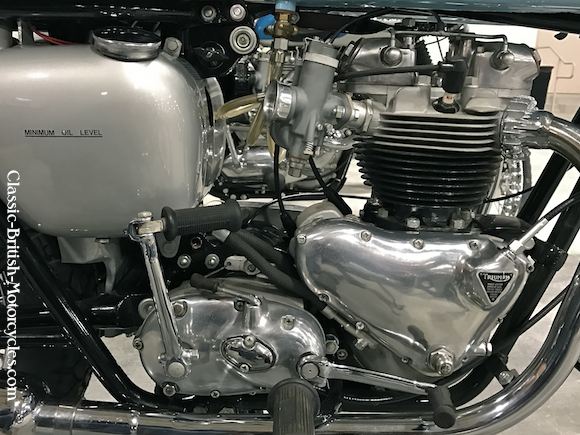 ---
1961 Triumph Bonneville SPECIFICATIONS
Bonneville T120/R

Bonneville T120/C

Engine type

Displacement

Bore & Stroke

Compression

Carburetor

Ignition

Engine output

Primary drive

Primary sprockets

Clutch

Gearbox

Ratios, overall:

1st, bottom

2nd

3rd

4th, top

Final drive

Final drive sprockets

Frame Type

Suspension, front

Suspension, rear

Brake, front

Brake, rear

Tire, front

Tire, rear

Wheelbase

Seat Height

Ground Clearance

Fuel capacity

Dry weight

Roadster (low pipes)

Scrambler (high pipes)

Air-cooled OHV vertical twin, non-unit

649cc / 40.0 ci

71mm X 82mm / 2.79″ X 3.23″

8.5:1

2- Amal Monobloc 1-1/6″

Lucas magneto

46 bhp @ 6500 rpm

1/2″ X .335″ X 5/16″ chain, 70 links

22T X 43T

Multi-plate, wet

4-speed constant mesh, right foot shift

—

11.9:1

8.25:1

5.81:1

4.88:1

5/8″ X .400″ X 3/8″ chain, 101 links

18T X 43T

Brazed lug, rigid

Telescopic fork, hydraulic damping

Swing arm, 2 Girling dampers

8″ SLS drum

7″ SLS drum

3.25″ X 18″ Dunlop

4.00″ X 18″ Dunlop

54.5″ / 140 cm

30.5″ / 77 cm

5″ / 12.7 cm

3 Imp gal (US); 4 Imp gal (UK & export)

393 lbs / 178 kg