Spidi T-Winter Gloves
Spidi T-Winter Gloves Review
by Glenn W. for webBikeWorld.com
More: wBW Reviews Home | wBW Motorcycle Glove Reviews | Owner Comments (Below)
---
w

BW

Winter 2011-2012 Glove Reviews
▪
Firstgear Waterproof Covers
---
Summary
The Spidi T-Winter gloves are waterproof and insulated and designed for cold weather use.
However, the insulation is relatively light, which means they are effective only down to about 40 degrees F.
Also, the gauntlets are very narrow, making it difficult to fit the gloves over an insulated sleeve cuff.
Bottom line? The Spidi T-Winter gloves are comfortable, waterproof and windproof, but they are probably best suited for three-season wear.
Introduction
It's time to start our series of winter motorcycle glove reviews and, as always, this means the "Winter Paradox" is in play.
What's that, you ask? Well, first of all, winter gloves aren't usually available until Fall, and you can't evaluate a winter glove unless it's winter, right?
But by time it's cold enough to evaluate the winter gloves, it's...winter. And most motorcycle riders will have already made their cold-weather gear purchasing decisions.
So how to get around this dilemma? That's for the philosophers to decide. In the meantime, we'll simply forge ahead and hope for the best.
Up First: Spidi T-Winter vs. Firstgear Kathmandu
The first pair of glove pairs up for review are the Spidi T-Winter gloves and the Firstgear Kathmandu gloves.
We specifically chose these two for a couple of reasons. First we haven't reviewed many Spidi products, and their "H2Out" line of waterproof clothing is popular with motorcycle riders around the world.
Firstgear is also a very popular brand, with the Firstgear Kathmandu jacket selling in huge numbers. So we figured the matching Kathmandu gloves would be a good choice.
But these two glove types also have a significant difference from your "average" winter motorcycle glove; they are designed to wear under a motorcycle jacket sleeve, not over.
The Firstgear Kathmandu gloves are very specifically designed for under-the-sleeve wear, while the Spidi T-Winter gloves have a long and narrow gauntlet that might fit over some lighter-weight jackets but not over the cuffs of a heavy winter motorcycle jacket sleeve.
Both glove models carry a fairly reasonable street price, but I wouldn't call them "cheap". And, as it turns out, this is a good example of where trying to save money doesn't always save you money. You'll see what I mean after you read both reviews...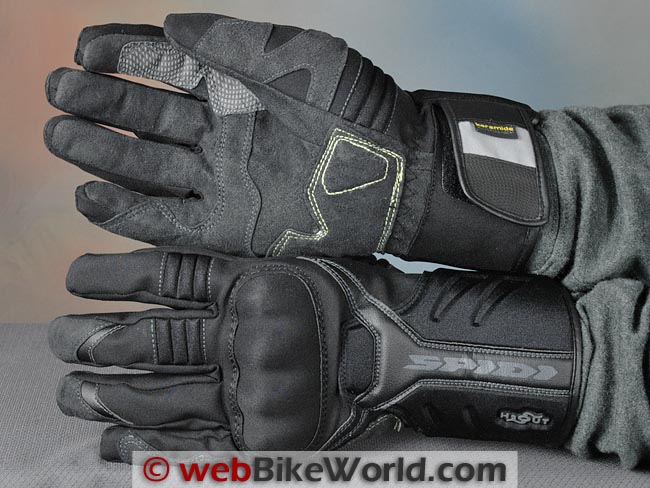 Spidi T-Winter Gloves - Introduction
The Spidi T-Winter gloves are listed as new for 2012 on the Spidi website. Motorcycle clothing manufacturers typically come up with the wackiest names for their gear -- especially gloves -- but in this case, the "T-Winter" name is both a bit odd and a bit optimistic.
These are not what I'd call true winter gloves of the heaviest type usually designed for motorcycling. Examples would include the Rev'it gloves in our (still valid) 2011 winter motorcycle glove comparison, the Rev'it Bastion GTX, Orion GTX and Alaska GTX Winter Motorcycle Gloves Review. And if those aren't warm enough, it's time for something like the Gerbings Hybrid battery/electric gloves (review) or the Tourmaster Synergy heated gloves (review).
The Spidi T-Winter gloves have a mid-weight liner that makes them more suitable as a Fall/Spring glove or for use in climates with milder winters, perhaps like those experienced in the Northwestern U.S.
In our evaluations, the Spidi T-Winter gloves are comfortable down to about 40 to 45 degrees Fahrenheit, or about 4-7 C, but when it gets colder than that, there just isn't enough insulation to warm the digits.
The Spidi "H2Out" liner is rated as waterproof, windproof and breathable; it's sort of an in-house version of Gore-Tex. This helps to make the gloves more comfortable in cool weather by blocking the wind, but as the temperature drops, the cold air flowing over the gloves will chill the hands.
Of course, this will happen with any type of winter glove, but it takes only about 30-40 minutes when the temperatures reach a not-all-that-cold 40 degrees F or so. Your mileage, as they say, will vary, depending upon your resistance to cold.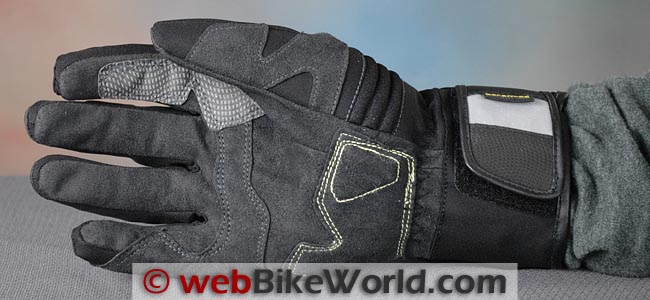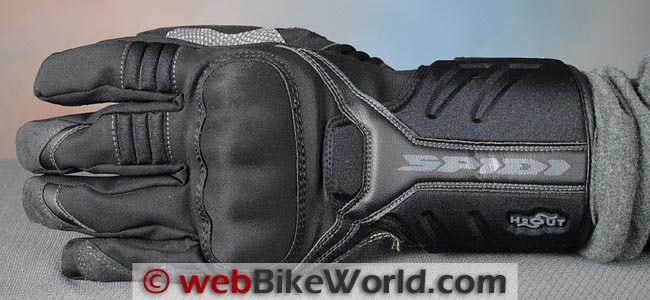 Spidi T-Winter Glove Details
There's not a lot of technical information about the T-Winter gloves on the Spidi website, nor was there much info on the hang tags attached to the gloves.
The body of the T-Winter gloves is a type of textile, not leather. Spidi calls these "Touring" or "Urban" gloves, and I'd agree with that. They have minimal impact protection, with a nicely integrated section of hard armor over the main knuckles and that's it. There is no other hard armor protecting the fingers or secondary knuckles.
The absence of hard armor does have one benefit -- it means that the T-Winter gloves are very comfortable and flexible. The third and fourth fingers have an accordion pleat on top at the middle knuckle, but there is no abrasion protection on top of any of the fingers.
The fingertips of the middle finger, third finger and pinky finger and the side of the hand have a covering of what feels like a nubuck or roughout type of leather. The palms and underside of the fingers are also covered with this material, as is a small criss-cross section over the thumb.
There's also an extra patch of lightly padded leather-like material over the heel of the hand, stitched with what looks like Kevlar thread.
The stitching also looks very rough in this area on both gloves, with some loose and hanging threads. This is uncharacteristic of the construction quality on the rest of the gloves, which seems very good.
The fingertips of the T-Winter gloves are constructed in what we call the full "box" section, with two "walls", a "ceiling" and a "floor" giving plenty of wiggle room -- but not too much. Just right. The material used in the sides of the fingers is the lighter-weight nylon-like textile used to cover most of the body of the gloves.
Spidi says there's a product called "Keramide" used somewhere on the gloves; I can only assume it's the extra section of checkerboard-look material sewn between the thumb and forefinger. I could not find a definition for Keramide, so it's apparently a Spidi-developed material.
►
Spidi T-Winter Gloves Slide Show
◄
Gauntlets
The gauntlet on the T-Winter gloves is made from neoprene, which is slightly stretchy. It's sewn on to the body of the glove in a "Y" shape.
The gauntlet is not what we would consider full-sized; it's narrow and will not fit over most winter motorcycle jackets with sleeves including insulation and wind/waterproof liners (see photo below). For example, the T-Winter gloves do not fit over the sleeves of the Rev'it Cayenne Pro jacket (review) or the Richa Spirit jacket (review in process).
So the T-Winter gloves are really designed to be worn under the sleeve cuff. This may not be a problem with some riders, who prefer this method. It supposedly helps keep out the rain, which can flow down into a glove gauntlet if the gauntlet is worn over the sleeve (although I have not personally experience this).
There's a bit of a trick to arranging the gloves underneath the sleeve cuff and it's easier on some types of jackets and not so easy on others, depending on the sleeve cuff and zipper or closure design. It also means that it can be clumsier and more time-consuming to reach for something in your pocket or whenever you have to quickly remove a glove to grab something.
But, I'll leave it up to you to decide whether or not an "innie" or "outie" is best. Just note that the gauntlet diameter and length mean that the T-Winter gloves work best as an "innie".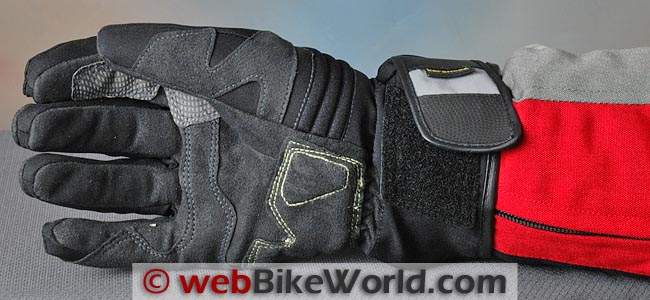 The Spidi T-Winter glove gauntlet doesn't quite fit over a thick sleeve cuff.
Waterproof and Windproof H2OUT Lining
Spidi is famous for its "H2OUT" ("H2O Out") water- and wind-proof (and breathable) membrane. It's used in a variety of Spidi clothing and it's been very successful.
It works well and the T-Winter gloves passed the webBikeWorld "Bucket Test" with flying colors. The outer material will get soaking wet, but the H2OUT liner in this pair kept it out.
The insulating layer on the outside of the H2OUT liner is relatively thin, so cold water will also chill the hands, but at least the gloves stay dry on the inside. This is more (much more) than can be said for the Firstgear Kathmandu gloves, by the way...
The outside textile material absorbs a lot of water very quickly and it doesn't dry out very fast either. An overnight drying doesn't do much and the outer body of the gloves is still very wet.
The H2OUT membrane does seem to do a pretty good job of transferring moisture from the hands and it's also definitely windproof. This makes the T-Winter gloves a reasonable choice for summer also, for use on those cooler and/or wet days.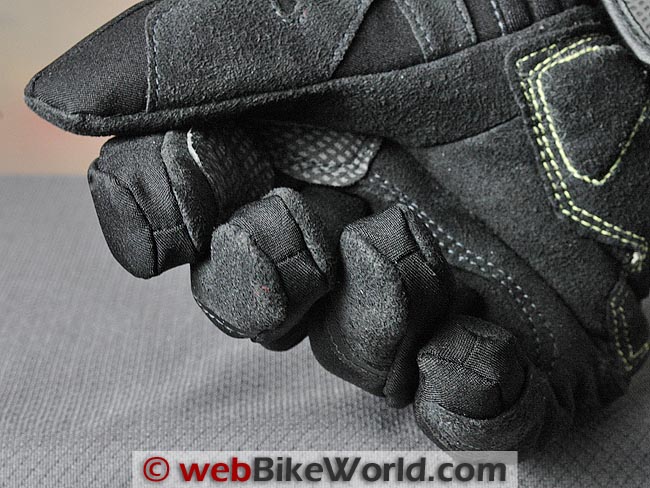 BUY YOUR
▪
Motorcycle Gloves
With This Link to the Motorcycle Superstore
And Help Support
web
BikeWorld
!
Security
The T-Winter gloves do not include a secondary wrist strap, which means that the gloves can be fairly easily pulled off the hand without much effort. This is a safety and security issue and something that always concerns us on motorcycle gloves, which must remain on the hands in a crash in order to protect the rider.
There is a small hook-and-loop flap that slightly tightens up the gauntlet, but no secondary strap for added security. The gauntlet flap includes a small section of reflective material, but the inside of the wrists is not really an area that is exposed, especially since these gloves are best worn inside a sleeve.
Fit and Ventilation Comfort
The T-Winter gloves are very comfortable, with a soft fleece lining inside the main body of each glove, covering the stitching. With the minimal amount of hard protection, the gloves are also very flexible, which adds to the comfort.
The inside of the neoprene gauntlet is lined with a smooth taffeta-like material.
The lining in the gloves seems to be fairly resistant to pulling out or turning inside-out when the hands are pulled out of the glove body, but as always with this type of glove, it's better to slowly remove the gloves, one finger at a time, holding the fingertips with the opposite hand. This helps ensure that the liner will not turn inside-out.
The T-Winter gloves have no vents or perforations. The H2OUT liner does work fairly well, at least in cool weather, to reduce the buildup of moisture inside.

Reflectivity of the Spidi T-Winter gloves (L) and Firstgear Kathmandu gloves (R).
Buy Posi-Lock Connectors!
So popular, they're now on their own
Posi-Lock Sale Page
Many new and different designs available!
Sizing
The T-Winter gloves shown here are a men's size XL (Euro 9.5) and fit like a size L. We went by the retailer's size charts for the gloves, and usually we would order a size L, but in this case, the retailer recommended an XL and it turned out to be correct.
The finger and thumb lengths seem proportionate to the glove size with no other issues to report.
Conclusion
The Spidi T-Winter gloves are comfortable and they're waterproof and windproof (and breathable). You'll have to like the smaller-than-average diameter gauntlet and you may have to wear the gloves under your sleeve cuffs, depending on your jacket and/or arm diameter.
The minimal amount of protection or armor on the fingers is a bit worrying and the fact that the T-Winter gloves aren't really what we'd call true winter gloves is another issue. On the plus side, the T-Winter gloves are waterproof and windproof, so if you're looking for a mid-weight glove for cooler weather for touring or perhaps city or scooter use, these may be for you.
In the end, there are probably better choices for a pair of warm, waterproof winter motorcycle gloves with more protective features, such as the popular British Motorcycle Gear Thermosport gloves (review) (and still only $79.00), unless the compromises described here aren't an issue.
w

BW

Review: Spidi T-Winter Gloves
Manufacturer: Spidi Sport SRL
List Price: $99.95
Colors: Black.
Made In: Unknown
Sizes: S to XXXL
Review Date: December 2011
Note: For informational use only. All material and photographs are Copyright © webWorld International, LLC - 2000-2012. All rights reserved. See the webBikeWorld© Site Info page. Product specifications, features and details may change or differ from our descriptions. Always check before purchasing. Read the Terms and Conditions!
Please send comments to
Comments are ordered from most recent to oldest.
Not all comments will be published (
details
). Comments may be edited for clarity prior to publication.
---
From "T.G." (December 2011): "From my experience in winter riding down to 12 degrees F, nothing short of giant fat mittens will keep your hands warm...Except for upgrading the gloves you have with some heated liners.
The Spidi's work great even in sub arctic temps if you slip on a set of heated liners first. Makes a huge difference until you start hitting "what are you nuts" speeds on winter highways."