Zero Motorcycles has pulled the rug out from underneath the coming Harley-Davidson LiveWire electric sports bike with its new Zero SR/F that looks uncannily like the Milwaukee product.
However, the Zero SR/F has better performance and range but costs about $US11,000 less than the LiveWire. The Harley is due in September at $US29,799 and will arrive in Australia next year at more than $US40,000.
Zero Motorcycles pulled the plug on exporting to Australia and New Zealand in 2017 with no hint of a return just yet. So, although the Californian company's new ZR/F looks the goods, we most likely won't be getting it here.
Zero's SR/F comes in a standard model at $US18,990 and a premium model with a faster-charging battery and heated grips.
It has 82kW of power, 190Nm of torque and a top speed of 200km/h.
Range is said to be about 130km on the highway and up to 260km in the city. See the comprehensive "range" specifications at the end of this article.
A more robust "Power Tank" battery capable of 320km of range will be available in the third quarter of 2019.
Meanwhile, the Harley LiveWire has 177km of range and a 190km/h top speed.
Zero's SR/F will also be able to update its Cypher III software via a link to a mobile phone connection just like a Tesla electric car.
A dedicated app will allow riders to track their trips, share rides, monitor battery level, find charging stations and even receive alerts if someone is trying to steal their bike.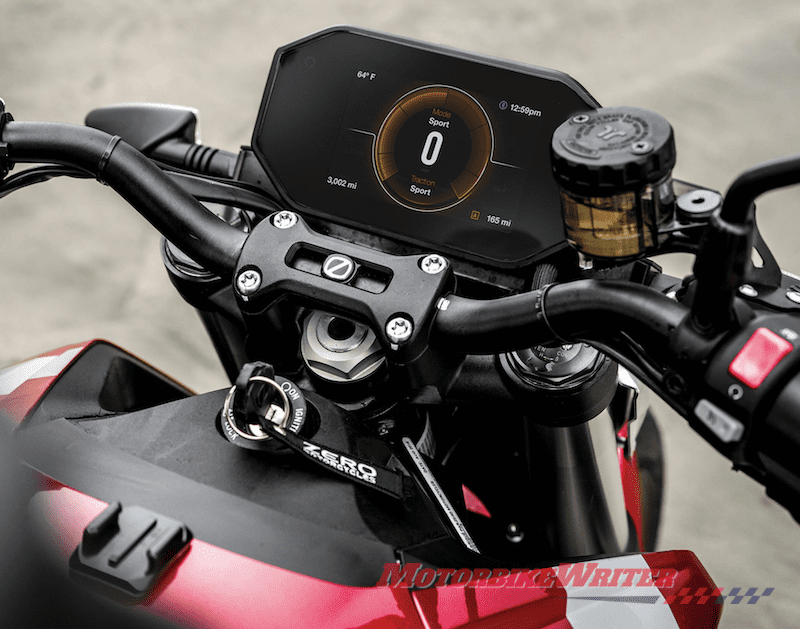 Meanwhile, the makers of the world's fastest electric bike, Lightning Motorcycles, will next month release a more affordable bike called Strike.
It will start at $US12,998 (about $A18,000) to challenge both the Zero SR/F and Harley LiveWire.
Zero SR/F tech specs
Range
City
259km
259km
Highway, 89km/h
159km
159km
Combined
198km
198km
Highway, 113km/h
132km
132km
Combined
175km
175km
Range (based on EU standard)
157km
158km
Motor
Peak torque
190Nm
190Nm
Peak power
82kW (110hp) @ 5000rpm
82kW (110hp) @ 5000rpm
Top speed (max)
200km/h
200km/h
Top speed (sustained)
177km/h
177km/h
Continuous power
40kW (54hp) @ 5.000 rpm
40kW (54hp) @ 5000rpm
Licensing Requirement
A Licence
A Licence
Type
Z-Force 75-10 enhanced thermal efficiency, passively air-cooled, interior permanent magnet AC motor
Z-Force 75-10 enhanced thermal efficiency, passively air-cooled, interior permanent magnet AC motor
Controller

?

High efficiency and power dense, 900 Amp, 3-phase AC controller with regenerative deceleration
High efficiency and power dense, 900 Amp, 3-phase AC controller with regenerative deceleration
Power system
Power pack
Z-Force® Li-Ion intelligent integrated
Z-Force® Li-Ion intelligent integrated
Max capacity
14.4kWh
14.4kWh
Nominal capacity
12.6kWh
12.6kWh
Charger type
6kW, integrated
3kW, integrated
Charge time (standard)
2.5 hours (100% charged) / 2 hours (95% charged)
4.5 hours (100% charged) / 4 hours (95% charged)
With 6kW Rapid Charge option
1.5 hours (100% charged) / 1 hour (95% charged)
1.8 hours (100% charged) / 1.3 hours (95% charged)
Drivetrain
Transmission
Clutchless direct drive
Clutchless direct drive
Final drive
90T / 20T, Poly Chain® HTD® Carbon™ belt
90T / 20T, Poly Chain® HTD® Carbon™ belt
Chassis / Suspension / Brakes
Front suspension
Showa 43mm Big Piston Separate Function forks, with adjustable spring preload, compression and rebound damping
Showa 43mm Big Piston Separate Function forks, with adjustable spring preload, compression and rebound damping
Rear suspension
Showa 40mm piston, piggy-back reservoir shock with adjustable spring preload, compression and rebound damping
Showa 40mm piston, piggy-back reservoir shock with adjustable spring preload, compression and rebound damping
Front suspension travel
120mm
120mm
Rear suspension travel
140mm
140mm
Front brakes
Bosch Advanced MSC, dual J-Juan radial 4-piston calipers with radial master cylinder, 320 x 5 mm discs
Bosch Advanced MSC, dual J-Juan radial 4-piston calipers with radial master cylinder, 320 x 5 mm discs
Rear brakes
Bosch Advanced MSC, J-Juan single piston floating caliper, 240 x 4,5 mm disc
Bosch Advanced MSC, J-Juan single piston floating caliper, 240 x 4,5 mm disc
Front tire
Pirelli Diablo Rosso III 120/70-17
Pirelli Diablo Rosso III 120/70-17
Rear tire
Pirelli Diablo Rosso III 180/55-17
Pirelli Diablo Rosso III 180/55-17
Front wheel
3.50 x 17
3.50 x 17
Rear wheel
5.50 x 17
5.50 x 17
Dimensions
Wheelbase

?

1450mm
1450mm
Seat height

?

787mm
787mm
Accessory, low
770mm
770mm
Accessory, tall
810mm
810mm
Rake

?

24.5°
24.5°
Trail

?

94mm
94mm
Weight
Curb weight
226kg
220kg
Carrying capacity
228kg
234kg
Economy
Equivalent fuel economy (city)
0.55 l/100km
0.55 l/100km
Equivalent fuel economy (highway)
1.08 l/100km
1.08 l/100km
Typical cost to recharge
€2.96
€2.96
Warranty
Standard motorcycle warranty
2 years
2 years
Power pack warranty
5 years/unlimited km
5 years/unlimited km