WHATEVER HAPPENED TO YELLOW BIKE?
After a 7-year absence, I tracked down my favorite old bike and bought it back. After hand-building it, riding it all over the state, winning shows with it, it was even written up in a bike magazine.  Then, for some unknown reason, I sold it in 2009.  It took until last year to find it again, and now it's back in my tender loving care, and being treated to it's next evolution in its develop.  Get the whole story on our new page RETURN OF THE YELLOW BIKE.
My Yellow Bike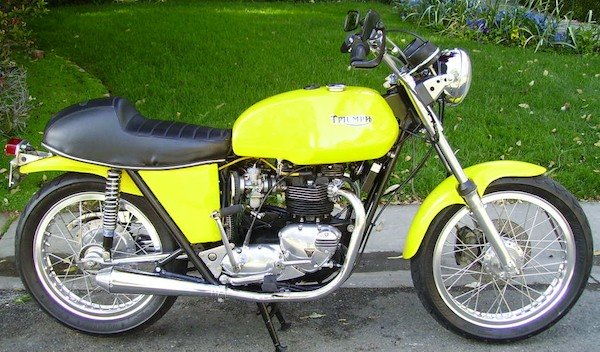 This is Yellow Bike looked in about 2006, without fairing.  It was better-looking without it, but harder to ride fast.
---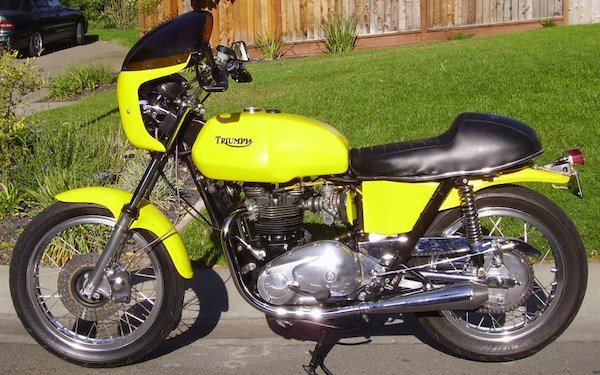 With the fairing, it was a much nicer ride on long runs, but I never liked the look as much.
---
MY DREAM BIKE
The Yellow Bike was the culmination of a lifetime of dreaming about building what I considered to be the ultimate Cafe Racer. Of course it had to be a Triumph Cafe Racer, because I'm really into Triumph motorcycles, particularly Bonnevilles.
BACK IN THE DAY…
When I was much younger, in the very early 1970s, I tried to build a 1964 Triumph TR6 bobber that I had bought in my sophomore year of high school into a cafe racer with almost no money. I managed to make a pretty good go of it, trading labor for a tank & seat/rear fender-combo off a Dunstall Norton. I grafted it to my Triumph frame. In an earlier attempt to chop the bike, I had ditched the original oil tank so I had the legendary Van Tekelt Bros. of Van Tek Racing Frames do the backbone in 2X4 box tubing & made my own oil-in-frame. I don't remember how much it cost me to have these farmer-artisans who built world class racing frames to modify my frame, but it couldn't have been much, because I didn't have much. It looked pretty nice considering I didn't have any money to buy all new bits, but I was still running the stock '64 SLS drum brakes front and back. I did get it running, but it never ran for long. I finally sold it as a non-running project in about 1981. But I swore that someday I'd build another, someday when I had the money to do it right, do it just the way I wanted to do it, the way I saw it in my mind's eye.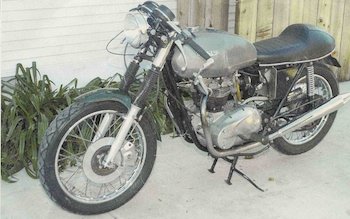 I FIND THE YELLOW BIKE
It only took another 20 years, having set motorcycles aside to waste my time on foolish things like raising a family & building my career. But in 2001 I came across this shaggy 1973 Triumph TR7 Tiger 750 on the bulletin board at Raber's Parts Mart (the best Classic British Motorcycle shop in the Bay Area) in San Jose CA. It was located Santa Cruz & the guy was only asking $1500. I went to see it. It was rough, everything was painted a different color (Yellow Bike wasn't yellow when I found him), it leaked oil & at an idle the pistons would ring like a bell, apparently so loose they were practically swapping holes. Short-barrel 750s are famous for that. The shorter connecting rods increase their angle at the midstrokes & thus the lateral loads on the pistons. But it started in a kick or two & seemed to run well. The seller had graduated out of it & onto a Harley that would accommodate his wife on the back. He said, "follow me". I jumped on the Triumph, he on his Harley & we proceeded on about an hour ride along the coast, through charming little cottage towns, redwood forests & back to his house. The smell of the ocean was still in my nostrils when I negotiated him down to $1400 delivered to my house in Pleasanton.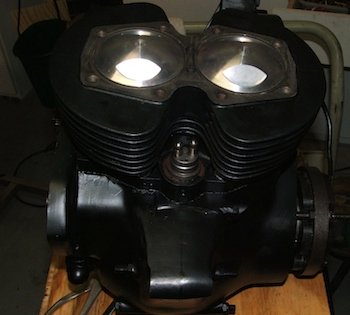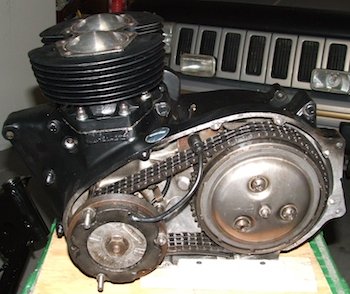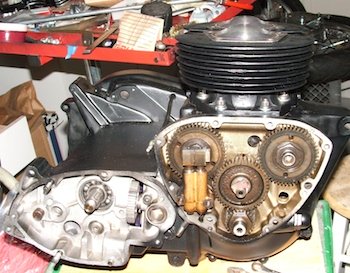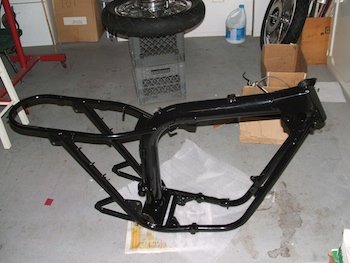 TEARDOWN NUMBER ONE
After a couple of short rides, I took it all apart except for splitting the cases. The Yellow Bike had about 9000 miles on it & as it turned out (as I would find out later at a show) it was a very early 1973. In fact, according to an "expert" who approached me at the Clubman All British Weekend in San Jose one year that based on my engine number, it was the 14th 750 twin ever produced! So, it had the earlier 1973 displacement of 724cc (75mm bore), which was soon after punched out to 76mm for 744cc. They'd also shortened the barrels from 8 fins to 7 in order to clear the tight-fitting frame. The resulting shorter conrods made caused greater wear on the front & rear skirts of the pistons & mine had worn themselves quite loose in 9000 miles. They would ring like a cowbell at an idle.  But the bottom end was tight.
PARTS & MACHINING BY RABERS
So, I took it to Raber's Parts Mart in San Jose CA & they bored it out to the standard bore at the larger 744cc displacement. They also built a 1976 Bonneville head for me, which allowed me to start calling the bike a Bonneville, even though I always disclosed it's true origin as a Triumph Tiger.
BLACKED-OUT ENGINE
I ground all the casting flashes & uneven mating surfaces smooth on the engine cases, then painted everything a semi-matte black, & I polished off the tips of the cooling fins. In the interest of practicality, I installed a matched set of Sudco Mikuni carbs & Boyer electronic ignition.
FRAME & RUNNING GEAR
The frame was powder coated, everything steel was chromed, everything aluminum was professionally polished. Everything was replaced with new (something I could never afford on my first Cafe Racer project back in the early 70s): wheel bearings, alloy rims, stainless spokes, brakes, chain, cables, coil, everything.
UNIQUE FEATURES
The disk brake rotor was cross-drilled & there's a custom stainless braided brake hose. I moved the ignition switch from the headlight bracket to the top of the headlight bucket between the gauges (I liked it much better there than my keys dangling in the wind). Since oilers (1971 & later Triumph 650 & 750 twins) have notoriously minimal oil capacity, I added an oil cooler in the front of the bike. It was my hope that the cooler & all the associated plumbing would increase the capacity somewhat. The cooler itself is also very unique. It's a Lockhart unit with a built-in thermostat that forces the oil to bypass the cooler until it hits 160-degrees, at which point it diverts the oil through the cooler. This allows the oil to warm up, which is always a problem with Triumph twins running oil coolers.
RIGID OIL LINES
Another unique feature are the rigid steel oil lines. I bent automotive steel brake line into the appropriate shapes, tucking them away neatly out of site. One was quite long, running from under the engine all the way forward to the oil cooler, under the nose of the tank. A second, shorter one returned from the cooler to the oil tank, just under the nose of the seat. I reworked this connection, which formerly had one nipple pointing down for the hose to the engine & another facing forward to supply the rockers. I closed up the former, leaving only the forward facing nipple, which I hooked into my new rigid line, via a short length of hose & 2 clamps. The line had a T in just the right spot to feed the top end oiler. This setup cleaned up the lines of the bike, eliminating the bulky, ugly rubber hoses running throughout the bike, which would be made even worse with the addition of an oil cooler up front.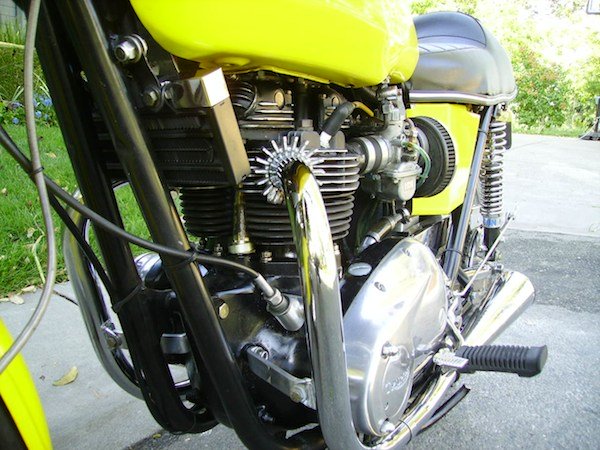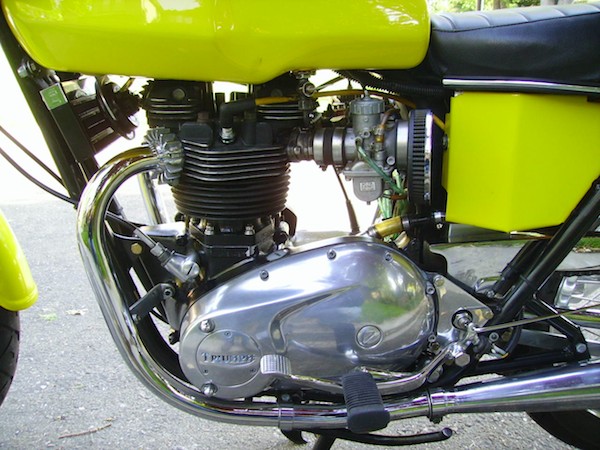 TRICK FUEL LINES
I found that the fuel inlets on the Sudco Mikunis were at the same height as the petcocks of the British-spec tank. By the time I ran hoses to pick up both petcocks & both carbs, with fuel filters & a cross-over it was a mess in there. Worse, it was running erratically due to inconsistent fuel delivery. Fuel was puddling in the low spots & there were air bubbles in the high spots of the fuel lines. I eliminated them all with a neat 'fuel manifold' that I fabricated out of steel automotive brake line & copper tubing. It tied everything together with a fuel filter, it tidied up the clutter & solved my fuel problems.
EXHAUST SYSTEM LOCKDOWN
I was riding down the road one day & one of my exhaust pipes fell off…just fell off! The '73 comes stock with a terrible system for fixing the exhaust pipe to the exhaust port at the head. Instead of the old-style spigots that exited the head that the pipes were clamped to (which was very sturdy & leak-proof), the new system (thanks, Underslade Hall) had big holes in the heads that the ends of the pipes just slipped into & were expected to stay & seal! There were finned 'glamor rings' that looked like clamps that dressed up the connection, but the only thing that actually held the pipes into this union were the exhaust brackets further downstream. Of course the hole in the head was soft aluminum & the pipes were steel. The vibration would cause the pipe to hog out the hole & make it larger. The solution: I took it to Rabers & they machined in threads for the 60s-style screw-in steel spigots, the I went with clamps. This & 3 mounts on each pipe (engine nose, bottom engine mount & pillion bracket) kept those pipes so tight that they never came loose again.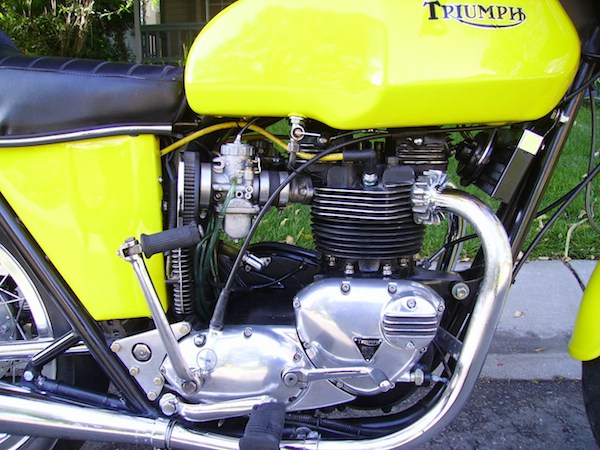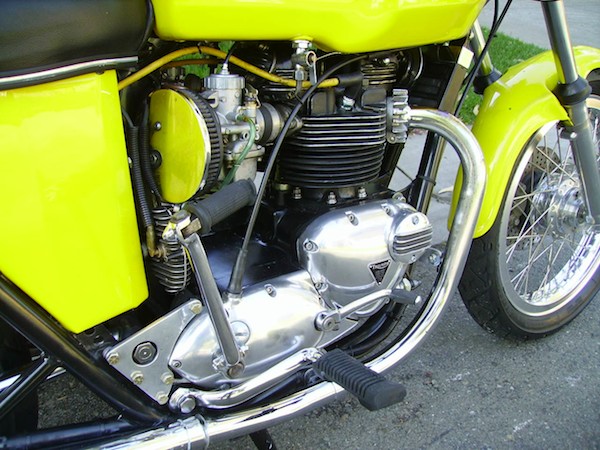 MORE CUSTOM BITS
I fabricated the side covers out of aluminum sheet. The BSA-style Zener Diode is mounted just below the right air cleaner, out in the breeze. The engine mounting plates are polished aluminum billet. Every bolt on the bike is #8 hardness with self-locking nuts. The front fender is fiberglass & the rear is plastic. It came in yellow already so I didn't have to paint it. Good thing, because it's a soft, flexible dirt bike piece & the paint wouldn't have stuck well to it. The humpback cafe seat was on the bike when I bought it. It had a steel pan & a gold Triumph logo screened on the back. I made several tail light/license plate brackets over the years. The vibration seems to travel to the end of the bike, as these brackets continually broke because of it. My priorities with every component on this bike was always reliability, practicality, lightweight & good looks. I was building this bike to ride & I didn't want anything falling off of it.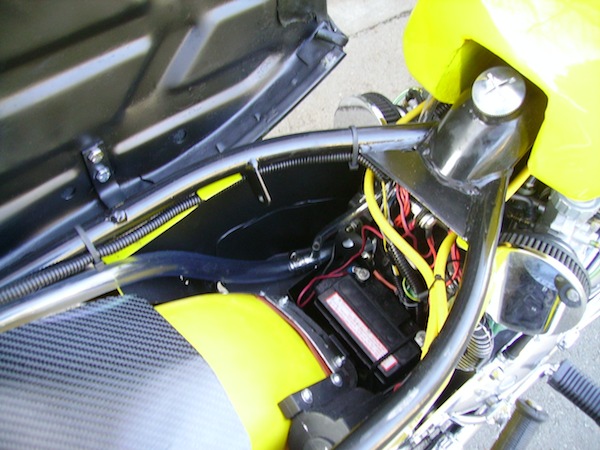 HUGE STORAGE COMPARTMENT
One of my favorite features of this bike & the one I'm most proud of, is the underseat storage area. I had already removed the original bulky side covers/air cleaner housings that came on the '73 Triumph TR7 Tiger & replaced them with my own hand-made aluminum side covers. Then I reworked the battery box & all the ancillaries, dropping the battery down to a position just above the swing arm pivot. I got a battery with a smaller case, about half the size of stock, but with just as much juice. By moving it down & over to one side, I was able to put everything else, coils, rectifier, black box, etc. next to it. This created a large void under the seat that allowed me to carry a fair amount of stuff, completely tucked away out of site. It made for a much more practical bike.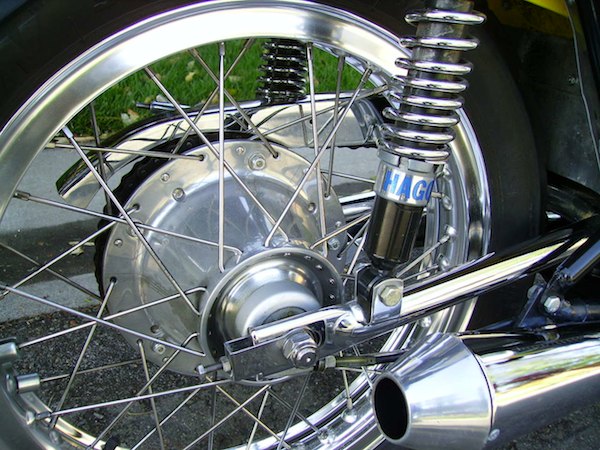 CHROME & POLISH
The pipes are stock pre-1971 made for clamps, with shorty megaphones & no baffles. Actually, they're removable baffles, but I never used them. The sound is very sweet. Everything is either chromed or polished. The rear shocks are Hagons with lighter springs. The rims are ribbed alloys with stainless spokes. That hub is the most gorgeous rear hub (in my opinion) in all of motorcycle-dom. The 1971-75 Triumph Conical Rear Hub is particularly gorgeous when polished.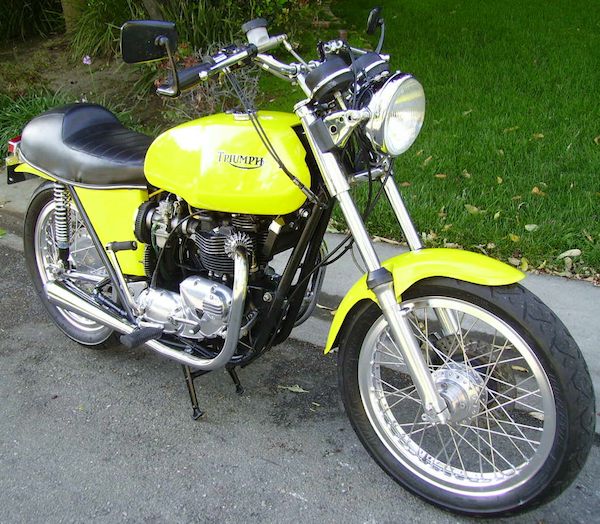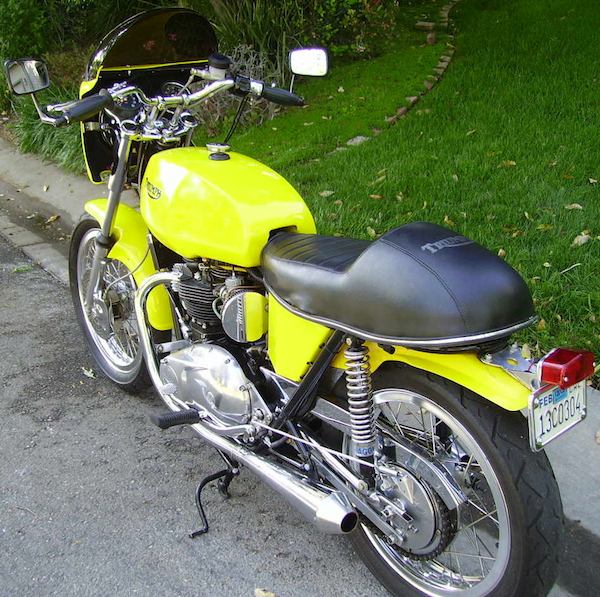 WHAT A BIKE!
The overall look of the Yellow Bike turned out to be just spot-on, at least to my eye. And functionally, it proved to be a great bike to ride short or long. I took it on several long runs & while I'd like to say it never let me down (it did, actually, but that's another story…) it was very reliable, by the standard of most Classic British Motorcycles. To get the seating position just right, I fabricated a set of 4-inch handlebar risers. They allowed me to quickly add or remove them without having to deal with cables, grips & controls required of a handlebar swap. I used them to bring the low bars up to a normal height for riding, then removed them for that 'low bars'-look for shows.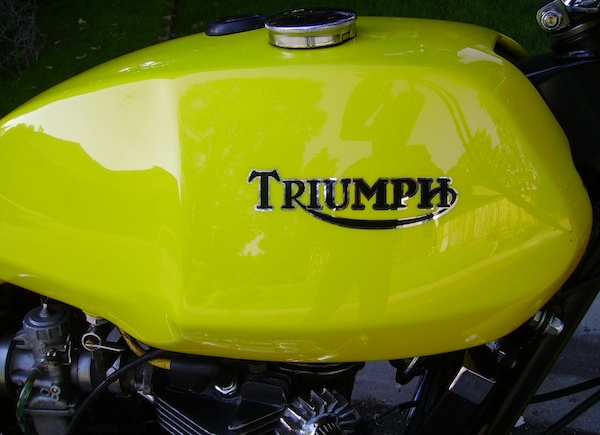 PURE YELLOW PIGMENT
The color is actually a pure yellow pigment from PPG. It's the basic yellow that they start with for all other yellow colors that they mix. A friend did the body & paintwork & it came out incredible! The tank badges were smoothed over then black & chrome foil Triumph decals were put on, under so many coats of clear that you can barely feel the edges.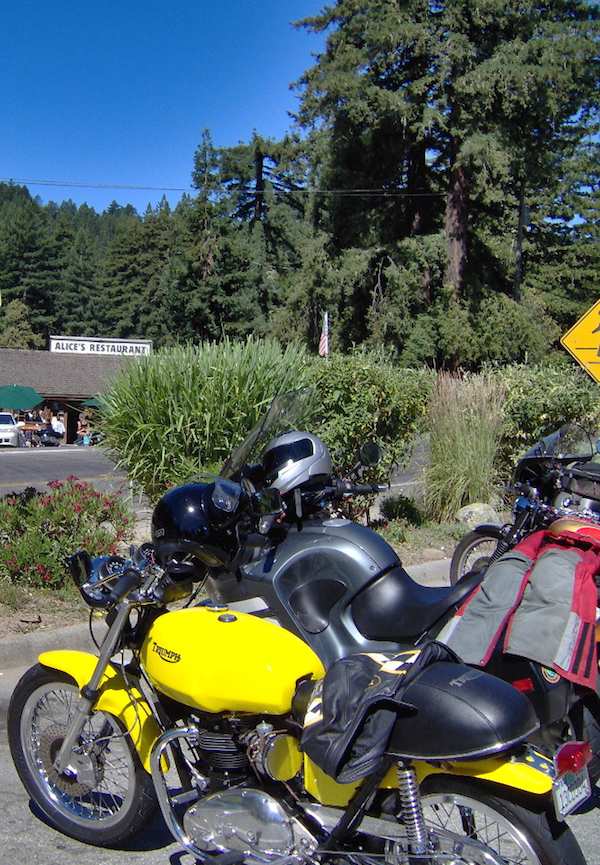 Yellow Bike at Alice's Restaurant. Living in the San Francisco Bay Area, we enjoy some of the most luscious riding country on the planet, within an easy ride of home. One of our favorite areas to ride is the Santa Cruz Mountains & one of our favorite places to eat is the legendary Alice's Restaurant, made famous in the hippie-era Arlo Guthrie song "Alice's Restaurant". I don't know if you can really "get anything you want at Alice's Restaurant" but the burgers are excellent & the service friendly. Make sure & pick up a T-shirt or one of those long-sleeved riding shirts when at Alice's.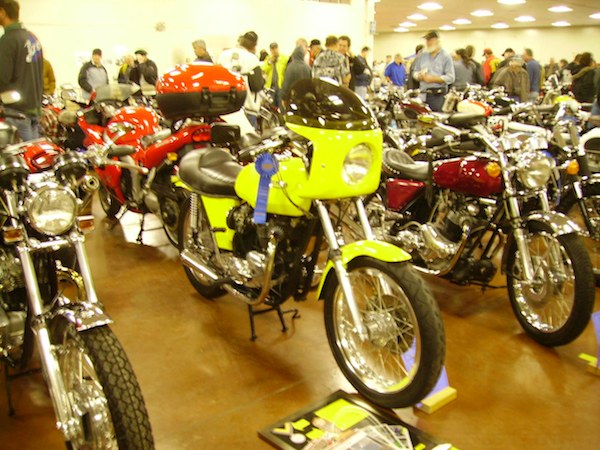 Yellow Bike at the 2007 Clubman All British Weekend in San Jose. This is a great show, by the way. It's held the last Saturday in March each year at the Santa Clara County Fairgrounds in San Jose in one of their buildings. It used to be just Classic British Motorcycles, hundreds of them. A wonderful show. It's done so well that they've now added other buildings that have Classic European, Japanese & American motorcycles as well.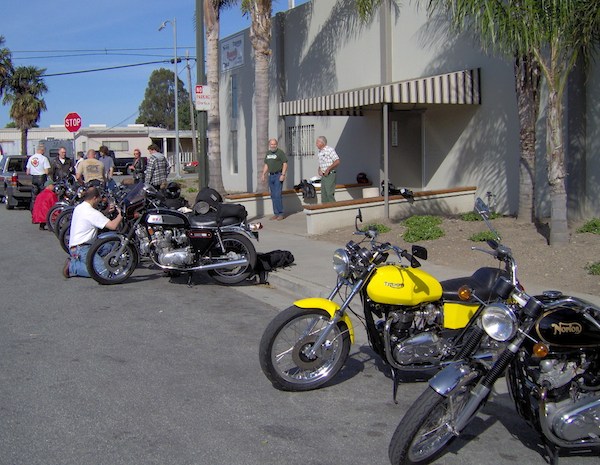 My relationship with the crew at Raber's in San Jose has gone well beyond simply my source for parts & service. We've become friends & done a lot of riding together. For years, they made an annual pilgrimage on old Classic British Motorcycles all the way from San Jose to Cachuma Lake, near Santa Barbara for the annual Cachuma Lake Vintage British Motorcycle Rally. I joined them on Yellow Bike in 2004 & again in 2006. Very cool ride. This photo shows us just getting ready to leave Rabers on Friday morning for our Cachuma adventure.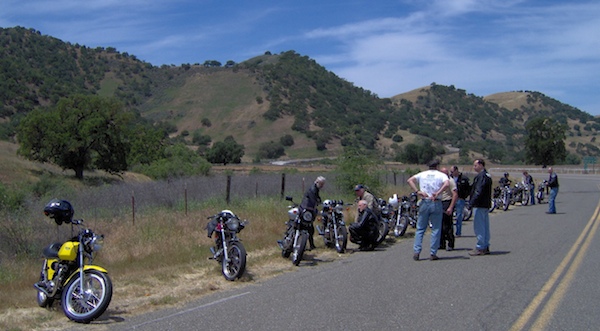 Funny thing about taking long trips on old British bikes. You tend to stop a lot. We left San Jose with about 20 bikes & limped into Cachuma 350 miles later with 15 bikes running. Yellow Bike was moving under his own power, but only firing on one cylinder for the last few miles. Here is our first roadside stop. One of the Nortons ruptured a fuel line. Turns out it was the original item put on by the factory back in 1975. Rotten to the core. But between us, we find a way to cobble it together & off we go again.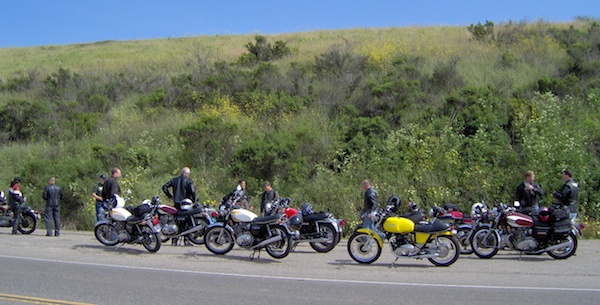 Another stop along this gorgeous trip. We take Highway 25 & some small country roads south all the way to Paso Robles, no freeways. Beautiful open country with gently winding roads. No gas for 120 miles though, so plan ahead. I'm not sure why we stopped this time, but it gives you a chance to ogle some of the bikes. There were several T160s, a 'raygun' BSA Rocket 3 or two, a old Ducati & a 71 BSA Lightning. We had 3 chase trucks, one with a trailer, another with tools & parts. And the combined knowledge about old British Iron in this group is astounding. No problem was insurmountable. And it's all part of the fun of owning Classic British Motorcycles.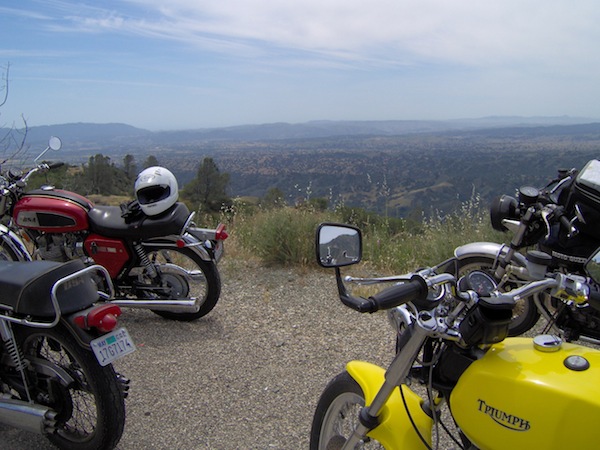 We finally got to Cachuma Lake campgrounds where the All British Bike Rally was being held after 350 hard miles in about 8 hours. I found the short that was causing Yellow Bike to misfire, then took a look around. They were organizing rides for the next day, Saturday, through the surrounding countryside, hills, vineyards, rich neighborhoods and past…Michael Jackson's Neverland Ranch. There was a huge wall-sized map showing all the ride routes & each had a bizarre name. The Neverland loop was called Fruit Loop. This picture was taken that Saturday just above Neverland Ranch on one of the nicest rides I've ever been on. We only saw the front gate of Neverland Ranch & as we passed, the gate opened & lady came out & got the mail. Her car was waiting inside the gate & the driveway looked like it went for miles into the hills, winding out of sight.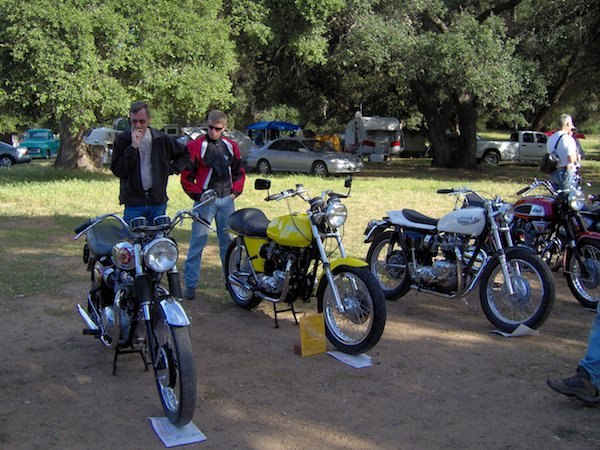 On Sunday there is a motorcycle show at the Cachuma Rally. Here is Yellow Bike in the show. I won first place in the Modified Class that year. Awarded by none other than racing legend Eddie Mulder. In fact the trophies (mine included) were made from bits of Eddie's old trophies, he has thousands of them. I am particularly proud of the fact that I rode my bike all that way, wiped it down, put it in the show & won! A lot of the bikes in the show were trailered to the event. It's not the same. Not to me, anyway. I did the same thing in 2004, riding the backroads to Cachuma with the Raber's crew, only that year I won 3rd place in the Modified Class. The two bikes that beat me both rode to the show in trucks.
To me, they're the ones who missed out, because in the end, it's all about the ride!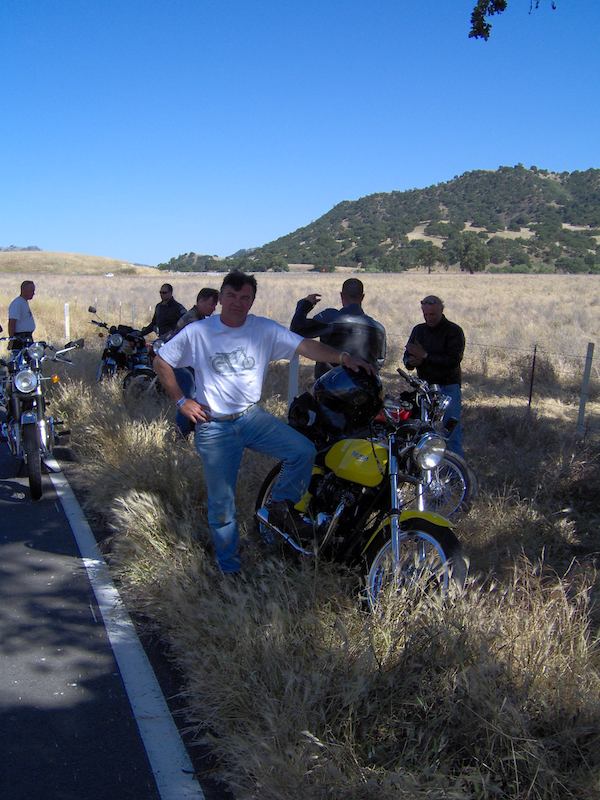 More stops on the way home. Here Yellow Bike & I take a break in the shade while Lola & friends try to find the electrical gremlin that has possessed her rusty, oil-encrusted '68 Triumph TR6. You've heard of Oil-in-Frame Triumphs? Hers is an Oil-outside-the-frame. But, we got it going again & we all got home fine.
Yellow Bike won 3rd Place (Bronze Medal) for the Modified Class at the 2004 Lake Cachuma Rally & Show. It won First Place, Modified, at Cachuma in 2006. Then, one of the riders from England who accompanied us on the '71 BSA Lightning (which he had just bought a few days before just for this trip) happened to be an editor for Classic Bike Guide magazine in England. He got back & wrote an amazing 4-page article about Yellow Bike that appeared in the November 2007 issue of Classic Bike Guide.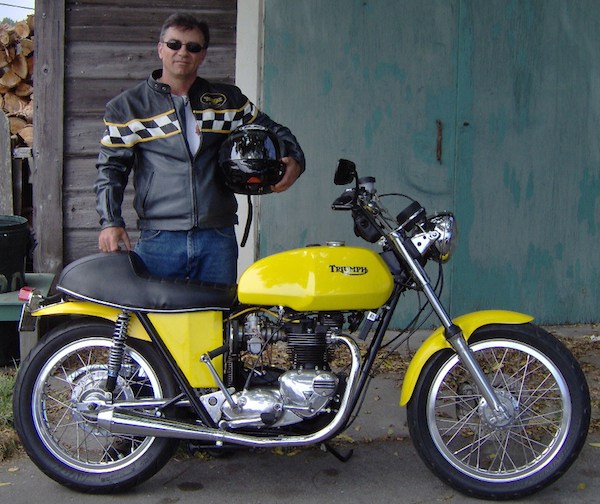 Me and my Yellow Bike! Old Yellow brought me a lot of pleasure. Not just the riding & the trophies & magazine articles. But the building as well. I am very proud of how the Yellow Bike came out. It was personal to me, unique in every way, my take on it. And in that way, it fulfilled my lifelong dream.
EPILOGUE:
After all this, by 2008, Yellow Bike was pretty much done (or so I thought) and I was getting tired of it. I was itching for a new project, and I'd found it in my '79 T140D Bonneville Special which I dubbed "The Royal Clone". It was so-named because its designed to ape the looks of a '81 T140LE Bonneville 'Royal Wedding Commemorative', which celebrated the marriage of Lady Di to Prince Phillip. Gorgeous bike, incredibly rare and I always liked the looks. So I was going to build one out of my '79 T140D.
So, this led me to sell Yellow Bike at the Vegas Auction in 2009. As soon as I did, I began to regret it. I wanted it back. I never got the Royal Clone running, although it's about 85% there. But my longing for Yellow Bike led to a new chapter in the story.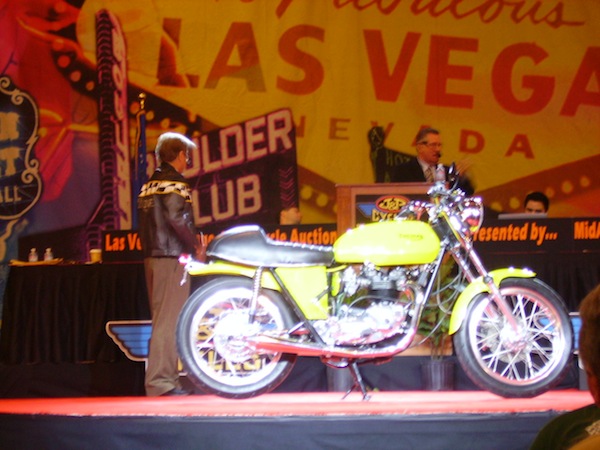 ABOVE: Yellow Bike goes on the block in Vegas.
For the latest chapter in the continuing saga of Yellow Bike, check out RETURN OF THE YELLOW BIKE.