The 1998 Triumph Tiger "Steamer" Blog
Welcome to the webBikeWorld Triumph Tiger blog! Here you'll find information about Triumph Tiger parts, accessories, repair, maintenance and more. Much of this information is also available through other sources.
But we figured our Tiger project bike is an integral part of the webBikeWorld team and, as such, it deserves its own page! Here is some information on the 2007 Triumph Tiger with specifications
Also, here are the specs and data for the 2006 Tiger
Triumph Tiger Maintenance and Repair Articles
▪ Triumph Tiger Chain Adjustment
▪ Installing a Headlight Modulator on a Triumph Tiger
▪ Dual Yellow Headlight Bulbs for the Tiger
▪ Installing Paint Protection Film on a Tiger
▪ Garmin i5 GPS on a Tiger and a Tiger custom made GPS mount
▪ Kettenmax Chain Cleaner on a Tiger
▪ Triumph decals and adding a vintage Tiger decal to a Tiger!
▪ See the wBW Repair Index and the Maintenance page for a complete listing
Steamer vs. Girlie?: What's that all about?  Just a lot of good fun between Tiger owners actually. The "Steamer" refers to the early (Hinckley) Tigers, from 1995 to 1998. The "Girlie" Tigers are the '99 and on bikes with the, shall we say, Rubenesque body configuration?  (Steamer owners know which one is best!)
Sealed Spoke Wheels: Woody's Wheel Works will seal the Tiger's spoked wheels so they can run without tubes. See the wBW Motorcycle Wheels page for more information
Tiger Parts and Accessories: It's not always easy to find pre-1999 (Steamer) parts and accessories  |  Don't forget the official Triumph parts and accessories; all can be ordered through your local Triumph dealer  |  Touratech has a bunch of Tiger accessories, including metal panniers, engine guards, footpegs, windscreens and more  |  Cee Bailey's Tiger (>1999) replacement windscreensare used by many Tiger owners  |  Adventurer's Workshop has Hepco Becker bags and engine guards for the Tiger  |  Many Tiger owners swear by the parts and accessories available atThunderbike in New Zealand (they ship worldwide)
Tiger Exhaust Systems – Mufflers – Silencers: Tiger ("Girlie") performance exhaust systems at Thunderbike are claimed to add 10bhp; they have videos and sound clips  |  More on the wBW Motorcycle Exhaust Systems page
Tiger Shock Absorbers:  Hagon UK has shocks for early 1990's Tiger "Steamers" and the later "Girlies"  |  Dave Quinn Motorcycles carries Hagon in the U.S.A. | Technoflex shocks are supposedly similar to Öhlins; search for "triumph" on the Technoflex website and then scroll through to page 4 to see the Tiger shocks  |  More shock absorber sources on the Motorcycle Accessories page
Triumph Tiger Tools:  Hermy's Triumph eStore has the valve shim removal hold down tool and valve shims necessary for Thunderbird Sport valve adjustments;  see the wBW Technical Article on adjusting Triumph valves!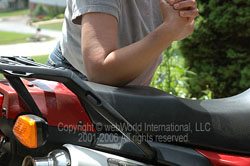 Tiger Tips: Having problems getting your stock Triumph seat locked after it's been removed? Line up the seat, place your elbow over the location of the seat and push. If the seat pin is correctly lined up with the lock underneath, it should click right into place!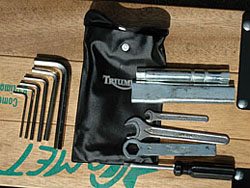 Tiger Tool Kit: The standard tool kit for the Tiger as supplied by the factory includes hex wrenches (aka Allen wrenches) in sizes 12, 8, 6, 5, 4 and 3 mm; a 17mm and 8mm open end wrench; 17mm box wrench; cheater bar; spark plug wrench (which does not fit the spark plugs on my Tiger); and an el Cheapo screwdriver with a reversible Phillips and flat tip.
Motorcycle Books: Check out the wBW Motorcycle Books and Reviews page for a listing of many motorcycle books, videos and reviews!  See the wBW review of the Illustrated Triumph Motorcycle Buyer's Guide
Note: For informational use only. All material and photographs are Copyright © webWorld International, LLC since 2000. All rights reserved. See the webBikeWorld® Site Info page. Product specifications, features and details may change or differ from our descriptions. Always check before purchasing. Read the Terms and Conditions!