Drop your ugly stock muffler and get the best look and sound with an aftermarket exhaust instead. We review the top brands to help you decide.
Everywhere you look there are aftermarket motorcycle exhaust makers. At webBikeworld we get asked all the time which exhaust systems we recommend. While we try to test and review systems we've found that manufacturers are traditionally not willing to lend us a unit to try out. That means we're a little weak in this area.
The stock motorcycle exhaust system is usually the first thing bikers swap out in order to improve the performance and sound. Like all motorcycle things however, it's not that simple. Whether it's a full system you want or slip-ons or new headers, there are tons of things to consider. Are you looking for a big power increase, better sound, weight saving or all of the above.
Picking the right exhaust usually comes down to what style bike you ride. For example, large four-cylinder motorcycles typically come with a twin exhaust system; customizing a sport bike often involves installing a slip-on muffler; and cruisers usually replace the entire exhaust system.
Disclosure: We make money (and keep the site running) through ads and affiliate links. That means that when you click a link to sites like RevZilla or Amazon you are supporting us because we may get a commission if you purchase. We have developed a policy that you can find here but the gist is that our reviews are 100% unbiased and we don't take payments or allow potential commissions to dictate what we say about products. 
Aftermarket Exhaust Reviews
We're always reviewing new exhaust systems so be sure to check out our most recent helmet reviews here.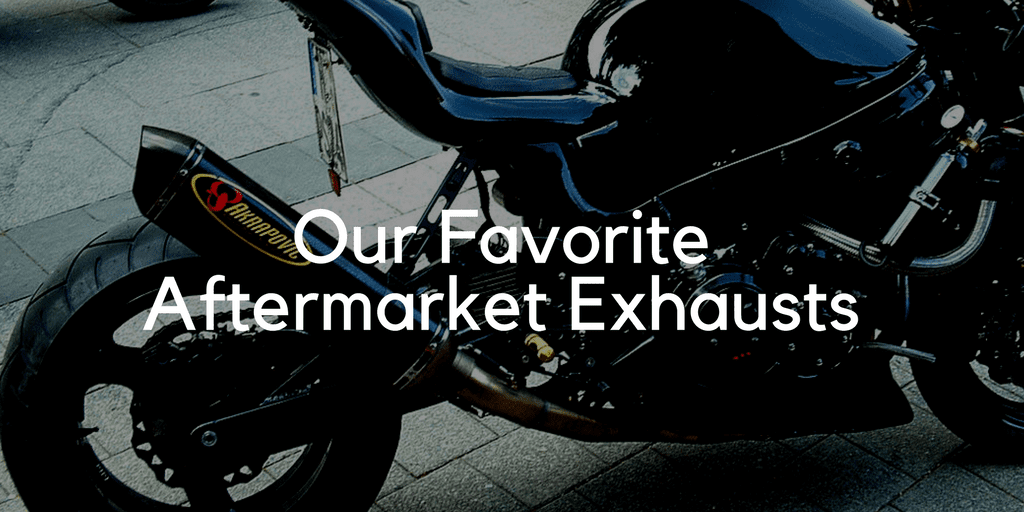 Our Favorite Aftermarket Exhausts
Some people love to dive in and read every review while others like to skip the detail and just find the best products for sale today. If you fall into the latter these are the lists for you. Every year we review, rate, rank and battle test motorcycle products to find the cream of the crop. Our best of the best lists showcase the top aftermarket exhaust systems, our top recommendations for motorcycle riders everywhere.
Best Motorcycle Exhaust – Coming Soon
Best Exhaust Brands/Companies – Coming Soon
Best Motorcycle Slip On Exhaust – Coming Soon
Shopping Now? We Recommend:
webBikeWorld has worked closely with RevZilla over the years to provide our testers with products to review. In addition to being a great site to shop from, they're also a great partner. RevZilla top our list of the best places to buy motorcycle exhausts (both full system and slip ons). While Amazon has a decent selection of motorcycle exhausts, we found they are better for replacement parts associated with exhausts vs full system purchases.
RevZilla

Free shipping on orders over $40
30-day no-nonsense return policy
Excellent selection of all major brands
Awesome pricing
Motorcycle Exhausts on RevZilla
Amazon

Free shipping (with Amazon Prime)
30-day return policy
Excellent selection
Competitive pricing
Motorcycle Exhausts on Amazon

Top Aftermarket Motorcycle Exhaust Brands
Unfortunately we have yet to really round out our reviews for motorcycle exhausts. We hope to add a few reviews over the coming months, especially for the top brands listed below. While there are many aftermarket systems it is these brands that stand out.
Akrapovic Exhaust Systems
Akrapovic Exhaust Systems are used by many racers. A Slovenian manufacturer of exhaust systems that began in 1990 in the motorcycle market.
Building its expertise in racing, Akrapovič exhausts are used on motorcycles across every racing segment, including the mighty Moto GP.
With many wins over the year, Akrapovič is the top of the heap when it comes to aftermarket exhausts.
Find Akrapovic Exhausts on Amazon
Find Akrapovic Exhausts on RevZilla
Yoshimura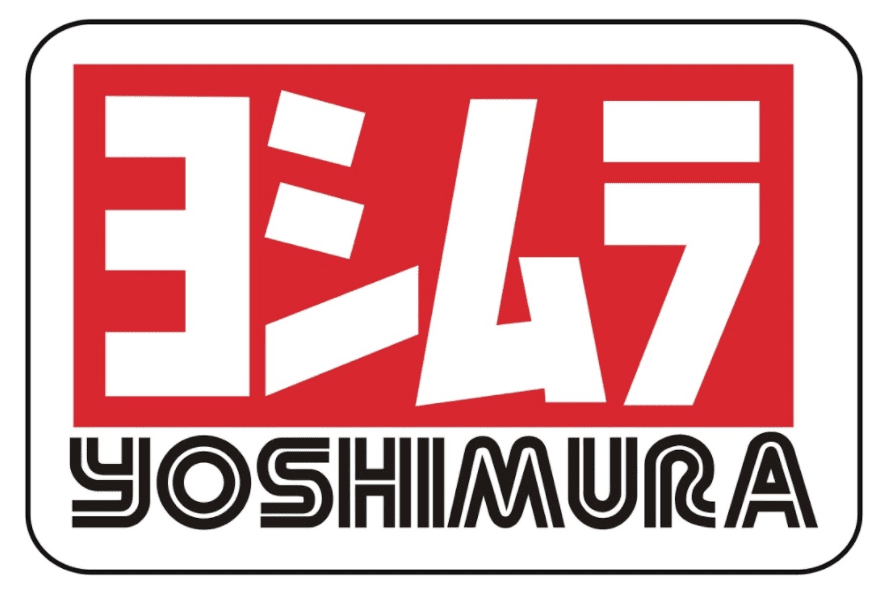 For 60 years (since 1954), Hideo "Pops" Yoshimura and his namesake company have designed and produced the finest aftermarket motorcycle exhaust systems in the world.
The high quality of Yoshimura exhaust systems and slip-on mufflers make them a fan favorite amongst our readers. Yoshimura makes some of the most high-end exhaust systems mainly for sports bikes.
They look great, have solid performance and are very lightweight.
Find Yoshimura Exhausts on Amazon
Find Yoshimura Exhausts on RevZilla
Arrow

Giorgio Giannelli founded Arrow Exhaust in 1985 and after a couple of years of racing focus they claimed success with Belgian rider Jobé winning the 500cc Motocross World Championship. Since then they have claimed over 20 World Titles across many motorcycle racing classes. The Arrow team prides themselves on R&D and experiments with materials and technology.
From their slip-on exhaust to their full systems you know that a racing experience has driven innovation in the equipment you are buying.
Find Arrow Exhausts on Amazon
Find Arrow Exhausts on RevZilla
Vance & Hines

Vance & Hines makes slip-on exhausts, full exhaust systems and fuel & air systems for V-twins, Metric Cruisers and Sportbikes.
Known for awesome systems for V-Twins they have a perfect balance of quality, style and sound. Harley-Davidson, Indian and Victory riders have used Vance & Hines and absolutely love the systems.
Find Vance & Hines on Amazon
Find Vance & Hines Exhausts on RevZilla
Bassani Exhaust
Bassani exhausts are all about making more power.
They've built exhausts for just about every type of bike and with 60 years of tube turning experiences, they know how to make an amazing aftermarket exhaust.
Find Bassani on Amazon
Find Bassani Exhausts on RevZilla
British Customs
British Customs designs and manufactures exhausts (and other parts) targeted at the Triumph brand. Loud exhaust systems transform the Triumph bikes that are lucky to get the transplant.
Find British Customs on RevZilla
FMF Exhausts
FMF has been known for building extremely high quality exhaust pipes. Handmade from start to finish in the United States, each pipe exhibits an attention to detail and level of professional craftsmanship that is lacking in their mass produced competitors.
Find FMF Exhausts on RevZilla
Two Brothers Racing Exhaust
The mid-eighties brought about the dawn of the modern superbike and with it, new possibilities in two-wheeled performance. Like the superbike, Two Brothers Racing is a child of the 1980's and has been tweaking, building and engineering top performing exhaust systems ever since.
Find Two Brothers Racing Exhausts on RevZilla
Specialty Aftermarket Exhausts Retailers
In addition to both Amazon and RevZilla who both carry a huge array of exhausts from many different manufacturers, some other suppliers we like include Starcycle which is a good source for many brands of exhaust systems as well as Pipe City who carries many different types of motorcycle exhausts, including Arrow, Akrapovic and more.
For specialty exhausts there are a number of places to look at. You can find modern (Hinckley) Triumph performance mufflers check out Thunderbike. If you are looking for a vintage, classic or antique motorcycle exhaust then Overlander has many replicas of vintage motorcycle exhaust systems (too long to list all the models so check out their site). Under-seat Exhaust Systems like MotoGP bikes can be found through our friends at Hot Bodies has MotoGP inspired under-seat exhaust systems
For BMW Motorcycle Exhaust Systems there are a number of suppliers including Remus exhaust systems. Epco Stainless has some really nice looking mufflers for BMW's, including /2, /5, /6, /7, R1100R, R1200C; they also make BMW accessories. MAC exhausts for BMWs including both R and K bikes; they have black ceramic coated systems also. Omex Performance sells Laser exhaust systems and performance chips for R, F and K bikes  and Laser Duo Tech Exhaust Systems and tuning chips; claimed to be "approved by BMW" and R1200GS system now available. Van der Linde exhaust systems also for BMWs.