The Triumph Street Triple 765 RS allows the rider to dial in the insanity for a track day or tame the beast to become a civilised daily commuter.
Thanks to its suite of electronic aids and variable settings riders can customise their ride via a comprehensive onboard computer and instrument screen. All features can be accessed via controls on the left switchblock.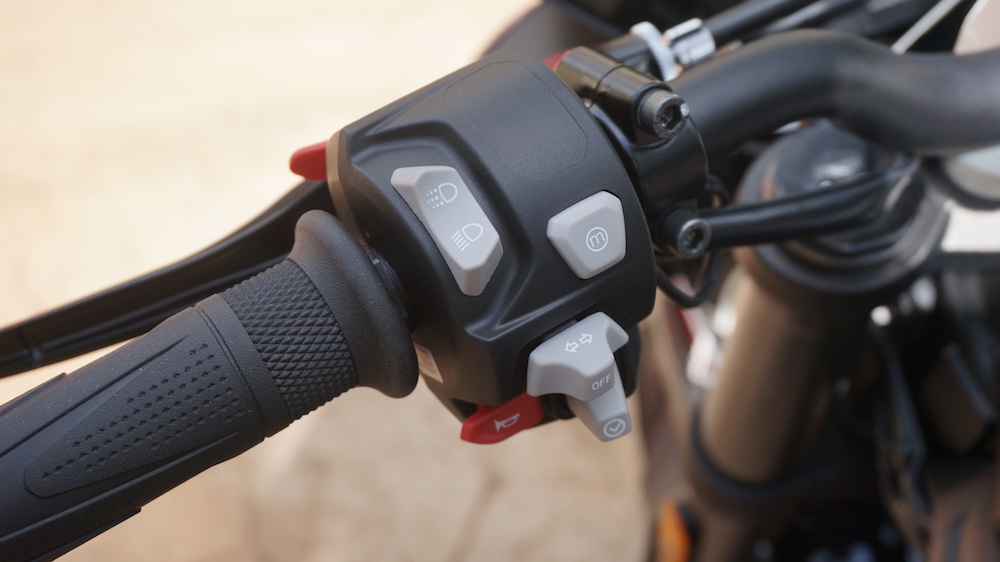 You can even change the way the instruments look with a bigger speed indicator or rev counter, or you can turn off the automatic indicators.
We're not sure why you would ever want to turn off self-cancelling indicators, though. They are one of the most important safety devices. You can buy aftermarket Smart Turn Systems for any bike through our online shop.
The self-canceling indicators on the RS work extremely well and don't stay on for too long after you've turned the corner.
Street Triple 765 range
The new Street Triple range has jumped from 675cc to 765cc, with a 660cc learner-legal model coming soon.
Prices are: $12,800 (plus on-road costs) for the S 660 LAMS model, $13,800 for the S, $15,850 for the R, $17,550 for the RS.
You can read about the various model features here.
Oliver's Motorcycles has received the first Street Triple 765 models in Queensland and promptly put an RS on its demo fleet. We took it for a couple of hours of testing in traffic, highways and some twisting roads.
Feature-packed
It is amazing how many features Triumph has packed into these bikes.
Some of the cleverest and most useful features are not the hi-tech riding modes or electronic aids, but simple features like the hand-adjustable full-colour 5" TFT instruments that tilt so you can see them clearly without getting sun glare.

Another interesting feature is being able to switch off the headlights, leaving on the bright LED daytime running lights.
You can also quickly adjust by hand the front master brake cylinder pressure through three settings from normal to so light and touchy it will almost send you over the bars. That's definitely one for the track.
While those Brembo M50 monobloc front brake callipers are suitable for track use, the rear brake is virally non-existent, lacking any feel or response. It doesn't even aid in corner trail-braking.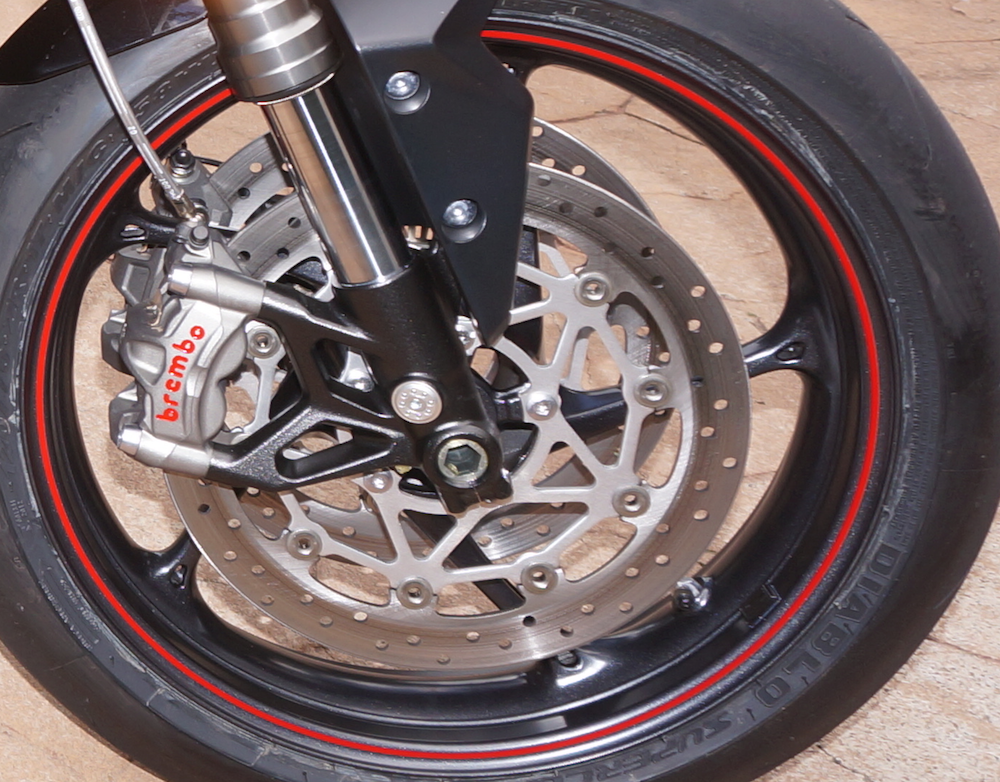 Triple treat
But it's the engine that will attract buyers.
The Daytona-derived 765cc Street Triple engine has more than 80 new parts including an increased bore and stroke, new crank, pistons and Nikasil-plated aluminium barrels.
The flagship RS has 90kW of power at 11,700rpm, up 16%, and 13% more torque at 77Nm @ 10,800rpm.
The triple is an absolute delight with a smooth and robust midrange and a tingling high end that revs out to about 12,500rpm.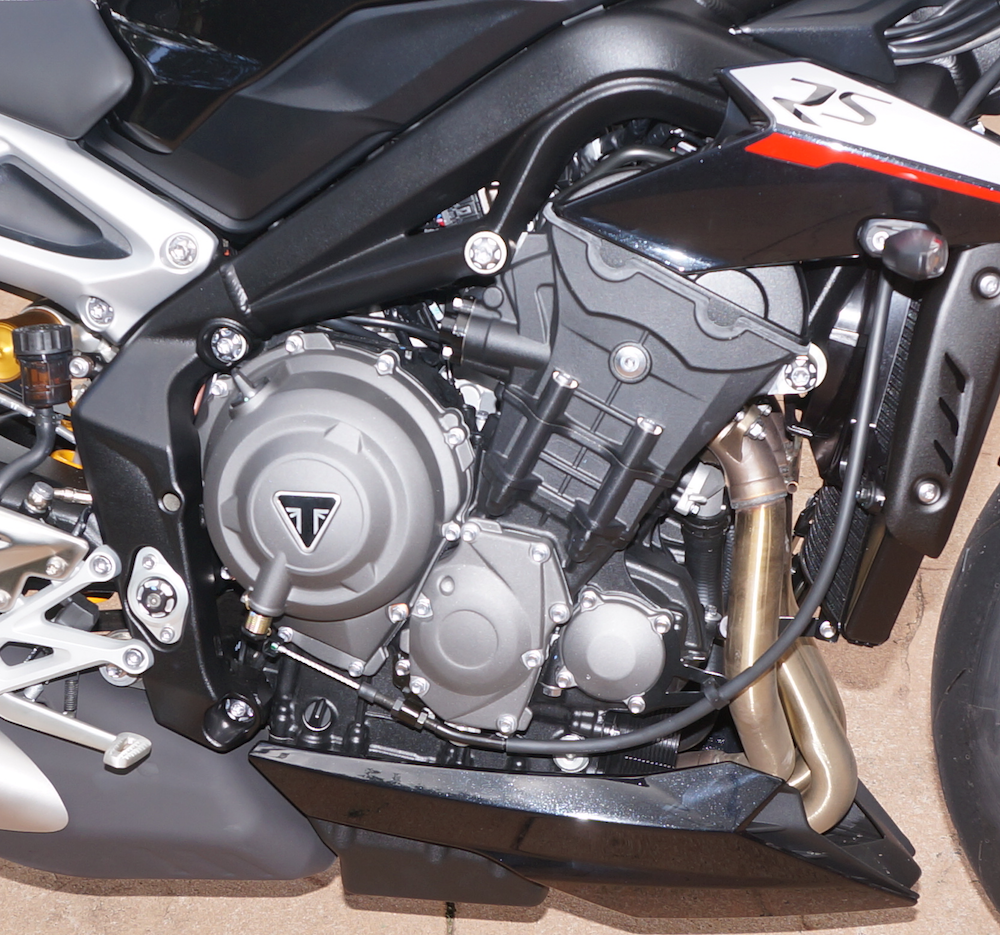 At 100km/h on the highway in sixth gear it tingles along at 5000 revs and will easily overtake vehicles with a simple roll-on of the throttle.
Bang it down a couple of gears and it will overtake in the blink of an eye.
It also as an awesome growl, although it won't offend other road users as most of the noise is induction roar which seems directed at the rider, rather than exhaust noise.
Nimble handling
The RS also comes with fully adjustable Showa 'big-piston' forks and Öhlins STX40 fully adjustable rear monoshock which are firm but sort out the sharper bumps.
It feels sure and steady, but also highly nimble.
I played around with the bike settings, which can only be adjusted when stationary.
There are five riding modes from Rain to Track. Around town I dialled in the rain mode, left on all the aids and softened the brake response.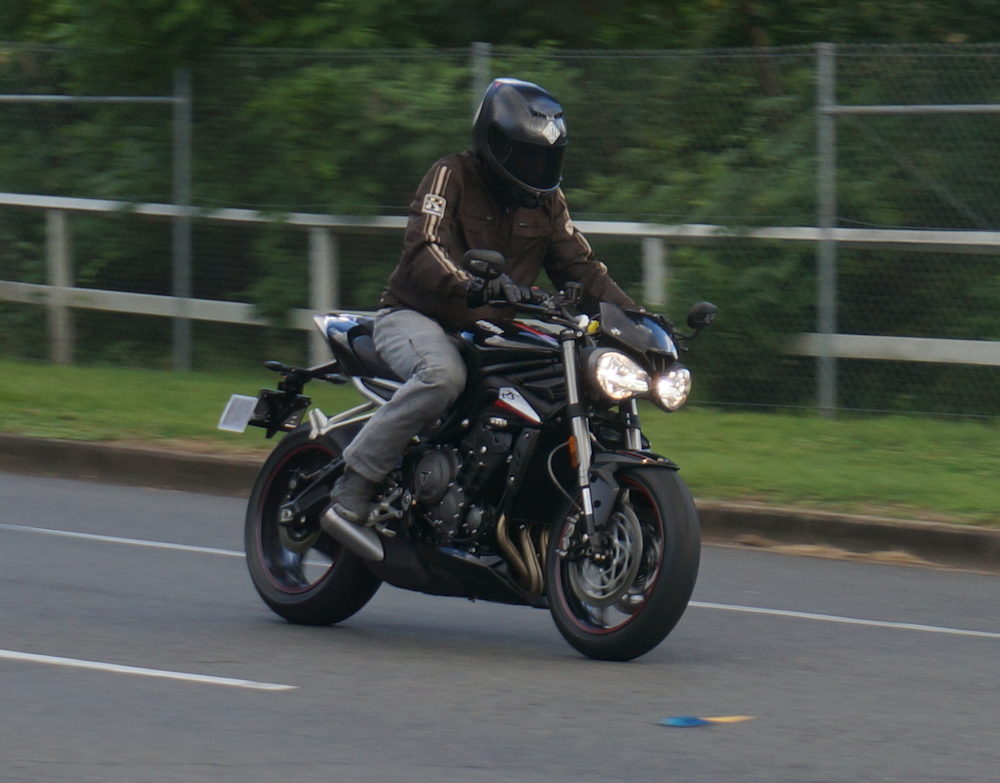 It then became a tame and civilised commuter with a smooth throttle response and strong brakes with plenty of feel. In traffic, it flicks around lightly and is highly manoeuvrable.
However, the attractive bar-end mirrors are a bit wide for lane filtering. And because of the engine buzz, they are often blurred.
When you head for the hills and dial in the full power, it becomes super-sensitive and highly responsive.
You have to also dial in quicker thinking in your brain because the bike is so touchy to any rider inputs.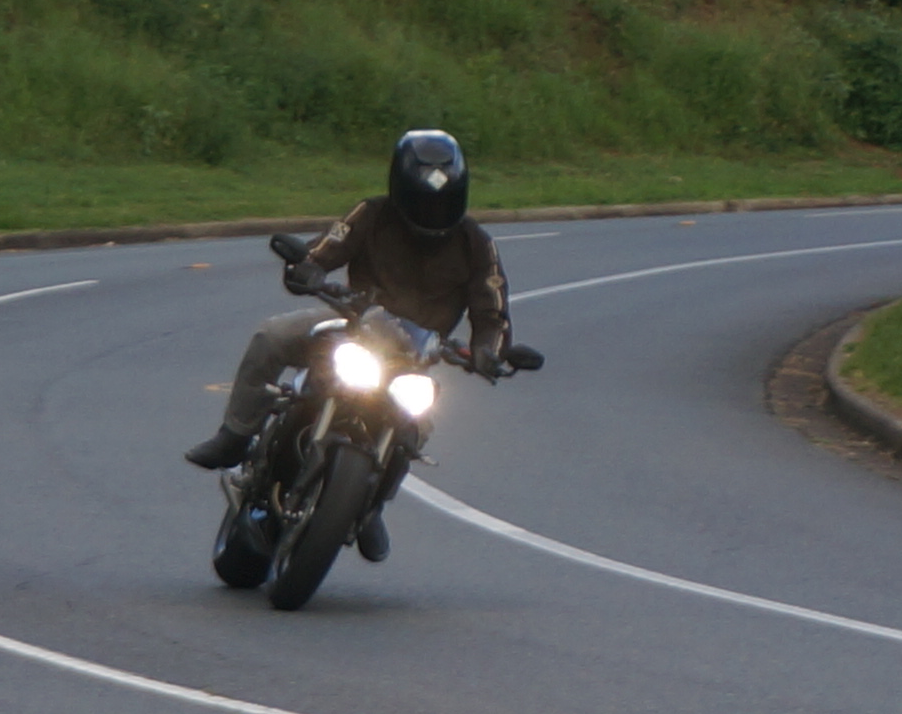 Even though they were brand new and still very shiny, the Pirelli Diablo Supercorsa SP tyres are grippy like velcro, providing plenty of confidence on a dry road.
Ergonomics
Riding position is aggressive without being uncomfortable. Rather than crouching and reaching for the bars, you are tilted toward the bars.
The seat is flat and firm, but it doesn't become more uncomfortable with time in the saddle.
There is also a decent reach to the footpegs so you don't have to be a flexible gymnast to rid the bike.
Light and quick transmission
The transmission has shorter first and second gears for increased acceleration, but you can also quickly flick through the gears, thanks to the super-light clutch. In traffic, that flexibility is handy.
The RS also gets a quick shifter, allowing clutchless upshifts up to 2.5 times quicker than manual shifting. Great for the track, but also handy for quick changes when needed in traffic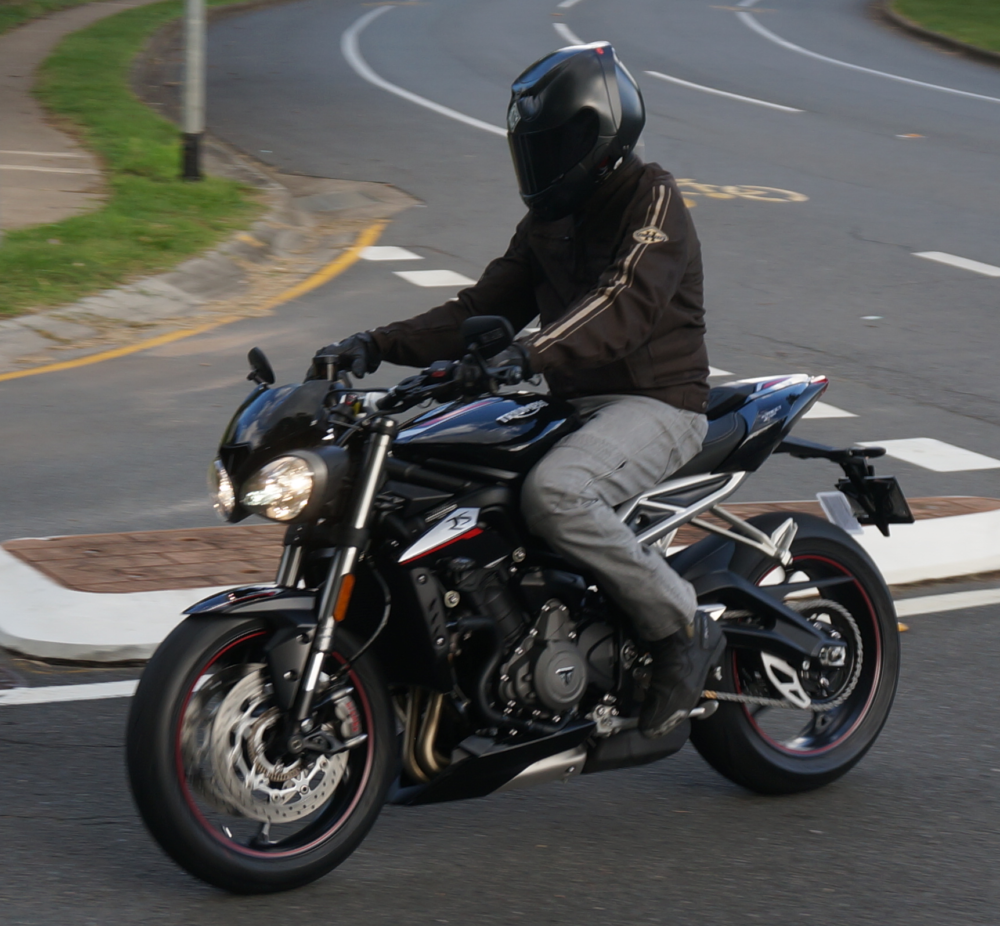 So while this might appear to be a canyon carver and track weapon, there is enough flexibility and adjustability on the bike to also be a daily commuter.
The RS has a colour-coded belly pan, colour-coded pillion seat cowl with interchangeable seat with details stitching and lower chain guard.
There is a range of more than 60 accessories selectable via their usual online configurator.
They include protection, styling equipment, quickshifter, Arrow exhausts and adjustable brake and clutch levers.
Triumph Street Triple RS
Price: $17,550 (plus on-road costs)

Engine: 765cc Liquid-cooled, 12v, inline triple

Power: 90kW @ 11,700rpm

Torque: 77Nm @ 10,800rpm

Frame: Aluminium twin spar

Fuel: 17.4 litres

Seat: 825mm

Weight: 166kg

Front suspension: 41mm Showa Big Piston forks fully adjustable

Rear suspension: Single Ohlins rear shock, fully adjustable

Front brake: 310mm dual discs with Brembo four-piston radial calliper

Rear brake: 220mm single disc with single-piston calliper

Tyres: 120/70 x 17; 180/55 x 17