Jeans Hands Review Summary
Review Summary
The Trilobite Go-Up jeans take a minimalist approach to motorcycle riding jeans. The emphasis is on simplicity and durability with a Dyneema ® / cotton denim fabric and straight cut that can accommodate standalone knee protection. Price is closer in line with other riding jeans in comparison to the Ton-Up jeans which we reviewed last year.
Pros
Lightweight
Dyneema
cotton blend denim
Durable construction
Minimalist design
Cons
Price a little high in the USA market
Runs a size large (in this example)
Jeans Hands Image Gallery
Introduction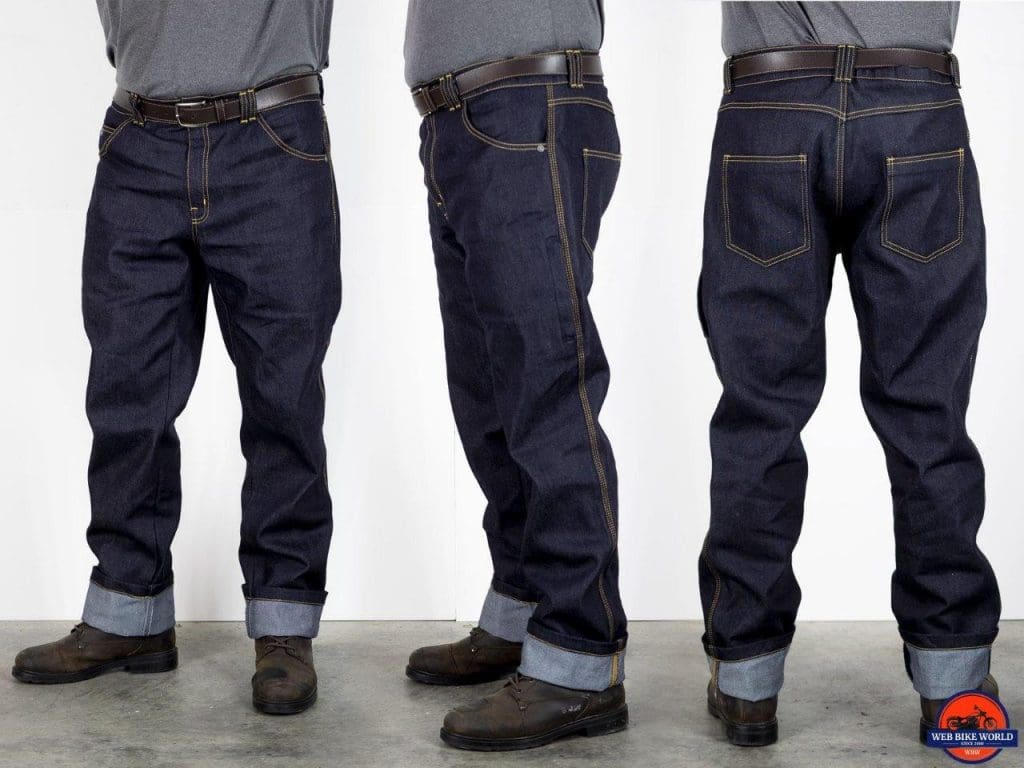 I really appreciate when a manufacturer engages with me in regards to a product that I reviewed. I'll take the negative with the positive because the important thing is it shows they're paying attention to independent and unbiased reviews like those we publish here at Web Bike World.
The story of this review you are about to read started with a phone call I received from Jason at Motonation. He informed me that Trilobite had seen my review of their Ton-Up jeans and that they wanted to send me a pair of new jeans designed around the comments in my review of the Ton-Up's.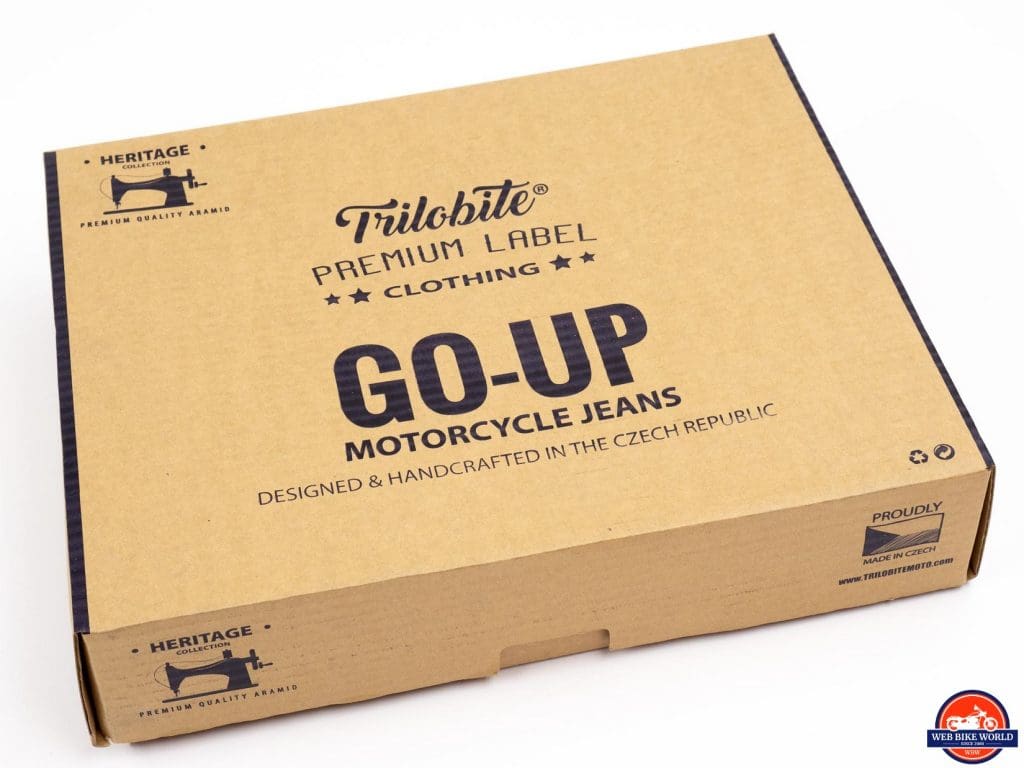 I asked Jason to clear this with our editor and told him if all checks out I'd be happy to do this and that honestly, I was a bit flattered that they did this based on my comments. I received a box a few weeks later with a new pair of riding jeans as well as a couple of other pieces from the Trilobite catalog such as the Ace Jacket and Comfee Gloves.
In addition to the gear was a letter from the CEO at Trilobite describing how they appreciated the review and how the enclosed jeans are the result of that review. So now that my head is getting almost too big for my helmet, I better get started on the actual review.
The Trilobite Go-Up Jeans
The Go-Up jeans are a study in simplicity, at least on the surface. The appearance is pure and simple blue jeans – dark blue denim with yellow-orange stitching, five* pockets, a button fastener, and a metal zipper. Except for a small metal Trilobite logo riveted to the coin pocket and "Trilobite" embossed on the button, these jeans are stealthily giving no indication they are protective riding gear.
The packaging has a style all it's own just like the Go-Up jeans do. A cardboard box with shredded paper filling the interior around the jeans. There is also a single newspaper-style page with info and "stories" about the Dyneema material and other features about their jeans. This is all in Czech so I'm unable to read it but it's a neat touch nonetheless.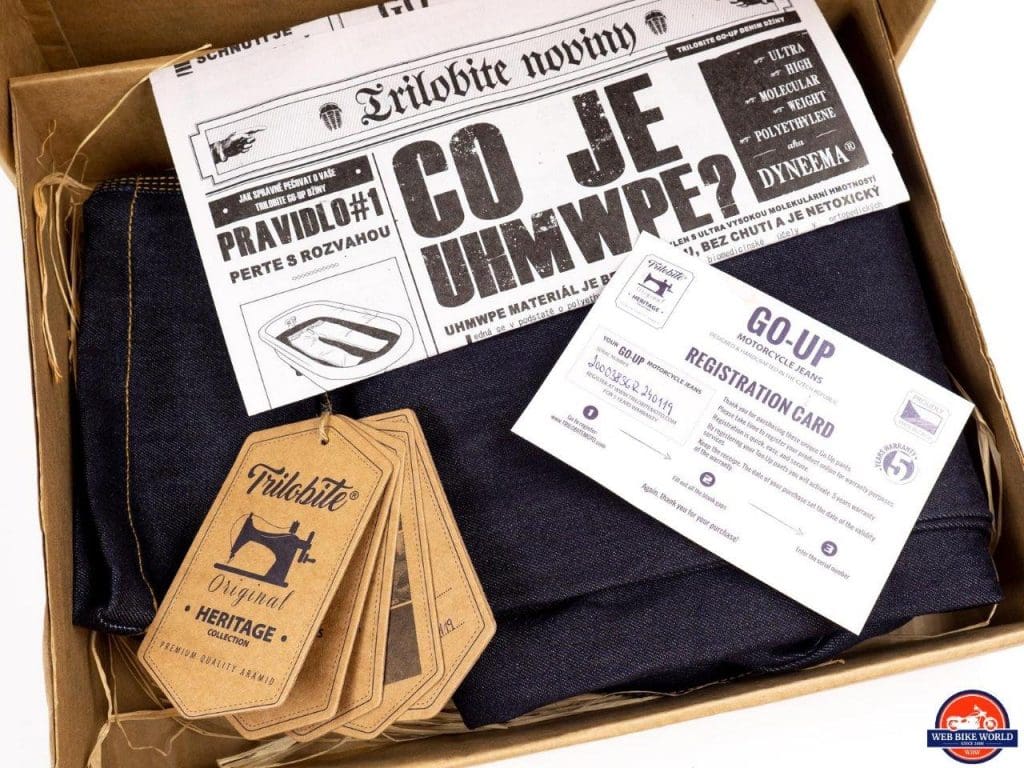 There are also a series of heavy-duty card stock printed tags attached to the jeans which provide info about the features. One of the tags has a chart showing the abrasion resistance based on the ECE 13595-2 standard which as a reviewer I find helpful as I don't have to hunt this info down.
Among the tags is a personalized tag from the individual who actually handcrafted this pair including a black and white photo, their signature, date, and serial number for this pair of Go-Up jeans.
Serial numbers on jeans? Yup!
That's important as the jeans carry a five-year warranty so one should take a minute and register them (I need to do this!). It will help in case one needs to order replacement parts, not that there are many, and it does add a personal touch.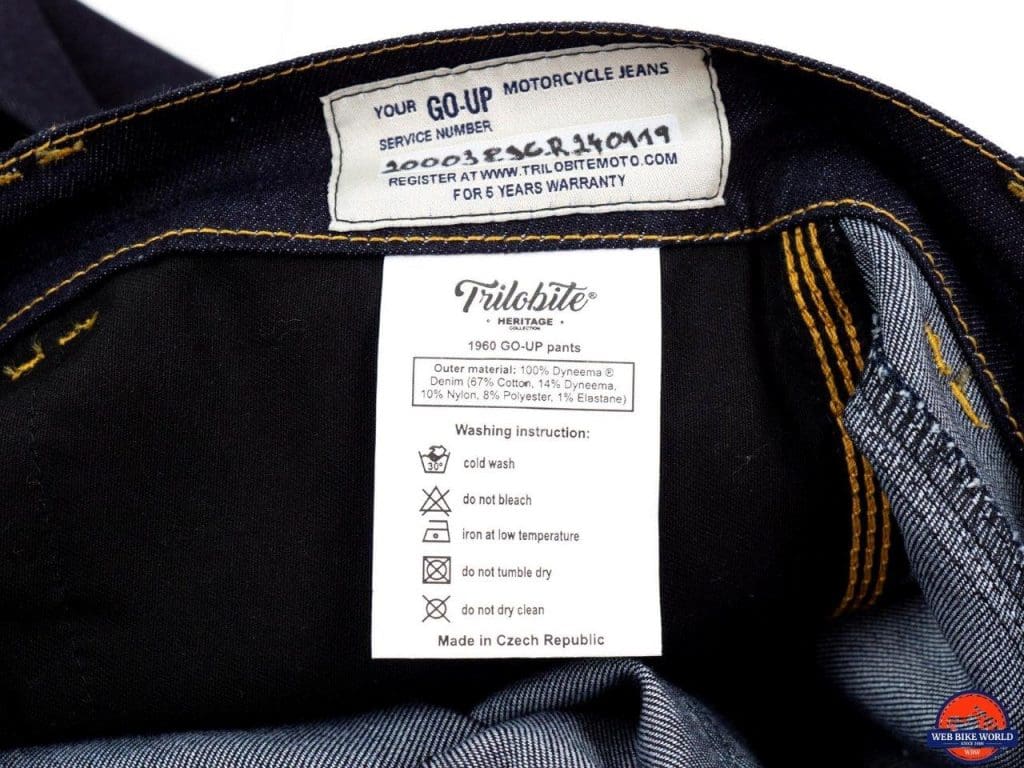 Construction
The main body of these jeans is made from a special blend of cotton and Dyneema ®. Dyneema ® is a UHMWPE (Ultra High Molecular Weight Polyethylene) material that offers very high abrasion resistance, even in low concentrations as used here. For reference, this material is used for products such as industrial fishing nets, boat mooring ropes, and even snowboards. Tough stuff for sure.
In the case of the Go-Up jeans, the denim includes 14% Dyneema ®, 67% cotton, 10% nylon, 8% polyester, and 1% elastane. Despite the variety of yarns used in this denim it still feels much like traditional cotton denim albeit a bit stiff when compared side by side.
Stitching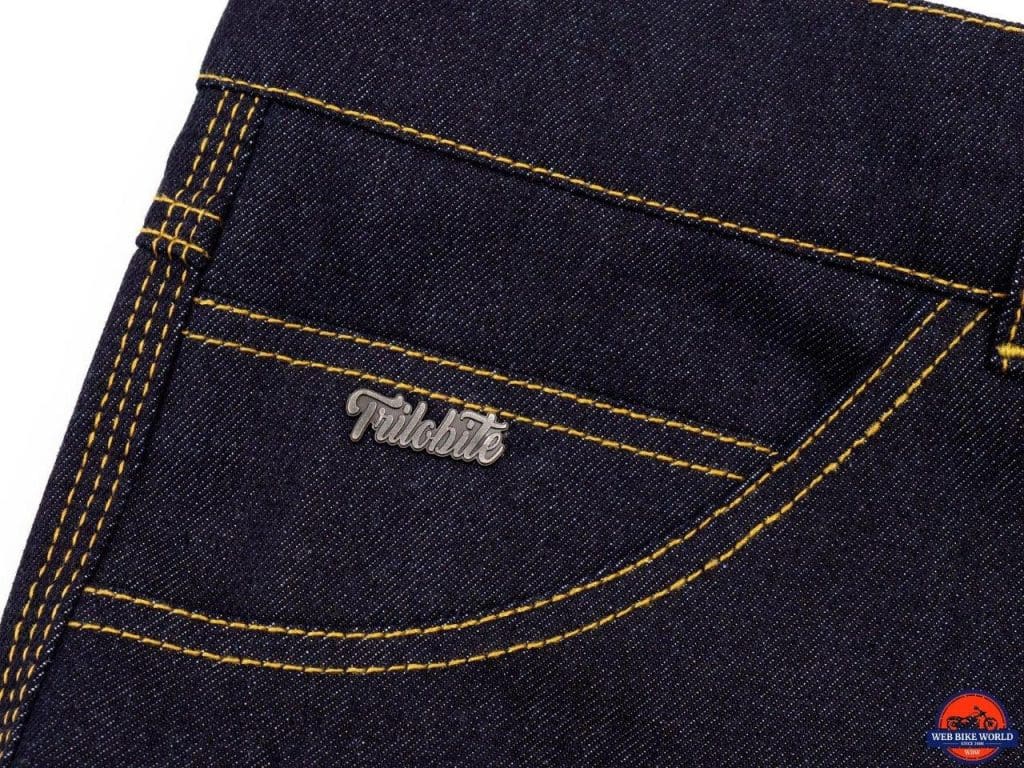 Holding all this material together is some very straight and even stitching with not a single stitch or thread out of place that I could find. Even the interior stitches are properly trimmed and neat giving the jeans a quality finish to the overall garment. The main outside seams on the legs are triple stitched for extra strength and something I think should be standard on any riding jeans.
Belt Loops
There are five belt loop points at the waist with two loops at five positions. Unlike the Ton-Up jeans, the rear loop is also doubled. In my review of those jeans, I called out that the rear should be doubled as well in case one has a jacket that fastens to a belt. It is nice to see that they agreed and implemented this.
Button Closure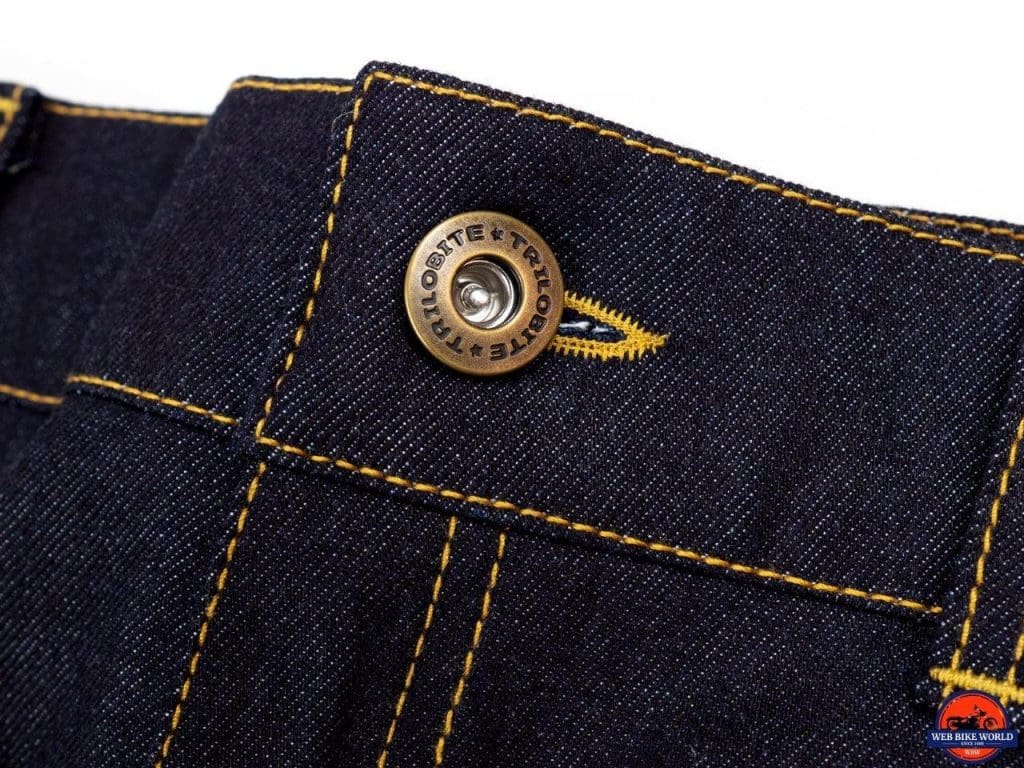 The main fastening point at the waist uses a large metal button riveted to the material. Below that is a metal YKK zipper with very smooth action which leads me to believe it is brass. There is an additional zipper in the "hidden" pocket (see below) which is unbranded and not a smooth acting as this one.
Pockets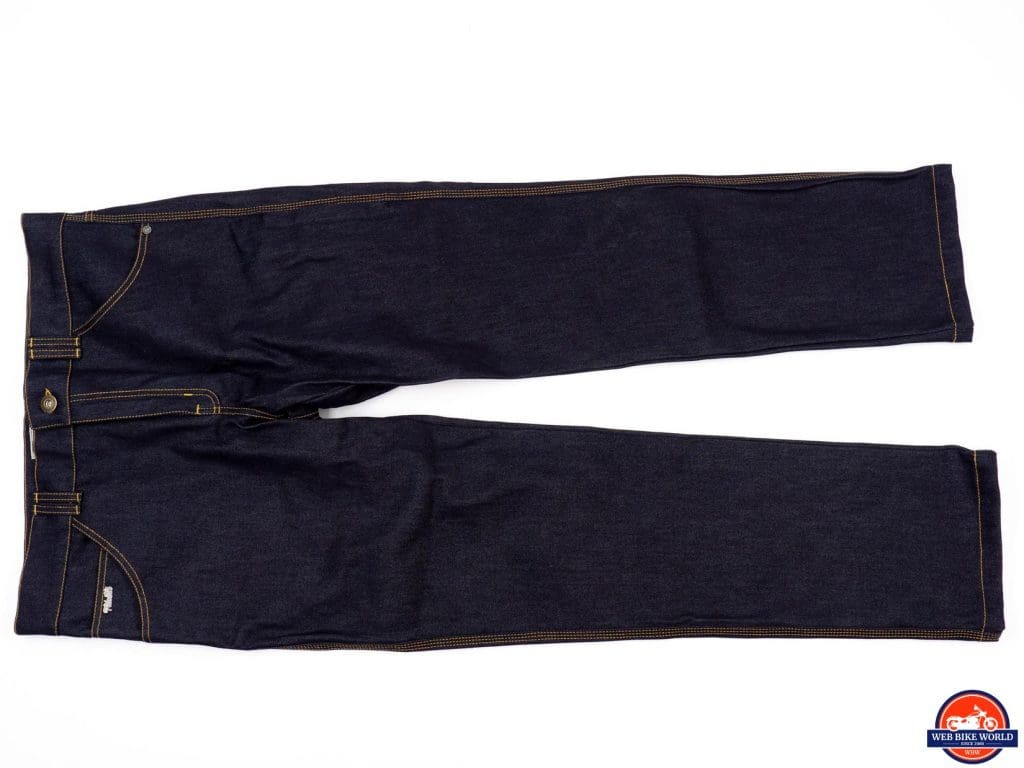 Speaking of pockets, the Go-Up jeans have the standard five pocket arrangement and the pockets are all very large. Pretty much any mobile device should fit in these pockets with room to spare. The coin pocket is even large enough to fit the entire width of my hand. No worries about trying to retrieve a bike key from this pocket, even with gloves on.
The rear pockets are small by comparison to the front but I would call them about average in size to most jeans. They do sit a bit low compared to some of my non-riding jeans and I wonder if this is a European thing. The Bull-it SP120's I recently reviewed had the rear pockets in a similarly low position.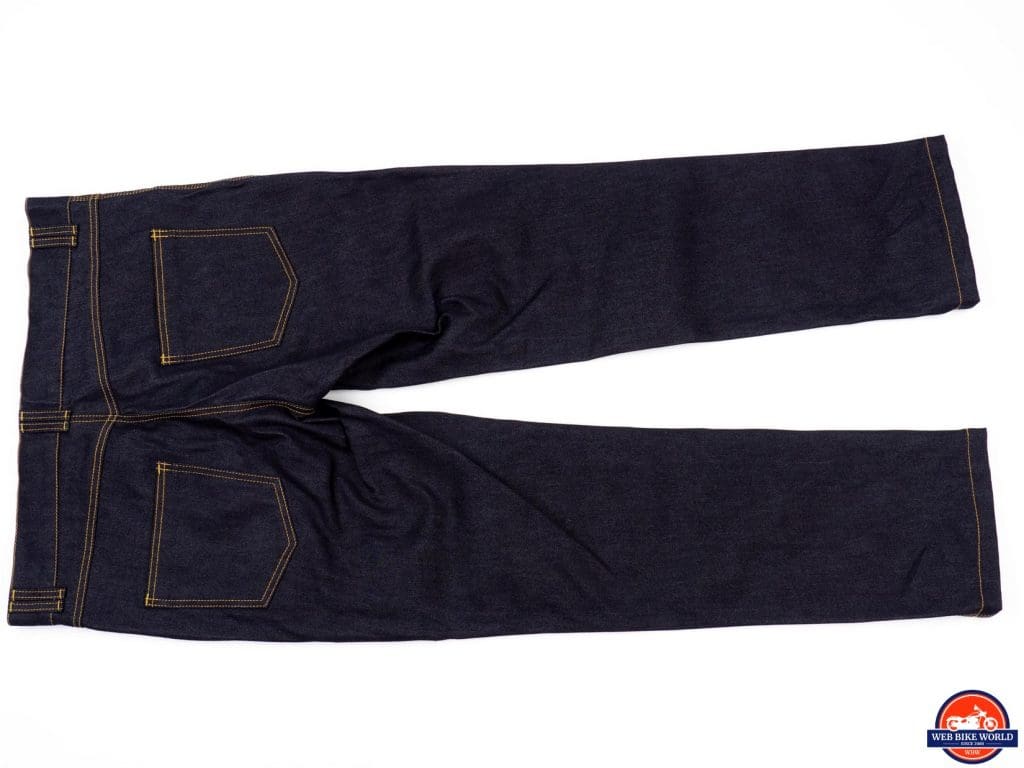 Trilobite includes an additional "hidden" pocket on these jeans that open just ahead of the main seam on the outside of the left thigh. The Go-Up jeans had this pocket too but for some reason, it seems to blend in better here. I keep forgetting it is there and nearly missed it during my initial product photo session for the review.
This pocket is the right size for a wallet and even many mobile devices. My own Moto X4 (5.2" screen) fits in with a little room to spare for comparison. This zippered pocket makes a for a secure sport to store items like this during a ride.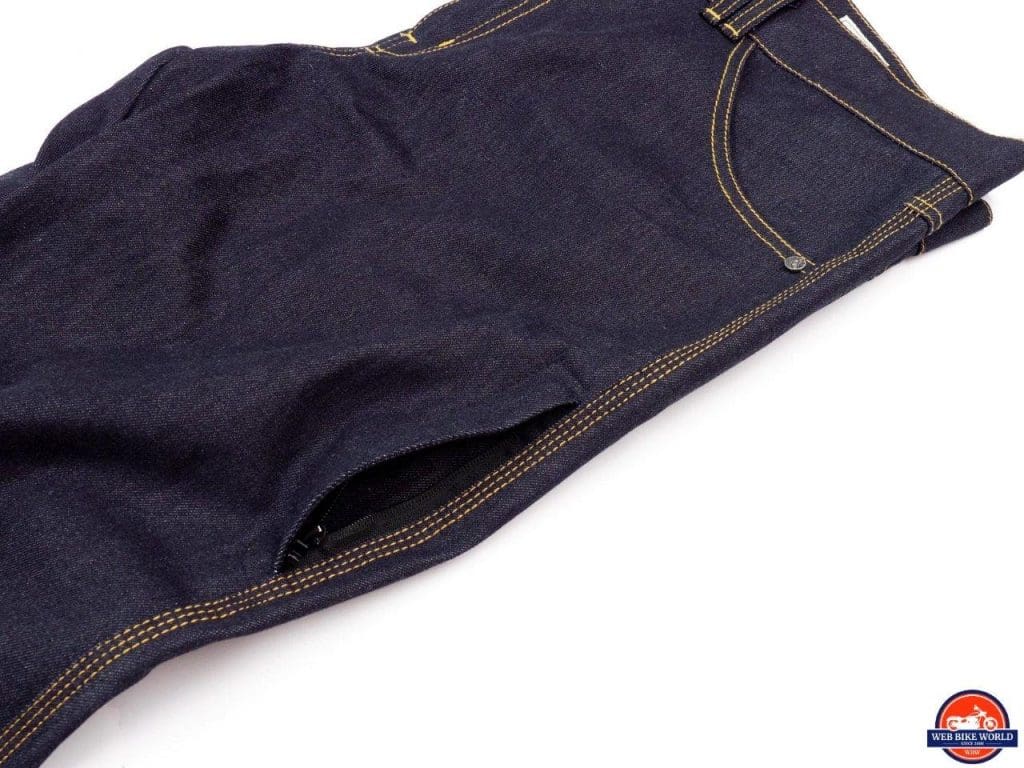 The zipper for the opening has a pretty fine pitch and isn't waterproof so keep this in mind in case the weather looks iffy. The sliding action of this zipper isn't as smooth as the main zip and combined with the fine pitch require a bit of effort to move. At the same time, this could be by design to make sure the zip stays in place once closed.
Protective Features
The Go-Up jeans are essentially one big abrasion resistant protective shell. The Dyneema ® infused denim is the protective feature of the jeans and there is no armor included or pockets in which to install any.
This goes along with the minimalist design to keep these jeans light, comfortable, and also keeps the cost down. The material is rated for nearly two seconds of slide time according to ECE 13595-2 which is certainly better than cotton denim which can shred away almost immediately.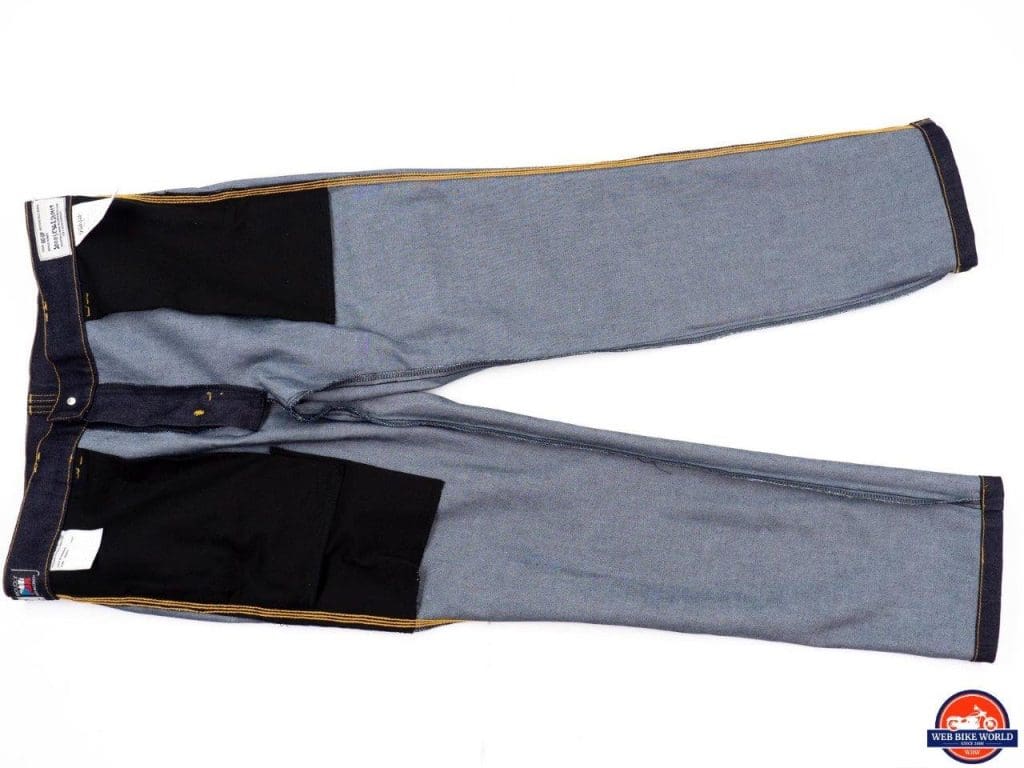 Of course one shouldn't expect it to hold up to a long slide associated with high speeds and that's not what these were designed for. These are more at home for the city/urban rider were speeds are much lower than those ones might reach on the highway.
The absence of armor might be a dealbreaker for some but Trilobite does recommend one wear strap on knee protectors like MX style protectors for best protection. This is something that I prefer and often do this when wearing most riding pants unless they fit very closely.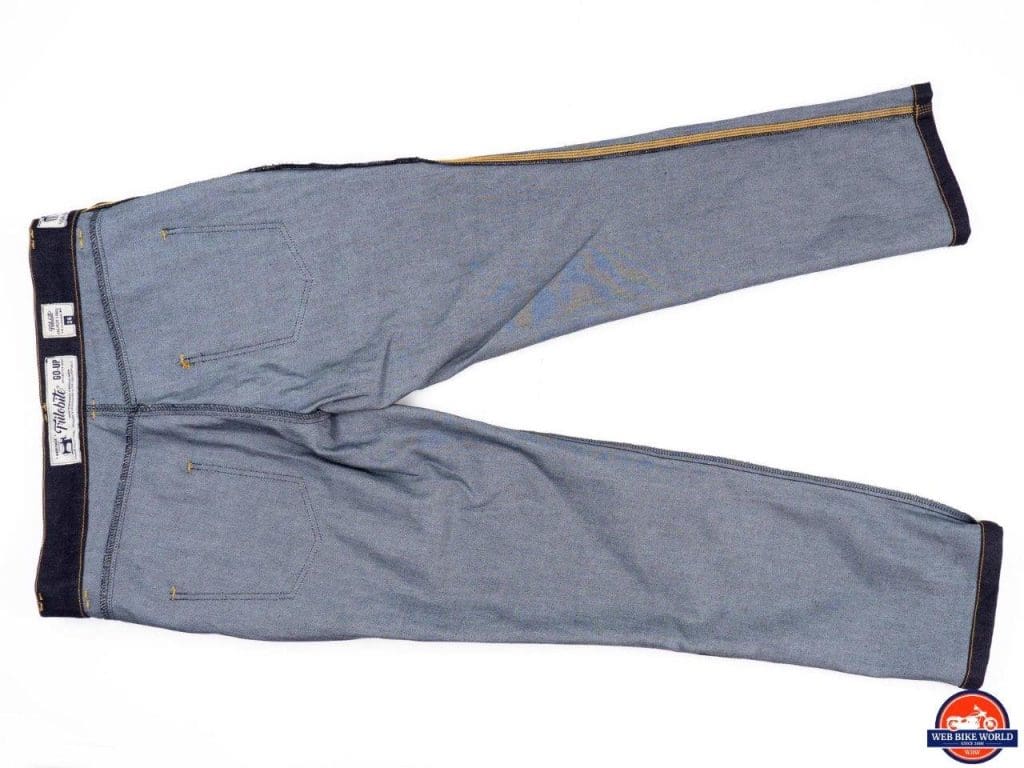 The straight cut of the Go-Up jeans easily accommodates my Shift Racing and Fox Racing knee protectors that I wear under my jeans and other textile riding pants. As I understand it they designed them this way based on what I said about this in my Ton-Up jeans review. Trilobite might even have their own option in the works for this very situation but I can't confirm it at this time.
Unless one has some sort of armored shorts to wear, which I don't anymore, there is still not an easy way to add hip armor which is something I feel strongly about having. Having a patch of hook and loop fastener inside the waist at each side would make it easy for one to place armor in the right position if desired. Several manufacturers have hip armor with this type of fastener already in place that could be implemented.
Fit & Comfort
Trilobite sent me the same size in the Go-Up jeans that I had received in the Ton-Up jeans I reviewed last year. However, these size 36 jeans were a bit loose when trying them on. Measuring waist revealed they run about a size large at 38 inches.
A belt allowed me to wear them comfortably enough and I should point out that these could be from a very early production run as they are a new product. Potential buyers may want to check with the sellers before ordering.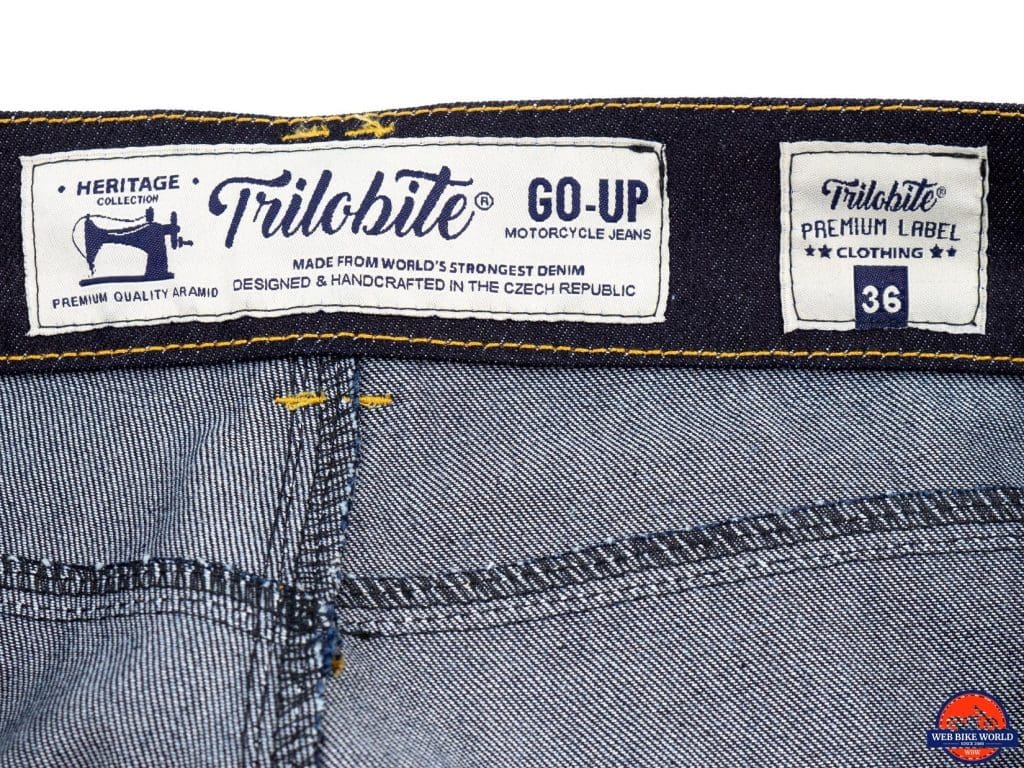 The denim contains a small amount (1%) elastane so it has a bit of stretch which works well for staying comfortable in the riding position. In fact, when wearing them I wouldn't know I wasn't wearing regular denim. They are a little stiff as they are still pretty new but I see them breaking in well over time.
Laundering
Like a lot of high abrasion fabrics, denim in the Go-Up jeans will last considerably longer if it is only washed when needed. While the material stands up well to "physical" attacks, chemicals in detergents can shorten the life of the jeans.
There is a label in the waistband that recommends going "as long as possible" before washing. There are also places on the label for one to record dates of laundering to help keep track.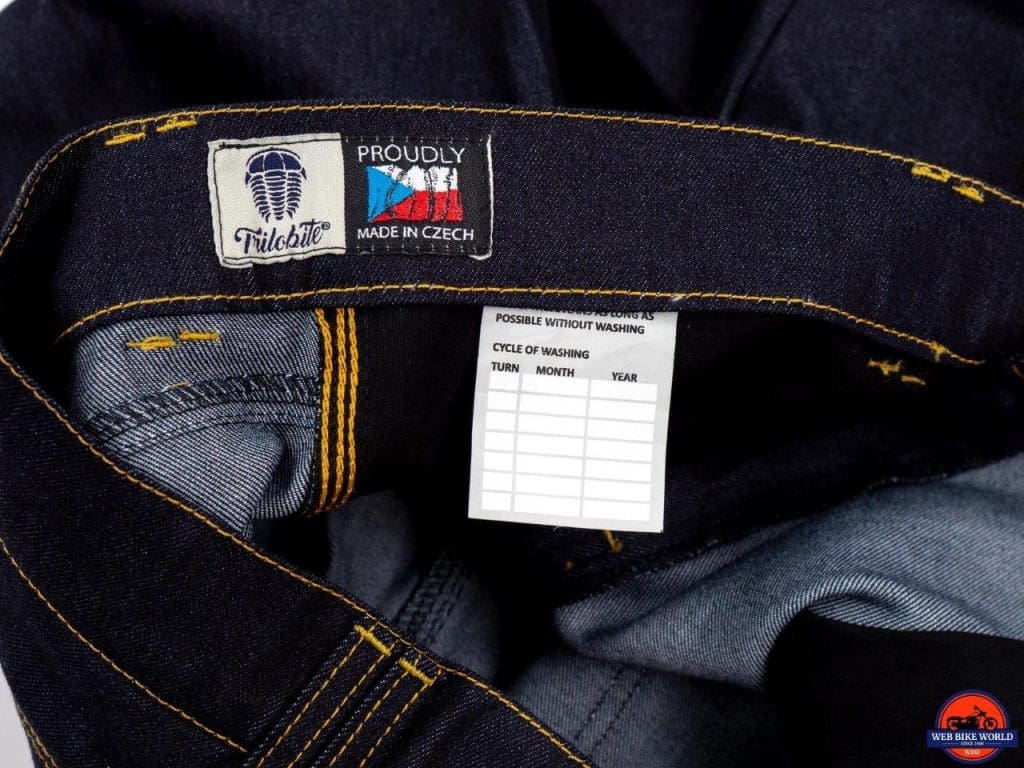 Conclusion
The Go-up jeans are an interesting take on the motorcycle riding jean. Perhaps I'm a bit biased since they did take some of my own comments to heart when designing these jeans. The simple and straightforward design makes them very light and flexible making for a comfy pair of jeans.
The lower amount of Dyneema ® (14%) compared to the previously reviewed Ton-up jeans (52%) does mean they will be less durable in a crash situation. The same goes for the lack of armor since they don't offer any impact protection on their own. Of course, the price is lower compared to the Ton-Up jeans so it is reasonable to believe the Dyneema ® content is partly responsible for the premium cost.
At $249.00, the Go-up jeans are still a little pricey but part of the cost is due to fees and taxes importing them to the USA. In Europe, the Go-up jeans cost 165,25 Euros which currently exchanges to about $186.00 as of this writing. Our European readers will likely see that as a pretty reasonable price.
In the final analysis, the jeans are a simple and durable solution for city riders who don't plan on reaching highway speeds. I appreciate the fact that Trilobite took the time to make changes based on our feedback. Whether it was us or another source, the point is they are listening and that's a good way to keep their customers happy.
Pros
Lightweight
Dyneema / cotton blend denim
Durable construction
Minimalist design
Cons
Price a little high in the USA market
Runs a size large (in this example)
Specs
Manufacturer: Trilobite
Price (When Tested): $249.00 (USD) / 165,25 €
Made In: Czech Republic
Alternative models & colors: Blue
Sizes: 30 through 44
Review Date: March 2019