Bull-it SP120 LITE Jeans Review Summary
Review Summary
Bull-it has taken their protective SR-6 riding jeans and created a lighter, less bulky version. The SP 120 Lite jeans use their unique Covec lining only in potential abrasion zones instead of lining the entire interior of the jeans.
Pros
Good protection in key impact zones
3 available fit "types"
Provisions for knee and hip armor
Reasonable price
Cons
Armor not included
Liner can be "scratchy"
Internal construction not well finished
Bull-it SP120 LITE Jeans Image Gallery
Introduction
It appears I have become the "riding jeans" guys over the past several years here at WebBikeWorld.com. I'm not certain how this happened but I'm here today with yet another review of, you guessed it, motorcycle riding jeans.
I do worry sometimes that I could suffer from "denim fatigue" with the volume of jeans that land on my desk. However, I was excited to see this latest pair of riding pants from Bull-It Jeans. I can't believe it has been about 4 years now since Carmen and I reviewed a batch of riding pants (and jackets) from Bull-it. I guess a review of their current offerings is overdue.
One of the reasons I was looking forward to getting a look at some new Bull-it jeans is the fact they employ a unique abrasion and heat resistant material from Covec in their products. This partnership with Covec includes not only their fabric but their impact armor as well.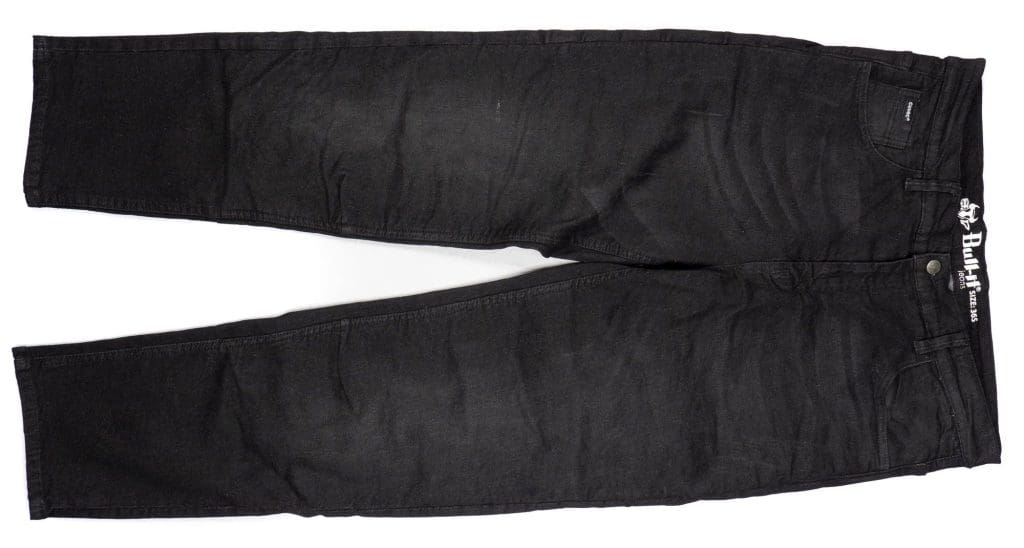 Covec fabric has some very interesting properties compared to other durable fabrics like Kevlar® and other aramids. I covered a lot of details about Covec in my review from 2015 so rather than reinvent the wheel here, I would suggest checking out that review for the low down on Covec.
Now let's have a look at the specific jeans in question.
Overview
The SP120 Lite jeans appear to be your typical denim jeans at first glance. There's not much that is outwardly visible to give away that these jeans have some very technical stuff going on under their shell.
The SP120 Lite jeans are available in two colors, Basalt and Heritage. Basalt, which I have for this review, are black while the Heritage is the type of blue most would associate with "blue jeans". The Basalt color is quite stealthy with the use of black thread for the stitching as well as the black denim used for the body of the jeans. Those looking for some visibility might look at the Heritage color.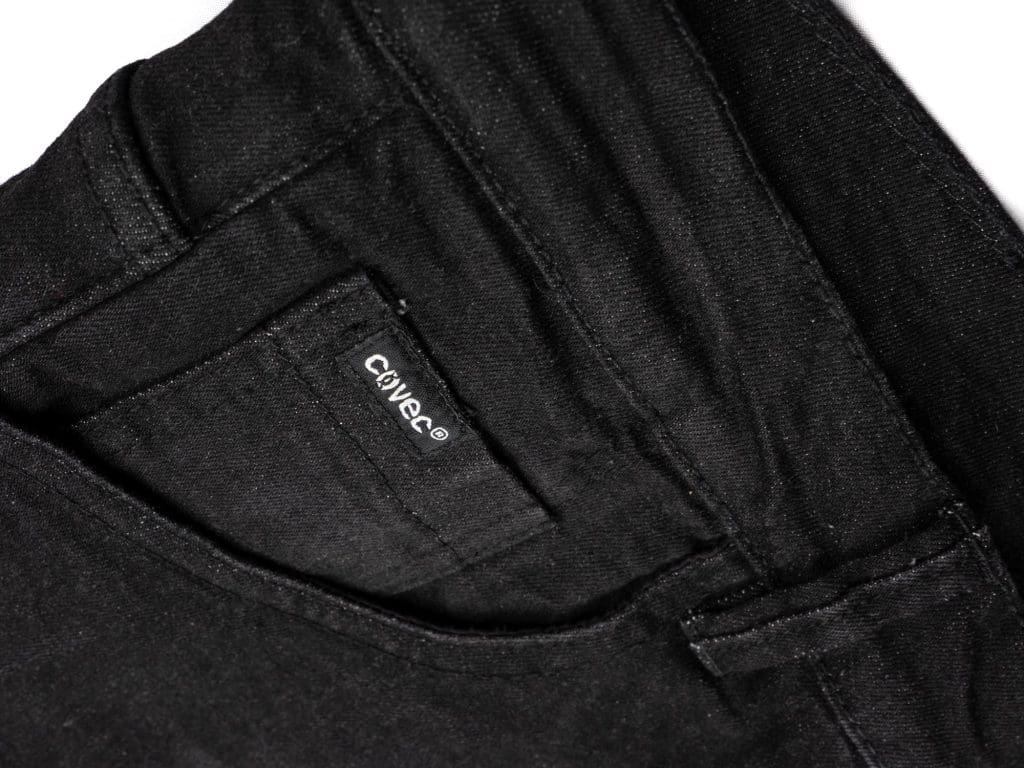 The design is a five pocket layout with two rear pockets and two main front pockets with a coin pocket inset in the front right pocket. The coin pocket is a bit "dodgy" in actual use as it is deep and very narrow. Just be aware that any coins placed in this pocket might be inaccessible until one removes the pants.
Although the material of the jeans is black, there are areas at the knees which have a moderate "weathered" look giving them a subtle dark gray shade rather than pure black. A small COVEC label is located on the coin pocket in white thread. This and the logo embossed leather patch over the right hip along the waist is the only branding visible on the jeans.
Now let's dig into the details of the construction.
Construction
The main closure on the SP120 Lite jeans is via a metal button and zipper. Metal buttons on motorcycle riding jeans can be a danger to the paint on the tank but at least there is only one. Other riding jeans I've seen have metal rivets on the front pockets but these aren't present here.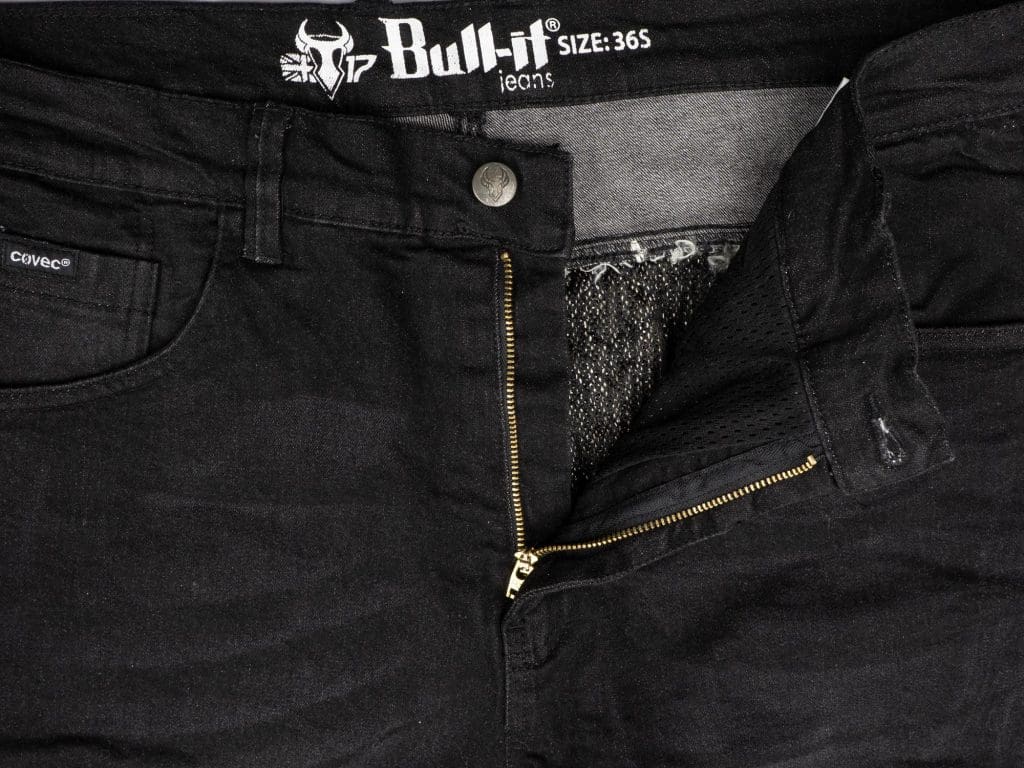 There are multiple layers to the jeans starting with the main body being made from a 98% cotton, 2% elastane denim. This small amount of elastane is enough to provide moderate stretch to the fabric.
Inside the jeans, there is a polyester mesh liner covering the Covec fabric in the seating area. The front portion of the legs have more lining coverage and there are pockets in the lining for hip and knee protectors.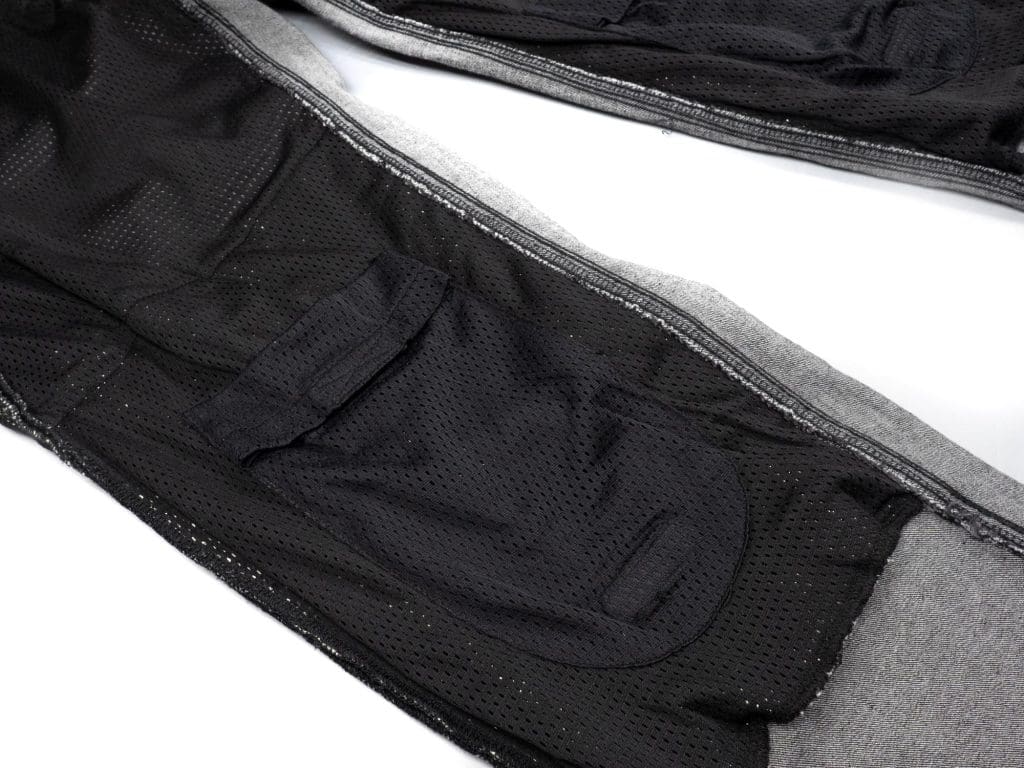 Covec abrasion resistant material is present between the denim and the mesh lining in the knee and seat areas. It's not easy to get a good look at the actual Covec fabric but one can see it looks corrugated, not unlike the inside of cardboard or certain potato chips.
The main seams are of the triple stitched variety for durability in the event of a crash. The seams on the outside of the jeans are straight and neat and, in the case of the Basalt color, the thread is really hard to see in the first place with the black on black color. The inside is a different story.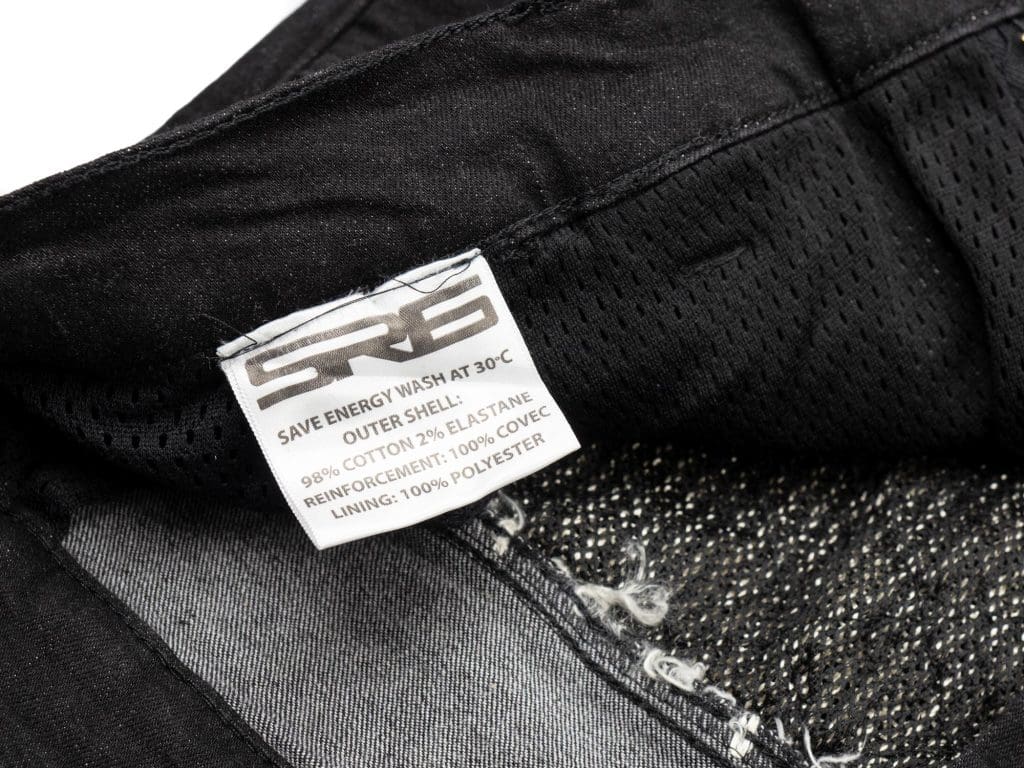 The stitching used to attach the liner material to the denim seems heavy enough but I can't say it is neat. Frankly, it looks messy in some places and you can see some of these loose white threads in the photos here. This is similar to what we saw in the Bull-it jeans review back in 2015. I can't say that this weakens the strength of the overall garment but the finish here doesn't inspire confidence in quality control.
Protective Features
The name Covec has been tossed around a lot during this review and it is Covec materials that are at the heart of the protection offered in the SP120 Lite's. This material is highly abrasion and cut resistant as well as having very low friction heat transfer.
In the zones where Covec is used in these jeans, they receive a AAA rating according to the draft version of the EN17092 standard. This rating translates into the material standing up to a slide that starts at 120kph (74.5 mph). During a slide, heat buildup shouldn't be an issue thanks to the low thermal transfer properties.
You can see a pretty convincing video of this thermal transfer resistance below.

In addition to the above video, Bull-it has a lot of technical information about Covec materials on their website including other videos of testing. As a reviewer and rider, I appreciate all this information for my writings as well as peace of mind when riding in their apparel.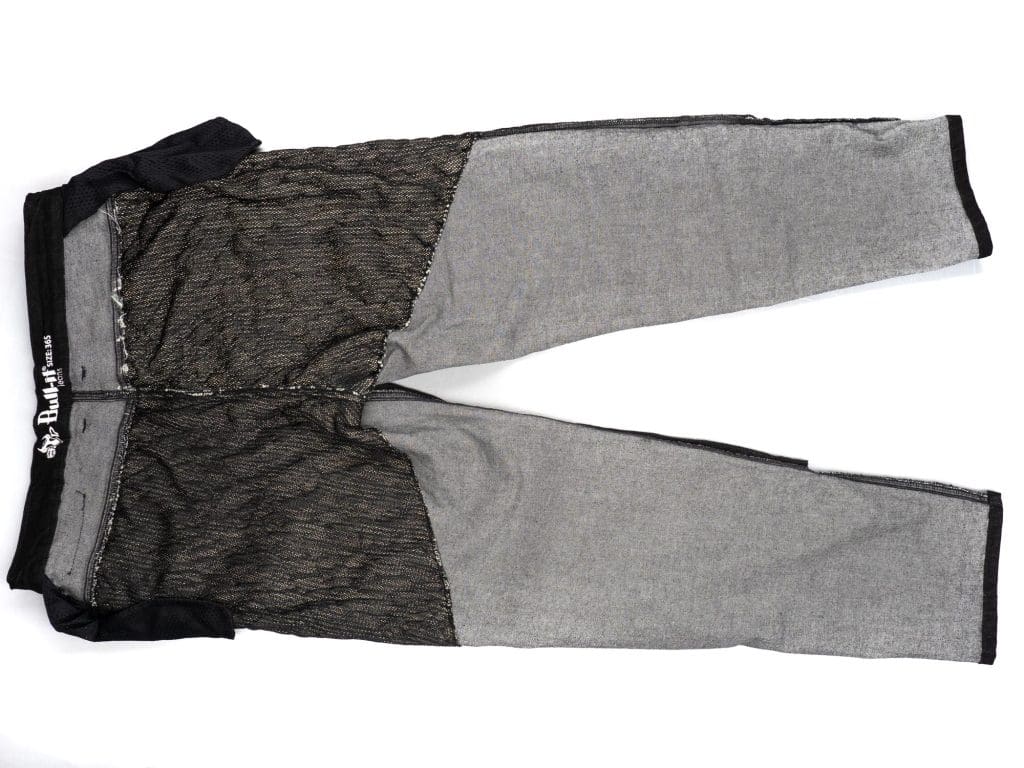 The SP120 Lite's get the "Lite" designation due to the fact they only have Covec fabric in seat and knees versus lining the entire pants. It also means that no impact armor comes with the jeans but there are pockets provided for both knees and hips.
Covec makes impact armor in addition to the abrasion resistant fabric and they have CE level 1 and 2 level options. They even have a new product called Phantom that is very thin and light for a CE level 2 protector. Of course, the sizes of the armor pockets are pretty standard so one should be able to use other brand protectors as well if desired.
Fit & Comfort
The SP120 Lite jeans are available in waist sizes from 30 to 44 covering quite a bit of ground. Sizes listed denote the "unstretched" fit so the size 30 will stretch up to 32 inches and the 44 should actually fit up to 46 inches. I have a 36-inch waist and ordered a 36 but in retrospect, I might have tried the 34's to provide a closer fit. Either way, the jeans are true to their listed size so one can rely on the sizing chart.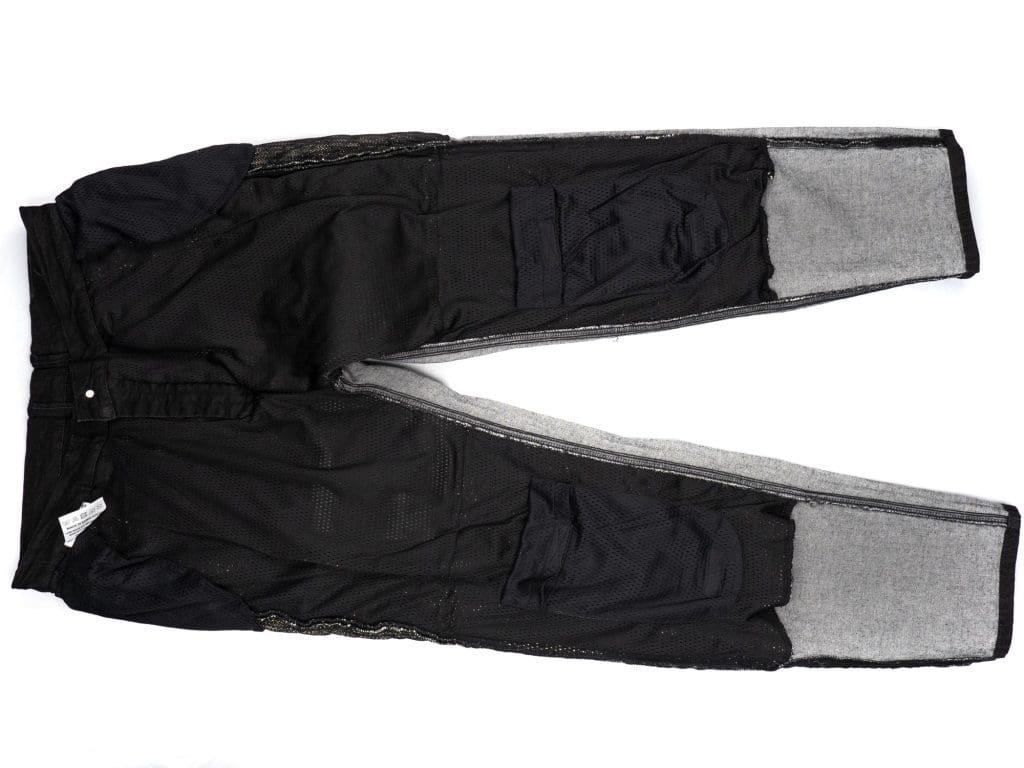 Bull-it offers three fit variants on the SP-120 Lite jeans which include Slim, Straight, and Easy. Easy being a loose or "relaxed" fit and Slim closer to the "skinny jeans" cut. I went right to the middle with the straight cut which is a nice balance. There is enough room in the legs for me to use MX style knee guards if I want to instead of using armor in the knee pockets.
In addition to the variations in cut, all sizes are available in four different leg lengths from S (short) to XL (extra long). The actual measurements being the same across all waist sizes at 30, 32, 34, and 36. The length on the 36S that I received was about half an inch long at 30.5 inches which for jeans designed for being worn in the riding position, I'm fine with.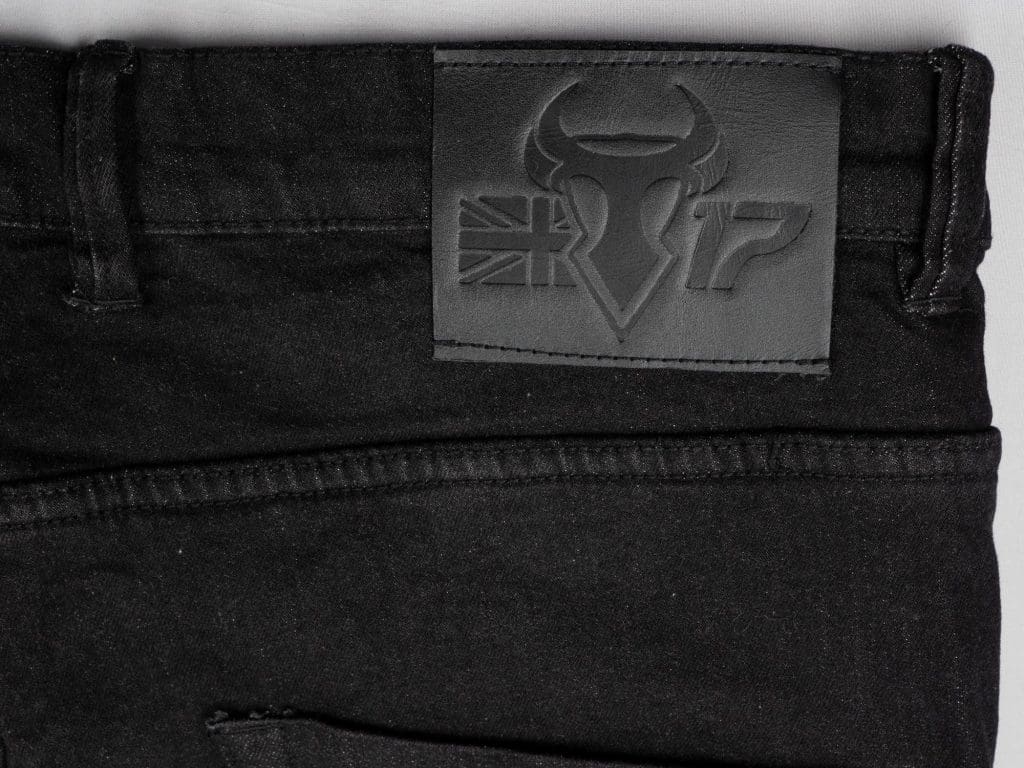 At this point, I want to point out that I don't recall ever seeing a wider variety of sizes and cuts available in a pair of riding jeans. I appreciate that, not only are there various permutations of size and fit available but, Bull-it provides a chart for each different cut variant that details several dimensions such as thigh width, knee width, and even rise both front and rear. I would love to see more manufacturers take this detailed approach to inform buyers of sizing.
Comfort
Sizing and fit are very good but comfort is a bit of a mixed bag. Bull-it claims the SP120 Lite's are breathable but they don't seem to breathe all that well for me. I'm not really surprised considering the extra material inside the denim.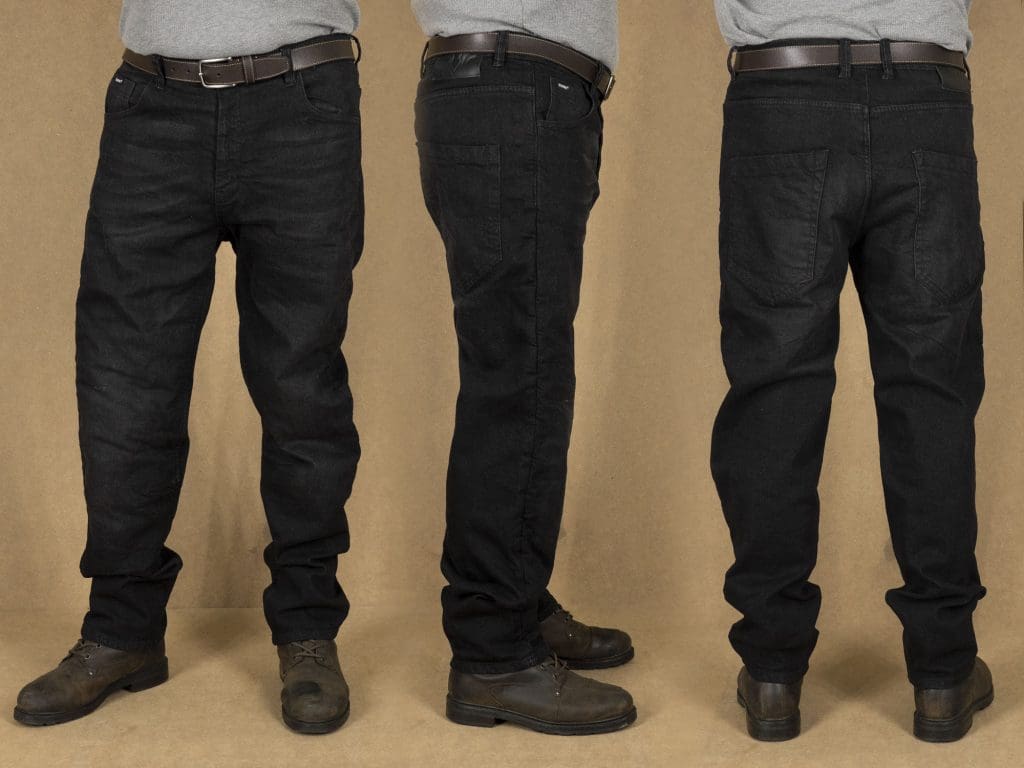 During these colder winter days, this fact is an asset but I'm afraid they might get stuffy during the summer months. I'm willing to make that leap based on my experience with the Bull-it jeans a reviewed back in 2015. I've also found some other comments about the SP120 Lite's that back up this idea.
Also, the polyester mesh is not the softest material around. It can be itchy in places where it is in close contact with skin. The knee and thigh areas, in particular, suffer from this as these places are typically pulled up against the skin.
Washing
Most reinforced riding jeans require special care when washing. It's funny to me that these materials that are highly abrasion resistant can deteriorate quickly when pitted against the chemical and folding torture that the typical washing machine can apply to riding gear.
Fortunately, Covec's material is highly resistant to chemical attack from acids, alcohols, oils, and more. It also handles flex fatigue pretty well compared to some durable fabrics and much better than aramid based materials such as Kevlar®. Covec's website has details on how their material compares against a variety of other fabrics.
One should still not tumble dry these jeans and they should be left to hang dry and it is also recommended that they are turned inside out. This isn't uncommon for most jeans anyway if one wants to reduce fading.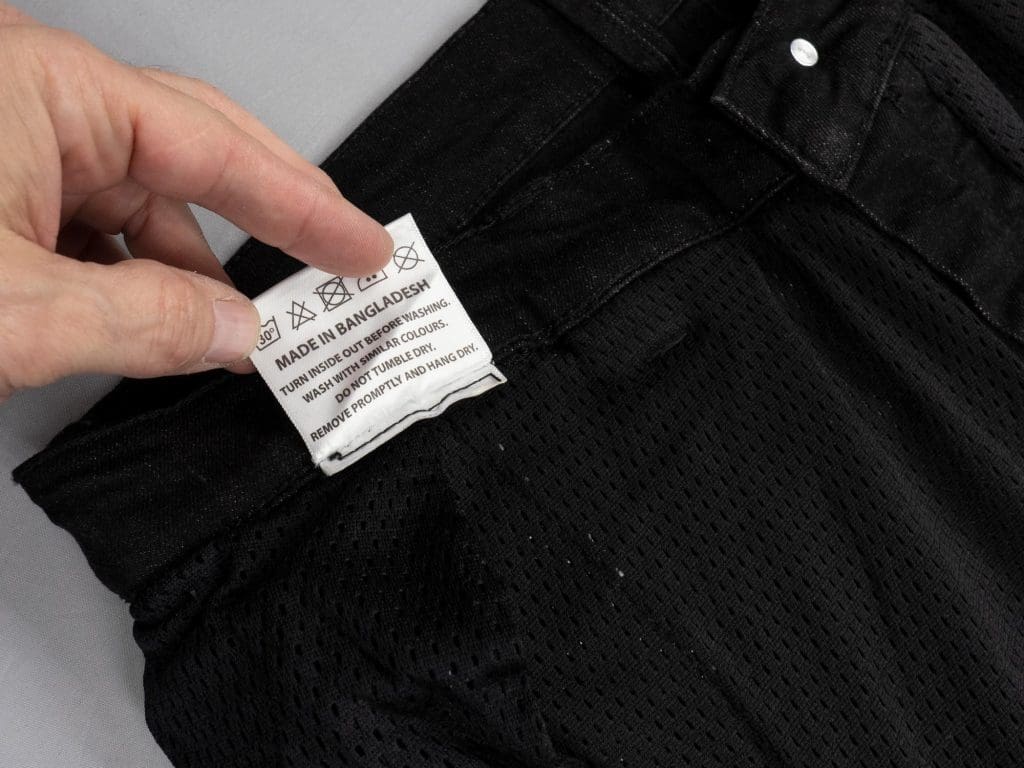 Conclusion
Overall I really like what Bull-it has done to evolve their offerings. The SP120 Lite makes the cost of admission a very reasonable at $189.95. That price gets you a pair of jeans with some very tough protection, albeit strategically placed protection instead of the entire garment.
Provisions for armor in hips and knees is welcome and although I would like to see the armor included, its absence isn't surprising at this price point. Since the armor pockets are pretty standard sized one can find plenty of options to fit their desired budget/protection level.
I would like to see the interior construction neatened up a bit and, while at it, maybe find a more comfortable material for the mesh lining. Most riders likely will find these to be relatively minor issues but they are there nonetheless.
Finally, I'm blown away by the incredibly wide variety of size and cut combinations. Bull-it has really gone above and beyond what most manufacturers provide not just in the variations of size and fit but also the great details about how each variant measures in several areas.
An overall score of 4 out of 5 stars seems appropriate with the overall jeans being very good but being let down on the neatness of the interior lining stitching and the somewhat scratchy polyester lining.
Pros
Good protection in key impact zones
3 available fit "types"
Provisions for knee and hip armor
Reasonable price
Cons
Armor not included
Liner can be "scratchy"
Internal construction not well finished
Specs
Manufacturer: Bull-it Jeans
Price (When Tested): $189.95
Made In: Bangladesh
Alternative models & colors: Slim, Straight, and Easy Cuts
Sizes: 30 through 44
Review Date: February 2019