Jacket Hands Review Summary
Review Summary
The Ace Jacket from Trilobite is a lot more than meets the eye. This textile jacket looks like a denim jacket at first but it is cut much more like a sport riding jacket than a cruiser one. The real surprise is what lies under that denim shell and the protection it offers. Definitely an interesting and sharp looking piece of gear.
Pros
Sharp looking
Good protective features
Waterproof
Quality construction
Nice touches like glasses holder and flashlight
Cons
No venting can be stuffy on hot days
Runs one size small
Introduction
Back in Summer, 2018, I was introduced to Czech riding apparel maker, Trilobite. They were a new name to me when I was reviewing their 1860 Ton Up jeans last year despite the fact they have been around since 2012.
Having made their mark in Europe over the past few years I'm glad to see they are making strides to get their products into the US market. While their full lineup is not yet available here in the States, there are several pieces available through MotoNation which is currently the sole reseller here on this side of the pond.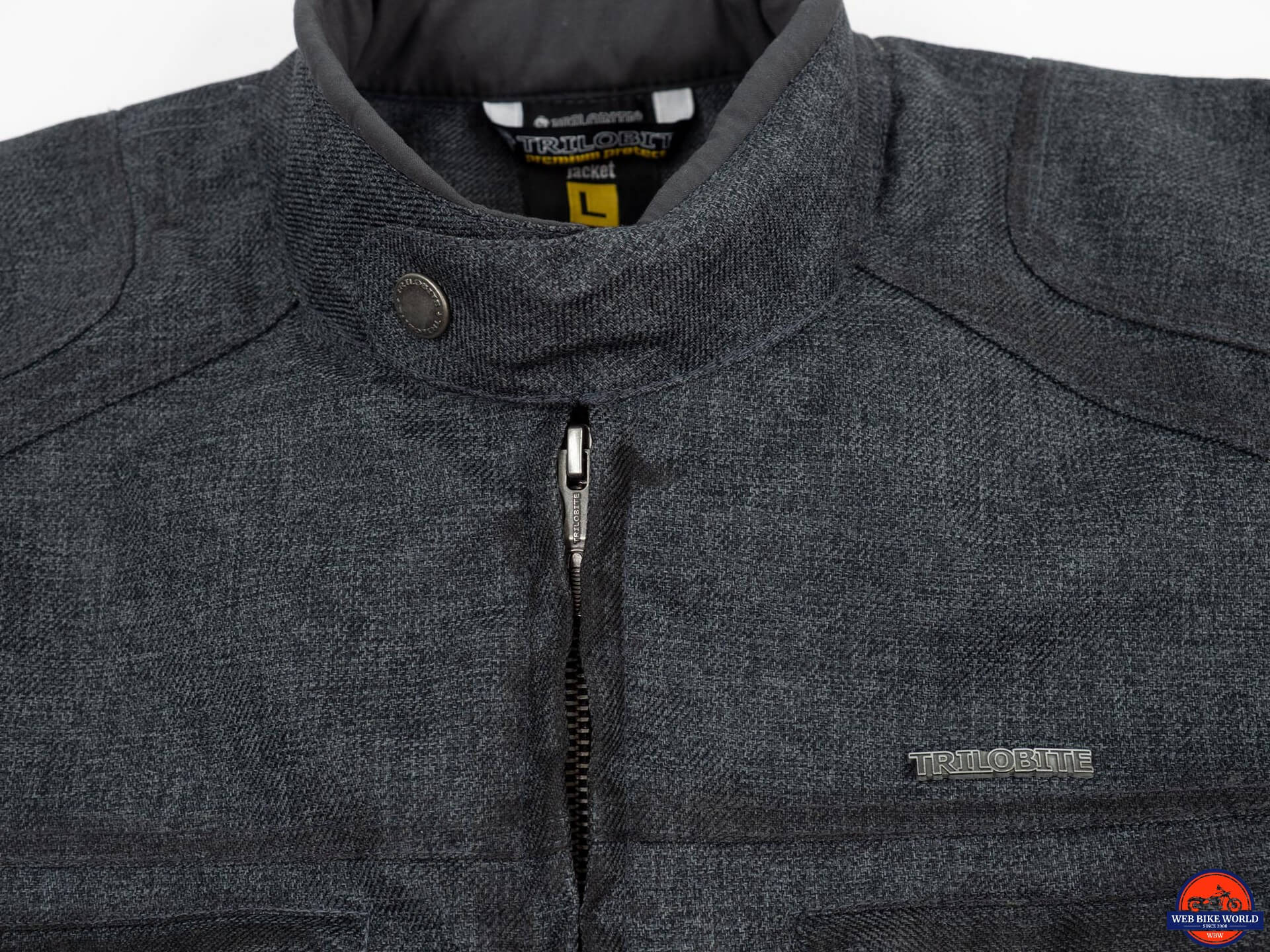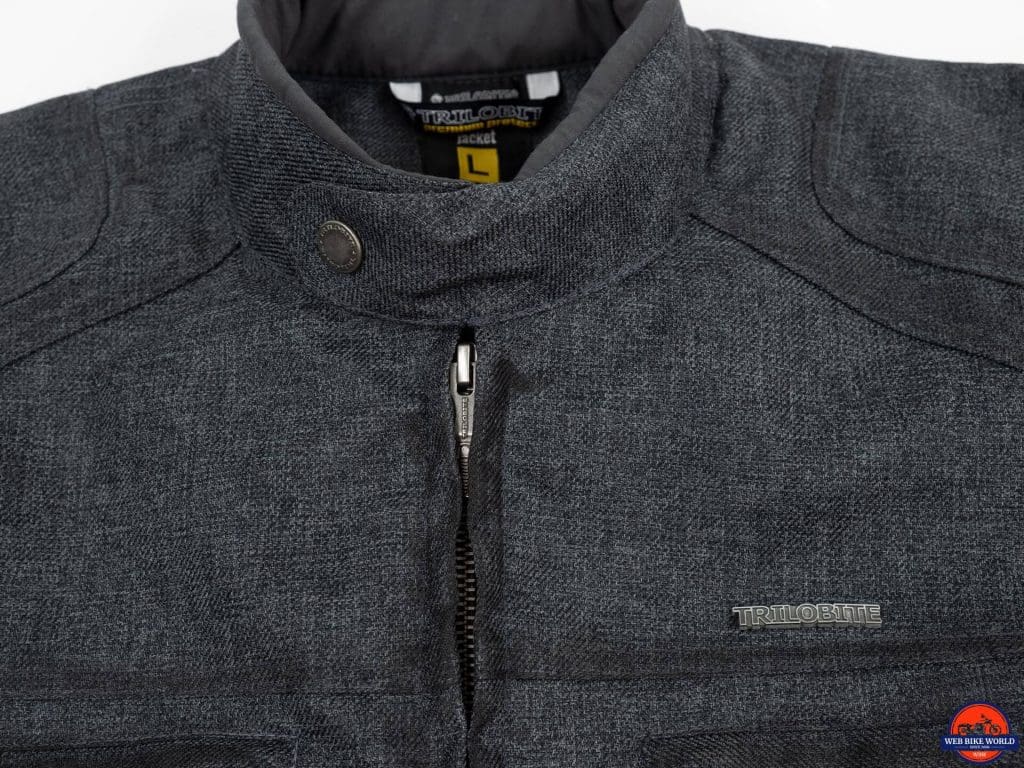 Since that first jeans review (and second), I've become much more familiar with the company and recently received some new gear to review. Among the gear that landed at my door was a new addition to their jacket lineup. This jacket has the outer appearance of denim but the cut and style more suited towards sport / touring riders.
Frankly, I'm not a big fan of denim jackets for riding but once I had a look at the tags and felt the material of the jacket, I understood there was much more here than meets the eye. With that said let's dig in.
The Trilobite Ace Jacket
Taking the Ace jacket out of the plastic and getting my hands on it I had the feeling that this wasn't traditional cotton denim. It was a bit stiffer and smoother than I would have expected. It felt more like a technical textile based riding jacket which to me is a good thing.
The cut and style of the Ace jacket are very much like a modern textile sport riding jacket. There are two zippered chest pockets and two zippered hand-warmer pockets the latter of which are "slash cut" at a steep angle.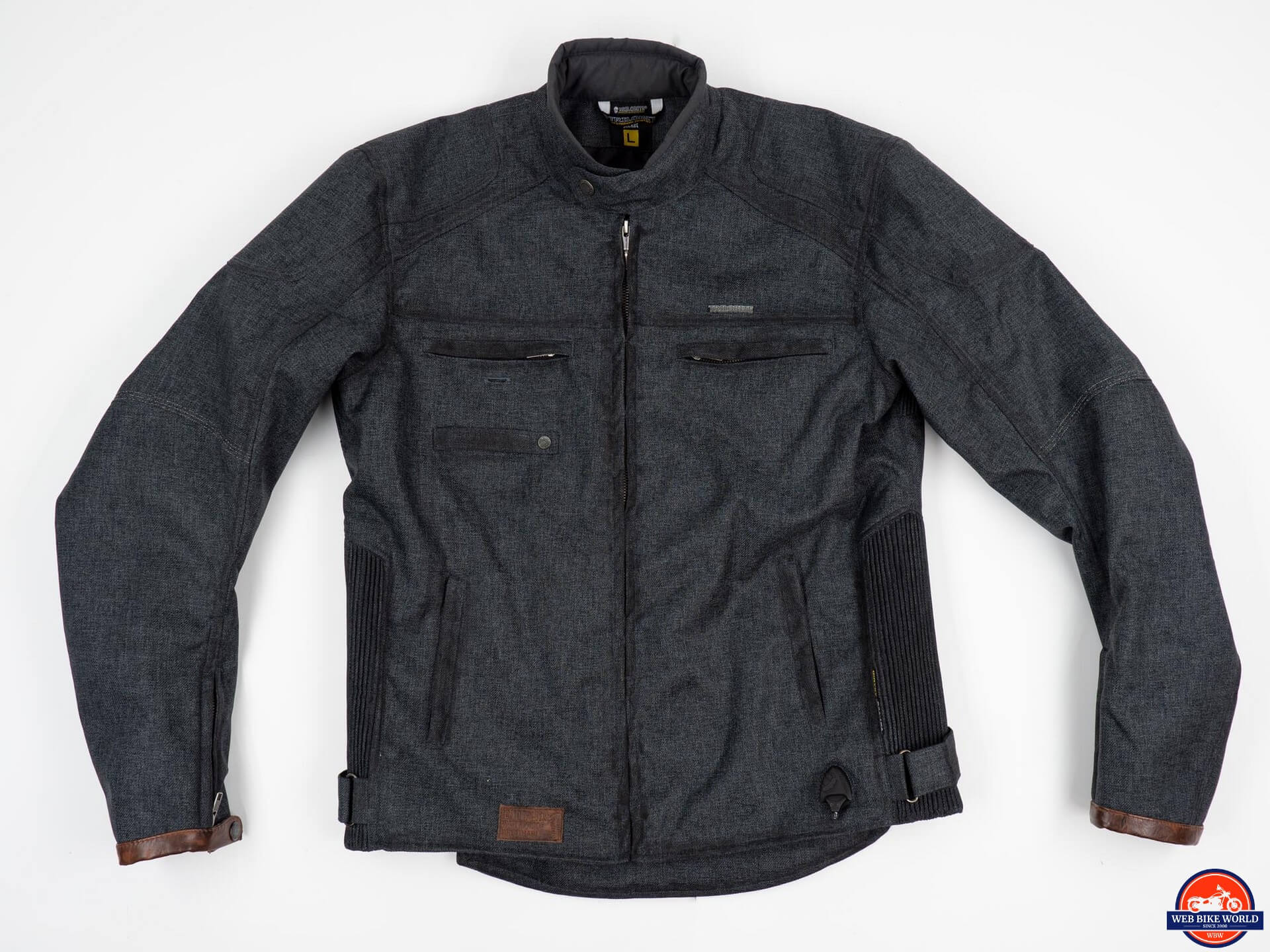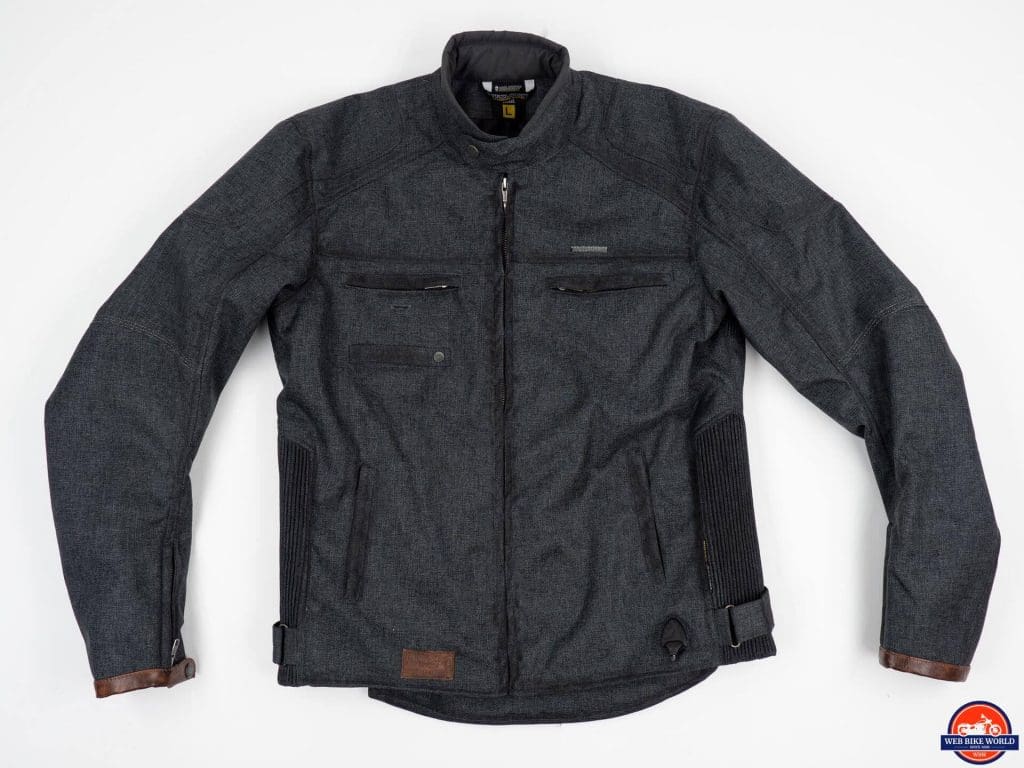 Inside the main zipper is an interior pocket on each side with metal YKK zippers used for the closure. These pockets are likely waterproof or at least very resistant considering their placement and overall waterproofness of the jacket which I'll go over shortly.
At the neck is a mandarin style collar with a single metal snap closure. The snap is robust and requires a deliberate action to un-snap. The sleeve cuffs use a combination of zippers and snaps with two positions available for the snap closure. This should allow one to position gloves inside or outside the sleeves as desired.
Branding is pretty subdued with a small metal "Trilobite" text logo above the left chest pocket. At the rear above the waist which is a larger, embroidered version of the same text. Up between the shoulder blades is a Trilobite graphic rounding out the overall branding for the Ace jacket.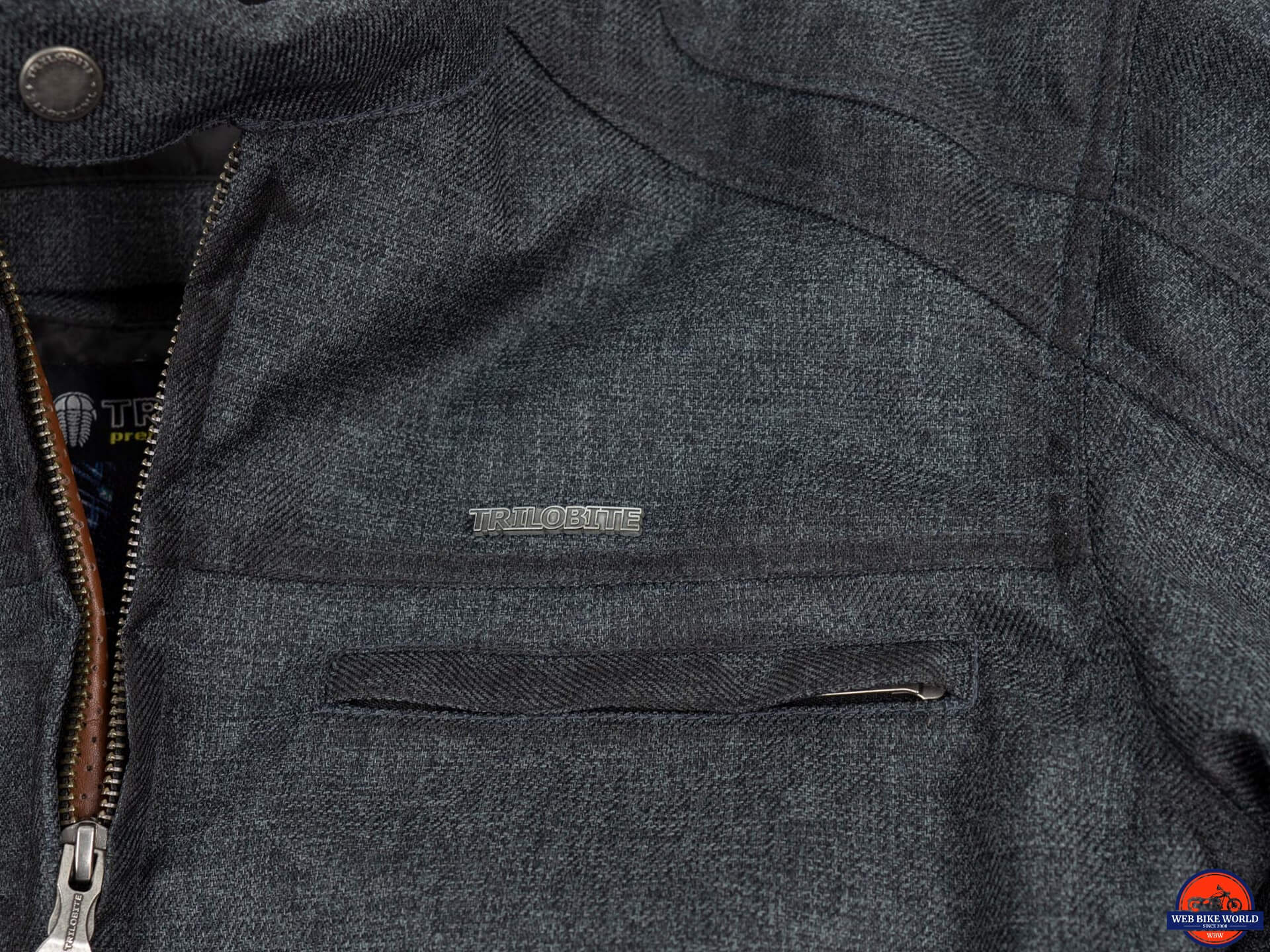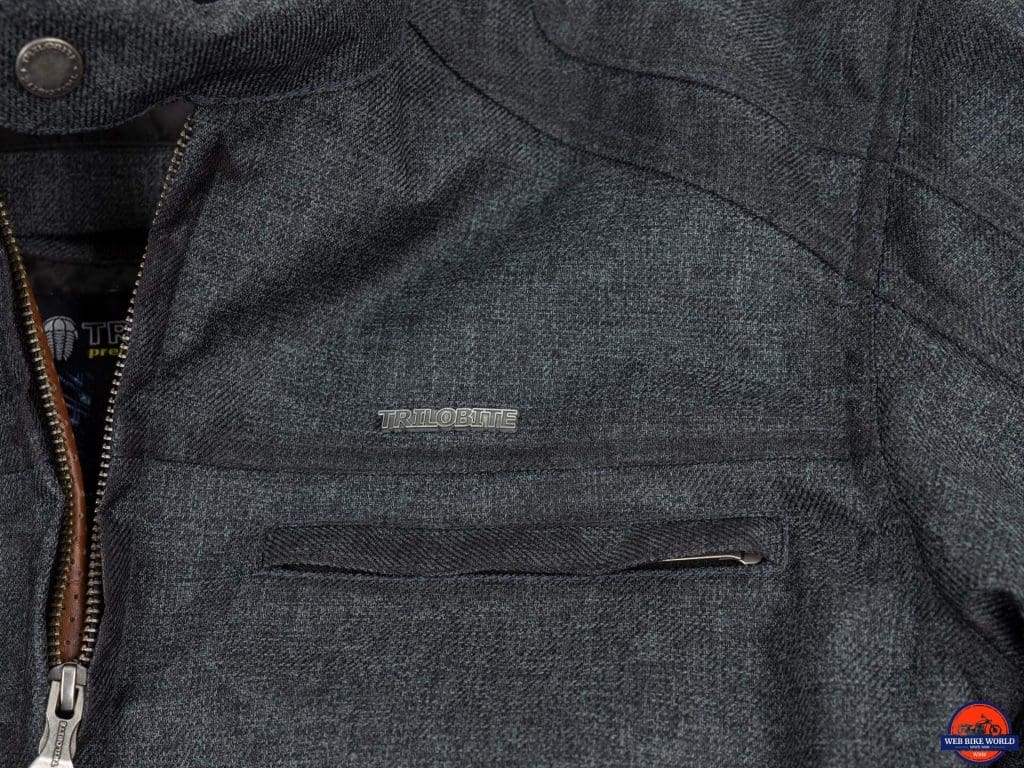 On the front right chest, there is what looks like a buttonhole with a strap of the shell material underneath. When I first received the jacket I wasn't sure what this was for. Then last week I received an email that Motonation was sending out to announce the jacket and they pointed out this is for sunglasses.
The idea is that one slips an arm into the buttonhole and then the glass is safely held against the chest under the strap. I have to say I wouldn't have thought of this but seeing it now and trying it has made me a believer.
That's just one of the surprises I've run into with the Ace jacket. Let's have a detailed look at the construction and see what else is going on here.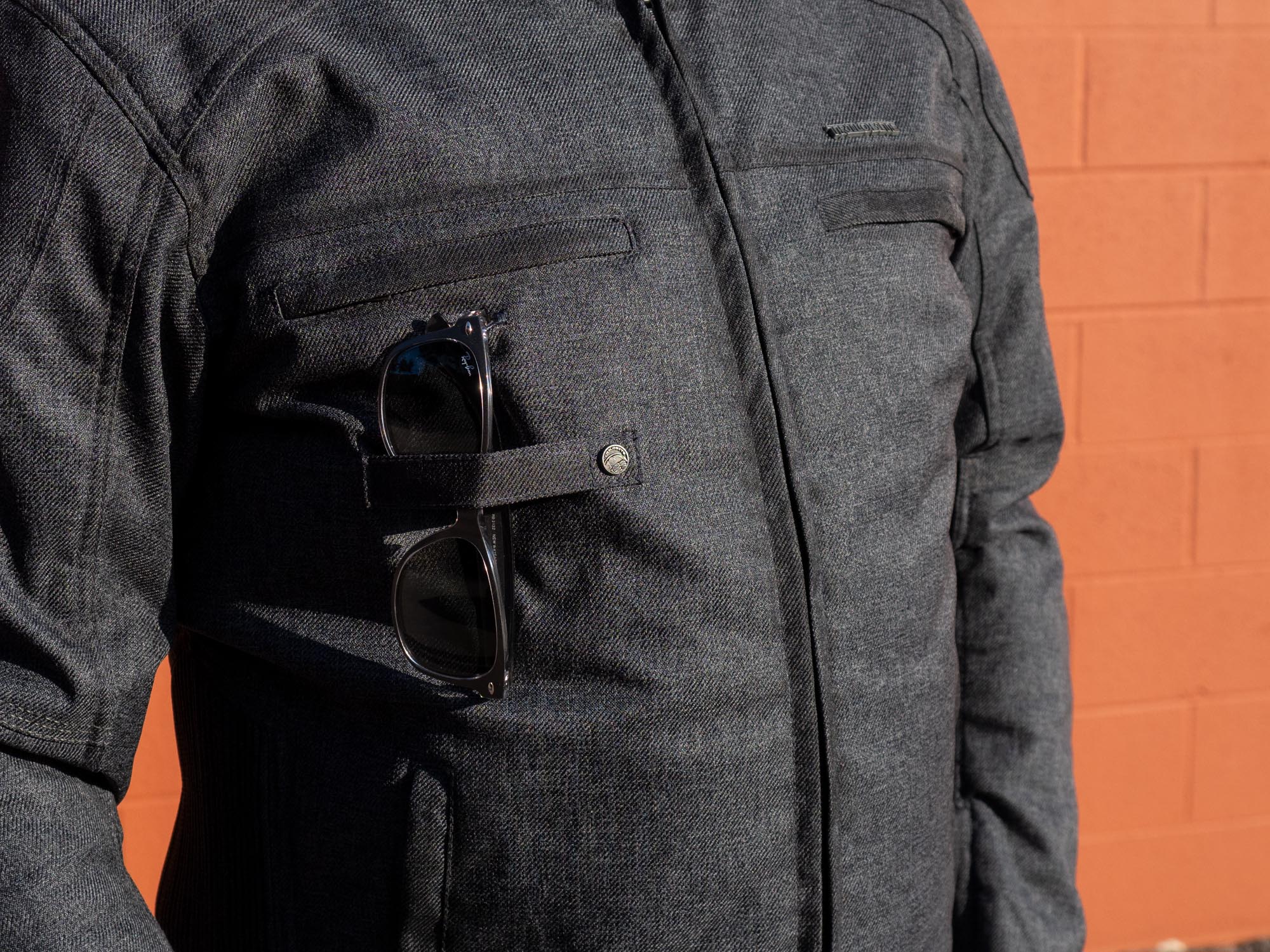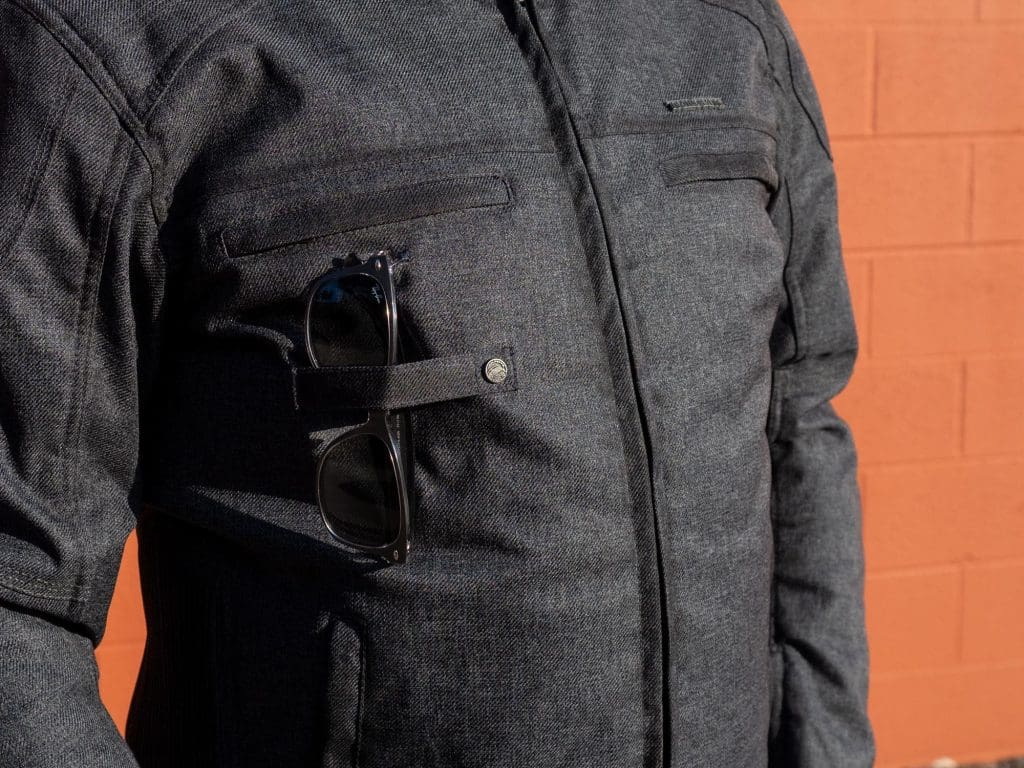 Construction
Starting with the outside, the shell of the Ace jacket is made from a tough polyester fabric which is treated for water resistance. On top of that, or technically below it, there is a TriTex ® waterproof / breathable membrane for serious waterproofness.
The waterproof layer sits between the outer shell and a smooth, polyester lining. This lining includes the various pockets to install the included elbow and shoulder armor as well as a back protector space. Too bad the back protector isn't included but it seems most manufacturers leave these out for the buyer to decide what they want.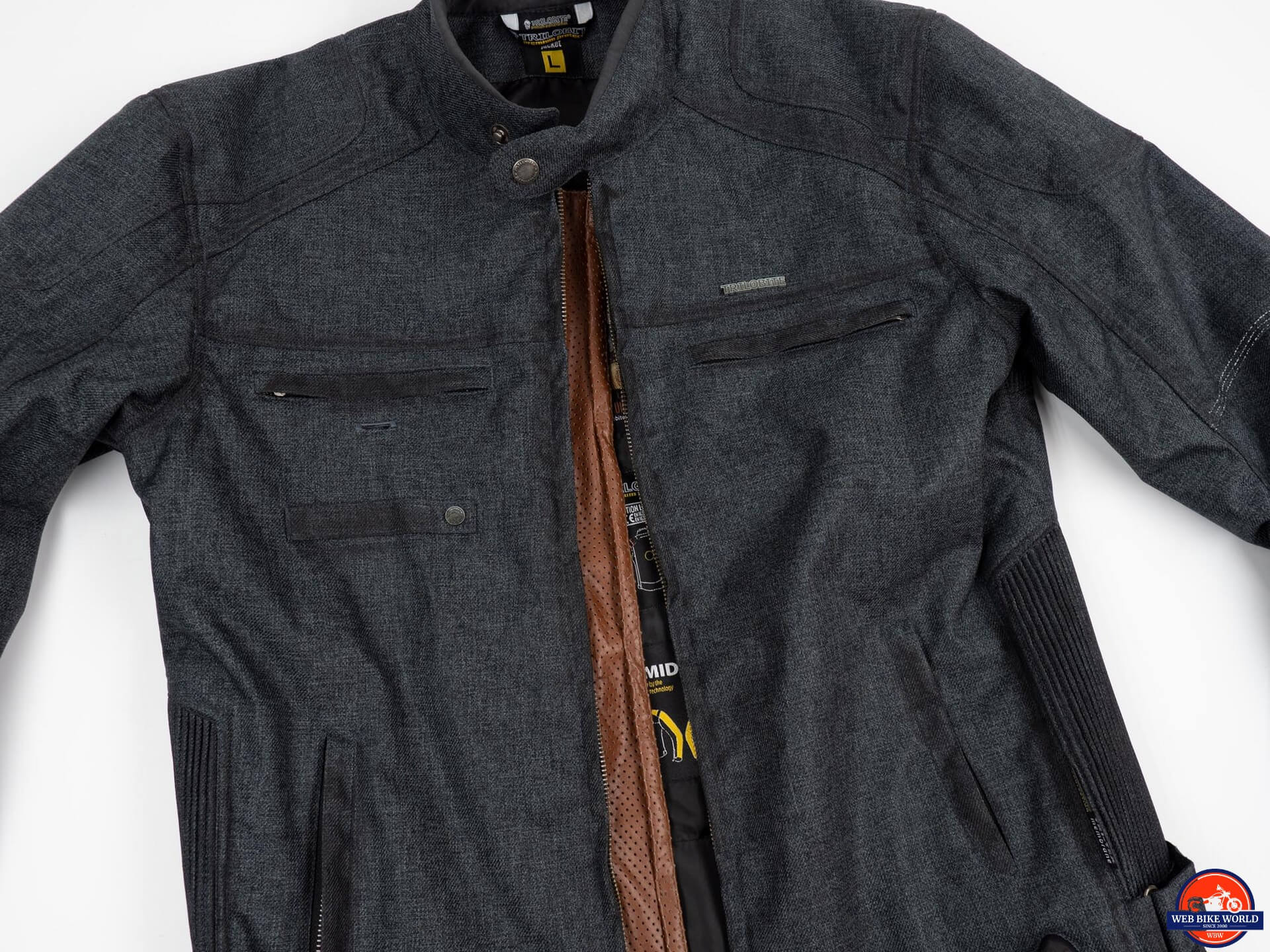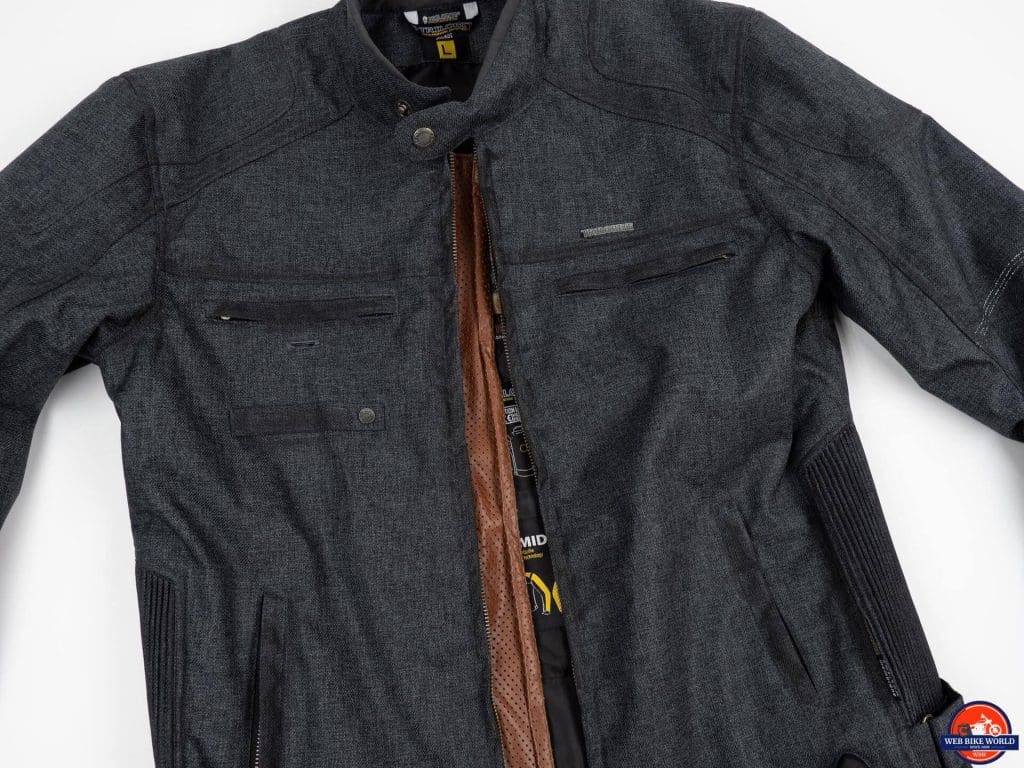 The cut is very trim and sporty. The heavy and prominent seams usually associated with the denim jacket style are absent. Here the seams are all very close and smooth with the various fabric pieces neatly sewn together with a (mostly) dark thread making stitching pretty stealthy.
The cuts are very well made and the jacket lays flat without little if any noticeable buckling. Not easy to do with the many pieces and layers involved here. The stitching itself is very neat and tight with just a little bit of unevenness. This isn't a bad thing and it demonstrates how these are sewn by an individual rather than a large industrial device.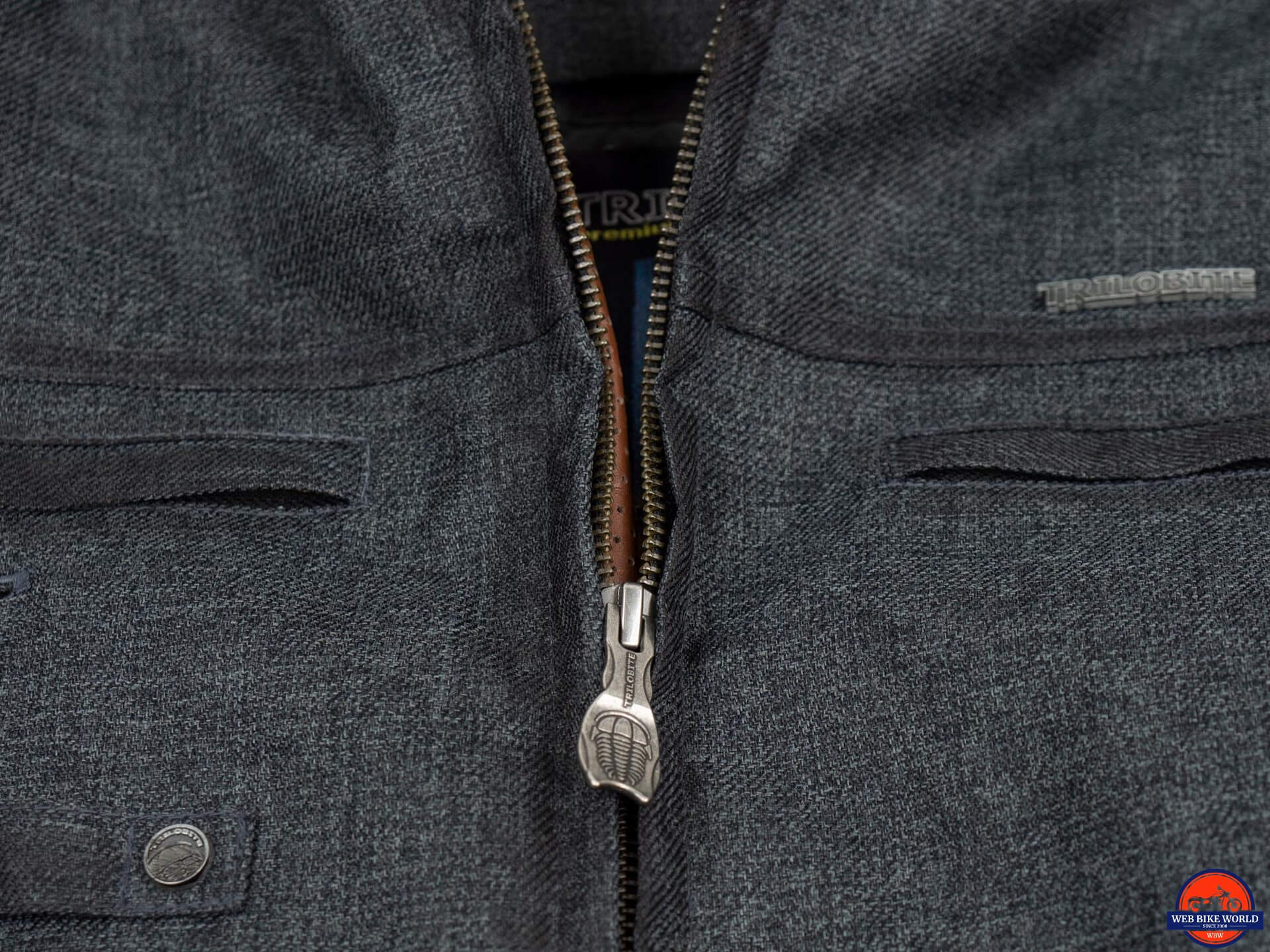 The main closure uses a YKK metal zipper with a large metal, Trilobite shaped, pull. This pull is stout enough to be easily operated with gloves of most any thickness. It feels very substantial and slides very smoothly. The pockets use metal zippers as well but the pulls are smaller and might be "fiddly" when wearing heavy gloves.
Behind the main zipper and the sleeve cuff openings is a very soft, perforated, brown leather. It has a great texture to it and adds a bit of style and contrast to the otherwise all dark blue jacket. The sleeve cuffs themselves have a welt of the same soft brown leather (non-perf'd here) around the opening.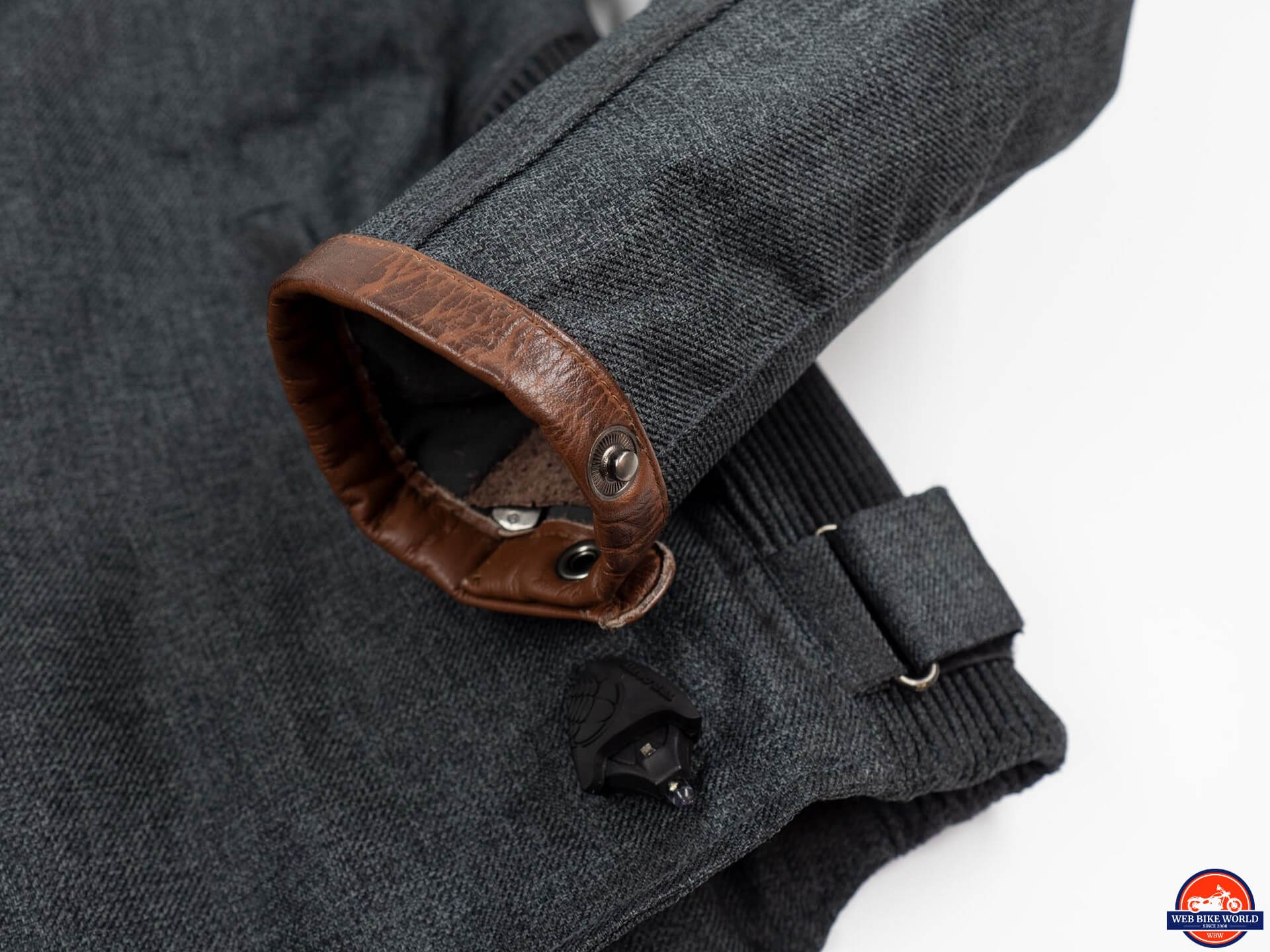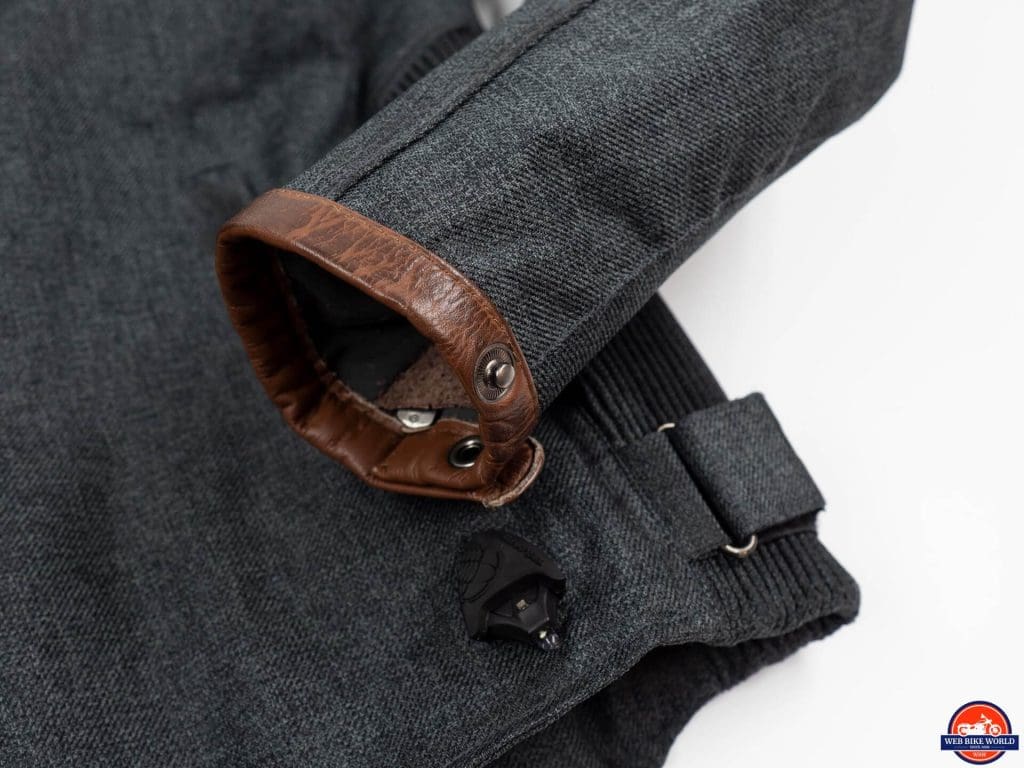 At the collar, there is a soft and smooth microfiber welt. While not as sharp looking as leather, the microfiber will likely be more comfortable over a long period of time.
Overall the construction is very solid and I'm very impressed with the quality of the work on the Ace jacket. Of course what good is a motorcycle jacket if it doesn't protect? Let's see how that is handled.
Protective Features
The outer shell is made from what Trilobite refers to as a tough polyester material. Inside the shell between the waterproof membrane and liner are areas of Dupont Kevlar®. According to the infographic supplied with the jacket, this material is in place on the outside facing portions of the arms and shoulders as well as the back of the jacket.
A minute or two of feeling around the liner and I was able to confirm the placement by finding the thicker areas of material. I was also able to see through to a portion of the inside through a zippered port behind the built-in flashlight (Yes! I'll get to that). I could clearly see the multiple layers and confirm there is plenty of yellowish Kevlar® goodness inside.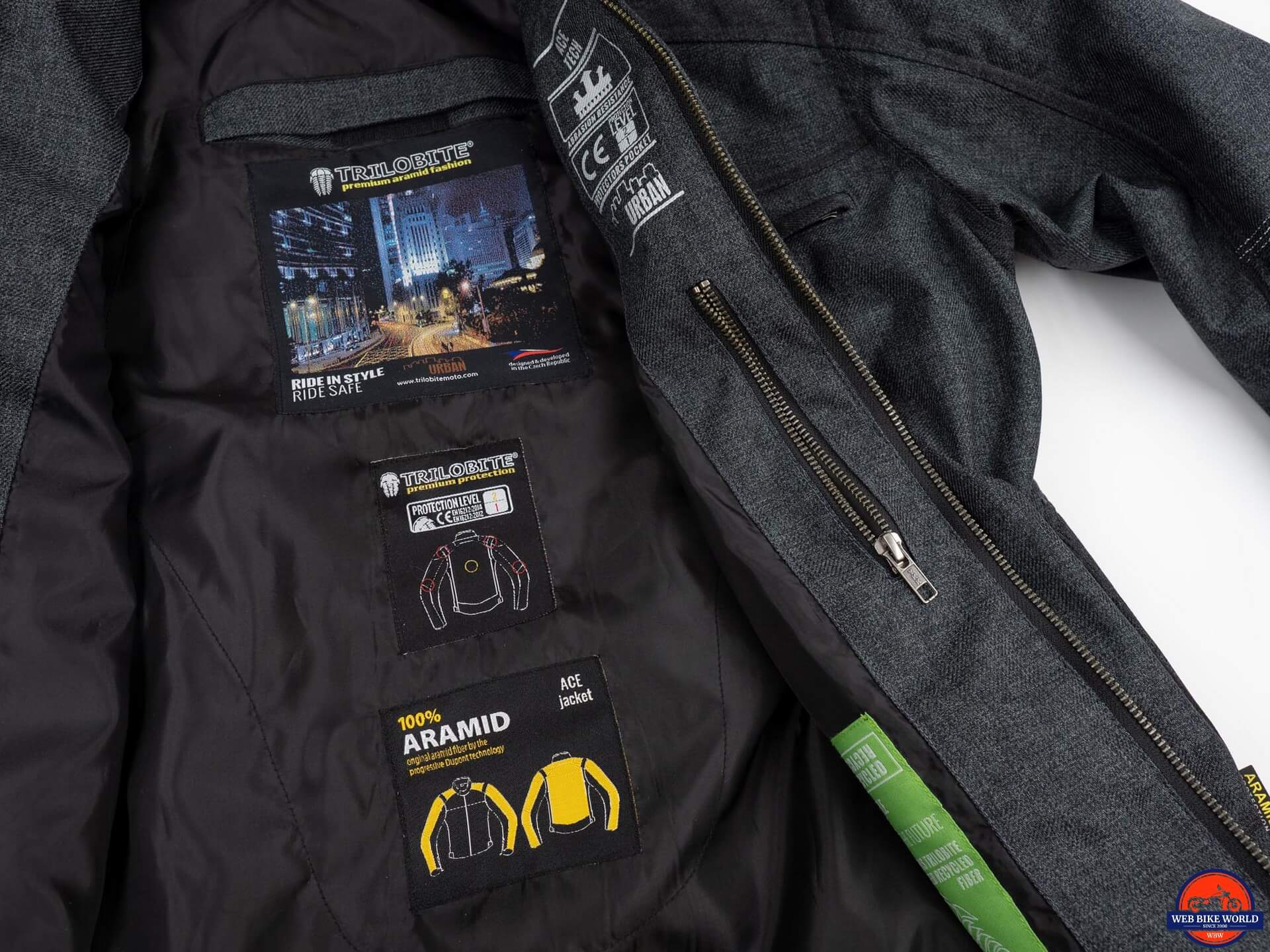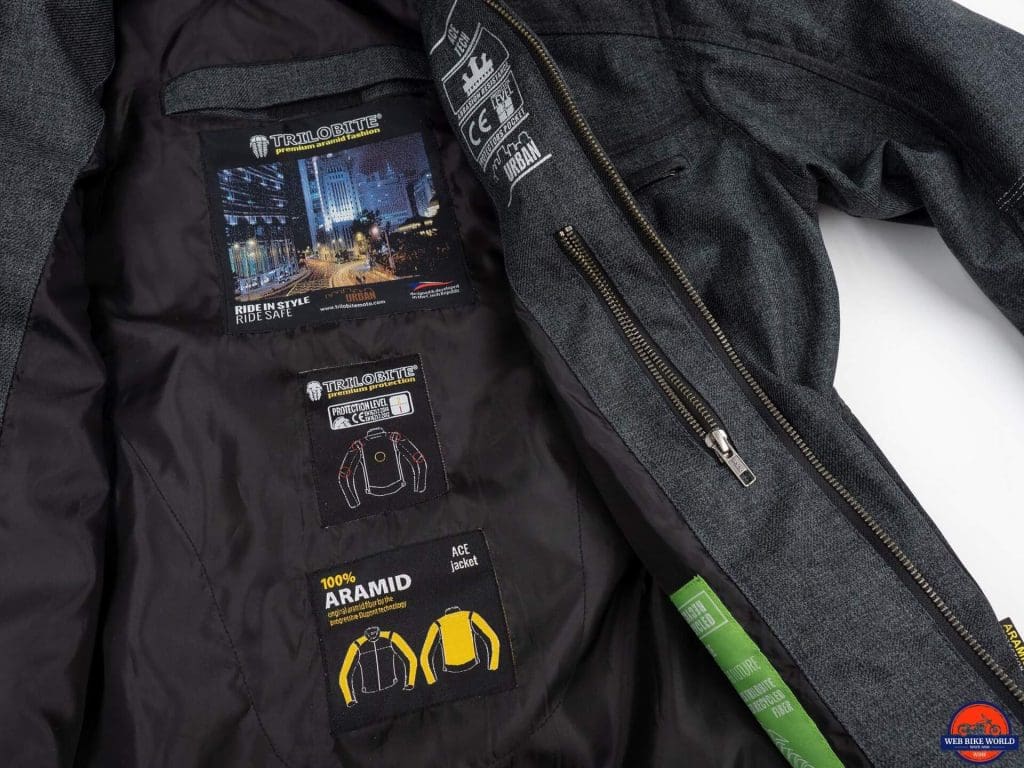 Abrasion resistance is just one part of the equation and Trilobite includes their own brand of CE level 2 armor in the shoulders and elbows. These armor inserts consist of three thin foam layers of differing density. I first saw this same armor in the Ton Up jeans and the shape worked well in pants.
Used in the Ace jacket, this style, and shape of armor doesn't "fit" quite as well as it does in jeans. The shoulders aren't too bad but the flat armor inserts tend to make the material at the elbows "bow out". It's not really uncomfortable but it looks a bit odd. I would have liked to see inserts that are shaped to help keep the clean lines of the jacket intact.
Stylish or not, the CE level 2 protection is nice to have included. As I mentioned earlier, a back insert is not included but this is easily remedied. Trilobite sells its own branded CE level 2 back protector which uses a similar multilayer design as the smaller pads. It also looks like it would be light and thin judging by the photos.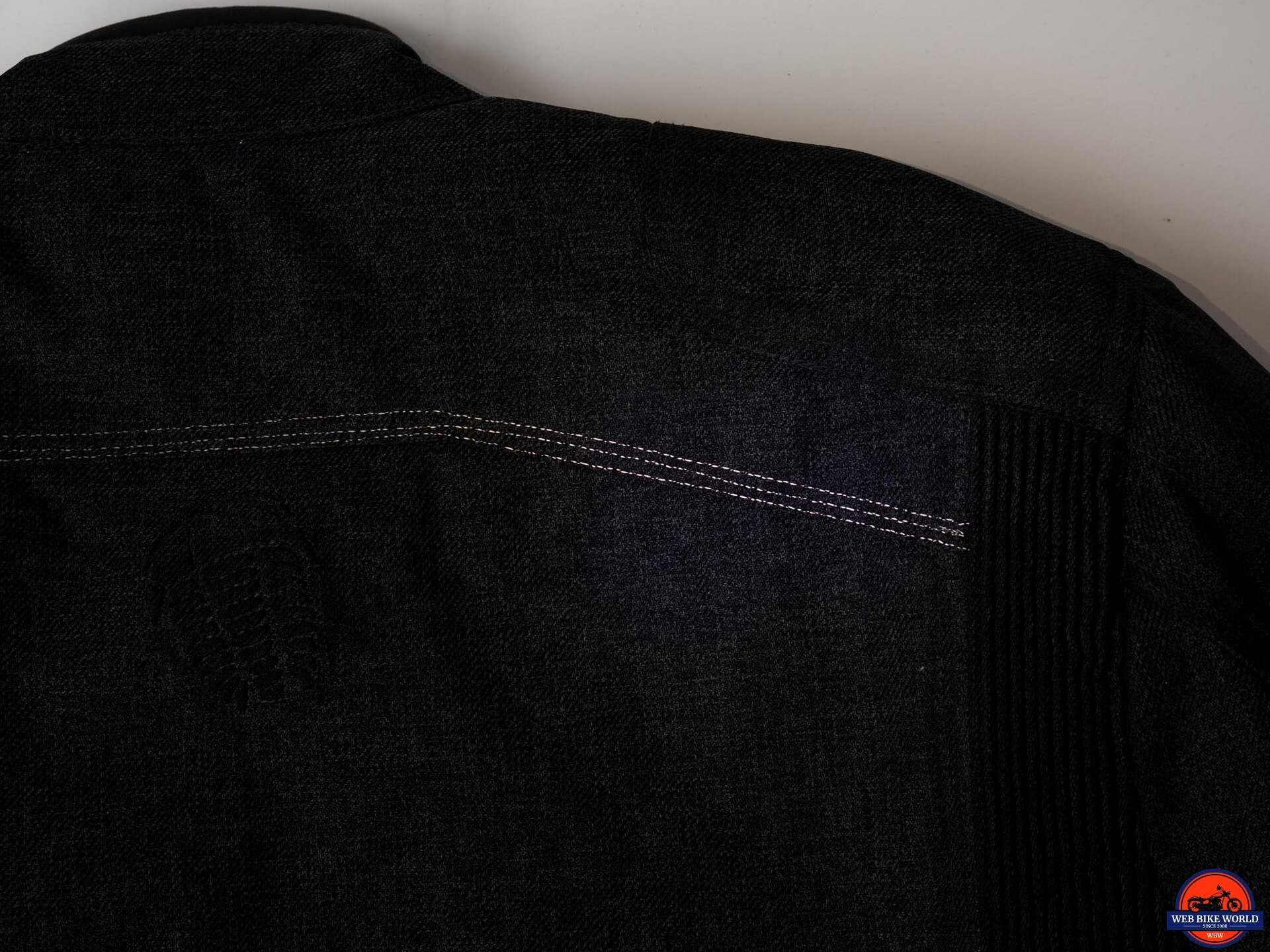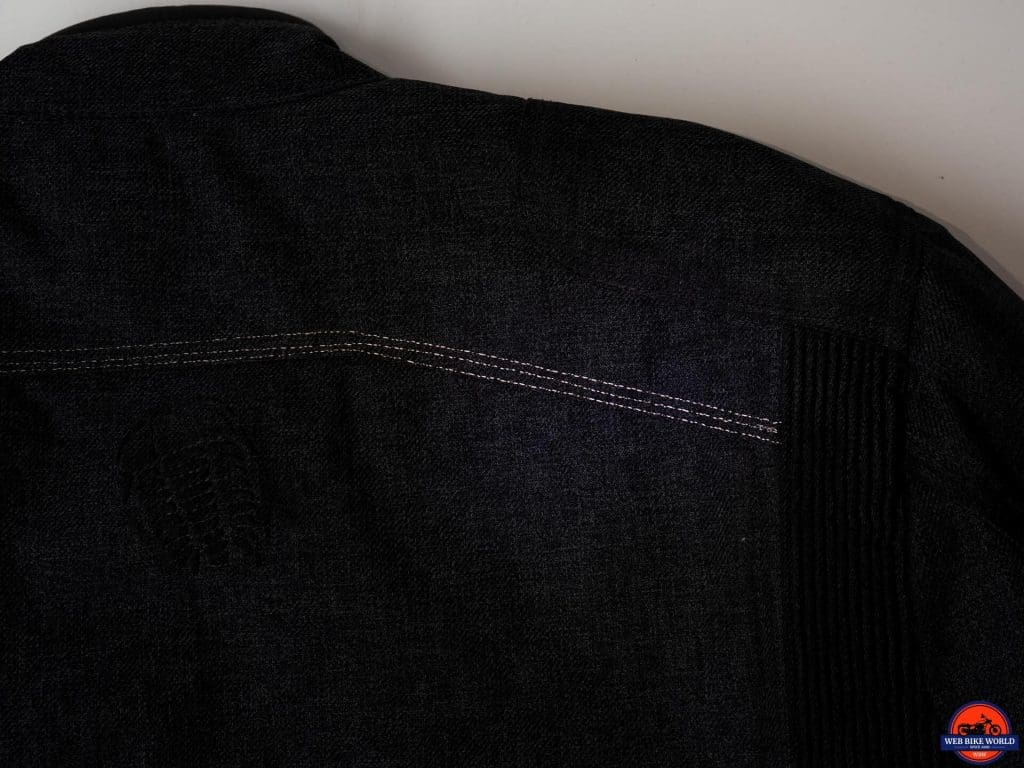 I say "looks like" as I don't see these pieces available at MotoNation.com yet so the only way to get one is to order from Europe. For my review, I placed a CE 2 back protector from Olympia in the provided pocket which fit very nicely in the space.
For visibility purposes, the Ace jacket has a little secret that I didn't notice until I read about it in the included literature. The upper back and arms use a 3M reflective thread for the seams which does create some reflectivity. While not "blinding" it is certainly better than nothing which is often what is provided with denim style riding jackets. Good idea here.
Fit & Comfort
Right out of the gate, I want to say that I feel Trilobite should publish a sizing chart for their jackets. While jean sizing is pretty easy to understand (ordered by waist/inseam) I was unable to find any sizing advice on the Trilobite or Motonation websites for their jackets. Fortunately, the team at Trilobite must have checked up on my other reviews because the jacket they sent fit me perfectly.
I was surprised at this considering the Ace jacket I received here is a size large and I usually wear a medium. In fact, this size large fit me like a European cut medium. I prefer a close fit for riding gear and this does the job but it could not be much smaller to fit me. Keep in mind that one should order at least a size larger than normal in alpha sizes based on this example.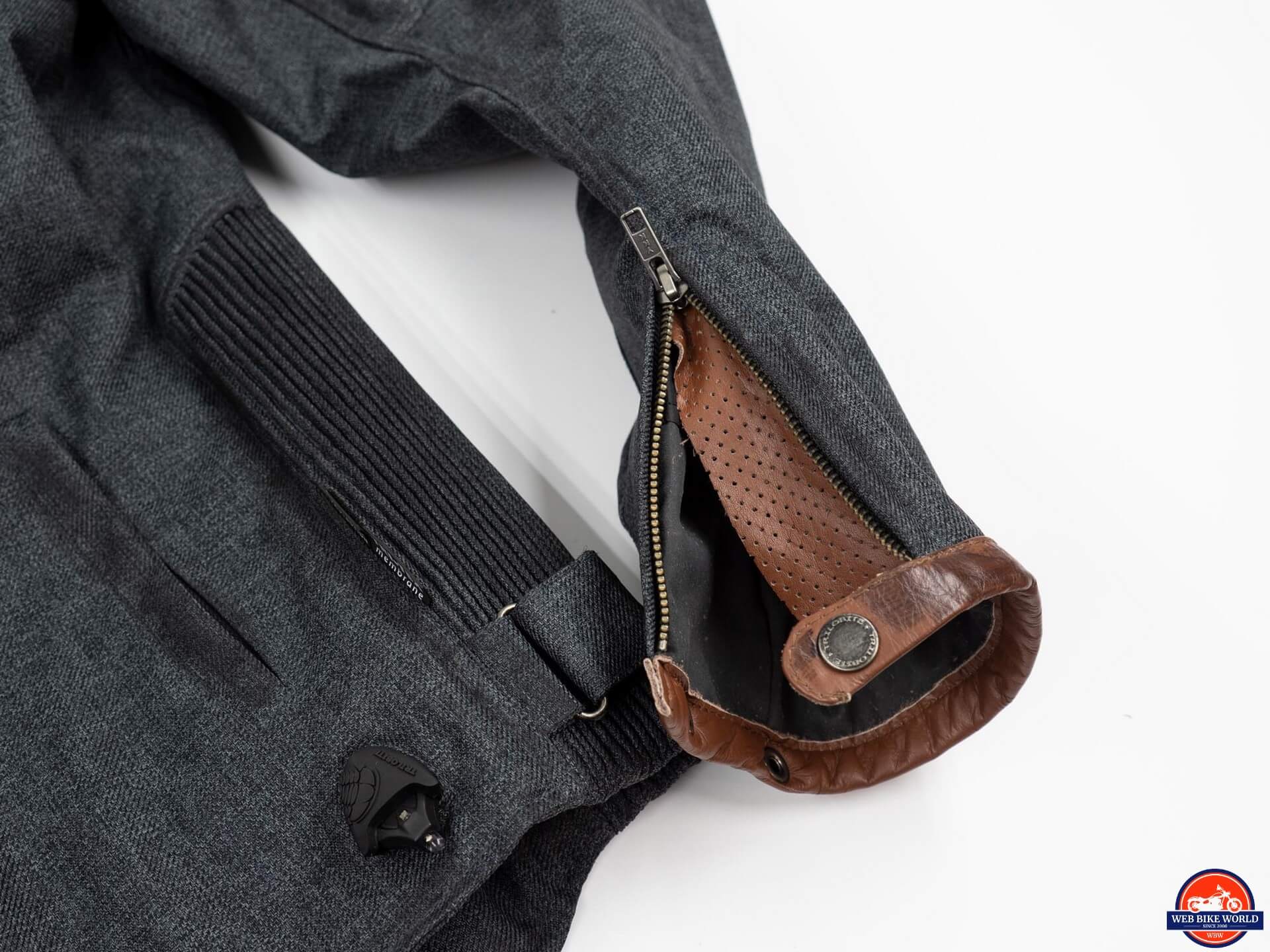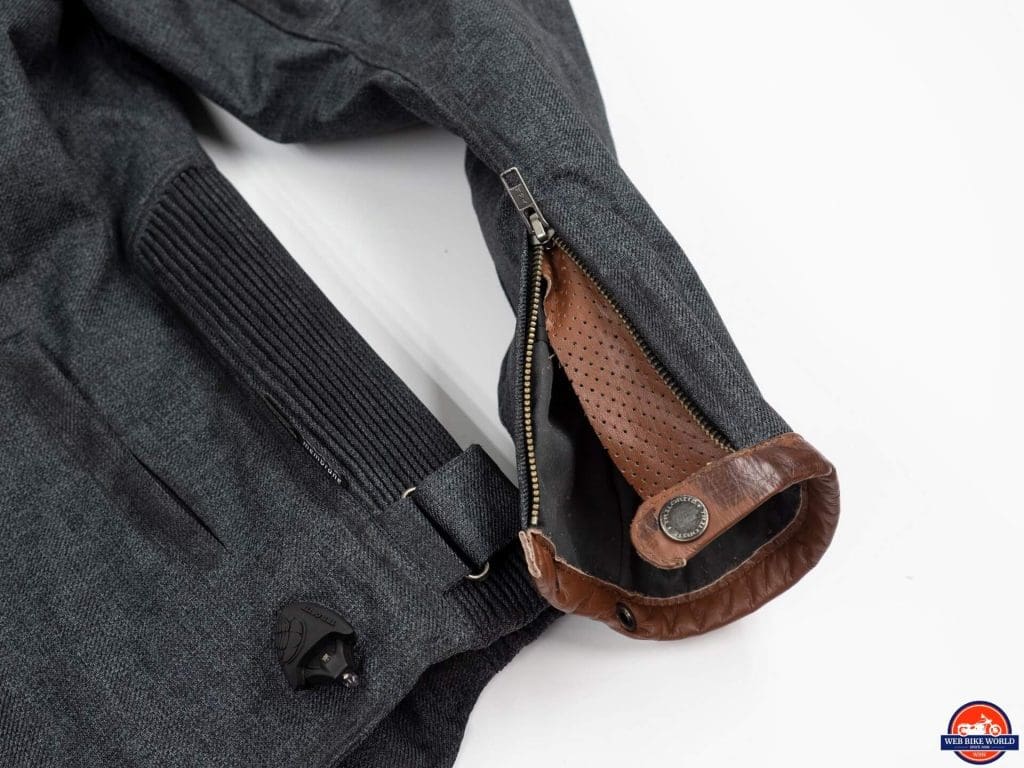 Despite the sizing label of "Large" this jacket really fits me well. The close fit is just right for me and the arms are a little long when hanging at my sides. Reaching forward for the grips on my Ninja 1000 and the extra sleeve is perfectly taken up by the riding position.
The length is nice too as it is a little longer than some sport cut jackets. It covers better in the rear with a moderate, forward leans such as when riding on standard and sport touring machines.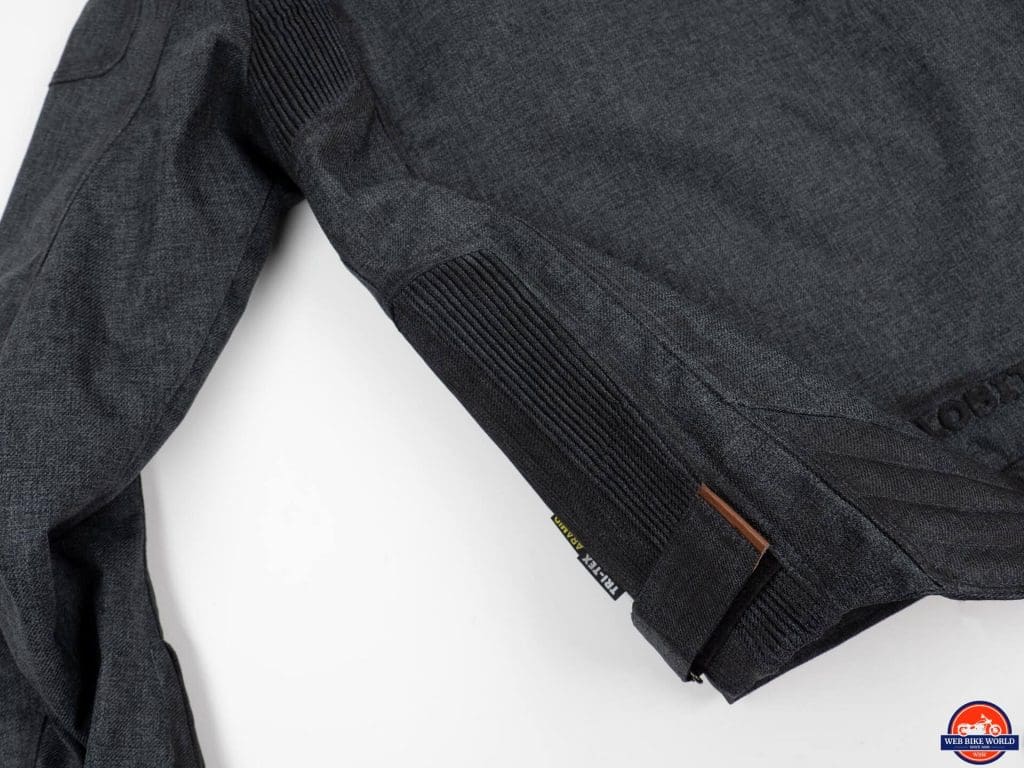 On each side at the waist is an adjustable strap for cinching the fit while an accordion stretch panel is in place behind each one running about two thirds the way up the side. Stretch panels are also placed behind the shoulders allowing for an easy flex when reaching forward for the handlebars.
Temperature Range
A denim jacket isn't usually what one might reach for when it is chilly and/or wet out but that is exactly where this jacket shines. One of the first rides I took in this jacket was a cool 45 deg F (7deg C) morning commute. I had put my Thawdaddy heated vest underneath it just in case I got too cold and expected I would.
It turned out that I never got that chilled and didn't need the electric heat. Between the polyester shell, liner, and TriTex ® waterproof membrane between them, very little wind passed through the jacket to my torso and arms.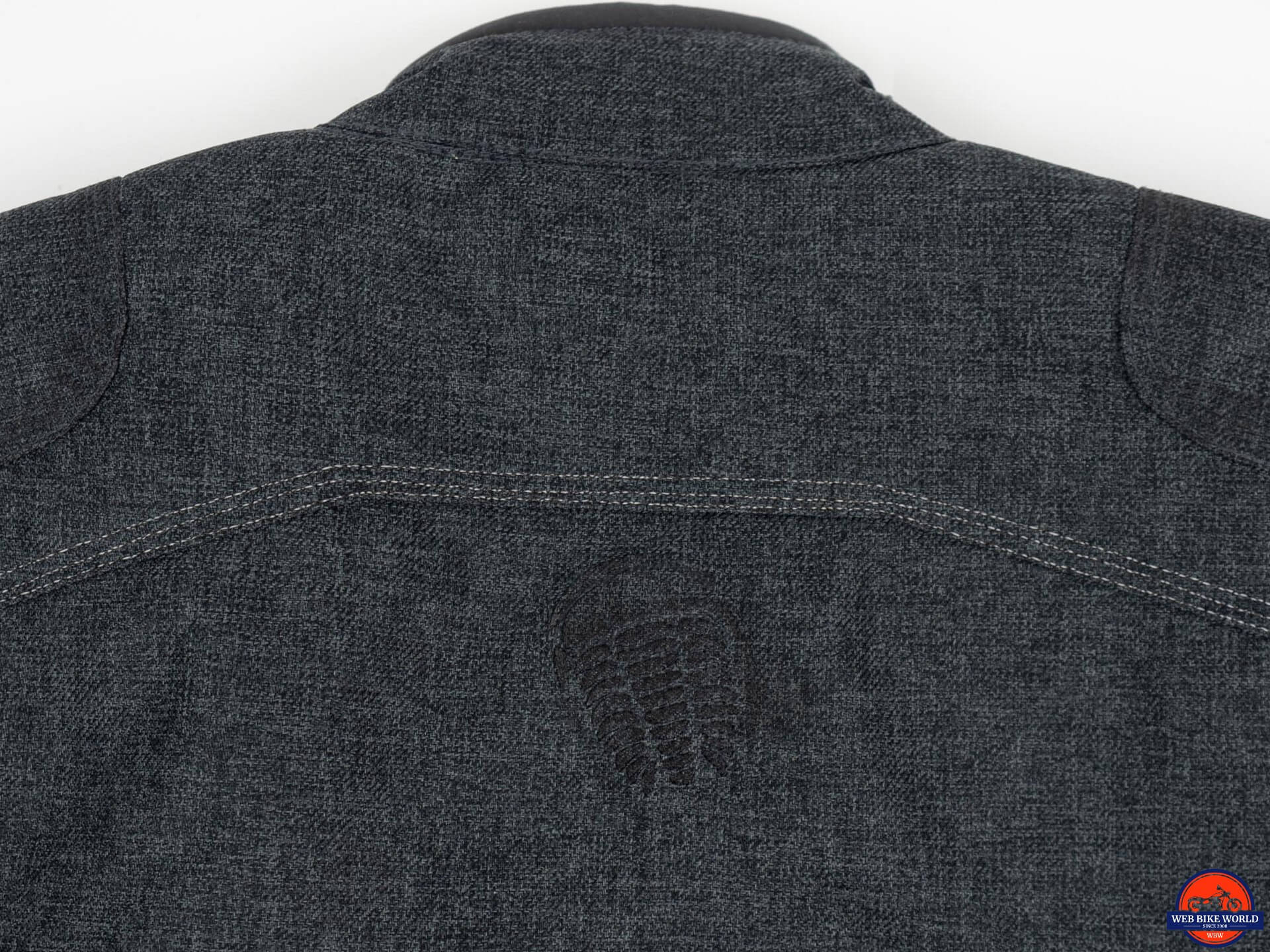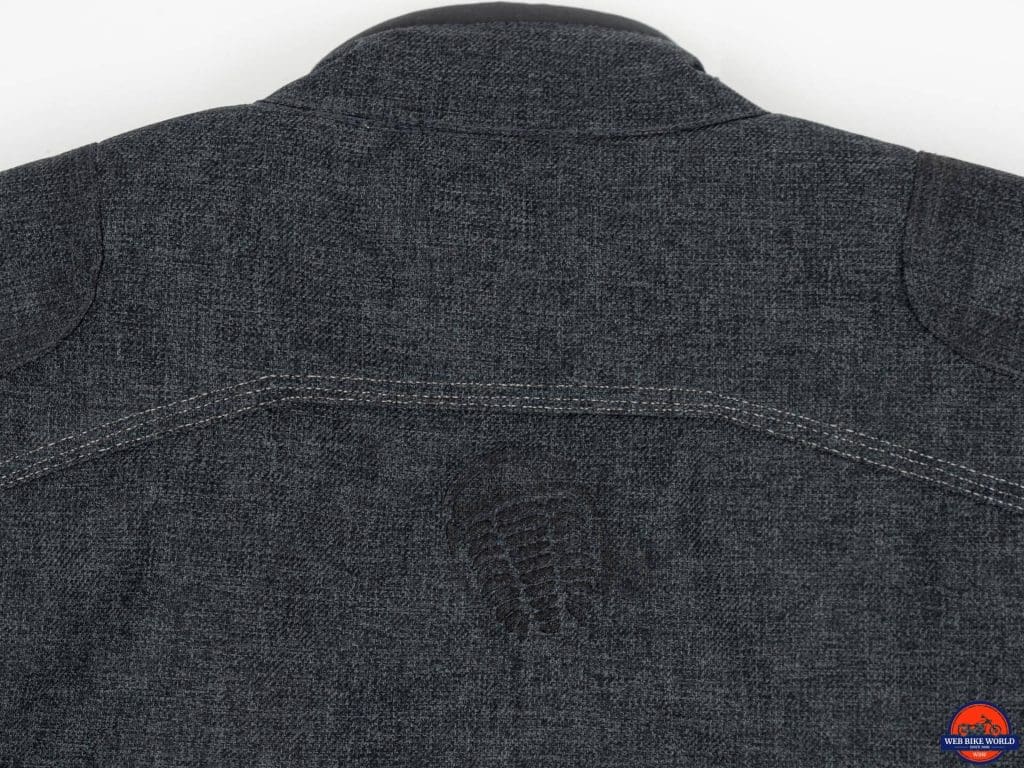 A few more cool rides (sans vest) and I was convinced this would be my new cool weather jacket. This would allow me to leave my larger and bulkier Pilot Trans. Urban V2 jacket in the closet unless it was really cold out.
The downside of this wind-blocking effect is that it might not be that comfortable in the warmer months. As I was wrapping up this review I had the chance to ride one afternoon with the temps around 74 deg F (23C) and found that the jacket does get a bit stuffy, especially in the direct sun.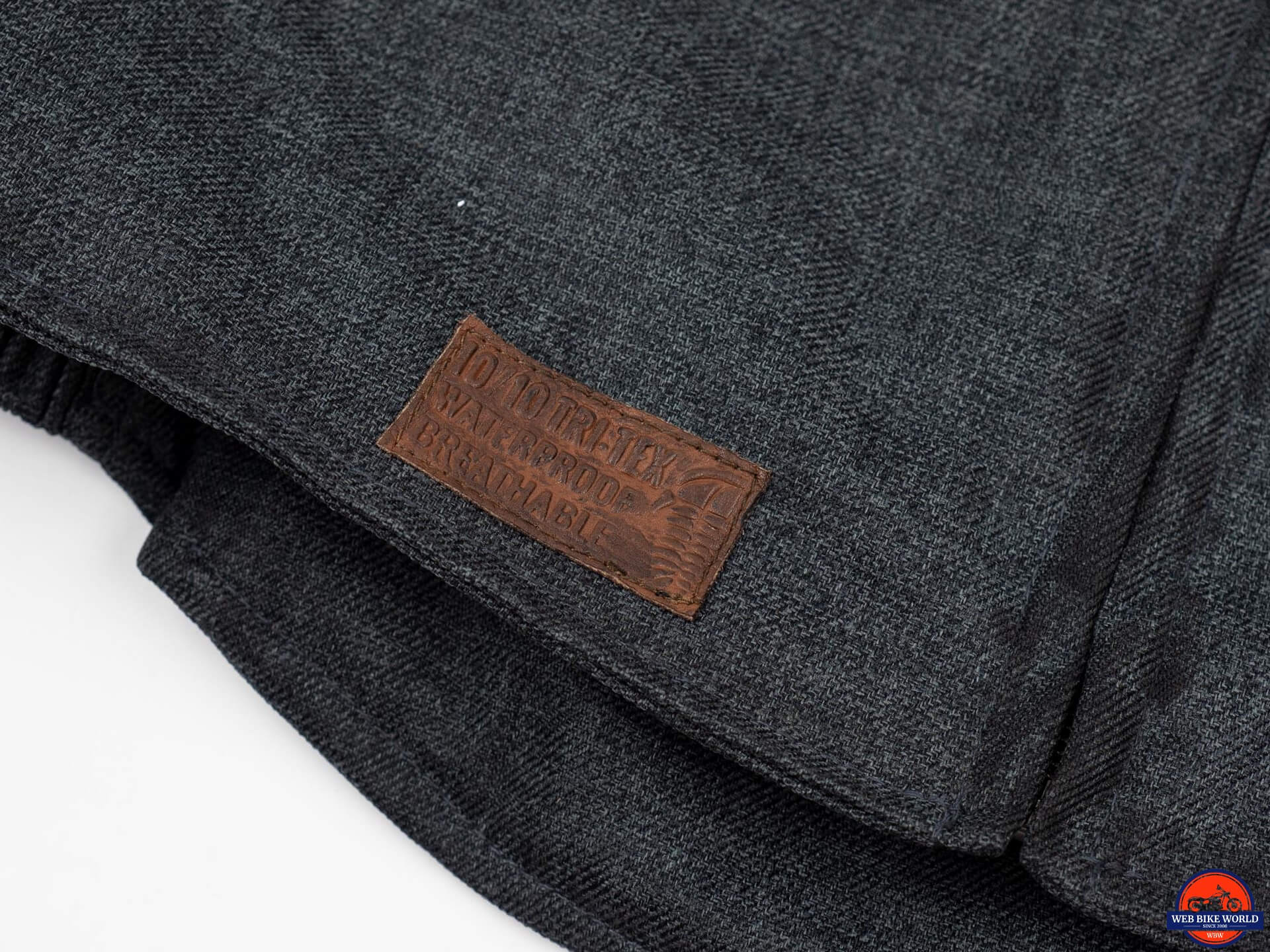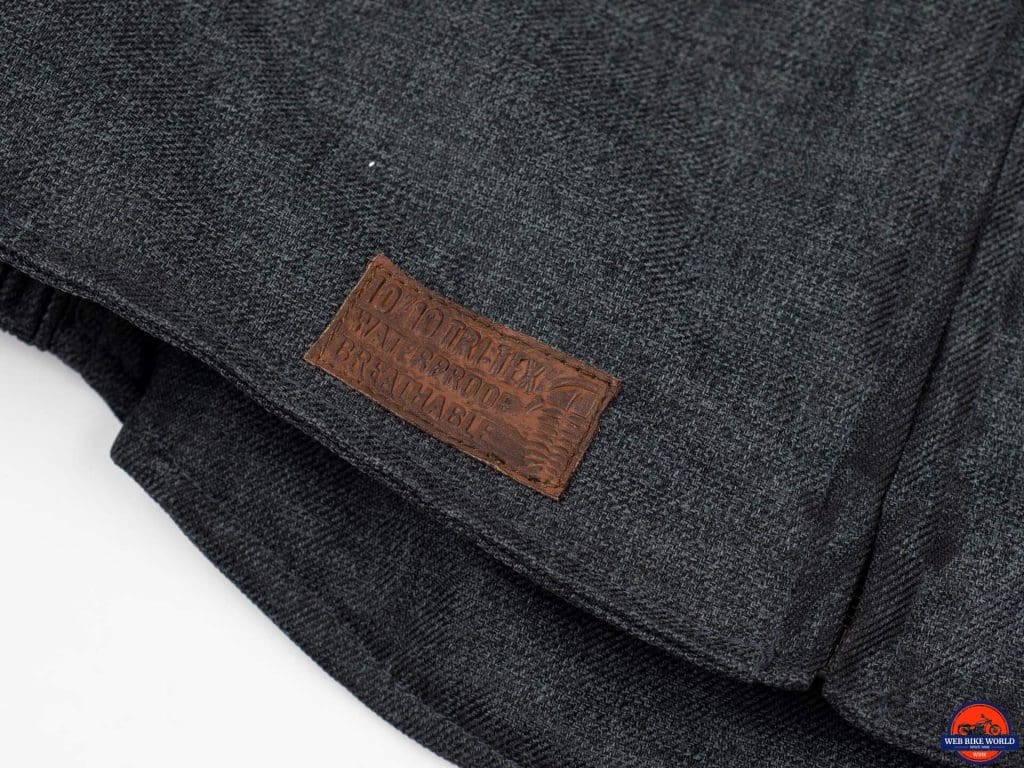 Opening the front zipper helps to get a little air inside the jacket but without rear vents, the jacket can start to balloon up at speeds over 40 mph. So while not a summer jacket, the temp range should be good for mild weather, but on hotter days I'll likely reach for a mesh jacket.
Waterproofing
I didn't take the opportunity to ride in the rain with the jacket but I did do a small test to see how well it might do. I made a bowl-shaped indentation in the right arm sleeve and added a couple of ounces of water. I left this to sit for over an hour to see if any water made it through to the inside.
After 73 minutes I checked it out and found the inside to be completely dry. I also dried the area with a paper towel and the shell felt like it had absorbed some water. I would have been ok with that since there is a waterproof liner inside but after wiping it down the denim like shell felt completely dry.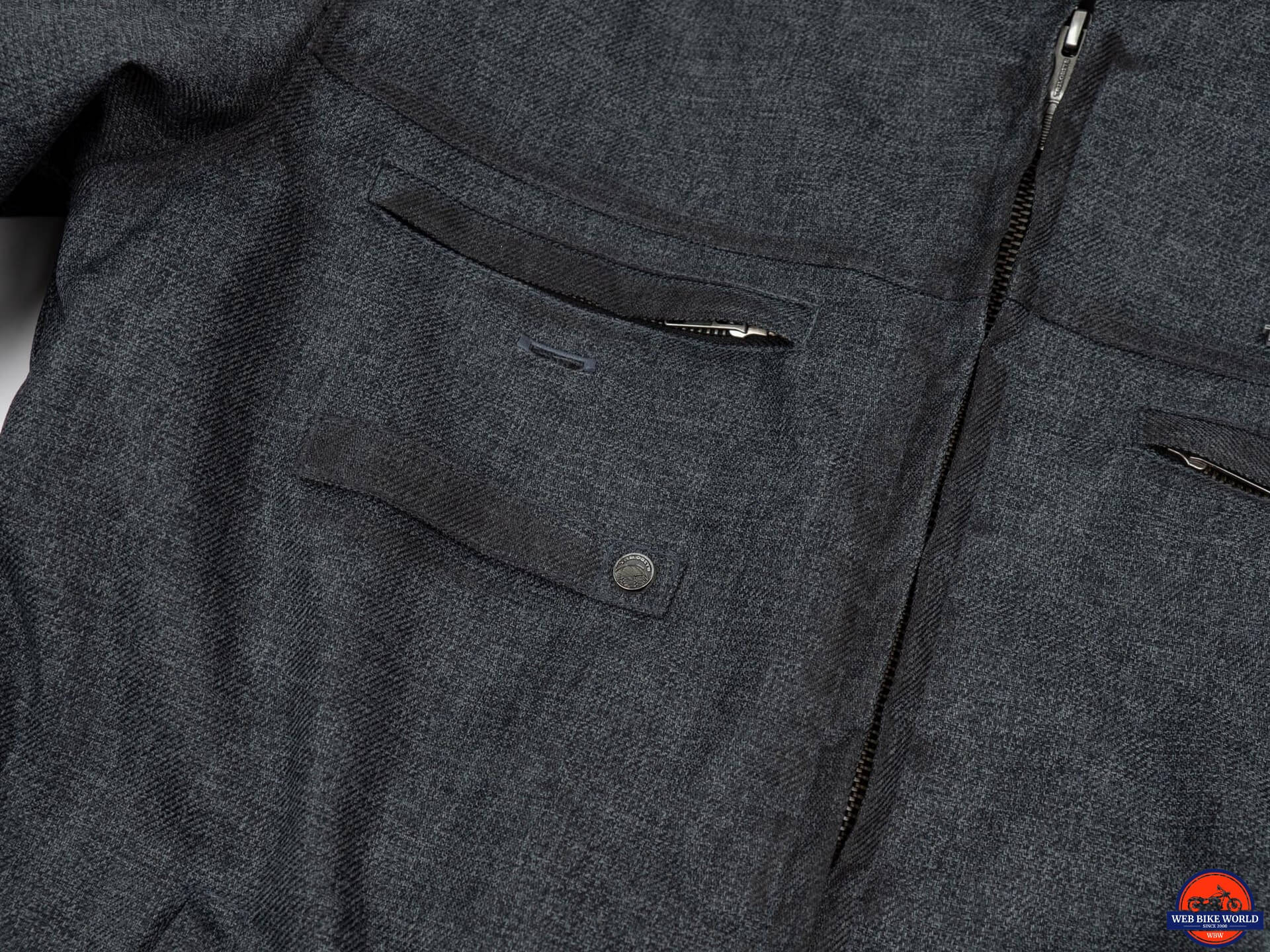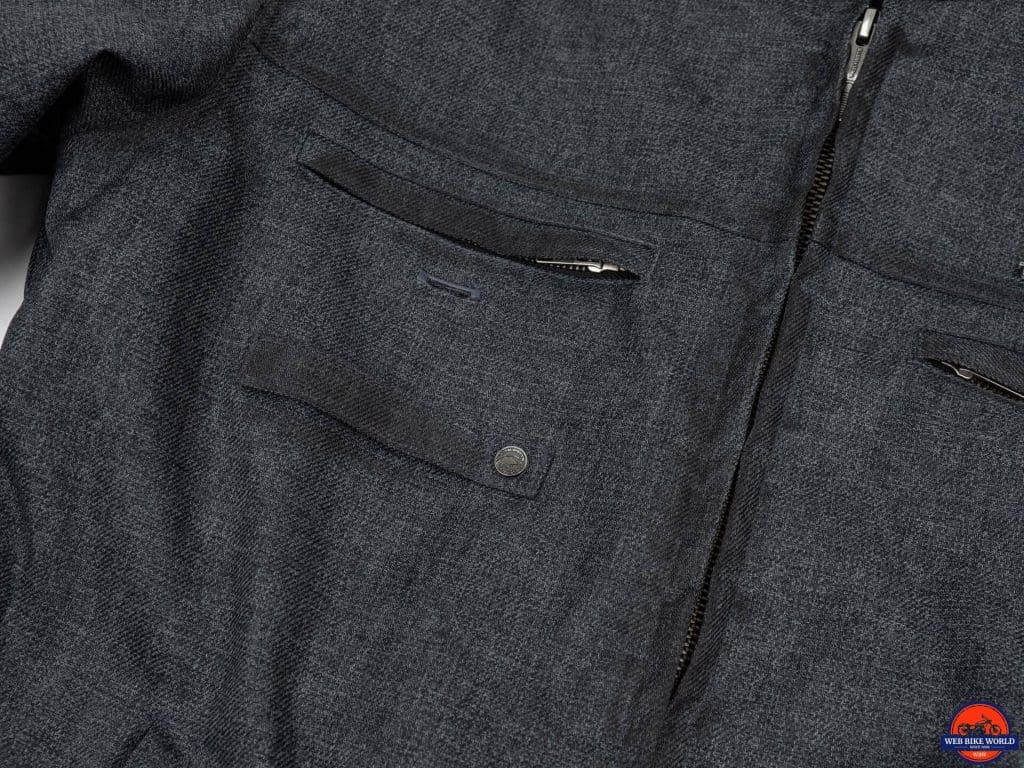 Trilobite claims to have treated the polyester denim material to be water resistant and it seems to work. Does all this mean it will stay dry inside in a heavy downpour? I don't know for sure. I do feel comfortable saying it should do a good job if caught in a shower during one's commute. If I find a rainy day to ride soon I'll be back with an update. It is starting to warm up to the point where I won't mind getting wet for the sake of testing.
Flashlight
Yeah, you read that right. The Ace jacket has a small LED flashlight tucked into a little rubber covered "garage" at the lower left front of the jacket. This small light is activated with constant pressure on the coin-sized button and is perfect for finding those keys that have just been dropped on the ground at night.
The small light stays attached to the jacket via a twenty inch (50cm) auto-retracting tether so one can't accidentally drop it. I would never have thought to do such a thing but I kind of like the idea now.
Conclusion
The Trilobite Ace jacket was quite a surprise. The style of the jacket is a nice balance between casual light jacket and sport riding technical apparel. I think it looks rather good and it actually makes a nice medium weight non-riding jacket with the armor out of it.
The overall protective features are well thought out and seem up to the task of handling urban/commuting/sport touring duties. The fact the included armor is CE level 2 rated is a nice touch. I would love to see the back protector be included but seems very few manufacturers do that (if any now).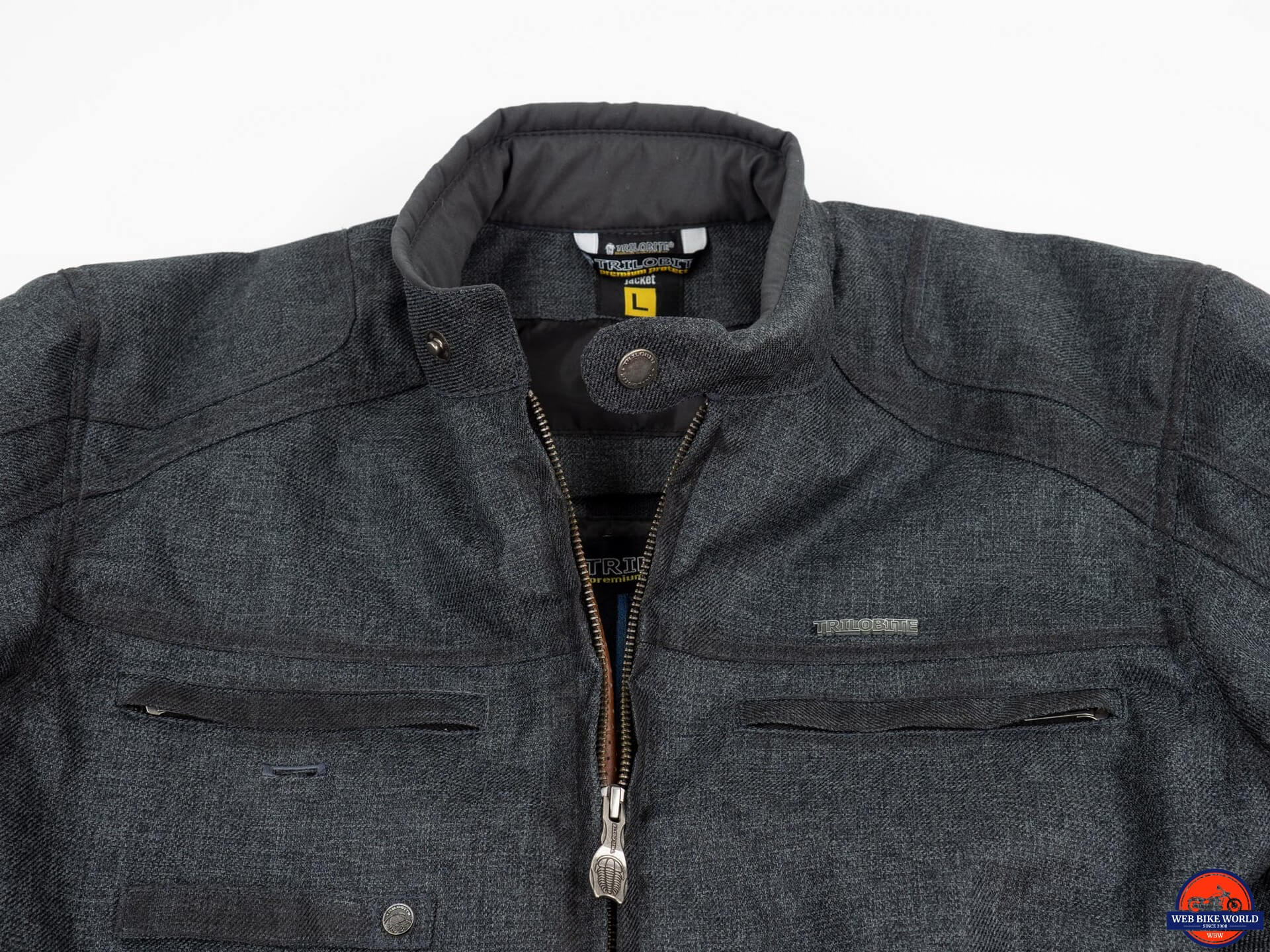 There were a few surprises along the way here including the better than expected waterproofing, the stealthy reflective threads for some extra visibility, and the "sunglasses holder". And let's not forget the last little party piece in the form of a tiny and practical attached flashlight.
Good job all the way around here from Trilobite. Yes, I would like to have seen some venting to extend the seasonal wear but other than that I can't find much at which to pick. Even the $319.00 price seems reasonable considering the overall package here. I definitely recommend checking this jacket out if you need a "Denim" fix.
Pros
Sharp looking jacket
Good protective features
Waterproof
Quality construction
Nice touches like glasses holder and flashlight
Cons
No venting can be stuffy on hot days
Specs
Manufacturer: Trilobite
Price (When Tested): $319.00 (USD) / 264,42 €
Made In: Pakistan
Alternative models & colors: Blue
Sizes: S through 4XL
Review Date: March 2019