Introduction
Over the past several years I've reviewed a lot of jeans designed for the motorcycle rider. Most of these follow a similar formula which includes a cotton denim outer shell with an interior lining that uses a type of abrasion resistant material. Most often the abrasion resistant material is Kevlar but I've also seen Dyneema® and proprietary materials like Covec used in some of the jeans I've reviewed.
Trilobite, based in the Czech Republic, offers a "single layer" solution in which the denim fabric contains yarns of cotton and a UHMwPE. If you're not familiar with Trilobite, don't feel bad, I wasn't either until this review.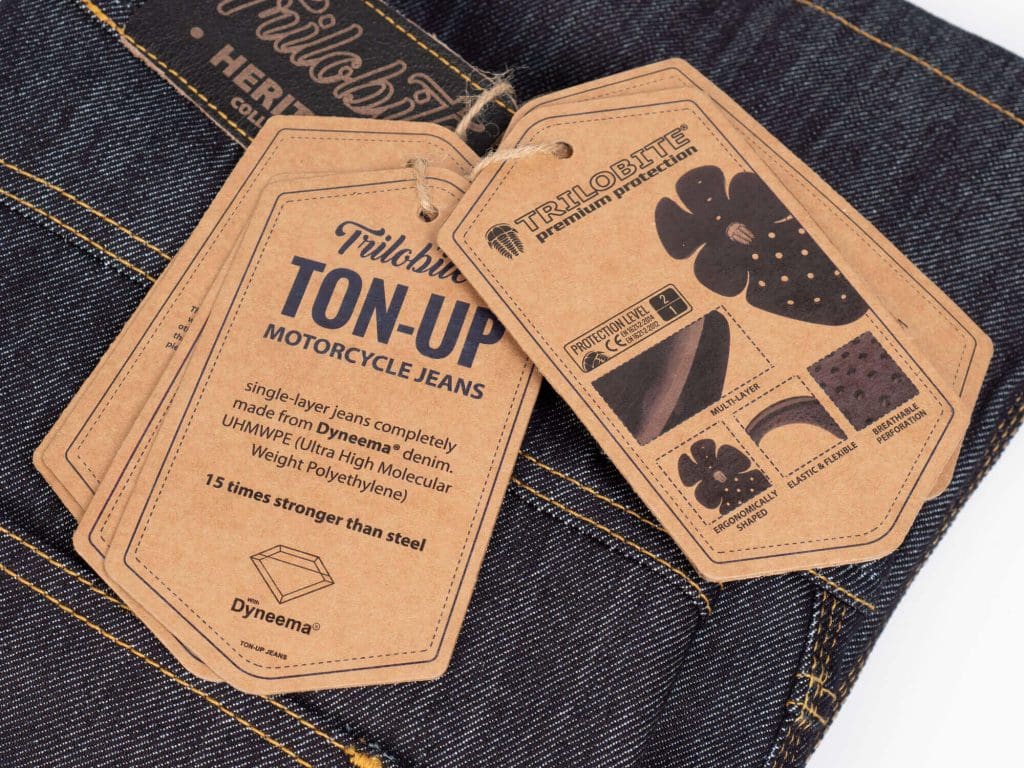 Despite the well sorted and stylish look of their website, there isn't much information on the history of the company. Best that I can tell is that they have been around at least since 2012 and they have quite a lineup of riding jackets and pants with several styles and colors. They also offer gloves as well as their branded line of CE level 2 armor.
I do appreciate the depth of their offerings including several styles for women and they certainly have the bases covered when it comes to variety. Still, I would like to have been able to learn a little more about the company and its founders to understand their origins, but putting that aside, let's have a look at their Ton-Up jeans.
Trilobite Ton-Up Jeans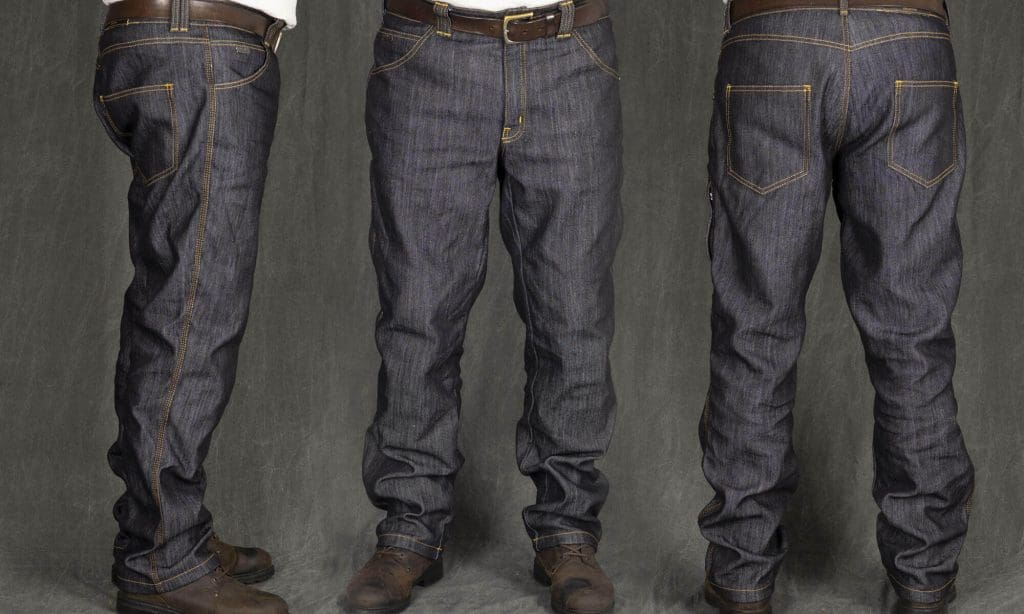 The pair of riding jeans I received for review from Trilobite are the Ton-Up jeans from Trilobite's Heritage collection. The Heritage series combines modern protective features and a vintage look that should satisfy most "retro" and "vintage" tastes and here the Ton-Up jeans do not disappoint.
Most riding jeans I've seen are not that stealthy and casual look will reveal that the jeans have some extra "something" going on. There are often extra stitches crossing the fronts of the legs denoting internal attachment points for liners and armor pockets.
As far as the overall style, they are very much the traditional five pocket jeans on the outside. A zipper (YKK) and large button are used for the main closure. On the left pocket there is a singular rivet at the pocket corner seam embossed with the Trilobite graphics and in the upper portion of the right pocket, a small metal "Trilobite" logo is present.
The only other branding is in the form of a leather (or leather-like) patch at the waistband. This patch sits along the path of a belt and would normally be covered by said belt. Of course one could run the belt behind it, but who does that?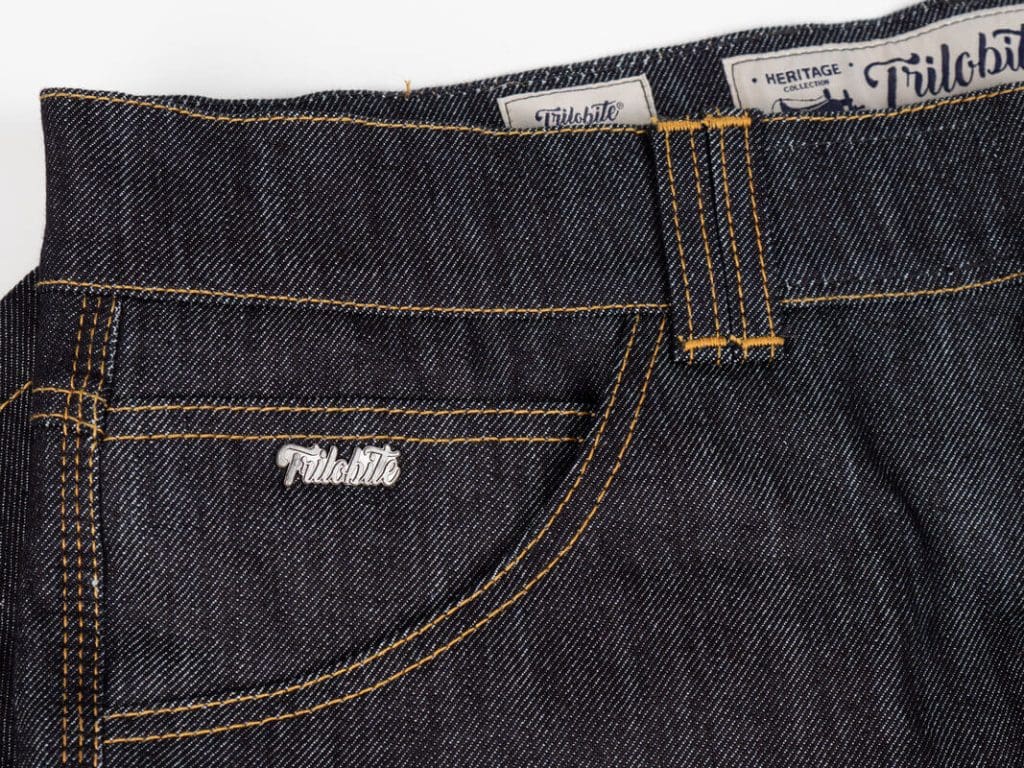 The branding is done tastefully enough but I could do without the single rivet up front. It is small but very thick compared to rivets normally found on regular denim jeans. Even though it is off to the edge of the pocket it still is on the "front" of the pants and could come in contact with the painted portion of the fuel tank.
When I received the Trilobite Ton-Up jeans for review I was impressed with how well these hide their inner workings. Despite having pockets for knee and hip armor as well as a lining behind the front of the legs from thigh to above the ankle, it is not visible from the outside.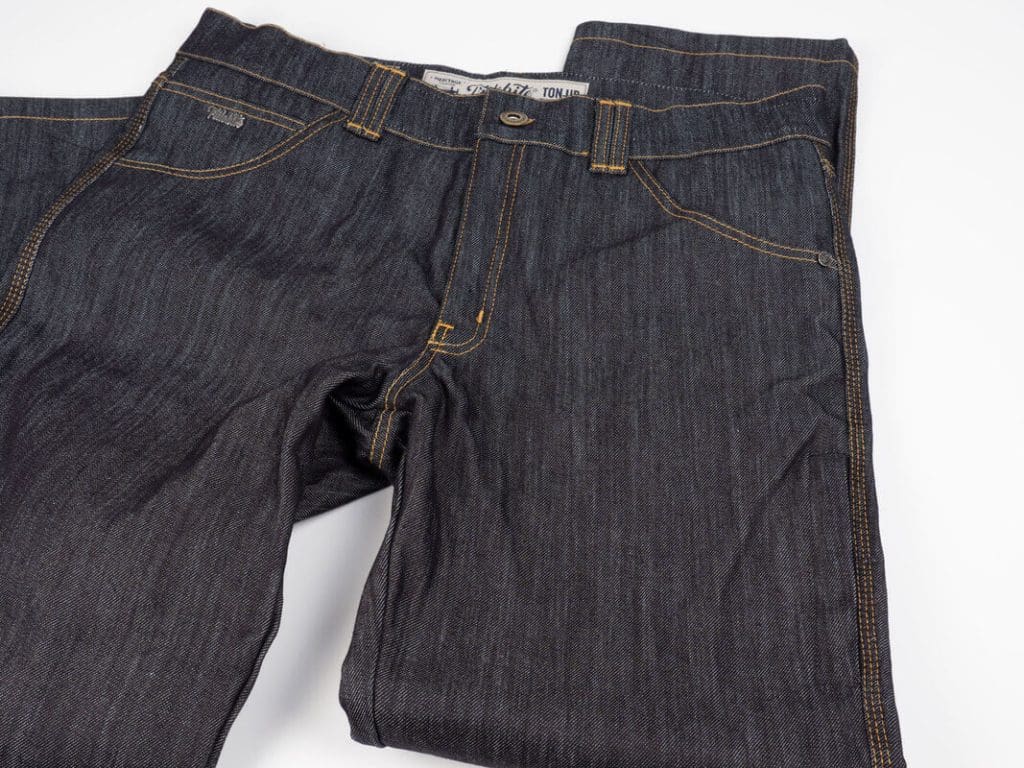 There is one small curiosity that eagle-eyed viewers might notice and that is the small zipper on the left thigh along the main seam. This zipper is the entrance to a small pocket that would be perfect for a small wallet or similar sized item.
I know that I've always been a little nervous about my wallet sitting in a rear pocket when riding. That's why my wallet goes in my tank bag when on the street. A small pocket like this will definitely be useful to the cafe racer/hipster crowd these jeans are targeting since those bikes rarely have any provision for storage. It may sound like I'm mocking, and maybe I am a little, but at the same time, I'm serious.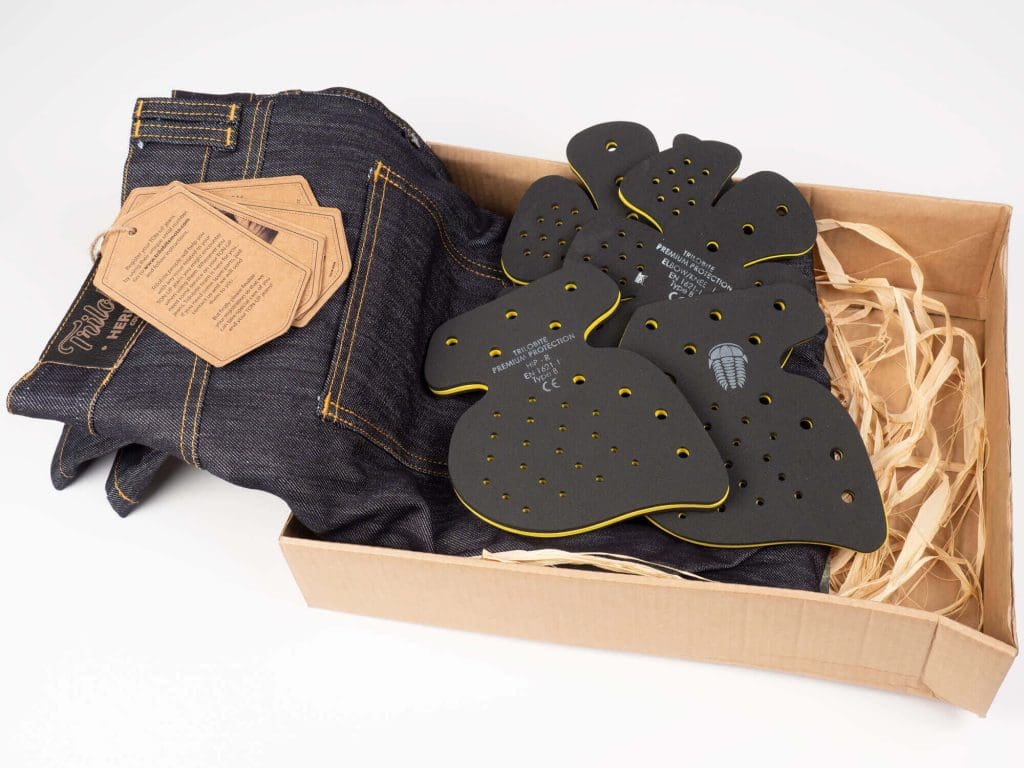 Trilobite has gone to great lengths to meld classic style with modern protection. The packaging has a "vintage" feel involving a simple brown cardboard box with shredded brown straw (or straw-like paper) used as filler.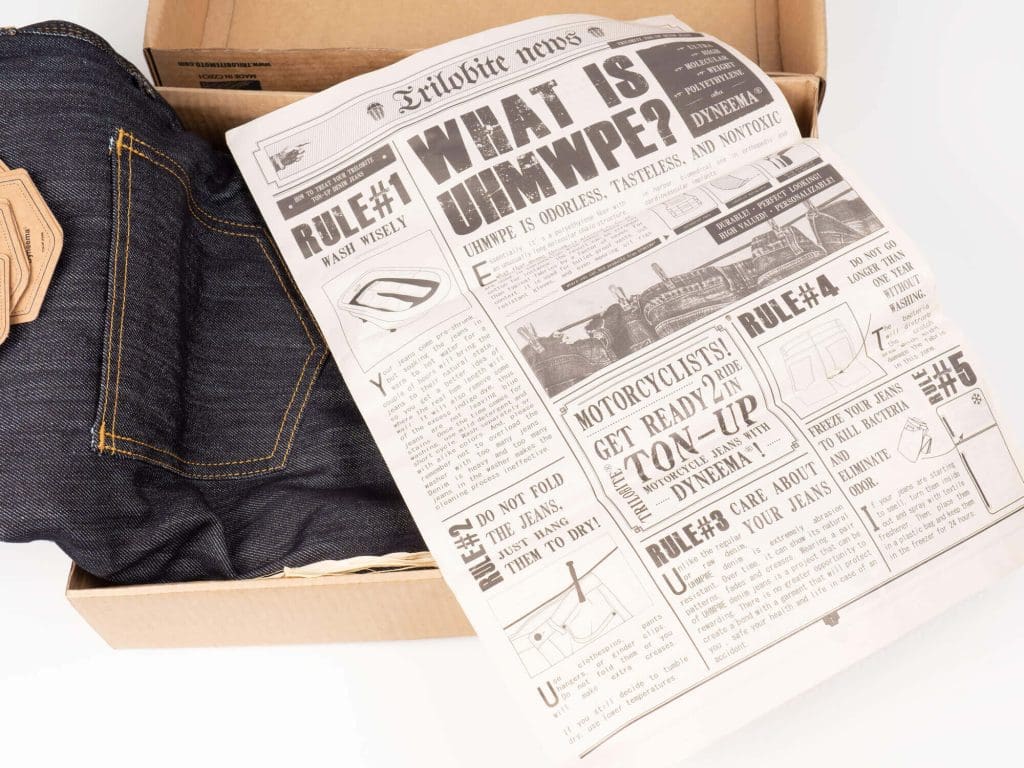 Within the box is a newsprint style page with information about the various aspects of the jeans in the style of a newspaper advertising page from decades long past. It's cute and there is some interesting information there. Additionally, there are several thick brown tags attached to the jeans via a string that provides more details surrounding features of the jeans.
Construction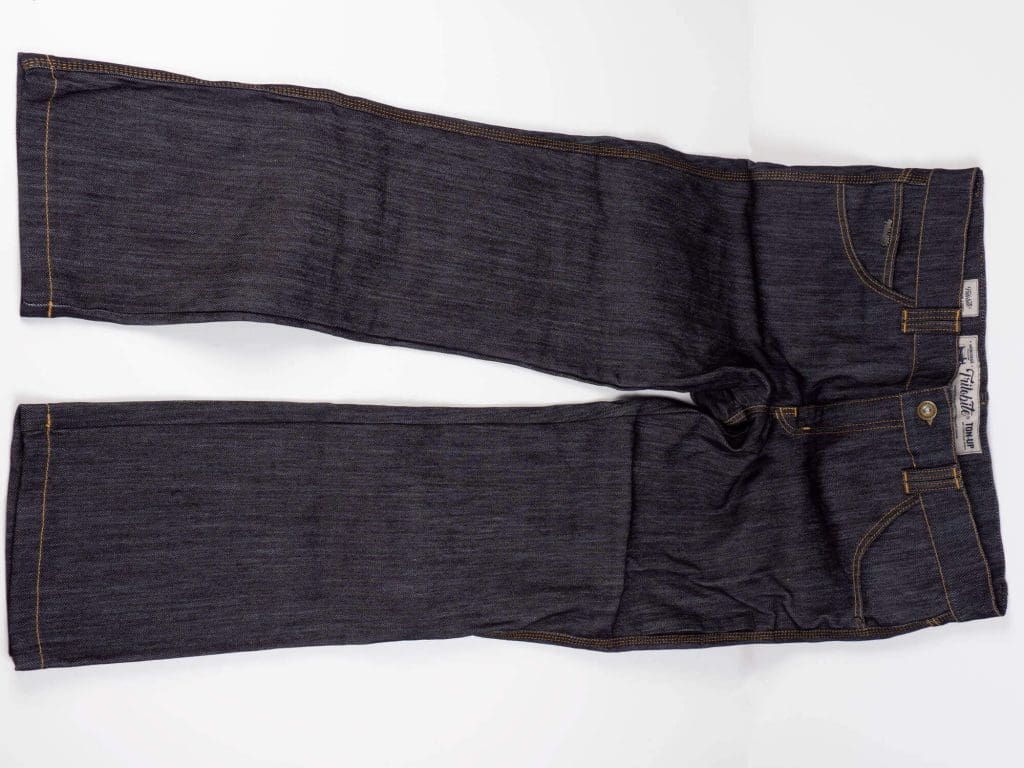 I mentioned earlier, these jeans incorporate abrasion resistant yarn in the denim, in this case, Dyneema®. The fabric is composed of 52% Dyneema® and 37% cotton with the remainder consisting of nylon and elastane (spandex). Just by looking one would be hard-pressed to tell the fabric isn't ordinary denim.
The panels of the fabric are sewn together using triple stitches on the main outside seams with double stitches in the pocket areas. Speaking of double, four of the five belt loops on the waist are doubled for additional durability. It's a nice feature but it would be nice to see the most rearward loop doubled as well in case one has a jacket that attaches to a belt.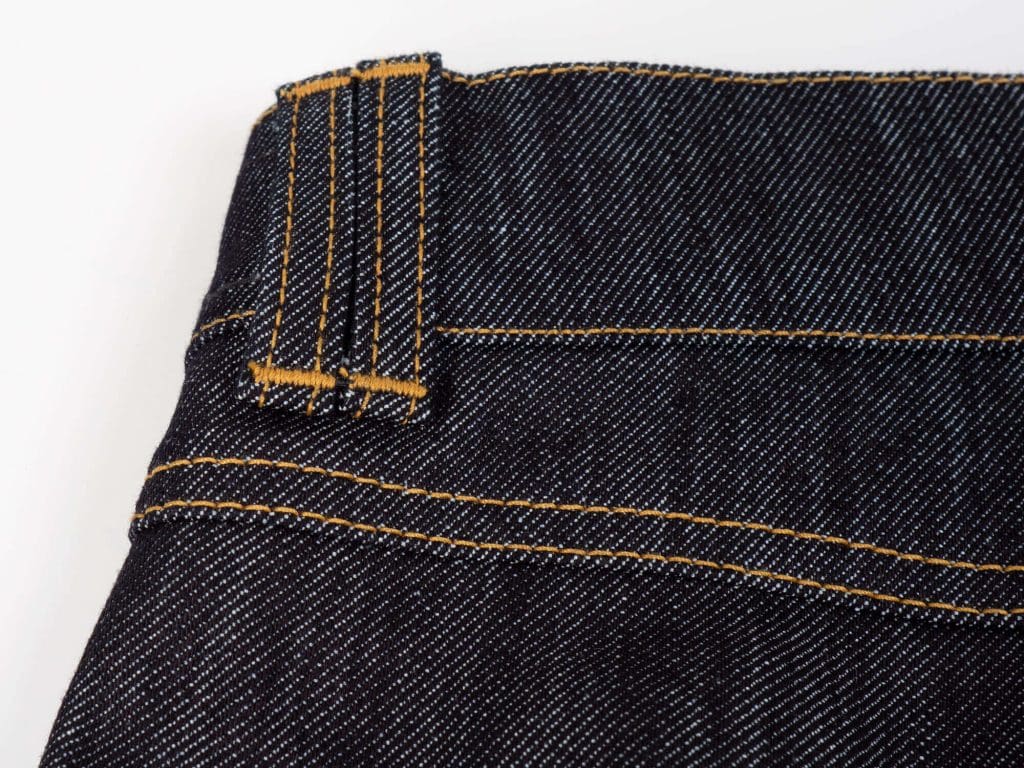 The inside front of each leg is lined from the waist to the mid-shin area. I expected there would be some sort of pocket for the included knee armor but for the liner to cover such a large portion of the leg interior is surprising. Especially since the whole "single layer" idea is something they are obviously proud of and this defeats it a bit.
As far as the quality of construction goes, the Ton-Up jeans are the real deal.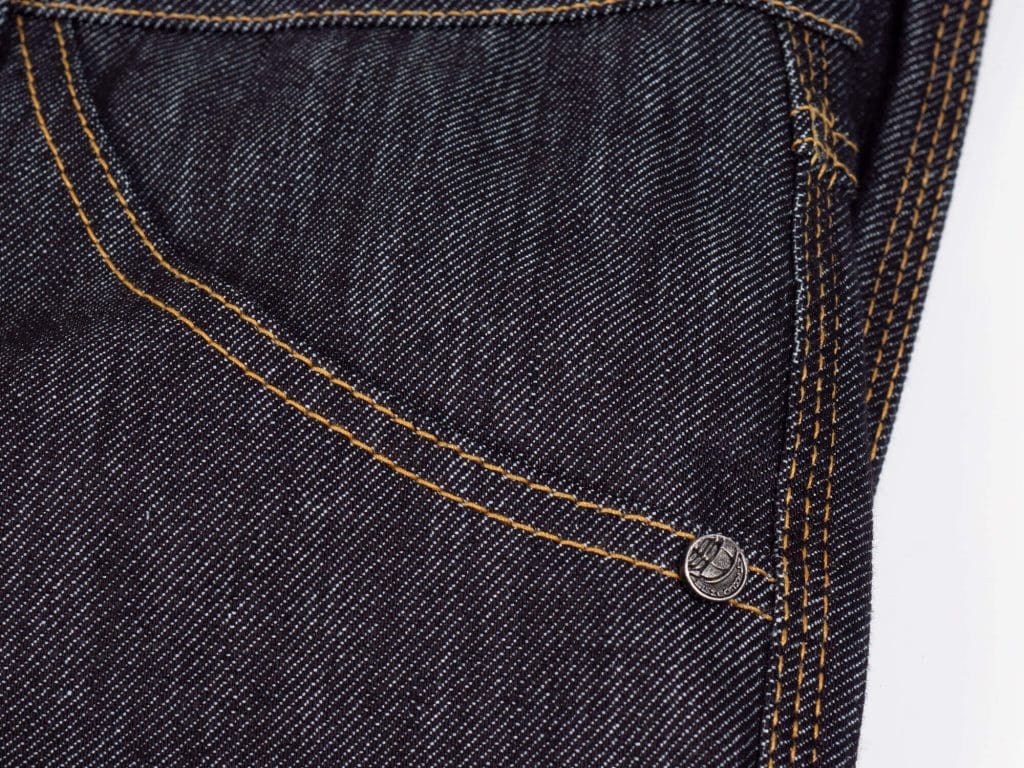 The quality of the stitching and cut of the panels is top-notch. Stitches are even, secure, and there's not a pulled thread to be found. I handed the jeans over to my girlfriend and fellow webBikeWorld reviewer Carmen Bellos for her opinion since she has education in textile manufacturing.
She agreed that whoever stitched these jeans together took great care and had serious skills. Carmen could tell the stitching was done by hand and couldn't find any fault or concerns with the construction. Of course, solid work in this area should make for a durable piece of apparel which is paramount here.
I say five stars for the quality of construction here and I'm very rarely moved to rate anything at a five.
Protective Features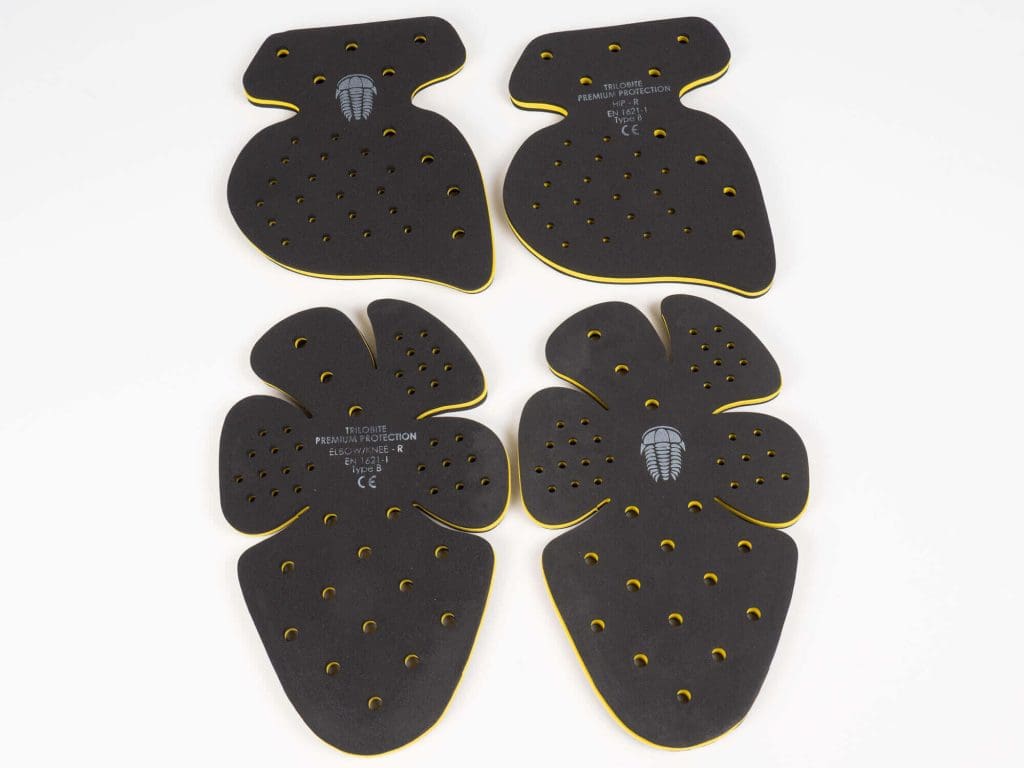 The garment as a whole is a protective feature with the entire outer shell being a blend of cotton and Dyneema®. This material on its own is very strong and tear resistant but since it is blended just over 50% with cotton and other materials I wasn't quite sure how to quantify the protection.
Just before I was ready to publish this review I received information from Trilobite confirming that the amount of Dyneema® in the fabric is 400gsm with the cotton and other materials adding another 65gsm to the total fabric weight.
Since this weight of Dyneema ® is rated at 4 seconds of abrasion resistance this puts it at the CE level 1 rating for abrasion resistance. Since this material makes up the entire garment it should be very protective everywhere rather than just in certain zones. A pretty impressive showing.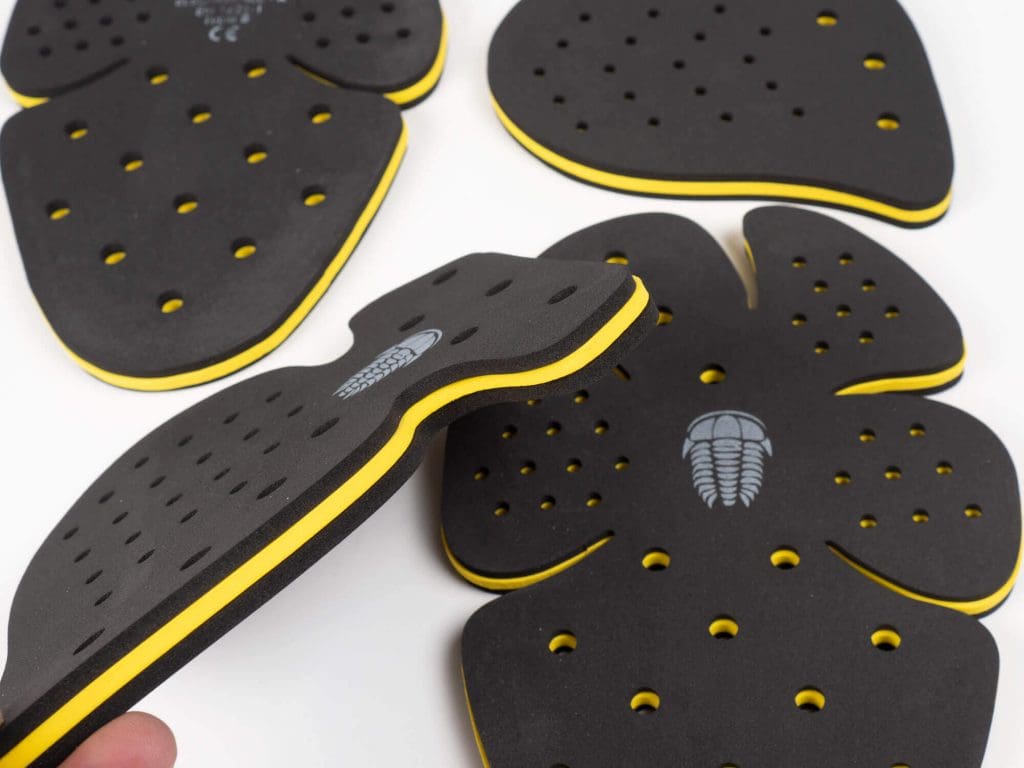 Armor is included and I think it is great to see both knee and hip protectors included here. As a bonus, all the pieces are CE level 2 offering excellent impact protection.
All four pieces are constructed from three layers of foam with the two higher density outer layers sandwiched over a softer inner one. The layers are attached at just a few points which allows the surfaces to slide against each other a bit. This creates very good flexibility and allows the armor to conform to the rider.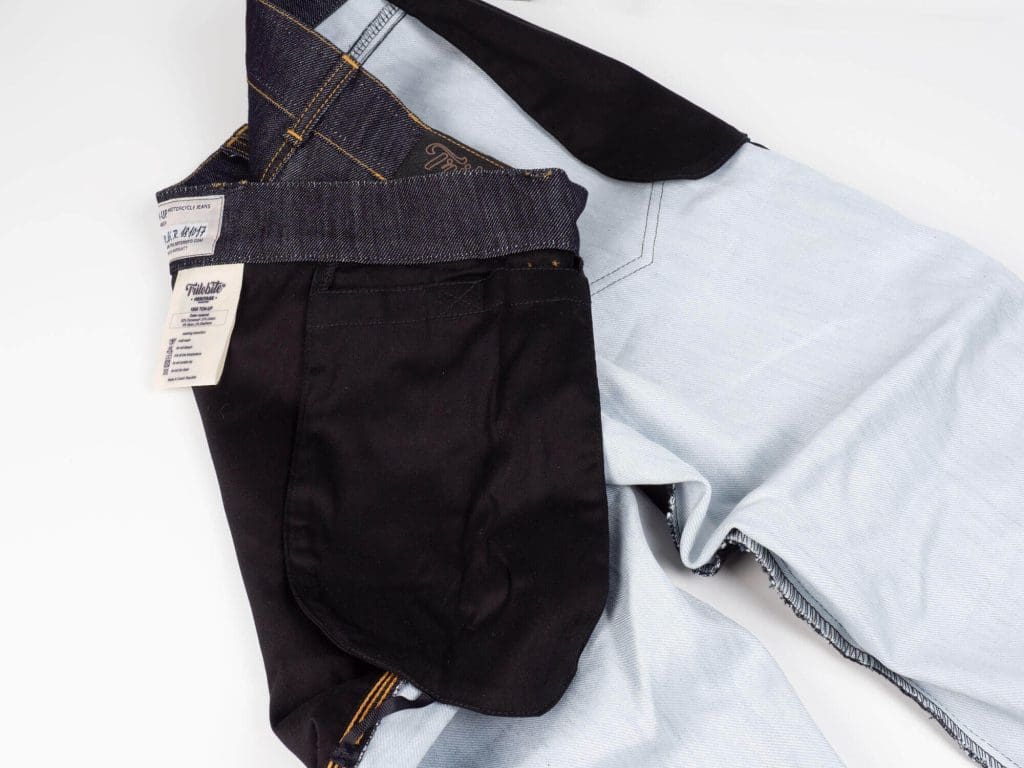 The hip armor is inserted into nylon pockets which hold the multi-layered foam in just the right spot for me over the hip bones. The pocket is fastened with hook and loop and it's pretty easy to install and remove the armor.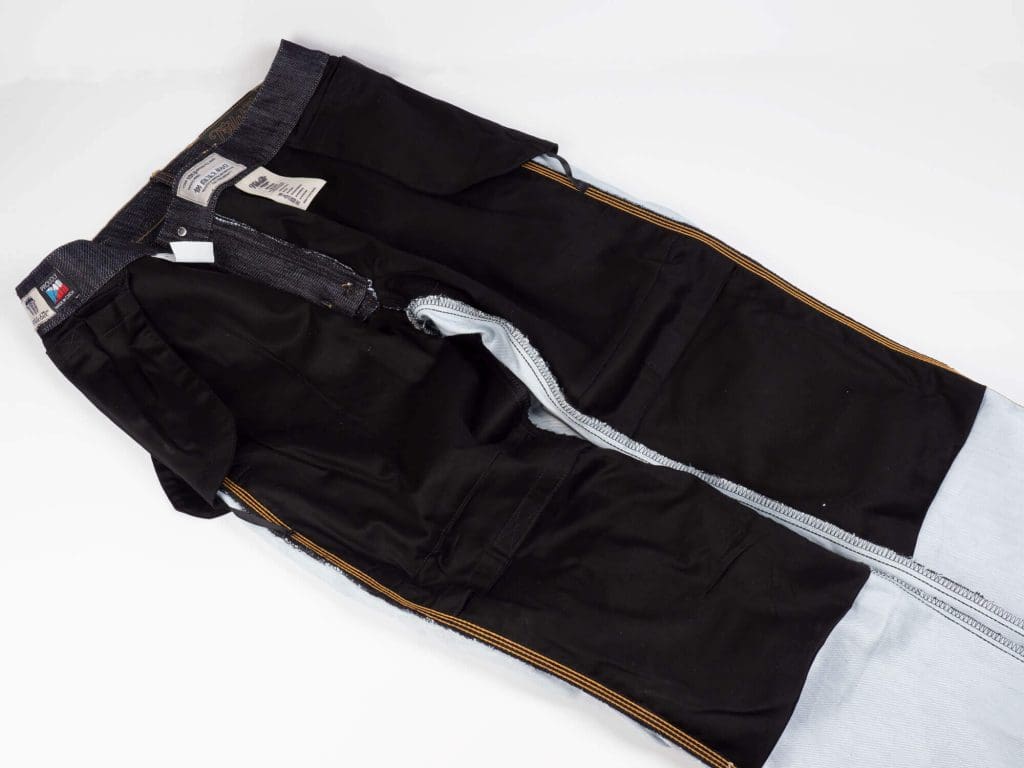 The knee armor pockets take an approach that I'd like to see more manufacturers use. Instead of just simply inserting the foam armor into a pocket, there is a removable cover into which the armor is inserted. The cover containing the armor goes into the pocket and is then secured into position using generous amounts of hook and loop fastener.
This allows for a wide range of positioning so most anyone can get the knee armor in just the right spot for their build. I like this setup a lot even if it does add another layer of complexity, it's not one that will be messed with often. Kudos to Trilobite on a versatile and secure way to place the armor.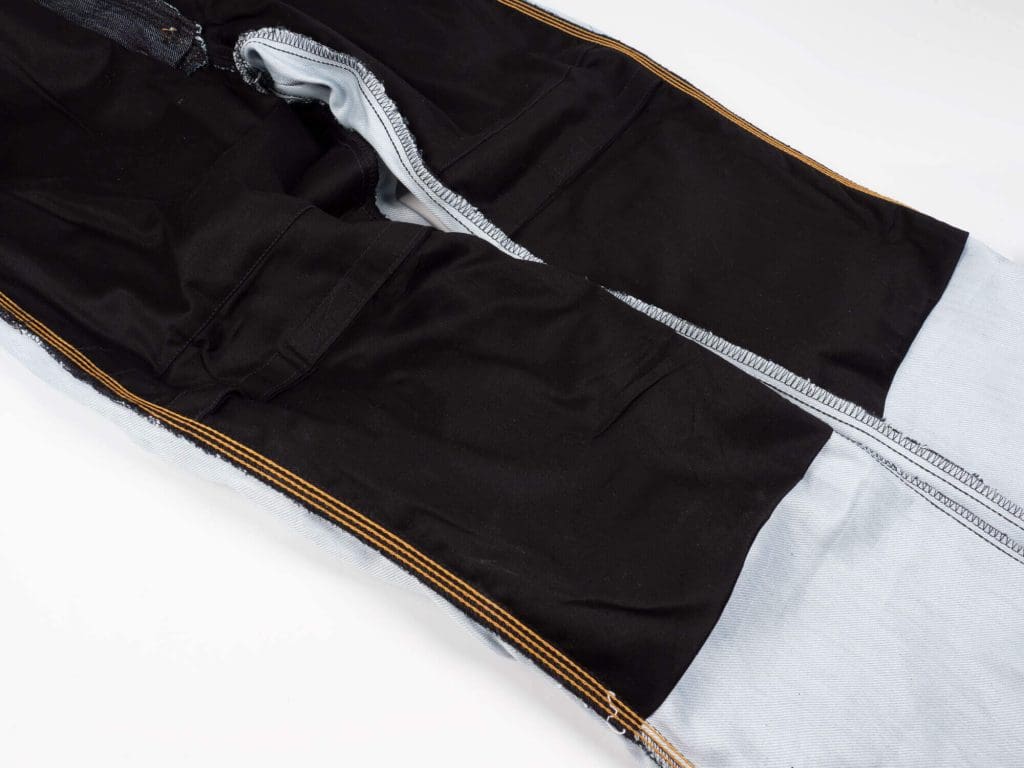 One thing to pick on which has been true of all the jeans I've tested (so far) is that the loose fit of the legs on riding jeans and most textile riding pants in general. The issue being that knee armor might not be in the right place over the knee in a crash since due to the loose nature of the fit.
I'd like to see adjusters implemented above and below the knees to snug armor in place. This is done often with jacket sleeves where snaps or straps are used to keep sleeve sung, so why not apply it to riding pants?
When comparing protection to riding pants in general I'd give the rating 3 out of 5 stars.
Compared to other riding jeans I'd go up one to 4 stars.
Fit and Comfort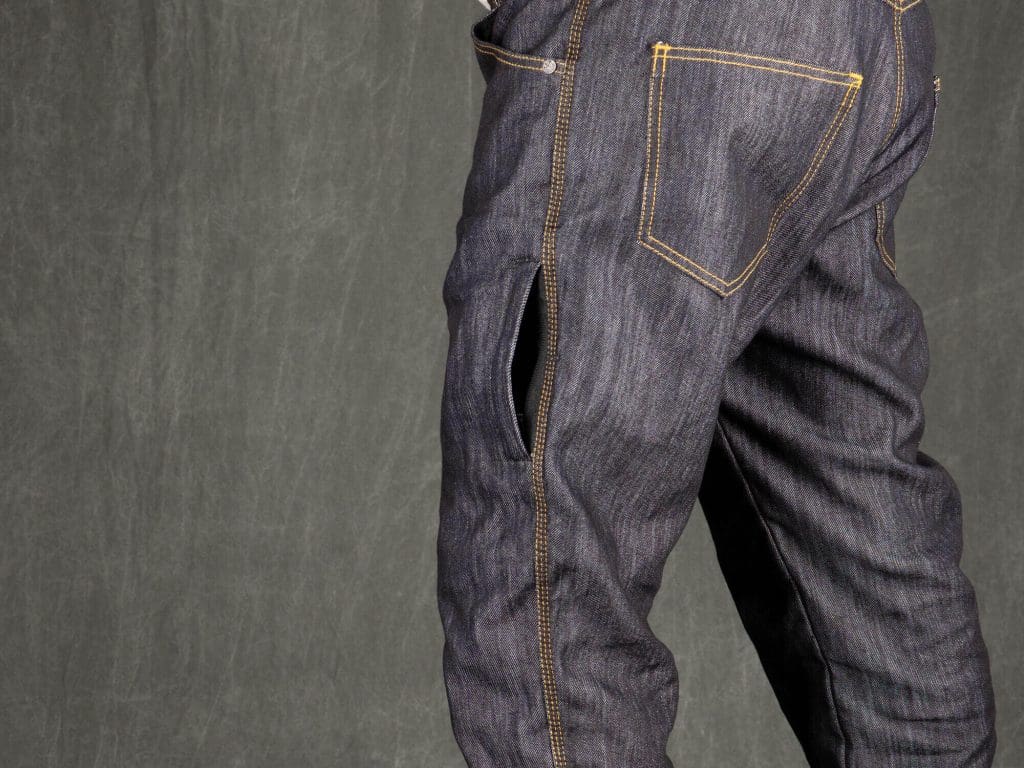 The size I received is 36" waist and 32" inseam and not only do they fit as expected but direct measuring shows these numbers to be spot on. I typically wear a 30-inch inseam in regular pants but the extra 2 inches is well suited for motorcycle apparel so that is can still cover the boots when in the riding position.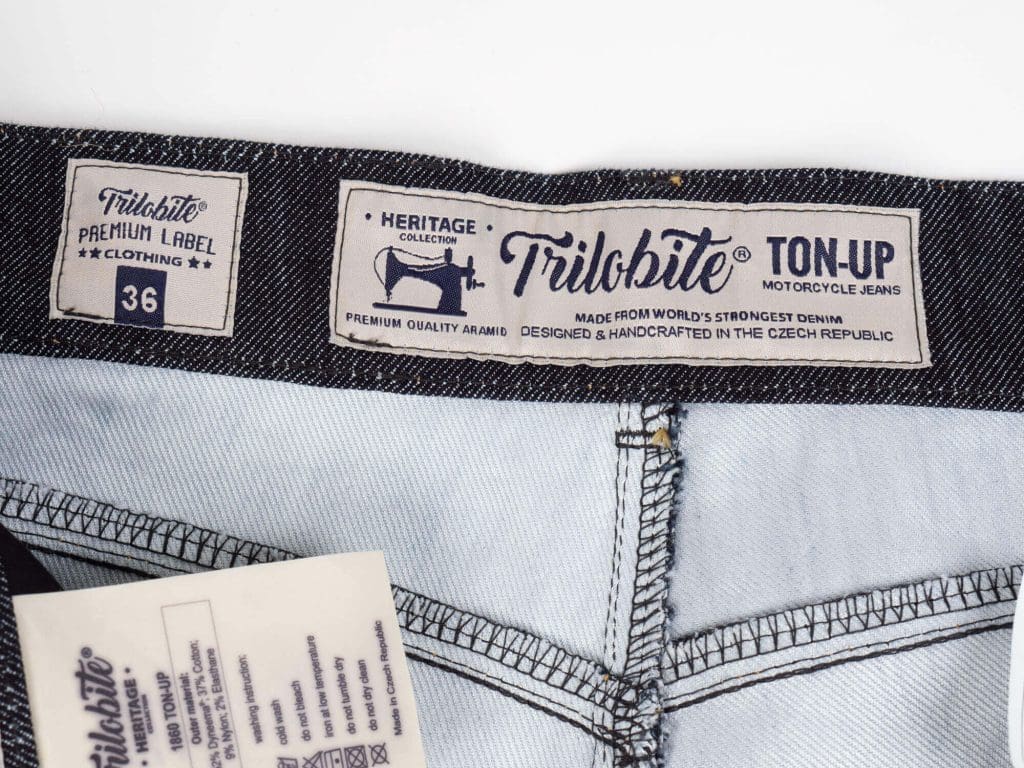 The denim also incorporates a small percentage of elastane which provides a small amount of stretch. It's just enough to help improve comfort in the riding position but not so much that the pants feel loose. A good balance here.
The cut of these jeans is in line with a "straight cut" so they sit in the middle ground between relaxed fit and slim jeans. This allows for a comfortable fit and flexible movement but, as I mentioned in the armor section, it does have the effect of leaving the knee armor a bit too free to move about in the event of a crash.
To sidestep this problem I have taken to wearing MX style knee /shin protectors under my riding pants in lieu of the inserted armor bits in that space. This armor stays in place and usually provides more coverage than inserts but it does so at the cost of more bulk and one more piece of gear to put on.
To me, the trade-off is worth it and I found I was able to wear my Shift Racing knee guards inside the Ton-Up jeans just fine. I tried my newer Fox Racing knee guards but they proved a little too bulky to fit comfortably.
The texture of the denim is very similar to what one would expect in traditional cotton based denim fabric but place your hand on the fabric and it has a cool feeling. I mean this literally as the Dynnema® and cotton blend feel cold to the touch. This is more pronounced when touching the un-dyed interior versus the outside, but either way, it tells you these are not your average blue jeans.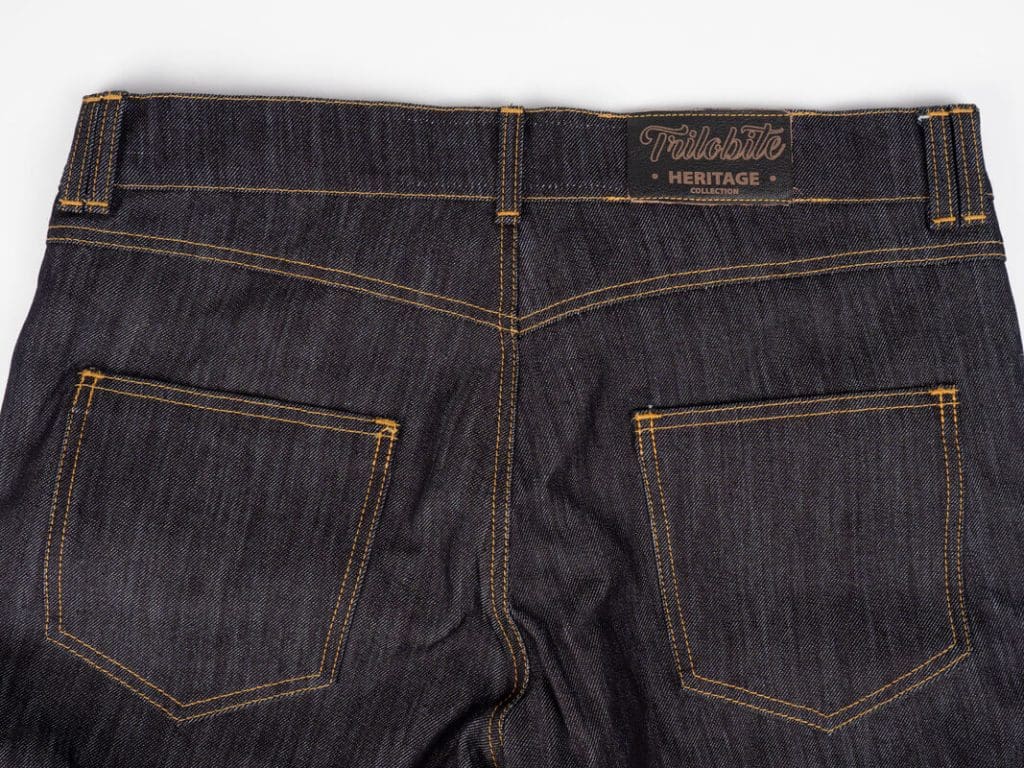 Because of this, I thought the Ton-Up jeans would be well suited towards hotter climates but the effect fades after a few minutes, presumably after the material has equalized with body temperature.
This is too bad as the jeans don't breathe all that much. I wouldn't expect a lot of air flow out of any sort of non-mesh textile but I believe the extra nylon liner on the front of the legs inhibits what little airflow there might be.
A recent ride in 88F (31C) temperatures proved the jeans to get a little warm. It wasn't bad but if the temperature started getting into the 90's I would be ready to switch to something mesh. On the other hand, the low airflow bodes well for cooler days.
The jeans come out of the package feeling a bit stiff but like any apparel, it should break in over time. Still, I wasn't thrilled with how the nylon liner on the inside front of the legs felt. It makes the interior feel a bit busy in the same way (some) gloves with interior stitches can be less comfortable.
Overall rating, 4 out of 5 stars for excellent fit and for a "good" level of comfort.
Conclusion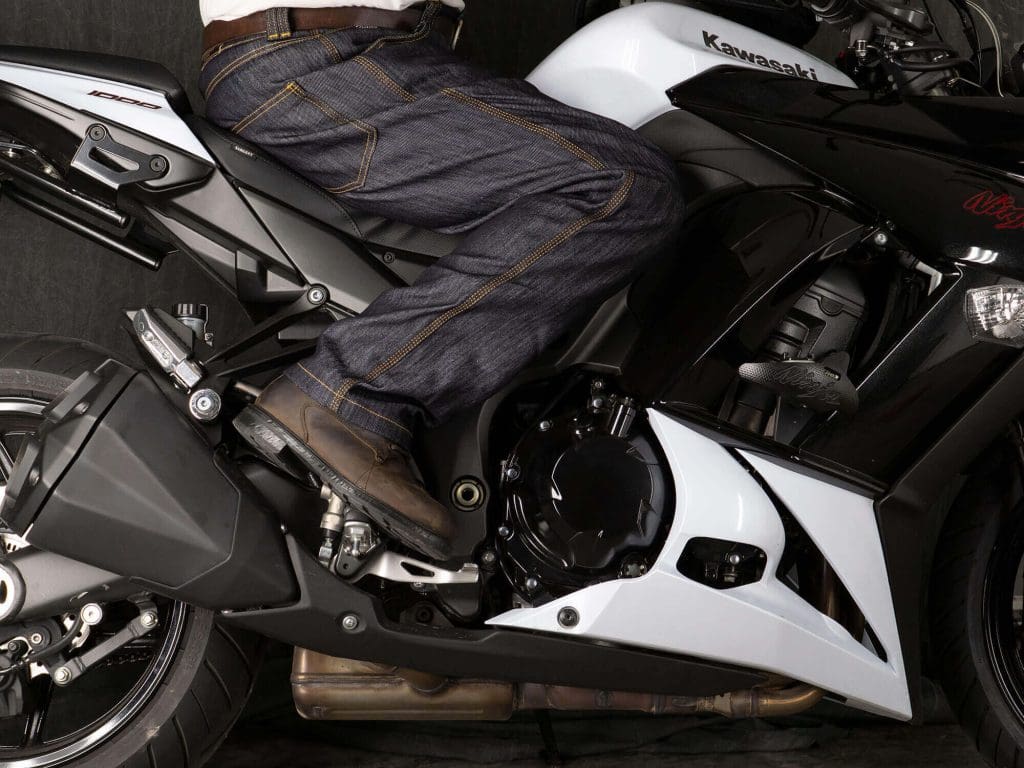 I really like what Trilobite has done with the Ton-Up jeans. I have tested a lot of riding jeans for webBikeWorld.com over the years and these stands out in several ways. To start with the construction quality is beyond reproach and that counts for something in my book.
The hybrid UHMwPE / cotton denim should makes this pair of riding jeans some of the lightest I've tested but at 2 lbs 5.8 oz (1072g) without armor they are one ounce away from a pair of Sliders 4.0 riding jeans I reviewed a while back that hand separate kevlar layers and where much looser in fit. Despite this, they do wear their weight well and the excellent fit and good comfort help negate the heavy weight.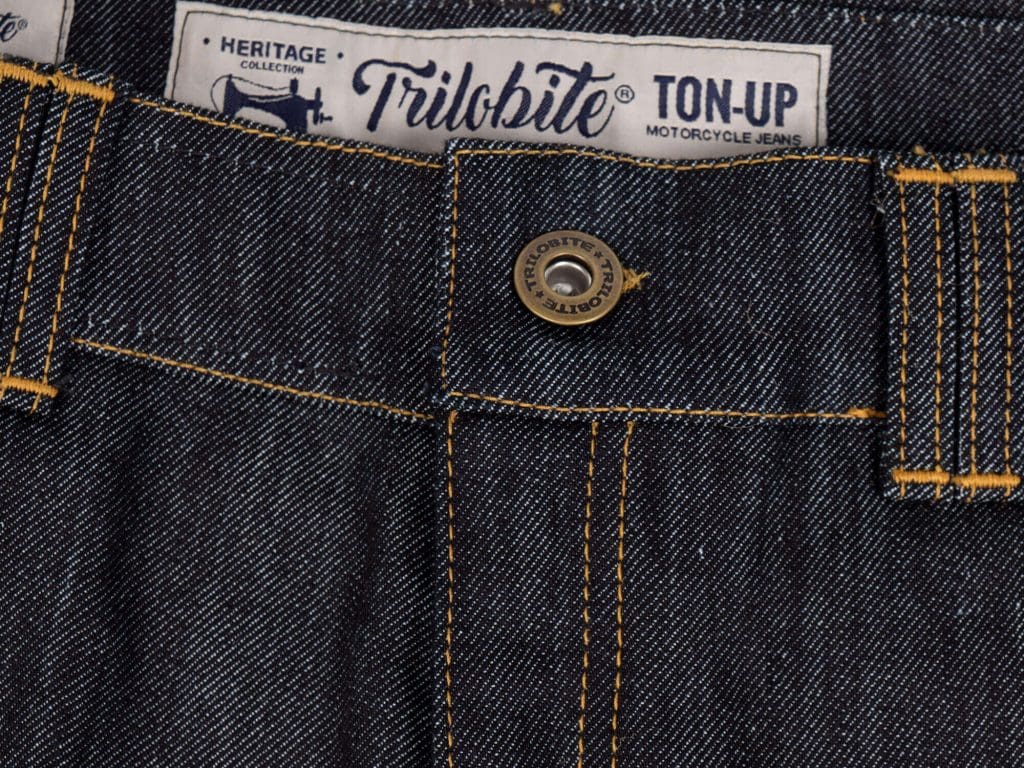 Motonation is the one Trilobite dealer here in the USA and presently they do not list the Ton-Up jeans in their inventory. In order to purchase the Ton-Up jeans, one has to get them directly at the Trilobite website, and this leads me to the aramid covered gorilla in the room, price.
The Ton-Up jeans list for 454.50 Euros which at today's exchange rate is $535.88* in dollars. That is a hefty sum considering the options for riding pants at that price point which would include very protective items like leather racing pants and other technical gear which can provide higher levels of protection, if not necessarily style.
Are the style and build quality worth it?
Trilobite is hoping you agree and while I appreciate that quality construction comes at a price, I would have a hard time parting with that much money for a pair of riding jeans even if they are very well made.
Pros
Top notch construction
Looks like regular denim jeans
Included CE level 2 armor for knees and hips
Cons
Price
Inner liner detracts from "single layer" feature
Oh yeah, and price
Note: Motonation.com does not currently list the 1860 Ton Up jeans but Motosport.com lists them in stock for $649.00.
Trilobite 1860 Ton-Up Jeans Image Gallery