Over the years, American motorcycle manufacturers have produced some of the most exciting and iconic models in the industry. Few motorcycles have managed to capture the imaginations of riders, both beginner and experienced, than the classic American architecture of a rumbling V-twin engine, a low-slung frame, and a relaxed pair of handlebars.
Today, there may only be a handful of American manufacturers still producing internationally renowned motorcycles, but they are some of the best in the world. To celebrate these beautiful and innovative machines, we've put together a list of some of the best motorcycles to come out of America, with examples taken from the past, and a few from the present day too.
Buell XB12R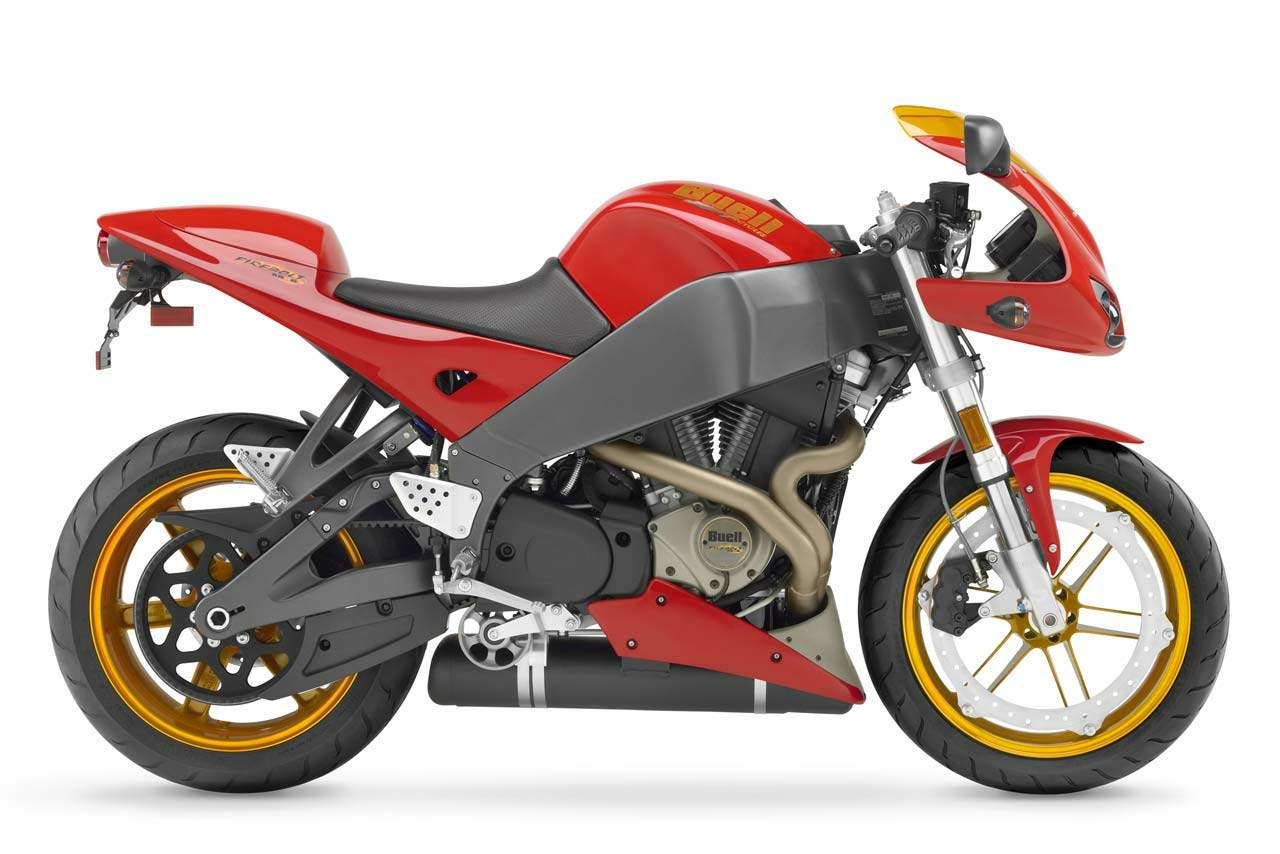 Kicking off our list we have one of the most recognizable motorcycles from a brand that's had its fair share of ups and downs over the years. We're talking about Buell, of course. Back in 1983, former Harley-Davidson employee Erik Buell was a man with a vision, a vision to build performance-focused V-twin motorcycles using HD technology.
It was a dream that has spanned decades, with different shareholders, and a story that has everything from closures, rebranding, liquidation, reboots, and the full works. Buell Motorcycles, Erik Buell Racing, and now in 2021 we're back to Buell Motorcycles with the promise of a limited run of new machines. It's exhausting stuff, but the Buell story is anything but dull.
We're not here to talk about the company. Or companies. We're here to talk about the XB12R Firebolt: a sports bike of sorts that's built using the same powertrain as the Harley Sportster. It's classic Harley technology—a 1,203 cc V-twin engine—but in street fighter clothing. Boasting an aluminum frame, top-shelf components, and pure racing DNA, the XB12R is a true American great.
Harley-Davidson Sportster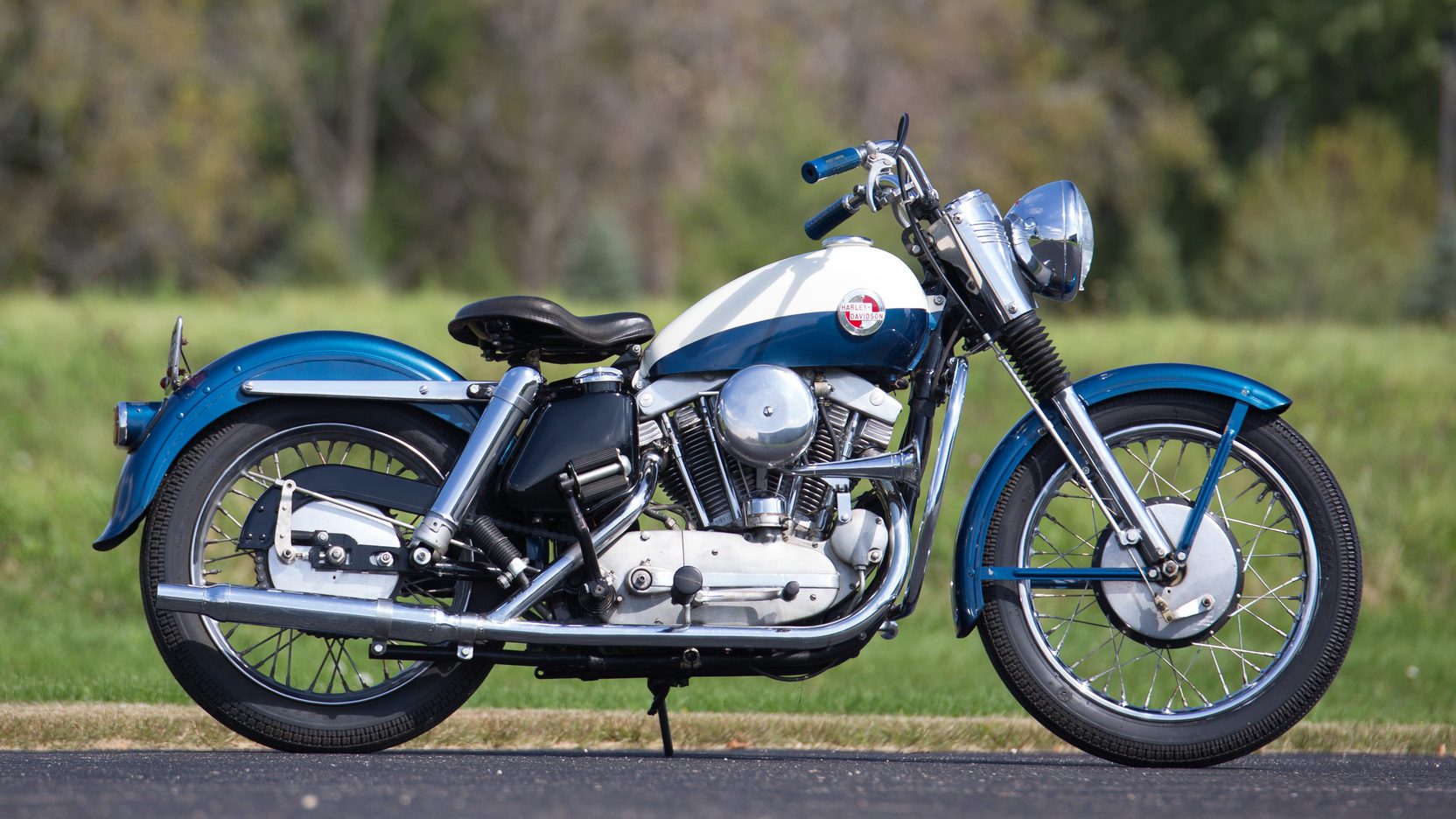 There are a number of Harley-Davidson motorcycles that could go on a list about American-made two-wheelers. The company is the backbone of the American industry and arguably the most recognizable motorcycle manufacturers on the planet. Founded in 1903, Harley-Davidson is one of the oldest motorcycle brands in the world, and the oldest continuously operating American motorcycle manufacturer.
Despite the brand's long and illustrious history, we've decided to select only a single model to represent the legendary Bar and Shield brand. There's no shortage of lists on Harleys, and while HD is a steadfast pillar of the industry, there are other manufacturers to highlight too. So, without further ado: let's talk about the Harley-Davidson Sportster.
The Sportster has been with us since 1957, and it's not going anywhere either. It's an American icon in its own right. Today, the Sportster is available in two engine sizes: the classic 883 cc V-twin or the newer 1,199 cc V-twin. Both deliver an instantly recognizable ride experience, accompanied by a sound that other manufacturers have tried to imitate, but never succeeded in replicating.
The Sportster is one of the best American motorcycles to come out of the 50s, one of the best to come out of the 20th century, and possibly even one of the best ever made.
Indian Chief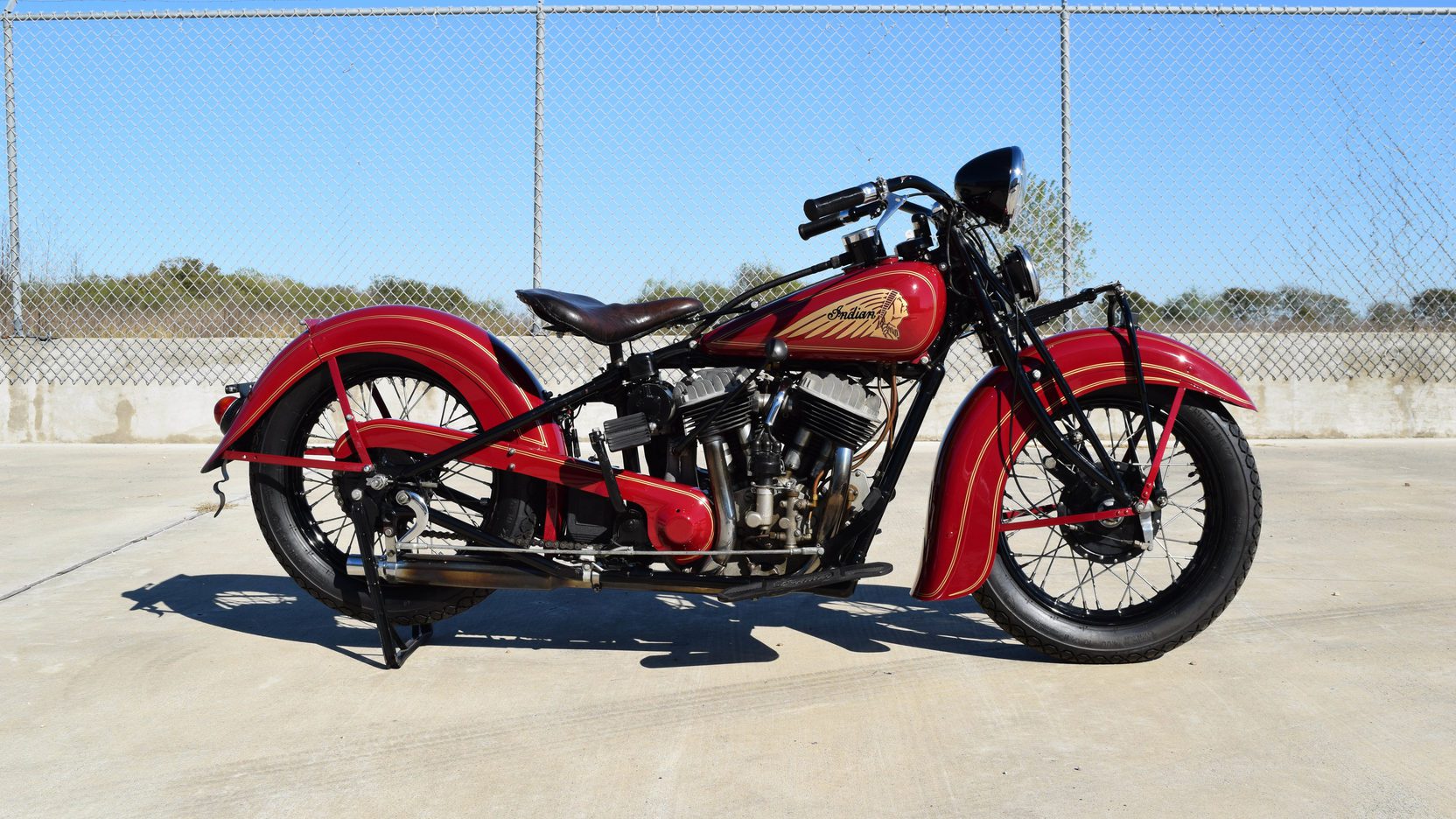 Today, Indian often plays second-fiddle to Harley-Davidson when we talk about big American heritage brands, but technically Indian has a longer history. Unfortunately, since the marque folded and the brand was inactive for a long time, it's often overlooked since Harley can boast being in continuous production for its entire lifespan. Still, there was a time when Indian, and nor Harley, was the biggest American motorcycle manufacturer.
Beginning life as the Hendee Manufacturing Company in 1901, before changing its name to Indian Motorcycle in 1923. Shortly before the name change, the company pulled the covers off of a new motorcycle that would capture the attention of the American riding public: the Indian Chief. When it rolled onto the scene in 1922, this big twin, the biggest in the catalog, caused a sensation.
In its original form, the Chief drew power from a huger 1,000 cc V-twin, but over time that evolved into a 1,210 cc unit, and then on to a massive 1,300 cc engine. When Indian closed down production in 1953, the legendary Chief seemingly died with it. However, thanks to the Polaris-backed reboot of the brand, the Chief is now back with us, though with little in common with its ancestor. The modern Chief uses a 1,811 cc Thunderstroke 111 engine, but the overall spirit of the motorcycle harkens back to the glorious Indian machines of yesteryear.
Victory Octane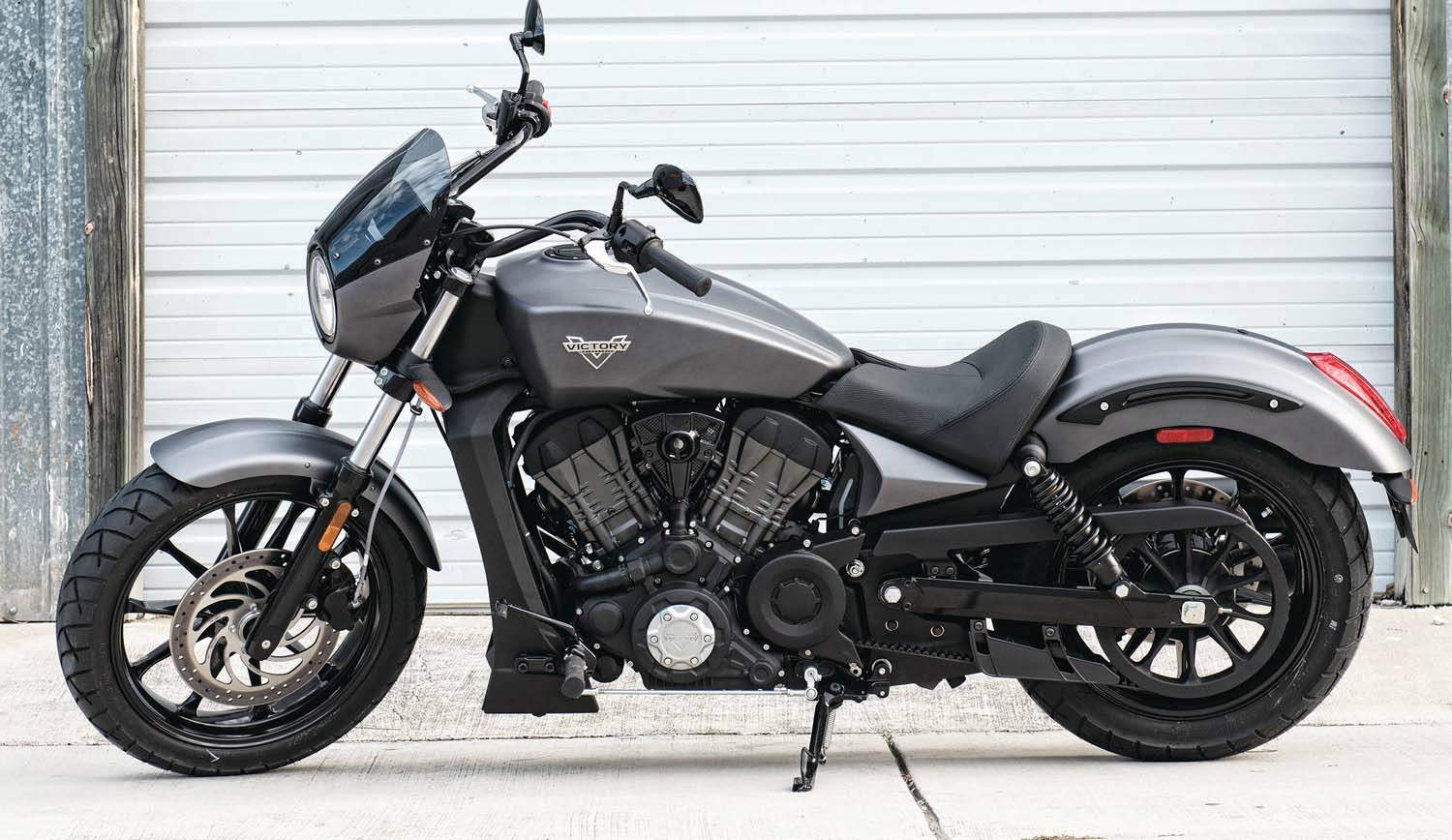 The Victory Octane was without doubt one of the best power cruisers ever made. Now, the Victory nameplate may no longer be with us, but the spirit of the Octane lives on in the Indian Scout. Still, we're awarding this space to Victory because when it came to innovation, Victory really pushed the envelope. Or rather, it pushed the envelope within the cruiser segment. There were many people who dismissed Victory as just another cruiser manufacturer, and while they did certainly make cruisers, they offered serious performance too.
The Octane was designed alongside the brand's Pikes Peak International Hill Climb racer, the Project 156. It featured similar DNA, but rather than being channeled into a performance bike, it was injected into a new breed of cruiser. The Octane featured a powerful 1,179 cc V-twin engine that produced 88.6 hp and 66.9 lb-ft of torque, with a nimble nature and modern aesthetic. Unfortunately, we'll never get to see how good it could've been, as Victory shut its doors in 2017.
Still, the technology lives on in the form of the Indian Scout. Which is still a great motorcycle. However, it would've been great to see what a brand with a vision like Victory's could have done with it. Even so, it still deserves to go down in history as one of the great American motorcycles.
Arch KRGT-1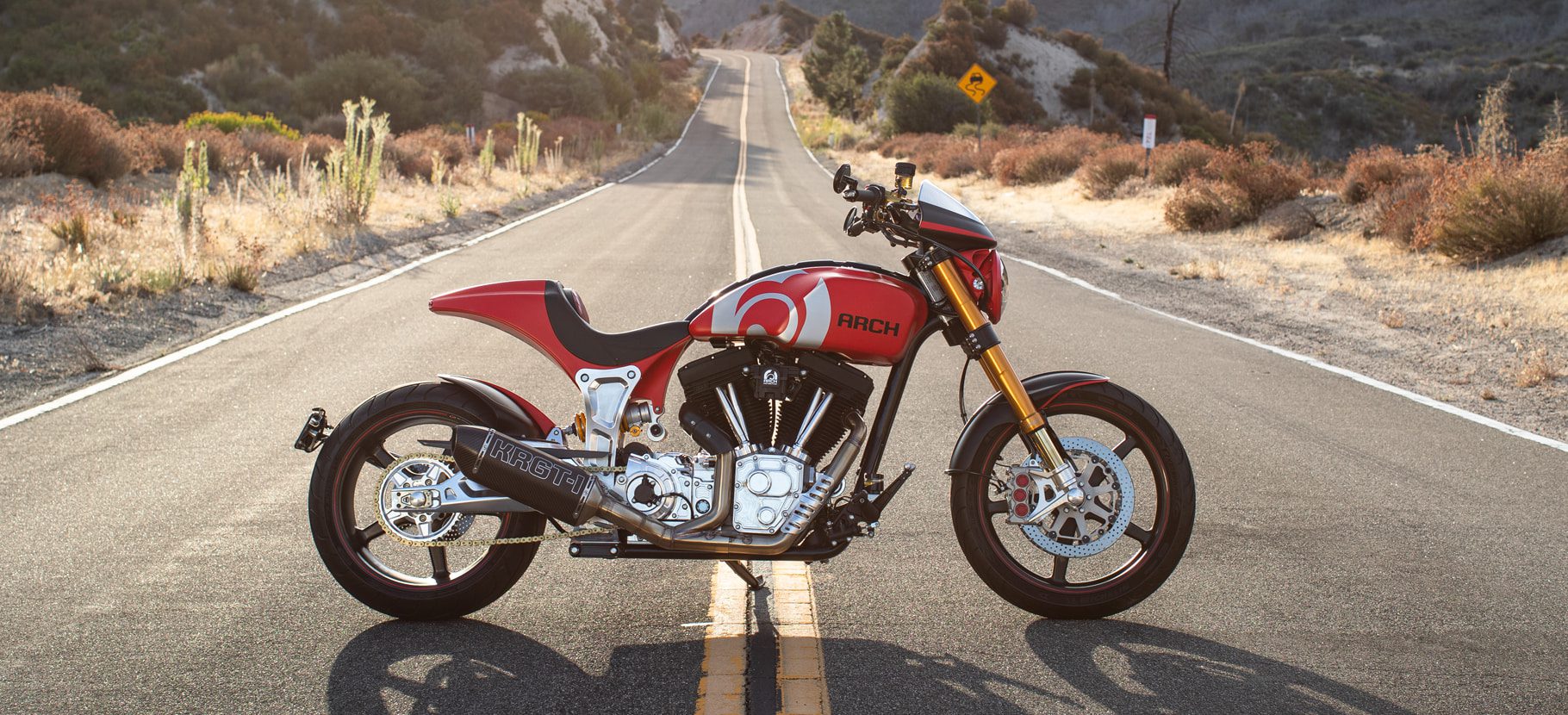 Keanu Reeves might be Canadian, but his bike brand, Arch Motorcycle, is all-American. Founded in 2011 by actor Keanu Reeves and motorcycle designer Gard Hollinger, Arch Motorcycle produces made-to-order performance cruisers that are quite unlike anything else on the market. The brand's flagship model, the KRGT-1 began life as a private commission, when Reeves set Hollinger the task of building him a performance cruiser with American values.
Fusing comfort and aggression together in equal measure, the KRGT-1 can be ridden furiously on the track, or for laid-back cross-country cruises. The bike is built around a burly 2,032 cc S&S T124 V-twin that produces a massive 121 lb-ft of peak torque, held in place by a lightweight tubular steel and aluminum chassis.
Naturally, it features premium parts, including Öhlins suspension, BST carbon wheels, ISR brakes, and more. But as each model is somewhat made to measure, no two KRGT-1s are the same.
The only negative part of the KRGT-1 is the price tag. With ticket prices of around $85,000 a go, they're not cheap. But you're not just buying a motorcycle. Instead, you're investing in the future of the American motorcycling dream. Or an actor's impressive vanity project. Since very few of us are ever going to own one, the price doesn't really matter anyway.
Motus MST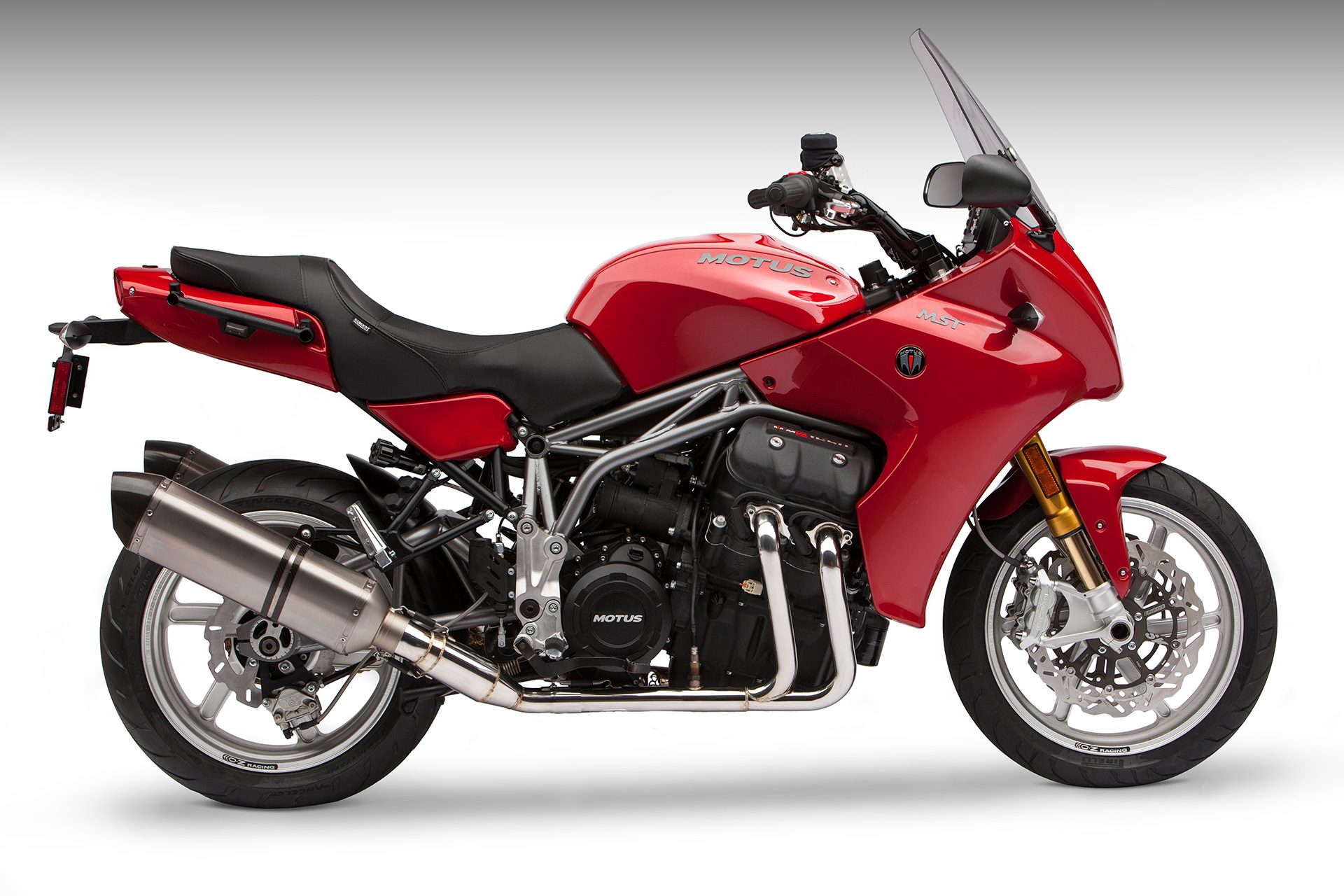 Gone but not forgotten: the Motus Motorcycles brand name only enjoyed a short life but it left a lasting impression. Motus was founded in around 2008 by Lee Conn and Brian Case, but it took a few years before the first prototype broke cover. It was called the MST and going against American convention, it wasn't a cruiser with a V-twin engine. Instead, it was a sport touring motorcycle, with a V4 powerplant instead.
The brand got a bit of bad press for using pushrod engine design, considered outdated at the time and the wrong direction for a performance bike, but the MST (and its more powerful sibling, the MST-R) boasted impressive performance.
The MV4 1650 V4 engine produced an impressive 165 horses (MST) or 180 horsepower (MST-R) depending on what model you chose. Still, it wasn't enough to make buyers look past the price tag. These things weren't cheap, and that's what ultimately led the brand to close its doors.
With the company shutting down in 2018, the MST and MSTR models could be considered something as a failure rather than some of the "best motorcycles to come out of America," and that's true to a degree. However, Conn and Case tried something wild and it kind of worked. Sales might not have gone through the roof, but the guys at Motus certainly did break the monotony of seeing another American V-twin manufacturer. They dared to be different.
Zero SR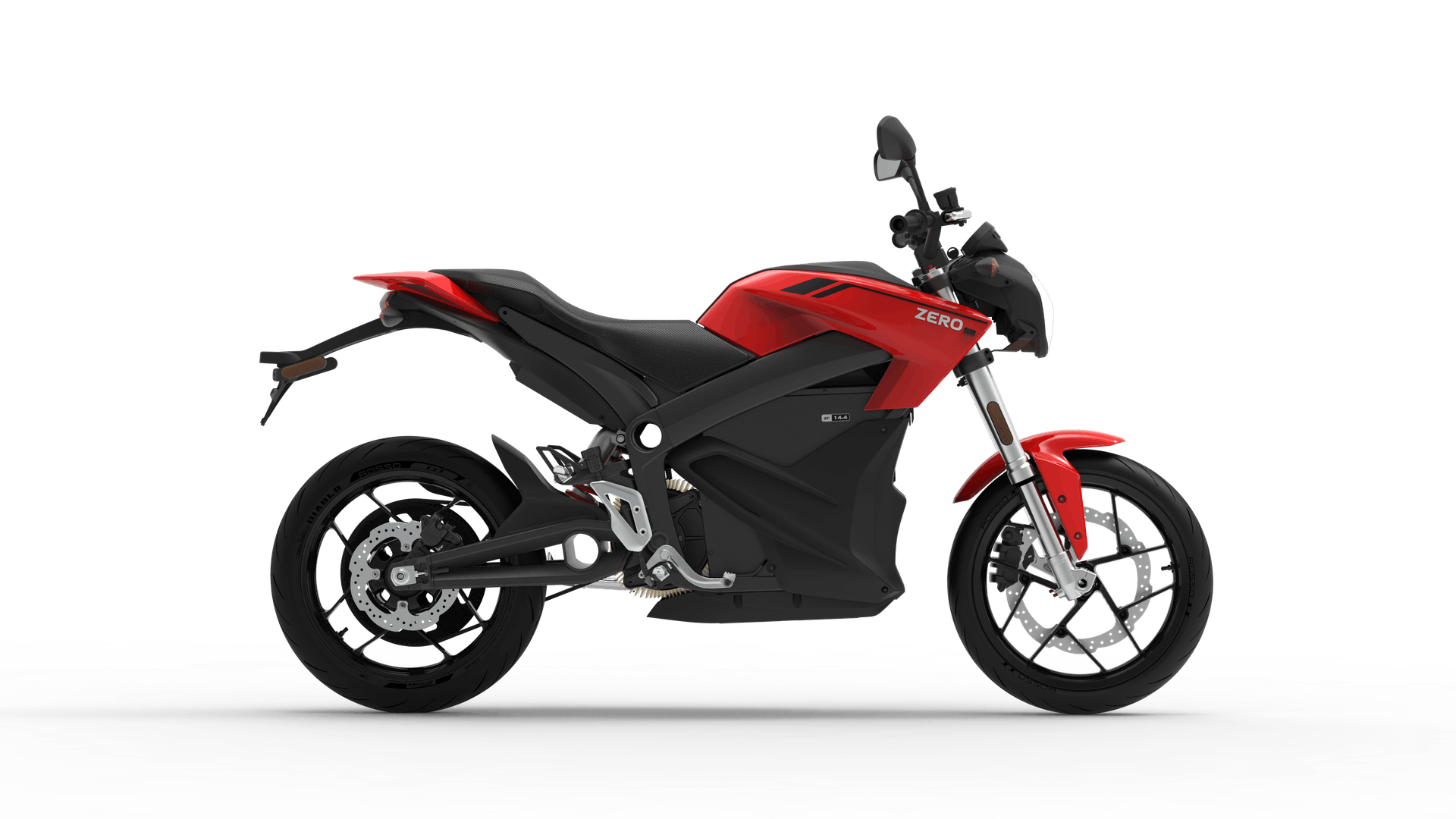 Daring to be different is the heart of Zero Motorcycles' business model. While the American motorcycling legend might be built on top of brawny V-twin engines with massive displacements and huge power, the industry's future looks quite different. Swapping internal combustion engines for electric motors, Zero has been leading the charge for electric motorcycles in the USA.
Founded in 2006 by former NASA engineer Neal Saiki, Zero designs and builds electric motorcycles with real-life usability and capability. The first production model was the brand's Zero S model, but if we had to choose one that really defines the brand and the state of the electric motorcycle movement in the USA, then it would have to be the Zero SR.
Introduced in 2014, the Zero SR (Street Racing) features a futuristic powertrain with real performance. In stock form, the motor and battery can provide a usable range of up to 179 miles, and produce a top speed of 95 mph, complemented with 70 horsepower and 116 lb-ft of torque. If you're looking for an American-made electric motorcycle with a versatile nature, the Zero SR should be the bike for you.
Curtiss Motorcycles "The One"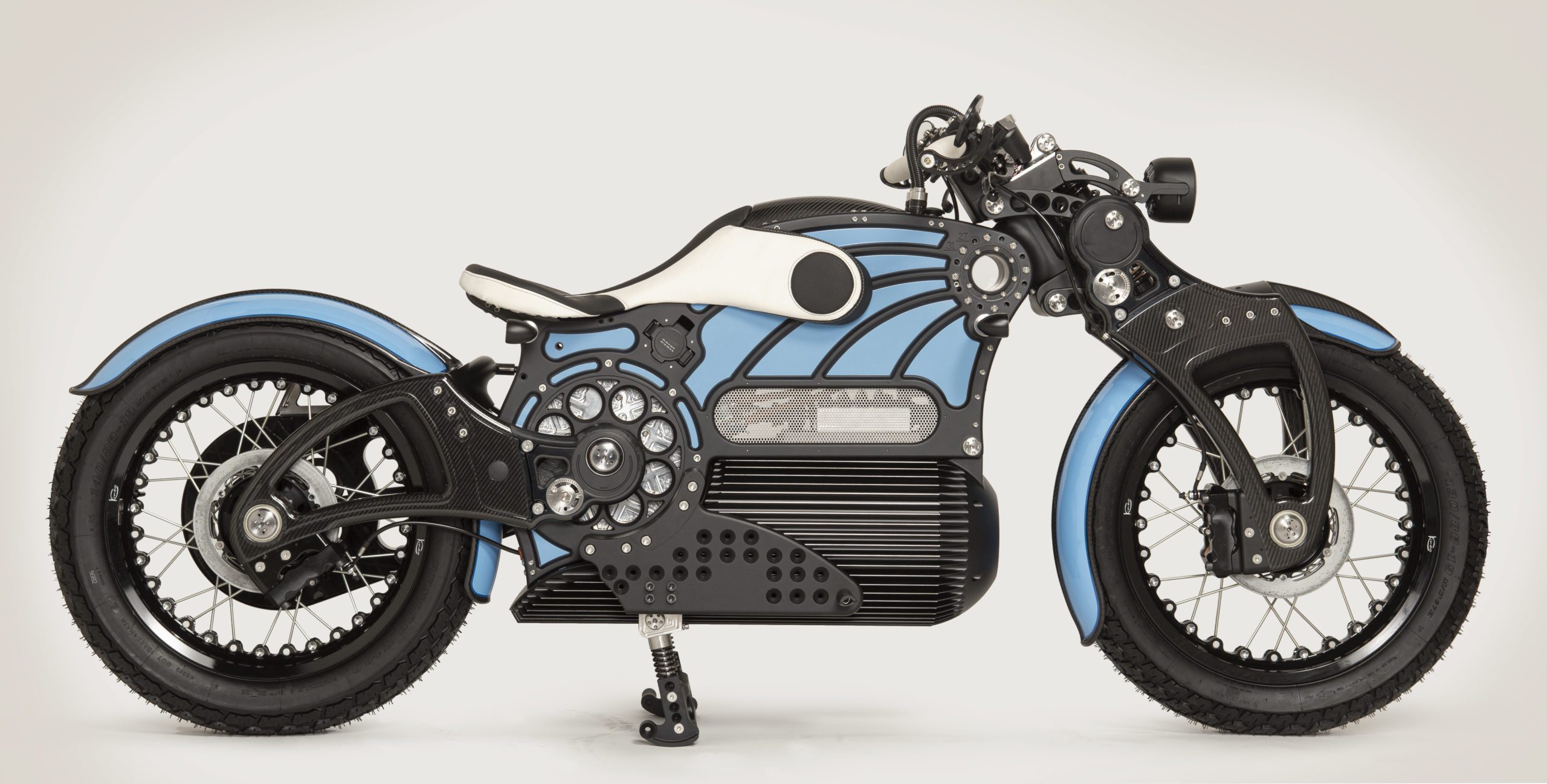 Now, if you're interested in electric mobility but also demand exclusivity, then Curtiss Motorcycles have something for you. If you're not familiar with Curtiss, you'll be familiar with the brand's former name "Confederate Motors." Confederate built a reputation for building some of the most exotic, exclusive, and expensive motorcycles in North America, and now that they've changed their name and business model, they've added an extra "E" into the mix: electric.
The brand ditched its name and direction a few years ago, but since Curtiss rose from Confederate's ashes, we hadn't heard much. We knew that the brand would only build electric motorcycles in the future, and we knew that it would work in partnership with Zero. But it has only been recently that we've seen what the future of Curtiss will look like. This is it. This is "The One" – an electric machine with eye-watering performance and a unique aesthetic.
The One is a low-volume production bike from Curtiss that uses a fully customizable frame, CNC-machined components, a radial battery case, and a powertrain that produces 217 horsepower, 272 lb-ft of torque. And what does it cost? £115,000. But that's a small price to pay for such a unique, innovative and outrageously American motorcycle. Maybe?
Lightning LS-218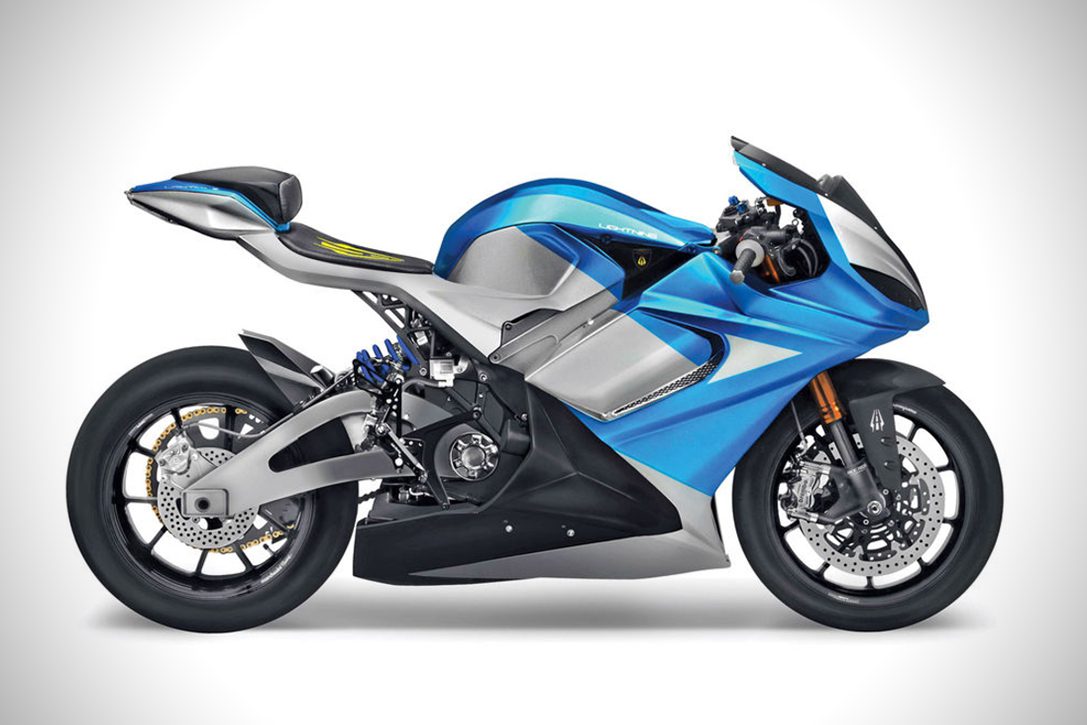 Yes, we've got another electric motorcycle here. The whole electrification of motorcycles can be an opinion divider, but whether you agree with it or not, it's happening—and America is very much at the forefront of development. In terms of performance, the USA's Lightning Motorcycle Corp is hard to beat. Why? Because the brand's flagship motorcycle, the LS-218, is the fastest production bike in the world, either gas or electric. And if that's not something to celebrate, then what is?
Lightning was founded in 2006 by Richard Hatfield. Hatfield formed the company to focus on electric mobility, and after designing a number of interesting vehicles, the LS-218 was born. It's an all-electric sports bike with a 12 kWh battery pack that can deliver an impressive range, and even more impressive performance. It has competed at Pikes Peak and numerous other competitions, but its crowning moment was setting its top speed record at the Bonneville Speedway: proving that it was capable of hitting 218 mph.
That kind of performance is pricey, but when compared to other high-end electric motorcycles, the LS-218 isn't actually that expensive, with a price tag of $38,888 US. It's electric, it's fast, and it's a titleholder—which is why it's one of the best American motorcycles ever made.
Rokon Trail-Breaker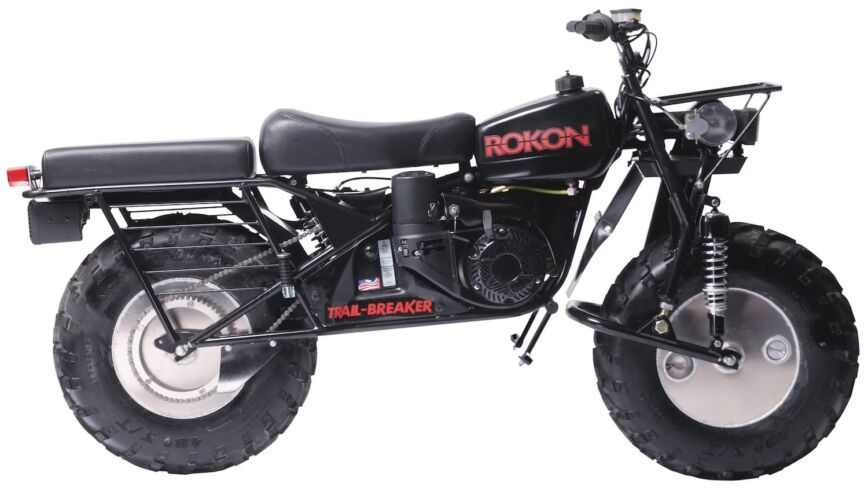 Disagree all you like, but the Rokon Trail-Breaker is a true American icon. It's a tough-talking, utilitarian machine with a pioneering spirit, with plenty of American grit and attitude. It might not be as well-known as a Harley-Davidson or as fast as the Lightning LS-218, but when the apocalypse comes, it's the bike you want on your side.
The first Trail-Breaker prototype was built in 1958. It was an all-wheel-drive, all-terrain utility vehicle designed for conquering the great outdoors. And it delivered! So much so that the Trail-Breaker went into full production in 1960…and it's still very much in production today. But what makes it special?
Equipped with a lightweight 7 horsepower motor, the Trail-Breaker doesn't sound like much. However, it has AWD, it has hollow drum wheels that can float in water or store liquids, shod with huge tractor-like tires, and what's more, it can tow up to 2,000 lbs.
It can climb rocks, cross rivers, carry huge loads, and accelerate to a modest top speed of 35 mph. It might be lacking in the performance department but it truly is a do-all workhorse that won't let you down. Plus, you can buy a Trail-Breaker for around $7,775—which is a small price for such a versatile, and 100% American motorcycle.