Suzuki Australia has issued a safety recall notice on 10 models of scooter, cruiser, sports bikes, adventurers and naked bikes over a regulator fault.
Models affected are: AN400K8-L2 Burgman scooter, DL1000 K8-L2 V-Strom, GSF1250K7-L0 Bandit, GSX1300BK K8-L0 B-King, GSX1300R K8-L2 Hayabusa, GSX-R600 K8-L0 supersport, GSX-R750 K8-L0 sportsbike, SFV650 K9-L2 F Gladius, and VLR1800 K8-L1 and VZ1500 K9 & L0 cruisers with various VIN numbers.
The recall notice says the regulator/rectifier power module circuit board may have absorbed moisture during storage in highly humid conditions.
"This may have reduced the strength of the adhesive used to affix the circuit board to the aluminium case. The heat generated from the power module can cause the power module to lift from the case," the notice says.
"This condition can cause excessive heat on the module, which can result in insufficient charge current being provided to the battery. This may cause discharging of the battery and can lead to engine stalling or non start condition. This may pose a hazard to the rider or other road users."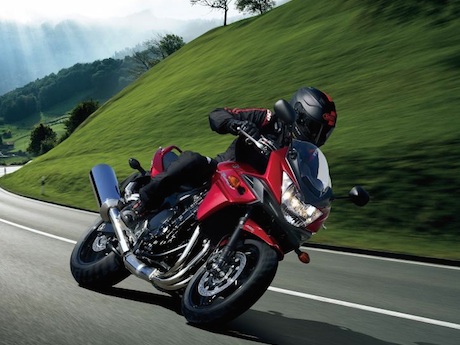 Owners are advised to take their vehicle to an authorised Suzuki dealer for inspection and free repairs, if needed.
This follows five recalls in the last two months of 2015 for various Suzuki motorcycles.
Recall notices are issued by the manufacturer through a voluntary industry code under the ACCC.
Despite hundreds of recalls by various automotive manufacturers, none has ever been mandatory.  All have been issued by the manufacturer.
While any recall is not good news for the manufacturer, it shows that they are largely diligent in fixing problems.
If you believe there is an endemic problem with your bike that should be recalled, contact the ACCC on 1300 302 502.
To check whether your motorcycle has been recalled, click on these sites:
• Australia
• USA
• UK
• Canada