Say Goodbye to the All-Mechanical Setup
Suzuki's current GSX-R1000 has a variable valve timing system it got from the GSX-RR Moto GP bike. It's an all-mechanical system and a darn good one. However, it seems Suzuki will drop that tried and true system for a new hydraulic VVT system, according to Cycle World.
The publication spotted some patent applications that suggest Suzuki is letting go of its current mechanical system in favor of a new hydraulic one. Why? Because a hydraulic VVT system could lead to performance improvements and easier drivability.
The current GSX-R1000 has a unique VVT system. It uses centrifugal force to achieve cam phasing, which is the advance or retardation of the cam to achieve maximum performance. Suzuki's system is different than other companies who have a VVT system. Those companies use a hydraulic system on their bikes. Moto GP prohibits the use of hydraulic systems on bikes, so that's how Suzuki ended up with the mechanical one.
Now, it seems Suzuki is working on a hydraulic system of its own, intended solely for its street bikes. The new hydraulic system controls the intake and exhaust camshafts. This will help with performance, but it will also help with emissions. The system is a lot like Suzuki's competitors.
Patents On Position
As Cycle World rightly points out, Suzuki isn't splitting the atom here. The company isn't really doing anything all that exciting or new. Ducati and Kawasaki both have similar systems. However, the company still patents its work, and it looks like their focusing attention on the placement of the hydraulic control valves.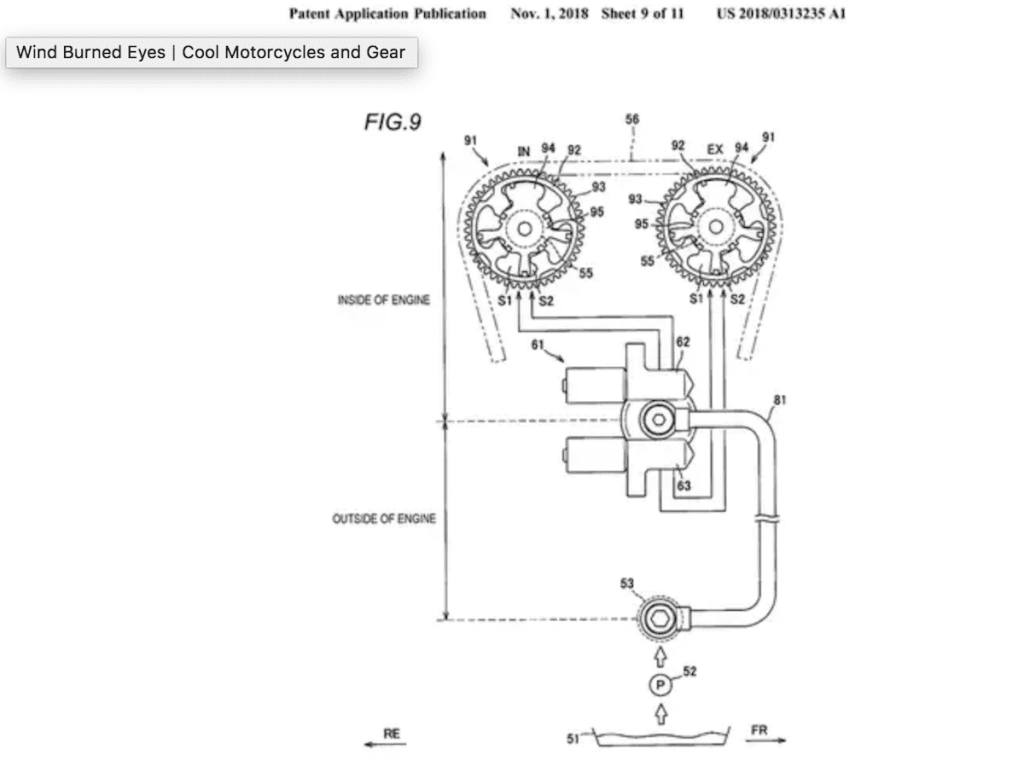 The position of the control valves is key. Suzuki placed them to the side of the cylinder, which should facilitate better cooling. Because of this, the oil should retain a consistent viscosity. That, in turn, should make the system smooth and consistent.
This small change could have noticeable results when riding, especially if you're riding hard. There's been more and more news and discussion about VVT systems lately. It's quickly becoming an important part of motorcycle technology due to the emissions and performance gains achieved through these systems. You can only expect more manufacturers to be playing with these systems as time goes on.