Carbo 7 Leather Gloves Review Summary
Review Summary
Spidi has taken my gauntlet glove virginity with the latest version of their highly-technical Carbo-series competition gloves - the Carbo 7 Gloves. The gloves are well-vented and provide sufficient breathability, leading to all-around comfort. The shell construction is 88% goatskin leather that softens with use and will protect the rider's hand in a slide. Numerous high-density protective pads are littered throughout the glove in high-impact areas to dissipate energy. Unfortunately, the knuckle protector is misaligned and proves to be a significant downside to these gloves.
Pros
Ample high-density padding on palm, side, back of the hand, and fingers
TPR sliders on the finger joints
Dual hook and loop adjusters
88% 0.6mm - 0.8mm goat leather shell
Meets certification for Level 1 EN 13594-2015 KP CE
Well-vented with plenty of breathability
Cons
The carbon fiber protector is not aligned with my knuckles
Not touchscreen compatible
Carbo 7 Leather Gloves Image Gallery
Review Summary
Here is a quick summary of my review of Spidi's Carbo 7 Gloves:
The Carbo 7 Gloves retail for $179.90 USD
The gloves are available in 5 different color schemes and range from size SM-3XL
The shell of the gloves is made out of 88% goatskin leather that softens and is comfortable to wear
Dual straps provide a secure fit
Padding on the palm, back of hand, fingers, and wrist protects from impact
TPR sliders protect the joints of your fingers
Carbon fiber knuckle protector meets Level 1 CE certification
The protector is misaligned with my knuckles and covers the back of my hand instead
Not touchscreen compatible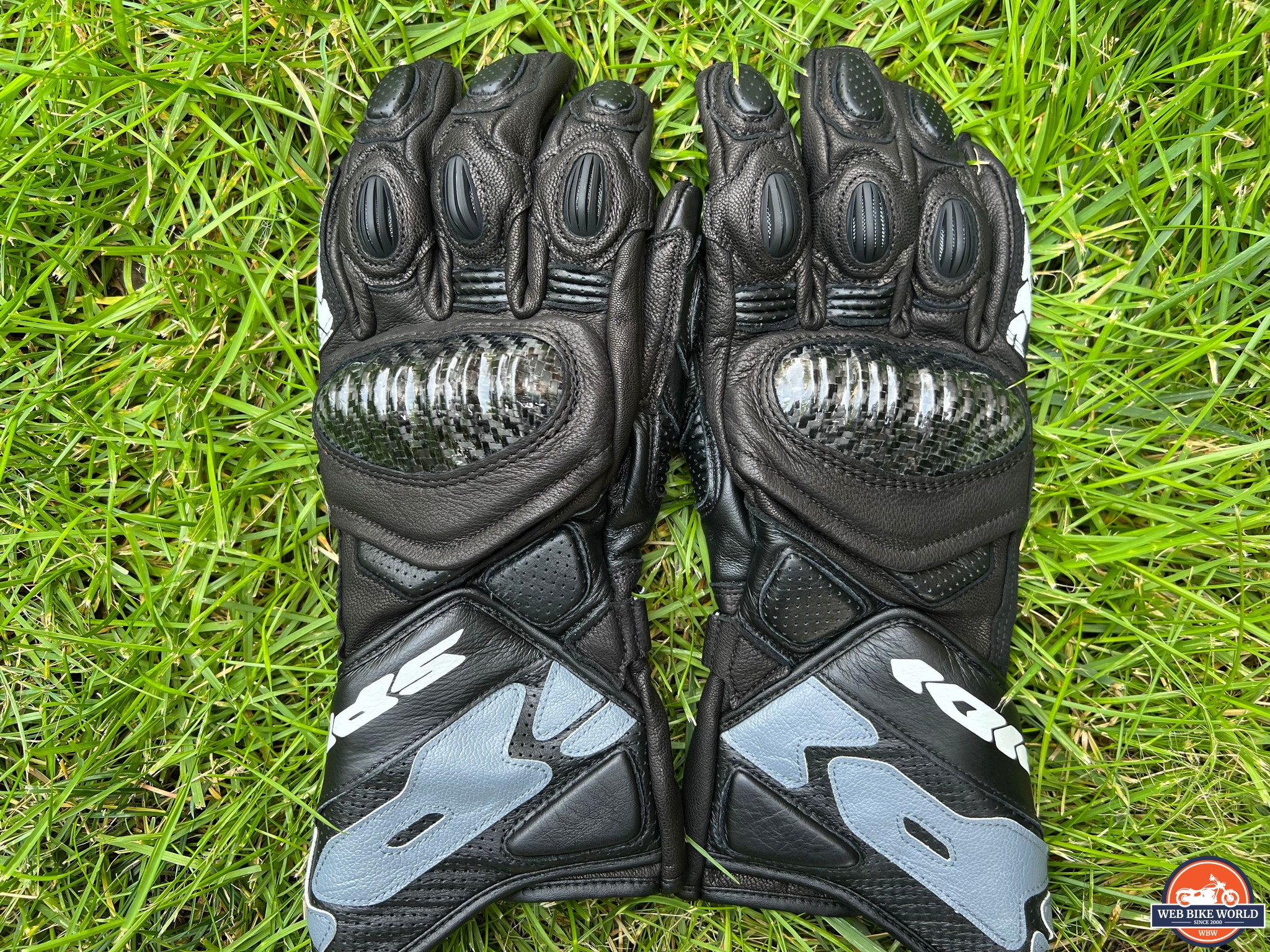 Carbo 7 Gloves – Protection For On and Off the Track
Have you ever seen a Harley Davidson rider wearing gauntlet gloves?
It was a first for me as well but I thought I'd give it a go. I had read a number of different reviews for gauntlet gloves and wanted to know what I was missing out on. Just because I'm not taking my bike to the track or racing down city streets doesn't mean I can't gear up to the nines, right?
When we had reached out to the team at Spidi and were discussing gear reviews, I took a shot in the dark and asked about their Carbo 7 gloves.
I've been wearing the Carbo 7's during my casual rides over the course of 6 weeks. Out of the gloves I was sent from Spidi, the Carbo 7's turned out to be my preferred pair. Continue reading on to find out why!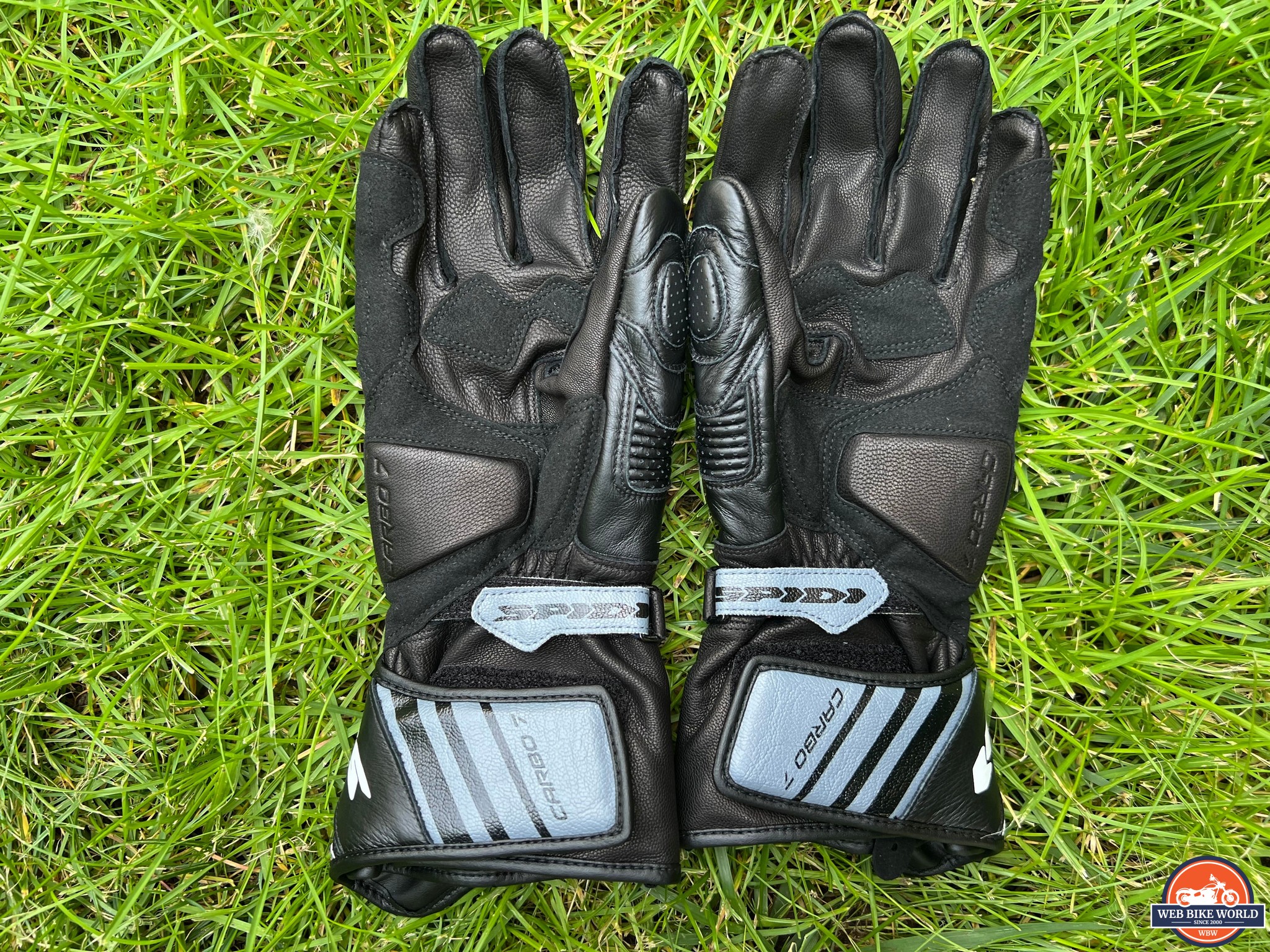 Spidi Carbo 7 Gloves
The Carbo 7's are Spidi's latest addition to their competition Carbo-series gloves. There are many variations to the Carbo gloves, each with its own unique features. I chose the Carbo 7's to review as I felt this model best fit my riding style. The Carbo 5's and Carbo Track Evo offer additional protection over the Carbo 7's which I felt would've been overkill for me.
These gloves protect your hands in many ways, such as the use of palm, back of the hand, and side of hand padding. The knuckles are reinforced with a carbon fiber protector that meets certification for Level 1 EN 13594:2015 KP CE.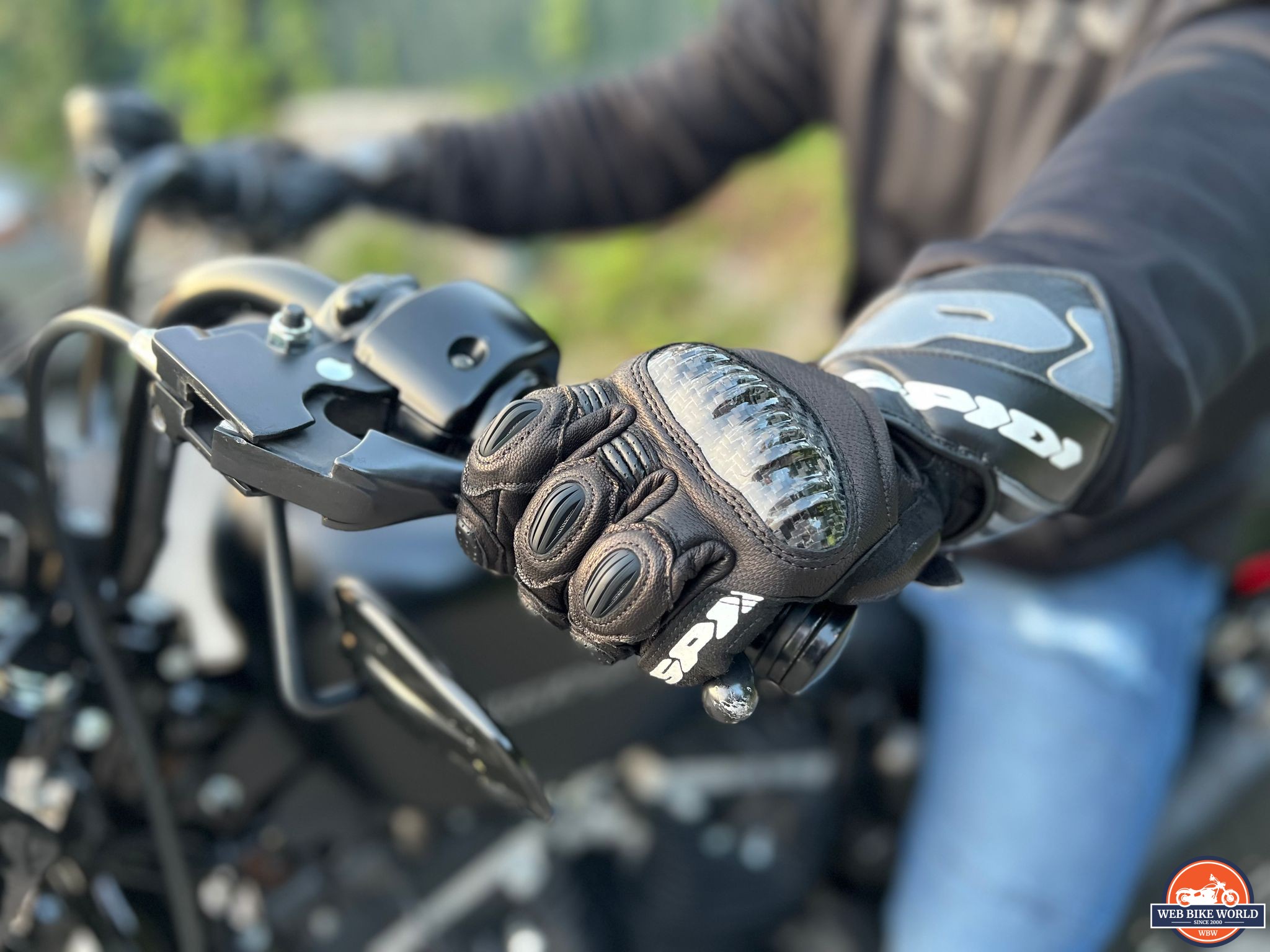 Each glove has a goat leather chassis ranging in thickness from 0.6mm to 0.8mm. The leather is what will protect you from abrasion should you find yourself in an accident wearing the Carbo 7's.
Aside from protective properties, the gloves are fairly lightweight and allow for a comfortable amount of breathability. This was a big relief for my hands after trialing the Nkd H2Out's as they weren't very breathable at all.
Carbo 7's Size Guide
Let's start with size!
The Carbo 7's are available in sizes SM – 3XL. My original choice was a size medium which proved to be too big. This decision was made despite the size guide provided by Spidi on RevZilla. I was reluctant to believe my hands were that small and ego-ordered a medium.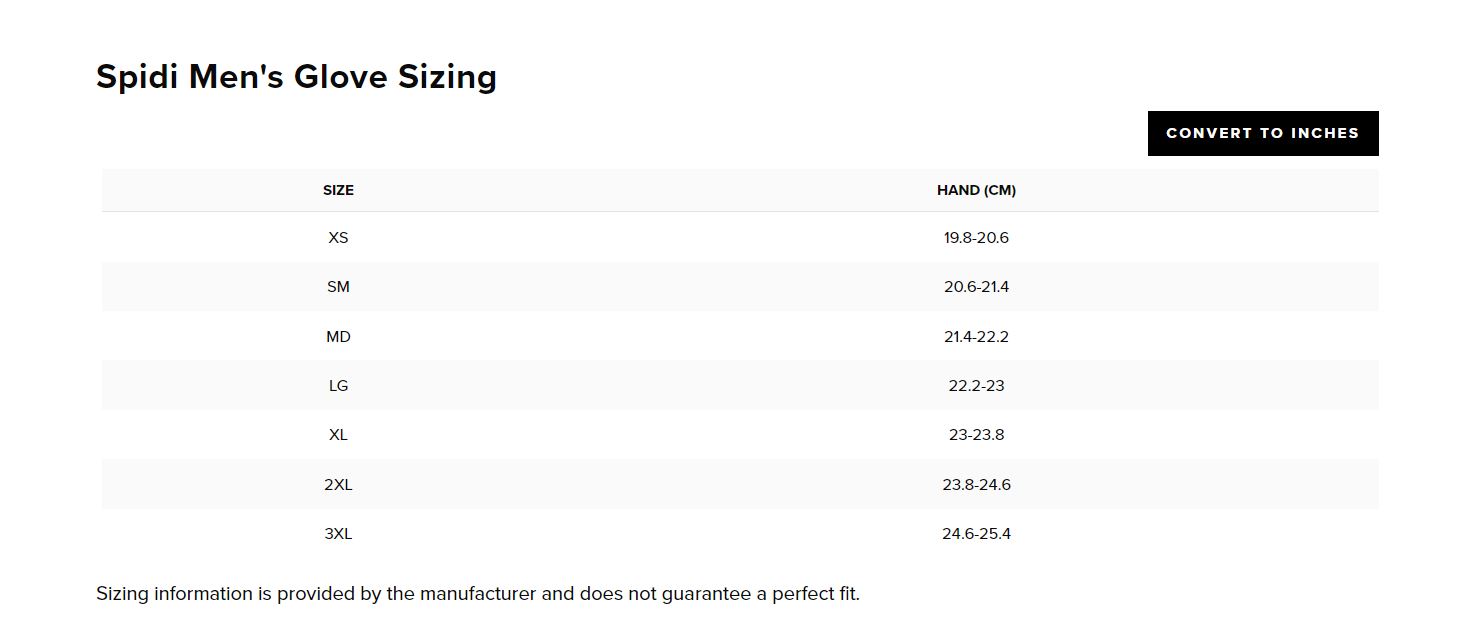 Well, I had to send them back and get a size small. Lesson learned; follow the size guide! The size small was a perfect fit for my hand's circumference and finger length.
With the Carbo 7's, you can likely get away with a slightly larger glove should you order the wrong size. While I don't recommend it, the Carbo 7's have a dual fastening system. This is unlike short gloves, which only have a strap on the wrist. Spidi refers to it as dual hook and loop adjusters. I'll cover this more under Design.
Size Rating: 90%
When it came to sizing the Carbo 7's, I am at fault for having to exchange them. As I mentioned, if I followed the size guide my first time ordering I would've had a perfect fit.
In my opinion, gloves that fit on the finger are more important than the hand circumference. For example, I would rather have a tighter-fitting glove in the palm over excess material in the fingertips. The size guide only mentions the hand circumference. I'd love to see Spidi add a measurement for your finger length as well.

Design & Build Quality
The Carbo 7's were the first pair of gauntlet gloves that I've tried. What peaked my interest was the subtle branding and all-black colour scheme. If you've read some of my previous reviews, you'll know that my Iron 883 is blacked out and I typically wear gear to compliment it. I mentioned this in my Nkd H2Out review as well.
At the time of writing, the Carbo 7's are available in 5 different color schemes:
Black
Black/White
Black/Blue/Gold
Black/Red/Hi-Viz Yellow
Red/Black
I believe Spidi is appealing to sportbike and naked bike riders with some of the flashier multi-colored schemes. For all my fellow cruiser riders, I suspect you'd prefer the all-black glove that I've pictured throughout this review.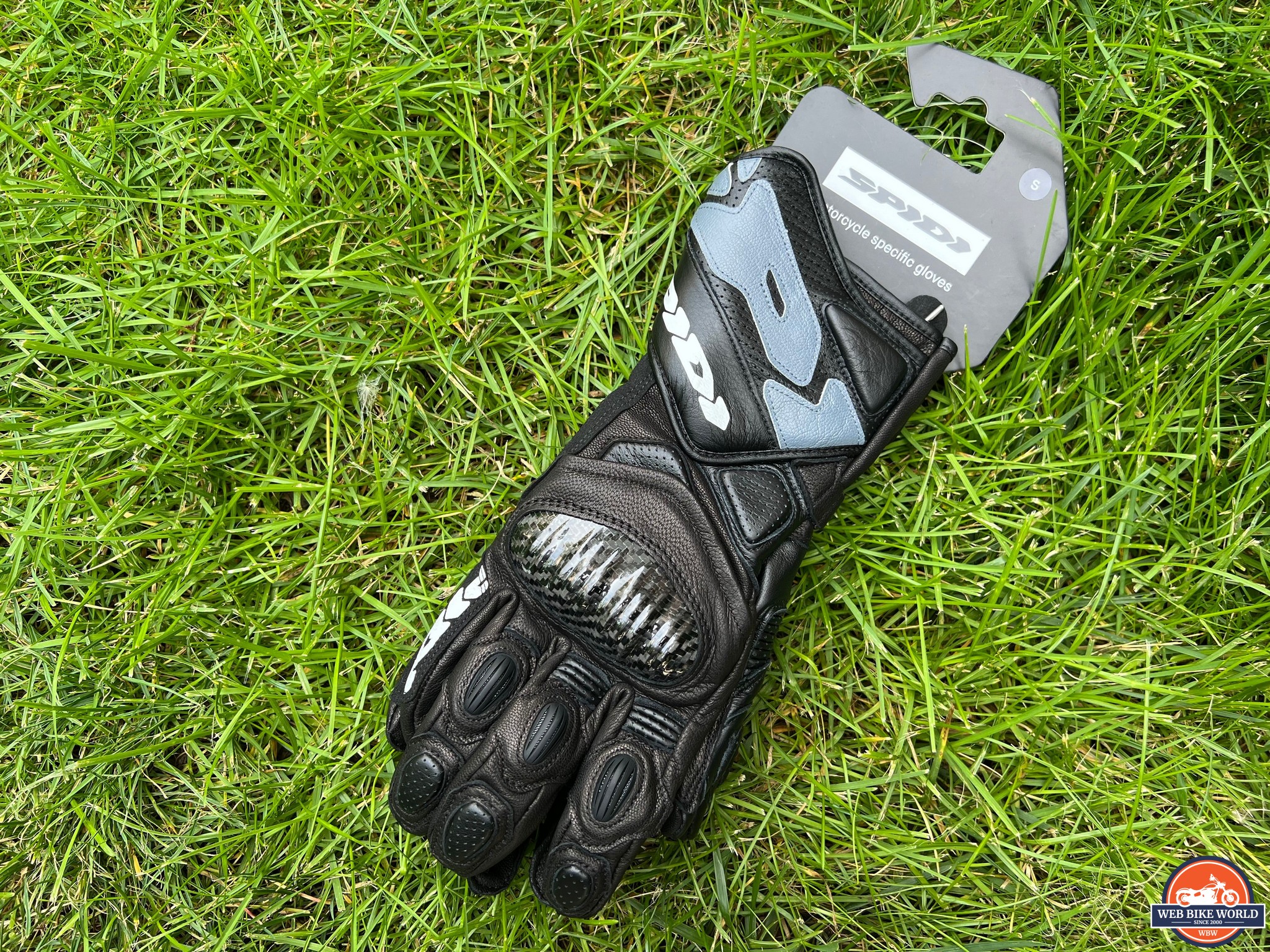 Carbo 7's Design
The design of Spidi's Carbo 7 gloves is pretty standard with other gauntlet gloves in its price range. Branding is subtle with Spidi sprawled across both wrist closures. The logo is white on the back of the wrist and black on the front. There is also branding on the pinky finger that reads PIDI. I found it odd that they seemingly dropped the S.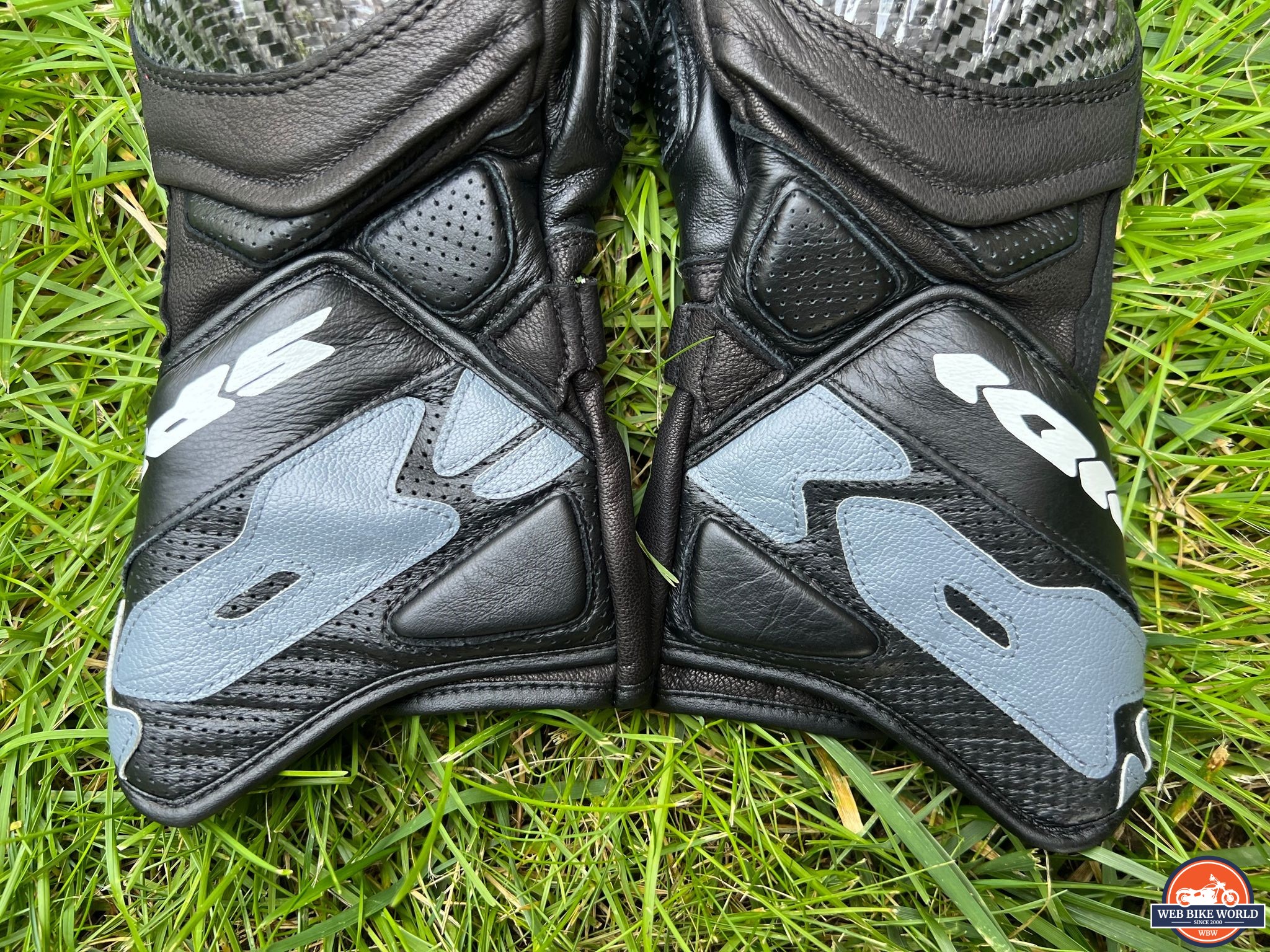 There is abundant padding in areas you'd like it to be, as well as in areas you wouldn't expect it. It is neatly blended into the design of the glove and is black in all color schemes (from what I can tell). I will get into the protective potential of the padding under Safety & Protection.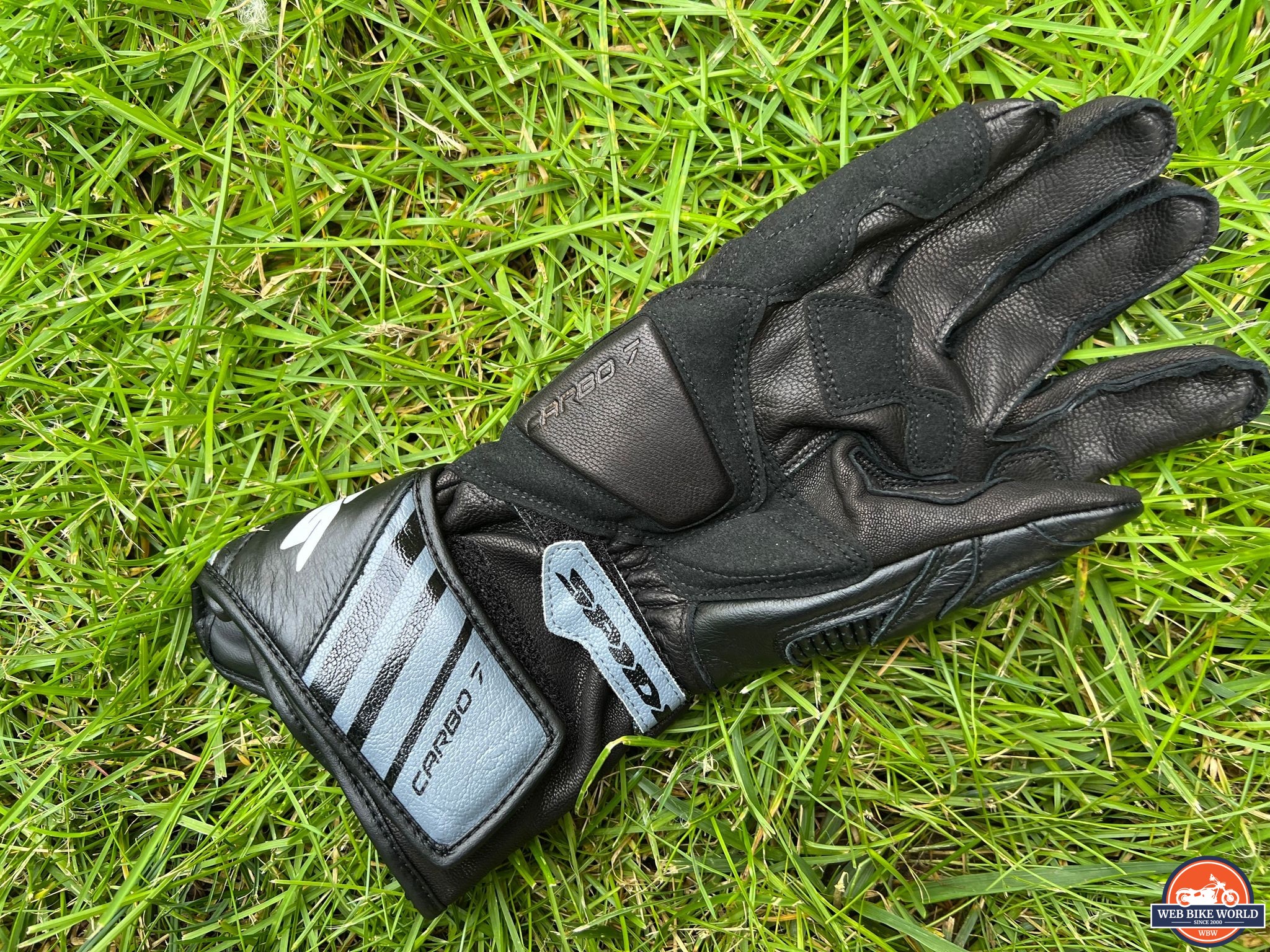 The Carbo 7's extend past your hand and up your wrist. I measured the gloves to cover over 3" of forearm past your pisiform. This is to be expected with a gauntlet glove. The lateral side of my forearm had slightly more protection than the medial due to the design of the wrist closure.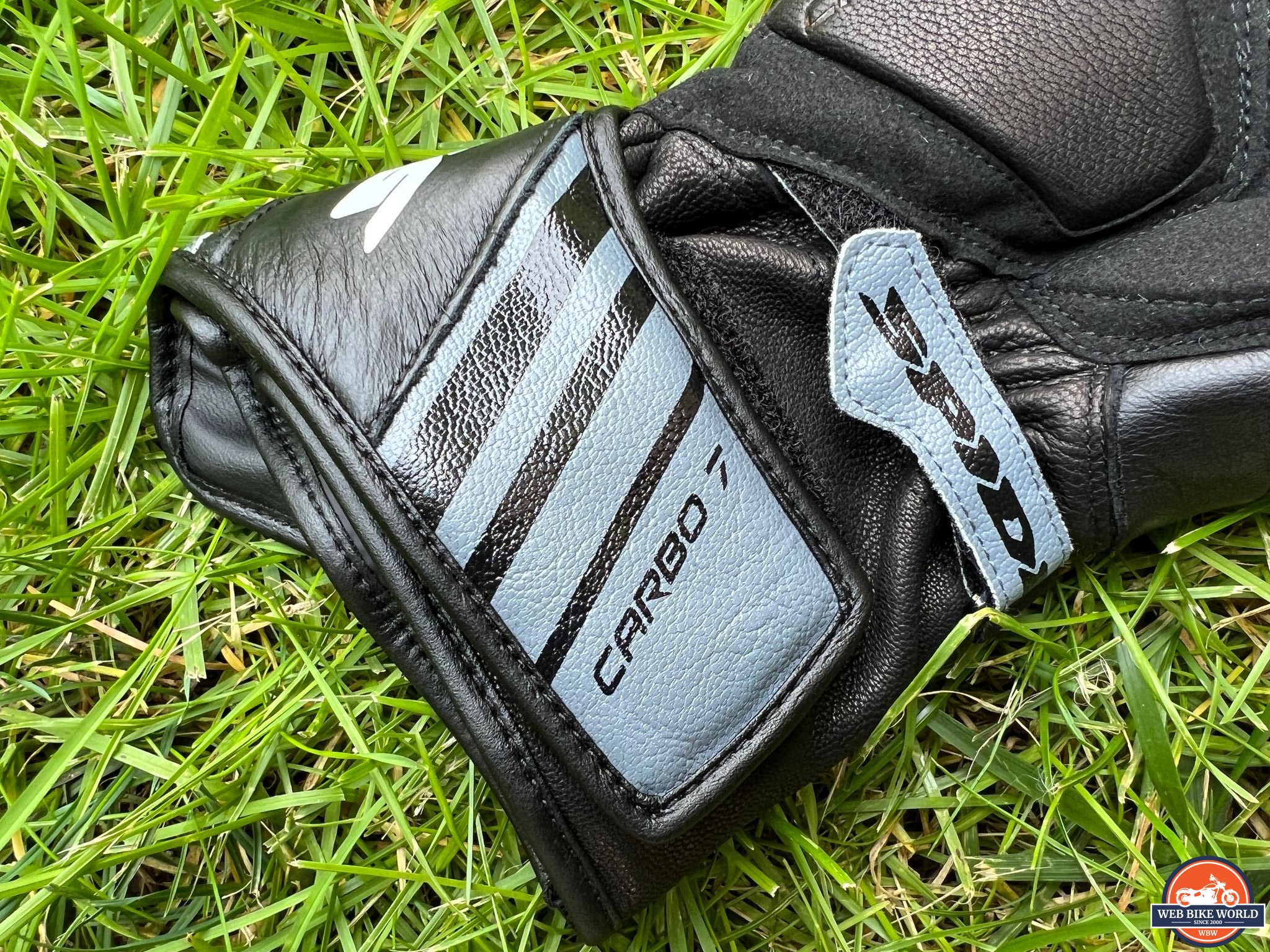 The shell of the glove is almost entirely made out of goatskin leather, taking up 88% of its composition. The remaining 12% is a blend of polyester, polyurethane, and other fibers, as per Spidi.
It is important to note that the Carbo 7 gloves are not touchscreen compatible.
Quality
In terms of the quality of materials used in the Carbo 7 gloves, I don't have any concerns. There aren't any signs of wear or tear after my review period. Bear in mind, I've only worn the gloves for 6 weeks before writing. I will update this review if I notice any changes after further use.
The padding on the gloves feels great and protective. I will cover this further when we discuss protection later in the review. The reason I'm bringing it up now is because of a concern I have with the carbon fiber knuckle protector.
As was the case with the Nkd H2Out gloves, the knuckle protector is not aligned with my knuckles. It sits slightly back on my hand, leaving my knuckles exposed and without the CE Level 1 protection I was anticipating.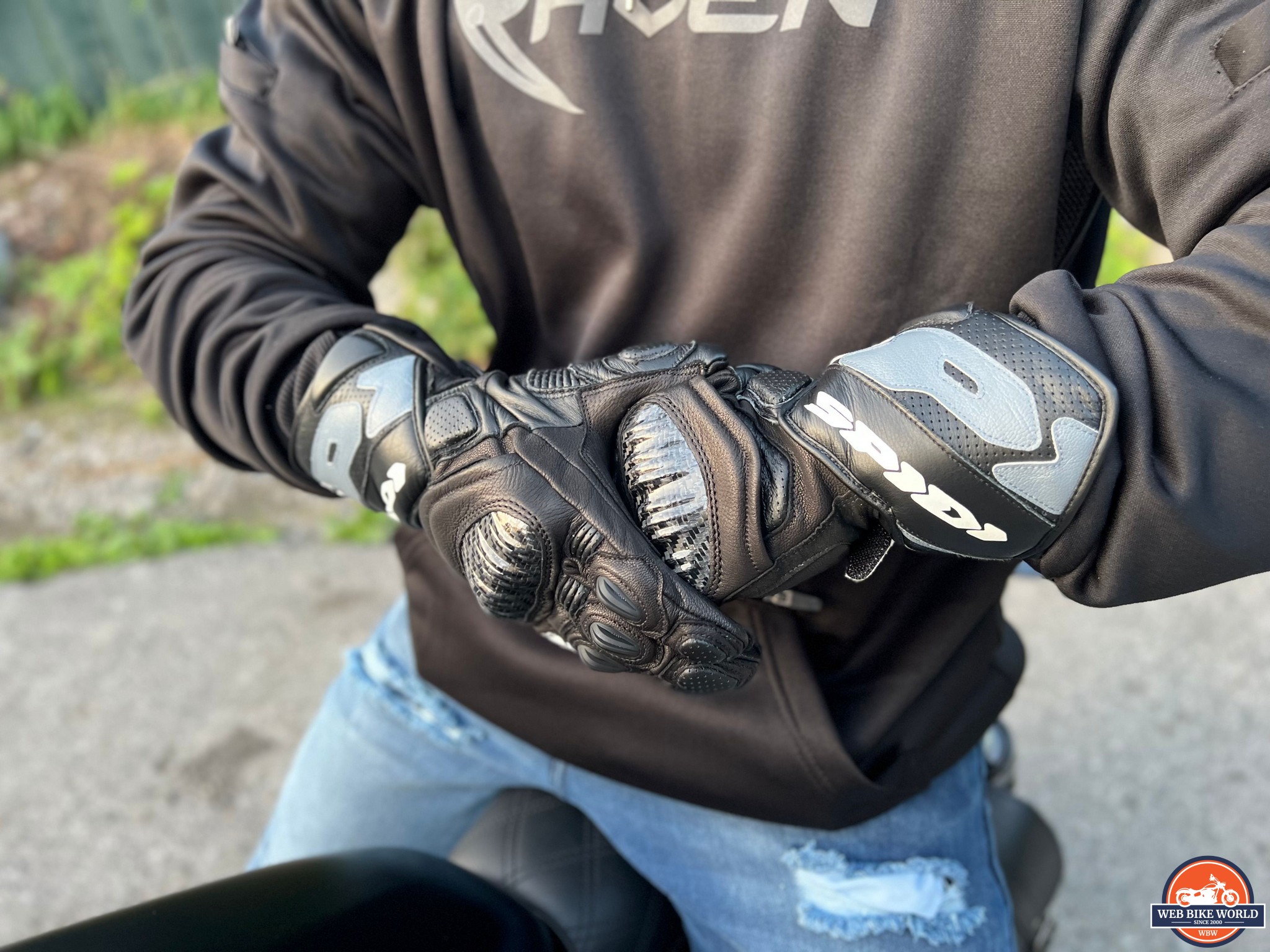 I began to wonder whether the problem lies with Spidi, or if I have weird hands. After all, a similar situation was reported after reviewing RAVEN Moto's Trauma Gloves.
I found the former to be true after trying on a pair of Alpinestars gloves. The protector rests exactly where it should and entirely covers my knuckles.
Design & Build Quality: 75%
I am happy with the design of the Carbo 7's. I believe Spidi has done a wonderful job of adding tasteful branding that doesn't take away from the overall look of the glove. They've released numerous color schemes that appeal to a broad range of riders.
I was very pleased to see an all-leather glove, front and back. If you read my Nkd H2Out review, you'll know that I wasn't very happy with the fingers and palms being made out of microfiber fabric.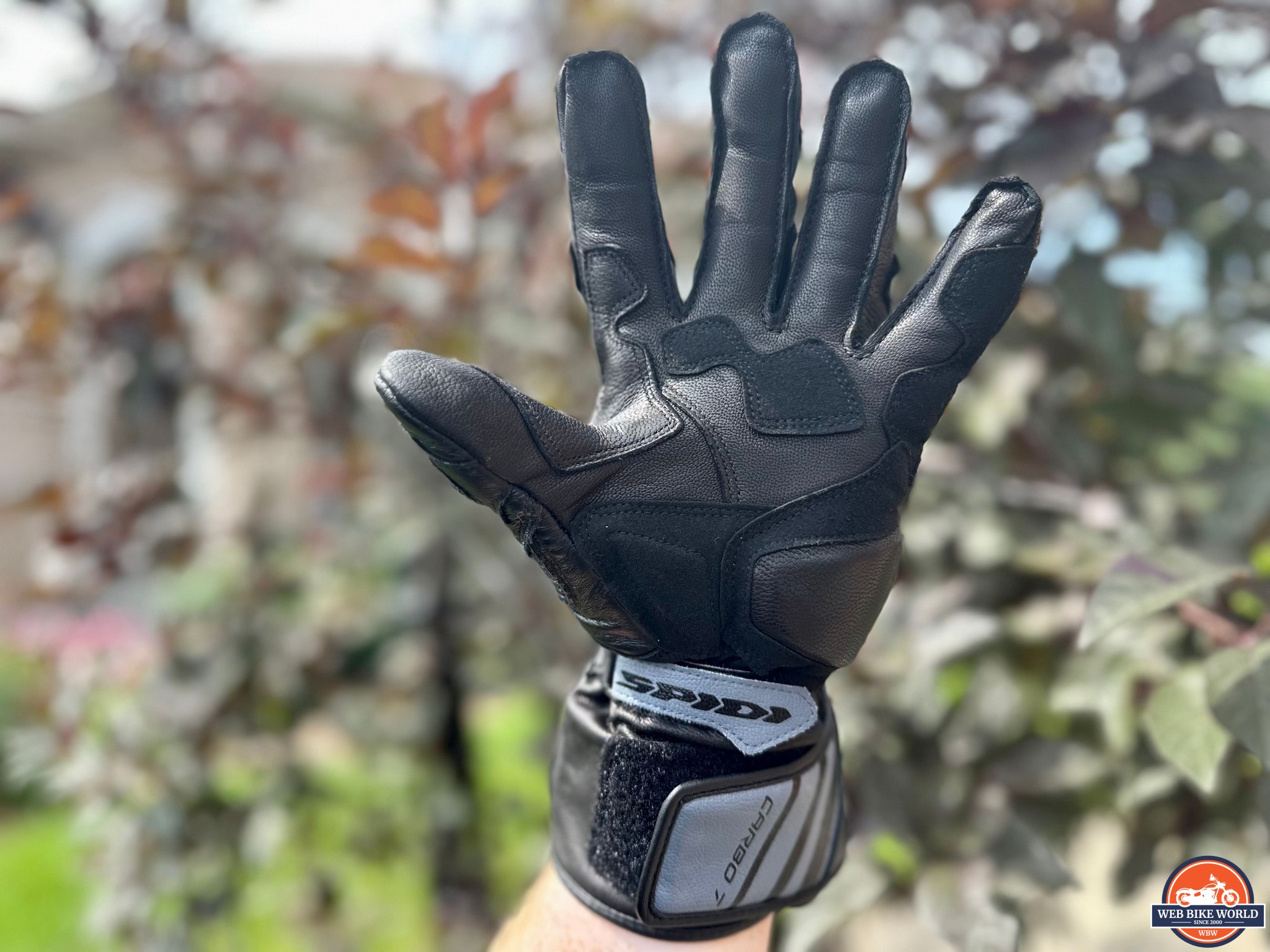 If I could make a design suggestion it would be for touchscreen compatible fingertips. This feature is becoming prevalent in today's market as can be seen on cheaper models, such as some of the gloves listed here.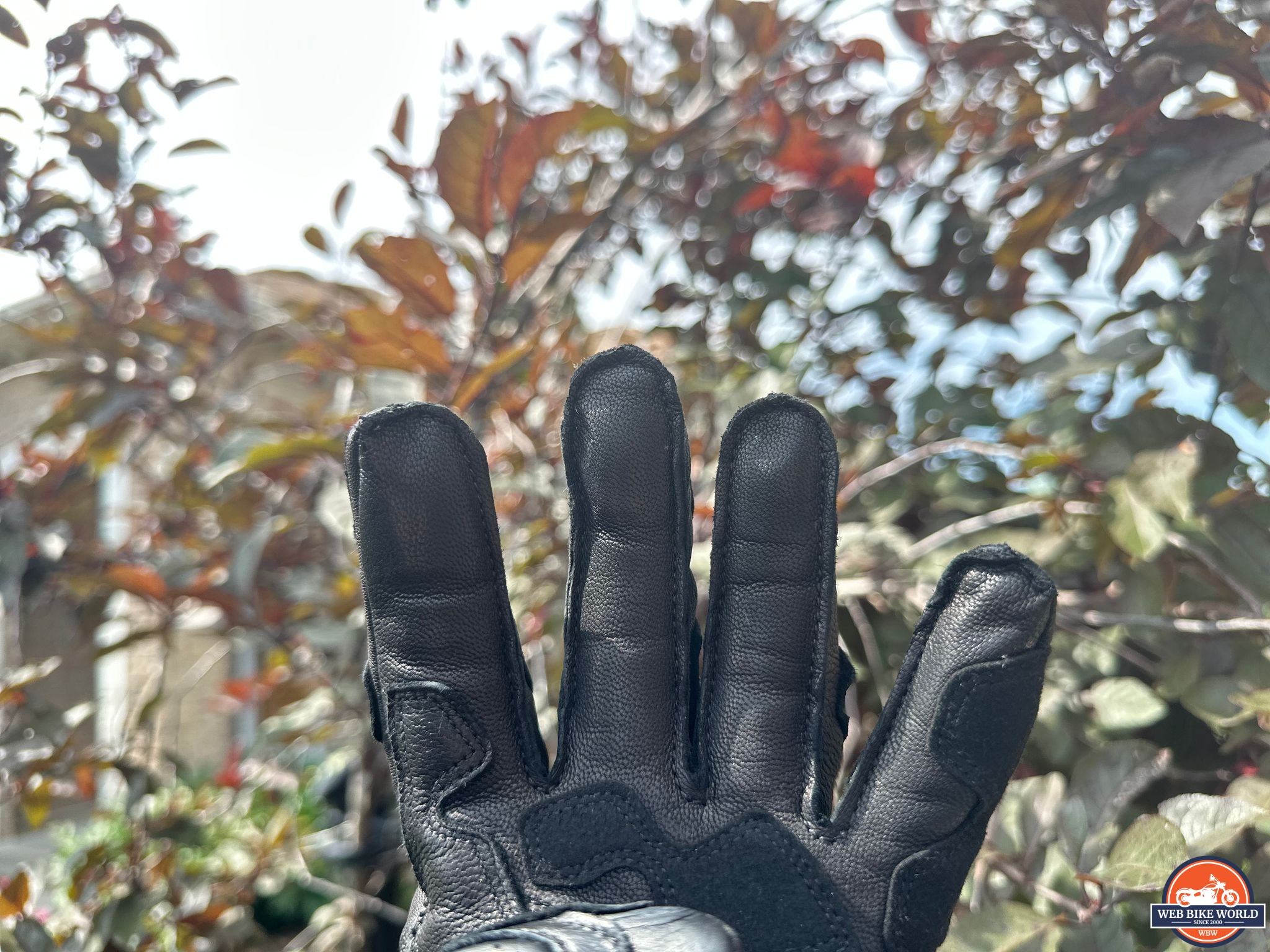 Unfortunately, I have a bone to pick with Spidi when it comes to their knuckle protectors. This is the second pair of Spidi gloves I've worn where the protector is not where it should be as is the same of Spidi's Flash R Evo Women's gloves.
Because this is the second occurrence, I've docked points from the Design & Build Quality of the gloves as it's not isolated to one pair. It seems to be consistent with Spidi's manufacturing and as such I'm considering it a problem with quality control.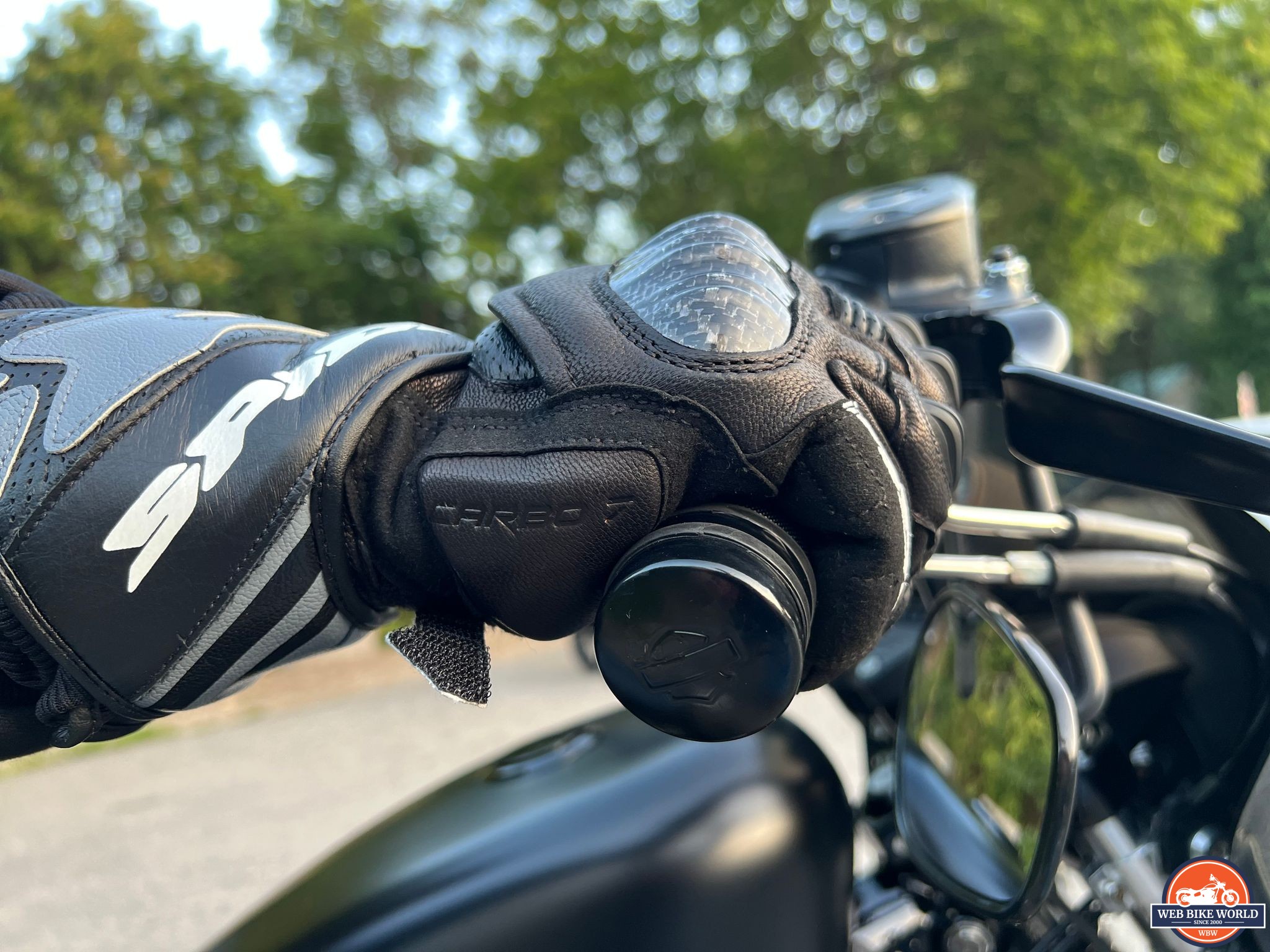 Comfort & Fitment
I will happily admit that I was surprised with how comfortable the Carbo 7 gloves are to wear. Just looking at them you'd expect the gloves to be hot, stiff, and difficult to ride in.
While the latter was true at first, the gloves loosened up fairly quickly. I believe it was on my second or third ride that I really began to notice a difference. I went from having my hands locked in position as if I were grabbing my handlebars to being able to move freely without much resistance.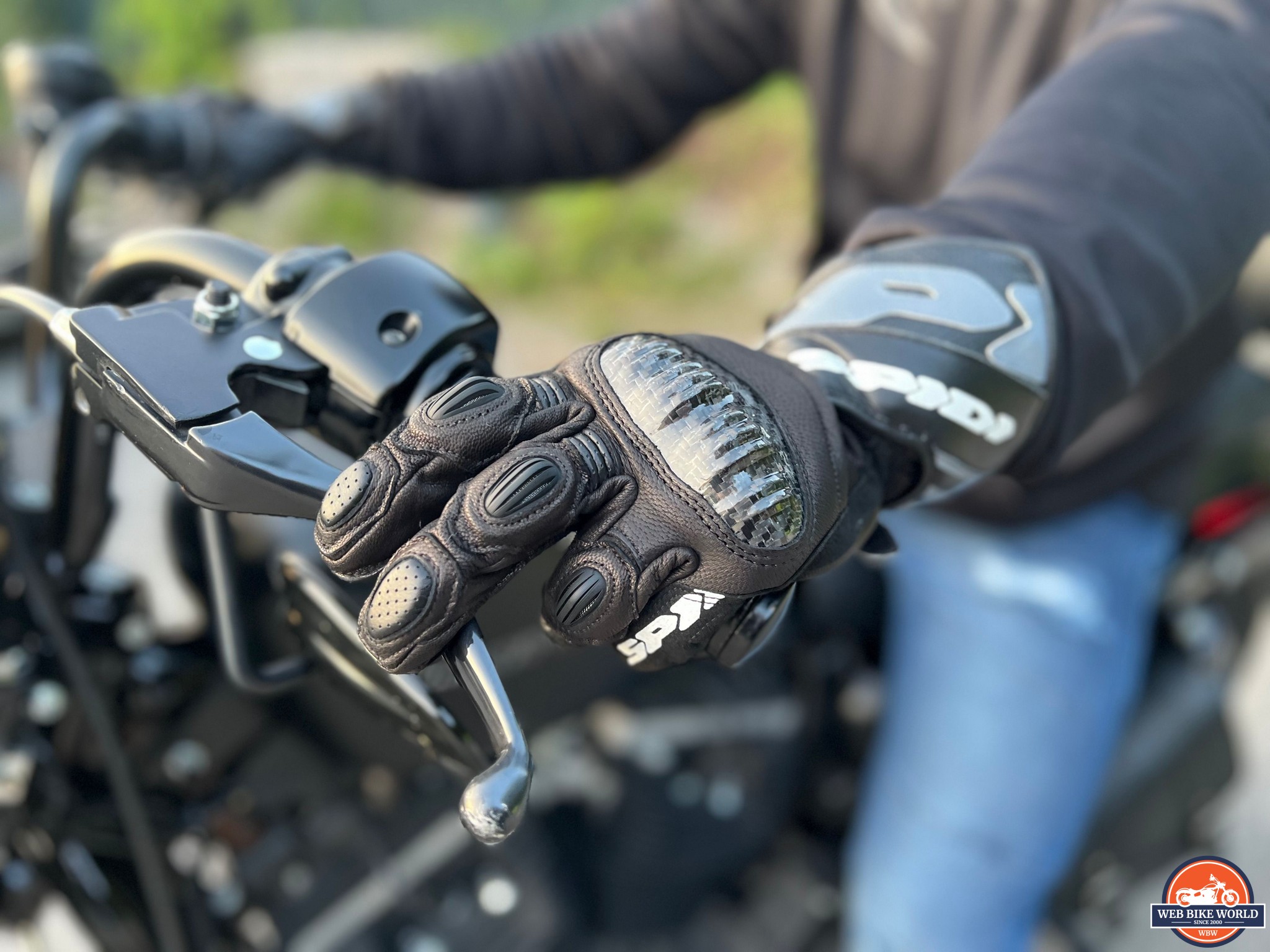 Even though the leather began to loosen and allow for better mobility, the fit of the glove remained the same. The Carbo 7's are tight, but not too tight to the point that you begin to lose circulation. They feel snug and secure which instilled a lot of confidence in them.
At the cuff, the gloves make use of a large velcro closure to fasten them in place. Just below the thumb, at the wrist, is a second smaller velcro closure. This strap is fed through a metal loop to create a very tight fit. I found the smaller, secondary strap to feel more secure than the larger velcro closure.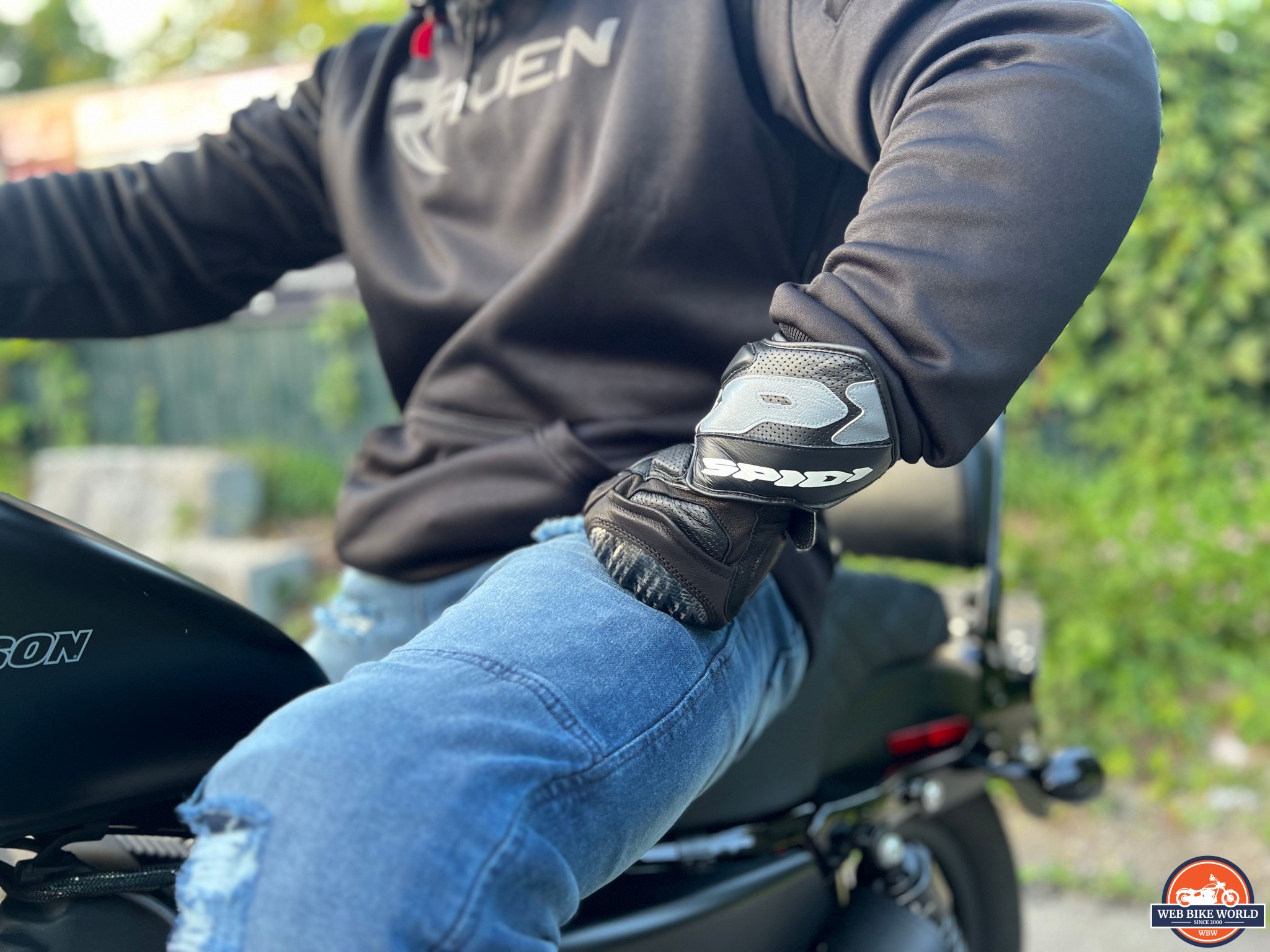 Various vents and punctures are incorporated into the design of the glove for added breathability. This is always a welcomed benefit in my opinion and truly made a difference when riding. For a large glove, I found the Carbo 7's to be very comfortable in hotter temperatures without any concern about sweaty hands.
Comfort & Fitment Rating: 85%
The Carbo 7's are an absolute pleasure to wear. I was afraid that I'd be uncomfortable and hate riding in them. After all, I only had experience with short gloves prior to this review. Thankfully, I was wrong and soon began to enjoy riding in them.
These gloves would not have fit me well without the secondary strap on the face of the wrist. The cuff closure fastened further up my arm where I've got more meat on my bones. With a bit of a pull, the closure moves towards the skinnier part of your wrist, thus allowing it to be removed completely. The secondary strap prevents that and gives the Carbo 7's an excellent fit.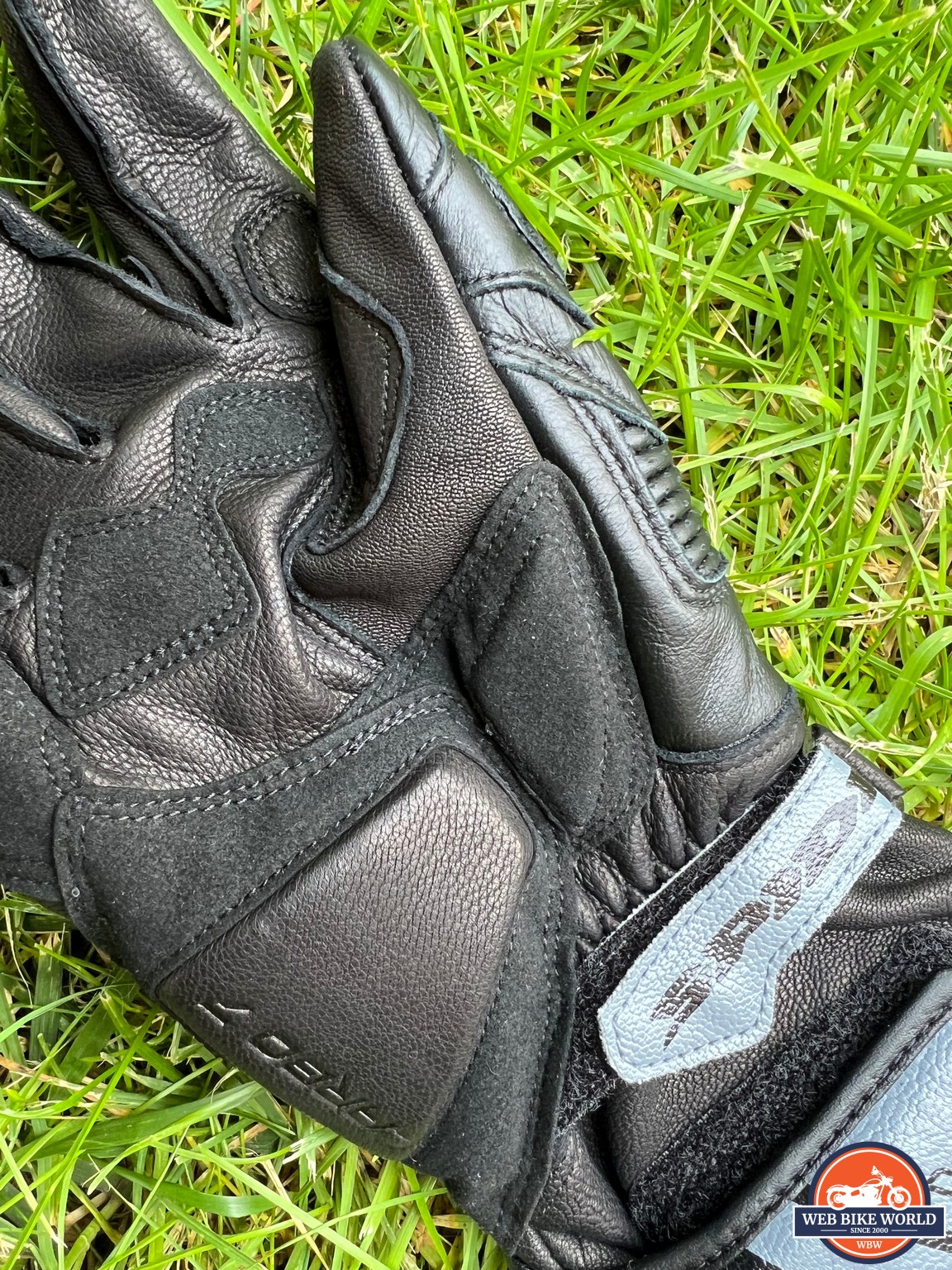 We've put together a small guide to help you find the best motorcycle glove style and fit. Be sure to give it a read to help find the perfect match glove for you.
Hit & Miss Protection
When it comes to protection, the Carbo 7's are hit or miss – literally and figuratively.
When we fall, our first instinct is to put our hands out in front of us. It's our body's natural reaction as we attempt to catch ourselves and prevent an impact on our head. In an accident, the same will hold true except it'll be at much higher speeds with greater forces.
It's well-known within the motorcycle industry that leather is the best material to combat abrasion. The leather shell of the Carbo 7's gives me confidence that my hands will be protected from sliding should I find myself in that situation. On the outside of the pinky, Spidi has thoughtfully incorporated an additional reinforcement layer of fabric to fight against abrasion.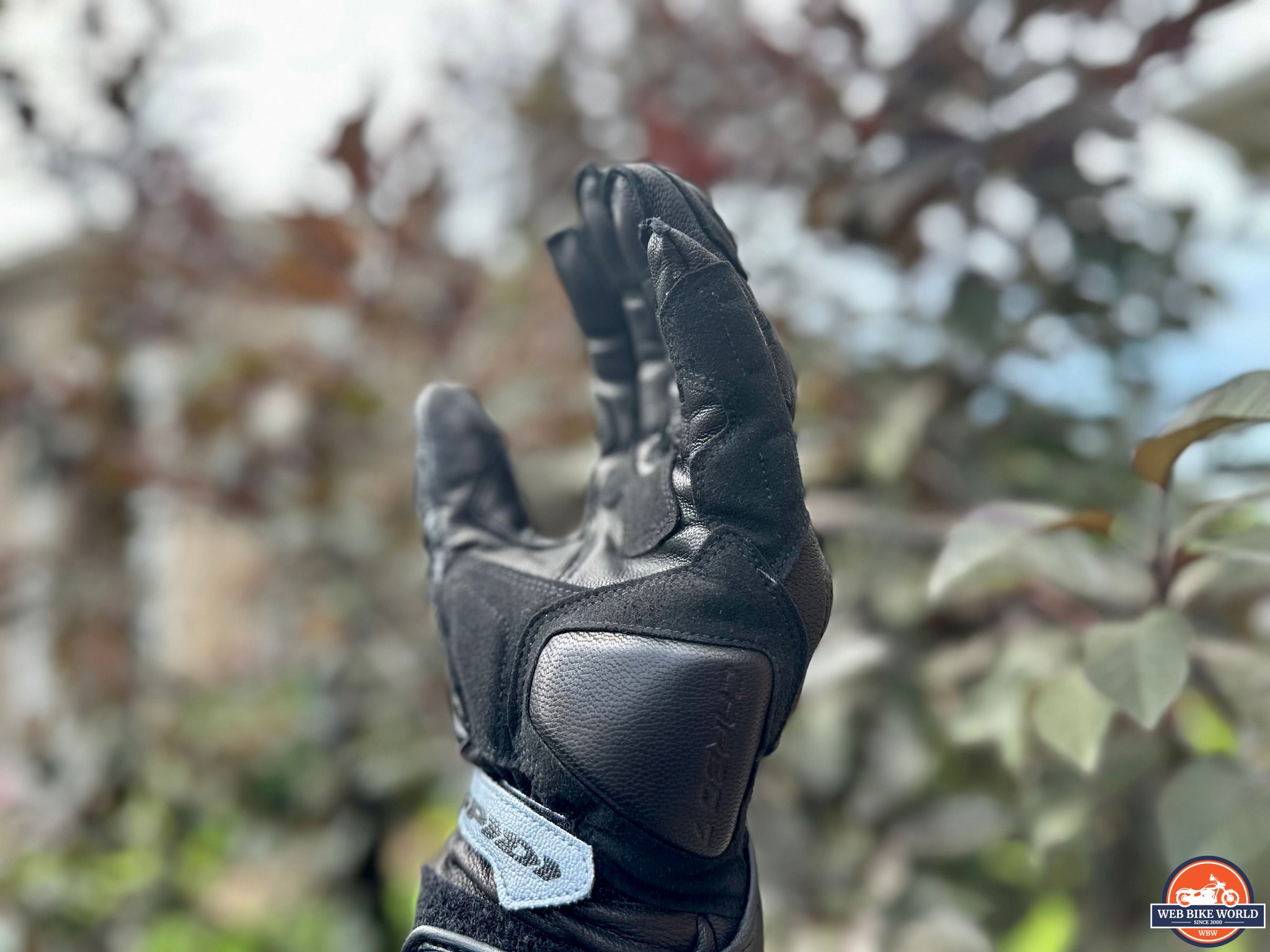 To protect you upon impact, protective padding can be found all throughout the gloves. Thick, compressive pads can be found on the back of the hand, across the palm, wrist, and all of the fingertips with the exception of the pink. These pads feel thick and are difficult to fully compress with my fingers. They give me a sense of confidence that they'll do their job well and absorb a large portion of energy upon impact.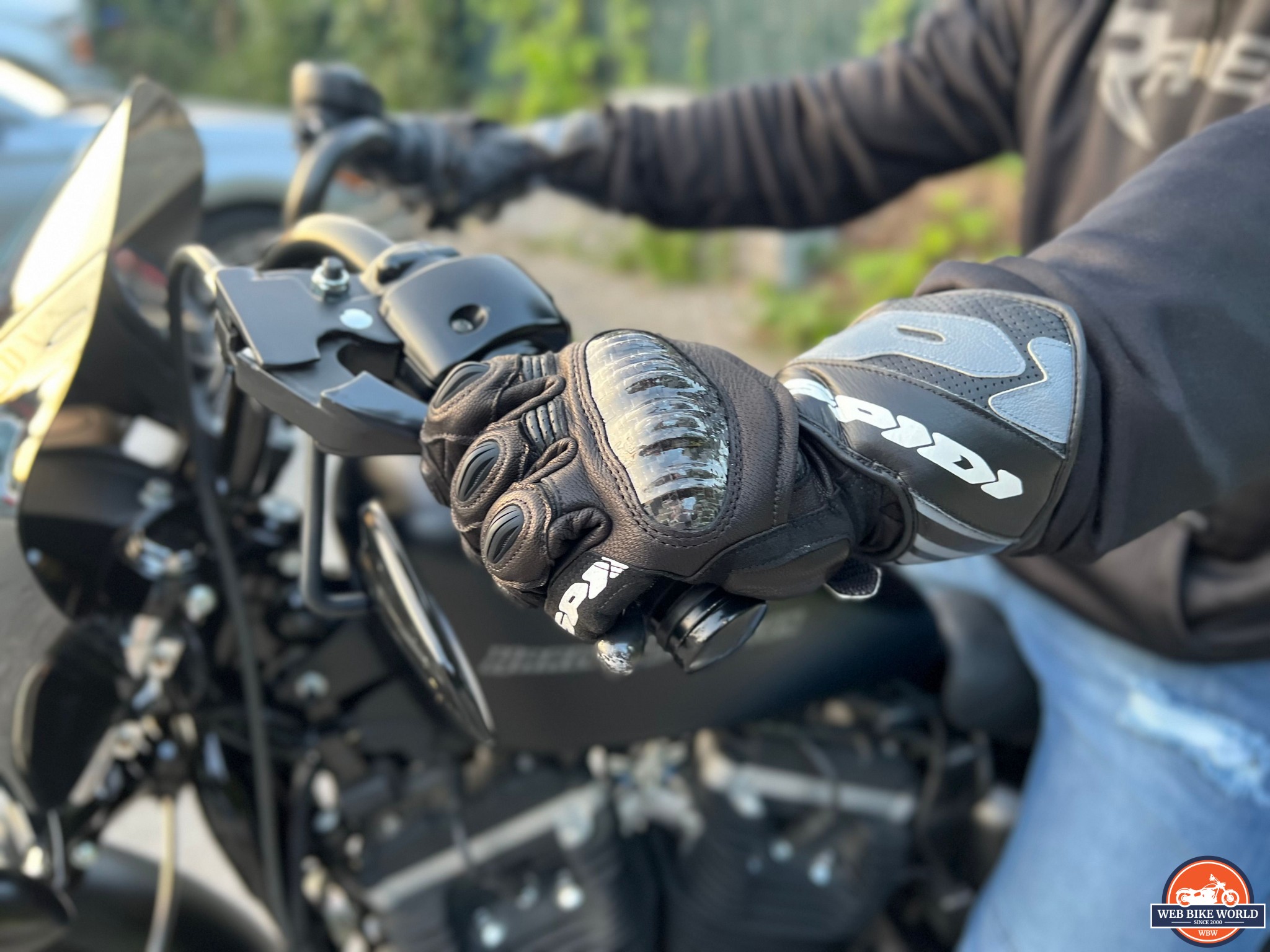 In addition to the compressive pads, the Carbo 7's have TPR finger sliders on the back of the joints of the fingers, as well as a CE Level 1 EN 13594:2015 KP knuckle protector. The protector is made out of carbon fiber and spans the entire width of the hand.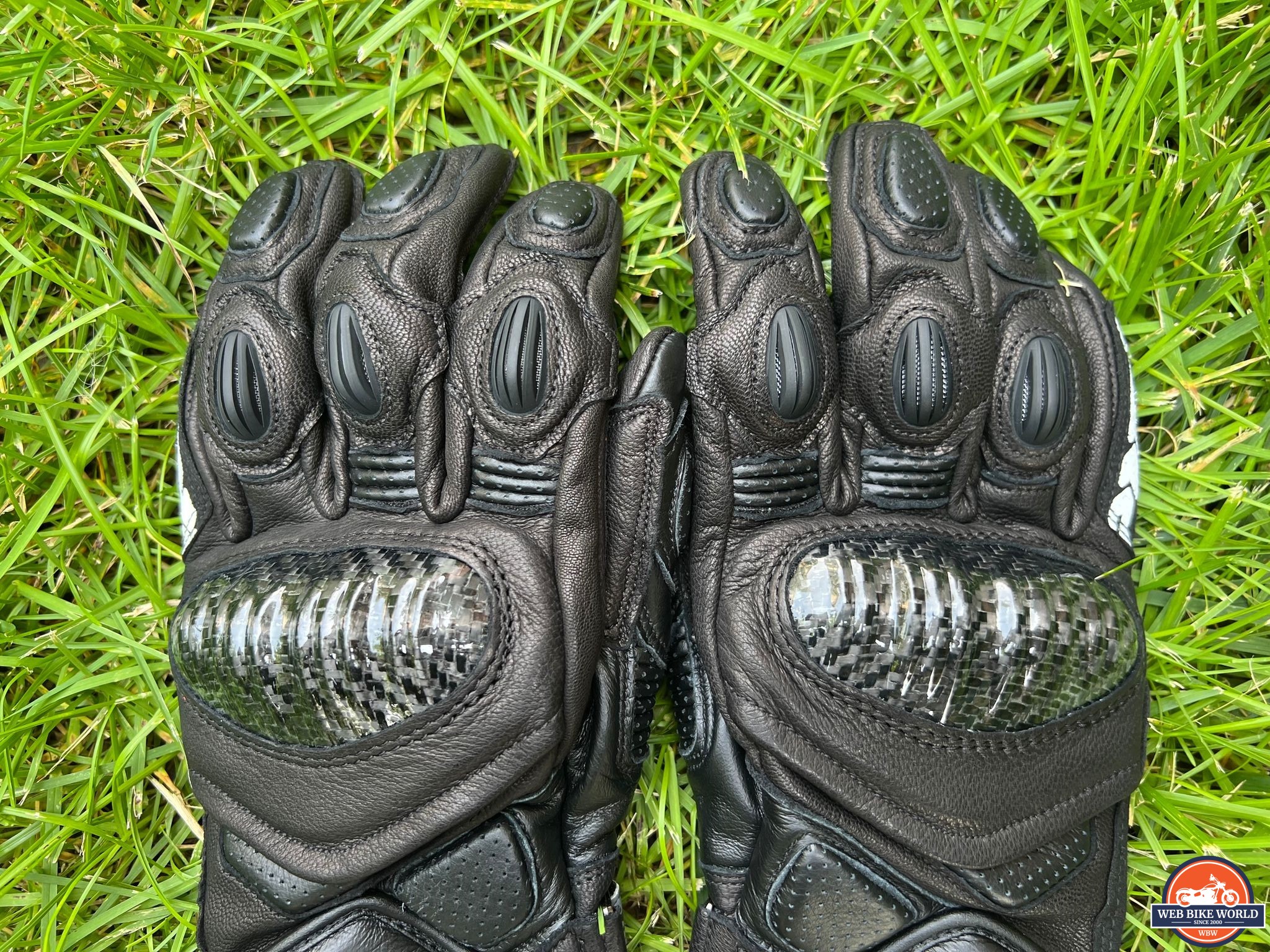 Unlike the Nkd H2Out Gloves, the carbon fiber protector is very rigid. It can be flexed when squeezed with a generous amount of force, but not enough to give me any concerns with its integrity. The underside of the protector is hollow for a comfortable fit but unfortunately, I'll never know.
Protection Rating: 75%
When I said the Carbo 7's are literally hit or miss, I was referring back to the carbon fiber protector as it's missed my knuckles entirely. You can see from the photo below that my entire knuckle is able to make contact with the counter.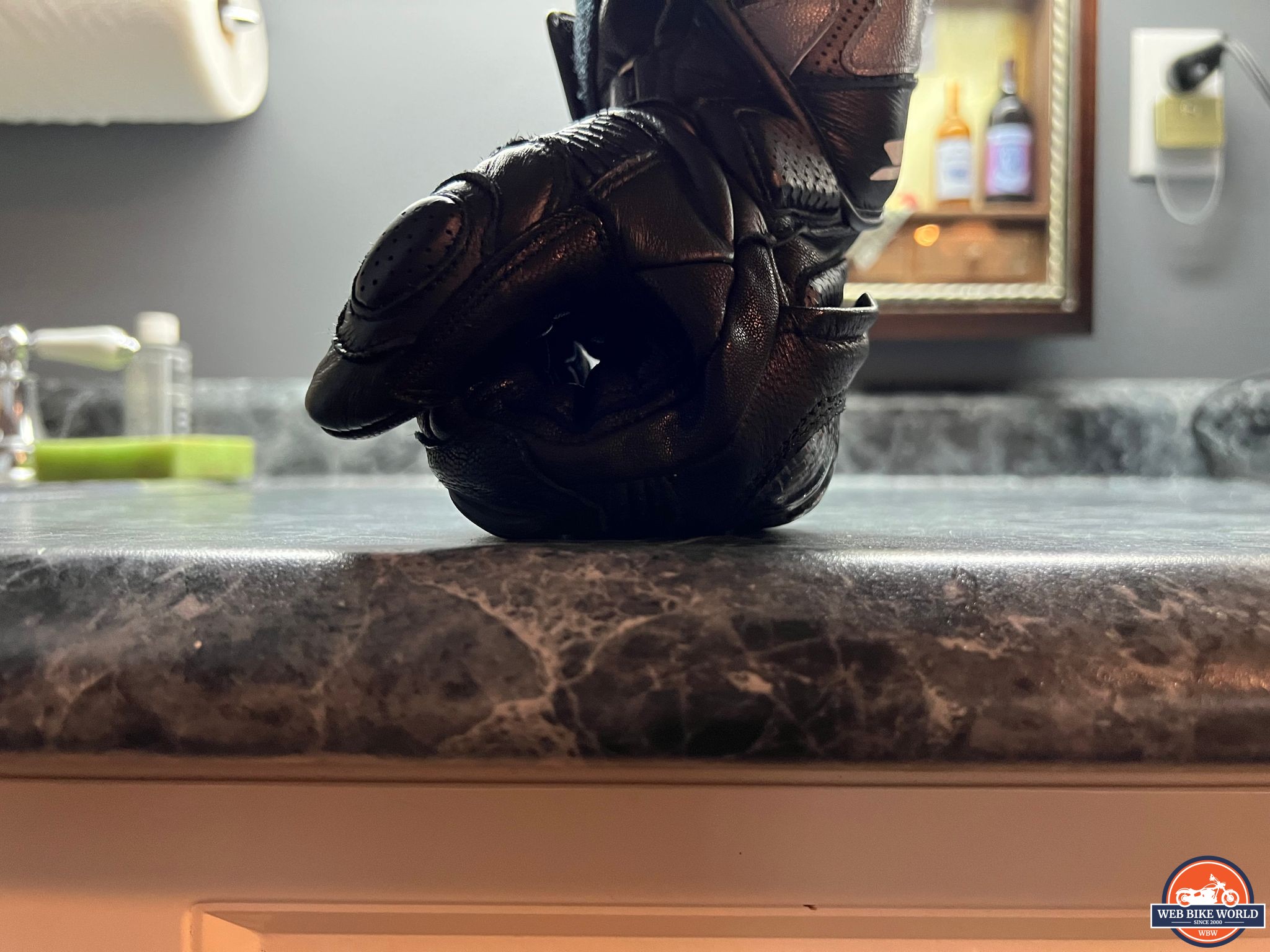 Compare that to the below photo of my Alpinestars gloves. As you can see, my fingers are raised from the surface and unable to make contact due to the knuckle protector. You may be weary of me repeating myself. I've found it hard to express the severity of the protector being misaligned with words alone.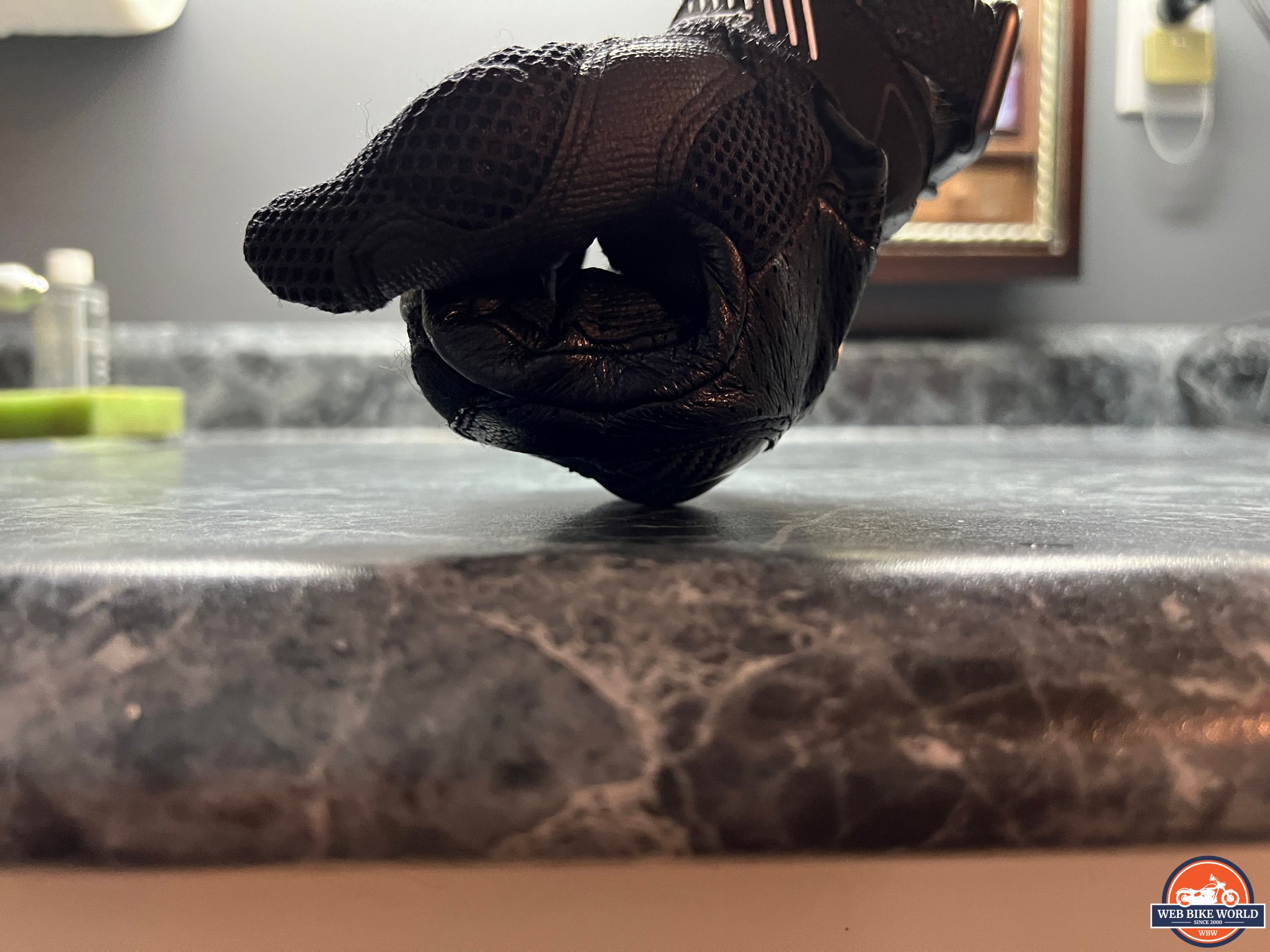 Yet, with these two pictures, I believe my point is clear. Imagine that the counter is rock-hard concrete and you've just been thrown off your bike towards it. Do you want the protector, or your knuckles making first contact?
Overall, the Carbo 7's offer a great deal of protection, yet better options do exist. If these gloves aren't enough to satisfy your safety needs, check out our list of the Best Race Motorcycle Gloves for 2023.
Final Verdict
Who knew gauntlet gloves could be so comfortable? I certainly didn't.
I've ended my review period with a newfound appreciation for gloves that offer a bit more protection. The longer cuff was a welcomed change that gave me a sense of security short gloves couldn't provide.
As the leather began to soften early on in the review, my initial displeasure with how stiff the gloves were went away. My overall comfort improved as now the gloves fit and felt great on the controls.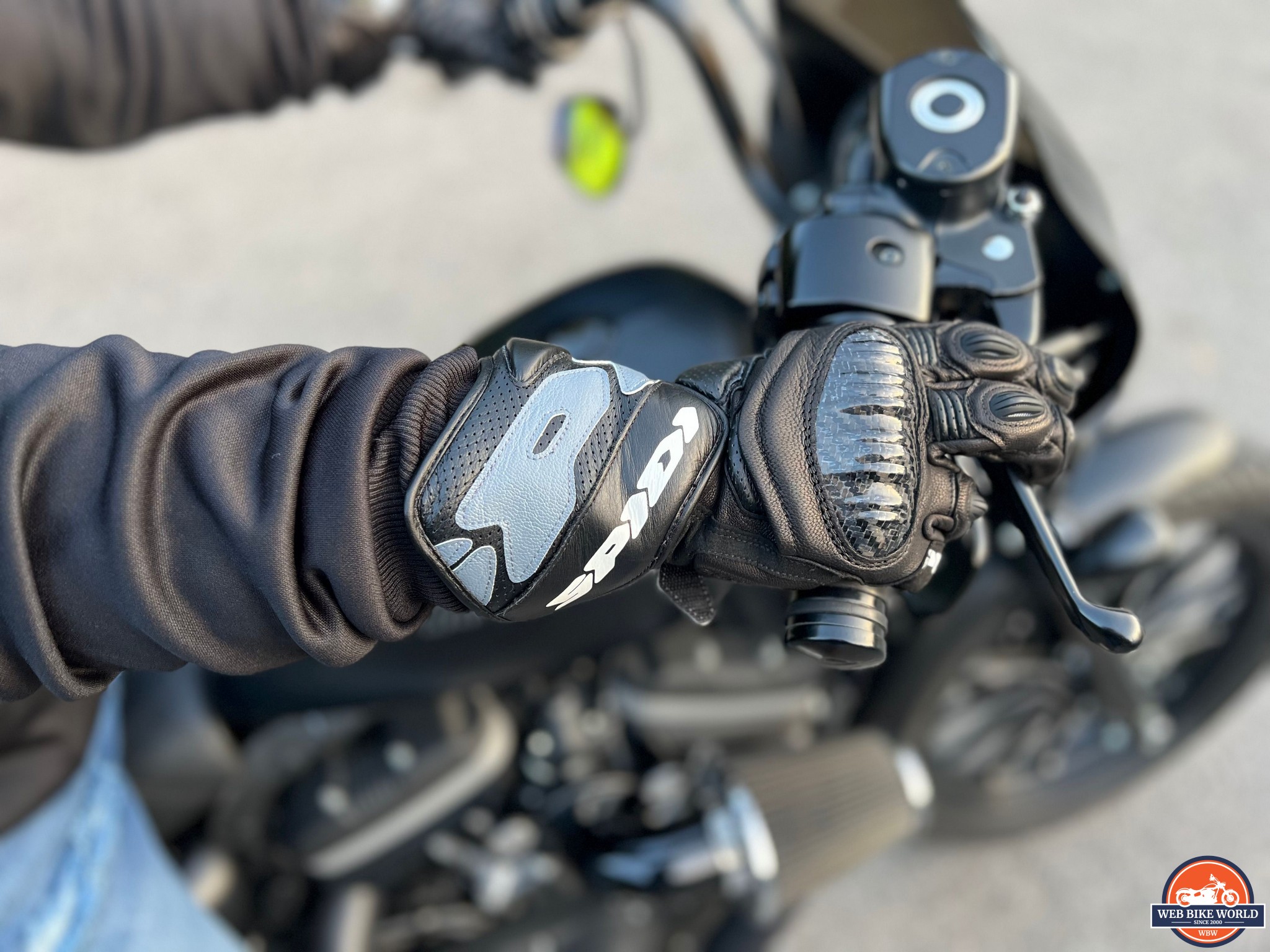 Are the Carbo 7's a good glove? I believe so. They are littered with protective padding and reinforcement everywhere you look. The high-density padding feels durable and gives me the impression it'll have no problem holding it's on upon impact.
Unfortunately, the knuckle protector is a big downside. As a mid-range glove, I'd expect the alignment of the protector to be spot-on. As you know, that isn't the case and should be taken into consideration before purchasing.
Overall, Spidi has put together a well-rounded product in terms of comfort, fit, and protection. I believe the Carbo 7's put together a compelling case if you're in the market for a mid-range gauntlet glove.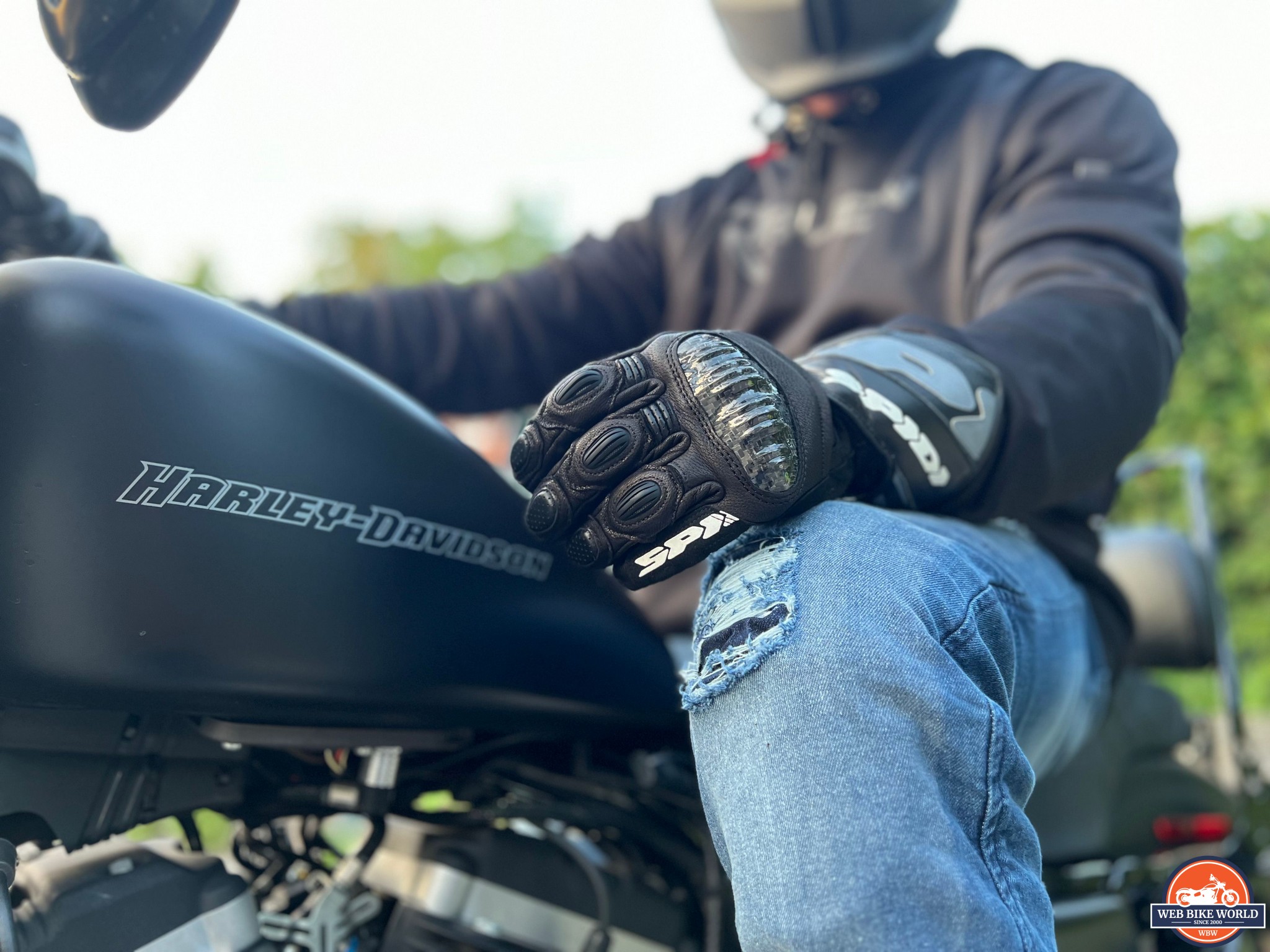 Pros
Ample high-density padding on palm, side, back of the hand, and fingers
TPR sliders on the finger joints
Dual hook and loop adjusters
88% 0.6mm – 0.8mm goat leather shell
Meets certification for Level 1 EN 13594-2015 KP CE
Well-vented with plenty of breathability
Cons
The carbon fiber protector is not aligned with my knuckles
Not touchscreen compatible
Specifications
Manufacturer: Spidi
Price: $179.90 USD
Colors: Black, Black/White, Black/Blue/Gold, Black/Red/Hi-Viz Yellow, Red/Black
Sizes Available: SM-3XL
Review Period: July-Sept. 2023
Where to Buy